[an error occurred while processing this directive]

The Zocalo Today

Welcome! I am glad that you found The Zocalo Today and dropped by. Take your shoes off, get comfortable and stay a while. There is a LOT of information here and you won't want to miss any of it.

The Zocalo Today is an interactive newsletter, encouraging readers to join a discussion topic each week. If you have suggestions as to how The Zocalo can be improved -- or be more responsive -- send them along. The Zocalo Today is as much YOUR newsletter as it is mine! I'm just pulling together things for you!

Join our weekly discussion topic. It is just one way you can interact with other Z readers. If you have other information you would like to share, send it along. If you see Babylon 5 cast and crew in other roles, let us know. We enjoy convention reports, photos, etc. Don't miss our back issues. I hope this will become more than just a newsletter. It's a community of people that enjoy sharing their experiences and interests. Don't be shy. Join us today!

If you have questions, drop me a line at sgbruckner@aol.com. If you would like to join the mailing list for our newsletter, send me a note and I'll include you on the list. Or you can use the subscription block at the left.

Again, WELCOME!




What's New Today
Friday, July 11: RATINGS: Top 10 SF Network Shows: Futurama 2.8; Charmed 2.1; Charmed encore 2.0; Smallville 2.0; Smallville encore 1.5; Smallville encore 1.4; Enterprise 1.3, and The Twilight Zone 1.2. Source: Nielsen Galaxy Report, 6/9/03 - 6/15/03.
---
DR. WHO: A new animated DR. WHO is set to air on British network BBCi to coincide with the 40th anniversary of the original Doctor Who series. Richard E. Grant (Gosford Park) will lend his voice to the new adventure and become the ninth actor to take on the role of the Doctor, who travels through space and time in a ship disguised as an old-fashioned police box. Grant's interpretation of the character is something of a "Sherlock Holmes in space," and said he immensely enjoyed recording the story. The script was written by Paul Cornell, who has some experience with the franchise, having authored several well-received Doctor Who novels. "Just wait until you hear Richard," Cornell told the BBC. "He is the Doctor."
---
THE WOODS: The cast is building for M. Night Shyamalan's next project, THE WOODS. William Hurt joins Joaquin Phoenix and Bryce Dallas Howard in the Disney thriller set in 1897. WOODS revolves around a close-knit community that lives with the frightening knowledge that a mythical race of creatures resides in the woods around them. Shyamalan, who penned the "Woods" script, is also producing along with Scott Rudin and Sam Mercer.
---
MUTANT X: Thursday night, Tribune Entertainment confirmed with Comics Continuum that Karen Cliche has joined the cast of MUTANT X. Cliche, last seen on Adventure, Inc. as Mackenzie Previn, will play Lexa Pierce, an "intriguing new character with a shadowy past." Lexa's special powers allow her to manipulate light in amazing ways. According to Tribune, Victor Webster (Brennan), Victoria Pratt (Shalimar) and Forbes March (Jesse) are returning for the third season. Tribune has not indicated if John Shea, who plays Adam, will be back. Season Three begins in syndication the week of Sept. 29.
---
X-FILES: The TV Guide reports that the X-FILES David Duchovny has landed a plum guest stint on the top-rating "Sex and the City", with rumours he'll be playing Carrie's [Sarah Jessica Parker] new love interest. No official word on this from HBO though.
---
INSIDE SCI-FI THIS WEEK:
Thursday, July 10:
NEW SCIFI ORIGINAL FILMS SLATE: Buoyed by the success of it's original films, the SCIFI Channel is increasing it's production of original films for 2004-05, putting into production 22 originals per year, with about two premiering each month. SCIFI describes the films as "a blend of special effects, bone-crunching fight scenes and out-of-this-world creatures." The SCI FI Saturday Action movies are a ratings success story for the channel: Since SCI FI introduced them in 2002, they have averaged a household rating of 1.4, 40 percent higher than the channel's average. Here are some of particular interest:
•Dead Rail. A detective on board a bullet train on its inaugural run to Las Vegas must overcome his haunted past to destroy hostile aliens. Written by Brian Smith, founder of SCIFI.COM's Seeing Ear Theatre, and produced by Glow Worm.
•Darklight. Lilith, a superhuman warrior cursed with immortality, must battle an escaped genetically engineered creature carrying a deadly virus. Directed by Bill Platt, former development executive for the SCI FI Channel's Exposure. Production begins in Sofia, Bulgaria, with UFO Films in July.
•Chupacabra. The mythical beast is captured and smuggled aboard a cruise ship en route to America, but escapes, and Navy SEALs are brought in to destroy the monster. Produced by Regent Films.
•Raptor Island. Raptors are discovered on a remote island when an elite team journeys deep into the jungle to rescue a kidnapped scientist. Produced by 100% Entertainment.
•Mansquito. A scientist trying to find a cure for the West Nile Virus accidentally transforms herself and a junkie into mutant mosquito creatures. Produced by Nu Image.
•Alien Blood. An alien army invades Earth, demanding the sacrifice of 1 million humans, and a small band of human prisoners rebels. Produced by UFO Films.
•Larva. A dirty meat-packing company sells meat contaminated with larvae, and the larvae begin to growing inside the customers. Produced by Nu Image.
•Hammerhead. While working on stem-cell research, a scientist transforms his subject into a mutant shark-beast. Produced by Nu Image.
---
TWELVE: SCIFI has attracted some of the bigger names in the industry to produce miniseries. Steven Spielberg's TAKEN set new records at the network. This coming year, Martin Scorsese has signed on to executive produce a Sci Fi Channel miniseries titled "THE TWELVE." The miniseries chronicles an FBI agent's confrontation with a bizarre series of events he suspects to be signs of an impending apocalypse timed for the Twelfth Day of Christmas. "Twelve" will run at least six hours, with its exact scheduling yet to be determined.
---
INDIANA JONES 4: There has been a lot of speculation regarding a fourth installment of the INDIANA JONES saga. Entertainment Weekly talked to Frank Marshall, producer of the upcoming fourth Indiana Jones film, and he said that Harrison Ford, 61, doesn't need a younger sidekick. "We're sticking with Indy on his own. He still gets around pretty good." Writer Frank Daramont (The Green Mile) was also praised by Marshall, saying "Frank understands who the characters are." Darabont told the magazine, "I'm the world's biggest Indiana Jones fan. I'll trip all over myself to work for Spielberg." Shooting on the fourth Indy starts in mid-2004 for a 2005 release.
---
BATTLESTAR GALACTICA: At the recent TV Critics Association press tour, Edward James Olmos, who plays Commander Adama on the new SCIFI miniseries BATTLESTAR GALACTICA, had a message for die-hard "Battlestar Galactica" fans of the 1970 series: "A person who really has a strict belief in the original, I would advise them not to watch this program. It'll hurt them." The tone of the series is different.
---
STAN LEE: Stan Lee is co-creator of Marvel's biggest superheroes -- Spider-Man, The Hulk, The X-Men and The Fantastic Four. He has just forged an agreement with childrens entertainment company DIC Entertainment to develop a host of new shows under the banner of "The Stan Lee Universe". The first property to be greenlighted is STAN LEE'S THE SECRET OF THE SUPER SIX, an animated superhero series that will feature Lee himself as one of the characters on the show. Entertainment will produce the series for DIC.
---
Wednesday, July 9:
RATINGS: Top 10 SF Syndicated Shows: The X-Files 2.6; Stargate SG-1 2.2; Buffy 2.1; Mutant X 2.0; Andromeda 1.9; 3rd Rock 1.8; Adventure, Inc. 1.7; Beastmaster 1.6; John Edward 1.6, and Sabrina 1.3. Source: Nielsen Galaxy Report, 6/9/03 - 6/15/03.
---
SAN DIEGO COMICON: San Diego ComiCon will have some great guests again this year! Halle Berry and Hugh Jackman, will be among the many stars appearing in San Diego, July 17-20. July 18 will feature panels with Stan Lee and Chase Masterson, Rob Zombie, cast members from Farscape, Edward James Olmos and other stars from SCI FI's Battlestar Galactica. On July 19, Halle Berry will talk about her upcoming supernatural horror film Gothika. Angelina Jolie will preview Lara Croft Tomb Raider: The Cradle of Life, and Robert Englund will discuss Freddy vs. Jason. Director Sam Raimi will take part in a session about his upcoming sequel film Spider-Man 2. Kate Beckinsale and Scott Speedman and director Len Wiseman will preview their upcoming vampire vs. werewolf film Underworld. Beckinsale will then join co-star Hugh Jackman and director Stephen Sommers to sneak peek their upcoming monster mash Van Helsing. J. Michael Straczynski will, I'm sure, draw another huge crowd to hear about Amazing Spiderman, Supreme Power and Jeremiah. I see JMS on several panels on Saturday. The schedule can be found at http://www.comic-con.org/Pages/CCI03-SatProg.html.
---
BEST SELLING SF BOOKS: 1. Harry Potter and the Order of the Phoenix; 2. The Da Vinci Code; 3. Potter paper box set; 4. D&D Player's Handbook, Core Rulebook 3.5; 5. Angels & Demons; 6. Harry Potter and the Sorcerer's Stone; 7. D&D Monster Manual, Edition 3.5; 8. The Lovely Bones; 9. Harry Potter and the Goblet of Fire, and 10. Harry Potter and the Prisoner of Azkaban. Source: Amazon.com, 7/4/03.
---
THE PUNISHER: Rebecca Romijn-Stamos will play Joan, a character that originally appeared in Garth Ennis' relaunch of the Marvel Comics series THE PUNISHER. Described as an alluring woman who lives next door to Frank Castle (a.k.a. The Punisher), she helped the anti-hero clean up her block in Ennis' run. In a press release from Marvel's Avi Arad, he said, "She is no stranger to the Marvel Universe on screen and will have a chance to showcase her talents in a much different role."
---
LEAGUE OF EXTRAORDINARY GENTLEMEN: With the film's release this week, the press is full of stories surrounding this production. Over at SciFi.Com Peta Wilson and Shane West talk about reported clashes between star Sean Connery and director Stephen Norrington. Over at Comics2Film, producer Don Murphy talks about that situation and more in a two-part interview.
---
SPIDERMAN: MTV's animated SPIDERMAN series premieres July 11 at 10pm. You can get a glimpse of the series over at http://www.mtv.com/onair/spider-man/. The site is complete with music video and behind-the-scenes photos of the making of the animated series, starring the voices of Neil Patrick Harris (Peter Parker), Lisa Loeb (MJ) and Ian Ziering as Harry Osborn.
---
TOUCHING EVIL: USA Network has given a greenlight to filmmakers Allen and Albert Hughes and Bruce Willis for a series entitled TOUCHING EVIL. Set to join the network's primetime schedule early next year, the show is described as a thriller about an elite FBI squad. The pilot for "Evil" was directed by Allen Hughes (From Hell) and written by Bruno Heller. The Hughes brothers will executive produce the project along with Willis and Arnold Rifkin for their Cheyenne Enterprises production banner. USA has ordered 13 episodes of the series, which stars Jeffrey Donovan as a detective who survives a gunshot to the head and then returns to work with a fearless attitude and a relentless pursuit of justice. The project is based on a British series from British Granada Television.
---
KING ARTHUR: http://www.thezreview.co.uk/news/news1086.htm has some of the first set pictures from Jerry Bruckheimer's KING ARTHUR. The film, starring Clive Owen, Stephen Dillane and Keira Knightley, is currently shooting in Ireland.
---
Tuesday, July 8:
PIRATES OF THE CARIBBEAN: Disney's world premiere on June 28th for PIRATES OF THE CARIBBEAN: CURSE OF THE BLACK PEARL is one a LOT of people will remember. The site: Disneyland. The red carpet stretched from the main gate all the way down main street to Frontierland where a huge movie screen was draped across Tom Sawyer's Island where seating was built to accommodate the stars and 1,500 guests. Hundreds of fans, photographers and electronic press from all over the world lined Main Street, trying to get a glimpse of the film's stars. Guests included PIRATES stars Johnny Depp, Orlando Bloom, Keira Knightly (Elizabeth Swann), Jack Davenport (Norrington), director Gore Verbinski, producer Jerry Bruckheimer and screenwriter Ted Elliott, Jon Voight, Rachel Hunter, Jon Cryer, William Fichtner, Shannon Elizabeth and husband Joe Reitman, ENTERPRISE Captain Scott Bakula, Lea Thompson, Jonathan Lipnicki, Corbin Bersen, Rachel Welch, Arlen Escarpeta, Jane Seymour and husband James Keach, Tommy Smothers, WONDER WOMAN Lynda Carter, X-MEN's Rebecca Romijn-Stamos and husband John Stamos, Travis Barker and Mark Hoppus from Blink l82, David Hasselhoff and many others. Cinescape has photos you'll not want to miss.
---
SPIDER-MAN 2: If you'd like a sneak peak of production on the new SPIDER-MAN 2 movie, go over to SuperHeroHype.com . They have a ton of pics taken on the streets of New York.
---
MUTANT X: Lauren Lee Smith, who plays Emma on the series, posted a note on her website saying that she will not be a cast member for Season 3. "I will not be returning to Mutant X for Season 3. Other changes have been made on the show that you will find out eventually...don't ask! Believe me, this came as a shock to me as well! I truly enjoyed the two seasons I got to play Emma, and had such a great time, and you guys made it all worthwhile...so thank you. I'm currently working on a new series which I'm really excited about, but I'm not gonna give too many details just yet." Karen Cliche from Adventure, Inc. will join the cast as a character called Lexa. Both Mutant X and Adventure, Inc. are produced by Tribune Entertainment.
---
FANTASTIC FOUR: Talk about this project continues and is indeed heating up! Comics Continuum reported that Ralph Winter, producer of a proposed Fantastic Four movie, said that preproduction work could begin as early as this summer. "Fan Four is heating up. [We] just got a new outline, and we will probably start some concept work this summer."
---
STAR WARS GAME: According to LucasArts, Star Wars Galaxies: An Empire Divided, drew more than 125,000 users in its first week of operation. The new multiplayer online game launched on July 4 with its first coordinated in-game community-building event in which players set off fireworks in the game itself. Simon Jeffery, president of LucasArts, said "The game has broken all previous records for first-week subscription totals, which bodes very well for the ongoing success of the game."
---
ALIENS 5?: According to Horizons source, ALIENS writer/director James Cameron is still contemplating breathing life into a fifth ALIEN film. In a quote to the BBC, Cameron said, "We're looking at doing another one. Something similiar to what we did with ALIENS. A bunch of great characters, and of course Sigourney. I've even discussed the possibility of putting him [Arnold Schwarzenegger] into the ALIEN movie."
---
Monday, July 7:
RATINGS: Top 10 SCIFI Channel Shows: Stargate SG-1 1.9; Stargate SG-1: The Lowdown 1.4; Firestarter Rekindled, Pt. 2 1.0; Firestarter Rekindled, Pt. 1 0.9; Sleepwalkers 0.9; Encrypt 0.9; Ice 0.9; John Edward 0.9; Shining, Pt. 3 0.8, and Operation Sandman 0.8. Source: Nielsen Galaxy Report, 6/9/03 - 6/15/03.
---
TERMINATOR 3: Yes, Arnold is back and Warner Bros. couldn't be happier. TERMINATOR 3: RISE OF THE MACHINES brought in an estimated $44 million during the three-day Fourth of July holiday weekend. It has amassed $72.5 million since its release Tuesday evening.
---
WEEKEND BOX OFFICE: T3 handily captured the #1 spot at the box office. MGM's "Legally Blonde 2: Red, White & Blonde," starring Reese Witherspoon, won the #2 spot with a solid estimate of $22.9 million ($39.2 million since Wednesday). The first "Legally Blonde" opened on a Friday and racked up a $20.4 million debut. DreamWorks' "Sinbad: Legend of the Seven Seas" placed sixth with a disappointing estimate of $6.8 million ($10 million since its Wednesday debut). Sony's "Charlie's Angels: Full Throttle" slipped a sharp 62%, taking in an estimated $14.2 million during the three days. The McG-helmed sequel has grossed $67.2 million in 10 days, down slightly from the $75 generated by the first film during its first 10 days. So far, Buena Vista's "Finding Nemo" has shown staying power and placed fourth with an estimated $11 million, off just 21% in its sixth weekend while taking its total to a sterling $274.9 million. The Pixar film continued to demonstrate its clout as "Nemo's" surpassed Warners' "The Matrix Reloaded" ($271.9 million), making it the highest-grossing film of the year so far and taking the crown as the second-highest-grossing animated film in history behind Buena Vista's "The Lion King" ($328.5 million). "Universal's "The Hulk" was in the fifth spot with an estimated $8.2 million; the picture has collected $117 million so far. Fox Searchlight's "28 Days Later" was in 1,407 theaters, 147 more than last weekend, and took in an estimated $6.1 million to take the seventh slot. The sci-fi horror film from director Danny Boyle has accumulated about $20.7 million after 10 days.
---
AMAZING SPIDERMAN: Issue #54 is out on stands now. It's a great issue and I hope those of you who are reading JMS' Spider-Man will pick up a copy. For a review of the issue, go to http://www.zentertainment.com/comicreviews.php?op=showcontent&id=1027.
---
Sunday, July 6:
NEWS: As with any Sunday, there isn't a lot of news about -- especially following a holiday. So I went a little wild with the TV listing today. THere is a lot on today -- somwhere on your dialing system. So check it out and don't miss things like INDEPENDENCE DAY.
---
DISCUSSION TOPIC: Since there isn't much else to write about today, how about a new discussion topic that you who come to the site regularly will get a crack at first.
With the new DVD for Season Three of Babylon 5 coming out soon, let's talk Season Three. What do you think was the most significant episode of the season? What was the best episode? Send in your comments to sgbruckner@aol.com and I'll start posting them.
---
THE DEAD ZONE: New episodes begin tonight at 10:00pm. Don't forget to watch.
---
HAVE A GREAT SUNDAY!
---
Saturday, July 5:
RATINGS: Top SF Network Shows: Futurama 3.0; Charmed 2.1; Smallville 1.9; Enterprise 1.6; Twilight Zone 1.4, and Sabrina 1.4. Source: Nielsen Galaxy Report, 6/2/03 - 6/8/03.
---
BUFFY: BUFFY is coming to the GameBoy marketplace. THQ has shipped their new Game Boy Advance video game BUFFY THE VAMPIRE SLAYER: WRATH OF THE DARKHUL KING to stores. The game lets you play as either Buffy or one of her friends (Xander, Willow, Giles or Riley) as she stakes vampires. The game is 16 levels long. In addition to encountering your pals as you progress through the game, Buffy will also be handed new outfits for her to try on as well as new weapons you can use on the boss monsters. The game has a suggested retail price of $19.99 and has been rated Teen.
---
ANGEL: James Marsters will not be the only addition to the cast as ANGEL comes to the airwaves next year. A new character named "Eve" will make her deubt in the first episode written and directed by Joss Whedon. Eve is described as being in her mid-to-late 20s, she is described as "smart, beautiful, and vulnerable with a sweetness that makes her accessible."
---
SMALLVILLE: In an article over at http://entertainment.msn.com/news/article.aspx?news=126060 Executive Producer Al Gough is dropping a number of hints about what Season 3 of SMALLVILLE will bring us. "Our hope is in Season 3, and I put it out there, is that you will see Bruce Wayne. This year, we really want to make it happen. You could also see Perry White and Jimmy Olsen this year."
---
AMAZING SPIDERMAN/SUPREME POWER: Ranger Monica pointed me to an article by Tim O'Shea with JMS over at http://www.silverbulletcomicbooks.com/features/105711664063764,print.htm. Interesting reading -- especially the ending sequence!
---
WHAT'S ON TONIGHT
8:00 PM on FX
Volcano
Ingenious special effects spark this action flick about an emergency chief (Tommy Lee Jones) and a geologist (Anne Heche) who scramble to halt the destruction of L.A. from an eruption 8:00 PM on Disney
Atlantis: The Lost Empire
A motley team of explorers searches for a mythical underwater civilization in this 2001 animated adventure from Walt Disney Pictures. In 1914, a bumbling linguist and Atlantis historian named Milo Thatch (voice of Michael J. Fox) is ecstatic when he's chosen to go on a deep-sea expedition aboard a high-tech submarine to find the lost world. But the geeky Milo fails to make a splash with his submates and the ship's formidable commander, Rourke (voice of James Garner). Worse yet, the mission is threatened by a hulking maritime beast and betrayal among the crew. The film is rated PG for violence. John Mahoney, Leonard Nimoy and David Ogden Stiers also lend their voices. 20/20" on ABC, 10:00pm - 11:00pm ET
Angelina Jolie historians already know that the actress can sometimes be a bit shocking when in public. Barbara Walters found that out when she interviewed her for this special broadcast. Jolie admits to having an affair with a woman, to playing with knives in dangerous situations and other things that might explain why her relationships with dad Jon Voight and former husband Billy Bob Thornton didn't work out like family matters should. It's when she talks about her adopted Cambodian son that viewers can see the compassion that drove Jolie to volunteer her time to the United Nations to help refugees all over the world. "Monk" ("Mr. Monk Goes to the Ballgame") on USA Network, 10:00pm - 11:00pm ET
Did a famous baseball player have something to do with the murder of a wealthy CEO and his wife? Adrian Monk (Tony Shalhoub) plans to get to the bottom of the matter even if one of the bottoms involved isn't dressed for questions from the fearful detective. On SciFi Tonight: 7:00 PM
Timecop
A Rip in Time
Jack jaunts back to 1888 London to stop a madman obsessed with changing the history of Jack the Ripper. 8:00 PM
Tremors
Graboid Rights
Burt becomes a media scapegoat when publicity-hungry environmentalists suspect the Perfectionistas of targeting the endangered graboid El Blanco for destruction. 9:00 PM
Stargate SG-1
Revisions
On an otherwise toxic planet, the team discovers a domed community whose the friendly residents wear small devices on their temples that link them to a data bank. Soon, however, oddities occur: Carter discovers that the dome is losing power; and residents disappear---along with the memories their fellow townsfolk had of them
JMS PROJECT UPDATE
Here's the latest from JMS on his on-going projects: Polaris is still making the rounds, so we'll see what happens on that front. "World on Fire" is not do-able anymore because the events of the world caught up with the story. (Essentially, it was about the events leading up and following America getting into its next war, starting with an attack on New York. Very eerily, nearly everything that was in the script and the planned series has now happened, so the show is now a moot issue.) I've put my play "Among the Ruins" on a back burner for now, because it got too clever for its own good, too slick, almost self-consciously so...it needs time to season and develop the right kind of maturity. Comics: the first issue of Supreme Power comes out August 6th, and it's going to be a terrific book. And Spidey continues apace, I'm just about to start writing issue 500, a 38 page monster that culminates a three-issue arc that encompasses much of Spidey's history and some things that should be real surprises for people. TV: I'm making the network rounds with the people at Marvel Productions, pitching a new series, but that's all I can say about it for the moment. Audio: I've finished the 20 short scripts for "The Adventures of Apocalypse Al" for a company that will be distributing them either late fall or early Spring 2004. It's a very, very funny series. Other than that, working on a novel, making the pitch rounds for Midnight Nation as a feature, and taking some down time after finishing season two of Jeremiah last month.
RISING STARS
JMS has pointed everyone over to http://www.comicbookresources.com/columns/?column=13 for an answer to the burning question, Where is Rising Stars? While JMS' note above listed a particular column at Comic Book Resources, that page reference has changed. To read what is going on between JMS and Top Cow, go to http://www.comicbookresources.com/columns/index.cgi?column=litg&article=1670.. A number of readers have asked about JMS' comic book series, RISING STARS. It has been quite a while since the last issue came out and they were wondering when they might expect to see the next one. JMS was asked this question in the B5 moderated newsgroup not long ago. His response was: June 3: That depends entirely on a situation with Top Cow that is in need of resolution. The delay in writing has not been a delay in writing; it's been working through some problems with Top Cow for the last...almost year now. The final issues won't be turned in until those issues are resolved.
JEREMIAH
Here is the blurb from the MGM Newsletter that arrived this morning. Not a lot of information in it, but it's good to see it finally arrive.

Jeremiah returns this summer for its second season on Showtime.
Luke Perry and Malcolm-Jamal Warner star as two drifters living in a post-apocalyptic world. Joining the cast for the new season is Sean Astin (The Lord of the Rings) playing Mr. Smith, a man with a very unique gift.

Fans of this JMS show have been wondering when it will return to the Showtime line-up. JMS responded to a question in the B5 moderated newsgroup that gives a bit more information than previously available:

"The season finale aired July 19, 2002, so it's less than one year since the season ended. Last I heard the show was going to run starting the first week in September so that it could conclude with the last four shows in November sweeps."

There are a couple of places where you can find information on JEREMIAH. Monica has a very up-to-date site at http://abyss.hubbe.net/jeremiah/. She has a newsletter that you can sign up for as well so that information comes into your mailbox on a regular basis. The "official" website is located at http://sho.com/jeremiah/. It isn't terribly timely, but it does have background about the show if you need it.
BABYLON 5 SEASON THREE DVD
Thanks to everyone who have sent along their suggestions for extras on the upcoming DVDs. So far, some good items have been mentioned. Warners is SO happy with sales of Babylon 5 DVDs they are pushing up the release of Season Three. The release projected date is August 12. You can put in orders now at Amazon.com. Season 3 Details
5/08/2003 Warner Brothers has announced August 12th as the street date for Babylon 5: The Complete Third Season. Subtitled "Point of No Return", it will be another 6-disc extravaganza featuring all 22 episodes of the third season. In addition, Warner is again working with producer/creator J. Michael Straczynski to bring you the very best in the way of supplements: Introduction from series creator J. Michael Straczynski
Commentaries on 3 key episodes by series creator and stars
Documentary: Behind the Mask: Creating the Aliens of Babylon 5
Documentary: Designing a Better Narn
Documentary: Designing Tomorrow: The Look of Babylon 5
Data and Personnel Files Once again this will by brought to you in 16x9 Anamorphic Widescreen, and with sound remastered in Dolby Digital 5.1...all for a list price of $99.98. DVD BARGAIN ALERT: Ranger Gary reports that CostCo has some great deals on DVDs. They have the STARGATE SG-1 SEASON THREE DVD for $39.99. That is well below what I've seen on e-bay and about $30.00 less than Suncoast Video Stores. Gary also reports that they have a huge supply of the latest BUFFY DVD. Ranger Donita has a tip for those wanting to purchase DVDs here in the U.S.
The cheapest place to get B5 Season 1 and 2 is Playcentric. I paid $59 for season 1 and $60 for season 2. Also to get the cheapest price on all DVDs I recommend using Bargainflix.com, for those of us in the US. All you have to do is to type in the name of the DVD, or actor, or director, and they will show you the price comparison. Great for those of us who like to support our favorite sci-fi shows and movies by buying the DVD. Ranger Dave sent along this report on purchasing the Season Two DVD in the UK: " I picked up the Season 2 DVD of B5 at MVC for £5 less than most other people are selling it - including Amazon.co.UK or Play.com. If you become a card member (it is free, hardly a hassle and takes a moment) you can get the set for £37.99 where as most others are selling it at £42.99 - just a handy saving tip." Ranger Manuela has a bargain to match Dave's -- in Germany. Here is here report:

Got one like that for German readers: avides.com (despite the url, they're located in Lower-Saxony here) are selling season two for 39,95 Eur. It's got English and German on the dvds, so perfectly fine. :-)
DISCUSSION TOPIC
With the new DVD for Season Three of Babylon 5 coming out on August 12, let's talk Season Three. What do you think was the most significant episode of the season? What was the best episode? Send in your comments to sgbruckner@aol.com and I'll start posting them on the Discussion Page for everyone to share.
BABYLON 5 CHRONOLOGY
Another segment of the Babylon 5 Chronology from Terry Jones is up for your reading pleasure. This segment begins with 2263. Go to 2263 and enjoy. THANKS TERRY for all your hard work on this.!
RANGER SIGHTINGS
Ranger Tom reports that the May/June issue of "Audrey" magazine (a magazine aimed at the Asian American community) contains an interview with Daniel Dae Kim. The article also has several color photos of him modeling trendy outfits. Evidently he had a small role in "The Hulk" which due to editing is now a lot smaller.
KEEPING UP WITH CAST AND CREW
PETER WOODWARD: I talked to Peter on Thursday and he is very excited about the second season of CONQUEST on the History Channel. New episodes begin July 6. Peter is writer, co-producer and host of this look at martial competition throughout history. It is a fun program and airs on Sunday at 10:30pm.
---
MELISSA GILBERT: After some speculation, Melissa Gilbert's name was placed before the SAG nomination committee Thursday with actor James Cromwell for the new position of secretary-treasurer. No other candidates have announced their intention to run. Gilbert was elected in 2001 and has been involved in several tough fights, including a push to adopt a new plan to regulate the relationship between actors and talent agents. Gilbert and SAG staff strongly backed the plan, which was overwhelmingly rejected by members. Gilbert also pushed a consolidation with the American Federation of Television and Radio Artists, a proposal that failed by a slim margin this week. Other candidates have until July 24 to submit nominating petitions. Ballots will be mailed to members Aug. 26 and are due Sept. 23.
---
BRUCE BOXLEITNER: Ranger Margarets reports some very good news for Bruce Boxleitner fans. Bruce will have a recurring role in SHE SPIES, a new series coming to us from MGM. According to Bruce's Fan Club, he starts filming in July. SHE SPIES sounds like a Charlie's Angel-type show and you can get more information at http://www.mgm.com/shespies/main.html. I didn't see anything about Bruce on the page, so that may follow as the site is updated.
---
MIRA FURLAN: Ranger Moya sends in this report on Mira's activities:
Mira is currently in Belgrade shooting a new movie called "Disi duboko" co-starring Bogdan Diklic, a charming actor who she's worked with in numerous other films. He was Pipo in "In the Jaws of Life" which is one of the few of Mira's movies available in North America *with* English subtitles. From there she's going back to Istria to reprise her Medea role of last summer for 5 performances July 11th through 15th.
---
SPECIAL B5 CAST ACTIVITIES
2003 marks the 20th anniversary of SCARECROW AND MRS. KING's debut on CBS. A very special event is being planned. On October 17-19th at the Beverly Garland Holiday Inn in Los Angeles, California, a celebration is being planned. A number of guests have already confirmed -- including Bruce Boxleitner, Beverly Garland, Martha Smith, Paul Stout and Greg Morton. For more information on activities related to the anniversary, go to http://www.smk20thanniversary.com/.
CRUISE WITH PETER WOODWARD
Peter is considering cruising the Caribbean in early 2005 and wants to invite his fans to join the fun. He would like to see if there is sufficient interest before going too far into planning, so if you would like to receive a brochure about Peter's upcoming cruise once the details are finalized please advise of your: Name:
Postal Address, City, State, Zip:
E-mail address:
Phone number:
Total number of guests in your party:
Age range of the guests including yourself:

Send this information to pwoodwardinfo@yahoo.com. Any information you send us will be handled respectfully. This is not a commitment from you, just an indication of interest.
BABYLON 5 BIRTHDAYS
Jerry Doyle - July 16
J. Michael Straczynski - July 17
David Warner - July 29 Have I missed anyone? If you know the birthday of someone connected with Babylon 5, pass the information along. We want to include everyone in our Happy Birthday Wishes.
READER BIRTHDAYS
Sometimes you just can't find the e-mail address for someone you know you have -- it's someone who responded to a discussion topic or you met in one of the chat rooms. You'd like to send a personal note, but .... No address!!!!

We've started a White Pages of Zocalo Readers! It's a handy way of keeping track of people -- and putting together a birthday/greeting card list as well. If you would like to be part of the listing, just send me your name, state, e-mail address and (if you'd like to have it listed) birthday (without year) to sgbruckner@aol.com. Check out the Directory of Readers.

Name: Peter Dougherty
State: New York
E-mail: ve3thx@canada.com
Birthday: July 5

Name: Christopher Moore
State: Florida
E-mail address: psycho_pcb@yahoo.com
Birthday: July 21

Name: Lauren Swinkey
State: Michigan
E-mail address:
Birthday: July 17
TRADING CARD HELP
Ranger Tia sent along this note to share with B5 card collectors:

Don't know if you've heard of my card program yet or not, but I thought the other B5 card collectors might like to try it out. With having almost all of the B5 trading cards and CCG cards available and no program to keep track of them withm, I started writing my own. Here's the website for it. Go half way down and click on the small screen shot for a full size screen shot. I have the pic of Pat Tallman's card from the Profiles card set feautured in the shot.

Oh, and I also have a lot of the card lists already saved as files so people won't need to type in all the card names. Being written by a B5 fan, ALL the card lists have already been made and are downloadable. :)

http://cardkeeper.usethis.com/keeper/index.html

Tia
COMIC BOOKS
KOLCHAK: TALES OF THE NIGHT STALKER #1
Written by Dave Ulanski, pencils by Chris Marrinan, inks by Keith Williams
colors by Ken Wolak, cover by Monte Moore and Ulanski The action not only heats up, but boils over in this brand-new, ongoing series featuring the original paranormal investigator! Carl Kolchak heads for New Orleans to look into rumors about a human plant skulking about the hot summer streets. But the Crescent City is a magical and mysterious place, and our hero inadvertantly finds himself in the part of town where human skeletons are starting to pile high in the alleys... victims of a man-eating shadow! Carl would love to get to the bottom of this one, but unfortunately... he's a bit busy turning into a human plant, himself! This issue also features a short Mr. Nightmare back-up story by Dave Ulanski, in color for the first time. Ships with two covers in a 50/50 ratio. The first painted by fantasy artist Monte Moore, the second illustrated by Dave Ulanski.
AMAZING SPIDER-MAN #58
Written by J. Michael Straczynski, pencils by John Romita Jr., cover by Tony Harris.
J. Michael Straczynski concludes the two-issue story arc leading into next month's historic Amazing Spider-Man #500.
32 pages, $2.25, in stores on Sept. 24. AMAZING SPIDER-MAN #57
Written by J. Michael Straczynski, pencils by John Romita Jr. and cover by Tony Harris.
J. Michael Straczynski is back flying the Spider-Man ship solo in a 2-part story arc leading up to October's Amazing Spider-Man #500.
32 pages, $2.25, in stores on Aug. 13 and Aug. 27.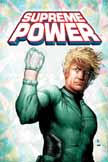 SUPREME POWER #2
Written by J. Michael Straczynski, pencils and cover by Gary Frank.
I n a world with no heroes, what happens when powerful superhumans emerge? And now that the government knows that superbeings exist, what lengths will they go to use them for their own purposes? J. Michael Straczynski tells a hard-edged, mature and deeply personal saga that pushes the limits of the comics form into new, uncharted territory.
32 pages, $2.99, in stores on Sept. 3.

SUPREME POWER
Joe Quesada talks about SUPREME POWER at Wizard World East. See the excerpt over at http://www.comicscontinuum.com/stories/0306/05/index.htm. Here is an update from JMS on SUPREME POWER: Just an FYI for those who've been keeping an eye on this one...on August 6, Supreme Power will hit the stands, with pre-orders being taken now at comics stores. Up until now, I'd always felt that Midnight Nation was the best thing I'd ever managed to pull off in comics. (I enjoy the heck out of writing Spidey, but there's just something about Midnight Nation that won't let me go.) Supreme Power may, I finally think, supplant that one. There's something going in in Supreme Power, a strong emotional core, that pulls me in every time I sit down to write it. It's got an edge, it's profoundly sad in places, and weirdly funny in other places. Some elements are bound to be a bit controversial, but that's part and parcel of telling this particular story. Emotions are, for me, the whole point of telling a story, and those who've read and reviewed Midnight Nation as it slowly revealed itself know what I'm talking about. Not coincidentally, Gary Frank is doing the art, who also did the art on Midnight Nation. So that may also be a part of it. The art is just stunning, especially the way he captures the emotion of the characters in their eyes. Given the reactions of some folks who've seen the black and whites proofs of the first issue, I think this is going to move out pretty fast, and Marvel for the most part doesn't reprint issues, so if it ain't ordered in advance, it might not be available until the gather it together for the trade. Anyway...I don't want to belabor the point. I don't generally come on to promote something unless I feel strongly about it, and this one I *definitely* feel strongly about. I'm inestimably proud of this book, and I hope you'll check it out. From Previews magazine:
SUPREME POWER #1
by J. Michael Straczynski & Gary Frank Presenting a brand-new vision of a world about to give birth to its first generation of superheroes! This new MAX ongoing series follows the origins of these new heroes - from their birth through adulthood, and examines how their lives and abilities change and shape the world around them. A hard edged, mature, and deeply personal saga that pushes the limits of the comics form into new, uncharted territory. FC, 32 pg ..........$2.99
BOOKS
BABYLON 5 NOVEL - RELEASE DATE JULY 29
DelRey is reprinting the original Babylon 5 novels. They started with #7 - Jeanne Cavelos' THE SHADOW WITHIN. Here's one I've been waiting for -- Kathryn Drennan's TO DREAM IN THE CITY OF SORROWS. The release date is scheduled for July 29, 2003. I love the new cover art! It can be pre-ordered from www.amazon.com. For those of you who love Babylon 5, this one reads just like an episode from the series. You just can't put it down.



SCIENCE FICTION TELEVISION SERIES: EPISODE GUIDES
Histories, and Casts and Credits for 62 Prime Time Shows, 1959 Through 1989
by Mark Phillips and Frank Garcia While this book has been out for a while (1996), there wasn't really a lot of advertising or promotion for this reference book and you could easily have missed it all together. However, copies show up on e-bay every so often, so you may want to give it a look-see. You can get more information on the book from the publisher's page at http://clk.about.com/?zi=1/XJ&sdn=scifi&zu=http%3A%2F%2Fwww.mcfarlandpub.com%2F and there is a review now posted at http://scifi.about.com/cs/newsinformation/fr/scifitvseries.htm. Looks like a terrific addition to any science fiction lover's book shelf.
NEW BABYLON 5 RPG
Ranger Jason has filed the following report that will be some interest to you:

Mongoose Publishing recently received the B5 Licence to do a d20 style game in the B5 Universe. The main book and supplements will start rolling out very soon (next 3 weeks).

They published a sneak peak booklet at http://www.vita.clara.net/b5preview.pdf which has tons of useful B5 stuff including a diagram of the station, and a near comprehensive map of the B5 Universe.

We need B5 Fans to support this because unless JMS releases another series or book, this will be the only new B5-feel product for some time.

Mongoose's site can be reached here http://www.mongoosepublishing.com/.
SCI FI PUBLICATIONS
Cult Times Special #26: Immortals are the subject of this issue. There have been a number in science fiction history and whether they are people who just won't die -- or images that live on and on, it is an interesting premise to explore. Also in this issue, Richard Dean Anderson joins fellow producers Robert C. Cooper, Michael Greenburg and Brad Wright in discussing STARGATE SG-1; Ben Browder looks at the last days of FARSCAPE and JJ Abrams discusses the changes ahead for ALIAS.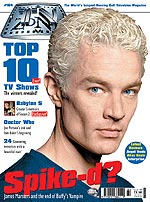 TV Zone #164: The big attraction for this issue will be JMS's look at Season Two of Babylon 5. Also included are interviews with James Marsters (Spike), Carlos Bernard from 24, and a look at what TV Zone readers feel is The Best Cult Television Program Ever.







Expose Special #77: This special issue is a review of 2002. With Harry Potter #2, Lord of the Rings and Terminator 3, they also look at Star Trek: Nemesis, FIREFLY, Buffy and Dinotopia.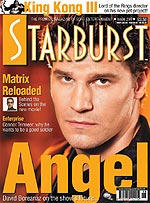 Starburst #298: ANGEL's new season is the focus of the issue. David Boreanaz talks about what makes the show so special to him. Also in this issue, a behind the scenes look at MATRIX RELOADED. Another show with changes ahead is SMALLVILLE. Alfred Gough and Miles Millar talk about what is in store for the next season.







SCI-FI SCHEDULE
BABYLON 5 11-JUL-03 9:00 AM BABYLON 5 (LBX) THE SUMMONING 14-JUL-03 9:00 AM BABYLON 5 (LBX) FALLING TOWARD APOTHEOSIS
15-JUL-03 9:00 AM BABYLON 5 (LBX) THE LONG NIGHT
16-JUL-03 9:00 AM BABYLON 5 (LBX) INTO THE FIRE
17-JUL-03 9:00 AM BABYLON 5 (LBX) EPIPHANIES
18-JUL-03 9:00 AM BABYLON 5 (LBX) THE ILLUSION OF TRUTH 21-JUL-03 9:00 AM BABYLON 5 (LBX) ATONEMENT
22-JUL-03 9:00 AM BABYLON 5 (LBX) RACING MARS
23-JUL-03 9:00 AM BABYLON 5 (LBX) LINES OF COMMUNICATION
24-JUL-03 9:00 AM BABYLON 5 (LBX) CONFLICTS OF INTEREST
25-JUL-03 9:00 AM BABYLON 5 (LBX) RUMORS, BARGAINS AND LIES 28-JUL-03 9:00 AM BABYLON 5 (LBX) MOMENTS OF TRANSITION
29-JUL-03 9:00 AM BABYLON 5 (LBX) NO SURRENDER, NO RETREAT
30-JUL-03 9:00 AM BABYLON 5 (LBX) THE EXERCISE OF VITAL POWERS
31-JUL-03 9:00 AM BABYLON 5 (LBX) THE FACE OF THE ENEMY CRUSADE SCHEDULE: 08-AUG-03 11:00 AM CRUSADE THE MEMORY OF WAR
08-AUG-03 12:00 PM CRUSADE THE LONG ROAD
08-AUG-03 1:00 PM CRUSADE VISITORS FROM DOWN THE STREET
08-AUG-03 2:00 PM CRUSADE THE WELL OF FOREVER
08-AUG-03 3:00 PM CRUSADE EACH NIGHT I DREAM OF HOME STARGATE SCHEDULE: 11-JUL-03 9:00 PM STARGATE SG-1 (LBX) REVISIONS
11-JUL-03 11:00 PM STARGATE SG-1 (LBX) REVISIONS
14-JUL-03 7:00 PM STARGATE SG-1 NEW GROUND
14-JUL-03 8:00 PM STARGATE SG-1 MATERNAL INSTINCT
14-JUL-03 9:00 PM STARGATE SG-1 CRYSTAL SKULL
14-JUL-03 10:00 PM STARGATE SG-1 NEMESIS 18-JUL-03 9:00 PM STARGATE SG-1 (LBX) LIFEBOAT
18-JUL-03 11:00 PM STARGATE SG-1 (LBX) LIFEBOAT
21-JUL-03 7:00 PM STARGATE SG-1 SMALL VICTORIES
21-JUL-03 8:00 PM STARGATE SG-1 THE OTHER SIDE
21-JUL-03 9:00 PM STARGATE SG-1 UPGRADES
21-JUL-03 10:00 PM STARGATE SG-1 CROSSROADS 25-JUL-03 9:00 PM STARGATE SG-1 (LBX) ENEMY MINE
25-JUL-03 11:00 PM STARGATE SG-1 (LBX) ENEMY MINE
28-JUL-03 7:00 PM STARGATE SG-1 DIVIDE AND CONQUER
28-JUL-03 8:00 PM STARGATE SG-1 WINDOW OF OPPORTUNITY
28-JUL-03 9:00 PM STARGATE SG-1 WATERGATE
28-JUL-03 10:00 PM STARGATE SG-1 THE FIRST ONES FARSCAPE SCHEDULE:

13-JUL-03 12:00 AM FARSCAPE DOG WITH TWO BONES
20-JUL-03 12:00 AM FARSCAPE CRICHTON KICKS
27-JUL-03 12:00 AM FARSCAPE WHAT WAS LOST -PT 1: SACRIFICE
03-AUG-03 12:00 AM FARSCAPE WHAT WAS LOST -PT 2: RESURRECTION
10-AUG-03 12:00 AM FARSCAPE LAVA'S A MANY SPLENDORED THING
17-AUG-03 12:00 AM FARSCAPE PROMISES
24-AUG-03 12:00 AM FARSCAPE NATURAL ELECTION
BABYLON 5/CRUSADE PHOTOSHOP PHOTOS









You do NOT have to pay the prices asked for over at e-bay! Here are photos of B5 and Crusade cast members at fantastic prices. Check out Photo Shop. Ordering is easy -- and you can't beat the prices! Just let me know which photos you want and I'll check to make sure they are still in stock.
---
BABYLON 5 TOONS
John Cook has a wonderful collection of cartoons -- many are take-offs from Babylon 5. Here's just one of them.

He has a cartoon caption contest going on as well. Try your hand at a punch line.

Go to http://contests.sev.com.au/index.php?contestid=1



I-SCI-FI

I-SCI-FI will be re-broadcasting their interviews with The League of Extraordinary Gentlemen cast and crew tonight from 7-9pm MDT (5-7pm EDT). These are pre-recorded so you will not be able to call in and be eligible for prizes. All of these people are special in different ways. You are sure to enjoy Dave Lea, fight choreographer and cool guy. He's been in several top flight movies and taught some of Hollywood's 'A' list of actors and actresses how to fight and look like they are fighting, including Sylvester Stallone, Sandra Bullock, Ben Affleck, Colin Farrell and more. Check out his nearly one hour interview! We had so much fun talking we lost track of time! He was just here in Utah filming on the fourth Crow movie and you're going to want to listen to every word he has to say. If for some reason you have trouble getting the audio stream at I-SCI-FI, try ufpgalaxy.org, cosmiclandscapes.com, and now at radiostarfleet.com. Cosmic Landscapes, Radio Starfleet and UFPGalaxy rebroadcast live Thursday nights from 7-9 pm MDT and Cosmic Redux rebroadcasts the previous week's shows.
SCI-FI TALK
Tony Tellado has been very busy gathering interviews from the cast and crew of MATRIX RELOADED. You can listen to interviews with Keanu Reaves, Carrie Anne Moss, Laurence Fishburn Jada Pinkett Smith, Monica Bellucci plus Producer Joe Silver and Efx Master John Gaeta daily at Sci-Fi Talk At Live365.Com. The Matrix Page will feature transcripts. Be sure to check out Sci-Fi Talk's schedule on Broadcast Schedule - http://hometown.aol.com/scifitalk/broadcast.htm. Home Page - http://www.scifitalk.com
Listen To Sci-Fi Talk:
For 56K Modem or less connection - http://www.live365.com/stations/211667
Cosmic Landscapes Radio - http://www.cosmiclanscapes.com
Broadcast Schedule - http://hometown.aol.com/scifitalk/broadcast.htm
SCI-FI CARTOONS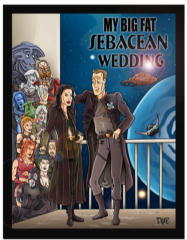 I love science fiction related cartoons and Tye Bourdony is one of the most talented artists out there. He has done dozens of toons for Babylon 5. Here is his latest -- for FARSCAPE fans.



BABYLON 5/CRUSADE CONVENTIONS
CONVENTION UPDATE
J. MICHAEL STRACZYNSKI: JMS will be at San Diego ComiCon this year -- July 17-20. From a post available in the B5 moderated newsgroup, JMS says he will be offering the last of the Sleeping in Light scripts with missing material that he had at Wondercon. This will be the last time they will be made available at a convention.
---
RICHARD BIGGS, JASON CARTER and ROBIN ATKIN DOWNES: You can catch up with these three at the GenCom Convention in Indianapolis, Indiana beginning July 24.
---
BILL MUMY: The folks at FarPoint are excited to announce that Bill Mumy will be joining them in February!
---
CONVENTION CALENDAR
Toronto Trek 2003
July 11-13, 2003
Place: Regal Constellation Hotel, Toronto, CA
B5 Guest: Julie Caitlin Brown, Jason Carter
Other guests: James Marsters-CANCELLED (Anthony Stewart Head replacing him), Gil Gerard, Erin Gray
For more information, visit their website at http://tcon.icomm.ca.
---



Shore Leave 25
July 11-13, 2003
Place: Marriott's Hunt Valley Inn
245 Shawan Rd., Hunt Valley, MD 21031
Tel. 410-785-7000
B5 Guest: Andrea Thompson (Talia)
Other Guests: Christopher Judge, Marina Sirtis, Marc Singer, Vaughn Amstrong, Carolyn Seymour, Alan Ruck, Phil Morris, BarBara Luna, Robert O'Reilly, J.G. Hertzler, Judson Scott, Denise Crosby
For more information, visit their website at http://www.shore-leave.com.
---



Vulkon
July 18-19, 2003
Place: Tampa, Florida
Tampa Airport Hilton
B5 Guest: Robin Atkin Downes
Other Guests: James Marsters, Mercedes Mcnab, Jeams C. Leary, Andy Hallett, Iyari Limon
For more information, visit their website at http://www.vulkon.com.
---



San Diego ComiCon
July 17-20, 2003
Place: San Diego Convention Center
B5 Guest: J. Michael Straczynski

For more information, visit their website at http://www.comic-con.org/.
---



GenCon Gaming Convention
July 24-26, 2003
Place: Indianapolis, Indiana
B5 Guest: Richard Biggs, Robin Atkin Downes, Jason Carter

For more information, visit their website at http://www.gencon.com/display.aspx?file=indy.
---



Official Star Trek Las Vegas Convention
August 1-3, 2003
Place: Las Vegas Hilton, 3000 Paradise Rd.
B5 Guest: Richard Biggs
Other Guests: William Shatner, Leonard Nimoy, James Doohan, Michael Dorn (a ton of ST stars)
For more information, visit their website at http://www.creationent.com/.
---



Bill Blair Birthday Celebrity Cruise
August 18-22, 2003
Ports of Call: Key West, Cozumel
Guest: Bill Blair, Peter "Chewbacca' Mayhew
For more information, visit Bill's website at http://www.BillBlairFanClub.com.
---



DragonCon
August 29-Sept. 1, 2003
Place: Atlanta, GA
B5 Guests: Stephen Furst, Peter David, Bruce Boxleitner, Mira Furlan, Walter Koenig, Peter Woodward, Brad Dourif, Julie Caitlin Brown, Bill Mumy
Other Guests: Luke Perry, Ray Bradbury, Christopher Judge, John Rhys-Davies, George Takei, Virginia Hey, Tony Amendola

For more information, visit their website at http://www.dragoncon.org.
---



Be sure to visit our Convention Calendar for a full listing of upcoming conventions featuring Babylon 5, Crusade and Legend of the Rangers cast members as guests.

If you would like to share your convention experience with your other Zocalo readers, send along a convention report. I will gladly post it for all to read. Got pictures? I'll post those as well.
ZOCALO TRADING POST
Do you have extra copies of B5, Amazing Spiderman, Midnight Nation or Rising Stars comics you'd like to trade? How about those extra trading cards or B5 magazines? There are a lot of fans looking for these items -- and the Trading Post can help you buy or sell them. To see what's available, just use this link to the Trading Post. To have items included in The Trading Post, send a note to The Zocalo. Please put Trading Post in the subject line.
PEN PALS
If you are looking for someone to talk about Babylon 5 and Crusade with, the Pen Pal section is for you! Check it out! Drop a note to someone who is feeling B5 withdrawal -- BIG TIME!

People thought a Pen Pal page was a good idea. If you would like to meet people who you could chat with or share your opinions of the show with, send along your e-mail or snail-mail address The Zocalo. It will be incorporated on the new Pen Page Page.
MAIL FOR CAST AND CREW
Here's a recent note from JMS on the subject:

Just an FYI to those who've been using the Ventura Blvd. mail drop for fan mail to actors....

As mentioned before, we're phasing out the forwarding of fan mail because we a) don't have the resources, complicated by b) the actors have scattered to the four winds, and it makes it very difficult to get everything to everybody in a timely fashion.

So, having provided prior notice...fan mail to actors coming to the Ventura Blvd. mail drop will be sent back. Mail to actors should be sent via their official fan clubs. I will still be taking mail there, since it's my mailbox, but that's it.

Just so's y'all know and save a few bucks on postage and returns.

JMS' mail can be sent to:

14431 Ventura Boulevard, PMB 260
Sherman Oaks, CA 91423

WARNER BROS:

Warner Bros. Address:

Warner Bros. Domestic Television Distribution
4000 Warner Blvd.
Burbank, CA 91522

Warner Home Video:

Mr. Douglas Wadleigh
VP for Marketing and Special Features
Warner Bros.
4000 Warner Blvd.
Burbank, CA 91522

SCIFI:
Bonnie Hammer, President
Sci-Fi Channel
1230 Avenue of the Americas
New York, NY. 10020-1513

Mr. Thomas Vitale
Senior VP of Acquisitions, Scheduling & Program-Planning
BACK ISSUES OF THE ZOCALO TODAY
The front page of the The Zocalo Today changes daily, so be sure to check the back issues to make sure that you haven't missed anything IMPORTANT! I don't want the front page getting too long so I shift information periodically into the archives. So if you aren't a regular visitor to The Zocalo Today, be sure to check out the back issues. Just use the button above!
---
Take care and I look forward to hearing from you.
Sandra Bruckner (sgbruckner@aol.com)
Editor/Publisher
The Zocalo Today
http://www.isnnews.net
Copyright - SBruckner, 1999-2003