[an error occurred while processing this directive]

The Zocalo Today

Welcome! I am REALLY glad you dropped by. Take your shoes off, get comfortable and stay a while. There is a LOT of information here for you to share.

The Zocalo Today is an interactive newsletter. We encourage interaction with our readers and like suggestions. So send them along. The Zocalo Today is as much YOUR newsletter as it is mine! I'm just pulling together things for you! Join our weekly discussion topic. It is just one way you can interact with other Z readers. Send along letters, sightings of B5 cast and crew in other projects, convention reports, photos, etc. Don't miss our back issues. As I said, there is a LOT of information contained there and you'll not want to miss anything.

If you have questions, drop me a line at sgbruckner@aol.com or b5web@aol.com. If you would like to join the mailing list for our bi-weekly newsletter, send me a note and I'll include you on the list. Or you can use the subscription block at the left.

Again, WELCOME!




What's New Today
Friday, July 12: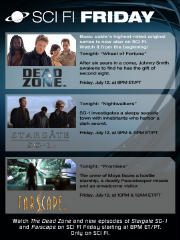 SCIFI FRIDAY: SCIFI kicks of it's new Friday lineup with DEAD ZONE opening at 8pm; STARGATE SG-1 at 9pm; and FARSCAPE at 10pm ET. STARGATE is repeated at 11 and FARSCAPE at 12 midnight.
---
RATINGS: Top 10 SF Network Shows: ouched by an Angel 3.1; Smallville 2.6; Alias 2.2; Futurama 2.0; Dark Angel 1.9; Futurama 1.7; The X-Files 1.5; Enterprise 1.5; Charmed 1.4, and Sabrina 1.4. Source: Nielsen Galaxy Report, 6/10/02 - 6/16/02.
---
STAR WARS: Have you ever thought, what if Luke had died on the ice planet of Hoth; what if the Death Star had survived the Battle of Yavin? Well Dark Horse's new Star Wars Infinities comic series takes on The Empire Strikes Back and looks at both of these scenarios. In the first Infinities series, A New Hope, the Death Star's history is changed. The new four-issue series went on sale this week. It features characters from the Empire movie, but in new situations. The first issue, written by Dave Land with art by Davidé Fabbri and Christian Dalla Vecchia, features cover art by Chris Bachalo and Tim Townsend.
---
ENTERPRISE: In an interview of the new issue of STAR TREK: COMMUNICATOR, Scott Bakula talks about the upcoming second season of ENTERPRISE. He revealed that unlike past TREK shows, the main arc of the Temporal Cold War, the main thread story of the series, has already been sketched out. "We've mapped out a great deal of the arc, and want to make sure that every time we do it, you learn something very tantalizing," Braga said. "Because so much of the show's concept is rooted in STAR TREK's history, we thought it would add a little spice to create a villain who doesn't want to see humans succeed in space. It was just too cool a premise to pass up."
---
LATHE OF HEAVEN: A&E is working on a new film adaptation of Ursula K. LeGuin's classic science-fiction novel "Lathe of Heaven". The first film premiered on PBS in 1980, but legal issues kept the network from re-airing it. Philip Haas will direct the project which follows George Orr, a young man who can change the world with his dreams; Lukas Haas has the title role. "Lathe of Heaven" is scheduled for Sunday, Sept. 8 on A&E.
---
INSIDE SCIFI THIS WEEK:
Thursday, July 11: CONVENTION ALERT: While wandering about this morning looking for convention information, I stumbled onto the San Diego ComiCon site. JMS is scheduled to appear this year! See the convention calendar for more details. Dates are: August 1-4, 2002. Joe wrote a piece for the con which you can read at http://www.comic-con.org/pages/2002Spot-JMS.html.
---
BATTLESTAR GALACTICA: At a recent meeting of the Television Critics Association in Pasadena, California, Sci-Fi President Bonnie Hammer talked about a number of SCIFI's new productions. Cinescape asked why BATTLESTAR: GALACTICA had been transformed from a one-hour series to only a four-hour mini-series. Hammer who said, "Well, BATTLESTAR is interesting because it worked well as its original series. It didn't work as well as its second recreation. So what we want to do is a four-hour mini. Basically, give it a new life – maintain the franchise but modernize it and if it works in a mini, then we'll develop it into a series. If in fact the audience says, 'Been there, done that' then we won't go there."
---
QUANTUM LEAP: SCIFI President also talked about bringing back QUANTUM LEAP as a series. "QUANTUM LEAP is absolutely a classic. It's done well on our channel in repeats and we've always wanted to do a QUANTUM LEAP reunion movie. And then when we started thinking about it and then we merged back with Universal, we said, 'Wow, let's do a two-hour movie. Let's see who we can attract from the original series and let's start our own. So we're thrilled about that because [QUANTUM LEAP] is so pure sci-fi, but so mainstream that I think we're going to pull in a whole new audience." Will Scott Bakula return? Hammer, said with a smile, "You never know. You never know."
---
NIGHT GALLERY: USA Network is making a two-hour movie based on Rod Serling's last head-twisting series, NIGHT GALLERY. The movie will tell four stories, some of which came from the original show's episodes, and some of which are new. Tom Thayer, who produced the FIRESTARTER: REKINDLED mini-series for the Sci-Fi Channel, has been tapped to produce the movie.
---
24: A short time ago, we learned that a casting call had gone out for a potential love interest for Kiefer Sutherland's character in 24! Well, Australian-born Sarah Wynter has been selected. When 24 returns in the fall, Wynter will play a rich young woman who finds herself caught up in Counter Terrorism Unit agent Jack Bauer's (Kiefer Sutherland) latest mission. Wynter has recently been seen in TNT's 2000 thriller "Race Against Time" opposite Eric Roberts and Cary Elwes; "Bride of the Wind" and "The 6th Day" opposite Arnold Schwarzenegger.
---
K-19: THE WIDOWMAKER: This is the first feature film for National Geographic. For an awesome trailer and more information about the movie and submarines, go to http://www.nationalgeo.com/k19/. The movie opens on July 19.
---
LARA CROFT #2: Production is scheduled to begin on August on the sequel to TOMB RAIDER. LARA CROFT AND THE CRADLE OF LIFE has Lara looking for antiquities in a sunken temple and finding a sphere that holds the location of Pandora's Box. The movie will be directed by Jan de Bont and will include locations in Africa.
---
Wednesday, July 10:
RATINGS: Top 10 SF Syndicated Series: The X-Files 2.5; Stargate SG-1 2.4; 3rd Rock 2.2; Buffy 2.0; Mutant X 2.0; Andromeda 1.9; John Edward 1.8; Beastmaster 1.5; The Lost World 1.5, and Pretender 1.5. Source: Nielsen Galaxy Report, 6/10/02 - 6/16/02.
---
SCIFI/UNIVERSAL: SCI FI, now a part of Universal Television Group, is developing a number of original series and films based on existing Universal titles. The network will develop a two-hour movie based on the Quantum Leap series. The movie will also serve as a pilot for a possible series. Series creator Don P. Bellisario will executive produce. SCI FI will also develop a one-hour action series based on the Tremors series of movies. With a scheduled premiere for January 2003, Tremors' creators, executive producers Nancy Roberts, Brent Maddock and S.S. Wilson, will work with series executive producer David Israel. SCIFI President Bonnie Hammer stated, "Projects such as Quantum Leap and Tremors are exactly why SCI FI is excited about being part of the Universal family. We have an opportunity to access the rich Universal library—which includes a vast array of horror and sci-fi titles—to create new television experiences for a contemporary audience."
---
DREAM TEAM: SCI FI has ordered 65 half-hour episodes of THE DREAM TEAM with Annabelle and Michael, an "alternative reality TV" series that will explore the meaning of dreams. Stone Stanley Entertainment will produce the series, which begins production in Los Angeles in the fall. Co-hosted by Annabelle Gurwitch (TNT's Dinner & A Movie) and psychotherapist Michael Lennox, an expert in dream interpretation, the series will kick off in January.
---
TAKEN: Seven months of principal photography for Steven Spielberg's TAKEN has just completed in Vancouver. This limited series by SCI FI Channel and DreamWorks Television about the alien abduction phenomenon is set to premiere over 10-nights in December. Leslie Bohem (Dante's Peak) wrote Taken and executive produced it with Spielberg and Steve Beers.
---
HELEN OF TROY: USA has a new four-hour miniseries on the way -- HELEN OF TROY. Sienna Guillory ("The Time Machine" ) has been cast in the title role -- the woman whose forbidden love affair with the Trojan warrior Paris led to one of history's greatest wars -- one that only ended when the legendary Trojan horse was brought into play. "Helen of Troy" is being directed by John Kent Harrison ("A Wrinkel in Time," "What the Deaf Man Heard" ) and is slated to premiere in the second quarter of 2003. The cast includes: Rufus Sewell as the manipulative Agamemnon, Stellan Skarsgard ("Breaking the Waves" ) as Theseus and Matthew Marsden ("Black Hawk Down" ) as Paris.
---
BUFFY: It has been reported that series creator, Joss Whedon, will be writing the seventh season premiere -- and that he might even take a stab here and there as a ghost director for the episode. When the show premieres, you are invited to the grand opening of a rebuilt Sunnydale High School. Dawn (Michelle Trachtenberg) will begin attending classes at the school while Buffy (Sarah Michelle Gellar) is rumored to be taking a job there. CNN reports that Luke Perry will guest star next season, reprising the role of Pyke from the movie.
---
BATMAN VS> SUPERMAN: Eonline.com posted a note to say that Perfect Storm director Wolfgang Petersen will direct Batman vs. Superman, a "clash of the titans"-style caper about the two superheroes who come to blows over differing philosophies. The film is expected to hit theaters in summer 2004.
---
HARRISON FORD: Harrison Ford fans will get to see him in totally different sort of part in K-19: The Widowmaker, opening on July 17. Ford portrays Captain Alexi Vostrikov, a Russian submarine commander, a stark departure from the roles we normally associate -- Indiana Jones, Jack Ryan, Han Solo! Dark Horizons interviewed Ford while promoting the film; it's an interesting read.
---
Tuesday, July 9:
STAR TREK: NEMESIS: With an oscar nomination (Gladiator) under his belt, Josh Logan stepped into a set of very different shoes as he took on the job of writing the screenplay for Star Trek: Nemesis. Logan said that the Trek cast welcomed him, even though he wasn't part of their immediate "family". Logan came to the project via his buddy, Brent Spiner. Brent, who shared 'story by' credit, arranged for Logan to meet Rick Berman. Logan is a longtime Trek fan however and no stranger to sci-fi. He wrote Bats and the recent Time Machine update. "The cast, in my experience, was invaluable. They were very kind to me, very welcoming and very helpful just in terms of developing the story," Logan said. Nemesis opens nationwide Dec. 13.
---
DEAD ZONE: Prevue Magazine talked to DEAD ZONE star Anthony Michael Hall who plays Johnny Smith, a high school teacher who awakens from six years in a coma to find he has gained the power of second sight. DEAD ZONE originally premiered on the USA Network, but will also be shown on SCIFI beginning July 12 as part of Sci-Fi Friday.
---
WONDER WOMAN: For months there have been rumors about a new WONDER WOMAN project. A number of names have been posed as the lead, including Sandra Bullock. However, Sandra recently told TV Guide, "I just don't have the time or the capability to think that I can pull that off." I'm sure there are a couple of folks that could handle the part. What do you think?
---
USA NETWORK: USA is going into the miniseries business. They announced they will next produce TV remakes of such Hollywood blockbusters as Spartacus, Traffic and Papillon
---
Monday, July 8:
RATINGS: Top 10 SF Channel Shows: Dog Soldiers 1.9; Stargate SG-1 1.7; Primal Force 1.4; Farscape 1.3; Bride of Chucky 1.0; Project Metalbeast 0.9; The Hidden 2 0.9; Junior 0.8; Night Visions 0.8, and Blade Runner 0.8. Source: Nielsen Galaxy Report, 6/10/02 - 6/16/02.
---
LEAGUE OF EXTRAORDINARY GENTELMEN: Filming got underway Wednesday on the the big screen adaptation of Alan Moore's LEAGUE OF EXTRAORDINARY GENTLEMEN. Filming in Prague began a week later than scheduled due to to star Sean Connery's undisclosed illness. The film is based on the Moore comic centering on a SUPERFRIENDS-like team of literary characters like Captain Nemo and Dr. Jykell, has Connery playing the aged adventurer Allan Quartermain.
---
STAR TREK: NEMESIS: New photos are available for the upcoming film STAR TREK: NEMESIS over at http://movies.yahoo.com/shop?d=hv&id=1807859445&cf=pstills.
---
WEEKEND BOX OFFICE: MEN IN BLACK II made a very strong showing this weekend, easily coming in #1 against competition from other films making their debut. Here are the numbers: 1. MEN IN BLACK II, $54.1 million this weekend, $90.0 million since opening; 2. MR. DEEDS , $18.8 million this weekend, $74.0 million since opening; 3. LIKE MIKE, $13.0 million this weekend, $20.0 million since opening; 4. LILO AND STITCH, $12.7 million this weekend, $103.1 million since opening, and 5. MINORITY REPORT, $12.4 million this weekend, $96.8 million since opening.
---
HELLBLAZER: Warner Bros. is trying to woo Keanu Reeves to the starring role in the feature Constantine, based on the DC-Vertigo comic Hellblazer. No director has yet been named. The story would follow an occult-obsessed con man who teams up with a female cop to battle evil forces.
---
DIE ANOTHER DAY: Madonna will have a cameo role in the upcoming James Bond film, DIE ANOTHER DAY. She recently filmed her role at Pinewood Studios outside of London; she will portray a fencing instructor. The scene that Madonna features in will take place at the Blades Club in London. The scenes at Blades do involve James Bond dueling villain Gustav Graves both inside and outside of Blades, however, audiences will only see Madonna inside. For more about the upcoming film, go to http://www.commanderbond.net/.
---
Sunday, July 7:
WITCHBLADE: Several items of Good News regarding WITCHBLADE. Top Cow's Marc Silvestri, Executive Producer of the series, said that star Yancy Butler has been working at her normal heavy pace since returning to the show. "She's doing great, her spirits are great and she's working hard," Silvestri said. "She's putting in 14-16 hours a day, sometimes six or seven days a week. She's happy to be back, and we're happy to have her back." WITCHBLADE DVD: Top Cow's Matt Hawkins said that a Witchblade DVD with the two-hour movie is being targeted for a holiday season. Another DVD/VHS of the first season should be released next spring, "theoretically in preparation for a third-season launch," Hawkins said.
---
SMALLVILLE: Looks like SMALLVILLE will have it's first set of trading cards soon. Catch a peek over at http://www.comicscontinuum.com/stories/0207/06/small.htm. Release date is November 13.
---
SMALLVILLE's hero is no longer a single man -- yes Tom Welling wed his finance Jamie on July 5. If you would like to post a note of good wishes to Tom and his new bride, go to http://www.kryptonsite.com/. There is a message board there for that purpose. While over at the site, be sure to look at the screen captures from the new SMALLVILLE DVD that was released recently.
---
DENNIS QUAID: Dennis is going to be a very busy fella! He will star in Roland Emmerich's big-budget THE DAY AFTER TOMORROW. Production begins in November following completion of COLD CREEK MANOR with Mike Figgis directing. In COLD CREEK, Quaid plays a father who relocates his family from a major city to a small town only to have it turn into a nightmare when the former owner is released from prison and demands his home back! DAY AFTER TOMORROW is a disaster extravaganza about global warming that creates hurricanes, eatherquakes, tornadoes and the onset of the next ice age.
---
Saturday, July 6:

TRIBULATIONS: Dark Tales is going out of business. If you haven't yet gotten a copy of JMS' book TRIBULATIONS, now is the time to do so. It's $7.50 instead of the original $24.99 cover price. Here's a synopsis of the novel: Susan Randall, a crime reporter with the Los Angeles News-Tribune, encounters Raymond Weil, a man with a questionable past, who believes that the series of murders she is investigating has a supernatural origin which only he truly understands. And with each new victim, Susan wonders just how Raymond knows so much...
---
MEN IN BLACK II: The weekend has just begun, but MEN IN BLACK II already has amassed over $34.6 million in revenues. Sony Pictures Entertainment must be very happy with this year's movies. MEN IN BLACK opened at 3,557 North American movie houses on Wednesday.
---
DEAD ZONE: DEAD ZONE lifted USA to the top of the weekly cable rankings, with 5.17 million viewers tuning in to watch the Sunday 10:00 p.m. episode. "The Dead Zone" was the most-watched cable network in primetime for the week, averaging 2.46 million viewers.
---
---
SPECIAL UPDATE FROM JMS
Today we finished mixing the last of the Jeremiah two-parter. It's killer. Year one is finished; now we await word on year two.

For those who might want to take a look...I did a small piece for the San Diego Comic Convention website about, well, SDCC. It's a short but fun piece that should be up in the next day or so at www.comic-con.org

Also did an introduction to Fiona Avery's newest graphic novel, WITCHBLADE: OBAKEMONO, which hits comics stores soon. The novel is some of her best work to date, and the intro "Of Samurai, Bulldogs and Applied Mathematics" is just for fun.

If you haven't gotten in your story/email/message/whatever on a favorite B5 quote (what it is, why it resonated, what it or the show in general meant, what meaning can be derived from it) for the upcoming quote book -- "But In Purple I'm Stunning, Quotations from Babylon 5," the door on submissions will be closing soon. Notes can be sent to b5quotes@yahoo.ca

Finally, I'm writing an intro for the B5 DVDs, which are proceeding along well and this should prove to be a very nice little package.

(Okay, I lied, one last-last thing...after the 12th of July or so there will likely be a small announcement from WB that's B5 related. Can't comment more than that, and it isn't anything major a la a new series or a movie or the like, but I suspect a certain sub-set of B5 fandom will be most pleased by the information.)

As of this coming February 22nd, it'll be ten years since "The Gathering" aired. Boy, that damned tempus just keeps on fugiting, doesn't it?

jms
BABYLON 5 DVDs
Here's a note from JMS on the upcoming DVDs for Babylon 5: I was holding off saying anything until WB or someone else could announce it, but since it's come up here (newsgroup) via the captioning institute...yeah, as noted, it's real. Season One will be out in a boxed set this Fall, and they're going to be including at minimum two commentaries from me, probably on Signs and Portents and Chrysalis (it's a matter of how much time and energy I can give to it given that there's no fees involved and I'm in the midst of Jeremiah), and if possible, Babylon Squared, maybe Sky Full of Stars. They'd also like to film an on-camera intro by me (but I guess folks will buy it anyway, even with that particular horror included). They're pulling together a lot of stuff on this release so that there are plenty of extras this time around, now that the value of the DVDs has been shown by the first release.. Reports are now out that the first boxed set will be available in the UK on October 14.
MEMORY LANE
Last night, I was looking through some old photos taken at conventions and during my B5 studio visits. It was great seeing some old friends again and I thought this might be a terrific summer project for everyone to participate in. How about sending in your favorite photo that we can post for everyone to share. If there's a story behind the photo, send that along as well. If you don't have the photo in electronic format to attach to your story, send that to me and I'll scan it for you -- and return your photo for safe keeping. If you have any questions, drop me a line at sgbruckner@aol.com. I'll start pulling together some of my own favorites and hope that others will follow soon. A new page should be up soon.
DISCUSSION TOPIC:
What are you reading, now that summer is upon us and there may be a tad more free time to sit and enjoy some of the new novels hitting the bookshelves? Has anything come out that you particulary enjoyed? How about the new TV series? What do you think of Odyssey 5, Dead Zone? Send in your comments to thezocalo@aol.com or b5web@aol.com. I'll post them on the Discussion Page so that everyone can share what they are reading & watching this summer.
JEREMIAH ON SHOWTIME - FRIDAY AT 10:45PM
Next episode premieres Friday, July 12, 10:45PM ET/PT
Written by: J. Michael Straczynski
Directed By: Mike Vejar Log Line: Markus and Erin head to a meeting in St. Louis where they hope to forge ties with other groups trying to make the world better while Jeremiah ignores Ezekiel's warning and goes in search of his father. Two very enticing clips are up at www.sho.com/jeremiah. If you want to see what's ahead, drop over and watch.
Luke Perry made an appearance at Wizard World recently and answered questions about his work on Jeremiah. For a complete transcript, to go http://www.comicscontinuum.com/stories/0207/10/perryindex.htm. Here's a note from JMS regarding Jeremiah: Okay, so here's the deal. There are now three episodes remaining of Jeremiah's first season, "A Means to an End," by Sara Barnes, and the two part "Things Left Unsaid" by yr obdnt srvnt. The first is a quieter, more personal story but also sets up what's going to happen in the two-parter, and the latter (directed by Mike Vejar, our good luck charm on B5 who did our best episodes) is pretty much nonstop intensity and action and character stuff end to end. Though we're already doing well, it would be great to go out on a real bang ratings wise, so I'm going to try an experiement. If every B5 viewer who sees this can get the word to every other viewer who gets Showtime normally (I wouldn't sign up just for this, that's fiscally imprudent) to watch the next three episodes, that would be terrific. I think that would be sufficient to kick us over the edge into a sure renewal for year two. And they're fun episodes on their own rights, even if you haven't seen the show before. Though "Means" is, again, a quieter episode, there's one scene in it that will have just about any SF fan worth his/her salt rolling on the floor. I can pretty much guarantee you it's something you haven't seen before. As for "Things Left Unsaid," of all the things I've written and produced, this may be the best thing I've ever been involved with, from a production standpoint and much of the writing. We kind of got pulled back a bit after the events of 9/11 put a damper on the television business in terms of the kinds of stories one can tell, but we really got this puppy back up on the rails again with the two parter, which is emblematic of what we'll do in a second year. Anyway...just a call out from here to B5 fandom, to see if it's still there, so we can get together one more time on a biggie. Thanks.
jms For more information about this episode and the entire series, be sure to visit www.jeremiah.tv. For those of you who want to keep up on what is going on with Jeremiah, Ranger Monica has started up a Jeremiah newsletter. Please go to http://groups.yahoo.com/group/jeremiah-news/ and subscribe. Monica also has a very nice Jeremiah site so don't forget to bookmark that as well.
KEEPING UP WITH CAST AND CREW
ROBIN ATKIN DOWNES: Robin has a guest starring spot on the July 21 episode of ARLISS, the new show on HBO. Here's a postcard-type advertisement for the show. For more information about the show, visit their website at http://www.hbo.com/arliss/.
UNIQUE CHARITY ITEM
Ten popular science fiction actors have donated their time, images and autographs for an exclusive photograph, the proceeds of which will go to charity. For sale through the actors themselves and at , the limited-edition photo is in color, edged in white and ready to place in an 11X14 frame, and handsigned. Each of the 1,000 limited edition photos comes embossed with a seal of authenticity and numbered. The photograph is now available for a pre-sale price of $100. After Sept 11, 2002, the price will go up to at least $125.00. Among the charities to benefit will be the Penny Lane home for abused children in Los Angeles, and various September 11 funds. The actors hope to raise more than $100,000 through the charity project. The Penny Lane Home is a residential facility for children who have been severely abused, physically, emotionally and sexually. Many have "fallen through the cracks" of the social service outreach programs, and Penny Lane is their last chance at escaping the abuse. Actors in the photo include: Patricia Tallman, known best for her roles as Lyta Alexander in Babylon 5 and Barbara in Night of the Living Dead (1990) Vaughn Armstrong, who has portrayed more guest star aliens on Star Trek:TNG, DS9 and Voyager than any other actor in Star Trek history. Currently, he holds the recurring role of Admiral Maxwell Forrest on Enterprise, as well as at least eight other Guest Starring roles on board the new Trek series to date. Stephen Austin portrayed many bizarre alien creatures on Babylon 5. His most notable was the lovable Pak'ma'ra Ambassador. David Brooks is an accomplished artist as well as actor. He is best known to the sci fi community as Max Eilerson on the Babylon 5 spin off, Crusade. Jeffrey Willerth portrayed Ambassador Kosh and was Associate Producer of Babylon 5 Robin Atkin Downes, best known for his role of Byron in Babylon 5 Carrie Dobro, Dureena Nafeel in Crusade. Tim Choate was extremely popular on B5 as Zathras (and his brothers, all named Zathras). He also portrayed Pollack on Crusade. Beata Pozniak appeared as Babylon 5's Earth Alliance President Luchenko. Ed Wasser, the evil Mr. Morden on Babylon 5. As a special promotion, the first 100 orders will receive a special gift: former Star Trek stunt coordinator, Dennis Madalone, has donated 100 copies of his single, "America, We Stand As One," to say thank you to the science fiction fans who purchase the charity photograph. To order the photo online, go to http://www.thegalacticgateway.com, click on shop, and search on the word charity.
SCI FI PUBLICATIONS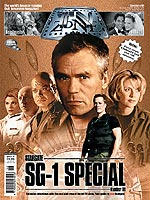 TV Zone Special #46: It's about time Stargate SG-1 started getting some respect and the press it has deserved for quite some time! In this special issue, the magazine talks to all the cast members, looks at production design, make-up and stunts. There is also interviews with Tony Amendola, Carmen argenziano and Peter Stebbings (yes you know him from Jeremiah now!).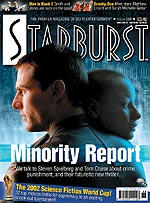 Starburst #288: Movies take center stage in this issue. With the success of Minority Report, this issue talks to both Tom Cruise and Steven Spielberg about the movie based on Philip K. Dick's short story. Men in Black just opened at the theater. The magazine talked to both Will Smith and Tommy Lee Jones about the sequel.
Cult Times #82: Stargate is the focus of this issue -- taking a look at the sixth and "final" season of the series. Robert Cooper, writer/producer, talks about what we can look for this year. Witchblade made it's second season debut and star Yancy Butler talks about portraying Sarah Pezzini.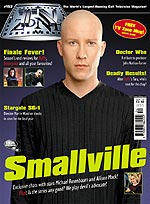 TV Zone #152: Michael Rosenbaum from Smallville is featured this month in his role as Lex Luthor. Chloe Sullivan (allison Mack) also talks about her role as the school paper's investigative reporter. Also of interest in this issue, director Martin Wood talks about Stargate SG-1 and this upcoming season.
Expose #69: Scooby Doo hit theaters last week and you can hear what Sarah Michelle Gellar and Freddie Prinze have to say about their roles in the movie. Also there's a look at Dead Zone, Witchblade and Odyssey 5.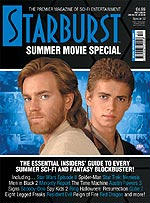 Starburst Special #52: This Summer Movie Special focuses on all the movies available for viewing pleasure this summer. Star Wars gets considerable attention, but you'll also find Spiderman, Men in Black II, Minority Report, Signs, Star Trek Nemesis, Scooby-Doo and others.
SCI-FI BOOKS ON SALE

The Stargate Illustrated Compendium for Seasons Three and Four is now available in the U.K.! The volume can be ordered at Amazon.co.uk. Ranger Dave reports that Bruce Boxletner's books (FRONTIER EARTH and THE SEARCHERS) are still avaible at www.bookcloseouts.com . The site is awesome, with several titles by William Shater and heaps of SciFi and Fantasy books.
BABYLON 5 BOOK OF QUOTES
Here's a note from JMS regarding an upcoming project: It had to happen sooner or later...with so many message boards and posts asking "What's your favorite B5 quote?" a book of Babylon 5 quotes was inevitable. So "But In Purple I'm Stunning: Quotations from Babylon 5" is coming out from an independent publisher later this year. The book will also contain sections dedicated to fan choices for best/favorite quote. Fans of Babylon 5 are invited to send in their favorite quote, and why it's a favorite. The best of these emails will be culled for the book, and along the way this will determine the #1 favorite quote. In particular, the book will be looking for anecdotes/stories from fans about what a given quote, or what the show, meant to them in particular. There are a lot of people who have found comfort or meaning in the show, or found it helped them get through some of life's problems. (An example I sometimes cite at conventions was the young man dying of aids who asked his sister to put all of G'Kar's speeches about hope and never giving up on tape so he could listen to them at his bedside.) It needn't be a heavy story, just one that has meaning for the person involved, can be a funny story, whatever. Basically the goal is to find the intersection where the show and its message and its words touched people. All contributions will be considered free to use by virtue of being submitted for this project. So if you have such an anecdote/story/message about a favorite quote or the show in general, send it to the following address (rather than replying to this, since I'll just have to forward it on in any event): b5quotes@yahoo.ca
SCI-FI SCHEDULE
BABYLON 5's Schedule:
15-JUL-02 5:00 PM BABYLON 5 (LBX) SHADOW DANCING
16-JUL-02 5:00 PM BABYLON 5 (LBX) Z'HA'DUM
17-JUL-02 5:00 PM BABYLON 5 (LBX) THE HOUR OF THE WOLF
18-JUL-02 5:00 PM BABYLON 5 (LBX) WHATEVER HAPPENED TO MR. GIRIBALDI?
22-JUL-02 5:00 PM BABYLON 5 (LBX) THE SUMMONING
23-JUL-02 5:00 PM BABYLON 5 (LBX) FALLING TOWARDS APOTHEOSIS
24-JUL-02 5:00 PM BABYLON 5 (LBX) THE LONG NIGHT
25-JUL-02 5:00 PM BABYLON 5 (LBX) INTO THE FIRE
29-JUL-02 5:00 PM BABYLON 5 (LBX) EPIPHANIES
30-JUL-02 5:00 PM BABYLON 5 (LBX) THE ILLUSION OF TRUTH
31-JUL-02 5:00 PM BABYLON 5 (LBX) ATONEMENT
BABYLON 5 IN THE UK
Ranger Stephen reports that Babylon 5 has moved to Bravo (Sky Digital channel 124, selected cable companies), where I think they'll be showing it at 8pm.
BABYLON 5/CRUSADE PHOTOSHOP
NEW PHOTOS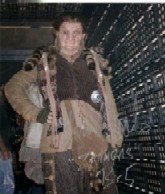 You do NOT have to pay the prices asked for over at e-bay! Here are photos of B5 and Crusade cast members at fantastic prices. Check out Photo Shop. Ordering is easy -- and you can't beat the prices! Just let me know which photos you want and I'll check to make sure they are still in stock.
---
BABYLON 5 TOONS
John Cook has a new cartoon contest going. Try your hand at a punch line.



NEW B5 TOON
Ranger Bill created this toon for his website www.wondertemp.com, but wanted to share it with readers here at the Zocalo. Thanks Bill.



READER DIRECTORY
Sometimes you just can't find the e-mail address for someone you know you have -- it's someone who responded to a discussion topic or you met in one of the chat rooms. You'd like to send a personal note, but .... No address!!!!

We've started a White Pages of Zocalo Readers! It's a handy way of keeping track of people -- and putting together a birthday/greeting card list as well. If you would like to be part of the listing, just send me your name, state, e-mail address and (if you'd like to have it listed) birthday (without year) to sgbruckner@aol.com. Check out the Directory of Readers.

HAPPY BIRTHDAY

Here are some of our readers who are having birthdays this month:

Name: Peter Dougherty
State: New York
E-mail: ve3thx@canada.com
Birthday: July 5

Name: Christopher Moore
State: Florida
E-mail address: psycho_pcb@yahoo.com
Birthday: July 21
BABYLON 5 REFERENCE PAGES
The Official Babylon 5 Magazine is indexed here as well. With the closure of the magazine in May, you'll want to see which magazines you have -- and which ones you will want to collect. The index may help you make a decision on which ones to choose. The Fan Club has many of the issues at thestation.com , making it very easy to complete your collection.

Universe Today -- the Babylon 5 Fan Club quarterly can also be found here. The index gives you a rundown of what articles were presented, what interviews published.

If you have magazines that have featured Babylon 5 or Crusade that are not listed, send along their issue number and a note to indicate what the article was about. It would be nice to have a fairly comprehensive listing of Babylon 5 publications here.

I have added a listing of all the Babylon 5 novels and now the B5 comic books to the reference page. If there are other items that you feel should be included, let me know.
MAILING LISTS
REDEMPTION: Ranger Steve reports that a new discussion group has been created for the upcoming REDEMPTION convention. Redemption 03, 21-23 February 2003, Ashford, Kent, Celebrating 25 years of Blake's 7 and 10 years of Babylon 5. www.smof.com/redemption.
NW-B5
NW-B5 is a mailing list devoted to bringing critical information to the Vancouver Island, Lower Mainland, and Northern Washington areas. More specifically, anyone north of Seattle. B5 is broadcast on SPACE:TIS in Canada, and Sci-Fi channel in the US. By subscribing to nw-b5, you'll be able to know info bringing you up to date on the current scheduling and events happening in the community related to B5. You'll also be subscribed to the list itself, which means that you'll receive email when there is a scheduling change or critical information needs to go out to you (for example, if we need to start another mailing campaign).

For further information, see http://www.nw-b5.com
John Francis
Webmaster, Listowner, and Co-Moderator
mailto:nw-b5@iname.com

Reports of "The Gathering" are beginning to turn up on the list. John posted a mini-report, with photos, over at http://www.geocities.com/jnf.geo/nw-b5/gathered.htm#0501. You may want to check it out. It was a terrific event in which JMS showed clips from "Legend of the Rangers". Most of the cast was in attendance -- a great group of individuals.
BABYLON 5 DISCUSSION LIST
The Babylon 5 discussion mailing list is for any and all discussions and/or news pertaining to or related to Babylon 5 and/or Crusade. The list has been in existence for the past three years now, and has recently moved. The new location is http://lists.apparition.org/cgi-bin/lyris.pl, and you can subscribe by sending a blank e-mail message to join-babylon_5-l@lists.apparition.org.
THE GALACTIC GATEWAY
Here's a unique site for you! Jeffrey Willerth, Patricia Tallman, Mira Furlan, Claudia Christian, Robin Atkin Downes, Rick Biggs, Jerry Doyle, Bruce Boxleitner, Melissa Gilbert, Peter Jurasik, Bill Mumy and Carrie Dobro are under it's umbrella. Actors from other shows have joined the Gateway. Ted Raimi and Robert Trebor from Xena and Hercules are now at GG. To subscribe to a mailing list for GG, send a blank note to thegalacticgateway-subscribe@egroups.com.
GATEWAY CHATTERS
There is never enough time to keep in touch with friends! To help out, a mailing list has been started for chatters over at the Galactic Gateway. If you are interested in joining, send a blank note to gateway-chatter-subscribe@egroups.com.
GATEWAY TRADER
Are you looking for a particular Babylon 5 collectible? Do you have some items you'd like to trade? Then this is the list for you. To join, send a blank note to gateway-trader-subscribe@egroups.com.
CALLING ALL ARTISTS
The Art Gallery at The Zocalo Today is open. There are SO MANY talented people in our Babylon 5 community. We have enjoyed works by Todd Brugman and Tye Bourdony on our toons page, but there are a host of others who enjoy drawing, painting, sketching their favorite characters. Here are a few works that have been received. I have some others that will be added soon.

If you would like to share your work with us at The Zocalo Today, please send along a digital photo of your work and I'll begin putting the gallery together. If you do not have your work in digital format, drop me a note and we'll see what we can work out.
CALLING ALL CLUBS
There are a number of fabulous Babylon 5/Crusade Clubs around the world. Visit the B5 Fan Club page to see if there is a club near you. If you have a club that you would like to have listed, drop the information about your Club to me at sgbruckner@aol.com or bruckner@isnnews.net. That information will be added to the new B5 Fan Club Listing.

Massimo has sent an update for the B5 Fan Club in Italy. Founded in 1995, the club now has 230 members! In Italy, they have just seen the last two episodes from season five! Membership in the club includes: the club card, a poster, a personalized pen and four number of ISN Network the fanzine published by the club. The cost is Euro 20 for an year in Italy. Interested? Contact Massimo at mmartini@italway.it.
BABYLON 5 FAN CLUB
Netter Digital filed for bankruptcy in July of 2000 and all their worldly posessions were auctioned off on December 7. The B5 Fan Club site, Thestation.com and it's store, the Emporium, has been closed.
BABYLON 5 NEWSLETTERS
If you have a newsletter you'd like to have listed at The Zocalo Today, send the information along. It will be posted on the B5 Fan Club/Newsletter page.

Ranger Shane in North Carolina sent in the following note about their "Jumpgate" newsletter.

Hey Sandy! Just wanted to give you an update on the NC B5 group's newsletter, Jumpgate. There's now a dedicated EMail address for submissions - jumpgatemag@bellsouth.net - and any submissions, solicited or un-, can be sent to this address. Also, issues are available for free download at the URL at the bottom of this message.

Jumpgate - The Newsletter of the North Carolina Babylon 5 Fan Club
Shane Killian, Editor
HELP WANTED
A new HELP WANTED section has been added to the Z. If you need help finding a comic book, getting a special item, etc. here's the place to post a note. Just send whatever help you need to thezocalo@aol.com.
---
BABYLON 5/CRUSADE CONVENTIONS
CONVENTION CALENDAR
Shore Leave 24
July 12-14, 2002
Place: Hunt Valley Marriott Inn (410) 785-7000
Baltimore, MD
B5 Guest: Richard Biggs, Jason Carter, Julie Caitlin Brown
For more information, visit their website at http://www.shore-leave.com.
---
New Worlds Con
July 13-14, 2002, Leipzig, Germany
Place: Treff Hotel Leipzig
B5 Guest: Ed Wasser
For more information, visit their website at http://www.newworldscon.de.
---
Vulkon Tampa
July 19-21, 2002
Place: Tampa Airport Hilton Westshore
Tampa, FL
B5 Guest: Julie Caitlin Brown
For more information, visit their website at http://www.vulkon.com.
---
Comic-Con International
August 1-4, 2002
Place: San Diego Convention Center
San Diego, CA
B5 Guest: Peter David, J. Michael Straczynski, Stephen Austin, Bill Blair, Tim Choate, David Allan Brooks
For more information, visit their website at http://www.comic-con.org.
---
Star Trek: The Official Convention
August 2-4, 2002
Place: Las Vegas Hilton
Las Vegas, NV
B5 Guests: Stephen Austin, Patricia Tallman (with Dennis Madalone and the Star Trek Stunt Team), Marjorie Monaghan, Marjean Holden, Richard Biggs, Julie Caitlin Brown
For more information, visit their website at http://www.creationent.com.
---
GenCon
August 8-11, 2002
Place: Milwaukee, WI
B5 Guest: Julie Caitlin Brown
For more information, visit their website at http://www.wizards.com/gencon/ .
---
Slanted Fedora, Washington, DC Area
August 16-18, 2002
Place: The Doubletree Hotel-Crystal City
Arlington, VA
B5 Guest: Stephen Austin
For more information, visit their website at http://www.sfedora.com.
---
Slanted Fedora, Philadelphia Area
August 23-25, 2002
Place: Philadelphia Adam's Mark Hotel
B5 Guest: Stephen Austin
For more information, visit their website at http://www.sfedora.com.
---
Dragoncon
August 30-Sept. 2, 2002
Place: Atlanta, GA
B5 Guests: Pat Tallman, Jeffrey Willerth, Julie Caitlin Brown, Tim Choate, David Brooks, Andreas Katsulas, Julia Nickson, Stephen Austin
For more information, visit their website at http://www.dragoncon.org/.
---
Be sure to visit our Convention Calendar for a full listing of upcoming conventions featuring Babylon 5, Crusade and Legend of the Rangers cast members as guests.
ZOCALO TRADING POST
Do you have extra copies of B5, Amazing Spiderman, Midnight Nation or Rising Stars comics you'd like to trade? How about those extra trading cards or B5 magazines? There are a lot of fans looking for these items -- and the Trading Post can help you buy or sell them. To see what's available, just use this link to the Trading Post. To have items included in The Trading Post, send a note to The Zocalo. Please put Trading Post in the subject line.
Pen Pals
If you are looking for someone to talk about Babylon 5 and Crusade with, the Pen Pal section is for you! Check it out! Drop a note to someone who is feeling B5 withdrawal -- BIG TIME!

People thought a Pen Pal page was a good idea. If you would like to meet people who you could chat with or share your opinions of the show with, send along your e-mail or snail-mail address The Zocalo. It will be incorporated on the new Pen Page Page.
BABYLON 5 BIRTHDAYS
Jerry Doyle - July 16
J. Michael Straczynski - July 17
David Warner - July 29

Have I missed anyone? If you know the birthday of someone connected with Babylon 5, pass the information along. We want to include everyone in our Happy Birthday Wishes.
MAIL FOR CAST AND CREW
Here's a recent note from JMS on the subject:

Just an FYI to those who've been using the Ventura Blvd. mail drop for fan mail to actors....

As mentioned before, we're phasing out the forwarding of fan mail because we a) don't have the resources, complicated by b) the actors have scattered to the four winds, and it makes it very difficult to get everything to everybody in a timely fashion.

So, having provided prior notice...fan mail to actors coming to the Ventura Blvd. mail drop will be sent back. Mail to actors should be sent via their official fan clubs. I will still be taking mail there, since it's my mailbox, but that's it.

Just so's y'all know and save a few bucks on postage and returns.

JMS' mail can be sent to:

14431 Ventura Boulevard, PMB 260
Sherman Oaks, CA 91423

WARNER BROS:

Warner Bros. Address:

Warner Bros. Domestic Television Distribution
4000 Warner Blvd.
Burbank, CA 91522

Warner Home Video:

Mr. Douglas Wadleigh
VP for Marketing and Special Features
Warner Bros.
4000 Warner Blvd.
Burbank, CA 91522

SCIFI:
Bonnie Hammer, President
Sci-Fi Channel
1230 Avenue of the Americas
New York, NY. 10020-1513

Mr. Thomas Vitale
Senior VP of Acquisitions, Scheduling & Program-Planning
BACK ISSUES OF THE ZOCALO TODAY
The front page of the The Zocalo Today changes daily, so be sure to check the back issues to make sure that you haven't missed anything IMPORTANT! I don't want the front page getting too long so I shift information periodically into the archives. So if you aren't a regular visitor to The Zocalo Today, be sure to check out the back issues. Just use the button above!
---
Take care and I look forward to hearing from you.
Sandra Bruckner (sgbruckner@aol.com)
Editor/Publisher
The Zocalo Today
http://www.isnnews.net
Copyright - SBruckner, 2002