[an error occurred while processing this directive]

The Zocalo Today

Welcome! I am REALLY glad you dropped by. Take your shoes off, get comfortable and stay a while.

The Zocalo Today is an interactive newsletter. If you have suggestions, please send them along. The Zocalo Today is as much YOUR newsletter as it is mine! I'm just pulling together things for you! Join our weekly discussion topic. It is just one way you can interact with other Z readers. Send along letters, sightings of B5 cast and crew in other projects, convention reports, photos, etc. Don't miss our back issues. There is a LOT of information contained there and you'll not want to miss anything.

If you have questions, drop me a line at sgbruckner@aol.com or b5web@aol.com.

Again, WELCOME!

July 13, 2001 04:26am
What's New
I will be at the Shore Leave convention this weekend. Bruce Boxleitner & Jerry Doyle at the same convention. It doesn't get much better than this! Hope to see you there.
---
Amazing Spiderman #33 is out! Looks like a good read.
---
The Legend of the Rangers website continues to improve. There is a lot of information available about the cast and crew, along with some great pictures.
---
CANADA AND BABYLON 5: Space: The Imagination Station has been running Babylon 5 for a very long time, much to the delight of B5 fans there. However, that run will end on August 6. To mark the end of the series, Space will show 5 episodes selected by fans as those they want to watch the most. Voting for the favorite episodes is currently underway at the station's website.
---
JANUARY 2002: If the article in yesterday's Zap2It.com is correct, the "Legend of the Rangers" movie will air on SCIFI in January. There is no official word on the SCIFI site as yet, so stay tuned.
---
McKenzie Gray, Ambassador Kafta in the upcoming "Legend of the Rangers" telemovie, talks with the Vancouver Sun about his roles and what it's like spending hours upon hours getting into make-up. Check out The Man Behind the Monster Mask.
---
If you missed the chat with Jeanne Cavelos this week at About Babylon 5, you can read a transcript at http://babylon5.about.com/library/weekly/aa070601a.htm.
---
I will be updating the B5 Cast on the Tube page later today. Be sure to give it a look-see.
---
If you're wondering what JMS is up to these days, don't forget to check out the JMS Speaks page for the latest postings from the internet.
---
Don't miss the article about "Legend of the Rangers" in this week's TV Guide. There's a really small picture accompanying the story, but it is something you'll not want to miss.
---
Terry Jones has sent along another segment of his wonderful B5 Chronology. Use this link to reach the time period 2233-2245 in the B5 timeline.
---
The first article on "Legend of the Rangers" has appeared -- in Dreamwatch #83. In this issue, Dylan Neal and Doug Netter are interviewed. This is just the first of a flurry of articles coming out. So keep an eye out on the newstands.
---
Enid-Raye Adams, who will portray Firell, a Minbari on the new "Legend of the Rangers" has opened up her own website at http://www.enid-rayeadams.com/. Don't miss the cast photo and other shots she has made available from the telemovie!
---
The e-mail version of The Zocalo Today goes out on Saturdays. If you would like to be included on the mailing list, just send a blank note to thezocalo-subscribe@yahoogroups.com. If that doesn't work for you, drop me a note at sgbruckner@aol.com. I can add you manually.
---
NEWS AROUND THE SCI-FI GENRE
July 13:
RATINGS: The Top 10 Network SF Programs for the Week: Futurama 3.5; The X-Files 2.8; Lone Gunmen 2.7; Freakylinks 2.1; Charmed 2.1; 7 Days 1.4; Voyager 1.4; Buffy 1.4, and Angel 1.3.
---
NO RESPECT! The Emmy nominations are out and, as usual, few genre programs have received nominations. The few exceptions include Voyager, Futurama, Dune and Dark Angel. However, recognition comes for the visual effects, not the writing or acting. There has not been a whole lot to commend to voting members since the end of Babylon 5, but it appears that the Academy sees science fiction in a totally technical light!
---
THE CHRONICLE: SCIFI's original series, The Chronicle, premieres tonight! See a review of the new series out at Cinescape.com.
---
SPIDERMAN: Despite the fact that we have a long wait until the Spiderman movie opens, Sam Raimi is already talking sequels, etc. over at Cinescape.com.

JUSTICE LEAGUE: Speaking of comic characters, the Cartoon Network has given November 17 as the premiere date for their new Justice League. You will be able to see a preview of the series at San Diego ComiCon!
---
July 12:
FARSCAPE: You'll be able to see TWO episodes of the series this weekend. Yes, there is one tonight at 9:00ET -- and a special episode set to air at 8pm ET on Saturday!
---
TAKEN: SCIFI announced that Taken, a 10-part, 20-hour saga from producer Steven Spielberg, will begin production in Vancouver in September. The miniseries will interweave the stories of three families and their experiences with UFO abductions. Steve Burton will play Randall Keys, a World War II fighter pilot who encounters strange lights in the night sky while on a mission over Germany. Julie Benz (Angel) will play Kate Keys, Randall's wife, who is forced to raise their son alone as Randall struggles to cope with his abduction experience. Joel Gretsch (The Legend of Bagger Vance) will play Owen Jones, an unscrupulous Army officer who sees the Roswell crash as an opportunity to jump-start his career. Taken is scheduled to air during the fourth quarter of 2002.
---
ENTERPRISE: In an interview with the TV Guide, co-creator Rick Berman revealed a few key details of the new show, including the fact that the titular starship will carry the designation NX-01 (NX referring to an experimental prototype ship); the ship will resemble an Akira-class starship; and the crew will number between 70 and 80. The time period of the show is 150 years from now, pre-Federation but early Starfleet. "We wanted to go back to a time when space exploration was truly new," Berman said. Starfleet is strictly an Earth-based organization with headquarters in San Francisco. Relations with the Vulcans have been strained, with feelings on Earth bordering on resentment toward the race that made first contact with them nearly a century earlier. The villains will be called the Suliban, a genetically enhanced race and the Klingons will resemble the ones from the feature films and newer series, not the ones in the original series.
---
EARTH: FINAL CONFLICT: SCI FI will begin running Earth: Final Conflict at 10 p.m. Monday through Thursday, starting Aug. 6. The first 88 one-hour episodes of the series will air in order and the network will broadcast future seasons as well. Earth: Final Conflict recently completed its fourth season in syndication.
---
July 11:
DR. WHO: A new BBC online Dr. Who audio drama starring Sylvester McCoy, Sophie Aldred & Stephen Fry, 'Death Comes To Time' will be webcast tomorrow night, Fri 13th July at www.bbc.co.uk/doctorwho . The program really needs your support. If the program does well, they could make new programs.
---
ENTERPRISE: Well the TV Guide is out -- and Scott Bakula was on "Entertainment Tonight" giving a tour of the new starship. Read ET's interview with Scott Bakula as he talks about the new uniforms -- and the new series.
---
RATINGS: For the week June 18-24, here are the Top 10 SF Syndicated Shows: Xena 3.2; 3rd Rock 3.0; The X-Files 3.0; Andromeda 2.5; Stargate SG-1 2.4; Invisible Man 2.1; Earth: Final Conflict 1.9; Profiler 1.9; Sheena 1.7, and Early Edition 1.4.
---
MISTS OF AVALON: TNT is tackling "Mists of Avalon" but they are using some big names to do it. Emmy and Screen Actors Award winner JULIANNA MARGULIES stars as Morgaine in the miniseries with a magical new twist on the timeless legend of KING ARTHUR, told through the eyes of the women who wielded the power behind Arthur's throne. "Mists of Avalon" airs Sunday, July 15 and concludes on Monday, July 16. It is based on the best-selling book of the same name and also stars ANJELICA HUSTON and JOAN ALLEN. You can catch more about this miniseries on Entertainment Tonight -- tonight! And there is an interview on their website with Julianna Margulies . Over at IGN.COM, they review the upcoming miniseries.
---
DARKSIDERS: Variety reports that New Line will develop Darksiders, a vampire feature film based on a spec script by Tom S. Parker and Jim Jennewein (The Flintstones). The film tells the story of a group of vampires who become special operatives for the FBI. Tracie Graham and Alison Rosenzweig will produce.
---
July 10:
ENTERPRISE: Want a sneek-peek at the new Enterprise design? Coming Attractions has a preview of the TV Guide article that comes out this week featuring the upcoming series.
---
THE WATCHER: The BBC ended speculation by announcing a new spin-off series that will feature Giles from Buffy The Vampire Watcher. Buffy creator Joss Whedon has been talking with the BBC about the spinoff series and yesterday, the Observer reported that the BBC is planning the series, tentatively called The Watcher, to star Head as Rupert Giles. Twentieth Century Fox, which will produce Buffy for UPN in the fall, will also produce the BBC program.
---
CHANGES AT SCIFI: According to the Hollywood Reporter, Sci Fi Channel has hired away NBC executive Erik Storey to serve as vp programming for the cable network. Based in Sci Fi's Los Angeles office, Storey will be responsible for finding and developing the cable networks original slate of series and movies. Storey will report to Ian Valentine, senior vp original programming.
---
FARSCAPE CHAT: Tammy Macintosh, Farscape's "Jool", will be in the SCIFI chat room Thursday at 9pm ET. Join the chat and see what this new addition to the Farscape cast can tell you about what is in store for the series!
---
July 8:
RATINGS: SCIFI's Top 10 Shows: Shining Pt. 2 1.2; Shining Pt. 3 1.2; Farscape 1.0; Amazing Stories V 1.0; Invisible Man 0.9; John Edward 0.9; Lifeform 0.9; Species II 0.9; The Outer Limits 0.9, and No Escape 0.9.
---
BOX OFFICE: Cats & Dogs edged out Scary Movie 2 for the top box-office title this weekend. Both movies opened Wednesday, but the animal caper dug up an estimated $21.6 million, while the horror parody screamed in with $21 million.
---
FLATLAND: According to the Hollywood Reporter, Dennis Hopper is ready to make his first foray into series television. He is to star in a new series entitled "Flatland," an action drama in the vein of "The Matrix" and "Crouching Tiger, Hidden Dragon" from the Ruddy Morgan Organization and Shanghai, China-based Hweilai Studios. The series has yet to find a home in the United States. Morgan and talks are underway with several major broadcast and cable networks. All 22 scripts will be finished by Sunday, when "Flatland" is set to begin production in Shanghai. The show, which marks the debut English-language project of the Hweilai Organization, will be shot exclusively on high-definition 24P digital video, the format that George Lucas is using for his upcoming "Star Wars: Episode II."
---
SIGHTING
Ranger Connie has forwarded a report that John Copeland, producer of Babylon 5, has produced "When Dinosaurs Roamed America" -- a special that will air on the Discovery Channel Sunday night at 8pm ET. There is a nice sidebar about the show in this week's TV Guide.
NEW CHARITY EFFORT
Many of you have enjoyed the work of Tye Bourdony, both here and at Star Log magazine. He has helped folks like Bill Mumy and Claudia Christian raise money for their special charities. Now he's working with Linda Harrison, Nova from the original Planet of the Apes movie. He's created a new satire to benefit the Gene Roddenberry Memorial Society. Both Linda and Tye will be appearing at the Shore Leave 23 Sci-Fi convention in Baltimore Maryland to help raise money through the power of laughter and satire for the show's official charity, "The Gene Roddenberry Memorial Society." If you are in the area, I hope you'll have a chance to stop over. Bruce Boxleitner, Jerry Doyle and Mary Kay Adams from Babylon 5 will be there. Should be a fantastic weekend!
NEW BABYLON 5 WEBSITE
Over the weekend, SciFi Guide launched their Babylon 5 site BABGUIDE. I have to admit, it's pretty good, providing information on all the Babylon 5 projects -- Babylon 5 (the original series), Crusade, and Legend of the Rangers. They are still fleshing out some sections -- episode synopses, character profiles, and more will follow. While you are there, you may also want to visit their Farscape, Andromeda and Stargate pages.
SCIFI TALK
Many of you may already be familiar with this radio program by Tony Tellado and Ernest Lilley. They have been supporters of Babylon 5 for a very LONG time and currently run a number of programs with a Babylon 5 focus. Here are just a few of the things Tony & Ern have for you in July:

Peter David - His latest effort, Sir Apropos Of Nothing is discussed here with his signature sense of humor. Plus a look ahead to new Star Trek New Frontier books. Runs seven days a week in July.

Claudia Christian and Corey Burton - These actors who lend their voice talents to Disney's Atlantis: The Lost Empire talk about working on the film. Runs every Monday as part of Babylon Five Monday with interviews with JMS, David Allen Brooks, and Carrie Dobro.

What is SciFi Talk?
It's a talk show hosted on the Internet by live365.com. It webcasts on a steady stream using the latest MP3 technology. Any one with a sound card can listen at anytime 24 hours a day, seven days a week. Tony Tellado and Ernest Lilley are the hosts with Author, Linda Zimmermann ( Homerun) contributing monthly science segments.
LEGEND OF THE RANGERS
SCIFI.COM has unveiled the official Web site for the upcoming SCI FI Channel original telefilm Babylon 5: The Legend of the Rangers. The site contains preliminary information about the movie, message boards, a cast and crew list and the first Rangers trailer.

Later this summer SCIFI.COM plans to create a more expansive site for Rangers that will include weekly updates, exclusive on-set photography by Babylon 5 creator J. Michael Straczynski, interviews, feature stories, sketches, images and more.

Legend of the Rangers at www.scifi.com/b5rangers. Bookmark it!
SUMMONING LIGHT - IN BOOKSTORES NOW
Jeanne Cavelos' next installation of the Technomage series is out! DelRey has a brief synopsis available of this -- and the next novel -- "Invoking Darkness", which is scheduled for a November release.

Here is the blurb from the DelRey website on the novel:

The explosive space epic continues, as the techno-mages come face-to-face with the devastating evil of the Shadows . . .

War against the Shadows is inevitable, and the ruling Circle has ordered the techno-mages into hiding. Many are unhappy with this decision--none more so than Galen, the only mage who has faced the Shadows and lived. But the Shadows aren't Galen's only enemy--he is driven to hunt and kill Elizar, the traitor who murdered the beautiful mage Isabelle while Galen stood by helplessly, his hands tied by the Circle's sacred code he had sworn to follow.

Now a new mission awaits as the Circle contrives a plan that may enable the five hundred mages to escape without leaving a trace. Dispatched to the Shadow's ancient capitol to uncover the enemy's plans, Galen will find everything he so desperately seeks--including a shocking legacy that threatens to consume his very soul.

You can place your order for both of the novels NOW on the website and they will be sent out as soon as they are available.

To learn more about Jeanne, visit her website at www.sff.net/people/jcavelos. Jeanne is a scientist, mathametician and author! She's worked with NASA and Harlan Ellison on a writing series! I'm sure you will find her an interesting person to chat with.
INTERNATIONAL SPACE STATION
Here's a website for you to check out! The ISS Babylon (www.issbabylon.com) is an effort to have the new international space station named the ISS Babylon, in honor of Babylon 5 and it's creator, J. Michael Straczynski. Jack Bennett has put together a nice site -- even giving a sample letter that can be forwarded in support of naming the station. Take a look and, if you are so inclined, join the effort. I have to admit, ISS Babylon does have a sort of ring to it!
THIS WEEK'S DISCUSSION TOPICS
I love watching the Food TV Network! If people from Babylon 5 would come in for a spin in the kitchen, what food would you most like to see made -- and who would be making it? Got a recipe you'd like to share? Send that along as well.

Send in your ideas, recipes to either TheZocalo@aol.com or b5web@aol.com.. You can also post your comments on the message board at www.isnnews.net/board. To see what other readers have posted on this and other topics, follow this link to Current Discussion Topic page.
---
NEW BABYLON 5 BOOK
Ranger Lee directed me to a new book available about Babylon 5 -- Interacting with Babylon 5: Fan Performances in a Media Universe by Kurt Lancaster, Henry Jenkins. The book is to be available July 1 in hardback & paper.

Here's a brief description from the Amazon.com listing:

"This book makes a significant contribution to the growing body of scholarship surrounding the participatory communities—i.e. fandoms—that surround cult television shows and films. . . . It will cut across disciplines, finding a readership among sociologists, anthropologists, media scholars, and performance scholars, as well as among fans and lay readers." —Henry Jenkins, author of Textual Poachers: Television Fans and Participatory Culture
BABYLON 5/CRUSADE PHOTOSHOP
NEW PHOTOS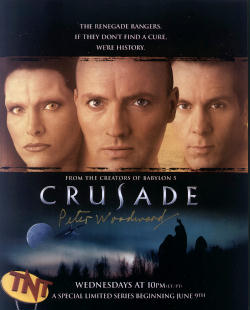 You do NOT have to pay the prices asked for over at e-bay! Here are photos of B5 and Crusade cast members at fantastic prices. Check out Photo Shop. Ordering is easy -- and you can't beat the prices! Just let me know which photos you want and I'll check to make sure they are still in stock.
---
KEEPING UP WITH CAST AND CREW
Gus Lynch (Tirk from Legend of the Rangers) recently filmed an episode of The Outer Limits. The episode is entitled "The Tipping Point" and Gus plays Logan.
---
Melissa Gilbert: According to the Hollywood Reporter, Melissa Gilbert (Anna Sheridan) says she plans to run for president of the Screen Actors Guild. The election takes place this fall where Melissa would be up against incumbent and former St. Elsewhere star, William Daniels. She serves as the national chair of the Young Performers Committee and was voted onto the board for the first time in November.
---
Fiona Avery is as busy as a bug in a rug these days! Her "No Honor" comic book series has been getting a LOT of critical acclaim and has won her a place on the Top Ten Creator's List of Wizard Magazine. While one series of "No Honor" will be ending soon, the second installment will begin in November. Fiona will also be writing a 12-issue seriesette of Tomb Raider, based in its own continuity and penciled by Drew Johnson.
---
Stephen Furst can be found in the latest issue of People magazine (with Niki Taylor on the cover). He talks about overcoming his diabetes and his work on Babylon 5, including having his costume covered with safety pins to compensate for his weight loss after a four month hiatus. Stephen was also mentioned recently in an article about a New Hampshire screenwriter. His two latest films are directed by Stephen Furst. Check out http://www.fosters.com/news%5F2001b/apr%5F01/15/art%5F0415.htm
---
BABYLON 5/CRUSADE CHRONOLOGY
A number of you have written to ask about having an index of the chronology published thusfar. Terry has given permission for this so I'm working on it. You can now find the index to the timeline published thusfar at B5 Chronology Index .

Terry Jones created a FANTASTIC Babylon 5/Crusade Chronology that was published in the Official Babylon 5 magazine. He has not stopped with the end of the series though. He has included items from the latest novels as well as things from the Crusade series. Here's a note from Terry to tell you all about it.

To look at the timeline in a different way, I have been working with Terry Jones on personal chronologies for the Babylon 5 universe. At The Galactic Gateway you will fine Parts 1-4 of the chronology for John Sheridan along with Part 1 for KOSH. Others will follow. I hope you will visit GG and give the chronologies a look.

The latest segment of the B5 chronology can now be found at The 23rd Century - 2233-2245.
SCI FI PUBLICATIONS
Dreamwatch #83: Here is the blurb from the on-line version of the magazine -- the most important article to B5 readers: "As J Michael Straczynski returns to his science fiction saga with a potential pilot for a new star-spanning spin-off series, DreamWatch meets leading man Dylan Neal, while executive producer Doug Netter recalls the project's genesis." Also in the issue are articles on Tomb Raider, Planet of the Apes, Dark Angel and Neil Gaiman.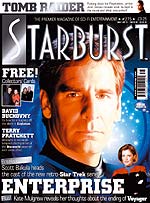 STARBUST 275: Starburst is the first magazine to feature the new Enterprise series coming this fall. With Scott Bakula on the cover, we get a bit more information about the project. Also in the issue: Kate Mulgrew, John Zinman (Tomb Raider writer), David Duchovny, Mike Myers, Terry Pratchett and more.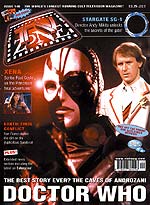 TV ZONE 140: From Dr. Who to Andromeda. This issue has something for everyone. Paul Coyle talks about writing for both Hercules and Xena; Von Flores talks about being the baddie in Earth: Final Conflict; Andy Mikita talks about directing Stargate SG-1.
CULT TIMES #69: Amanda Toping from Stargate gives Thomosina Gibson a tour of her home in Canada and talks about the upcoming fifth season of Stargate SG-1, including "Ascension" -- an huge upcoming Carter episode. Also in the issue, articles on Dark Angel's Jessica Alba and Voyager's Harry Kim, Garrett Wang.
SCI-FI SCHEDULE
BABYLON 5's Schedule: 7pm each evening:

Air Date Title

July 13 Intersections in Real Time

July 16 Between the Darkness and the Light
July 17 Endgame
July 18 Rising Star
July 19 The Deconstruction of Falling Stars
July 20 No Compromise

July 23 The Very Long Nights of Londo Mollari
July 24 The Paragon of Animals
July 25 A View from the Gallery
July 26 Learning Curve
July 27 Strange Relations

July 30 Secrets of the Soul
July 31 In the Kingdom of the Blind
NEW SCIFI STUFF
A new set of Farscape cards is available. This 72-card base set details plot synopses for all 22 episodes (three cards per episode) of Farscape's second season! Features two "Costume" cards in every box, as well as randomly inserted "Autograph" cards!
---
With the increasing emphasis on science fiction, it's only natural that more and more merchandise is being offered. Here are a few new items I thought you might be interested in:
ANGEL #1
Dark Horse Comics
Buffy creator Joss Whedon unleashes an intense and darkly romantic new Angel thriller, pitting the vampire with a soul against some of the most grotesque and unsettlingly seductive creatures he's ever faced!
Buffy The Vampire Slayer Season 5 Cards and Album. Set includes a 90-card series with subsets such as "Episodic," "Beastiary," "Goodbye," "Bot Vision," and "Changes." Plus four different levels of chase cards including nine foil puzzle "Protectors of the Key" cards, featuring the cast! Also, seven new autographed cards, a box loader, and a case loader card! Look for it in the Trading Cards section of Previews!
COMIC BOOKS
RISING STARS #1.2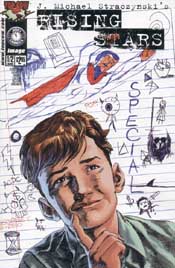 Rising Stars #1/2 is not a new issue, but provides more background on the series. Here's a review by IGN.COM at http://scifi.ign.com/comics/3226.html.






AMAZING SPIDERMAN #33
The latest issue of JMS' Amazing Spiderman is out! IGN.COM has a review of the issue at http://scifi.ign.com/comics/2724.html





NEW BABYLON 5 TOONS
John Cook has a new cartoon contest going. Try your hand at a punch line.




READER DIRECTORY
Sometimes you just can't find the e-mail address for someone you know you have -- it's someone who responded to a discussion topic or you met in one of the chat rooms. You'd like to send a personal note, but .... No address!!!!

We've started a White Pages of Zocalo Readers! It's a handy way of keeping track of people -- and putting together a birthday/greeting card list as well. If you would like to be part of the listing, just send me your name, state, e-mail address and (if you'd like to have it listed) birthday (without year) to sgbruckner@aol.com. Check out the Directory of Readers.

HAPPY BIRTHDAY TO YOU!

Christopher Moore
E-mail address: psycho_pcb@yahoo.com
Birthday: July 21
BABYLON 5 REFERENCE PAGES
The Official Babylon 5 Magazine is indexed here as well. With the closure of the magazine in May, you'll want to see which magazines you have -- and which ones you will want to collect. The index may help you make a decision on which ones to choose. The Fan Club has many of the issues at thestation.com , making it very easy to complete your collection.

Universe Today -- the Babylon 5 Fan Club quarterly can also be found here. The index gives you a rundown of what articles were presented, what interviews published.

If you have magazines that have featured Babylon 5 or Crusade that are not listed, send along their issue number and a note to indicate what the article was about. It would be nice to have a fairly comprehensive listing of Babylon 5 publications here.

I have added a listing of all the Babylon 5 novels and now the B5 comic books to the reference page. If there are other items that you feel should be included, let me know.
MAILING LISTS
NW-B5
NW-B5 is a mailing list devoted to bringing critical information to the Vancouver Island, Lower Mainland, and Northern Washington areas. More specifically, anyone north of Seattle. B5 is broadcast on SPACE:TIS in Canada, and Sci-Fi channel in the US. By subscribing to nw-b5, you'll be able to know info bringing you up to date on the current scheduling and events happening in the community related to B5. You'll also be subscribed to the list itself, which means that you'll receive email when there is a scheduling change or critical information needs to go out to you (for example, if we need to start another mailing campaign).

For further information, see http://www.nw-b5.com
John Francis
Webmaster, Listowner, and Co-Moderator
mailto:nw-b5@iname.com

Reports of "The Gathering" are beginning to turn up on the list. John posted a mini-report, with photos, over at http://www.geocities.com/jnf.geo/nw-b5/gathered.htm#0501. You may want to check it out. It was a terrific event in which JMS showed clips from the new "Legend of the Rangers".
BABYLON 5 DISCUSSION LIST
The Babylon 5 discussion mailing list is for any and all discussions and/or news pertaining to or related to Babylon 5 and/or Crusade. The list has been in existence for the past three years now, and has recently moved. The new location is http://lists.apparition.org/cgi-bin/lyris.pl, and you can subscribe by sending a blank e-mail message to join-babylon_5-l@lists.apparition.org.
THE GALACTIC GATEWAY
Here's a unique site for you! Jeffrey Willerth, Patricia Tallman, Mira Furlan, Claudia Christian, Robin Atkin Downes, Rick Biggs, Jerry Doyle, Bruce Boxleitner, Melissa Gilbert, Peter Jurasik and Bill Mumy are under it's umbrella. Actors from other shows have joined the Gateway. Ted Raimi and Robert Trebor from Xena and Hercules are now at GG. To subscribe to a mailing list for GG, send a blank note to thegalacticgateway-subscribe@egroups.com.
GATEWAY CHATTERS
There is never enough time to keep in touch with friends! To help out, a mailing list has been started for chatters over at the Galactic Gateway. If you are interested in joining, send a blank note to gateway-chatter-subscribe@egroups.com.
GATEWAY TRADER
Are you looking for a particular Babylon 5 collectible? Do you have some items you'd like to trade? Then this is the list for you. To join, send a blank note to gateway-trader-subscribe@egroups.com.
CALLING ALL ARTISTS
The Art Gallery at The Zocalo Today is open. There are SO MANY talented people in our Babylon 5 community. We have enjoyed works by Todd Brugman and Tye Bourdony on our toons page, but there are a host of others who enjoy drawing, painting, sketching their favorite characters. Here are a few works that have been received. I have some others that will be added soon.

If you would like to share your work with us at The Zocalo Today, please send along a digital photo of your work and I'll begin putting the gallery together. If you do not have your work in digital format, drop me a note and we'll see what we can work out.
CALLING ALL CLUBS
Amanda, a member of the club 'Friends of Science Fiction' in Sydney, Australia, dropped a note to say that they will host an event with Marjean Holden on September 9. More information can be found on the convention calendar. If you are in beautiful Sydney, you may want to check out the Club. It meets at: Lidcombe Catholic Club; John St; Lidcombe. If you have questions, drop Amanda a note at Amanda_Beachcroft@msn.com.au.

There are a number of fabulous Babylon 5/Crusade Clubs around the world. I'd like to begin listing them here on The Zocalo Today. Eric dropped me a note the other day providing information about a Club in France. I know there are other clubs in Brazil, Germany, Russia -- and who knows how many here in the US. Let's get a listing together. Perhaps we can share resources, even get together as we travel around. Drop the information about your Club to me at sgbruckner@aol.com or bruckner@isnnews.net. That information will be added to the new B5 Fan Club Listing.
BABYLON 5 FAN CLUB
Sad news. I don't know what the fate of the B5 Fan Club will be. Netter Digital filed for bankruptcy in July and all their worldly posessions were auctioned off on December 7. Thestation.com is back on-line, however the Emporium has been closed.
BABYLON 5 NEWSLETTERS
If you have a newsletter you'd like to have listed at The Zocalo Today, send the information along. It will be posted on the B5 Fan Club/Newsletter page.

Ranger Shane in North Carolina sent in the following note about their "Jumpgate" newsletter.

Hey Sandy! Just wanted to give you an update on the NC B5 group's newsletter, Jumpgate. There's now a dedicated EMail address for submissions - jumpgatemag@bellsouth.net - and any submissions, solicited or un-, can be sent to this address. Also, issues are available for free download at the URL at the bottom of this message.

Jumpgate - The Newsletter of the North Carolina Babylon 5 Fan Club
Shane Killian, Editor
HELP WANTED
A new HELP WANTED section has been added to the Z. If you need help finding a comic book, getting a special item, etc. here's the place to post a note. Just send whatever help you need to thezocalo@aol.com.
---
Ranger Shaun is looking for a roomie while attending San Diego ComiCon. If you are going and would like to share expenses, contact Shaun directly. His note & contact information are on the HELP WANTED .
BABYLON 5/CRUSADE CONVENTIONS
CONVENTION CALENDAR
Lots of updates to the calendar. I hope you will check it out and see if there are any Babylon 5 conventions in YOUR future! Use this link Convention Calendar. Have a convention you would like to have listed here? Pass along the information.

CONVENTION ATTENDANCE

Are you attending one of the conventions on the calendar? Or another one perhaps? Do you want to see who else might be there? Drop your e-mail address to TheZocalo@aol.com. We've begun an attendance page so that perhaps we can get together while enjoying the activities of the convention. Convention Attendance .
CONVENTION ALERT
San Diego ComiCon has a HUGE guest list. Unfortunately, they have structured it alphabetically, so it's hard to identify those who will be there! Ranger Kailin has gone through the list and identified all the folks who will be there. They include: Jerry Doyle, Mira Furlan, Julie Caitlin Brown, Marjorie Monaghan, Julia Nickson, David Allen Brooks, Tracy Scoggins, Peter Woodward, and Robin Atkin Downes.
UPCOMING EVENTS
Shore Leave
July 13-15, 2001; Baltimore, MD
Guests: Bruce Boxleitner, Jerry Doyle, Mary Kay Adams

For more information, visit their website at http://www.shore-leave.com.
---
InConJunction 2001
July 13-15, 2001; Indianapolis, IN
Sheraton Hotel & Suites
Guests: Richard Biggs, Jason Carter

For more information, visit their website at http://www.inconjunction.org or e-mail conchair@inconjunction.org. Their mailing address is: InConJunction 2001, PO Box 68514, Indianapolis, IN 46268-04141.
---
Volkon-Tampa
July 13-15, 2001; Tampa, FL
Place: Airport Hilton
Guest: Walter Koenig

For more information, visit their website at http://vulkon.com/upcoming.htm.
---

San Diego Comic-Con International 2001 July 20-22, 2001, San Diego, CA
Guest: Peter Woodward (Galen), Stephen Austin, Bill Blair

For more information, visit their website at http://www.comic-con.org/Pages3/2001.html or write to Snail Mail: P.O. Box 128458, San Diego, CA 92112-8458; Telephone: 619-491-2475; Fax: 619-414-1022.
---

Toronto Trek 15
July 20-22, 2001, Regal Constellation Hotel, Toronto, Canada
Guest: Andreas Katsulas, Tim Choate

For more information, visit their website at http://www.tcom.icomm.ca.
---
Slanted Fedora
July 27-29, 2001, Boston, MA
Guest: Stephen Furst, Mary Kay Adams

For more information, visit their website at http://www.sfedora.com.
---
ZOCALO TRADING POST
There are some new and interesting items in the Trading Post. Take a look. If you have items you'd like to trade, post a note here. If you need a particular item, the Trading Post or Message Board could help you find it. Use this link to see what is listed. Trading Post. To have items included in The Trading Post, send a note to The Zocalo. Please put Trading Post in the subject line.
Pen Pals
If you are looking for someone to talk about Babylon 5 and Crusade with, the Pen Pal section is for you! Check it out! Drop a note to someone who is feeling B5 withdrawal -- BIG TIME!

People thought a Pen Pal page was a good idea. If you would like to meet people who you could chat with or share your opinions of the show with, send along your e-mail or snail-mail address The Zocalo. It will be incorporated on the new Pen Page Page.
BABYLON 5 BIRTHDAYS
Jerry Doyle July 16
J. Michael Straczynski July 17
David Warner July 29

Have I missed anyone? If you know the birthday of someone connected with Babylon 5, pass the information along. We want to include everyone in our Happy Birthday Wishes.
MAIL FOR CAST AND CREW
Here's a recent note from JMS on the subject:

Just an FYI to those who've been using the Ventura Blvd. mail drop for fan mail to actors....

As mentioned before, we're phasing out the forwarding of fan mail because we a) don't have the resources, complicated by b) the actors have scattered to the four winds, and it makes it very difficult to get everything to everybody in a timely fashion.

So, having provided prior notice...fan mail to actors coming to the Ventura Blvd. mail drop will be sent back. Mail to actors should be sent via their official fan clubs. I will still be taking mail there, since it's my mailbox, but that's it.

Just so's y'all know and save a few bucks on postage and returns.

JMS' mail can be sent to:

14431 Ventura Boulevard, PMB 260
Sherman Oaks, CA 91423
BACK ISSUES OF THE ZOCALO TODAY
The front page of the The Zocalo Today changes daily, so be sure to check the back issues to make sure that you haven't missed anything IMPORTANT! I don't want the front page getting too long so I shift information periodically into the archives. So if you aren't a regular visitor to The Zocalo Today, be sure to check out the back issues. Just use the button above!
---
HELP!!!
NEW FLYER AVAILABLE: If you would like to take some flyers to a convention to help spread the word that The Zocalo is here and ready to provide you with information on everything Babylon 5 and Crusade! drop me a line. I'll be glad to send you some in the mail. I've created a PDF file that can be downloaded and printed. Flyer Thanks for helping to spread the word about The Z!

Take care and I look forward to hearing from you.
Sandra Bruckner (sgbruckner@aol.com)
Editor/Publisher
The Zocalo Today
http://www.isnnews.net
Copyright - SBruckner, 2001