[an error occurred while processing this directive]

The Zocalo Today

Welcome to The Zocalo Today! Take your shoes off, get comfortable and stay a while. There is a LOT of information here and you won't want to miss any of it.

The Zocalo Today was begun in 1999 as a way of keeping Babylon 5 fans informed of what was going on within the B5 community. It still does that -- but it has expanded to include science fiction in general. You will find items on STARGATE SG-1, ANDROMEDA, MUTANT X as well as movies and books. We encourage interaction with readers through discussion topics and the general sharing of information. You'll see listings from various rangers around the world -- dropping hints about DVD deals, places where you can see B5 cast members in other roles, etc. We also have a convention calendar so you can see if there is an event coming up in your neighborhood.

Please feel free to send along suggestions for things you would like The Zocalo to include. The Zocalo Today is as much YOUR newsletter as it is mine! I'm just pulling together things for you!

Don't miss our back issues. I hope this will become more than just a newsletter. It's a community of people that enjoy sharing their experiences and interests. Don't be shy. Join us today!

If you have questions, drop me a line at sgbruckner@aol.com. If you would like to join the mailing list for our bi-weekly newsletter, send me a note and I'll include you on the list. Or you can use the subscription block at the left.

Again, WELCOME!



TODAY'S NEWS
Sunday, July 18, 2004:
INTERESTING SCIFI POLL: There is an interesting poll being conducted over at www.scifi.com now. The question posed is:
Babylon 5 creator J. Michael Straczynski told fans that he's pitching a new take on Star Trek to Paramount. Do you think it would be any good?
Current Results:
Yes! Beam him up! 83%
No! He should stick to B5. 10%
Only if brings over the Vorlons. 7%
Votes Cast: 293
---
POINT PLEASANT: The Fox network has ordered additional scripts for the proposed supernatural series POINT PLEASANT, from former BUFFY executive producer Marti Noxon. Fox's Gail Berman said, "POINT PLEASANT is a pilot that we have done, and now we're doing a couple of additional scripts for it. How do I describe Point Pleasant to you? It's kind of Peyton Place meets The Omen. … This is right up your alley."
---
INDIANA JONES 4: Frank Marshall, producer of the proposed fourth Indiana Jones movie, has indicated that ongoing script changes will delay the film for at least another year. "Indiana Jones [IV] is still in the writing stage," Marshall said. But, he added, "it's still a live project, and [producer George] Lucas is working on the script at this time." Marshall said that Lucas was currently completing the script with another writer, whom he declined to identify. "I'd say we have about two-thirds of a great story, and now we're working on the last third," Marshall said. "We'll get our schedules coordinated, but it won't be for another year or so." Complicating matters: Ford is getting long in the tooth; he observed his 62nd birthday on July 13. Nevertheless, Marshall said that the production team was excited about the project, but reluctant to start until they made sure all elements of the film were perfect. "We don't want to proceed with something that we all don't feel is worthy," Marshall said. "Obviously, we don't want to do this movie unless it's going to be great."
---
WHAT'S ON TONIGHT
CABLE AND NETWORK SHOWS:
8:00pm on The WB
Charmed
Love's a Witch
Vengeful ghost stirs up trouble between two feuding families.
8:00pm on UPN
Star Trek: Enterprise
Carpenter Street
Archer and T'Pol travel to the 21st century to stop the Xindi from destroying Earth.
9:00pm on UPN
Raiders of the Lost Ark **** (1981, Action / Ad) Indiana Jones braves snakes and Nazis to find the biblical ark of the covenant.
9:00pm on The WB
Charmed
Used Karma
Phoebe's boyfriend leaves her after learning she, Paige and Piper are actually witches.
9:00pm on USA
The 4400
It's time for Tom (Joel Gretsch) and Diana (Jacqueline McKenzie) to find out if a neighborhood superman is a returnee who grew an "S" on his chest while missing. Meanwhile, Diana invites the clairvoyant young returnee Maia (Conchita Campbell) to share her abode.
10:00pm on USA
The Dead Zone
No Questions Asked
The past is what it is -- the past -- and every once and awhile things come back to haunt people. Walt (Chris Bruno) needs Johnny's (Anthony Michael Hall) help in dealing with something out of his past that could be bad for everybody in the long run.
ON SCIFI TONIGHT:
6:00pm
Dragonfly
A doctor believes his late wife is trying to contact him.
8:00pm
The Buried Secret of M. Night Shyamalan
Sci Fi spent over four months trailing the famously enigmatic M. Night Shyamalan, who granted the channel exclusive access to his intensely guarded personal lifestyle, as well as his filmmaking process (on the set of "The Village"). What viewers will see on July 18 is a revealing look that lays bare the external forces which have helped shape Shyamalan's vision. Viewers will witness extraordinary unguarded moments. Recent reports that the filmmaker did not approve of this show and tried to shut it down are false -- press hype. But any look into his creative process should appeal to movie fans. Overview help from Sci Fi Channel.
ON SYNDICATED TV TONIGHT: Andromeda
The Warmth of an Invisible Light
Dylan finds himself in an alternate reality.
Angel
Peace Out
Angel strives to prove Connor was not merely a vessel designed to bring Jasmine into the world.
BeastMaster
The Hunter
King Zad needs Dar's help to stop the evil spirit of a ruler who is murdering the citizens of Xinca.
Buffy the Vampire Slayer
The Witch
When cheerleaders start spontaneously combusting, Buffy suspects a witch is in their midst.
Sir Arthur Conan Doyle's The Lost World
Ice Age
A meteor plunges the Plateau into a new ice age which threatens the world.
Mutant X
In Between
Brennan must connect with Jesse and guide him through past experiences in order to save his life.
The Outer Limits
The Haven
The supercomputer in a high-tech apartment complex malfunctions, endangering residents.
INSIDE SCI-FI THIS WEEK:
Saturday, July 17, 2004:
TOP SF NETWORK SHOWS:
Stargate SG-1 1.9
She Spies 1.8
Andromeda 1.6
Mutant X 1.6
3rd Rock 1.3
The X-Files 1.3
Angel 1.2
Beastmaster 1.2
Buffy 1.2
The Outer Limits 1.2
Source: Nielsen Galaxy Report, 6/21/04 - 6/27/04
---
BEOWULF: According the the Hollywood Reporter, Warner Brothers is developing a film based on the Anglo-Saxon epic poem Beowulf. Newcomer Matthew Sand will write the script for the film version of the story, about a knight who takes up the sword against a monster. The eighth-century tale centers on Beowulf of the Geats, who is called to slay Grendel, a monster that is attacking a Danish kingdom. The poem is known to have been an influence on J.R.R. Tolkien, author of The Lord of the Rings.
---
MARVEL SUES DISNEY: According to The Hollywood Reporter, Marvel Enterprises Inc. is suing The Walt Disney Co. in a royalty dispute over animation programs aired on Disney's ABC Family channel. Marvel is asking for nearly $55 million in compensatory damages, interest and other fees it says it is owed for royalties generated by made-for-television episodes of "Spider-Man," "X-Men" and "The Incredible Hulk." The agreements at issue in the lawsuit, filed late Thursday in Los Angeles County Superior Court, were made before Disney acquired Fox Family Worldwide in 2001. The lawsuit claims Disney has not kept accurate records of royalties due under those inherited agreements. Disney spokesman John Spelich said the company had not yet seen the lawsuit and could not comment.
---
BRAD DOURIF: Brad Dourif was marvelous in the Babylon 5 episode "Passing Through Gethsemane" as Brother Edward. He has been involved in a number of projects since then, including LORD OF THE RINGS and DEADWOOD. Read an article on Brad at http://www.tv-now.com/tesa/brad.htm.
---
THE MEMORY OF SHADOWS: Looking for all the information about JMS' THE MEMORY OF SHADOWS? You can go to JMS Speaks here at The Zocalo or visit The Lurker's Guide which has been updated with a new Memory of Shadows page.
---
Friday, July 16, 2004:
STARGATE ATLANTIS: Tonight is the long-awaited premiere of STARGATE ATLANTIS. Robert C. Cooper, executive producer, indicates that the show will be more than simply a rehash of its predecessor series, STARGATE SG-1. "We want to appeal to the audience of SG-1, and we wanted to capitalize on what we feel has made SG-1 a success and made it this long-running show." Originally, ATLANTIS was designed to replace SG-1 once it left the air, Cooper said. "There was a plan to basically have SG-1 come to a close as a television series and maybe roll into a series of feature films, and have that be more of a passing of the baton into the new series," he said. "But SCI FI asked us to do season eight [of SG-1] and season one of Atlantis at the same time. So that caused us to rethink the concept a little bit for the spinoff series, so that it would exist at the same time." The result of this effort by Cooper and his team of writers was to ship the Atlantis team of explorers to the distant Pegasus galaxy, where they discover the lost city of Atlantis—but also find that they can't return to Earth. "I think that made the spinoff series better, made it stand alone a little bit more," Cooper said. "We decided to set it in a different galaxy, which allowed us to kind of wipe the slate clean and meant that the new team of heroes wasn't going to be running into the same old enemies or crossing over … with SG-1. We didn't want people to wonder, 'Well, why isn't SG-1 coming to save the day?' … And there was also something about why hadn't we discovered where the lost city was? And the fact that it was moved to a whole other galaxy, and there's this other new frontier, so to speak: a whole new network of Stargates that you can't really connect … easily with from the network in our galaxy. And then coming up with a different enemy: That ultimately … set the tone for the show." Instead of the Goa'uld, the bad guys are the Wraith. "In many ways, the tone of SG-1 was set by the fact that the Goa'uld had taken people from various times in Earth's history and transplanted them in other galaxies, and we kind of went around finding these little pockets of ancient culture. … The cultures in the Pegasus galaxy are all being shaped by how they've dealt with the overriding presence of the Wraith."
---
EMMY NOMINATIONS: A number of SF & F TV shows received nominations this year, including CBS' JOAN OF ARCADIA with three nominations: outstanding drama series, outstanding lead actress in a drama (Amber Tamblyn) and outstanding guest actress in a drama (Louise Fletcher). ALIAS received eight nominations, including outstanding lead actress in a drama (Jennifer Garner) and outstanding supporting actor in a drama (Victor Garber). SCI FI's BATTLESTAR GALACTICA received three technical nominations, including outstanding visual effects for a miniseries, and STARGATE SG-1 got one nod, for outstanding visual effects for a series, for the season-ending episode "Lost City, Part 2." HBO's Carnivale received seven nominations; UPN's STAR TREK: ENTERPRISE, with four; Showtime's DEAD LIKE ME, with two; the canceled Fox animated series FUTURAMA, with two, including outstanding animated series less than an hour; and ABC's Stephen King's KINGDOM HOSPITAL, with two nominations.
---
SMALLVILLE: Executive Producer of SMALLVILLE, Miles Millar, confirmed that star Tom Welling will be seen flying in the upcoming fourth-season premiere—but not in a way viewers might expect. "He doesn't fly as Clark. He flies as Kal-El," Millar said in an interview at The WB's fall press preview in Los Angeles. "The first episode is all about visualizing the internal fight between Clark and Kal-El. Clark Kent represents his Earth-bound persona, the kid who was brought up by the Kents. And Kal-El represents the person that Jor-El wants him to be. This personifies that." This season will focus on Clark's senior year of high school and will move toward a big revelation toward the end, Millar hinted. "Clark Kent, at the end of this year, will really graduate," he said. "And we're introducing a whole new mythology as well that will involve Lana, Lex and Clark. And at the end of the season we pay off something that is huge in the Superman mythology. It all leads towards something. Diehard fans of the mythology will realize what it is pretty quickly, others won't." Smallville begins its fourth season on Sept. 22 in its regular 8 p.m. ET/PT Wednesday timeslot.
---
DARK SHADOWS: The WB has abandoned development of the remake of DARK SHADOWS. Garth Ancier, chairman of The WB said, "[It was] wonderfully produced by John Wells, very well-written. [It] just didn't quite gel the way we hoped it would gel, and we didn't go forward, and we're not going forward."
---
XXX2: STATE OF THE UNION: Revolution Studios announced yesterday that filming has begun on XXX: STATE OF THE UNION, the sequel to 2002's XXX. The movie is being directed by DIE ANOTHER DAY helmer Lee Tamahori and stars Ice Cube as the leading man. Samuel L. Jackson reprises his part as NSA Agent Augustus Gibbons. "XXX was a tremendously rewarding experience for us, and we are thrilled to be continuing this exciting franchise with XXX: STATE OF THE UNION," said Revolution Studios' Todd Garner. "Ice Cube is a talented and diverse actor and Lee Tamahori is a gifted director, and their unique abilities will make the second film in this franchise as fresh and exciting as the first film." XXX: STATE OF THE UNION is slated for a May 13, 2005 release.
---
STAR TREK: ENTERPRISE: Production on the fourth season of STAR TREK: ENTERPRISE commenced this week. All of the show's seven principal cast members are returning for more missions while the series moves to Friday night at 9 PM starting this fall. The fourth season's first episode is entitled "Storm Front Part I".
---
CSI: CSI's George Eads and Jorja Fox both received termination letters, according to the Hollywood Reporter for what is described as "breach of contract". Reportedly, the decision was made over a salary dispute, after both actors asked for more money.
---
CATWOMAN: Catch a glimpse from CATWOMAN featuring Benjamin Bratt and Sharon Stone by following this link to http://movies.channel.aol.com/movie/main.adp?_pgtyp=pdct&tab=trailers&mid=16232.
---
Thursday, July 15, 2004:
THE 4400: Sunday's telecast of THE 4400 was the highest-rated and most-watched new series premiere ever on basic cable, with a 5.7 in households, a 3.48 in P18-49, a 3.75 in P25-54. and 7.4 million viewers watching in 5 million homes tuning in. "We're thrilled with the extraordinary response to THE 4400 from critics as well as viewers," said Bonnie Hammer, president, USA Network and SCI FI Channel. "Its success is a result of a great product enhanced by creative marketing and strong on-air promotion - in other words, the total collaboration of a great team." THE 4400 now leads The Dead Zone (4.7 household rating and 6.4 million viewers) and Peacemakers (4.0 household rating and 5.2 million viewers) as the most-watched original series premieres in basic cable history. USA Network now boasts four of the five top original scripted series premieres in basic cable history, including Monk (3.5 household rating and 4.8 million viewers). For more information about this new series, go to http://www.usanetwork.com/series/the4400.
---
STARGATE ATLANTIS: With the premiere only a day away, you may want to check out their website at http://www.stargateatlantis.com/index.html. It has biographies, a photo gallery, episode synopsis and more.
Some familiar faces will be turning up on ATLANTIS, namely Colm Meany (Miles O'Brien on two "Trek" series), will guest-star in a three-episode story arc late in the season, and X-FILES Robert Patrick guests in the two-hour ATLANTIS premiere
---
STAR TREK: ENTERPRISE: UPN has announced that it will air STAR TREK: ENTERPRISE at 8 p.m. ET/PT Fridays in the fall, instead of the previously announced 9 p.m. ET/PT. UPN will begin airing reruns of ENTERPRISE this summer in its new Friday timeslot beginning Aug. 6.
---
LOST: ALIAS' J.J. Abrams said in a recent interview that he wasn't excited about the premise of his new show, LOST, until he and executive producer Damon Lindelof added an element of mystery to it. "In fact, I didn't even like the premise," Abrams said. "I mean, the idea of a plane crash and people who land on an island, ... it wasn't very interesting to me. But Damon came in, and we started talking. And I started to think, '[What] if the island isn't just an island, and if there's a story about the island, and if it very slowly becomes about where they land and not just that they crash-landed?'" In LOST, Matthew Fox leads a large cast playing survivors of a devastating plane crash on a remote island. The survivors slowly realize that they're not alone on the mysterious island, which may harbor hostile creatures or worse. The cast includes Dominic Monaghan (The Lord of the Rings), Harold Perrineau (The Matrix Reloaded), Terry O'Quinn (Alias), Daniel Dae Kim (Angel-B5 Crusade) and Emilie de Ravin (Roswell), among others. Abrams said that he and Lindelof were inspired by the works of Michael Crichton, who often mixes science fiction with science fact in his novels. "When [Crichton's] stuff works at its best, it's usually a story that takes you in through the characters and explains stuff sort of in a science-fact sort of way," Abrams said. "So by the time you get to the science fiction, you've been sort of initiated. And it felt to us that ... we can do the same and tell a story that's from the inside out about these characters, something that interests us, which is an aspect of science fiction, [and] not do a science-fiction series, but ... have a show that has a thread of that in the fabric of it. We need to do it in the beginning of the show and not, 'Oh, by the way, we're now turning this into something that also has science fiction.'"
---
SMALLVILLE: The WB has announced that the fourth season of SMALLVILLE will begin on Wednesday, Sept. 22 at 8 p.m. (ET).
---
LAND OF THE DEAD: George Romero is set to direct LAND OF THE DEAD, a horror film that picks up where NIGHT OF THE LIVING DEAD stopped and continued with DAWN OF THE DEAD and DAY OF THE DEAD. Variety says the film, from Romero's own script, will begin production in October in Winnipeg or Pittsburgh. Pittsburgh was the site of shooting for Romero's original 1968 zombie trilogy. The story is described as following the zombies after they have taken over the world and those left alive are confined to a walled-in city that keeps out the corpse corps. Anarchy rules the streets, with the wealthy insulated and living in fortified skyscrapers. The drama revolves around a group of scavengers who must thwart an attempt to overthrow the city while the dead are evolving from brainless slow-moving creatures into more advanced creatures.
---
Wednesday, July 14, 2004:
STARGATE SG-1: The SCIFI Channel was proud to announce that Friday's two-hour eighth-season premiere of STARGATE SG-1 broke records with a 2.4 rating in its July 9 initial airing. The two-part episode "New Order" captured 3.22 million viewers, making it the most-watched original episode of Stargate SG-1 in the series' history. The episode also broke all of SCI FI's previous viewership records for original series:
•It was the first episode of a SCI FI original series to deliver more than 3 million viewers.
•It was the first episode of a SCI FI original series to deliver more than 2 million viewers aged 25-54.
•It was the highest-rated and most-watched episode of Stargate SG-1 on SCI FI.
•It was the highest-rated and most-watched program on SCI FI in 2004.
•It was the most-watched Stargate SG-1 episode in its entire eight-year cable run.
•It was the most-watched episode of an original series in SCI FI history.
The Stargate SG-1 season premiere led SCI FI Channel to the top slot for the night among viewers 25-54 and second place among 18- to 49-year-olds.
---
REVELATIONS: In a recent interview, President of NBC Universal Television Group, Jeff Zucker, talked about REVELATIONS, an upcoming midseason replacement series. It will be an action-adventure series in the style of Indiana Jones. "It's really … more about … the search for whether or not the prophecies in the Book of Revelation are coming true. That's really what it's about. It's more Raiders of the Lost Ark in that respect and a thriller than it is about trying to stop the end of the world." REVELATIONS, tentatively set to premiere in January 2005, stars Bill Pullman and Natascha McElhone in a one-hour drama about a group of people who are struggling to forestall the prophecies in the Book of Revelation. When compared to ABC's ill-fated supernatural-themed drama MIRACLES from last season, Zucker said, "It's really an adventure. It's not similarly themed at all. … There's maybe a religious underpinning to it, but it's not that at all. It's an action-adventure. MIRACLES was not an action-adventure. That was trying to do miracles. That's not what this is at all. It's completely different."
---
SCARE TACTICS: Stephen Baldwin has signed on to host the third season of SCARE TACTICS, replacing original host Shannen Doherty, who has left to pursue other projects. SCI FI has ordered 14 new episodes of Scare Tactics, a half-hour hidden-camera series produced by Hallock Healey Entertainment.
---
FANTASTIC FOUR: According to the Hollywood Reporter, Jessica Alba, DARK ANGEL, has won the role of The Invisible Woman in the FANTASTIC FOUR movie. Alba beat out other potential candidates Rachel McAdams (MEAN GIRLS) and Elizabeth Banks (SPIDER-MAN 2) for the part. Alba's selection completes the quartet of superheros, which includes Ioan Gruffudd as Mr. Fantastic, Chris Evans as the Human Torch, and Michael Chiklis as The Thing. While no true details have leaked from Simon Kinsberg's script, it's believed that the movie's villain remains Doctor Doom. If that is still the case the character of Doom would be the final major member of the production left to be cast.
---
A PHILOSOPHICAL INVESTIGATION: "The X-Files" creator Chris Carter is set to direct the big-screen adaptation of British author Philip Kerr's "A Philosophical Investigation" for Paramount Pictures. Mace Neufeld, who has owned the rights to the novel for close to a decade, is producing with Carter and "X-Files" collaborator Frank Spotnitz. Carter and Spotnitz also will adapt the thriller. Overseeing for Paramount is Brian Witten; Kel Symons will cover for Mace Neufeld Prods. "The property was brought to me while (I was) under contract to Paramount," Neufeld said. "It is one of my passion projects, and they generally take a long time to get off the ground. (Paramount chief) Sherry Lansing brought up the idea of Chris Carter. I thought it was a great idea. I love 'The X-Files.' We had an exciting dinner discussing it. We will be seeing a script shortly. I'm a big fan of Chris and Frank and am very enthusiastic about the project. There is a great role for a leading woman."
---
SHORE LEAVE: Reports have been received that SHORE LEAVE was again a wonderful convention. The Tribute Video from John Hudgens for Richard Biggs was very well received and a special auction to benefit the memorial fund for Rick's children did well also.
---
MURDER, SHE WROTE: Ranger Jim pointed out that JMS' Season Eight episodes of "Murder, She Wrote" have been airing on A&E recently. Two episodes have already aired -- "Night Fears" (on 7/8) and "Lines of Excellence" (today, 7/13) -- but three are still coming up -- "The Committee" (7/19), "Incident in Lot 7" (7/23), and "To the End Will I Grapple With Thee" (7/29). The A&E web site only lists programming through 7/31, so, hopefully, Joe's Season Nine episodes "The Wind Around the Tower" and "Final Curtain" will be coming up too.
---
Tuesday, July 13, 2004:
TOP BESTSELLING SF BOOKS:
1. The Da Vinci Code
2. Angels & Demons
3. Song of Susannah (Dark Tower 6)
4. The Time Traveler's Wife
5. Dark Destiny
6. Cravings
7. Potter paper box set
8. The Dark Tower (Dark Tower 7)
9. Eragon
10. Wicked
Source: Amazon.com, 7/9/04
---
SUPERMAN: More woes for SUPERMAN. Variety reports that Director McG has dropped out of Warner Brothers' production after failing to reach agreement on the movie's budget and location. McG becomes the second director to abandon the film, after Brett Ratner. Warner is reportedly already building sets at Australia's Fox studios. While shooting outside the U.S. could save the studio tens of millions in production costs, McG felt New York should be the location. He said in a statement, "When I flew to New York to scout, I became enamored with our greatest American city. It was clear to me that this was Metropolis. As a filmmaker, I felt it was inappropriate to try to capture the heart of America on another continent. I look at Superman as a character that embodies all that is beautiful about America." After many delays, SUPERMAN appeared to have new momentum. Warner brought on producers Neil Moritz and Gilbert Adler, and McG was testing actors and storyboarding the script by J.J. Abrams (TV's Alias). Superman still has not been cast.
---
ENTERPRISE: While on the convention circuit, Marina Sirtis (Deanna Troi) broke some news about upcoming STAR TREK: ENTERPRISE episodes. She indicated that NEXT GENERATION actor Brent Spiner will appear in three episodes next season in ENTERPRISE. Spiner, who brought to life the character of Data, will be playing the human grandfather of Data's creator, Dr. Noonian Soong. Rick Berman has stated that one of his plans for next season is to bring "familiar" characters to TREK fans onto ENTERPRISE. We'll have to see who follows Spiner.
---
UNIVERSAL HOME VIDEO: Here's an ambious schedule of releases from Universal Home Video. The first season of several classic and modern day television shows will be available on DVD before the close of the year. Here's the upcoming lineup of TV goodness from USHV:
KNIGHT RIDER: SEASON ONE (August 3, 2004)
SLIDERS: THE FIRST AND SECOND SEASONS (August 3)
THE APPRENTICE: SEASON ONE (August 24)
THE MUNSTERS: THE COMPLETE FIRST SEASON (August 24)
NIGHT GALLERY: THE COMPLETE FIRST SEASON (August 24)
MAGNUM P.I.: THE COMPLETE FIRST SEASON (September 7)
COLUMBO: THE COMPLETE FIRST SEASON (September 7)
LAW & ORDER: THE FOURTEETH YEAR (September 14)
LAW & ORDER: SPECIAL VICTIMS UNIT - THE FIFTH YEAR (September 14)
LAW & ORDER: CRIMINAL INTENT - THE THIRD YEAR (September 14)
DREAM ON: THE FIRST AND SECOND SEASONS (October 12)
AMAZING STORIES: SEASON ONE (November 2)
BUCK ROGERS IN THE 25th CENTURY: THE COMPLETE SERIES (November 16)
All of the DVD sets will be priced at $59.98 with the exception of SLIDERS (priced at $89.98.) Universal also plans to release several more TV shows on DVD before the close of the year; the programs without a confirmed release date include the first seasons of MURDER SHE WROTE, LAS VEGAS, MIAMI VICE, AMERICAN DREAMS, ALFRED HITCHCOCK PRESENTS, THE BIONIC WOMAN and the television mini-series TRAFFIC, SPARTACUS and BATTLESTAR GALACTICA.
---
SMALLVILLE: According to the Hollywood Reporter, newcomer Erica Durance has landed the coveted role of Superman's future love Lois Lane on SMALLVILLE. On SMALLVILLE, Canadian actress Durance will play Lois as a college freshman with no interest in journalism who comes to Smallville to investigate the death of her cousin Chloe Sullivan (Allison Mack).
---
DAY AFTER TOMORROW: Fox will unleash the single disc homevid version of THE DAY AFTER TOMORROW on October 5th. Fox is creating a lenticular box cover that appears to show movement of the storm across the arm of the Statue of Liberty. Bonus features include two filmmaker commentaries, deleted scenes and a DVD-ROM link to a behind-the-scenes featurette.
---
FARSCAPE: The first trailer for the new mini-series FARSCAPE: PEACEKEEPER WARS premiered on the Sci-Fi Channel during the season eight premiere of STARGATE SG-1. The trailer is available for download at Farscape Fantasy. The mini-series will premiere in the US at 8pm US-EST on Sunday, 17th October 2004.
---
TRAILERS: Ranger Ky passed along the following links to two amazing Asian sci-fi/fantasy trailers that may be of interest:
Casshern:
http://a1410.g.akamai.net/7/1410/1437/20040323/www.apple.com/jpred/quicktime/trailers/casshern_large.mov

D-War
http://www.younggu-art.com/dragonwars/index_dwar.htm
---
JEREMIAH - THE LAST EMPIRE
It looks as if Showtime has canceled JEREMIAH. In a SciFi Wire article this morning, you'll find an article that talks about JEREMIAH living through comic books. Comic-book writer Andrew Foley talked with SCI FI Wire about penning an interactive comic that extends the story of JEREMIAH, created by Babylon 5's J. Michael Straczynski. Platinum Studios, the production company that developed the series, will publish the free comic, titled Jeremiah—The Last Empire.

"There are narrative threads left at the end of the [show's 35 episodes], ... a long story that's wrapped up very effectively by the end of 'Interregnum,'" Foley said in an interview. "So I don't feel as though I'm jumping into a storyline so much as starting a new one, albeit inside the world and with several characters created in the previous one." Foley said that the characters of Mr. Smith (Sean Astin) and Gina (Enid-Raye Adams) will be pivotal figures. THe LAST EMPIRE will be released online at the Jeremiah Portal Web site in five-to-10-page weekly chapters, following Showtime's broadcast of the series' final eight episodes this fall. The comic will then be packaged for print, Foley said. The series will run for more than 30 chapters, and Foley will write them with Ryan McLelland. Carlos Ferreira will pencil the comic through Fabricio Grellet's Magic Eye Studio. There will also be an interactive component: Readers will be able to click on a character to get background, or click on a shot of a city to get history, for example.

Foley credited Platinum chief executive Scott Mitchell Rosenberg with keeping the Jeremiah franchise alive. "Scott refuses to give up on Jeremiah," Foley said. "He's got a prequel film set at the time of the Big Death in development. He's got the role-playing game underway, which will flesh out Jeremiah's world in greater detail than ever before. And, without any immediate options for the television series—I'm told it's still possible that the SCI FI Channel might pick up another season—he's keeping the characters alive in comic-book form." SCI FI has made no announcements about Jeremiah.
REMEMBERING RICHARD BIGGS
Material related to the passing of Richard Biggs has been moved to several pages devoted to him inside The Zocalo Today. Please visit now, and often, to see what has been added. RICHARD BIGGS. We will not forget Richard and let you know as new efforts are put forth in his memory.

Ranger Jan has passed along an update on her auction efforts for Richard's children. She is sending the first check for $2500 off to the family shortly. She will be posting more items for auction soon. For more information, go to:
Auctions to benefit a Richard Biggs Memorial fund: http://tinyurl.com/2az5w
PayPal Account: RBiggsMemorial@aol.com
Personal auctions: http://tinyurl.com/b36t

A major thanks has to go to Ranger Connie for paying to have the condolence book for Richard Biggs remain on-line for the next year over at the LA Times. This will give fans more time to express their love and appreciation for the man Rick was -- and to let his family know how much he meant to us, not only as an actor, but as a human being. Thanks Connie.
PAT TALLMAN AUDIO/VIDEOS
Patricia Tallman is looking for any recordings of her speaking appearances at conventions. She will reimburse anyone who can send in a video or DVD of Pat telling stories at a convention. She will also send along a new autographed photo (one that no one has yet) and will pay postage and the cost of the vide tape. Here is an address you can use to contact Pat:
Patricia Tallman
6433 Topanga Canyon Blvd. #207
Canoga Park, CA 91303
BABYLON 5 MOVIES -- COMING AUGUST 17
Ranger Neil O. sent along the following item from http://www.tvshowsondvd.com/newsitem.cfm?NewsID=1539 No word yet on CRUSADE or the LEGEND OF THE RANGERS.

Warner Bros Home Video will continue the popular Babylon 5 DVD releases with "Babylon 5: The Movies," news we brought you back in November, 2003. This 5 disc set will contain all 5 movies as well as special features. The set will carry a $59.98 SRP and will be available in stores and online August 17th. "The Gathering" will be presented in 4:3 (original aspect ratio) while the other movies will be 16:9 anamorphic widescreen; all movies will feature Dolby Digital 5.1 tracks. The sets will be closed captioned and be subtitled in English, Spanish and French.

Each movie will contain commentary from the creator (J. Michael Straczynski), cast and crew, as well as an introduction for each movie by JMS. Rounding out the special features is the featurette, "Creating the Future - How Science Fiction and the show influenced each other."

The Gathering (1993): Alien envoys come to the giant space station in the pilot that launched the five-year TV series.

In the Beginning (1998): The B5 prequel! It's humans vs. aliens in the battle that led to the station's creation.

Thirdspace (1998): Is there a realm beyond hyperspace? Discovery of a million-years-old gateway technology may hold the answer...and more.

River of Souls (1998): After death, then what? Questions of eternity arise when a supposedly infallible harvester of souls proves to be very fallible.

A Call to Arms (1999): The torch is passed. A race against time to save Earth links the B5 mission with the Rangers' new interstellar efforts.

For more information on Babylon 5 DVDs, go to Babylon 5 DVDs.
DISCUSSION TOPICS
Here's a suggestion from Ranger Gary:
1) How would today's technologies including CGI, digital, computers etc. enhance, devalue, and or change the way producers such as Irwin Allen (Voyage to the Bottom of the Sea, Lost in Space, Time Tunnel, Land of the Giants) or Gerry Anderson (Thunderbirds, Captain Scarlet And The Mysterions, UFO, Space:1999 etc.) made these TV Shows?

2) The SCI FI Channel has been presenting us a number of LowDown specials -- the latest being STARGATE SG-1 and ATLANTIS. HBO has done specials on upcoming movies. Do you enjoy the behind-the-scenes material presented? Do you wish there was more?
---
Send in your thoughts and ideas to sgbruckner@aol.com. I post them on the Discussion Page for everyone to share and enjoy. See what has come in so far. If you see an old topic you want to respond to, go right ahead. We enjoy hearing from you.
STARGATE SG-1

SEASON SIX DVD
Season six of STARGATE SG-1 is now available. Amazon has had this DVD on their top 10 list for weeks. The DVD boasts incredible special effects sequences, rapid-fire pacing and awesome scenes of alien warfare, this all-new five-disc set of Stargate SG-1 is your gateway to pulse-pounding sci-fi action!

Special features include audio commentary for each episode and twelve "SG-1 Directors Series" featurettes!

For more details and to watch the trailer, go to http://www.mgm.com/title_title.do?title_star=XXXSETSTARGAT6.
KEEPING UP WITH CAST AND CREW
PETER JURASIK: Peter Jurasik looks the part of the Arkansaw Bear, whom Jurasik portrays in the Harwich Junior Theatre production of the same name opening next Tuesday. It is a role with which he finds great sympathy. For more information, go to http://www.capetix.com/show.cfm?showid=102710.
---
BRUCE BOXLEITNER: Bruce Boxleitner is turning up in another SCIFI Channel original movie this weekend, "They Are Among Us." The description from the network is: A college-bound teen begins to suspect there's a sinister conspiracy in his town — one evidenced by whispered rumors, missing persons and, ultimately, murder. Is there a savage, alien beast on the loose in the woods? And could his own parents be connected to the dark secrets making their way to the surface?
The film will be in the letterbox format & have two initial airings: Saturday (7/17) 9pm ET & early Sunday morning (7/18) 1am ET.
---
GARY COLE: Ranger Anne reports that Gary Cole (Crusade's Matthew Gideon) has a part in the new Ben Stiller comedy "Dodgeball." Cole plays the TV announcer covering the big money Dodgeball tourney; Jason Bateman plays his (extreme sports) color analyst.
---
SPECIAL CAST ACTIVITY - CRUISIN' WITH BABYLON 5
STEPHEN AUSTIN - Here are the Comedy Club bookings for this week:
J.R's COMEDY CLUB
Fri., July 16th, 2004 – 8p
Valencia, CA - 661-259-2291

UNITED STATES NAVAL BASE
Sat., July 17th, 2004 – 8p
Port Hueneme, CA

THE ICE HOUSE
Sun., July 18th, 2004 – 8p
Pasadena, CA - 626-577-1894

Stephen Austin (B-5's "Pak'Ma'Ra Ambassador") along with comedy legends Vic Dunlop and Bruce Baum are cruising the Caribbean and want YOU to join the fun!!! Here are the details:
Departing March 6-13, 2005
The Carnival V a lor
Sailing roundtrip from Miami Florida
visiting Belize, Isla Roatan, Grand Cayman, and Cozumel
http://www.cruiseevents.net/dunlop/index.htm.
---
CRUISE WITH PETER WOODWARD
Peter Woodward is cruising the Eastern Caribbean on Jan. 9-16, 2005 and wants YOU to join the fun!!! Sailing January 9-16, 2005, on Holland America's Westerdam, the roundtrip from Ft. Lauderdale, Florida will visit Nassau, St. Marteen, Tortola, & Half Moon Cay. Experience a week in the Caribbean sharing laughs and fun with your new friends. Peter's cruise is unique! The group consists of friendly, people looking to have fun and share experiences. For more information, go to http://www.cruiseevents.net/celebrity.htm and then press Peter's photo. Space is limited! Don't delay, call today! 800-695- 5253 or e-mail: Susan@CruiseEvents.net.
---
JERRY DOYLE RADIO SHOW
Here's the latest from Jerry:
For the radio show, Talk Radio Network is building a new site and will have jerrydoyle.com up and running soon. It will tie into the talkradionetwork.com site as well.

The M-F show launches this coming Monday(5th), 7-10P PST. The call in number is 800/449-8255. Spread the word and give a call if you've got something to plug. I'll still be doing the Saturday show, 8-11P PST. Same phone number for that too. All the best.

All the best.
JD

For more information on Jerry Doyle, Talk Radio Show Host, you may visit www.talkradionetwork.com

Ranger Brian reports that:
Bruce Boxleitner was on Jerry Doyle's Radio Show on Saturday night for about half an hour reflecting on the life of Ronald Reagan and how he impacted their lives. It was an enlightening discussion with Bruce relaying his experience on a visit to the White House during the Reagan administration and how Ronald Reagan inspired him to become a Republican.
---
BABYLON 5 BIRTHDAYS
Jerry Doyle - July 16
J. Michael Straczynski - July 17
David Warner - July 29

Have I missed anyone? If you know the birthday of someone connected with Babylon 5, pass the information along. We want to include everyone in our Happy Birthday Wishes.
FAN CLUBS
Intergalactic Consortium
To anyone who lives in and or in the area of Toronto, Ontario, Canada I would like to invite you to attend or Join the Intergalactic Consortium. The I.C. is a new science fiction / fantasy group. We generally meet on the last Saturday of every month and generally do not collect any dues. WE are always looking for new members. If you have any questions, need more information or anything else please feel free to e-mail torsf@yahoo.ca or visit our yahoo group at http://ca.groups.yahoo.com/group/Intergalactic-Consortium/ Hope to hear from some of you.
United Federated Planets
The Babylon 5 Sector of United Federated Planets The Babylon 5 Sector is a chartered branch of United Federated Planets (UFP); a not-for-profit fan club for all fans of Star Trek, science fiction and fantasy. We've been part of UFP almost from the time the series first went on the air. We welcome all fans of Babylon 5--from the series & TV movies, to "Crusade" & "Legend of the Rangers," to the literary works in between. Our parent organization, UFP, has its roots in Star Trek & the late Gene Roddenberry's vision of the future; which includes community service along with social & fan-related activities. Our sector takes those ideas and puts them into the Babylon 5 universe that J. Michael Straczynski created. We're here for fellowship, good times, service and, in a way, living the fantasy that is Babylon 5. To that end, we enjoy role-play via the written word & live action; costuming; discussions; literary works; and anything else that we can imagine. No matter what you're interested in, we can accomodate you. We have positions currently available on the sector staff--EarthDome, EarthForce and the Alliance; chapter opportunities limited only by your imagination; and ways for you to live out your Babylon 5 fantasy. You can even be part of the B5 station staff! Our sector staff is available to answer your questions about what we do, how to join, how to start a B5 chapter, and more. To contact us, visit www.ufphq.com/chain_of_command.htm. In addition, we also put out a newsletter called "Voice of the Alliance." This newsletter--available in electronic & hard copy formats--informs our sector members with staff reports, upcoming events, available staff positions, chapter activities and more. For a sample copy of "Voice of the Alliance" contact our editor, Anne Zecca, via our website www.ufphq.com/babylon5sec.htm ("Chain of Command").
Membership in United Federated Planets is required to join UFP's Babylon 5 Sector. For information on joining UFP, contact:
Mike Ferguson, President/CEO
United Federated Planets
300 W. Oak Street
Midwest City, OK 73110 USA
E-Mail: mikeferg1@yahoo.com
Organization Website: www.ufphq.com
SubSpace Newsletter (on-line): www.ufphq.com/current.htm
Application: www.ufphq.com/application.htm (on-line version available)
Chapter Application: www.ufphq.com/chapterApp.htm (on-line version available)
For more information, go to the Clubs Page.
United Federated Planets (UFP) has a Rick Biggs memorial page set up at the following address:
http://www.ufphq.com/rick_biggs.htm
STAR TREK CLUB VENEZUELA
Ranger Andres dropped a note to say that a new club has been formed -- Star Trek Club Venezuela. It is small right now, but they are ready for recomendations, opinions, and/or any other comments.
This is the last update of our 1st Expo in November 2004. This event will take place in the Best Western Hotel CCCT Caracas. Visit their site at www.trekvenezuela.net for more information.
We have a number of Fan Clubs listed here at the Zocalo. They are those associated with a particular actor -- and there are those devoted to Babylon 5 or science fiction. Be sure to check out the Clubs Page to see if there is an organization near you.
BABYLON 5 MERCHANDISE
Are you looking for Babylon 5 merchandise? Would you like to possess some of the wonderful patches or pins sold by the B5 Fan Club? Do you want to put in an order for the latest DVD? Bruce at Uncomyn Gifts still has one of the best collections around. Check out www.uncomyngifts.com. You may just find the magazine or t-shirt or patch you are looking for.
---
SCIENCE FICTION PUBLICATIONS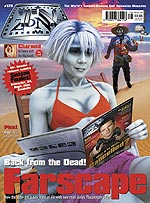 TV Zone #178: The main feature of the issue: Farscape: Peacekeeper War. As the mini-series production wraps up the plot threads to this Sci-Fi series, you'll hear from the cast and crew as they enjoy their second chance to shine. Also in this issue, STARGATE SG-1's executive producer Michael Greenburg tells us about what's in store for the show's upcoming eighth season and about the spin-off series STARGATE ATLANTIS. You will also find the second part of the interview with ANGEL's James Marsters. He chats about being directed by David Boreanaz, and the series' cancellation.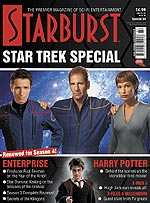 Starburst Special #64: This special issue is devoted to STAR TREK. Between the covers, you'll find interviews with Dominic Keating (Lt. Reed) from ENTERPRISE, Executive Producer Rick Berman, Designer Herman Zimmermann and much more. Also of interest in this issue: a 16-page feature on HARRY POTTER and a chat with Hugh Jackman about X-MEN 3.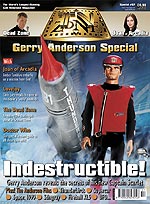 Time Zone Special #57: Gerry Anderson has been around science fiction for a long time. His Captain Scarlet and Stingray are classics, along with Thurderbirds. In this issue he talks about working with puppets, his view of the new THUNDERBIRDS movie and why he feels CGI is the future of animation. Also included in this issue is a look at JOAN OF ARCADIA's Amber Tamblyn and a look at what's ahead for THE DEAD ZONE.




Cult Times #106: With season eight poised to begin in about 2 weeks, producers Robert C Cooper and Andy Mikita talk about the many changes ahead. Also in the issue, more about 24 and SHE SPIES.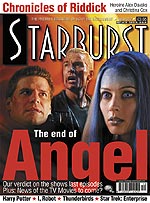 Starburst #312: Joss Whedon, creator of BUFFY and ANGEL, talks about what the future holds. Also in this issue - The Top 20 Angel Events: Take a trip back over the last five years and revisit some classic moments from one of television's darkest dramas. SEE! Angel attack Wesley in Forgiving! HEAR! The hilarious quotes from Epiphany! THRILL! As Spike takes a beating in Damage! The magazine also looks at HARRY POTTER and THE DAY AFTER TOMORROW.




Expose #86: As the latest HARRY POTTER film takes center stage, Director Alfonso Cuarón and Harry Potter himself, Daniel Radcliffe talk about their work on THE PRISONER OF AZKABAN, and the relationship between actors and directors. We also get a look at all the new characters and creatures introduced in The Prisoner of Azkaban. Also inside this issues, ALIAS' Jennifer Garner chats us about her latest big-screen outing, 13 GOING ON 30.






Expose Special #25: CHARMED is the focus of attention in this issue. Alyssa Milano, Holly Marie Combs and Paige McGowan look ahead to a seventh season. Others featured in the issue include co-star Dorian Gregory and producer Brad Kern
BABYLON 5 NOVELS
DelRey is reprinting the original Babylon 5 novels. They started with #7 - Jeanne Cavelos' THE SHADOW WITHIN. Here's one I've been waiting for -- Kathryn Drennan's TO DREAM IN THE CITY OF SORROWS. The release date is scheduled for July 29, 2003. I love the new cover art! It can be pre-ordered from www.amazon.com. For those of you who love Babylon 5, this one reads just like an episode from the series. You just can't put it down.




BOOK REVIEWS
Here is a new feature for your enjoyment. I received some new book reviews that I've posted on a separate Book Review Page. Let me know if you enjoy this new feature -- and we'll continue to offer them as they are received. Agree with the review? Disagree? We can post those as well.

Other science fiction material, outside of the B5 environment can be found on the Materials Page.
FREE ON-LINE LIBRARY
Ranger Dan sends along the following information about a free, online library:

There is a free online library of Sci Fi books at www.baen.com . I have the paperbacks and hardcovers of several of the books (notably 1632 and 1633 by Eric Flint) and they are very good multi arc stories. To access the books click on Free Library then Authors. (I am not affiliated in any way with baen just happened to be a reader and looked their site up after enjoying several of their publications).
SAVE THE HUBBLE
The Hubble project is in jeopardy. Please visit http://www.savethehubble.org/petition.jsp and sign the petition to have NASA reconsider funding for the project.
---
COMIC BOOKS
Saw this in the B5 moderated newsgroup and thought I would pass it along:
http://previews.diamondcomics.com/support/previews_docs/orderforms/cof.txt

In The October 2004 Solicitations...
AUG04 1597 RISING STARS #1/2 (O/A) $2.95 = $
AUG04 1598 RISING STARS #10 (O/A) $2.50 = $
AUG04 1599 RISING STARS #12 (O/A) $2.50 = $
AUG04 1600 RISING STARS #13 (O/A) $2.50 = $
AUG04 1601 RISING STARS #14 (O/A) $2.50 = $
AUG04 1602 RISING STARS #15 (O/A) $2.50 = $
AUG04 1603 RISING STARS #16 (O/A) $2.50 = $
AUG04 1604 RISING STARS #17 (O/A) $2.50 = $
AUG04 1605 RISING STARS #18 (O/A) $2.50 = $
AUG04 1606 RISING STARS #19 (Of 24) (O/A) $2.50 = $
AUG04 1607 RISING STARS #20 (Of 24) (O/A) $2.99 = $
AUG04 1608 RISING STARS #21 (Of 24) (O/A) $2.99 = $
AUG04 1609 RISING STARS PRELUDE (O/A) $2.95 = $
AUG04 1623 RISING STARS #22 (Of 24) $2.99 = $
AUG04 1624 RISING STARS VOL 1 BORN IN FIRE TP (STAR12207) $19.95 = $
AUG04 1625 RISING STARS VOL 2 POWER TP (STAR15724) $19.95 = $
AUG04 1626 RISING STARS VISITATIONS TP (STAR16700) $8.99 = $
(The dates related to the issue of Previews and the item number in the catalogue, not the release date which is OCTOBER).

NEW COMICS IN STORES NOW
Amazing Fantasy #1 will arrive in stores on Wednesday from Marvel Comics.
The issue is written by Fiona Avery*, with art and cover by Mark Brooks.
Here's how Marvel describes the issue:
"She¹s fierce, she's sassy...she sticks to walls. Amazing Fantasy #1 is where it all begins: Meet an all-new, all-different heroine! Fiona Avery and Mark Brooks launch a surprising series of teen-friendly adventures set in the current Marvel Universe!"
Amazing Fantasy #1 will be 32 pages and will cost $2.99.
(Fiona was a reference specialist at Babylon 5 and later wrote an episode of Crusade.)
STRANGE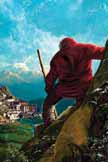 Written by J. Michael Straczynski and Samm Barnes, penciled by Brandon Peterson, cardstock cover by Brandon Peterson.

The master of the mystic arts is back -- as only J. Michael Straczynski and artist Brandon Peterson could envision him. Brash young surgeon Dr. Stephen Strange is on a collision course with destiny -- a journey that will force him to search the deepest corners of his own heart...and the outer reaches of the cosmos.

32 pages, $3.50, in stores on Sept. 15.

AMAZING SPIDER-MAN #512
Written by J. Michael Straczynski, art and cover by Mike Deodato.
"Sins Past," part 4 of 5. The worst defeat that Peter Parker ever endured -- a moment frozen in the minds of Spider-Man fans everywhere -- was supposed to be far in his past. But now, two villains -- ripped, perhaps, directly from that very moment -- have emerged and they threaten to destroy everything that he holds dear.
32 pages, $2.25, in stores on Sept. 29.
AMAZING SPIDERMAN
AMAZING SPIDER-MAN #509 Amazing Spider-Man #509 will arrive in stores on Wednesday from Marvel Comics. The issue is written by J. Michael Straczynski, with art and cover by John Romita Jr.

Here's how Marvel describes the issue:
"The enigmatic Ezekiel returns to Peter's life. But is he the same man who stood by Spider-Man's side in his hour of need, or will he prove to be something much deadlier?"

Amazing Spider-Man #508 will be 32 pages and will cost $2.25.

For a preview of the issue, go to http://www.milehighcomics.com/firstlook/marvel/spidey509/.
STARGATE SG-1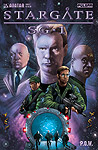 STARGATE SG-1 Comic Issue #2 now in stores
MARCH 31, 2004

The second installment of the new Stargate SG-1 comic book series is now available at retailers worldwide. "P.O.W." #2 tells part two of a 3-issue story, in which Colonel Jack O'Neill finds himself a captive of the Goa'uld. "This is meant to be our introduction to the Stargate world for new comic fans and a fun treat for the hardcore fans," said author James Anthony Kuhoric. The issue features a recounting of the events of the original "Stargate" film, as well as the beginning of the TV series. "In addition to establishing the background as a starting point for future comic book series, this feature amalgams the two universes [of the film and the TV series] into SG-1 continuity. We get to see Richard Dean Anderson as O'Neill during the first Abydos mission!"

With a story by Kuhoric and art by Renato Guedes, "P.O.W." #2 carries a $3.50 price tag and is available in several different covers. Fans who can't find the issue can order it from the publisher's online store, at ComicCavalcade.com.

"P.O.W." #3 is currently on stands, followed by a brand new 3-part series, "Fall of Rome," which will introduce new characters and expand the Stargate universe.
TV SCHEDULE ON SCIFI CHANNEL
BABYLON 5 and CRUSADE are not currently listed on any SCIFI schedule. STARGATE SCHEDULE: 19-JUL-04 06:00 PM STARGATE SG-1 DOUBLE JEOPARDY
19-JUL-04 07:00 PM STARGATE SG-1 POINT OF VIEW
19-JUL-04 08:00 PM STARGATE SG-1 DEADMAN SWITCH
19-JUL-04 09:00 PM STARGATE SG-1 DEMONS
19-JUL-04 10:00 PM STARGATE SG-1 RULES OF ENGAGEMENT (SG-1)
20-JUL-04 06:00 PM STARGATE SG-1 EXODUS - PT 1
21-JUL-04 06:00 PM STARGATE SG-1 ENEMIES - PT 2
22-JUL-04 06:00 PM STARGATE SG-1 THRESHOLD - PT 3
23-JUL-04 06:00 PM STARGATE SG-1 ASCENSION
23-JUL-04 08:00 PM STARGATE SG-1 ( SEASONS 1-5) 48 HOURS
23-JUL-04 09:00 PM STARGATE SG-1 (SEASON 8) LOCKDOWN
23-JUL-04 11:00 PM STARGATE SG-1 (SEASON 8) LOCKDOWN
26-JUL-04 06:00 PM STARGATE SG-1 THE FIFTH MAN
26-JUL-04 07:00 PM STARGATE SG-1 FOREVER IN A DAY
26-JUL-04 08:00 PM STARGATE SG-1 PAST AND PRESENT
26-JUL-04 09:00 PM STARGATE SG-1 JOLINARS MEMORIES - PT 1
26-JUL-04 10:00 PM STARGATE SG-1 THE DEVIL YOU KNOW (SG-1) - PT 2
27-JUL-04 06:00 PM STARGATE SG-1 RED SKY
28-JUL-04 06:00 PM STARGATE SG-1 THE RITE OF PASSAGE
29-JUL-04 06:00 PM STARGATE SG-1 BEAST OF BURDEN
30-JUL-04 06:00 PM STARGATE SG-1 THE TOMB
30-JUL-04 08:00 PM STARGATE SG-1 ( SEASONS 1-5) FAIL SAFE
30-JUL-04 09:00 PM STARGATE SG-1 (SEASON 8) ZERO HOUR
30-JUL-04 11:00 PM STARGATE SG-1 (SEASON 8) ZERO HOUR

FARSCAPE SCHEDULE:

22-JUL-04 03:00 AM FARSCAPE SELF-INFLICTED WOUNDS PT 1: COULD
22-JUL-04 04:00 AM FARSCAPE SELF-INFLICTED WOUNDS PT 2: WAIT
22-JUL-04 05:00 AM FARSCAPE DIFFERENT DESTINATIONS
25-JUL-04 01:00 AM FARSCAPE NERVE
29-JUL-04 03:00 AM FARSCAPE EAT ME
29-JUL-04 04:00 AM FARSCAPE THANKS FOR SHARING
29-JUL-04 05:00 AM FARSCAPE GREEN EYED MONSTER
01-AUG-04 01:00 AM FARSCAPE THE HIDDEN MEMORY
05-AUG-04 03:00 AM FARSCAPE LOSING TIME
05-AUG-04 04:00 AM FARSCAPE RELATIVITY
05-AUG-04 05:00 AM FARSCAPE INCUBATOR
06-AUG-04 08:00 AM FARSCAPE LAVA'S A MANY SPLENDORED THING
06-AUG-04 09:00 AM FARSCAPE PROMISES (FARSCAPE)
06-AUG-04 10:00 AM FARSCAPE NATURAL ELECTION
06-AUG-04 11:00 AM FARSCAPE JOHN QUIXOTE
06-AUG-04 12:00 PM FARSCAPE I SHRINK THEREFORE I AM
06-AUG-04 01:00 PM FARSCAPE A PREFECT MURDER
06-AUG-04 02:00 PM FARSCAPE COUP BY CLAM
06-AUG-04 03:00 PM FARSCAPE UNREALIZED REALITY
08-AUG-04 01:00 AM FARSCAPE THROUGH THE LOOKING GLASS
12-AUG-04 03:00 AM FARSCAPE MELTDOWN
12-AUG-04 04:00 AM FARSCAPE SCRATCH & SNIFF
12-AUG-04 05:00 AM FARSCAPE REVENGING ANGEL
15-AUG-04 01:00 AM FARSCAPE BONE TO BE WILD
19-AUG-04 03:00 AM FARSCAPE INFINITE POSSIBILITIES - PT 1
19-AUG-04 04:00 AM FARSCAPE INFINITE POSSIBILITIES - PT 2
19-AUG-04 05:00 AM FARSCAPE THE CHOICE (FARSCAPE)
22-AUG-04 01:00 AM FARSCAPE FAMILY TIES
26-AUG-04 03:00 AM FARSCAPE I-YENSCH, YOU YENSCH
26-AUG-04 04:00 AM FARSCAPE INTO THE LION'S DEN PT. 1
26-AUG-04 05:00 AM FARSCAPE INTO THE LION'S DEN PT. 2
29-AUG-04 01:00 AM FARSCAPE DREAM A LITTLE DREAM
BABYLON 5/CRUSADE PHOTOSHOP PHOTOS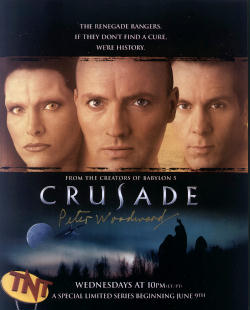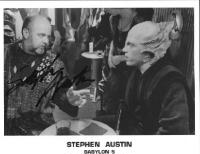 Peter Woodward has sent along a new photo -- a rather dreadful one -- from his appearance on CHARMED. It will be added to the collection of photos available from Peter, including additional copies of the Crusade poster in photo format. Both are autographed by Peter. You do NOT have to pay the prices asked for over at e-bay! Here are photos of B5 and Crusade cast members at fantastic prices. Check out Photo Shop. Ordering is easy -- and you can't beat the prices! Just let me know which photos you want and I'll check to make sure they are still in stock.
---
BABYLON 5 TOONS
John Cook has a wonderful collection of cartoons -- many are take-offs from Babylon 5. Here's just one of them.

He has a cartoon caption contest going on as well. Try your hand at a punch line.

Go to http://contests.sev.com.au/index.php?contestid=1




SCI-FI CARTOONS
While catching up on my e-mail yesterday morning, I got an instant message from LFMOA along with a nice goodie that I can share with readers. Thanks for sending along your version of Pinky and the B5 Brain.




Tye Bourdony's latest Lighter Side of Sci-Fi satire can be seen here and at Tye's website www.thelightersideofscifi.com.





CONVENTION CALENDAR
July 22-25, 2004
COMIC-CON INTERNATIONAL
Location: San Diego, California (USA)
Guests: To be announced
For more information, visit their website at http://www.comic-con.org .
---

July 23-25, 2004
ALTERNATE UNIVERSE
Location: Thistle Heathrow Hotel - London
Guests: John Rhys-Davis, Colin Cunningham, J.R. Bourne, Andrea Thompson, Sarah Douglas, Peter Stebbings, Marc Cass
For more information, visit their website at http://www.l3conventions.co.uk/alternateuni.htm .
---

July 29-Aug 1, 2004
CREATION CONVENTION
Location: Las Vegas, NV
Guests William Shatner, Leonard Nimoy, Tim Russ, Ethan Phillips, Nana Visitor, Robert Picardo, Walter Koenig, David Gerrold
For more information, visit their website at http://www.creationent.com/ .
---

July 29-Aug 1, 2004
VULKON CONVENTION
Location: Doubletree Hotel Tampa Airport
City: Tampa, FL
B5 Guests: Patricia Tallman, Jeffrey Willerth
Guests: Christopher Judge, Connor Trinneer, Alexis Cruz, Dean Haglund, Garrett Wang, Michael Forest
For more information, visit their website at http://www.vulkon.com/ .
---

Be sure to visit the referenced sites to see if there have been changes in dates/guests attending. Visit our Convention Calendar for a full listing of upcoming conventions.
MAIL FOR CAST AND CREW
Here's a recent note from JMS on the subject:

Just an FYI to those who've been using the Ventura Blvd. mail drop for fan mail to actors....

As mentioned before, we're phasing out the forwarding of fan mail because we a) don't have the resources, complicated by b) the actors have scattered to the four winds, and it makes it very difficult to get everything to everybody in a timely fashion.

So, having provided prior notice...fan mail to actors coming to the Ventura Blvd. mail drop will be sent back. Mail to actors should be sent via their official fan clubs. I will still be taking mail there, since it's my mailbox, but that's it.

Just so's y'all know and save a few bucks on postage and returns.

WARNER BROS:

Warner Bros. Address:

Warner Bros. Domestic Television Distribution
4000 Warner Blvd.
Burbank, CA 91522

Warner Home Video:

Mr. Douglas Wadleigh
VP for Marketing and Special Features
Warner Bros.
4000 Warner Blvd.
Burbank, CA 91522

SCIFI:
Bonnie Hammer, President
Sci-Fi Channel
1230 Avenue of the Americas
New York, NY. 10020-1513

Mr. Thomas Vitale
Senior VP of Acquisitions, Scheduling & Program-Planning
BACK ISSUES OF THE ZOCALO TODAY
The front page of the The Zocalo Today changes daily, so be sure to check the back issues to make sure that you haven't missed anything IMPORTANT! I don't want the front page getting too long so I shift information periodically into the archives. So if you aren't a regular visitor to The Zocalo Today, be sure to check out the back issues. Just use the button above!
---
Take care and I look forward to hearing from you.
Sandra Bruckner (sgbruckner@aol.com)
Editor/Publisher
The Zocalo Today
http://www.isnnews.net
Copyright - SBruckner, 1999-2004