[an error occurred while processing this directive]

The Zocalo Today

Welcome! I am REALLY glad you dropped by. Take your shoes off, get comfortable and stay a while. There is a LOT of information here for you to share.

The Zocalo Today is an interactive newsletter. We encourage interaction with our readers and like suggestions. So send them along. The Zocalo Today is as much YOUR newsletter as it is mine! I'm just pulling together things for you! Join our weekly discussion topic. It is just one way you can interact with other Z readers. Send along letters, sightings of B5 cast and crew in other projects, convention reports, photos, etc. Don't miss our back issues. As I said, there is a LOT of information contained there and you'll not want to miss anything.

If you have questions, drop me a line at sgbruckner@aol.com or b5web@aol.com. If you would like to join the mailing list for our bi-weekly newsletter, send me a note and I'll include you on the list. Or you can use the subscription block at the left.

Again, WELCOME!




What's New Today
Saturday, July 20: TWIN TREATS: Last night was special over at SCIFI. On STARGATE SG-1, Daniel Jackson (Michael Shanks) made a return visit. And it was the season finale for JEREMIAH. Hope you were able to watch both. They were wonderful.
---
BIRDS OF PREY: With the departure of Sherilyn Fenn from the BIRDS OF PREY pilot cast, Mia Sara has taken on the role of Dr. Harleen Quinzel, aka Harley Quinn. Sara is probably best known as Ferris Bueller's girlfriend Sloane in Ferris Bueller's Day Off from 1986. Sara is married to Jason Connery, the son of Sean Connery, who has played Dominic in Smallville. Production on the first season of Birds of Prey is targeted to begin before the end of the month.
---
EIGHT LEGGED FREAKS: One of the movies opening this weekend is EIGHT LEGGED FREAKS. For a look at the movie, go to http://www.prevuemagazine.com/Articles/Flash. See if you'd rather see this than Harrison Ford and Liam Neeson in K19: THE WIDOWMAKER. Don't forget the CROCODILE HUNTER movie that opens this week. Prevue magazine interviews Steve Irwin over at http://www.prevuemagazine.com/Articles/Flash.
---
INSIDE SCIFI THIS WEEK:
Friday, July 19: JEREMIAH: The season finale airs TONIGHT! Be sure to tune in. It would be wonderful to have Jeremiah's season ender be the BEST show of the week for Showtime! No word yet on renewal -- that has been promised in a couple of weeks -- so watching tonight is VERY important!
---
RATINGS: Top 10 SF Network Shows: Touched by an Angel 5.1; Alias 2.9; Futurama 2.9; Smallville 2.0; Dark Angel 1.6; The X-Files 1.6; Sabrina 1.6; Charmed 1.5; Buffy 1.3, and Wolf Lake 1.2. Source: Nielsen Galaxy Report, 6/17/02 - 6/23/02.
---
EMMY AWARDS: Emmy award nominations were announced yesterday in Los Angeles. Alias took a number of nominations, including best lead actress in a drama series, for star Jennifer Garner; best supporting actor in a drama series, for Victor Garber; and best writing in a drama series. Other shows lagged behind. Dinotopia picked up a couple of nominations for art directions, costume design, hair styling, make-up and music direction. Enterprise and Smallville picked up nominations for sound editing and special effects. These are just a few of the 433 nominations in 86 categories. You can read the genre nominations at www.scifi.com.
---
DARK SHADOWS: With all the vampire activity on TV these days, is it a surprise that Dark Shadows creator Dan Curtis is developing a new big- screen version of his gothic soap opera. According to TV Guide Online, Curtis said, "We have people who are interested in providing financing, and we're having lots of conversations." Curtis added, "We'd heard for ages that Johnny Depp always wanted to play Barnabas Collins, so we checked into it, and lo and behold, depending on the script, it is something that he'd like to do." He continued, "The show never goes away. It's running on SCI FI Channel, and 40 episodes were recently put out on a four-disc DVD set. I understand they sold out within days and [Mpi Media Group] had to go back for a second printing. Never in my life did I imagine that the show would still be around."
---
THUNDERBIRDS: Jonathan Frakes (Star Trek: Next Generation; Roswell) has signed to direct a big screen, live action version of the 1960s British SF show THUNDERBIRDS. If THUNDERBIRDS is not immediately recognizable, you may have come across the show in some late-night channel surfing -- it looks like puppets riding in rocket ships and driving cars of the future. This format is called "supermarionation", a Howdy Doody in space sort of thing. The movie has been in development for years as an adult-poised action film, but has been changed to a family adventure; it is set for production in early 2003.
---
BIRDS OF PREY: There's a short trailer for the upcoming series BIRDS OF PREY over at http://www.thewb.com/Shows/Episode/0,8201,||1009,00.html.
---
Thursday, July 18: DREAMCATCHER: There's a new trailer up on the web and you'll want to give it a peek. The movie, based on a Stephen King novel, stars Morgan Freeman and really looks creepy! Go to http://dreamcatchermovie.warnerbros.com/cmp/main-fr.html for more information about the movie. Release is set for February 2003.
---
BIRDS OF PREY: WB has released the first publicity photo of Shemar Moore who plays Detective Jake Reese in the upcoming Birds of Prey series. Moore has spent the last eight years on The Young and The Restless, where he won a Daytime Emmy. Reese is described as "a good cop battling New Gotham's villains, as well as his own personal demons." For the publicity shot, go to http://www.comicscontinuum.com/stories/0207/18/index.htm.
---
ANDROMEDA: With season three quickly approaching, Tribune Entertainment and Fireworks Entertainment announced that Robert Engels will be heading up the writing team. ANDROMEDA's Gordon Michael Woolvett talks about changes in the upcoming season in a forthcoming issue of CULT TIMES. "There are fresh new directions but it's still Andromeda, it's still the same show. Towards the end of season two, the last couple of episodes you start to see the new direction the show is going to go and maintaining throughlines, keeping the characters the way we like them to be, having them change little by little over time...
---
Wednesday, July 17: BABYLON 5 DVD: The release date for the new DVD has been announced as November 1. This may be for North America, but nothing is official yet.
---
ENTERPRISE: Over at www.scifi.com Brandon Braga is talking about the upcoming season of ENTERPRISE. There's lots of spoiler info there, so beware. Former X-Files producer John Shiban has joined the writing staff this year, that's very good news. We all know how important GOOD writing is to any series success.
---
RATINGS: Top 10 SF Syndicated Series: The X-Files 2.7; Stargate SG-1 2.3; 3rd Rock 2.2; Buffy 1.9; John Edward 1.9; Mutant X 1.9; Andromeda 1.8; Earth: Final Conflict 1.7; Beastmaster 1.6, and Profiler 1.5. Source: Nielsen Galaxy Report, 6/17/02 - 6/23/02.
---
ANGEL CHANGES: Angel co-creator and show runner David Greenwalt is leaving the series to run ABC's upcoming new supernatural drama MIRACLES. Joss Whedon said that Greenwalt will remain with Angel as a creative consultant, but TV veteran David Simkins (Freakylinks) will take over the job of running Angel on a daily basis. What has David done in preparation for this new role? Angel co-star Alexis Denisof (Wesley) told SCI FI Wire, "He sat down this summer with his wife and watched 66 episodes of Angel from beginning to end in a marathon. So ... he's already got the bible in his head of the show. He's done his homework, and he's ready to go."
---
Denisof, speaking at the July 13 WB's party for TV critics, would not reveal the many twists and turns ahead for the season opener. He did say, however, that Wesley would continue to explore some of the less noble aspects of his personality this season. "He's flirting with and investigating the dark side of himself," Denisof says. "He's looking at his relationships with all the people and with Angel, and he's definitely looking at his whole purpose and trying to figure out how he wants to be. There are going to be some things that really surprise the audience, that they'd never expect of Wesley."
---
REN AND STIMPY: The Hollywood Reporter presented some good news today. "THE REN AND STIMPY SHOW" is coming back to cable TV with new episodes for TNN to be produced by show creator John Kricfalusi and his company Spumco. Viacom-owned TNN plans to run the 52 previously produced episodes of "Ren & Stimpy," followed by six new half-hours. There are also discussions to do a full-length animated TV movie to run on TNN.
---
BIRDS OF PREY: Though we haven't seen the pilot episode yet, Sherilyn Fenn is said to have done tremendous job as Dr. Harleen Quinzel in the Birds of Prey. Unfortunately, her schedule will not permit a long term arrangement with the series so the role is going to be recast. Word this morning is that her part in the pilot will reshot with the new cast member. Dr. Quinzel will become an integral figure in the series and continuity is essential. For new series photos, go to http://www.gothamclocktower.com/.
---
GARY FRANK: You all know his work -- he's the artist who is bringing us MIDNIGHT NATION. He has just signed an exclusive agreement to work for Marvel Comics. Frank is drawing Avengers #61-62, both of which go on sale in December. Marvel editor Tom Brevoort said, "Gary's been doing terrific work throughout the industry the last few years -- notably on Midnight Nation -- so it's great to see him back at Marvel. With his strong dramatic sense and his deft hand at characterization, these two issues of Avengers should make for a nice Christmas present to the fans."
---
WITCHBLADE: Over at http://www.comicscontinuum.com/stories/0207/17/index.htm you'll find three images of The Who's Roger Daltrey from Monday's WITCHBLADE episode "Hierophant." This is his second guest-starring appearance, which TNT describes as: "Roger Daltrey plays a cross-dressing fortune teller with a unique connection to the Witchblade in an episode in which a powerful mystery figure named V (James Acheson) is forcing the top crime bosses of the city to unite into a single criminal enterprise - but not everyone wants to join. Sara (Yancy Butler), Danny (Will Yun Lee) and Jake (David Chokachi) investigate multiple homicides in the aftermath of a shootout at a meeting of the city's top crime bosses, where crime boss Tommy Gallo (Conrad Dunn) is the only survivor. The investigation takes Sara to see a fortune teller named Madame Sesostris. Sara's palm reading is cut short when an otherworldly force intervenes. Sara is haunted by the mysterious V until his shocking identity is finally revealed."
---
Tuesday, July 16: BUFFY: Joss Whedon is talking about what to expect during Buffy this year. I don't want to post any spoiler information, so go to www.scifi.com if you want to read about faces from the past who will return this year. After a pretty dark last season, Whedon confirmed that he and his staff will lighten Buffy up, returning to Sunnydale High, which was destroyed at the end of season three. Dawn will be following in her older sister's footsteps. "Dawn is now the age Buffy was when the show began. And what's nice about that is that it gives us the opportunity to tell more high-school stories, which were the centerpiece of the show, and which we only got to do for two and a half years. Buffy returns Sept. 24 in its regular Tuesday 8 p.m. timeslot
---
30 DAYS OF NIGHTS: Variety indicates that director Sam Raimi is very interested in taking on the vampire comic 30 DAYS OF NIGHTS once he's finished SPIDER-MAN 2 which begins shooting in January. Raimi feels 30 is "so unlike the horror films of recent years." It tells the story of a town in Alaska that is dark for a month because of the Earth's tilt away from the sun, and it becomes a paradise for vampires. The only thing between vampires and general chaos is the town's husband and wife sheriff team. Steve Niles, who wrote the original comic, said, "Writing comic books is all about 'freezing the moment.' So just to see these people move around and talk will be refreshing. In the comic book, I could only show one instance of their love for each other, because it would take about two pages [of story board]. Now, there's so much more room to develop these characters."
---
PETER PAN: Things are moving ahead on the newest production of PETER PAN. P.J. Hogan has cast little known Jeremy Sumpter to play PETER PAN in the upcoming big screen, live action version of the fantasy tale about a flying boy who never grows up. Captain Hook will be played by Jason Isaacs who you will recognize from THE PATRIOT, BLACKHAWK DOWN, HARRY POTTER AND THE CHAMBER OF SECRETS. The film partners Universal, Columbia and Revolution Studios, and will hit for Christmas next year.
---
TREK DOCUMENTARY: Why has Star Trek endured? Why are fans so devoted? These are just a few questions a new documentary will seek to answer. "Trek Nation" will explore the vision of Gene Roddenberry and his study of human nature, free will and the role of emerging science in the world. In a press release to announce the project, Atmosphere Pictures and the people from Roddenberry.com said, "In its 35 years, Star Trek has been more than just an action/adventure series, it has been a popular vehicle for exploring social issues. The lessons woven throughout the episodes have inspired young minds, influenced career choices and helped shape a culture. The series has taught us that the fundamental principles that guide our iconic heroes also have the distinct power to provide direction in our own lives."Fans will get a chance to take part as well. Atmosphere Pictures is looking for stories from fans that ask the following questions: Has Star Trek changed your life and how? Is there an episode, storyline or character that has helped you work through a problem? Has Gene Roddenberry's vision made an impact on you personally? Those who would like to answer those questions are asked to send an e-mail to treknation@atmospherepictures.com.
---
END GAME: Sean Connery is back -- as a spy! According to the Scottish newspaper, the Daily Record, Mandalay Pictures will be producing END GAME, in which Connery "will be playing a CIA agent much closer to his own age [71]. He is up against the odds, resourceful and witty but he has to rely on others to help him out."
---
BIRDS OF PREY: BIRDS OF PREY cast and executive producers met with the press over the weekend at The WB's 2002 TCA Press Tour. A transcript of the session can be found at http://www.comicscontinuum.com/stories/0207/16/birdsindex.htm along with more photos from the upcoming series..
---
Monday, July 15: RATINGS: Top 10 SF Channel Shows: Stargate SG-1 1.4; Willow 1.3; Waterworld 1.2; Farscape 1.1; Mad Max Thunderdome 0.9; Deep Red 0.8; Fallout 0.8; Mad Max 0.8; The Outer Limits 0.7, and Night Visions 0.7. Source: Nielsen Galaxy Report, 6/17/02 - 6/23/02.
---
WEEKEND BOX OFFICE: MEN IN BLACK 2 hung onto the #1 position for the week, but only because ROAD TO PERDITION was playing on less than half as many screens. Here are the numbers: 1. MEN IN BLACK II, $25.0 million this weekend, $133.3 million since opening; 2. ROAD TO PERDITION, $22.1 million this weekend; 3. REIGN OF FIRE, $16.0 million this weekend; 4. HALLOWEEN: RESURRECTION, $12.3 million this weekend; 5. MR. DEEDS , $11.0 million this weekend and 6. THE CROCODILE HUNTER: COLLISION COURSE , $10.0 million this weekend.
---
ARTHUR: Steven Spielberg and Tom Hanks will produce an eight episode retelling of the King Arthur legends, called ARTHUR. The series will blend the legend of the king, the Knights of Camelot, and historical events in England's past.
---
SPIDERMAN: November 1 has been set as the DVD release date for SPIDER-MAN. The list of extras hasn't been confirmed, but Columbia TriStar Home Entertainment confirmed the release will be a two disc set. Some of the extras confirmed: costume and make-up tests with Tobey Maguire, interviews with director Raimi, Stan Lee, and "an extensive history of Marvel's superhero character."
---
SHAGGY DOG: The Hollywood Reporter posted a note regarding Disney reviving its "The Shaggy Dog" franchise as a big-screen feature. Originally brought to the screen in 1959, there have been other Shaggy movies like 1987's "The Return of the Shaggy Dog" and 1994's "The Shaggy Dog." Jack Amiel and Michael Begler, "Malcolm in the Middle" writers, will do the updated version, telling the story of a family man who, through a spell, keeps changing into a sheepdog and back again at the most inopportune times.
---
ALIENS VS. PREDATOR: UK director Paul Anderson has signed on to write and direct ALIENS VS. PREDATOR, based on the comic book series by Dark Horse.
---
SEASON ONE BABYLON 5 DVDs
AWESOME! This is the cover artwork for the first season DVD for Babylon 5. I think it is outstanding and can't wait to see it distributed in the US. Word is that the UK will get it first -- as usual -- on October 14. There is word that the DVD will be released on November 1 in the US. Nothing official as yet though. JMS has said that "Season One will be out in a boxed set this Fall, and they're going to be including at minimum two commentaries from me, probably on Signs and Portents and Chrysalis (it's a matter of how much time and energy I can give to it given that there's no fees involved and I'm in the midst of Jeremiah), and if possible, Babylon Squared, maybe Sky Full of Stars. They'd also like to film an on-camera intro by me (but I guess folks will buy it anyway, even with that particular horror included). Ranger Reports:
Ranger Clay sent along a page from http://www.r2-dvd.org/article.jsp?sectionId=3&articleId=4390 with the first glimpse of the B5 Season One cover art. Ranger Scott sent along this link so you can see the cover art at http://www.thedigitalbits.com/#b5s1 and get more information. Until there is an official announcement by WB however, we won't know if this is the "official" cover. More ranger reports have come in from Rangers Robin, Laura and Doron as well, so thanks to everyone for all the good work.
JEREMIAH ON SHOWTIME - TONIGHT AT 10:45PM
Over at Comics2Film, there is a good review of the first seson of JEREMIAH. It is pretty thorough and will give you a flavor of the show and how JMS has meshed his talents for TV showtelling and comic books story telling. Go to http://www.comics2film.com/StoryFrame.php?f_id=1360&f_sec=6 to read more. SEASON FINALE
Premieres Friday, July 19, 10:45PM ET/PT
Written by: J. Michael Straczynski
Directed By: Mike Vejar

Log Line: As Markus prepares for a meeting with other groups, Jeremiah and Kurdy try to find out who cut a page out of Simon's journal - and why. What they learn could put an end to both Thunder Mountain and their partnership.

Two clips from this season finale episode are up at www.sho.com/jeremiah. Don't go there unless you want spoiled.
Luke Perry made an appearance at Wizard World recently and answered questions about his work on Jeremiah. For a complete transcript, to go http://www.comicscontinuum.com/stories/0207/10/perryindex.htm. JEREMIAH SCHEDULE AHEAD:
07/26/02
Jeremiah: The Long Road

For more information about this episode and the entire series, be sure to visit www.jeremiah.tv.

For those of you who want to keep up on what is going on with Jeremiah, Ranger Monica has started up a Jeremiah newsletter. Please go to http://groups.yahoo.com/group/jeremiah-news/ and subscribe. Monica also has a very nice Jeremiah site so don't forget to bookmark that as well.
KEEPING UP WITH CAST AND CREW
WAYNE ALEXANDER/KIM HOLLY: Wayne showed so many creative talents as he became characters like Lorien and Jack on Babylon 5. He's now putting those talents to work in another way; he's building a house! Wayne says carpentry has always been a hobby. Wayne and wife Kim hope to be moved in by Christmas.
Kim designed those wonderful costumes on Babylon 5 and is currently working on a MURDER SHE WROTE movie. Once that is completed, she'll be doing the new DRAGNET series produced by the same folks that bring us LAW AND ORDER.
---
ROBIN ATKIN DOWNES: Robin has a guest starring spot on the July 21 episode of ARLISS, the new show on HBO. Here's a postcard-type advertisement for the show. For more information about the show, visit their website at http://www.hbo.com/arliss/.
DISCUSSION TOPIC:
How important are special effects to movies? Do you enjoy seeing exploding buildings, space battles, flying dragons? Is that what brings you to the theater to see a movie? Speaking of movies (or just leisure) -- what is your favorite snack? Is it popcorn? Peanuts? Jordan Almonds? Send in your comments to thezocalo@aol.com or b5web@aol.com. I'll post them on the Discussion Page so that everyone can share what they are reading & watching this summer.
UNIQUE CHARITY ITEM
Ten popular science fiction actors have donated their time, images and autographs for an exclusive photograph, the proceeds of which will go to charity. For sale through the actors themselves and at , the limited-edition photo is in color, edged in white and ready to place in an 11X14 frame, and handsigned. Each of the 1,000 limited edition photos comes embossed with a seal of authenticity and numbered. The photograph is now available for a pre-sale price of $100. After Sept 11, 2002, the price will go up to at least $125.00. Among the charities to benefit will be the Penny Lane home for abused children in Los Angeles, and various September 11 funds. The actors hope to raise more than $100,000 through the charity project. The Penny Lane Home is a residential facility for children who have been severely abused, physically, emotionally and sexually. Many have "fallen through the cracks" of the social service outreach programs, and Penny Lane is their last chance at escaping the abuse. Actors in the photo include: Patricia Tallman, known best for her roles as Lyta Alexander in Babylon 5 and Barbara in Night of the Living Dead (1990) Vaughn Armstrong, who has portrayed more guest star aliens on Star Trek:TNG, DS9 and Voyager than any other actor in Star Trek history. Currently, he holds the recurring role of Admiral Maxwell Forrest on Enterprise, as well as at least eight other Guest Starring roles on board the new Trek series to date. Stephen Austin portrayed many bizarre alien creatures on Babylon 5. His most notable was the lovable Pak'ma'ra Ambassador. David Brooks is an accomplished artist as well as actor. He is best known to the sci fi community as Max Eilerson on the Babylon 5 spin off, Crusade. Jeffrey Willerth portrayed Ambassador Kosh and was Associate Producer of Babylon 5 Robin Atkin Downes, best known for his role of Byron in Babylon 5 Carrie Dobro, Dureena Nafeel in Crusade. Tim Choate was extremely popular on B5 as Zathras (and his brothers, all named Zathras). He also portrayed Pollack on Crusade. Beata Pozniak appeared as Babylon 5's Earth Alliance President Luchenko. Ed Wasser, the evil Mr. Morden on Babylon 5. As a special promotion, the first 100 orders will receive a special gift: former Star Trek stunt coordinator, Dennis Madalone, has donated 100 copies of his single, "America, We Stand As One," to say thank you to the science fiction fans who purchase the charity photograph. To order the photo online, go to http://www.thegalacticgateway.com, click on shop, and search on the word charity.
SCI FI PUBLICATIONS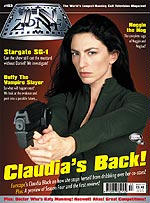 TV Zone #153: FARSCAPE fans are happy to see Claudia Black return to the series as Aeryn Sun. In this issue, we'll get a preview of season four plus chat with Claudia. Stargate SG-1 has started season six on SCIFI with a bang. Why is it so good? This issue has a discussion -- looking at the series from the beginning..







Expose Special #20: This special issue is primarily devoted to X-FILES and EARTH: FINAL CONFLICT -- two shows that have now left the airwaves and wandered into re-runs around the world. The magazine does a 17-page farewell to X-Files, talking with: Chris Carter about ending the series; Gillian Anderson about what lies ahead; Robert Patrick and Annabeth Gish look at their brief time on X-Files. For E:FC, Jayne Heitmeyer and John Whelpley look at the fifth and final season of the series. There's more in the issues as well. Christian Bale talks about REIGN OF FIRE; Manny Coto talks about ODYSSEY 5; JEREMIAH's Kurdy (Malcolm-Jamal Warner) looks down the road for the series.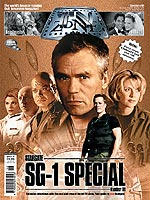 TV Zone Special #46: It's about time Stargate SG-1 started getting some respect and the press it has deserved for quite some time! In this special issue, the magazine talks to all the cast members, looks at production design, make-up and stunts. There is also interviews with Tony Amendola, Carmen argenziano and Peter Stebbings (yes you know him from Jeremiah now!).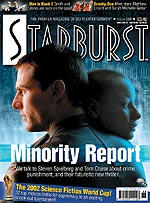 Starburst #288: Movies take center stage in this issue. With the success of Minority Report, this issue talks to both Tom Cruise and Steven Spielberg about the movie based on Philip K. Dick's short story. Men in Black just opened at the theater. The magazine talked to both Will Smith and Tommy Lee Jones about the sequel.
Cult Times #82: Stargate is the focus of this issue -- taking a look at the sixth and "final" season of the series. Robert Cooper, writer/producer, talks about what we can look for this year. Witchblade made it's second season debut and star Yancy Butler talks about portraying Sarah Pezzini.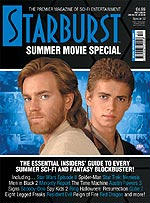 Starburst Special #52: This Summer Movie Special focuses on all the movies available for viewing pleasure this summer. Star Wars gets considerable attention, but you'll also find Spiderman, Men in Black II, Minority Report, Signs, Star Trek Nemesis, Scooby-Doo and others.
SCI-FI BOOKS ON SALE

The Stargate Illustrated Compendium for Seasons Three and Four is now available in the U.K.! The volume can be ordered at Amazon.co.uk. Ranger Dave reports that Bruce Boxletner's books (FRONTIER EARTH and THE SEARCHERS) are still avaible at www.bookcloseouts.com . The site is awesome, with several titles by William Shater and heaps of SciFi and Fantasy books.
BABYLON 5 BOOK OF QUOTES
Here's a note from JMS regarding an upcoming project: It had to happen sooner or later...with so many message boards and posts asking "What's your favorite B5 quote?" a book of Babylon 5 quotes was inevitable. So "But In Purple I'm Stunning: Quotations from Babylon 5" is coming out from an independent publisher later this year. The book will also contain sections dedicated to fan choices for best/favorite quote. Fans of Babylon 5 are invited to send in their favorite quote, and why it's a favorite. The best of these emails will be culled for the book, and along the way this will determine the #1 favorite quote. In particular, the book will be looking for anecdotes/stories from fans about what a given quote, or what the show, meant to them in particular. There are a lot of people who have found comfort or meaning in the show, or found it helped them get through some of life's problems. (An example I sometimes cite at conventions was the young man dying of aids who asked his sister to put all of G'Kar's speeches about hope and never giving up on tape so he could listen to them at his bedside.) It needn't be a heavy story, just one that has meaning for the person involved, can be a funny story, whatever. Basically the goal is to find the intersection where the show and its message and its words touched people. All contributions will be considered free to use by virtue of being submitted for this project. So if you have such an anecdote/story/message about a favorite quote or the show in general, send it to the following address (rather than replying to this, since I'll just have to forward it on in any event): b5quotes@yahoo.ca
SCI-FI SCHEDULE
BABYLON 5's Schedule:

22-JUL-02 5:00 PM BABYLON 5 (LBX) THE SUMMONING
23-JUL-02 5:00 PM BABYLON 5 (LBX) FALLING TOWARDS APOTHEOSIS
24-JUL-02 5:00 PM BABYLON 5 (LBX) THE LONG NIGHT
25-JUL-02 5:00 PM BABYLON 5 (LBX) INTO THE FIRE

29-JUL-02 5:00 PM BABYLON 5 (LBX) EPIPHANIES
30-JUL-02 5:00 PM BABYLON 5 (LBX) THE ILLUSION OF TRUTH
31-JUL-02 5:00 PM BABYLON 5 (LBX) ATONEMENT

01-AUG-02 5:00 PM BABYLON 5 (LBX) RACING MARS
05-AUG-02 5:00 PM BABYLON 5 (LBX) LINES OF COMMUNICATION
06-AUG-02 5:00 PM BABYLON 5 (LBX) CONFLICTS OF INTEREST
07-AUG-02 5:00 PM BABYLON 5 (LBX) RUMORS, BARGAINS AND LIES
08-AUG-02 5:00 PM BABYLON 5 (LBX) MOMENTS OF TRANSITION 12-AUG-02 5:00 PM BABYLON 5 (LBX) NO SURRENDER, NO RETREAT
13-AUG-02 5:00 PM BABYLON 5 (LBX) THE EXERCISE OF VITAL POWERS
14-AUG-02 5:00 PM BABYLON 5 (LBX) THE FACE OF THE ENEMY
15-AUG-02 5:00 PM BABYLON 5 (LBX) INTERSECTIONS IN REAL TIME 19-AUG-02 5:00 PM BABYLON 5 (LBX) BETWEEN THE DARKNESS AND THE LIGHT
20-AUG-02 5:00 PM BABYLON 5 (LBX) ENDGAME
21-AUG-02 5:00 PM BABYLON 5 (LBX) RISING STAR
22-AUG-02 5:00 PM BABYLON 5 (LBX) THE DECONSTRUCTION OF FALLING STARS 26-AUG-02 5:00 PM BABYLON 5 (LBX) NO COMPROMISES
27-AUG-02 5:00 PM BABYLON 5 (LBX) THE VERY LONG NIGHT OF LONDO MOLLARI
28-AUG-02 5:00 PM BABYLON 5 (LBX) THE PARAGON OF ANIMALS
29-AUG-02 5:00 PM BABYLON 5 (LBX) A VIEW FROM THE GALLERY
BABYLON 5 IN THE UK
Ranger Stephen reports that Babylon 5 has moved to Bravo (Sky Digital channel 124, selected cable companies), where I think they'll be showing it at 8pm.
BABYLON 5/CRUSADE PHOTOSHOP
NEW PHOTOS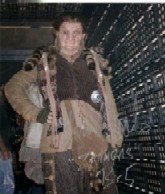 You do NOT have to pay the prices asked for over at e-bay! Here are photos of B5 and Crusade cast members at fantastic prices. Check out Photo Shop. Ordering is easy -- and you can't beat the prices! Just let me know which photos you want and I'll check to make sure they are still in stock.
---
BABYLON 5 TOONS
John Cook has a new cartoon contest going. Try your hand at a punch line.



NEW B5 TOON
Ranger Bill created this toon for his website www.wondertemp.com, but wanted to share it with readers here at the Zocalo. Thanks Bill.



READER DIRECTORY
Sometimes you just can't find the e-mail address for someone you know you have -- it's someone who responded to a discussion topic or you met in one of the chat rooms. You'd like to send a personal note, but .... No address!!!!

We've started a White Pages of Zocalo Readers! It's a handy way of keeping track of people -- and putting together a birthday/greeting card list as well. If you would like to be part of the listing, just send me your name, state, e-mail address and (if you'd like to have it listed) birthday (without year) to sgbruckner@aol.com. Check out the Directory of Readers.

HAPPY BIRTHDAY

Here are some of our readers who are having birthdays this month:

Name: Peter Dougherty
State: New York
E-mail: ve3thx@canada.com
Birthday: July 5

Name: Christopher Moore
State: Florida
E-mail address: psycho_pcb@yahoo.com
Birthday: July 21
BABYLON 5 REFERENCE PAGES
The Official Babylon 5 Magazine is indexed here as well. With the closure of the magazine in May, you'll want to see which magazines you have -- and which ones you will want to collect. The index may help you make a decision on which ones to choose. The Fan Club has many of the issues at thestation.com , making it very easy to complete your collection.

Universe Today -- the Babylon 5 Fan Club quarterly can also be found here. The index gives you a rundown of what articles were presented, what interviews published.

If you have magazines that have featured Babylon 5 or Crusade that are not listed, send along their issue number and a note to indicate what the article was about. It would be nice to have a fairly comprehensive listing of Babylon 5 publications here.

I have added a listing of all the Babylon 5 novels and now the B5 comic books to the reference page. If there are other items that you feel should be included, let me know.
MAILING LISTS
REDEMPTION: Ranger Steve reports that a new discussion group has been created for the upcoming REDEMPTION convention. Redemption 03, 21-23 February 2003, Ashford, Kent, Celebrating 25 years of Blake's 7 and 10 years of Babylon 5. www.smof.com/redemption.
NW-B5
NW-B5 is a mailing list devoted to bringing critical information to the Vancouver Island, Lower Mainland, and Northern Washington areas. More specifically, anyone north of Seattle. B5 is broadcast on SPACE:TIS in Canada, and Sci-Fi channel in the US. By subscribing to nw-b5, you'll be able to know info bringing you up to date on the current scheduling and events happening in the community related to B5. You'll also be subscribed to the list itself, which means that you'll receive email when there is a scheduling change or critical information needs to go out to you (for example, if we need to start another mailing campaign).

For further information, see http://www.nw-b5.com
John Francis
Webmaster, Listowner, and Co-Moderator
mailto:nw-b5@iname.com

Reports of "The Gathering" are beginning to turn up on the list. John posted a mini-report, with photos, over at http://www.geocities.com/jnf.geo/nw-b5/gathered.htm#0501. You may want to check it out. It was a terrific event in which JMS showed clips from "Legend of the Rangers". Most of the cast was in attendance -- a great group of individuals.
BABYLON 5 DISCUSSION LIST
The Babylon 5 discussion mailing list is for any and all discussions and/or news pertaining to or related to Babylon 5 and/or Crusade. The list has been in existence for the past three years now, and has recently moved. The new location is http://lists.apparition.org/cgi-bin/lyris.pl, and you can subscribe by sending a blank e-mail message to join-babylon_5-l@lists.apparition.org.
THE GALACTIC GATEWAY
Here's a unique site for you! Jeffrey Willerth, Patricia Tallman, Mira Furlan, Claudia Christian, Robin Atkin Downes, Rick Biggs, Jerry Doyle, Bruce Boxleitner, Melissa Gilbert, Peter Jurasik, Bill Mumy and Carrie Dobro are under it's umbrella. Actors from other shows have joined the Gateway. Ted Raimi and Robert Trebor from Xena and Hercules are now at GG. To subscribe to a mailing list for GG, send a blank note to thegalacticgateway-subscribe@egroups.com.
GATEWAY CHATTERS
There is never enough time to keep in touch with friends! To help out, a mailing list has been started for chatters over at the Galactic Gateway. If you are interested in joining, send a blank note to gateway-chatter-subscribe@egroups.com.
GATEWAY TRADER
Are you looking for a particular Babylon 5 collectible? Do you have some items you'd like to trade? Then this is the list for you. To join, send a blank note to gateway-trader-subscribe@egroups.com.
CALLING ALL ARTISTS
The Art Gallery at The Zocalo Today is open. There are SO MANY talented people in our Babylon 5 community. We have enjoyed works by Todd Brugman and Tye Bourdony on our toons page, but there are a host of others who enjoy drawing, painting, sketching their favorite characters. Here are a few works that have been received. I have some others that will be added soon.

If you would like to share your work with us at The Zocalo Today, please send along a digital photo of your work and I'll begin putting the gallery together. If you do not have your work in digital format, drop me a note and we'll see what we can work out.
CALLING ALL CLUBS
There are a number of fabulous Babylon 5/Crusade Clubs around the world. Visit the B5 Fan Club page to see if there is a club near you. If you have a club that you would like to have listed, drop the information about your Club to me at sgbruckner@aol.com or bruckner@isnnews.net. That information will be added to the new B5 Fan Club Listing.

Massimo has sent an update for the B5 Fan Club in Italy. Founded in 1995, the club now has 230 members! In Italy, they have just seen the last two episodes from season five! Membership in the club includes: the club card, a poster, a personalized pen and four number of ISN Network the fanzine published by the club. The cost is Euro 20 for an year in Italy. Interested? Contact Massimo at mmartini@italway.it.
BABYLON 5 FAN CLUB
Netter Digital filed for bankruptcy in July of 2000 and all their worldly posessions were auctioned off on December 7. The B5 Fan Club site, Thestation.com and it's store, the Emporium, has been closed.
BABYLON 5 NEWSLETTERS
If you have a newsletter you'd like to have listed at The Zocalo Today, send the information along. It will be posted on the B5 Fan Club/Newsletter page.

Ranger Shane in North Carolina sent in the following note about their "Jumpgate" newsletter.

Hey Sandy! Just wanted to give you an update on the NC B5 group's newsletter, Jumpgate. There's now a dedicated EMail address for submissions - jumpgatemag@bellsouth.net - and any submissions, solicited or un-, can be sent to this address. Also, issues are available for free download at the URL at the bottom of this message.

Jumpgate - The Newsletter of the North Carolina Babylon 5 Fan Club
Shane Killian, Editor
HELP WANTED
A new HELP WANTED section has been added to the Z. If you need help finding a comic book, getting a special item, etc. here's the place to post a note. Just send whatever help you need to thezocalo@aol.com.
---
BABYLON 5/CRUSADE CONVENTIONS
CONVENTION CALENDAR
Vulkon Tampa
July 19-21, 2002
Place: Tampa Airport Hilton Westshore
Tampa, FL
B5 Guest: Julie Caitlin Brown
For more information, visit their website at http://www.vulkon.com.
---
Comic-Con International
August 1-4, 2002
Place: San Diego Convention Center
San Diego, CA
B5 Guest: Peter David, J. Michael Straczynski, Stephen Austin, Bill Blair, Tim Choate, David Allan Brooks
For more information, visit their website at http://www.comic-con.org.
---
Star Trek: The Official Convention
August 2-4, 2002
Place: Las Vegas Hilton
Las Vegas, NV
B5 Guests: Stephen Austin, Patricia Tallman (with Dennis Madalone and the Star Trek Stunt Team), Marjorie Monaghan, Marjean Holden, Richard Biggs, Julie Caitlin Brown
For more information, visit their website at http://www.creationent.com.
---
GenCon
August 8-11, 2002
Place: Milwaukee, WI
B5 Guest: Julie Caitlin Brown
For more information, visit their website at http://www.wizards.com/gencon/ .
---
Slanted Fedora, Washington, DC Area
August 16-18, 2002
Place: The Doubletree Hotel-Crystal City
Arlington, VA
B5 Guest: Stephen Austin
For more information, visit their website at http://www.sfedora.com.
---
Slanted Fedora, Philadelphia Area
August 23-25, 2002
Place: Philadelphia Adam's Mark Hotel
B5 Guest: Stephen Austin
For more information, visit their website at http://www.sfedora.com.
---
Dragoncon
August 30-Sept. 2, 2002
Place: Atlanta, GA
B5 Guests: Pat Tallman, Jeffrey Willerth, Julie Caitlin Brown, Tim Choate, David Brooks, Andreas Katsulas, Julia Nickson, Stephen Austin
For more information, visit their website at http://www.dragoncon.org/.
---
Be sure to visit our Convention Calendar for a full listing of upcoming conventions featuring Babylon 5, Crusade and Legend of the Rangers cast members as guests.
ZOCALO TRADING POST
Do you have extra copies of B5, Amazing Spiderman, Midnight Nation or Rising Stars comics you'd like to trade? How about those extra trading cards or B5 magazines? There are a lot of fans looking for these items -- and the Trading Post can help you buy or sell them. To see what's available, just use this link to the Trading Post. To have items included in The Trading Post, send a note to The Zocalo. Please put Trading Post in the subject line.
Pen Pals
If you are looking for someone to talk about Babylon 5 and Crusade with, the Pen Pal section is for you! Check it out! Drop a note to someone who is feeling B5 withdrawal -- BIG TIME!

People thought a Pen Pal page was a good idea. If you would like to meet people who you could chat with or share your opinions of the show with, send along your e-mail or snail-mail address The Zocalo. It will be incorporated on the new Pen Page Page.
BABYLON 5 BIRTHDAYS
Jerry Doyle - July 16
J. Michael Straczynski - July 17
David Warner - July 29

Have I missed anyone? If you know the birthday of someone connected with Babylon 5, pass the information along. We want to include everyone in our Happy Birthday Wishes.
MAIL FOR CAST AND CREW
Here's a recent note from JMS on the subject:

Just an FYI to those who've been using the Ventura Blvd. mail drop for fan mail to actors....

As mentioned before, we're phasing out the forwarding of fan mail because we a) don't have the resources, complicated by b) the actors have scattered to the four winds, and it makes it very difficult to get everything to everybody in a timely fashion.

So, having provided prior notice...fan mail to actors coming to the Ventura Blvd. mail drop will be sent back. Mail to actors should be sent via their official fan clubs. I will still be taking mail there, since it's my mailbox, but that's it.

Just so's y'all know and save a few bucks on postage and returns.

JMS' mail can be sent to:

14431 Ventura Boulevard, PMB 260
Sherman Oaks, CA 91423

WARNER BROS:

Warner Bros. Address:

Warner Bros. Domestic Television Distribution
4000 Warner Blvd.
Burbank, CA 91522

Warner Home Video:

Mr. Douglas Wadleigh
VP for Marketing and Special Features
Warner Bros.
4000 Warner Blvd.
Burbank, CA 91522

SCIFI:
Bonnie Hammer, President
Sci-Fi Channel
1230 Avenue of the Americas
New York, NY. 10020-1513

Mr. Thomas Vitale
Senior VP of Acquisitions, Scheduling & Program-Planning
BACK ISSUES OF THE ZOCALO TODAY
The front page of the The Zocalo Today changes daily, so be sure to check the back issues to make sure that you haven't missed anything IMPORTANT! I don't want the front page getting too long so I shift information periodically into the archives. So if you aren't a regular visitor to The Zocalo Today, be sure to check out the back issues. Just use the button above!
---
Take care and I look forward to hearing from you.
Sandra Bruckner (sgbruckner@aol.com)
Editor/Publisher
The Zocalo Today
http://www.isnnews.net
Copyright - SBruckner, 2002