[an error occurred while processing this directive]

The Zocalo Today

Welcome to The Zocalo Today! Take your shoes off, get comfortable and stay a while. There is a LOT of information here and you won't want to miss any of it.

The Zocalo Today was begun in 1999 as a way of keeping Babylon 5 fans informed of what was going on within the B5 community. It still does that -- but it has expanded to include science fiction in general. You will find items on STARGATE SG-1, ANDROMEDA, MUTANT X as well as movies and books. We encourage interaction with readers through discussion topics and the general sharing of information. You'll see listings from various rangers around the world -- dropping hints about DVD deals, places where you can see B5 cast members in other roles, etc. We also have a convention calendar so you can see if there is an event coming up in your neighborhood.

Please feel free to send along suggestions for things you would like The Zocalo to include. The Zocalo Today is as much YOUR newsletter as it is mine! I'm just pulling together things for you!

Don't miss our back issues. I hope this will become more than just a newsletter. It's a community of people that enjoy sharing their experiences and interests. Don't be shy. Join us today!

If you have questions, drop me a line at sgbruckner@aol.com. If you would like to join the mailing list for our bi-weekly newsletter, send me a note and I'll include you on the list. Or you can use the subscription block at the left.

Again, WELCOME!




TODAY'S NEWS
Friday, July 9, 2004:
TOP SF DVD SELLERS:
1. La Femme Nikita season two
2. Voyager season three
3. Batman animated season one
4. Star Wars trilogy
5. Wonder Woman season one
6. Aqua Teen Hunger Force Volume 2
7. Return of the King
8. Angel season four
9. The Butterfly Effect
10. Buffy season six
Source: Amazon.com, top-selling genre DVDs, 7/7/04.
---
SERENITY: Scheduled to arrive in theaters on April 22 of 2005, more information has been added to the official SERENITY website, including a blog of activity and four photos from the set. The snaps were taken by SERENITY cast member Adam Baldwin and show Summer Glau (River), Alan Tudyk (Wash), a shot of the production's board clapper and Baldwin himself. Location work has ended and now the production moves to Universal Studios to complete the project.
---
BIG BUG MAN: Brendan Fraser is negotiating to provide the voice of the title character in feature toon "Big Bug Man," which has begun production at Studio-Free Studios, a new animation venture hatched by Bob Bendetson and Stuart Black. The story follows a hapless guy who works for a crooked candy company and, in a mishap, gains the odd powers of a slew of insects that have bitten him.
---
FAHRENHEIT 9/11: Sony is set to acquire domestic home entertainment rights to this controversial documentary from Michael Moore and is expected to release DVD and VHS versions through its Columbia TriStar Home Entertainment division this fall. Sony has not commented, but sources said the studio is close to sealing the deal.
---
MILE ZERO: Jonathan Liebesman has signed on to direct the thriller "Mile Zero" for Phoenix Pictures. Described as in the same vein as "The Thing," the film follows a young woman's efforts to clear her father's name in a series of murders at a remote Alaskan oil rig. She takes a job at the station hoping to prove that the station is haunted.
---
WHAT'S ON TONIGHT
CABLE AND NETWORK SHOWS:
8:00pm on CBS
Joan of Arcadia
Anonymous
Joan joins the yearbook staff as a photographer hoping to impress Adam with her hidden talent.
8:00pm on HBO
The Matrix Reloaded
Freedom fighters use extraordinary skills and weaponry to revolt against machines.
8:00pm on Spike TV
Star Trek: The Next Generation
Hollow Pursuits
A shy lieutenant (Dwight Schultz) retreats into fantasies actualized by the holodecks.
8:00pm on AMC
Star Trek IV: The Voyage Home
Spock, Kirk and Enterprise try to save humpback whales.
9:00pm on Spike TV
Star Trek: Deep Space Nine
Part 1 of 2: Emissary
A Starfleet team takes command of an abandoned Cardassian space station near the Bajoran wormhole.
10:00pm on Showtime
Dead Like Me
Nighthawks
The reapers endure a late night on the job; George watches for death in her driveway.
10:00pm on Spike TV
Star Trek: Deep Space Nine
Part 2 of 2: Emissary
A Starfleet team takes command of an abandoned Cardassian space station near the Bajoran wormhole.
10:00pm on USA
Monk
The Blackout
Monk has to figure out who bombed a power company in order to darken the entire city.
ON SCIFI TONIGHT:
6:00pm
Stargate SG-1
2010
In the year 2010, many changes have occurred on earth and to the SGC.
7:00pm
Andromeda
The Torment, the Release
Dylan is arrested and tried for high crimes against the Commonwealth.
8:00pm
From Stargate to Atlantis: A Sci-Fi Lowdown
(Special) ``Stargate SG-1'' companion series, ``Stargate Atlantis.''
9:00pm

Stargate SG-1 (SEASON PREMIERE)
New Order
When we last saw SG-1, they had thwarted the malevolent Anubis' invasion of Earth, but Colonel Jack O'Neill (Richard Dean Anderson) was left frozen in bio-stasis. Now, with all eyes in the galaxy on Earth, SG-1 must search for a way to save O'Neill before a new Goa'uld leader takes Anubis' place. Tonight, Carter (Amanda Tapping) is taken prisoner when she and Teal'c (Christopher Judge) attempt to contact the Asgard, whom they hope can save the cryogenically frozen O'Neill.
INSIDE SCI-FI THIS WEEK:
Thursday, July 8, 2004:
PRISONER AND JMS: Captain Phil sent along the following note to share with readers. "Found this on the POWYS Media site (Publishers of the new line of Space 1999 novels) -- http://www.cerebralmassage.com/Powys/Prisoner/index.html
J. Michael Straczynski To Write Introduction (June 25, 2004)
The man behind Babylon 5, longtime Prisoner admirer J. Michael Straczynski, has agreed to do the introduction for the first of the new Prisoner novels. "I can't count the number of times I've watched the Prisoner over the years," says Straczynski; "It's one of the best series ever made."

---
TOP 10 SF SYNDICATED SHOWS:
Stargate SG-1 1.9
She Spies 1.7
Mutant X 1.6
Andromeda 1.5
The X-Files 1.4
3rd Rock 1.3
Beastmaster 1.3
John Edward 1.1
The Outer Limits 1.1
Buffy 1.0
Source: Nielsen Galaxy Report, 6/14/04 - 6/20/04
---
THUNDERBIRDS: Set to open on July 30, THUNDERBIRDS, based on Gerry Anderson's cult SF TV series, is described by director Jonathan Frakes as a family film with a little something for everyone. "It's a coming-of-age story," Frakes said in an interview. "There are three kids at the center of it, so it's a story of friendship and loyalty, fathers and sons and coming of age." The story follows the adventures of the Tracy family and their top-secret missions as International Rescue. Bill Paxton stars as Jeff Tracy, the family patriarch and team leader. Newcomer Brady Corbet plays Alan Tracy, the youngest of five Tracy boys and a bit of an outsider, who must grow up fast when the Tracy family's archrival, the Hood (Ben Kingsley), seizes control of Tracy Island, the International Rescue home base in the South Pacific. Frakes said, "I think the adults will love the scenes between Lady Penelope [Sophia Myles, as the Tracy's super-hip and gorgeous partner,] and Parker [Ron Cook, as Penelope's chauffeur and butler]," Frakes said. "Their scenes have some great, ironic double-entendre comedy. The kids will love the takeoffs of the ships, because they shake the seats and the palm trees separate. And I'll go out on a limb here and say little girls will love Tin-Tin [Vanessa Anne Hudgens, as one of Alan's adventurous friends], who kicks ass and saves the day. So I wouldn't say there's a single set piece that will wow people. I'd say that we have several 'wow' moments; that they're for different people; and that they're spread out rather nicely across the film."
---
TREKKIES 2: Roger Nygard, director of the straight-to-video sequel documentary, TREKKIES 2, told SCI FI Wire that the follow-up to the hit 1997 film about Star Trek fandom moves the spotlight to the rest of the world, visiting Trek fans in eight countries in North and South America and Europe, as well as Australia. "We figured we should start with the biggest convention, which is Fed-Con in Bonn, Germany," Nygard said in an interview. "Then it was a matter of following where the next conventions were and where were the best Star Trek fan leads we had." Denise Crosby narrates the film, covering Trek conventions in Italy, France, where the Star Trek fan organization is called Unification; and to the United Kingdom. The production crew discovered that Trekkies overseas shared many things in common with American fans, including Trek creator Gene Roddenberry's optimistic view of the future; Vulcan philosophy; and a "Prime-Directive"-based philosophy of life, Nygard said. "The differences were usually cultural-based," he added. "The Germans love Star Trek with their beer; they know how to party. The Italian convention has the best food, hands down. Star Trek fans are still not mainstream in France, because television shows are not considered a part of culture there. Yet." TREKKIES 2 also filmed the first Star Trek convention ever held in the wartorn Balkans. TREKKIES 2 is a direct-to-DVD feature and will be distributed in the United States and Canada on Aug. 31. The film will also screen on July 29 at the Star Trek convention in Las Vegas.
---
SEAN CONNERY: According to Variety, Sean Connery has signed a deal with HarperCollins U.K. to write his autobiography. HarperCollins confirmed that it has bought the British rights to Connery's book, set to be published in late 2006. Connery is rumored to have received a $1.75 million advance from HarperCollins. European and U.S. rights could push that figure even higher. "Having always vowed never to write my autobiography, here I am standing on the runway awaiting my journey into a new space," Connery told reporters. "It's rather scary, but utterly exhilarating, and I'm looking forward to it." In addition to his acting career, Connery is expected to talk about his controversial involvement with the Scottish National party and the political attempts to block his knighthood.
---
FANTASTIC FOUR: Casting for this upcoming project has been the subject of much speculation. Yesterday, the Hollywood Reporter broke the story about three of the FANTASTIC FOUR cast. Ioan Gruffudd, probably still best remembered for playing Horatio Hornblower in a number of A&E movies, has landed the role of brilliant scientist Reed Richards, a.k.a. "Mr. Fantastic". Mr. Fantastic is gifted with the ability to stretch his body to great lengths and shapes. Gruffudd can currently be seen playing Lancelot in KING ARTHUR. Chris Evans will play Johnny Storm, a.k.a. "the Human Torch", the young man who can ignite his body into flames and also fly in the air. Evans has starred in NOT ANOTHER TEEN MOVIE, THE PERFECT SCORE and will be seen in the upcoming thriller CELLULAR. HR states that the casting of THE SHIELD star Michael Chiklis as Ben Grimm, a.k.a. "The Thing", is a done deal. Prior to today's article it was believed that Chiklis was the best-known frontrunner for the role and not confirmed to play the superstrong, rockfaced character. Still up for grabs are two lead parts, Sue Storm/"The Invisible Woman" and Victor Von Damme/ "Doctor Doom". four develop superpowers when the spaceship they're on is exposed to cosmic radiation. The 20th Century Fox production is an adaptation of the Marvel comic "Fantastic Four" and helmer Tim Story.
---
SHORE LEAVE: For those of us in the Washington-Baltimore area, there are only two conventions really worth going to year after year -- Shore Leave and Far Point! This weekend SHORE LEAVE will welcome guests like Teryl Rothery from Stargate SG-1, Nicole deBoer from The Dead Zone and many others. They will also host an auction as a tribute to Richard Biggs. I hope that everyone attends will have a chance to see John Hudgens' Tribute Video to Rick as well. For more details about the convention, check out the calendar or www.shore-leave.com. These folks put on a good convention -- regardless of who the guests are.
---
NEW WEBSITE: I don't know how "new" this website is, but it is new to me -- and I think it is terrific. http://en.wikipedia.org/wiki/Babylon_5 is a wonderful Babylon 5 resource of information.
---
Wednesday, July 7, 2004:
THE 4400: This limited series begins on USA this weekend (9:00pm ET/PT) and runs through August 8. Joel Gretsch, has the lead in the series and told SCI FI Wire that the show about returned abductees resembles his previous SF epic, Steven Spielberg Presents TAKEN, in its emphasis on characters. "SF makes you think bigger, [in terms of] the possibilities beyond what we normally think of," Gretsch said in an interview. "I have done a few SF shows, and what intrigued me the most was that they were all character-driven stories. That's what compels me: human drama and obstacles that one can relate to, such as the love for your child and feeling helpless when they need you and you need them." Gretsch portrays Tom Baldwin, a government agent, who is partnered with Diana Skouris (Jacqueline McKenzie), a biomedical researcher tasked with keeping an eye of the 4400 missing and presumed dead people who have returned all at once. The people have no recollection of where they were, why they were missing and what date it is now.
---
STARGATE: ATLANTIS: In the new STARGATE: ATLANTIS series, Joe Flanigan plays Air Force Maj. John Sheppard, a rebellious pilot who finds that he holds the key to the technology of the Ancients. As the show moves from Earth to the distant Pegasus galaxy, home of the lost city of the Ancients, Flanigan said, "The setting is more fantastical. I mean, we are in the lost city of Atlantis, which is a massive, absolutely enormous place that will take us years to discover all the ins and outs of the place. So we never take our settings for granted like sometimes they do [on SG-1], and that is actually what I think is exciting about the whole thing. We may be in a different galaxy at this particular point, but the roots still point back to Earth. So it's human-centered." ATLANTIS is being filmed in Burnaby, B.C., next door to the set that houses the familiar Gateroom of SG-1. The set includes a new Stargate, enhanced with fiber-optic lighting and new, blue illuminated chevrons. The rest of the set, full of stained glass, backlit stairways and bubbling aquaria, recalls Frank Lloyd Wright—if he were an ancient alien. Flanigan added that his character, an irreverent military leader in the mold of Richard Dean Anderson's Col. Jack O'Neill, will add a bit of humor to Atlantis. "That was certainly the criteria for doing this role, that we could inject some fun into it," Flanigan said. "He's a guy who enjoys having fun, and his way of handling pressure is not to [succumb] to pressure, [but] to make comments that are sometimes funny and sometimes not so funny." STARGATE: ATLANTIS premieres with a two-hour episode, "Rising," at 9 p.m. ET/PT on July 16.
---
ELEKTRA: ALIAS' Jennifer Garner is currently filming the new ELEKTRA movie, based on the comic-inspired ELEKTRA character depicted in Frank Miller's graphic novels. Garner said in a recent interview, "Elektra is lethal. In Daredevil, [she] was somebody who was on the verge of being lethal who was surprised to find herself vulnerable to someone. Once her father's killed—and this is true in the comic books, and it is in the films as well— ... there is no light for her in the world anymore." The movie picks up ELEKTRA's story after the events in DAREDEVIL, Garner said. "She goes to such an incredibly dark place: ... almost dies, is resurrected, and, when kicked her out of the only home she believes she has left in the world, she uses her skills to become an assassin. ... She's a mercenary. She is out for blood. She could care less who you are, what you do, where you come from. And I have to say I love that about her, because I feel she has been driven to it, and she is hiding behind her own soullessness. And she uses it to isolate her completely and emotionally from the world and physically from the world. ... Set for a February 2005 release, production is currently underway in Vancouver, B.C.
---
STAR TREK: James M. Doohan, Scotty on the original STAR TREK series, has been diagnosed with Alzheimer's disease. Confirmed by his agent, Doohan is in the beginning stages of the disease, a progressive neurological disorder that afflicted former President Ronald Reagan, who died June 5. Doohan also has suffered for some time with Parkinson's disease, diabetes and fibrosis, the latter due to chemical exposure during World War II when he was a soldier in the Canadian military.
---
BLADE: TRINITY: For years, Jessica Biel played Mary on 7TH HEAVEN. This year, you will see her at Abigail Whistler in the upcoming BLADE: TRINITY. Biel talked about her extensive training for the role. "Two months of weightlifting and martial arts training and just keeping it up every day." Of her character, Biel said, "She has an interesting connection with this whole vampire world. Her entire family, with the exception of the father, has been killed by the vampires." Biel and series star Wesley Snipes are joined in the third installment by Ryan Reynolds, who plays Hannibal King. "We have a great relationship," Biel said of Reynolds. "He definitely feels like a brother to me. We just get along really well."
---
THE WRONG ELEMENT: According to the Hollywood Reporter, Mark Pellington will direct the Harrison Ford thriller THE WRONG ELEMENT for Warner Bros. Pictures and Village Roadshow. The story revolves around the kidnapping of the wife and daughter of a security expert (Ford), who is forced to steal a vast sum of money from a bank he's protecting in order to ransom his family. As his efforts come to the attention of law enforcement, he races to complete the illegal transfer of funds in time. Joe Forte wrote the screenplay for the film.
---
July 6, 2004:
TOP SELLING SF BOOKS:
1. The Da Vinci Code
2. Song of Susannah (Dark Tower 6)
3. Angels & Demons
4. The Time Traveler's Wife
5. Dark Destiny
6. Wolves of the Calla (Dark Tower 5)
7. Cravings
8. The Dark Tower (Dark Tower 7)
9. Potter Schoolbooks set
10. Potterpaper box set
Source: Amazon.com, 7/2/04
---
WEEKEND BOX OFFICE: It was no surprise that SPIDER-MAN 2 took the #1 spot at the box office this weekend. Sony's $200 million dollar budgeted sequel ignited theater screens and took in an impressive $115 M over the Friday to Monday Independence Day long weekend. While that figure doesn't break the $114.8 M three-day take that the first film netted two years ago, don't forget that SPIDER-MAN 2 opened mid-week, and has been counting its coins for two more days than the original SPIDER-MAN movie had going for it. As it stands today, Sony estimates that SPIDER-MAN 2 will have earned approximately $180 M at the box office. Also a winner at the box office this weekend is Michael Moore's documentary FAHRENHEIT 9/11, taking in about $21 M. For a documentary that feat in and of itself is perhaps more significant than SPIDER-MAN 2's opening weekend receipts. The film has earned $60 M and will expand its release again next weekend. The weekend's other significant accomplishment is with DreamWorks' SHREK 2 which has now surpassed FINDING NEMO as the highest-grossing animated film of all time. Here are the estimated box office receipts of the top ten films from July 2 through to July 5:
1. SPIDER-MAN 2 $115,800,000 - $180,056,000
2. FAHRENHEIT 9/11 $21,000,000 - $60,091,000
3. WHITE CHICKS $12,000,000 - $47,115,000
4. DODGEBALL: A TRUE UNDERDOG STORY $10,450,000 - $86,704,000
5. THE NOTEBOOK $10,325,000 - $31,637,000
6. THE TERMINAL $10,200,000 - $56,700,000
7. HARRY POTTER AND THE PRISONER OF AZKABAN $8,135,000 - $225,314,000
8. SHREK 2 $7,900,000 - $410,200,000
9. TWO BROTHERS $3,631,000 - $12,625,000
10. GARFIELD: THE MOVIE $3,600,000 - $63,552,000
---
SMALLVILLE: Reports indicate that a casting announcement for the role of Lois Lane in this year's SMALLVILLE will be made soon. Lois will appear in at least the first four episodes of the fourth season of the show, which is targeted for an October launch. Double episodes are on tap this coming week (July 14) -- with repeats of "Extinction" and "Slumber."
---
TRAILER NEWS: For those waiting to see their first BATMAN trailer, news comes that the trailer may be added to prints of I, ROBOT. I, ROBOT will begin its theatrical run on July 16, and that will also be the same day that the trailer for BATMAN BEGINS will be seen. Trailers for two other Warner Bros. films will also be spotted on movie screens, but this time they'll be running before the end of the week. Look for trailers for Oliver Stone's ALEXANDER and EXORCIST: THE BEGINNING running in front of movies playing this coming Friday. Trailers should be on-line shortly.
---
TOP SCIFI CHANNEL SHOWS:
Jeepers Creepers 1.5
Final Destination 1.2
Merlin, Part 2 1.2
Village of the Damned 1.1
Stargate SG-1 1.1
Cabin by the Lake 1.0
Urban Legend 1.0
Post Impact 1.0
Merlin, Part 1 0.9
Return to the Cabin by the Lake 0.9
Source: Nielsen Galaxy Report, 6/14/04 - 6/20/04.
---
MISSION IMPOSSIBLE: 3: Variety reports that Paramount Pictures has moved MISSION: IMPOSSIBLE 3 back seven weeks, to June 29, 2005, setting up a competition with the upcoming Fantastic Four movie, which premieres over the Fourth of July weekend.
---
MARY JANE COMIC: Marvel Comics will launch a new Spider-Man-related title, Mary Jane number one, centering on Peter Parker's true love, Mary Jane Watson, in July.
---
JEREMIAH - THE LAST EMPIRE
It looks as if Showtime has canceled JEREMIAH. In a SciFi Wire article this morning, you'll find an article that talks about JEREMIAH living through comic books. Comic-book writer Andrew Foley talked with SCI FI Wire about penning an interactive comic that extends the story of JEREMIAH, created by Babylon 5's J. Michael Straczynski. Platinum Studios, the production company that developed the series, will publish the free comic, titled Jeremiah—The Last Empire.

"There are narrative threads left at the end of the [show's 35 episodes], ... a long story that's wrapped up very effectively by the end of 'Interregnum,'" Foley said in an interview. "So I don't feel as though I'm jumping into a storyline so much as starting a new one, albeit inside the world and with several characters created in the previous one." Foley said that the characters of Mr. Smith (Sean Astin) and Gina (Enid-Raye Adams) will be pivotal figures. THe LAST EMPIRE will be released online at the Jeremiah Portal Web site in five-to-10-page weekly chapters, following Showtime's broadcast of the series' final eight episodes this fall. The comic will then be packaged for print, Foley said. The series will run for more than 30 chapters, and Foley will write them with Ryan McLelland. Carlos Ferreira will pencil the comic through Fabricio Grellet's Magic Eye Studio. There will also be an interactive component: Readers will be able to click on a character to get background, or click on a shot of a city to get history, for example.

Foley credited Platinum chief executive Scott Mitchell Rosenberg with keeping the Jeremiah franchise alive. "Scott refuses to give up on Jeremiah," Foley said. "He's got a prequel film set at the time of the Big Death in development. He's got the role-playing game underway, which will flesh out Jeremiah's world in greater detail than ever before. And, without any immediate options for the television series—I'm told it's still possible that the SCI FI Channel might pick up another season—he's keeping the characters alive in comic-book form." SCI FI has made no announcements about Jeremiah.
JMS SPEAKS
Here are some exceprts from the B5 moderated newsgroup I think you'll enjoy:

When JMS was asked if he were going to work on ENTERPRISE, his response was:
A: No, just to clarify, though I got a call last year about coming onto Enterprise, offering an EP position, and declined, the series I mentioned has nothing to do with any current series, it's a new show. As for Manny, he's a good writer, and left to his own devices, I think he could be a big help over there without the other powers that be impeding the process.

Amusingly enough, on the Trek front, Bryce Zabel (the creator of Dark Skies) and I got together and wrote a treatment earlier this year that specified how to save ST and develop a series that would restore the series in a big way. I actually think it could be a hell of a show. Whether that ever goes anywhere with Paramount, who knows?

The newsgroup is also a great way to get help. Here's an example:
JMS writes: I just got a request from Tracy Scoggins, who inquires if there's anybody out there who's done web site creation and design who can come in and volunteer to help her out in creating a very simple site on fairly short notice...nothing terribly elaborate, just a simple informational kind of thing. Emails are fine to avoid plugging up the newsgroup. Thanks.

Talk about response!
Well, it's like 16 hours later and I've had about 300 emails from volunteers to help out Tracy, so I think we've got it covered. Many thanks to all those who volunteered, I've passed on the information to Tracy and she'll be in touch with whoever's work seems most in line with what she wants to do.

June 15, 2004:
Okay, let's try this again. Best to break the ice by just sort of doing a round-up of what's going on and what's coming and suchlike.

I'll try to address some of the questions that have come up about what's coming up.

On the movies DVDs, and what's inside: the main thing is that we've got commentaries on literally every one of them. Mike Vejar and I did a commentary on In the Beginning, I did one with John Iacovelli on The Gathering, and another with Janet Greek and Tracy Scoggins on River of Souls. I can't remember now if I solo'd on A Call to Arms or if Mike was there as well (it all blurs after a while...I've done something like fifteen of these things by now).

There's a separate cast commentary on Thirdspace with, I think, Pat, Jeff, Jesus Trevino, and one or two others.

On the Crusade DVDs, there's one commentary I did on the original pilot (once WB and I came to a meeting of minds, to wit, "I'm gonna say what happened to the show, what *really* happened...you got a problem with that?"). There's a second commentary track with Fiona, Janet, Peter Woodward and Carrie Dobro.

(We interrupt this message with a coded message for our friends in England and Australia: keep your eyes on the horizon.)

One oddity...constant readers will remember a while back when I was asked what TMoS was, and I provided a list of things it *wasn't*. The aforementioned oddity is...one of those things has come up as an adjunct to TMoS.

Also, expect word fairly soon-ish about a new series of B5 novels.

Elsewhere on the prose front...Straczynski Unplugged is out now, and Tribulations will be coming out in December.

I've turned in all three final Rising Stars scripts, and the first issue of the last arc comes out in October, I hear.

Next week a new arc and a new artist starts on Amazing Spider-Man, and it's a stinking cool issue. You can read a preview of the whole issue for free at:

http://www.milehighcomics.com/firstlook/marvel/spidey509/

On other projects...I'm making sudden progress with the medieval play I've been twiddling with for the last few years, and may have it done in the next couple of months. Once that happens, my plan is to do a limited, small production for two weeks or so here in LA, just to see how the text works with an audience, then take it away for another few months, twiddle with it some more, then go for a larger venue. I may do something similar in London, since I may be spending a bit amount of time there fairly soon.

And for those who've asked, I won't be in attendence at San Diego Comic Con this year due to a variety of commitments.

Oh...and I've been offered an EP position on a network series, and while I don't usually do that on shows I don't create or develop, when I heard what this project was, I had to get on board. We still have to negotiate a deal, and work out how that will interface with the stuff that'll be going on later in the year, but fortunately the start date for the series should work out, at least at this point.
REMEMBERING RICHARD BIGGS
Material related to the passing of Richard Biggs has been moved to several pages devoted to him inside The Zocalo Today. Please visit now, and often, to see what has been added. RICHARD BIGGS. We will not forget Richard and let you know as new efforts are put forth in his memory.

Ranger Jan has passed along an update on her auction efforts for Richard's children. She is sending the first check for $2500 off to the family shortly. She will be posting more items for auction soon. For more information, go to:
Auctions to benefit a Richard Biggs Memorial fund: http://tinyurl.com/2az5w
PayPal Account: RBiggsMemorial@aol.com
Personal auctions: http://tinyurl.com/b36t

A major thanks has to go to Ranger Connie for paying to have the condolence book for Richard Biggs remain on-line for the next year over at the LA Times. This will give fans more time to express their love and appreciation for the man Rick was -- and to let his family know how much he meant to us, not only as an actor, but as a human being. Thanks Connie.
PAT TALLMAN AUDIO/VIDEOS
Patricia Tallman is looking for any recordings of her speaking appearances at conventions. She will reimburse anyone who can send in a video or DVD of Pat telling stories at a convention. She will also send along a new autographed photo (one that no one has yet) and will pay postage and the cost of the vide tape. Here is an address you can use to contact Pat:
Patricia Tallman
6433 Topanga Canyon Blvd. #207
Canoga Park, CA 91303
BABYLON 5 SIGHTING
CLAUDIA CHRISTIAN: Ranger Dave reports that he "saw HALF PAST DEAD today on HBO. Claudia Christian has a fairly good part in it. It will appear on HBO2 and HBO2W on June 18, 24, & 26.

The Hollywood Reporter says Arlington Road helmer Mark Pellington will direct the Harrison Ford thriller The Wrong Element for Warner Bros. Pictures and Village Roadshow. The story revolves around the kidnapping of the wife and daughter of a security expert (Ford), who is forced to steal a vast sum of money from a bank he's protecting in order to ransom his family. As his efforts come to the attention of law enforcement, he races to complete the illegal transfer of funds in time. Joe Forte wrote the screenplay for the film.
BABYLON 5 MOVIES -- COMING AUGUST 17
Ranger Neil O. sent along the following item from http://www.tvshowsondvd.com/newsitem.cfm?NewsID=1539 No word yet on CRUSADE or the LEGEND OF THE RANGERS.

Warner Bros Home Video will continue the popular Babylon 5 DVD releases with "Babylon 5: The Movies," news we brought you back in November, 2003. This 5 disc set will contain all 5 movies as well as special features. The set will carry a $59.98 SRP and will be available in stores and online August 17th. "The Gathering" will be presented in 4:3 (original aspect ratio) while the other movies will be 16:9 anamorphic widescreen; all movies will feature Dolby Digital 5.1 tracks. The sets will be closed captioned and be subtitled in English, Spanish and French.

Each movie will contain commentary from the creator (J. Michael Straczynski), cast and crew, as well as an introduction for each movie by JMS. Rounding out the special features is the featurette, "Creating the Future - How Science Fiction and the show influenced each other."

The Gathering (1993): Alien envoys come to the giant space station in the pilot that launched the five-year TV series.

In the Beginning (1998): The B5 prequel! It's humans vs. aliens in the battle that led to the station's creation.

Thirdspace (1998): Is there a realm beyond hyperspace? Discovery of a million-years-old gateway technology may hold the answer...and more.

River of Souls (1998): After death, then what? Questions of eternity arise when a supposedly infallible harvester of souls proves to be very fallible.

A Call to Arms (1999): The torch is passed. A race against time to save Earth links the B5 mission with the Rangers' new interstellar efforts.

For more information on Babylon 5 DVDs, go to Babylon 5 DVDs.
DISCUSSION TOPIC
The SCI FI Channel has been presenting us a number of LowDown specials -- the latest being STARGATE SG-1 and ATLANTIS. HBO has done specials on upcoming movies. Do you enjoy the behind-the-scenes material presented? Do you wish there was more?
---
Send in your thoughts and ideas to sgbruckner@aol.com. I post them on the Discussion Page for everyone to share and enjoy. See what has come in so far. If you see an old topic you want to respond to, go right ahead. We enjoy hearing from you.
STARGATE SG-1

SEASON SIX DVD
Season six of STARGATE SG-1 is now available. Amazon has had this DVD on their top 10 list for weeks. The DVD boasts incredible special effects sequences, rapid-fire pacing and awesome scenes of alien warfare, this all-new five-disc set of Stargate SG-1 is your gateway to pulse-pounding sci-fi action!

Special features include audio commentary for each episode and twelve "SG-1 Directors Series" featurettes!

For more details and to watch the trailer, go to http://www.mgm.com/title_title.do?title_star=XXXSETSTARGAT6.
KEEPING UP WITH CAST AND CREW
GARY COLE: Ranger Anne reports that Gary Cole (Crusade's Matthew Gideon) has a part in the new Ben Stiller comedy "Dodgeball." Cole plays the TV announcer covering the big money Dodgeball tourney; Jason Bateman plays his (extreme sports) color analyst.
---
STEPHEN AUSTIN: This loveable Pak'Ma'Ra Ambassador (Stephen Austin) invites you to attend an amazing evening of stand-up and improvisational comedy. Please join us on Friday, June 25th at The Westend Theatre in Los Alamitos. We will entertain, enlighten, educate (ok, not educate) and delight you. Please call (310-890-8022).
---
TAMLYN TOMITA: Ranger Michael reports that Tamlyn Tomita, who played Lt. Cmdr. Laurel Takashima so wonderfully in the "Babylon 5: The Gathering", has a big part in the new movie "The Day After Tomorrow", which May 28. She is listed about 15th in the credits and doesn't even have her bio up on the movie's website. She plays a NASA scientist who believes the forecast may be right and works with Dennis Quaid's character.
---
BRUCE BOXLEITNER: Bruce's movie SNAKEHEAD TERROR will be shown on SCIFI July 22 at 9:00pm ET. Bruce portrays Sheriff Patrick James.
---
ROBIN ATKIN DOWNES: Robin dropped by an update and I'm sure you'll want to check out a couple of his current projects. He is currently working post production for an independent film he directed entitled "For Pete's Wake." Some production stills can be seen at http://babylon5.jeffcushen.com/sighcorps.php?id=peteswake-onset&keyword=various&pg=1. Be sure to look for familiar faces -- like Pat Tallman! Robin is also in the process of completing an animated film called "Geppettos Secret ." Starring with Eric Roberts, Rene Aubergenois and Tom Bosley... For more information, go to http://www.geppettossecret.com/actors%20and%20characters2.htm
---
SPECIAL CAST ACTIVITY - CRUISIN' WITH BABYLON 5
STEPHEN AUSTIN - Stephen Austin (B-5's "Pak'Ma'Ra Ambassador") along with comedy legends Vic Dunlop and Bruce Baum are cruising the Caribbean and want YOU to join the fun!!! Here are the details:
Departing March 6-13, 2005
The Carnival V a lor
Sailing roundtrip from Miami Florida
visiting Belize, Isla Roatan, Grand Cayman, and Cozumel
http://www.cruiseevents.net/dunlop/index.htm.
---
CRUISE WITH PETER WOODWARD
Peter Woodward is cruising the Eastern Caribbean on Jan. 9-16, 2005 and wants YOU to join the fun!!! Sailing January 9-16, 2005, on Holland America's Westerdam, the roundtrip from Ft. Lauderdale, Florida will visit Nassau, St. Marteen, Tortola, & Half Moon Cay. Experience a week in the Caribbean sharing laughs and fun with your new friends. Peter's cruise is unique! The group consists of friendly, people looking to have fun and share experiences. For more information, go to http://www.cruiseevents.net/celebrity.htm and then press Peter's photo. Space is limited! Don't delay, call today! 800-695- 5253 or e-mail: Susan@CruiseEvents.net.
---
JERRY DOYLE RADIO SHOW
Here's the latest from Jerry:
For the radio show, Talk Radio Network is building a new site and will have jerrydoyle.com up and running soon. It will tie into the talkradionetwork.com site as well.

The M-F show launches this coming Monday(5th), 7-10P PST. The call in number is 800/449-8255. Spread the word and give a call if you've got something to plug. I'll still be doing the Saturday show, 8-11P PST. Same phone number for that too. All the best.

All the best.
JD

For more information on Jerry Doyle, Talk Radio Show Host, you may visit www.talkradionetwork.com

Ranger Brian reports that:
Bruce Boxleitner was on Jerry Doyle's Radio Show on Saturday night for about half an hour reflecting on the life of Ronald Reagan and how he impacted their lives. It was an enlightening discussion with Bruce relaying his experience on a visit to the White House during the Reagan administration and how Ronald Reagan inspired him to become a Republican.
---
BABYLON 5 BIRTHDAYS
Jerry Doyle - July 16
J. Michael Straczynski - July 17
David Warner - July 29

Have I missed anyone? If you know the birthday of someone connected with Babylon 5, pass the information along. We want to include everyone in our Happy Birthday Wishes.
FAN CLUBS
Intergalactic Consortium
To anyone who lives in and or in the area of Toronto, Ontario, Canada I would like to invite you to attend or Join the Intergalactic Consortium. The I.C. is a new science fiction / fantasy group. We generally meet on the last Saturday of every month and generally do not collect any dues. WE are always looking for new members. If you have any questions, need more information or anything else please feel free to e-mail torsf@yahoo.ca or visit our yahoo group at http://ca.groups.yahoo.com/group/Intergalactic-Consortium/ Hope to hear from some of you.
United Federated Planets
Ranger Anne reports that in January, another chapter was added to the fold... EAS Winter Wolf (in Texas). For more information, go to their site at http://www.ufphq.com/chain_of_command.htm. You will find a great deal of interest in Babylon 5 -- with position currently available on the sector staff--EarthDome, EarthForce and the Alliance. Check it out.
United Federated Planets (UFP) has a Rick Biggs memorial page set up at the following address:
http://www.ufphq.com/rick_biggs.htm
STAR TREK CLUB VENEZUELA
Ranger Andres dropped a note to say that a new club has been formed -- Star Trek Club Venezuela. It is small right now, but they are ready for recomendations, opinions, and/or any other comments.
This is the last update of our 1st Expo in November 2004. This event will take place in the Best Western Hotel CCCT Caracas. Visit their site at www.trekvenezuela.net for more information.
We have a number of Fan Clubs listed here at the Zocalo. They are those associated with a particular actor -- and there are those devoted to Babylon 5 or science fiction. Be sure to check out the Clubs Page to see if there is an organization near you.
BABYLON 5 MERCHANDISE
Are you looking for Babylon 5 merchandise? Would you like to possess some of the wonderful patches or pins sold by the B5 Fan Club? Do you want to put in an order for the latest DVD? Bruce at Uncomyn Gifts still has one of the best collections around. Check out www.uncomyngifts.com. You may just find the magazine or t-shirt or patch you are looking for.
---
SCIENCE FICTION PUBLICATIONS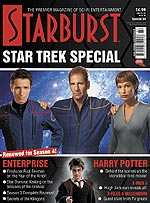 Starburst Special #64: This special issue is devoted to STAR TREK. Between the covers, you'll find interviews with Dominic Keating (Lt. Reed) from ENTERPRISE, Executive Producer Rick Berman, Designer Herman Zimmermann and much more. Also of interest in this issue: a 16-page feature on HARRY POTTER and a chat with Hugh Jackman about X-MEN 3.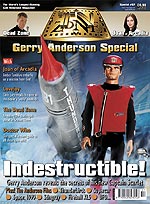 Time Zone Special #57: Gerry Anderson has been around science fiction for a long time. His Captain Scarlet and Stingray are classics, along with Thurderbirds. In this issue he talks about working with puppets, his view of the new THUNDERBIRDS movie and why he feels CGI is the future of animation. Also included in this issue is a look at JOAN OF ARCADIA's Amber Tamblyn and a look at what's ahead for THE DEAD ZONE.




Cult Times #106: With season eight poised to begin in about 2 weeks, producers Robert C Cooper and Andy Mikita talk about the many changes ahead. Also in the issue, more about 24 and SHE SPIES.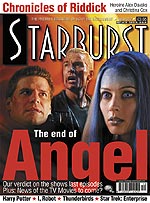 Starburst #312: Joss Whedon, creator of BUFFY and ANGEL, talks about what the future holds. Also in this issue - The Top 20 Angel Events: Take a trip back over the last five years and revisit some classic moments from one of television's darkest dramas. SEE! Angel attack Wesley in Forgiving! HEAR! The hilarious quotes from Epiphany! THRILL! As Spike takes a beating in Damage! The magazine also looks at HARRY POTTER and THE DAY AFTER TOMORROW.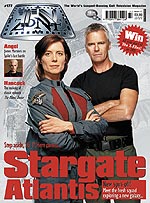 TV Zone #177: The stars of STARGATE SG-1 and STARGATE ATLANTIS adorn this month's issue. The magazine talks to co-producer and director Martin Wood about what we can expect from the highly-anticipated spin-off series - ATLANTIS. Also inside, ANGEL's James Marsters talks to us about his character Spike's sacrifice and redemption, his ongoing conflict with Angel, and the fang gang's.



Expose #86: As the latest HARRY POTTER film takes center stage, Director Alfonso Cuarón and Harry Potter himself, Daniel Radcliffe talk about their work on THE PRISONER OF AZKABAN, and the relationship between actors and directors. We also get a look at all the new characters and creatures introduced in The Prisoner of Azkaban. Also inside this issues, ALIAS' Jennifer Garner chats us about her latest big-screen outing, 13 GOING ON 30.






Expose Special #25: CHARMED is the focus of attention in this issue. Alyssa Milano, Holly Marie Combs and Paige McGowan look ahead to a seventh season. Others featured in the issue include co-star Dorian Gregory and producer Brad Kern
NEW PUBLICATIONS AHEAD
KOLCHAK: THE NIGHT STALKER VOLUME 1 TP
by Various
This volume contains four complete stories of TV's first paranormal investigator, Carl Kolchak (played to the hilt by Darren McGavin in the 1970s)! Thrill again to the story of a vampire in Las Vegas, based on the TV movie that still has one of the highest ratings of all time! This comic story was adapted from the screen by Kolchak's very own creator, writer Jeff Rice! Then, experience the terror of a small mining town that has unexplained murders, in an adaptation of an unfilmed script from the TV show! Then, get the chills from horror/mystery novelist extraordinaire Stuart Kaminsky's original Kolchak tale of experiencing your worst fears! And finally, thrill to an all-new, never-before-seen original Kolchak tale from X-Files comics scribe, Stefan Petrucha! Stories illustrated by Artists Gordon Purcell, Christopher Jones, and Doug Klauba (who also provides the cover image)!

SC, 7x10, 160pg, FC..........$17.95

SMALLVILLE MAGAZINE #1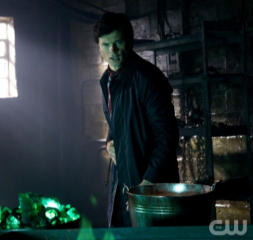 The new magazine to bring you all the latest news, interviews and behind-the-scenes secrets from Smallville is here! The first issue of the monthly Smallville magazine includes an interview with the star of the show Tom Welling, talking about life as the teenage Clark Kent. Series creators Al Gough and Miles Millar discuss the re-imagining of the Superman legend and we examine Clark¹s increasing powers! Plus, a fantastic free Tom Welling poster! (Titan Publishing Group)
NEWSSTAND-Magazine, 68pg, FC..........$5.99
EXCLUSIVE-Magazine, 68pg, FC..........$5.99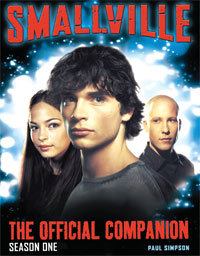 SMALLVILLE: THE OFFICIAL COMPANION SEASON 1 TP
by Paul Simpson
Packed with exclusive interviews, unseen photos, behind-the-scenes secrets, and a complete episode guide, plus insights into the world of Smallville, with excerpts from the town newspaper and even a look at the mysterious LexCorp, this authorized companion tells fans everything they need to know about the first season of the hit WB television series, Smallville. (133/1-84023-795-3) (CAUT: 4)
SC, 6x9, 176pg, PC..........$14.95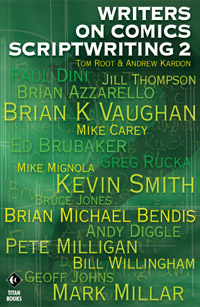 Writers On Comics Scriptwriting Volume 2 tp
by Tom Root & Andrew Kardon
Packed with fascinating behind-the-scenes information, anecdotes, and stories from the hottest writers working in comics today, this second volume of Writers on Comics Scriptwriting offers insider insight into every aspect of the creative process from the likes of Kevin Smith, Mike Mignola, Mark Millar, Brian Michael Bendis, Geoff Johns, Bruce Jones, Greg Rucka, and Bill Willingham, among other notable comics luminaries.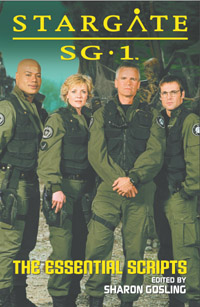 Stargate SG-1: The Essential Scripts TP
by Sharon Gosling
Far more than a script book, this essential Stargate SG-1 series guide is packed with bonus material including an in-depth introduction about writing for the show, deleted scenes, commentary and background, plus exclusive interviews with the writers, directors, and cast members. The following original Stargate SG-1 shooting scripts — complete with annotations — were specially selected for this volume: "2010," "Abyss," "The Fifth Race," "The Torment of Tantalus," "Window of Opportunity," and "Wormhole Xtreme."
(133/1-84023-887-9) (CAUT: 4)
SC, 6x9, 352pg, b&w..........$17.95
BookCloseOut.com
Ranger Dave writes that books by Bruce Boxleitner, John DE Lancie(Q), and William Shatner are available on Bookcloseouts.com in hard cover. They also now have a paperback listing and book prices are greatly reduced. Check it out.
BABYLON 5 NOVELS
DelRey is reprinting the original Babylon 5 novels. They started with #7 - Jeanne Cavelos' THE SHADOW WITHIN. Here's one I've been waiting for -- Kathryn Drennan's TO DREAM IN THE CITY OF SORROWS. The release date is scheduled for July 29, 2003. I love the new cover art! It can be pre-ordered from www.amazon.com. For those of you who love Babylon 5, this one reads just like an episode from the series. You just can't put it down.




BOOK REVIEWS
Here is a new feature for your enjoyment. I received some new book reviews that I've posted on a separate Book Review Page. Let me know if you enjoy this new feature -- and we'll continue to offer them as they are received. Agree with the review? Disagree? We can post those as well.

Other science fiction material, outside of the B5 environment can be found on the Materials Page.
FREE ON-LINE LIBRARY
Ranger Dan sends along the following information about a free, online library:

There is a free online library of Sci Fi books at www.baen.com . I have the paperbacks and hardcovers of several of the books (notably 1632 and 1633 by Eric Flint) and they are very good multi arc stories. To access the books click on Free Library then Authors. (I am not affiliated in any way with baen just happened to be a reader and looked their site up after enjoying several of their publications).
SAVE THE HUBBLE
The Hubble project is in jeopardy. Please visit http://www.savethehubble.org/petition.jsp and sign the petition to have NASA reconsider funding for the project.
---
COMIC BOOKS
NEW COMICS IN STORES NOW
Amazing Fantasy #1 will arrive in stores on Wednesday from Marvel Comics.
The issue is written by Fiona Avery*, with art and cover by Mark Brooks.
Here's how Marvel describes the issue:
"She¹s fierce, she's sassy...she sticks to walls. Amazing Fantasy #1 is where it all begins: Meet an all-new, all-different heroine! Fiona Avery and Mark Brooks launch a surprising series of teen-friendly adventures set in the current Marvel Universe!"
Amazing Fantasy #1 will be 32 pages and will cost $2.99.
(Fiona was a reference specialist at Babylon 5 and later wrote an episode of Crusade.)
STRANGE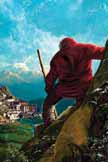 Written by J. Michael Straczynski and Samm Barnes, penciled by Brandon Peterson, cardstock cover by Brandon Peterson.

The master of the mystic arts is back -- as only J. Michael Straczynski and artist Brandon Peterson could envision him. Brash young surgeon Dr. Stephen Strange is on a collision course with destiny -- a journey that will force him to search the deepest corners of his own heart...and the outer reaches of the cosmos.

32 pages, $3.50, in stores on Sept. 15.

AMAZING SPIDER-MAN #512
Written by J. Michael Straczynski, art and cover by Mike Deodato.
"Sins Past," part 4 of 5. The worst defeat that Peter Parker ever endured -- a moment frozen in the minds of Spider-Man fans everywhere -- was supposed to be far in his past. But now, two villains -- ripped, perhaps, directly from that very moment -- have emerged and they threaten to destroy everything that he holds dear.
32 pages, $2.25, in stores on Sept. 29.
AMAZING FANTASY #4
Written by Fiona Avery, art and cover by Mark Brooks.
Part 4 of 6. Being a freshman in high school is bad enough -- now Marvel's newest hero has to survive her first week of training at her new after-school "job" with a shadowy organization. It's out of the frying pan and into the fire -- but will she get burned by a jealous peer before she gets a chance to prove herself? Also, time for a makeover: A brand-new costume debuts for summer's hottest debut title.
32 pages, $2.99, in stores on Sept. 29.
MADROX #1
Written by Peter David, penciled by Pablo Raimondi, cover by David Lloyd.
Jamie Madrox, stabbed, staggering off a bus. Jamie Madrox, setting up a detective agency in the heart of Mutant Town. Jamie Madrox, a peaceful Shaolin priest. Which is the real Jamie Madrox? In this noir-esque thriller of a limited series, it's possible that even Madrox doesn't know anymore. Peter David, acclaimed for his run on X-Factor, reunites several of that title's most popular and whimsical characters--Jamie Madrox, Wolfsbane, and the aptly named Strong Guy -- and sends them on an adventure of light and darkness. Featuring the incredibly moody pencils of Pablo Raimondi.
32 pages, $2.99, in stores on Sept. 15.
ASTONISHING X-MEN #5
Written by Joss Whedon, art and cover by John Cassady.
"Gifted," part 5 of 6. As demand for the "mutant cure" reaches near-riot levels, the X-Men finally go head-to-head with Ord, with an unexpected ally -- and some unexpected adversaries -- tipping the scales.
32 pages, $2.99, in stores on Sept. 22.
AMAZING SPIDERMAN
AMAZING SPIDER-MAN #509 Amazing Spider-Man #509 will arrive in stores on Wednesday from Marvel Comics. The issue is written by J. Michael Straczynski, with art and cover by John Romita Jr.

Here's how Marvel describes the issue:
"The enigmatic Ezekiel returns to Peter's life. But is he the same man who stood by Spider-Man's side in his hour of need, or will he prove to be something much deadlier?"

Amazing Spider-Man #508 will be 32 pages and will cost $2.25.

For a preview of the issue, go to http://www.milehighcomics.com/firstlook/marvel/spidey509/.
STARGATE SG-1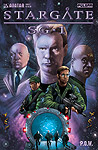 STARGATE SG-1 Comic Issue #2 now in stores
MARCH 31, 2004

The second installment of the new Stargate SG-1 comic book series is now available at retailers worldwide. "P.O.W." #2 tells part two of a 3-issue story, in which Colonel Jack O'Neill finds himself a captive of the Goa'uld. "This is meant to be our introduction to the Stargate world for new comic fans and a fun treat for the hardcore fans," said author James Anthony Kuhoric. The issue features a recounting of the events of the original "Stargate" film, as well as the beginning of the TV series. "In addition to establishing the background as a starting point for future comic book series, this feature amalgams the two universes [of the film and the TV series] into SG-1 continuity. We get to see Richard Dean Anderson as O'Neill during the first Abydos mission!"

With a story by Kuhoric and art by Renato Guedes, "P.O.W." #2 carries a $3.50 price tag and is available in several different covers. Fans who can't find the issue can order it from the publisher's online store, at ComicCavalcade.com.

"P.O.W." #3 is currently on stands, followed by a brand new 3-part series, "Fall of Rome," which will introduce new characters and expand the Stargate universe.
TV SCHEDULE ON SCIFI CHANNEL
BABYLON 5 and CRUSADE are not currently listed on any SCIFI schedule. STARGATE SCHEDULE: 09-JUL-04 06:00 PM STARGATE SG-1 2010
09-JUL-04 09:00 PM STARGATE SG-1 (SEASON 8) NEW ORDER (2-HOUR PREMIERE)
09-JUL-04 11:00 PM STARGATE SG-1 (SEASON 8) NEW ORDER (2-HOUR PREMIERE)
12-JUL-04 06:00 PM STARGATE SG-1 ABSOLUTE POWER
12-JUL-04 07:00 PM STARGATE SG-1 SETH
12-JUL-04 08:00 PM STARGATE SG-1 FAIR GAME
12-JUL-04 09:00 PM STARGATE SG-1 LEGACY (STARGATE)
12-JUL-04 10:00 PM STARGATE SG-1 LEARNING CURVE (STARGATE)
13-JUL-04 06:00 PM STARGATE SG-1 THE LIGHT
14-JUL-04 06:00 PM STARGATE SG-1 PRODIGY
15-JUL-04 06:00 PM STARGATE SG-1 ENTITY
16-JUL-04 07:00 PM STARGATE SG-1 (SEASON 8) NEW ORDER (2-HOUR PREMIERE)

FARSCAPE SCHEDULE:

11-JUL-04 01:00 AM FARSCAPE DURKA RETURNS
15-JUL-04 03:00 AM FARSCAPE DIE ME, DICHOTOMY
15-JUL-04 04:00 AM FARSCAPE SEASON OF DEATH
15-JUL-04 05:00 AM FARSCAPE SUNS & LOVERS
BABYLON 5/CRUSADE PHOTOSHOP PHOTOS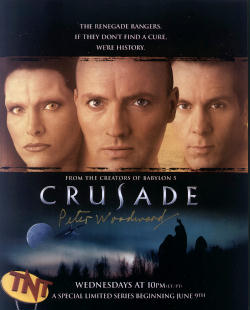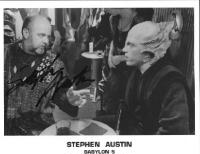 Peter Woodward has sent along a new photo -- a rather dreadful one -- from his appearance on CHARMED. It will be added to the collection of photos available from Peter, including additional copies of the Crusade poster in photo format. Both are autographed by Peter. You do NOT have to pay the prices asked for over at e-bay! Here are photos of B5 and Crusade cast members at fantastic prices. Check out Photo Shop. Ordering is easy -- and you can't beat the prices! Just let me know which photos you want and I'll check to make sure they are still in stock.
---
BABYLON 5 TOONS
John Cook has a wonderful collection of cartoons -- many are take-offs from Babylon 5. Here's just one of them.

He has a cartoon caption contest going on as well. Try your hand at a punch line.

Go to http://contests.sev.com.au/index.php?contestid=1


SCI-FI CARTOONS
While catching up on my e-mail yesterday morning, I got an instant message from LFMOA along with a nice goodie that I can share with readers. Thanks for sending along your version of Pinky and the B5 Brain.




Tye Bourdony's latest Lighter Side of Sci-Fi satire can be seen here and at Tye's website www.thelightersideofscifi.com.





CONVENTION CALENDAR
July 9-11, 2004
SHORE LEAVE
Location: Baltimore, Maryland
Guests: Cirroc Lofton, Teryl Rothery, Nicole deBoer, Brian Thompson, Michael Welch, Thom Christopher, Mercedes McNab, Clint Howard, Greg Evigan, Chase Masterson
For more information, visit their website at http://www.shore-leave.com/ .
---

July 10-11, 2004
STARGATE SG-1 CONVENTION TOUR 2004
Location: Burbank Airport Hilton & Towers
City: Burbank, California
For more information, visit their website at http://www.fansofstargate.com .
---

July 14-19, 2004
GATECON 2004
Location: Vancouver, British Columbia (Canada)
Guests: Amanda Tapping, Michael Shanks, Corin Nemec, Teryl Rothery, Colin Cunningham, Jr Bourne, Douglas Arthurs
For more information, visit their website at http://www.gatecon.com/ .
---

July 22-25, 2004
COMIC-CON INTERNATIONAL
Location: San Diego, California (USA)
Guests: To be announced
For more information, visit their website at http://www.comic-con.org .
---

July 23-25, 2004
ALTERNATE UNIVERSE
Location: Thistle Heathrow Hotel - London
Guests: John Rhys-Davis, Colin Cunningham, J.R. Bourne, Andrea Thompson, Sarah Douglas, Peter Stebbings, Marc Cass
For more information, visit their website at http://www.l3conventions.co.uk/alternateuni.htm .
---

July 29-Aug 1, 2004
CREATION CONVENTION
Location: Las Vegas, NV
Guests William Shatner, Leonard Nimoy, Tim Russ, Ethan Phillips, Nana Visitor, Robert Picardo, Walter Koenig, David Gerrold
For more information, visit their website at http://www.creationent.com/ .
---

July 29-Aug 1, 2004
VULKON CONVENTION
Location: Doubletree Hotel Tampa Airport
City: Tampa, FL
B5 Guests: Patricia Tallman, Jeffrey Willerth
Guests: Christopher Judge, Connor Trinneer, Alexis Cruz, Dean Haglund, Garrett Wang, Michael Forest
For more information, visit their website at http://www.vulkon.com/ .
---

Be sure to visit the referenced sites to see if there have been changes in dates/guests attending. Visit our Convention Calendar for a full listing of upcoming conventions.
MAIL FOR CAST AND CREW
Here's a recent note from JMS on the subject:

Just an FYI to those who've been using the Ventura Blvd. mail drop for fan mail to actors....

As mentioned before, we're phasing out the forwarding of fan mail because we a) don't have the resources, complicated by b) the actors have scattered to the four winds, and it makes it very difficult to get everything to everybody in a timely fashion.

So, having provided prior notice...fan mail to actors coming to the Ventura Blvd. mail drop will be sent back. Mail to actors should be sent via their official fan clubs. I will still be taking mail there, since it's my mailbox, but that's it.

Just so's y'all know and save a few bucks on postage and returns.

WARNER BROS:

Warner Bros. Address:

Warner Bros. Domestic Television Distribution
4000 Warner Blvd.
Burbank, CA 91522

Warner Home Video:

Mr. Douglas Wadleigh
VP for Marketing and Special Features
Warner Bros.
4000 Warner Blvd.
Burbank, CA 91522

SCIFI:
Bonnie Hammer, President
Sci-Fi Channel
1230 Avenue of the Americas
New York, NY. 10020-1513

Mr. Thomas Vitale
Senior VP of Acquisitions, Scheduling & Program-Planning
BACK ISSUES OF THE ZOCALO TODAY
The front page of the The Zocalo Today changes daily, so be sure to check the back issues to make sure that you haven't missed anything IMPORTANT! I don't want the front page getting too long so I shift information periodically into the archives. So if you aren't a regular visitor to The Zocalo Today, be sure to check out the back issues. Just use the button above!
---
Take care and I look forward to hearing from you.
Sandra Bruckner (sgbruckner@aol.com)
Editor/Publisher
The Zocalo Today
http://www.isnnews.net
Copyright - SBruckner, 1999-2004