[an error occurred while processing this directive]

The Zocalo Today

Welcome! I am glad that you found The Zocalo Today and dropped by. Take your shoes off, get comfortable and stay a while. There is a LOT of information here and you won't want to miss any of it.

The Zocalo Today is an interactive newsletter, encouraging interaction with readers through a discussion topic each week. If you have suggestions as to how The Zocalo can be improved -- or be more responsive -- send them along. The Zocalo Today is as much YOUR newsletter as it is mine! I'm just pulling together things for you!

Join our weekly discussion topic. It is just one way you can interact with other Z readers. If you have other information you would like to share, send it along. If you see Babylon 5 cast and crew in other roles, let us know. We enjoy convention reports, photos, etc. Don't miss our back issues. I hope this will become more than just a newsletter. It's a community of people that enjoy sharing their experiences and interests. Don't be shy. Join us today!

If you have questions, drop me a line at sgbruckner@aol.com. If you would like to join the mailing list for our bi-weekly newsletter, send me a note and I'll include you on the list. Or you can use the subscription block at the left.

Again, WELCOME!



TODAY'S NEWS
Sunday, August 1, 2004:
EARTHSEA: Robert Halmi Sr., the Emmy-Award-winning executive producer of SCI FI Channel's upcoming EARTHSEA miniseries Earthsea, feels big-screen fantasy epics like THE LORD OF THE RINGS and HARRY POTTER paved the way, but that EARTHSEA raises the bar for the fantasy genre. "Something that EARTHSEA has that lots fantasy projects don't have ... is a morality and spiritual side," Halmi said in a recent interview. "This has a maturation aspect to it. It has people who believe and people who do not believe. It could very easily be translated [for] today's society and [the] problems we have now." Halmi refers to Ursula K. Le Guin's EARTHSEA trilogy of novels as "great books. "[They are] actually literature, [which] needs to be kept alive, ... because children stopped reading books when television came into the world," Halmi said. "And I think some of us who like to read would like to encourage them to do it again. And [this is the] best way to do it, to entertain them and say, ... 'Pick this up and read it.'" EARTHSEA is unique among classic fantasy tales because, "This genre is a great genre, and Earthsea, which was published in 1968 [and was a] huge success, [was] written by an American, which is unique, because the genre is not American," he said. "Wizards we don't have. The rest of the world has wizards. And it was a great success in England. But I can't help thinking that [Harry Potter author J.K.] Rowling read it, and it gave her the idea for Harry Potter. It's the same story." EARTHSEA, a four-hour miniseries, stars Shawn Ashmore, Kristin Kreuk and Danny Glover, premieres in December.
---
FARSCAPE: Ben Browder, who plays astronaut John Crichton in the upcoming SCI FI Channel four-hour miniseries FARSCAPE: THE PEACEKEEPER WAR, felt a little strange at first stepping back into the role he played for four seasons. "There are things which were different about doing the miniseries in terms of the way we did it and what we were doing," Browder said during an interview at San Diego Comic-Con last week. "There are differences. Some of it out of personality, some of it out of the type of story you're telling. ... It was weird up until the point where I put on the leathers and walked on the set and went, 'OK. What are we going to do today?'" Browder credited the fans with bringing back the show, which ended with a cliffhanger at the end of season four. "It's all due to the continued fan participation in the process of getting it back on air," he said. "It wasn't as though it was one initial reaction, and it went away. They've actually sustained a campaign and a sustained community, which is based on the show. It's really interesting, the Internet community." The miniseries will resolve some of the questions left at the end of the series, Browder said, but not all of them. "It was important to everyone involved that we addressed what our core audience needed to see resolved, because we're dealing with a long-arc story," he said. "There's certain parts of the cliffhanger which are resolved quickly and other parts which will never be resolved. There's always a lot of untold story at the end of ... Farscape." FARSCAPE: THE PEACEKEEPER WARS will air on the SCI FI Channel for two nights beginning Oct. 17 at 9 p.m. ET/PT.
---
STAR TREK: ENTERPRISE: As the series returns for its fourth season this year, Scott Bakula, says that the show's lower budgets won't affect what appears on the screen. As a condition for UPN's renewal, Paramount, which produces the show, agreed to cut the series' licensing fees; that, in turn, means less money to make the show. However, Bakula, who plays Capt. Jonathan Archer, said viewers will hardly notice a change. At an interview at UPN's fall press preview last week in Los Angeles, Bakula said, "I know where the cuts are, where the money's coming out of, and it's not going to affect the show. I've also seen the first two scripts [of the season], and it's a show as big [as before]. I don't know how we're doing it—smoke and mirrors—but it's as big as a lot of the shows we made last year." The show has shifted to high-definition digital video from the more traditional film. Bakula said, "It saves a great chunk of money every week, and we've got a great [cinematographer] who's figured out how, ... with the latest technology. HD's the wave of the future, so it's just a matter of time, and we're getting very, very good quality out of it." Star Trek: Enterprise returns Oct. 8 in its new 8 p.m. ET/PT Friday timeslot.
---
EVERY WORD IS TRUE: Variety reports that Mark Wahlberg will portray "In Cold Blood" killer Perry Smith and Sandra Bullock is in talks to play "To Kill a Mockingbird" author Harper Lee in the Truman Capote biopic EVERY WORD IS TRUE. Doug McGrath adapted his script from George Plimpton's 1997 oral biography "Truman Capote: In Which Various Friends, Enemies, Acquaintances and Detractors Recall His Turbulent Career." The film will focus on the relationship that developed between Capote and convicted murderers Dick Hickock and, in particular, Smith while the pair awaited execution on death row. The $10 million Warner Independent Pictures and Killer Films project is scheduled for a November 15 start, with plans to shoot in New York and New Mexico. U.K. stage actor Toby Jones (the voice of Dobby in Harry Potter and the Chamber of Secrets) will star as Capote.
---
WHAT'S ON TONIGHT
CABLE AND NETWORK SHOWS:
8:00pm on The WB
Charmed
I Dream of Phoebe
A genie is freed from her bottle by Phoebe, who then takes her place.
9:00pm on USA
The 4400
Trial by Fire
Last week, Tom (Joel Gretsch) and Diana (Jacqueline McKenzie) were sent out to investigate a homicide that resembles the m.o. of a serial killer who was never caught neither heard of 25 years ago. The first suspect was a member of the 4400, someone with the ability to get others to do his dirty work. Tonight, a series of fire-bombings threatens the lives of the 4400 after their names and addresses are made public. If the violence against the returning citizens seems familiar, it is because the Civil Rights movement in the fifties and sixties also featured fire as a popular weapon to frighten folks into giving up. Laura Allen, Peter Coyote and Michael Moriarty also star.
10:00pm on USA
The Dead Zone
Speak Now
10:00pm on Showtime
Dead Like Me
The Ledger
After all the bad luck she had in life -- topped by her death via a flaming toilet seat from space -- George (Ellen Muth) figures that things should balance out in the afterlife. But today, at least, it's not turning out that way. First, she learns that her parents are selling the family home. Then someone steals her bike. Finally, when she arrives at work, Happy Time's new security expert (Michael Kopsa) singles her out as a likely office-supply thief. Meanwhile, George inherits a mint-condition 1966 Mustang after reaping the soul of an unfortunate kitchen appliance huckster (Fred Ewanuick), and Mason (Callum Blue) runs a shell game on the street
ON SCIFI TONIGHT:
7:00pm
Dante's Peak
A volcanologist and his new love flee a deadly eruption in the Pacific Northwest.
9:00pm
Dragonfly
A doctor believes his late wife is trying to contact him.
ON SYNDICATED TV THIS WEEKEND:
Andromeda
Fear Burns Down to Ashes
The Collectors trap Dylan in a life-or-death situation using Rev Bem as bait.
Angel
Heartthrob
An old friend from the past seeks revenge for Angel's staking his undead love.
BeastMaster
The Choice
The sorceress, yearning for Sharak to be returned to human form, makes a deal with the devil.
Buffy the Vampire Slayer
Never Kill a Boy on the First Date
When Buffy goes on a date, the Master plots her demise.
Sir Arthur Conan Doyle's The Lost World
The Secret
An assassin linked to Marguerite's past threatens the explorers' lives.
MacGyver
The Odd Triple
In Paris, MacGyver is jailed for grand larceny.
Mutant X
The Hand of God
The team embarks on a mission to locate and capture a mutant who possesses godlike powers.
The Outer Limits
Hearts and Minds
Buglike aliens try to steal an energy source.
The Outer Limits
The Tribunal
A time-traveler helps bring a war criminal to justice.
The X-Files
Dod Kalm
A Navy destroyer that was missing for two days turns up with a drastically aged crew.
INSIDE SCI-FI THIS WEEK:
Saturday, July 31, 2004:
SYRIANA: Actress Michelle Monaghan has landed a role in SYRIANA, the thriller that stars George Clooney, Matt Damon, Max Minghella and Amanda Peet. The movie is about the instability of the middle east, the influence of oil on world capitalism and the involvement of the CIA in the politics of the region. The picture is being directed by Stephen Gaghan (ABANDON). She appears next year in CONSTANTINE with Keanu Reeves and can be seen on screens right now in THE BOURNE SUPREMACY.
---
KING KONG: A couple more actors have been added to Peter Jackson's remake of KING KONG; Jamie Bell (BILLY ELLIOT) will play a cameraman on Carl Denham's exploration mission to Skull Island while Evan Parke (ALIAS) will play the first mate on the Venture, the ship Denham hires to transport his crew to Kong's home. Parke's character eventually winds up becoming the de facto leader of the rescue team that goes after Kong to rescue Ann Darrow's character. The duo join Naomi Watts, Jack Black and Adrien Brody who have already been hired for the remake. The film will out in theaters in December 2005.
---
NEW WORLD: Photos are coming out of New Line's THE NEW WORLD, the upcoming historical drama set during the early colonialist days in America. Colin Farrell stars as explorer John Smith; Christopher Plummer will be Captain Christopher Newport, the first president of the colony. The film's story will present its own take on the Pocahontas love story between Smith and the Indian princess. Filming is scheduled to start in July. Also in the cast are Christian Bale, David Thewlis, Wes Studi, Noah Taylor, Q'orianka Kilcher and August Schellenberg star in the Terrence Malick directed picture. It's due out in theaters in November 2005.
---
ELEKTRA: Ben Affleck will have a cameo role in Jennifer Garner's Daredevil spin-off, ELEKTRA. Word is that Jennifer Garner has asked him to shoot a cameo in her Daredevil spin-off movie, so Affleck is heading for the set. "They haven't even told me what it is," Affleck says. "I guess it's some kind of fantasy - I shouldn't say fantasy." He laughs. "It's a dream sequence."
---
ANDROMEDA: Brandy (The Invisible Man) Ledford has joined the cast of the Gene Roddenberry's Andromeda.
---
Friday, July 30, 2004:
TOP SF NETWORK SHOWS:
Joan of Arcadia 3.13
Smallville 1.7
Kingdom Hospital 1.6
Enterprise 1.4
Charmed 1.3
Source: Nielsen Galaxy Report, 7/5/04 - 7/11/04.
---
FANTASTIC FOUR: Jessica Alba (Dark Angel) will play Invisible Girl Sue Storm in the upcoming FANTASTIC FOUR movie. It was an opportunity she just couldn't pass up. At San Diego Comi-Con, Alba said, "Honestly, I was worried. But at the end of the day, when this opportunity came, I couldn't say no. I feel I wouldn't be able to sleep at night if I turned this movie down, because it's such a great story. And I'm going to work my a-- off and hopefully people will be pleased." Alba has already gotten a glimpse of the skin-tight outfit she and her fellow cast members—which include Michael Chiklis (The Shield) as Ben Grimm/The Thing and Ioan Gruffudd (King Arthur) as Reed Richards/Mr. Fantastic—will be wearing. "I've tried mine on," she said. "And the zippers are on the inside. I was so scared. [The costumer] had to use a tool. ... The costumes are very cool. They are spandex, and we have gloves and boots ... and fours on our chests." Shooting for the project begins next month.
---
PUNISHER 2: After much deliberation, PUNISHER star Thomas Jane indicates that a sequel to the comic-book adaptation is planned for a 2005 start. Jane is set to reprise his role as Frank Castle/The Punisher, with the comics' Jigsaw as the villain. Jane said in an interview, "If we all have our way, Jigsaw will be the villain. I think Michael Keaton would be awesome [for the role]. Hopefully we're going to shoot that next year, hopefully in the first part of next year, not the second part. But it'll probably be the second part of next year." Jane said that he expected it to be even more physically demanding than the original. "I know that the scene at the end of the first Punisher, where I go up there and just take everybody out, that's going to be the opening of The Punisher 2. In another context, I'll be taking on a whole other set of guys in another place, but the film Punisher 2 will open with that kind of a scene, and it'll just get worse from there."
---
THE TRAVELER: Universal Pictures has bought the film rights to a forthcoming science fiction novel by first-time author John Twelvehocks. THE TRAVELER, the first in an intended trilogy, was sold to Doubleday Publishing where it attracted the attention of screenwriters Carlo Bernard and Doug Miro. The writers took it to producer Kathleen Kennedy, and Kennedy and her producing partner Frank Marshall are now set to develop the property for Universal, with Bernard and Miro as exective producers. THE TRAVELER looks at the history of the world as an ongoing struggle between two groups, the Travelers and the Tabulas. The primary characters in the book are two brothers and a young woman who are trying to avoid detection by the agents of the Tabulas. Bernard told The Hollywood Reporter, "The author did a really great job of creating a world that is at once recognizable and another world that supersedes it."
---
WEEKEND BOX OFFICE: There is quite a mix available for you at the box office this weekend. There is suspense, politics, comedy or children's fare. For only the second time this summer, four studios are bringing out wide national releases with the hope that there is enough differentiation for all of them to score well with audiences. The Hollywood Reporter feels that the weekend's top film is likely to be M. Night Shyamalan's "The Village" from Buena Vista Pictures, but Paramount Pictures' political drama "The Manchurian Candidate," New Line Cinema's stoner comedy "Harold & Kumar Go to White Castle" and Universal Pictures' family film "Thunderbirds" are all clamoring for their share of the pie. "The Village" is out to test the brand-name appeal of its writer-director. Shyamalan has become a franchise unto himself with his past three movies. But this time around, the Indian-born thriller buff reaches out to audiences without the help of the significant star power that marked his previous entries. Shyamalan scored his biggest opening in 2002 with "Signs," which opened to $60.1 million during the first weekend in August and marked Buena Vista's first hit of that year. The Walt Disney Co.'s distribution outlet is hoping for the same phenomenon this time around, as the studio has struggled at the boxoffice this year.
---
SUPERMAN: "It's a bird! It's a plane! It's Superman!" The man who bellowed those words to introduce the "Superman" radio show has died. Jackson Beck was 92. A friend said Beck died Wednesday. He had suffered a series of small strokes several years ago. He worked well into his 80s. Beck was a master of the voice-over, using his voice to promote everything from Aqua Fresh toothpaste to Combat roach killer. In addition to narrating Superman's adventures, Beck doubled as villains, supporting characters and the Daily Planet copy boy on the popular radio broadcasts of the 1940s. He also portrayed Bluto in more than 300 "Popeye" cartoons.
---
PRINCESS OF MARS: Kerry Conran, helmer for SKY CAPTAIN AND THE WORLD OF TOMORROW, is on board to direct the sci-fi adventure action film A PRINCESS OF MARS. The project is based on the first book in Burroughs' 11-book series, "John Carter of Mars," which centers on John Carter, a Civil War officer from Virginia who is transported to Mars and finds himself a captive of the savage green men from Thark. Eventually, he rises to become the greatest warrior of all time, marries the beautiful Dejah Thoris, raises a family and embarks on numerous adventures.
---
HERBIE: FULLY LOADED: Variety reports that Michael Keaton will join Lindsay Lohan in Disney's HERBIE: FULLY LOADED, the studio's retooled "Love Bug" franchise. Written by Tom Lennon and Robert Robert Ben Garant, "Herbie" sets the famous Volkswagen in the world of NASCAR racing. Angela Robinson (D.E.B.S.) is directing. The original 1968 film THE LOVE BUG starred Dean Jones and Buddy Hackett in a comedy about a car with a mind of its own. As an owner of one of these wonderful cars, I can't wait to see the beautiful beetle return.
---
Thursday, July 29, 2004:
TOP SF DVD SALES:
1. Star Wars trilogy
2. Hellboy
3. The Passion of the Christ
4. Aqua Teen Hunger Force, volume 2
5. V: The Complete Series
6. Stargate SG-1 season seven
7. Sealab 2021 season one
8. Angel season four
9. Return of the King
10. Buffy season six
Source: Amazon.com, top-selling genre DVDs, 7/26/04
---
EARTHSEA: SMALLVILLE's Kristin Kreuk plays a young priestess in SCI FI Channel's upcoming original fantasy miniseries EARTHSEA. X-Men's Shawn Ashmore co-stars in the miniseries as Ged, a young man who is attempting to master his magic abilities when he unwittingly unleashes a dark force. The miniseries is based on two of Ursula K. Le Guin's EARTHSEA novels, A Wizard of Earthsea and The Tombs of Atuan. Kreuk is Tenar, a member of a religious order led by Thar, the High Priestess of Atuan (Isabella Rossellini). Kreuk added that Tenar is an orphan who has found her way to the temple at Atuan, where she was accepted into the order. "She's strong," she said. "She has her beliefs, and she sticks by them, and she's willing to fight for them. But she's a little different from a lot of the other priestesses in the sense that she's a little more laid back. She can relax a bit more and laugh, and she gets affected by things a bit more. ... She's still very self-contained, but incredibly strong." EARTHSEA also stars Danny Glover and comes from Emmy-Award- winning producer Robert Halmi Sr. and Pulp Fiction producer Lawrence Bender. It premieres in December.
---
BATMAN BEGINS: The first trailer for Christopher Nolan's BATMAN BEGINS has finally arrived and it's online at http://batmanbegins.warnerbros.com/. Not a lot of action yet, but you will get glimpses of a young Bruce Wayne at his parents' wake, Bruce finding what will become the Batcave; see the older Bruce travel the world, learning the skills that will allow him to fight crime; and then wonder whose ominous silhouette rises above Bruce during the trailer's final moments. June 17, 2005 is the date set for when BATMAN BEGINS opens in theaters
---
THE INCREDIBLES: This November Dark Horse Comics, in conjunction with Disney Publishing Worldwide and Pixar Animation Studios, will publish a comic book adaptation of the Walt Disney Pictures presentation of a Pixar Animation Studios film, THE INCREDIBLES, a new animated feature about a family with extraordinary powers. THE INCREDIBLES premieres in theaters November 5, 2004. During the golden age of Supers, heroes protected the populace from harm. The era's main champion was the ultra strong Mr. Incredible. But things went awry for Mr. Incredible and the rest of the Supers when they were hit with a series of frivolous lawsuits brought against them by those they once saved. To diffuse the situation, the government created a relocation program for the Supers, who, in exchange for protection from further lawsuits, went into hiding and promised never to use their powers again. Fifteen years later, Mr. Incredible is simply Bob Parr, living the quiet suburban life with his wife Helen, and their three children. However, family life and the daily nine-to-five routine aren't enough for Bob, who frequently sneaks out to do "hero work" in the evenings. Bob's inability to move on from past glories soon puts a strain on his home life. But one day things take an unexpected turn when Bob is contacted by a mysterious woman who recruits him for some top secret hero work. This four-issue comic book series is adapted from the original film story, which was written by director Brad Bird ("Iron Giant") and will feature illustrations by Incredibles storyboard artist Ricardo Curtis. "The Incredibles" issue #1 (of 4) arrives on sale November 24 with a retail price of $2.99.
---
SMALLVILLE: Following a panel discussion and autograph signing session for SMALLVILLE at the San Diego Comic Con, cast and crew members answered some questions for the press about what to expect from the coming season. One of Executive Producer Alfred Gough's answers was not new territory in the least; but, if you've been spoiler-free so far and want to wade into some very general information, here's what he had to say:
"Season 4, you will meet Lois Lane. You will also meet a character named Jason Teague, played by Jensen Ackles, who will be Lana Lang's new love interest. You will see Lionel Luthor in jail. And in the opening episode, we will see some flying."
---
BIG FRIENDLY GIANT: Paramount's big screen adaptation of Roald Dahl's children's book, THE BIG FRIENDLY GIANT, has signed up writer Ed (The In-Laws) Solomon to prep the script.
---
Wednesday, July 28, 2004:
TOP SF SYNDICATED SHOWS:
Stargate SG-1 2.0
Andromeda 1.9
She Spies 1.7
Mutant X 1.6
3rd Rock 1.3
The X-Files 1.3
Beastmaster 1.2
Buffy 1.2
John Edward 1.2
The Outer Limits 1.2
Source: Nielsen Galaxy Report, 7/5/04 - 7/11/04
---
CONSTANTINE: While the upcoming supernatural film is based on the Vertigo graphic novel Helblazer, director Francis Lawrence said recently that he avoided using that style for CONSTANTINE. "My approach to this from the beginning was to never shoot it like a comic-book movie. I think that's been done before." Lawrence added, "It was done very, very well with Tim Burton's original BATMAN. From then [on], I don't think anybody's really topped that. Everybody's built Gotham City again, whether it's called Gotham City or not. Everybody's done the dutched angles and all the bright colors and made things super- campy. And what I wanted to do, and what I always loved about the comic, was it was rooted in a reality and in real places. What I really wanted to do was make it really feel real. And it seems to be working. It seems to be what people are responding to. It's not all hyper-real. It's not super-stylized. It's rooted in a gritty reality." CONSTANTINE stars Keanu Reeves as supernatural detective John Constantine, who is facing death by lung cancer and must find a way to stave off the demonic forces that want to drag him to hell. "There are plenty elements of horror in this," Lawrence said. "There are plenty of scares. It's creepy throughout. What's interesting about this movie, and what I'm really proud of, too, is that it's not really genre-specific. It's not a supernatural thriller. It's not a horror film. It's not four kids in a van going off and getting chopped up by an ax murderer. It's not just fantasy. It's this weird blend of all these things."
---
SMALLVILLE: When SMALLVILLE returns for its third season on September 22, we'll find a number of changes. Among the changes -- Lana Lang will loose that small-town character and gain confidence in herself. She has traveled to Paris and has a new boyfriend, played by Jensen Ackles (Dark Angel). "Lana this season is actually really great," Kristin Kreuk said in an interview. "I'm really excited to play her this year. Not that I wasn't before, but ... my character gets a drastic change this year. She goes to Paris. She has a wonderful, ... fantastic time. So she's being an artist. She has this awesome apartment that I want. ... She meets this guy, this wonderful guy, who's funny and easy, unlike Clark, who was this big, huge heaviness." What about the long-suffering relationship between Clark and Lana? Kreuk added. "The two of them together, ... their issues would just like combine and cause tension," she said. "But [Lana's] happy and confident in herself and interested in art and in style. ... Before, she was kind of directionless. She didn't know what she wanted. And I think ... she's getting perspective on her life." Lana also has a new wardrobe and a new look. "No more, like, really tight jeans with pink T-shirts," she said with a laugh. "She's a more mature woman, and ... it's so much fun."
---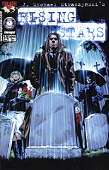 After nearly two years in limbo, the final issues of J. Michael Straczynski's RISING STARS comic book series will be issued. Top Cow announced that the final three issues of the maxi-series will be published -- RISING STARS #22 will arrive on store shelves this coming October followed by issue #23 in November and the final book to be released in January 2005. "We've got all the remaining scripts in hand, and JMS does a great job in tying up all the loose ends to this story," remarks Top Cow Managing Editor Renae Geerlings. "It's a great ending; I think everyone's going to love it!" A preview of RISING STARS #22 will appear in HUMANKIND #1, which goes on sale next month. When the final issue of the series comes out next January that won't be the end of Straczynski's self-contained world; a five-issue mini-series by Fiona Avery titled RISING STARS UNTOUCHABLE will cover the untold story of Laurel Darkhaven, one of RISING STARS' Specials.
---
HERCULES: According to the Hollywood Reporter, Sean Astin, Leelee Sobieski and Timothy Dalton are set and Angie Harmon is in negotiations to star in NBC's four-hour miniseries HERCULES, from Hallmark Entertainment. British newcomer Paul Tefter has been selected from more than 200 candidates to play the title role in the project, which chronicles the life of the Greek hero who, after killing his two sons and two of his brother's sons, performs 12 labors to repent. Astin will play Linus, Hercules' music teacher. Sobieski will play Hercules' second wife, Deianeira. Harmon will play Hercules' mother, Alcmene, and Dalton will play the hero's stepfather, Amphitryon. Roger Young is directing the mini, budgeted at more than $20 million, from a script by Charles Pogue.
---
JAMES BOND: According to Entertainment Weekly, Pierce Brosnan says he's done with the James Bond franchise, opening the door for possible replacements. "That's it," says the now former 007, "I've said all I've got to say on the world of James Bond." He says that Die Another Day will be his last Bond film and he's not returning for a fifth movie. "Bond is another lifetime, behind me." If Brosnan can't be wooed back with a larger salary -- as Sean Connery was when he quite the franchise -- Eon Productions will have to find another actor to fill the role for "James Bond 21," scheduled for a November 18, 2005 release.
---
WAKE OF DEATH: Reports indicate that Joel Schumacher has signed to direct Dimension's WAKE OF DEATH. The film reportedly tells of four college kids who attempt to re-animate the dead. It is based off of a comic book series written by "30 Days of Nights" scribe Steve Niles and published through IDW Publishing. Schumacher's next flick is PHANTOM OF THE OPERA, due out for Christmas.
---
Tuesday, July 27, 2004:
STARGATE ATLANTIS: For those of you who missed episodes #1 and #2 of this new STARGATE series, you will be delighted by tonight's schedule at SCIFI. Episode #1 begins at 8:00 and Episode #2 starts at 10:00.
---
SPIDER-MAN 2: Danny Elfman's score for SPIDER-MAN 2 hits stores today! You can listen to four sound clips that have been posted at http://www.cinemusic.net/reviews/2004/spider-man_2.html. This is Elfman at his best!
Also in SPIDER-MAN 2 news, Variety reports that SPIDER-MAN 2 swung into India over the weekend and knocked aside all box office records by a foreign-language movie. Released on 303 screens, the equivalent of a major Hindi-language release, the sequel raked in 77.5 million rupees ($1.6 million) in its opening weekend. It was a 45% improvement on the previous record, held by the first Spider-Man. The movie also notched a record opening-day gross for any foreign-language film in India, with $474,000 Friday. Sunday, it set the record for the largest single-day gross for any foreign-language film in India, taking in $570,000. The sequel is expected to become the top Hollywood grosser in India and top the $11.2 million posted by "Titanic."
---
PHANTOM OF THE OPERA: THE PHANTOM OF THE OPERA, one of the most successful shows in the history of Broadway, has been lured to the desert with the promise of a lavish new theater and a seemingly endless stream of tourists. Clear Channel Entertainment will produce a 90-minute, $35 million version of the Tony Award-winning musical, set to open in the spring of 2006 at the Venetian hotel-casino, according to a source familiar with the hotel's negotiation. ABC News reported that an official announcement is expected shortly.
---
FANTASTIC FOUR: This weekend at San Diego Comi-Con, Michael Chiklis, who will play Ben Grimm (The Thing) in the latest comic-book-to-film adaptation, FANTASTIC FOUR -- said that he took the role based on assurances from the producers that his character would not be computer-generated. "I did not want to do this if Ben Grimm was going to be a CGI [character]. If he was going to be done in the way that the Hulk was done, then I felt that I would be wasted. And I was assured from the get-go that that wasn't going to be the case. And I was thrilled." Chiklis, who won an Emmy and a Golden Globe for the role of Vic Mackey on the FX TV series THE SHIELD, said there are some similarities to the two characters he portrays. "I'm a thug that you want to hug," he joked. "[Ben] is a guy who can be very scary and also be really likable and downright cuddly. So, yeah, there's kind of through line in that way. But his problems ... are a lot different than Vic Mackey or other characters I've played. So there are broad-stroke similarities and some specific differences." Chiklis has been a fan of the FANTASTIC FOUR comic book from an early age. He is eager to begin filming and see how the script will be realized by director Tim Story (Barbershop). Filming for the project begins in August in Vancouver, B.C.
---
Monday, July 26, 2004:
VAN HELSING DVD: On October 19, Universal Home Video will release Stephen Sommers' VAN HELSING to the home video market. The film stars Hugh Jackman as the legendary monster hunter; Kate Beckinsale as Anna, his ally; Richard Roxburgh as Count Dracula; and David Wenham as Carl, Van Helsing's holy right-hand man. Universal will be offering two different DVD editions of the film, with one being a limited Ultimate Collector's Edition that will include additional bonus material and the three classic Universal monster movies that inspired Sommers' film: DRACULA, FRANKENSTEIN and THE WOLF MAN. Bonus features available on the VAN HELSING Ultimate Collector's Edition DVD include:
"Explore Frankenstein's Lab": Venture through Dr. Frankenstein's bizarre laboratory in a 360-degree interactive tour.
"Van Helsing: The Stort, the Life, the Legend": Short documentaries examine all of the characters from the movie.
"Track the Adventure: Van Helsing's Map": Unlock the secrets behind each locale that Van Helsing visited in the picture through this ancient monster map.
"The Music of Van Helsing"
"Darkness Falls: Dracula's Lair is Transformed": Time-lapse photography shows how Drecaula's coffin room is changed to his laboratory through this sequence.
---
WEEKEND BOX OFFICE:
THE BOURNE SUPREMACY reigned supreme at the box office this weekend. The film took in an estimated $53.5 million dollars, making it one of the best opening weekends for a summer movie so far. Last week's number one movie, I, ROBOT, dropped to second spot, down 57% from its opening weekend. CATWOMAN placed third but only netted $17 M and change. With SPIDER-MAN 2 now playing on IMAX screens, another $15 M was added to the sequel's nine digits tally. Michael Moore's FAHRENHEIT 9/11 also crossed the $100 M barrier this weekend, setting another record for documentaries. Counterprogramming efforts such as Warners' A CINDERELLA STORY and New Line Cinema's THE NOTEBOOK are proving that romance can find its own niche amongst the special effects blockbusters of the summer. Next will find a new group of premieres -- including the latest thriller from M. Night Shyamalan -- THE VILLAGE, the live-action THUNDERBIRDS movie, and Jonathan Demme's remake of THE MANCHURIAN CANDIDATE. Here are the estimated box office receipts of the top ten films from July 23 through to July 25 with their weekend gross and the movie's total domestic gross to date.
1. THE BOURNE SUPREMACY $53,520,000 - $53,520,000
2. I, ROBOT $22,050,000 - $95,445,000
3. CATWOMAN $17,155,000 - $17,155,000
4. SPIDER-MAN 2 $15,000,000 - $328,453,000
5. A CINDERELLA STORY $8,040,000 - $29,814,000
6. ANCHORMAN: THE LEGENDY OF RON BURGUNDY $7,100,000 - $71,185,000
7. FAHRENHEIT 9/11 $5,000,000 - $103,356,000
8. THE NOTEBOOK $4,450,000 - $62,500,000
9. KING ARTHUR $3,064,000 - $45,198,000
10. SHREK 2 $2,400,000 - $429,525,000
---
NOWHERE MAN: According to the Hollywood Reporter, Ben Affleck is attached to star in the Walt Disney Pictures adventure film, NOWHERE MEN. The studio has acquired the pitch for for Peter and David Griffiths to pen. Based on a treatment by Soren Garcia Rey, a longtime friend of Affleck, and Chris Angulo, the ensemble adventure revolves around a group of people, one of whom will be played by Affleck, who pursue covert missions, aided by their personal extraordinary gifts.
---
COURTNEY CRUMRIN: Variety reports that Fox 2000 Pictures has optioned Ted Naifeh's COURTNEY CRUMRIN series of Oni Press comic books to develop as a potential fantasy franchise. The series follows a teenager who must contend with being a social outcast at a snobby new school while simultaneously moving in with her warlock uncle and learning how to harness magic. Makeup and creature F/X maven Stan Winston will produce the film with Brian Gilbert. Sheryl Longin has been hired to write the script. Variety also says the deal includes Naifeh's comic books "Courtney Crumrin and the Night Things," "Courtney Crumrin and the Coven of Mystics" and "Courtney Crumrin in the Twilight Kingdom."
---
THE LEGEND OF ZORRO: The Hollywood Reporter reports that British actor Rufus Sewell is joining the cast of Columbia Pictures' THE LEGEND OF ZORRO. Antonio Banderas and Catherine Zeta-Jones are reuniting with director Martin Campbell for The Mask of Zorro sequel. Sewell portrays Armand, Zorro's rival for the affection of Elena (Zeta-Jones).
---
BEST SELLING BOOKS: 1. The 9/11 Commission Report by National Commission on Terrorist Attacks
2. Imperial Hubris by Anonymous
3. The American Prophecies by Michael D. Evans
4. The Da Vinci Code by Dan Brown (Author)
5. Maximum Influence by Kurt W. Mortensen, Robert G. Allen (Foreword)
6. Skinny Dip by Carl Hiaasen
7. Eats, Shoots & Leaves by Lynne Truss
8. My Life by Bill Clinton
9. Angels & Demons by Dan Brown
10. Shadow Divers by Robert Kurson
---
SERENITY COMIC BOOK: At San Diego Comi-Con this weekend, Joss Whedon told fans that he also intends to write a new series of comic books based on the SERENITY universe and characters. Whedon said, "We have every intention of putting out a comic book of Serenity as well." Having written the Dark Horse title Fray, a futuristic take on the universe introduced in Whedon's TV series Buffy the Vampire Slayer, as well as the current Marvel title The Astonishing X-Men, Whedon added, "We're talking with Dark Horse right now about doing a Serenity comic book, because of Fray." SERENITY picks up the story of the short-lived FIREFLY, set 500 years in the future, about the ragtag crew of a transport ship traveling the galaxy in the wake of a galactic civil war. The movie, from Universal Pictures, is currently in production, with an eye to a spring 2005 release.
---
HARRY POTTER: J.K. Rowling, author of the HARRY POTTER series, announced on her official Web site that she is expecting her third child, but promised that the pregnancy would not delay her writing the much-anticipated sixth novel, HARRY POTTER AND THE HALF BLOOD PRINCE. "I am really delighted to say that I am expecting a third baby, who is due next year," Rowling wrote. "I always wanted three children, so I could not be happier."
---
JEREMIAH

Ranger Dave sent along the following schedule for JEREMIAH on Showtime Two. Hopefully some of you have access to the channel and can watch these early episodes of the series:

08/06/04 8:00 PM The Long Road
08/06/04 9:35 PM Man of Iron, Woman Under Glass
08/07/04 8:00 PM And The Ground ... Sown With Salt
08/07/04 8:45 PM To Sail Beyond the Stars
08/07/04 9:30 PM The Bag
08/13/04 8:00 PM City Of Roses
08/13/04 8:45 PM Firewall
08/13/04 9:30 PM The Red Kiss
REMEMBERING RICHARD BIGGS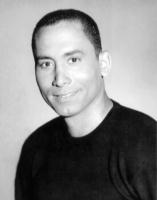 I received a note from Donna at Pipeline Productions yesterday. In it, she indicated that she and Jason Carter have been working on a web-page to replace The Biggs and Carter Experiences page. Since The Biggs and Carter Experiences had been a long time dream of Rick's, they thought it best to dedicate it to rising funds for the RJ and Hunter Educational Fund.

They are taking donations of items and putting them on the page for interested parties to buy. All donations are welcome and should be sent to the Pipeline Productions, P.O. Box 522, Allen Park Mi 48180. Please remember to mark the name of the item or name of actor as well as how much you feel it should go for or the fair market value.

This will be an on going project that Jason and Donna will need as much help as possible to raise as much money as they can. So if you do have any items or if you see anything you like let me know by email at donna@pipetap.com. The web address is still www.biggsandcarter.com .

Material related to the passing of Richard Biggs has been moved to several pages devoted to him inside The Zocalo Today. Please visit now, and often, to see what has been added. RICHARD BIGGS. We will not forget Richard and let you know as new efforts are put forth in his memory.

Ranger Jan has passed along an update on her auction efforts for Richard's children. She has sent checks totaling about $3500 to the family. She will be posting more items for auction soon. For more information, go to:
Auctions to benefit a Richard Biggs Memorial fund: http://tinyurl.com/2az5w
PayPal Account: RBiggsMemorial@aol.com
Personal auctions: http://tinyurl.com/b36t

A major thanks has to go to Ranger Connie for paying to have the condolence book for Richard Biggs remain on-line for the next year over at the LA Times. This will give fans more time to express their love and appreciation for the man Rick was -- and to let his family know how much he meant to us, not only as an actor, but as a human being. Thanks Connie.
PAT TALLMAN AUDIO/VIDEOS
Patricia Tallman is looking for any recordings of her speaking appearances at conventions. She will reimburse anyone who can send in a video or DVD of Pat telling stories at a convention. She will also send along a new autographed photo (one that no one has yet) and will pay postage and the cost of the vide tape. Here is an address you can use to contact Pat:
Patricia Tallman
6433 Topanga Canyon Blvd. #207
Canoga Park, CA 91303
BABYLON 5 MOVIES -- COMING AUGUST 17
Ranger Neil O. sent along the following item from http://www.tvshowsondvd.com/newsitem.cfm?NewsID=1539 No word yet on CRUSADE or the LEGEND OF THE RANGERS.

Warner Bros Home Video will continue the popular Babylon 5 DVD releases with "Babylon 5: The Movies," news we brought you back in November, 2003. This 5 disc set will contain all 5 movies as well as special features. The set will carry a $59.98 SRP and will be available in stores and online August 17th. "The Gathering" will be presented in 4:3 (original aspect ratio) while the other movies will be 16:9 anamorphic widescreen; all movies will feature Dolby Digital 5.1 tracks. The sets will be closed captioned and be subtitled in English, Spanish and French.

Each movie will contain commentary from the creator (J. Michael Straczynski), cast and crew, as well as an introduction for each movie by JMS. Rounding out the special features is the featurette, "Creating the Future - How Science Fiction and the show influenced each other."

The Gathering (1993): Alien envoys come to the giant space station in the pilot that launched the five-year TV series.

In the Beginning (1998): The B5 prequel! It's humans vs. aliens in the battle that led to the station's creation.

Thirdspace (1998): Is there a realm beyond hyperspace? Discovery of a million-years-old gateway technology may hold the answer...and more.

River of Souls (1998): After death, then what? Questions of eternity arise when a supposedly infallible harvester of souls proves to be very fallible.

A Call to Arms (1999): The torch is passed. A race against time to save Earth links the B5 mission with the Rangers' new interstellar efforts.

For more information on Babylon 5 DVDs, go to Babylon 5 DVDs.
DISCUSSION TOPICS
I have been a comic book lover for years -- not as deep into it as my nephew, but I like to read them just the same. With TV series like STARGATE, CSI, CSI: MIAMI, SMALLVILLE and other spinning off into comic book issues, so you enjoy reading your TV series? Do you feel that this medium can continue the story? Would you like to see more BABYLON 5 comic books (hint, hint)?

Send in your thoughts and ideas to sgbruckner@aol.com. I post them on the Discussion Page for everyone to share and enjoy. See what has come in so far. If you see an old topic you want to respond to, go right ahead. We enjoy hearing from you.
STARGATE SG-1

SEASON SIX DVD
Season six of STARGATE SG-1 is now available. Amazon has had this DVD on their top 10 list for weeks. The DVD boasts incredible special effects sequences, rapid-fire pacing and awesome scenes of alien warfare, this all-new five-disc set of Stargate SG-1 is your gateway to pulse-pounding sci-fi action!

Special features include audio commentary for each episode and twelve "SG-1 Directors Series" featurettes!

For more details and to watch the trailer, go to http://www.mgm.com/title_title.do?title_star=XXXSETSTARGAT6.
KEEPING UP WITH CAST AND CREW
PAT TALLMAN: Ranger Anne reports that the SciFi Channel will show "Army of Darkness" this Saturday (7/31) at 5pm ET. Along with Bruce Campbell (as Ash), Pat Tallman (B5's own Lyta) has a dual role as "a possessed witch and a present-day co-worker."
---
PETER JURASIK: Peter Jurasik looks the part of the Arkansaw Bear, whom Jurasik portrays in the Harwich Junior Theatre production of the same name opening next Tuesday. It is a role with which he finds great sympathy. For more information, go to http://www.capetix.com/show.cfm?showid=102710.
---
SPECIAL CAST ACTIVITY - CRUISIN' WITH BABYLON 5
STEPHEN AUSTIN: Stephen Austin (B-5's "Pak'Ma'Ra Ambassador") along with comedy legends Vic Dunlop and Bruce Baum are cruising the Caribbean and want YOU to join the fun!!! Here are the details:
Departing March 6-13, 2005
The Carnival V a lor
Sailing roundtrip from Miami Florida
visiting Belize, Isla Roatan, Grand Cayman, and Cozumel
http://www.cruiseevents.net/dunlop/index.htm.
---
CRUISE WITH PETER WOODWARD
Peter Woodward is cruising the Eastern Caribbean on Jan. 9-16, 2005 and wants YOU to join the fun!!! Sailing January 9-16, 2005, on Holland America's Westerdam, the roundtrip from Ft. Lauderdale, Florida will visit Nassau, St. Marteen, Tortola, & Half Moon Cay. Experience a week in the Caribbean sharing laughs and fun with your new friends. Peter's cruise is unique! The group consists of friendly, people looking to have fun and share experiences. For more information, go to http://www.cruiseevents.net/celebrity.htm and then press Peter's photo. Space is limited! Don't delay, call today! 800-695- 5253 or e-mail: Susan@CruiseEvents.net.
---
JERRY DOYLE RADIO SHOW
Here's the latest from Jerry:
For the radio show, Talk Radio Network is building a new site and will have jerrydoyle.com up and running soon. It will tie into the talkradionetwork.com site as well.

The M-F show launches this coming Monday(5th), 7-10P PST. The call in number is 800/449-8255. Spread the word and give a call if you've got something to plug. I'll still be doing the Saturday show, 8-11P PST. Same phone number for that too. All the best.

All the best.
JD

For more information on Jerry Doyle, Talk Radio Show Host, you may visit www.talkradionetwork.com

Ranger Brian reports that:
Bruce Boxleitner was on Jerry Doyle's Radio Show on Saturday night for about half an hour reflecting on the life of Ronald Reagan and how he impacted their lives. It was an enlightening discussion with Bruce relaying his experience on a visit to the White House during the Reagan administration and how Ronald Reagan inspired him to become a Republican.
---
BABYLON 5 BIRTHDAYS
Daneil Dae Kim - August 4
Claudia Christian - August 10
Stephen Austin - August 11
Tim Earls - August 15
Nancy Tarczynski - August 16
Skip Beaudine - August 26

Have I missed anyone? If you know the birthday of someone connected with Babylon 5, pass the information along. We want to include everyone in our Happy Birthday Wishes.
FAN CLUBS
Intergalactic Consortium
To anyone who lives in and or in the area of Toronto, Ontario, Canada I would like to invite you to attend or Join the Intergalactic Consortium. The I.C. is a new science fiction / fantasy group. We generally meet on the last Saturday of every month and generally do not collect any dues. WE are always looking for new members. If you have any questions, need more information or anything else please feel free to e-mail torsf@yahoo.ca or visit our yahoo group at http://ca.groups.yahoo.com/group/Intergalactic-Consortium/ Hope to hear from some of you.
United Federated Planets
The Babylon 5 Sector of United Federated Planets The Babylon 5 Sector is a chartered branch of United Federated Planets (UFP); a not-for-profit fan club for all fans of Star Trek, science fiction and fantasy. We've been part of UFP almost from the time the series first went on the air. We welcome all fans of Babylon 5--from the series & TV movies, to "Crusade" & "Legend of the Rangers," to the literary works in between. Our parent organization, UFP, has its roots in Star Trek & the late Gene Roddenberry's vision of the future; which includes community service along with social & fan-related activities. Our sector takes those ideas and puts them into the Babylon 5 universe that J. Michael Straczynski created. We're here for fellowship, good times, service and, in a way, living the fantasy that is Babylon 5. To that end, we enjoy role-play via the written word & live action; costuming; discussions; literary works; and anything else that we can imagine. No matter what you're interested in, we can accomodate you. We have positions currently available on the sector staff--EarthDome, EarthForce and the Alliance; chapter opportunities limited only by your imagination; and ways for you to live out your Babylon 5 fantasy. You can even be part of the B5 station staff! Our sector staff is available to answer your questions about what we do, how to join, how to start a B5 chapter, and more. To contact us, visit www.ufphq.com/chain_of_command.htm. In addition, we also put out a newsletter called "Voice of the Alliance." This newsletter--available in electronic & hard copy formats--informs our sector members with staff reports, upcoming events, available staff positions, chapter activities and more. For a sample copy of "Voice of the Alliance" contact our editor, Anne Zecca, via our website www.ufphq.com/babylon5sec.htm ("Chain of Command").
Membership in United Federated Planets is required to join UFP's Babylon 5 Sector. For information on joining UFP, contact:
Mike Ferguson, President/CEO
United Federated Planets
300 W. Oak Street
Midwest City, OK 73110 USA
E-Mail: mikeferg1@yahoo.com
Organization Website: www.ufphq.com
SubSpace Newsletter (on-line): www.ufphq.com/current.htm
Application: www.ufphq.com/application.htm (on-line version available)
Chapter Application: www.ufphq.com/chapterApp.htm (on-line version available)
For more information, go to the Clubs Page.
United Federated Planets (UFP) has a Rick Biggs memorial page set up at the following address:
http://www.ufphq.com/rick_biggs.htm
STAR TREK CLUB VENEZUELA
Ranger Andres dropped a note to say that a new club has been formed -- Star Trek Club Venezuela. It is small right now, but they are ready for recomendations, opinions, and/or any other comments.
This is the last update of our 1st Expo in November 2004. This event will take place in the Best Western Hotel CCCT Caracas. Visit their site at www.trekvenezuela.net for more information.
We have a number of Fan Clubs listed here at the Zocalo. They are those associated with a particular actor -- and there are those devoted to Babylon 5 or science fiction. Be sure to check out the Clubs Page to see if there is an organization near you.
BABYLON 5 MERCHANDISE
Are you looking for Babylon 5 merchandise? Would you like to possess some of the wonderful patches or pins sold by the B5 Fan Club? Do you want to put in an order for the latest DVD? Bruce at Uncomyn Gifts still has one of the best collections around. Check out www.uncomyngifts.com. You may just find the magazine or t-shirt or patch you are looking for.
---
SCIENCE FICTION PUBLICATIONS
Cult Times #107: FARSCAPE: PEACEKEEPER WARS - Ben Browder talks about returning to the Farscape universe; Shawn Reaves takes a deep look at his TRU CALLING character Harrison Davies and reveals what he would do if he got the chance to relive a day and ALIAS Producer Jesse Alexander gives us a look at season three and provides some information on what's in store for Season Four.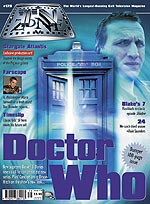 Time Zone Special #179: Executive producer and writer Russell T Davies tells us about his plans for the BBC's revival of Doctor Who, the designers from STARGATE ATLANTIS give insights into the Pegasus galaxy, and Spencer Banks talks about playing boy hero Simon in the classic children's Sci-Fi series, THUNDERBIRDS, and legend David Graham, who played Simon's older self.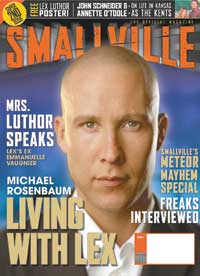 Smallville Issue #2:The second issue of Smallville Magazine is here! This month Michael Rosenbaum talks about his role as Lex Luthor. John Schneider and Annette O'Toole discuss life on the farm as Clark's parents, and you'll get a look at the effects of meteors on Smallville. The issue also includes a free Lex poster and Emmanuelle Vaugnier, a.k.a. the ex-Mrs Luthor, talks about life with Lex!




Alias #7: This issue will uncover the secrets of The Covenant and examine the history of Milo Rambaldi! There's a report of death defying action as the magazine spends a day with the Alias stunt team and J.J. Abrams previews the eagerly anticipated fourth season of Alias!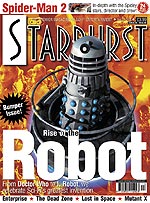 Starburst #313: This issue takes a hard look at the new I, ROBOT. How much of Asimov is really in the new feature? The magazine will also look at other robots in the movies -- and count off the top ten! Also in this issue, SPIDERMAN's Tobey McGuire and Sam Raimi drop in for a chat and we'll hear more about the The Dead Zone from John L. Adams.




Expose #87: Rbbie Coltrane talks about playing the gentle giant Rubeus Hagrid and working opposite a computer-generated Hippogriff, and what it's like to be confronted by thousands of screaming fans. Potter stars Daniel Radcliffe and Emma Watson chat about growing up as Harry and Hermione, the weirdest bit of attention they've had to endure, and what the future holds. And The Dead Zone's Johnny Smith - Anthony Michael Hall talks about the twists and turns that lie ahead for his character.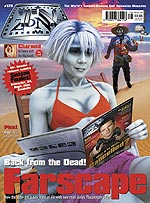 TV Zone #178: The main feature of the issue: Farscape: Peacekeeper War. As the mini-series production wraps up the plot threads to this Sci-Fi series, you'll hear from the cast and crew as they enjoy their second chance to shine. Also in this issue, STARGATE SG-1's executive producer Michael Greenburg tells us about what's in store for the show's upcoming eighth season and about the spin-off series STARGATE ATLANTIS. You will also find the second part of the interview with ANGEL's James Marsters. He chats about being directed by David Boreanaz, and the series' cancellation.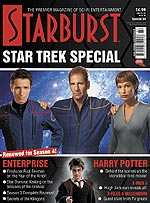 Starburst Special #64: This special issue is devoted to STAR TREK. Between the covers, you'll find interviews with Dominic Keating (Lt. Reed) from ENTERPRISE, Executive Producer Rick Berman, Designer Herman Zimmermann and much more. Also of interest in this issue: a 16-page feature on HARRY POTTER and a chat with Hugh Jackman about X-MEN 3.
NEW ON THE BOOK SHELVES
HANGING OUT WITH THE DREAM KING SC
edited by Joe McCabe

The most intimate look yet into the life and mind of the bestselling author and creator of The Sandman. He is an award-winning comic book writer (Sandman), novelist (American Gods), children's book author (The Wolves in the Walls), and television screenwriter (Neverwhere). Hanging Out With the Dream King presents a thorough look at Gaiman's work not only through his eyes, but through the eyes of his many collaborators. Artists, writers, editors, musicians - over two-dozen creators share their thoughts on working with Gaiman and present a unique mosaic portrait of the writer whose name has become synonymous with modern fantasy. The book features comprehensive interviews with all of the major Sandman artists, including Charles Vess, P. Craig Russell, Bryan Talbot, and Jill Thompson, as well as rare and exclusive interviews with Sandman co-creators Sam Kieth and Mike Dringenberg. Illustrated with many unpublished photos and comic pages, this is the book Gaiman's fans have been waiting for. Introduction by Tori Amos.

SC, 6x9, 280pg, PC..........$17.95
BABYLON 5 NOVELS
DelRey is reprinting the original Babylon 5 novels. They started with #7 - Jeanne Cavelos' THE SHADOW WITHIN. Here's one I've been waiting for -- Kathryn Drennan's TO DREAM IN THE CITY OF SORROWS. The release date is scheduled for July 29, 2003. I love the new cover art! It can be pre-ordered from www.amazon.com. For those of you who love Babylon 5, this one reads just like an episode from the series. You just can't put it down.




BOOK REVIEWS
Here is a new feature for your enjoyment. I received some new book reviews that I've posted on a separate Book Review Page. Let me know if you enjoy this new feature -- and we'll continue to offer them as they are received. Agree with the review? Disagree? We can post those as well.

Other science fiction material, outside of the B5 environment can be found on the Materials Page.
FREE ON-LINE LIBRARY
Ranger Dan sends along the following information about a free, online library:

There is a free online library of Sci Fi books at www.baen.com . I have the paperbacks and hardcovers of several of the books (notably 1632 and 1633 by Eric Flint) and they are very good multi arc stories. To access the books click on Free Library then Authors. (I am not affiliated in any way with baen just happened to be a reader and looked their site up after enjoying several of their publications).
SAVE THE HUBBLE
The Hubble project is in jeopardy. Please visit http://www.savethehubble.org/petition.jsp and sign the petition to have NASA reconsider funding for the project.
---
COMIC BOOKS
RISING STARS RETURNS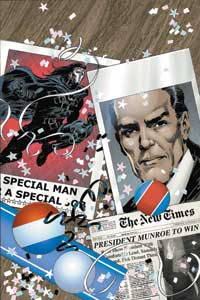 RISING STARS #22
by J. Michael Straczynski & Brent Anderson
"Phoenix In Ascension" Pt. 1 of 3. J. Michael Straczynski's superhero tour-de-force returns and speeds toward its whipsaw conclusion! The superpowered "Specials" set out to change the world. Now that one of the Specials is elected President of the United States, the world will change...whether it wants to or not!
FC, 32pg..........$2.99

Saw this in the B5 moderated newsgroup and thought I would pass it along:
http://previews.diamondcomics.com/support/previews_docs/orderforms/cof.txt

In The October 2004 Solicitations...
AUG04 1597 RISING STARS #1/2 (O/A) $2.95 = $
AUG04 1598 RISING STARS #10 (O/A) $2.50 = $
AUG04 1599 RISING STARS #12 (O/A) $2.50 = $
AUG04 1600 RISING STARS #13 (O/A) $2.50 = $
AUG04 1601 RISING STARS #14 (O/A) $2.50 = $
AUG04 1602 RISING STARS #15 (O/A) $2.50 = $
AUG04 1603 RISING STARS #16 (O/A) $2.50 = $
AUG04 1604 RISING STARS #17 (O/A) $2.50 = $
AUG04 1605 RISING STARS #18 (O/A) $2.50 = $
AUG04 1606 RISING STARS #19 (Of 24) (O/A) $2.50 = $
AUG04 1607 RISING STARS #20 (Of 24) (O/A) $2.99 = $
AUG04 1608 RISING STARS #21 (Of 24) (O/A) $2.99 = $
AUG04 1609 RISING STARS PRELUDE (O/A) $2.95 = $
AUG04 1623 RISING STARS #22 (Of 24) $2.99 = $
AUG04 1624 RISING STARS VOL 1 BORN IN FIRE TP (STAR12207) $19.95 = $
AUG04 1625 RISING STARS VOL 2 POWER TP (STAR15724) $19.95 = $
AUG04 1626 RISING STARS VISITATIONS TP (STAR16700) $8.99 = $
(The dates related to the issue of Previews and the item number in the catalogue, not the release date which is OCTOBER).
AMAZING SPIDERMAN
AMAZING SPIDER-MAN #513 "Sins Past," part 5 of 5. The worst defeat that Peter Parker ever endured -- a moment frozen in the minds of Spider-Man fans everywhere -- was supposed to be far in his past. But now, two villains -- ripped, perhaps, directly from that very moment -- have emerged, and they threaten to destroy everything that he holds dear.

32 pages, $2.25, in stores on Oct. 27.

AMAZING SPIDER-MAN #512
Written by J. Michael Straczynski, art and cover by Mike Deodato.
"Sins Past," part 4 of 5. The worst defeat that Peter Parker ever endured -- a moment frozen in the minds of Spider-Man fans everywhere -- was supposed to be far in his past. But now, two villains -- ripped, perhaps, directly from that very moment -- have emerged and they threaten to destroy everything that he holds dear.
32 pages, $2.25, in stores on Sept. 29.
AMAZING SPIDER-MAN #510

"'Sins Past,' part 2 of 6. The second part of a Spider-Man arc that will have people talking for years. Featuring art by new series regular Mike Deodato."

Amazing Spider-Man #510 will be 32 pages and will cost $2.25.

SUPREME POWER

SUPREME POWER #13
Written by J. Michael Straczynski, art and cover by Gary Frank.
"The Squadron," part 1 of 6. In their first adventure as a team, Hyperion, Blur and Nighthawk -- the newly formed Squadron -- encounter a super-powered serial killer! But will they live long enough to stop him?

32 pages, $2.99, in stores on Oct. 27.
STRANGE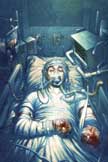 STRANGE #2
Written by J. Michael Straczynski and Samm Barnes, art and cover by Brandon Peterson.
Brash young surgeon Dr. Stephen Strange is on a collision course with destiny -- a journey that will force him to search the deepest corners of his own heart...and the outer reaches of the cosmos. The adventures of the Master of the Mystic Arts in the year's most highly anticipated origin story.

32 pages, $3.50, in stores on Oct. 13.
DOCTOR SPECTRUM
DOCTOR SPECTRUM #3
Written by Samm Barnes, art by Travel Foreman, cover by Dale Keown, creative consultant J. Michael Straczynski.

Part 3 of 6. From the pages of Supremere Power, the limited series that reveals the dark secrets of Joe Ledger¹s past. And while figures from Dr. Spectrum¹s past continue to haunt him, the government searches for a way to solve the Hyperion problem.

32 pages, $2.99, in stores on Oct. 13.
TV SCHEDULE ON SCIFI CHANNEL
BABYLON 5 and CRUSADE are not currently listed on any SCIFI schedule. STARGATE SCHEDULE: 08/02/2004 06:00 PM STARGATE SG-1 BETWEEN TWO FIRES
08/02/2004 07:00 PM STARGATE SG-1 FOOTHOLD
08/02/2004 08:00 PM STARGATE SG-1 PRETENSE
08/02/2004 09:00 PM STARGATE SG-1 URGO
08/02/2004 10:00 PM STARGATE SG-1 A HUNDRED DAYS
08/03/2004 06:00 PM STARGATE SG-1 2001
08/04/2004 06:00 PM STARGATE SG-1 DESPERATE MEASURES
08/05/2004 06:00 PM STARGATE SG-1 WORMHOLE X-TREME!
08/06/2004 06:00 PM STARGATE SG-1 PROVING GROUND
08/06/2004 08:00 PM STARGATE SG-1 ( SEASONS 1-5) THE SERPENT'S LAIR
08/06/2004 09:00 PM STARGATE SG-1 (SEASON 8) ICON
08/06/2004 11:00 PM STARGATE SG-1 (SEASON 8) ICON
08/09/2004 06:00 PM STARGATE SG-1 FAIL SAFE
08/09/2004 07:00 PM STARGATE SG-1 SHADES OF GREY
08/09/2004 08:00 PM STARGATE SG-1 NEW GROUND
08/09/2004 09:00 PM STARGATE SG-1 MATERNAL INSTINCT
08/09/2004 10:00 PM STARGATE SG-1 CRYSTAL SKULL
08/10/2004 06:00 PM STARGATE SG-1 SUMMIT - PT 1
08/11/2004 06:00 PM STARGATE SG-1 LAST STAND - PT 2
08/12/2004 06:00 PM STARGATE SG-1 THE WARRIOR
08/13/2004 06:00 PM STARGATE SG-1 MENACE
08/13/2004 08:00 PM STARGATE SG-1 ( SEASONS 1-5) IN THE LINE OF DUTY
08/13/2004 09:00 PM STARGATE SG-1 (SEASON 8) AVATAR
08/13/2004 11:00 PM STARGATE SG-1 (SEASON 8) AVATAR
08/16/2004 06:00 PM STARGATE SG-1 SENTINEL
08/16/2004 07:00 PM STARGATE SG-1 NEMESIS
08/16/2004 08:00 PM STARGATE SG-1 SMALL VICTORIES
08/16/2004 09:00 PM STARGATE SG-1 THE OTHER SIDE
08/16/2004 10:00 PM STARGATE SG-1 UPGRADES

STARGATE ATLANTIS SCHEDULE:

08/06/2004 10:00 PM STARGATE ATLANTIS SUSPICION
08/06/2004 12:00 AM STARGATE ATLANTIS SUSPICION
08/13/2004 10:00 PM STARGATE ATLANTIS CHILDHOOD'S END
08/13/2004 12:00 AM STARGATE ATLANTIS CHILDHOOD'S END
08/20/2004 10:00 PM STARGATE ATLANTIS POISONING THE WELL
08/20/2004 12:00 AM STARGATE ATLANTIS POISONING THE WELL
08/27/2004 10:00 PM STARGATE ATLANTIS HOME
08/27/2004 12:00 AM STARGATE ATLANTIS HOME

FARSCAPE SCHEDULE:

01-AUG-04 01:00 AM FARSCAPE THE HIDDEN MEMORY
05-AUG-04 03:00 AM FARSCAPE LOSING TIME
05-AUG-04 04:00 AM FARSCAPE RELATIVITY
05-AUG-04 05:00 AM FARSCAPE INCUBATOR
06-AUG-04 08:00 AM FARSCAPE LAVA'S A MANY SPLENDORED THING
06-AUG-04 09:00 AM FARSCAPE PROMISES (FARSCAPE)
06-AUG-04 10:00 AM FARSCAPE NATURAL ELECTION
06-AUG-04 11:00 AM FARSCAPE JOHN QUIXOTE
06-AUG-04 12:00 PM FARSCAPE I SHRINK THEREFORE I AM
06-AUG-04 01:00 PM FARSCAPE A PREFECT MURDER
06-AUG-04 02:00 PM FARSCAPE COUP BY CLAM
06-AUG-04 03:00 PM FARSCAPE UNREALIZED REALITY
08-AUG-04 01:00 AM FARSCAPE THROUGH THE LOOKING GLASS
12-AUG-04 03:00 AM FARSCAPE MELTDOWN
12-AUG-04 04:00 AM FARSCAPE SCRATCH & SNIFF
12-AUG-04 05:00 AM FARSCAPE REVENGING ANGEL
15-AUG-04 01:00 AM FARSCAPE BONE TO BE WILD
19-AUG-04 03:00 AM FARSCAPE INFINITE POSSIBILITIES - PT 1
19-AUG-04 04:00 AM FARSCAPE INFINITE POSSIBILITIES - PT 2
19-AUG-04 05:00 AM FARSCAPE THE CHOICE (FARSCAPE)
22-AUG-04 01:00 AM FARSCAPE FAMILY TIES
26-AUG-04 03:00 AM FARSCAPE I-YENSCH, YOU YENSCH
26-AUG-04 04:00 AM FARSCAPE INTO THE LION'S DEN PT. 1
26-AUG-04 05:00 AM FARSCAPE INTO THE LION'S DEN PT. 2
29-AUG-04 01:00 AM FARSCAPE DREAM A LITTLE DREAM
BABYLON 5/CRUSADE PHOTOSHOP PHOTOS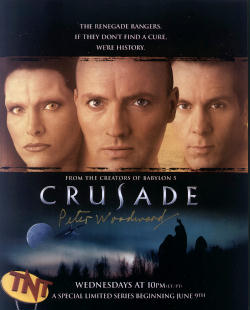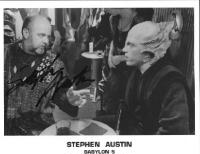 Peter Woodward has sent along a new photo -- a rather dreadful one -- from his appearance on CHARMED. It will be added to the collection of photos available from Peter, including additional copies of the Crusade poster in photo format. Both are autographed by Peter. You do NOT have to pay the prices asked for over at e-bay! Here are photos of B5 and Crusade cast members at fantastic prices. Check out Photo Shop. Ordering is easy -- and you can't beat the prices! Just let me know which photos you want and I'll check to make sure they are still in stock.
---
BABYLON 5 TOONS
John Cook has a wonderful collection of cartoons -- many are take-offs from Babylon 5. Here's just one of them.

He has a cartoon caption contest going on as well. Try your hand at a punch line.

Go to http://contests.sev.com.au/index.php?contestid=1




SCI-FI CARTOONS
While catching up on my e-mail yesterday morning, I got an instant message from LFMOA along with a nice goodie that I can share with readers. Thanks for sending along your version of Pinky and the B5 Brain.




Tye Bourdony's latest Lighter Side of Sci-Fi satire can be seen here and at Tye's website www.thelightersideofscifi.com.








CONVENTION CALENDAR
Aug. 7-8, 2004
STARGATE SG-1 CONVENTION TOUR 2004
Location: Meadowlands, NJ
Guests Michael Shanks. Christopher Judge, Don Davis
For more information, visit their website at http://www.creationent.com/ .
---

August 12, 2004
Kevin Sorbo Events
Location: Quality Hotel, Glasgow
August 13-15, 2004 Location: Radisson Edwardian Hotel City: Heathrow, London, UK
Added guest: Gordon Michael Woolvett
For more information, visit their website at http://www.wolfevents.com .
---

Aug. 13-15, 2004
VULKON
Location: Cleveland, OH
B5 Guests: Bruce Boxleitner, Jerry Doyle, Claudia Christian, Andrea Thompson
Other Guests: William Shatner, Kurt and Cody Wetherill, Alexi Cruz, Keir Dullea, Chase Masterson and more
For more information, visit their website at http://www.vulkon.com/ .
---

Aug. 19-22, 2004
GENCON
Location: Indianapolis, IN
Guests TBA
For more information, visit their website at http://www.gencon.com/ .
---

Aug. 20-22, 2004
Orlando Heroes and Wizards
Location: Orlando, FL
Guests: Kevin Sorbo, John Rhys-Davies, Robert Trebor, Bruce Hopkins
For more information, visit their website at http://www.vulkon.com/ .
---

Aug.27-29, 2004
CANADIAN NATIONAL SCI-FI EXPO
Location: Toronto, Canada
Guests TBA
For more information, visit their website at http://www.hobbystar.com/torontomain.html .
---

Aug. 27-29, 2004
Oakland Buffy Convention
Location: Oakland, CA
Guests: James Marsters, Alexis Denisof, Anthony Stewart Head, Andy Hallett, Mercedes Mcnab, Juliet Landau and more
For more information, visit their website at http://www.vulkon.com/ .
---

August 28-30, 2004
JAMES DOOHAN FAREWELL CONVENTION
Location: Los Angeles
Guests: James Doohan, William Shatner, Leonard Nimoy, George Takei, Walter Koenig, Grace Lee Whitney and Majel Roddenberry.
More Guests TBA
For more information, visit their website at http://www.planetxpo.com/ .
---

Aug.28-29, 2004
CREATION CONVENTION
Location: Sacramento, CA
Guests TBA
For more information, visit their website at http://www.creationent.com/ .
---

August 27-29, 2004
STARGATE SG-1 CONVENTION TOUR 2004
Location: Radisson Airport
City: Chicago, IL
For more information, visit their website at http://www.fansofstargate.com .
---

Be sure to visit the referenced sites to see if there have been changes in dates/guests attending. Visit our Convention Calendar for a full listing of upcoming conventions.
MAIL FOR CAST AND CREW
Here's a recent note from JMS on the subject:

Just an FYI to those who've been using the Ventura Blvd. mail drop for fan mail to actors....

As mentioned before, we're phasing out the forwarding of fan mail because we a) don't have the resources, complicated by b) the actors have scattered to the four winds, and it makes it very difficult to get everything to everybody in a timely fashion.

So, having provided prior notice...fan mail to actors coming to the Ventura Blvd. mail drop will be sent back. Mail to actors should be sent via their official fan clubs. I will still be taking mail there, since it's my mailbox, but that's it.

Just so's y'all know and save a few bucks on postage and returns.

WARNER BROS:

Warner Bros. Address:

Warner Bros. Domestic Television Distribution
4000 Warner Blvd.
Burbank, CA 91522

Warner Home Video:

Mr. Douglas Wadleigh
VP for Marketing and Special Features
Warner Bros.
4000 Warner Blvd.
Burbank, CA 91522

SCIFI:
Bonnie Hammer, President
Sci-Fi Channel
1230 Avenue of the Americas
New York, NY. 10020-1513

Mr. Thomas Vitale
Senior VP of Acquisitions, Scheduling & Program-Planning
BACK ISSUES OF THE ZOCALO TODAY
The front page of the The Zocalo Today changes daily, so be sure to check the back issues to make sure that you haven't missed anything IMPORTANT! I don't want the front page getting too long so I shift information periodically into the archives. So if you aren't a regular visitor to The Zocalo Today, be sure to check out the back issues. Just use the button above!
---
Take care and I look forward to hearing from you.
Sandra Bruckner (sgbruckner@aol.com)
Editor/Publisher
The Zocalo Today
http://www.isnnews.net
Copyright - SBruckner, 1999-2004