[an error occurred while processing this directive]

The Zocalo Today

Welcome and thank you for dropping by. Take your shoes off, get comfortable and stay a while. There is a LOT of information here and you won't want to miss any of it.

The Zocalo Today is an interactive newsletter, encouraging readers to join a discussion topic or to send along letters that can be shared with other readers.

If you have suggestions as to how The Zocalo can be improved -- or be more responsive -- send them along. The Zocalo Today is a newsletter for Babylon 5 fans everywhere. It is as much YOUR newsletter as it is mine! I'm just pulling together things for you!

Join our discussion topic. It is just one way you can share with other Z readers. If you see Babylon 5 cast and crew in other roles, let us know. We enjoy convention reports, photos, etc. Don't miss our back issues. I hope this will become more than just a newsletter. It's a community of people that enjoy sharing their experiences and interests. Babylon 5 brought many of us together -- and it remains with us, despite the fact that is no longer in production. Don't be shy. Join us today!

If you have questions, drop me a line at sgbruckner@aol.com. If you would like to join the mailing list for our newsletter, send me a note and I'll include you on the list. Or you can use the subscription block at the left.

Again, WELCOME!



TODAY'S NEWS
Monday, August 16, 2004:
TOP 10 SCIFI CHANNEL SHOWS:
Stargate Atlantis 2.5
Stargate SG-1 2.2
Out for Blood 1.6
Dragonfly 1.6
Dante's Peak 1.3
Thirteen Ghosts 1.1
The Ninth Gate 1.1
The Breed 1.0
Project Viper 0.9
Virtuosity 0.9
Source: Nielsen Galaxy Report, 7/26/04 - 8/1/04.
---
WEEKEND BOX OFFICE: The battle for the #1 spot this weekend was won by ALIEN VS. PREDITOR, as it snatched $38.3 million. The opening weekend far exceeded expectations heading into the frame and deftly surpassed all previous openings of either franchise. The opening also bettered the debut of New Line's horror match, "Freddy vs. Jason," which opened with $36.4 million. Fox continues to be on a roll at the boxoffice -- the opening for the PG-13-rated "AVP" marked the distributor's sixth consecutive film that debuted to the tune of more than $20 million. Meanwhile, Buena Vista's PRINCESS DIARIES 2: THE ROYAL ENGAGEMENT proved to be engaging the second time around as the Garry Marshall- directed romantic comedy placed second with a debut of an estimated $23 million. The G-rated PRINCESS DIARIES 2, starring Anne Hathaway and Julie Andrews, opened to slightly more than the $22.9 million the first film earned in its debut weekend, and since its Wednesday release has accumulated an estimated $37.2 million, just a bit less than the entire first week of "The Princess Diaries." Challenges to the box office from the Summer Olympics in Athens and Hurricane Charley on the East Coast, also played a part in this week's gross totals. DreamWorks' COLLATERAL held up well in its sophomore frame. The Tom Cruise starrer, helmed by Michael Mann, placed third with an estimated $16 million, down a moderate 35%, while bringing the 10-day total to about $52.4 million. Warner Bros. Pictures' animated YU-GI-OH! based on the popular Japanese television series and trading cards, opened in the fourth slot with an estimated $9.4 million, attracting mostly young males. The distributor picked up the worldwide rights to the film, excluding Japan, for around $5 million. Universal's THE BOURNE SUPREMACY slipped 42% in its fourth session as the Matt Damon starrer generated an estimated $8.3 million to place fifth. The action-thriller has generated an estimated $139.4 million to date, surpassing the total run of the first film in the franchise, which left theaters with $121.7 million. Buena Vista's THE VILLAGE continued as the thriller moved into the sixth slot with an estimated $7 million, down a harsh 57% in its telling third frame. The M. Night Shyamalan-directed picture looks destined to be his second-lowest-grossing release to date since the debut of "The Sixth Sense." The total for "Village" is around $99.7 million and should cross the $100 million mark today. Paramount's THE MANCHURIAN CANDIDATE was seventh with an estimated $6 million in receipts. The Denzel Washington starrer was off 43% in its third weekend and has picked up roughly $48 million so far.
---
SKY HIGH: The cast for this film continues to grow. Bruce Campbell, Lynda Carter and David Foley have joined the cast of SKY HIGH, a teen comedy that Mike Mitchell is directing and Andrew Gunn is producing. SKY HIGH revolves around a high school for superpowered teens in a world where superheroes are an everyday occurrence. Campbell will play Coach Boomer, who tests students and decides whether they become a sidekick or a hero. Carter is set as the school's principal, while Foley will portray Mr. Boy, the teacher of sidekicks. Brigham Taylor and Louanne Brickhouse are the execs on the project, which is set to start Tuesday in Los Angeles. Gunnfilm's Ann Marie Sanderlin is executive producer.
---
DAREDEVIL: Fox Home Entertainment is targeting November 30 for the release for the DAREDEVIL Director's Cut DVD. ELEKTRA is scheduled for a January 14 release date, so this would be a nice promo to get fans ready for the new film.
---
FRAGILE: Calista Flockhart is back to work following a break from her successful ALLY McBEAL series on an independent feature FRAGILE. The Filmax project will see Flockhart topline as a nurse who takes a new job at a desolate children's hospital during its closing days. She struggles to keep the kids safe and uncovers the mystery behind apparent attacks of an unknown origin that hurt the kids so that they cannot leave the premises. Richard Roxburgh, Yasmin Murphy and Gemma Jones are also on board to star. The film starts shooting in Barcelona at the end of the month with Jaume Balaguero directing from a script he wrote with Jordi Galceran.
---
BLOOD AND CHOCOLATE/THE OUTER LIMITS: STIGMATA director Rupert Wainwright has signed on to direct the werewolf fllm BLOOD AND CHOCOLATE for MGM and is also now attached to direct the studio's big-screen adaptation of THE OUTER LIMITS. BLOOD is based on the book by Annette Curtis Klause and set in a secret society of werewolves living in modern-day society. The story revolves around the romance between a female werewolf and a human. Ehren Kruger (The Ring), who wrote the script for BLOOD, will serve as an executive producer.
---
WHAT'S ON TONIGHT
CABLE AND NETWORK SHOWS:
8:00pm on HBO
Dreamcatcher
Telepathic friends and the military confront aliens. Based on a book by Stephen King.
9:00pm on ABC
Jurassic Park III
A paleontologist and a couple outrun cloned dinosaurs after their plane crashes on an island.
10:00pm on CBS
CSI: Miami
Extreme
The body of Nikki Wilcox is found miles away from her wealthy neighborhood and the evidence suggests that she was kidnapped. Her wrist watch leads Horatio (David Caruso) to her boyfriend, who confesses that he hired a professional kidnapping service with Nikki's consent because they both were looking for a new adrenaline high.
ON SCIFI TONIGHT:
6:00pm
Stargate SG-1
Sentinel
Anubis' forces lay siege to a planet after Shades of Gray NID team disables its defenses.
7:00pm
Stargate SG-1
Nemesis
SG-1 faces creatures of mass destruction.
8:00pm
Stargate SG-1
Small Victories
Replicators make their way to Earth.
9:00pm
Stargate SG-1
The Other Side
SG-1 helps a civilization with ties to Earth.
10:00pm
Stargate SG-1
Upgrades
A device helps the SG-1 crew to become superhuman.
INSIDE SCI-FI THIS WEEK:
Sunday, August 15, 2004:
BABYLON 5 DVD: It has been fantastic seeing the ads for the upcoming BABYLON 5 MOVIES on TV. The clips used only give a brief taste of what lies on the DVD set -- but it is wonderful seeing the show on the tube again -- if only briefly.
---
GREEN LANTERN: At the Wizard World convention this weekend in Chicago, DC Comics announced a new ongoing Green Lantern series featuring Hal Jordan. The series, simply titled Green Lantern, will follow the five-issue Green Lantern: Rebirth mini-series that launches in October. Geoff Johns, the writer of the Green Lantern: Rebirth, will also be writing the ongoing title. Carlos Pacheco and Jesus Merino, who are featured in an upcoming run on Superman/Batman, will be the artists.
---
STAR WARS: At the Wizard Convention in Chicago, Topps announced that in addition to the roster of 25 artists who are creating original, one-of-a-kind sketch cards which will be inserted randomly into hobby packs of STAR WARS HERITAGE cards, James Earl Jones (the voice of Darth Vader) and Mark Hamill (Luke Skywalker) have signed cards for the series as well. Both actors signed a very limited quantity of cards. Star Wars Heritage represents the first time Mark Hamill has ever signed for Topps while James Earl Jones signed once before for Star Wars Evolution, a character-based series published by Topps in 2001. Star Wars Heritage contains five cards, plus one wrapped piece of bubble gum per pack. The suggested retail price is $2 per pack. The product ship date is the week of Sept. 20, coinciding with the release of the DVD launch of the original Star Wars Trilogy.
---
TOUCHING EVIL: Bruce Willis, who serves as executive producer of the USA Network series TOUCHING EVIL, was informed this week that the show is over. USA Network executives blamed the end on poor ratings.
---
YU-GI-OH!: Warner Bros. Pictures' release of the animated adventure film Yu-Gi-Oh! The Movie, opening Friday in theaters nationwide, has sparked a frenzy among fans eager to obtain four new "Yu-Gi-Oh!" trading cards that were created exclusively for the film. Moviegoers receive one of four exclusive "Yu-Gi-Oh!" cards free with the purchase of admission to Yu-Gi-Oh! The Movie, but two enterprising fans stole a quantity of 2,400 cards from the Cinemark Movies 8 in Chino, California after perpetrating an elaborate ruse. A man impersonating a Warner Bros. employee, along with a partner posing as his assistant, convinced theater management that the wrong type of cards had been shipped to the facility, and made off with the entire quantity after promising to send replacements. Audience demand for the exclusive cards has been so great that theater managers around the country have besieged Warner Bros. Pictures with calls requesting additional quantities, and sales of the cards are doing a brisk business on eBay.
---
JULIA CHILD: While this has nothing to do with science fiction, I know there are a lot of people out there who loved Julia Child and I didn't want another day to pay without acknowledging the passing of this great, dignified personality. She brought food to the TV screen, and made cooking fun. Child's first tube success came when she was fifty in 1963. The French Chef, which won Peabody and Emmy awards, turned her into a culinary star and introduced Americans to her signature sign off, "bon appétit." Her television shows and popular cook books changed the eating habits of millions. The set for one of Child's kitchens is a featured attraction at the Smithsonian National Museum of American History in Washington. Chefs and TV viewers will miss Julia Child -- and her rare humor and wit.
---
Saturday, August 14, 2004:
HURRICANE CHARLEY: With this hurricane bearing down on the East Coast, there is little other news -- as everyone waits to see what will happen as the storm passes. I hope all our readers will be safe -- particularly some special folks in the Cape Canaveral area.
---
CONSTANTINE: With the premiere set for February 11, 2005, Brian Tyler has been hired to score CONSTANTINE, the action adventure based on the DC/Vertigo comic book 'Hellblazer'. The film stars Keanu Reeves as a supernatural detective and Rachel Weisz as a policewoman in a story filled with demons, angels, heroes and villains. The film was directed by debutant Francis Lawrence.
---
Friday, August 13, 2004:
TOP SF NETWORK SHOWS:
Joan of Arcadia 2.8
Charmed 1.4
Smallville 1.4
Enterprise 1.1
Source: Nielsen Galaxy Report, 7/19/04 - 7/25/04.
---
SMALLVILLE: Rumors from The KryptonSite report that in the fifth episode of SMALLVILLE's new season will bring another of DC Comics' superheroes to Smallville, namely The Flash! The Flash character we'll get to see in the episode will be Bart Allen, the young boy in the DC Comics' universe who is the grandson of the Golden Age's Barry Allen Flash. KryptonSite says that Bart will have many of the same qualities of his comic counterpart: a tendency to act first without thinking about the consequences and a motor mouth. The names of other Flashes will also be seen or mentioned in the episode, such as Wally West (who is the current Flash in the comics) as well as Jay Garrick. The one thing that appears to be different at this time is the character's superpowers origin: unlike the comics, where Bart comes from the future and inherited his powers via the family tree, the SMALLVILLE version of Bart received his superspeed by a strange accident as a child. Sounds more like the accident that gave Barry Allen his powers. The as-yet untitled episode is scheduled to air October 20. It's being written by ex-BUFFY THE VAMPIRE SLAYER writer Steve DeKnight.
---
EVERY WORD IS TRUE: Gwyneth Paltrow (Sky Captain and the World of Tomorrow) will play Peggy Lee in Warner Independent Pictures' Truman Capote biopic EVERY WORD IS TRUE. She joins the cast which includes Mark Wahlberg, Sandra Bullock and Toby Jones. Sigourney Weaver (The Village) has also has joined the cast, playing one of Capote's socialite confidantes. Wahlberg will portray "In Cold Blood" killer Perry Smith, with Bullock as Harper Lee, the "To Kill a Mockingbird" author who was Capote childhood friend. U.K. actor Jones will star as Capote. The film focuses on Capote's relationship with convicted murderers Dick Hickock and Smith while the pair awaited execution on death row. Variety says the $10 million-budgeted project, written and to be directed by Doug McGrath, will start production on January 1.
---
WAR OF THE WORLDS: According to the Hollywood Reporter, director Steven Spielberg is likely to reteam with VFX guru Dennis Muren and Industrial Light & Magic (ILM) on WAR OF THE WORLDS, starring Tom Cruise at Paramount and DreamWorks. Producer Kathleen Kennedy is already beginning talks with the Northern California effects house, and Muren is likely to oversee the job, with Paramount executive Mark Bakshi supervising for the studio. The number of special effects shots for WAR has yet to be determined, but it is not expected to be as large as some recent summer films. Spielberg, Muren and ILM previously teamed up on MINORITY REPORT, which contained about 400 shots, and ARTIFICIAL INTELLIGENCE: AI, which included close to 300 shots. WAR will begin filming in November for a release in 2005.
---
Thursday, August 12, 2004:
TOP 10 SF DVD SALES:
1. Star Wars trilogy
2. The Passion of the Christ
3. Hellboy
4. 13 Going on 30
5. Alf season one
6. The Manchurian Candidate
7. Angel season four
8. Alias season three
9. Babylon 5 movie collection
10. Darby O'Gill and the Little People
Source: Amazon.com, top-selling genre DVDs, 8/9/04
---
THE 4400: The USA Network claimed the top three basic-cable spots in total viewers last week with the Aug. 8 finale of THE 4400 and new episodes of MONK and THE DEAD ZONE. Variety reported that the final installment of 4400 earned a 2.3 rating among viewers aged 18-49 and 6.1 million viewers overall, while DEAD ZONE posted a 2.0 rating and 4.6 million viewers. USA placed first with a 0.95 national rating in 18-49, putting it on a par with The WB (1.0). USA averaged a 1.15 rating in 25-54 and 2.9 million total viewers.
---
SUPERHERO PROJECT: BATMAN screenwriter Sam Hamm and ex-X-FILES and MILLENNIUM staff writer Darin Morgan have a new but still untitled feature project in development at DreamWorks that they'll write together. The story idea is about a marriage counselor who's in a bit of a dilemma: the man she's about to marry believes that he's a superhero. Morgan won an Emmy for his writing on the third season episode "Clyde Bruckman's Final Repose". He's been MIA from television since making an acting appearance on ABC's short-lived horror series THE OTHERS.
---
FLASH GORDON: Apparently Ashton Kutcher is in talks with Director Stephen Sommers to star as FLASH GORDON -- according to the World Entertainment News Network. Sommers ["Van Helsing"] apparently sees Kutcher as the perfect 'Flash'. "He has the right look, the right build and he isn't known for any one film role so he would be an empty canvas for Stephen to work with."
---
MEGACITY 909: Screenwriter Ronald Shusett, who recently co-wrote the screen story for Alien Vs. Predator, has optioned the screen rights to the new comic book MEGACITY 909. The story revolves around an elite team by the code name PHOBIA which is charged with tracking down Pulses; supernatural creatures that can possess humans.
---
Wednesday, August 11, 2004:
TOP 10 SF SYNDICATED SHOWS:
Stargate SG-1 2.1
Andromeda 1.9
Mutant X 1.7
She Spies 1.6
The X-Files 1.6
Buffy 1.4
3rd Rock 1.3
Angel 1.3
Beastmaster 1.1
The Outer Limits 1.1
Source: Nielsen Galaxy Report, 7/19/04 - 7/25/04
---
CARTOON NETWORK: Variety reports that the Cartoon Network and Warner Bros. Television Group are developing a weekday morning franchise of animated series aimed at preschoolers, which will launch next spring in a commercial-free block of original and acquired programming.
---
TEEN TITANS: Warner Home Video has announced a September 28 release date for sets of TEEN TITANS: DIVIDE AND CONQUER and STATIC SHOCK: THE NEW KID. Both animated series feature six season-one episodes and has a suggested retail price of $19.97 for the DVD and $8.93 for the VHS version.
---
AIRBORN: According to the Hollywood Reporter, Stephen Sommers (MUMMY & VAN HELSING), and his producing partner Bob Ducsay will produce AIRBORN, a fantasy film for Universal Pictures, based on a children's book by Kenneth Oppel. Ruddy Morgan principals Albert Ruddy and Andre Morgan will partner with Sommers and Ducsay. Airborn tells the story of a 15-year-old boy who works on a luxury airship that is part dirigible and part passenger cruise ship. When air pirates attack the airship, the boy and a girl embark on an adventure that includes strange flying creatures, secret lairs, nasty villains and uncharted volcanic islands.
---
THE FROG KING: A LOVE STORY: Bret Easton Ellis (AMERICAN PSYCHO, LESS THAN ZERO and GLAMORAMA), enjoyed Adam Davies first novel THE FROG KING: A LOVE STORY so much that he decided to write the book's screenplay. The script has just been optioned by Intermedia, a producing firm, and is now in the early stages of development. THE FROG KING, published two years ago, is a bittersweet romantic drama about an employee leading a drudging existance working for a New York publishing firm whose only source of true happiness is his relationship with his sweetheart -- even though he's cheating on her. When she finds out and calls off their romance, the man will do just about anything, including weaving a growingly complex web of lies, to get her back. Asif Kapadia is the current frontrunner to direct the picture.
---
BLOOD RAYNE: Oscar-winner (Ghandi) Ben Kingsley will play the vampire Kagan, the evil ruler of an army of bloodsuckers, in an upcoming film adaptation of the videogame "BloodRayne." Set in 18th century Romania, the film chronicles the adventures of the title character, a half-vampire, half-human who has the super strength of a monster but the emotions of a person. Kristanna Loken, the former model who portrayed the Terminatrix in "Terminator 3: Rise of the Machines," will play the heroine, who must overthrow Kingsley's character -- who is also her father -- in order to save the world from the living dead. Will Sanderson plays Evil Thrall. The film is set to begin filming in Romania later this month. This $47 million project, will be independently produced. Directed by Uwe Boll, who also made the videogame-to-movie adaptations "House of the Dead" and the upcoming "Alone in the Dark," "BloodRayne" videogame debuted in 2002 and a sequel is set for release this October.
---
FAY WRAY: The lights at the Empire State Building were dimmed last night in tribute to KING KONG's star Fay Wray, who passed away Sunday. It has been over 70 years since the gentle giant scaled the Empire State Building holding the actress tightly in his grasp while she screamed and struggled into cinematic history. "We are saddened by the passing of Fay Wray, a wonderful actress and dear friend of the Empire State Building," reads a statement on the building's official website. "In her honor, the lights of the ESB Tower will be dimmed."
---
DONALD DUCK: Well it's about time! Donald Duck received the 2,257th star on the legendary Hollywood walk on Monday. The beloved Disney character was joined by his pals Mickey and Minnie Mouse, Goofy, Daisy Duck and Pluto for the occasion and to also celebrate his 70th birthday. Johnny Grant, Honorary Mayor of Hollywood and Chairman of the Walk of Fame Committee, presided over the event and Leron Gubler, President/CEO of the Hollywood Chamber of Commerce spoke on behalf of the organization. Michael Eisner, CEO of the Walt Disney Company also showed up for the festivities. Donald made his film debut on June 9, 1934 in the Silly Symphonies cartoon "The Wise Little Hen." His trademark quack was voiced by Clarence "Ducky" Nash for 51 years, a job that has been taken over by Disney animator Tony Anselmo later. Donald next appears in the direct-to-DVD release of "The Three Musketeers," the first feature-length film ever starring Donald, Mickey Mouse and Goofy together.
---
PUBLIC ENEMIES: Variety reports that COLLATERAL director Michael Mann and Leonardo DiCaprio will collaborate on a drama about the great crime wave of 1933-34. Universal Pictures has purchased screen rights to PUBLIC ENEMIES, the best-selling book by "Barbarians at the Gate" author Bryan Burrough. The film will tell the story of how the government's attempt to stop Depression-era criminal legends John Dillinger, Baby Face Nelson and Pretty Boy Floyd transformed J. Edgar Hoover's FBI from a powerless agency into the country's first federal police force.
---
WAR OF THE WORLDS: Stephen Spielberg is planning on helming Tom Cruise in a David Koepp-scripted adaptation of the H.G. Wells' WAR OF THE WORLDS for Paramount/DreamWorks and is also attached to THE RIVALS, a Robin Swicord- scripted DreamWorks drama about cat-fighting 19th century stage divas.
---
Tuesday, August 10, 2004:
TOP 10 SF BESTSELLING BOOKS:
1. The Da Vinci Code
2. Angels & Demons
3. Dune: The Battle of Corrin
4. Brimstone
5. The Time Traveler's Wife
6. Harry Potter and the Order of the Phoenix
7. The Grim Grotto (Lemony Snicket 11)
8. Night Play (Dark Hunter)
9. The Dark Tower (Dark Tower 7)
10. Song of Susannah (Dark Tower 6)
Source: Amazon.com, 8/9/04
---
GLOBAL FREQUENCY: Expected as a mid-season replacement, GLOBAL FREQUENCY executive producer John Rogers told fans at last month's Comic-Con International in San Diego that the pilot episode will shoot this month in Vancouver, B.C., and that four episodes have been financed out of a planned 13. GLOBAL FREQUENCY is based on the WildStorm comic created by Warren Ellis and stars Michelle Forbes (Star Trek: The Next Generation) as Miranda Zero, the lead character. Aimee Garcia plays Aleph, Josh Hopkins is Sean Ronin, and Jenni Baird plays Dr. Kate Finch. "We've basically introduced a sort of Mulder and Scully that appear on every episode: Sean and Kate," Rogers said. "They actually go out and are our investigatory and sci-fi girl team. Aleph's always running the ops. Miranda bombs in when we needs to do cool spy stuff. And also, by keeping the cast split up, we can really develop the global feel. The idea that Miranda's in one place and the experts are in another. Also, we will be very heavily hitting the idea that you could be on the Global Frequency." Ellis has played a role in the series and will be visiting the set. "Warren's level of involvement is that he approves all of the stories," Rogers said. "He approved the stories and the script on the pilot, and Warren will be writing at least one this season."
---
STAR TREK: ENTERPRISE: A couple of familiar names have been added to the writing staff of STAR TREK: ENTERPRISE -- Judith and Garfield Reeves-Stevens, the husband-and-wife writing duo of some of the franchise's most popular books. The Reeves-Stevenses have written over a dozen novels for the non-canon TREK prose universe including bestsellers such as FEDERATION, as well as non-fiction titles like PHASE II which examined the second STAR TREK TV series first proposed in the 1970s. The writing duo also partnered with William Shatner on a series of TREK books that brought back the character of James T. Kirk in the aftermath of his death in STAR TREK: GENERATIONS. The Reeves-Stevenses STAR TREK novels are known for their detail to the franchise's continuity, a factor that new fourth season showrunner Manny Coto is focusing on beefing up on the show next year. Already several plotlines for new ENTERPRISE episodes have been mentioned and they include ties to events, places or characters from THE ORIGINAL SERIES and THE NEXT GENERATION. Undoubtedly the hiring of the Reeves-Stevenses will enhance this element for ENTERPRISE. Writer Alan Brennert was hired last week to work on the ENTERPRISE writing staff. Brennert is an accomplished science fiction novelist and screenwriter, having penned episodes of the new OUTER LIMITS and TWILIGHT ZONE television series. He's also written for DC Comics on such titles as WONDER WOMAN and BATMAN.
---
THIEF: Linda Hamilton (TERMINATOR 2: JUDGEMENT DAY and BEAUTY AND THE BEAST) and Michael Rooker (THE CHRONICLES OF RIDDICK) have joined the cast of FX's THIEF pilot. The show is about a career thief (played by Andre Braugher) and his crew who are preparing for their next theft. With American law enforcement and the Chinese mafia both pursuing the theives for different reasons, the life of the gang's ringleader gets even more complicated when he has to become the legal guardian of his stepdaughter. Also starring in the pilot are Will Yub Lee, Malik Yoba and Mae Whitman. Hamilton will play the fence of Braugher's character while Rooker will play a cop being investigated by Internal Affairs. Filming is slated to begin this month in New Orleans under the direction of Paul McGuigan (GANGSTER NO. 1.)
---
THE RING 2: DreamWorks has officially rescheduled the release of THE RING 2 to sometime next March, giving the studio enough time to allow for post-production work on the horror sequel. The film suffered a setback when Noam Murro, the original director of THE RING 2, departed the project this past spring. At that point, Hideo Nakata (the director of the first Japanese RING picture) to come onboard. Additional production delays also occurred, and scheduling conflicts with star Naomi Watts had to also be ironed out. With an opening scheduled in March 2005, THE RING 2 will face stiff competition from SAHARA, the sequel to MISS CONGENIALITY and the new CG family film ROBOTS.
---
CRIMINAL MACABRE: Another comic book is headed for the big screen. Writer Bragi Schut has been hired to fashion Steve Niles' CRIMINAL MACABRE comic book into a feature film. In development at MGM, the horror property would mark the movie debut of Niles' Cal McDonald character, a private detective that specializes in solving cases involving the supernatural. Niles himself wrote the first draft of the script and now Schut will come onboard to create a completely new version. Schut specializes in horror screenplays, having written SEASON OF THE WITCH) (which is set during the Black Plague) and THE LAST VOYAGE OF THE DEMETER) (which expands on the story of the doomed sea vessel that brought Bram Stoker's Dracula to London.)
---
RED EYE: Horrormeister Wes Craven has signed to direct the thriller RED EYE for DreamWorks. Benderspink is producing along with Bonnie Curtis, Jim Lemley and Marianne Maddalena. The film centers on a woman held captive by a stranger on an airliner who threatens to kill her father unless she helps him arrange the assassination of a wealthy businessman. Carl Ellsworth wrote the screenplay. Mark Sourian, Marc Haimes and Jeanne Algood are the execs overseeing for the studio. Craven directed the Meryl Streep starrer "Music of the Heart" and recently finished shooting "Cursed."
---
FANTASTIC FOUR: According to Vancouver sources, Fox's THE FANTASTIC FOUR, will be working in Vancouver, BC from August 2 to November 12. They will be building a Brooklyn Bridge set on the site. Once construction is complete, filming will begin on the site. After filming has taken place, the bridge and set will be dismantled and removed.
---
BABYLON 5 MOVIES -- AVAILABLE TUESDAY
On Tuesday, Warner Bros Home Video will release the "Babylon 5: The Movies," on DVD. This 5 disc set will contain all 5 movies as well as special features. The set will carry a $59.98 SRP and will be available in stores and online August 17th. "The Gathering" will be presented in 4:3 (original aspect ratio) while the other movies will be 16:9 anamorphic widescreen; all movies will feature Dolby Digital 5.1 tracks. The sets will be closed captioned and be subtitled in English, Spanish and French.

Each movie will contain commentary from the creator (J. Michael Straczynski), cast and crew, as well as an introduction for each movie by JMS. Rounding out the special features is the featurette, "Creating the Future - How Science Fiction and the show influenced each other."

The Gathering (1993): Alien envoys come to the giant space station in the pilot that launched the five-year TV series.

In the Beginning (1998): The B5 prequel! It's humans vs. aliens in the battle that led to the station's creation.

Thirdspace (1998): Is there a realm beyond hyperspace? Discovery of a million-years-old gateway technology may hold the answer...and more.

River of Souls (1998): After death, then what? Questions of eternity arise when a supposedly infallible harvester of souls proves to be very fallible.

A Call to Arms (1999): The torch is passed. A race against time to save Earth links the B5 mission with the Rangers' new interstellar efforts.

For more information on Babylon 5 DVDs, go to Babylon 5 DVDs.
---
FARSCAPE, ART AND DRAGON*CON
There is an art competition underway for the upcoming Dragon*Con convention. If you would like to submit an entry to the Scaper Art Show and the Scaper Art Competition, the deadline is August 18th.

Since time is so short, you can e-mail your image(s) to scaperdcart@hotmail.com as .jpg (.jpeg) attachments. The resolution should be 640 x 480 or higher. Please also include the following info:

Name
Address
E-mail
Title(s)
Medium(s)
Category for each piece (competition only)

You are allowed 1 entry in each of the categories for the Competition portion of the project. For the Show portion, the number of entries is unlimited.
DISCUSSION TOPICS
what do you think of the new STARGATE ATLANTIS series? Do you like the story, cast, premise for the series?

Send in your thoughts and comments to sgbruckner@aol.com. I post them on the Discussion Page for everyone to share and enjoy. See what has come in so far. If you see an old topic you want to respond to, go right ahead. We enjoy hearing from you.
BABYLON 5 CAST IN OTHER ROLES
Claudia Christian can be seen in 1991 TV movie "Strays" on SciFi on 8/18 at 11pm ET.
JMS UPDATE
Here is just a very brief update lifted from the B5 moderated newsgroup -- JMS answers some questions on on JEREMIAH and TMOS:

1. When will Season 2 of "Jeremiah" be released on DVD? We don't have Showtime, and we've watched Season 1 Dvds ad infinitum.

I've no idea, it's an MGM decision, and they have not consulted or informed me concerning any of the DVDs.

2. Does the recent death of Richard Biggs mean that the B5:MoS project has been cancel(l)ed or postponed?

It's resulted in a slowdown to make changes and adjust things.

3. Will the remaining eight episodes already filmed of "Jeremiah" constitute Season 3 or part of Season 2?

They were filmed as season 2, how Showtime chooses to market them is their province.
REMEMBERING RICHARD BIGGS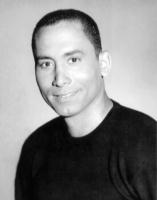 I received a note from Donna at Pipeline Productions yesterday. In it, she indicated that she and Jason Carter have been working on a web-page to replace The Biggs and Carter Experiences page. Since The Biggs and Carter Experiences had been a long time dream of Rick's, they thought it best to dedicate it to rising funds for the RJ and Hunter Educational Fund.

They are taking donations of items and putting them on the page for interested parties to buy. All donations are welcome and should be sent to the Pipeline Productions, P.O. Box 522, Allen Park Mi 48180. Please remember to mark the name of the item or name of actor as well as how much you feel it should go for or the fair market value.

This will be an on going project that Jason and Donna will need as much help as possible to raise as much money as they can. So if you do have any items or if you see anything you like let me know by email at donna@pipetap.com. The web address is still www.biggsandcarter.com .

Material related to the passing of Richard Biggs has been moved to several pages devoted to him inside The Zocalo Today. Please visit now, and often, to see what has been added. RICHARD BIGGS. We will not forget Richard and let you know as new efforts are put forth in his memory.

Ranger Jan has passed along an update on her auction efforts for Richard's children. She has sent checks totaling about $3500 to the family. She will be posting more items for auction soon. For more information, go to:
Auctions to benefit a Richard Biggs Memorial fund: http://tinyurl.com/2az5w
PayPal Account: RBiggsMemorial@aol.com
Personal auctions: http://tinyurl.com/b36t

A major thanks has to go to Ranger Connie for paying to have the condolence book for Richard Biggs remain on-line for the next year over at the LA Times. This will give fans more time to express their love and appreciation for the man Rick was -- and to let his family know how much he meant to us, not only as an actor, but as a human being. Thanks Connie.
JEREMIAH
Ranger Karen reports that the TV Tome/epguides.com & the Futon Critic list the final 8 episodes of Jeremiah as running back-to-back on Fridays in September. Unfortunately, the Showtime site doesn't list them, so you'll just have to keep an eye out to see if they do appear.

Over on the B5 newsgroup, information is that Season 1 is being rerun on Showtime Too this month, and the last half of S2 will be repeated on Showtime Too and Showtime Beyond. But the initial airings of the "new" S2 episodes will be Friday nights on Showtime. See the Showtime web site.

Season 2 final episodes to air:
Fridays at 8 pm ET/PT & 9 pm on Showtime
Saturdays at 9 pm & 10 pm on Showtime Too
Sundays at 8 pm and Thursdays at 10 pm on Showtime Beyond (two episodes back to back):
9/03/04 27 Crossing Jordan [SHO Fri 8:00 pm ET/PT]
9/03/04 28 Running on Empty [SHO Fri 9:00 pm ET/PT]
9/10/04 29 The Question [SHO Fri 8:00 pm ET/PT]
9/10/04 30 The Past is Prologue [SHO Fri 9:00 pm ET/PT]
9/17/04 31 The Face in the Mirror [SHO Fri 8:00 pm ET/PT]
9/17/04 32 State of the Union [SHO Fri 9:00 pm ET/PT]
9/24/04 33 Interregnum Part 1 [SHO Fri 8:00 pm ET/PT]
9/24/04 34 Interregnum Part 2 [SHO Fri 9:00 pm ET/PT]
CITY OF DREAMS
For those of you who have just joined us here at The Zocalo Today, you may want to check out The City of Dreams over at the SciFi Channel website. J. Michael Straczynski, the creator of Babylon 5, worked with Seeing Ear Theatre at SciFi to bring an exclusive, all-new audio drama anthology series featuring tales of dreamers, madmen and fanatics. If you haven't listened to the stories, you'll not want to miss them. If you haven't listened in a while, you will want to go back and listen again.
PAT TALLMAN AUDIO/VIDEOS
Patricia Tallman is looking for any recordings of her speaking appearances at conventions. She will reimburse anyone who can send in a video or DVD of Pat telling stories at a convention. She will also send along a new autographed photo (one that no one has yet) and will pay postage and the cost of the vide tape. Here is an address you can use to contact Pat:
Patricia Tallman
6433 Topanga Canyon Blvd. #207
Canoga Park, CA 91303
STARGATE SG-1

SEASON SIX DVD
Season six of STARGATE SG-1 is now available. Amazon has had this DVD on their top 10 list for weeks. The DVD boasts incredible special effects sequences, rapid-fire pacing and awesome scenes of alien warfare, this all-new five-disc set of Stargate SG-1 is your gateway to pulse-pounding sci-fi action!

Special features include audio commentary for each episode and twelve "SG-1 Directors Series" featurettes!

For more details and to watch the trailer, go to http://www.mgm.com/title_title.do?title_star=XXXSETSTARGAT6.
KEEPING UP WITH CAST AND CREW
GARY COLE: Gary has been nothing but busy since leaving the role of Capt. Gideon on B5's CRUSADE. Gary stars as Jerry "The Blade" in POP ROCKS, an upcoming TV film for ABC Family. The story follows Jerry as financial circumstances force him to return to his heavy metal rock band past -- and try to keep his secret from his family. Gary is also in MOZART AND THE WHALE with Josh Hartnett. This film is due out in December and follows a couple with Asperger's Syndrome who fall in love. (Asperger's is a form of autism, one of Gary's special interests.)
---
PETER WOODWARD: Peter is looking forward to seeing fans at Dragon Con this year - it is his ONLY convention appearance currently booked for the whole year. He has been very busy writing scripts. His movie directed by (Lord!) Richard Attenborough and starring Shirley MacLaine is slated to shoot in March; early prep begins next month; and he is finishing a History Channel documentary on Alexander the Great, which airs when the big film comes out.
---
CHRISTOPHER FRANKE: Christopher Franke is busy doing the music for UPN's new AMISH IN THE CITY.
---
SPECIAL CAST ACTIVITY - CRUISIN' WITH BABYLON 5
STEPHEN AUSTIN: Stephen Austin (B-5's "Pak'Ma'Ra Ambassador") has the following August booking for his comedy routine:
ON THE ROCKS
Sat., Aug. 21st, 2004 – 8p
Fresno, CA
559-224-9800

THE ICE HOUSE - ANNEX
Tere Joyce Presents: CHEAP THRILLS
Weds., Aug. 25th, 2004 – 8p
Pasadena, CA
626-577-1894

Don't forget - along with comedy legends Vic Dunlop and Bruce Baum, Stephen will be cruising the Caribbean and he wants YOU to join the fun!!! Here are the details:
Departing March 6-13, 2005
The Carnival V a lor
Sailing roundtrip from Miami Florida
visiting Belize, Isla Roatan, Grand Cayman, and Cozumel
http://www.cruiseevents.net/dunlop/index.htm.
---
CRUISE WITH PETER WOODWARD
Peter Woodward sent along a reminder about his cruise:
"Just wanted to say hello to my fans and friends out there, and tell you the latest on my Caribbean Cruise plans, January 9-16 of 2005. I will be giving live teaching sessions with medieval weapons from the Conquest series, and we'll be talking about B5/Crusade and the Sci-fi universe, and uncensored stuff about Egypt. Booking is going well, and we are sailing on Holland America's Westerdam, roundtrip from Fort Lauderdale to Nassau, St Marteen, Tortola, and Half-Moon Cay."

For more information, go to http://www.cruiseevents.net/celebrity.htm and then press Peter's photo. Space is limited! Don't delay, call today! 800-695- 5253 or e-mail: Susan@CruiseEvents.net.
---
JERRY DOYLE RADIO SHOW
Here's the latest from Jerry:
For the radio show, Talk Radio Network is building a new site and will have jerrydoyle.com up and running soon. It will tie into the talkradionetwork.com site as well.

The M-F show launches this coming Monday(5th), 7-10P PST. The call in number is 800/449-8255. Spread the word and give a call if you've got something to plug. I'll still be doing the Saturday show, 8-11P PST. Same phone number for that too. All the best.

All the best.
JD
---
BABYLON 5 BIRTHDAYS
Martin Sheen - August 3
Daneil Dae Kim - August 4
Claudia Christian - August 10
Stephen Austin - August 11
Tim Earls - August 15
Nancy Tarczynski - August 16
Skip Beaudine - August 26

Have I missed anyone? If you know the birthday of someone connected with Babylon 5, pass the information along. We want to include everyone in our Happy Birthday Wishes.
FAN CLUBS
Intergalactic Consortium
To anyone who lives in and or in the area of Toronto, Ontario, Canada I would like to invite you to attend or Join the Intergalactic Consortium. The I.C. is a new science fiction / fantasy group. We generally meet on the last Saturday of every month and generally do not collect any dues. WE are always looking for new members. If you have any questions, need more information or anything else please feel free to e-mail torsf@yahoo.ca or visit our yahoo group at http://ca.groups.yahoo.com/group/Intergalactic-Consortium/ Hope to hear from some of you.
United Federated Planets
The Babylon 5 Sector of United Federated Planets The Babylon 5 Sector is a chartered branch of United Federated Planets (UFP); a not-for-profit fan club for all fans of Star Trek, science fiction and fantasy. We've been part of UFP almost from the time the series first went on the air. We welcome all fans of Babylon 5--from the series & TV movies, to "Crusade" & "Legend of the Rangers," to the literary works in between. Our parent organization, UFP, has its roots in Star Trek & the late Gene Roddenberry's vision of the future; which includes community service along with social & fan-related activities. Our sector takes those ideas and puts them into the Babylon 5 universe that J. Michael Straczynski created. We're here for fellowship, good times, service and, in a way, living the fantasy that is Babylon 5. To that end, we enjoy role-play via the written word & live action; costuming; discussions; literary works; and anything else that we can imagine. No matter what you're interested in, we can accomodate you. We have positions currently available on the sector staff--EarthDome, EarthForce and the Alliance; chapter opportunities limited only by your imagination; and ways for you to live out your Babylon 5 fantasy. You can even be part of the B5 station staff! Our sector staff is available to answer your questions about what we do, how to join, how to start a B5 chapter, and more. To contact us, visit www.ufphq.com/chain_of_command.htm. In addition, we also put out a newsletter called "Voice of the Alliance." This newsletter--available in electronic & hard copy formats--informs our sector members with staff reports, upcoming events, available staff positions, chapter activities and more. For a sample copy of "Voice of the Alliance" contact our editor, Anne Zecca, via our website www.ufphq.com/babylon5sec.htm ("Chain of Command").
Membership in United Federated Planets is required to join UFP's Babylon 5 Sector. For information on joining UFP, contact:
Mike Ferguson, President/CEO
United Federated Planets
300 W. Oak Street
Midwest City, OK 73110 USA
E-Mail: mikeferg1@yahoo.com
Organization Website: www.ufphq.com
SubSpace Newsletter (on-line): www.ufphq.com/current.htm
Application: www.ufphq.com/application.htm (on-line version available)
Chapter Application: www.ufphq.com/chapterApp.htm (on-line version available)
For more information, go to the Clubs Page.
United Federated Planets (UFP) has a Rick Biggs memorial page set up at the following address:
http://www.ufphq.com/rick_biggs.htm
STAR TREK CLUB VENEZUELA
Ranger Andres dropped a note to say that a new club has been formed -- Star Trek Club Venezuela. It is small right now, but they are ready for recomendations, opinions, and/or any other comments.
This is the last update of our 1st Expo in November 2004. This event will take place in the Best Western Hotel CCCT Caracas. Visit their site at www.trekvenezuela.net for more information.
We have a number of Fan Clubs listed here at the Zocalo. They are those associated with a particular actor -- and there are those devoted to Babylon 5 or science fiction. Be sure to check out the Clubs Page to see if there is an organization near you.
BABYLON 5 MERCHANDISE
Are you looking for Babylon 5 merchandise? Would you like to possess some of the wonderful patches or pins sold by the B5 Fan Club? Do you want to put in an order for the latest DVD? Bruce at Uncomyn Gifts still has one of the best collections around. Check out www.uncomyngifts.com. You may just find the magazine or t-shirt or patch you are looking for.
---
BABYLON 5 INTERVIEWS ON VIDEO
Ranger Mark was Dragon-Con's OFFICIAL videographer for 1998 and 1999. He has pulled together a series of interviews from various conventions over the past 10 years available and they are now available on e-bay. This includes footage from Dragon-Con with Peter Jurasik hosting the Dawn Look a Like Contest , and 2 panels of the B5ers, one all women the other the men. There is now a 2-hour tape devoted to BABYLON 5 cast members, including two interviews with the late Richard Biggs.

Mark's Ebay page is http://stores.ebay.com/markscelebrityinterviews and his text page is http://members.tripod.com/cosmicmc/. If you are interested, drop over and give this a look-see.

For those of us who have enjoyed going to DragonCon over the last few years, these tapes will be especially enjoyable. They will bring back memories -- that can be shared.
---
SCIENCE FICTION PUBLICATIONS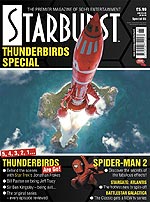 Starburst Special #65: This issue has a lot of information about the new THUNDERBIRDS movie. You go behind the scenes with Director Jonathan (Star Trek) Frakes, young stars Brady Corbet, Vanessa Anne Hudgens and Soren Fultobn who play Alan, Tin Tin and Fermat and Sir Ben Kingsley, aka 'The Hood' and Sophia (Lady Penelope) Myles and Ron (Parker)Cook. The magazine looks at the the CGI effects and the costume designs as well. You'll also find articles on STARGATE ATLANTIS as Producer Peter Deluise talks about working on the series, and actors Torri Higginson, Rachel Luttrell and Rainbow Sun Francks chat about their roles on the new Stargate team.






Expose #88: In this issue, HARRY POTTER, Daniel Radcliffe, talks about working with new directors and growing up as he looks ahead to The Prisoner of Azkaban, and beyond. Also, Ian Spelling catches up with Hagrid, alias Robbie Coltrane.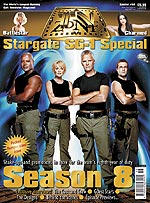 TV Zone Special #58: You will get a guide to the first part of Stargate SG-1's eighth season, complete with cast and crew interviews – and a look at the making of the new spin-off series Stargate Atlantis. Also Battlestar Galactica 2004 -- Commander William Adama, Edward James Olmos, takes the battle to the Cylons – and deals with family issues – in the continuing revival of the classic Sci-Fi show.
Expose Special #26: This 88-page Special edition brings you a comprehensive retrospective of ANGEL's five years on the air. THE DEAD ZONE's Sarah Wynter talks about playing the newest addition to the spooky paranormal series, psychologist Rebecca Caldwell, and tells us what's in store for the character and ALIAS' Alias executive producer Jesse Alexander tells us what shifting allegiances and convoluted plotting we can expect to see in the forthcoming Season Four of the hit spy series.




Cult Times #107: FARSCAPE: PEACEKEEPER WARS - Ben Browder talks about returning to the Farscape universe; Shawn Reaves takes a deep look at his TRU CALLING character Harrison Davies and reveals what he would do if he got the chance to relive a day and ALIAS Producer Jesse Alexander gives us a look at season three and provides some information on what's in store for Season Four.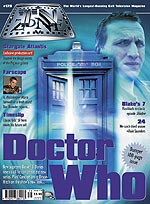 Time Zone Special #179: Executive producer and writer Russell T Davies tells us about his plans for the BBC's revival of Doctor Who, the designers from STARGATE ATLANTIS give insights into the Pegasus galaxy, and Spencer Banks talks about playing boy hero Simon in the classic children's Sci-Fi series, THUNDERBIRDS, and legend David Graham, who played Simon's older self.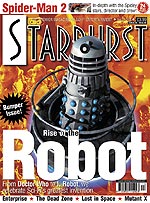 Starburst #313: This issue takes a hard look at the new I, ROBOT. How much of Asimov is really in the new feature? The magazine will also look at other robots in the movies -- and count off the top ten! Also in this issue, SPIDERMAN's Tobey McGuire and Sam Raimi drop in for a chat and we'll hear more about the The Dead Zone from John L. Adams.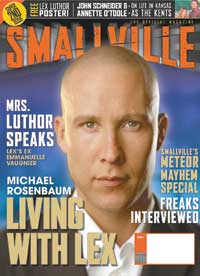 Smallville Issue #2:The second issue of Smallville Magazine arrives in August! This month Michael Rosenbaum talks about his role as Lex Luthor. John Schneider and Annette O'Toole discuss life on the farm as Clark's parents, and you'll get a look at the effects of meteors on Smallville. The issue also includes a free Lex poster and Emmanuelle Vaugnier, a.k.a. the ex-Mrs Luthor, talks about life with Lex!




Alias #7: This issue will uncover the secrets of The Covenant and examine the history of Milo Rambaldi! There's a report of death defying action as the magazine spends a day with the Alias stunt team and J.J. Abrams previews the eagerly anticipated fourth season of Alias!




NEW ON THE BOOK SHELVES
HANGING OUT WITH THE DREAM KING SC
edited by Joe McCabe

The most intimate look yet into the life and mind of the bestselling author and creator of The Sandman. He is an award-winning comic book writer (Sandman), novelist (American Gods), children's book author (The Wolves in the Walls), and television screenwriter (Neverwhere). Hanging Out With the Dream King presents a thorough look at Gaiman's work not only through his eyes, but through the eyes of his many collaborators. Artists, writers, editors, musicians - over two-dozen creators share their thoughts on working with Gaiman and present a unique mosaic portrait of the writer whose name has become synonymous with modern fantasy. The book features comprehensive interviews with all of the major Sandman artists, including Charles Vess, P. Craig Russell, Bryan Talbot, and Jill Thompson, as well as rare and exclusive interviews with Sandman co-creators Sam Kieth and Mike Dringenberg. Illustrated with many unpublished photos and comic pages, this is the book Gaiman's fans have been waiting for. Introduction by Tori Amos.

SC, 6x9, 280pg, PC..........$17.95
BABYLON 5 NOVELS
DelRey is reprinting the original Babylon 5 novels. They started with #7 - Jeanne Cavelos' THE SHADOW WITHIN. Here's one I've been waiting for -- Kathryn Drennan's TO DREAM IN THE CITY OF SORROWS. The release date is scheduled for July 29, 2003. I love the new cover art! It can be pre-ordered from www.amazon.com. For those of you who love Babylon 5, this one reads just like an episode from the series. You just can't put it down.




BOOK REVIEWS
Here is a new feature for your enjoyment. I received some new book reviews that I've posted on a separate Book Review Page. Let me know if you enjoy this new feature -- and we'll continue to offer them as they are received. Agree with the review? Disagree? We can post those as well.

Other science fiction material, outside of the B5 environment can be found on the Materials Page.
FREE ON-LINE LIBRARY
Ranger Dan sends along the following information about a free, online library:

There is a free online library of Sci Fi books at www.baen.com . I have the paperbacks and hardcovers of several of the books (notably 1632 and 1633 by Eric Flint) and they are very good multi arc stories. To access the books click on Free Library then Authors. (I am not affiliated in any way with baen just happened to be a reader and looked their site up after enjoying several of their publications).
SAVE THE HUBBLE
The Hubble project is in jeopardy. Please visit http://www.savethehubble.org/petition.jsp and sign the petition to have NASA reconsider funding for the project.
---
COMIC BOOKS
RISING STARS RETURNS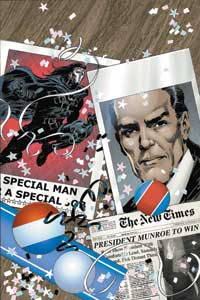 RISING STARS #22
by J. Michael Straczynski & Brent Anderson
"Phoenix In Ascension" Pt. 1 of 3. J. Michael Straczynski's superhero tour-de-force returns and speeds toward its whipsaw conclusion! The superpowered "Specials" set out to change the world. Now that one of the Specials is elected President of the United States, the world will change...whether it wants to or not!
FC, 32pg..........$2.99

Saw this in the B5 moderated newsgroup and thought I would pass it along:
http://previews.diamondcomics.com/support/previews_docs/orderforms/cof.txt

In The October 2004 Solicitations...
AUG04 1597 RISING STARS #1/2 (O/A) $2.95 = $
AUG04 1598 RISING STARS #10 (O/A) $2.50 = $
AUG04 1599 RISING STARS #12 (O/A) $2.50 = $
AUG04 1600 RISING STARS #13 (O/A) $2.50 = $
AUG04 1601 RISING STARS #14 (O/A) $2.50 = $
AUG04 1602 RISING STARS #15 (O/A) $2.50 = $
AUG04 1603 RISING STARS #16 (O/A) $2.50 = $
AUG04 1604 RISING STARS #17 (O/A) $2.50 = $
AUG04 1605 RISING STARS #18 (O/A) $2.50 = $
AUG04 1606 RISING STARS #19 (Of 24) (O/A) $2.50 = $
AUG04 1607 RISING STARS #20 (Of 24) (O/A) $2.99 = $
AUG04 1608 RISING STARS #21 (Of 24) (O/A) $2.99 = $
AUG04 1609 RISING STARS PRELUDE (O/A) $2.95 = $
AUG04 1623 RISING STARS #22 (Of 24) $2.99 = $
AUG04 1624 RISING STARS VOL 1 BORN IN FIRE TP (STAR12207) $19.95 = $
AUG04 1625 RISING STARS VOL 2 POWER TP (STAR15724) $19.95 = $
AUG04 1626 RISING STARS VISITATIONS TP (STAR16700) $8.99 = $
(The dates related to the issue of Previews and the item number in the catalogue, not the release date which is OCTOBER).
AMAZING SPIDERMAN
AMAZING SPIDER-MAN #513 "Sins Past," part 5 of 5. The worst defeat that Peter Parker ever endured -- a moment frozen in the minds of Spider-Man fans everywhere -- was supposed to be far in his past. But now, two villains -- ripped, perhaps, directly from that very moment -- have emerged, and they threaten to destroy everything that he holds dear.

32 pages, $2.25, in stores on Oct. 27.

AMAZING SPIDER-MAN #512
Written by J. Michael Straczynski, art and cover by Mike Deodato.
"Sins Past," part 4 of 5. The worst defeat that Peter Parker ever endured -- a moment frozen in the minds of Spider-Man fans everywhere -- was supposed to be far in his past. But now, two villains -- ripped, perhaps, directly from that very moment -- have emerged and they threaten to destroy everything that he holds dear.
32 pages, $2.25, in stores on Sept. 29.
AMAZING SPIDER-MAN #510

JMS posted this in the B5 moderated newsgroup and I thought I'd drop it here for those who follow the adventure of the Amazing Spiderman. SPOILER WARNING!

Date: 8/4/2004 4:52:44 PM
To jump in here...as much as I can, I always try to do my homework, and I'd have to be the sloppiest writer in the history of...well, really sloppy writers to not take into account the time factor in Spidey chronology, and deal with it straight-up in the writing. And we do, about two issues down the road, address this issue in absolutely straightforward terms.

The math not only works, in fact it becomes a major aspect of the story, as you will see in about two months.

To the broader questions raised here...I don't generally believe in cheats. In B5, we only did one time-travel story (across two episodes, showing both sides of that story) and I went clear around the horn to make sure that there were no cheats in that story.

This isn't a time travel deal, it's not an alternate history story, it's not a hoax, it's not a clone story, it's not, in short, a *cheat*. I have too much respect for the readers to do that. Is it what people are assuming it is, with only part of the information? Yes...and no. All the information isn't out there yet.

All I can say is...it isn't a throw-away, reset the button story, it's the real deal.

The amusing thing has been watching some of the online critics who, being themselves unable to think how it could be done in a way that isn't stupid, come to the assumption that the story is going to be as stupid as those assumptions...and go after it as a result, not understanding that it's the parameters they're seeing inside their own head that they're reacting to, not what's in the story...because the story hasn't been told in full yet.

There are four more issues to go in this story, and every one of them is a real toad-strangler.

jms

"'Sins Past,' part 2 of 6. The second part of a Spider-Man arc that will have people talking for years. Featuring art by new series regular Mike Deodato."

Amazing Spider-Man #510 will be 32 pages and will cost $2.25.

SUPREME POWER

SUPREME POWER #13
Written by J. Michael Straczynski, art and cover by Gary Frank.
"The Squadron," part 1 of 6. In their first adventure as a team, Hyperion, Blur and Nighthawk -- the newly formed Squadron -- encounter a super-powered serial killer! But will they live long enough to stop him?

32 pages, $2.99, in stores on Oct. 27.
STRANGE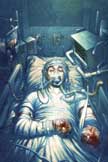 STRANGE #2
Written by J. Michael Straczynski and Samm Barnes, art and cover by Brandon Peterson.
Brash young surgeon Dr. Stephen Strange is on a collision course with destiny -- a journey that will force him to search the deepest corners of his own heart...and the outer reaches of the cosmos. The adventures of the Master of the Mystic Arts in the year's most highly anticipated origin story.

32 pages, $3.50, in stores on Oct. 13.
DOCTOR SPECTRUM
DOCTOR SPECTRUM #3
Written by Samm Barnes, art by Travel Foreman, cover by Dale Keown, creative consultant J. Michael Straczynski.

Part 3 of 6. From the pages of Supremere Power, the limited series that reveals the dark secrets of Joe Ledger¹s past. And while figures from Dr. Spectrum¹s past continue to haunt him, the government searches for a way to solve the Hyperion problem.

32 pages, $2.99, in stores on Oct. 13.
TV SCHEDULE ON SCIFI CHANNEL
BABYLON 5 and CRUSADE are not currently listed on any SCIFI schedule. STARGATE SCHEDULE: 08/16/2004 06:00 PM STARGATE SG-1 SENTINEL
08/16/2004 07:00 PM STARGATE SG-1 NEMESIS
08/16/2004 08:00 PM STARGATE SG-1 SMALL VICTORIES
08/16/2004 09:00 PM STARGATE SG-1 THE OTHER SIDE
08/16/2004 10:00 PM STARGATE SG-1 UPGRADES

STARGATE ATLANTIS SCHEDULE:

08/20/2004 10:00 PM STARGATE ATLANTIS POISONING THE WELL
08/20/2004 12:00 AM STARGATE ATLANTIS POISONING THE WELL
08/27/2004 10:00 PM STARGATE ATLANTIS HOME
08/27/2004 12:00 AM STARGATE ATLANTIS HOME

FARSCAPE SCHEDULE:

19-AUG-04 03:00 AM FARSCAPE INFINITE POSSIBILITIES - PT 1
19-AUG-04 04:00 AM FARSCAPE INFINITE POSSIBILITIES - PT 2
19-AUG-04 05:00 AM FARSCAPE THE CHOICE (FARSCAPE)
22-AUG-04 01:00 AM FARSCAPE FAMILY TIES
26-AUG-04 03:00 AM FARSCAPE I-YENSCH, YOU YENSCH
26-AUG-04 04:00 AM FARSCAPE INTO THE LION'S DEN PT. 1
26-AUG-04 05:00 AM FARSCAPE INTO THE LION'S DEN PT. 2
29-AUG-04 01:00 AM FARSCAPE DREAM A LITTLE DREAM
BABYLON 5/CRUSADE PHOTOSHOP PHOTOS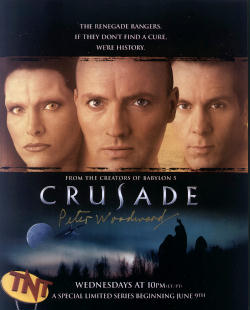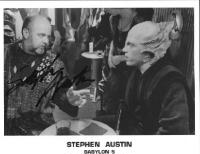 Peter Woodward has sent along a new photo -- a rather dreadful one -- from his appearance on CHARMED. It will be added to the collection of photos available from Peter, including additional copies of the Crusade poster in photo format. Both are autographed by Peter. You do NOT have to pay the prices asked for over at e-bay! Here are photos of B5 and Crusade cast members at fantastic prices. Check out Photo Shop. Ordering is easy -- and you can't beat the prices! Just let me know which photos you want and I'll check to make sure they are still in stock.
---
BABYLON 5 TOONS
John Cook has a wonderful collection of cartoons -- many are take-offs from Babylon 5. Here's just one of them.

He has a cartoon caption contest going on as well. Try your hand at a punch line.

Go to http://contests.sev.com.au/index.php?contestid=1




SCI-FI CARTOONS
While catching up on my e-mail yesterday morning, I got an instant message from LFMOA along with a nice goodie that I can share with readers. Thanks for sending along your version of Pinky and the B5 Brain.




Tye Bourdony's latest Lighter Side of Sci-Fi satire can be seen here and at Tye's website www.thelightersideofscifi.com.








CONVENTION CALENDAR
Aug. 19-22, 2004
GENCON
Location: Indianapolis, IN
Guests TBA
For more information, visit their website at http://www.gencon.com/ .
---

Aug. 20-22, 2004
Orlando Heroes and Wizards
Location: Orlando, FL
Guests: Kevin Sorbo, John Rhys-Davies, Robert Trebor, Bruce Hopkins
For more information, visit their website at http://www.vulkon.com/ .
---

Aug.27-29, 2004
CANADIAN NATIONAL SCI-FI EXPO
Location: Toronto, Canada
Guests TBA
For more information, visit their website at http://www.hobbystar.com/torontomain.html .
---

Aug. 27-29, 2004
Oakland Buffy Convention
Location: Oakland, CA
Guests: James Marsters, Alexis Denisof, Anthony Stewart Head, Andy Hallett, Mercedes Mcnab, Juliet Landau and more
For more information, visit their website at http://www.vulkon.com/ .
---

August 28-30, 2004
JAMES DOOHAN FAREWELL CONVENTION
Location: Los Angeles
Guests: James Doohan, William Shatner, Leonard Nimoy, George Takei, Walter Koenig, Grace Lee Whitney and Majel Roddenberry.
More Guests TBA
For more information, visit their website at http://www.planetxpo.com/ .
---

Aug.28-29, 2004
CREATION CONVENTION
Location: Sacramento, CA
Guests TBA
For more information, visit their website at http://www.creationent.com/ .
---

August 27-29, 2004
STARGATE SG-1 CONVENTION TOUR 2004
Location: Radisson Airport
City: Chicago, IL
For more information, visit their website at http://www.fansofstargate.com .
---

Be sure to visit the referenced sites to see if there have been changes in dates/guests attending. Visit our Convention Calendar for a full listing of upcoming conventions.
MAIL FOR CAST AND CREW
Here's a recent note from JMS on the subject:

Just an FYI to those who've been using the Ventura Blvd. mail drop for fan mail to actors....

As mentioned before, we're phasing out the forwarding of fan mail because we a) don't have the resources, complicated by b) the actors have scattered to the four winds, and it makes it very difficult to get everything to everybody in a timely fashion.

So, having provided prior notice...fan mail to actors coming to the Ventura Blvd. mail drop will be sent back. Mail to actors should be sent via their official fan clubs. I will still be taking mail there, since it's my mailbox, but that's it.

Just so's y'all know and save a few bucks on postage and returns.

WARNER BROS:

Warner Bros. Address:

Warner Bros. Domestic Television Distribution
4000 Warner Blvd.
Burbank, CA 91522

Warner Home Video:

Mr. Douglas Wadleigh
VP for Marketing and Special Features
Warner Bros.
4000 Warner Blvd.
Burbank, CA 91522

SCIFI:
Bonnie Hammer, President
Sci-Fi Channel
1230 Avenue of the Americas
New York, NY. 10020-1513

Mr. Thomas Vitale
Senior VP of Acquisitions, Scheduling & Program-Planning
BACK ISSUES OF THE ZOCALO TODAY
The front page of the The Zocalo Today changes daily, so be sure to check the back issues to make sure that you haven't missed anything IMPORTANT! I don't want the front page getting too long so I shift information periodically into the archives. So if you aren't a regular visitor to The Zocalo Today, be sure to check out the back issues. Just use the button above!
---
Take care and I look forward to hearing from you.
Sandra Bruckner (sgbruckner@aol.com)
Editor/Publisher
The Zocalo Today
http://www.isnnews.net
Copyright - SBruckner, 1999-2004