[an error occurred while processing this directive]

The Zocalo Today

Welcome! I am REALLY glad you dropped by. Take your shoes off, get comfortable and stay a while. There is a LOT of information here for you to share.

The Zocalo Today is an interactive newsletter. We encourage interaction with our readers and like suggestions. So send them along. The Zocalo Today is as much YOUR newsletter as it is mine! I'm just pulling together things for you! Join our weekly discussion topic. It is just one way you can interact with other Z readers. Send along letters, sightings of B5 cast and crew in other projects, convention reports, photos, etc. Don't miss our back issues. As I said, there is a LOT of information contained there and you'll not want to miss anything.

If you have questions, drop me a line at sgbruckner@aol.com or b5web@aol.com. If you would like to join the mailing list for our bi-weekly newsletter, send me a note and I'll include you on the list. Or you can use the subscription block at the left.

Again, WELCOME!




What's New Today
Friday, September 13: JMS INTERVIEW: Ranger Don sent along an interesting interview by JMS for The Comic Wire. You can read the entire piece at http://www.comicbookresources.com/news/newsitem.cgi?id=1532. Joe also posted the entire text of AMAZING SPIDERMAN #36 online at the B5 moderated newsgroup. Since the comicbook has long since been sold out and people have been curious about his tribute to the events of 9/11, he reposted the text and you can read it at http://www.jmsnews.com/scripts/MsgStore.dll?MfcISAPICommand=GetMsg&List=1&Topic=1&Flags=0&Query=BrowseCmd&QFlags=0&ls=0&qs=0&qt=0. Since JMS gave permission to re-post, I've placed it on the JMS Speaks page as well.
---
RATINGS: Top SF Network Shows: Futurama 2.6; Alias 2.5; Smallville 1.9; Enterprise 1.8; Sabrina 1.8; Buffy 1.3; Charmed 1.2; Touched by an Angel 1.1; Angel 1.0, and Mysterious Ways 0.8. Source: Nielsen Galaxy Report, 8/12/02 - 8/18/02.
---
STAR TREK: NEMESIS: Will the 10th Star Trek film be the last? It is being billed as "a generation's final journey" and producer Rick Berman says, "There may be [truth to that]. We'll see." As for the film's progress, Berman said, "We've screened it for Paramount. They're crazy about it. We're going to be having some test screenings soon. But the picture's pretty much done." Nemesis heads for theaters on Dec. 13. The full trailer will hit online on Wednesday Sept 18th at 9:30pm US-EST, right after the season premiere of "Enterprise". Early reviews of the film were good; however the latest I've read indicated that fans will find it interesting, but a tad familiar.
---
HARRY POTTER: The new trailer for the upcoming HARRY POTTER AND THE CHAMBER OF SECRETS made it's network debut last night on FAMILY AFFAIR. Five new theater banners for the second POTTER installment should be showing up in theaters today. You can see them on the official website at http://harrypotter.warnerbros.com/web/dailyprophet/article.jsp?id=theatre_banners. As soon as the trailer is on-line, we'll let you know.
---
ENTERPRISE: Over at TrekWeb you can find interviews, photos and more as we approach the season two premiere of ENTERPRISE. "Shockwave II" has an airdate of September 18.
---
FOUR FEATHERS: Some interesting photos from the upcoming movie starring Heath Ledger can be found at http://www.cinemovies.fr/fiche_photos.php?IDfilm=683. The movie opens on September 20. Curious about this remake? Read the review at http://www.empiremovies.com/reviews/brendan/the_four_feathers.shtml.
---
INSIDE SCIFI THIS WEEK: Thursday, September 12:
POLARIS/FARSCAPE: JMS has made some interesting comments on the TV industry, given the situation with Farscape and SCIFI. He has also provided a tad more information on his upcoming project with SCIFI, POLARIS. See JMS Speaks for more.
---
RATINGS: Top 10 SF Syndicated Series: Stargate SG-1 2.3; The X-Files 2.3; 3rd Rock 2.2; Andromeda 1.9; Buffy 1.9; John Edward 1.9; Mutant X 1.9; Beastmaster 1.6; Sheena 1.5, and Pretender 1.4. Source: Nielsen Galaxy Report, 8/12/02 - 8/18/02.
---

TRIBUTE: A number of authors reflect on the tragedy of September 11 -- and share their thoughts with us. Authors include: Essays: Constance Ash, Bruce Sterling, Lisa DuMond, Gardner Dozois, Richard Bowes, Terry Bisson, Jack McDevitt, Kristine K. Rusch, Steven E. Altman, David Brin. Stories: James Morrow and J. Aaron Bellamy. Poems: Neil Gaiman, Joe Haldeman and Patrick O'Leary.
---
SPIDERMAN: The new animated SPIDERMAN series will feature the voice of Neil Patrick Harris as Peter Parker. This MTV production will be different from this summer's big screen release. Harris said, "They want Spider-Man himself to be more of a street-talking, sh-t-talking basketball kind of guy, and for Peter Parker to be much more stammery and a different pitch." Harris said there will be some new villains to contend with each week and some will be voiced by rock stars! "We're on our fourth and fifth show, and they're doing a lot of music crossovers. So one of the villains last week was Rob Zombie, and I think Pink might do one. Since it's on MTV, they're doing the music crossovers as best they can. [Zombie] played the head of a bandit organization, a rogue organization that was trying to disrupt the city." Spider-Man: The Animated Series will debut in the fall.
---
SUPERMAN: While I grew up with George Reeves as Superman, Chris REEVE truly embodied the man of steel with courage and integrity. He continues his fight to regain mobility after a spinal injury. If you would like to join fans in wishing Chris a most joyous 50th birthday (on Sept. 25) , go to http://www.christopherreeve.org/petitions/petition.cfm?petitionID=1. An anonymous donor has offered to contribute $1 to Chris Reeve Paralysis Foundation for every birthday card sent, so get busy!
---
FARSCAPE: Series star Ben Browder talked to Cinescape recently and a part of the interview can be seen at http://www.cinescape.com/0/editorial.asp?aff_id=0&this_cat=Television&action=page&type_id=&cat_id=270355&obj_id=36143. Browder talks about the evolution of his character over the last three seasons and what we can see as the series closes out season four.
---
SLEEPWALKER: There's a new superhero on the horizon -- and Oscar-nominated actor Laurence Fishburne is going to be part of that creative process. Having just finished work on THE MATRIX sequels, Fishburne will produce a primetime tentatively titled "Sleepwalker." This high-concept show follows the adventures of a next-generation superhero. "Spawn" writer Alan B. McElroy will pen the project, which has received a rich script commitment from CBS, and will executive produce with Fishburne, Jonathan Axelrod and Kelly Edwards.
---
BUFFY: The visual effects team responsible for "Buffy the Vampire Slayer," "Angel" and the upcoming "Firefly" -- have formed a new company, Zoic Studios. Rather than negotiate a new contract with Radium this summer, executive producer Steve Schofield, along with creative directors Chris Jones and Loni Peristere, decided to form their own self-financed venture. Zoic officially opened its doors Sept. 4 and employs 26 full-time staff and 10 free-lancers at its new facility in Culver City. The newly formed venture brought the Whedon shows with them, and they won the visual effects package on ABC's midseason drama "Miracles" earlier this month. "
---
FAMILY AFFAIR: This revamped version of the original FAMILY AFFAIR TV series, stars Gary Cole as Uncle Bill and Tim Curry as Mr. French. Catch it tonight on the WB at 8pm. Don't forget, the latest Harry Potter trailer will be seen during the episode as well!
---
Wednesday, September 11:
There won't be an update today. I didn't think it appropriate.

I hope everyone will take a couple of minutes to think about the events of September 11, 2001 and those who lost their lives.

The events of that day changed the world forever.
---
Tuesday, September 10:
BUFFY: Creator Joss Whedon talks to SciFi Wire about the upcoming seventh season of BUFFY at http://www.scifi.com/sfw/advance/09_interview.html. Sunnydale High School has been rebuilt and some old, familiar faces will make an appearance, including more Giles (Anthony Stewart Head) and the return of Faith (Eliza Dushku). This year Buffy (Sarah Michelle Gellar) takes charge of her life. And Whedon promises that he will be more involved this year, alongside executive producer Marti Noxon.
---
FARSCAPE: SCIFI posted an explanation of why FARSCAPE has not been picked up for the fifth season. Growing production costs and an inability to broaden its audience, "led to the difficult decision to end the series at the conclusion of season four." The remaining new episodes of Farscape's fourth season will return in January 2003.
---
DEAD ZONE: This week will mark the end of season one for DEAD ZONE. It has been quite a ride for star and co-producer Anthony Michael Hall. Hall told SCI FI Wire that work is already underway on season two and he is looking forward to working more closely with head writers/producers Michael and Shawn Piller. He wants to get a sense of some of the ideas they have in mind and raise the stakes. He said, "you always have to raise the bar and give [the audience] more than what they expected. And that's a challenge for everybody, the actors as well as the writers. We want to improve upon what we have already." "Destiny" airs on USA at 10 p.m. ET/PT on Sept. 15. Repeats air on the SCI FI Channel at 8 p.m. Fridays.
---
FUTURAMA: This may be the last year on FOX for FUTURAMA, but The Cartoon Network has stepped in to pick up the series as part of its Sunday Adult Swim programming. The Cartoon Network is making ana effort to get adult viewers to watch more cartoons. FUTURAMA will start showing in January. FOX has not officially cancelled the show, but it has not ordered any new half-hours produced. There are still a season's worth of un-aired episodes set to air in the 2002-03 TV season.
---
JASON VS. FREDDY: According to the Hollywood Reporter, "Swimfan's" Jason Ritter has replaced Brad Renfro and will star opposite Monica Keena in New Line Cinema's horror franchise clash "Freddy vs. Jason." Ritter and Keena will join Destiny's Child singer Kelly Rowland in the film about a group of friends who team up to spark a battle between the legendary evildoers Freddy Krueger (of "Nightmare on Elm Street" fame) and Jason Vorhees (of the "Friday the 13th" franchise). Robert Englund will reprise his role as Freddy, while the role of Jason has yet to be cast.
---
HARRY POTTER/FAMILY AFFAIR: Zap2It.Com reports that the first full-length trailer for "Harry Potter and the Chamber of Secrets" will be shown during the first episode of "Family Affair." The WB will run the preview during the one-hour premiere of "Family Affair" on Thursday, Sept. 12 at 8 p.m. The "Harry Potter" film will be released in theaters in North America on Friday, Nov. 15.
---
STAR WARS: Star Wars: Episode II--Attack of the Clones will be launched on Imax screens beginning November 1. The prequel will be digitally remastered to take advantage of the superior audio and video of the large-screen format.
---
WEEKEND BOX OFFICE: 1. Swimfan, $12.4 million; 2. My Big Fat Greek Wedding, $10.6 million; 3. City by the Sea, $9.1 million; 4. Signs, $8 million; 5. XXX, $5.5 million; 6. Spy Kids 2: The Island of Lost Dreams, $3 million; 7. Austin Powers in Goldmember, $2.8 million; 8. fear dot com, $2.3 million; 9. Spider-Man/Men in Black 2 (double feature), $2 million; 10. Blue Crush, $1.8 million.
---
INTERNET MOVIES: IBM announced yesterday that it has signed a deal with Movielink, a joint venture of all the major studios except Disney, to provide the technical equipment for the online video-on-demand service. Movielink has been on hold while studios attempted to find a secure method for delivering films to broadband users. The plan is to have users download a film and they will have 30 days in which they can watch it. Once they do, the film "disappears" within 24 hours. Pricing for the new service has not been set. The announcement came as Warner Bros. announced that it plans to put Harry Potter and the Sorcerer's Stone online via a similar video-on-demand Internet service called CinemaNow.com, which plans to charge $3.99 to view the film. It will take approximately 2 hours on a broadband connection to download it.
---
SMALLVILLE: If you missed the first season finale of SMALLVILLE, you'll have a few more chances to catch it before the second season arriveson September 24. The WB will broadcast "Tempest" on Tuesday, Sept. 17 at 9 p.m. and Sunday, Sept. 22 at 5 p.m. The new season begins with "Vortex" on Tuesday, Sept. 24 at 9 p.m. (ET).
---
MIMIC: SENTINEL: Principal photography has begun in Bucharest, Romania for "Mimic : Sentinel". Amanda Plummer ("Pulp Fiction"), John Kapelos ("The Breakfast Club") and Lance Henriksen ("Aliens") have been cast in the leads, while Karl Geary, Alexis Dziena, Rebecca Mader and Kieth Robinson round out the cast.
---
TERMINATOR 3: Variety reports that Terminator 3 has completed principle photography. Director John Mostow reports production finished on schedle -- after five months of filming. They finished with a bang! The last scene was filmed on Rodeo Drive. It took five months to gain clearance to shoot it there. "It was the arrival of the female Terminator, and as you know, they arrive naked," director Jonathan Mostow said. "Because there are so many tourists, the challenge was to shoot that scene with Kristanna Loken without attracting too many lookyloos." Terminator 3 will be released sometime during 2003. Monday, September 9:
RATINGS: Top 10 SCIFI Shows: Stargate SG-1 1.9; Tremors 3 1.8; Pythons 2 1.3; The Dead Zone 1.1; They Nest 1.1; Tremors 2 1.1; Farscape 1.1; Beyond Belief 1.0; Komodo 0.9, and Hideous 0.8. Source: Nielsen Galaxy Report, 8/12/02 - 8/18/02.
---
ENTERPRISE: ENTERPRISE materials have been added to the History of the Future Museum at the Star Trek: The Experience theme attraction at the Las Vegas Hilton hotel. The museum features props, costumes, pictures and memorabilia from all incarnations of Star Trek. Recent additions for ENTERPRISE include Capt. Archer's (Scott Bakula) uniform, an early version of a phase pistol/phase rifle from "Broken Bow," a small version of an Enterprise work station and manual, an Enterprise-era Klingon hand disruptor, Suliban and Andorian heads and a Suliban hand weapon. There are also exact replicas of the four Enterprise ship drawings from Archer's ready room. The museum is adding exhibit items from Star Trek: Deep Space Nine, Star Trek: Voyager and the feature film Star Trek: Insurrection.
---
BIRDS OF PREY: There is a ton of new photos and interviews at http://www.gothamclocktower.com/. The publicity shots are wonderful.
---
THIRDSPACE: Don't forget to watch THIRDSPACE on SCIFI tonight at 9pm. Tomorrow, you can see RIVER OF SOULS and Wednesday LEGEND OF THE RANGERS.

SCIFI AND BABYLON 5: For those of you who asked about Babylon 5 continuing on SCIFI after the brief run of Crusade in October, the schedule bot shows Babylon 5 returning to the 5pm ET timeslot on October 22.

Sunday, September 8:
FARSCAPE CANCELLED: It seems we've been here before -- more times than we care to think about. Another show has been cancelled -- despite ratings. On Friday, in the SCI FI Channel's #Farscape chat room, David Kemper, Richard Manning, and Ben Browder met with fans to bring them the bad news. Kemper wrote, "As of yesterday, we were informed -- after massive efforts by everyone at Henson and working on the show -- most importantly Brian Henson and the 3 gentlemen here that Sci Fi was not going to exercise it's option to pick up the 5th season of Farscape." This announcement came as the show was just two days away from completing season four.

If you would like to join those who are writing letters in support of the series, look below for addresses. If you want to add your name to an on-line petition, go to http://www.ipetitions.com/campaigns/SAVE_FARSCAPE/.

We will have to wait until Monday to see what SCIFI says about the cancellation. There's nothing on their site as yet.
---
Saturday, September 7: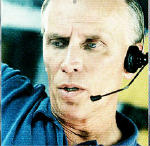 ODYSSEY 5: Peter Weller, star of Showtime's ODYSSEY 5, will be chatting with fans on the Showtime site Friday, September 13 at 10:45 PM ET. Go to http://www.sho.com/o5/community.cfm for details.
---
ENTERPRISE: Over at TrekWeb, Scott Bakula talks about some of what is ahead during the second season of ENTERPRISE. Bakula talks about some of the upcoming episode of ENTERPRISE, like episode three, "Minefield," where the actors had to deal with a great deal of green-screen work for special effects. He also talks about an episode involving some of the longest location shooting ever. It deals with an alien colony constructed in a California desert.
---
MONSTERS, INC: Just in time for the DVD release of MONSTERS, INC., Tokyopop will publish a manga adaptation of MONSTERS, INC. The comics house is planning a lush presentation, with the 104 page adaptation sporting stickers and scenes not in the theatrical release of the film. The comic will be released in October, a few weeks after the DVD release and may lead to original MONSTERS stories in the future.
---
DIE ANOTHER DAY: Can they possibly pack more action shots into 90 seconds! The latest trailer for DIE ANOTHER DAY -- the latest James Bond thriller is available at http://www.apple.com/trailers/ along with dozens of others. There's just something about hearing the James Bond theme that gets your heart pumping!
---
SMALLVILLE: It's short -- but it's a terrific teaser for the season premiere for SMALLVILLE. Go to http://www.thewb.com//Popups/Trailers/0,8204,65779,00.html for a peek.
---
DAREDEVIL: Producer Gary Foster provided a movie progress report to Comics Continuum: "We are in the midst of editing. It's going very well," Foster said. "We have begun seeing key visual effects shots, which is exciting." A new trailer is being worked on, but no word yet on a release date.
---
ANDROMEDA: Prevue Magazine interviews ANDROMEDA's Kevin Sorbo. He talks about the direction of the series in the next year; changes in the writing staff and the effect that has had on the series, and what we might see this coming year.
---
FARSCAPE CANCELLED
If you would like to join fellow fans as they write to voice their support for FARSCAPE -- and ask that the network rethink their decision to cancel the series, here are addresses you may use:

Want to voice your support to the Jim Henson Company? Here's a phone number you can use -- 323-802-1609. When called, it promises the first word on what will happen to Farscape as soon as they know. All you have to do is leave your email address. EM.TV & Merchandising AG
Betastr. 11
D-85774 Unterföhring
Europe/Germany

Phone: +49 89 995 00-0
Fax: +49 89 995 00-111
info@em-ag.de Bonnie Hammer
Executive Vice President and General Manager

Tom Vitale
Senior Vice President of Acquisitions, Scheduling, and Program Planning

The SCIFI Channel
1230 Ave of the Americas, 20th floor
New York, NY 10020 -1513

The USA Network owns the SciFi Channel, so here are some addresses at USA Network:

(_) E-mail the SciFi Channel at scifiweekly@scifi.com.
(_) E-mail the SciFi Channel at program@www.scifi.com.
(_) E-mail the SciFi Channel's feedback page at feedback@www.scifi.com.
(_) Call the SciFi Channel viewer comment line: (212) 413-5000.
(_) Call the SciFi Channel programming line: (212) 413-5821.
(_) Call the SciFi Channel comments line: (212) 413-5577.

Angela Mancuso
President of Cable Programming
USA Networks, Inc.
8800 Sunset Blvd
West Hollywood, CA 90069

Mr. Barry Diller
President/CEO
USA Networks, Inc
8800 Sunset Blvd, Fifth Floor
Los Angeles, CA 90069

Mr. Charles Engel
Executive Vice President, Programming
Studios USA
8800 Sunset Blvd. Fifth Floor
Los Angeles, CA 90069
DISCUSSION TOPIC:
With the new season of TV series just ahead of us, what shows look interesting to you -- and why? Will FIREFLY by Joss Whedon be a hit? Will the next seasons of ENTERPRISE, BUFFY, ANGEL, ANDROMEDA, STARGATE be better than the previous seasons? What do YOU think? Send in your responses to thezocalo@aol.com. I'll post them on the Discussion Page later this week.
SEASON ONE BABYLON 5 DVDs
Ranger Regis reports that Babylon 5 DVDs of season 1 will be available in France (Region 2 - PAL) in November 6th, 2002 href="http://search.fnac.com/Search/Quick/Default.asp?Wkos=1&SearchType=QUICKSEARCH&RNID=-13&SID=AD9ACAAA-C28A-74B6-6EA8-1BCDAFA40109&UID=&AID=&Origin=FnacAff&Words=babylon+5&Recherche=-3&x=13&y=9 ). There will be 2 boxes of 3 DVDs each. The second set will contain the special features. The audio encoding : French, English, German, Dolby Digital 5.1. "In the beginning" is already available in DVD format (19,99 euros). The entire series and TV movies (but Legend of Rangers) is available in VHS (single tapes, or boxes of 2 or 6 tapes). More sites are beginning to carry information about the upcoming B5 DVD. This morning, there is an article in Cinescape about the upcoming Season One DVD. Over at DVDFile, you'll find a tad more information. They describe the offering as follows:
Also announced from Warner are details on the highly-anticipated Babylon 5: The Complete First Season - Signs and Portents. Look for 1.78:1 anamorphic widescreen transfers, introduction and audio commentary by the series creator J. Michael Straczynski (exact episodes not specified) and "The Making of Babylon 5: Season One" featurette. Retail is $99.96 for the set. Warner Home Video (R1) released a Flash presentation for the "B5" Season 1 DVDs. In addition to the extras that JMS has already mentioned (2 episode commentaries, new cast and crew interviews as part of a new documentary, an on-camera interview and on-camera introduction with JMS) the set will include the "Making of" documentary produced for the Season 1 kick-off and hosted by Walter Koenig. Go to http://www.whvdirect.com/babylon5/index.html to read more! Here's an update from JMS on the DVD special items:
The disk has an on-camera introduction by me (despite my warnings that this would undoubtedly drive down sales), a letter of introduction each by me and Doug Netter, and the half-hour piece features new interviews with Rick Biggs, Stephen Furst, me, Doug, efx maven Mitch Suskin, makeup whiz John Vulich, and others. They're tentatively targeting next April for season 2, and the following November for season 3. GREAT PRICE: You can pre-order the Season 1 DVD over at www.amazon.com for $74.99. The release date for North America is November 5.
JEREMIAH ON SHOWTIME - FRIDAY AT 10:45PM
Written by:Sam Egan
Directed By:James Head When their vehicle is carjacked, Jeremiah and Kurdy find themselves in an abandoned amusement park where a group of parents greets them with mixed emotions but the children believe that Jeremiah has been sent to save them from an unseen and deadly predator. JEREMIAH SCHEDULE AHEAD:
09/13/02
Jeremiah: The Red Kiss 09/20/02
Jeremiah: Journey's End At Lovers Meeting 09/27/02
Jeremiah: Thieves' Honor 10/04/02
Jeremiah: The Touch 10/11/02
Jeremiah: Mother Of Invention For more information about this episode and the entire series, be sure to visit www.sho.com/jeremiah. For those of you who want to keep up on what is going on with Jeremiah, Ranger Monica has started up a Jeremiah newsletter. Please go to http://groups.yahoo.com/group/jeremiah-news/ and subscribe. Monica also has a very nice Jeremiah site so don't forget to bookmark that as well.
KEEPING UP WITH CAST AND CREW
JOHN COPELAND: John Copeland, Producer for Babylon 5, is hard at work on a new series of dinosaur series for the Discovery Channel. His previous series, WHEN DINOSAURS ROAMED AMERICA is up for an Emmy Award for Best Animation. Let's keep our fingers crossed for him!
---
TIM EARLS: Tim Earls is the production designer on the new FIREFLY series from Fox. Tim worked worked in the Art Department with John Iacovelli and created all the wonderful ship designs for Babylon 5 and Crusade. He then moved on to Voyager. I am looking forward to see what he will come up with on FIREFLY. The Serenity is a neat ship!
---
JOSHUA COXX: Watch JOSHUA COXX on STRANGE MEDICINE on Lifetime, Sundays at 9:00pm. Joshportrays Peter Riggs, R.N. -- a registered nurse, midwife, acupuncturist, herbalist, and massage therapist. This is a long way from Lt. David Corwin on Babylon 5.
---
BRUCE BOXLEITNER: GODS AND GENERALS, Bruce's latest movie, is now scheduled to open in showcase engagements at the end of December 2002 and nation-wide late January '03. Bruce plays General Longstreet in this epic film that will run about 3 hours, 45 minutes. The original end-title song written and performed by Bob Dylan was just recorded in Los Angeles. For more information about the movie, go to http://www.ronmaxwell.com/ggenerals.html.
---
BILL MUMY: Bill and his band, The Jenators (Bill Mumy, Miguel Ferrer, David Jolliffe, Gary Stockdale, Tom Hebenstreit & Chris Ross), continue to provide fans with entertainment on selected weekends in the Santa Monica/ LA area. Upcoming dates are:
Saturday - 9:00 pm - September 14,2002
Rusty's Surf Ranch on the Santa Monica Pier , Santa Monica, California
RESERVATIONS ARE RECOMMENDED - CALL 310-393-7437 See Bill going solo Saturday - September 21, 2002 - 9:00 pm
Genghis Cohen - 740 N. Fairfax Avenue
Los Angeles, California 90046 Bill's latest CD, "After Dreams Come True" contains 15 songs all written and performed by Bill. "After Dreams Come True" is a largely acoustic album with a dreamy theme of acceptance and defiance. Photographs by Angela Cartwright. You can pick up a copy at Bill's website, http://www.billmumy.com/ .
---
UNIQUE CHARITY ITEM
Ten popular science fiction actors have donated their time, images and autographs for an exclusive photograph, the proceeds of which will go to charity. For sale through the actors themselves and at , the limited-edition photo is in color, edged in white and ready to place in an 11X14 frame, and handsigned. Each of the 1,000 limited edition photos comes embossed with a seal of authenticity and numbered. The photograph is now available for a pre-sale price of $100. After Sept 11, 2002, the price will go up to at least $125.00. Among the charities to benefit will be the Penny Lane home for abused children in Los Angeles, and various September 11 funds. The actors hope to raise more than $100,000 through the charity project. The Penny Lane Home is a residential facility for children who have been severely abused, physically, emotionally and sexually. Many have "fallen through the cracks" of the social service outreach programs, and Penny Lane is their last chance at escaping the abuse. Actors in the photo include: Patricia Tallman, known best for her roles as Lyta Alexander in Babylon 5 and Barbara in Night of the Living Dead (1990) Vaughn Armstrong, who has portrayed more guest star aliens on Star Trek:TNG, DS9 and Voyager than any other actor in Star Trek history. Currently, he holds the recurring role of Admiral Maxwell Forrest on Enterprise, as well as at least eight other Guest Starring roles on board the new Trek series to date. Stephen Austin portrayed many bizarre alien creatures on Babylon 5. His most notable was the lovable Pak'ma'ra Ambassador. David Brooks is an accomplished artist as well as actor. He is best known to the sci fi community as Max Eilerson on the Babylon 5 spin off, Crusade. Jeffrey Willerth portrayed Ambassador Kosh and was Associate Producer of Babylon 5 Robin Atkin Downes, best known for his role of Byron in Babylon 5 Carrie Dobro, Dureena Nafeel in Crusade. Tim Choate was extremely popular on B5 as Zathras (and his brothers, all named Zathras). He also portrayed Pollack on Crusade. Beata Pozniak appeared as Babylon 5's Earth Alliance President Luchenko. Ed Wasser, the evil Mr. Morden on Babylon 5. As a special promotion, the first 100 orders will receive a special gift: former Star Trek stunt coordinator, Dennis Madalone, has donated 100 copies of his single, "America, We Stand As One," to say thank you to the science fiction fans who purchase the charity photograph. To order the photo online, go to http://www.thegalacticgateway.com, click on shop, and search on the word charity.
COMIC BOOK WORLD
AMAZING SPIDERMAN: Issue #44 is on news stands now. There are some page previews from the issue over at http://www.comicscontinuum.com/stories/0208/23/marvelfirsts.htm.
---
RISING STARS: #19 The latest issue is on stands now. For reviews of the book, go to http://www.zentertainment.com/comicreviews.php?op=showcontent&id=470. SPOILER INFORMATION BELOW: The government's come up with a Special weapon that eliminates our heroes' powers, forcing most of them into hiding. But as there's another three issues before this series concludes, it's doubtful they'll stay in hiding for long.
---
Speaking of RISING STARS, Volume #1 of the series has been out for a while. Volume #2 is now available. If you missed any of the single issues of the series, you'll want to pick up the graphic novels that include 8 issues in a single bound copy.
---
SCI FI PUBLICATIONS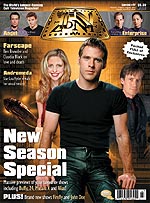 TV Zone Special #47: This special looks at the new season ahead. What will FARSCAPE offer this year? Will Wesley regain the trust of ANGEL? Perhaps Alexis Denisof will tell all in this interview. Linda Park talks about her role as Hoshi Sato on ENTERPRISE. There are also articles on SMALLVILLE, FIREFLY, HAUNTED, BUFFY and CHARMED.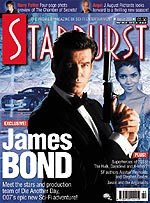 Starburst #290: Get a set our of DIE ANOTHER DAY with designer Peter Lamont and director Lee Tamahori. Also see what J. August Ricards can tell us about his role as Charles Gunn on ANGEL.
Cult Times #84: Under the DEAD ZONE cover, you'll find interviews with Anthony Michael Hall and Michael Piller as they talk about their new show. Corin Nemec discusses his role as Jonas Quinn on STARGATE and Kevin Sorbo looks at season three of ANDROMEDA.
Dreamwatch #100: Talk with Scott Bakula about ENTERPRISE, go behind-the-scenes on THE TWO TOWERS, DIE ANOTHER DAY and HARRY POTTER.
Expose #71: You may recognize Nicole de Boer in her new role as Sarah Bannerman in the new series DEAD ZONE. Her previous credential include DEEP SPACE NINE - yes Dax. You'll also find an interview with Mel Gibson as he talks about his latest movie, SIGNS, and WITCHBLADE's David Chokachi looks at his character and where he could be headed.
BABYLON 5 BOOK OF QUOTES
For all those who submitted quotes and experiences to the Babylon 5 Book of Quotes, word from JMS is that the book, plus emails and suggestions, is being compiled now, and they're targeting February, the 10th anniversary of B5, for the publication date.
SCI-FI SCHEDULE
16-SEP-02 5:00 PM BABYLON 5 (LBX) DAY OF THE DEAD
17-SEP-02 5:00 PM BABYLON 5 (LBX) THE CORPS IS MOTHER, THE CORPS IS FATHER
18-SEP-02 5:00 PM BABYLON 5 (LBX) MEDITATIONS ON THE ABYSS
19-SEP-02 5:00 PM BABYLON 5 (LBX) DAERKNESS ASCENDING
20-SEP-02 5:00 PM BABYLON 5 (LBX) AND ALL MY DREAMS, TORN ASUNDER 23-SEP-02 5:00 PM BABYLON 5 (LBX) MOVEMENTS OF FIRE AND SHADOW
24-SEP-02 5:00 PM BABYLON 5 (LBX) THE FALL OF CENTAURI PRIME
25-SEP-02 5:00 PM BABYLON 5 (LBX) THE WHEEL OF FIRE
26-SEP-02 5:00 PM BABYLON 5 (LBX) OBJECTS IN MOTION
27-SEP-02 5:00 PM BABYLON 5 (LBX) OBJECTS AT REST 30-SEP-02 5:00 PM BABYLON 5 (LBX) SLEEPING IN LIGHT
---
STARGATE ON SCIFI

This week, September 13, "Nightwalker" and "Allegiance" will be on SCIFI. On September 20, it will be "The Cure" and "Prometheus - Part 1". These are all season six episodes. On September 27, SCIFI will begin a Chain Reaction of Season Six episodes beginning at 6pm and running thru 3am. On September 30, Season ONE episodes begin:

7:00pm ET CHILDREN OF THE GODS - PART 1
8:00pm ET CHILDREN OF THE GODS - PART 2
9:00pm ET THE ENEMY WITHIN
10:00pm ET EMANCIPATION
NEW SCI FI MERCHANDISE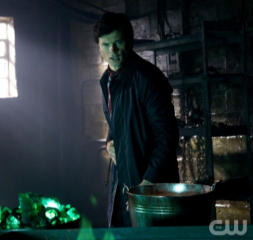 SMALLVILLE SEASON 1 PREMIUM CARDS: This 81-card set captures all the action of the first season, including "Episodic Coverage," "Character Cards," "Wall of Weird," and other cool subsets! Plus, this series is loaded with lots of collectible bonus cards. Look for the nine-card foil puzzle "Smallville High," featuring Clark, Lex, Lana and the gang; the six-card "Spring Formal" cards, featuring your favorite characters in their formal dance attire; and "Pieceworks" cards, consisting of four different cards of Clark's T-shirt, Lana's jeans, Pete's T-shirt and Jonathan's plaid shirt! Also look for six different autograph cards to be announced soon! 6 cards per pack. 36 packs per box. MSRP: $1.99 per pack. Also available is the nine-card uncut Smallville High mini-press sheet, which are sequentially numbered and limited to 250; and the collector album!
BABYLON 5/CRUSADE PHOTOSHOP
NEW PHOTOS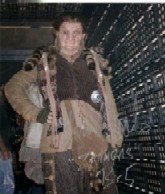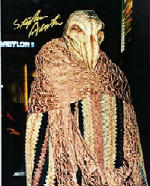 You do NOT have to pay the prices asked for over at e-bay! Here are photos of B5 and Crusade cast members at fantastic prices. Check out Photo Shop. Ordering is easy -- and you can't beat the prices! Just let me know which photos you want and I'll check to make sure they are still in stock.
---
BABYLON 5 TOONS
John Cook has a new cartoon contest going. Try your hand at a punch line.



NEW B5 TOON
Ranger Bill created this toon for his website www.wondertemp.com, but wanted to share it with readers here at the Zocalo. Thanks Bill.



READER DIRECTORY
Sometimes you just can't find the e-mail address for someone you know you have -- it's someone who responded to a discussion topic or you met in one of the chat rooms. You'd like to send a personal note, but .... No address!!!!

We've started a White Pages of Zocalo Readers! It's a handy way of keeping track of people -- and putting together a birthday/greeting card list as well. If you would like to be part of the listing, just send me your name, state, e-mail address and (if you'd like to have it listed) birthday (without year) to sgbruckner@aol.com. Check out the Directory of Readers.

HAPPY BIRTHDAY

Here are some of our readers who are having birthdays this month:

Name: Robert Folsom
Birthday: September 16

Name: Barbara Smith :-)
State: Indiana
E-mail address: microsmith@hotmail.com
Birthday: September 26

Don't see YOUR birthday here? That's easy to remedy. Send your birthdate along to me and I'll post it with others in our directory.
BABYLON 5 REFERENCE PAGES
The Official Babylon 5 Magazine is indexed here as well. With the closure of the magazine in May, you'll want to see which magazines you have -- and which ones you will want to collect. The index may help you make a decision on which ones to choose. The Fan Club has many of the issues at thestation.com , making it very easy to complete your collection.

Universe Today -- the Babylon 5 Fan Club quarterly can also be found here. The index gives you a rundown of what articles were presented, what interviews published.

If you have magazines that have featured Babylon 5 or Crusade that are not listed, send along their issue number and a note to indicate what the article was about. It would be nice to have a fairly comprehensive listing of Babylon 5 publications here.

I have added a listing of all the Babylon 5 novels and now the B5 comic books to the reference page. If there are other items that you feel should be included, let me know.
MAILING LISTS
REDEMPTION: Ranger Steve reports that a new discussion group has been created for the upcoming REDEMPTION convention. Redemption 03, 21-23 February 2003, Ashford, Kent, Celebrating 25 years of Blake's 7 and 10 years of Babylon 5. www.smof.com/redemption.
NW-B5
NW-B5 is a mailing list devoted to bringing critical information to the Vancouver Island, Lower Mainland, and Northern Washington areas. More specifically, anyone north of Seattle. B5 is broadcast on SPACE:TIS in Canada, and Sci-Fi channel in the US. By subscribing to nw-b5, you'll be able to know info bringing you up to date on the current scheduling and events happening in the community related to B5. You'll also be subscribed to the list itself, which means that you'll receive email when there is a scheduling change or critical information needs to go out to you (for example, if we need to start another mailing campaign).

For further information, see http://www.nw-b5.com
John Francis
Webmaster, Listowner, and Co-Moderator
mailto:nw-b5@iname.com

Reports of "The Gathering" are beginning to turn up on the list. John posted a mini-report, with photos, over at http://www.geocities.com/jnf.geo/nw-b5/gathered.htm#0501. You may want to check it out. It was a terrific event in which JMS showed clips from "Legend of the Rangers". Most of the cast was in attendance -- a great group of individuals.
BABYLON 5 DISCUSSION LIST
The Babylon 5 discussion mailing list is for any and all discussions and/or news pertaining to or related to Babylon 5 and/or Crusade. The list has been in existence for the past three years now, and has recently moved. The new location is http://lists.apparition.org/cgi-bin/lyris.pl, and you can subscribe by sending a blank e-mail message to join-babylon_5-l@lists.apparition.org.
THE GALACTIC GATEWAY
Here's a unique site for you! Jeffrey Willerth, Patricia Tallman, Mira Furlan, Claudia Christian, Robin Atkin Downes, Rick Biggs, Jerry Doyle, Bruce Boxleitner, Melissa Gilbert, Peter Jurasik, Bill Mumy and Carrie Dobro are under it's umbrella. Actors from other shows have joined the Gateway. Ted Raimi and Robert Trebor from Xena and Hercules are now at GG. To subscribe to a mailing list for GG, send a blank note to thegalacticgateway-subscribe@egroups.com.
GATEWAY CHATTERS
There is never enough time to keep in touch with friends! To help out, a mailing list has been started for chatters over at the Galactic Gateway. If you are interested in joining, send a blank note to gateway-chatter-subscribe@egroups.com.
GATEWAY TRADER
Are you looking for a particular Babylon 5 collectible? Do you have some items you'd like to trade? Then this is the list for you. To join, send a blank note to gateway-trader-subscribe@egroups.com.
CALLING ALL ARTISTS
The Art Gallery at The Zocalo Today is open. There are SO MANY talented people in our Babylon 5 community. We have enjoyed works by Todd Brugman and Tye Bourdony on our toons page, but there are a host of others who enjoy drawing, painting, sketching their favorite characters. Here are a few works that have been received. I have some others that will be added soon.

If you would like to share your work with us at The Zocalo Today, please send along a digital photo of your work and I'll begin putting the gallery together. If you do not have your work in digital format, drop me a note and we'll see what we can work out.
CALLING ALL CLUBS
There are a number of fabulous Babylon 5/Crusade Clubs around the world. Visit the B5 Fan Club page to see if there is a club near you. If you have a club that you would like to have listed, drop the information about your Club to me at sgbruckner@aol.com or bruckner@isnnews.net. That information will be added to the new B5 Fan Club Listing.

Massimo has sent an update for the B5 Fan Club in Italy. Founded in 1995, the club now has 230 members! In Italy, they have just seen the last two episodes from season five! Membership in the club includes: the club card, a poster, a personalized pen and four number of ISN Network the fanzine published by the club. The cost is Euro 20 for an year in Italy. Interested? Contact Massimo at mmartini@italway.it.
BABYLON 5 FAN CLUB
Netter Digital filed for bankruptcy in July of 2000 and all their worldly posessions were auctioned off on December 7. The B5 Fan Club site, Thestation.com and it's store, the Emporium, has been closed.
BABYLON 5 NEWSLETTERS
If you have a newsletter you'd like to have listed at The Zocalo Today, send the information along. It will be posted on the B5 Fan Club/Newsletter page.

Ranger Shane in North Carolina sent in the following note about their "Jumpgate" newsletter.

Hey Sandy! Just wanted to give you an update on the NC B5 group's newsletter, Jumpgate. There's now a dedicated EMail address for submissions - jumpgatemag@bellsouth.net - and any submissions, solicited or un-, can be sent to this address. Also, issues are available for free download at the URL at the bottom of this message.

Jumpgate - The Newsletter of the North Carolina Babylon 5 Fan Club
Shane Killian, Editor
HELP WANTED
A new HELP WANTED section has been added to the Z. If you need help finding a comic book, getting a special item, etc. here's the place to post a note. Just send whatever help you need to thezocalo@aol.com.
---
BABYLON 5/CRUSADE CONVENTIONS
CONVENTION CALENDAR
Maquis Gras 2002
October 4-6, 2002
Place: Ramada Inn, Portage, Indiana
B5 Guest: Bill Blair
For more information, visit their website at http://www.maquis.com/mfa/gras1.htm.
---
Point North
October 5-6, 2002
Place: Salem Civic Center
Salem, VA
B5 Guest: Stephen Austin
For more information, visit their website at http://www.point-north.com.
---
Slanted Fedora, Raleigh Area
October 11-13, 2002
Place: Durham Marriott
B5 Guest: Stephen Austin
For more information, visit their website at http://www.sfedora.com.
---
V-Con
October 11-13, 2002
Place: Plaza 500 Hotel
Vancouver, British Columbia
B5 Guest: J. Michael Straczynski
For more information, visit their website at http://www3.telus.net/dh2/vconsociety/.
---
JVL-CON 2002
October 24-27, 2002
Jainesville, Wisconsin
Place: Ramada Inn
B5 Guest: Stephen Austin
For more information, visit their website at www.si-fi-nut.com .
---
BEST OF BOTH WORLDS POSTPONED
October 26-27, 2002
Sydney, Australia
B5 Guests: Andreas Katsulas, Claudia Christian, Jerry Doyle, Stephen Austin
For more information, visit their website at www.bobw.com.au .
---
VULKON
November 15-17, 2002
Orlando, Florida
B5 Guests: Bruce Boxleitner, Jerry Doyle
For more information, visit their website at http://www.vulkon.com/orlandonov/.
---
Be sure to visit our Convention Calendar for a full listing of upcoming conventions featuring Babylon 5, Crusade and Legend of the Rangers cast members as guests.
ZOCALO TRADING POST
Do you have extra copies of B5, Amazing Spiderman, Midnight Nation or Rising Stars comics you'd like to trade? How about those extra trading cards or B5 magazines? There are a lot of fans looking for these items -- and the Trading Post can help you buy or sell them. To see what's available, just use this link to the Trading Post. To have items included in The Trading Post, send a note to The Zocalo. Please put Trading Post in the subject line.
Pen Pals
If you are looking for someone to talk about Babylon 5 and Crusade with, the Pen Pal section is for you! Check it out! Drop a note to someone who is feeling B5 withdrawal -- BIG TIME!

People thought a Pen Pal page was a good idea. If you would like to meet people who you could chat with or share your opinions of the show with, send along your e-mail or snail-mail address The Zocalo. It will be incorporated on the new Pen Page Page.
BABYLON 5 BIRTHDAYS
Pat Tallman - September 4
Cinzia Zanetti - September 5
Robin Atkin Downes - September 6
Mira Furlan - September 7
Walter Koenig - September 14
Robert Rusler - September 20
Gary Cole - September 20
Bear Burge - September 23
Jason Carter - September 23
Manny Case - September 23 Don't know some of these folks? Bear Burge was the prop artist for Babylon 5. I sent many a wonderful hour talking and watching Bear create some wonderful devices to be used on B5 and Crusade. Manny Case is a make-up artist. He had worked with Mira Furlan -- in creating Delenn each morning. Have I missed anyone? If you know the birthday of someone connected with Babylon 5, pass the information along. We want to include everyone in our Happy Birthday Wishes.
MAIL FOR CAST AND CREW
Here's a recent note from JMS on the subject:

Just an FYI to those who've been using the Ventura Blvd. mail drop for fan mail to actors....

As mentioned before, we're phasing out the forwarding of fan mail because we a) don't have the resources, complicated by b) the actors have scattered to the four winds, and it makes it very difficult to get everything to everybody in a timely fashion.

So, having provided prior notice...fan mail to actors coming to the Ventura Blvd. mail drop will be sent back. Mail to actors should be sent via their official fan clubs. I will still be taking mail there, since it's my mailbox, but that's it.

Just so's y'all know and save a few bucks on postage and returns.

JMS' mail can be sent to:

14431 Ventura Boulevard, PMB 260
Sherman Oaks, CA 91423

WARNER BROS:

Warner Bros. Address:

Warner Bros. Domestic Television Distribution
4000 Warner Blvd.
Burbank, CA 91522

Warner Home Video:

Mr. Douglas Wadleigh
VP for Marketing and Special Features
Warner Bros.
4000 Warner Blvd.
Burbank, CA 91522

SCIFI:
Bonnie Hammer, President
Sci-Fi Channel
1230 Avenue of the Americas
New York, NY. 10020-1513

Mr. Thomas Vitale
Senior VP of Acquisitions, Scheduling & Program-Planning
BACK ISSUES OF THE ZOCALO TODAY
The front page of the The Zocalo Today changes daily, so be sure to check the back issues to make sure that you haven't missed anything IMPORTANT! I don't want the front page getting too long so I shift information periodically into the archives. So if you aren't a regular visitor to The Zocalo Today, be sure to check out the back issues. Just use the button above!
---
Take care and I look forward to hearing from you.
Sandra Bruckner (sgbruckner@aol.com)
Editor/Publisher
The Zocalo Today
http://www.isnnews.net
Copyright - SBruckner, 2002