[an error occurred while processing this directive]

The Zocalo Today

Welcome! I am REALLY glad you dropped by. Take your shoes off, get comfortable and stay a while. There is a LOT of information here for you to share.

The Zocalo Today is an interactive newsletter. We encourage interaction with our readers and like suggestions. So send them along. The Zocalo Today is as much YOUR newsletter as it is mine! I'm just pulling together things for you! Join our weekly discussion topic. It is just one way you can interact with other Z readers. Send along letters, sightings of B5 cast and crew in other projects, convention reports, photos, etc. Don't miss our back issues. As I said, there is a LOT of information contained there and you'll not want to miss anything.

If you have questions, drop me a line at sgbruckner@aol.com or b5web@aol.com. If you would like to join the mailing list for our bi-weekly newsletter, send me a note and I'll include you on the list. Or you can use the subscription block at the left.

Again, WELCOME!




What's New Today
Saturday, September 21: DARKMAN: SCIFI has some great movies coming up -- including DARKMAN tonight. In this sequel, the hero steals a crate of cash from a drug lord to finance his continuing research into the creation of synthetic skin. In response, the drug lord uses his alluring wife (Roxann Dawson, Star Trek: Voyager's B'Elanna Torres) to set a trap for Darkman and acquire the secrets behind his superhuman strength.
---
OUTER LIMITS: According to Variety, MGM has hired Douglas Cook and David Weisberg (The Rock) to rewrite the film adaptation for The Outer Limits. MGM hopes to begin production as quickly as it can, with Rupert Wainwright (Stigmata) directing. Mark Victor and Michael Grais of Victor/Grais are producing The Outer Limits, along with Trilogy Entertainment's Pen Densham (UPN's The Twilight Zone), Guy McElwaine and John Watson.
---
PETER PAN: A new Peter Pan production is in the works. The Hollywood Reporter says British actress Rachel Hurd Wood, 12, will make her feature-film acting debut as Wendy in the upcoming live-action Peter Pan movie. The movie is set to start production Sept. 30, with P.J. Hogan directing. Jeremy Sumpter as Peter Pan, Jason Isaacs as Captain Hook, Ludivine Sagnier as Tinkerbell and Olivia Williams as Mrs. Darling.
---
X-FILES: X-FILES fans will be glad to see David Duchovny on the upcoming episode of LIFE WITH BONNIE on Tuesday, September 24 at 9:00pm. Duchovny will guest star on the show as Johnny Volcano, the local television weatherman booked on Bonnie's show to promote a movie he created. The "Weather or Not" episode was written by series star Hunt and Don Lake.
---
BEWITCHED: Columbia Pictures have decided to move forward with a feature film version BEWITCHED with Nicole Kidman tapped to star as the nose-twitching Samantha, who tries to abandon her powers for the sake of her mortal husband, Darren. Sources say Mike Myers is the top choice to play Darren but nocasting has been confirmed. The Hollywood Reporter says that Director Penny Marshall is expected to produce. No director has been named.
---
INSIDE SCIFI THIS WEEK:
Friday, September 20:
JEREMIAH: While word has not yet official come down about the renewal of JEREMIAH, Comics2Film is reporting that during a recent interview Malcolm-Jamal Warner let slip that Showtime has just renewed the program for a second season. Hopefully an official announcement on Jeremiah's renewal will be made shortly.
---
RATINGS: Top 10 SF Network Shows: Futurama 2.8; Alias 2.7; Sabrina 2.2; Smallville 2.0; Enterprise 1.8; Charmed 1.6; Buffy 1.3; Touched by an Angel 1.2; Angel 1.1, and Mysterious Ways 0.8. Source: Nielsen Galaxy Report, 8/19/02 - 8/25/02.
---
FIREFLY: One of the most anticipated series premieres tonight at 8pm ET. FIREFLY, by Joss Whedon, looks like a space western -- and has often been described as such. The story is set 500 years in the future after a universal civil war. The crew of the spaceship Serenity will take any job, legal or not, to help them survive in the frontier-like conditions found on the fringes of the universe. In the first episode, Serenity's captain agrees to pull off a risky train heist.
---
JOHN DOE: Another interesting show that premieres tonight is JOHN DOE (9pm on FOX). In the premiere, a man wakes up naked and alone on a deserted island. He possesses knowledge of literally everything in the world, except for his own identity. Instead of making a run on the game show circuit and winning millions, this "John Doe" heads to Seattle, where he befriends the police and uses his special gift to help them solve impossible crimes each week. Of course, in his spare time he tries to find out who he really is.
---
TWILIGHT ZONE RADIO: Just this week, a new TWILIGHT ZONE began onUPN. Now, Stacy Keach has just been announced as the host of a new "Zone" radio series, set to debut in October. Falcon Picture Group, LLC plans to produce 150 stories based on the original television scripts with sci-fi writer Dennis Etchison in the mix to update the episodes with modern elements. The only problem now is to see if your old FM radio still works!
---
SMALLVILLE: Smallville The Comic is now scheduled to arrive in stores on Oct. 9.
---
ENTERPRISE/TWILIGHT ZONE: The second season opener of ENTERPRISE posted a healthy fourth-ranked 4.9 rating/ 8 share household average in Nielsen Media Research's metered markets last night. UPN's premiere/revival of "The Twilight Zone" (4.6/7) scored 94 percent retention from "Enterprise's" opening-hour household average.
---
Thursday, September 19:
DREAMERS: Ever wonder what a dream meant? Now you have a chance to have your dreams analysed by experts. SCIFI is inviting viewers to submit their dreams for possible analysis on its upcoming original reality series The Dream Team With Annabelle and Michael. During the show, expert Michael Lennox and co-host Annabelle Gurwitch (Dinner & a Movie) will dissect and explain the dreams of audience members and call-in viewers. You can submit your dreams by telephone at (323) 520-5683 or by e-mail. The address is: dreamteam@www.scifi.com. Dreams must be recent ones so that the details are fresh in memory. The Dream Team will premiere in January 2003.
---
MONSTERS, INC. MONSTERS, INC. went on sale yesterday. Variety reported sales were huge, with the first-day sales rush with over 5 million sold or $85 mil in wholesale revenue. Sales exceeded projections, with 65% on disc instead of the 50-50 split the studio had projected. About 20% of the sales were preorders. The previous first day sales leader was DISNEY's THE LION KING with 4.5 million sales.
---
EMMY AWARDS: Genre Creative Arts Emmy awards were presented on September 14 in Los Angeles. ENTERPRISE took home two wins, one for best f/x on the series premiere, "Broken Bow", and one for Hairstyling in the Risa-set episode, "Two Days and Two Nights". FUTURAMA won for best animated short series; best f/x for limited run series went to DINOTOPIA. 24 took best single- camera editing, and SMALLVILLE's pilot took best series sound editing. The HBO miniseries adaptation of Marion Zimmer Bradley's THE MISTS OF AVALON was awarded best miniseries makeup. The Prime Time Emmy Awards ceremony will be broadcast on September 22 on NBC. Genre shows and geek faves up for more awards include 24, THE MISTS OF AVALON, THE DAILY SHOW WITH JON STEWART, and DINOTOPIA.
---
FARSCAPE: Even CNN is taking note of FARSCAPE's cancellation by SCIFI. Over at http://www.cnn.com/2002/TECH/09/17/hln.wired.farscape/index.html CNN takes a look at fan reaction to the cancellation and wonders if fans can make a difference.
---
FIREFLY: Entertainment Tonight visited the set of FIREFLY recently and talked to Joss Whedon about his new space drama. Set 500 years in the future, this new series is often described as a "space western". I guess we'll all find out on Friday at 8pm ET on Fox.
---
KURT RUSSELL: Kurt Russell has had a number of really tough guy rolls including the original O'Neill in STARGATE. He is in negotiations now to star in MIRACLE, as Olympic Hockey Coach Herb Brooks. This Disney flick would look at the amazing United States victory over the powerful Soviet hockey team in 1980. Mike Rich (THE ROOKIE) is handling the screenplay. Filming on the movie is scheduled to begin by early 2003 in Canada.
---
STAR TREK: NEMESIS: If you missed the latest trailer for NEMESIS during last night's premiere episode of ENTERPRISE, you can catch it over at http://nemesis.startrek.com/. The trailer will also be making rounds with newly released movies like FOUR FEATHERS opening this weekend.
---
Wednesday, September 18:
RATINGS: Top 10 SF Syndicated Shows: The X-Files 2.5; Mutant X 2.4; Buffy 2.3; Stargate SG-1 2.3; 3rd Rock 2.0; Andromeda 1.9; John Edward 1.9; Beastmaster 1.7; Earth: Final Conflict 1.5, and Relic Hunter 1.4. Source: Nielsen Galaxy Report, 8/19/02 - 8/25/02.
---
BALLISTIC: ECKS VS. SEVER: Lucy Liu is no stranger to action films. However, she still had to train for months to prepare for her role as a rogue government agent Sever in the upcoming Ballistic: Ecks vs. Sever. This was a very challenging role. "Three and a half months of training, like, seven to six long hours, five days a week." It's not just acting any more! There was firearms training, working on the choreography for the martial arts sequences. And then there's the pyrotechnics! Lots of pyrotechnics! Ballistic: Ecks vs. Sever, co-starring Antonio Banderas, opens Sept. 20.
---
HITCHHIKER'S GUIDE TO THE GALAXY: According to Variety, Karey Kirkpatrick has been tapped to co-adapt THE HITCHHIKER'S GUIDE TO THE GALAXY. Movie plans continue a feature adaptation initiated by series creator Douglas Adams prior to his death in May, 2002. Kirkpatrick will be best known to fans of the Pan-Galactic Gargle Blaster for his priors on CHICKEN RUN. Additional scripts include JAMES AND THE GIANT PEACH, THE ROAD TO EL DORADO, and HONEY, WE SHRUNK OURSELVES.
---
THE SOPRANOS: They are back! According to AP, the Sunday night fourth season premiere of "The Sopranos" drew an estimated 13.4 million viewers, the largest audience in the pay cable network's 30-year history. It may be the first time an HBO program has drawn a larger audience larger than any of its broadcast rivals at the same time. HBO is available in approximately one third of the country's homes with televisions.
---
WILLEM DAFOE: Spiderman's Green Goblin has a new gig -- Dafoe will be joining Robert Redford and Helen Mirren in THE CLEARING. Dafoe portrays a disgruntled employee who takes a wealthy business mogul (Redford) hostage, while the businessman's wife (Mirren) struggles to negotiate a ransom. Filming is set to start next week in North Carolina.
---
DEAD ZONE: The USA Network is in 7th Heaven! Two of their shows (DEAD ZONE and MONK) are really making others take notice! "The Dead Zone" set a record for the top-rated season of an original dramatic series ever on basic cable and is #1 non- sports program among P25-54 for the week on basic cable. The season finale of "The Dead Zone" on Sunday averaged 4.3 million viewers, and delivered a 3.4 rating for households, a 2.7 for P25-54 and a 2.4 for P18-49 -- the highest rating for the show since week three. The full season of "The Dead Zone" averaged a 3.1 rating for households, a 2.6 for P25-54 and a 2.4 for P18-49, with an average of 4.2 million viewers.
---
Tuesday, September 17:
SCIFI CHAT: Bruce Campbell, star of EVIL DEAD and author of IF CHINS COULD KILL: CONFESSIONS OF A B MOVIE ACTOR, will be at SCIFI tonight at 9pm ET for a chat. To chat, visit http://www.scifi.com/chat/chatnow.html and join #auditorium on the appointed date and time. IRC USERS can connect your chat client to http://events.scifi.com port 6667.
---
DINOTOPIA: ABC announced that it will delay the premiere of its Dinotopia series until Nov. 28 (Thanksgiving night). ABC is making room for reruns of USA Network's MONK, which will air Thursdays at 8 p.m. PT/ET, starting Sept. 26.
---
FIREFLY: Former ANGEL producer Tim Minear, is having a wonderful time aboard FIREFLY. Over at Zap2It.com he talks about bringing Joss Whedon's vision to life -- and trying to work on two series at the same time -- ANGEL and FIREFLY. You can read more about the series at the official "Firefly" Web site.
---
FARSCAPE: FARSCAPE's Ben Browder will be interviewed at 8:15 p.m. EST Tuesday night on CNN Headline News. Alicia Davis will be conducting the interview with Browder live from Sydney.
---
CHARITY AUCTION: On October 1, there will be a special celebrity auction conducted at www.gobid.ca to benefit the World Society for the Protection of Animals (WSPA). Ben Affleck and Mark Damon donated autographed movie press kits from The Bourne Identity and Sum of All Fears. The lead actors from BLUE CRUSH donated a signed Blue Crush t-shirt. Other celebs who have personal items available at the auction include Tim McGraw, Gloria Estefan, George Clooney, Gwyneth Paltrow and Meg Ryan. WSPA works in partnership with humane organizations in more than 100 countries, campaigning against cruelty by exposing animal abuse and advocating stronger animal protection laws.
---
X-FILES: Agent Doggett, Robert Patrick, has joined NBC's three-hour miniseries 1ST TO DIE, which follows three women who are out to get a serial killer who is murdering newlyweds. The cast includes Angie Everhart, Tracy Pollan, Pam Grier, Sean Young, Gil Bellows, Carly Pope, and Megan Gallagher.
---
BIRDS OF PREY: Dina Meyer talks about her role in the upcoming BIRDS OF PREY and her stint on STAR TREK: NEMESIS at Prevue Magazine.
---
SLEEPING IN LIGHT: There was some question about whether SLEEPING IN LIGHT would air on September 30 at 5pm as originally posted by SCIFI. I see this morning in the SCIFI newsletter that ROBOCOP is scheduled for September 22 at 5, 7 and 9pm. I hope that means that SLEEPING IN LIGHT will occupy the September 30 timslot at 5pm.
---
Monday, September 16:
RATINGS: Top 10 SCIFI Shows: Stargate SG-1 2.0; Farscape 1.5; Species II 1.3; The Thing 1.2; The Dead Zone 1.1; Species 1.1; Swamp Thing 1.0; Willow 1.0; Brave New World 1.0, and Thing From Another World 1.0. Source: Nielsen Galaxy Report, 8/19/02 - 8/25/02.
---
STAR TREK: NEMESIS: After a lot of back and forth, Cinescape thinks it has the scoop on the next NEMESIS trailer. It will hit theaters Friday attached to the FOUR FEATHERS movie. It will be online Monday, September 23 at 10am PST.
---
FAMILY AFFAIR: Since this series stars Gary Cole from CRUSADE, I thought I'd pop this little tidbit in about the premiere of his new series FAMILY AFFAIR. Thursday's premiere turned in a 4.7 rating/8 share household average, making it the highest- rated comedy premiere on the Frog Network since "Smart Guy" bowed in April 1997. According to media reports, "Family Affair's" household average in Nielsen Media Research overnight markets represented a 52 percent jump over the year-ago debut of "Popstars 2" (3.1/4) in the 8 p.m. Thursday time period. "Family Affair" won the 7 p.m.-to-8 p.m. (CT) time slot at an 8.6/15 average. Other strong scores came in from New York (11 share), Denver (11), Orlando (14), Portland (10) and Milwaukee (10).
---
DEAD ZONE: I can't believe I watched 6 hours of DEAD ZONE yesterday. I haven't watched that much of a single show in a LONG time. When is season two starting????? What a cliffhanger. Season 1 of The Dead Zone will be released on DVD and VHS on Tuesday, November 5!
---
Sunday, September 15:
DEAD ZONE: Don't forget about the DEAD ZONE marathon today. USA will run all the episodes of the series beginning at 10am -- ending with the season finale at 10pm. I don't know about you, but I like this series.
---
SCIFI SCHEDULING OF BABYLON 5: A number of readers have pointed out that SCIFI has changed scheduling on September 30 so you may NOT get SLEEPING IN LIGHT. On the schedule now is ROBOCOP, airing from 5 to 7pm. As far as I can see, SLEEPING IN LIGHT will not air with this time around.
---
SPIDERMAN: People will steal anything! Four Spider-Man costumes, valued at $50,000 each, and one $150,000 Batman suit came up missing from the studios in Los Angeles. Variety reported that the missing custom-made costumes turned up in Japan. Two responsible individuals have been charged -- and if convicted, could get a lengthy prison terms.
---
STAR TREK: NEMESIS: The latest trailer for the movie will be posted at the official Trek Web site at 10 a.m. PT on Sept. 23. The trailer for the 10th Trek movie will debut on television during the Sept. 18 premiere of UPN's Twilight Zone, which airs at 9 p.m. ET/PT. This timing is a bit different from what was originally announced.
---
STARGATE: Over at the InfinitelyBetter website, they have posted a note about Stargate SG-1 getting the green light for season seven from SCIFI. This would be wonderful news -- but we'll have to wait to see what SCIFI says about this before we can break out the champagne.
---
SMALLVILLE: ComicsContinuum has information about episode two of SMALLVILLE. SPOILER ALERT! I like this show very much. It is good to see that they will be doing more with John Schneider!
---
FIREFLY: The FIREFLY pop-up is turning up all over the net these days. Can't wait to see the series. I'll be covering it for a new SF newsletter coming out this month -- the SY FY GALACTIC NEWSLETTER . SFGN will be covering all the new series -- as well as many of the old. They are taking subscribers now, but there isn't anything to see as yet.
---
AGENTS OF GAMING
One of the last vistages of Babylon 5 is ending. The license for Agents of Gaming for Babylon 5 is coming to an end. Here is the announcement from: http://agentsofgaming.com/b5wnews.htm. "(9/19/02) It is my sad duty to report that AOG's Babylon 5 contract has ended and will not be renewed. Regrettably, no further Babylon 5 game licenses or renewals are being granted due to the lack of an ongoing show or property to build upon. AOG held, to our knowledge, the last existing game license for B5....The contract officially concludes at the end of October. Until 10/31/02, AOG will continue to sell as much existing inventory as possible at discount rates....In general, items that were $7.95 are now $4.95, items of $9.95 are now $5.95, $13.95 went to $9.95, $19.95 is now $14.95, $24.95 is $19.95, and so on. Most discounts are 30-40% or so of the original price."
DISCUSSION TOPIC:
OK, how did you like FIREFLY and JOHN DOE? Now that the shows have had their premieres, what do you think? Send in your responses to thezocalo@aol.com. I am posting them on the Discussion Page as they come in.
SEASON ONE BABYLON 5 DVDs
"In the beginning" is already available in DVD format (19,99 euros). The entire series and TV movies (but Legend of Rangers) is available in VHS (single tapes, or boxes of 2 or 6 tapes). More sites are beginning to carry information about the upcoming B5 DVD. This morning, there is an article in Cinescape about the upcoming Season One DVD. Over at DVDFile, you'll find a tad more information. They describe the offering as follows:
Also announced from Warner are details on the highly-anticipated Babylon 5: The Complete First Season - Signs and Portents. Look for 1.78:1 anamorphic widescreen transfers, introduction and audio commentary by the series creator J. Michael Straczynski (exact episodes not specified) and "The Making of Babylon 5: Season One" featurette. Retail is $99.96 for the set. Warner Home Video (R1) released a Flash presentation for the "B5" Season 1 DVDs. In addition to the extras that JMS has already mentioned (2 episode commentaries, new cast and crew interviews as part of a new documentary, an on-camera interview and on-camera introduction with JMS) the set will include the "Making of" documentary produced for the Season 1 kick-off and hosted by Walter Koenig. Go to http://www.whvdirect.com/babylon5/index.html to read more! Here's an update from JMS on the DVD special items:
The disk has an on-camera introduction by me (despite my warnings that this would undoubtedly drive down sales), a letter of introduction each by me and Doug Netter, and the half-hour piece features new interviews with Rick Biggs, Stephen Furst, me, Doug, efx maven Mitch Suskin, makeup whiz John Vulich, and others. They're tentatively targeting next April for season 2, and the following November for season 3. GREAT PRICE: You can pre-order the Season 1 DVD over at www.amazon.com for $74.99. The release date for North America is November 5.
JEREMIAH ON SHOWTIME - FRIDAY AT 10:45PM
Over at http://www.scifi2k.com they are reporting that Grant Rosenberg will be stepping into the shoes vacated by Sam Egan. While JMS will remain the main man behind the series, writing most of the scripts as well as casting and post production duties, Grant will be doing a few scripts this season and handle the day to day creative production. The news item also indicates that there will be an announcement soon on two new cast members for the series. This not not been confirmed in any way -- so let's wait to see what SHOWTIME or JMS have to say. Hopefully we will get some word about renewal soon! Written by:Sam Egan
Directed By:Holly Dale When Elizabeth and Gabriel are scouting prospects in Clarefield, Theo's guards take them prisoner. Jeremiah and Kurdy's attempt at rescue involves both extreme danger and some surprising developments. JEREMIAH SCHEDULE AHEAD:
09/27/02
Jeremiah: Thieves' Honor 10/04/02
Jeremiah: The Touch 10/11/02
Jeremiah: Mother Of Invention For more information about this episode and the entire series, be sure to visit www.sho.com/jeremiah. For those of you who want to keep up on what is going on with Jeremiah, Ranger Monica has started up a Jeremiah newsletter. Please go to http://groups.yahoo.com/group/jeremiah-news/ and subscribe. Monica also has a very nice Jeremiah site so don't forget to bookmark that as well.
KEEPING UP WITH CAST AND CREW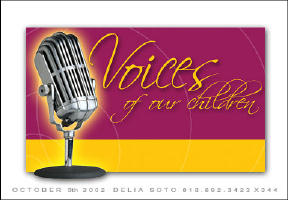 PAT TALLMAN: As many of you know, Pat Tallman has been involved with Penny Lane (an organization that helps battered children) for years! On October 5, Penny Lane will host a very special event entitled, VOICES OF OUR CHILDREN in which Hollywood stars will perform works written by the children of Penny Lane. The stars are: Alan Rosenberg, Angela Watson, Bruce Weitz, Coltin Scott, Edd Hall, Marg Helgenberger, Natasha Allas, Patricia Tallman, Victoria Rowell and Yvette Freeman. For more information, please go to http://www.pennylane.org/contents/voices.htm or call 1-866-736-6956.
---
MIRA FURLAN: Mira Furlan is appearing in Eve Ensler's new play "Necessary Targets". This benefit performance is for one night only -- October 7th. Location: Wilshire Theatre in Beverly Hills. Tickets are $125.00 and available through Ticketmaster. Also appearing - Eve Ensler, Calista Flockhart, Cloris Leachman, Julianna Margulies & Julia Stiles. For more information about the play, go to http://www.necessarytargets.com.
---
BRUCE BOXLEITNER: Bruce has just finished a film entitled "Killer Flood: The Day the Dam Broke" by Edgewood Studios. Produced by Peter Beckwith, the movie is about a fictitious dam above Rutland with a dangerously high water level and structural defects. Also starring in the film are Michele Greene ("L.A. Law") and Joe Lando ("Dr. Quinn, Medicine Woman.")
---
GODS AND GENERALS: Bruce plays General James Longstreet in this epic film that will run about 3 hours, 45 minutes. The original end-title song written and performed by Bob Dylan was just recorded in Los Angeles. For more information about the movie, go to http://www.ronmaxwell.com/ggenerals.html. The movie is set to air in early 2003. In this month's issue of NORTH AND SOUTH, you can read about the movie -- there are some great pictures as well.
---
GARY COLE: How did Gary Cole's new series fare this week? Despite stiff competition from the major networks, the WB was very happy with solid numbers for the premiere. I'm sure it didn't hurt to have the latest HARRY POTTER trailer air during the episode either!
---
ENID-RAYE ADAMS: Enid-Raye Adams who portrayed Firell in B5LR can be seen in "Prometheus" -- an upcoming episode of STARGATE SG-1.
---
JOHN COPELAND: John Copeland, Producer for Babylon 5, is hard at work on a new series of dinosaur series for the Discovery Channel. His previous series, WHEN DINOSAURS ROAMED AMERICA is up for an Emmy Award for Best Animation. Let's keep our fingers crossed for him!
---
TIM EARLS: Tim Earls is the artistic designer on the new FIREFLY series from Fox. Tim worked worked in the Art Department with John Iacovelli and created all the wonderful ship designs for Babylon 5 and Crusade. He then moved on to Voyager. I am looking forward to see what he will come up with on FIREFLY. The Serenity is a neat ship!
---
BILL MUMY: Bill and his band, The Jenators (Bill Mumy, Miguel Ferrer, David Jolliffe, Gary Stockdale, Tom Hebenstreit & Chris Ross), continue to provide fans with entertainment on selected weekends in the Santa Monica/ LA area. See Bill going solo this weekend -- Saturday - September 21, 2002 - 9:00 pm
Genghis Cohen - 740 N. Fairfax Avenue
Los Angeles, California 90046 Bill's latest CD, "After Dreams Come True" contains 15 songs all written and performed by Bill. "After Dreams Come True" is a largely acoustic album with a dreamy theme of acceptance and defiance. Photographs by Angela Cartwright. You can pick up a copy at Bill's website, http://www.billmumy.com/ .
---
UNIQUE CHARITY ITEM
Ten popular science fiction actors have donated their time, images and autographs for an exclusive photograph, the proceeds of which will go to charity. For sale through the actors themselves and at , the limited-edition photo is in color, edged in white and ready to place in an 11X14 frame, and handsigned. Each of the 1,000 limited edition photos comes embossed with a seal of authenticity and numbered. The photograph is now available for a pre-sale price of $100. After Sept 11, 2002, the price will go up to at least $125.00. Among the charities to benefit will be the Penny Lane home for abused children in Los Angeles, and various September 11 funds. The actors hope to raise more than $100,000 through the charity project. The Penny Lane Home is a residential facility for children who have been severely abused, physically, emotionally and sexually. Many have "fallen through the cracks" of the social service outreach programs, and Penny Lane is their last chance at escaping the abuse. Actors in the photo include: Patricia Tallman, known best for her roles as Lyta Alexander in Babylon 5 and Barbara in Night of the Living Dead (1990) Vaughn Armstrong, who has portrayed more guest star aliens on Star Trek:TNG, DS9 and Voyager than any other actor in Star Trek history. Currently, he holds the recurring role of Admiral Maxwell Forrest on Enterprise, as well as at least eight other Guest Starring roles on board the new Trek series to date. Stephen Austin portrayed many bizarre alien creatures on Babylon 5. His most notable was the lovable Pak'ma'ra Ambassador. David Brooks is an accomplished artist as well as actor. He is best known to the sci fi community as Max Eilerson on the Babylon 5 spin off, Crusade. Jeffrey Willerth portrayed Ambassador Kosh and was Associate Producer of Babylon 5 Robin Atkin Downes, best known for his role of Byron in Babylon 5 Carrie Dobro, Dureena Nafeel in Crusade. Tim Choate was extremely popular on B5 as Zathras (and his brothers, all named Zathras). He also portrayed Pollack on Crusade. Beata Pozniak appeared as Babylon 5's Earth Alliance President Luchenko. Ed Wasser, the evil Mr. Morden on Babylon 5. As a special promotion, the first 100 orders will receive a special gift: former Star Trek stunt coordinator, Dennis Madalone, has donated 100 copies of his single, "America, We Stand As One," to say thank you to the science fiction fans who purchase the charity photograph. To order the photo online, go to http://www.thegalacticgateway.com, click on shop, and search on the word charity.
COMIC BOOK WORLD
AMAZING SPIDERMAN: Issue #44 is on news stands now. There are some page previews from the issue over at http://www.comicscontinuum.com/stories/0208/23/marvelfirsts.htm.
---
RISING STARS: #19 The latest issue is on stands now. For reviews of the book, go to http://www.zentertainment.com/comicreviews.php?op=showcontent&id=470. SPOILER INFORMATION BELOW: The government's come up with a Special weapon that eliminates our heroes' powers, forcing most of them into hiding. But as there's another three issues before this series concludes, it's doubtful they'll stay in hiding for long.
---
Speaking of RISING STARS, Volume #1 of the series has been out for a while. Volume #2 is now available. If you missed any of the single issues of the series, you'll want to pick up the graphic novels that include 8 issues in a single bound copy.
---
SCI FI PUBLICATIONS
Expose #72: For all you Amanda Tapping fans, this issue is for YOU! Amanda is fantastic as Samantha Carter on Stargate SG-1. This year she's have a LOT of fun and even has her turn at leading the team -- not to mention almost drowning on the set! Also in this issue, Luke Perry talks about JEREMIAH, Anthony Cistaro chats about WITCHBLADE and Stephanie Romanov lets us in on some of what is in store on ANGEL this year.







Cult Times Special #23: School Days is the title of this issue -- with Buffy returning to Sunnydale, Clark going back to Smallville High. Also in this issue, you'll hear from Jason Katims about his three years on ROSWELL and how executive producer Paula Hart has handled the ever changing Sabrina the Teenage Witch.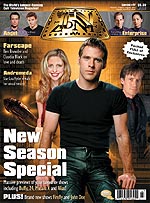 TV Zone Special #47: This special looks at the new season ahead. What will FARSCAPE offer this year? Will Wesley regain the trust of ANGEL? Perhaps Alexis Denisof will tell all in this interview. Linda Park talks about her role as Hoshi Sato on ENTERPRISE. There are also articles on SMALLVILLE, FIREFLY, HAUNTED, BUFFY and CHARMED.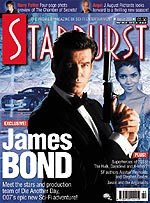 Starburst #290: Get a set our of DIE ANOTHER DAY with designer Peter Lamont and director Lee Tamahori. Also see what J. August Ricards can tell us about his role as Charles Gunn on ANGEL.
Dreamwatch #100: Talk with Scott Bakula about ENTERPRISE, go behind-the-scenes on THE TWO TOWERS, DIE ANOTHER DAY and HARRY POTTER.
BABYLON 5 BOOK OF QUOTES
For all those who submitted quotes and experiences to the Babylon 5 Book of Quotes, word from JMS is that the book, plus emails and suggestions, is being compiled now, and they're targeting February, the 10th anniversary of B5, for the publication date.
FARSCAPE CANCELLED
If you would like to join fellow fans as they write to voice their support for FARSCAPE -- and ask that the network rethink their decision to cancel the series, here are addresses you may use:

Want to voice your support to the Jim Henson Company? Here's a phone number you can use -- 323-802-1609. When called, it promises the first word on what will happen to Farscape as soon as they know. All you have to do is leave your email address.

EM.TV & Merchandising AG
Betastr. 11
D-85774 Unterföhring
Europe/Germany Phone: +49 89 995 00-0
Fax: +49 89 995 00-111
info@em-ag.de Bonnie Hammer
Executive Vice President and General Manager

Tom Vitale
Senior Vice President of Acquisitions, Scheduling, and Program Planning

The SCIFI Channel
1230 Ave of the Americas, 20th floor
New York, NY 10020 -1513

The USA Network owns the SciFi Channel, so here are some addresses at USA Network:

(_) E-mail the SciFi Channel at scifiweekly@scifi.com.
(_) E-mail the SciFi Channel at program@www.scifi.com.
(_) E-mail the SciFi Channel's feedback page at feedback@www.scifi.com.
(_) Call the SciFi Channel viewer comment line: (212) 413-5000.
(_) Call the SciFi Channel programming line: (212) 413-5821.
(_) Call the SciFi Channel comments line: (212) 413-5577.

Angela Mancuso
President of Cable Programming
USA Networks, Inc.
8800 Sunset Blvd
West Hollywood, CA 90069

Mr. Barry Diller
President/CEO
USA Networks, Inc
8800 Sunset Blvd, Fifth Floor
Los Angeles, CA 90069

Mr. Charles Engel
Executive Vice President, Programming
Studios USA
8800 Sunset Blvd. Fifth Floor
Los Angeles, CA 90069
SCI-FI SCHEDULE
20-SEP-02 5:00 PM BABYLON 5 (LBX) AND ALL MY DREAMS, TORN ASUNDER 23-SEP-02 5:00 PM BABYLON 5 (LBX) MOVEMENTS OF FIRE AND SHADOW
24-SEP-02 5:00 PM BABYLON 5 (LBX) THE FALL OF CENTAURI PRIME
25-SEP-02 5:00 PM BABYLON 5 (LBX) THE WHEEL OF FIRE
26-SEP-02 5:00 PM BABYLON 5 (LBX) OBJECTS IN MOTION
27-SEP-02 5:00 PM BABYLON 5 (LBX) OBJECTS AT REST 30-SEP-02 5:00 PM BABYLON 5 (LBX) SLEEPING IN LIGHT 22-OCT-02 5:00 PM BABYLON 5 (LBX) THE GATHERING - PART 1 23-OCT-02 5:00 PM BABYLON 5 (LBX) THE GATHERING - PART 2 24-OCT-02 5:00 PM BABYLON 5 (LBX) MIDNIGHT ON THE FIRING LINE 28-OCT-02 5:00 PM BABYLON 5 (LBX) SOUL HUNTER 29-OCT-02 5:00 PM BABYLON 5 (LBX) BORN TO THE PURPLE
CRUSADE SCHEDULE
01-OCT-02 5:00 PM CRUSADE RACING THE NIGHT
02-OCT-02 5:00 PM CRUSADE THE NEEDS OF EARTH
03-OCT-02 5:00 PM CRUSADE THE MEMORY OF WAR 07-OCT-02 5:00 PM CRUSADE THE LONG ROAD
08-OCT-02 5:00 PM CRUSADE VISITORS FROM DOWN THE STREET
09-OCT-02 5:00 PM CRUSADE THE WELL OF FOREVER
10-OCT-02 5:00 PM CRUSADE EACH NIGHT I DREAM OF HOME
11-OCT-02 5:00 PM CRUSADE PATTERNS OF THE SOUL

15-OCT-02 5:00 PM CRUSADE THE PATH OF SORROWS
16-OCT-02 5:00 PM CRUSADE RULING FROM THE TOMB
17-OCT-02 5:00 PM CRUSADE THE RULES OF THE GAME
18-OCT-02 5:00 PM CRUSADE WAR ZONE

21-OCT-02 5:00 PM CRUSADE APPEARANCES AND OTHER DECEITS

---
STARGATE ON SCIFI

On September 20, it will be "The Cure" and "Prometheus - Part 1". These are all season six episodes. On September 27, SCIFI will begin a Chain Reaction of Season Six episodes beginning at 6pm and running thru 3am. On September 30, Season ONE episodes begin:

7:00pm ET CHILDREN OF THE GODS - PART 1
8:00pm ET CHILDREN OF THE GODS - PART 2
9:00pm ET THE ENEMY WITHIN
10:00pm ET EMANCIPATION
NEW SCI FI MERCHANDISE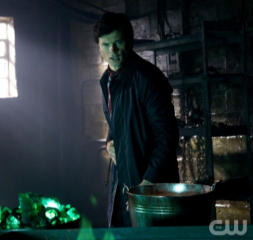 SMALLVILLE SEASON 1 PREMIUM CARDS: This 81-card set captures all the action of the first season, including "Episodic Coverage," "Character Cards," "Wall of Weird," and other cool subsets! Plus, this series is loaded with lots of collectible bonus cards. Look for the nine-card foil puzzle "Smallville High," featuring Clark, Lex, Lana and the gang; the six-card "Spring Formal" cards, featuring your favorite characters in their formal dance attire; and "Pieceworks" cards, consisting of four different cards of Clark's T-shirt, Lana's jeans, Pete's T-shirt and Jonathan's plaid shirt! Also look for six different autograph cards to be announced soon! 6 cards per pack. 36 packs per box. MSRP: $1.99 per pack. Also available is the nine-card uncut Smallville High mini-press sheet, which are sequentially numbered and limited to 250; and the collector album!
BABYLON 5/CRUSADE PHOTOSHOP
NEW PHOTOS
You do NOT have to pay the prices asked for over at e-bay! Here are photos of B5 and Crusade cast members at fantastic prices. Check out Photo Shop. Ordering is easy -- and you can't beat the prices! Just let me know which photos you want and I'll check to make sure they are still in stock.
---
BABYLON 5 TOONS
John Cook has a new cartoon contest going. Try your hand at a punch line.



NEW B5 TOON
Ranger Bill created this toon for his website www.wondertemp.com, but wanted to share it with readers here at the Zocalo. Thanks Bill.



READER DIRECTORY
Sometimes you just can't find the e-mail address for someone you know you have -- it's someone who responded to a discussion topic or you met in one of the chat rooms. You'd like to send a personal note, but .... No address!!!!

We've started a White Pages of Zocalo Readers! It's a handy way of keeping track of people -- and putting together a birthday/greeting card list as well. If you would like to be part of the listing, just send me your name, state, e-mail address and (if you'd like to have it listed) birthday (without year) to sgbruckner@aol.com. Check out the Directory of Readers.

HAPPY BIRTHDAY

Here are some of our readers who are having birthdays this month:

Name: Robert Folsom
Birthday: September 16

Name: Barbara Smith :-)
State: Indiana
E-mail address: microsmith@hotmail.com
Birthday: September 26

Don't see YOUR birthday here? That's easy to remedy. Send your birthdate along to me and I'll post it with others in our directory.
BABYLON 5 REFERENCE PAGES
The Official Babylon 5 Magazine is indexed here as well. With the closure of the magazine in May, you'll want to see which magazines you have -- and which ones you will want to collect. The index may help you make a decision on which ones to choose. The Fan Club has many of the issues at thestation.com , making it very easy to complete your collection.

Universe Today -- the Babylon 5 Fan Club quarterly can also be found here. The index gives you a rundown of what articles were presented, what interviews published.

If you have magazines that have featured Babylon 5 or Crusade that are not listed, send along their issue number and a note to indicate what the article was about. It would be nice to have a fairly comprehensive listing of Babylon 5 publications here.

I have added a listing of all the Babylon 5 novels and now the B5 comic books to the reference page. If there are other items that you feel should be included, let me know.
MAILING LISTS
REDEMPTION: Ranger Steve reports that a new discussion group has been created for the upcoming REDEMPTION convention. Redemption 03, 21-23 February 2003, Ashford, Kent, Celebrating 25 years of Blake's 7 and 10 years of Babylon 5. www.smof.com/redemption.
NW-B5
NW-B5 is a mailing list devoted to bringing critical information to the Vancouver Island, Lower Mainland, and Northern Washington areas. More specifically, anyone north of Seattle. B5 is broadcast on SPACE:TIS in Canada, and Sci-Fi channel in the US. By subscribing to nw-b5, you'll be able to know info bringing you up to date on the current scheduling and events happening in the community related to B5. You'll also be subscribed to the list itself, which means that you'll receive email when there is a scheduling change or critical information needs to go out to you (for example, if we need to start another mailing campaign).

For further information, see http://www.nw-b5.com
John Francis
Webmaster, Listowner, and Co-Moderator
mailto:nw-b5@iname.com

Reports of "The Gathering" are beginning to turn up on the list. John posted a mini-report, with photos, over at http://www.geocities.com/jnf.geo/nw-b5/gathered.htm#0501. You may want to check it out. It was a terrific event in which JMS showed clips from "Legend of the Rangers". Most of the cast was in attendance -- a great group of individuals.
BABYLON 5 DISCUSSION LIST
The Babylon 5 discussion mailing list is for any and all discussions and/or news pertaining to or related to Babylon 5 and/or Crusade. The list has been in existence for the past three years now, and has recently moved. The new location is http://lists.apparition.org/cgi-bin/lyris.pl, and you can subscribe by sending a blank e-mail message to join-babylon_5-l@lists.apparition.org.
THE GALACTIC GATEWAY
Here's a unique site for you! Jeffrey Willerth, Patricia Tallman, Mira Furlan, Claudia Christian, Robin Atkin Downes, Rick Biggs, Jerry Doyle, Bruce Boxleitner, Melissa Gilbert, Peter Jurasik, Bill Mumy and Carrie Dobro are under it's umbrella. Actors from other shows have joined the Gateway. Ted Raimi and Robert Trebor from Xena and Hercules are now at GG. To subscribe to a mailing list for GG, send a blank note to thegalacticgateway-subscribe@egroups.com.
GATEWAY CHATTERS
There is never enough time to keep in touch with friends! To help out, a mailing list has been started for chatters over at the Galactic Gateway. If you are interested in joining, send a blank note to gateway-chatter-subscribe@egroups.com.
GATEWAY TRADER
Are you looking for a particular Babylon 5 collectible? Do you have some items you'd like to trade? Then this is the list for you. To join, send a blank note to gateway-trader-subscribe@egroups.com.
CALLING ALL ARTISTS
The Art Gallery at The Zocalo Today is open. There are SO MANY talented people in our Babylon 5 community. We have enjoyed works by Todd Brugman and Tye Bourdony on our toons page, but there are a host of others who enjoy drawing, painting, sketching their favorite characters. Here are a few works that have been received. I have some others that will be added soon.

If you would like to share your work with us at The Zocalo Today, please send along a digital photo of your work and I'll begin putting the gallery together. If you do not have your work in digital format, drop me a note and we'll see what we can work out.
CALLING ALL CLUBS
There are a number of fabulous Babylon 5/Crusade Clubs around the world. Visit the B5 Fan Club page to see if there is a club near you. If you have a club that you would like to have listed, drop the information about your Club to me at sgbruckner@aol.com or bruckner@isnnews.net. That information will be added to the new B5 Fan Club Listing.

Massimo has sent an update for the B5 Fan Club in Italy. Founded in 1995, the club now has 230 members! In Italy, they have just seen the last two episodes from season five! Membership in the club includes: the club card, a poster, a personalized pen and four number of ISN Network the fanzine published by the club. The cost is Euro 20 for an year in Italy. Interested? Contact Massimo at mmartini@italway.it.
BABYLON 5 FAN CLUB
Netter Digital filed for bankruptcy in July of 2000 and all their worldly posessions were auctioned off on December 7. The B5 Fan Club site, Thestation.com and it's store, the Emporium, has been closed.
BABYLON 5 NEWSLETTERS
If you have a newsletter you'd like to have listed at The Zocalo Today, send the information along. It will be posted on the B5 Fan Club/Newsletter page.

Ranger Shane in North Carolina sent in the following note about their "Jumpgate" newsletter.

Hey Sandy! Just wanted to give you an update on the NC B5 group's newsletter, Jumpgate. There's now a dedicated EMail address for submissions - jumpgatemag@bellsouth.net - and any submissions, solicited or un-, can be sent to this address. Also, issues are available for free download at the URL at the bottom of this message.

Jumpgate - The Newsletter of the North Carolina Babylon 5 Fan Club
Shane Killian, Editor
HELP WANTED
A new HELP WANTED section has been added to the Z. If you need help finding a comic book, getting a special item, etc. here's the place to post a note. Just send whatever help you need to thezocalo@aol.com.
---
BABYLON 5/CRUSADE CONVENTIONS
CONVENTION CALENDAR
Maquis Gras 2002
October 4-6, 2002
Place: Ramada Inn, Portage, Indiana
B5 Guest: Bill Blair
For more information, visit their website at http://www.maquis.com/mfa/gras1.htm.
---
Point North
October 5-6, 2002
Place: Salem Civic Center
Salem, VA
B5 Guest: Stephen Austin
For more information, visit their website at http://www.point-north.com.
---
Slanted Fedora, Raleigh Area
October 11-13, 2002
Place: Durham Marriott
B5 Guest: Stephen Austin
For more information, visit their website at http://www.sfedora.com.
---
V-Con
October 11-13, 2002
Place: Plaza 500 Hotel
Vancouver, British Columbia
B5 Guest: J. Michael Straczynski
For more information, visit their website at http://www3.telus.net/dh2/vconsociety/.
---
JVL-CON 2002
October 24-27, 2002
Jainesville, Wisconsin
Place: Ramada Inn
B5 Guest: Stephen Austin
For more information, visit their website at www.si-fi-nut.com .
---
BEST OF BOTH WORLDS POSTPONED
October 26-27, 2002
Sydney, Australia
B5 Guests: Andreas Katsulas, Claudia Christian, Jerry Doyle, Stephen Austin
For more information, visit their website at www.bobw.com.au .
---
VULKON
November 15-17, 2002
Orlando, Florida
B5 Guests: Bruce Boxleitner, Jerry Doyle
For more information, visit their website at http://www.vulkon.com/orlandonov/.
---
Be sure to visit our Convention Calendar for a full listing of upcoming conventions featuring Babylon 5, Crusade and Legend of the Rangers cast members as guests.
ZOCALO TRADING POST
Do you have extra copies of B5, Amazing Spiderman, Midnight Nation or Rising Stars comics you'd like to trade? How about those extra trading cards or B5 magazines? There are a lot of fans looking for these items -- and the Trading Post can help you buy or sell them. To see what's available, just use this link to the Trading Post. To have items included in The Trading Post, send a note to The Zocalo. Please put Trading Post in the subject line.
Pen Pals
If you are looking for someone to talk about Babylon 5 and Crusade with, the Pen Pal section is for you! Check it out! Drop a note to someone who is feeling B5 withdrawal -- BIG TIME!

People thought a Pen Pal page was a good idea. If you would like to meet people who you could chat with or share your opinions of the show with, send along your e-mail or snail-mail address The Zocalo. It will be incorporated on the new Pen Page Page.
BABYLON 5 BIRTHDAYS
Pat Tallman - September 4
Cinzia Zanetti - September 5
Robin Atkin Downes - September 6
Mira Furlan - September 7
Walter Koenig - September 14
Robert Rusler - September 20
Gary Cole - September 20
Bear Burge - September 23
Jason Carter - September 23
Manny Case - September 23 Don't know some of these folks? Bear Burge was the prop artist for Babylon 5. I sent many a wonderful hour talking and watching Bear create some wonderful devices to be used on B5 and Crusade. Manny Case is a make-up artist. He had worked with Mira Furlan -- in creating Delenn each morning. Have I missed anyone? If you know the birthday of someone connected with Babylon 5, pass the information along. We want to include everyone in our Happy Birthday Wishes.
MAIL FOR CAST AND CREW
Here's a recent note from JMS on the subject:

Just an FYI to those who've been using the Ventura Blvd. mail drop for fan mail to actors....

As mentioned before, we're phasing out the forwarding of fan mail because we a) don't have the resources, complicated by b) the actors have scattered to the four winds, and it makes it very difficult to get everything to everybody in a timely fashion.

So, having provided prior notice...fan mail to actors coming to the Ventura Blvd. mail drop will be sent back. Mail to actors should be sent via their official fan clubs. I will still be taking mail there, since it's my mailbox, but that's it.

Just so's y'all know and save a few bucks on postage and returns.

JMS' mail can be sent to:

14431 Ventura Boulevard, PMB 260
Sherman Oaks, CA 91423

WARNER BROS:

Warner Bros. Address:

Warner Bros. Domestic Television Distribution
4000 Warner Blvd.
Burbank, CA 91522

Warner Home Video:

Mr. Douglas Wadleigh
VP for Marketing and Special Features
Warner Bros.
4000 Warner Blvd.
Burbank, CA 91522

SCIFI:
Bonnie Hammer, President
Sci-Fi Channel
1230 Avenue of the Americas
New York, NY. 10020-1513

Mr. Thomas Vitale
Senior VP of Acquisitions, Scheduling & Program-Planning
BACK ISSUES OF THE ZOCALO TODAY
The front page of the The Zocalo Today changes daily, so be sure to check the back issues to make sure that you haven't missed anything IMPORTANT! I don't want the front page getting too long so I shift information periodically into the archives. So if you aren't a regular visitor to The Zocalo Today, be sure to check out the back issues. Just use the button above!
---
Take care and I look forward to hearing from you.
Sandra Bruckner (sgbruckner@aol.com)
Editor/Publisher
The Zocalo Today
http://www.isnnews.net
Copyright - SBruckner, 2002