[an error occurred while processing this directive]

The Zocalo Today

Welcome! I am REALLY glad you dropped by. Take your shoes off, get comfortable and stay a while.

The Zocalo Today is an interactive newsletter. If you have suggestions, please send them along. The Zocalo Today is as much YOUR newsletter as it is mine! I'm just pulling together things for you! Join our weekly discussion topic. It is just one way you can interact with other Z readers. Send along letters, sightings of B5 cast and crew in other projects, convention reports, photos, etc. Don't miss our back issues. There is a LOT of information contained there and you'll not want to miss anything.

If you have questions, drop me a line at sgbruckner@aol.com or b5web@aol.com.

Again, WELCOME!

September 28, 2001 4:24am
What's New
As many of you know, Spiderman hangs around NYC quite a bit -- and with the events of September 11, Marvel thought that one of their books should deal with the current situation. They have asked JMS to write something -- and he has. There's a longer post from JMS about an upcoming issue of Amazing Spiderman below.
---
Bill Mumy's Fan Club has put up some unbelieveably special items up for sale at e-bay in an effort to raise money for the Red Cross and victims of the September 11 tragedy. Details are below.
---
THANKS for the many responses to this week's discussion topic that have come in this morning. I love reading through them -- and I'm sure others will also. Discussion Topic page.
---

TELETHON: It was wonderful to see so many networks join in airing "America: A Tribute To Heroes" last night. The live, commercial-free, simulcast was an effort to raise fund for a long-term relief effort for Americans who have directly suffered from last week's terrorist attacks. It was terrific to see stars such as Jack Nicholson, Adam Sandler, Meg Ryan, Brad Pitt, Goldie Hawn, Kurt Russell, Danny DeVito, Cindy Crawford, Al Pacino, John Cusack, Chris Rock, Sylvester Stallone, Benicio Del Toro, Ben Stiller and James Woods on the telephones taking donations. Contributions can be made at http://www.tributetoheroes.org/.
---
This month's issue of TV Zone has a feature on "Legend of the Rangers". In addition, SCIFI has the upcoming telemovie featured on it's homepage, with a link to their website.
---
NEW VIRUS WARNING: There are a number of new viruses making their rounds this week. Many have to do with attachments to e-mail messages -- so BE CAREFUL. Don't open any messages entitled Photos of the Family! Be sure your virus signatures are up to date. Protect yourself!
---
Sept. 16 - I have just spent the last hour reading messages of encouragement and hope for the future. There were poems and well wishes sprinkled with an exchange of thankfulness for friends who are safe and sound. In times as this, you realize what a community we have built here -- through our love of Babylon 5 and the encouragement IT has given us over the years. "Faith Manages" indeed. In the coming days and weeks, our faith will be tested as we strive to rebuild -- but rebuild we will. There is no doubt about that in anyone's heart. And, because we are rebuilding together, we will all be the stronger because of it. Buildings may have been destroyed and damaged; people have been killed and injured. But the American spirit will endure -- just as Babylon 5 has endured. Be well, be safe.
---
BLOOD DRIVES: If you are able, be sure to roll up your sleeves and give blood -- both now and in a couple of weeks. The need for blood will be continual. Right now, the tremendous outpouring of volunteers has filled quotas and storage space! FANTASTIC!!! But those supplies will be utilized and a new supply will be needed soon. Check out donation drives near you. I'm signed up already.
---
The e-mail version of The Zocalo Today goes out on Saturdays. If you would like to be included on the mailing list, just send a blank note to thezocalo-subscribe@yahoogroups.com. If that doesn't work for you, drop me a note at sgbruckner@aol.com. I can add you manually.
---
NEWS AROUND THE SCI-FI GENRE
September 28:
ENTERPRISE: So far, the critics seem to like Enterprise. There are several reviews out at the Star Trek site -- from the Hollywood Reporter, Variety, etc. You can read them for yourself and see if you agree with their opinion. TV Guide Online placed UPN in second place for the night. Preliminary estimates indicate Enterprise averaged a 9.9 rating, good enough to rank just behind NBC in the 8 p.m. hour and CBS at 9 p.m., according to Zap2it.com.
---
ROSWELL: Despite rumors that Brendan Fehr and Jason Behr did not want to return to the series for the third season, it's been business as usual, according to Nick Wechsler, who plays Kyle on the series. Roswell will premiere on UPN Tuesdays at 9 p.m. ET/PT, starting Oct. 9.
---
RATINGS: The Top 10 SF Network Shows: The X-Files 3.8; Night Visions 3.0; Dark Angel 2.9; Charmed 2.0; Voyager 1.5; Special Unit 2 1.4; Angel 1.2, and All Souls 0.9.
---
LEXX - INVISIBLE MAN: Episodes that were not shown last week because of sensitivity or the telathon will air today. The I-Man episode, "Exposed" will air at 8pm tonight and feature guest star Adam Storke. Storke will chat with fans after the episode here at www.scifi.com/chat, following the episode.

Lexx will air the episode "Magic Baby" at 10 p.m., in which the crew joins forces with an aging rock star who says he's a reincarnated druid.
---
BUFFY: DVDFILE.COM reports that on January 15th, BUFFY: THE VAMPIRE SLAYER—THE COMPLETE FIRST SEASON will be released. The episodes will be presented in full frame with 2.0 Dolby Surround audio, along with an audio commentary by creator Joss Whedon on the first episode, "Welcome to the Hellmouth." Whedon will also provide three interviews on six episodes, plus there will be a talk with Whedon and David Boreanaz, a trailer, the original pilot script, a photo gallery, bios, and DVD-ROM features. At $39.95, this sounds like a terrific deal.
---
September 27:
ENTERPRISE: Well -- what did you think of the pilot episode? Did it work for you? Do you feel Enterprise is going to be worth catching week after week? Personally, I like it. There was some nice character development going on, but writing will be a critical factor. For more information about last night's first episode, go to http://www.startrek.com/news/nextonent.asp. Paramount is doing a good job of putting information out about the new series and it's cast.
---
STAR TREK X: Star Trek fans will have a chance to bid on a visit to the set of upcoming film, Nemesis, in a charity auction sponsored by Chivas Brothers. The set visit is one of several items in the eBay auction, which will benefit charities such as The River Fund. The auction will run from Oct. 11 to Oct. 21 with the winner visiting the Nemesis set at Paramount in Los Angeles, then have lunch with star Patrick Stewart (Jean-Luc Picard).
---
NEW PRODUCTIONS:
MEN IN BLACK 2: According to Variety, Vin Diesel has signed an $11 million contract to reprise his Pitch Black role in the sequel The Chronicles of Riddick. No director has been hired yet; the movie is slated to begin shooting in spring 2002. David Twohy co-wrote and directed the original Pitch Black.
---
D-MEN: The Hollywood Reporter reports that Gil Junger is set to direct Warner Brothers' upcoming supernatural action-comedy film D-Men. Andrew Lazar and his Mad Chance Productions company will produce the film. No start date has been set.
---
DINOTOPIA: Variety indicates that ABC is in serious discussion with Hallmark Entertainment regarding the purchase of 22 hour-long episodes of a proposed Dinotopia TV series. Hallmark's upcoming six-hour miniseries, which ABC plans to air this season, is based on James Gurney's best-selling Dinotopia fantasy books. The proposed series would continue that story.
---
September 26:
RATINGS: Top 10 SF Syndicated Shows: 3rd Rock 3.2; The X-Files 3.2; Stargate SG-1 2.6; Andromeda 2.4; John Edward 2.3; Profiler 2.0; Xena 2.0; Earth: Final Conflict 1.6; Outer Limits 1.5, and Sheena 1.4.
---
LORD OF THE RINGS: If you, like me, missed the trailer that was presented during the premiere of Angel on Monday night, you can see it out at the http://www.lordoftherings.net/ website. You'll need Quicktime to view it though.
---
HEARTS IN ATLANTIS: Synchronicity is something all of us are familiar with -- JMS talks about it all the time. Anthony Hopkins stars in the upcoming feature-film version of Stephen King's Hearts in Atlantis and talks about his own series of coincidences related to his doing this work at www.scifi.com.
---
DARK ANGEL: Kevin Durand joins the cast of Dark Angel this year, as Joshua, a mix of human and dog DNA. "He's got a little bit of the canine in his genetic cocktail." Joshua will be introduced in "Designate This," the first episode of the second season which airs on September 28.
---
STAR TREK: On October 1 at 7pm, TNN kicks off a marathon of Next Generation episodes & movies. Jonathan Frakes will host TNN's original one-hour documentary America Loves ... Star Trek, which mixes clips from the original and spinoff series with interviews with cast and production-team members, space experts and fans. The TNN marathon runs Oct. 1-5 and will include three of the Trek movies and 77 popular episodes of TNG. It will air daily from 9 a.m. to 3 a.m. ET/PT.
---
ENTERPRISE: Tonight's the night! The much anticipated premiere of Enterprise begins tonight at 8pm ET. We'll have to get together and see if it's as good as the critics anticipate! Let's hope that they can indeed bring back the promise of the first Star Trek series. UPN has a great deal riding on the success of the series.
---
ANGEL: There is a lot of appeal to Angel, with a number of twists and turns with the story. If you are a Wesley fan, you'll not want to miss the article Kate O'Hare has done on Alexis Denisof over at Zap2It.com. Alexis is enjoying the journey his character has taken, moving from Buffy into Angel. He says, "I love my life. I consider myself very fortunate. I get to goof off and fight demons and horse around on 'Angel,' and they're foolish enough to pay me for it. I spend my summers traveling to extraordinary places, and I share my life with a wonderful woman. I'm very happy."
---
September 25:
TIMELINE: The current situation with travel is affecting a number of productions. Production of the feature-film version of Michael Crichton's Timeline novel may move from France to the United States. According to IGN FilmForce, poor weather, air-travel hassles and the threat of strikes derailed the production's European plans. While still in pre-production, Richard Donner's location manager is scouting for suitable locations throughout the United States. Much of the film takes place in the towns and castles of 14th-century France. The crew will reportedly require 40 acres of land on which to build medieval village and castle sets. No word as yet as to whether or not this change will delay the film's production and release.
---
TELATHON: While the numbers are still coming in, it appears that Friday night's all-star telethon earned more than $150 million, organizers said Monday. The event was carried by more than 35 U.S. broadcast and cable television networks, 8,000 radio stations and on the Armed Forces Network to U.S. military personnel in more than 175 countries. The special was also streamed on the Internet and provided to television outlets in more than 210 countries. An estimated 89 million viewers watched at least some portion of the telecast. Contributions are still be accepted at http://www.tributetoheroes.org/.
---
JUSTICE LEAGUE: According to Comics Continuium, Powers Boothe and David Ogden Stiers will provide guest voices on Cartoon Network's upcoming Justice League animated superhero series. Boothe will voice Gorilla Grodd in a two-part episode written by Dwayne McDuffie, featuring the Flash and Green Lantern. Stiers will voice Solovar, a leader of Gorilla City.
---
September 24:
RATINGS: The Top 10 SciFi Channel Shows: Alien Cargo 1.5; Fortress 2 1.4; The Outer Limits 1.3; The Chronicle 1.2; Star Trek 'Thon 1.2; First Wave 1.0; Invisible Man 1.0; John Edward 1.0; Idle Hands 1.0, and Stranded 1.0.
---
REMOTE PATROL: Cinescape.com will try to bring us objective reviews of upcoming episodes for the week. This week - everyone is anticipating Enterprise's entry into our galaxy. Ratings should be off the scale, especially since West Wing has shifted it's premiere until next week.
---
ST NEMESIS: ``Star Trek: Nemesis'' has been given the greenlight by Paramount Pictures. Director Stuart Baird (''U.S. Marshals'') begins shooting on Nov. 28 from a script by John Logan, co-writer of ``Gladiator.'' This 10th installation of the Star Trek franchise could have a fall or holiday 2003 release date.
---
ENTERPRISE: So many folks had wondered about the uniforms for the new series, Enterprise. You can catch a sketch drawing of them, along with an interview with Scott Bakula at USA Weekend.
---
TRACKER: Adrian Paul is back! But not as Duncan McLeod. He's got a new series, Tracker, in which he portrays Cole, an intergalactic prison guard out to recapture some of the galaxy's most dangerous criminals. Prevue Magazine has an interview in which he talks about his character, his role in the series itself and much more.
---
September 23:
FALL SEASON: Wondering what to watch and what to pass up as the new season gets underway? SciFi has done some homework for us. Over at Season Preview you'll find some reviews for upcoming series, including Smallville, Mutant X and The Tick. A longer review of Enterprise is available at Preview.
---
ROSWELL: The new season of Roswell will premiere shortly. Shiri Appleby talked a little bit about what lies ahead saying that in the season opener, "Busted," Max and Liz are going to be together. "The scenes are really sweet and romantic between them. It's also very dangerous, because Max and Liz start rebelling together. They hold up a liquor store and get arrested. Liz's parents forbid her from seeing Max, but Max and Liz are working together to contact Max's son." "They're not as sweet and wholesome as they used to be."
---
RELIEF EFFORTS: A number of individuals at Marvel, Tidal Wave and other comic book production houses are making special efforts to join the relief efforts of the United Way and Red Cross. For some, there will be special comic books sold, special art work available. You can read about the individual efforts at http://www.comics2film.com/Attack.shtml#Artists.
---
September 22:
LORD OF THE RINGS: Trailers for the Lord of the Rings film are turning up in a variety of places. Zap2It.com reports that a full-length trailer will be shown during the third-season premiere of Angel on September 24. A 30-second version of the trailer snuck onto the MTV Video Music Awards show a couple of weeks ago. The film, The Fellowship of the Ring, opens Dec. 19.
---
WEST WING: A number of premieres will be delayed in light of events of September 11. NBC has set October 10 as the date for the second season premiere of The West Wing to October 10. Creator Aaron Sorkin is reportedly writing a special episode titled "Isaac and Ishmael" focusing on terrorism. It will air October 3.
---
ENTERPRISE: There are a ton of clips out at http://www.enterpriseuk.tv/e-media/index.asp for the new series. The premiere is just a few days away.
---
BILL MUMY E-BAY AUCTIONS FOR RED CROSS
From: Mumyclub@aol.com

In this time of crisis, the following Lost in Space fan clubs have united to raise money to donate much needed funds to the American Red Cross Disaster Relief Fund: Bill Mumy Official Fan Club, Lost in Space Memories (the Official Lost in Space Cast website), Angela Cartwright Official Fan Club, The Marta Kristen Official website. Each official organization is donating items from their personal collections in order to raise money for the American Red Cross Disaster Relief Fund. 100% of the winning bid amounts (less the shipping costs & Ebay fees) will be donated to the Red Cross in NY to help our great country and the families who lost their lives.

Look under Ebay User name: B5zathras (Bill Mumy fan club) & JadeBridge (Angela Cartwright fan club) fpr the list of auctions. We have movie, Trek, B5, Lost In Space, Music stars.

If you have not already donated directly to the Red Cross, we encourage you to do so. Please see the address at the end on where to send a check or find out how you can help. However, if you are interested in bidding on an item our clubs have to offer, we will donate 100% of the winning bids directly to the Red Cross as part of our "Lost in Space" joint Fan Clubs charity auction. "Lost in Space" fan clubs are working together to help our fellow Americans in a time of need.

Support: www.redcross.org & www.helping.org
American National Red Cross Attn: Disaster Relief
430 17th St NW Washington, DC 20006
AUCTION FOR AMERICA
$100 Million in 100 Days
Introducing Auction for America
At the request of the State of New York, Governor George Pataki and New York City Mayor Rudolph Giuliani, eBay is pleased to announce Auction for America.

Auction for America is a joint effort between eBay, the eBay community and eBay partners. eBay will waive all listing and final value fees, by crediting the seller for all Auction for America listings. Billpoint - with the support of Visa®, MasterCard® and the Discover Card® - will waive all fees including standard seller credit card processing fees.

To help ensure the success of this effort, eBay and its partners are donating their services for free and will receive absolutely no profit from Auction for America listings.

*= *= *= *= *= *= *= *= *= *= *= *= *= *= *= *= *= *= *=
"We believe that people are basically good"
"We believe that everyone has something to contribute"
- eBay Community Values
*= *= *= *= *= *= *= *= *= *= *= *= *= *= *= *= *= *= *=

Since the day eBay was founded under these values, millions of people have come together to form a powerful global trading community. The combination of this community and the eBay platform presents an extraordinary opportunity to provide relief in the wake of September 11th.

Our Community has a unique strength. With your help, together we can raise $100 million in 100 days for the individuals and communities impacted.

Visit www.ebay.com to buy, sell or donate money.
YOU CAN HELP
Here are some telephone numbers and websites that have information on how you can help the victims in Washington and New York City:

New site:
http://www.libertyunites.org/

New York City information:
http://www.hot97.com/newsletters/HOT97newsletterwtc.htm

To Give Blood:
American Red Cross 1-800-HELP-NOWhttp://redcross.org

New York Blood Center 1-800-933-BLOODhttp://nybloodcenter.org

To Make Financial Contributions:
American Red Cross 1-800-HELP-NOW http://redcross.org

United Way 1-212-251-4035 http://www.uwnyc.org

Salvation Army 1-800-SAL-ARMY http://www.salvationarmy.org

To Volunteer Services (New York):
FEMA World Trade Center Relief 1-800-801-8092

National Prayer:
http://www.mamarocks.com/national_prayer.htm

Helping:
http://helping.org

Disaster response: How you can help
http://specials.msn.com/special/help.asp

Amazon Books has opened up a page for contributions to the American Red Cross. Go to www.amazon.com and make a contribution. Their total this morning is listed at $5.5 million dollars.

AOL Time Warner has made a $5 million dollar contribution to the relief effort. They are also matching funds from employees. Their total yesterday was $7.5 million dollars.

AROUND THE WORLD:
Z Readers around the world have sent in their sympathies. Countries around the world have sent in aid and assistance as the recovery efforts continue. Loss of life is, unfortunately, something we can all identify with.

Here are some photographs from around the world, as people honor those who have died. http://www.fatwallet.com/thankyou.htm.

LIGHT A CANDLE:
Here is a place to light a candle for those lost at the wtc attack http://worldtradecenter.com/
THIS WEEK'S DISCUSSION TOPIC:
Babylon 5 has been a source of comfort and support for many individuals. With the events of the past couple of weeks, now might be a good time to share some of your most memorable moments -- those stories that touched your heart -- or roused you to action. I know, there are many and that it will be hard to send along only one or two. But send along your thoughts to share with other readers here at The Zocalo.

Here is one of my favorites -- just to get your started.

One of the most touching moments (to me anyway), comes in TKO, when Sinclair comforts Ivanova as she confronts the grief of loosing her father. That brief moment brings me to tears every time I watch it.

Here is a declaration we should all strive to live by:
Declaration of Principles of the Interstellar Alliance
The Universe speaks in many languages, but only one voice.
The language is not Narn or Human or Centauri or Gaim or Minbari.

It speaks in the language of hope. It speaks in the language of trust.
It speaks in the language of strength, and the language of compassion.
It is the language of the heart and the language of the soul.
But always it is the same voice.

It is the voice of our ancestors speaking through us.
And the voice of our inheritors waiting to be born.
It is the small, still voice that says we are One.

No matter the blood, no matter the skin,
No matter the world, no matter the star,
We are One.
No matter the pain, no matter the darkness,
No matter the loss, no matter the fear.
We are One.

Here, gathered together in common cause
We agree to recognize this singular truth and this singular rule:
That we must be kind to one another.

Because each voice enriches us and ennobles us,
And each voice lost diminishes us.
We are the voice of the universe, the soul of creation,
The fire that will light the way to a better future.

We are One.

Which scenes, statements come to mind for you? Drop your thoughts to TheZocalo@aol.com or B5web@aol.com. I'll post them on the Discussion Topic page for everyone to share.
KEEPING UP WITH CAST AND CREW
CLAUDIA CHRISTIAN: Ranger Margaret reports that an episode of Family Law featuring Claudia Christian, entitled, "Are You My Father?" will air at 11am on October 5 on Channel 5 in the UK.
---
BRUCE BOXLEITNER, PAT TALLMAN, JEFFREY WILLERTH: Bruce, Pat & Jeffrey have taken time to write special notes related to the events of September 11. I hope you will take a couple of minutes to visit their websites over at The Galactic Gateway.
---
DYLAN NEAL: Dylan, Captain David Martel in the new "Legend of the Rangers" telemovie is keeping busy while SCIFI waits to see how the movie will do in January. He has returned to "Dawson's Creek" and has won a recurring role in the new series "Thieves" with John Stamos. Dylan mentioned in a recent note that he was going to Shanghai soon to film a movie, so we should be seeing him soon in other projects.
---
RICHARD BIGGS: Richard Biggs, Dr. Franklin from B5, will be returning to the soap opera circuit, joining the cast of "Guiding Light".
---
ALEX ZAHARA: Ranger Dennis in Vancouver reports that Alex Zahara (Dulann from the new Legend of the Rangers) has won a recurring role in JMS' new "Jeremiah" series. He will portray "Ezekiel" -- a character as far removed from Dulann as possible, according to Alex.
---
MELISSA GILBERT: Melissa is set to star and DIRECT a movie for Animal Planet called "Eye of the Wolf". Filming starts filming sometime in Sept.-Oct. This is her first movie as a director. She portrays a widowed rancher with a young son. According to Melissa, it's a very action-packed story with lots of animals to work with, even four wolf cubs!!!!!!!!!!!
---
PAT TALMAN AND MIRA FURLAN Both Pat & Mira have appeared in upcoming Sheena episodes. In addition, Mira's husband Goran Gajic has directed two episodes. Mira's episode "Treasure of Sienna Mende" will air the week of November 10; Pat's episode "The Darkness" will air the week of November 17. Goran's episodes "Sienna Mende" and "Return of the Native" will air the week of January 26.
---
BABYLON 5/CRUSADE CHRONOLOGY
A number of you have written to ask about having an index of the chronology published thusfar. Terry has given permission for this so I'm working on it. You can now find the index to the timeline published thusfar at B5 Chronology Index .

Terry Jones created a FANTASTIC Babylon 5/Crusade Chronology that was published in the Official Babylon 5 magazine. He has not stopped with the end of the series though. He has included items from the latest novels as well as things from the Crusade series. Here's a note from Terry to tell you all about it.

To look at the timeline in a different way, I have been working with Terry Jones on personal chronologies for the Babylon 5 universe. At The Galactic Gateway you will fine Parts 1-4 of the chronology for John Sheridan along with Part 1 for KOSH. Others will follow. I hope you will visit GG and give the chronologies a look.

Three new installments to the Babylon 5 Chronology are now available. They are 2249-2255; In The Beginning, and The Great War.
SCI FI PUBLICATIONS
Cult Times Special #19: New series premieres are the focus of the latest issue! Enterprise and Smallville will be getting a fair amount of exposure, as will Buffy and Angel. However, this issue also features an interview with Alex Zahara (Dulann) from the new telemovie LEGEND OF THE RANGERS.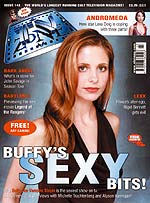 TV Zone #143: Buffy died on the final episode of last season. I'm sure that's not the last we'll see of her -- at least not with a new season approaching on UPN! In this issue you'll find interviews with Alyson Harrigan (Willow) and Michaelle Tracktenberg. John Savage talks about Dark Angel and Lexa Doig looks ahead as Andromeda begins it's second season. LEGEND OF THE RANGERS is also featured in an article that takes a peek at the upcoming telemovie..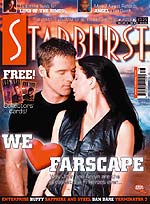 STARBURST #278: Starburst LOVES Farscape! At least that's what's on the cover. Also inside, you'll find articles and interviews for Lord of the Rings, Angel, Buffyand more.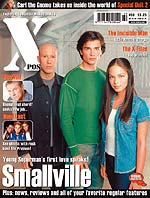 Expose #60: Smallville hopes to break new ground in the Superman saga, including showing Clark Kent as both boy of steel and teenager. Bill Sadler provides some insight into Roswell -- talking about the past two seasons and looking ahead to #3. Other features: X-Files, Special Unit 2; Invisible Man and Witchblade!
SCI-FI SCHEDULE
BABYLON 5's Schedule: 7pm each evening:

Air Date Title

Oct. 1 Points of Departure
Oct. 2 Revelations
Oct. 3 The Geometry of Shadows
Oct. 4 A Distant Star

Oct. 9 The Long Dark
Oct. 10 Spider in the Web
Oct. 11 Soul Mates

Oct. 15 A Race Through Dark Places
Oct. 16 The coming of Shadows
Oct. 17 Gropos
Oct. 18 All Alone in the Night

Oct. 22 Acts of Sacrifice
Oct. 23 Hunter, Prey
Oct. 24 There All the Honor Lies
Oct. 25 And Now for a Work

Oct. 29 In the Shadows of Z'Ha'Dum
Oct. 30 Knives
CRUSADE MARATHON/SPECIAL RANGER ANNOUNCEMENT
Here's a brief note from the Babylon 5 page at SCIFI: Watch the Crusade chain reaction on Oct. 8 for a special announcement about Babylon 5: The Legend of the Rangers.
---
CRUSADE CHAIN REACTION SCHEDULE
October 8:
7:00 am Racing the Night
8:00am The Needs of Earth
9:00am The Memory of War
10:00am The Long Road
11:00am Visitors from Down the Street
12:00 The Well of Forever
1:00pm Each Night I Dream of Home
2:00pm Patterns of the Soul
3:00pm The Path of Sorrows
4:00pm Ruling From the Tomb
5:00pm The Rules of the Game
6:00pm War Zone
7:00pm Appearances and Other Deceits
CRUSADE AROUND THE WORLD
Ranger Alexander has sent along the schedule for Crusade in Slovakia:

SLOVAKIA - TV MARKIZA - AIRS CURRENTLY EVERY MONDAY AT 10.50 PM CET.

10/01/2001 Visitors from Down the Street
10/08/2001 Each Night I Dream of Home
B5 ROLE PLAYING
Ranger Jamie has sent along the notice about their role-playing site. It has been around for quite a while, but they are always looking for new players:

The ISA Phoenix is a email based, RPG sim based in the Babylon 5 universe. The players portray a group of Rangers on a prototype ship. We are very interested in having new players join us! For more information, please visit the Phoenix website at www.sailbourne.com/phoenix/ or email Jamie Lawson at Sailbourne@aol.com.
BABYLON 5 NOVELS
The third book of the Technomage trilogy is scheduled for released on November 27, 2001. You may order it now at amazon.com.

Book #7 "Shadow Within" by Jeanne Cavelos has been very hard to find over the past year. However, the author has a few copies she will let fans purchase. If you are interested, let me know and I'll get details.

DelRey has a few Babylon 5 projects in the works. DelRey's Steve Staffel is trying to acquire the rights to the Babylon 5 novels published by Dell. His plan is to begin with the two favorites--by Jeanne Cavelos and Kathryn Drennan--and see what kind of response they get from the Babylon 5 fans. In addition, DelRey is considering publishing the short story collection, if they can pick up the license.
---
BABYLON 5/CRUSADE PHOTOSHOP
NEW PHOTOS
You do NOT have to pay the prices asked for over at e-bay! Here are photos of B5 and Crusade cast members at fantastic prices. Check out Photo Shop. Ordering is easy -- and you can't beat the prices! Just let me know which photos you want and I'll check to make sure they are still in stock.
---
COMIC BOOKS
SPIDERMAN NEWS
Here's a portion of a quote from JMS regarding upcoming Spiderman issues:
Date: 22 Sep 2001 09:17:32 GMT

Ever since the events surrounding the WTC, I have said little because, as noted in response to another note, I simply didn't have the words and didn't know where to look for them. And consequently declined invitations to make a statement, on the further grounds that I'm not qualified.

Here's where life just nails you.

I got an email from Marvel, who felt that in at least one of their books they needed to really address the issue of what happened at the WTC. Their feeling was that the one character best suited to this was Spider-Man because after all, he's a native New Yorker.

So they asked me to write it. Unsure if I had the wherewithal necessary to pull it off without embarrassing myself or trivializing the situation through any inadequacies on my part, I asked for 24 hours to think it over. Figured I'd probably pass, since I just didn't know how I could handle it in a comic book format.

Somewhere along the way that night, I found the words...and 24 hours after my email, I sent in the script

. I think it says what needs to be said.

jms

TOP COW: For those of us anticipating the next Midnight Nation and Rising Stars issue from JMS, it looks like we'll have a while to wait! I picked up this note today:

In a press release, Top Cow Productions announced it has made some adjustments to its editorial schedule in the interest of "its continuing mission to publish the absolute highest quality level in comics while maintaining scheduled ship dates."

Top Cow announced Fathom #13 and #14 and Tomb Raider: Greatest Treasure of All are all being cancelled pending resolicitation once these issues are complete. Midnight Nation #9 and Rising Stars #17 are both being resolicited for December 2001.

"Ultimately our goal is very simple, we want to publish the best written, best drawn comics in the industry and put them out in the month we solicit them in," said Top Cow President Matt Hawkins. "The changes we're making in the editorial schedule are being made to help ensure both aspects of this goal. There are a couple other scheduling changes we'll be making, but we'll announce those once we have them confirmed."
ROGUE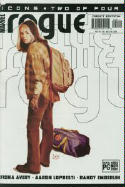 This X-Men spin-off is done by Fiona Avery. There is a review of the issue -- and mini-series over at http://scifi.ign.com/comics/7415.html
---
AMAZING SPIDERMAN #34
Issue #34 has just hit the stands and it's terrific. Over at Cinescape.com you'll find a review of the issue -- and as you can see, it's a keeper!





RISING STARS #16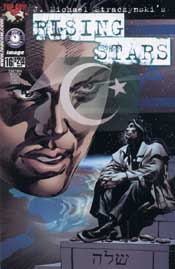 Rising Stars #162 is on your local comic book shelf now. There is a review at IGN.COM at http://scifi.ign.com/comics/3226.html.






Midnight Nation #8 is on on shelves now. There is a review -- and a recommendation to "BUY IT" -- out at IGN.COM.




**If you are having trouble finding the comic issues, drop me a line. My comic guy seems to be a HUGE JMS fan and has ordered more Marvel comics than anyone in the area!
NEW BABYLON 5 TOONS
John Cook has a new cartoon contest going. Try your hand at a punch line.




READER DIRECTORY
Sometimes you just can't find the e-mail address for someone you know you have -- it's someone who responded to a discussion topic or you met in one of the chat rooms. You'd like to send a personal note, but .... No address!!!!

We've started a White Pages of Zocalo Readers! It's a handy way of keeping track of people -- and putting together a birthday/greeting card list as well. If you would like to be part of the listing, just send me your name, state, e-mail address and (if you'd like to have it listed) birthday (without year) to sgbruckner@aol.com. Check out the Directory of Readers.

HAPPY BIRTHDAY TO YOU!

Name: Robert Folsom
Birthday: September 16
BABYLON 5 REFERENCE PAGES
The Official Babylon 5 Magazine is indexed here as well. With the closure of the magazine in May, you'll want to see which magazines you have -- and which ones you will want to collect. The index may help you make a decision on which ones to choose. The Fan Club has many of the issues at thestation.com , making it very easy to complete your collection.

Universe Today -- the Babylon 5 Fan Club quarterly can also be found here. The index gives you a rundown of what articles were presented, what interviews published.

If you have magazines that have featured Babylon 5 or Crusade that are not listed, send along their issue number and a note to indicate what the article was about. It would be nice to have a fairly comprehensive listing of Babylon 5 publications here.

I have added a listing of all the Babylon 5 novels and now the B5 comic books to the reference page. If there are other items that you feel should be included, let me know.
MAILING LISTS
NW-B5
NW-B5 is a mailing list devoted to bringing critical information to the Vancouver Island, Lower Mainland, and Northern Washington areas. More specifically, anyone north of Seattle. B5 is broadcast on SPACE:TIS in Canada, and Sci-Fi channel in the US. By subscribing to nw-b5, you'll be able to know info bringing you up to date on the current scheduling and events happening in the community related to B5. You'll also be subscribed to the list itself, which means that you'll receive email when there is a scheduling change or critical information needs to go out to you (for example, if we need to start another mailing campaign).

For further information, see http://www.nw-b5.com
John Francis
Webmaster, Listowner, and Co-Moderator
mailto:nw-b5@iname.com

Reports of "The Gathering" are beginning to turn up on the list. John posted a mini-report, with photos, over at http://www.geocities.com/jnf.geo/nw-b5/gathered.htm#0501. You may want to check it out. It was a terrific event in which JMS showed clips from the new "Legend of the Rangers".
BABYLON 5 DISCUSSION LIST
The Babylon 5 discussion mailing list is for any and all discussions and/or news pertaining to or related to Babylon 5 and/or Crusade. The list has been in existence for the past three years now, and has recently moved. The new location is http://lists.apparition.org/cgi-bin/lyris.pl, and you can subscribe by sending a blank e-mail message to join-babylon_5-l@lists.apparition.org.
THE GALACTIC GATEWAY
Here's a unique site for you! Jeffrey Willerth, Patricia Tallman, Mira Furlan, Claudia Christian, Robin Atkin Downes, Rick Biggs, Jerry Doyle, Bruce Boxleitner, Melissa Gilbert, Peter Jurasik and Bill Mumy are under it's umbrella. Actors from other shows have joined the Gateway. Ted Raimi and Robert Trebor from Xena and Hercules are now at GG. To subscribe to a mailing list for GG, send a blank note to thegalacticgateway-subscribe@egroups.com.
GATEWAY CHATTERS
There is never enough time to keep in touch with friends! To help out, a mailing list has been started for chatters over at the Galactic Gateway. If you are interested in joining, send a blank note to gateway-chatter-subscribe@egroups.com.
GATEWAY TRADER
Are you looking for a particular Babylon 5 collectible? Do you have some items you'd like to trade? Then this is the list for you. To join, send a blank note to gateway-trader-subscribe@egroups.com.
CALLING ALL ARTISTS
The Art Gallery at The Zocalo Today is open. There are SO MANY talented people in our Babylon 5 community. We have enjoyed works by Todd Brugman and Tye Bourdony on our toons page, but there are a host of others who enjoy drawing, painting, sketching their favorite characters. Here are a few works that have been received. I have some others that will be added soon.

If you would like to share your work with us at The Zocalo Today, please send along a digital photo of your work and I'll begin putting the gallery together. If you do not have your work in digital format, drop me a note and we'll see what we can work out.
CALLING ALL CLUBS
Amanda, a member of the club 'Friends of Science Fiction' in Sydney, Australia, dropped a note to say that they will host an event with Marjean Holden on September 9. More information can be found on the convention calendar. If you are in beautiful Sydney, you may want to check out the Club. It meets at: Lidcombe Catholic Club; John St; Lidcombe. If you have questions, drop Amanda a note at Amanda_Beachcroft@msn.com.au.

There are a number of fabulous Babylon 5/Crusade Clubs around the world. I'd like to begin listing them here on The Zocalo Today. Eric dropped me a note the other day providing information about a Club in France. I know there are other clubs in Brazil, Germany, Russia -- and who knows how many here in the US. Let's get a listing together. Perhaps we can share resources, even get together as we travel around. Drop the information about your Club to me at sgbruckner@aol.com or bruckner@isnnews.net. That information will be added to the new B5 Fan Club Listing.
BABYLON 5 FAN CLUB
Sad news. I don't know what the fate of the B5 Fan Club will be. Netter Digital filed for bankruptcy in July and all their worldly posessions were auctioned off on December 7. Thestation.com is back on-line, however the Emporium has been closed.
BABYLON 5 NEWSLETTERS
If you have a newsletter you'd like to have listed at The Zocalo Today, send the information along. It will be posted on the B5 Fan Club/Newsletter page.

Ranger Shane in North Carolina sent in the following note about their "Jumpgate" newsletter.

Hey Sandy! Just wanted to give you an update on the NC B5 group's newsletter, Jumpgate. There's now a dedicated EMail address for submissions - jumpgatemag@bellsouth.net - and any submissions, solicited or un-, can be sent to this address. Also, issues are available for free download at the URL at the bottom of this message.

Jumpgate - The Newsletter of the North Carolina Babylon 5 Fan Club
Shane Killian, Editor
HELP WANTED
A new HELP WANTED section has been added to the Z. If you need help finding a comic book, getting a special item, etc. here's the place to post a note. Just send whatever help you need to thezocalo@aol.com.
---
BABYLON 5/CRUSADE CONVENTIONS
CONVENTION CALENDAR
With the events of September 11, many changes have been made to conventions around the country. If you are planning to go to a convention, please check with the organizers to see if there are any changes -- like guest cancellations, etc.

Use this link Convention Calendar. to see if there is a convention happening near you. Have a convention you would like to have listed here? Pass along the information.
CONVENTION ALERT
UNITED FAN CON: Jason Carter & Richard Biggs have been added to the guest list for United Fan Con in November. For more information, visit http://www.unitedfancon.com/.

CONVENTION ATTENDANCE

Are you attending one of the conventions on the calendar? Or another one perhaps? Do you want to see who else might be there? Drop your e-mail address to TheZocalo@aol.com. We've begun an attendance page so that perhaps we can get together while enjoying the activities of the convention. Convention Attendance .
UPCOMING EVENTS
Encounter on the Northcoast
September 21-23, 2001
Guest: Peter Woodward

For more information, visit their website at http://www.regionone.net/2001.
---
Slanted Fedora
September 28-30, 2001; Durham, NC
Guests: Walter Koenig, Claudia Christian, Wortham (Bob) Krimmer

For more information, visit their website at http://www.sfedora.com/ or call (913)327-8735.
---
Capclave
September 28-30, 2001; Seattle, WA
Guests: Gardner Dozois, Roger MacBride Allen, Brenda Clough, Alexis Gilliland, Peter Heck, Jane Jewell, Mindy Klasky, Nancy Kress, Charles Sheffield, Michael Swanwick and Lawrence Watt-Evans

For more information, visit their website at http://www.wsfa.org.
---
Praxis 2001 - A Space Odyssey
October 5-7, 2001; Pittsburgh, PA
Guests: Bill Blair

For more information, visit their website at http://www.praxisfoundation.org/.
---
35TH ANNIVERSARY OF STAR TREK
October 13-14, 2001
Ford Community Performing Arts Center
Dearborn, Michigan
SHOW HOURS: NOON TO 7PM
Guests: KATE MULGREW (Captain Janeway), ROXANN DAWSON (Torres), KEITH HAMILTON COBB (Tyr of Andromeda), VIRGINIA HEY (Zhaan of Farscape), MANU INTIRAYMI (Icheb of Voyager), HUDSON LEICK and KEVIN SMITH from Xena: Callisto and Ares, ROBIN ATKIN DOWNES from Babylon 5
For more information, visit the Creation Entertainment website at http://www.creationent.com.
---
Babylon 5/Earth Final Conflict Cruise
October 14-15, 2001, Nassau, Bahamas
Guest: Stephen Austin, Jason Carter, Richard Biggs

For more information, visit their website at http://starmagicproductions.ioncannon.com.
---

Utopia II
October 20-21, 2001, Scheveningen, The Netherlands
Guest: Julie Caitlin Brown, Ted Raimi, Max Grodenchik

For more information, you can e-mail utopia@club.tip.nl or visit their website at http://www.starfall.net/utopia.
---

Star Trek, Xena, Sci-Fi TV & Film Convention
October 20-21, 2001
Civic Plaza
Phoenix, Arizona
Guests: Kevin Smith, Keith Hamilton Cobb, Roxann Dawson, Virginia Hey, Manu Intiraymi, Grace Lee Whitney
ROBIN ATKIN DOWNES from Babylon 5

For more information, visit the Creation Entertainment website at http://www.creationent.com.
---
Chiller Theatre
October 26-28, 2001; E. Rutherford, NJ
Guests: Claudia Christian, Peter Jurasik, Bill Mumy, David Allen Brooks, Julia Nickson

For more information, visit their website at http://www.chillertheatre.com/.
---
OTHER CONVENTIONS OF INTEREST
Gatecon 2001
September 20-23, 2001
Best Western Richmond
Vancouver, Canada
Guests: (Not all confirmed) Teryl Rothery, Jay Acovone, Alexis Cruz, Dan Shea, Don Davis, Peter Williams, Tony Amendola, Jay Brazeau, Bill Nikolai, JR Bourne, Gary Jones, Joesph Mallozzi and Paul Mullie.

For more information, visit their website at http:www.gatecon.com.
---
Capclave
September 28-30, 2001; Seattle, WA
Guests: Gardner Dozois, Roger MacBride Allen, Brenda Clough, Alexis Gilliland, Peter Heck, Jane Jewell, Mindy Klasky, Nancy Kress, Charles Sheffield, Michael Swanwick and Lawrence Watt-Evans

For more information, visit their website at http://www.wsfa.org.
---
35TH ANNIVERSARY OF STAR TREK
October 13-14, 2001
Ford Community Performing Arts Center
Dearborn, Michigan
SHOW HOURS: NOON TO 7PM
Guests: KATE MULGREW (Captain Janeway), ROXANN DAWSON (Torres), KEITH HAMILTON COBB (Tyr of Andromeda), VIRGINIA HEY (Zhaan of Farscape), MANU INTIRAYMI (Icheb of Voyager), HUDSON LEICK and KEVIN SMITH from Xena: Callisto and Ares, ROBIN ATKIN DOWNES from Babylon 5
For more information, visit the Creation Entertainment website at http://www.creationent.com.
---
ZOCALO TRADING POST
There are some new and interesting items in the Trading Post. Take a look. If you have items you'd like to trade, post a note here. If you need a particular item, the Trading Post or Message Board could help you find it. Use this link to see what is listed. Trading Post. To have items included in The Trading Post, send a note to The Zocalo. Please put Trading Post in the subject line.
Pen Pals
If you are looking for someone to talk about Babylon 5 and Crusade with, the Pen Pal section is for you! Check it out! Drop a note to someone who is feeling B5 withdrawal -- BIG TIME!

People thought a Pen Pal page was a good idea. If you would like to meet people who you could chat with or share your opinions of the show with, send along your e-mail or snail-mail address The Zocalo. It will be incorporated on the new Pen Page Page.
BABYLON 5 BIRTHDAYS
Pat Tallman - September 4
Cinzia Zanetti - September 5
Robin Atkin Downes - September 6
Mira Furlan - September 7
Walter Koenig - September 14
Robert Rusler - September 20
Bear Burge - September 23
Jason Carter - September 23
Manny Case - September 23

WOW, a LOT of birthdays in September! A couple names may not be familiar to you -- but they are special folks. Bear Burge was one of the prop artists (I loved his prop room, it was fascinating) and Manny Case took terrific care putting Mira Furlan's make up on each day, making her the fantastic Delenn we all know and love.

Have I missed anyone? If you know the birthday of someone connected with Babylon 5, pass the information along. We want to include everyone in our Happy Birthday Wishes.
MAIL FOR CAST AND CREW
Here's a recent note from JMS on the subject:

Just an FYI to those who've been using the Ventura Blvd. mail drop for fan mail to actors....

As mentioned before, we're phasing out the forwarding of fan mail because we a) don't have the resources, complicated by b) the actors have scattered to the four winds, and it makes it very difficult to get everything to everybody in a timely fashion.

So, having provided prior notice...fan mail to actors coming to the Ventura Blvd. mail drop will be sent back. Mail to actors should be sent via their official fan clubs. I will still be taking mail there, since it's my mailbox, but that's it.

Just so's y'all know and save a few bucks on postage and returns.

JMS' mail can be sent to:

14431 Ventura Boulevard, PMB 260
Sherman Oaks, CA 91423

Warner Bros. Address:

Warner Bros. Domestic Television Distribution
4000 Warner Blvd.
Burbank, CA 91522
BACK ISSUES OF THE ZOCALO TODAY
The front page of the The Zocalo Today changes daily, so be sure to check the back issues to make sure that you haven't missed anything IMPORTANT! I don't want the front page getting too long so I shift information periodically into the archives. So if you aren't a regular visitor to The Zocalo Today, be sure to check out the back issues. Just use the button above!
---
Take care and I look forward to hearing from you.
Sandra Bruckner (sgbruckner@aol.com)
Editor/Publisher
The Zocalo Today
http://www.isnnews.net
Copyright - SBruckner, 2001