Willard, a 1971 horror film, is also on the horizon. The project, which is being pushed by writer Glen Morgan and writer-director James Wong, has been making the pitch rounds. Plans for the project are to shoot on a modest budget in the $19-20M range. The story tells of a young man victimized by his mother and the man he works for. Willard finds himself making pets of the hundreds of rats that occupy his old, rotting house. Initially, he trains them for fun and companionship, but he soon directs his anger at others through the rats teaching them to attack on command.
This'll be fairly quick because it's nearly 1 a.m. and I'm constantly under the gun these days...just wanted to give folks (who've been very patient with both my absence and the momentary glitch in getting stuff through the pipeline whose ends come out my wrists and onto the keyboard) some brief updates on coming stuff. (I always feel awkward doing this, like it's some kind of commercial or something -- "It's NewJMS! New, improved, less fattening!" -- feh. But people ask, so I answer....)
Tomorrow at 1:58 p.m. we nailed the first shot on the two-hour opener for "Jeremiah," shooting a couple of quick preliminary second unit shots before the real start of filming tomorrow, when we begin banging down pages in earnest. As I write this, we have six more scripts already in hand, well in advance of getting to the episodes. Titles include "To Sail Beyond the Stars," "Tribes," and "Man of Iron, Woman Under Glass," all jms scripts, with "The Bag," "The Touch," and "City of Roses" by Sam Egan, previously show-runner on The Outer Limits.
The show has a pretty solid pedigree...me from B5 and Twilight Zone, Sam from Outer Limits and Northern Exposure, director Russell Mulcahy from the first two Highlander movies and the On the Beach miniseries, designer Steve Gaeghan from Stargate and B5: Rangers and Outer Limits, stars Luke Perry and Malcom Jamal Warner from 90210 and Cosby respectively...it's a real good lineup and both MGM and Showtime are enthusiastic about everything they've seen. It's a nice merging of a lot of TV SF and mainstream worlds.
On other fronts....
My new hardcover graphic novel, "Delicate Creatures," story by jms and art by Michael Zulli, will be appearing at the end of this month from Image/Top Cow/Joe's Comics. It can be pre-ordered from Amazon at: http://www.amazon.com/exec/obidos/ASIN/1582402256/qid=999761876/sr=8-1/ref =aps_sr_b_1_1/102-3608192-2288166.
The script for the Rising Stars feature is nearly in final shape, and will be going out to directors within the next few weeks. We already have one very well known director (as in oscar winning) interested in directing it, so we'll see. But this is being fast tracked for Summer 2002.
After letting the comics work for Top Cow kinda go fallow while I did everything else on my plate, I just turned in the script for issue 9 of Midnight Nation, "Explanations, Valid and Otherwise," so we're getting that train back onto the rails again. Should have the next Rising Stars comic script in next week.
This weekend the final version of "Babylon 5: Legend of the Rangers" goes to scifi channel. We'll see what we shall see...but from a production standpoint I think it may be either the best or one of the best MOWs we've ever done.
My next issue of "The Amazing Spider-Man" (#35) should hit stores in about two weeks, and I strongly commend it to people for a twist in the story and the character, and the finale of the big conflict that's been going on now for 3 issues. We pull a big thread in Peter Parker's life, and I have a hunch that this one is gonna disappear as fast as #30 did.
I should be able to announce one other project, the last I could take on at this point, in about a month or so. The contracts only now got signed. And I'm now about halfway through the new novel I'm writing, which should be going out to auction in January (assuming work allows me to finish it by then). Also this fall we should see the debut of my new anthology comic from Top Cow, each issue presenting a different story. We haven't nailed down a title yet; I suggested Eccentric Tales, they like Joe's Comics Presents or Tales of Joe.
Finally: I have air dates for both Rangers (January 2) and the debut of Jeremiah (January 11).
Heading back to the shadows now to grab a few hours sleep before the cameras begin rolling again tomorrow (this) morning at 7.
Feh.
JMS
As I was watching Angel last night, I heard a familiar voice and looked up to see Daniel Dae Kim, Lt. Matheson from Crusade, portraying a rather bad lawyer type trying to foreclose on Angel's building.
Book #7 "Shadow Within" by Jeanne Cavelos has been very hard to find over the past year. However, the author has a few copies she will let fans purchase. If you are interested, let me know and I'll get details.
DelRey has a few Babylon 5 projects in the works. DelRey's Steve Staffel is trying to acquire the rights to the Babylon 5 novels published by Dell. His plan is to begin with the two favorites--by Jeanne Cavelos and Kathryn Drennan--and see what kind of response they get from the Babylon 5 fans. In addition, DelRey is considering publishing the short story collection, if they can pick up the license.
You do NOT have to pay the prices asked for over at e-bay! Here are photos of B5 and Crusade cast members at fantastic prices. Check out Photo Shop. Ordering is easy -- and you can't beat the prices! Just let me know which photos you want and I'll check to make sure they are still in stock.
---
KEEPING UP WITH CAST AND CREW
CHRISTOPHER FRANKE: Christopher has a new album coming out. It is entitled "New Music for Films Vol2". It includes music from "Solo," "Tarzan And The Lost City," "The Inheritance," "Pacific Blue" and "Terror In The Mall."
---
CLAUDIA CHRISTIAN: Following her appearance at DragonCon this weekend, Claudia will be off to Canada to film an episode of Relic Hunter.
---
DYLAN NEAL: Dylan, Captain David Martel in the new "Legend of the Rangers" telemovie is keeping busy while SCIFI waits to see how the movie will do in January. He has returned to "Dawson's Creek" and has won a recurring role in the new series "Thieves" with John Stamos.
---
BEATA POZNIAK: As if marriage to Jeffrey Daniels wasn't enough, Beata is currently filming an episode of "Family Law" by CBS. She portrays a character named Mary Kobish. We'll pass along more information about when the episode will air.
---
BILL MUMY: Bill has updated his website with an August note. Among the highlights, he included: "Dewey Bunnell from the pop band "America", and I sang (and played guitar... a Martin D-42K for those who really have to know,) "The Star Spangled Banner" at the Angel's baseball game at Anaheim Stadium in front of 27,000 people. It went really well. Dewey and I were prepared for that big "slapback" echo, and we did a rootsy,folky version of the anthem in two part harmony, and it was pretty cool. We also sang "Take Me Out To The Ballgame" for the seventh inning stretch..."
---
MELISSA GILBERT: Melissa is set to star and DIRECT a movie for Animal Planet called "Eye of the Wolf". Filming starts filming sometime in Sept.-Oct. This is her first movie as a director. She portrays a widowed rancher with a young son. According to Melissa, it's a very action-packed story with lots of animals to work with, even four wolf cubs!!!!!!!!!!!
---
BRUCE BOXLEITNER: Bruce begins filming the prequel to TNT's "Gettysburg" "Gods and Generals" this week. The cast list shows he will be James Longstreet. For more information, you can visit Ron Maxwell's (writer, director, producer) website at http://www.ronmaxwell.com/ggenerals_castcrew.html. The story will follow events leading to the Battle of Bull Run. Bruce recently visited the Gettysburg battlefield to get a first-hand look at the site. Here's a link from his website to some photos of his visit to Gettysburg.
---
PAT TALMAN AND MIRA FURLAN Both Pat & Mira have appeared in upcoming Sheena episodes. In addition, Mira's husband Goran Gajic has directed two episodes. Mira's episode "Treasure of Sienna Mende" will air the week of November 10; Pat's episode "The Darkness" will air the week of November 17. Goran's episodes "Sienna Mende" and "Return of the Native" will air the week of January 26.
---
PETER WOODWARD: Peter Woodward's special "Egypt Beyond The Pyramids" has been nominated for an Emmy award in the category of OUTSTANDING NON-FICTION SPECIAL! This is absolutely terrific. The award ceremony is on September 16.
---
BABYLON 5/CRUSADE CHRONOLOGY
A number of you have written to ask about having an index of the chronology published thusfar. Terry has given permission for this so I'm working on it. You can now find the index to the timeline published thusfar at B5 Chronology Index .

Terry Jones created a FANTASTIC Babylon 5/Crusade Chronology that was published in the Official Babylon 5 magazine. He has not stopped with the end of the series though. He has included items from the latest novels as well as things from the Crusade series. Here's a note from Terry to tell you all about it.

To look at the timeline in a different way, I have been working with Terry Jones on personal chronologies for the Babylon 5 universe. At The Galactic Gateway you will fine Parts 1-4 of the chronology for John Sheridan along with Part 1 for KOSH. Others will follow. I hope you will visit GG and give the chronologies a look.

Three new installments to the Babylon 5 Chronology are now available. They are 2249-2255; In The Beginning, and The Great War.
SCI FI PUBLICATIONS
Dreamwatch #84: This month Frank Garcia talks to Doug Netter about the "Legend of the Rangers" project. Doug Netter has done a great deal of behind-the-scenes work for Babylon 5. He rescued the show when PTEN folded and got season five produced at TNT when no one else would fund it. He helped tremendously in getting original costumes from WB in California up to Vancouver for the shooting of "Legend of the Rangers." He has helped mold the new production staff into a team devoted to a quality product.






Farscape #4: Thought Farscape #1 just began appearing here in the US, issue #4 is out in the UK. In thei first all-female issue, Gigi Edgely discusses her role as Chiana and Virginia Hey, who played everyone's favorite plant-life, Zhaan, gets the spotlight in this issue's Q&A. Plus: Meet Scorpius's lady friend, Natira! There are four brand new Farscape postcards featuring Crichton, Chiana and the whole Farscape crew!
DC Pencilling Comics: Since I know there are a lot of cartoonists out there, here's a new publication that might be of some interest. This book is packed with a wealth of tested techniques, practical advice, and professional secrets for the aspiring artist. It's a valuable resource for comic book, graphic novel, and storyboard artists everywhere. Klaus Janson, a 30-year veteran, demonstrates strategies for penciling that are informative and exciting. This book covers everything from anatomy, to composition, to page design. Includes 100 black-and-white illustrations. (Watson Guptill Publications) (0-8230-1028-7) $19.95
Cult Times #71: Featured in this month's issue are: Voyager, Andromeda, LEXX, Earth: Final Conflict, Dune and Buffy. Kevin Sorbo talks about the upcoming second season of Andromeda; E:FC is set to bring Boone back for the coming season and they take a look at the seven years of Voyager -- memorable moments..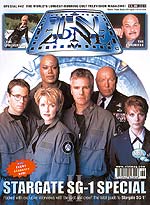 TV Zone #42: Hot Dog! A special issue devoted to Stargate! This show has begun it's fifth season and is looking at a sixth ahead. In this issue, each of the main characters look at their roles. This issue also includes interviews with Director Martin Wood, location manager Lynn Smith, visual FX producer James tichenor -- and brings us some golden moments from three of it's favorite episodes. Sounds like a keeper issue to me!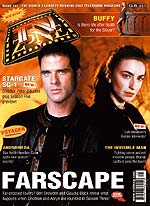 TV ZONE 141: Ben Browder and Claudia Black are featured in this month's issue. Peter DeLuise, creative consultant/director/writer from Stargate SG-1 talks about season 5 -- and there's Invisible Man, Andromeda and Buffy!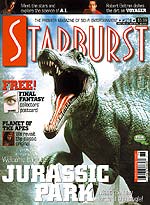 Starburst #276: You new the dinosaurs of Jurassic Park had to be on covers this month! Starburst talks with director Joe Johnston, Tea Leoni and FX guru Stan Winston! Also in this issue: Final Fantasy director Hironobu Sakaguci; A.I.'s Haley Joel Osment and Robert Beltran from Voyager!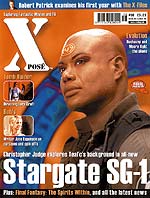 Expose #58: Christopher Judge's character Teal'c is undergoing some changes this year on Stargate SG-1. In this issue, Chris talks about what's coming up for him this season. Robert Patrick, John Doggett from X-Files, looks back over his first 21 episodes of the show and tells us what it is like working with David Duchovny! There's more: Ben Browder talks Farscape; Michael Praed looks back on Jules Verne.
SCI-FI SCHEDULE
BABYLON 5's Schedule: 7pm each evening:

Air Date Title

Sept. 7 Deathwalker

Sept. 10 Believers
Sept. 11 Survivors
Sept. 12 By Any Means Necessary
Sept. 13 Signs and Portents
Sept. 14 TKO

Sept. 17 Grail
Sept. 18 Eyes
Sept. 19 Legacies
Sept. 20 A Voice in the Wilderness (part 1)

Sept. 24 A Voice in the Wilderness (part 2)
Sept. 25 Babylon Squared
Sept. 26 The Quality of Mercy
Sept. 27 Chrysalis

BABYLON 5'S SCHEDULE IN THE UK Someone was kind enough to list the B5 schedule for the UK in the newsgroup. Thought it might be of interest here as well:

September's schedule:

Fri 7 Sep ... Centauri Prime

Mon 10 Sep The Wheel of Fire
Tue 11 Sep Objects in Motion
Wed 12 Sep Objects at Rest
Thu 13 Sep Sleeping in Light
CRUSADE MARATHON
SCIFI will conduct a marathon showing of Crusade beginning at 7am on October 8 and running until 8pm -- showing all 13 episodes of the series.
CRUSADE AROUND THE WORLD
Ranger Alexander has sent along the schedule for Crusade in Slovakia:

SLOVAKIA - TV MARKIZA - AIRS CURRENTLY EVERY MONDAY AT 10.50 PM CET.

09/10/2001 Racing the Night
09/17/2001 The Memory of War
09/24/2001 The Needs of Earth
10/01/2001 Visitors from Down the Street
10/08/2001 Each Night I Dream of Home
COMIC BOOKS
TOP COW: For those of us anticipating the next Midnight Nation and Rising Stars issue from JMS, it looks like we'll have a while to wait! I picked up this note today:

In a press release, Top Cow Productions announced it has made some adjustments to its editorial schedule in the interest of "its continuing mission to publish the absolute highest quality level in comics while maintaining scheduled ship dates."

Top Cow announced Fathom #13 and #14 and Tomb Raider: Greatest Treasure of All are all being cancelled pending resolicitation once these issues are complete. Midnight Nation #9 and Rising Stars #17 are both being resolicited for December 2001.

"Ultimately our goal is very simple, we want to publish the best written, best drawn comics in the industry and put them out in the month we solicit them in," said Top Cow President Matt Hawkins. "The changes we're making in the editorial schedule are being made to help ensure both aspects of this goal. There are a couple other scheduling changes we'll be making, but we'll announce those once we have them confirmed."
AMAZING SPIDERMAN #34
Issue #34 has just hit the stands and it's terrific. Over at Cinescape.com you'll find a review of the issue -- and as you can see, it's a keeper!





RISING STARS #16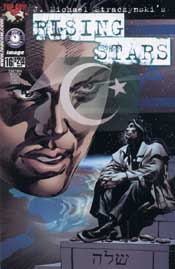 Rising Stars #162 is on your local comic book shelf now. There is a review at IGN.COM at http://scifi.ign.com/comics/3226.html.






Midnight Nation #8 is on on shelves now. There is a review -- and a recommendation to "BUY IT" -- out at IGN.COM.
Midnight Nation #9 is on the Top Cow distribution list for July, so hopefully it will be on shelves soon. #10 is scheduled for August, along with the next issue of Rising Stars.




**If you are having trouble finding the comic issues, drop me a line. My comic guy seems to be a HUGE JMS fan and has ordered more Marvel comics than anyone in the area!
NEW BABYLON 5 TOONS
John Cook has a new cartoon contest going. Try your hand at a punch line.




READER DIRECTORY
Sometimes you just can't find the e-mail address for someone you know you have -- it's someone who responded to a discussion topic or you met in one of the chat rooms. You'd like to send a personal note, but .... No address!!!!

We've started a White Pages of Zocalo Readers! It's a handy way of keeping track of people -- and putting together a birthday/greeting card list as well. If you would like to be part of the listing, just send me your name, state, e-mail address and (if you'd like to have it listed) birthday (without year) to sgbruckner@aol.com. Check out the Directory of Readers.

HAPPY BIRTHDAY TO YOU!

Name: Robert Folsom
Birthday: September 16
BABYLON 5 REFERENCE PAGES
The Official Babylon 5 Magazine is indexed here as well. With the closure of the magazine in May, you'll want to see which magazines you have -- and which ones you will want to collect. The index may help you make a decision on which ones to choose. The Fan Club has many of the issues at thestation.com , making it very easy to complete your collection.

Universe Today -- the Babylon 5 Fan Club quarterly can also be found here. The index gives you a rundown of what articles were presented, what interviews published.

If you have magazines that have featured Babylon 5 or Crusade that are not listed, send along their issue number and a note to indicate what the article was about. It would be nice to have a fairly comprehensive listing of Babylon 5 publications here.

I have added a listing of all the Babylon 5 novels and now the B5 comic books to the reference page. If there are other items that you feel should be included, let me know.
MAILING LISTS
NW-B5
NW-B5 is a mailing list devoted to bringing critical information to the Vancouver Island, Lower Mainland, and Northern Washington areas. More specifically, anyone north of Seattle. B5 is broadcast on SPACE:TIS in Canada, and Sci-Fi channel in the US. By subscribing to nw-b5, you'll be able to know info bringing you up to date on the current scheduling and events happening in the community related to B5. You'll also be subscribed to the list itself, which means that you'll receive email when there is a scheduling change or critical information needs to go out to you (for example, if we need to start another mailing campaign).

For further information, see http://www.nw-b5.com
John Francis
Webmaster, Listowner, and Co-Moderator
mailto:nw-b5@iname.com

Reports of "The Gathering" are beginning to turn up on the list. John posted a mini-report, with photos, over at http://www.geocities.com/jnf.geo/nw-b5/gathered.htm#0501. You may want to check it out. It was a terrific event in which JMS showed clips from the new "Legend of the Rangers".
BABYLON 5 DISCUSSION LIST
The Babylon 5 discussion mailing list is for any and all discussions and/or news pertaining to or related to Babylon 5 and/or Crusade. The list has been in existence for the past three years now, and has recently moved. The new location is http://lists.apparition.org/cgi-bin/lyris.pl, and you can subscribe by sending a blank e-mail message to join-babylon_5-l@lists.apparition.org.
THE GALACTIC GATEWAY
Here's a unique site for you! Jeffrey Willerth, Patricia Tallman, Mira Furlan, Claudia Christian, Robin Atkin Downes, Rick Biggs, Jerry Doyle, Bruce Boxleitner, Melissa Gilbert, Peter Jurasik and Bill Mumy are under it's umbrella. Actors from other shows have joined the Gateway. Ted Raimi and Robert Trebor from Xena and Hercules are now at GG. To subscribe to a mailing list for GG, send a blank note to thegalacticgateway-subscribe@egroups.com.
GATEWAY CHATTERS
There is never enough time to keep in touch with friends! To help out, a mailing list has been started for chatters over at the Galactic Gateway. If you are interested in joining, send a blank note to gateway-chatter-subscribe@egroups.com.
GATEWAY TRADER
Are you looking for a particular Babylon 5 collectible? Do you have some items you'd like to trade? Then this is the list for you. To join, send a blank note to gateway-trader-subscribe@egroups.com.
CALLING ALL ARTISTS
The Art Gallery at The Zocalo Today is open. There are SO MANY talented people in our Babylon 5 community. We have enjoyed works by Todd Brugman and Tye Bourdony on our toons page, but there are a host of others who enjoy drawing, painting, sketching their favorite characters. Here are a few works that have been received. I have some others that will be added soon.

If you would like to share your work with us at The Zocalo Today, please send along a digital photo of your work and I'll begin putting the gallery together. If you do not have your work in digital format, drop me a note and we'll see what we can work out.
CALLING ALL CLUBS
Amanda, a member of the club 'Friends of Science Fiction' in Sydney, Australia, dropped a note to say that they will host an event with Marjean Holden on September 9. More information can be found on the convention calendar. If you are in beautiful Sydney, you may want to check out the Club. It meets at: Lidcombe Catholic Club; John St; Lidcombe. If you have questions, drop Amanda a note at Amanda_Beachcroft@msn.com.au.

There are a number of fabulous Babylon 5/Crusade Clubs around the world. I'd like to begin listing them here on The Zocalo Today. Eric dropped me a note the other day providing information about a Club in France. I know there are other clubs in Brazil, Germany, Russia -- and who knows how many here in the US. Let's get a listing together. Perhaps we can share resources, even get together as we travel around. Drop the information about your Club to me at sgbruckner@aol.com or bruckner@isnnews.net. That information will be added to the new B5 Fan Club Listing.
BABYLON 5 FAN CLUB
Sad news. I don't know what the fate of the B5 Fan Club will be. Netter Digital filed for bankruptcy in July and all their worldly posessions were auctioned off on December 7. Thestation.com is back on-line, however the Emporium has been closed.
BABYLON 5 NEWSLETTERS
If you have a newsletter you'd like to have listed at The Zocalo Today, send the information along. It will be posted on the B5 Fan Club/Newsletter page.

Ranger Shane in North Carolina sent in the following note about their "Jumpgate" newsletter.

Hey Sandy! Just wanted to give you an update on the NC B5 group's newsletter, Jumpgate. There's now a dedicated EMail address for submissions - jumpgatemag@bellsouth.net - and any submissions, solicited or un-, can be sent to this address. Also, issues are available for free download at the URL at the bottom of this message.

Jumpgate - The Newsletter of the North Carolina Babylon 5 Fan Club
Shane Killian, Editor
HELP WANTED
A new HELP WANTED section has been added to the Z. If you need help finding a comic book, getting a special item, etc. here's the place to post a note. Just send whatever help you need to thezocalo@aol.com.
---
BABYLON 5/CRUSADE CONVENTIONS
CONVENTION CALENDAR
Lots of updates to the calendar. I hope you will check it out and see if there are any Babylon 5 conventions in YOUR future! Use this link Convention Calendar. Have a convention you would like to have listed here? Pass along the information.
CONVENTION ALERT
Pat Tallman will join Robin Atkin Downes and Claudia Christian at the Slanted Fedora convention in Las Vegas, September 6-9.

CONVENTION ATTENDANCE

Are you attending one of the conventions on the calendar? Or another one perhaps? Do you want to see who else might be there? Drop your e-mail address to TheZocalo@aol.com. We've begun an attendance page so that perhaps we can get together while enjoying the activities of the convention. Convention Attendance .
UPCOMING EVENTS
Slanted Fedora
September 6-9, 2001; Las Vegas
Guests: Claudia Christian, Wortham (Bob) Krimmer, Walter Koenig, Mary Kay Adams, Stephen Austin, Pat Tallman, Robin Atkin Downes

For more information, visit their website at http://www.sfedora.com/ or call (913)327-8735.
---
Friends of Science Fiction
September 9, 2001; Sydney, Australia
Place: Lidcombe Catholic Club, John St, Lidcombe
Guest: Marjean Holden

Tickets available only at the door on the day of the event. Cost $20 for members of FSF; $25 for non-members.
---
OTHER CONVENTIONS OF INTEREST
35TH ANNIVERSARY OF STAR TREK
September 8, 2001
Hotel Pennsylvania
33rd and 7th Avenue, Manhattan
SHOW HOURS: NOON TO 7PM
Guests: WILLIAM SHATNER, live and in person!
MICHAEL FOREST (Apollo from "Who Mourns for Adonais")
BARBARA LUNA (Lt. Marlena Moreau in "Mirror, Mirror")
NATALIJA NOGULICH (Admiral Necheyev from TNG and DS9)
MARTIN RAYNER (Dr. Chaotica from Star Trek Voyager)

For more information, visit the Creation Entertainment website at http://www.creationent.com.
---
Farscape
September 9, 2001
Hotel Pennsylvania
33rd and 7th Avenue, Manhattan
SHOW HOURS: NOON TO 7PM
Guests: BEN BROWDER: Commander Crichton
CLAUDIA BLACK: Aeryn Sun
DAVID KEMPER (Executive Producer)
Also joining the fun is KEITH R.A. DeCANDIDO, author of the Farscape novel "House of Cards"
For more information, visit the Creation Entertainment website at http://www.creationent.com.
---
35th Anniversary of Star Trek
September 9, 2001
The Plano Center, Plano, Texas
Guests: William Shatner, Virginia Hey
For more information, visit the Creation Entertainment website at http://www.creationent.com.
---
Gatecon 2001
September 20-23, 2001
Best Western Richmond
Vancouver, Canada
Guests: (Not all confirmed) Teryl Rothery, Jay Acovone, Alexis Cruz, Dan Shea, Don Davis, Peter Williams, Tony Amendola, Jay Brazeau, Bill Nikolai, JR Bourne, Gary Jones, Joesph Mallozzi and Paul Mullie.
For more information, visit their website at http:www.gatecon.com.
---
Capclave
September 28-30, 2001; Seattle, WA
Guests: Gardner Dozois, Roger MacBride Allen, Brenda Clough, Alexis Gilliland, Peter Heck, Jane Jewell, Mindy Klasky, Nancy Kress, Charles Sheffield, Michael Swanwick and Lawrence Watt-Evans

For more information, visit their website at http://www.wsfa.org.
---
35TH ANNIVERSARY OF STAR TREK
October 13-14, 2001
Ford Community Performing Arts Center
Dearborn, Michigan
SHOW HOURS: NOON TO 7PM
Guests: KATE MULGREW (Captain Janeway)
ROXANN DAWSON (Torres)
KEITH HAMILTON COBB (Tyr of Andromeda)
VIRGINIA HEY (Zhaan of Farscape)
MANU INTIRAYMI (Icheb of Voyager)
HUDSON LEICK and KEVIN SMITH from Xena: Callisto and Ares
ROBIN ATKIN DOWNES from Babylon 5
For more information, visit the Creation Entertainment website at http://www.creationent.com.
---
ZOCALO TRADING POST
There are some new and interesting items in the Trading Post. Take a look. If you have items you'd like to trade, post a note here. If you need a particular item, the Trading Post or Message Board could help you find it. Use this link to see what is listed. Trading Post. To have items included in The Trading Post, send a note to The Zocalo. Please put Trading Post in the subject line.
Pen Pals
If you are looking for someone to talk about Babylon 5 and Crusade with, the Pen Pal section is for you! Check it out! Drop a note to someone who is feeling B5 withdrawal -- BIG TIME!

People thought a Pen Pal page was a good idea. If you would like to meet people who you could chat with or share your opinions of the show with, send along your e-mail or snail-mail address The Zocalo. It will be incorporated on the new Pen Page Page.
BABYLON 5 BIRTHDAYS
Pat Tallman - September 4
Cinzia Zanetti - September 5
Robin Atkin Downes - September 6
Mira Furlan - September 7
Walter Koenig - September 14
Robert Rusler - September 20
Bear Burge - September 23
Jason Carter - September 23
Manny Case - September 23

WOW, a LOT of birthdays in September! A couple names may not be familiar to you -- but they are special folks. Bear Burge was one of the prop artists (I loved his prop room, it was fascinating) and Manny Case took terrific care putting Mira Furlan's make up on each day, making her the fantastic Delenn we all know and love.

Have I missed anyone? If you know the birthday of someone connected with Babylon 5, pass the information along. We want to include everyone in our Happy Birthday Wishes.
MAIL FOR CAST AND CREW
Here's a recent note from JMS on the subject:

Just an FYI to those who've been using the Ventura Blvd. mail drop for fan mail to actors....

As mentioned before, we're phasing out the forwarding of fan mail because we a) don't have the resources, complicated by b) the actors have scattered to the four winds, and it makes it very difficult to get everything to everybody in a timely fashion.

So, having provided prior notice...fan mail to actors coming to the Ventura Blvd. mail drop will be sent back. Mail to actors should be sent via their official fan clubs. I will still be taking mail there, since it's my mailbox, but that's it.

Just so's y'all know and save a few bucks on postage and returns.

JMS' mail can be sent to:

14431 Ventura Boulevard, PMB 260
Sherman Oaks, CA 91423

Warner Bros. Address:

Warner Bros. Domestic Television Distribution
4000 Warner Blvd.
Burbank, CA 91522
BACK ISSUES OF THE ZOCALO TODAY
The front page of the The Zocalo Today changes daily, so be sure to check the back issues to make sure that you haven't missed anything IMPORTANT! I don't want the front page getting too long so I shift information periodically into the archives. So if you aren't a regular visitor to The Zocalo Today, be sure to check out the back issues. Just use the button above!
---
Take care and I look forward to hearing from you.
Sandra Bruckner (sgbruckner@aol.com)
Editor/Publisher
The Zocalo Today
http://www.isnnews.net
Copyright - SBruckner, 2001