[an error occurred while processing this directive]

The Zocalo Today

Welcome. Take your shoes off, get comfortable and stay a while.

The Zocalo Today is an interactive newsletter. If you have suggestions, please send them along. The Zocalo Today is as much YOUR newsletter as it is mine! I'm just pulling together things for you! Our weekly discussion topic is just one way you can interact with other Z readers. Send along letters, sightings of B5 cast & crew in other projects, convention reports, photos, etc. Don't miss our back issues. There is a LOT of information contained there and you'll not want to miss anything.

If you have questions, drop me a line at sgbruckner@aol.com or bruckner@isnnews.net.

Again, WELCOME! - Sandra Bruckner

January 7, 2001 07:01am
What's New
I've moved the B5 cast appearing on other shows in upcoming weeks to a separate page. It was taking up a lot of space on the front page, and I know it's TOO long already. To see who will be appearing this week, just visit the B5 Cast Page.
---
There are a number of conventions this weekend. I hope that some of you will have the opportunity to see some of the Babylon 5 cast members as they visit New York, Texas, Oregon and Germany!
---
JMS was lucky enough to get both the Christmas AND New Year's column assignment at www.psycomics.com this year. The latest is entitled "Beginnings, Endings, and a Few Things In Between". Last week he gave us "Merry, Merry....Whatever". For those of you who have not wandered over because you thought the column was going to be about comic books, I would encourage you to take a leap of faith and read what JMS has to say. There is a tad of information about his comic writing, but for the most part, the columns remind me of his column in the old Babylon 5 magazine.
---
I know a lot of you were very interested in Terry Jones' B5 chronology. I've extracted a segment from the "Great War" to 1888 and it's referenced on the Great War Page.
---
Monday, the next installation of "City of Dreams" at the Seeing Ear Theatre, "The Alpha and Omega of David Wells" starring Peter Gallagher will be available on January 8 at the Seeing Ear Theatre.
---
No new rating numbers for this week yet over at SCIFI. However, I noticed that Babylon 5 not only got a 1.0 rating last week, but "River of Souls" pulled in a 1.0 rating as well -- giving the series #7 and #8 spots last week in the top 10.
---
Pat Tallman's work at Penny Lane is mentioned last week over at SCIFI.COM. In a sidebar at SciFi Wire, Pat's Santa project was recognized, as well as her efforts in raising more than $50,000 to build Penny Lane's CARE computer lab.
---
NEWS AROUND THE SCI-FI GENRE
Sunday, January 7:
Found a new trailer for Claudia Christian's latest movie "Atlantic: The Lost World" over at movie-list.com. The "look" and music are pretty cool for an animated movie. Release is scheduled for June 2001.
---
While over a movie-list.com, you might want to check out some of the other interesting trailers available, like Jurasic Park 3, Pearl Harbor. Don't miss the CREEPY trailer for Hannibal. Anthony Hopkins is TERRIFIC.
---
Saturday, January 6:
Sounds as if X-Files will finish the year with a BANG! Gillian Anderson talked recently to Horror Online about upcoming episodes. They will include one featuring flashbacks of key moments in the Scully-Mulder relationship and one that addresses the night when Mulder and Scully may have conceived a child.
---
Sad news for fans of Giles on Buffy. Anthony Head told SFX Online that he would like to scale back his involvement on the Buffy series so that he can spend more time with his family. He is currently shuttling back and forth between Great Britain and LA, where the series is filmed.
---
Samuel L. Jackson has been talking to Entertainment Weekly about his role in the latest Star Wars movie. "It's adventurous, it's romantic, it's exciting, it's scary, it's all those things. And I get some very cool saber fights."
---
Oscar nomination ballots go out into the mail on Tuesday. There are 242 movies eligible for the Academy of Motion Picture Arts and Sciences' best picture award. Nominations will be announced in all categories at the Academy on Feb. 13 at 5:30 a.m. PST; awards will be presented March 25. Steve Martin will host this year's broadcast.
---
Friday, January 5:
SCIFI premieres two series tonight -- Black Scorpion and Secret Adventures of Jules Verne. Black Scorpion, developed by Roger Corman, "is a female superhero in the vein of Spider-Man, Superman and Batman. She is beautiful, sexy and highly intelligent, and she has great martial-arts skills and a rapier wit." Sounds interesting to me. They have a great website at http://www.scifi.com/blackscorpion/. It has a LOT of information about the production, upcoming episodes, etc.
---
Sony got the jump on public relations for their new Spiderman movie yesterday. They held a huge press conference out at the set of the movie and included quite a number of the principals involved. For more on the event and the upcoming movie, check out the article at cinescape.com. On the same subject, scifi.com has pieces on both Sam Raimi (producer) and Tobey McGuire (Peter Parker). Tobey has been training for the role for quite some time and is anxious to get on wit the project.
---
Warner Bros has two Batman projects in the works -- Batman: Year One and Batman Beyond. Unfortunately, according to EW Online, neither has an inside track to get a green light as yet. Both are in development stages and neither are expected to go into production until well after the threatened writers and actors strike.
---
Thursday, January 4:
SCIFI has commissioned 13 episodes of a new series entitled, News From the Edge. The premise is about a journalist who actually investigates all those oddball stories you see on the covers of tabloid newspapers, like "Bat Boy" or "Bush Endorsed by Space Aliens." The series will star Chad Willet, Rena Sofer and Reno Wilson. The series was originally scheduled to be a mid-season replacement for NBC.
---
There is a TRON sequel in the making. The Hollywood Reporter indicates that the second draft script by Richard Jefferies will tell the story of an ambitious hacker who downloads himself into cyberspace with his goal to attain the ultimate hack. Steve Lisberger, who helmed the original 1982 Tron, may direct this sequel.
---
WB's upcoming series, Smallville, will focus on the teen adventures of DC Comics' hero Superman. Clark Kent, depicted as a 15-year old, will deal with his emerging powers and his fears that he may be responsible for a string of weird occurences in his rural hometown.
---
You know him as Dark Maul in Menace and Toad in X-Men! Ray Park, Scottish martial arts expert-turned-actor, has signed to star as martial arts superhero in Iron Fist. This Marvel Comic turned movie, will be the story of Danny Rand, an orphan who is raised in a secret temple in the Far East, where he handily picks up some martial arts skills.
---
Wednesday, January 3:
Sad news -- Ray Walston, our Favorite Martian, died at the age of 86. He was a superb actor, bringing us not only Uncle Martin in this early 60's TV show, but I'll always remember him in ST: Next Generation as Boothby, the curmudgeonly Starfleet Academy groundskeeper that Picard confided in.
---
The principal photography on the "Lord of the Rings" movie ended on Dec. 22. According to E! Online, many cast members will be taking away permanent reminders of the production: special tattoos. Elijah Wood, Sean Astin, Dominic Monaghan, Billy Boyd, Orlando Bloom, Viggo Mortensen, Ian McKellen and John Rhys-Davies were all tattooed with a Rings Brotherhood motif. Post-production and digital-effects work now begins at Three Foot Six and WETA's Wellington Studios. Looping (re-recording of dialogue) is expected to take place in London and New Zealand.
---
Star Trek Fans: I spent some time over at www.startrek.com this morning. It's a great site and shows what can be done on the internet to support a show. There are interview clips with Rick Berman, many of the cast members discussing their characters, etc. There are also production notes -- and it's great to see B5 folks like Mike Vejar directing "The Void". There is also discussion of the upcoming movie, Star Trek X by writer John Logan.
---
X-Files: February 25 marks the return of Fox Mulder to the show! Yes, not long to wait. Another new character will be introduced in the same episode. Annabeth Gish will join the cast in a three-episode arc as a member of a ritualistic crime detail dealing with reports of satanic cults.
---
Not quite Sci-Fi: I know a number of you are West Wing fans -- me too. In reading about tonight's repeat episode, I spotted some news. Peggy Noonan (former Reagan administration speechwriter) and Marlin Fitzwater (ex–press secretary to Presidents Ronald Reagan and George Bush) have been added as off-screen consultants, joining Democrats Lawrence O'Donnell, Dee Dee Myers and Patrick Caddell. Those folks can help with "reality checks" -- to be sure!
---
SCIFI ON THE RISE
The press release below shows that SCIFI is indeed doing VERY well! Would have been nice if they had thrown a crumb to Babylon 5! The show has consistently been in their top 10 since the premiere in September. Numbers like that haven't hurt their efforts a bit.

NEW YORK--(ENTERTAINMENT WIRE)--Jan. 3, 2001--SCI FI Channel's star continues to rise, fueled by an aggressive original programming slate that has produced a string of ratings records in 2000. Over the past 18 months, SCI FI's investment in original series such as Farscape and The Invisible Man, events like the 6-hour Dune miniseries, strong theatricals, as well as its cutting edge new on-air look, have paid off with a dramatic rise in ratings and delivery. The final year-end prime ratings record of 0.9 (558,000 HHs)(1) was especially significant compared to cable in general -- most major cablers experiencing losses or remaining flat for the year.
BABYLON 5 AROUND THE WORLD
Ranger Carles has sent along this note for all our Spanish readers:
Season 4 is currently on the air in Spain for the first time ever. It's being shown in AXN (http://www.axn.es), a channel that's only available through one of the digital TV satellite networks here, Canal Satelite Digital. It's shown on Wednesdays at 10PM, and repeated twice during the week. Last episode (Dec 20) aired was 'Racing Mars'.
CENTAURI TRILOGY - NEW BABYLON 5 NOVEL!
Bookface.com has the first chapter of this latest novel out. Drop over and read it on-line. It's one of the most popular selections currently on www.bookface.com

Peter David's final installment of this marvelous Centauri Trilogy, Babylon 5: Out of the Darkness Legions of Fire Book III, is NOW AVAILABLE. The DelRey website has a brief synopsis of the novel up right now. Just search on author Peter David.

Has anyone read the book yet? What did you think of it? Would you care to share a review with us? If so, send along your comments!

If you are having trouble finding the novel, drop me a line. I'd be happy to pick up a copy for you!
---
BABYLON 5/CRUSADE PHOTOSHOP
NEW PHOTOS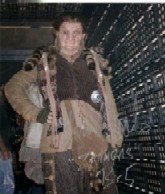 Check out the Photo Shop. Ordering is easy! If you would like to see more cast members added to the PhotoShop, drop me a note and I'll see what I can do.
KEEPING UP WITH CAST AND CREW
Stephen Austin the wonderful Pak'Ma'Ra ambassador from Babylon 5, is playing "Herr Zeller" in the Canyon Club Dinneer Theatre's production of "The Sound of Music". The theatre is located in Agoura Hills, California. The play will run from February 3 to March 11, 2001.
---
David Allen Brooks has a part in "Castaway" -- the new Tom Hanks movie that opened this week.
---
Jason Carter is currently filming a new movie, The Mesmerist. It is being directed by Gil Cates Jr. Cast includes: Jessica Capshaw, Neil Patrick Harris, George Wyner, Howard Hesseman. Jason plays Dr. Pretory the Mesmerist. Filming started November 29th and last Day is December 17th.
---
SCI-FI PUBLICATIONS

This month's issue has a LOT of good interviews, including one with Marjean Holden (Dr. Chambers from Crusade) and now Arina in Beastmaster. Marjean has some nice words to share about her work on Crusade. You'll also find interviews with Claudia Black from Farscape, Keith Hamilton Cobb from Andromeda, Mitch Pileggi from X-Files and Garrett Wang from Voyager.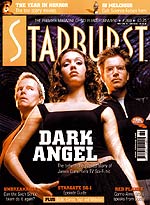 Charles Eglee talks about Max, the genetically-enhanced "Dark Angel" (Jessica Alba) - and why she's a hit with adolescents and adults alike.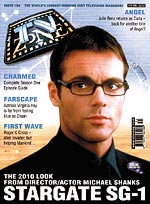 Michael Shanks sets front and center in this issue, talking about acting in Stargate SG-1 and now directing! Andromeda's Lexa Doig discusses her role on Andromeda and Virgina Hey, the blue nun from Farscape, describes her adventures as the fantastic Zhaan.
As the cover would indicate, lots of information on X-Files in this issue.
BABYLON 5 FAN CLUB
Sad news. I don't know what the fate of the B5 Fan Club will be. Netter Digital filed for bankruptcy in July and all their worldly posessions were auctioned off on December 7. Thestation.com is back on-line, however the Emporium has been closed.
THIS WEEK'S DISCUSSION TOPICS
This week's discussion topic:

Here's an EASY one, well sort of! What is your favorite (only 2-3 please) quotation from Babylon 5! I know, there are a zillion to choose from, but let's see what we come up with.

Send in your responses to either TheZocalo@aol.com or b5web@aol.com.. You can also post your comments on the message board at www.isnnews.net/board. To see what other readers have posted on this and other topics, follow this link to Current Discussion Topic page.
---
SCI-FI SCHEDULE
Sci-Fi's Schedule Ahead for Babylon 5 is:

Air Date Title

Season Four ("No Surrender, No Retreat")

January 8 The Hour of the Wolf
January 9 Whatever Happened to Mr. Garibaldi?
January 10 The Summoning
January 11 Falling Toward Apotheosis
January 12 The Long Night

January 15 Into the Fire
January 16 Epiphanies
January 17 The Illusion of Truth
January 18 Atonement
January 19 Racing Mars

January 22 Lines of Communication
January 23 Conflicts of Interest
January 24 Rumors, Bargains and Lies
January 25 Moments of Transition
January 26 No Surrender, No Retreat

BOOK REVIEWS
Ranger Robert has a sci-fi book review column in the Kansas City Star. He reviews Bruce Sterling's new book, Zeitgeist; the newest prequel to the Dune saga, House Harkonnen; alerts readers to an upcoming Arthur C. Clarke collection; mentions Terry Pratchett's 25th novel in his Discworld series, The Truth; and -- AND! -- recommends jms' Midnight Nation to Kansas City Star readers. To read the reviews, go to www.kcstar.com/fyi/fyi.htm. Scroll down to Books [12/30/00] and the link called Should you jump into the Zeitgeist? takes you to Robert's column!
ULTIMATE COLLECTIBLE
Here's a Trading Post item that I just couldn't put back on the Trading Post page. It's special.

Ranger Alan has an item you might be interested in:
In May 1998 I bought Mira Furlan and Goran Gajic's 1986 Jaguar XJ6 Vanden Plas Sedan. They had bought it from Bill Mumy who was the 2nd owner of the car. The car has most every option including a sun roof and two gas tanks. The car has 111,000 miles and runs well, always kept in Southern California, so it's never been in snow. Everything works, but the car could use a new paint job. Spent over $6,000 in the last two years for items such as: a new radiator, belts and hoses, master cylinder, 4 wheel disc brakes, 4 tires, radio with cd player, power antenna, battery, a new brain for the air conditioner and more.

Copy of DMV registrations in Bill and Mira's names included.
If interested, contact Allan Adler at allan@awacoll.com

* Alan is working on some photos to go with this ad.
RISING STARS
RISING STAR GRAPHIC NOVEL - BORN IN FIRE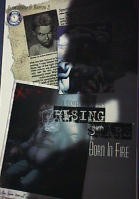 This is a compilation of the first eight issues of Rising Stars. This is for those who missed the first several issues or who just enjoy reading the story in one sitting. There's a great forward by Neil Gaiman as well.
RISING STARS 12 -- OUT NOW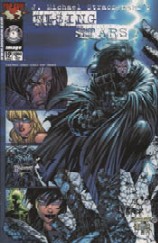 Top Cow Comics
(W) J. Michael Straczynski (P) Christian Zanier (I) Livesay (C)Brett Evans
Following the death of a major character, the war for Chicago heats up! John appears to have an affinity for leaving landmarks in ruins. One has to wonder how much of the world will be destroyed by the war between the Specials. The way it's going it doesn't look like there's gonna much left to fight for.
*This comic is rated one of the top 10 comics this week over at fandom.com. and there is a review over at IGN.COM.
RISING STARS 13 -- coming in January
Joe's Comics
(W) J. Michael Straczynski (P) Christian Zanier (I) Livesay (C)Brett Evans
RISING STARS #14 - February
Joe's Comics
10/23/2000
(W) J. Michael Straczynski (P) Christian Zanier
MIDNIGHT NATION
MIDNIGHT NATION #4 - OUT NOW
Joe's Comics
(W) J. Michael Straczynski (P) Gary Frank (I) Jason Gorder (C ) Dan Kemp
David Grey and his mysterious guide Laurel continue their journey through the midnight version of America, trying to evade the Walkers, stay alive, and find out who has his soul before he runs out of time. And not everyone he meets along the way wants him to succeed.
IGN.COM does a review of this and previous issues. You may want to take a peek if you're curious about this series.
NO HONOR - due in February
NO HONOR #1
Top Cow Comics
10/23/2000
(W) Fiona Avery (P) Clayton Crain

In February 2001, view the world through the eyes of a world-class art thief. Witness the theft of an antique katana and the rebirth of an ancient Samurai soul in the body of a thief without honor. Fall in love with someone you could never possibly know, hunt while being hunted, and taste the world again for the first time in 1300 years. NO HONOR is Fiona Avery's four-issue tale of one thief who finally runs out of luck and runs into Tannen Yojimbo, the spirit of a Samurai who will change his world forever.
NEW BABYLON 5 TOONS
John Cook has a new cartoon contest going. Try your hand at a punch line.

Thank you, Gary for another great toon!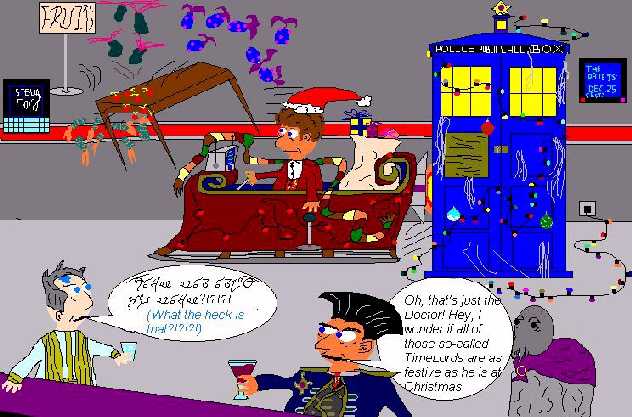 READER DIRECTORY
If you are like me, sometimes you can't find the e-mail address for someone you know has either responded to a discussion topic or you met over in one of the chat rooms and would like to send along a personal note. How would a reader's directory sound? A White Pages of Zocalo Readers! Think that would be useful? If so, send in your name, state, e-mail address and (if you'd like to have it listed) birthday (without year) to sgbruckner@aol.com. I've pulled together information sent in so far. Check out the Directory of Readers.
BABYLON 5 REFERENCE PAGES
The Official Babylon 5 Magazine is indexed here as well. With the closure of the magazine in May, you'll want to see which magazines you have -- and which ones you will want to collect. The index may help you make a decision on which ones to choose. The Fan Club has many of the issues at thestation.com , making it very easy to complete your collection.

Universe Today -- the Babylon 5 Fan Club quarterly can also be found here. The index gives you a rundown of what articles were presented, what interviews published.

If you have magazines that have featured Babylon 5 or Crusade that are not listed, send along their issue number and a note to indicate what the article was about. It would be nice to have a fairly comprehensive listing of Babylon 5 publications here.

I have added a listing of all the Babylon 5 novels and now the B5 comic books to the reference page. If there are other items that you feel should be included, let me know.
MAILING LISTS
THE GALACTIC GATEWAY
This is a unique site, housing a large number of cast members from the show. Jeffrey Willerth, Patricia Tallman, Mira Furlan, Claudia Christian, Robin Atkin Downes, Rick Biggs, Jerry Doyle, Bruce Boxleitner, Melissa Gilbert, Peter Jurasik and Bill Mumy are under it's umbrella. The Gateway will be growing with more cast members being added. To subscribe to the mailing list, send a blank note to thegalacticgateway-subscribe@egroups.com.
GATEWAY CHATTERS
With everyone having so little time to chat, a mailing list has been started for chatters over at the Galactic Gateway to keep in touch. If you are interested in joining, send a blank note to gateway-chatter-subscribe@egroups.com.
CALLING ALL ARTISTS
The Art Gallery at The Zocalo Today is open. There are SO MANY talented people in our Babylon 5 community. We have enjoyed works by Todd Brugman and Tye Bourdony on our toons page, but there are a host of others who enjoy drawing, painting, sketching their favorite characters. Here are a few works that have been received. I have some others that will be added soon.

If you would like to share your work with us at The Zocalo Today, please send along a digital photo of your work and I'll begin putting the gallery together. If you do not have your work in digital format, drop me a note and we'll see what we can work out.
CALLING ALL CLUBS
There are a number of fabulous Babylon 5/Crusade Clubs around the world. I'd like to begin listing them here on The Zocalo Today. Eric dropped me a note the other day providing information about a Club in France. I know there are other clubs in Brazil, Germany, Russia -- and who knows how many here in the US. Let's get a listing together. Perhaps we can share resources, even get together as we travel around. Drop the information about your Club to me at sgbruckner@aol.com or bruckner@isnnews.net. That information will be added to the new B5 Fan Club Listing.
BABYLON 5 NEWSLETTERS
If you have a newsletter you'd like to have listed at The Zocalo Today, send the information along. It will be posted on the B5 Fan Club/Newsletter page.

Ranger Shane in North Carolina sent in the following note about their "Jumpgate" newsletter.

Hey Sandy! Just wanted to give you an update on the NC B5 group's newsletter, Jumpgate. There's now a dedicated EMail address for submissions - jumpgatemag@bellsouth.net - and any submissions, solicited or un-, can be sent to this address. Also, issues are available for free download at the URL at the bottom of this message.

-- Jumpgate - The Newsletter of the North Carolina Babylon 5 Fan Club
Shane Killian, Editor
BABYLON 5/CRUSADE CONVENTIONS
CONVENTION CALENDAR
Want to know what conventions are ahead for the Babylon 5 and/or Crusade cast and crew? Use this link Convention Calendar.

CONVENTION ATTENDANCE

Are you attending one of the conventions on the calendar? Or another one perhaps? Do you want to see who else might be there? Drop your e-mail address to TheZocalo@aol.com. We've begun an attendance page so that perhaps we can get together while enjoying the activities of the convention. Convention Attendance .
CONVENTION UPDATES
Jerry Doyle has been added to the roster of the Slanted Fedora convention in Champaign, IL in February.

* Further details are below or on the convention calendar.
CONVENTION REPORTS
Ranger Jan attended a Vulkon convention in Orlando recently. She has sent in a report and you can read all about it on the Reports Page.

Photos from FarPoint have been added to the Photo Gallery.
UPCOMING EVENTS
Slanted Fedora
January 5-7, 2001; New York, NY
Guests: Claudia Christian, Robert Krimmer, Mary Kay Adams, Walter Koenig

For more information, visit their website at http://www.sfedora.com/newyork.htm or call (913)327-8735.
---

Sci-Fi Expo & Toy Show
January 7, 2001; Plano, TX
Guests: Julie Caitlin Brown, Marjorie Monaghan

For more information, write to scifiexpo@aol.com or or call (972)578-0213.
---

Castrop Rauxel (Mangamania)
January 7, 2001; Dusseldorf, Germany
Guests: Carrie Dobro

For more information, visit their website at http://www.net-port.de/boerse/presse.html or call 02 31/77 32 58; fax 02 31/71 26 83.
---

Star Trek & Sci-Fi Convention
January 6-7, 2001; Portland, OR
Guests: Peter Woodward

For more information, visit their website at http://www.creationent.com/calendar.html or call (913)327-8735.
---

Sci-Fi/Star Trek/Xena/Pop Culture
January 27-28, 2001; Sacramento, CA
Guests: Julie Caitlin Brown

For more information, visit their website at http://www.creationent.com/calendar.html#sacramento or write to tickets@creationent.com or or call (818)409-0960; fax (818)409-0827.
---

Slanted Fedora
February 10-11, 2001; Champagne, IL
Guests: Peter Woodward, Jerry Doyle

For more information, visit their website at http://www.sfedora.com/Champaign.htm or call (913)327-8735.
---

VisionCon
February 16-18, 2000; Springfield, Missouri
Guests: Peter Woodward, Richard Biggs, Jason Carter

For more information, visit their website at http://www.visioncon.net.
---

Gallifrey 2001
February 23-25, 2001; Van Nuys, CA
Guests: Marjorie Monaghan, Tim Choate, Marjean Holden, Peter Woodward, David Allan Brooks, Beata Pozniak, Johnny Sekka, Denise Gentile, Maggie Egan, Jeffrey Willerth, Stephen Austin, Bill Blair

For more information, visit their website at http://www.gallifreyone.com . www.gallifreyone.com or email info@gallifreyone.com.
---
ZOCALO TRADING POST
There are some new and interesting items in the Trading Post. Take a look. If you have items you'd like to trade, post a note here. If you need a particular item, the Trading Post or Message Board could help you find it. Use this link to see what is listed. Trading Post. To have items included in The Trading Post, send a note to The Zocalo. Please put Trading Post in the subject line.
Pen Pals
If you are looking for someone to talk about Babylon 5 and Crusade with, the Pen Pal section is for you! Check it out! Drop a note to someone who is feeling B5 withdrawal -- BIG TIME!

People thought a Pen Pal page was a good idea. If you would like to meet people who you could chat with or share your opinions of the show with, send along your e-mail or snail-mail address The Zocalo. It will be incorporated on the new Pen Page Page.
IMPORTANT DATES AND BABYLON 5 HISTORY
January Birthdays

January 24 - Peter Woodward
January 27 - Julie Caitlin Brown
January 27 - Tamilyn Tomita

Have I missed anyone? If you know the birthday of someone connected with Babylon 5, pass the information along. We want to include everyone in our Happy Birthday Wishes.
---
Babylon 5 Chronology
I've started to list part of the wonderful Babylon 5 Chronology created by Terry Jones and first published in the Babylon 5 magazine. This month's installation is the Great War. Great War Page lists events surrounding the THE GREAT WAR,1260-1261 and runs through 1888.

Terry has granted permission to use segments from the chronology here at The Zocalo Today.
MAIL FOR CAST AND CREW
Here's a recent note from JMS on the subject:

Just an FYI to those who've been using the Ventura Blvd. mail drop for fan mail to actors....

As mentioned before, we're phasing out the forwarding of fan mail because we a) don't have the resources, complicated by b) the actors have scattered to the four winds, and it makes it very difficult to get everything to everybody in a timely fashion.

So, having provided prior notice...fan mail to actors coming to the Ventura Blvd. mail drop will be sent back. Mail to actors should be sent via their official fan clubs. I will still be taking mail there, since it's my mailbox, but that's it.

Just so's y'all know and save a few bucks on postage and returns.

JMS' mail can be sent to:

14431 Ventura Boulevard, PMB 260
Sherman Oaks, CA 91423
BACK ISSUES OF THE ZOCALO TODAY
The front page of the The Zocalo Today changes daily, so be sure to check the back issues to make sure that you haven't missed anything IMPORTANT! I don't want the front page getting too long so I shift information periodically into the archives. So if you aren't a regular visitor to The Zocalo Today, be sure to check out the back issues. Just use the button above!
---
HELP!!!
NEW FLYER AVAILABLE: If you would like to take some flyers to a convention to help spread the word that The Zocalo is here and ready to provide you with information on everything Babylon 5 and Crusade! drop me a line. I'll be glad to send you some in the mail. I've created a PDF file that can be downloaded and printed. Flyer Thanks for helping to spread the word about The Z!

Take care and I look forward to hearing from you.
Sandra Bruckner (sgbruckner@aol.com)
Editor/Publisher
The Zocalo Today
http://www.isnnews.net