The Zocalo Today
Welcome and thank you for dropping by. Babylon 5 brought many of us together -- and it remains with us, despite the fact that is no longer in production. The good thing is that the internet provides a LOT of ways to stay in touch. Don't be shy. Join in the discussion today. You can also find plenty of Babylon 5 fans on FaceBook and Twitter eager to talk about their show, Babylon 5.

If you have questions or items for the news, drop me a line at sgbruckner@aol.com.

Again, WELCOME!
MONTHLY HIGHLIGHTS OF ISN NEWS: THE ZOCALO TODAY
SATURDAY, JANUARY 31, 2015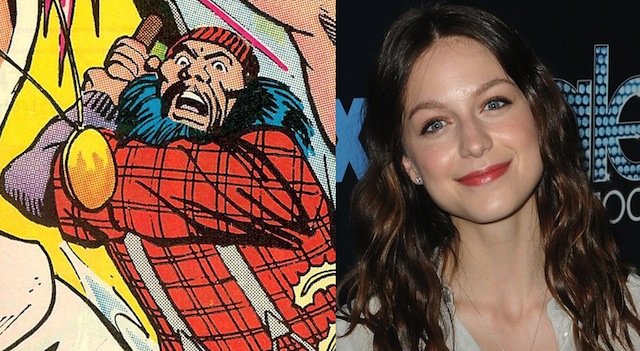 SUPERGIRL NEWS
The identity of the very first villain set to appear on CBS's upcoming Supergirl has been revealed. Most importantly, we also have confirmation that the series will take place in a world in which the Man of Steel DOES exist.

Supergirl will star Melissa Benoist as Kara Zor-El/Danvers, and the very-recently-cast Mehcad Brooks (True Blood) as photographer Jimmy Olsen.

So, who is Kara going toe-to-toe with? According to TV line, her first foe, who will make his appearance in the pilot episode, will be DC Comics villain Lumberjack. Yep, he's a VERY obscure character. According to Matt's Inside Line, THIS:

The CBS freshman is seeking a hulk akin to "Rory McCann, the 6-foot-6 actor from Game of Thrones" to play this "big, burly monster of a man, who has battled Kara's cousin" — that'd be you-know-who — "in the past" and shows up to ascertain her level of power, on behalf of an unseen superior.

So, will we catch a glimpse of (some version of) Supes on the TV show? What does it mean to the DC Cinematic Universe at large? Does it mean Supergirl also exists in that world? Considering the fact that it was hinted (but not confirmed) that CBS's upcoming superhero series may also share the same TV universe as The CW's Arrow and The Flash — two series that have been confirmed NOT to be part of the DCU — it could mean Supergirl might also be left out in the cold, or that we'll be seeing a different version of Big Blue. But until we get official word/confirmation, we'll just have to wait and see. Kryptonian food for thought, though.

As for the use of Lumberjack as Kara's first adversary? Meh. Maybe he'll just be a (very big) blip on Supergirl's radar until someone a little bit more...super, comes along.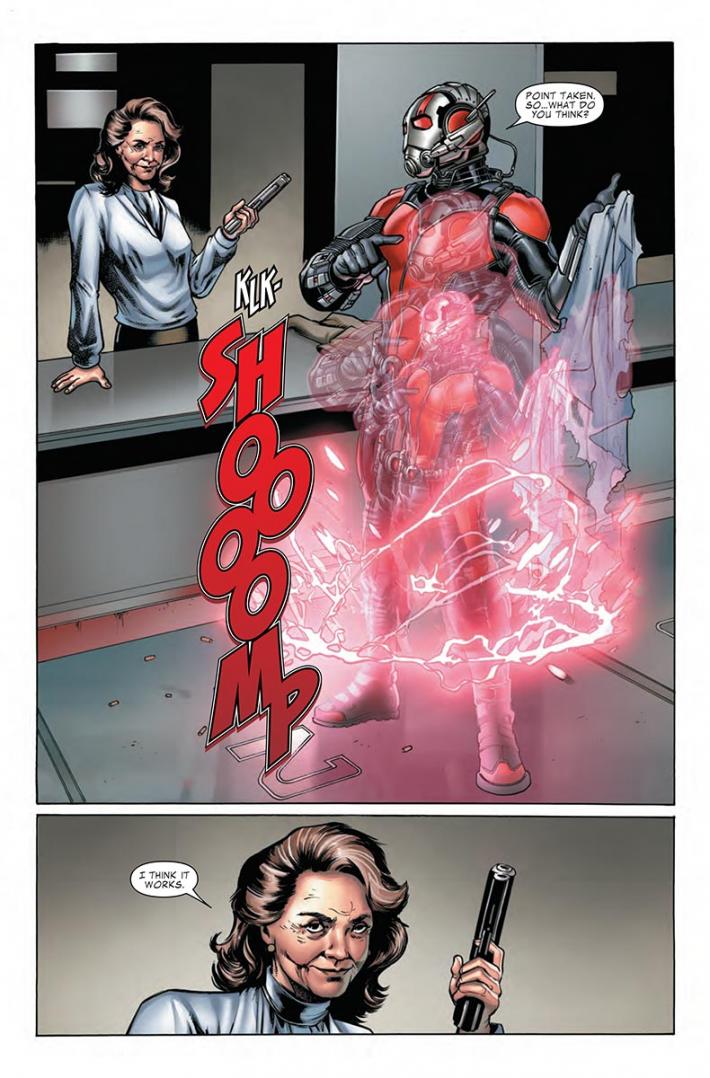 ANT-MAN - AGENT CARTER CONNECTION
With Marvel's Ant-Man film hitting later this year, the company has put out a prequel comic that drops some major intel on Dr. Hank Pym's tenure as the tiny hero.
Marvel has been dabbling with these comic prequels the past few years, which are actually set within the Marvel Cinematic Universe (MCU) and not the comic universe proper — meaning they officially fit into the film continuity. With Ant-Man opening July 17, the first issue of the official Ant-Man prequel comic lands on shelves this Wednesday.
The comic is set well before the events of the Ant-Man film, when Dr. Hank Pam (Michael Douglas) is a younger man apparently working in some capacity with S.H.I.E.L.D. during the Cold War era. So, who is his contact in this instance? None other than Peggy Carter, played by Hayley Atwell on the big screen and currently in her own (awesome) spinoff TV series at ABC.
We'd heard rumblings an aged-up version of Peggy could show up in Ant-Man flashbacks (she already appeared in the modern day as an old woman in Captain America: The Winter Soldier), and now we seem to know the context of her appearance. Pym was working with S.H.I.E.L.D., and she apparently helped him test out the tech by shooting at him.
ARROW
The CW has unveiled an extended teaser for next week's episode of Arrow, and this thing looks more like a season finale than a regular installment. Seriously, this is absolutely epic.
Spoilers ahead for next week's episode of Arrow!
First up, it looks like Oliver (Stephen Amell) will be heading back to Starling City — just in time for all hell to break loose as the remaining members of his team face off with Brick's (Vinnie Jones) army for control of The Glades. The scenes look massive, and again, just as big as anything you might see in a season-finale-caliber event.
The Arrow Team has gone through a lot in Oliver's absence, and it looks like they might finally be getting it together. Though, admittedly, they still seem to be insanely outmatched. But at least Laurel seems to be holding her own, which is a nice change of pace for the Canary 2.0. Diggle and Roy are also knee-deep in bad guys.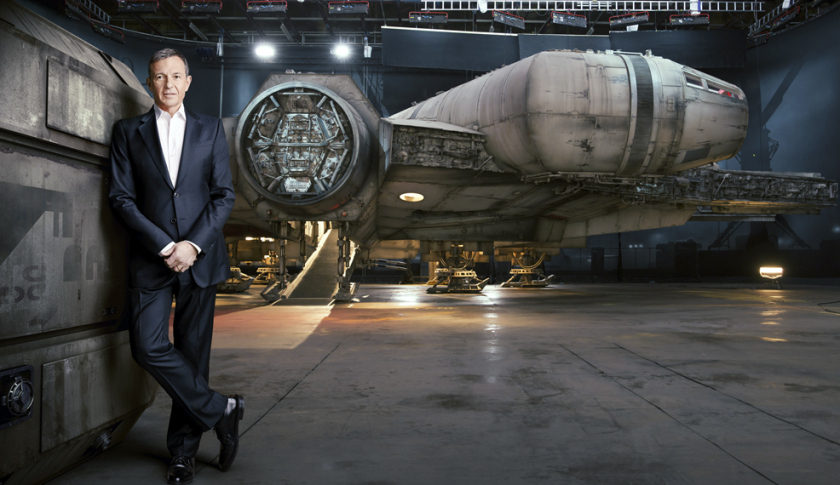 MORE STAR WARS SOONER THAN LATER
Disney chairman and CEO Bob Iger released an annual report for the company to stockholders this week, which included some very interesting tidbits about the 'Star Wars' franchise. Below is the part pertaining to the galaxy far, far away:
"As one of the few people allowed to visit the set during filming….and one of the fewer who's seen most of the footage…I can assure the millions of Star Wars fans who have spent the last decade hoping for a new movie this one will be worth the wait. And it's only the beginning of a new era of exceptional Star Wars storytelling; next year we'll release our first standalone movie based on these characters, followed by Star Wars: Episode VIII in 2017, and we'll finish this trilogy with Episode IX in 2019."
Star-Wars-The-Force-Awake-010 red lightsaberDid Bob Iger just confirm we'll be getting a new film in this trilogy every other year? I believe so, probably with all of them set to hit theaters in December, if they follow the pattern of 'Star Wars: The Force Awakens' (December 18, 2015) and the stand-alone 'Star Wars' movie (December 16, 2016).
Also of note is the fact that Iger has seen most of the footage from the movie already and truly seems to think that the film is 'worth the wait.' Of course there's alway a chance of that just being the words of a good CEO who wants to build excitement for a product, but in this case, I truly think Iger is excited by what he has seen.
There's also his word choice here, such as when he says they'll "finish this trilogy,' which might just imply that the studio is already planning a sequel trilogy to the, well, sequel trilogy. Also his phrasing about the stand-alone film, stating "we'll release our first standalone movie based on these characters," which might mean that the stand-alone film will be about the characters introduced in 'Star Wars: The Force Awakens,' which would be a neat trick since the stand-alone is supposed to take place about 30 years before JJ Abrams' film.
No matter how you read it, it seems Disney and Iger have a lot of excitement for the release of the film, which should also get the fans excited, as we are less than 11 months away from the premiere. And as long as the film is better the 'The Phantom Menace,' (which honestly shouldn't be that hard), Disney has nothing to worry about.

LEWIS AND CLARK COMING TO HBO
HBO has greenlit "Lewis and Clark," with production on the six-hour miniseries to begin this summer, it was announced today by Michael Lombardo, president, HBO Programming. Casey Affleck (Interstellar; Oscar nominee for The Assassination of Jesse James by the Coward Robert Ford) stars as Meriwether Lewis and Matthias Schoenaerts (the upcoming Far from the Madding Crowd; César Award winner for Rust and Bone) stars as William Clark.
The miniseries is executive produced by Tom Hanks (Emmy winner for HBO's "The Pacific"), Gary Goetzman (Emmy winner for HBO's "Game Change"), Edward Norton (HBO's "By the People: The Election of Barack Obama"), Brad Pitt (Emmy winner for HBO's "The Normal Heart"), Dede Gardner (Emmy winner for HBO's "The Normal Heart"), Tim Kelly and Adam Leipzig.
"In 'Lewis and Clark,' we can see American idealism and the breathtaking natural beauty of the continent, as well as the complexities and tragedies of what came to be known as America's 'manifest destiny'," said Lombardo. "We are tremendously excited to bring together this incredible group of talents to tell a seminal American story."
Based on the book "Undaunted Courage," by Stephen E. Ambrose, "Lewis and Clark" tells the story of America's first contact with the land and native tribes of the country west of the Mississippi River. The miniseries follows the epic journey of the Corps of Discovery and its captains, Meriwether Lewis and William Clark, who traverse uncharted territory on a mission to deliver President Jefferson's message of sovereignty as they search for his fabled all-water route to the Pacific. "Lewis and Clark" focuses not just on their incredible achievements, but also on the physical, spiritual and emotional toll the expedition takes on them.
HBO and National Geographic Studios present a Playtone, Plan B and Class 5 production, to be directed by John Curran (The Painted Veil). The writers are Michelle Ashford (Emmy nominee for HBO's "The Pacific"), John Curran and Edward Norton.

EXTANT ADDS JEFFREY DEAN MORGAN
Jeffrey Dean Morgan ("Grey's Anatomy," "Supernatural," Watchmen) has been cast as a series regular in the CBS summer drama series "Extant," starring Academy Award-winner Halle Berry, from Steven Spielberg's Amblin Television and CBS Television Studios.
Morgan will play JD Richter, a roguish womanizer and a cop of the future who is a mercenary/bounty hunter. He is free-wheeling, hard-drinking and fearless, bordering on reckless, mostly because he's got nothing to lose. He is the everyman who thought he had seen everything until Molly Woods (Halle Berry) enters his life. The second season will premiere in summer 2015.
"Extant" is a serialized mystery thriller about female astronaut Molly Woods, who discovers she has unwittingly put the human race on a path to destruction, and that she and a mysterious stranger may be the only hope for survival.
Morgan's television credits also include "Magic City" and the upcoming miniseries "Texas Rising." His feature film credits include The Losers, P.S. I Love You and the upcoming Bus 657, alongside Robert De Niro.
FRIDAY, JANUARY 30, 2015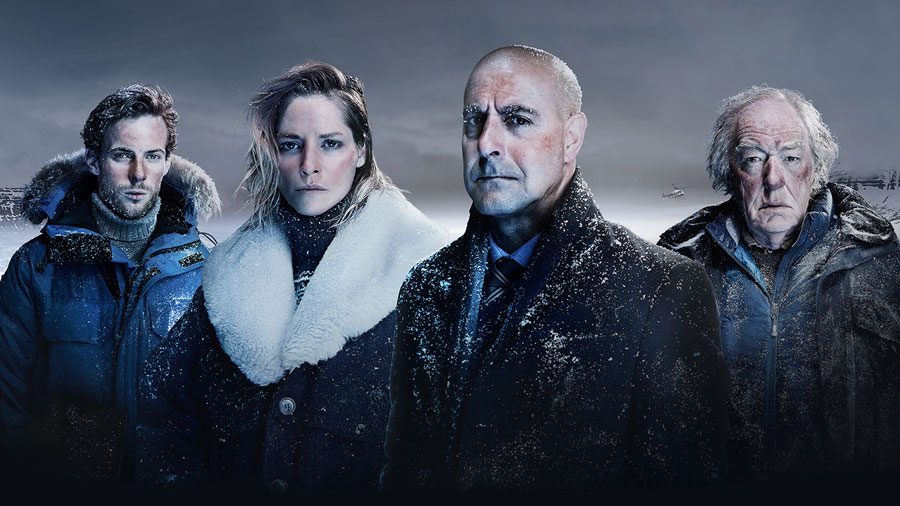 FORTITUDE
Looking for the next great small town murder mystery series? Try "Fortitude" on for size. The drama comes courtesy of the U.K.'s Sky Network, though it will air concurrently in the U.S. on Pivot. It stars Richard Dormer ("Game of Thrones") as the sheriff of the titular town located in Svalbard, the Norwegian archipelago north of the Arctic Circle. The two-hour premiere kicks off with a suspicious death -- spoiler alert, it's not just the polar bear -- and ends with a second suspicious death. Along the way the show introduces a roster of odd characters who are up to varying degrees of nefarious activities, the sheriff included. Enter Stanley Tucci ("The Hunger Games") as Eugene Morton, an independent investigator from the mainland who is determined to get to the bottom of whatever is hiding beneath Fortitude's icy surface, despite being met with resistance from some of the town's inhabitants. The show will appeal to fans "Twin Peaks" and "Fargo," the former because of "Fortitude's" framing device -- small town murder, upstanding lawman, quirky characters -- and the latter because of the program's style. Much like creator Simon Donald's previous series "Low Winter Sun" and the aforementioned "Fargo," "Fortitude" is a slow burn. It's not throwing action at the viewers left and right. Instead, it almost meanderingly introduces multiple storylines in the premiere that start to intersect as the first season progresses. But that doesn't mean it's not interesting. On the contrary, the series gives several characters a motive for murder but no apparent means, while giving others the means and opportunity but no discernible motive -- yet. Four episodes in, the pieces are beginning to form a puzzle, and what's nice is that it isn't so clear as to be obvious but it isn't so obscure as to be frustrating. Another "Fargo"-esque aspect is the dark humor present at times, like when two crime scene investigators take the time to check out what the victim was watching at the time of his death -- "Harvey," starring Jimmy Stewart -- or when a sheriff's deputy breaks an entire bottle of perfume on himself in the bathroom of someone he's questioning. Morton also has a distinct dry humor not unlike Billy Bob Thornton's Lorne Malvo, despite the two characters' vast differences. Finally, like "Fargo," in which Calgary stood in for Minnesota, "Fortitude" makes incredible use of its on-location shooting. The show isn't actually being shot in Svalgard, but Iceland makes a beautiful stand-in, and the location is as much a part of the plot as the characters. Fortitude is a place where the summer temperatures hover around 40 degrees, citizens (including kids) carry rifles in order to protect themselves from polar bears and wind chimes hanging outside someone's home means its occupants are interested in "keeping warm" with other people who also hang wind chimes on their houses. The unique location adds an extra layer of tension to the piece, as the isolation and claustrophobia are palpable. It also makes for a place where secrets are easy to keep -- or they were, before Morton arrived in Fortitude. "Fortitude" premieres Thursday, Jan. 29 at 9 p.m ET/PT on Pivot, check your local listings for channel number. BLACK MIRROR/WHITE CHRISTMAS
Though the series has actually been on the air for more than three years, the British sci-fi anthology Black Mirror only recently became a breakout hit (in the States) after it showed up on Netflix. Now a U.S. adaptation is in the works. The studio behind the series, Endemol Shine North America, has revealed that development is underway to bring a native version of the super-smart near-future show to a U.S. network. The U.K. original airs on Channel 4, and Netflix has the U.S. rights for the British version. The Twilight Zone-esque series is basically full of freaky near-future tales about how technology affects (and sometimes ruins) our lives. No word yet on where the adaptation might land, but heck, you'd think it'd be an interesting addition just about anywhere. Netflix already has a relationship established, but Black Mirror could also fit anywhere from FX to Syfy or HBO brand-wise. Considering the buzz, you'd have to think someone would want to jump at this one and at least give it a shot. Regardless, here's hoping they keep the original series' approach of using a brand-new cast and setting for each episode. It's helped attract A-listers like Jon Hamm to the flagship series, and you'd think the idea would translate well across the pond. Also of note: Stephen King is a fan, and Robert Downey Jr. likes the original series so much he optioned the episode "The Entire History of You" to develop as a feature film. We're extremely psyched to hear Black Mirror might get a chance at a much bigger audience, and since the original studio is involved in adapting the format, hopefully they'll be able to retain a lot of the charm. This is one of the most daring shows on television these days, and some U.S. network could definitely use this brand of near-future weirdness.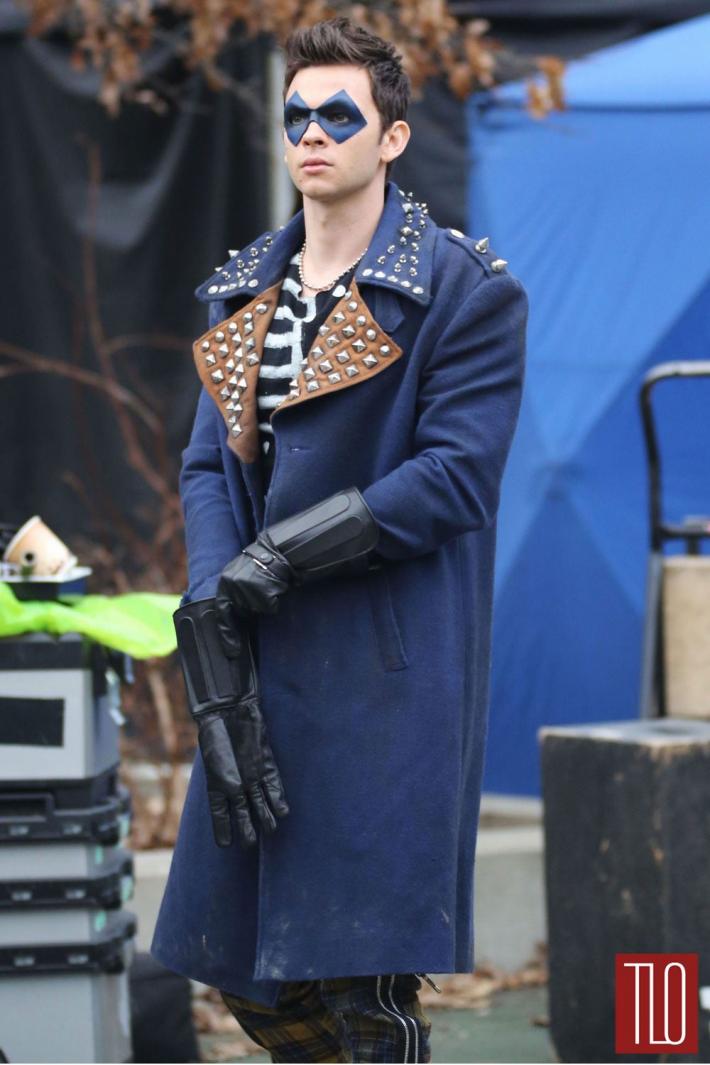 THE FLASH
That dastardly supervillain the Trickster won't make his eagerly anticipated debut on The CW's The Flash until March, but we already have our very first look at the DC rogue. Actor Devon Graye (Dexter) will play the Axel Walker version of the character for the hit superhero series, while original Trickster Mark Hamill will reprise the role of James Jesse. They'll both appear in Episode 17. Now for a bit of trivia: For those who're not familiar with this, Hamill played the character back in the '90s Flash series, which starred John Wesley Shipp as the Scarlet Speedster. Shipp currently plays Barry Allen's (Grant Gustin) dad on the new series. In this particular episode, Barry will apparently be seeking Jesse's advice on how to take Axel Walker down. It takes a Trickster to know a Trickster. Have a look at the masked supervillain in the gallery down below (the first pic comes courtesy of Andy Mientus, who made his debut as the Pied Piper in the latest episode of the The Flash and posted it on Instagram), and let us know what you think of the Trickster's supervillain garb. Look out for him on The CW's The Flash on March 10. HELIX
Ronald D. Moore's sci-fi series Helix is in the midst of its second season, and star Billy Campbell has opened up about what's coming next. The first season of the Syfy (Disclosure: Corporate owner of Blastr -Ed.) series was an ambitious and weird tale of a CDC team trying to contain a deadly virus — which quickly evolved into a conspiracy-filled tale of immortals, evil corporations and all kinds of other weird stuff. The second season jumps ahead a bit, picking up with a new-look version of the CDC team taking on what appears to be a brand-new virus that is doing all kinds of weird stuff on an island. It also led to the deaths of several people on a boat, which made for some gruesome green-goo ooziness. Campbell sat down for a 4+ minute interview to talk about what's come before, and what they have in store for the remainder of season two. He noted that year two is a "darker and grittier" tale than the debut season, and those rustic qualities are already shining through in the sets and style. It's a nice change of pace from the clinical white of the Arctic base, and it creates an all-new type of claustrophobia. New episodes of Helix air Friday nights on Syfy.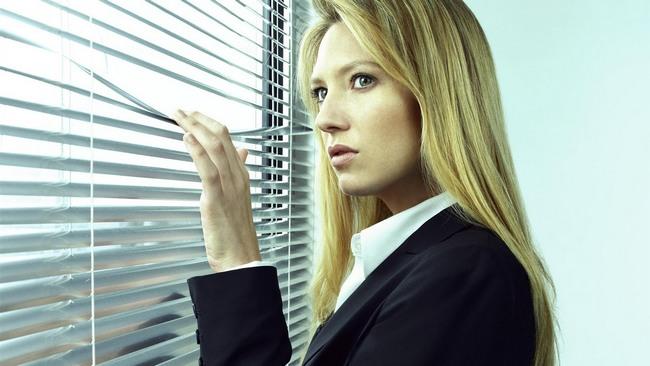 STEPHANIE
Anna Torv won over plenty of genre fans with her performance as FBI agent turned fringe science investigator in the acclaimed sci-fi drama Fringe, which ran for five seasons on Fox before wrapping up in 2013. Now she's heading back to spec-fic for a new film, and this time she's going horror. The Wrap reports that Torv has landed one of the leading roles in Stephanie, a new horror thriller film from director Akiva Goldsman (A Beautiful Mind, Winter's Tale) and writers Ben Collins and Luke Piotrowski. Frank Grillo (Captain America: The Winter Soldier) was already attached to the film, and newcomer Shree Crooks (Extant) is also joining to play the title role. The script has been floating around for a while and made the 2012 Blood List as one of the best dark genre screenplays of the year. Now it looks like it's finally getting made. Described as "Paperhouse meets Carrie," Stephanie is the story of a young girl haunted by a supernatural force, who is abandoned by her parents (Torv and Grillo) in a remote house. When her mother and father return to the house, the powers that surround Stephanie only grow stronger. The premise sounds a bit Andres Muschietti's 2013 horror film Mama, though in this case the supernatural power actually seems to be centered on the girl and not on an outside entity. We haven't seen much of Torv since Fringe ended, so it'll be nice to see her step back into dark genre storytelling and re-teaming with Goldsman, who served as writer and director for some essential Fringe episodes. Plus, we get more of Grillo, who had a big 2014 thanks to Winter Soldier and the DirecTV Audience Network drama Kingdom, which has a second season on the way. Hopefully we'll hear a release date for Stephanie soon. AGENTS OF S.H.I.E.L.D.
ABC and Marvel Entertainment have released a new preview for the return of "Marvel's Agents of S.H.I.E.L.D." and confirmed that the series will return on March 3 following the conclusion of "Marvel's Agent Carter." "Marvel's Agents of S.H.I.E.L.D." stars Clark Gregg as Agent Phil Coulson, Ming-Na Wen as Agent Melinda May, Brett Dalton as Grant Ward, Chloe Bennet as Daisy "Skye" Johnson, Iain De Caestecker as Agent Leo Fitz, Elizabeth Henstridge as Agent Jemma Simmons, Nick Blood as Lance Hunter and Adrianne Palicki as Bobbi Morse. New faces will also make their debuts, including May's ex-husband (Blair Underwood), who must help the team with their most personal mission yet, and Robert Gonzales (Edward James Olmos), whose debut will rock the foundations of S.H.I.E.L.D. The series is executive produced by Joss Whedon, Jed Whedon, Maurissa Tancharoen, Jeffrey Bell and Jeph Loeb.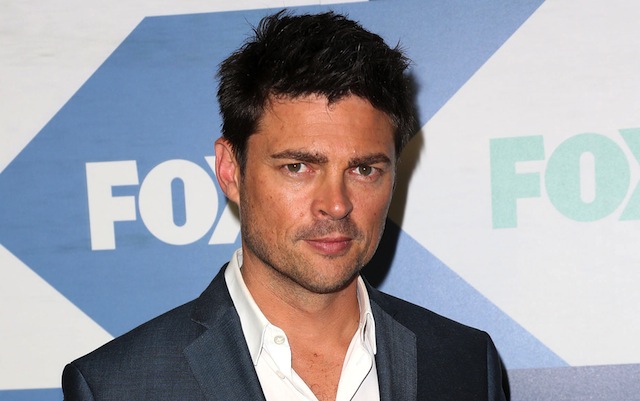 PETE'S DRAGON REMAKE
Although Michael C. Hall was said to be joining the cast ofWalt Disney Pictures' upcoming remake of Pete's Dragon earlier this month, TheWrap is now reporting that the "Dexter" star is no longer attached and that the role in question will now go to Karl Urban. The Star Trek and Dredd star joins Academy Award winner Robert Redford (All is Lost, Captain America: The Winter Soldier), Bryce Dallas Howard (The Help, Jurassic World), Oakes Fegley (This is Where I Leave You), Oona Laurence ("Penny Dreadful") and Wes Bentley (The Hunger Games, Interstellar) for the David Lowery (Ain't Them Bodies Saints) film. The original Pete's Dragon, a hybrid of live action and animation, was released in 1977 and followed the adventures of Pete (Fegley), a young orphan boy with an imaginary friend, Elliot, who just happens to be an enormous animated dragon. The new version will offer the dragon via CGI and will have the Pete character joined by a human friend, Natalie (Laurence). Urban can be seen in theaters starting tomorrow in The Loft, starring opposite Rachael Taylor who, herself, made headlines today as the latest addition to the cast of the new Netflix series "Marvel's A.K.A. Jessica Jones." He's also set to return as Dr. Leonard "Bones" McCoy in next summer's Justin Lin-helmed Star Trek sequel. Lowery has also co-written the screenplay for Pete's Dragon with Toby Halbrooks and is set to begin production shortly in New Zealand. Jim Whitaker (American Gangster, The Odd Life of Timothy Green) is attached to produce.

LIMITLESS
We've known for awhile now that CBS has been interested in turning the film 'Limitless' into an ongoing series. Now the network has ordered a pilot for the show so depending how it turns out we're one step closer to seeing that as a reality. The pitch is that they will take the idea of a wonder drug that makes whoever takes it into the smartest person on the planet and, get this, turn the series into a crime procedural. Procedural! With an existing line up that already includes 'Criminal Minds', 'CSI: Crime Scene Investigator', 'Elementary', 'NCIS', and 'The Mentalist among others, this move shouldn't be a surprise to anyone. The series will be written and executive produced by Craig Sweeny ('Medium,' 'Elementary') who has worked on the network in the past. While an ongoing director for the series has not yet been named, Neil Burger who was responsible for the film will be directing the pilot. While the initial plan was to develop the series as a sequel, it sounds as if those plans have changed. In the series, we will be following a man named Brian Sinclair instead of Eddie Morra who has taken the drug NZT. The FBI wants to use him to help them solve the cases that they come up against. I suspect that we'll see a return to the formula of a very smart and over cocky lead character as they've done on shows such as 'Elementary' and 'Constantine'. No casting has been announced as of yet. As we're following a different character in the series than from the film, I suspect we won't be seeing Bradley Cooper making any guest appearances on the show in the near future.
THURSDAY, JANUARY 29, 2015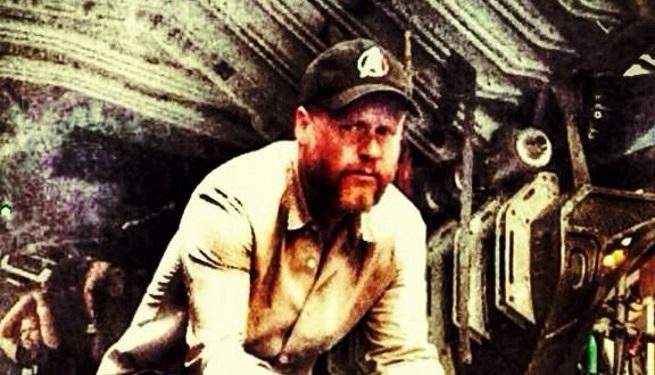 JOSS WHEDON LEAVING THE AVENGERS?
Just a few years ago, we weren't even sure if the Marvel Cinematic Universe laid out by mastermind Kevin Feige could work. Now it's not only working, but intensifying. It's a blockbuster juggernaut that's primed to deliver at least two movies a year for the forseeable future, and its success has spawned similarly ambitious universe plans over at Warner Bros., Sony and Fox. There are a lot of factors that drove this success, but Joss Whedon is inarguably one of them. So far, Whedon's contributions to Marvel Studios include writing and directing its two biggest films, co-creating its first TV series and serving as a kind of guiding hand that helped steer the universe on the road from Avengers to Age of Ultron. Now Marvel's planning to take Earth's Mightiest Heroes to even greater heights with Infinity War, a two-part saga that will likely serve as both a culmination of everything Marvel's done so far and a launching pad for what's next. It's a massive project, and yesterday we heard that Whedon is likely not the man to helm it. "I couldn't imagine doing this again. It's enormously hard, and it would be, by then, a good five years since I created anything that was completely my own. So it's very doubtful that I would take on the two-part Infinity War movie that would eat up the next four years of my life. I obviously still want to be a part of the Marvel Universe - I love these guys - but it ain't easy. This year has been more like running three shows than any year of my life. It is bonkers." Whedon spoke similarly about exhaustion and wanting to create something new after he'd made The Avengers, and just like last time these Infinity War remarks were met with a particular kind of reaction from a particular kind of Whedon fan. Now, this reaction is rooted in loving what the guy does and wanting him to do more of it, so I don't want to call anyone out specifically, but tell me if this sounds familiar: "What's so hard about this? You get to make SUPERHERO MOVIES! That's so much fun and I love them and you're the only guy who can make them the way I like so don't go please just let this be a negotiating tactic so you can be richer I love you Joss please only do what I want you to do AND OH YEAH BRING BACK FIREFLY TOO IT'S THE BEST AHHHHHHH" Ahem, sorry. Maybe I got a bit carried away there, but you get my drift. Some fans tend to react that way, and they tend to do it every time this particular man makes a career move. I suppose you could make the argument that it's the price someone like Whedon pays for getting to do what he does, and he's certainly not the only creator to face such reactions (George R.R. Martin knows a thing or two about fans trying to keep him on task), but as a fan of the guy myself, I find it exhausting and tedious. Joss Whedon says Firefly is probably never coming back, so someone asks about Doctor Horrible 2. He says he might not want to do another Avengers film, so someone asks about a Cabin in the Woods prequel. He says making Age of Ultron was hard, so someone says he shouldn't complain about being a big-shot Marvel director. It's hard to change the mind of a fan like that, but after hearing Whedon's remarks on his future with Marvel, I'm perfectly happy to see him leave the director's chair open for someone else. For one thing, negotiating tactic or not, no one is lying when they say making a movie is hard. I have no doubt that Whedon's exhausted, and now he has to go back out and promote the movie to boot, so it would make sense if he wants to step away from this kind of work, if only for a while. And hey, didn't we start to love this dude in the first place because of all those original stories he told? Don't we throw around words like "groundbreaking" and "innovative" when we talk about Buffy and Firefly? Wouldn't you all like to see him given free rein to try for something like that again? I know I would. Then there's the Marvel Cinematic Universe itself, a universe that thrived in the past year not on Joss Whedon's steady presence, but on new filmmakers looking at the universe in new ways. The Russo Brothers have been entrusted with a huge chunk of Phase 3's storytelling thanks to their swagger-packed thriller Captain America: The Winter Soldier, and James Gunn gets to further map out the Marvel cosmos after crushing Guardians of the Galaxy. Then there's Scott Derrickson, who's about to delve into the spookier side of Marvel with Doctor Strange. As I look ahead at the new projects Marvel's about to launch, at T'Challa and Carol Danvers and the Inhumans, I see an opportunity not to maintain the status quo, but to get more exciting filmmakers involved. So, while it would be sad to see Joss Whedon leave the Marvel sandbox altogether, stepping aside would create a more exciting future for both him and Marvel. Comics have long thrived on a changing of the guard, on new voices taking on familiar characters, and if done right, comic-book movies will, too. JUPITER ASCENDING
A lengthy new trailer for the Wachowskis' new sci-fi epic Jupiter Ascending has been released, showing off a ton of weird and beautiful footage from the film. The more we see, the more intrigued we are to get a good look at the Wachowskis' latest sci-fi offering. Channing Tatum and Mila Kunis should make for a great cast, but it's hard to look past those weird ears on Tatum. The new footage is gorgeous and strange, which might just sum up this movie pretty well. It's worth noting that, in an effort to generate some buzz for the project, the studio actually did a surprise screening at the recent Sundance Film Festival. Sadly, it did not go well. The screening apparently wasn't that well attended, according to reports from the event, and those who did see it did not come away impressed by the troubled production (choice quote: "I hated it"). Oops. Check out an updated synopsis below: Jupiter Jones (Mila Kunis) was born under a night sky, with signs predicting that she was destined for great things. Now grown, Jupiter dreams of the stars but wakes up to the cold reality of a job cleaning other people's houses and an endless run of bad breaks. Only when Caine (Channing Tatum), a genetically engineered ex-military hunter, arrives on Earth to track her down does Jupiter begin to glimpse the fate that has been waiting for her all along—her genetic signature marks her as next in line for an extraordinary inheritance that could alter the balance of the cosmos. Jupiter Ascending opens Feb. 6, 2015. STAR WARS: EPISODE VII - THE FORCE AWAKENS
Roll out your Ray-Bans and watch this strangely addictive "neon version" of the little trailer that nearly broke the Internet. Experience the brief-but-magical moments of The Force Awakens tease in a whole new fashion, brilliantly animated by the artist Neonardo, and tell us if the overlay of bright neon intoxicates you with its warm glare. Light it up! MARVEL'S AGENTS OF S.H.I.E.L.D.
Agents of S.H.I.E.L.D. left us in December not with a cliffhanger but with a cliff-exploder. In "What They Become" we finally got to see the "evolution" that Raina had been working toward for the last season and a half: Raina and Skye were encased by obelisk crystals and emerged with ground-shaking powers. Now ABC has released its first trailer for the following episode … in which we get a hint of what they became. You'll see it for yourselves, below. Skye is no longer the quick-witted do-gooder with daddy issues. She's something more than that. Mark our words, there will be trouble ahead. In "What They Become," Skye and Raina's transformation came with consequences, as Agent Triplett, disintegrated in the process that separated the humans from the Inhumans. It won't be the only one —especially as it seems that Skye doesn't yet know how to control her new abilities (we expect nothing less than dire consequences from Joss Whedon's team; after all, this is the man who killed and resurrected Buffy, to devastating effect). Will Skye turn to her father for help? Or, worse, Raina? Will she finish off Ward with her newfound abilities? Will she still remain an agent of S.H.I.E.L.D.? All we know is what we see in the trailer: There's something very wrong with Skye. And we'll learn what's wrong when Agents of S.H.I.E.L.D. returns on March 3.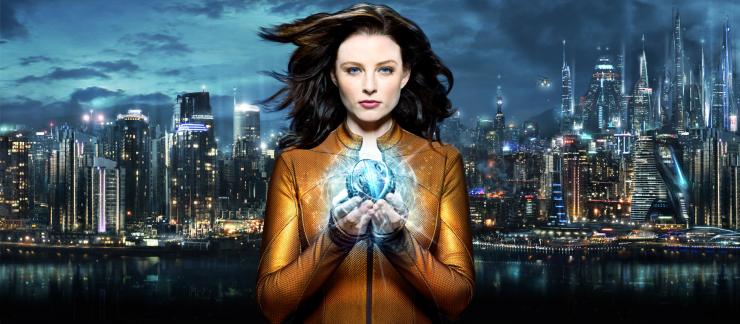 CONTINUUM
For a while there, it looked like we'd never get a chance to see how the twisty time-travel saga Continuum would come to an end. But thankfully, a final season is finally on the way. After several months of leaving the creators and stars (not to mention fans) in purgatory, Canadian network Showcase (the show airs on Syfy in the U.S.) finally worked out a deal a few months ago to renew the series for a fourth and final season of six episodes. Fans were obviously hoping for more, but considering season three ended on a crazy cliffhanger, it's at least a nice gesture to try and answer several of the lingering questions. Despite the end date seemingly locked in at this point, star Rachel Nichols isn't quite ready to let go of her dream job. Nichols, who plays time-traveling future cop Kiera Cameron, expressed her heartbreak over the series' end to Digital Spy. The odds are long, obviously, but Nichols hopes the shortened final season will be so great it'll make Showcase (or perhaps another suitor) interested in keeping the show alive even longer: "I'd like to see the fourth season be such an incredible success that maybe we can get a little bit more out of it. Maybe there are some legs to it somewhere else and I think that the fans would be in support of that. I know that we're gonna do everything possible to make season four even more electric and thought-provoking than prior seasons, so of course I'd like to be optimistic and think that perhaps this isn't the end. I don't want the story to end and I know there's so much more to be told. I know the show creator Simon Barry has so much more in his head that he could do with the show for years to come, but those aren't the decisions that I get to make. But at least we're being given a chance to give the show the proper end it deserves, and give the fans answers to at least some of their questions… I can't promise that all of their questions will be answered!" The first season did a great job of laying the groundwork, and the past two years saw it grow into one of the most fascinating and creative shows on television. We'd obviously love to see the series continue, but it's a cult hit at best — and the odds are long that it'd be feasible for anyone else to pick it up. If nothing else, we're glad the crew will get a chance to bring the show to a close. Here's hoping they bring the heat in those final six episodes. Production is set to ramp up in March, with the final season debuting in late 2015 and early 2016.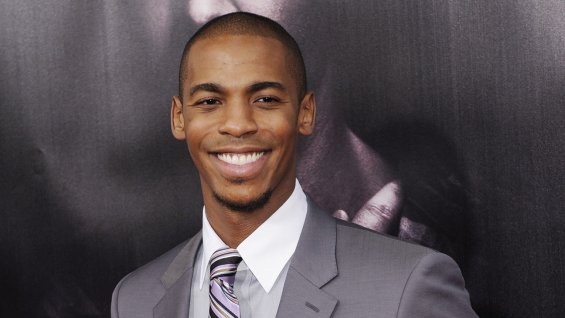 JIMMY OLSEN FOUND FOR SUPERGIRL
CBS' Supergirl adaptation has found its Jimmy Olsen. Necessary Roughness alum Mehcad Brooks has been tapped to co-star opposite Glee's Melissa Benoist in the DC Comics take, The Hollywood Reporter has learned. The hourlong drama, which received a hefty series commitment, centers on Kara Zor-El (Benoist), Superman's cousin, who was born on the planet Krypton and escaped amid its destruction years ago. Benoist will play Kara, who after arriving on Earth was taken in by a foster family, the Danvers, who taught her to be careful with her extraordinary powers (which she shares with her famous cousin, Superman). Now 24, Kara feels disempowered, a slave to having repressed her innate abilities. She's still pretty, but with her face hidden behind glasses and her hair pulled back, she doesn't know it herself. But an unexpected disaster forces her to use her powers in public. Energized by her heroic deed, for the first time in her life Kara begins embracing her extraordinary abilities. She begins helping the people of her city, and they soon take notice. She's even given a new moniker: Supergirl. Olsen, in the CBS take, is a photographer at CatCo.,?where Kara works. He's the ?salt of the earth and this only makes Kara crush on him even more. The character has recently been living and working in National City, though the reason is still a secret. But with Kara emerging as Supergirl they grow closer. Arrow and Flash's Greg Berlanti and his No Ordinary Family cohort Ali Adler (The New Normal) will pen the script and executive produce the drama via Berlanti Productions' Warner Bros. Television-based banner. Berlanti Productions' topper Sarah Schechter is also on board to executive produce. Brooks' credits include HBO's vampire drama True Blood and ABC's Desperate Housewives, as well as features About Last Night and In the Valley of Elah. He's repped by Gersh, Atlas Artists and attorney Dave Feldman.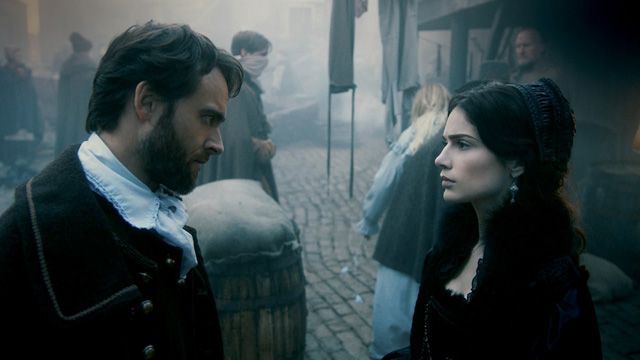 SALEM - SEASON TWO BEGINS - APRIL 5
WGN America has set the premiere date for the second season of its hit supernatural thriller "Salem," which will make its return on Sunday, April 5 at 10:00 p.m. ET/ 9:00 p.m. CT. The network also released the above first-look photo from the new season, currently in production in Shreveport, LA for its 13-episode sophomore run, featuring recurring guest stars Lucy Lawless and Stuart Townsend. From creators and writers Brannon Braga ("Cosmos," "24") and Adam Simon (The Haunting in Connecticut), "Salem" season two opens at the dawn of the witch war set into motion at the end of season one, with its catalyst and Salem's deadliest witch, Mary Sibley (Janet Montgomery) at the center of the mayhem as she faces off against new and old adversaries vying for her throne. In the wake of the destruction caused by the Grand Rite, completed by Mary and inadvertently triggered by Isaac Walton (Iddo Goldberg) in the season one finale, the fates of Captain John Alden (Shane West), Cotton Mather (Seth Gabel), Tituba (Ashley Madekwe), Anne Hale (Tamzin Merchant), Mercy Lewis (Elise Eberle) and Isaac hang in the balance. New to the embattled 17th-century village for the second season of "Salem" are Lucy Lawless as Countess Marburg, one of the last descendants of a legendary line of ancient German witches; Stuart Townsend as Samuel Wainwright, a mysterious doctor looking to uncover the secrets of Salem as he keeps a few of his own; Joe Doyle as Baron Sebastian Marburg, the charming and cultured son of the Countess; and Oliver Bell as Mary's long-lost son, who was revealed in the season one finale to have been secretly kept alive all along by her coven. "Salem" is executive produced by Brannon Braga, Adam Simon, Kelly Souders, Brian Peterson and Prospect Park's Josh Barry and Jeff Kwatinez. Nick Copus directs and serves as co-executive producer. The series is produced by Fox 21.
WEDNESDAY, JANUARY 28, 2015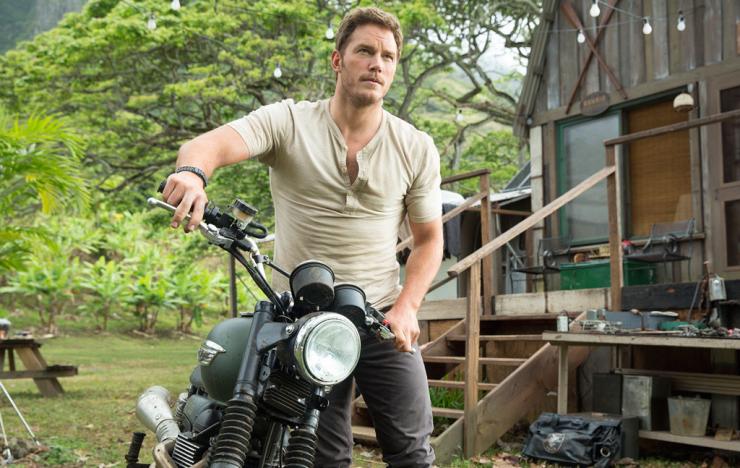 CHRIS PRATT - NEW INDIANA JONES?
Though most of the attention was on the Star Wars side of the spectrum when Disney bought Lucasfilm, the company also picked up the rights to make new Indiana Jones films in the process. Now we know who's on the short list to take up the whip and fedora. Deadline is reporting that Disney has "set its sights" on none other than Guardians of the Galaxy's breakout star Chris Pratt to headline an Indiana Jones revival that would find a younger actor taking over the iconic role made famous by Harrison Ford. We knew Disney would get Indy back on track at some point, and Pratt has already more than proven his worth for the Mouse House. The report cautions that the potential casting note is still "very early" in the process, but it stands to reason that Disney might turn to its newest in-house star. Besides, didn't Harrison Ford successfully front both Indiana Jones and a certain massive spacefaring sci-fi franchise simultaneously back in the day? Peter Quill is basically our generation's Han Solo already, right? Let's just make the torch-passing really official at this point. Nothing is obviously confirmed yet, but you'd have to think Disney will be watching the box-office numbers for Jurassic World extremely closely when the long-awaited sequel bows on June 12. It'll mark Pratt's first major box-office test post-Guardians, and if it's a hit, it stands to reason he could be trading in dinosaurs and aliens for Nazis in his next tentpole.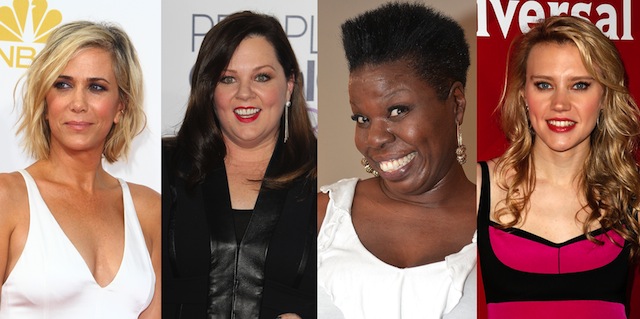 GHOSTBUSTERS REBOOT
It's official! Meet your new Ghostbusters! Paul Feig, the director of the upcoming reboot, just took to Twitter to reveal his new cast. Headlining the supernatural comedy are Kristen Wiig (Bridesmaids, The Secret Life of Walter Mitty), Melissa McCarthy (The Heat, Tammy), Leslie Jones ("Saturday Night Live," Top Five) and Kate McKinnon ("Saturday Night Live," Life Partners). A remake of director Ivan Reitman's 1984 comedy classic, Feig's take on the property is said to be targeting a scarier tone that will not maintain any continuity with the original film or its 1989 sequel (or the surprisingly continuity-heavy animated series "The Real Ghostbusters," for that matter). Back in September, original Ghostbusters star Bill Murray revealed his own "fan cast" for a female-driven franchise reboot, which included both McCarthy (his St. Vincent co-star) and Wiig alongside Linda Cardinelli ("Freaks and Geeks," "Mad Men") and Emma Stone (The Help, The Amazing Spider-Man). Plans call for Ghostbusters to shoot this summer in New York. UPDATE: Paul Feig has just announced via Twitter that Ghostbusters will be released on July 22, 2016.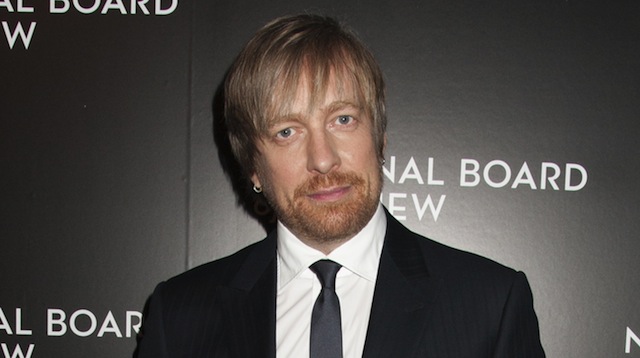 PASSENGERS
Although the project very nearly made it to the big screen with "Game of Thrones" helmer Brian Kirk directing and Keanu Reeves and Rachel McAdams starring, Jon Spaihts' sci-fi tale Passengers appears today to be getting a new lease on life. Deadline reports Morten Tyldum, currently in the running for an Academy Award for his work helming The Imitation Game, is eyeing the director's chair on the project, now set up at Sony Pictures. Passengers centers on Jim Preston, a mechanic on a 120-year journey to a distant colonized planet in another galaxy, who becomes the first traveler to experience pod hibernation failure. Having woken up 100 years too soon, he is stranded in the world of an interstellar spaceship with only robots and androids for companionship. A year into his journey, he decides to wake up a fellow passenger, a beautiful journalist named Aurora. They fall in love but must soon deal not only with the revelation of Jim's misjudged act of waking her but a major malfunction of the ship itself. Tyldum, who hails from Norway, is also well-known for his recent crime thriller, Headhunters, starring Nikolaj Coster-Waldau ("Game of Thrones") and Aksel Hennie (Hercules). IZOMBIE
Rose McIver stars as Olivia "Liv" Moore, a rosy-cheeked, disciplined, over-achieving medical resident who had her life path completely mapped out… until the night she attended a party that unexpectedly turned into a zombie feeding frenzy. As one of the newly undead, Liv has devised a way to resist her baser urges to devour fresh human brains – she's taken a job in the Seattle coroner's office. In this appropriately dead-end job, she can secretly snack on the brains of the many Jane and John Doe corpses that make a final stop in the morgue. Liv remains resigned to an eternity without hope or purpose, until she realizes that with every brain she consumes, she retains a portion of that person's memories, and she begins to experience visions from the point of view of the murder victims. It's not the same as being alive again, but at least she can find purpose in her undead existence by helping to solve the murders of those who are indeed fully dead. "iZombie" also stars Malcolm Goodwin, Rahul Kohli, Robert Buckley and David Anders. Based upon characters created by Chris Roberson and Michael Allred, and published by DC Entertainment's Vertigo imprint. "iZombie" will premiere on March 17 and the series will air Tuesdays at 9 P.M. EST.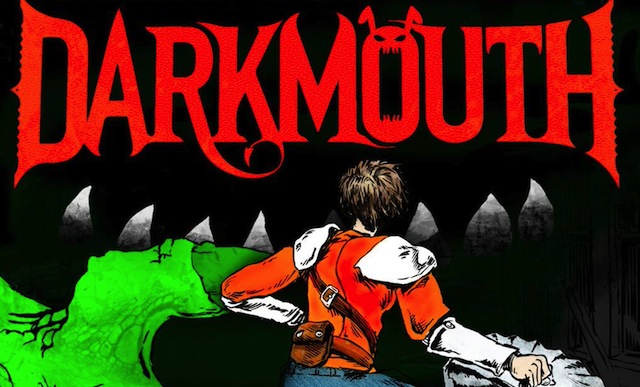 DARKMOUTH
Alcon Entertainment revealed today that it has acquired film rights to the upcoming comedic fantasy adventure novel series Darkmouth, written by Irish author Shane Hegarty. Alcon co-founders and co-CEOs Broderick Johnson and Andrew Kosove made the announcement. From HarperCollins Children's Books, Darkmouth tells the story of the last town on Earth where monsters (known as Legends) still invade. Finn, the 12-year-old son of the last remaining Legend Hunter must follow in his father's footsteps and prepare for an epic battle to defeat the Legends as their terrifying leader plans a major attack on Earth. Unfortunately, Finn is one of the worst Legend Hunters in history. "I'm thrilled that the film rights for 'Darkmouth' are in such amazing hands and am very excitedby the vision Kira, Simon, Andrew and Broderick have for the material," says Hegarty. "It's going to be a great adventure!" Simon Brooks (Love, Rosie) of Canyon Creek Films and 8:38's Kira Davis (Prisoners) will produce along with Kosove and Johnson. Brooks and Davis brought the project to Alcon. "We are excited to develop this highly sought after series for the big screen with Andrew and Broderick," said Brooks and Davis in a joint statement. "Shane has created an enthralling, magical world with fascinating warm unforgettable characters and his stories lend themselves perfectly to a cinematic telling." HarperCollins Children's Books, which acquired rights to the series after a hotly contested auction at Bologna Book Fair 2013, will publish Hegarty's debut novel, "Darkmouth #1: The Legends Begin," in the United Kingdom, Ireland and Australia at the end of January and in the US at the end of April. Hegarty was the Arts Editor of national newspaper The Irish Times. A father to four children, he lives on the east coast of Ireland. Hegarty is repped by Marianne Gunn O'Connor of The Marianne Gunn O'Connor Literary, Film and TV Agency. Jeannette Hill-Yonis and Scott Parish negotiated the deal for Alcon Entertainment with Marianne Gunn O'Connor.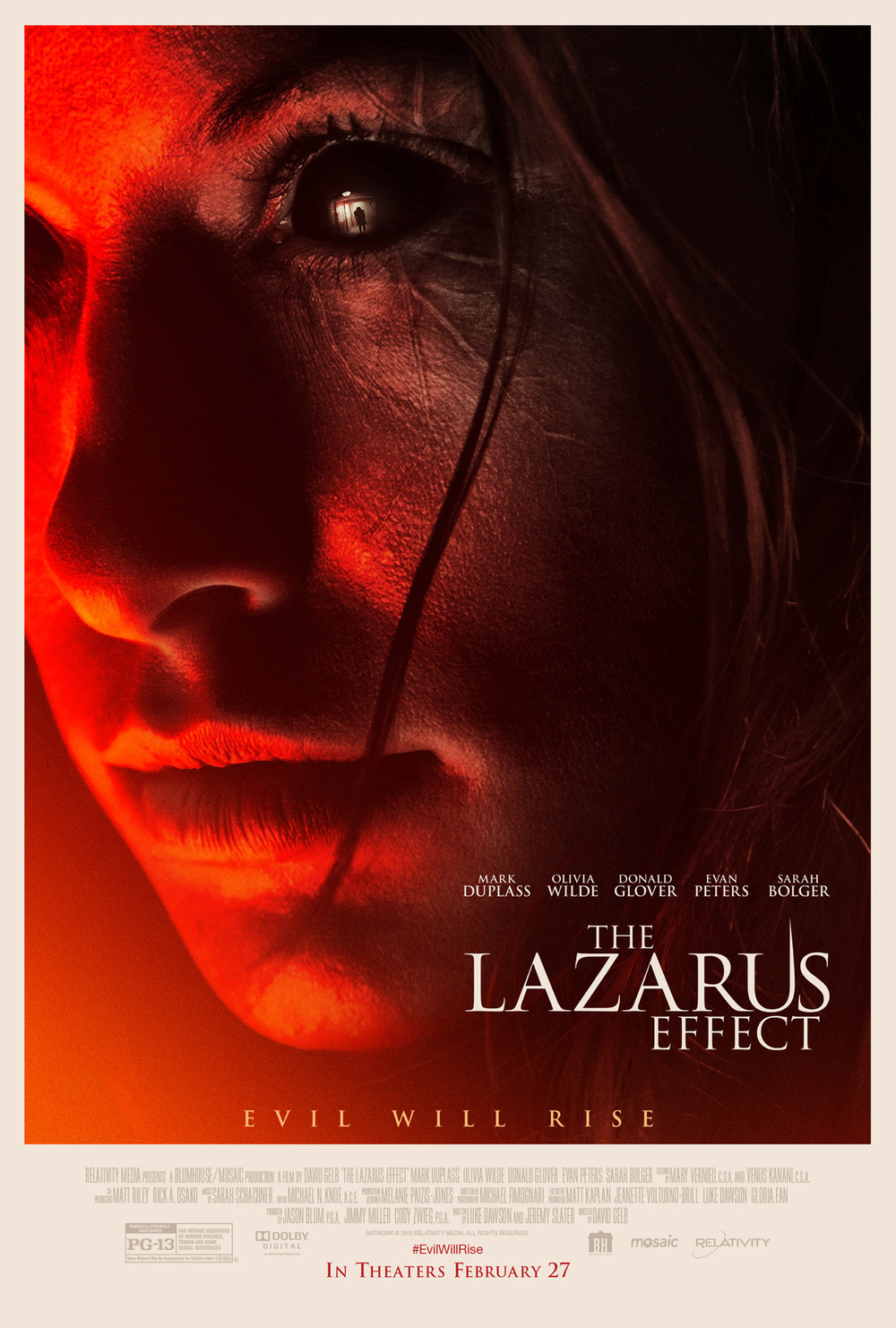 THE LAZARUS EFFECT
On February 27, masters of horror Blumhouse Productions (The Purge, Insidious, Sinister) are back with The Lazarus Effect, the David Gelb-directed film starring Mark Duplass, Olivia Wilde, Donald Glover, Evan Peters and Sarah Bolger. Today, we have your exclusive first look at photos from the The Lazarus Effect. The Lazarus Effect follows a group of researchers led by Frank (Duplass) and his fiancée Zoe (Wilde,) who've achieved the unimaginable – bringing the dead back to life. After a successful, yet unsanctioned, trial on a newly deceased animal, the team is ready to unveil their breakthrough to the world. When the dean of their university learns of their underground experiments, their project is unexpectedly shut down and their materials confiscated.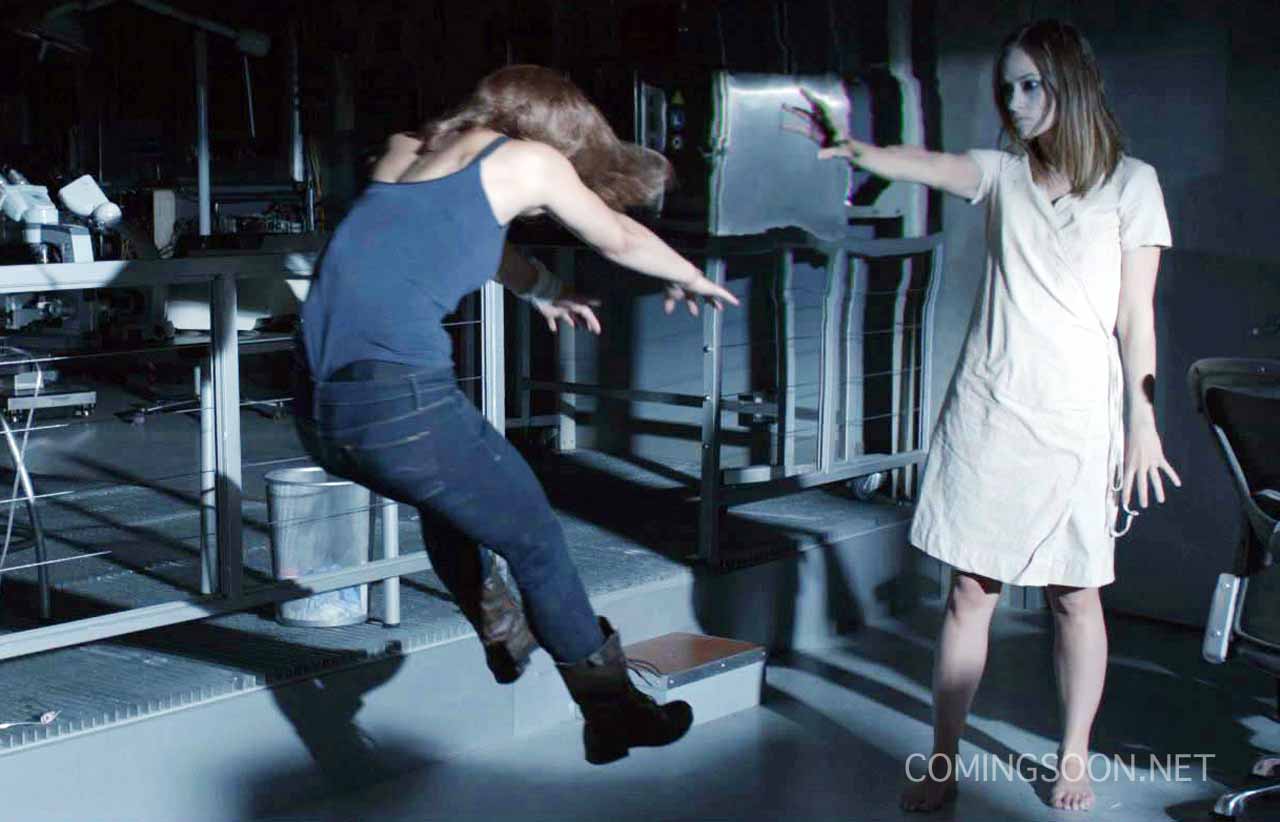 Frank, Zoe and their team (Glover, Bolger and Peters) take matters into their own hands, launching a rogue attempt to recreate their experiment, during which things go terribly wrong and one of their own, Zoe, is horrifically killed. Fueled by terror and grief, Frank pushes them to do the unthinkable: attempt to resurrect their first human test subject. Initially, the procedure appears a success, but the team soon realizes something is wrong with Zoe. As her strange new persona reveals itself, the team quickly becomes stuck in a gruesome reality. They are no longer faced with the question of whether they can bring someone back to life- but rather, the wrath of her return. The film was written by Luke Dawson and Jeremy Slater. Jason Blum produced with Jimmy Miller and Cody Zweig, while Matt Kaplan, Jeanette Volturno-Brill, Luke Dawson and Gloria Fan are executive producers.
TUESDAY, JANUARY 27, 2015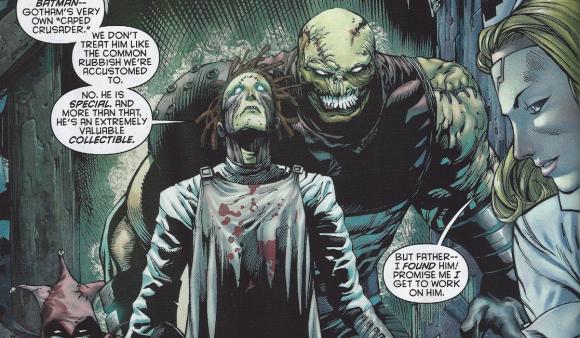 GOTHAM
The Fox series Gotham is digging deep into the DC comics lore, and after dropping some hints earlier this season, the producers have finally found their Dollmaker.

They've been planting seeds for the Dollmaker, aka Dr. Francis Dulmacher, to cause some trouble in this pre-Batman world — and they've locked in a legit sci-fi star to bring him to life. Genre veteran Colm Feore (Chronicles of Riddick, Amazing Spider-Man 2) has signed on for the part, and perfectly embodies the creepiness required for a twisted psycho like the Dollmaker.

The Dollmaker was first teased in the second episode when Selina Kyle (Camren Bicondova) got wrapped up in a mass kidnapping of street children, which was apparently orchestrated by the offscreen baddie. Deadline notes he'll show "a zealotry bordering on madness, and [be] aided by his genius-level intellect and vast medical expertise."

No word on exactly when The Dollmaker will show up in Gotham, but judging by the production slate, some point late in the season is the best bet.

Also worth noting: Though Arrow and Gotham have shared some DC rogues, this will definitely not be a crossover. As fans will likely recall, the Dollmaker has already appeared on The CW series, played by Michael Eklund back in season two. So yeah, these are definitely (as we'd heard before) different universes.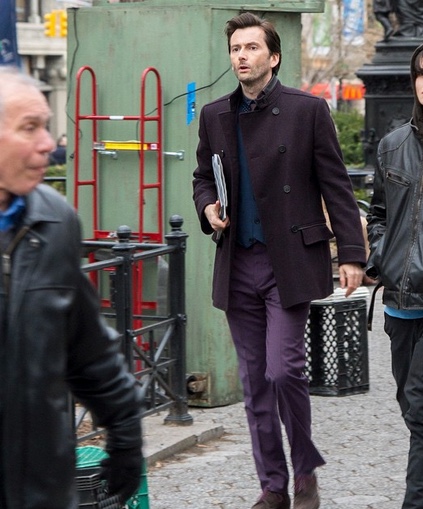 A.K.A. JESSICA JONES
Last week, leaked audition footage from A.K.A. Jessica Jones, the second Netflix original series from Marvel Studios (after Daredevil), led many to speculate that one of the show's key villains would be Zebediah Killgrave, also known as The Purple Man. The character played a key role in the Jessica Jones comic Alias, and his encounters with Jones were a big part of why she chose to give up superheroics and turn to a life as a private detective. Well, it turns out the character is indeed in the series, and now we know who's playing him.
Marvel announced today that Doctor Who star David Tennant will play Kilgrave (yes, that's the spelling they gave) in the upcoming series, joining a cast that already includes Krysten Ritter as Jones and Mike Colter as Luke Cage. We don't know how much of the "Purple Man" persona this version of the character will retain, but the announcement describes him as "an enigmatic figure from Jessica's past" whose "reappearance will send shockwaves through the former super hero's world," so it sounds like at least some parts of his Alias arc are being preserved here.
In the comics, Kilgrave is a former spy who was exposed to chemicals which that his skin purple and granted him the ability to make people do whatever he wished. In Alias, he uses this power to psychologically torture and brainwash Jessica, which ultimately drives her to give up being a superhero. Again, we don't know how far down that road Marvel Studios will walk, but it could mean Jessica Jones is set to be one of the studio's darkest efforts yet.
Though Ritter and Colter have definitely made names for themselves in recent years, Tennant now eclipses them both as the biggest star to join the series so far. He's best known for Doctor Who, of course, but he's kept very busy since leaving the TARDIS, and recently he's made a triumphant return to TV with the acclaimed British crime drama Broadchurch, now in its second season. Plus, even though he's a nerd hero, we also know he can play scary, so seeing him as a villain again is bound to be fun.
"I'm so honored and excited by the prospect of David inhabiting this multifaceted character," showrunner Melissa Rosenberg said. "He can deliver the most heart-wrenching moment to the driest of lines, and all points in between. He'll make Kilgrave a truly original villain."
A.K.A. Jessica Jones is set to premiere sometime later this year, following Marvel's Daredevil series.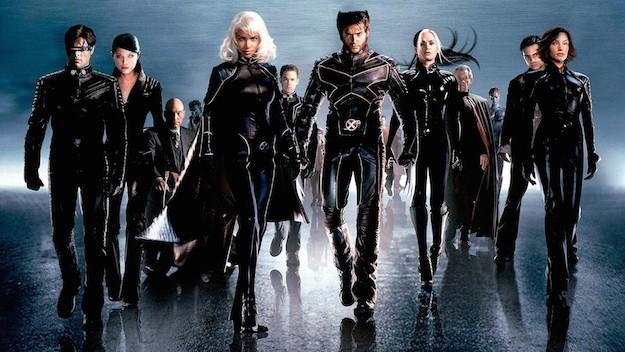 X-MEN SERIES
X-Men. We've read the "amazing" comic books, seen the movies and the animated TV show, worn the t-shirt and perused the fan fiction. But our X-cravings are still unsatisfied. What we need is a live-action TV show. Whaddya know? It looks as if we'll be getting it.
According to TV Insider, Fox has plans to create an X-Men TV series. Fox Entertainment chairman Gary Newman told TV Insider that negotiations are currently under way.
Of course, there's a catch:
"While sister production company 20th Century Fox controls the film rights to the X-Men characters, the comic itself is owned by Marvel, which is based at rival Disney. A live-action TV series requires Marvel's blessing—and that has led to some delicate talks."
These talks have yet to include the showrunner and writers -- or even a concept (dare we suggest the Joss Whedon's "astonishing" storyline?).
The upshot: The X-Men TV series won't likely appear until 2016.
In a way, Fox is the perfect choice, as it has a current and (well-regarded) comic-book-to-TV series adaptation in Gotham. In another way, it's an unusual choice: Marvel is already producing the fabulous Agents of S.H.I.E.L.D. with rival ABC.
We're as eager to learn more about the X-Men series as you are, and we'll keep you posted when we do.
DIGGING UP THE MARROW
Check out this wild new trailer for the docu-horror film, Digging Up The Marrow, with Ray Wise (Twin Peaks, Jeepers Creepers 2) stalking a menagerie of subterranean creatures bent on serious evil.
Wise plays a professor who is convinced actual monsters exist beneath the Earth and is obsessed with hunting the grotesque humanoids down. The film was written and directed by Adam Green, the horror director who struck indie gold with his insane Hatchet slasher movies, and he also stars in this playful fright film that features the avant-garde illustrations and creature design of artist Alex Pardee. This unholy union of demented talent might produce a fun and satisfying supernatural outing perfumed with the sweet outrageousness of the best excessive '80s horror offerings.
Here's the official synopsis:
"When filmmaker Adam Green receives a package from a strange man (Ray Wise) claiming he can prove that monsters exists, he and his crew are taken on a mysterious, fantastical, and terrifying journey into the shadows deep down under the ground below our feet. Digging Up The Marrow is a documentary-style film that blends reality with fantasy in a way that will leave even the most hardcore skeptics believing in the existence of monsters."
Digging Up The Marrow hits VOD and limited theatrical release on February 20th, 2015, followed by its DVD and Blu-Ray premiere March 24. Green and Pardee will also be doing a five-city roadshow with the film on February 12-19, 2015 that includes a Q&A session with the filmmakers and an art exhibit of Pardee's deformed devils.
ARROW
Hot on the heels of last week's midseason premiere, "Arrow" is back this Wednesday with the 11th episode of season three. As you can see from the episode's just released clip (check it out in the player below), some major turmoil is hitting Starling City.
In "Midnight City," Arsenal and Diggle confront Laurel about trying to step into her sister's shoes and warn her to stop before she gets herself killed. However, when Brick (guest star Vinnie Jones) kidnaps the city's Aldermen and threatens to kill them all unless the police evacuate The Glades, it's all suits on deck. Meanwhile, Ray steps in to help Lance and the police force fight Brick, showing Felicity a new side of her boss. Malcolm tells Thea that Ra's al Ghul is after him and his family and they must leave town immediately.
Directed by Nick Copus and written by Wendy Mericle & Ben Sokolowski, "Midnight City" is set to air January 28.
STAR WARS NEWS
Following the departure of formerly-attached screenwriter Gary Whitta earlier this month, Walt Disney Pictures and Lucasfilm have, according to a story today at The Hollywood Reporter, set Academy Award nominee Chris Weitz to work on the screenplay for the first standalone Star Wars film. Godzilla helmer Gareth Edwards remains attached to direct the project, which is scheduled for a December 16, 2016 release.
Weitz launched his screenwriting career with the 1998 animated comedy Antz. He's best known, however, for his Oscar-nominated work adapting Nick Hornby's About a Boy in 2002, a film that he also directed. Other directorial credits include The Golden Compass in 2007 and The Twilight Saga: New Moon in 2009. As a screenwriter, Weitz's work can next be seen in Walt Disney Pictures' live-action take on Cinderella, directed by Kenneth Branagh and slated for a March 13 release.
Although the mysterious Star Wars film has been rumored to follow a heist involving the theft of the Death Star plans, few official details regarding Edwards' film have been made available. The project appears to be close to the casting stage, however, with a report from last week suggesting that actresses like Tatiana Maslany, Felicity Jones and Kate and Rooney Mara have all read for a potential role.
AGENT CARTER
Following a brief, one-week hiatus, "Marvel's Agent Carter" is returning to ABC tomorrow night with an all-new episode. In the player below, you can check out a new clip from the "The Blitzkrieg Button," the series' fourth episode overall. Written by Brant Englestein and directed by Stephen Cragg, the episode is officially described as follows:
"Peggy may be in more trouble than usual when fugitive Howard Stark suddenly returns for mysterious reasons. And Chief Dooley chases a new clue all the way to Europe that threatens to destroy Peggy's future at the SSR."
Planned as a seven-episode limited series, "Marvel's Agent Carter" stars Hayley Atwell as Agent Peggy Carter, Chad Michael Murray as SSR Agent Jack Thompson, Enver Gjokaj as SSR Agent Daniel Sousa, James D'Arcy as Edwin Jarvis, and Shea Whigham as SSR Chief Roger Dooley. The series was written by Christopher Markus and Stephen McFeely. Executive producers are Tara Butters, Michele Fazekas, Christopher Markus, Stephen McFeely, Chris Dingess, Kevin Feige, Louis D'Esposito, Alan Fine, Joe Quesada, Stan Lee and Jeph Loeb.
"Marvel's Agent Carter" is produced by ABC Studios and Marvel Television. "The Blitzkrieg Button" is set to air January 27 at 9:00pm ET/PT on ABC.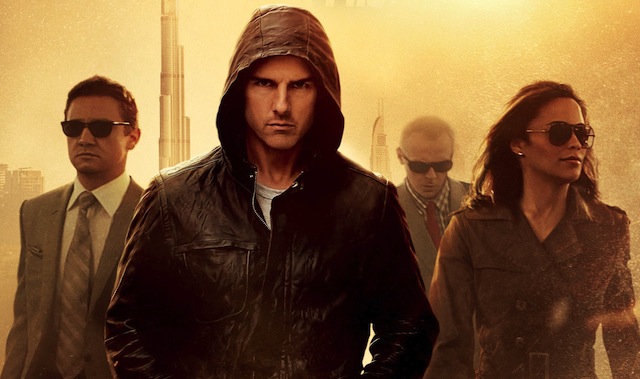 MISSION IMPOSSIBLE 5
With the latest franchise sequel having entered production last year, Paramount Pictures has some very exciting news today for Mission: Impossible fans. Mission: Impossible 5, formerly planned for release on December 25, 2015, will arrive nearly five months earlier than expected! Look for Tom Cruise's Ethan Hunt to once again grace the big screen this July 31! The hybrid CGI / live-action family film Monster Trucks, meanwhile, will take Mission: Impossible 5's original Christmas Day release. That film was previously scheduled for release on May 29, 2015.
Directed by Christopher McQuarrie (The Way of the Gun, Jack Reacher), Mission: Impossible 5 also stars Jeremy Renner (Marvel's The Avengers, Kill the Messenger), Alec Baldwin (The Departed, "30 Rock"), Simon Pegg (Star Trek, The World's End), Ving Rhames (Pulp Fiction, Dawn of the Dead) Simon McBurney (The Last King of Scotland, The Theory of Everything) and Rebecca Ferguson (Hercules, The Red Tent) and features a screenplay by Will Staples and Drew Pearce.
The July 31 date will see Mission: Impossible 5 opening opposite the Antoine Fuqua-directed boxing drama Southpaw (starring Jake Gyllenhaal, Rachel McAdams, Forest Whitaker, Naomie Harris, Curtis "50 Cent" Jackson, Rita Ora and Victor Ortiz), the Ericson Core-helmed big screen remake of Point Break (starring Ray Winstone, Teresa Palmer, Edgar Ramirez, Luke Bracey) and Tarsem Singh's Ryan Reynolds-led science fiction thriller Selfless.
MONDAY, JANUARY 26, 2015
GAME OF THRONES: A TELLTALE
Telltale Games have released the first trailer for the second episode of their Game of Thrones: A Telltale Game Series.

The first eagerly anticipated episode, titled "Iron From Ice," was released back in December of 2014. And despite a few issues here and there, it was still a lot of fun to play, and was immersive as the seven hells. You want to live and breathe the air of the Seven Kingdoms of Westeros? You want to sit on the Iron Throne (well, sorta)? Then that's the game for you.

Now, the game — which boasts the voice acting talents of Peter Dinklage as Tyrion Lannister, Kit Harington as Jon Snow and Lena Headey as Cersei Lannister — will be releasing the second episode (of six), titled "The Lost Lords," next week.

"Based on the award-winning HBO television drama series, Game of Thrones: A Telltale Games Series tells the story of House Forrester. Caught up in the events of The War of the Five Kings, they are placed in a precarious position where members of the household must do everything they can to prevent the house from meeting its doom."

In "The Lost Lords," players will be able to play from all five characters' points of view instead of just three, as in the previous chapter. Game of Thrones: A Telltale Game Series episode two will also be released on Feb. 3 for PlayStation 3, PlayStation 4 and PC; on Feb. 4 for Xbox One and Xbox 360; and on Feb. 5 for iOS and Android.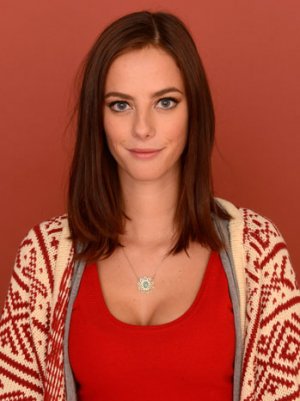 PIRATES OF THE CARIBBEAN: DEAD MEN TELL NO TALES
Skins and The Maze Runner actress Kaya Scodelario has been cast in Pirates of the Caribbean: Dead Men Tell No Tales producer Jerry Bruckheimer announced on Twitter.
The English actress joins Johnny Depp and Australian rising star Brenton Thwaites as confirmed members of the cast of what would be the fifth installment in the Pirates franchise. Javier Bardem is in talks to play the villain.
Shooting on Dead Men Tell No Tales is scheduled to begin next month in Australia. The film will be helmed by Norwegian directors Joachim Rønning and Espen Sandberg and Disney confirmed that the film will be released on July 7 2017.
CINDERELLA
Walt Disney Pictures has released a new TV spot for Cinderella.
The story of Cinderella follows the fortunes of young Ella (Lily James) whose merchant father remarries following the tragic death of her mother. Keen to support her loving father, Ella welcomes her new stepmother Lady Tremaine (Cate Blanchett) and her daughters Anastasia (Holiday Grainger) and Drisella (Sophie McShera) into the family home. But, when Ella's father suddenly and unexpectedly passes away, she finds herself at the mercy of a jealous and cruel new family. Finally relegated to nothing more than a servant girl covered in ashes, and spitefully renamed Cinderella, Ella could easily begin to lose hope. Yet, despite the cruelty inflicted upon her, Ella is determined to honor her mother's dying words and to "have courage and be kind." She will not give in to despair nor despise those who abuse her. And then there is the dashing stranger (Richard Madden) she meets in the woods. Unaware that he is really a prince, not merely an employee at the Palace, Ella finally feels she has met a kindred soul. It appears as if her fortunes may be about to change when the Palace sends out an open invitation for all maidens to attend a ball, raising Ella's hopes of once again encountering the charming "Kit." Alas, her stepmother forbids her to attend and callously rips apart her dress. But, as in all good fairy tales, help is at hand as a kindly beggar woman (Helena Bonham Carter) steps forward and, armed with a pumpkin and a few mice, changes Cinderella's life forever.
Also starring Stellan Skarsgård and Derek Jacobi, Cinderella hits theaters domestically on March 13, 2015.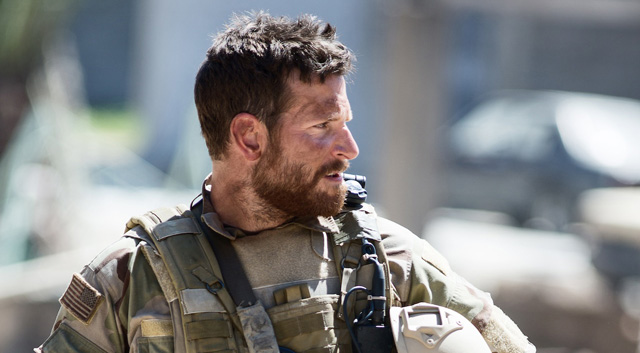 WEEKEND BOX OFFICE
Clint Eastwood's American Sniper, starring Bradley Cooper and Sienna Miller, topped the domestic box office a second weekend in a row with an impressive $64.4 million. That's a drop of just 27.9% and means the Warner Bros. Pictures and Village Roadshow release has already topped the $200 million mark with $200.1 million total after two weeks. American Sniper earned $5.8 million on 333 IMAX screens and is now the highest-grossing January IMAX release ever with $18.8 million. The film cost about $60 million to make.
Opening in second place was the Rob Cohen-directed thriller The Boy Next Door, starring Jennifer Lopez and Ryan Guzman. Made for just $4 million, the Universal release from Blumhouse Productions earned an estimated $15 million from 2,602 theaters, an average of $5,754 per theater. Audiences gave The Boy Next Door a CinemaScore of B-.
Remaining in third place was the TWC-Dimension release Paddington, which dropped just 34.7% in ticket sales and added $12.4 million its second weekend of release. Written and directed by Paul King, the family film has grossed $40 million domestically and $169.6 million worldwide.
Screen Gems' The Wedding Ringer fell two spots to fourth place with $11.6 million and has earned $39.7 million after two weeks. The comedy was produced for $23 million.
Rounding out the top five was Taken 3, which added $7.6 million its third weekend. Made for $48 million, the 20th Century Fox sequel has brought in $76 million domestically and $179.7 million worldwide. Taken 3 was followed closely in sixth place by The Imitation Game's $7.1 million. The thriller from The Weinstein Company has grossed $60.6 million to date. Paramount's Selma also earned $5.5 million in eighth place for a total of $39.2 million after five weeks.
That was the good news at the box office, because two other wide releases bombed right out of the gate. Strange Magic, the new animated film from Lucasfilm and released by Disney's Touchstone Pictures, opened with just $5.5 million in 3,020 theaters. The film averaged just $1,822 and got a B- CinemaScore. That wasn't the worst opening of the weekend, however. Lionsgate's Mortdecai, starring Johnny Depp, Gwyneth Paltrow, Ewan McGregor, Paul Bethany, Jeff Goldblum and Olivia Munn, was able to pull in just $4.1 million from 2,648 theaters. Made for $60 million, the film averaged only $1,558 per theater and received a C+ CinemaScore. It's yet another bomb at the box office for Depp, following such films as Dark Shadows, The Lone Ranger and Transcendence.
In limited release, the Jennifer Aniston-starring Cake earned $1 million from 482 theaters, an average of $2,081, while Focus Features released Black Sea, starring Jude Law, in five theaters where it grossed $35,000. The latter will expand to about 300 theaters next weekend.
SUNDAY, JANUARY 25, 2015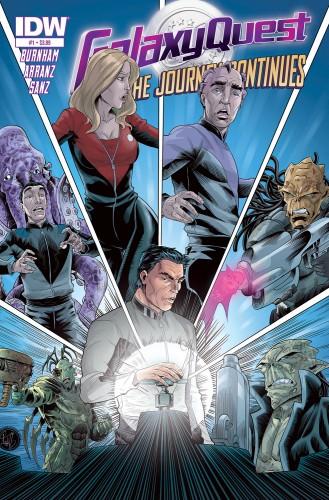 GALAXY QUEST COMIC
We've been waiting more than 15 years for a sequel to the 1999 sci-fi cult classic Galaxy Quest, and it looks like this is the closest we're going to get.

The first issue for IDW's new comic Galaxy Quest: The Journey Continues has arrived, and some variant covers and preview pages have been released to generate some buzz for the quasi-sequel. The opening jumps right into some good old-fashioned space action, and if it can capture half the charm of the film, this could be a fun one.

The comic is written by Erik Burnham and illustrated by Nacho Arranz. Check out the project's official synopsis below:

Once upon a time, a troupe of has-been actors that starred on an old sci-fi show were enlisted by an alien race to save them from an intergalactic tyrant. Despite being way out of their depth, the cast somehow managed to save the aliens and stay alive… but their actions in outer space may have had dire consequences for another world. Join us this January as the cast of GALAXY QUEST returns for another bombastic journey into space!

The first issue is in stores now.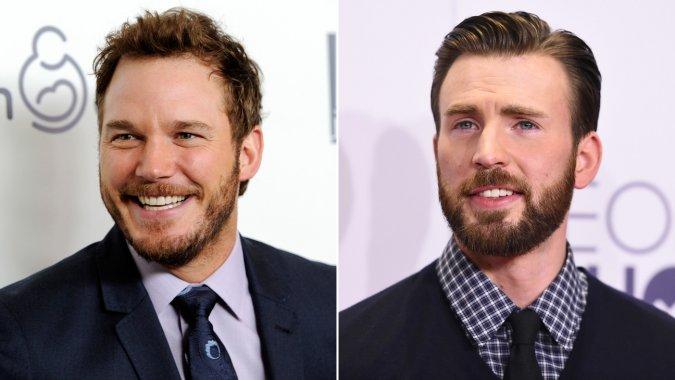 SUPER BOWL CHALLENGE
Earlier this week, we told you about a little Twitter war between Marvel stars Chris Pratt and Chris Evans over the upcoming Super Bowl. Pratt's Seattle Seahawks will face off in the big game against Evans' New England Patriots, and it seemed a friendly wager over the game was imminent. Now we know what the stakes of that wager will be.
Pratt and Evans won't be betting money, or public humiliation, though. They'll be betting on some superhero kindness. On Tuesday, Pratt proposed that if the Seahawks win, Evans should visit Seattle Children's Hospital and drop in on kids as Steve Rogers himself.
@ChrisEvans OK. Seahawks win you fly yourself to Seattle, visit @seattlechildren hospital as Captain America, waving the 12th man flag.
Evans accepted and countered that if the Patriots win, Pratt should, as Star-Lord, show up at Christopher's Haven, a Boston-based nonprofit that provides housing to families with children receiving pediatric cancer treatments in the area.
@prattprattpratt I accept. And when the Patriots humiliate your seachickens, I expect Star-Lord to arrive at @chris_haven in a Brady jersey
So the bet is made, and one of two great charities will get a visit from a superhero later this year. We'll know who wins on Sunday, Feb. 1, and we'll definitely be on the lookout for the adorable photos likely to result from this wager.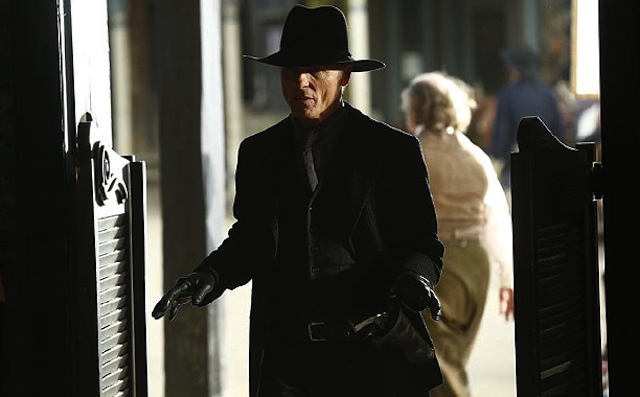 WESTWORLD
With the Michael Crichton-inspired series heading to HBO later this year, EW has just debuted a new image of Ed Harris as the show's Gunslinger, the dressed-in-black robot cowboy iconically played by Yul Brynner in the 1973 original (and in its 1976 sequel, Futureworld). The outlet also sat down to speak with writers and executive producers Lisa Joy and Jonathan Nolan, who are beginning to slowly pull back the curtain with some clues as to what fans can expect from their small screen take.
"The glory of doing it as a series is that you get to kind of dance in the little spaces that were left unexplored," says Joy. "In a film, you only have a finite amount of time, and you're so concerned with saying what happened and making it a gripping short story with a satisfying ending. But in a TV series, you can really take a novelistic approach and explore characters that you wouldn't ordinarily see, in a level of complexity that you wouldn't ordinarily get to explore just out of the sheer time constraints in a feature."
Both written and directed by Crichton, the original Westworld takes place in a future amusement park wherein visitors interact with androids in recreations of famous historical environments. When something goes wrong, however, the androids turn deadly.
"People who come into this place are looking for — and this is the irony of it — the authentic experience," Nolan explains. "They're looking for not the virtual version, but the real version, the tactile version. Interestingly we've arrived at what [the original film] created—fully immersible virtual worlds. Look at 'Grand Theft Auto' or any of these wholly imagined open-world video games. They are beautiful. They're perfectly immersive and brilliant and filled with narrative turns."
The pair confirm that the series will also show off the world outside of the theme park and that the central theme of the series will be about mankind's uneasy relationship with artificial intelligence.
"[P]icture your neurosis," Nolan continues. "Picture the things that keep you up at night—human behavior, artificial intelligence—any of those things that trouble you, worry you. That is exactly what the show is about. We are hoping to exploit all of those anxieties."
In addition to Harris, "Westworld" stars Sir Anthony Hopkins, Evan Rachel Wood, James Marsden, Thandie Newton, Jeffrey Wright, Miranda Otto, Rodrigo Santoro, Shannon Woodward, Ingrid Bolsø Berdal, Angela Sarafyan, and Simon Quarterman. Executive producing alongside Joy and Nolan are J.J. Abrams, Jerry Weintraub and Bryan Burk.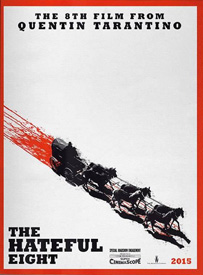 THE HATEFUL EIGHT
The Weinstein Company announced today that principal photography has begun in Telluride, Colorado on Academy Award winning writer/director Quentin Tarantino's upcoming feature The Hateful Eight. TWC plans to release The Hateful Eight theatrically in 2015.
More supporting cast members have also been announced, most of whom have worked with the filmmaker in the past. James Parks (Kill Bill Vol. 1 & 2), Dana Gourrier (Django Unchained), Zoë Bell (Death Proof), Gene Jones (No Country for Old Men), Keith Jefferson (Django Unchained), Lee Horsley (Django Unchained), Craig Stark (Django Unchained) and Belinda Owino (Django Unchained) have all come on board.
The lead cast for the film will include: Samuel L. Jackson (Django Unchained), Kurt Russell (Escape From New York), Jennifer Jason Leigh (Mrs. Parker and the Vicious Circle), Walton Goggins ("Justified"), Demian Bichir (A Better Life), Tim Roth (Reservoir Dogs), Michael Madsen (Reservoir Dogs), Bruce Dern (Nebraska) and Channing Tatum (Foxcatcher). Written and directed by Tarantino, The Hateful Eight is produced by Richard N. Gladstein, Stacey Sher and Shannon McIntosh. Harvey Weinstein, Bob Weinstein and Georgia Kacandes are executive producing, and Coco Francini and William Paul Clark are associate producing.
In The Hateful Eight, set six or eight or twelve years after the Civil War, a stagecoach hurtles through the wintry Wyoming landscape. The passengers, bounty hunter John Ruth (Russell) and his fugitive Daisy Domergue (Leigh), race towards the town of Red Rock where Ruth, known in these parts as "The Hangman," will bring Domergue to justice. Along the road, they encounter two strangers: Major Marquis Warren (Jackson), a black former union soldier turned infamous bounty hunter, and Chris Mannix (Goggins), a southern renegade who claims to be the town's new Sheriff. Losing their lead on the blizzard, Ruth, Domergue, Warren and Mannix seek refuge at Minnie's Haberdashery, a stagecoach stopover on a mountain pass. When they arrive at Minnie's, they are greeted not by the proprietor but by four unfamiliar faces. Bob (Bichir), who's taking care of Minnie's while she's visiting her mother, is holed up with Oswaldo Mobray (Roth), the hangman of Red Rock, cow-puncher Joe Gage (Madsen), and Confederate General Sanford Smithers (Dern). As the storm overtakes the mountainside stopover, our eight travelers come to learn they may not make it to Red Rock after all…
Presented in glorious 70mm, The Hateful Eight marks a continuation of the long-standing relationship between the celebrated filmmaker and the Weinsteins, who have collaborated on all of Tarantino's films from Reservoir Dogs through Django Unchained.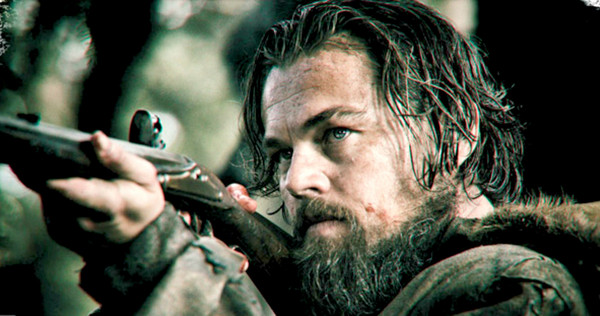 THE REVERANT
Birdman racked up 9 Academy Award nominations last week, tying with The Grand Budapest Hotel for most recognized movie at this year's Oscars. Now, all eyes are on Alejandro González Iñárritu to see what he does next. EW has our first photos from his follow-up The Revenant, which finds Leonardo DiCaprio struggling to survive in the 1800s.
The Revenant is a frontier thriller written and directed by Alejandro González Iñárritu that follows an American fur trapper who is mauled by a bear and left for dead. Leonardo DiCaprio plays the survivalist, who treks 200 miles back to civilization to have his revenge on the men who left him behind, played by Tom Hardy, Will Poulter and Domhnall Gleeson.
The Revenant is shooting throughout January in Calgary, where the night temperatures average a low of 9 degrees. Alejandro González Iñárritu is shooting with only natural light in remote locations that have been left untouched by mankind, with the production expected to last until April. About the movie and his leading man, the director says:
"[Leonardo] is a brave, incredible actor. I'm so surprised about how good he is. I think there's a profound understanding of humanity that I can see through his eyes. It's a very experimental thing that we're doing here...I'm now addicted to doing things that can fail horribly or maybe that can give us a surprise. We are all into it."
The Revenant comes to theaters December 25th, 2015 and stars Leonardo DiCaprio, Tom Hardy, Will Poulter, Domhnall Gleeson. The film is directed by Alejandro González Iñárritu.
SATURDAY, JANUARY 24, 2015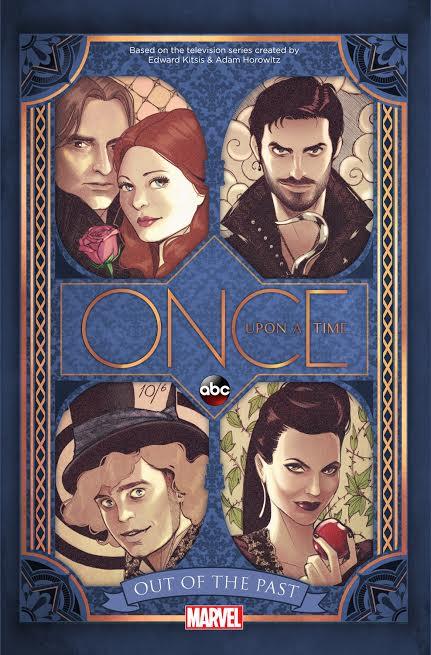 ONCE UPON A TIME - GRAPHIC NOVELS
It never really went away, but ABC's fairy-tale series Once Upon a Time has enjoyed a bit of a resurgence this season. Now in its fourth year, the show gained a lot of attention with a storyline that inserted characters from Disney's Frozen into its already fairy-tale-packed world, and it's heading into 2015 with a story that features a three-villain teamup. So it's a good time to be a fan of the magic-filled town known as Storybrooke and the numerous fairy-tale characters who populate it, and Marvel Comics is about to add to the fun.

The publisher announced today that it will release its second Once Upon a Time original graphic novel this spring, but instead of telling a single story, the book will deliver an anthology of tales that delve into the origins of many fan-favorite characters. Titled Out of the Past, the book will feature the young sailor known as Killian Jones on board the Jolly Roger before he became the infamous Captain Hook, the earliest moments of the romance that would blossom between Belle and Rumpelstiltskin, and the Evil Queen Regina on a journey to confront her own past demons in the Enchanted Forest. Plus, for those of you who were fans of the spinoff series Once Upon a Time in Wonderland, the book will also feature the origin of the Mad Hatter and will tell the tale that led him to lock away his magic hat.

The stories will be written by Once Upon a Time: Shadow of the Queen graphic novel writer Corinna Bechko and Once Upon a Time TV writer Kalinda Vasquez, and they'll be teaming up with a slew of talented artists including Janet Lee (Dapper Men), Pascal Campion (Sherman and Peabody), Vanesa Del Rey (Sinatoro), Betsy Peterschmidt (Boys with Wings) and cover artist Stacey Lee (Silk). It's 112 pages of Once magic.

So if you're a fan who just can't get enough of the Once Upon a Time World, be on the lookout for Out of the Past when it hits comic-book stores on April 1, 2015.
ZODIAC LEGACY - STAN LEE
He might best be known as the man who helped create most of Marvel's biggest heroes, but Stan Lee is still cranking out new characters all these decades later — and here's his latest creation.
Lee's new illustrated novel, The Zodiac Legacy, is aimed at younger readers and tells the story of an eighth grader who travels to Hong Kong and "stumbles upon ancient secret" that gives him super powers. The series is described as a "mythological, engaging ride" and finds the young man grappling with what it means to be a superhero. Think Spider-Man, kind of, but more fantastical.
The book hits shelves next week on Jan. 27, and Lee chatted with Entertainment Weekly about what readers can expect from his latest project. He's hoping the comic will be family-friendly and appeal across generations while also tackling the tropes and stories that make for a vintage Stan Lee yarn. Check out an excerpt below:
"We really wanted to tell a modern, super-powered, action-adventure story, a story with a lot of classic themes—themes that have run through not only superhero stories, but in plays and fables and fairy tales for hundreds of years. So I wanted to be able to do that, while still bringing a new tone and a wider cast of characters than we often get to see…
The character design process was a fun one—we went back and forth with Andie to really make sure all of the characters looked distinctively different and were interesting on their own. I wanted to make sure that even in a group scene with lots of fighting and action, even if they're just seeing silhouettes, that the reader would be able to tell who's who…
You probably know how I feel about great responsibility—but I think that it's a lot of fun to be bringing a new world of characters and super powers to readers everywhere… [F]rankly, I don't think that any really good story is ever just for kids 8 to 12, or just for adults 24 or 38, or any particular age group. I'm hoping we've made a story that anyone who loves an exciting, fantastic tale will love."
Along with Lee, The Zodiac Legacy is co-written by Stuart Moore (Web of Spider-Man, Namoor: The First Mutant), with artwork by Andie Tong (Tron: Betrayal, Starship Troopers).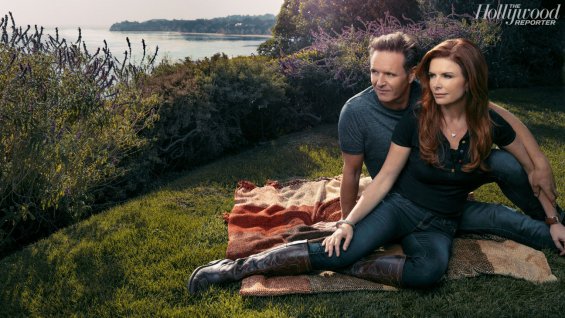 UNVEILED
NBC continued to greenlight drama pilots late Friday, picking up two hourlong projects from a pair of real-life couples: a guardian angel entry from Mark Burnett and Roma Downey as well as a medical soap from Private Practice alum Amy Brenneman and Brad Silberling.
Burnett and Downey's Unveiled hails from Universal Television and is described as a one-hour drama following an ensemble of flawed guardian angels who intervene in the lives of those who find themselves facing crisis in an attempt to restore their faith and, often, save their lives.
John Sakmar and Kerry Lenhart (The Glades, Psych) will pen the script and exec produce alongside Burnett and Downey and their Lightworks Media banner.
Unveiled marks NBC's latest pairing with Burnett and Downey and comes ahead of A.D., their April follow-up to History's record-breaking mini The Bible. The duo also has an adaptation of The Dovekeepers set up at CBS set for a March 31 debut.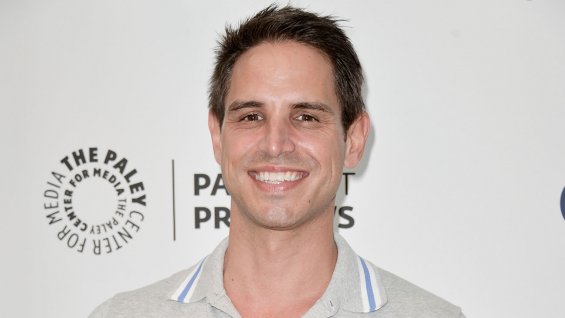 AMNESIA
NBC is anxious to add a thriller for the upcoming season, picking up another conspiracy-centric drama pilot.
The network has given a pilot order to Blindspot from Greg Berlanti's prolific Berlanti Productions, currently housed at Warner Bros. TV. The project, which centers on a woman with no memory who wakes up naked in Times Square, has been in development since August.
Written and executive produced by Martin Gero (Bored to Death), Blindspot's nude amnesiac is covered in detailed tattoos that immediately catch the eye of the FBI. Once her ink is revealed to be some sort of road map, a conspiracy much larger than her mysterious appearance emerges.
Earlier Friday, NBC added a Las Vegas-set conspiracy thriller about a former sniper turned security expert who's wrongly accused of the killing of his wife. With the pickup, Blindspot brings NBC's drama pilot haul to six.
The project marks Gero's latest TV foray following The CW's Canadian import The L.A. Complex. He's repped by WME and Meridian Artists. Berlanti is with WME and Felker Toczek.
JETSONS ANIMATED FILM
Although a live-action feature film has been toyed with over the years, Deadline is now reporting that Warner Bros. Pictures has plans to move forward with The Jetsons as a fully animated feature film. According to the outlet, Matt Lieberman has been hired to provide the screenplay.
Produced by Hanna-Barbera, the original incarnation of "The Jetsons" followed the success of the studio's "The Flintstones," following a nuclear family in a space age future. A primetime series, "The Jetsons" aired Sunday nights on ABC from September 23, 1962 to March 3, 1963.
Lieberman is still a relative newcomer to Hollywood with his sole produced credit being the direct to home video franchise sequel Doctor Dolittle: Tail to the Chief. He's got quite a few other projects in various stages of development, however, including an upcoming remake of Short Circuit, set to be directed by Tim Hill, The Pet, his own original spec script that has Jared Hess attached to helm, and a new theatrical animated Scooby-Doo film, announced back in 2013, among others.
George Jetson and his family previously hit the big screen in a 1990 animated film, titled Jetsons: The Movie. Directed by William Hanna and Joseph Barbera, the film posthumously featured original voice talents George O'Hanlon and Mel Blanc.
FRIDAY, JANUARY 23, 2015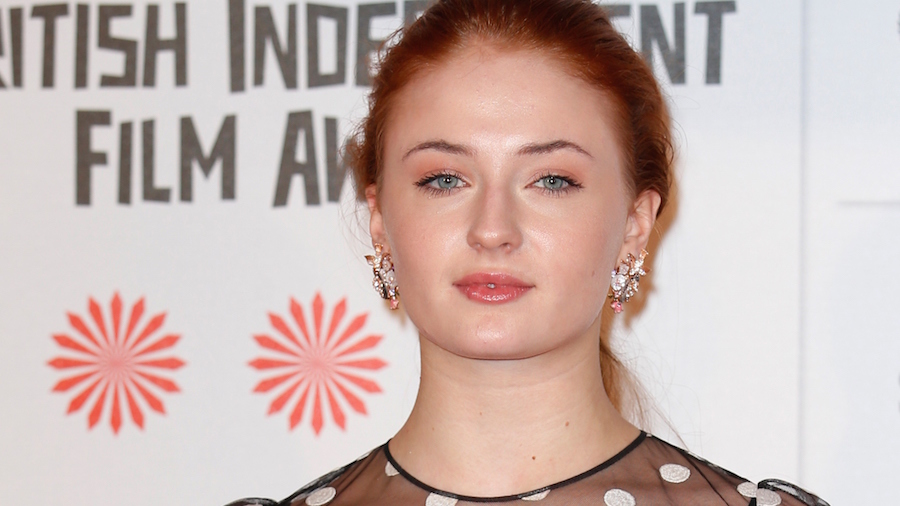 X-MEN: APOCALYPSE
"X-Men: Apocalypse" might not see Patrick Stewart and Ian McKellen reprising their roles as Charles Xavier and Magneto, but the movie will be loaded with many awesome new faces. Bryan Singer revealed the latest batch of actors to become X-Men via Twitter. Bryan Singer @BryanSinger:
Met our new and brilliant young mutants: @Alexshipppp as #Storm @SophieT as #JeanGrey and @TyeSheridan as #Cyclops. Fans best know Sophie Turner as Sansa Stark on "Game of Thrones." She also appears in the upcoming film "Barely Lethal" opposite Hailee Steinfeld and Jessica Alba. Alexandra Shipp recently made a splash in Lifetime's made-for-TV movie "Aaliyah: The Princess of R&B." Meanwhile Tye Sheridan has appeared in "Mud," "The Tree of Life" and on several episodes of "Last Man Standing." They'll be playing younger versions of characters previously portrayed by Famke Janssen, Halle Berry and James Marsden, all three of whom appeared in the previous "X-Men" movie, "X-Men: Days of Future Past." "X-Men: Apocalypse" will hit theaters on May 27, 2016. Another new face starring in the movie are Oscar Isaac as Apocalypse, while Channing Tatum is rumored as Gambit and it's believed a new Nightcrawler will be introduced as well. THE BLOB
In the endless quest to mine our nostalgia for box-office success, Goldcrest Films is digging deep into the vault to bring a 1950s sci-fi classic back to life. Deadline is reporting that director Simon West (Expendables 2) has signed on to helm a remake of the 1958 horror sci-fi classic The Blob, with Richard Saperstein and Brian Witten (Cell) attached to direct. The film is apparently on the fast track, with principal photography set for this summer. The original film starred a young Steve McQueen and followed townsfolk as they tried to survive a massive, gelatinous alien that crashed and attacked the city of Downingtown, Pa. It's a true classic of 1950s B-movie sci-fi horror. Considering the enduring pop culture relevance of The Blob, it was only a matter of time before someone dug it out and gave it a CGI reboot. The new project will follow in the footsteps of the 1972 sequel, Beware! The Blob, along with a different 1988 remake (co-written by Frank Darabont). As for what they're planning for this go-round? According to West, it sounds like they're eyeing an effects-heavy version of the story to make the blob "totally believable." Here's an excerpt from his comments: "With modern CGI we can now fully realize the potential of The Blob. The world I create will be totally believable, immersive and emotionally satisfying. It's a thrill to introduce an enduring icon to a wider audience and a whole new era of fans." PROJECT ALMANAC
Hitting theaters next week is Paramount Pictures' Project Almanac, a "found footage" sci-fi thriller that explores what happens when a group of high school kids unlock the ability to travel in time and quickly find themselves in over their heads. The film, the debut of feature of director Dean Israelite, has today two new clips. The first shows off a predestination paradox that sets the events of the film in motion while the second demonstrates the characters actual method of traveling in time. Check them both out in the players below and, in the gallery viewer at the bottom of this page, you can find more than a dozen new stills from the January 30 release. Featuring a script by Jason Pagan and Andrew Deutschman (the scribes behind Paramount Pictures' upcoming franchise horror entry Paranormal Activity: The Ghost Dimension), Project Almanac offers a new, twisted take on an old science fiction idea and features a cast that includes Allen Evangelista ("The Secret Life of the American Teenager," "Zoey 101?), Sam Lerner (Walk of Shame, "Suburgatory"), Jonny Weston (Chasing Mavericks, John Dies at the End), Sofia Black-D'Elia ("Skins," Ben-Hur) and Virginia Gardner ("The Goldbergs," Good Kids). HANNIBAL - SEASON 3
NBC has brought online the trailer for the third season of "Hannibal," which will premiere on the network this summer. Executive producer and writer Bryan Fuller previously told us that the third season will incorporate material from Thomas Harris' novel "Hannibal" into the first part. "We kind of mix it up in a way that, since we are telling a fugitive story now, after 'Red Dragon,' because in the novel, once Hannibal guts Graham, he's immediately apprehended. In our timeline, he gets away so we are pulling that story up. Then telling a different story when we get to that storyline after 'Silence of the Lambs,'" he said. "Hannibal" stars Hugh Dancy as expert criminal profiler Will Graham, who has a unique ability to peer into the mind of serial killers. Mads Mikkelsen stars as Dr. Hannibal Lecter, a psychiatrist who is helping with the cases and is also a serial killer himself. In addition to Fuller, Martha De Laurentiis, Jesse Alexander, Chris Brancato, Sara Colleton, Katie O'Connell, Elisa Roth, Sidonie Dumas and Christophe Riandee also serve as executive producers. The series is produced by Gaumont International Television, Dino De Laurentiis Company and Living Dead Guy Productions, and co-commissioned internationally by Sony Pictures Television Networks.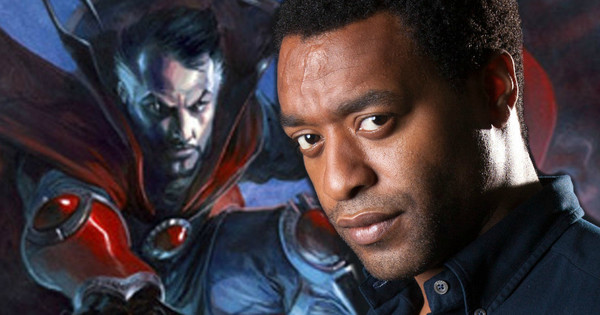 DOCTOR STRANGE
Marvel has entered into negotiations with 12 Years a Slave star Chiwetel Ejiofor for an unspecified supporting role in their Phase Two sequel Doctor Strange. Variety's sources reveal that talks are in very early stages, but the studio is "very high" on the actor for a role. Benedict Cumberbatch was confirmed as the title character back in October. We also reported last month that Marvel was eyeing Morgan Freeman to play the Ancient One. In the comics, the Ancient One was the previous Sorcerer Supreme, who served as a mentor to Stephen Strange. However, it isn't known if that story will be told in this Marvel Phase Three adventure, following an August report that revealed Doctor Strange will not be an origin story, starting with the character already established as a superhero. Scott Derrickson (Deliver Us from Evil, Sinister) is directing from a screenplay by Jon Spaihts (Prometheus), although it isn't known when production may begin. Following his starring role in last year's Best Picture winner 12 Years a Slave, Chiwetel Ejiofor will next be seen in Z for Zachariah, Triple Nine and The Martian. Doctor Strange comes to theaters November 4th, 2016 and stars Benedict Cumberbatch. The film is directed by Scott Derrickson.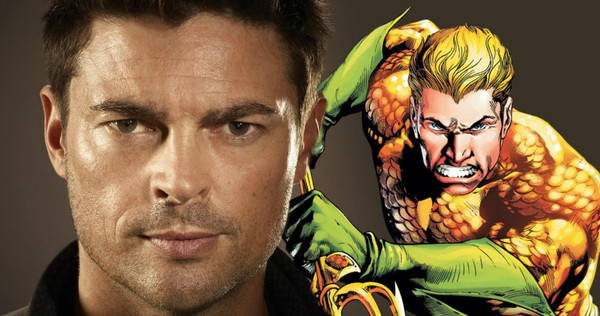 AQUAMAN
The aftermath of the massive Sony hack not only revealed inside information about several of the studio's projects, but even a few that were being put together elsewhere. Last month, leaked documents revealed that Warner Bros. is eyeing Jeff Nichols (Mud) to direct their Aquaman movie, which has Jason Momoa attached to star. Today, a new report from Latino Review reveals that Jeff Nichols is still in the running to direct, but now Noam Murro (300: Rise of an Empire) has emerged as another directorial candidate, with Warner Bros. also eyeing Karl Urban for a supporting role that may be the villain. Warner Bros. is reportedly waiting for Karl Urban to start and finish production on Star Trek 3 sometime this year, so they can lock him in to join the cast of Aquaman. The studio has set a July 27, 2018 release date for Aquaman, but it isn't known when they may actually start production. Karl Urban starred in the Warner Bros. Television-produced Almost Human, and he was a top contender to play Batman before Christian Bale won the role. It isn't known who exactly the villain may be in Aquaman, but some speculate it may be Ocean Master. We reported last month that Jason Momoa has a four-picture deal to play Aquaman. The character has been rumored to appear at the end of Batman v Superman: Dawn of Justice, when the entire Justice League is introduced. The stand alone Aquaman movie and the two-part Justice League movie will round out his four-picture deal. As for the directors, Noam Murro is a not-so-surprising choice since he directed 300: Rise of an Empire, which was produced by Batman v Superman: Dawn of Justice director Zack Snyder. Aquaman comes to theaters July 27th, 2018 and stars Jason Momoa.
THURSDAY, JANUARY 22, 2015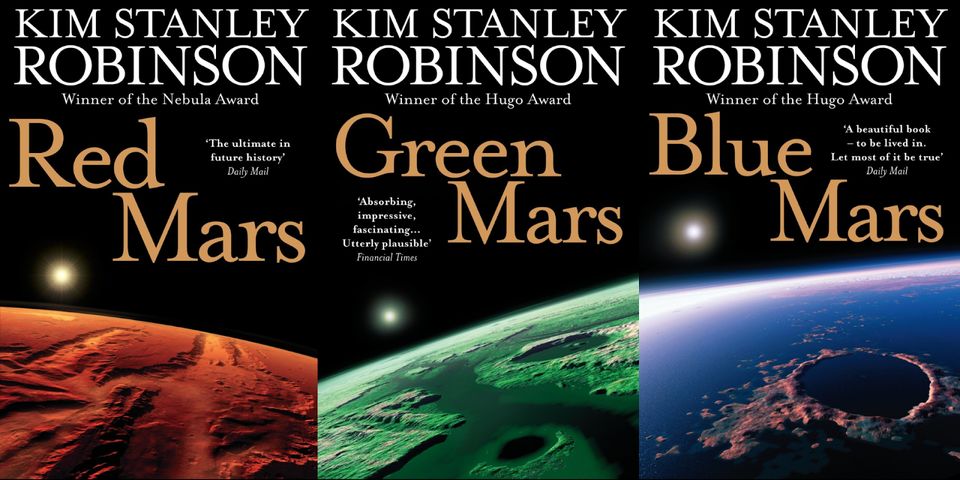 JMS AND RED MARS SERIES
Hard sci-fi fans got very excited back in September when it was announced that Kim Stanley Robinson's beloved Mars trilogy was being adapted for Spike TV, as Red Mars, under the guidance of Game of Thrones producer Vince Gerardis. It's one of the most acclaimed sci-fi series of the past 20 years, it's got plenty of longform potential, and Robinson himself is on board as a consultant, so it's easy to see why many of us can't wait to see if the show materializes. What wasn't announced at the time was when we'd see the show, who'd star in it or who'd take on writing and directing duties. Now Deadline reports that at least one of those questions has been answered: Red Mars will be written by Babylon 5 creator and comics writer J. Michael Straczynski. Over the past few years, Straczynski's spent a lot of his time working in comics, reviving his "Joe's Comics" imprint at Image Comics and scripting titles like Ten Grand, Sidekick and Dream Police. He's also about to launch Sense8, a new Netflix series he co-wrote with Andy and Lana Wachowski, but despite decades of prolific output in film, TV, comics and prose, many sci-fi fans still know him best for Babylon 5. Though it might seem a bit crude by modern production standards, the series is still remembered fondly for its worldbuilding, longform storytelling, seasons-long character arcs, intricate planning and use of CGI, and even if you're not a fan, it's inarguably the work that cemented Straczynski into the history of sci-fi storytelling. Now he's heading back to TV with another longform story that features years of plot and dozens of characters. We don't yet know whether he'll just be working on the pilot or sticking around for the entire series, but Red Mars seems like a good fit for many of Straczynski's particular storytelling skills. Red Mars doesn't have a release date yet, but Deadline's report notes that Spike has the series on "fast-track development," so hopefully we'll know more soon. ARROW
The CW has revealed the promo for episode 3.11 of "Arrow" which you can check out in the player below. Titled "Midnight City," the episode is officially described as follows: "Arsenal and Diggle confront Laurel about trying to step into her sister's shoes and warn her to stop before she gets herself killed. However, when Brick (guest star Vinnie Jones) kidnaps the city's Aldermen and threatens to kill them all unless the police evacuate The Glades, it's all suits on deck. Meanwhile, Ray steps in to help Lance and the police force fight Brick, showing Felicity a new side of her boss. Malcolm tells Thea that Ra's al Ghul is after him and his family and they must leave town immediately." Directed by Nick Copus and written by Wendy Mericle & Ben Sokolowski, "Midnight City" is set to air January 28.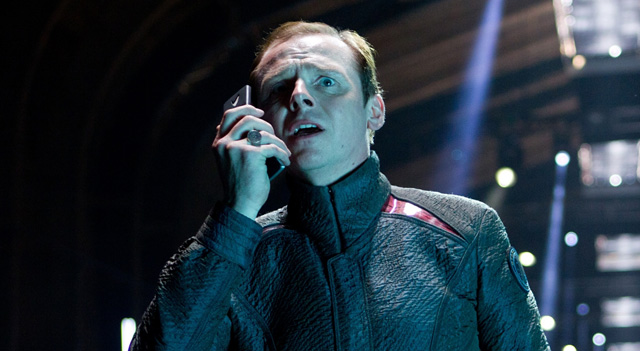 STAR TREK 3
Simon Pegg, who played Scotty in the last two "Star Trek" films, is taking on a second task for the third installment – screenwriter. According to Deadline, Pegg has been set to co-write Star Trek 3, which will be directed by "Fast & Furious" helmer Justin Lin. This is following the news from December that Roberto Orci would no longer be writing the Paramount/Skydance film. Pegg is co-writing the script with Doug Jung ("Dark Blue," "Banshee"), says The Hollywood Reporter's Borys Kit. Pegg will also reprise his role as Scotty, of course, reteaming with Chris Pine, Zachary Quinto, Anton Yelchin, Karl Urban, and Zoe Saldana as the crew of the U.S.S. Enterprise. J.J. Abrams, who directed the last two films, is producing this time around. Pegg has previously written the Edgar Wright-directed Shaun of the Dead, Hot Fuzz and The World's End, as well as the comedies Run, Fatboy, Run and Paul. Paramount Pictures has Star Trek 3 scheduled for a July 8, 2016 release, which coincides with the 50th anniversary of the "Star Trek" franchise.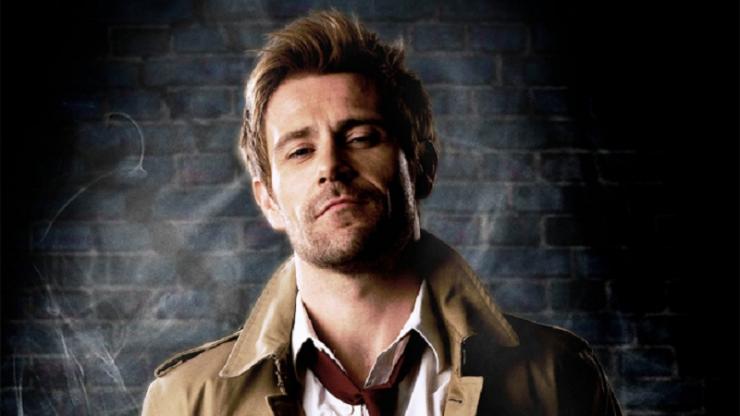 CONSTANTINE - SECOND SEASON?
Fans have been unsure on NBC's commitment to the quite entertaining 'Constantine' and the latest update tells us that the network is still unsure on what to do about a second season. While the studio cancelled extra episodes for the first season from being created, the producers are still confident that the series will get greenlit for another season . Even 'Constantine' lead actor Matt Ryan has said that he is "confident" and "hopeful" that the series will return. Where does the network stand though? At the Television Critics Association Press Tour the subject was brought up to studio chairman Robert Greenblatt who has said that the ratings just aren't where the networks wants them to be. However, that doesn't mean it won't be returning: "We got on the bandwagon of these shows based on comic books and maybe there are too many of them. It's a popular series of comics, but it's not The Flash, it's not Batman. So maybe it suffers a little bit there. But as Jen said, it's a show we really like. We love Matt Ryan, who's the star of it. I think we did right by the fans who didn't like the film that was made of it. The future is still up in the air for that show." With 'Hannibal' and 'Grimm' already doing well on the network, it seemed that mixing horror and comic books would be a sure fire win. Clearly it hasn't been able to nab as many viewers as NBC has wanted no matter how well put together the show itself is. While views of the show are up in a variety of formats, it seems to be that live viewership is where the most concern is as: "We wish the show had done better live. It has a big viewership after [it airs] in all kinds of ways and it has a younger audience, but the live number is challenging. It hasn't come out in the way we wanted it to, but we love the show. I think it's fair to say we're still talking about it." Perhaps the new time slot of 8/7c that kicked off last week will help raise the series' numbers. Only time will tell!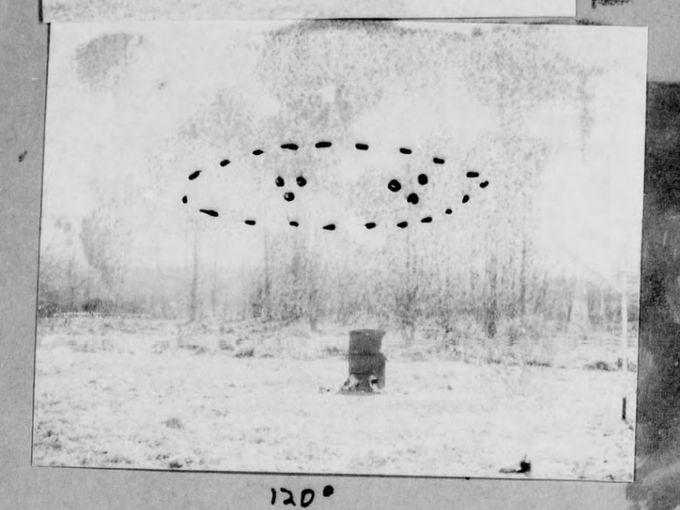 PROJECT BLUE BOOK
Now that executives at Fox are in talks to bring back 'The X-Files,' it looks like Agent Mulder may have an easier time obtaining information on UFO investigations performed by the US Air Force. Project Blue Book is now available as a PDF online with easy browsing via year and keyword. During the 1950s and 1960s, the US Air Force analyzed over 10,000 UFO sightings to determine if these unidentified flying objects were a threat to the United States. Project Blue Book's predecessors, Project Sign and Project Grudge, began investigating UFO sightings in the late 1940s. Based out of the Wight-Patterson Air Force Base in Ohio, Project Blue Book has over 130,000 pages filled with accounts of unusual sightings between the years 1947 and 1969. While the sightings were attributed to flight tests of reconnaissance aircrafts, weather conditions, or even smudges on film, 701 incidents still are considered unidentified. Oddly enough, Project Blue Book doesn't contain any information about the 1947 Roswell UFO incident, which certainly makes you wonder if the government is still covering up this so-called weather balloon crash. However, there are other UFO sightings from Roswell, New Mexico in the files. Project Blue Book ended in 1969 after an evaluation by the University of Colorado in their report, "Scientific Study of Unidentified Flying Objects., The US government concluded (or at least told the American public) that "no UFO reported, investigated and evaluated by the Air Force has ever given any indication of threat to our national security (and) there has been no evidence indicating that sightings categorized as 'unidentified' are extraterrestrial vehicles." Project Blue Book has been available online and on microfilm in Washington, but this marks the first time the studies have been available in an easy searchable format. Compiled and converted by UFO enthusiast John Greenewald, his website The Black Vault also includes sightings analyzed in Project Sign and Project Grudge. Greenwald spent almost 20 years filing Freedom of Information Act requests to obtain the information.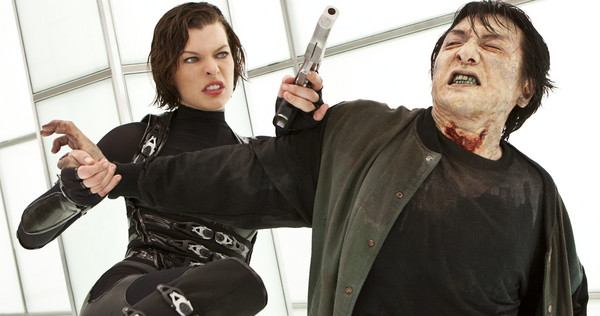 RESIDENT EVIL: THE FINAL CHAPTER
Back in August, Resident Evil franchise star Milla Jovovich revealed that production had been delayed on Resident Evil: The Final Chapter, because she and her husband/director Paul W.S. Anderson are expecting their second child. She said then that shooting wouldn't happen until the summer of 2015. Now, the actress confirms in a new Facebook post that shooting will begin this August. Here's what she had to say in her post from Tuesday. "I'm really proud of myself for not gaining the same amount of weight that I did with our first child (75 lbs.) because I have to be ready to start filming Resident Evil: The Final Chapter in August of this year and I will also be nursing an infant simultaneously (get ready wardrobe department for Alice's new 'easy mama access' costume;)) so I don't want to be on any extreme diets to get ready to go back to "action hero" mode!" Before the actress and filmmaker knew they were expecting, pre-production was already under way in Cape Town, South Africa, with the production expected to return to that location, along with several others. We also reported in April that Resident Evil: Retribution star Bingbing Li is expected to reprise her role as Ada Wong, with Wentworth Miller also set to return as Chris Redfield from 2010's Resident Evil: Afterlife. No other cast members have been confirmed for what is expected to be the last installment of the franchise. Resident Evil: The Final Chapter comes to theaters in 2016 and stars Milla Jovovich, Wentworth Miller, Sienna Guillory, Bingbing Li, Spencer Locke, Shawn Roberts, Johann Urb. The film is directed by Paul W.S. Anderson.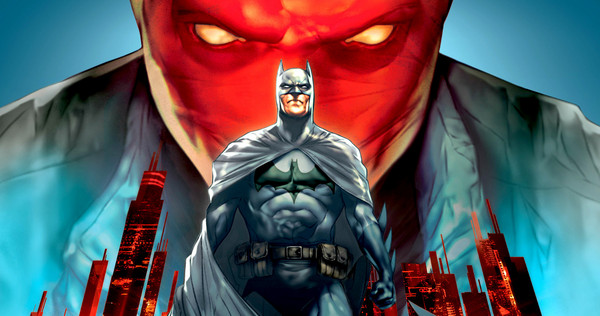 GOTHAM NEWS - RED HOOD COMING
The new Fox series Gotham is already littered with characters from the DC Comics, from important figures such as Jim Gordon (Ben McKenzie) and a young Bruce Wayne (David Mazouz) to villains such as Penguin (Robin Taylor), Catwoman (Camren Bicondova) and The Riddler (Cory Michael Smith), along with new addition Dr. Leslie Thompkins (Morena Baccarin). During an interview with Comic Book Resources, series creator Bruno Heller now confirms that the iconic Red Hood will also be appearing at some point in the last 10 Season 1 episodes. Here's what he had to say, when asked if any heroes or villains will be donning costumes this year. "That's a good question. Especially now that we have a pick up, I always take a long-term view of a show. I'm looking at several years. So we're in no hurry to [do that] -- there's going to be an episode that involves the Red Hood, which picks up that strand, the costume strand, and sort of gives a kind of philosophical base, if that's not too pretentious a word. Why costumes? What's the power of costumes? What's the power of a mask? All of that groundwork will be laid sort of culturally for that side of the DC Universe before we start rolling into the more spectacular spandex type of deal." The Red Hood is a pivotal figure in the Batman universe, who, in certain comics, was revealed to be the first version of The Joker before his horrific, disfiguring accident. What's interesting about this is, as you may recall, Bruno Heller confirmed in May that The Joker will be a part of the series, although he wouldn't specify when he may first show up. It isn't known if Gotham will mine these comics, introducing Red Hood before turning him into The Joker, but Bruno Heller did tease a "shocking" season finale. Here's what he had to say, when asked if last week's Season 2 renewal changed any plans for Season 1. "We'd always planned for the end of the season to be as big and spectacular and as shocking and as frightening and as sensational as it possibly can be. And we're going ahead with that plan." Are you excited to see Red Hood emerge on Gotham? We'll be sure to keep you posted as soon as we know exactly when this important character will surface. Gotham continues its Season 1 run with "Welcome Back, Jim Gordon" on Monday, January 26 at 8 PM ET on Fox.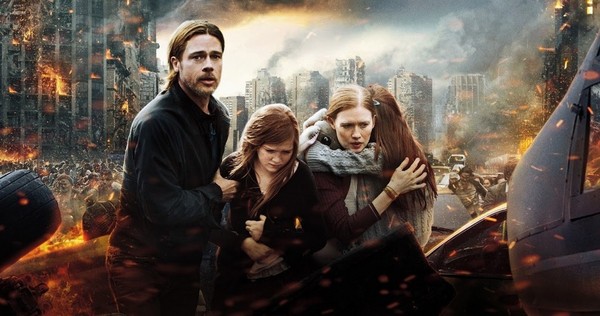 WORLD WAR Z - 2
World War Z, which was directed by Marc Forster and starred Brad Pitt as a United Nations investigator trying to stop the spread of a zombie virus, had some well publicized behind-the-scenes struggles and most wrote it off as a disaster before it hit the big screen. But when the movie opened, it proved to be a big hit. Soon after, Paramount green lit a sequel, which we really haven't heard too much about. Now, writer Steve Knight (Eastern Promises; Locke) is opening up about his process on World War Z 2, and he promises something that will be decidedly different than the first movie. Speaking with IndieWire, Steve Knight revels the simple reason why he signed onto the movie. He then makes it almost sound like a complete reboot of the first installment, which was based on Max Brooks's survival guide: " "I thought, 'why not? What fun.' It's not quite like the other, we're starting with a clean slate. When they've signed off we're on." While Brad Pitt is expected to return for World War Z 2, there might be something different being planned. Juan Antonio Bayona signed onto take over for Marc Forster nearly a year ago. This new report doesn't say if he is still attached. He is reportedly directing A Monster Calls before he takes on this sequel, which should begin filming before year's end. We'll have to wait for official world from Paramount on that.
WEDNESDAY, JANUARY 21, 2015
MARVEL SECRET WARS
Ever since the event was first announced back in October, we've been wondering just how high the stakes would get in Secret Wars, the upcoming Marvel Comics mega-event from writer Jonathan Hickman (Avengers) and artist Esad Ribic (Thor: God of Thunder). After weeks of teasing us with new versions of old Marvel events like Civil War, Age of Apocalypse, Planet Hulk and more, the publisher finally revealed in November that the event will bring back Battleworld, a place where multiple Marvel realities will collide and struggle for survival. So we've known for a while to expect a kind of battle between various Marvel realities and characters, but what we didn't know was how the event would be set off, what the stakes would be, and how the Marvel Universe would be altered by Secret Wars. Now Marvel has given us a big reveal. At a press conference held today at New York City's Midtown Comics, Marvel Executive Editor Tom Breevort and Editor-In-Chief Axel Alonso announced that the "incursion" event that's been built up for months in Hickman's Avengers and New Avengers series will be the incursion of the main Marvel Universe and the Ultimate Marvel Universe. As a result, both universes will cease to exist, and the Battleworld of Secret Wars will be the place where the new Marvel Universe is born. "The Ultimate Universe, the Marvel Universe, they're going to slap together," Alonso said. "Imagine two pizzas: They're going to combine toppings, some toppings are going to drop off. And that is the Marvel Universe moving forward. It's more than the Marvel Universe and the Ultimate Universe, it's all the universes you can imagine. That is the Marvel Universe going forward." If you watched that big Battleworld teaser back in November, you probably noticed that only about half of the "countries" laid out on the map were identified. We know Civil War is a factor, and Age of Ultron vs. Marvel Zombies, and Planet Hulk, but there are still plenty of blank spaces to be filled on that map. To fill in those spaces, Marvel just launched an interactive Battleworld map which you can browse on the Secret Wars site, and also revealed that even more Secret Wars tie-in announcements are on the way in the coming weeks. Once the Battleworld map is complete, we'll have a picture of the landscape on which the new Marvel Universe will be forged. "Various characters will live their lives, and contend with this new situation, and set up all the building blocks and the bedrock of what the new Marvel Universe will be going forward," Brevoort said. If you think this sounds quite a bit like the Convergence event DC Comics is launching in April, or even like the Crisis on Infinite Earths event DC launched more than two decades ago, you're not alone, but Alonso promised that Secret Wars will have a legacy all its own in the Marvel Universe. It's not just a reshuffling of universes. It's a "new era" for Marvel Comics. This is putting an endcap to decades of stories, and starting a new era. When you see the scope of the stories, you'll see what we're willing to do," Alonso said. "If we wanted to resurrect Gwen Stacy, this would be the place to do it, wouldn't it? If you ever wondered what would happen if you take the 'Age of Ultron' universe and perch it next to the 'Marvel Zombies' universe, this would be the place to do it." So, Marvel has put its cards on the table. A big, universe-altering gamble is on the way that seems poised to change the course of Marvel Comics like nothing before. Now we just have to see if it'll work. Secret Wars kicks off with a Free Comic Book Day zero issue (which Alonso described as a great jumping-on point for new readers) on May 2, followed by the first and second issues of the series proper later in the month.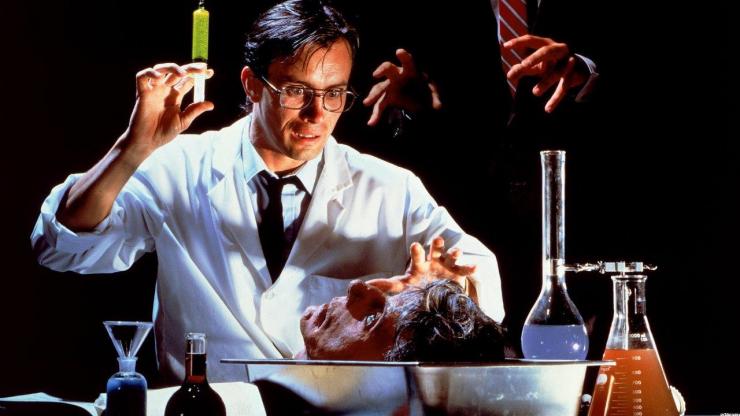 REANIMATOR
The classic H.P. Lovecraft tale of the Reanimator is getting resurrected, no pun intended, as a new comic series later this year. Created in 1921 by Lovecraft as a semi-parody of Mary Shelley's Frankenstein, the Reanimator story follows the creepy doctor Herbert West on his quest to conduct freaky experiments and create terrifying zombies. The character is likely best known from the epic 1985 film version, starring Jeffrey Combs in the title role. The comic will be written by Keith Davidsen with art by Randy Valiente, and published by Dynamite. The new series will see West headed to New Orleans to revamp his experiments, though it sounds like he'll run afoul of the locals. Cue the epic voodoo battles. Dynamite has dabbled with the Reanimator franchise a few times in recent years via a one-shot issue, an Army of Darkness comic crossover. Here's the official synopsis for the run: In Reanimator, Dr. Herbert West heads to New Orleans to continue his life's work: the revival of the dead by purely chemical means. To accomplish this task, he recruits Susan Greene, a young and wide-eyed pharmacologist fascinated by his macabre experiments. Initially unfazed by West's unorthodox practices (including how he funds his research – by selling zombie brain fluid as a narcotic), Susan may regret her scientific curiosity as sinister forces – those aligned with Elder Gods and Haitian Voodoo – begin to align against the Reanimator. The first issue is set to arrive in April. Until then, check out some preview pages and cover art below and let us know what you think.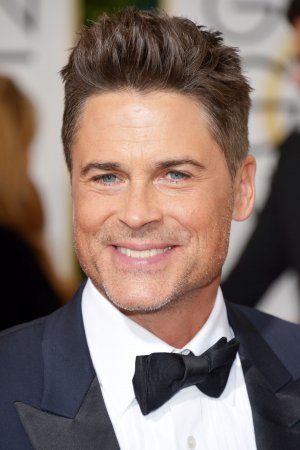 APOCALYPSE SLOUGH
Britain's Sky 1 on Wednesday announced casting for its new comedic drama Apocalypse Slough and said NBC will air it in the U.S. The cast includes talent from both sides of the Atlantic, including Rob Lowe (West Wing), Jenna Fischer (The Office), Megan Mullally (Will and Grace), Mathew Baynton (The Wrong Mans, Yonderland), Pauline Quirke (Birds of a Feather), Patterson Joseph (Peep Show) and Joel Fry (Game of Thrones). Creator and lead writer for the series is Iain Hollands (Beaver Falls) with Michael Engler (30 Rock) serving as lead director who will direct the first two episodes. The 10-episode hour-long show is from Working Title and Bigballs Films for co-commissioning partners Sky 1 and NBC. "This latest commission adds to Sky's ambitious slate of original drama this year," said the company. Sky 1 is the flagship U.K. network of pan-European pay TV giant Sky, in which Rupert Murdoch's 21st Century Fox owns a 39 percent stake. Apocalypse Slough is described as "a bold, adrenaline fueled comedy drama about the last days of mankind. A relentlessly entertaining mix of action, adventure, romance and wit set against a backdrop of apocalyptic chaos, the story follows an eclectic group of seemingly unconnected characters around the world as their lives start to intersect in the most unexpected ways...all triggered by the news that a comet is on an unavoidable collision course towards earth." Lowe will play Father Jude, "the Vatican's most rebellious priest." The events unfolding "will shake his faith, force him to question his vows, and bring him face to face with his past," a show description says. Fischer will portray Rhonda, "a mild-mannered librarian who finds herself dangerously out of her depth when she is sent to a maximum security prison in New Mexico for a crime she did not commit." Mullally will play Leanne, "an unhinged white supremacist who takes a deeply reluctant Rhonda under her wing. Morally dubious but intensely loyal, she's a woman uniquely suited to surviving the end times and will prove herself to be exactly the streetwise sidekick Rhonda needs." Baynton will take on the role of humble Slough bank manager Jamie, while Quirke will take on the role of Jamie's loving but tough-as-nails mother, and Fry plays Dave, Jamie's hedonistic best friend. Joseph will play General Gaines "who has rapidly risen through the ranks of the army, becoming a 5 Star General with responsibility for briefing the President of the United States on high-level military matters." Said Lowe: "I've always been a fan of the kind of smart, ambitious and challenging filmmaking that comes from Sky and Working Title. This script and my character in particular, blew me away."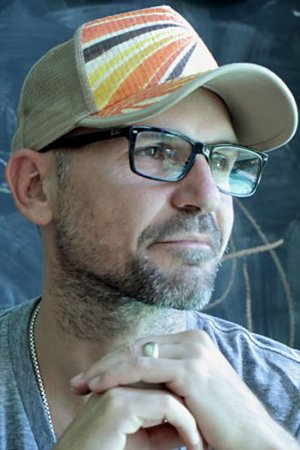 HUNTSMAN FINDS A DIRECTOR
After the departure of director Frank Darabont last week, Universal has hired Cedric Nicolas-Troyan to direct The Huntsman. Nicolas-Troyan's name may not be well known to the general public, but he worked on Snow White and The Huntsman as the second unit director and visual effects supervisor, and he was nominated for an Oscar for the visual effects on the 2012 film. He was also the second unit director on Disney's Maleficent and has a background in visual effects. Former Walking Dead showrunner Darabont left the project last week over creative differences, but sources say that Universal plans to move forward without delay on the project. It is slated for an April 22, 2016, release. Chris Hemsworth and Charlize Theron are returning to play the Huntsman and Ravenna, respectively. The new film returns to the world of Snow White and the Huntsman, but focuses on the Huntsman and Ravenna's lives before the arrival of Snow White (played by Kristen Stewart in the original). Emily Blunt is in talks for a role in the new film. Joe Roth is producing, while Palak Patel will executive produce. Darabont wrote the current draft of the screenplay, with earlier drafts by Craig Mazin and Evan Spiliotopoulos. Nicolas-Troyan has been attached to direct a few projects over the years, including Summit's Highlander reboot and Universal's Bethlehem (also with Roth attached as a producer). He's repped by CAA, Management 360 and Bloom Hergott. Snow White and the Huntsman, which opened in 2012, earned $400 million worldwide.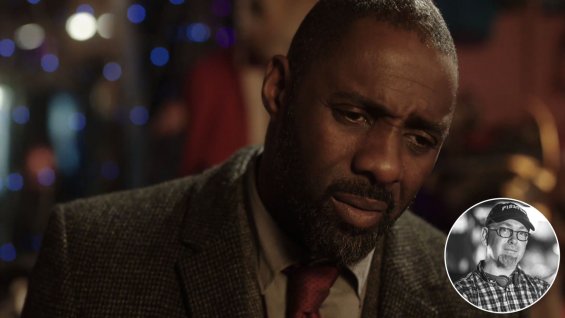 FOX UPCOMING SERIES - LUTHER, FRANKENSTEIN
Fox threw its hat into the pilot ring Tuesday night, picking up three dramas including adaptations of Luther and Frankenstein as well as a comedy from The Mindy Project's Charlie Grandy. The network has ordered dramas Frankenstein, Luther and Rosewood as well as half-hour 48 Hours 'Til Monday, The Hollywood Reporter has learned. Frankenstein hails from Crisis creator Rand Ravich and Homeland's Howard Gordon. The drama centers on Ray Pritchard, a morally corrupt retired cop, who is given a second chance at life when he is brought back from the dead. Now younger and stronger, Pritchard will have to choose between his old temptations and his new sense of purpose. Ravich will pen the script and executive produce alongside Gordon and his 20th Century Fox Television-based Teakwood Lane banner. The drama landed at the network with a hefty put-pilot commitment. Teakwood's Hugh Fitzpatrick will co-exec produce. The pilot order for Luther, meanwhile, is contingent on finding a cast. It hails from Luther creator Neil Cross and counts star Idris Elba among its exec producers. Cross will pen the Fox take, which is based on the BBC Worldwide Productions entry of the same name. The Fox take again centers on John Luther, a near-genius murder detective whose brilliant mind can't always save him from the dangerous violence of his passions. Elba is not attached for an on-screen role. The drama, which came with another hefty put-pilot commitment, will be exec produced by Cherin Entertainment's Peter Chernin and Katherine Pope as well as BBC's Jane Tranter and Julie Gardner. For its part, drama Rosewood is described as a close-ended, investigative series that centers on the brilliant Dr. Beaumont Rosewood Jr., the top private pathologist in all of Miami. As owner of one of the most sophisticated, state-of-the-art independent labs in the country, he finds the secrets in bodies that others usually miss. Despite being constantly surrounded by death Rosewood is obsessed with life and savors every moment. His eternal optimism will frustrate the cynical female detective he often works with, but she can't argue with the results that his unique perspective provides. Psych's Todd Harthan will pen the script and exec produce the 20th Century Fox Television drama alongside Temple Hill Entertainment's Wyck Godfrey and Marty Bowen. Rounding out the four orders is comedy 48 Hours 'Til Monday, a comedy about one husband's desperate struggle to not let every weekend go completely to hell. The Mindy Project exec producer Grandy will pen the script and executive produce the Universal Television comedy. The single-camera comedy landed at the network with a script plus penalty commitment in October. Grandy will exec produce alongside Peter Traugott and Rachel Kaplan's studio-based TBD Productions banner. The four pilots join previously announced drama Minority Reportand cast-contingent effort Runner at the network. On the comedy side, 48 Hours joins straight-to-series pickup Scream Queens, from Ryan Murphy, at Fox. For Fox, the Luther take comes after the network struggled to adapt British drama Broadchurch, with Gracepoint failing to launch from the start. GAME OF THRONES
From January 29 through February 5, fans of HBO's "Game of Thrones" will get a chance to experience two episodes ("The Watchers on the Wall" and "The Children") on select IMAX screens across the country, and now there's a trailer for the event featuring a brief peak at Season 5. Marking the first television series to be shown in IMAX theaters, the "Game of Thrones" screening event will also include the worldwide debut of an exclusively created sneak-peek trailer for season five, which will debut on HBO April 12 at 9 p.m. THE WALKING DEAD
AMC has debuted the new "Another Day" promo for "The Walking Dead," which will will return on February 8, 2015 for the remaining episodes of Season 5 and has already been renewed for a sixth season, set to begin in the fall of 2015. After the tragic events of the mid-season finale – as well as losing the possibility of a cure in Washington, DC – Rick Grimes' band of survivors find themselves on the road, surviving day-to-day and trying to hold on to their shredded humanity and dwindling hope. Stripped of security and without a direction for the future, some of the group near their breaking point, some find themselves hardened and cold and some just try to grasp onto what little they have left. Though they are still breathing, the line between Rick's group and the dead is starting to blur. Could there be anything at this point that brings them back to life? Based on the comic created by Robert Kirkman, Tony Moore, and Charlie Adlard, "The Walking Dead" stars Andrew Lincoln, Norman Reedus, Steven Yeun, Lauren Cohan, Chad Coleman, Chandler Riggs, Melissa McBride, Emily Kinney, Danai Gurira and Sonequa Martin-Green.
TUESDAY, JANUARY 20, 2015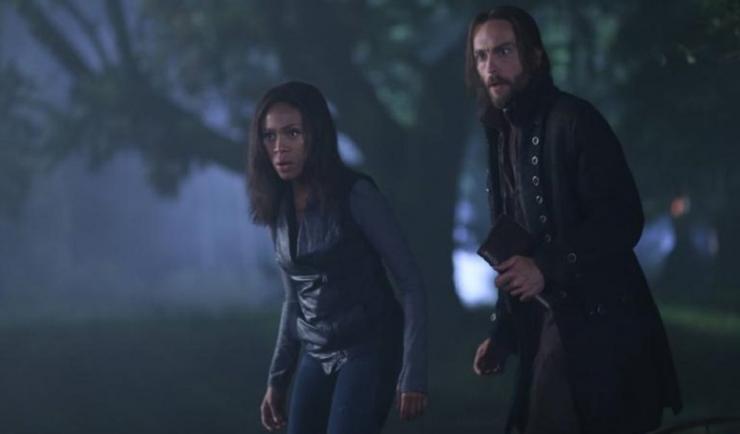 SLEEPY HOLLOW - SECOND SEASON ISSUES
How do we fix a problem like Sleepy Hollow? After a stellar first season, it's hit a brick wall. Both fans and critics have noticed a creative shift. Something about the latest arc doesn't mesh. Network executives at Fox are looking to do some course-correcting. Over the weekend, Fox TV chairman and CEO Dana Walden attended the Television Critics Association tour and revealed that changes are coming. "We are responding to a little bit to — not necessarily the criticisms — but this show has a high level of difficulty," she said. "It's a relationship show, a period show, you have iconic characters, you're trying to tell mysteries and the show got a little overly serialized this past season. It's very difficult on a show like this to get the exact right balance. Honestly, we felt watching the show, as passionate viewers, the show got too serialized." They've spent a good amount of time trying to pinpoint this season's issue. "As part of our diagnostic process on any show, we tried to determine what's working and what's not working," Walden explained. "We're trying to return the fun to it a little bit. It's an epic battle between good and evil, so there's a tendency to be a little dark. It's all about calibrating the show, not about making dramatic changes." Some think Sleepy Hollow should revamp its cast. It's no secret that Ichabod's (Tom Mison) wife, Katrina (Katia Winter), isn't exactly a fan favorite. But viewers and Walden alike enjoy the two leads. "We love Tom Mison and Nicole Beharie. They have fantastic chemistry." So, they don't plan to alter the cast dynamic just yet. "We don't have any creative changes [planned]," she said. "It was more [about] having a show that's easier to access week to week that you don't have to feel like if you tune into episode three of our new run, that you have to go back and watch the first two. So some greater procedural stories and maybe toning down a little bit the apocalyptic vision that existed in the initial episodes this season." Fox recently gave early renewals to Gotham, Brooklyn Nine-Nine and Empire. Unfortunately, Sleepy Hollow wasn't so lucky. Walden's taking her time with the decision, although she's "hopeful it will come back as well."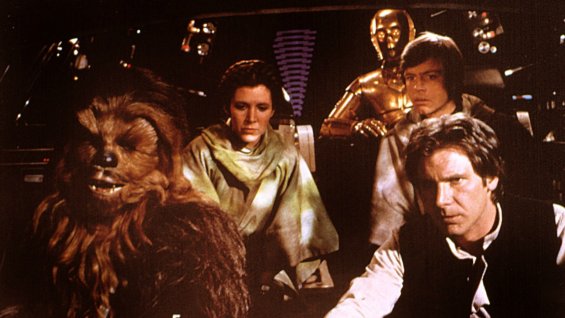 STAR WARS ACTOR HOSPITALIZED
Peter Mayhew, who plays Chewbacca in the franchise, has been hospitalized with pneumonia. The news was confirmed Monday on Mayhew's Twitter page. The actor's wife, Angie Mayhew, posted a Reddit message Monday to let fans know Peter will remain in the hospital for a few days but is expected to make a full recovery. In other words, there is no reason to have a bad feeling about this. "Thank you for all the well wishes, prayers, good vibes, and happy thoughts," Angie wrote. "Doctors are incredibly happy with his improvements." Mayhew, 70 — who stands seven feet, three inches tall — underwent double knee replacement surgery in 2013. He reprises his role as the beloved Wookiee in Star Wars: The Force Awakens, invading theaters Dec. 18.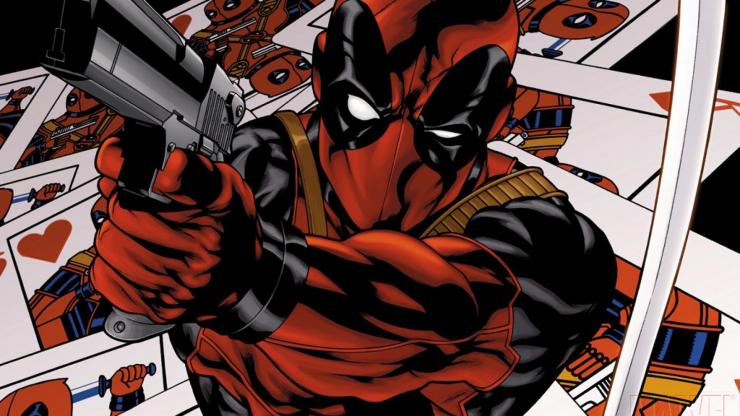 DEADPOOL
Back when it was revealed that Ryan Reynolds would reprise his role of Deadpool for Fox's upcoming film, a March start date was also announced, and now GlobalNews.ca has learned that production on the film will be set up in Reynolds' home town of Vancouver. No stranger to comic book films, Vancouver was also the home to both "Fantastic Four" movies as well as X2: X-Men United, X-Men: The Last Stand, and X-Men Origins: Wolverine. Fox's other "X" film, X-Men: Apocalypse, will shoot in Montreal in April. Ryan Reynolds will reprise the role he played in X-Men Origins: Wolverine, Wade Wilson, the Merc with the Mouth, though given how that film was received (and the ending to last year's X-Men: Days of Future Past), it's possible that film will not be acknowledged at all in the 2016 release. Comedian T.J. Miller and Ed Skrein are also in talks for roles in the film. Tim Miller is set to direct the film from a script by Zombieland writers Rhett Reese and Paul Wernick. Deadpool is currently set for a release on February 12, 2016. THE ZERO THEOREM
Though you might have missed The Zero Theorem and its colorful sci-fi wonders in theaters (it was this author's #1 film of 2014), it comes to Blu-ray and DVD January 20th from Well Go USA Entertainment and is very much the multi-layered, ingenious head trip you would expect from director Terry Gilliam (Brazil, 12 Monkeys). In the clip, Gilliam talks about how he would not have been able to make the film without star Christoph Waltz, who plays introverted computer jockey Qohen Leth. The director tried for years to get the film off the ground–at one point with Billy Bob Thornton in the role–but could only pull it off once the two-time Oscar-winner (Inglourious Basterds, Django Unchained) signed on. Featuring a screenplay by Pat Rushin, The Zero Theorem co-stars Mélanie Thierry, David Thewlis, Lucas Hedges, Tilda Swinton, Ben Whishaw and Matt Damon, and revolves around an eccentric and reclusive computer genius plagued with existential angst who works on a mysterious project aimed at discovering the purpose of existence ­or the lack thereof­ once and for all. However, it is only once he experiences the power of love and desire that he is able to understand his very reason for being.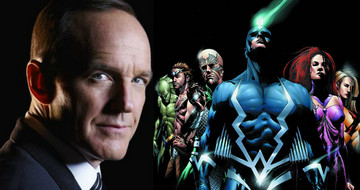 INHUMANS
Last year, Marvel Studios confirmed that the long in-development Inhumans film would be hitting theaters in November of 2018, and president Kevin Feige teased we might be seeing something about that sooner rather than later. Not long after the announcement came the episode of "Marvel's Agents of S.H.I.E.L.D." that introduced not only Terragenesis, the process that gives Inhumans their powers, but our first official Inhuman from the source material, Daisy Johnson, AKA Chloe Bennet's Skye. Speaking with CBR, series star Clark Gregg opened up about the Inhumans being introduced in the series and what that means for the forthcoming episodes. "Inhumans represents a different chapter…At least in the comics, the Inhumans, they're a race of people who've been transformed. They're mutants, more or less. I've always loved that part of the comics. They're people who have evolved differently, and that generates a lot of fear. Some people want to annihilate them. Some people want to lock them up. Some people want to register them. Some of them become superheroes. Some of them become monsters. I find that particularly germane. Are we going to accept the people who are different, or are we going to try to wipe them out? "I think the first thing we're going to deal with when we come back is (Coulson) led everyone to this place with the writings. He found this submerged, several-thousand-year-old alien city. It turned out to be like an incubating factory that turned his own most beloved protégée — his surrogate daughter — into something else and got one of his team members killed. That's not going to be easy on his new team, which has some people who he knows and trusts and some people who are much newer to him. Gregg went on to express his excitement with having the Inhumans on the series and reveals that it won't put any creative clamps on the series. "I'm excited by it. I think the Inhumans is a big, cool part of the Marvel universe, a great story. And we'll set up something. We'll get to explore it. I'm glad they're entrusting us with it, and I think that they'll take what they're going to do with it, and it will connect. And yet, we'll have the freedom to kind of make our show be our show." "Marvel's Agents of S.H.I.E.L.D." is set to return this March, while Inhumans will debut in theaters on November 2, 2018. STRANGE MAGIC
George Lucas has been noticeably absent since Lucasfilm was bought by Walt Disney Pictures in October 2012. In fact, he had secretly been working on an animated fairy tale musical called Strange Magic (which in fact, ComingSoon.net reported on way back in January 2010) and now that movie's finally done and ready to see by family audiences. Strange Magic takes us into a fantasy world divided into two sections, the Dark Forest full of trolls, goblins and other creatures, led by Bog King (voiced by Alan Cumming), and the Fairy Kingdom, home to the fairies. The king of the Fairy Kingdom has two daughters, the feisty Marianne (Evan Rachel Wood) and her love-struck sister Dawn (Meredith Anne Bull). As the Bog King tries to destroy the flowers that border the two kingdoms, Marianne is dealing with relationship when Dawn and her elf friend Sunny (Elijah Kelley from "Hairspray") are trapped in the Dark Forest, so Marianne has to go in to save them. This is very much a musical and besides getting an impressive voice cast whom all have done their share of musicals, Lucas and director Gary Rydstrom have created a soundtrack mixing contemporary pop hits with rock and soul classics like Elvis Presley's "Can't Help Falling in Love" and the Four Tops' "I Can't Help Myself," all arranged by Marius de Vries, who famously performed the same duties on Baz Luhrmann's Moulin Rouge! Last week, ComingSoon.net spoke with George Lucas and three of his voice actors–Alan Cumming, Evan Rachel Wood and Elijah Kelley–talking about how they found out about the movie and were able to keep it a secret for so long as well as some of the challenges of singing duets without the other person performing in the room with you. Strange Magic opens in theaters on Friday, January 23 with previews on Thursday night.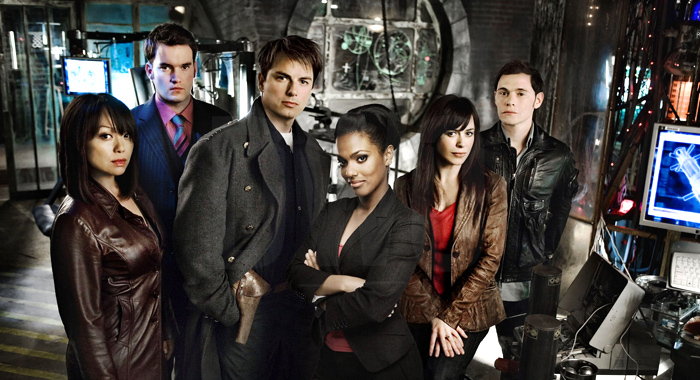 TORCHWOOD RETURNING?
In a recent press conference for CW's 'Arrow,' actor John Barrowman released some exciting news for all the Woodies around the world: 'Torchwood' is coming back. Only, probably not in the way you expect. As many 'Torchwood' fans are well aware, the stories have continued even past the final episode of 'Miracle Day,' with audiobook, radio plays, and novels filling in the gaps of what happened between each of the seasons, and what happened after the events of 'Miracle Day.' Barrowman said,"I do know that we're doing three or four radio plays for the BBC for 'Torchwood.' My sister and I are discussing the possibility of writing one of them and whether or not that leads to something [on TV] … But I'm full-time with 'Arrow' now. It's not a question of me not wanting to do it, it's a question of the BBC wanting to do it or others wanting to do 'Torchwood.' I know the fans are out there so I think they'd be silly not to." He added that of the three or four radio plays, one will feature the entire 'Torchwood' team. The rest will be "character-based." Barrrowman has proven to be just as engaged with 'Torchwood' as his fans are,and has written with his sister, Carol E. Barrowman, a book that is included in the 'Torchwood' cannon entitled 'The Exodus Code.' If a special or a short series should happen, it's easy to see him jumping on board. According to Barrowman, his full-time job with 'Arrow' all came about because the show creators were a fan of his work on 'Doctor Who' and 'Torchwood.'As such, he suggests that they would be accommodating if he required to go back film another season of 'Torchwood,' should the stars align.
MONDAY, JANUARY 19, 2015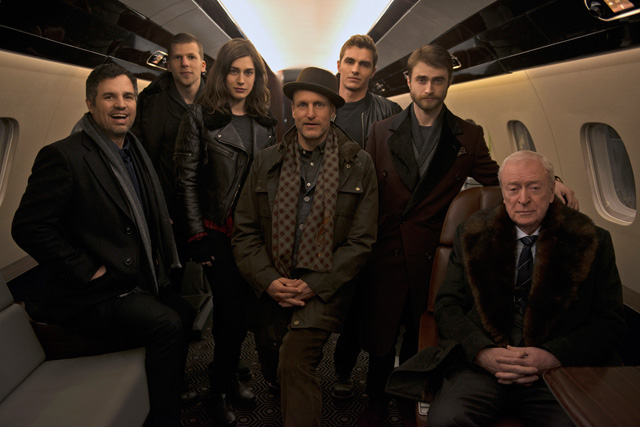 NOW YOU SEE ME: THE SECOND ACT
Five weeks into shooting, Summit Entertainment has revealed (via Fandango) a first look at the cast of Now You See Me: The Second Act. From left to right are Mark Ruffalo, Jesse Eisenberg, Lizzy Caplan, Woody Harrelson, Dave Franco, Daniel Radcliffe ("Harry Potter" films) and Michael Caine.

Radcliffe is playing Caine's son in the sequel. Isla Fisher was unable to reprise her role of Henley Reeves due to her pregnancy, so Caplan was cast as a new character named Lula.

One year after outwitting the FBI and winning the public's adulation with their mind-bending spectacles, the Four Horsemen resurface in Now You See Me: The Second Act only to find themselves face to face with a new enemy who enlists them to pull off their most dangerous heist yet.

The Jon M. Chu-directed film is scheduled to hit theaters on June 10, 2016.

HELIX - SECOND SEASON
The first season of Helix was an ambitious mess of big ideas and black goo, and now Ronald D. Moore's tale of a sci-fi outbreak is almost back.

A new trailer for season two of the Syfy (Blastr's corporate owner -Ed.) series has been released, showing off more of the new island setting that'll replace the arctic tundra the team called home last season. After a full season of frozen wastelands, the tropical setting is a nice change of pace. But that doesn't mean this season will be just a day at the beach.

There's also a brand-new infection spreading, and the crew from season one is back to try and contain it — while also dealing with whatever evil weirdness the Illyria Corp. is cooking up. Much as with season one, this trailer doesn't tell us a whole lot about what's going on. But what it lacks in intel it makes up for in creepiness.

In case you missed season one, or just need a refresher to remember all the vector-chasing insanity, the network has put together a nifty five-minute recap that hints the high points. It's a quick and dirty intro to the characters and the concept, and it could come in handy before the new season starts.

The second season of Helix debuts Jan. 16 on Syfy.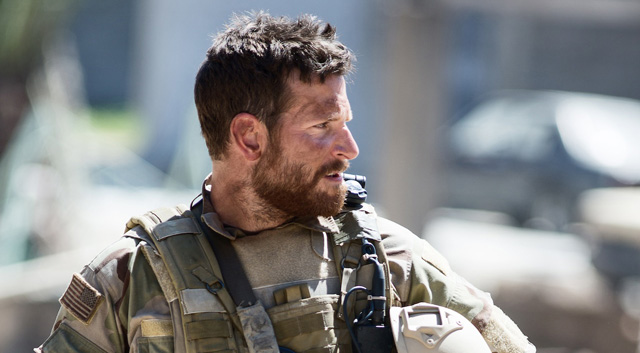 WEEKEND BOX OFFICE
After it's recent Oscar Nomination, 'American Sniper' wins big with $90.2 million while 'The Wedding Ringer' opens second with $21 million.
American Sniper - $90.2M
The Wedding Ringer - $21M
Paddington - $19.2M
Taken 3 - $14M
Selma - $8.3M
The Imitation Game - $7.1M
Into the Woods - $6.5M
The HObbit: The Battle of the Five Armies - $4.8M
Unbroken - $4.2M
Blackhat - $4M
SUNDAY, JANUARY 18, 2015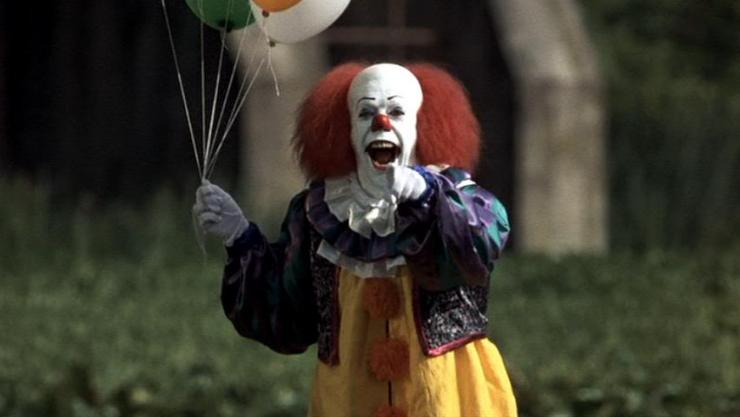 STEPHEN KING'S IT
We've been hearing about a new adaptation of Stephen King's classic novel IT for more than five years now, but 2015 may finally be the year it really gets moving under the guidance of producer Seth Grahame-Smith (Abraham Lincoln: Vampire Hunter). Instead of a TV miniseries like the 1990 version, this adaptation is aiming for a two-film remake, with the first film set in the past and the second film set in the present, and is in the hands of acclaimed director and co-writer Cary Fukunaga (True Detective).

For many King fans, the IT miniseries is an iconic, if at times corny, representation of the author's work, and we've all still got Tim Curry's terrifying interpretation of Pennywise the Clown stuck in our heads. So, what's in the remake for us? Speaking to Entertainment Weekly about a number of his ongoing projects, Grahame-Smith promised that the big-screen version will take advantage of its lack of TV restrictions to deliver an adaptation with a little more bite.

"I think that if anything, [the new film] will bring back some of the viciousness of the book that they couldn't do with the miniseries because it was for broadcast," Grahame-Smith said. "I think it's going to be very scary, but I also feel like you've got Cary who is going to direct these kids—and he's incredible at casting, incredible at shooting. He's incredible with tone and atmosphere. One of the things I wanted to do is be a part of one of the really good King adaptations. As we know, there is an echelon of King adaptations that are classics. There are some that are okay. There are some that we'd rather forget."

So, when will we see it? Well, the film hasn't been cast yet (that we know of), but Fukunaga is hard at work on a draft with his writing partner, and Grahame-Smith expects the first film (which would follow a group of children battling the titular creature) to shoot later this year.

"We're going to get a draft, what is supposed to be the shooting [script], any day now from Cary and his writing partner," Grahame-Smith said. "We're doing a deal for them to write the second movie. Our hope is to prep sometime in the next few months and shoot in the summer. That one is as much on the runway as we can possibly be. I know New Line is ready to go."

So get set for the IT remake. It's got a hot producer in charge, and a director who can captivate, so maybe we're in for something special.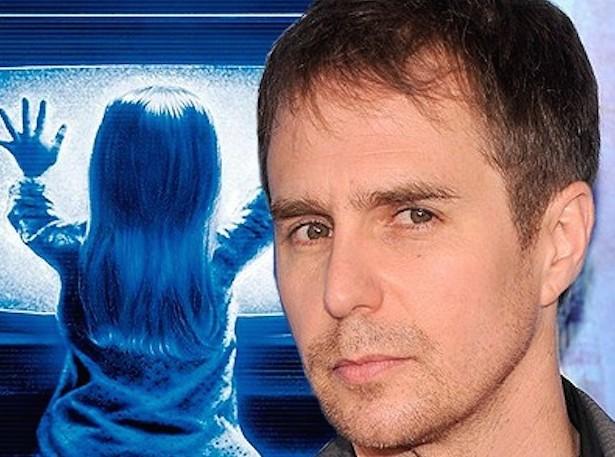 POLTERGEIST REMAKE
We all suffered a collective cringe when it was announced that Fox 2000 would revive Tobe Hooper's revered 1982 classic, Poltergeist, as part of their 2015 release roster. So many of us grew up with that satisfying horror film, and its indelible images of a silky homicidal clown and marauding tree monster are fused into our supernatural-spiked minds. Produced under the careful guidance of horror master Sam Raimi (Evil Dead, Spiderman Trilogy), this new Poltergeist has been branded with a PG-13 rating and contemporizes the suburban home haunting story with a new principal character named Carrigan, played by Jared Harris, who moonlights as a ghostbuster when not hosting a popular cable TV show called Haunted House Cleaners.
Sam Rockwell stars as the father character played by Craig T. Nelson in the original film, and recently chatted with Collider about seeing Poltergeist's unedited footage, its tone and the direction of this reboot, settling our fears that this reimagining by director Gil Kenan (Monster House, City of Ember) would crush our childhood dreams. Here's what he had to say:
"I've seen a little in looping. I hope it's good. I really don't know. I really wish I could tell you. I'm praying that it's – I mean, it's gonna be hard to live up to the first one. The first one's pretty damn good. This one's gonna be in 3D though, I can tell you that. The 10-year-old boy is really the protagonist this time. JoBeth Williams was the protagonist for the most part in the first one and now the kid, it's really through his point-of-view. So it's more of a kids' movie so I don't know if it's gonna be like rated-R scary. It's not like Conjuring type of scary. You know, it's a different kind of movie. It's more of an adventure. It's essentially a child abduction film when you come down to it. I mean, the original Poltergeist is too."
While many fans secretly prayed the extreme fright factor and gore would be amped up for a potential R rating, it seems we'll all have to throttle our bloodlust back down to a more tame, family-style affair. Are you down with that decision, or will you be boycotting this ethereal intrusion forever?
Also starring Rosemarie DeWitt, Saxon Sharbino and Jane Adams, Poltergeist invades theaters in 3D on July 24, 2015.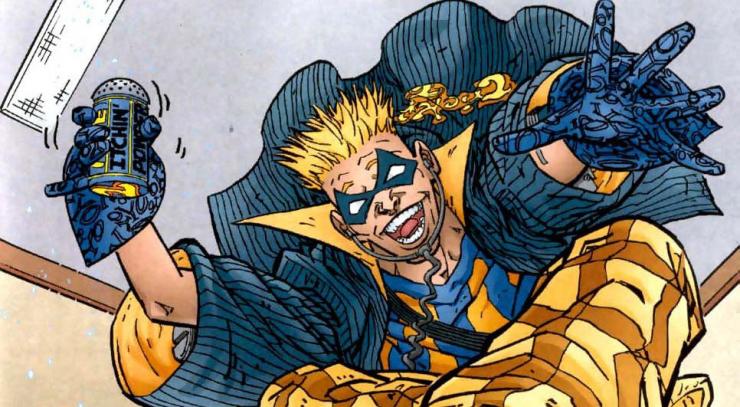 FLASH NEWS
Mark Hamill's epic return as The Flash baddie Trickster hits this year, and now we know who'll be playing the young copycat baddie.
Devon Graye, 27, has reportedly signed on to portray a younger version of the Trickster in the eagerly anticipated episode. The actor is likely best known for playing young Dexter Morgan on Dexter. Hamill's adult version of the Trickster, which will find him reprising the role he originated in the 1990s Flash series, will be in prison this time around.
It seems Graye will be playing the comic character Axel Walker, who was also the second Trickster in DC lore, created during Geoff Johns' time at the helm. In the comics, he worked with the Rogues after the original Trickster started working with the FBI. In that version of events, he stole the original Trickster's gear and took up the mantle.
The episode will apparently have the Flash reaching out to Hamill's long-incarcerated version of the Trickster in an effort to help crack the case of this new copycat. The casting report comes via Comic Book, which claims it has been confirmed.
The Flash is already firing on all cylinders, and bringing in a genre heavyweight like Hamill has us even more excited. Especially considering that the cameo happens to hit in the same year as a new Star Wars sequel.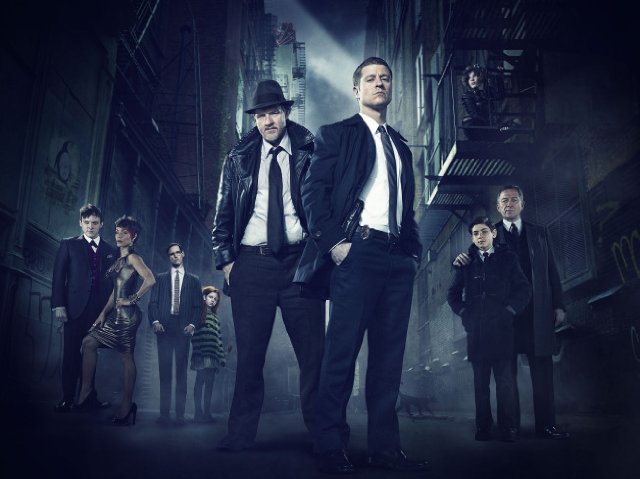 GOTHAM RENEWED
Warner Bros. Television's Batman prequel Gotham, meanwhile, is averaging a 4.2 rating in adults 18-49 and 10.6 million viewers. It ranks as the season's No. 1 broadcast drama overall among men 18-49 and men 18-34. Its series premiere —6.0 in the advertiser-coveted demo — outperformed The Blacklist and Scorpion and delivered Fox's highest-rated fall drama debut in 14 years. The live-plus-seven rating for the Ben McKenzie DC Comics adaptation from Bruno Heller reflects the largest post-three-day ratings gain (+0.9) of any broadcast drama ever.
What's Ahead?
Gotham returns for the second half of its freshman run Monday with "Rogues' Gallery," an hour that sets up the new status quo for the Fox rookie drama as the city's one non-corrupt cop, Jim Gordon (Ben McKenzie), is reassigned to Arkham Asylum while the crime families continue to struggle for power in the background.
After 10 episodes, the show has established itself as more than just a simple prequel to 75 years' worth of Batman comics, thanks in part to Donal Logue as Gordon's partner Bullock, Jada Pinkett Smith as crime boss Fish Mooney and breakout star Robin Lord Taylor as Oswald Cobblepot, the man better known as the Penguin. The Hollywood Reporter caught up with Gotham showrunner Bruno Heller to discuss reaction to the show to date, how to stay away from giving audiences what they expect and, of course, a hint or two about what's coming up in the back-half of the season.
The series isn't too focused on simply retelling comic book storylines. It's not just backstory that comic fans are familiar with.
The important thing about telling origin stories is that you're going to be telling something interesting, surprising and new. I always use the analogy of discovering your parents' childhoods. If your parents' childhoods were shown to you and it was exactly what you imagined their childhoods were, it'd be kind of disappointing. It's important to follow the familiar mythic narrative, but also find ways to subvert, or take detours from, that narrative to surprise people with different takes on the thing.
One of the values of having Fish there is that it reminds you that it's not a sacred myth, it's a living myth that there have been any number of different versions of. The canonical moments, as long as you're true to them — we wouldn't have messed with how Bruce Wayne's parents died, for instance — but beyond that, you have to add your own spice to the dish.
It's absolutely a question of balance. Gordon is kind of the square-jawed hero of the show, he's the good guy, an old-fashioned, straight-ahead good guy. But in order to have that balanced, you need to have villains who are equally compelling.
I would also say that, initially, we didn't intend to use Bruce Wayne quite as much, because with child actors you always want to be defensive, but David Mazouz is as good an actor as I've ever seen — child or adult. It's rare that you can write dramatic scenes and be confident that they'll deliver, and with David, he always does, and he can do more and more. We've definitely written to him more than we would have otherwise.
David's been surprisingly enjoyable to watch, especially when he shares the screen with Camren Bicondova's Selina Kyle. After the way the two parted in the last episode, will we see the two of them together again anytime soon?
Absolutely. Their relationship grows, develops and changes; they have their ups and downs. They have such a wonderful contrast to each other. Camren is full of such wonderful light and energy, and has this cocky arrogance about her. She's incredibly compelling to watch. David is thoughtful, interior, intense and passionate, and the two of them together — you could make a great movie just with the two of them.
Something else that been noticeable is how quickly the show moves in terms of story. We're at a point midway through the first season where it feels like other shows would have reached at the end of their first year. I think modern TV, for good or ill, you have to burn through story to keep people interested. And this is a semi-serious world, there's a comic book element — as much as you have to take it seriously, you can't take it too seriously. We're telling a number of stories at the same time. There's a certain fun element of music hall there — this idea of acts coming onstage, and going off again: "If you don't like this thing, there's always this thing." There are switches in mood and in tone that make it a sensational experience that is tough to do on network TV, but it makes it different and exciting, I think. It's unpredictable and compelling, because you know the characters but not where they're going.
As the show hit its midseason break, you shipped Gordon off to Arkham Asylum, splitting up his partnership with Bullock. Was this just where the story was going, or an attempt to give newcomers to the show a good place to jump on with the first episode back from break?
It's the next step of the story. I didn't want to peter off after 10 episodes! [Laughs.] Arkham, in itself, is a big Gotham character, so it's a chance to introduce Arkham as a character and then let the audience see how [Gordon] manages to get out of that particular predicament. You have to keep moving forward — the important thing about Arkham, and the first episode back explains it, is why is it so easy to escape from Arkham? In the Batman stories, there's kind of a revolving door in there. It's one of the fun things about setting up this world, being able to put the architecture in place to explain things like that. This is one of those things. What kind of teases can you drop about the back-half of the first season?
You're going to see Nygma take a giant step forward into becoming the man he becomes. You're going to see Fish Mooney placed in a situation where it's almost unimaginable how she'll get out of it. Her relationship with Butch and Penguin are going to be pushed to the limit. Selina Kyle's going to do something incredibly shocking — also, so's Fish, come to that. One of the things about the second half of the season is that all the story we've set up so far comes to fruition. Some people come to an end, other people are triumphant. Gordon is…no, I can't go there. I almost told you the story, and I can't. But I guarantee that, if you liked the first half of the season, you'll love the second half.
Gotham airs Mondays at 8 p.m. on Fox. Come back to THR's The Live Feed after the episode for a special postmortem.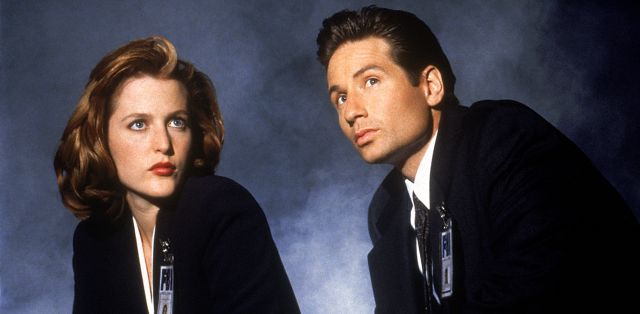 X-FILES NEWS
Fox TV Group chairman Gary Newman announced today at the channel's TCA presentation that they're in talks to revive Chris Carter's classic TV series, "The X-Files." Newman added that they would like to bring back David Duchovny and Gillian Anderson, but that's not confirmed. No further details were given about the discussions.
Running from 1993 to 2002, "The X-Files" ran for 202 episodes with a feature film set between seasons 5 and 6 and a second movie hitting theaters in 2008. Starring David Duchovny and Gillian Anderson, "The X-Files" garnered 21 Emmy nominations while on the air, featured a spin-off series "The Lone Gunmen," and debuted countless comics, video games, and other merchandise.
SATURDAY, JANUARY 17, 2015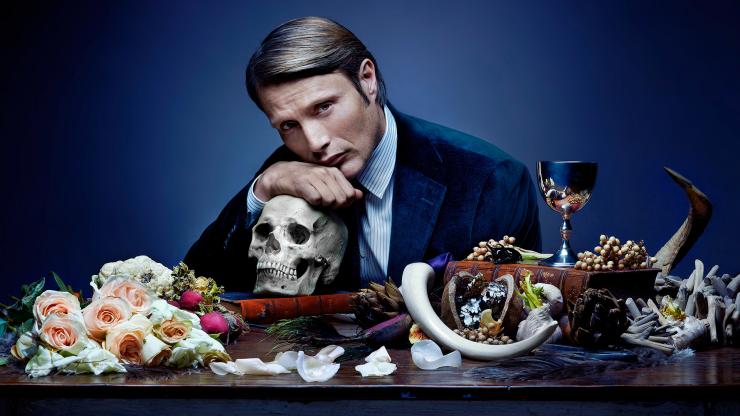 HANNIBAL RETURNING THIS SUMMER
"Hannibal" fans will have to wait a little bit longer to get a taste of Season 3. NBC chairman Robert Greenblatt announced Friday (Jan. 16) at the winter TV press tour that the gory drama will be getting a summer premiere in 2015. The first two seasons debuted in the spring.

"I thought we had said this, but maybe we haven't, that 'Hannibal's' going to be back in the summer," Greenblatt says. "It's a show we love."

Keeping with the love theme, the network has big plans for programming to pair with "Hannibal" and its new summer timeslot. "We also love summer," Greenblatt says. "We have a lot of good and exciting plans for summer, including most likely 'Aquarius,' and we've been talking about 'Heroes' and other things. So it's going to be summer."

The last time viewers saw Hannibal Lecter, he may have killed literally all the other main characters on the show. Few details are known about Season 3, however it is has been previously reported the series will pick up with Hannibal in Italy cavorting with Belinda (Gillian Anderson), and it will be revealed just who is alive and dead in the first few episodes.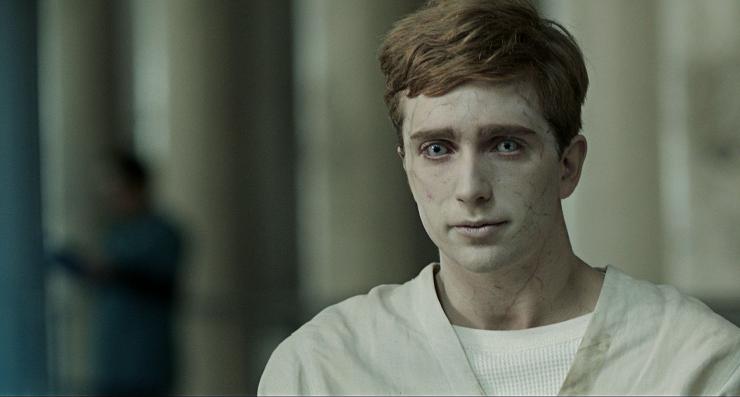 IN THE FLESH CANCELLED
At a time when zombie stories in all forms of media are legion, In the Flesh was a standout. It never reached the ratings pinnacle of The Walking Dead, or the grand scale of World War Z, but it nevertheless earned plenty of praise and fans for its clever premise and complex storytelling.
For those of you who don't know, In the Flesh follows sufferers of Partially Deceased Syndrome, aka zombies who've had their humanity restored through medication and rehabilitation, and the challenges they face as they try to get on with their lives surrounded by humans who hate them and haunted by the memories of the awful things they did as rabid walking corpses. The series was praised for telling a different side of the zombie story, and during its two-series run it earned two BAFTA awards: one for Best Mini Series and one for Best Writer for its creator, Dominic Mitchell.
Now it seems we won't get a third series of In the Flesh. The BBC announced this week that the show will not be returning, not because its creator is ending the run or because it wasn't a show worth broadcasting, but because budget cuts have forced the broadcaster to convert BBC Three to an online-only programming outlet. Since BBC Three was where In the Flesh aired, the transition means the show had to be shuttered.
"BBC Three is very proud of the two award-winning series of In the Flesh," The BBC said in a statement. "However, given there is only budget for one original drama series a year on the channel it won't be returning."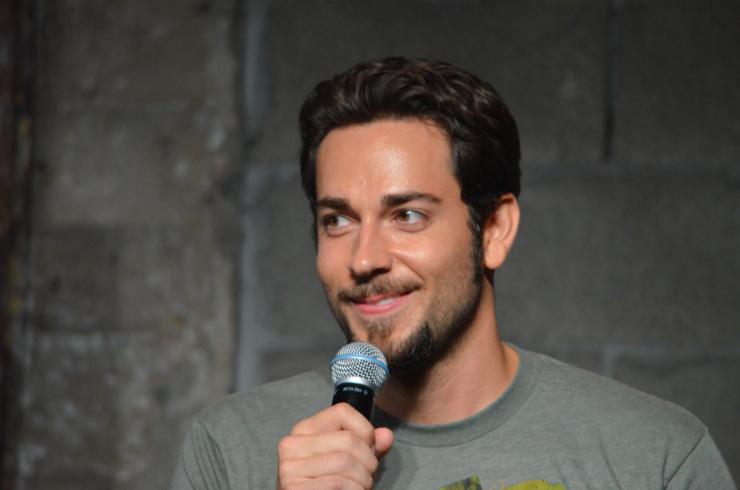 HEROES REBORN
t's been nearly a year since NBC announced the return of Heroes in the form of a 13-episode standalone miniseries titled Heroes Reborn, and yet we still don't know much about where the event will take the show. We know Heroes creator Tim Kring is back at the helm, we know there's a good chance of original cast members returning, and we know that Heroes alum Jack Coleman is back as Noah Bennett, but that's about it.
This lack of any real knowledge about the miniseries, or any footage from it, has bred plenty of skepticism in fans who believe the show slid very much off the rails in its later seasons. Will Reborn return Heroes to the glory of its first year, or will it retain the lackluster style of season four? It's been five years now since the show went off the air, and it's impossible to know for sure until we actually see the miniseries, but now a new piece of casting news has come along that might make even the most cynical former Heroes fan perk up.
TV Line reports that Zachary Levi has joined the cast of Heroes Reborn for his first major TV gig since Chuck ended three years ago this month. Since then Levi's kept plenty busy, reprising his Tangled role for a Disney short, co-starring in Thor: The Dark World and working on Broadway, but now he's back on the small screen in what's being described as a "key" role.
"There are a few franchises I've always wanted to be a part of, and Heroes is one of them," Levi said. "Chuck gave me the opportunity to wield some fun powers, but an entire world with superpowers is a world I've always wanted to explore.
"I'm so grateful for the opportunity to work with Tim [Kring], and the awesome team around him, in bringing this to life. Moreover, to be working with NBC again is such a reward in itself, as my bonds and relationships there are deep."
We don't know if Levi's a hero or a villain in Reborn yet, but his name definitely lends some buzz to the project. Now we just have to wait for NBC to shed more light on the event, and we might not have to wait long. While at the Television Critics Association Winter Press Tour on Friday, NBC President Robert Greenblatt said we can expect more casting announcements in the coming weeks.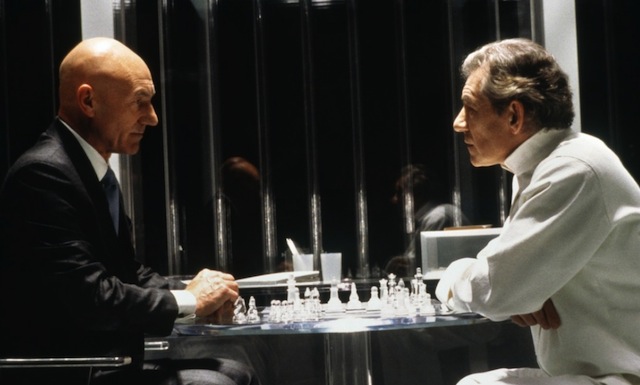 X-MEN: APOCALYPSE
It's not exactly a surprise given what we know so far about Bryan Singer's upcoming X-Men: Apocalypse, but Patrick Stewart confirmed today that neither he nor Ian McKellen would be reprising their respective roles as Charles Xavier or Erik Lehnsherr in the forthcoming mutant ensemble.
"I was learning quite a lot more about it last night," Stewart tells Larry King (via Yahoo! Movies), hinting that he's still maintaining a close connection to the franchise. "It is going to be looking very much at the earlier lives of all our characters. And so I don't think we'll be making an appearance."
Confirmed to star James McAvoy, Michael Fassbender, Jennifer Lawrence, Oscar Isaac and Nicholas Hoult (with more names expected to be confirmed shortly), X-Men: Apocalypse is scripted by Simon Kinberg, Mike Dougherty and Dan Harris. Said to be the conclusion of a trilogy started with X-Men: First Class and continued with X-Men: Days of Future Past, cameras will start rolling on the next adventure in Montreal beginning April, 2015 for a May 27, 2016 release.
It was also recently reported that the new film is looking to cast younger versions of Jean Grey (Phoenix), Scott Summers (Cyclops) and Ororo Monroe (Storm).
Stewart, meanwhile, is in theaters now, starring opposite Matthew Lillard and Carla Gugino in writer/director Stephen Belber's Match.
THE RETURNED
A&E has revealed the trailer for "The Returned," which will premiere after the Season 3 premiere of "Bates Motel" on Monday, March 9.
"The Returned," from executive producers Carlton Cuse ("Lost," "Bates Motel") and Raelle Tucker ("True Blood"), focuses on a small town that is turned upside down when several local people, who have been long presumed dead suddenly reappear, bringing with them both positive and detrimental consequences. As families are reunited, the lives of those who were left behind are challenged on a physical and emotional level. Interpersonal relationships are examined with intrigue and depth as strange phenomena begin to occur. "The Returned" is based on the popular and International Emmy-award winning French suspense series adapted by Fabrice Gobert and inspired by the feature film, Les Revenants, directed by Robin Campillo.
"The Returned" stars Mary Elizabeth Winstead (Scott Pilgrim vs. the World, Smashed), Mark Pellegrino ("Lost") , Jeremy Sisto ("Suburgatory," "Six Feet Under"), India Ennenga ("Treme"), Sandrine Holt ("House of Cards"), Agnes Bruckner ("24"), Sophie Lowe ("Once Upon A Time in Wonderland"), Tandi Wright ("Nothing Trivial"), Mat Vairo ("Revolution"), Kevin Alejandro ("True Blood"), Dylan Kingwell ("The Tomorrow People"), Aaron Douglas ("Battlestar Galactica"), Dakota Guppy ("Rush"), Leah Gibson (The Twilight Saga: Eclipse), Michelle Forbes ("The Killing"), Rhys Ward ("The Strain"), Scott Hylands ("V"), Terry Chen ("Bates Motel"), Roger Cross ("24").
"The Returned" is produced by A+E Studios and FremantleMedia North America in association with Haut et Court TV SAS, the producer of the French series, for A&E Network. Executive producers are Carlton Cuse for Carlton Cuse Productions, Raelle Tucker for Angry Annie Productions and Thom Beers, Craig Cegielski and Stefanie Berk for FremantleMedia North America.
FRIDAY, JANUARY 16, 2015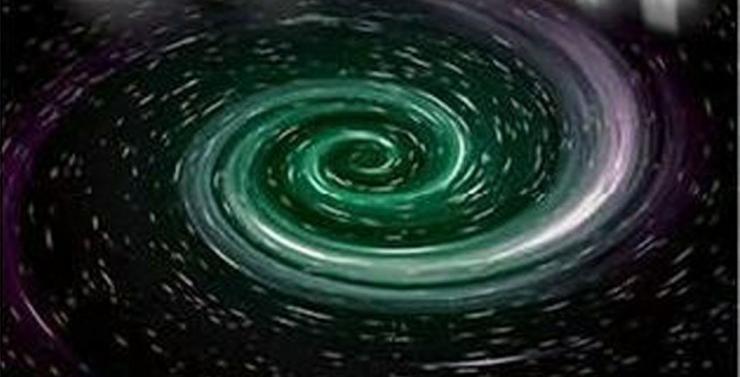 SPIN
In the wake of the first trailer for its upcoming new sci-fi series The Expanse, Syfy (Disclosure - Syfy is Blastr's corporate parent) has announced today at the Television Critics Association press tour that it's going to adapt Robert Charles Wilson's Hugo Award-winning novel, Spin as a six-hour miniseries.

Screenwriter Jim Uhls (Fight Club, Semper Fi, Jumper) has signed on to adapt the 2005 sci-fi novel, which is described as "a stunning combination of a galactic 'what if' and a small-scale, very human story," to the small screen.

Here's an excerpt from the novel's official description (Warning - if you wish to remain completely and totally spoiler-free, you might want to skip it):

Spin is Robert Charles Wilson's Hugo Award-winning masterpiece—a stunning combination of a galactic "what if" and a small-scale, very human story. One night in October when he was ten years old, Tyler Dupree stood in his back yard and watched the stars go out. They all flared into brilliance at once, then disappeared, replaced by a flat, empty black barrier. He and his best friends, Jason and Diane Lawton, had seen what became known as the Big Blackout. It would shape their lives. The effect is worldwide. The sun is now a featureless disk—a heat source, rather than an astronomical object. The moon is gone, but tides remain. Life on Earth is about to get much, much stranger.

A best-selling novel, Spin is the first of a trilogy that also includes Axis and Vortex.

Universal Cable Productions will produce the upcoming miniseries, along with Rob Morrow's Bits and Pieces Picture Company and Olympus Picture's Leslie Urdang. No word yet on when we can expect to see this on our TV screens, though.

ISOLATED
Over the decades, we've seen a boatload of zombie movies and television shows — but not many have tried to create an undead apocalypse using only CGI. Enter Isolated.

This creepy little five-minute short film follows a man who stumbles out of a taxi wreck only to realize he's stepped out into a city seemingly overrun with zombies. The CGI adds a bizarre, disconnected feel to the whole thing that makes it (even more) unsettling. It's hyper-realistic, and the creators did an excellent job with the visuals.

The short film was directed and co-written by Tomas Vergara, with Manuel Vergara also pulling some writing duties. It was produced by Ian Mery.

ARROW
Following a surprising midseason finale, the second half of the third season of The CW's hit DC Comics series "Arrow" is on the way! Today, the network has released a new behind-the-scenes featurette wherein Executive Producer Marc Guggenheim teases what's to come starting with the midseason premiere next week. Titled "Left Behind," the new episode airs Wednesday, January 21 at 8:00 p.m. ET/PT. Also below is an extended trailer for the episode, posted on the series' Twitter feed.

"Left Behind," is officially described as follows:

"In the aftermath of Oliver's fight with Ra's al Ghul, Diggle and Arsenal continue to protect the city in the Arrow's absence. However, after three days without hearing from Oliver, they begin to fear the worst may have happened to their friend. Felicity refuses to believe that Oliver could be dead until Merlyn pays the team a surprise visit. Thea suspects there is something more behind Oliver's disappearance and asks Merlyn for a favor. Meanwhile, Ray tests a part of his new suit and Laurel takes up the mantle of the Black Canary."

Directed by Glen Winter and written by Marc Guggenheim & Erik Oleson, "Left Behind" is set to air on January 21 at 8:00 p.m. on The CW.
THURSDAY, JANUARY 15, 2015
SALEM
Two familiar faces will be joining Mary Sibley's (Janet Montgomery) Witch War in "Salem" Season 2. WGN America announced on Wednesday (Jan. 14) that Lucy Lawless ( "Parks and Recreation") and Stuart Townsend ( "Betrayal") will be joining the cast as recurring guest stars for the upcoming season. Lawless will be taking on the role of Countess Marburg, "one of the last remaining survivors of the legendary line of ancient German witches." Meanwhile Townsend will recur as English aristocrat Samuel Wainwright, a doctor trying to uncover the secrets of Salem while keeping his own under wraps. They are joined by Joe Doyle and Oliver Bell as regular characters. Doyle joins the cast as Baron Sebastian Marburg -- Lawless' son. Bell will pick up his role of Mary's long-lost son discovered to still be alive in the Season 1 finale. Showrunner Brannon Braga told Zap2it after the finale that knowing her son is alive will change Mary, but the first Season 2 trailer shows it's not safe to assume she'll become fully redeemable. Mary isn't the only formidable witch in Salem anymore either. A new teaser trailer shows Anne Hale (Tamzin Merchant) in a darker light than she's been seen before.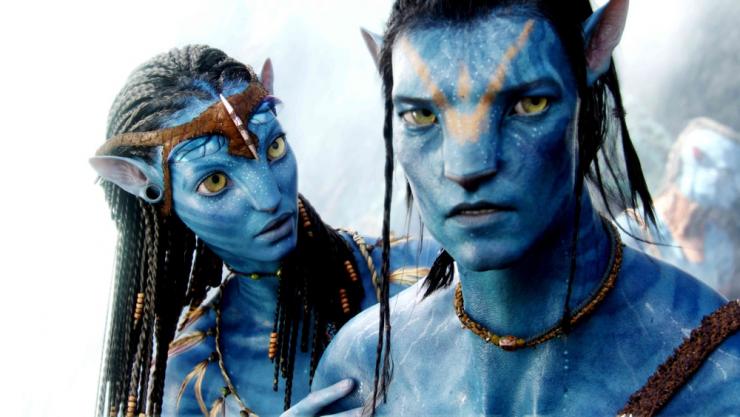 AVATAR 2 - 2017?
According to the Associated Press, James Cameron dropped a little bomb while speaking at an industry event in New Zealand. The legendary filmmaker revealed that the first of three proposed new Avatar sequels would be pushed back a year, meaning we won't get see Avatar 2 in 2016 as originally planned, but in 2017. That's a bit of a bummer for anyone looking forward to a return trip to Pandora. Here's what Cameron said: "There's a layer of complexity in getting the story to work as a saga across three films that you don't get when you're making a stand-alone film." The Titanic director also added that the goal was to have all three scripts completed this month. Entertainment Weekly pointed out that Cameron already made the same promise back in April of last year on Reddit, saying that the scripts would be ready within six weeks. Make of that what you will. He also told the assembled press: "We're writing three simultaneously. And we've done that so that everything tracks throughout the three films. We're not just going to do one and then make up another one and another one after that. And parallel with that, we're doing all the design. So we've designed all the creatures and the environments." Cameron also added that he believed it was important that each sequel linked forward to the next movie, but that each film also has to offer some sort of resolution so that viewers wouldn't be left hanging. Now, that we can get behind. There's nothing worse than leaving viewers on those dastardly cliffhangers, and having to wait a year or more to see what the heck happens next. All three Avatar sequels are set to film in New Zealand, just as the first Avatar was, with consecutive release dates now tentatively set for 2017, 2018 and 2019. TORCHWOOD
We live in a world where TV cancellation is rarely the end for fan-favorite shows — though Doctor Who's most famous spinoff is getting a new lease on life in an old-school way. Most canned shows with a fervent fan base eventually resurface as comic books, which is a medium that's a whole lot cheaper to work in than television. Another option, albeit one you don't hear about too much these days? Radio plays. Former Torchwood star John Barrowman revealed that the BBC is working on a handful of new radio plays set in the Torchwood world, and he's expected to return (assuming they can work out the schedule with Arrow). Torchwood is a more adult-themed spinoff from Doctor Who, and most recently sputtered out with the so-so miniseries Miracle Day. Here are Barrowman's comments from a recent press tour, via The Post-Gazette: "I do know that we're doing three or four radio plays for the BBC for Torchwood. My sister and I are discussing the possibility of writing one of them and whether or not that leads to something [on TV] ... But I'm full-time with Arrow now. It's not a question of me not wanting to do it, it's a question of the BBC wanting to do it or others wanting to do Torchwood. I know the fans are out there so I think they'd be silly not to." Though Miracle Day wasn't pretty, the Torchwood brand is still a beloved sci-fi property. The first two seasons were solid, and the season-three miniseries Children of Earth was an absolute masterpiece. The radio plays concept at least shows the BBC is interested in exploring a continuation, and if it proves to be a major hit, it sounds like a new TV season could at least be a possibility. It's nice to see the BBC keeping the radio plays alive and well, and here's hoping Torchwood is a worthy addition to stand beside the extremely fun Doctor Who radio plays from recent years. CONSTANTINE
When last we saw John Constantine on the Dec. 12 midseason finale, he took a shot to the gut -- literally -- courtesy of his old friend Anne Marie. As an invunche approached, our hero was left bleeding and vulnerable in a Mexican sewer. Now, as Constantine returns to NBC this Friday, at a new time, 8 p.m., we pick right back up with John summoning the demon Pazuzu to possess him and avoid certain death. Sooo yeah, he basically goes out of the pot and into hell's frying pan, and it's the responsibility of Chas, Zed and even Anne Marie to save the Hellblazer's soul. But how can they do that while his mind is locked up with Pazuzu and his body is locked up in a Mexican jail? By using some exorcise equipment (get it?) and clever distraction. In the following exclusive clip from "The Saint of Last Resorts: Part Two," "Zed joins Chas in Mexico to try and get into the prison where John is being held; she uses some of her best assets ..." THE FLASH
We've got less than a week now before the new DC Comics superhero hit "The Flash" races back with its 10th episode, the midseason premiere, "Revenge of the Rogues." Today, The CW has released an extended trailer for upcoming second half of the first season! TheWrap, meanwhile, is reporting that "Dexter" star Devon Graye has been cast in the series' upcoming 17th episode as the Axel Walker version of The Trickster. As reported late last year, Mark Hamill is already set to play the original Trickster, James Jesse, reprising the role from the 1990s "The Flash" series. First, though, "Revenge of the Rogues," airing Tuesday, January 20, will feature the return of both Captain Cold (Wentworth Miller) and Heat Wave (Dominic Purcell) as well as the debut of Pied Piper (Andy Mientus). The official episode description reads as follows: Leonard Snart AKA Captain Cold returns to Central City with a new hotheaded partner in tow – Mick Rory AKA Heat Wave. The duo plan to steal a multi-million dollar painting, but Cold has another agenda while in town – to set a trap for The Flash. Snart and Mick kidnap someone close to The Flash and threaten to kill them unless The Flash shows up for a battle of fire and ice. Barry tells Joe (Jesse L. Martin) he isn't sure he should take on Snart again after the casualties that happened the last time they fought. Meanwhile, Barry asks Dr. Wells (Tom Cavanagh), Caitlin (Danielle Panabaker) and Cisco (Carlos Valdes) to help him double his training efforts so he's ready for the Reverse Flash when he returns to Central City. Iris (Candice Patton) deals with the aftermath of Barry's confession, and Cisco makes the CCPD a new shield. "Revenge of the Rogues" is directed by Nick Copus and written by Geoff Johns & Kai Yu Wu.
WEDNESDAY, JANUARY 14, 2015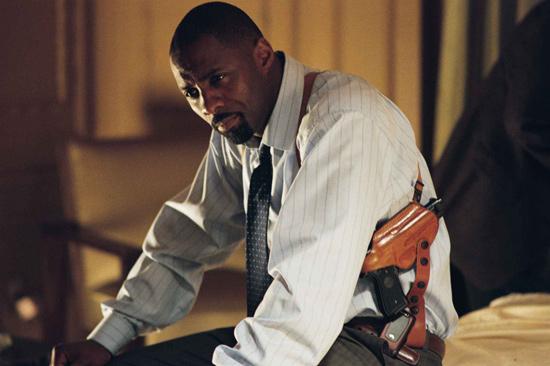 POE MUST DIE
We know Idris Elba as many things: A rough detective with personal demons, an Asgardian warrior, a canceler of apocalypses. The actor and musician also happens to be a producer of growing stature, though, and the next project he's developing could earn him even more love from genre fans.

Variety reports that Elba has optioned Marc Olden's novel Poe Must Die and plans to adapt it into a trilogy of films. The novel stars the legendary writer of the macabre, who's drunk and in mourning for his wife until he gets a letter from Charles Dickens by way of a bare-knuckle boxer named Pierce James Figg. Figg is on the trail of a powerful psychic and sorcerer, and he needs Poe's help to stop him because, if this evil man gets his hands on the legendary Throne of Solomon and the magical knowledge it supposedly contains, hell will literally break loose on Earth. Now, that's a dark historical fantasy that has us instantly intrigued.

It's not clear yet how soon we might see any results from this development, or whether Elba is interested in being more than a producer for the project, but Poe Must Die sounds like a demonic epic that could put Abraham Lincoln: Vampire Hunter to shame in the right hands. We'll let you know what Elba makes of it.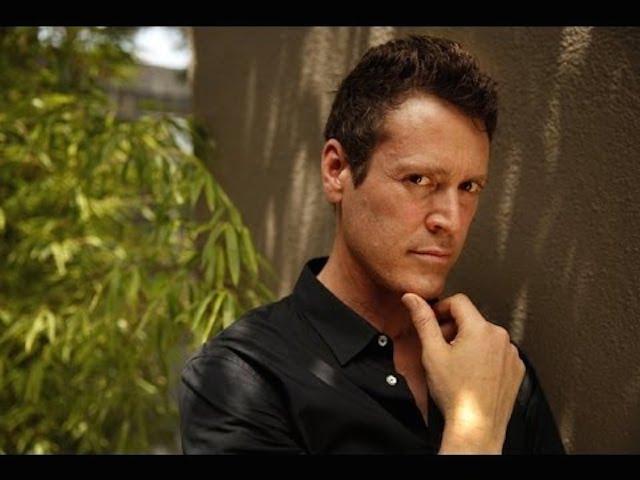 GREENLAND
Syfy is slingshotting into 2015 with some momentum revolving around its new lineup of original programming, beginning with December's Ascension and following it up with this week's premiere of 12 Monkeys and new seasons of Helix and Dominion. Not stopping to take a breather, Syfy announced the latest addition to its development slate, a one-hour futuristic prison drama called 51st State. Produced by Fox 21 TV Studios and Chernin Entertainment, this intriguing series will be written by Craig Borten, Oscar-nominated co-writer of Dallas Buyers Club.
Here's the official synopsis:
As 51st State unfolds, the United States, confronting a prison population stretched to the limit, purchases Greenland and converts it into a frontier prison colony with male and female convicts incarcerated together. Promised conditional freedom, the inmates are driven to the edge of their humanity when that promise is broken, along with others. Struggling to seize control and exact revenge, reluctant heroes emerge -- but what exactly are they fighting for?
Sounds like the fate of Australia during the 19th century when Great Britain dumped its undesirables into a penal colony called Botany Bay. No casting news or pilot airing dates have been announced at this time. It's another in a recent run of sci-fi/horror/fantasy fare announced by the channel, with Syfy's platter of projects in development including the likes of Image Comics' Five Ghosts, Wolfgang Petersen's Old Man's War and David Goyer's Superman prequel series, Krypton. With its interesting concept, let's hope 51st State doesn't get lost in the sci-fi shuffle.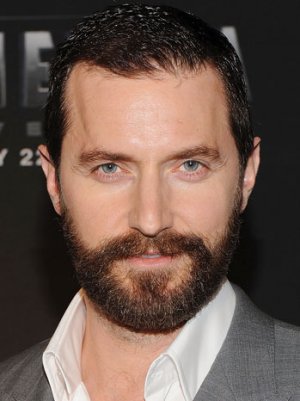 HANNIBAL NEWS
From king of the dwarves to the Tooth Fairy.
Richard Armitage, who played Thorin Oakenshield in the Hobbit trilogy, is set to join the cast of NBC's Hannibal as Francis Dolarhyde, the serial killer chillingly nicknamed the Tooth Fairy. TV Line first reported the news, which was confirmed on the show's official Twitter account.
The British actor takes on the role immortalized on screen by Ralph Fiennes in Brett Ratner's Red Dragon (2002) and also previously depicted by Tom Noonan in Michael Mann's Manhunter (1986). The Tooth Fairy is so called because of the killer's penchant for biting his victims.
Armitage is reportedly set to appear in six episodes of season 3, which will see Hannibal Lecter (Mads Mikkelsen) on the run after his ghoulish double identity is revealed.
Season 3 of Hannibal is set to premiere this year although NBC has yet to confirm dates.
OUTCAST
Entertainment One has just debuted, via USA Today, the trailer to the upcoming actioner Outcast, starring Academy Award winner Nicolas Cage and Star Wars prequels star Hayden Christensen.
Outcast begins when the heir of the Imperial throne becomes the target of assassination by his despised older brother. The young prince's only hope is the protection of his sister, and the reluctant aid of war-weary Crusader, Arken (Christensen),who must overcome his own personal demons and rally the assistance of the legendary Crusader-turned-bandit, Gallain (Cage), to return the prince to his rightful place on the throne.
Directed by Nick Powell from a screenplay by James Dormer, Outcast hits theaters and VOD February 6.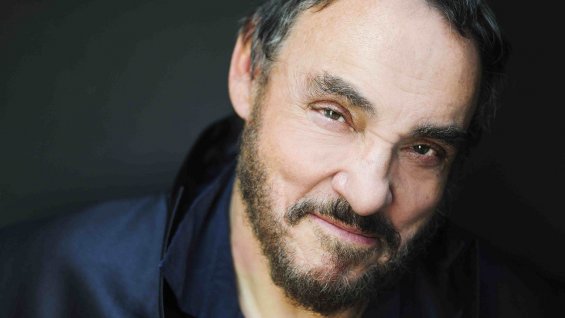 SHANNARA
MTV's Shannara adaptation has found its king.
The Lord of the Rings alum John Rhys-Davies has joined the cast of the Viacom-owned cable network's buzzy adaptation, The Hollywood Reporter has learned.
The 10-episode series takes place in a world set thousands of years after the destruction of civilization as we know it. The adaptation of Terry Brooks' book series follows the Shannara family, whose members can tap into ancient magic to help reshape the world's future. Season one is an adaptation of The Elfstones of Shannara, Brooks' second title in the series. Production will begin in February in New Zealand.
Rhys-Davies will play King Eventine, Amberle's (Poppy Drayton) grandfather, who has ruled the Elvin kingdom of Arborlon for decades, flanked by his sons Arion and Ander. Eventine has done questionable things to keep the Four Lands at peace, but when his beloved granddaughter is chosen to fulfill a dangerous destiny, his path is changed as well.
He joins a cast that also includes Ivana Baquero (Pan's Labrynth) as Eretria, a human described as being from the wrong side of the tracks. Raised by a group of thieves called The Rovers, she has had to use her good looks to survive. After rescuing Wil (Austin Butler, The Carrie Diaries) from danger, she stumbles into being part of Amberle's journey to save the Four Lands. Other previously announced castmembers include Arrow alum Manu Bennett as the druid Allanon and Aaron Jakubenko as the Elven prince Ander.
MTV ordered the adaptation of Brooks' Shannara straight to series in June. The Shannara book series launched with 1977's The Sword of Shannara and now includes more than 25 books made up of multiple trilogies and a prequel. The books are estimated to be the highest-selling unadapted fantasy series in the world, and Brooks is considered the second-highest-selling fantasy author, trailing only Harry Potter's J.K. Rowling.
MTV is hoping Shannara will do for it what Game of Thrones has done for HBO and Outlander has done for Starz. Smallville alums Miles Millar and Al Gough are serving as showrunners and are joined by executive producers Jon Favreau, Jonathan Liebesman, Brooks, and Dan Farah. Liebesman (Teenage Mutant Ninja Turtles) is directing the first two episodes of the series, which also comes from Gene Stein and Sonar Entertainment.
Rhys-Davies' credits include the Indiana Jones franchise and playing Gimli the dwarf in The Lord of the Rings movies. He recently had a voice arc on Once Upon a Time and next appears in Nat Geo's Killing Jesus.
TUESDAY, JANUARY 13, 2015
AVENGERS: THE AGE OF ULTRON
A new trailer for Marvel's Avengers: Age of Ultron has been released, showing off more Ultron and a mind-blowing look at the Iron Man vs Hulk battle that'll finally introduce the Hulkbuster armor. We still don't know if Joss Whedon will be able to capture lighting in a bottle once again for his second Avengers feature, but if the new footage here is any indication, he's definitely on the right track. We get to see even more of James Spader's Ultron, and he's just as creepy and intimidating as you'd expect in the role. Though Ultron obviously gets top billing, it seems the Iron Man vs. Hulk battle could be one of the big action set pieces of the film. Sadly, we still don't know exactly what sets them off on opposite sides. But seriously, it looks absolutely insane. Marvel is going to eventually run out of ways to top itself, but they apparently haven't reached the tipping point just yet.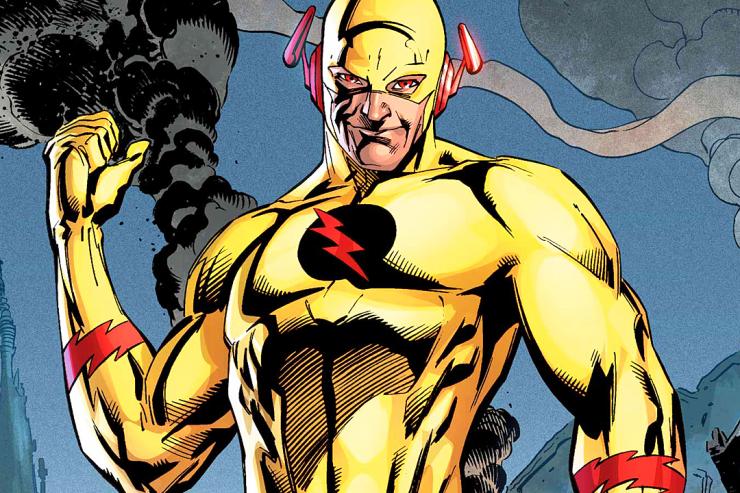 REVERSE FLASH
We've gotten some very solid leads in the first half of the season, but now it's confirmed — here's who is playing iconic villain Reverse-Flash on The CW's Flash series. POSSIBLE SPOILERS AHEAD A ton of Flash info came to light at the annual Television Critics Association's (TCA) winter press tour, including confirmation from Tom Cavanagh that he will be pulling double duty as both Dr. Harrison Wells and Reverse-Flash. His exact quote: "[Wells] is the man in the yellow suit." It doesn't get much clearer-cut than that. But that doesn't mean the mystery is solved, not by a long shot. For one, though a recent episode did reveal Wells in possession of the villain's yellow suit, we've also seen Wells interact with Reverse-Flash (and take a beating from him), so there's obviously a lot more going on than meets the eye. Producer Andrew Kreisberg also addressed the Thawne-sized elephant in the room, noting that Detective Eddie Thawne (Rick Cosnett) will have a connection to the Reverse-Flash. As keen-eyed fans noticed immediately, the character's name bears a striking resemblance to one of Reverse-Flash's comic aliases, Eobard Thawne. He told TV Guide: "His name is not an accident. Eddie's connection to the Reverse Flash lore is going to pay off big time in the back half of the year." Even before the series launched, the producers promised they'd pull no punches in regard to diving head-first into the good stories as soon as possible. After getting everything from Reverse-Flash's introduction to an epic Arrow crossover in the first half of the season, we can't wait to see what they have in the works for 2015.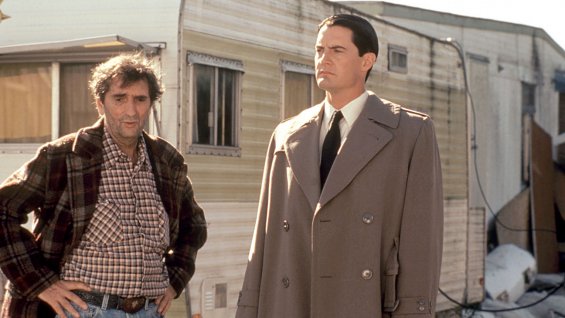 TWIN PEAKS REBOOT
Special Agent Dale Cooper is back on the case. After months of teasing his likely involvement in the Twin Peaks reboot, Kyle MacLachlan confirmed the news at Monday's Showtime panel at the Television Critics Association press tour. "You look like you need a damn fine cup of coffee," he said, sauntering (in character) onstage to join Showtime president David Nevins. The exec introduced MacLachlan then, saying, "He'll be leading the show, and there'll be more cast coming on as we roll through." As soon as news broke in October that David Lynch's and Mark Frost's seminal '90s mystery drama was getting a second life on Showtime, MacLachlan started dropping hints that he was on board to reprise the lead role. (Frost was coy at the time when he discussed how the reboot came to be with The Hollywood Reporter.) Nevins, who admitted he's "more or less writing checks and leaving them alone," wouldn't talk about any plot elements of the return — but he did talk about Lynch's decision to bring it back. "I think it's something they've been toying with for a long time," he said. "I think in David's mind, 25 years seemed like the magic number." That was all that was said about Twin Peaks, likely because it won't even premiere until 2016, though before MacLachlan left the stage he got a laugh and some rare applause by telling the crowd, "I'm very excited to return to the strange world of Twin Peaks. May the forest be with you." With a small group of reporters on stage later in the afternoon, Nevins said that more of the original cast would be joining the reboot as filming approached.

51st STATE
Syfy announced today that it is developing a one-hour drama series about a futuristic prison society, "51st State," from Fox 21 Television Studios. Oscar nominee Craig Borten (Dallas Buyers Club), who sold the pitch to Syfy, will write the pilot. Peter Chernin (Dawn of the Planet of the Apes), Katherine Pope ("New Girl") and Borten will serve as executive producers. As "51st State" unfolds, the United States, confronting a prison population stretched to the limit, purchases Greenland and converts it into a frontier prison colony with male and female convicts incarcerated together. Promised conditional freedom, the inmates are driven to the edge of their humanity when that promise, along with others, is broken. UNFRIENDED
Universal Pictures has brought online the trailer for Unfriended, which unfolds over a teenager's computer screen as she and her friends are stalked by an unseen figure who seeks vengeance for a shaming video that led a vicious bully to kill herself a year earlier. After Universal executives saw a test screening of Unfriended terrify a test audience, the studio acquired the thriller that was developed and conceived by filmmaker Timur Bekmambetov (Wanted, Abraham Lincoln: Vampire Hunter). Directed by Levan Gabriadze, Unfriended is written by Nelson Greaves and produced by Bekmambetov and Greaves, as well as Jason Blum for Blumhouse Productions (Ouija and Paranormal Activity, "The Purge" and "Insidious" series). The April 17 release stars Shelley Hennig, Moses Jacob Storm, Renee Olstead, Will Peltz, Jacob Wysocki, Courtney Halverson and Heather Sossaman. PENNY DREADFUL
Showtime's hit series "Penny Dreadful" is officially set to return with its season two premiere on Sunday, April 26 at 10pm ET/PT. A trailer for the new season has also just hit. The new season will see Vanessa (Eva Green) and Ethan (Josh Hartnett) forming a deeper bond as the group, including Sir Malcolm (Timothy Dalton), Dr. Frankenstein (Harry Treadaway), and Sembene (Danny Sapani), unite to banish the evil forces that threaten to destroy them. Meanwhile, Dorian Gray (Reeve Carney), the Creature (Rory Kinnear) and Brona (Billie Piper) are all waging battles of their own. Season two of "Penny Dreadful" has also already revealed a number of guest stars. Patti LuPone will guest star as a mysterious character of great importance in Vanessa's past. Helen McCrory returns as Evelyn Poole (a.k.a. Madame Kali), the seductive spiritualist who will pose a unique threat to our protagonists this season, along with Simon Russell Beale, who is back as eccentric Egyptologist Ferdinand Lyle. Additional guest stars include Douglas Hodge as a Scotland Yard investigator; Sarah Greene as Poole's powerful daughter, Hecate; and Johnny Beauchamp as a man with a singular past. "This season Vanessa and Ethan face new challenges," says John Logan, series creator and executive producer, "and old enemies, and turn to each other for solace. Their intimacy grows as they are forced to confront their demons together." Logan, a three-time Oscar nominee, is creator, writer and executive producer on "Penny Dreadful" through his Desert Wolf Productions. Oscar winner Sam Mendes (American Beauty, Skyfall) and Pippa Harris (Revolutionary Road, "Call The Midwife"), both of Neal Street Productions, also serve as executive producers.
MONDAY, JANUARY 12, 2015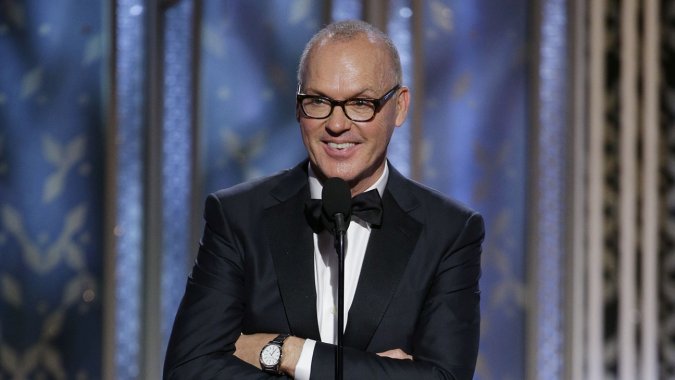 GOLDEN GLOBE AWARDS
Michael Keaton won best actor in a comedy for Birdman at the 72nd annual Golden Globe Awards on Sunday at the Beverly Hilton Hotel.

Also on the film side, Richard Linklater's Boyhood won for best motion picture drama, The Grand Budapest Hotel claimed the win for best comedy, Eddie Redmayne won best actor in a drama for The Theory of Everything, Amy Adams won best actress, comedy or musical, for Big Eyes, Patricia Arquette won best supporting actress for her role in Boyhood and J.K. Simmons claimed a win for Whiplash for best supporting actor.

In TV, Showtime's The Affair won for best drama series and star Ruth Wilson won in the best drama actress category. Meanwhile, Netflix's House of Cards claimed a win for Kevin Spacey's performance. Amazon's Transparent won best comedy series and star Jeffrey Tambor took home the best comedy actor trophy. FX's Fargo nabbed wins for best miniseries or TV movie and best actor for Billy Bob Thornton.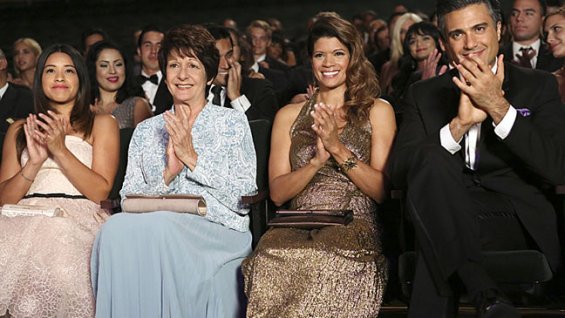 CW RENEWALS
The CW is committing to its scripted programming.
The network used its platform at the Television Critics Association's winter press tour to announce an early renewals for eight series: Arrow, Jane the Virgin, Reign, Supernatural, The 100, The Flash, The Originals and The Vampire Diaries.
"Each of these series have helped define what The CW is today, a network that is home to smart, provocative, quality programming, targeting a savvy adult audience," CW president Mark Pedowitz said in a release ahead of his executive session. "By picking up these shows now, our executive producers can start planning next season's storylines, and rolling these shows out throughout next season guarantees The CW will have more proven original series for our fall, midseason and summer 2016 lineups."
Much has changed for The CW in the past year. With the additions of Jane and DC Comics adaptation The Flash, the network has posted significant gains year-over-year. Its up 14 percent in total viewers — the network's best showing since 2010-11 — and up a tick in the key adults 18-49 demographic to a 0.9, while flat in its key adults 18-34 metric.
This season has seen the network post double-digit demo gains on Monday, Tuesday and Friday. The network often tops some of the Big 4's originals in the advertiser-coveted demo and, with the addition of The Flash, has seen its typically female-dominated audience grow to 40 percent male — up 10 percent compared with four years ago.
The renewals represent additional season orders for all of the network's 2014-15 season's fall slate.
IZOMBIE
The CW kicked off its time at the Television Critics Association on Sunday with a lively session featuring the cast and creators of its latest DC Comics adaptation iZombie.
From Veronica Mars executive producers Rob Thomas and Diane Ruggiero, the series stars Rose McIver as Liv and is based on the DC Comics title of the same name. The drama centers on a medical student-turned-zombie (McIver) who takes a job in the Coroner's Office in order to gain access to the brains she must reluctantly eat so that she can maintain her humanity. However, with every brain she eats, she inherits the corpse's memories. With the help of her medical examiner boss and a police detective, she solves homicide cases in order to quiet the disturbing voices in her head.
"We didn't hue terribly close to the source material," Thomas told reporters of the comic that also features ghosts and vampires. "In the comic, there's a whole monster universe … and we wanted to stay strictly zombie. We really needed a story engine. We wanted a case-of-the-week show. In the comic, the character is a grave digger. By making her an assistant medical examiner and putting her in the morgue, it gave us our case of the week that we wanted."
iZombie of course comes as the undead remains a major theme on both broadcast and cable with AMC's ratings juggernaut The Walking Dead as well as ABC's Resurrection and A&E's reboot of The Returned.
Producers stressed that the series — which naturally features young and attractive zombies including McIver and villain David Anders' Blaine — would see its undead start to decay and become "a Romero" if they don't eat brains. (Thomas also joked that McIver's Liv remains attractive for the sole purpose of creating a sexy marketing poster for The CW, which has become typecast as the home for young and attractive casts.) "The center of the show is a zombie you can fall in love with," Thomas said. "A zombie you want to date. We were calling the show ZILFs. It helped me a lot that Warm Bodies had made it out in the universe and there was an example of a zombie you fall in love with. It gave us the confidence to say a zombie can be a hero of our show."
Producers stressed that Liv's decision to remain an "out and proud" zombie will eventually be addressed as they stressed the new rules for their zombie show. With every case of the week, the brains that Liv eats will see her inherit some of the skills of the dearly departed — and those skills have a limited shelf life that vanish when she consumes a new brain. The brains, producers said, keep her from turning into a "Romero" zombie, which is one of the big elements producers retained from the comic.
"I've never been more terrified of receiving scripts in my life!" McIver joked of the expanding skill sets Liv has each week, which in the pilot include learning Romanian (for which she worked with a dialogue coach) and eventually training with martial arts fighters.
While iZombie features McIver providing key voiceover in the series — a trademark of Thomas and Ruggiero's Veronica Mars with star Kristen Bell — producers said the characters are very different.
"Veronica is hardened," Thomas said. "I always wanted us, at our best in those voiceovers, to strive for this very Raymond Chandler-esque character with a hard-boiled and cynical world view. Liv in iZombie is a more naturally softer character. Part of the journey for her is a return to sweetness and light that are worth going on living for. The attitudes are different."
To that end, the series also features an ongoing love triangle after Liv breaks off her engagement to co-star Robert Buckley's Major after she wakes up as a zombie following a disastrous party on a boat in which Blaine transforms her — creating an instant obstacle for the duo. Meanwhile, Liv's partner in crime at the morgue, Dr. Ravi Chakrabarti (Rahul Kohli) will provide the biggest glimmer of hope as he's the only one who is aware of her zombie transformation and becomes infatuated with curing her.
"We wanted to give her some glimmer of hope out there, the possibility that maybe if she keeps plugging away there could be a good future for her," Thomas said when asked if the series ends with a cure. "I think we're going to have fun with that notion of the show way before episode 100."
iZombie premieres Tuesday, March 17 at 9 p.m., moving Supernatural to Wednesdays starting March 18.
ATOM
The CW could soon be adding a second spinoff from Arrow.
During his time at the Television Critics Association's winter press tour, CW president Mark Pedowitz said the network is already in discussions about expanding the Arrow and Flash universe. While he declined to provide any additional details on just what that would look like, Arrow executive producer Greg Berlanti helped clarify when asked directly if the potential addition could be based on Arrow recurring player Brandon Routh's DC character Atom/aka Ray Palmer.
In the DC Comics, The Atom can shrink down to a subatomic size, with Arrow marking one of the only times the character has appeared in a live-action series.
"We're in very early talks in a very general idea that we haven't gone deeper on yet," Berlanti told reporters, with Routh noting he would like to continue with the role.
"When [the Arrow role] was proposed, I was hesitant to step into DC world again," Routh said. The actor first donned Superman's cape in 2006's Superman Returns.
Pedowitz, whose schedule is lined with three DC shows in Arrow spinoff Flash and an adaptation of iZombie, noted that there's "room for a lot of things" on his schedule and that genre is clearly working for the network. (Freshman The Flash, already renewed for a second season, ranks as The CW's most-watched series.)
Added Berlanti about the network's expanding universe: "We just love this universe and we want to keep growing it," he told THR. "We are trying to do more of what we enjoy, and it's true: the shows are so plentiful with characters and storylines. There's a region of the universe that we felt like we haven't dealt with yet that we'd like to deal with."
THE MESSENGERS
The CW has brought online an extended first look at their apocalyptic new drama "The Messengers," premiering on Friday, April 10 at 9:00 p.m. ET.
When a mysterious object plummets to Earth, the blinding explosion it causes sends out a shock wave that instantly connects five strangers who awaken after the pulse with extraordinary gifts they can barely believe. Most mysterious of all is a figure known only as The Man, who brings death and suffering wherever he appears. The wheels of Revelation have begun to turn, and these five newly christened Angels of the Apocalypse may be the only hope for preventing the impending Rapture.
"The Messengers" stars Shantel VanSanten ("Gang Related," "One Tree Hill"), Jon Fletcher ("City of Dreams"), Sofia Black-D'Elia ("Betrayal," "Gossip Girl"), JD Pardo ("Revolution"), Joel Courtney (Super 8), Anna Diop ("Everybody Hates Chris"), Craig Frank ("Mixology") and Diogo Morgado ("Son of God," "Sol de Inverno").
"The Messengers" is produced by CBS Television Studios and Warner Bros. Entertainment, in association with Thunder Road Pictures with executive producers Trey Callaway ("Revolution," "CSI: NY"), Basil Iwanyk (The Town, "The Expendables" film franchise, "Clash of the Titans" film franchise) and co-executive producers Eoghan O'Donnell ("Teen Wolf"), Kent Kubena (the upcoming Gods of Egypt,""Turistas") and Ava Jamshidi.
SUNDAY, JANUARY 11, 2015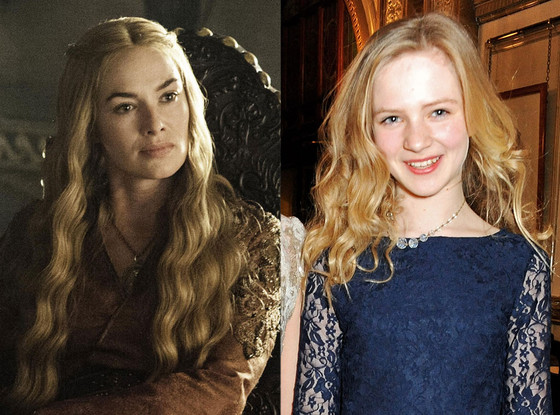 GAME OF THRONES NEWS
Though we still have a way to go until we return to Westeros for another season of 'Game of Thrones', a few details about the acclaimed HBO fantasy drama have been slowly seeping out. Here and there we'd see some leaked photos or hear rumors about what won't be included from George R.R. Martin's novels, but now we have some concrete casting news that says a lot about what we can expect in the next chapter of the story.

With so many characters and major events happening in the present, the show never saw fit to include flashbacks in the make up of the storylines. However, that dynamic will soon change for season five because Nell Williams has been cast as a young Cersei Lannister. Of course, there's a possibility that magic reverted Lena Headey's character back to her childhood self, but scenes set in the past seem to be the more logical scenario.

Watchers On The Wall first reported the news that Williams landed the role. The relatively unknown actress has very few credits under her belt, but she did star in the British sitcom 'The Revolting World of Stanley Brown' alongside 'Game of Thrones' alumni Dean-Charles Chapman, who appeared on the show as Cersei's youngest child Tommen Baratheon during season four.

The site is also sure not to spoil anything for the fans that haven't gotten around to reading the books just yet and just mentions that the flashbacks involving Williams' Cersei will likely involve her and her friends interacting with an older lady named Maggy the Frog. Chances are that we'll be seeing her cross paths with Charles Dance's Tywin Lannister as he has previously been confirmed to return for the fifth season despite being killed off in cold blood.

'Game of Thrones' returns for a fifth season on Sunday, April 12 on HBO.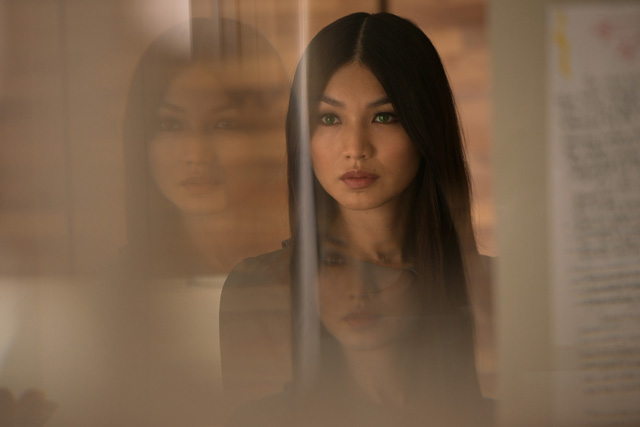 HUMANS
AMC has provided a first look at actress Gemma Chan as 'Synth' Anita in Channel 4 and AMC's new drama, "Humans."
Channel 4, AMC and Kudos' new series is set in a parallel present, where the latest must-have gadget for any busy family is a 'Synth' – a highly-developed robotic servant eerily similar to its live counterpart. In the hope of transforming the way they live, one strained suburban family purchases a refurbished synth only to discover that sharing life with a machine has far-reaching and chilling consequences.
Starring William Hurt (A History of Violence, "Damages"), Katherine Parkinson ("The IT Crowd," "The Honourable Woman"), Tom Goodman-Hill ("The Devil's Whore," "Mr Selfridge"), Colin Morgan ("Merlin," "The Fall"), Rebecca Front ("The Thick Of It," "Just William"), Neil Maskell ("Utopia," "The Mimic") and Gemma Chan ("Dates," "Fresh Meat").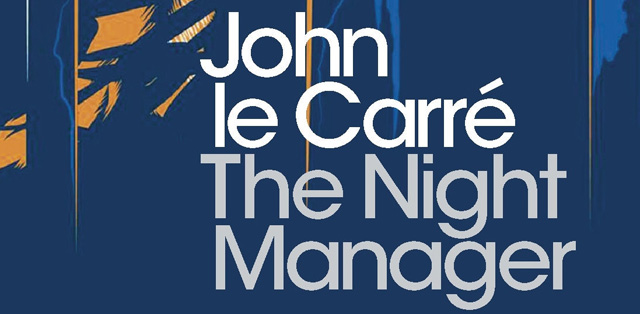 THE NIGHT MANAGER COMES TO AMC
BBC One, The Ink Factory and AMC today announced a co-production partnership for the television adaptation of John le Carré's novel "The Night Manager." Hugh Laurie ("House") and Tom Hiddleston (The Avengers, War Horse, Midnight in Paris) will star in the mini-series, which is set to begin filming in spring 2015. Susanne Bier, who won an Academy Award for In a Better World, will direct.
A contemporary interpretation of le Carré's espionage drama – and the first television adaptation of a le Carré novel in more than 20 years – "The Night Manager" mini-series will bring together love, loss and revenge in a complex story of modern criminality. The eagerly anticipated series follows former British soldier Jonathan Pine (Hiddleston) as he navigates the shadowy recesses of Whitehall and Washington where an unholy alliance operates between the intelligence community and the secret arms trade. To infiltrate the inner circle of lethal arms dealer Richard Onslow Roper (Laurie), Pine must himself become a criminal.
"'The Night Manager' is truly the whole package. It's a terrific piece of source material, great producers in The Ink Factory, a phenomenal writer in David Farr, an award-winning director in Susanne Bier, and two incredibly talented actors," said Joel Stillerman, AMC's executive vice president of programming, production and digital content. "Beyond that, it represents AMC's continuing commitment to finding creative ways to work with the international community to bring the best television to our network – an initiative we have ramped up very quickly that has already resulted in multiple high-quality projects for our air. We're thrilled to be in business with the BBC and the fantastic 'Night Manager' team."
Ben Stephenson, Controller, BBC Drama Commissioning, said: "It's a fantastic coup to bring le Carré back to our screens after more than 20 years. He is quite simply one of the greatest novelists of our time, and I am sure that with AMC, Tom Hiddleston and Hugh Laurie on board, this will be one of the BBC's most unique, ambitious and unmissable dramas."
Simon Cornwell of The Ink Factory said: "Working with AMC to deliver 'The Night Manager' to U.S. and Canadian audiences is a huge privilege. AMC has established itself as one of the great innovators in television in the 21st century, and alongside the BBC we believe they are the best possible partners to support this incredible project. In Hugh Laurie and Tom Hiddleston we have the core of an extraordinary cast, in Susanne Bier a great director, and in David Farr, an exceptional writer who is bringing a brilliant contemporary take to one of le Carré's finest novels. We couldn't be more excited!"
?Hugh Laurie said: "I loved 'The Night Manager' when it was published, and for more than 20 years have yearned to see it realized on screen; I am now thrilled and honored to have the frontest of front row seats. All the moving parts are finely machined – we just have to not mess it up."
Tom Hiddleston said: "I could not be more excited to join BBC One, The Ink Factory and AMC for 'The Night Manager.' Jonathan Pine is a thrilling prospect. Described by John le Carré as a 'sometime army wolfchild with a special unit' in the British forces, 'caterer, chef, itinerant hotelier, perpetual escapee from emotional entanglements, collector of other people's languages, self-exiled creature of the night and sailor without a destination,' Jonathan Pine is the most mysterious and complex kind of British hero. It's an honor and a privilege to work with such truly impeccable collaborators as Hugh Laurie and Susanne Bier in bringing this to the screen. David Farr's screenplay, adapted from le Carré's brilliant novel, is absolutely outstanding. I'm beyond thrilled and I can't wait."
Susanne Bier said: "John le Carre's 'The Night Manager' is a relentlessly exhilarating thriller with profound emotional depths. Its narrative is carried by two secretive, alluring protagonists, Roper and Pine. David Farr's elegant script perfectly orchestrates the central cat-and-mouse game between these two irresistibly flawed characters. That Hugh Laurie and Tom Hiddleston will be playing Roper and Pine, respectively, is so thrilling to me. Their shared soulfulness, precision and sharp humor will seduce us all, both through Roper's charming yet insidious manipulations and Pine's unsettlingly enigmatic struggle to do the right thing. It is a great honor to be directing 'The Night Manager' and to be part of the collaboration between AMC, BBC1, The Ink Factory and Stephen Garrett. I could not be more excited."
Published in 1993, "The Night Manager" is one of le Carré's most beloved and critically acclaimed books. A fusion of spy story and tale of organized crime, the novel was a best-seller in the United States and the UK, translated into over 20 languages and selling over a million copies in North America alone.
"The Night Manager" will be produced by The Ink Factory ("A Most Wanted Man") for broadcast on BBC One and AMC in 2016. Executive producers are Stephen Cornwell and Simon Cornwell for The Ink Factory, Stephen Garrett, David Farr, and Polly Hill for the BBC. The series was commissioned for BBC One by Charlotte Moore and Ben Stephenson, and Joel Stillerman, Marci Wiseman and Kristin Jones for AMC. "The Night Manager" is adapted by David Farr (Hanna, "Spooks") from John le Carré's original novel. Rob Bullock ("The Suspicions of Mr Whicher," "Chasing Shadows") will produce for The Ink Factory.
THE WALKING DEAD
AMC has released this new promo for "The Walking Dead," which will will return on February 8, 2015 for the remaining episodes of Season 5 and has already been renewed for a sixth season, set to begin in the fall of 2015.
After the tragic events of the mid-season finale – as well as losing the possibility of a cure in Washington, DC – Rick Grimes' band of survivors find themselves on the road, surviving day-to-day and trying to hold on to their shredded humanity and dwindling hope. Stripped of security and without a direction for the future, some of the group near their breaking point, some find themselves hardened and cold and some just try to grasp onto what little they have left.
Though they are still breathing, the line between Rick's group and the dead is starting to blur. Could there be anything at this point that brings them back to life?
Based on the comic created by Robert Kirkman, Tony Moore, and Charlie Adlard, "The Walking Dead" stars Andrew Lincoln, Norman Reedus, Steven Yeun, Lauren Cohan, Chad Coleman, Chandler Riggs, Melissa McBride, Emily Kinney, Danai Gurira and Sonequa Martin-Green.
SATURDAY, JANUARY 10, 2015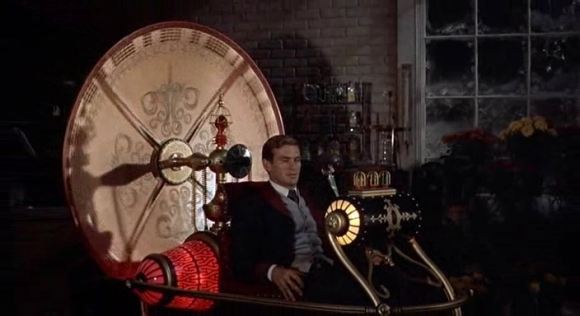 ROD TAYLOR - DEAD AT 85
The star of two of the best genre films of the 1960s has passed beyond the realm of human understanding.

Australian-born actor Rod Taylor died on Wednesday (Jan. 7) at his home in Los Angeles, just four days short of his 85th birthday. Taylor will forever be immortalized in sci-fi and horror history by the two roles that were arguably his most famous: As the time traveler H. George Wells (a homage to author H.G. Wells) in George Pal's 1960 classic The Time Machine, and as lawyer Mitch Brenner in Alfred Hitchcock's 1963 horror masterpiece, The Birds.

Taylor's other genre credits included an early role in the 1956 B-movie World Without End and a featured part in the 1959 Twilight Zone episode "And When the Sky Was Opened." He made his film debut in 1954 and was most active during the 1960s and 1970s on the big screen, transitioning later to TV movies and series. His final performance was as Winston Churchill in Quentin Tarantino's 2009 World War II film Inglourious Basterds (which almost counts as sci-fi since it's an alternate-history tale).

Born in Sydney, Taylor was originally interested in becoming an artist but decided on acting after seeing Laurence Olivier in a touring version of Richard III. He traveled to Los Angeles in 1954, where his early work included a supporting role in James Dean's last film, Giant.

The Time Machine was his first leading role, as his time traveler journeyed into the far future -- the 8,000th century, to be exact -- and battled to free the gentle Eloi from the domination of the monstrous Morlocks. The movie is considered one of the great sci-fi spectacles of its time.

Three years later, he was the male lead again in Hitchcock's The Birds. His small-town lawyer brings a hedonistic heiress (Tippi Hedren) back home to Bodega Bay, Calif., just as the town comes under siege from hordes of aggressive avians. Taylor appeared in a, shall we say, much less revered variation of this theme, a Sci-Fi Channel movie called KAW, in 2007.

Although he never quite became a huge star, Taylor's place in cinematic history is secure. He is survived by his third wife and his daughter from a previous marriage.

CHAPPIE
Neill Blomkamp's made his name by crafting big sci-fi movies that tackle big ideas, and he's at it again with Chappie, the story of a robot who can think and feel, the strange family that gathers around him and the people who want him destroyed.

The film stars longtime Blomkamp collaborator Sharlto Copley as the titular robot, who's created by a robotics expert (Dev Patel) very interested in whether he can make a machine that thinks and feels just like a human child. Chappie does indeed think, feel and learn, surrounded by his creator and a pair of criminals (South African rappers Die Antwoord) who kidnap him but also grow to care about him. But not everyone thinks this new form of consciousness is a good thing. Former soldier Vincent (Hugh Jackman), a man convinced the only good robots are ones under direct human control, sees Chappie as a threat, and his superior (Sigourney Weaver) sees creations like Chappie as a threat to the future of humankind (clearly, she saw The Terminator). Together, they're bent on destroying the robot, and the chase is on.

While the first trailer for the film focused mostly on introducing us to Chappie and showing us some inspiring moments in which he learns and gains awareness, this trailer is more about the film's central conflict, and about shedding light on the society in which the film takes place, a near-future world in which robotic police have become commonplace. There are some great action visuals, plenty of soaring dramatic music, and lots of Hugh Jackman looking angry.

Chappie hits theaters on March 6.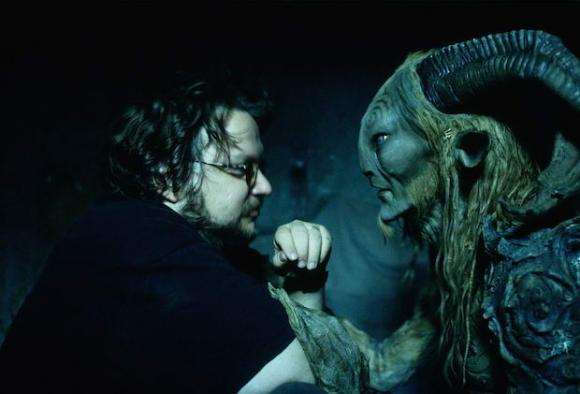 CARNIVAL ROW
One of Guillermo del Toro's long-forgotten, and extremely cool, would-be film projects is being resurrected as a television series at Amazon — and it sounds like the noir fairy tale we never knew we wanted.
Dubbed A Killing on Carnival Row, the project was born as a film script picked up by New Line in 2005 by up-and-coming writer Travis Beacham (Pacific Rim). Del Toro (Hellboy, Pacific Rim) loved the noir tale of humans, fairies and other fantastic creatures all sharing a Victorian-esque city. The original pitch followed a detective, investigating a serial killer allegedly picking off mystical creatures, who eventually becomes the prime suspect in the murder spree.
Del Toro and Beacham worked for years to try and get the film off the ground, and even Neil Jordan (Byzantium) and Tarsem Singh (The Cell) signed on to direct at different times after del Toro stepped away to pursue other projects. But the studio finally shelved it around 2011 and the project slipped into development hell. Until now. It's an extremely cool concept, and it's hard to believe that a full decade later it'll finally be brought to life.
Here's what del Toro told The Hollywood Reporter about finally getting Carnival Row off the ground:
"We tried to do it for so long as a film that the rights reverted back to Travis as a basic story, and I've always talked about it to anyone that would listen. We always had too many ideas to fit into the feature. We can now really focus on the world and the politics of what it is to be a magical being in Victorian steampunk atmosphere where you are seen as a lesser being."
At this point, it seems del Toro will co-write the pilot script with Beacham and TV veteran Rene Echevarria (The 4400), and also direct the pilot before heading off to pit more robots against giant monsters in Pacific Rim 2 (Side note: Guillermo del Toro has the coolest life ever, right? -Ed.). He should just be able to squeeze it in after the gothic horror tale Crimson Peak.
All three are signed on to serve as executive producers, assuming Amazon picks up the project to series. But, considering that the streaming service just axed Chris Carter's The After, you'd have to think there's a sci-fi slot ready for the taking.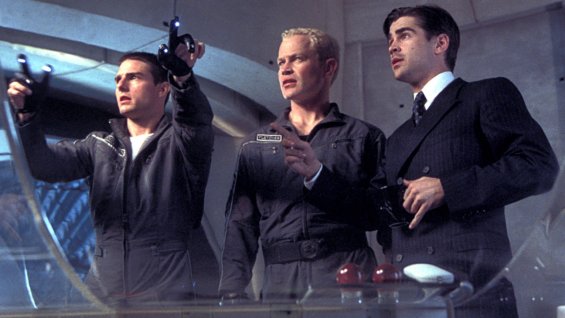 MINORITY REPORT - PILOT FOR FOX
Fox has picked up to pilot its follow-up to Minority Report, The Hollywood Reporter has learned.
The drama, one of the hottest scripts heading into pilot season at the network, landed at Fox with a hefty put-pilot commitment with a significant penalty attached.
From Amblin Television, Paramount Television and the network's sibling studio 20th Century Fox Television, Godzilla's Max Borenstein penned the script and executive produces. Amblin's Justin Falvey and Darryl Frank executive produce. Kevin Falls (The West Wing) will serve as showrunner.
The Minority Report follow-up takes place 10 years after the end of Precrime in D.C., when one of the three Precogs struggles to lead a "normal" human life, but remains haunted by visions of the future. He meets a detective haunted by her past who just may help him find a purpose to his gift.
The original sci-fi film was directed by Steven Spielberg, who executive produces Amblin's Falling Skies, Under the Dome, Extant and Fox's Red Band Society,among others. The feature was loosely based on Philip K. Dick's short story and was set in D.C. in 2054, when Precrime, a specialized police department, arrests criminals passed on "foreknowledge" provided by "Precogs." Tom Cruise starred as the head of the unit, while Colin Farrell played a DOJ agent and Samantha Morton was senior Precog Agatha. 20th Century Fox produced the feature alongside Amblin. Paramount Pictures, which owns DreamWorks' library, released the DVD.
For Amblin, the Minority Report revival comes as the company has seven series on five different networks: ABC's midseason drama The Whispers, CBS' Dome and Extant, FX's The Americans, TNT's Falling Skies and upcoming Public Morals as well as Fox's Red Band Society. The company also has TNT pilot Lumen in the works for a January shoot.
Paramount Television, meanwhile, continues to mine its library for TV. The banner has Nickelodeon's straight-to-series live-action comedy School of Rock in the works. The studio, which returned to TV production with 2013's ill-fated Beverly Hills Cop CBS pilot, is also tapping into its feature library for small-screen takes on Ghost, Terminator and The Truman Show, among other original fare, including Fox's live production of Grease.
For Fox, Minority Report marks its first traditional pilot order for the 2015-16 season. The network, under Fox Television Group co-heads Dana Walden and Gary Newman, previously handed out a straight-to-series pickup for Ryan Murphy's Scream Queens, a comedy horror anthology series. The network also has Turkish remake Runner set up as a cast-contingent pilot.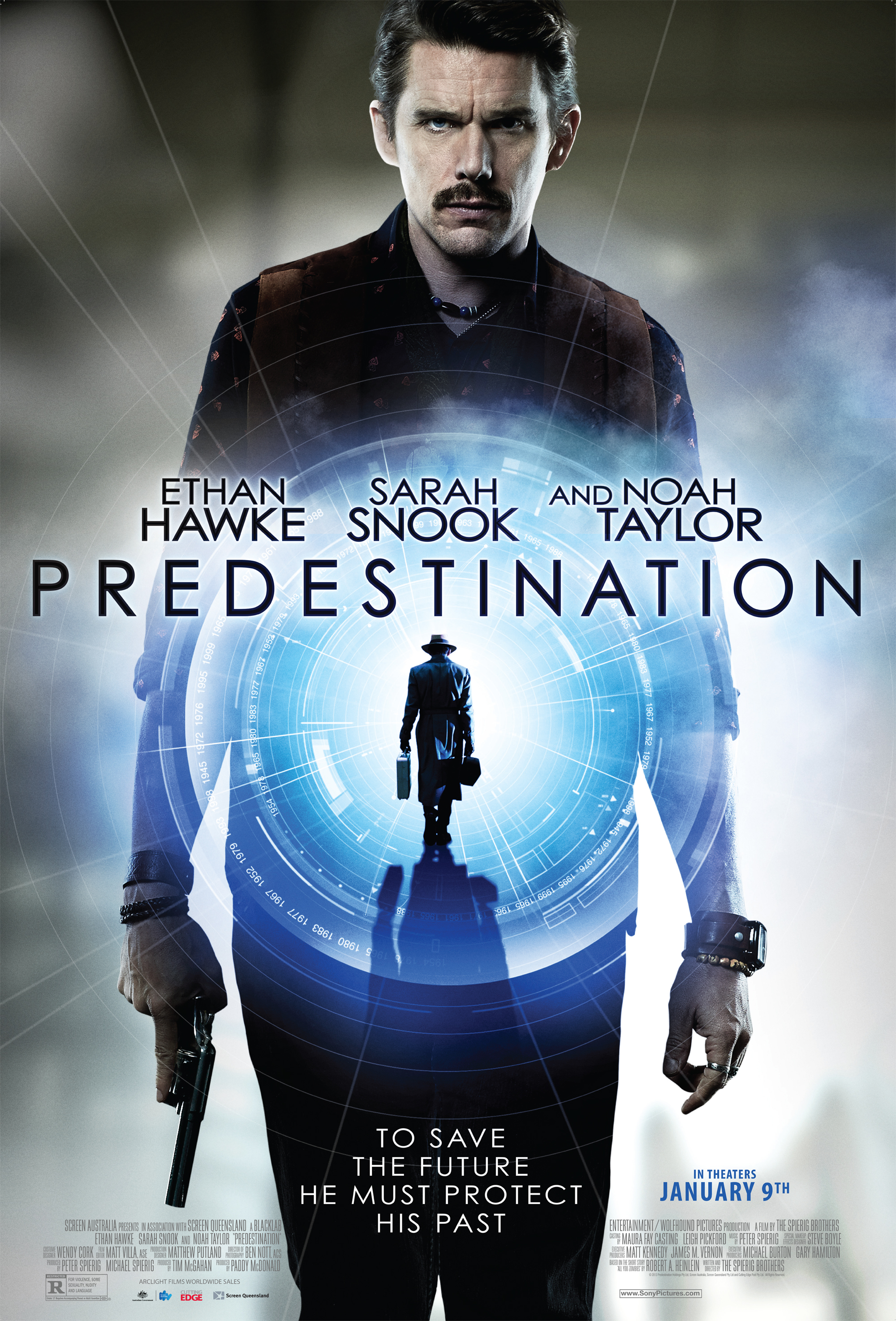 PREDESTINATION
One of the first releases to hit the big screen in 2015 is Predestination, a time-travel thriller based on Starship Troopers and Strange in a Strange Land author Robert A. Heinlein's 1959 short story "All You Zombies," starring Ethan Hawke (Before Midnight, Boyhood) and relative newcomer Sarah Snook (Jessabelle).
Directed by the Spierig Brothers (the sibling pair responsible for 2003's Undead and 2009's Daybreakers), Predestination chronicles the life of a Temporal Agent (Hawke) sent on an intricate series of time-travel journeys designed to prevent future killers from committing their crimes. Now, on his final assignment, the Agent must stop the one criminal that has eluded him throughout time and prevent a devastating attack in which thousands of lives will be lost.
Scripted by Michael and Peter Spierig, Predestination will hit both theaters and On Demand January 9.
JUSTICE LEAGUE: THRONE OF ATLANTIS
DC Entertainment has released a new clip from the upcoming Justice League: Throne of Atlantis.
In Justice League: Throne of Atlantis, Cyborg discovers an imminent threat in the depths of the oceans so powerful that it rallies together the newly formed Justice League. Meanwhile, wandering thousands of feet above the ocean floor is drifter Arthur Curry, a man with strange powers who may be the last chance to bridge the ancient Atlantean world with our own. Superman, Batman, Wonder Woman and the rest of the Justice League must band together as they face off against warmongering Orm, an army of sea creatures, otherworldly weapons and perilous odds. In this all-new epic adventure from the DC Universe, mankind's only hope of escaping from the darkness lies with the guiding light of a man – Aquaman!
Matt Lanter will provide the voice for Arthur Curry in the animated feature. He's joined by Jason O'Mara as Batman, Shemar Moore as Cyborg, Christopher Gorham as The Flash, Sean Astin as Shazam, Nathan Fillion as Green Lantern, Rosario Dawson as Wonder Woman, Jerry O'Connell as Superman, Sam Witwer as Aquaman's devious brother Orm, and Sumalee Montano as his future bride Mera.
Justice League: Throne of Atlantis will debut digitally on January 13, and on Blu-ray and DVD on January 27.
FRIDAY, JANUARY 9, 2015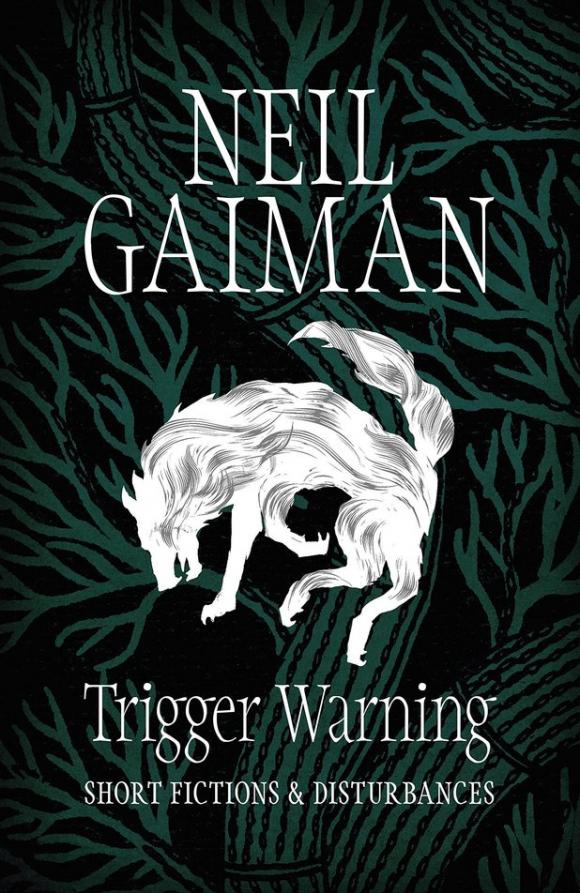 NEIL GAIMAN'S TRIGGER WARNING: SHORT FICTIONS AND DISTURBANCES
Neil Gaiman's next literary opus will be a collection of short stories featuring tales that are set to make fantasy and Doctor Who fans very, very happy. Set to be published on Feb. 3 in both hardcover and ebook format, Trigger Warning: Short Fictions and Disturbances will be filled with a boatload of goodies for all Neil Gaiman fans out there, including "Black Dog," a new short story that will be dipping its toe back into the glorious world of one of the fantasy author's most popular novels, American Gods. And as we said above, we'll also be getting a brand-new Doctor Who story as Gaiman revisits the timey-wimey world of the famous Time Lord (Gaiman previously penned two Doctor Who episodes: "The Doctor's Wife" and "Nightmare in Silver"). The story was apparently written for the show's 50th anniversary back in 2013, and is presumably titled "Nothing O'Clock." If you absolutely CANNOT wait until early February to get your hands on this baby, there will be a special sneak preview, A Little Trigger, which will be released in ebook form on Jan. 13, containing a short story titled "The Thing About Cassandra." (Sadly, it seems this particular sneak peek will only be available for U.K. fans. Boo!)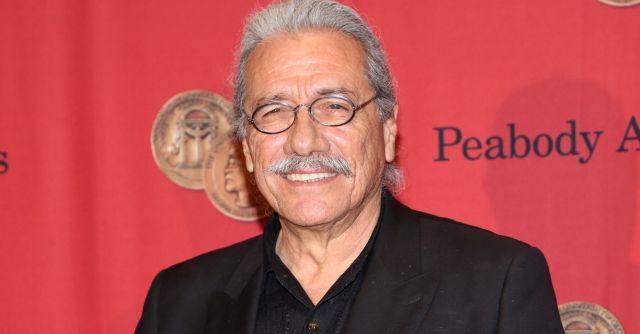 AGENTS OF S.H.I.E.L.D.
Edward James Olmos will forever have the hearts of genre fans everywhere thanks to his roles in classics like Blade Runner and Battlestar Galactica, and now he's set to bring some of that Admiral Adama power to Marvel Studios. Marvel announced today that Olmos will join Agents of S.H.I.E.L.D. when it returns to ABC in March.

BSG

Olmos will play Robert Gonzales, and that's about all we know about his character at the moment. We don't know if he's only around for one episode or if he'll recur for the rest of the season, we don't know if he's a hero or a villain, but Marvel does promise the character's appearance will have "massive repercussions" for Agent Coulson and company. "Edward James Olmos brings an amazing gravitas to any role he inhabits, something we knew we needed for Robert Gonzales," Executive Producer Jeph Loeb said. "When Olmos first appears on our series, everyone will have to take notice--including our favorite Agents." Agents of S.H.I.E.L.D. fans are riding high after a strong first half of the show's second season, which culminated in the official introduction of Inhumans to the Marvel Cinematic Universe, and the season's already been bolstered by guest stars like Lucy Lawless, Kyle MacLachlan and Hayley Atwell as Agent Peggy Carter. Here's hoping Olmos brings even more excitement to the series in the spring. Agents of S.H.I.E.L.D. returns Tuesday, March 3, at 9/8C on ABC.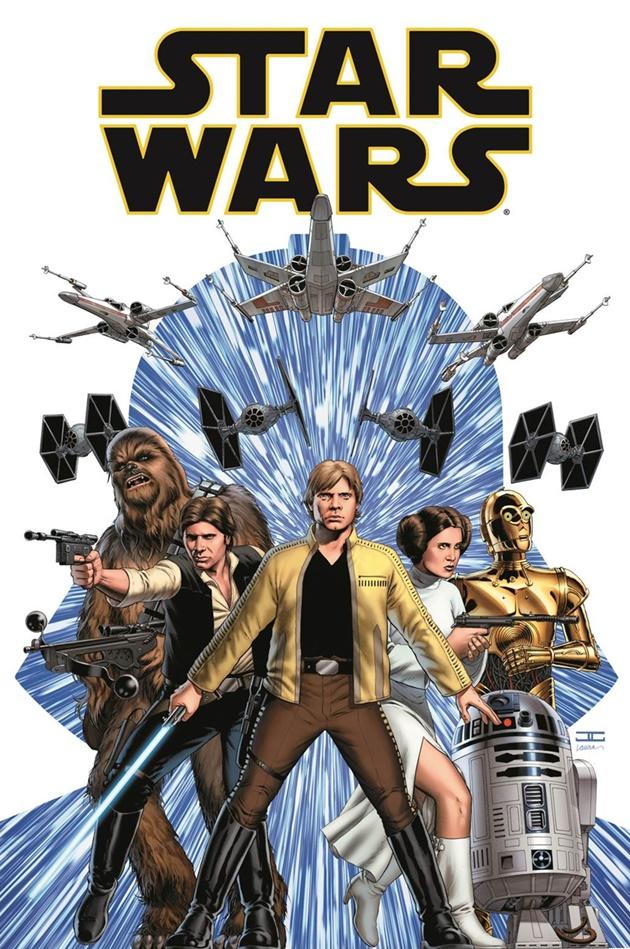 STAR WARS #1
A little more than a year ago, we got the news that, thanks to Disney's purchase of Lucasfilm, Disney company Marvel Entertainment would regain the license to published Star Wars comics for the first time in decades. Since 1991, Dark Horse Comics has published plenty of adventures from a galaxy far, far away, many of them classics, but as 2014 ended, so too did the Dark Horse era of Star Wars comic books.

Next week, after months of waiting and glimpsing previews, we'll all finally get to see the first of Marvel's new Star Wars comics, Star Wars #1, from writer Jason Aaron (Original Sin), artist John Cassaday (Planetary) and colorist Laura Martin (The Authority). The flagship Marvel series picks up where the first Star Wars film leaves off, and will follow Luke Skywalker, Han Solo and Leia Organa as they battle the Empire. The book is the first in a number of new, in-canon Star Wars titles planned by Marvel, and Darth Vader and Princess Leia series are already set to follow.

We've seen glimpses of Cassaday's art for the series before, but today we finally got what we've been hoping for ever since the series was announced during the 2014 San Diego Comic-Con: a lettered preview, along with a few more unlettered action pages that, more or less, speak for themselves. Check out seven pages from Star Wars #1 -- featuring Han, Luke, Leia and the gang doing some covert ass-kicking -- in the gallery below, and pick up the full issue when it hits comic-book shops next Wednesday with loads and loads of variant covers.

THE FLASH
This week, a lot of shows returned from their winter hiatus. Unfortunately, The Flash wasn't one of them. You'll have to wait a couple weeks for its midseason premiere. But, to tide you over, The CW has released a new promo teasing what's to come.

The video is overflowing with villains. We're already familiar with a few, like Captain Cold, Heat Wave and Reverse Flash. While Barry was enjoying the holidays, the bad guys were biding their time. Now they're ready to make a move. Captain Cold and Heat Wave are played by Prison Break alumni Wentworth Miller and Dominic Purcell. And they're not the only ones getting screen time. We also get our first look at the Pied Piper, played by Andy Mientus. From the looks of it, he and Cisco really don't get along. So many villains. So little time. Thank goodness Barry's faster than a speeding bullet (a point the promo drives home). The Flash returns Jan. 20 on The CW. STRANGE MAGIC
Touchstone Pictures and Lucasfilm have released a new behind the scenes featurette that explores both the voice cast and the characters themselves behind the upcoming animated film Strange Magic. Strange Magic is a madcap fairy tale musical inspired by "A Midsummer Night's Dream." Popular songs from the past six decades help tell the tale of a colorful cast of goblins, elves, fairies and imps, and their hilarious misadventures sparked by the battle over a powerful potion. Lucasfilm Animation Singapore and Industrial Light & Magic, which created the CGI animation for 2011's Academy Award-winning film Rango, bring to life the fanciful forest turned upside down. With a story by George Lucas, Strange Magic is directed by Gary Rydstrom ("Toy Story Toons: Hawaiian Vacation," "Lifted"), produced by Mark S. Miller (associate producer Mars Attacks!) and executive produced by Lucas, with a screenplay by David Berenbaum (Elf), Irene Mecchi (Brave, The Lion King) and Rydstrom. The voice cast includes Alan Cumming, Evan Rachel Wood, Kristin Chenoweth, Maya Rudolph, Sam Palladio, newcomer Meredith Anne Bull, Alfred Molina, Elijah Kelley, Bob Einstein and Peter Stormare. Strange Magic will open in theaters on January 23, 2015.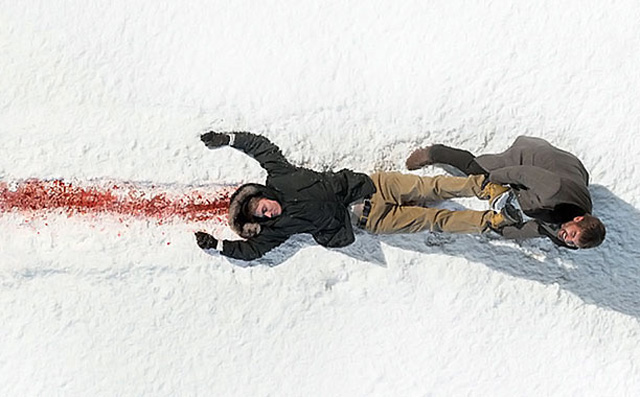 FARGO NEWS
Patrick Wilson ("Angels in America," The Conjuring), Ted Danson ("Cheers," "CSI: Crime Scene Investigation"), and Jean Smart ("Designing Women," "Samantha Who?") have signed on to star in the second installment of FX's miniseries franchise "Fargo," it was announced today by Eric Schrier, President, Original Programming, FX Networks and FX Productions and Steve Stark President, Television Production & Development of Metro-Goldwyn-Mayer Studios. Wilson, Danson and Smart join previously-announced leads Kirsten Dunst and Jesse Plemons. Patrick Wilson will star as Lou Solverson, a clean cut Minnesota State Patrolman, four years back from Vietnam, where he served in the Navy. A humble and competent man, Lou is a devoted husband to his wife Betsy (yet to be cast), and father to four-year-old Molly (yet to be cast). Ted Danson will play Hank Larsson, the Sheriff of Rock County, Minnesota. An unflappable WWII vet who embodies a certain cowboy poetry, Hank is Lou's father-in-law. Jean Smart will play Floyd Gerhardt, the matriarch of the Gerhardt crime family. She's stood by her husband's side for 40 years, but now that he's out of the picture she thinks it's her turn to run things. The all new "true crime" case of "Fargo's" new chapter travels back to 1979 in Sioux Falls, South Dakota and Luverne, Minnesota, where a young State Police Officer Lou Solverson (Wilson), recently back from Vietnam, investigates a case involving a local crime gang and a major Mob syndicate. Helping him piece things together is his father-in-law, Sheriff Hank Larsson (Danson). The investigation will lead them to a colorful cast of characters that includes Karl Weathers (Nick Offerman), the town lawyer of Luverne, Minnesota. A Korean War vet, Karl is a flowery drunk blessed with the gift of gab and the eloquence of a true con artist. Brad Garrett will play Joe Bulo, the front man for the northern expansion of a Kansas City crime syndicate. The new face of corporate crime, Joe's bringing a Walmart mentality to small town America. His number two is Mike Milligan (Bokeem Woodbine). Part enforcer, part detective, Mike is always smiling – but the joke is usually on you. Bulo and his crew have their sights set on the Gerhardt crime family in Fargo, currently led by matriarch Floyd Gerhardt (Smart). With her husband at death's door, Floyd takes over the family business, frustrating her eldest son, Dodd Gerhardt (Jeffrey Donovan). An impatient hothead with a cruel streak to match his ambitions, Dodd can't wait for both his parents to die so he can take over and expand their business from kingdom to empire. Bear Gerhardt (Angus Sampson) is the middle son, an intimidatingly large man who, although inarticulate, is the most decent of his clan. Rye Gerhardt (Kieran Culkin), the youngest of the Gerhardt clan, views himself as a big shot, but in reality he's just a small dog who barks big. Production on "Fargo" will begin in Calgary on January 19 and the 10-episode anthology miniseries is slated to premiere next fall on FX. Emmy Award winning Executive Producers Noah Hawley (showrunner/writer), Joel & Ethan Coen, Warren Littlefield and John Cameron all return for the second installment. "Fargo" is produced by MGM Television and FX Productions, with MGM Television serving as the lead studio. AGENT CARTER
On the heels of the promo images released this morning (view gallery below), ABC and Marvel Entertainment have debuted the first clip from the upcoming third episode of "Marvel's Agent Carter" which you can check out in the player. Titled "Time & Tide," the episode is officially described as follows: "As Agent Carter closes in on Howard Stark's stolen technology, Peggy's secret mission could unravel when the SSR arrests Jarvis and a secret is revealed." Written by Andi Bushell and directed by Scott Winant, "Time & Tide" will air on January 13. "Marvel's Agent Carter" airs Tuesdays at 9 p.m. EST.
THURSDAY, JANUARY 8, 2015
AVENGERS: AGE OF ULTRON
At last night's Samsung's "Night With Marvel" event, Marvel Studios premiered a video featurette that showcased some new footage from Avengers: Age of Ultron focusing on the importance of the movie's big bad robotic villain, played by James Spader. So, what was new? Well, one new shot from Marvel's upcoming summer blockbuster featured a scene of what they believe to be Ultron bots bursting through a train's walls in the slow-motion Quicksilver (Aaron Taylor-Johnson) sequence. A second was from the villa sequence, where everyone's fave Avenger, Iron Man (Robert Downey Jr.) flies at the camera, leaving tumbling Ultron bots behind him. And a third one featured the destruction of a ... Samsung-owned building. IGN also elaborated a bit on the featurette — which was intercut with comments from director Joss Whedon and various actors (they don't specify which actors were featured) talking about the importance of the villain — saying that it showed more extended looks at some Ultron concept art, with shots of it in its broken state and that "the piece really brought home the notion that the villain gets more advanced as the movie goes on." As for director Joss Whedon's comments on the video (which, apparently, may get released online at some point on a Samsung platform), it seems like the director always pictured Earth's Mightiest Heroes fighting Ultron, that he wanted a James Spader-like actor for the role, and so he went for the main man himself. Avengers: Age of Ultron will hit theaters on May 1, 2015. DAREDEVIL ON NETFLIX
We're still waiting for an actual trailer from Marvel and Netflix's upcoming Daredevil series, but now we at least know when we'll get to see the series. Plus, here are some goodies to tide us over. Netflix has finally announced a release date for the 13-episode Daredevil series, which'll go live on April 10. No word yet on whether they'll space out the episodes or drop them all at once for ultimate binge watching. Regardless — woohoo! The new pic, released via a larger feature at USA Today focused on Netflix's expanded slate of original content, shows Charlie Cox (Daredevil) throwing Paul Mann (Piotr) to the ground in what appears to be a darkened alley. Cox is wearing his early Daredevil costume, which is essentially just all black gear and a black bandana tied around his face. We still haven't gotten a peek at the full Daredevil costume (assuming they even introduce it this season), though the back-to-basics look seems to be a good fit for the "grittier," street-level tales of the Marvel Cinematic Universe. Considering that Marvel's second television series, Agent Carter, is looking like a big improvement over Agents of S.H.I.E.L.D., we can't wait to see what they do with Daredevil. Though it won't feature anything too gratuitous, executive producer Steven DeKnight told USA Today they plan to "explore morally gray areas, where you're rooting for the bad guy and questioning the good guy," which is something they believe would've been a bit harder to pull off on network television. Along with the release date, Marvel also dropped an atmospheric little motion poster (above), and official poster (below), to remind us all to set our calendars. THE FLASH NEWS
It's been nearly a month since The CW's new superhero hit "The Flash" took a midseason break. The good news is that the wait won't be much longer. Grant Gustin's Barry Allen will be back on the network with a brand new episode on Tuesday, January 20 at 8:00 p.m. ET/PT. Today, The CW has premiered TV spots that celebrate the return of the scarlet speedster and play up the series' rapidly-growing rogues gallery. Titled, "Revenge of the Rogues," the series' 10th episode is set to feature the return of both Captain Cold (Wentworth Miller) and Heat Wave (Dominic Purcell) as well as the debut of Pied Piper (Andy Mientus). The official episode description reads as follows: Leonard Snart AKA Captain Cold returns to Central City with a new hotheaded partner in tow – Mick Rory AKA Heat Wave. The duo plan to steal a multi-million dollar painting, but Cold has another agenda while in town – to set a trap for The Flash. Snart and Mick kidnap someone close to The Flash and threaten to kill them unless The Flash shows up for a battle of fire and ice. Barry tells Joe (Jesse L. Martin) he isn't sure he should take on Snart again after the casualties that happened the last time they fought. Meanwhile, Barry asks Dr. Wells (Tom Cavanagh), Caitlin (Danielle Panabaker) and Cisco (Carlos Valdes) to help him double his training efforts so he's ready for the Reverse Flash when he returns to Central City. Iris (Candice Patton) deals with the aftermath of Barry's confession, and Cisco makes the CCPD a new shield. "Revenge of the Rogues" is directed by Nick Copus and written by Geoff Johns & Kai Yu Wu.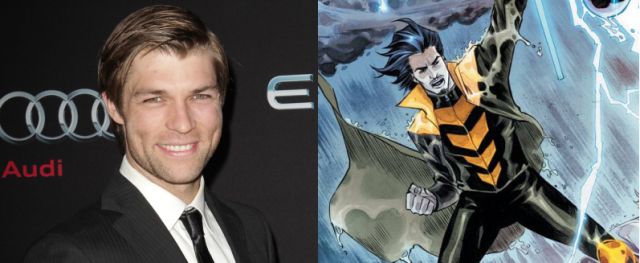 Following a rumor that sprung up online, ComicBook.com has confirmed that former "Spartacus" star Liam McIntyre has joined the cast of "The Flash" as Mark Mardon, aka The Weather Wizard. He is set to appear in the upcoming 15th and 16th episodes of the series. Fans of The CW series will recall that a Weather Wizard character appeared in the pilot episode of the series with Chad Rock appearing as Clyde Mardon. McIntyre will take on the other half of "The Mardon Brothers" with a thirst for vengeance that will lead him directly to Detective Joe West. This marks the third sibling added to the show's cast recently following Peyton List as Lisa Snart, the sister of Captain Cold, and Nicholas Gonzalez as Dante Ramon, Cisco's brother. "The Flash" will return on Tuesday, January 20, 2015 with its 10th episode titled "Revenge of the Rogues."
WEDNESDAY, JANUARY 7, 2015
ANT-MAN
Marvel is thinking small for its new superhero movie, "Ant-Man." The first trailer for the movie debuted during the two-hour series premiere of Marvel's latest series, "Marvel's Agent Carter," and here's what we saw.

One thing's for sure: The full trailer sure beats the grainy zooms of the 17-second teaser the company released last week.

Per the official synopsis for the movie, here's what you can expect when "Ant-Man" hits theaters on July 17: "Armed with the astonishing ability to shrink in scale but increase in strength, con-man Scott Lang (Paul Rudd) must embrace his inner-hero and help his mentor, Dr. Hank Pym (Michael Douglas), protect the secret behind his spectacular Ant-Man suit from a new generation of towering threats. Against seemingly insurmountable obstacles, Pym and Lang must plan and pull off a heist that will save the world."

The film was directed by Peyton Reed, and also stars TV favorites Evangeline Lilly, Corey Stoll, Greer, Michael Pena, "Agent Carter" star Hayley Atwell, Bobby Cannavale, John Slattery and many more.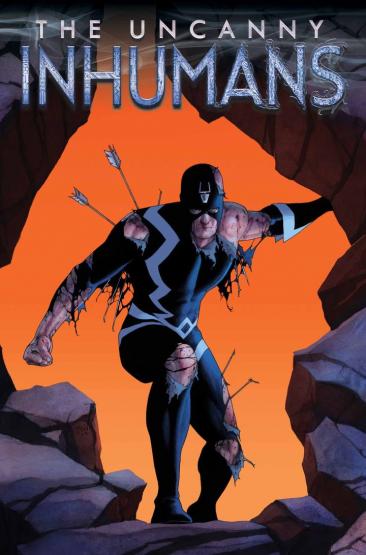 INHUMANS
If you're not very familiar with the superpowered segment of the Marvel roster known as Inhumans, you're going to have plenty of opportunities to brush up in the months and years to come. The Inhumans and the Terrigen Mist that activiates their powers were just introduced to the Marvel Cinematic Universe via Agents of S.H.I.E.L.D., and Marvel Studios President Kevin Feige announced back in October that an Inhumans film will hit theaters in 2018, which could lead to multiple spinoff franchises for the characters that make up the race.
In the Marvel Comics Universe, the Inhumans are experiencing a period of upheaval after their home city, Attilan, was destroyed at the end of the 2013 Infinity event. The Inhuman Royal Family is recovering, a New Attilan has been established under Inhuman Queen Medusa, and a Terragenesis Bomb has released mist across the world, activating the dormant genes of new Inhumans, including the new Ms. Marvel, Kamala Khan. Most of the Inhuman adventures in the Marvel Universe for the past several months have been chronicled in the comic Inhuman by the current team of writer Charles Soule and artist Pepe Larraz. Now Soule and artist Steve McNiven, who worked together on Marvel's recent Death of Wolverine event, are expanding the Inhuman story with a new book, The Uncanny Inhumans.
The series will launch with a zero issue in April, and will focus on Black Bolt, the King of the Inhumans, who's been thought dead by almost everyone in the Marvel Universe, including his fellow Inhumans, for some time. Though there will be some crossover between Uncanny Inhumans and Inhuman, Soule promises that you don't have to read both books to get the full picture, and that Uncanny will be more of a "street-level" view of the Inhuman struggle.
"Well, if Inhuman is the big, royal-level story focused on the various Inhuman factions and their struggle for control over the Inhuman 'nation,' then Uncanny Inhumans will take more of a street-level approach, looking at some of the battles being fought on the ground, so to speak," Soule said. "It won't be quite so focused on New Attilan and the struggles related to it. Maybe more of a global view."
Though he didn't reveal too many plot details about the book, Soule did note that the first story will feature Black Bolt and his son Ahura facing off against a classic Avengers foe.
"The villain for the first story is Kang the Conqueror! I don't want to get into the story too much at this point, but it also involves Black Bolt and Ahura (his son with Medusa, who has been missing since the events of Jonathan Hickman's Infinity event from 2013.) The story will involve a very cool mix of Inhumans old and new, but giving you too many details will spoil who survives the events of the coming months in Inhuman. As you might expect with Kang, you'll get some time travel, and as the Inhumans have been present on earth for more than twenty thousand years, I think that's a pretty exciting prospect."
Soule also addressed the use of the word "uncanny" in the title of the comic. Previously, the word's pretty much only been used by Marvel for X-Men comics or titles that prominently feature mutants (like Uncanny Avengers), and given that Marvel Studios seems poised to use the Inhumans in ways that they might otherwise have used the X-Men on the big screen, its an interesting title. According to Soule, though, it's just a word in this case.
I wouldn't read too much more into it than that - uncanny just means strange, really, or unexpected. I think the Inhumans are certainly that.
So, if you've been looking for an excuse to get to know Black Bolt -- who will very likely be a main character in that 2018 Inhumans flick -- but you weren't sure where to start, Uncanny Inhumans sounds like a pretty solid jumping-on point.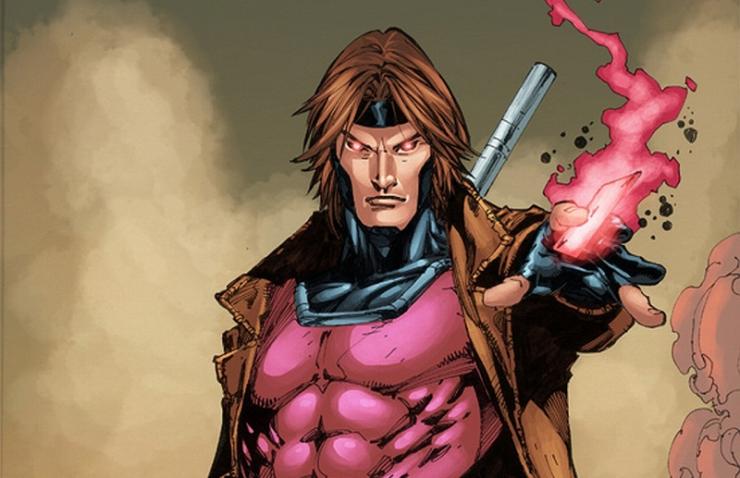 GAMBIT-FANTASTIC FOUR RELEASE DATES
Twentieth Century Fox has added another X-Men spinoff to their upcoming slate. The card-throwing mutant Gambit will finally get his day in the sun next year. According to Variety, the studio has confirmed the film's release date.
Gambit will hit theaters Oct. 7, 2016, just five months after the sequel, X-Men: Apocalypse (May 27). As reported earlier, Alabama native, and Gambit superfan, Channing Tatum will take over the role from Taylor Kitsch (X-Men Origins: Wolverine). The character's rumored to appear in Apocalypse before his big solo outing.
Fox also has plans for another comic book series. We can expect Josh Trank's Fantastic Four reboot to debut Aug. 7 of this year. And while we've yet to see any footage from the movie, a sequel has already been set for June 2, 2017.
Other properties include the live-action adaptation of the videogame Assassin's Creed starring Michael Fassbender, which will debut just in time for Christmas (Dec. 21, 2016). There's also the latest entry in the Planet of the Apes franchise, that will hit theaters July 14, 2017.
TUESDAY, JANUARY 6, 2015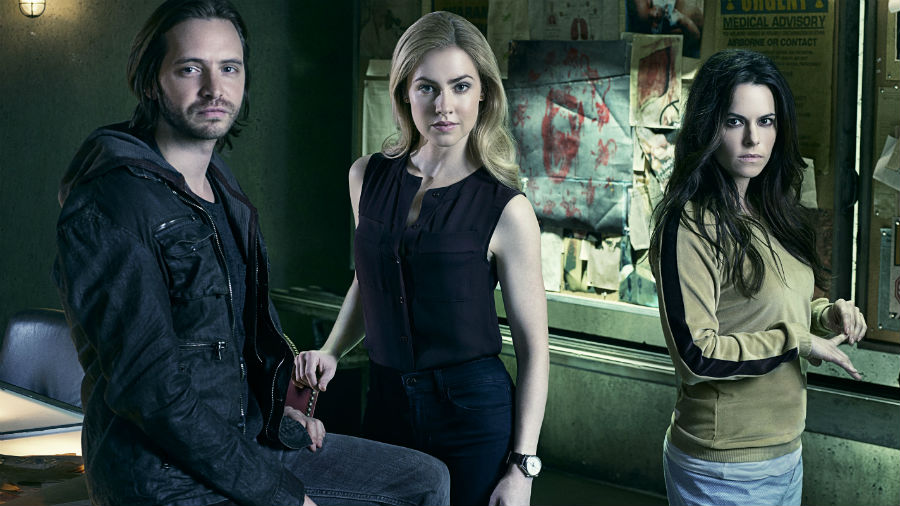 12 MONKEYS
When Syfy's "12 Monkeys" premieres Jan. 16, there will be an extra (optional) creepy element to the sci-fi time-travel show, based on the 1995 Bruce Willis/Brad Pitt movie: A customized "light track" controlled by the series. In the TV version of the Terry Gillam movie, "Nikita's" Aaron Stanford plays a man on a mission from the post-apocalyptic future who uses a dangerous form of time travel to go to the present day and stop a virus that will eventually cause the death of 93.6 percent of the Earth's population. Creator Terry Matalas told press in the summer of 2014 that the TV series' protagonist will be more of an anti-hero than someone trying to save the world. "He's not out to save 7 billion people. He's really out to save himself," he says. "By changing the future, he will have undone all of the terrible things he did." To make things even creepier, Syfy has partnered with Philips to control the lighting in your home in conjunction with the show. According to Syfy, if you have the Hue system of LED bulbs it "will detect audio cues from '12 Monkeys' and translate them to the Web-enabled Hue system. Fans will then be enveloped in the onscreen action through ambient lighting effects designed to engage viewers in an entirely unique way." Forget a soundtrack -- the whole season of "12 Monkeys" will have a custom "light track" to go along with its terrifying future world of death, ensuring that our robot overlords are one step closer to ruling humanity. Sure, it's kind of a weird concept, but at least this will start preparing you for when the computers become sentient and take over the world. "12 Monkeys" premieres Friday, Jan. 16 at 9 p.m. ET/PT on Syfy.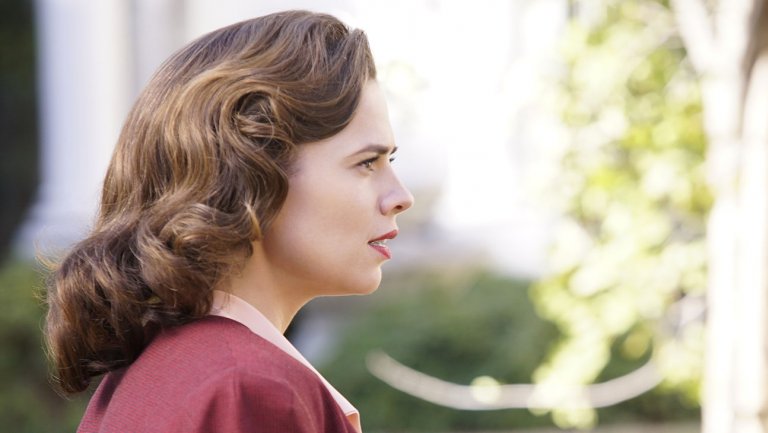 AGENT CARTER
Marvel beefed up its leading ladies in a big way in 2014. Black Widow, though she still doesn't have her own solo movie, proved to have pivotal roles in "Captain America: The Winter Soldier" and the upcoming "Avengers: Age of Ultron." Though "Agents of SHIELD" was originally about Phil Coulson rebuilding SHIELD, it turned out to be telling the superhero origin story of Skye Daisy Johnson. Meanwhile, Marvel announced "Captain Marvel" would be its first standalone female Avenger film. Still, none of the studio's female characters are quite like the first one audiences will (re)meet in 2015: Peggy Carter (Hayley Atwell). In "Marvel's Agent Carter," which premieres Tuesday (Jan. 6) on ABC, she becomes a feminist ally who not only defends the rights of the women within the series but also hopefully re-establishes the expectations of her fellow Marvel heroines. Though Peggy might be known best as Captain America's girlfriend from "Captain America: The First Avenger," "Agent Carter" spins that idea on its head right from the start. Peggy's co-workers expect from her the same thing stereotypical misogynists would: That she just was the lover of Cap, is best used arranging files and bringing coffee, and is useless in missions. Of course, Miss Carter is anything but that, and she is better at her job than any of them. In "Agent Carter," Peggy is shown as both competent and compassionate, and often stronger and smarter than her male counterparts, be they allies like Jarvis (James D'Arcy) or enemies like Jack Thompson (Chad Michael Murray). She frequently uses her sexuality as a weapon against men who only see her as an object. The pilot explores the male-driven '40s time period and uses Peggy to prove how fallible the notion that women aren't as capable as men is, making her the MCU's original feminist. Despite the premiere being bookended by flashbacks to "The First Avenger" where Peggy recalls her time with Captain America, "Agent Carter" shows its title heroine is much more than just the woman who fell for Steve Rogers. She's got something to prove, and she is proving it, even if the final moments of the episode show Jarvis and Howard Stark (Dominic Cooper) are using Peggy in some sort of play (let's face it, they're probably already thinking of recruiting her for the organization that SHIELD would eventually become). This depiction of Peggy not only shows great promise for "Agent Carter" as a series but also for how Marvel will be treating its heroines going forward. Between "SHIELD's" Skye/Daisy-centric return, Netflix's upcoming "Jessica Jones" and the "Captain Marvel" solo movie, there's plenty of room for Marvel to reshape how female characters are viewed both within its cinematic universe and in Hollywood's superhero genre.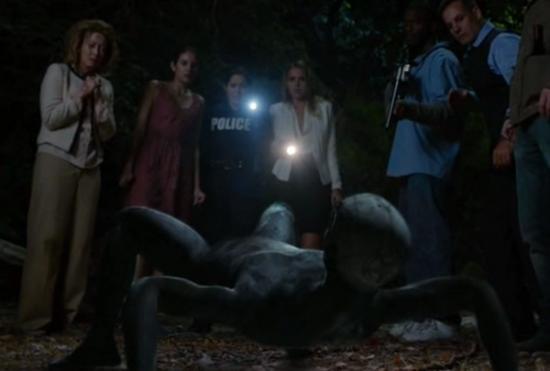 THE AFTER - CANCELLED
Although Chris Carter's pilot for The After -- his first new series since The X-Files ended nearly 13 years ago -- premiered on Amazon's streaming service last February and the project was given the green light for more episodes a month later, Variety reports that it has been canceled. No reason for the cancellation was given, but Amazon Studios vice president Roy Price said in a statement, "We have decided to not move forward with The After. We would like to thank Chris Carter, the phenomenal cast, crew and producers for all their efforts." No additional episodes were produced after the pilot, which starred Adrian Pasdar, Sharon Lawrence, Jamie Kennedy and others in a story about eight strangers forced to survive in a bizarre post-apocalyptic world. As late as this past July, Carter was talking about the show running for at least 99 episodes -- loosely patterned after the 99 cantos of Dante's Inferno -- so the news is definitely disappointing and a little unsettling.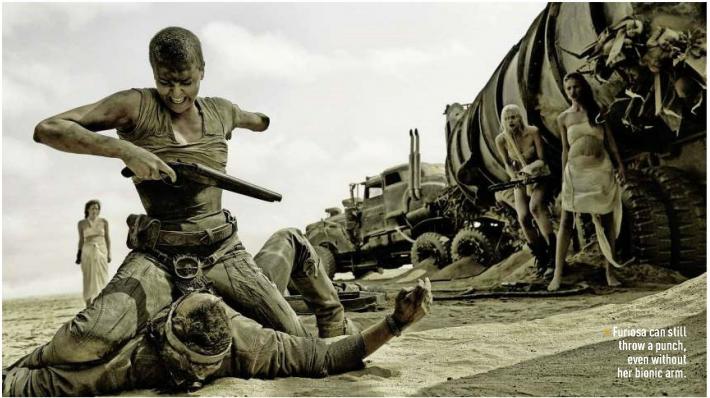 MAD MAX FURY ROAD
The trailers for George Miller's long-awaited Mad Max Fury Road make it look like one of the wildest movies of 2015, and these new pics make it look even crazier. Six new pics from the film have surfaced via magazine scans, showing off more of Tom Hardy's Max and Charlize Theron's one-armed Furiosa still managing to kick a whole lot of post-apocalyptic butt. The films show off what appear to be some new scenes, along with different angles on shots we've already glimpsed in the trailers. The film picks up as a sequel to Miller's Mad Max franchise, which previously starred a young Mel Gibson in the title role trying to survive in the burned-out wasteland. The shots also show off more of the visceral look Miller is going for, making this appear to be one of the most distinctive films of the year. Mad Max Fury Road opens May 15.
GAME OF THRONES COMING TO IMAX
HBO's Game of Thrones is getting the big screen treatment. The really big screen treatment. The final two episodes of last year's fourth season will screen on IMAX screens beginning Jan. 23, and will be followed up by the first season five teaser. This is to be the first time a television show has screened in the IMAX format. The episodes, which are being digitally remastered into the IMAX format, will be available for viewing for one week in up to 150 theaters in the U.S through Jan. 29. Fans will be able to check the IMAX website Tuesday for ticketing information. The two episodes screening are among Thrones' most cinematic ever, in particular "The Watchers on the Wall," whose epic battle sequences saw it compared to Peter Jackson's The Lord of the Rings films. Neil Marshall, the director of the episode, told The Hollywood Reporter at the time that he shot the episode like he would a film. "I directed it to be very cinematic. I wanted it to be epic and to shoot to that scope," he said. The other episode to screen is the season four finale, "The Children,' which is also considered among the series most ambitious. "IMAX always seeks innovative ways to provide moviegoers a unique and differentiated experience and today's partnership with HBO and Game of Thrones achieves just that," said IMAX CEO Richard L. Gelfond. "This deal also furthers our efforts to offer exhibitors the opportunity to participate in alternative forms of content in a new and exciting way. As part of our broader strategy, we will continue to look for one-of-a-kind ways to provide consumers with special IMAX experiences." A release date for Game of Thrones' season five has not yet been revealed.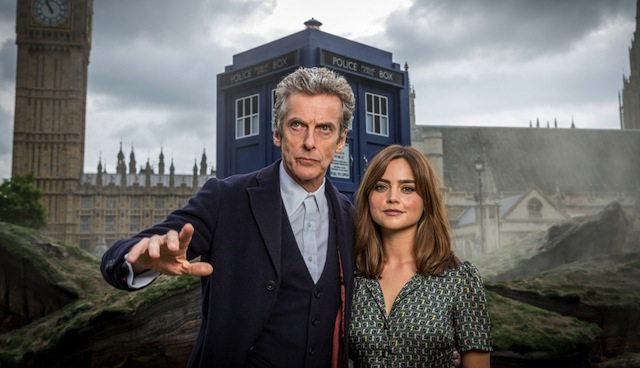 DOCTOR WHO NEWS
BBC America announced today that "Doctor Who" finished 2014 with its highest-rated season ever on the network! Plus, the annual Christmas Special, "Last Christmas," delivered over 2.3 million Total Viewers and was the #1 non-sports telecast in all of cable during the time period among Adults 25-54 in Live+3. Starring Peter Capaldi as the Doctor, Jenna Coleman as Clara Oswald and guest star Nick Frost as Santa Claus, "Last Christmas" was written by Steven Moffat and directed by Paul Wilmshurst. Capaldi's first season as the Doctor delivered BBC America its highest-rated season ever with an average of 2.035 million Total Viewers in Live+3. The season featured Samuel Anderson as Danny Pink and Michelle Gomez as Missy. Guest stars included Jemma Redgrave, Frank Skinner, Foxes, Tom Riley, Keeley Hawes and more. Steven Moffat is lead writer and executive producer and Brian Minchin is executive producer. The Christmas Day special (9:00pm-10:25pm) delivered 2.312 million Total Viewers and 1.304 million A25-54 in Live+3. The special totaled 2.616 million Total Viewers in Live+3 – combining the 9:00pm premiere with the 11:45pm and 2:30am replays. The Twelfth Doctor's first Christmas special more than doubled the viewership of the Eleventh Doctor's first Christmas special, "A Christmas Carol" in 2010. BBC AMERICA was the #1 network on Twitter and Tumblr and "Last Christmas" was the #1 show on both platforms in all of television in Primetime (excluding sports) on December 25. "Doctor Who" is also pacing as one of Twitter's top 10 most-tweeted original dramas in all of cable for 2014. "Doctor Who: Last Christmas" arrives on Blu-ray and DVD on February 17, 2015 while The Complete Eighth Series is available now. Both Capaldi and Coleman will return later this year for a ninth season (or a 35th, depending on your temporal point of view).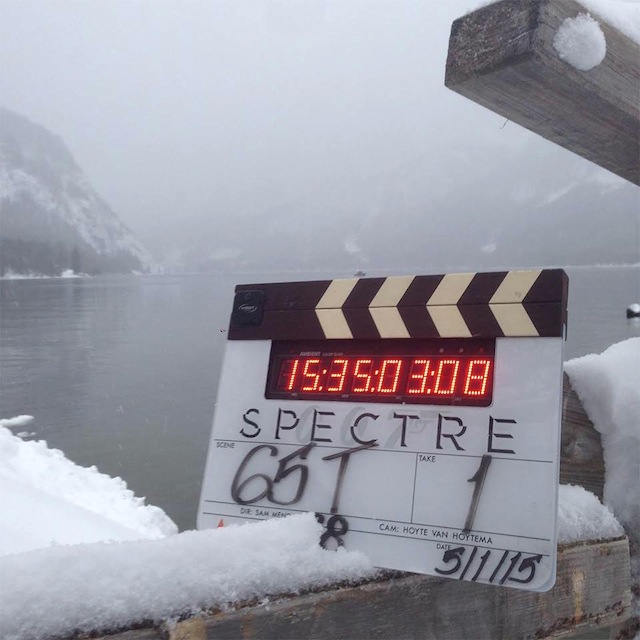 JAMES BOND SPECTRE NEWS
Following a brief break for the holiday season, cameras are once again rolling on the set of Spectre, the 24th entry in EON Productions, Metro-Goldwyn-Mayer and Sony Pictures Entertainment's James Bond franchise. As you can see from the just-released photo below, it appears that chilly things are in store for 007. Directed by the Academy Award winning Sam Mendes (Skyfall, American Beauty), Spectre stars Daniel Craig (Casino Royale, Munich), Ben Wishaw (Perfume: The Story of a Murderer, I'm Not There), Naomie Harris (Mandela: Long Walk to Freedom, 28 Weeks Later), Ralph Fiennes (The Grand Budapest Hotel, The Invisible Woman), Christoph Waltz (Django Unchained, Inglourious Basterds), Monica Bellucci (Irreversible, Malena), David Bautista (Guardians of the Galaxy, The Man with the Iron Fists), Léa Seydoux (Inglourious Basterds, Blue is the Warmest Color), Andrew Scott (Locke, "Sherlock") and Rory Kinnear (Quantum of Solace, The Imitation Game). In the movie, a cryptic message from Bond's past sends him on a trail to uncover a sinister organisation. While M battles political forces to keep the secret service alive, Bond peels back the layers of deceit to reveal the terrible truth behind SPECTRE. SPECTRE (SPecial Executive for Counter-intelligence, Terrorism, Revenge and Extortion), as Bond fans know, is a fictional global terrorist organization featured in Ian Fleming's novels, as well as the films and video games based on those novels. The organization was led by the villain Ernst Stavro Blofeld, although the cast is definitely playing it coy about whether or not Blofeld will actually appear in the new film. Spectre, written by John Logan and Neal Purvis & Robert Wade, hits theaters on November 6, 2015.
MONDAY, JANUARY 5, 2015
CINDERELLA
Walt Disney Pictures has brought online a featurette on director Kenneth Branagh's Cinderella, opening in theaters on March 13, 2015. The story of Cinderella follows the fortunes of young Ella (Lily James) whose merchant father remarries following the tragic death of her mother. Keen to support her loving father, Ella welcomes her new stepmother Lady Tremaine (Cate Blanchett) and her daughters Anastasia (Holiday Grainger) and Drisella (Sophie McShera) into the family home. But, when Ella's father suddenly and unexpectedly passes away, she finds herself at the mercy of a jealous and cruel new family. Finally relegated to nothing more than a servant girl covered in ashes, and spitefully renamed Cinderella, Ella could easily begin to lose hope. Yet, despite the cruelty inflicted upon her, Ella is determined to honor her mother's dying words and to "have courage and be kind." She will not give in to despair nor despise those who abuse her. And then there is the dashing stranger (Richard Madden) she meets in the woods. Unaware that he is really a prince, not merely an employee at the Palace, Ella finally feels she has met a kindred soul. It appears as if her fortunes may be about to change when the Palace sends out an open invitation for all maidens to attend a ball, raising Ella's hopes of once again encountering the charming "Kit." Alas, her stepmother forbids her to attend and callously rips apart her dress. But, as in all good fairy tales, help is at hand as a kindly beggar woman (Helena Bonham Carter) steps forward and, armed with a pumpkin and a few mice, changes Cinderella's life forever. THE WALKING DEAD
We're just about a month away from the return of the second half of the fifth season of 'The Walking Dead' and AMC has released new footage from the series to share with you! Not only is there a new domestic promo but we also have a Spanish spot as well so there is a pile of new footage here. I have a feeling we'll be getting quite a bit more on the promotional front in the next month with episode clips, behind the scenes videos, and interviews! First up we have some new footage from the 9th episode of the fifth season of 'The Walking Dead' to share with you which we'll be able to see after the mid season break. In it we have a voice over of a conversation between Michonne and Rick Grimes on finding a place where they can thrive and not be "just making it." As you'll hear when checking out the video, Rick's response doesn't sound too optimistic. As usual when we come back from a break we seem to find that our survivors are doing horrible and this first trailer is no different. To get even more of what to expect visually though is a recently released spot for the Spanish market where we get a few more shots of Tyreese as well as a pretty gnarly looking Rick, let's take a look! Now, for those of you who aren't familiar with some news on what the actor Andrew Lincoln that plays Rick has been up to, a potential spoiler is starting the next sentence so I'd run back now if you want to stay spoiler free. Recently Lincoln has started showing up publicly freshly shaved. Rumors popped up that it could be due to a drastic course change from the comic where Rick ended up dead, but I more likely felt that it was from Rick finding some shaving supplies. The fifth season of 'The Walking Dead' will return on Sunday, February 8th at 9:00 PM ET on AMC.
SUNDAY, JANUARY 4, 2015
WEEKEND BOX OFFICE
Even without Daniel Radcliffe, British horror sequel The Woman in Black 2: Angel of Death is doing better-than-expected business in its North American debut, grossing $7.8 million Friday for a projected weekend north of $16 million.

Woman in Black 2 wasn't projected to earn anywhere near the big numbers of the The Woman in Black, which was a breakout hit when it opened in February 2012, debuting to $20.9 million on its way to $127.7 million worldwide. The follow-up, taking place 40 years after the events of the first film, was once again produced by Exclusive Media, Hammer Films and Entertainment One.

Thanks to the strength of the horror sequel and a crop of strong holiday holdovers, the weekend could be up sharply over last year, welcome news after a troubled 2014, when revenue tumbled more than 5 percent over 2013 and attendance hit a two-decade low.

Relativity Media is releasing Woman in Black 2 in the U.S., where it placed No. 2 Friday behind The Hobbit: The Battle of the Five Armies, which jumped the $200 million mark after taking in $8.4 million for the day. The final installment in Peter Jackson's trilogy will stay in the No. 1 position for its third consecutive weekend with an estimated $21.5 million, pushing its domestic total to north of $220 million for New Line and MGM.

Fellow holiday holdovers Into the Woods and Unbroken likewise continue to prosper, and are expected to overtake Woman in Black 2 sometime on Saturday and once again end the weekend in a close race (Unbroken is given a slight edge).

From Disney, Rob Marshall's Into the Woods, starring Meryl Streep, Emily Blunt, Chris Pine and Johnny Depp, earned another $7.5 million Friday for a projected $19 million weekend. The star-studded musical will finish Sunday with a North American total north of $91 million.

Angelina Jolie's Unbroken, from Universal, took in $7.4 million Friday and is expected to gross north of $19 million for a domestic total of more than $89 million.

Fox's family-friendly Night at the Museum, reteaming director Shawn Levy and actor Ben Stiller, will battle Woman in Black 2 for the weekend's No. 4 spot and will end Sunday with more than $91 million in North American ticket sales.

The other high-profile Christmas release, Sony's The Interview, is seeing a sizable drop-off in its second weekend in theaters as the controversial Seth Rogen and James Franco comedy expands its VOD footprint to cable carriers, satellite and telecom. The movie is expected to gross $1 million for the weekend, compared to a four-day Christmas debut of $2.8 million (and $1.8 million for the three-day weekend), despite upping its theater count from 331 to 581.

Among specialty award contenders, The Weinstein Co.'s The Imitation Game continues to rank in the top 10, and should end the weekend with a domestic cume north of $30 million. That's ahead of TWC's Oscar-winning The King's Speech, which had earned $22.9 at the same point in its run (Harvey Weinstein's team used the same release plan for both films).

Still playing in only four theaters, Clint Eastwood's American Sniper is turning in another round of impressive numbers in its second weekend for a mighty per screen average of roughly $168,900.

Also in its second weekend in limited release is Ava DuVernay's Martin Luther King Jr. drama Selma, which is playing in 22 theaters and on course for a pleasing screen average north of $27,000.

A new entry at the specialty box office is J.C. Chandor's A Most Violent Year, starring Oscar Isaac and Jessica Chastain. The drama, released by A24 Films in the U.S., is pacing to post a strong screen average in the $42,000 range.

GAME OF THRONES
Game of Thrones fans will get a a behind-the-scenes look at the show on Feb. 8, when HBO airs a new featurette called "A Day In The Life." A rather quaint name for a show about killing, plotting and other nefarious deeds, no?

The special airs at 7:30 p.m. ET/PT, and was first reported by the Game of Thrones fanatics over at Watchers on the Wall after a tipster spotted it on their HBO Go schedule.

Ahead of season four, HBO aired "Ice and Fire: A Foreshadowing," which gave viewers a look at the new characters for that season as well as a taste of the year's big storylines. It's unclear if that will be the case here, but there are plenty of new characters lined up for season five fans are surely dying to know about.

So far HBO has released a little footage from season five, and it has also been teasing the upcoming year with its Three-Eyed Raven viral site.

ANT-MAN
Yesterday, Marvel Studios had some fun with the internet by debuting an "Ant-sized" preview for the upcoming Ant-Man trailer, and now the "Human-sized" preview has landed online and can be viewed below! The full teaser trailer will debut on Tuesday, January 6 during the world premiere of "Marvel's Agent Carter" on ABC at 8 p.m. EST.

Ant-Man stars Paul Rudd (This is 40, They Came Together), Evangeline Lilly ("LOST," The Hobbit: The Battle of the Five Armies), Corey Stoll (This is Where I Leave You, Non-Stop) and Michael Douglas (The Game, And So It Goes) and brings a founding member of The Avengers to the big screen for the first time.

Armed with the astonishing ability to shrink in scale but increase in strength, master thief Scott Lang (Rudd) must embrace his inner-hero and help his mentor, Dr. Hank Pym (Douglas), protect the secret behind his spectacular Ant-Man suit from a new generation of towering threats. Against seemingly insurmountable obstacles, Pym and Lang must plan and pull off a heist that will save the world.

Also starring Judy Greer ("Archer," Dawn of the Planet of the Apes), Bobby Cannavale (Chef, Blue Jasmine), Michael Pena (End of Watch, Fury), Martin Donovan (Inherent Vice, Insomnia), Wood Harris (Dredd, Remember the Titans), John Slattery ("Mad Men," Iron Man 2), Gregg Turkington ("Gravity Falls," The Comedy), Abby Ryder Fortson ("Togetherness," "The Whispers"), David Dastmalchian (The Dark Knight, Prisoners) and T.I. (Takers, "House of Lies"), Ant-Man features a script by Edgar Wright, Joe Cornish, Andrew Barrer, Gabriel Ferrari and Adam McKay. Look for it to hit theaters July 17, 2015.
MASTERS OF THE UNIVERSE
The last update we had on the forthcoming Masters of the Universe film was back in April 2014, when it was revealed Kick-Ass 2 director Jeff Wadlow would be taking a pass at the film's script. Now, when asked by a fan of the script's progress, Senior Vice President of Production at Columbia Pictures Devon Franklin posted a copy of the script's title page dated Christmas Eve 2014.
The film has gone through a number of writers and directors in the years it's been in development, with G.I. Joe: Retaliation director Jon M. Chu the initial choice to helm the live-action project. Since his departure, Wadlow was reported as being in contention to helm with I Origins director Mike Cahill also a candidate for the position, but nothing has been announced officially nor has a release date been set. Wadlow has also been tapped to write the screenplay for an X-Force film at Fox, with an eye to direct the adaptation of the Marvel comic series, which could prevent him from directing Masters of the Universe if that film gets off the ground.
Masters of the Universe follows Prince Adam, who transforms into a warrior called He-Man and becomes the last hope for a magical land called Eternia, ravaged by technology and the evil Skeletor.
SATURDAY, JANUARY 3, 2015
GOTHAM
The back half of Gotham's debut season looks to shake up the formula by stranding Detective Jim Gordon at Arkham, and now we have our first look at the sci-fi fan favorite he'll be hanging out with there.

As fans know, the first half of season one ended with Detective Gordon (Ben McKenzie) reassigned to a gig at Arkham, which looks to bring the iconic Batman locale into the fold in a very big way this year. Morena Baccarin (Firefly, V) will join the cast in a recurring role as Dr. Leslie Thompkins, a doctor working at the facility.

In a chat with Entertainment Weekly, Baccarin opened up about how her DC character is being adapted, and what changes they're making from the source material. One big change: She'll be spending most of her time with young Jim Gordon:

"I'm a physician. I'm working at Arkham, but we're not sticking too close to the original mythology. We are having her team up with Jim Gordon instead of the Wayne family and Bruce. Eventually, who knows—it could go in that direction, but it hasn't yet.

She gets out [of Arkham] which is really fun and her and Jim kind of pair up and have this really great relationship. I think it's important. Arkham is a really kind of iconic and dark and crazy world but I don't think you want to spend too much time in there. Jim finds an ally in her, which I think is important for him at this point. He's beaten down by the system and he's been fighting this one-man operation to make Gotham not as corrupt. I think it's really important that he finds that relationship in Leslie."

Gotham returns Monday, Jan. 5, at 8 p.m. on Fox.

HELIX
We're just a few weeks away from the return of Ronald D. Moore's sci-fi series Helix, and the latest trailer shows off some freaky new footage.

Dubbed "Pray," the new trailer offers up a bit more insight into exactly what we'll find on the mysterious island where the new season picks up. This being one of the more mysterious shows out there, we have no clue exactly how the weirdness on this island connects to the action in the Arctic or the Illaria conspiracy.

It seems the CDC has once again sent a team to help out with an outbreak, this time involving a group of people in a remote island village. It's hard to tell, exactly, but it seems like some of the cast from season one might've also set up shop in this town. Related? Hmm.

Here's the official synopsis:

After barely escaping with their lives, the survivors of Season One attempt to move on from the horrors that took place at Arctic Biosystems. But when their work takes them to a mysterious and remote wooded island, they quickly discover the Ilaria Corporation's reach is deeper and darker than anyone imagined, and a deadly new virus will present a threat that no one thought possible.

The new season of Helix debuts Jan. 16 on Syfy.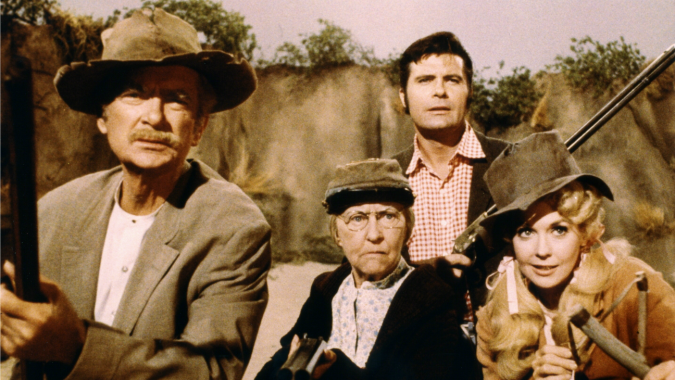 DONNA DOUGLAS DEAD AT 82
Donna Douglas, best known for her role as the tomboy, critter-loving Elly May Clampett on the 1960s fish-out-of-water CBS sitcom The Beverly Hillbillies, died on New Year's Day.
Douglas' niece Charlene Smith confirmed the news to The Associated Press and said the actress died of pancreatic cancer in her home in Zachary, La at the age of 82. WAFB Channel 9 in Louisiana earlier reported the passing.
Douglas also co-starred opposite Elvis Presley in the 1966 film Frankie and Johnny (she was Frankie, like Elvis playing a performer on a Mississippi River riverboat) and stood out as the hospitalized woman underneath the bandages in the memorable 1960 Twilight Zone episode "The Eye of the Beholder."
The Beverly Hillbillies, created by Paul Henning, centered on Jed Clampett (Buddy Ebsen), a poor Ozarks mountaineer who strikes oil on his property and then moves the family to Beverly Hills. As the story goes in the theme song, "One day he was shooting for some food, and up through the ground come a bubbling crude … Oil that is, black gold, Texas tea."
The goofy Filmways Television series, which also starred Irene Ryan as Granny, Jed's crusty mother-in-law, and the burly Max Baer Jr. as Elly May's dumb cousin Jethro, was a huge ratings hit on CBS — the No. 1 show in its first two years. It aired from September 1962 until its cancellation in March 1971.
The blond, shapely Douglas, a native of Pride, La., who was named Miss New Orleans in a 1957 beauty contest, started out making $500 a week on the show. That rose to $3,000 in the ninth and final season of the series.
"I didn't have an agent, but I don't know if that would have made any difference," she told The Hollywood Reporter in early 2013.
The wholesome actress described getting the part of Elly May in an interview with Sam Tweedle on the website Confessions of a Pop Culture Addict.
"By this time they had interviewed over 500 girls but had narrowed it down to six, and gave a screen test to only five," she recalled. "So they had a goat tied up on the set and they asked me, 'Do you reckon you can milk that goat?' Well, I had never milked a goat in my life but I said, 'Sure, I can milk that goat.' That was my first critter. Over the nine years I probably worked with over 900 different animals. Elly didn't kiss a lot of men, but she sure kissed a lot of critters."
Douglas didn't appear much onscreen after the show ended. She reprised her role for the 1981 telefilm The Return of the Beverly Hillbillies, appeared in a 1993 TV documentary about the sitcom and made appearances at conventions that celebrated the series.
"The two things I am most asked is if I still love critters and can I still whistle like Elly May. The answer is yes to both," she once said.
Douglas, who was married at age 17, came to New York and worked as a model, attracting attention when she appeared on variety shows hosted by Perry Como, Steve Allen and Ed Sullivan. That led to roles in the 1959 films Career (1959), opposite Dean Martin and Shirley MacLaine, and Li'l Abner, and she played Tony Randall's secretary in the Rock Hudson-Doris Day romantic comedy Lover Come Back (1961).
She also showed up on the TV shows Tightrope, Bachelor Father, Dr. Kildare, Whirlybirds, Route 66, Checkmate and 77 Sunset Strip before making a splash as Elly May.
Douglas later performed as a gospel singer and wrote the book, Miss Donna's Mulberry Acres Farm, which was published in 2011. Also that year, she sued Mattel, claiming that the toy manufacturer used her name and likeness for a Barbie doll without her approval. The suit reportedly was settled.
Earlier, she sued Disney, CAA, Whoopi Goldberg and others, claiming that the idea for the 1992 smash hit Sister Act was stolen from the Dorothy Gilman book A Nun in the Closet that she said she had optioned. She lost that suit.
FRIDAY, JANUARY 2, 2015
SHAUN OF THE DEAD
Edgar Wright and Simon Pegg's Shaun of the Dead is officially a decade old, but the zombie comedy is getting a new lease on life — just not exactly how you'd expect.

Almost Legal productions has put together an officially licensed stage production of the cult hit film, which actually debuted with some limited dates in the U.K. in October. The production house is planning a major expansion in 2015, with dates scheduled all over the U.K. No word on a U.S. tour yet, sadly, but fingers crossed.

Here's the official synopsis:

Life is going nowhere for Shaun. He spends his life in his local pub, with his best mate Ed, has issues with his Mum and step-dad and things aren't running too smoothly with his girlfriend Liz. When Liz dumps him, Shaun finally decides to get his life in order. He must win back her heart, repair his relationship with his mum and face up to his responsibilities. Unfortunately, there is a slight problem with the world being taken over by Zombies. For the newly inspired Shaun, this is just another obstacle. In the face of a full scale ZOMBIE EPIDEMIC, armed with a cricket bat and his best mate with a spade, Shaun & Ed go to rescue Liz, her friends, mum and grudgingly his step-dad, and take them to the safest most secure place he knows.

NEW AVENGERS: THE AGE OF ULTRON
Marvel Studios revealed in a new promo this afternoon on ESPN that the next trailer for the highly-anticipated Avengers: Age of Ultron will debut during the first College Football Playoff National Championship game on Monday, January 12 at 8:30 p.m. EST.

When Tony Stark tries to jumpstart a dormant peacekeeping program, things go awry and Earth's Mightiest Heroes, including Iron Man, Captain America, Thor, The Incredible Hulk, Black Widow and Hawkeye, are put to the ultimate test as the fate of the planet hangs in the balance. As the villainous Ultron emerges, it is up to The Avengers to stop him from enacting his terrible plans, and soon uneasy alliances and unexpected action pave the way for an epic and unique global adventure.

Avengers: Age of Ultron stars Robert Downey Jr., Chris Hemsworth, Mark Ruffalo, Chris Evans, Scarlett Johansson, Jeremy Renner, Samuel L. Jackson, Aaron Taylor-Johnson, Elizabeth Olsen, James Spader, Cobie Smulders, Thomas Kretschmann, Paul Bettany and Stellan Skarsgard. The Joss Whedon-directed film will debut in theaters on May 1, 2015.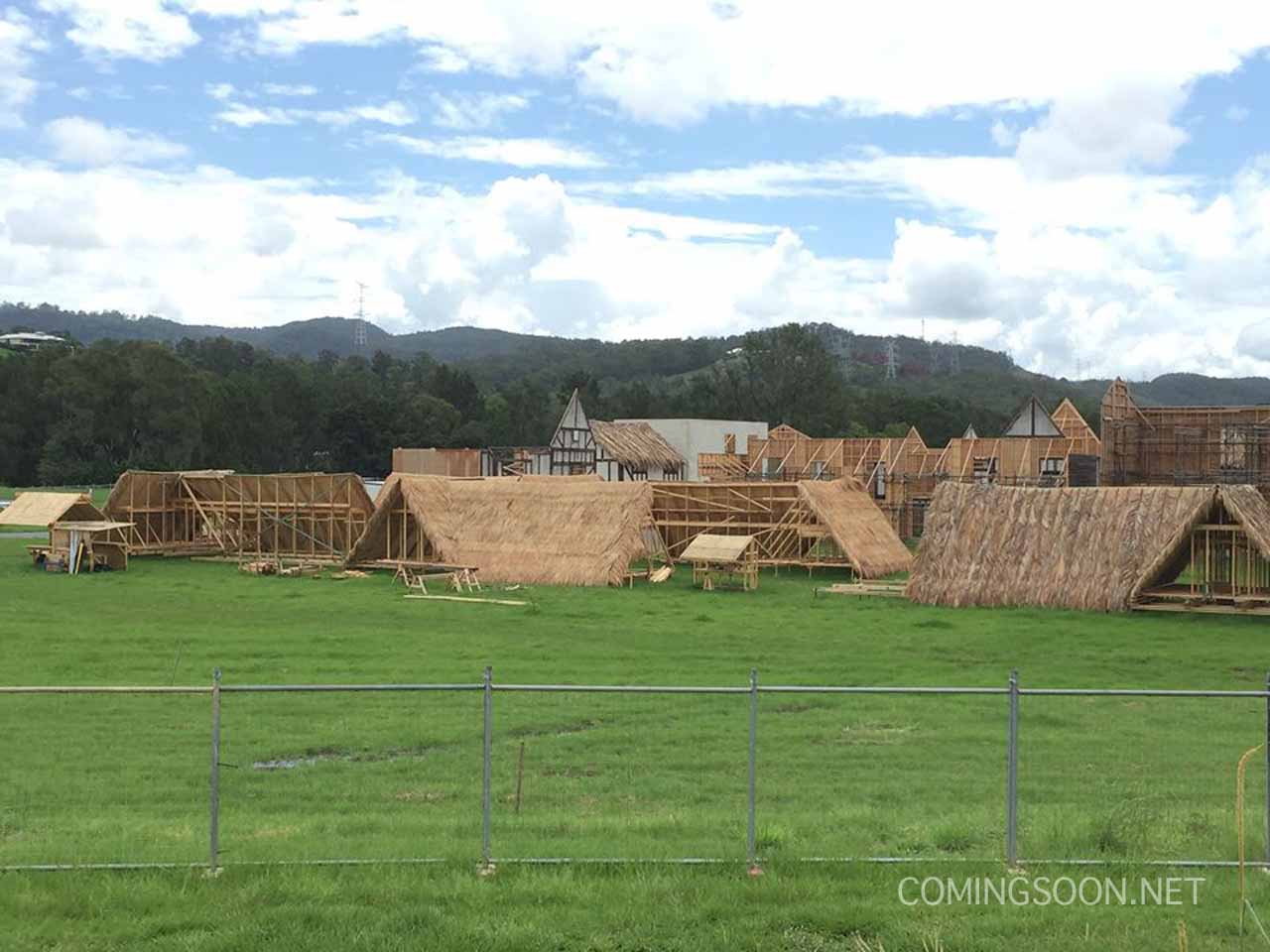 PIRATES OF THE CARIBBEAN 5
Back in October of 2014, it was confirmed that Walt Disney Pictures would be shooting Pirates of the Caribbean 5 in Queensland, Australia. Now, reader Andrew Thompson has sent us the first photos of the set being constructed for the film in the Gold Coast Hinterland (Queensland).
Johnny Depp is reprising his iconic role of Captain Jack Sparrow, while Geoffrey Rush will be returning as Captain Barbossa. Javier Bardem will play the film's villain, Captain Brand, and Brenton Thwaites has been cast as British soldier Henry in the film. Five actresses are also said to be up for the role of Henry's romantic interest.
Although still unconfirmed, rumors have persisted that this film may see the return of Orlando Bloom's William Turner as well.
The fifth installment of the "Pirates of the Caribbean" franchise is being produced by Jerry Bruckheimer and directed by Joachim Ronning and Espen Sandberg. The film is slated to be released in theaters on July 7, 2017.
THE WALKING DEAD
AMC has aired a new promo for the Season 5 mid-season premiere of "The Walking Dead".
The series will return on February 8, 2015 for the remaining episodes of Season 5 and has already been renewed for a sixth season, set to begin in fall of 2015.
Based on the comic created by Robert Kirkman, Tony Moore, and Charlie Adlard, "The Walking Dead" stars Andrew Lincoln, Norman Reedus, Steven Yeun, Lauren Cohan, Chad Coleman, Chandler Riggs, Melissa McBride, Emily Kinney, Danai Gurira and Sonequa Martin-Green.
CAPTAIN AMERICA: THE WINTER SOLDIER
As a huge fan of "Behind The Scenes" and "Making Of" videos, I'm really excited to share with you Industrial Light & Magic's 'Behind the Magic: The Visual Effects of Captain America: The Winter Soldier.' The fact that it has to deal with the making of 'Captain America: The Winter Soldier' which was probably my second favorite film of 2014 is all the more entertaining! Marvel's films are always visually pleasing on the eyes and this gives us a great idea on how some of the effects ended up on the big screen.
ILM is one of the most prominent visual effects studios that works in Hollywood today and has built an impressive resume over the years. The video below tells about their work on the second Captain America film and in particular that "The bulk of ILM's work appears in the film's third act and consists of the helicarrier's massive underwater hanger, their ensuing battle, and the helicarriers themselves inside and out, sprawling digital Washington D.C. and Rosslyn environments including the Triskelion building complex on Roosevelt Island, highly detailed digital doubles for Black Widow (Scarlett Johansson) and Falcon (Anthony Mackie)."
Not only do we see how the special effects are used in those scenes but also how much work went into creating the scene where we saw Black Widow remove her disguise as Councilwoman Hawley as she reveals herself to Alexander Pierce before attacking.
It may only be three minutes of your time but for those who love how to see these films are made they are three minutes that won't be wasted! If anything, I personally wish the video was a little longer to give us more details on how the studio works their digital magic.
JANUARY 1, 2015
GAME OF THRONES
We're still anxiously awaiting fresh intel on the new season of HBO's Game of Thrones, and now the network has scheduled a mysterious new special.

We still don't have an official premiere date for season five, but the "A Day in the Life" special is scheduled to air on Sunday, Feb. 8, in prime time. As hardcore fans will likely notice, that timeline coincides with a behind-the-scenes featurette that aired before season four's premiere at about the same time in 2014.

So, though HBO hasn't provided any description for the special yet, it's likely it'll be a preview showing off some new footage from season five and perhaps recapping a bit of what's come before. Judging by the title, it could also focus on life behind the scenes, or the shooting of a specific scene (or scenes) in the next season.

Assuming the timeline holds, this also means we can probably expect a season premiere around April, which is when the last season debuted. A debut trailer should also drop in mid-to-late January, if HBO sticks to the same template.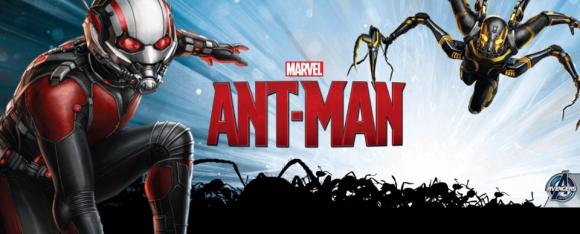 ANT-MAN
Ant-Man won't be hitting the theaters until July 17, but Marvel Studios is putting the art department to work sooner rather than later. A banner for the upcoming movie has just dropped, and it's giving us our first look of Henry Pym's antagonist, Yellowjacket.
Here we see Yellowjacket has a secondary set of arms, which are as "organic"-looking as you would expect from an invention of a biochemist. The jacket is actually a black full-body suit, with yellow as more of a contrast color (at least it's not yellow spandex).
In the upcoming movie, the character of Yellowjacket is Darren Cross (Corey Stoll), a rival scientist turned businessman. However, in the comic book the original Yellowjacket was Pym's evil robot creation, and later, Pym himself. Since then, others have taken on the yellow jacket in the cause of evil.
According to Stoll, "yellowjacket" is the second-generation technology of Pym's original Ant-Man suit. "It can do anything Ant-Man can do, and then more."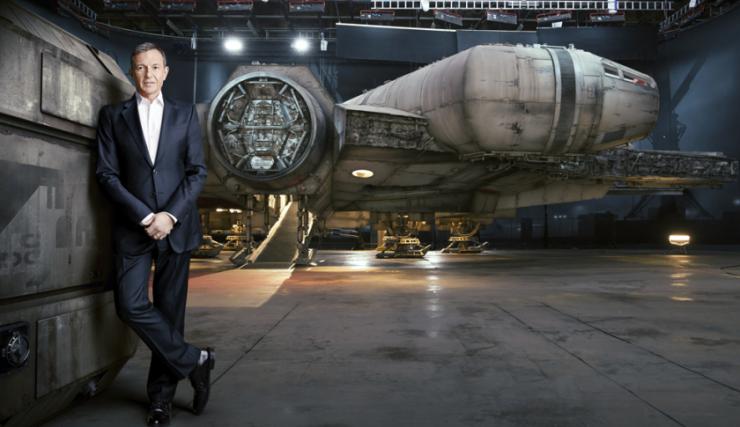 STAR WARS NEWS
Disney CEO Bob Iger took the cover of this month's Fortune magazine, with a lengthy feature focused on the exec's work to turn the Mouse House into the biggest studio on the planet.
Though the lengthy feature is an interesting read for anyone who wants to dig into the business side of Hollywood, it's light on actual Star Wars and Marvel news. But that doesn't mean it can't bring some pretty pictures.
Along with the article, the cover shot features a nice high-detailed look at the film's version of the Millennium Falcon, which admittedly looks a lot like the old Millennium Falcon. One major point: It looks awesome, and it definitely does have a replacement satellite dish for the one damaged in the original trilogy. Love the little details.
Along with the magazine cover shot (below), the feature also includes a behind-the-scenes composite shot (above) of Iger standing in front of the Falcon created by Industrial Light & Magic. It's pretty nifty, and you just keep waiting for the ship to take off and start duking it out with the Death Star.
Star Wars: The Force Awakens opens Dec. 18, 2015.
CINDERELLA
A new international spot is now online for Walt Disney Pictures' live-action take on Cinderella. Arriving from Australia, the spot offers New Year's greetings from the Kenneth Branagh film.
The story of Cinderella follows the fortunes of young Ella (Lily James) whose merchant father remarries following the tragic death of her mother. Keen to support her loving father, Ella welcomes her new stepmother Lady Tremaine (Cate Blanchett) and her daughters Anastasia (Holiday Grainger) and Drisella (Sophie McShera) into the family home. But, when Ella's father suddenly and unexpectedly passes away, she finds herself at the mercy of a jealous and cruel new family. Finally relegated to nothing more than a servant girl covered in ashes, and spitefully renamed Cinderella, Ella could easily begin to lose hope. Yet, despite the cruelty inflicted upon her, Ella is determined to honor her mother's dying words and to "have courage and be kind." She will not give in to despair nor despise those who abuse her. And then there is the dashing stranger (Richard Madden) she meets in the woods. Unaware that he is really a prince, not merely an employee at the Palace, Ella finally feels she has met a kindred soul. It appears as if her fortunes may be about to change when the Palace sends out an open invitation for all maidens to attend a ball, raising Ella's hopes of once again encountering the charming "Kit." Alas, her stepmother forbids her to attend and callously rips apart her dress. But, as in all good fairy tales, help is at hand as a kindly beggar woman (Helena Bonham Carter) steps forward and, armed with a pumpkin and a few mice, changes Cinderella's life forever.
Also starring Stellan Skarsgård and Derek Jacobi, Cinderella hits theaters domestically on March 13, 2015.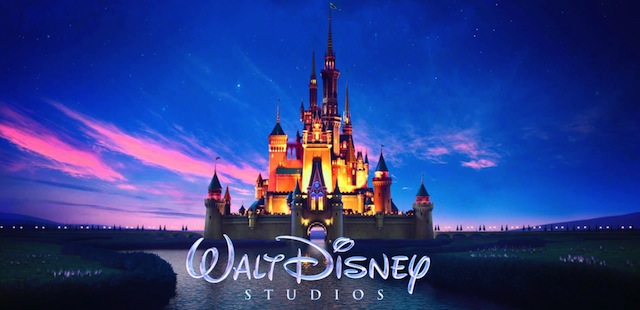 DISNEY NEWS
Gearing up for a major year, Walt Disney Pictures has just released a detailed look at their 2015 slate. The year is set to give us Lucasfilm Ltd.'s animated adventure Strange Magic on January 23, the true drama McFarland, USA on February 20, Kenneth Branagh's live-action take on Cinderella on March 13, Disneynature's documentary Monkey Kingdom on April 17, Marvel Studios' Avengers: Age of Ultron on May 1, Brad Bird's Tomorrowland on May 22, Disney•Pixar's Inside Out on June 19, Marvel Studios' Ant-Man on July 17, Jon Favreau's live-action The Jungle Book on October 9, the Untitled Steven Spielberg Cold War Spy Thriller on October 16, Disney•Pixar's The Good Dinosaur on November 25 and, finally, the long-awaited Star Wars: The Force Awakens on December 18. We'll have lots more on all 12 films over the months to come, but, below, you can take a look at two newly-debuted images: a still from Tomorrowland and a piece of concept art from The Good Dinosaur.
Set to feature the voice talents of Lucas Neff, John Lithgow, Frances McDormand, Bill Hader and Neil Patrick Harris, The Good Dinosaur, directed by Pete Sohn, asks, "What would have happened if the cataclysmic asteroid that forever changed life on Earth actually missed the planet completely and giant dinosaurs never became extinct?"
Tomorrowland, meanwhile, boasts a script by Bird and Damon Lindelof and stars George Clooney, Hugh Laurie, Britt Robertson, Raffey Cassidy, Tim McGraw, Judy Greer, Kathryn Hahn, Keegan-Michael Key and Thomas Robinson.
Bound by a shared destiny, former boy-genius Frank (George Clooney), jaded by disillusionment, and Casey (Britt Robertson), a bright, optimistic teen bursting with scientific curiosity, embark on a danger-filled mission to unearth the secrets of an enigmatic place somewhere in time and space known only as "Tomorrowland." What they must do there changes the world–and them–forever.
THE ZOCALO TODAY
Be sure to check out The Zocalo Today on Facebook as well as at ISN News: The Zocalo Today on Yahoo Groups. Did you miss the news from yesterday -- or earlier in the week. Catch up by going to the December News Archive. Take care and I look forward to hearing from you.
Sandra Bruckner (sgbruckner@aol.com)
Editor/Publisher
ISN News: The Zocalo Today
http://www.isnnews.net
Copyright - SBruckner, 1999-2014