The Zocalo Today
Welcome and thank you for dropping by. Babylon 5 brought many of us together -- and it remains with us, despite the fact that is no longer in production. The good thing is that the internet provides a LOT of ways to stay in touch. Don't be shy. Join in the discussion today. You can also find plenty of Babylon 5 fans on FaceBook and Twitter eager to talk about their show, Babylon 5.

If you have questions or items for the news, drop me a line at sgbruckner@aol.com.

Again, WELCOME!
MONTHLY HIGHLIGHTS OF ISN NEWS: THE ZOCALO TODAY
MARCH 2015
TUESDAY, MARCH 31, 2015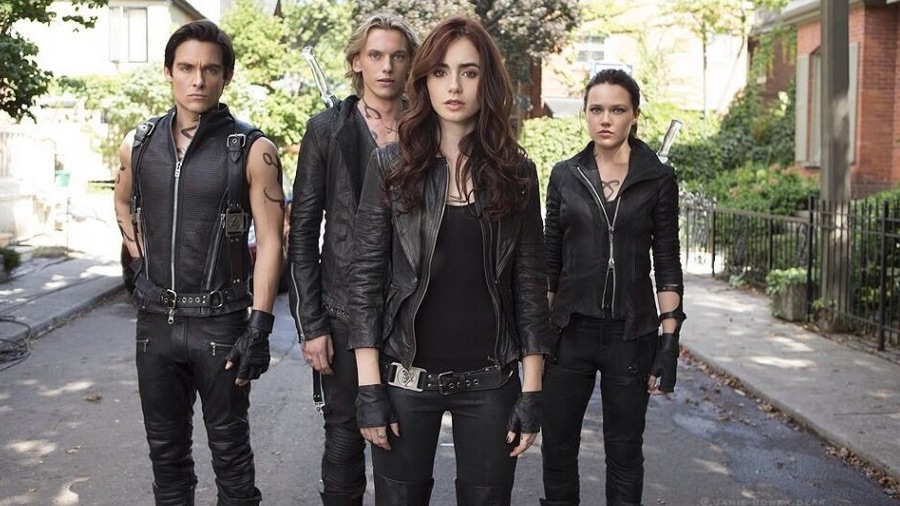 MORTAL INSTRUMENTS
"The Mortal Instruments" TV show is actually happening, and you can find it on ABC Family. The network announced Tuesday (March 30) that it's picked up 13 episodes of "Shadowhunters," based on Cassandra Clare best selling young adult series. "I'm excited to see ABC Family bring the world of the Shadowhunters to life. As a huge fan of long-form television drama, I can't wait to see the story unfold and for the fans to have more time with the world and the characters," says Clare in a press statement. "Shadowhunters" will follow Clary, an 18 year old girl that finds out on her birthday she's part of a long line of angel-human hybrids that hunt down demons. When her mother is kidnapped, Clary is thrown into a world of demon hunters and other supernatural creatures to try and save her and discover her own destiny. Ed Dector ( "Helix") will serve as executive producer and showrunner for the series. Casting for the roles of Clary and her fellow "Shadowhunters" will be announced at a later date. Sony Pictures attempted to adapt "The Mortal Instruments" into a movie franchise in 2013, but the first film "City of Bones" starring Lily Collins and Jamie Campbell Bower was a box office disappointment and did not inspire a sequel. A primary complaint of the film amongst fans was that the movie format forced adaptors to cut out important parts of the story. The move to television may make much more sense for "Instruments," which is a much more expansive series than its young adult counterparts "The Hunger Games" and "Divergent." There are already six books in "The Mortal Instruments" franchise with room to continue. Plus, ABC Family has already proven it knows how to keep a good series going with it's very successful adaptation of Sara Shepard's "Pretty Little Liars." DOCTOR WHO EXPERIENCE
One group of young Whovians got an extra special treat for the 10th anniversary celebration of the "Doctor Who" 2005 revival on Thursday, March 26. While visiting the Doctor Who Experience in Cardiff, Wales, several children were greeted by the Doctor himself, Peter Capaldi. Acting in-character as the Doctor, Capaldi took the children through the exhibit and helped them battle a mummy. In the video above you can see Capaldi takes as much joy in being the Doctor for the kids as they do seeing their hero in action. He even took the time after the adventure to answer any questions the children had. With an impressive amount of "Doctor Who" knowledge at the ready, Capaldi is able to respond to the kids flawlessly, not breaking character once. He's even moved to tears when talking about the Doctor not being able to revisit his first companion and granddaughter, Susan Foreman (Carole Ann Ford), from the original series. "I promised I would go and see her and I never did," he says. In addition to the Q&A, the Doctor and his little companions celebrated by singing "Happy Birthday" and eating a chocolate Cyberman cake. It's not a bad way to celebrate a Time Lord's anniversary. AGENTS OF S.H.I.E.L.D.
Events from Captain America: The Winter Soldier are about to bleed into this week's episode of Marvel's Agents of S.H.I.E.L.D. And we have a sneak peek at how the show will depict the day S.H.I.E.L.D. fell. Hail Hydra! In "One Door Closes," we look back at the events that ultimately led to the creation of "the real S.H.I.E.L.D." We see how Bobbi (Adrianne Palicki) fits in to the Winter Soldier storyline, and, if you look closely, you'll also see a blast from the past in the face of Isabelle Hartley (Lucy Lawless), who was also involved in saving Agent Robert Gonzales' (Edward James Olmos) life on an aircraft carrier (looks like those who predicted that Lucy Lawless' return to S.H.I.E.L.D. would be in a flashback capacity were right on the money). Last week, Gonzales was revealed as the leader of "the real S.H.I.E.L.D." -- aka Coulson's (Clark Gregg) counterpart -- who sent Bobbi and Mack (Henry Simmons) to spy on the team because they did not agree with Nick Fury's (Samuel L. Jackson) leadership and heavy predilection for secrets and lies.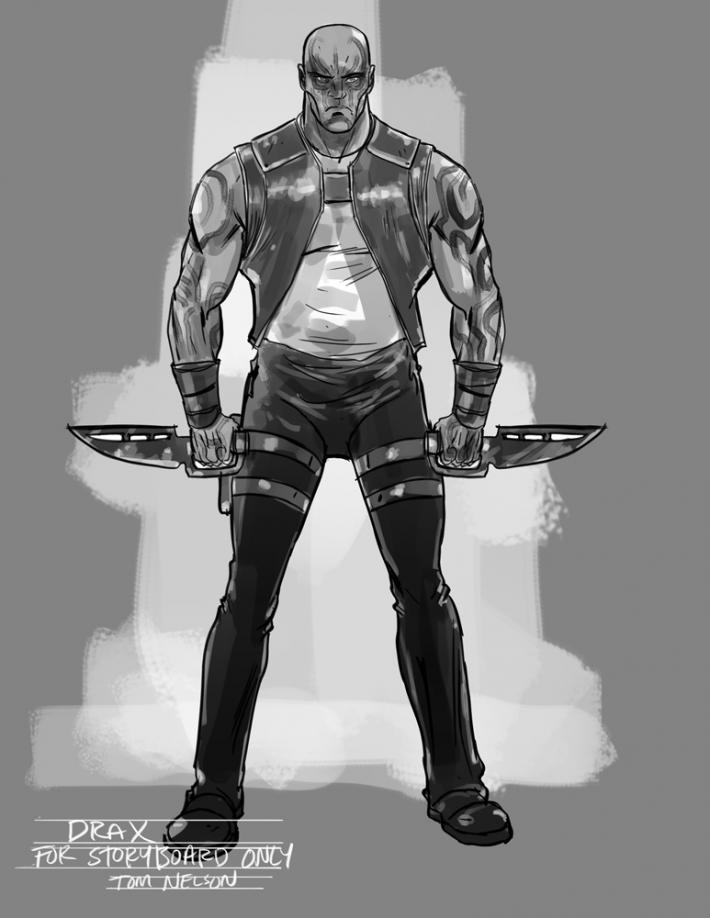 GUARDIANS OF THE GALAXY
Thomas Nelson -- a very talented storyboard and concept artist -- recently updated his web site with some cool artwork he prepared for director James Gunn's Guardians of the Galaxy. Not only do the storyboards depict scenes that did not happen in the Marvel movie, but we also have a look at a character that was originally in the script but was ultimately dropped: Lord Tantalus. We also have a look at the different costumes (and overall looks) that seem to have been considered for the main characters (don't forget, those are sketches done to use in storyboards, not concept art). Early last year, James Gunn told AMC Movie News: "Tantalus was in for a while. If we're fortunate enough to make another film in the future, there's plenty of characters to bring in." If you want to know more about who Lord Tantalus is, head on up to Marvel's official web page.
CONSTANTINE'S RETURN
If you're holding your breath while waiting for news of a second season renewal for NBC's on-the-bubble supernatural series Constantine, you'll have to hold it for a little while longer. Constantine executive producer and co-creator Daniel Cerone took to his Twitter account to reveal he'll be meeting with the network at the end of April in order to pitch some season-two ideas. He said: "End of April date has been set to pitch 2nd season ideas to NBC. Then they decide on a Season 2. #Constantine #SaveConstantine #Hellblazers." We don't know about you, but we definitely want to see more of that chain-smoking master of the occult and demon hunter, John Constantine (a well-cast Matt Ryan). What do we have to do to get it? Check out the revealing tweet: David Cerone:
End of April date has been set to pitch 2nd season ideas to NBC. Then they decide on a Season 2. #Constantine #SaveConstantine #Hellblazers The 13-episode first season of Constantine ended with a bang as *SPOILER ALERT* Manny's (Harold Perrineau) duplicity was revealed. Based on DC's Hellblazer comics, the show also stars Angelica Celaya, Emmet Scanlan, Michael James Shaw and Charles Halford.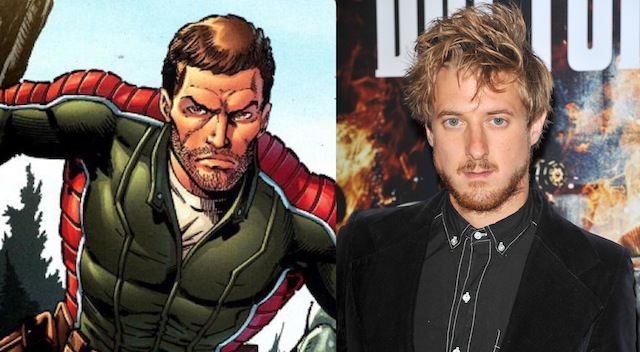 THE FLASH/ARROW
Arthur Darvill, best known for playing former "Doctor Who" companion Rory Williams, appears to have some more time traveling in his future. On the heels of word that Broadway actress Ciara Renée had joined the series as Hawkgirl, The Hollywood Reporter now brings word that Darvill will also be joining the cast of The CW's upcoming "Arrow" and "The Flash" spinoff as Rip Hunter! It was previously revealed that Hunter would be one of the show's featured characters, although he is being officially referred to as "The Traveler." Described as a "Han Solo-esque rogue who gets by with his charm, this hero hails from the future, and has journeyed back in time on a secret mission. His razor-sharp wit hides the pain of a man who has lived through serious conflict. He also harbors many secrets, always leaving both his teammates and the audience unsure of his true allegiances." Created by Jack Miller and Ruben Moreira, Hunter made his comic book debut in 1959's "Showcase" #20. A time traveler in search of his original timeline, Hunter has fought alongside the likes of Superman and who fought off the Anti-Monitor. Still without a title, the upcoming show is already set to also feature Brandon Routh, Victor Garber, Wentworth Miller, Dominic Purcell and Caity Lotz. Greg Berlanti, Andrew Kreisberg, Marc Guggenheim and Sarah Schechter are set to executive produce. Although no official timeline has been revealed, the series is expected to target a mid-season premiere in 2016.
SUICIDE SQUAD
With production scheduled to start up next month in Toronto on Suicide Squad, eTalk CTV and The Toronto Sun are reporting that actors Scott Eastwood and Ray Olubowale have joined the cast. No details were given in regards to what characters they may be playing, but there are rumors that Ray Olubowale is playing King Shark, but that has not been confirmed. Hopefully we'll get confirmation about who they are playing as we get closer to production starting up. The actors join a growing cast that includes Will Smith (Deadshot), Margot Robbie (Harley Quinn), Jared Leto (The Joker), Jai Courtney (Boomerang), Joel Kinnaman (Rick Flagg), Cara Delevingne (Enchantress) and Viola Davis (Amanda Waller). No story details have been confirmed at this time, but hopefully we'll get an official synopsis when production begins on director David Ayer's comic book adaptation. Scott Eastwood last starred in David Ayer's Fury, and he will next be seen in The Longest Ride and Snowden. Ray Olubowale, a former Canadian boxing champion, has starred in Resident Evil: Afterlife and Resident Evil: Retribution. In related news, Entertainment Tonight recently spoke with Viola Davis, who was asked which of her characters is more of a badass, Amanda Waller or How to Get Away with Murder's Annalise Keating. Here's what she had to say below. "You know what that's a tough one, but I would give it to Amanda Waller. I've been doing my research on Amanda Waller and I'm a little scared because she's really unapologetic. I mean seriously, it's beyond 'she don't play'. She's on the right side of the law, but really she should probably be at Rikers Island - that's just my opinion, Amanda!" Suicide Squad comes to theaters August 5th, 2016 and stars Will Smith, Margot Robbie, Jared Leto, Jai Courtney, Joel Kinnaman, Cara Delevingne, Viola Davis, Jay Hernandez. The film is directed by David Ayer.
MONDAY, MARCH 30, 2015
AVENGERS: AGE OF ULTRON
An awesome new video featurette for Avengers: Age of Ultron has been released, with the spotlight being put on "The Twins": Quicksilver (Aaron Taylor-Johnson) and Scarlet Witch (Elisabeth Olsen). The new video features "Super Siblings" Pietro and Wanda Maximoff in action, running circles around Earth's Mightiest Heroes and literally messing with our team's minds. It's really exciting to see the super-speed Quicksilver possesses (he's as fast as a speeding bullet) and how Olsen's Scarlet Witch wields her equally cool telekinetic powers. The brand-new featurette also includes some cool new footage, as well as interviews with Taylor-Johnson, Olsen, Chris Evans and director Joss Whedon. Avengers: Age of Ultron also stars Robert Downey Jr., Chris Hemsworth, Mark Ruffalo, Scarlett Johansson, Jeremy Renner, Samuel L. Jackson, Cobie Smulders, Paul Bettany and James Spader. It's set to hit theaters on May 1.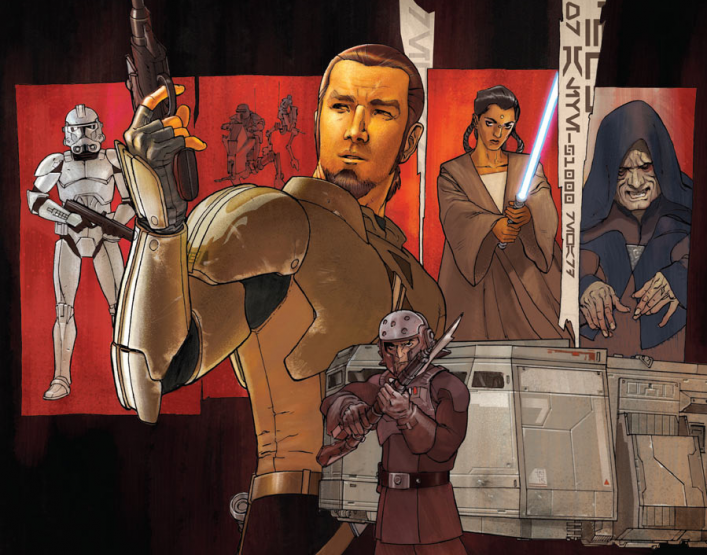 STAR WARS REBELS
The newest Star Wars comic from Marvel is Kanan: The Last Padawan, written by Greg Weisman and illustrated by Pepe Larraz. The new series will explore the origins of Star Wars Rebels' very own Jedi cowboy, Kanan Jarrus. The Last Padawan will explain how a young Padawan by the name of Caleb Dume survived Order 66 and eventually became the rebel hero we've all come to know and love. Have a look at a few preview pages that show Kanan take on the separatist droid army during the Clone Wars, as well as a couple of very cool variant covers from issue #1, in the gallery down below. Here is a synopsis for the upcoming new series: Kanan Jarrus--in STAR WARS REBELS, he's a cocky, sarcastic renegade fighting against the Galactic Empire alongside the rag-tag crew of the Ghost...but years before, at the height of the Clone Wars, he was known as Caleb Dume, Jedi Padawan under the instruction of Jedi Master Depa Billaba. Neither master nor apprentice ever suspected that the Clone Troopers they commanded would turn on them upon the issuing of Order 66—the order to execute all Jedi. How did Caleb Dume survive? How did he learn to survive on his own? And how did he become the man we know as Kanan Jarrus? Writer Greg Weisman (writer/executive producer on STAR WARS REBELS, SPECTACULAR SPIDER-MAN) and artist Pepe Larraz (DEADPOOL VS. X-FORCE, THOR, INHUMAN) bring us a tale bridging the years between the Clone Wars and Rebels! BADLANDS
AMC used the season five finale of The Walking Dead on Sunday to debut the first footage of its upcoming martial arts drama series Badlands. Badlands is described as a genre-bending martial arts series very loosely based on the classic Chinese tale Journey to the West. In a land controlled by feudal barons, Badlands tells the story of Sunny, a great warrior, and a young boy who embark on a journey across a dangerous land to find enlightenment. The network ordered six hourlong episodes of the drama from AMC Studios for a premiere in late 2015 or 2016. The series was created by writers-showrunners Al Gough and Miles Millar (Smallville), who will exec produce alongside Stacey Sher and Michael Shamberg (Pulp Fiction) and martial arts filmmakers Daniel Wu (Tai Chi Zero) and Stephen Fung. Daniel Wu stars as Sunny and toplines a cast that includes Emily Beecham (28 Weeks Later, The Village), Sarah Bolger (The Tudors) and Oliver Stark (The Adventurer: The Curse of the Midas Box). Badlands debuts in the fall on AMC. FEAR THE WALKING DEAD
AMC used Sunday's season finales of The Walking Dead to unspool the first look at the spinoff of the flagship zombie drama, Fear The Walking Dead. The new series, called Fear The Walking Dead, is set to debut at a date to be determined in the late summer and is set in Los Angeles and stars Cliff Curtis (Gang Related) stars as Sean Cabrera, a teacher who shares a son with his ex-wife. Sons of Anarchy's Kim Dickens co-stars as Nancy, a guidance counselor who works at the school with Sean and is seeing him romantically. Frank Dillane (Harry Potter and the Half-Blood Prince) co-stars as Nancy's son Nick, who has battled a drug problem. And Alycia Debnam Carey (Into the Woods) is will play Nancy's ambitious daughter, Ashley, who is the polar opposite of Nick and dreams of leaving L.A. for Berkeley when the apocalypse strikes. Fear The Walking Dead stands alone from the flagship and has been described as starting out as a prequel at the dawn of the apocalypse before catching up with the original series, based on Robert Kirkman's long-running comics. The short teaser confirms that the series does indeed start at the onset of the flu-like outbreak. Kirkman and Dave Erickson (Sons of Anarchy) co-wrote the pilot and exec produce alongside Walking Dead mainstays Gale Anne Hurd, Dave Alpert and Greg Nicotero. Adam Davidson directed the pilot. FWTD will debut in the summer with a six-episode freshman season that will lead into the already announced sixth season of TWD. Season two of FTWDhas already been greenlit for 2016. Check out the footage, below, and stay tuned to THR for more Walking Dead finale coverage. JURASSIC WORLD
Universal Pictures has released a new TV spot for Jurassic World featuring some brand new footage from the upcoming sequel. Opening in 3D, 2D and IMAX theaters, Jurassic World arrives from Safety Not Guaranteed helmer Colin Trevorrow and offers a terrifying sci-fi adventure set 22 years after the events of Steven Spielberg's original 1993 Michael Crichton adaption, Jurassic Park. According to Trevorrow, a huge part of what sparked his take on the blockbuster franchise was the image of a teenager texting, unimpressed with the T. Rex behind the glass in front of him. Jurassic World, which hits theaters on June 12, 2015, also stars Bryce Dallas Howard (The Help, Spider-Man 3), Ty Simpkins (Insidious, Iron Man 3), Jake Johnson (Let's Be Cops, "New Girl"), Nick Robinson (The Kings of Summer), Irrfan Khan (Life of Pi, The Amazing Spider-Man), Vincent D'Onofrio ("Daredevil," "Law & Order: Criminal Intent"), BD Wong (Jurassic Park, "Law & Order: Special Victims Unit"), Omar Sy (X-Men: Days of Future Past, The Intouchables), Judy Greer (Dawn of the Planet of the Apes, Tomorrowland), Katie McGrath (NBC's "Dracula," "Merlin"), Lauren Lapkus (Blended, The To Do List) and Andy Buckley (Bridesmaids, The Other Guys).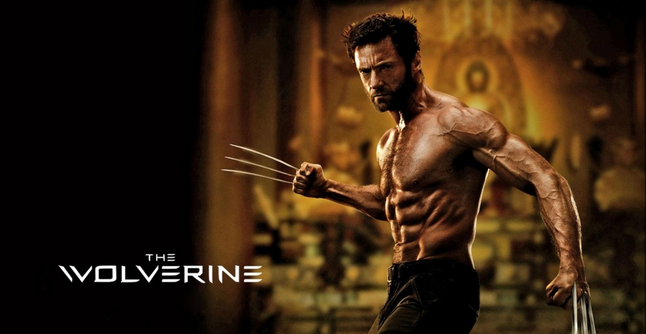 WOLVERINE NEWS
Marvel, at least in their comics, have been giving us the end of many long time favorites: there will no longer be a comic based on the Fantastic Four, the death of Professor X, and let's not talk about what the events of the 'Secret Wars' is going to do! Now it looks like the end of another fan favorite is not only following its comic book counterpart but is also coming to an end – this time in the cinematic universe. In an Instagram post, Hugh Jackman posted a picture of 3 of Wolverine's claws with the caption "Wolverine…One last time. HJ" We've known for some time there has been some rumblings of Jackman feeling that it may be time to hang up the claws ever since the release of 'The Wolverine.' In fact last year in an interview, the actor has stated he was 99.9% sure the third Wolverine movie would be his last: "I don't know [what's happening with 'Wolverine 3' yet]. We're talking it through. I still am very ambitious for the character. And tonally I feel like we corrected the ship with the last one. But I feel we can still go further, in a way. If I did another one I'm 99.9% sure it would be the last, so that will inform what it is for me." 2015 marks the 15the year that Jackman has been playing the role of Wolverine since 2000 when he first appeared in Bryan Singer's 'X-Men.' He has been a fan favorite ever since reprising the role in the sequels that have come after including 'X-Men 2,' 'X-Men: The Last Stand,' 'X-Men Origins: Wolverine,' 'X-Men: First Class,' 'The Wolverine' and 'X-Men: Days of Future Past.' Jackman is rumored to have a cameo in the upcoming 'X-Men: Apocalypse' due out in 2016 as well as one in Ryan Reynold's 'Deadpool' film also out that same year. The third solo 'Wolverine' film is slated to be released on March 3, 2017. It will be some tough shoes to fill once Jackman's final appearance as the mutant arrives as he has epitomized the character so well on the big screen. The most we can hope is that his final film as Wolverine will give him the proper send off the actor very much deserves. In the meantime, we still have a few more films before we see the last of Jackman's Wolverine.
SUNDAY, MARCH 29, 2015
SPECTRE
The first teaser trailer for the newest 007 flick, Spectre, has finally landed. So, is it glorious? Maybe. Daniel Craig reprises the role of the world's most famous womanizing spy for the fourth time here with Spectre. Despite the initial worldwide uproar in the wake of his casting, Craig has quickly become one of our favorite Bonds ever.

The first teaser trailer is short on cool gadgets, chases and explosions, but it's high on suspense, and the direct repercussions from the events of Skyfall are being felt. Plus, we have a look at Bond's sweet new Aston Martin.

Below is the movie synopsis:

In SPECTRE, a cryptic message from Bond's past sends him on a trail to uncover a sinister organisation. While M battles political forces to keep the secret service alive, Bond peels back the layers of deceit to reveal the terrible truth behind SPECTRE.

Directed by Sam Mendes, with a script penned by John Logan, Spectre stars Daniel Craig, Monica Belluci (The Matrix Revolutions), Ralph Fiennes (Harry Potter), Ben Wishaw (Skyfall), Léa Seydoux (La Belle et la Bête), Dave Bautista (Guardians of the Galaxy), Christoph Waltz (The Zero Theorem), Naomie Harris (Skyfall), Rory Kinnear (Penny Dreadful) and Andrew Scott (Sherlock).

Spectre will hit theaters and IMAX screens on Nov. 6, 2015.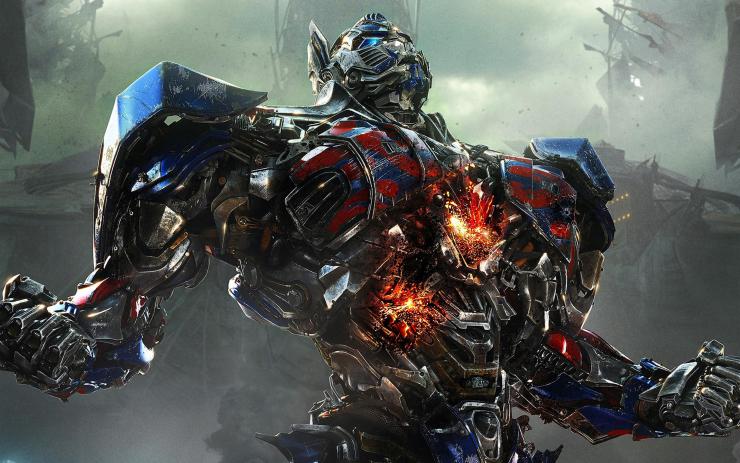 TRANSFORMERS
It seems like everyone is wanting to jump on the connected universe bandwagon in the wake of Marvel's runaway success, and now Paramount plans to mold the playbook onto a property that's already a proven hit. What could go wrong?
Deadline reports that Paramount has tapped Akiva Goldsman (A Beautiful Mind, Fringe) to team up with the Transformers' longtime director Michael Bay to develop the brand into a massive universe filled with spinoffs. Executive producer Steven Spielberg and producer Lorenzo di Bonaventura will also be part of the brain trust. The move is said to be along the same lines of what Warner Bros. is doing with its DC Comics properties and what Disney is doing with Star Wars (and, of course, Marvel).
The next step is apparently to create a writers' room to "incubate ideas" for some additional Transformers sequels, along with some new spinoff films to fill the release void between tentpoles (see: Star Wars). Goldsman is apparently taking on a key role in the creative process and will be mapping out a lot of the big-picture stuff. It sounds like it also falls to him to ensure Michael Bay has a new Transformers script commissioned and ready to roll once he's finished directing 13 Hours.
Obviously, the Transformers franchise has proven to be a box-office juggernaut, so it's not a surprise the studio would want to double (and triple, apparently) down on what they know should sell. Bad reviews or not, Transformers is a bankable tentpole sci-fi franchise that is only gaining steam after the semi-reboot that introduced Mark Wahlberg into the fold with last year's Age of Extinction.
But the big question — can this franchise actually support this many films? Creatively, that's a tough question to answer, because the first four films weren't that well-known for their storytelling. One of the things that kind of made the franchise so buzzy was the fact that we only got a new one about every three or so years. If they crank them out back to back, will it lose some of its luster? Only time will tell, but it looks like we'll find out soon.>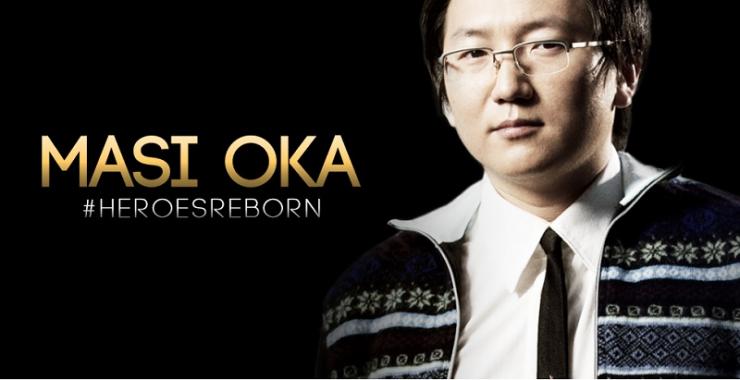 HEROES REBORN
Heroes Reborn is going through some changes. The reboot has added several actors to its cast and moved its premiere date. Originally, the show was supposed to debut this summer, but the network's decided to push it back.
NBC has bumped the series to fall 2015. That means it will face heavy competition from the season's regular programming. Perhaps that's why they've brought in one of Heroes' most notable stars, Masi Oka. Oka portrayed Hiro Nakamura, who alongside Milo Ventimiglia's Peter Petrelli and Hayden Panettiere's Claire Bennet, were the faces of the original series.
"I'm excited to return to my Heroes roots," said Oka. "Hiro Nakamura was such an inspirational role to play, and I'm hoping the fans will enjoy seeing him back on TV." Heroes creator Tim Kring also chimed in, "We are thrilled to have Masi back in the Heroes family. The character of Hiro Nakamura was such a huge part of the first series' success, and a gigantic fan favorite. We felt the fans would really love seeing him back in action again."
Oka won't be the only old-school actor in the mix. He'll join Jack Coleman, who's reprising his role as Noah Bennet (the man in the horn-rimmed glasses). The duo will usher in a group of newcomers including Zachary Levi, Ryan Guzman, Robbie Kay, Danika Yarosh, Judith Shekoni, Kiki Sukezane, Henry Zebrowski and Gatlin Green.
Heroes Reborn is a limited series event that will run for 13 episodes.
TERMINATOR: GENISYS
A new extended TV spot for Terminator: Genisys has been released online, featuring our first real look at J.K. Simmons' detective character.
The "Help" TV spot (which looks more like a mini-trailer to us) has a tiny spark of humor to it amid the chaos, thanks to Oscar-winner J.K. Simmons' character, Detective O'Brien, who shares a great line with Emilia Clarke's (Game of Thrones) Sarah Connor. There's also some darker stuff coming straight from the mouth of Sarah's son John (Jason Clarke) -- "It can't be bargained with. It can't be reasoned with. There's a storm coming. And it won't be stopped" -- as well as new footage and some shots that look like they're right out of a previous Terminator film.
Here's a detailed synopsis:
The beginning of Terminator: Genisys, the first of three planned films that Paramount hopes will relaunch the beloved sci-fi franchise, is set in 2029, when the Future War is raging and a group of human rebels has the evil artificial-intelligence system Skynet on the ropes. John Connor (Dawn of the Planet of the Apes' Jason Clarke) is the leader of the resistance, and Kyle Reese (Divergent's Jai Courtney) is his loyal soldier, raised in the ruins of post apocalyptic California. As in the original film, Connor sends Reese back to 1984 to save Connor's mother, Sarah (Game of Thrones' Emilia Clarke), from a Terminator programmed to kill her so that she won't ever give birth to John. But what Reese finds on the other side is nothing like he expected.
Terminator: Genisys stars Arnold "I'll be back" Schwarzenegger, Jason Clarke, Jai Courtney, Emilia Clarke, Matt Smith, Byung-hun Lee, Courtney B. Vance and J.K. Simmons. It is set to be released on July 1.

STAR TREK RUMOR
It's been nearly 10 years since Enterprise ended its TV run, and it seems like ever since then we've heard constant rumors about a return to TV for Star Trek. Gene Roddenberry's sci-fi touchstone began on the small screen, after all, and many fans would argue that's still where the best work done in the franchise lies, despite a slew of films that now include a big-budget reboot courtesy of J.J. Abrams. When the Abrams era of Trek began a few years ago, it seemed that the Powers That Be were only interested in big-screen revenues for the franchise, but rumors of a small-screen revival persisted, including one a few months ago that Netflix was interested in bringing Trek back to its long-form roots. Now reports of Star Trek coming back to TV are heating up again.
According to Latino Review, CBS "is looking to bring Star Trek back to TV," and while we don't know yet exactly when this revival could happen, or what form it could take, it comes courtesy of a site that's produced plenty of rumors that turned out to be legitimate. So, you know, take it with a grain of salt, but don't lose hope.
The Latino Review report focuses specifically on an abandoned TV pitch called Star Trek: Federation, brought forward by producers Geoffrey Thorne (Leverage, Law & Order: Criminal Intent), Robert Burnett (who's worked on a number of Star Trek documentaries and is producing the fan film Star Trek: Axanar), Bryan Singer (X-Men: Days of Future Past) and Christopher McQuarrie (Mission: Impossible - Rogue Nation). That series would've seen the Trek timeline move into the future, beyond Deep Space Nine and Voyager, to a time when the Federation was becoming fractured and "complacent." It would've re-defined the Trek paradigm by basically breaking up the Utopia presented by the original Federation, and thus would've offered plenty of new storytelling opportunities.
We don't know if CBS is actually interested in following up on Federation, but according to this report the network is interested in bringing Singer back to develop a new series, and McQuarrie was still interested in Trek as early as last December (though Rogue Nation is foremost on his mind at the moment). The report also notes that the success or failure of Axanar could be a key point in the decision-making process, because it could prove Trek is still viable without a big-screen budget. However it all shakes out, if this report is true, Star Trek could finally be on its way to the small screen again.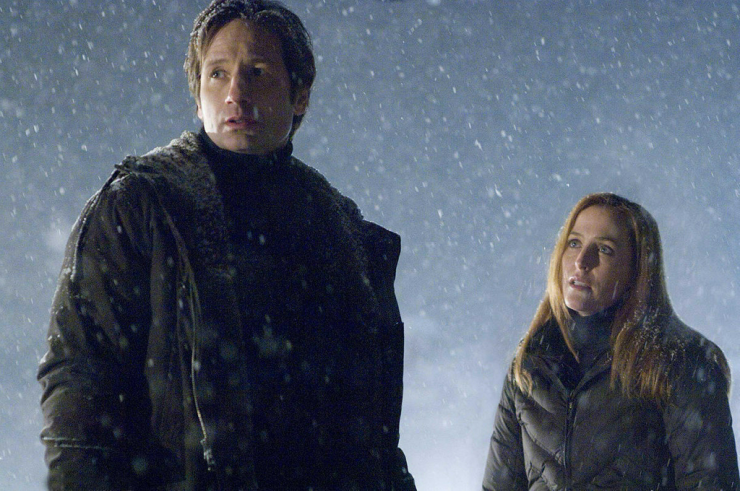 X-FILES
After years of fans begging for more, Fox has finally pulled the trigger and resurrected cult hit The X-Files for a six-episode miniseries that will (hopefully) wrap up some lingering storylines. So, what does creator Chris Carter have to say about the revival?
Fans are clamoring for details on what Carter will do with six fresh hours to fill with Mulder and Scully, with some wanting the season to wrap up the unfinished invasion storyline, while others are pushing for more standalone episodes. Considering that the series excelled at both, Carter teased they're planning a mix for this mini-run. Here's what he told The Daily Beast in the wake of Fox's announcement:
"There are no scripts yet! But yes, I will be overseeing them, but with several people who have been working on the show over the years … I like to think that anyone can enter this without much of a run-up. That said, you don't want to have to hit the hardcore fans over the head getting them up to speed.
I do, actually [have the arc mapped out]. I know what I want to do, how I want it to lay out—the balance of mythology to stand-alone episodes. Even though none of us have had contracts, I've only had one since yesterday, the people that are going to be involved have been talking since the beginning of the year, so we have a clear idea of how this should be, or the best way we think this should be laid out."
If Carter & Co. can strike that balance, it'll hopefully make most fans happy. Within a six-hour framework, there's definitely time to answer some of those dangling questions and still introduce some intriguing new stories. But what about once these six episodes are over? Is Carter interested in making more? Yes, but he wants to get through these first six before he thinks too far ahead. Good call.
"Every day I turn on the radio in the morning, I hear an X-Files story, or I pick up the paper and I see an X-Files story. So yes, the Mulder and Scully in my head are always switched on… First things first, we just want to do six great episodes. We're all primed to do that, there are great stories to tell, and now it's just distilling it down to telling the best stories possible in the time we have."
SUNDAYS
The awesome little sci-fi short film Sundays has been lighting up the Internet this week, and in a few years it could be blowing up the box office.
Deadline reports Warner Bros. has won a bidding war to snag the film rights to the short, which is basically The Matrix meets District 9 in regard to vibe. Director and writer Mischa Rozema used Kickstarter to raise approximately $50,000 to bankroll the film, which has the feel of something with a much (much, much) higher budget. Seriously, this guy knows how to rock a shoestring.
The studio is apparently fired up to get this one off the ground quickly, which isn't much of a shock, considering they fought off Fox and Sony Pictures for the rights. Rezema will apparently be meeting with studio execs in the coming weeks, and a writer could be hired soon after that to help flesh out the concept for feature length.
Here's the official synopsis, which breaks down some of the major themes:
The end of the world seems like a nightmare to Ben. A memory of a past life that doesn't belong to him. When Ben starts to remember Isabelle, the only love he's ever known, he realises she's missing in his life. An existential descent into confusion and the desperate need to find out the truth begins. This reality depicts a stunning, surprising and dark world. A world that is clearly not his.
Check out the original short film below just in case you missed it as it took over the Internet the past week or so.
DAREDEVIL
Netflix has released the new TV spot for "Marvel's Daredevil" which you can view below! All 13 episodes of the anticipated series' first season will be available on Netflix April 10.
Produced by Marvel Television and ABC Studios, with executive producers Steven S. DeKnight ("Spartacus"), Jeph Loeb ("Marvel's Agents of S.H.I.E.L.D.") and Drew Goddard (The Cabin in the Woods), the full 13-episode season will be made available globally upon release in all territories where Netflix is available.
Starring Charlie Cox (Matt Murdock), Deborah Ann Woll (Karen Page), Elden Henson (Foggy Nelson), Rosario Dawson (Claire Temple), Bob Gunton (Leland Owlsely aka The Owl), Vondie Curtis Hall (Ben Urich), Toby Leonard Moore (Wesley, Wilson Fisk's right hand man), Ayelet Zurer (Vanessa Fisk), and Vincent D'Onofrio (Wilson Fisk), "Marvel's Daredevil" follows the journey of Matt Murdock, who was blinded as a young boy but imbued with extraordinary senses, now fighting against injustice by day as a lawyer, and by night as the super hero Daredevil in modern day Hell's Kitchen, New York City.
FRIDAY, MARCH 27, 2015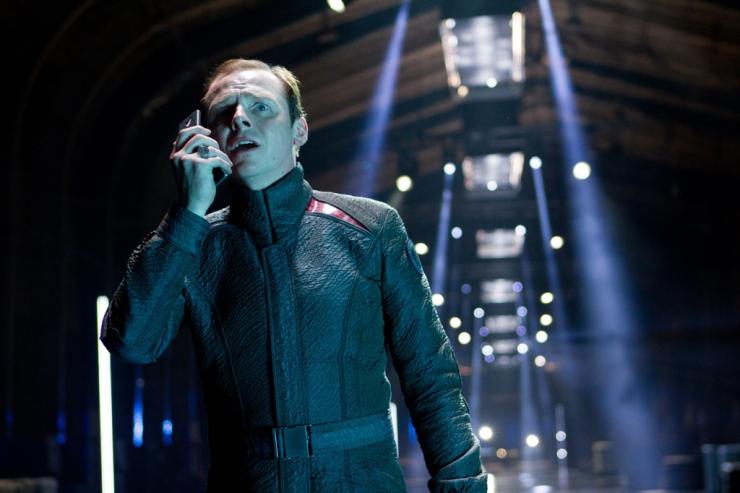 STAR TREK NEWS
The upcoming Star Trek sequel got a major shot of additional geek cred when co-star Simon Pegg signed on to help write the script, and the Shaun of the Dead star is saying all the right things about where they're taking the Enterprise next. In an interview with Comic Book Resources, Pegg touched on his role in the upcoming Mission: Impossible Rogue Nation action spectacle, and what it's like palling around with J.J. Abrams. But the really juicy stuff came when he turned his attention to the process of actually writing Star Trek 3. We already knew Pegg was a bit terrified by the opportunity, but now he's pulled back the curtain to let us know the vibe they're aiming for with the latest installment. Since the first two films didn't get too far outside our established corner of the universe, Pegg said they're hoping to channel that spirit of exploration and visiting new worlds that made Star Trek: The Original Series such a seminal work of science fiction. Here's the choice excerpt: "But I think we just want to take it forward with the spirit of the TV show. And it's a story about frontierism and adventure and optimism and fun, and that's where we want to take it, you know. Where no man has gone before – where no one has gone before, sensibly corrected for a slighter more enlightened generation. But yeah, that's the mood at the moment." After Star Trek literally and figuratively went Into Darkness on the last outing, we couldn't be more excited to hear Pegg utter the word "fun" in regard to the sequel.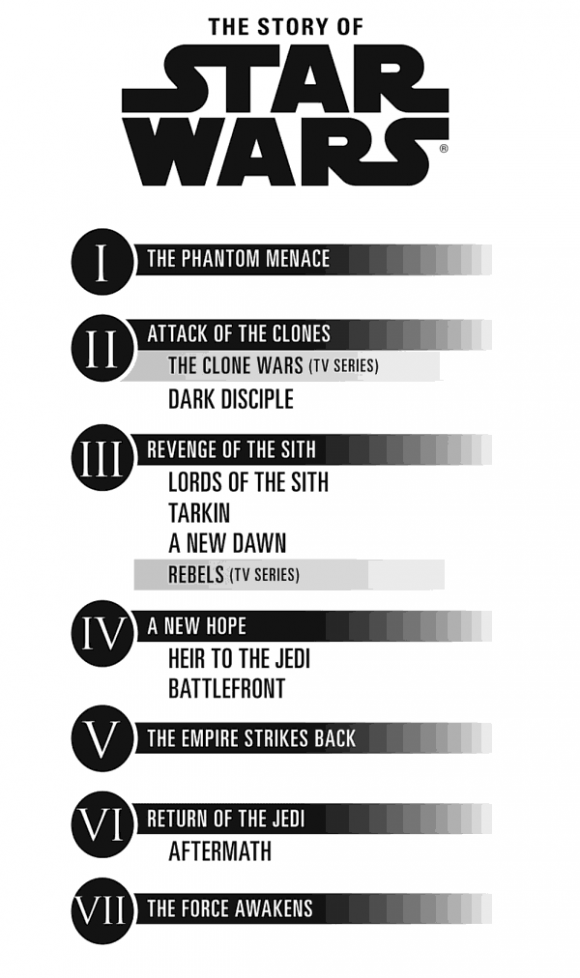 STAR WARS BOOKS
It seems like the picture gets clearer and clearer every day for Disney's ambitious plans for Star Wars, and now we have yet another piece of the puzzle. A new infographic has been released, showing exactly where six new Star Wars books will fit within the existing film timeline. Even better? The synopses have also been released, giving us even more intel on the direction Disney is taking the franchise as they launch untold stories in just about every imaginable era. In addition to the new slate of films, Disney has pledged to create an all-new, unified universe stretching across animated shows, comic books and novels. This seems to be the first of many phases of that plan. If you've been jonesing for some fun in a galaxy far, far away, you should be swinning in Star Wars gear by the end of this year.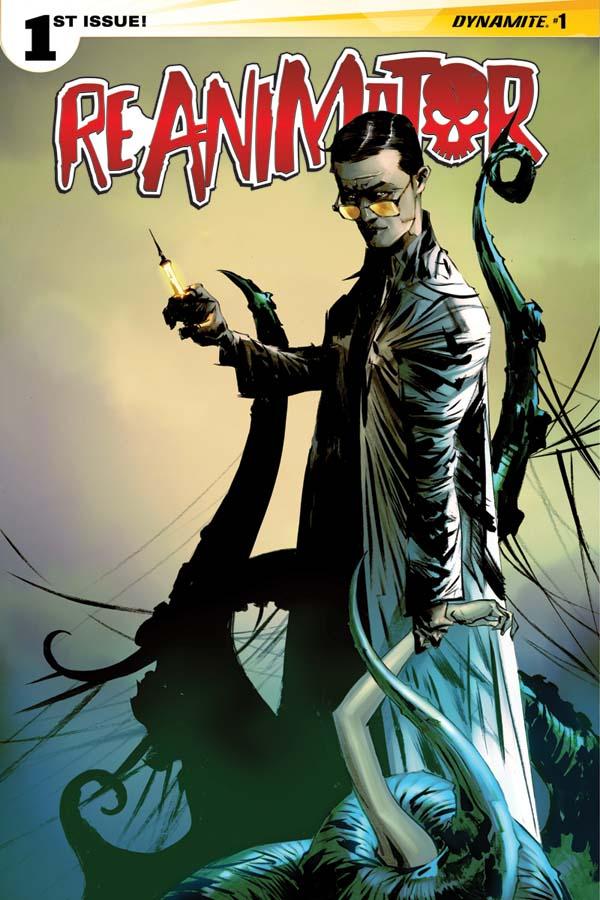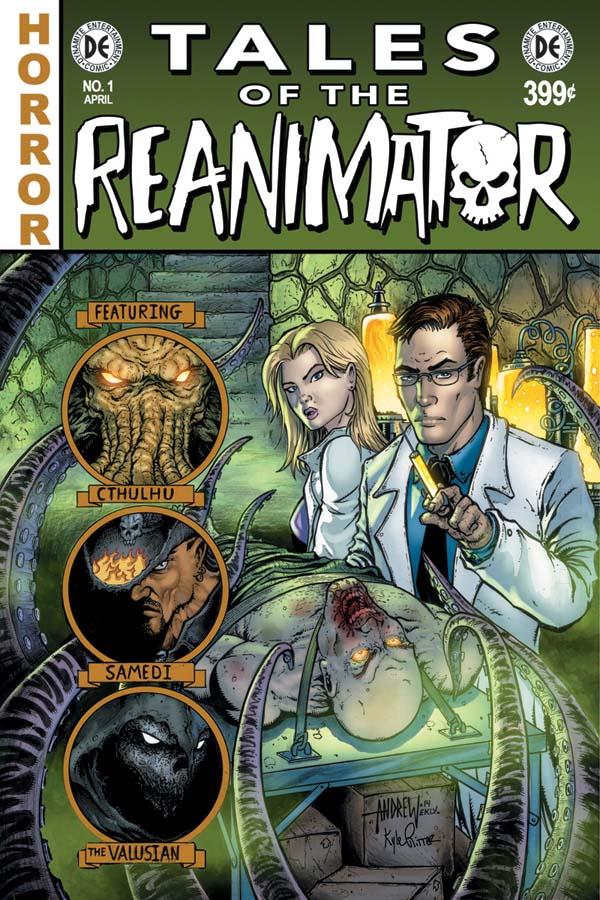 REANIMATOR
It's always inspiring to see someone truly relish their work, even if it's H.P. Lovecraft's psychopathic physician, Dr. Herbert West, who's up to his insane old tricks in Dynamite's wicked new four-issue Reanimator miniseries. The mad scientist with a serious God complex, first seen in Lovecraft's 1922 short story Herbert West - Reanimator, is set to revive a menagerie of crazy creatures with his syringes of glowing undead elixirs, this time in gloomy old New Orleans. Written by Keith Davidsen with art by Randy Valiente, it joins a crowded corner of the medical horror comic-book market, fortified for success with the prestige of a marquee name like the legendary Lovecraft. Here's the official synopsis from Dynamite: Dr. Herbert West, The Reanimator, returns! Setting up shop in New Orleans, the brilliant Dr. West continues his life's work: the revival of the dead by purely chemical means. To accomplish this task, he recruits Susan Greene, a young and wide-eyed pharmacologist fascinated by his macabre experiments. Initially unfazed by West's unorthodox practices (including how he funds his research - by selling zombie brain fluid as a narcotic), Susan may regret her scientific curiosity as sinister forces - those aligned with the Elder Gods and Haitian Voodoo - begin to align against the Reanimator! Dynamite Entertainment proudly resurrects The Reanimator, H.P. Lovecraft's notorious mad scientist, in a fear-fraught four-issue miniseries! Take what you love best about the television shows Breaking Bad and The Walking Dead, throw in Cthulhu tentacle terror and backwater Louisianan superstition, and you have the all-new horror comic hit of 2015! Check out this shocking preview with variant covers by Jae Lee, Francesco Francavilla, Tim Seeley and Andrew Magnum below and tell us if it's something you might experiment with when Reanimator #1 hits the shelves on April 8, 2015.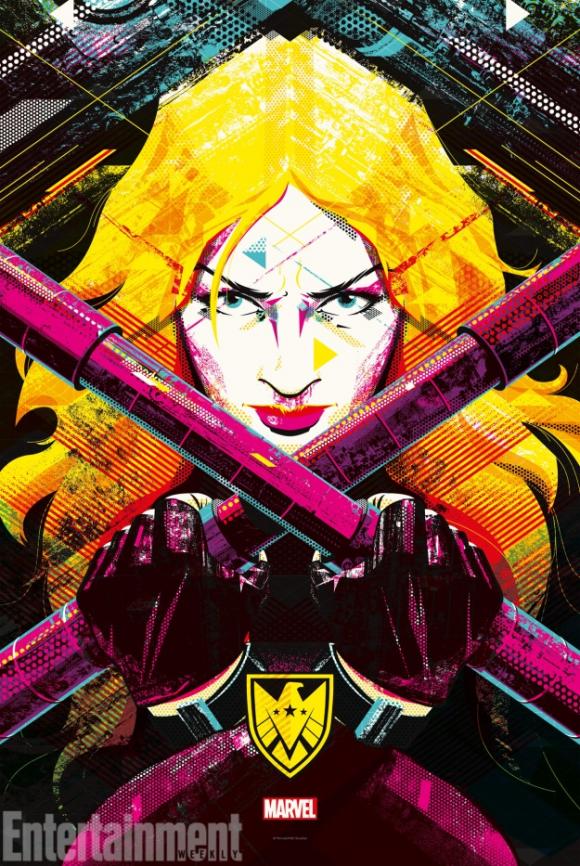 AGENTS OF S.H.I.E.L.D.
A cool new poster for Marvel's Agents of S.H.I.E.L.D. from Delicious Design League has been released, featuring a very colorful Bobbi Morse, aka Mockingbird. In next week's episode, Bobbi (Adrianne Palicki) will take aim at Agent Coulson (Clark Gregg), and we'll finally get a bit more background info on her and Mack (Henry Simmons). It'll also feature the return of Lucy Lawless as Isabelle Hartley, who met her demise in the first episode of season two. Or did she? It's not yet clear in what capacity she'll return, exactly. Flashback? Here's a short synopsis: "One Door Closes" - War comes to Coulson's doorstep in a way he never anticipated as shocking revelations are brought to light, and Skye struggles to control her new abilities but will soon make a decision that irrevocably changes her life, on "Marvel's Agents of S.H.I.E.L.D.," Tuesday, March 31 (9:00-10:00 PM, ET) on the ABC Television Network. Delicious Design League is a company based in Chicago. They've created posters, flyers and much more for everyone from Twitter to HBO. Have a look at the awesome character poster featuring a determined-looking Mockingbird holding up her trusty escrima sticks, with "the real S.H.I.E.L.D."'s retro-looking logo.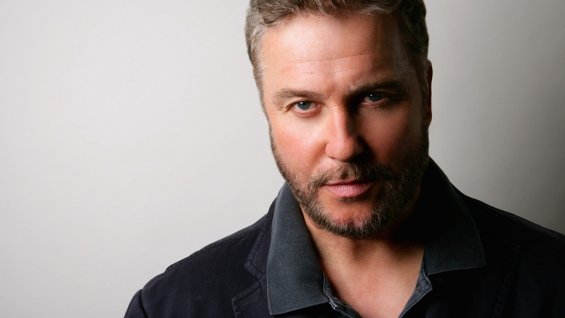 MANHATTAN
William Petersen is plotting his TV return. The CSI: Crime Scene Investigation star has joined the cast of WGN America's Manhattan as a series regular, the network announced Thursday. The actor, who departed the CBS procedural during season nine, will play Col. Emmett Darrow, the enigmatic new ranking military officer at Los Alamos. A deeply religious and patriotic man, Darrow feels called by God to usher in the atomic future, and to spread American values across the globe. Manhattan marks Petersen's return to the small screen following his 10-season Emmy- and Golden Globe-nominated run as Gil Grissom on CSI. Produced by Lionsgate, Skydance and Tribune Studios, the second season of Manhattan — starring John Benjamin Hickey and Olivia Williams — begins production in April for a 2015 debut. Aside from CSI, Petersen's TV roles have been limited. In 2012, he plotted a return to TV with Hurt People, a drama produced by GK-TV that did not move forward at Cinemax. Petersen, who remains an exec producer on CSI, is repped by CAA and Ziffren Brittenham. MAD MAX Warner Bros. Pictures has more fuel-injected mayhem for you as an "explosion" teaser for the upcoming Max Max: Fury Road has debuted online. Mad Max: Fury Road is the fourth film of George Miller's Road Warrior/Mad Max franchise and is co-written and directed by Miller. The post-apocalyptic action film is set in the furthest reaches of our planet, in a stark desert landscape where humanity is broken, and most everyone is crazed fighting for the necessities of life. Within this world of fire and blood exist two rebels on the run who just might be able to restore order. There's Max (Tom Hardy), a man of action and a man of few words, who seeks peace of mind following the loss of his wife and child in the aftermath of the chaos and Furiosa (Charlize Theron), a woman of action and a woman who believes her path to survival may be achieved if she can make it across the desert back to her childhood homeland. Also starring Nicholas Hoult, Hugh Keays-Byrne, Nathan Jones, Zoe Kravitz, Riley Keough, Rosie Huntington-Whiteley, Mad Max: Fury Road opens in 2D and 3D theaters on May 15. HALT AND CATCH FIRE
AMC announced today the season two premiere of "Halt and Catch Fire" on Sunday, May 31 at 10:00 p.m. ET/PT. The series, which stars Lee Pace, Scoot McNairy, Mackenzie Davis and Kerry Bishé, will pick up in early 1985 and center on the rise of Mutiny, Cameron (Davis) and Donna's (Bishé) start-up company that is built upon the most disruptive idea of the modern era—the Internet. At the same time, Joe (Pace), Gordon (McNairy) and Bosworth (Toby Huss) will be caught up in their own "online" wave, remaking the tech landscape all around them, as they attempt to heal old wounds and deal with the fallout of season one. "Halt and Catch Fire's" second season will explore themes that tap directly into the modern zeitgeist such as the thin line separating genius from self-delusion, the fragility of human connection, and everyone's desire, especially in today's tech-obsessed world, to leave a meaningful mark and do something that truly matters. "To our passionate core audience and the critics who loved the show through Season One – we thank you sincerely for your support. Season Two won't disappoint. We're going to drill down even deeper into these characters we've created, to give you all the emotional and psychological depth you've come to expect from 'Halt and Catch Fire,' while at the same time evolving the show to be brasher and even more addictive," said Jonathan Lisco, showrunner and executive producer of the series. AMC also released today a sneak peek clip from the season two premiere episode featuring a first look at Mutiny. The clip showcases Donna (Bishé) as she weaves through the bustling start-up office which is wired with creativity and invention. The complete first season of "Halt and Catch Fire" is available now through Tuesday, April 7 on AMC On Demand and AMC.com. Viewers will also be able to catch up on season one on Netflix beginning Wednesday, April 8. "Halt and Catch Fire" was created by Chris Cantwell and Christopher C. Rogers and executive produced by Cantwell, Rogers, showrunner Jonathan Lisco ("Southland") and Gran Via Productions' Mark Johnson ("Breaking Bad," "Rectify," Diner, Rain Man) and Melissa Bernstein ("Breaking Bad," "Rectify"). In addition to Pace, McNairy, Bishé, Davis and Huss, the second season stars Aleksa Palladino ("Boardwalk Empire") as Sara Wheeler. Recurring roles this season include James Cromwell ("Boardwalk Empire," "American Horror Story") as Jacob Wheeler and Mark O'Brien ("The Republic of Doyle") as Tom Rendon.
THURSDAY, MARCH 26, 2015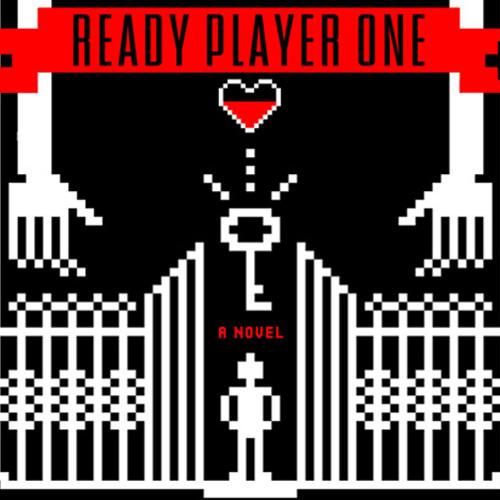 READY PLAYER ONE
There has been little news recently on the screen adaptation of Ready Player One -- until today. According to The Wrap, Steven Spielberg is going to get behind the camera for the movie based on Ernest Cline's best-selling novel. That is a huge boost for the project, which Warner Bros. had offered to Christopher Nolan last year and which seemed to be in a kind of limbo in recent months. We can assume that Nolan just wasn't interested, but that's OK, because getting Spielberg is not exactly a weak consolation prize. The legendary director will tackle Ready Player One after he finishes up The BFG, which just began shooting on Monday (March 23) and is set for release in July 2016. Ready Player One is set in the year 2044, a kind-of dystopian future in which people spend their time in the virtual-reality universe known as the OASIS. The protagonist, Wade Watts, sets off to solve a series of challenges and puzzles to win a challenge set forth by the now-deceased creator of the OASIS, but finds himself pursued by other players who are ready to kill if necessary to beat him to it. There are pop-culture references and images galore in the book, which should be an interesting challenge itself for the director to solve. Spielberg's sci-fi resume -- which includes gems like Close Encounters of the Third Kind, E.T.: The Extra-Terrestrial, Jurassic Park, Minority Report and War of the Worlds -- speaks for itself, so I imagine that Ernest Cline is sitting around somewhere with a huge grin on his face today. The film will be Spielberg's first for Warner Bros. since he did A.I.: Artificial Intelligence for that studio in 2001. There's no word yet on a release date for the film, which is being written by Zak Penn (X-Men: The Last Stand, The Avengers), but no doubt there will be a lot of news in the months ahead.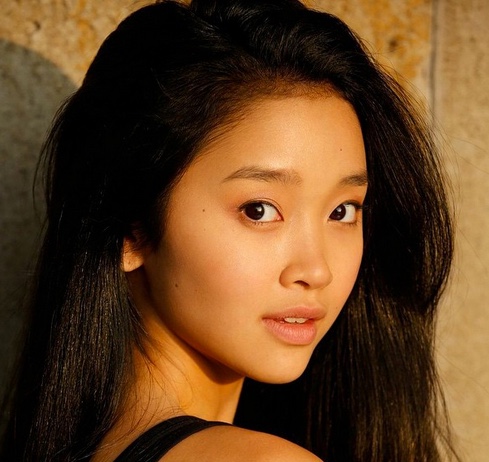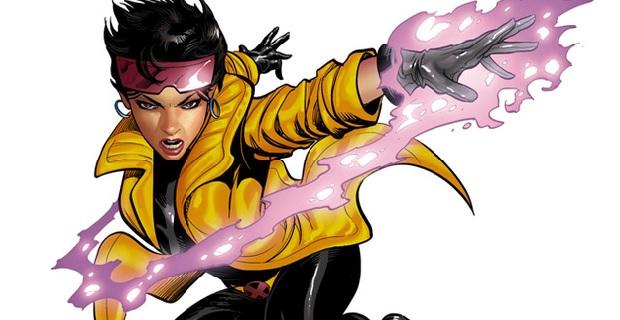 X-MEN: APOCALYPSE
Following the development of X-Men: Apocalypse so far has been fascinating in the larger context of the X-Men franchise, arguably more fascinating even than the franchise relaunch that was First Class. In many ways, it's poised to be the culmination of several years of X-Men moviemaking, an event that First Class and Days of Future Past both built to, a film that will coalesce Charles Xavier's X-Men like never before and possibly set up Magneto for good and all as their ultimate adversary. It's the final film in a trilogy, but it's also a kind of bridge between the First Class era and the X-Men universe that came before. It even stands in as a possible fresh start, the launching pad for superhero movie stardom for a new generation of stars, and that's all without even considering the impact the titular mega-powered villain will have on things. That new generation of stars has been building over the last few months. We've got a new Cyclops (Tye Sheridan), a new Jean Grey (Sophie Turner) and a new Storm (Alexandra Shipp) that many fans are counting on to redeem the character after what they consider to be a lackluster take from Halle Berry. Now, director Bryan Singer has added another name to this new generation of X-Men, and if you grew up on these mutants in the '90s, you've already got fond memories of the character. Singer revealed via his Instagram page that newcomer Lana Condor has joined Apocalypse as Jubilation "Jubilee" Lee. Jubilee, with her bright yellow coat, pink shades, sparkly powers and mall babe attitude, debuted in Uncanny X-Men #244 in 1989, and became a defining character for the X-line in the early '90s. If you're like me and countless other kids, though, you best know her from the '92 X-Men animated series, where she first met the rest of the team in a Sentinel-besieged shopping mall. The character's undergone some changes in the years since (she's a vampire with a kid now), but given that Apocalypse is set in the '80s, and given Condor's youth, we're hoping for some of that youthful enthusiasm that so defined her early years (and, of course, that she'll finally get more than the cameo appearances she got in the early films). X-Men: Apocalypse hits theaters May 27, 2016.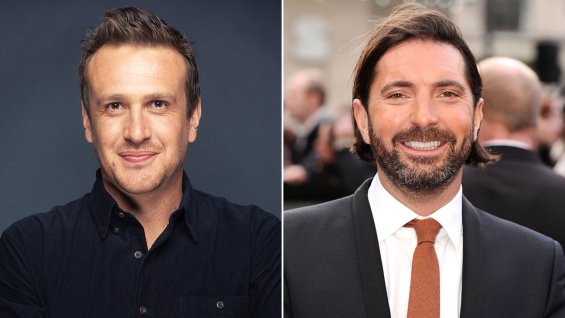 THE BILLION BRICK RACE
Warner Bros' Lego empire keeps expanding. The studio has hired Jason Segel, the actor who helped Disney revive The Muppets several years ago, and Drew Pearce, the writer behind Iron Man 3, to pen and co-direct a new Lego movie, this one titled The Billion Brick Race. Thanks to the success of last year's The Lego Movie ($469 million worldwide), Warners will be cranking out the sequels and spinoffs over the coming years. Billion Brick would be in addition to three movies that the studio already has dated for release or is in production on: the Charlie Bean-directed Ninjago in 2016, followed by The Lego Batman Movie in 2017 and The Lego Movie 2 in 2018. The Lego Movie brain trust of Phil Lord, Chris Miller, Dan Lin and Roy Lee are on board to produce Billion Brick Race, whose plot details are being kept hidden deep in Bricksburg. The story will be based on an original idea by Pearce that excited the studio. Brick Race has no release date and is in the early stages of development. Courtenay Valenti is overseeing for the studio. This would be Segel and Pearce's first foray into feature directing. Segel has already been branching out into writing studio films, all in the comedy realm, including Forgetting Sarah Marshall and last year's Sex Tape. Pearce, on the other hand, is an action franchise player and worked on Mission: Impossible – Rogue Nation, which opens July 31. He is also working on a Ghostbusters movie for Sony.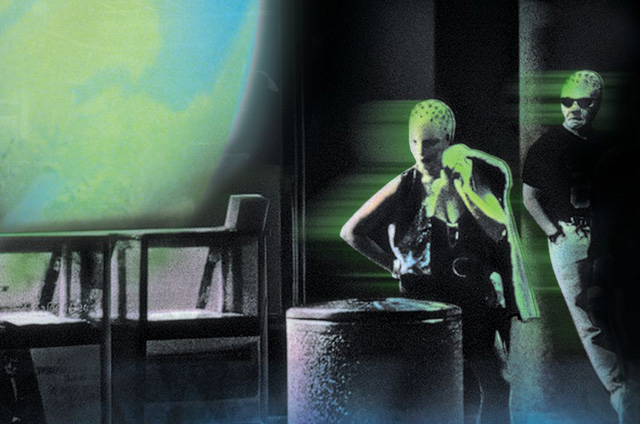 ALIEN NATION REMAKE
A new big screen take on Alien Nation is on the way from 20th Century Fox. The Hollywood Reporter has the news, bringing word that the 1988 feature will be getting a full reboot with Iron Man scribes Matt Holloway and Art Marcum attached to provide the screenplay. The original film, directed by Graham Baker, took place in a near future Los Angeles, shortly after a race of humanoid extraterrestrials, known as Newcomers, took refuge on Earth. An allegory for racial prejudice, the narrative followed a pair of police officers, human Matthew Sykes (James Caan) and Newcomer George Francisco (Mandy Patinkin). The film was followed by a single season 22-episode television spinoff with Gary Graham and Eric Pierpoint playing Sikes and Francisco, respectively. The show's popularity was such that, even after being cancelled, "Alien Nation" continued through a series of telefilms. Five different movies were aired between 1994 and 1997. The trade likens the new approach to the studio's recent take on the Planet of the Apes franchise. Oddly enough, both Planet of the Apes and Alien Nation actually crossed over in comic book form with the 1991 Malibu Comics four issue minsieres "Ape Nation." No producer is, as of yet, attached to the new Alien Nation film, but check back for updates as they become available. HELIX
New clips from Episode 11 of Syfy's "Helix," airing this Friday at 10/9c. In the episode, titled "Plan B," the island becomes the target of a chemical attack as Julia and Sarah prepare Amy for her bizarre surgery. The second season of "Helix" finds the doctors of the Centers for Disease Control, still haunted by the Narvik outbreak and the events that took place in Arctic Biosystems, investigating a deadly outbreak of a new disease on a Windjammer cruise ship. Their investigation leads them to a mysterious island inhabited by a cult with the hope of creating a utopian society. "Helix" stars Billy Campbell, Kyra Zagorsky, Matt Long, Jordan Hayes, Neil Napier and Steven Weber. The series is executive produced by Ronald D. Moore ("Battlestar Galactica," "Outlander"), Steven Maeda ("Lost," "The X-Files") who is also showrunner, and Lynda Obst (Contact, Sleepless in Seattle). The series is produced by Tall Ship Productions, Kaji Productions and Lynda Obst Productions in association with Sony Pictures Television.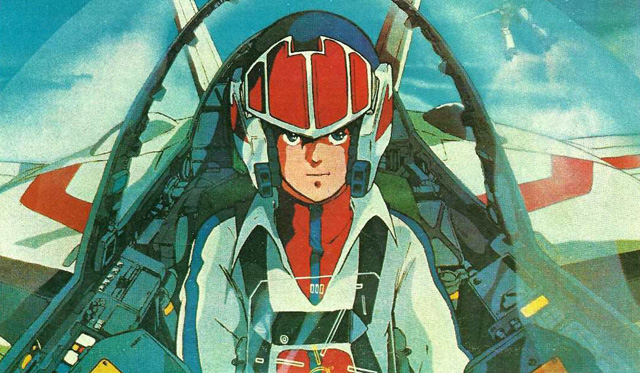 ROBOTECH
In various stages of development for quite some time, it appears that a live-action adaptation of the anime classic Robotech is finally on the way! Sony Pictures has just announced that they have secured the big screen rights to the property with, in their words, "the intention of moving quickly toward production of a future global franchise"! "Robotech" debuted in the 1980s from Harmony Gold USA and Tatsunoko Productions. A peculiar science fiction amalgamation, the show re-edited and re-wrote the dialogue of three Japanese anime series ("The Super Dimension Fortress Macross," "Super Dimension Cavalry Southern Cross" and "Genesis Climber MOSPEADA") to give the producers enough episodes to air as a daily syndicated series. A sprawling sci-fi epic, Robotech takes place at a time when Earth has developed giant robots from the technology on an alien spacecraft that crashed on a South Pacific isle. Mankind is forced to use the technology to fend off three successive waves of alien invasions. The first invasion concerns a battle with a race of giant warriors who seek to retrieve their flagship's energy source known as "protoculture," and the planet's survival ends up in the hands of two young pilots. Immortals and 300 franchise producers Gianni Nunnari and Mark Canton are developing Robotech with Michael Gordon (300, GI Joe: The Rise of Cobra) set to provide the screenplay. This team will "bring their modern sensibility to the tentpole, reintroducing today's audiences to the Robotech universe." The project will be overseen at Sony Pictures by Doug Belgrad, Michael De Luca, and Matthew Milam. Frank Agrama of Harmony Gold, which is the original intellectual property rights holder, will executive produce with Michael Gordon and Jehan Agrama. "'Robotech' is unique in that it has always been a marriage of spectacle with human characters that seem drawn from life," says De Luca. "That's why we are so excited to be working with Mark and Gianni as we move forward on this project. With a history that offers an epic love triangle, a renegade hero, and a world on the brink of extinction, 'Robotech' offers a wide scope and a rich and impressive universe where the story possibilities are endless." "When the rights to 'Robotech' became available we jumped," adds Nunnari. "Mark and I knew it had what big movies in today's world must have if they want to grab everyone: insane visuals AND powerful themes. The characters in 'Robotech' wrestle with both the destructive and redemptive powers of technology; nothing is more relevant today than that." "I'm thrilled to be back in business with Sony Pictures and Gianni and I look forward to working with the studio on this global franchise-driven opportunity," says Canton. "'Robotech' is a very significant and legendary part of the growth of anime into the force that it is today, and we're excited to be adapting it for modern audiences." "Patience is a virtue," continues Agrama. "We at Harmony Gold have waited 30 years for the chips to fall in place. Finally they have, and finally our dreams have come true. I am sure that our fans and the public at large will be flabbergasted with what they will hear and see on the screen. Thank you Gianni, Mark, Ralph and above all, all of the Columbia Pictures people involved." The deal on behalf of Harmony Gold and the producers was negotiated by Ralph P Brescia of Bloom Hergott.
WEDNESDAY, MARCH 25, 2015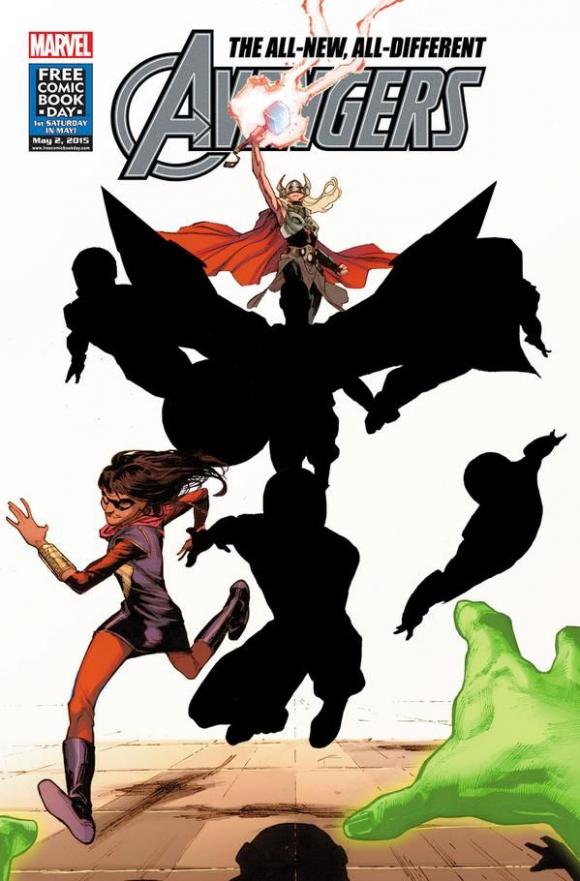 NEW AVENGERS
The entire Marvel comic catalog is getting a shakeup thanks to the upcoming Secret Wars event, and here's our first peek at how it'll affect one of the flagship teams. The comics company has confirmed that Thor and Ms. Marvel will be joining the All New, All Different Avengers when the book launches in the coming months. Both heroes are huge hits, with Ms. Marvel becoming a breakout star and the new, female Thor out-selling the old, male Thor by approximately 30 percent. They bring some fresh talent, diversity and buzz to the team — which is smart, considering how many books Marvel will be launching/relaunching in the wake of Secret Wars. The massive Secret Wars event will see the end of 33 ongoing comics next month (though we'd imagine at least some of those will be relaunched or reconfigured at some point), and also bring about this new Avengers lineup. As for the rest of the new team? They're still hidden in silhouette, though The Verge notes (and we agree) that Storm and Miles Morales' Spider-Man could be on the short list. Hey, with the Ultimate universe ending, Miles is gonna need somewhere to land. Check out the cover below and let us know who you think is on the roster. SUNDAYS
We seem to be living in a renaissance of short films, as technology has reached a tipping point that allows ambitious young directors the opportunity to create some truly awesome projects on a shoestring budget. This is the latest short you need to watch. Dubbed Sundays, the short film was directed and written by Mischa Rozema and looks like a spiritual brother to gritty sci-fi tale District 9. The 14-minute clip below essentially serves as a proof of concept for a larger pitch, and stars U.S. actor Brian Petsos and Mexican actress Sofia Sisniega. The whole thing looks great, and Rozema does a nice job of seamlessly weaving together live action and CGI. Check out the plot synopsis below: The end of the world seems like a nightmare to Ben. A memory of a past life that doesn't belong to him. When Ben starts to remember Isabelle, the only love he's ever known, he realises she's missing in his life. An existential descent into confusion and the desperate need to find out the truth begins. This reality depicts a stunning, surprising and dark world. A world that is clearly not his. Those are some heady topics to cram into a short film, but Rozema seems up to the task of tackling them all — while also making sure everything looks great along the way.
X-FILES COMING BACK
We've been hearing about a possible X-Files reunion ever since the last one, the film I Want to Believe, hit theaters in 2008. In the intervening years creator Chris Carter and stars Gillian Anderson and David Duchovny have always maintained that they'd be up for another go, whether on the big screen or the small screen, but that the ball was in Fox's court. Talk of a reunion seemed to grow more and more serious over the past few months, despite plenty of other acting commitments for both Anderson and Duchovny, and just yesterday we heard rumors that the announcement of a limited series return to TV was close. Well, now the truth is here. Carter and Fox announced in a statement today that The X-Files will return to television for a six-episode limited series. Both Anderson and Duchovny are set to return as Dana Scully and Fox Mulder, respectively, setting in motion a small-screen revival that fans have been craving ever since the series went off the air in 2002. "I think of it as a 13-year commercial break," Carter said. "The good news is the world has only gotten that much stranger, a perfect time to tell these six stories." We don't know yet when and where the series will be set, what supporting characters might return, or what the overall arc will be, but Carter's reference to "six stories" seems to suggest a return to the classic X-Files form of standalone episodes into which a larger mythological narrative might just be woven. We also don't know when we can expect to see the series, given the busy schedules of everyone involved, but the important thing for now is that it's real. We're actually getting six more hours of The X-Files, proving that all those years of wanting to believe in a reunion weren't for naught after all.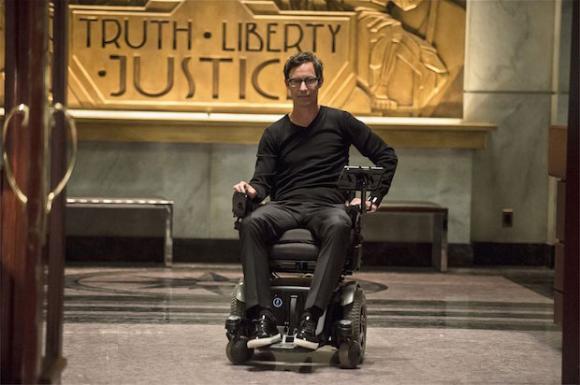 THE FLASH
The CW's Flash delivered one of its best episodes to date last week, effectively blowing the DC mythology wide open. So what should we expect tonight? Spoilers ahead for The Flash! Last week packed in enough character development and plot twists to last a season, though it was all reset when Barry (Grant Gustin) tapped into his Speed Force abilities and went back in time to the beginning of the day. That kiss with Iris, the tidal wave headed for Central City, Dr. Harrison Wells' confession that he really is time traveler Eobard Thawne and the brutal murder of Cisco — all erased. But even though Barry gets a do-over, and no one but the audience now knows that Wells is actually Reverse-Flash/Thawne, Gustin told Entertainment Weekly that Wells' big secret will still be coming out soon: "Barry is going to find out in the next couple of episodes. Joe [Jesse L. Martin] and Barry refocus all of their energy on Wells… Barry still has a hard time not liking him, even after he learns the truth. In the moments he's just with him and talking to him, Wells just is so helpful and supportive with Barry. It's really hard and confusing and frustrating for Barry moving forward. Barry's been a really bad liar all season, and this makes him have to get better at lying." As for what the big reveal will mean for Wells' mission to return home? According to the man himself, Tom Cavanagh, the revelation that he is actually Eobard Thawne apparently won't have as massive an effect on the series as fans might think. According to Cavanagh, his character has already thought out a lot of the contingencies and how to spin this out: "Harrison Wells is not as dumb as he looks. By that I mean things that perhaps seem accidental that we've been watching in the first 15 episodes have not been accidental. You don't get to come back in time and travel back and forth unless you have a certain modicum of intelligence and have thought things through. What looks like discovery on the part of our dear friends, I would tease by saying it's not so much discovery at all." THE LEVIATHAN
In the wake of the giant geek wave made by the release of that fantastic proof-of-concept teaser for The Leviathan, X-Men writer and producer Simon Kinberg and Alien 5's Neill Blomkamp have come on board filmmaker Ruairi Robinson's awesome project, with Blomkamp set to executive-produce. Since last week, The Leviathan has been viewed more than 1.2 million times on Vimeo and has gotten hit a few hundreds of thousand times more on YouTube. Basically, it's a big hit with sci-fi and movie fans. So we shouldn't be all that surprised to hear Deadline report that a lot of big-name producers had lined up to meet with Robinson in order to pitch for the project, but once Kinberg — who's also busy serving as creative consultant on Star Wars: The Force Awakens — got into the picture, he apparently knocked the socks off Robinson. It's not a green light yet, but it's definitely a step in the right direction. And Kinberg's first-look deal with Fox also offers Robinson a possible studio backing for his project. If Fox were to insanely pass on this, there'd probably be no shortage of Hollywood studios ready to knock on Robinson's door. Here's a short synopsis for The Leviathan: By the early 22nd century mankind had colonized many worlds. Faster than light travel was made possible by harvesting exotic matter from the eggs of the largest species mankind has ever seen. Those that take part in the hunt are mostly involuntary labor.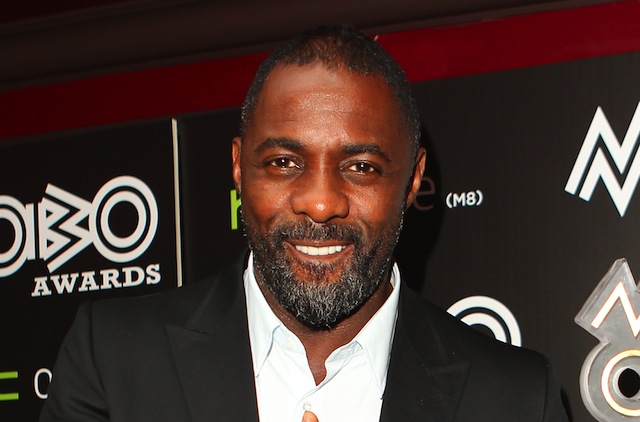 THE TRAP
Idris Elba is replacing formerly-attached Academy Award winner Jamie Foxx in The Trap, the latest project from Spring Breakers writer and director Harmony Korine. The Hollywood Reporter has the news, bringing word that Focus Features is also in negotiations to pick up the ensemble gangster drama, which is also set to star Benicio Del Toro. What's more, Al Pacino, Robert Pattinson and James Franco are all said to be up for supporting roles. The Trap is said to follow two very different childhood friends. One is very successful and the other has spent most of his life a convict. When the latter man is released from prison, he becomes determined to seek revenge. Elba is currently on the big screen in director Pierre Morel's The Gunman. He recently shot a two-part "Luther" special continuing the adventures of the British DCI, who previously earned him a Golden Globe win in 2012. Look for it to air later this year. On the big screen, Elba is expected to next make an appearance in this summer's Avengers: Age of Ultron. Korine, whose other credits include Julien Donkey-Boy, Gummo and Trash Humpers, is both writing and directing The Trap with John Lesher producing alongside Iconoclast's Charles-Marie Anthonioz and DCM Film's Marc Schmidheiny. INSPECTOR GADGET
As first revealed last month, a new "Inspector Gadget" series is headed to Neflix with 26 episodes hitting the service this Friday, March 27. Today, Neflix has posted a trailer for the new show. Everyone's favorite bumbling bionic detective, Inspector Gadget, is back in an all new CGI animated series. Dr. Claw has reactivated his global crime syndicate MAD and Inspector Gadget must stop him! Backed up by his niece, Penny, her dog Brain, and an arsenal of high-tech gadgetry, the lovable Gadget fights crime as only he can. The 26-episode series, produced by DHX Media, premieres exclusively in the U.S. on Netflix this March and will join the service at a later date in Latin America, the U.K., Ireland, Benelux, France and the Nordics – after the initial broadcast in each country. "We've seen great characters and rich storytelling work for a global audience time and time again," said Erik Barmack, Netflix's Vice President of Global Independent Content, on the new series initial announcement. "That's why we're proud to be working with some of the industry's best producers and animators on these shows and we can't wait for kids and families all over the world to get to know these stories."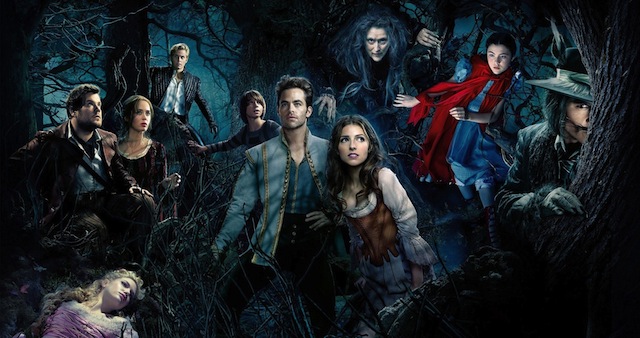 NEW DVDS THIS WEEK
Welcome to ComingSoon.net's look at all the top entertainment hitting this week on Blu-ray and DVD. Check out the gallery viewer below for a look at all the major new releases, television season sets and catalogue titles hitting the shelves today, March 24, 2015. Peter Jackson's second Middle-earth trilogy comes to an end with the home video release of The Hobbit: The Battle of the Five Armies while Walt Disney Pictures brings home a very different recent big screen fantasy feature with Into the Woods, director Rob Marshall's all-star adaptation of the hit Broadway musical. Then, rounding out this week's recent theatrical releases is Angelina Jolie's Unbroken, nominated for Best Picture for its dramatic telling of the life of Olympian and POW Louis Zamperini. Recent indie releases now available on Blu-ray include the romantic drama Song One, starring Anne Hathaway and Johnny Flynn, and the horror mockumentary Digging Up the Marrow, the latest from Frozen and Hatchet's Adam Green. Two key catalogue titles arriving this week include The Beyond, a three-disc definitive edition of Lucio Fulci's 1981 giallo masterpiece, and, in a new special edition from Shout! Factory, The Sure Thing, Rob Reiner's 1985 comedy that helped launch the career of leading man John Cusack. On the TV front, Shout! Factory is delivering (on DVD only) Mr. Bean: The Whole Bean, a four-disc set that includes every episode of the Rowan Atkinson series, available uncut for the first time. The Criterion Collection, finally, adds some Errol Morris documentary classics with both The Thin Blue Line and a two-disc set of Gates of Heaven & Vernon, Florida, all backed by a host of special features, including Les Blank's short film "Werner Herzog Eats His Shoe," the result of a bet between Herzog and Morris.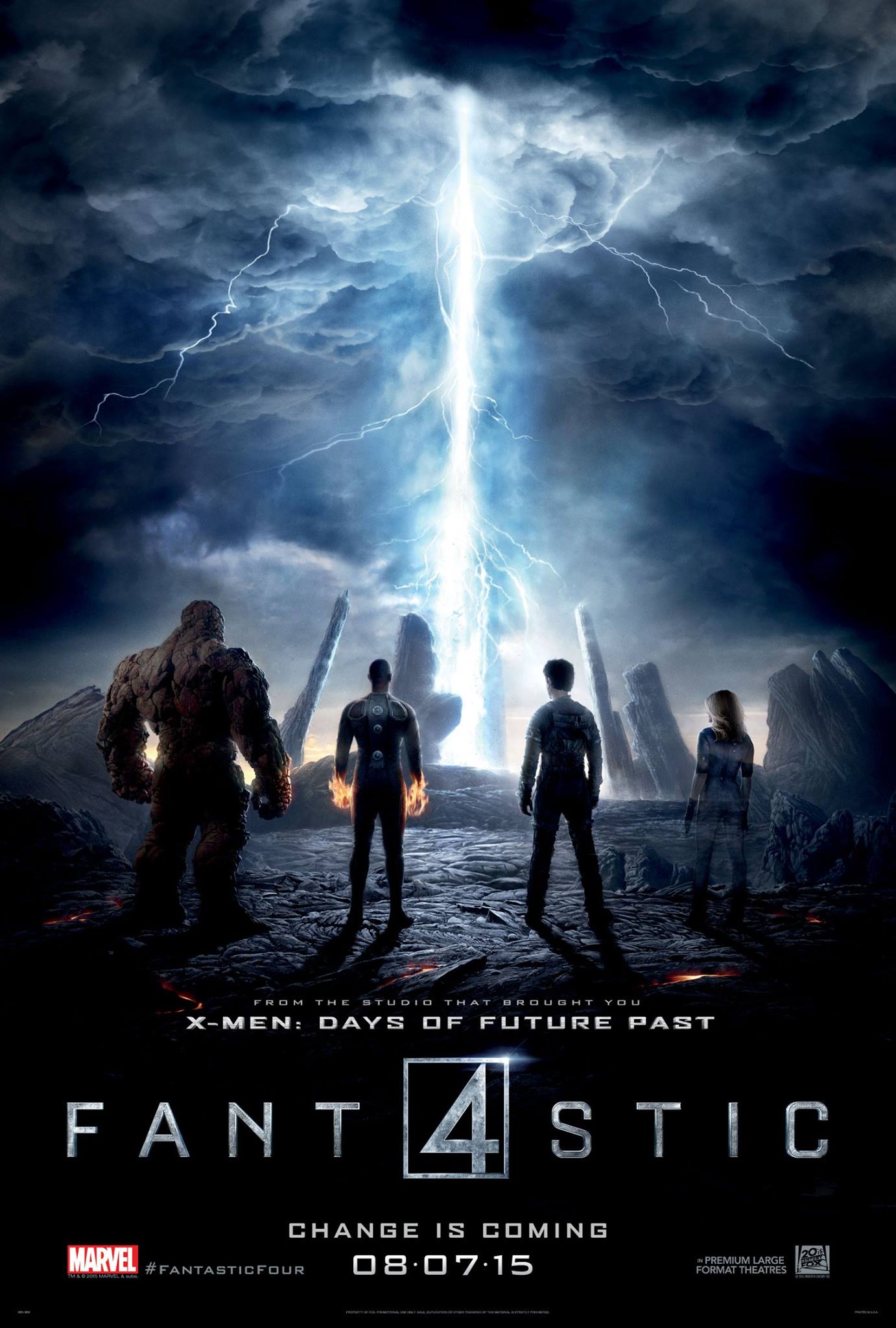 FANTASTIC FOUR
Following the first trailer that hit back in January, 20th Century Fox has today released a new poster for director Josh Trank's Fantastic Four. An origin story said to be inspired largely by the "Ultimate Fantastic Four" comics (the first arc of which was written by Brian Michael Bendis and Mark Millar with Joe Kubert illustrating), Fantastic Four offers a contemporary re-imagining of Marvel's original and longest-running superhero team. The story centers on four young outsiders who teleport to an alternate and dangerous universe, which alters their physical form in shocking ways. Their lives irrevocably upended, the team must learn to harness their daunting new abilities and work together to save Earth from a former friend turned enemy. "Marvel's First Family" will include Whiplash's Miles Teller as Reed Richards (Mr. Fantastic), "House of Cards" star Kate Mara as Sue Storm (The Invisible Woman), Fruitvale Station and Chronicle's Michael B. Jordan as Johnny Storm (The Human Torch) and The Adventures of Tintin's Jamie Bell as Ben Grimm (The Thing). Dawn of the Planet of the Apes' Toby Kebbell will also star as Doctor Doom alongside Reg E. Cathey ("The Wire") as as Dr. Franklin Storm and Tim Blake Nelson (O Brother, Where Art Thou?) as Harvey Elder, aka The Mole Man. Fantastic Four features a screenplay by Simon Kinberg (X-Men: Days of Future Past) and is set to hit the big screen August 7. MISSION: IMPOSSIBLE ROGUE NATION
Following the 64-second trailer that debuted yesterday, Paramount Pictures has debuted the full trailer for Mission: Impossible Rogue Nation. Tom Cruise returns as Ethan Hunt, whose team take on their most impossible mission yet, eradicating the Syndicate - an International rogue organization as highly skilled as they are, committed to destroying the IMF. This trailer features a better look at the death-defying plane stunt which we showed you in a November set video. The trailer comes just a few days after production wrapped on the sequel, which gives director Christopher McQuarrie just over three months to complete post-production before it hits theaters on July 31. The action-thriller was originally set to hit theaters this Christmas, before Paramount pushed the release to July 31 earlier this year. Do you think the filmmaker and his team have enough time to complete post-production? Tom Cruise reunites with Mission: Impossible Ghost Protocol stars Jeremy Renner, Simon Pegg and Ving Rhames, along with new cast members Rebecca Ferguson, Alec Baldwin, America Olivo, Sean Harris, Jingchu Zhang and Simon McBurney.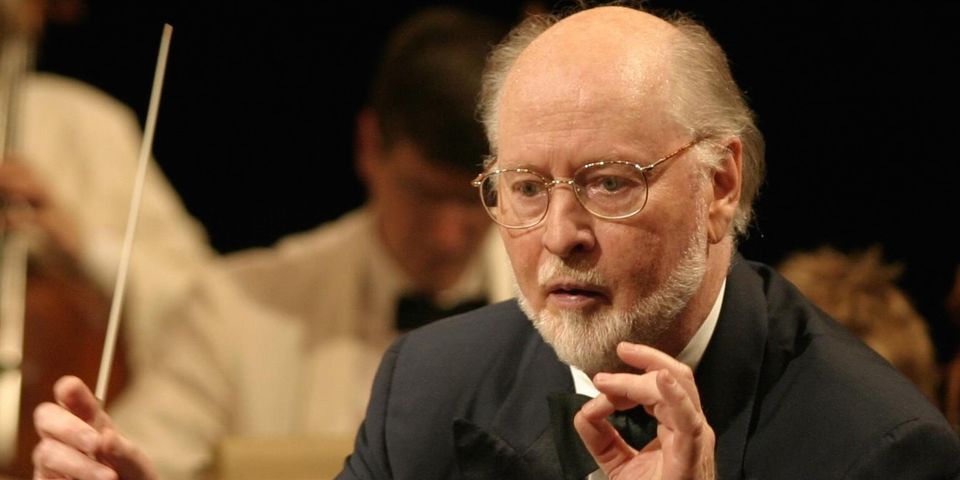 JOHN WILLIAMS WILL SCORE STAR WARS 7
Last week, it was announced that famed musician John Williams had to back out of scoring the soundtrack to Steven Spielberg's espionage thriller Bridge of Spies. It will be the first time the two have not collaborated on a project since 1985's The Color Purple, when Quincy Jones stepped in. John Williams' schedule was interrupted due to a minor health issue. That issue has been corrected, and he has begun work on Star Wars: The Force Awakens. That soundtrack will be scored in Los Angeles, marking the first time a score for any Star Wars movie has ever been recorded in the United States. StarWars.com sent out the following press release: John Williams is currently hard at work composing the score for Star Wars: The Force Awakens, which will be recorded in Los Angeles. For the recording of the score, John Williams will work with members of the superb freelance orchestra with which he's recorded numerous film scores over the years. The music will be recorded over several months while working in tandem with the film's editorial and special effects teams on the West Coast. While previous films in the saga were scored at Abbey Road with the celebrated London Symphony Orchestra, this will be the first time a Star Wars score has been recorded in the United States. Says John Williams: "I've had the privilege of working with the very best musicians in both the U.K. and the U.S. The London Symphony Orchestra has consistently performed with great artistry on all six of the prior films in the Star Wars saga, and I will be forever grateful for their commitment and dedication. Equally, it has been my honor to have worked with my brilliant colleagues in Los Angeles, and always appreciate the invaluable contribution they've made to my scores and to those of other composers." Star Wars: The Force Awakens is scheduled for release on December 18, 2015. Star Wars: The Force Awakens comes to theaters December 18th, 2015 and stars John Boyega, Daisy Ridley, Carrie Fisher, Harrison Ford, Mark Hamill, Adam Driver, Oscar Isaac, Domhnall Gleeson. The film is directed by J.J. Abrams.
TUESDAY, MARCH 24, 2015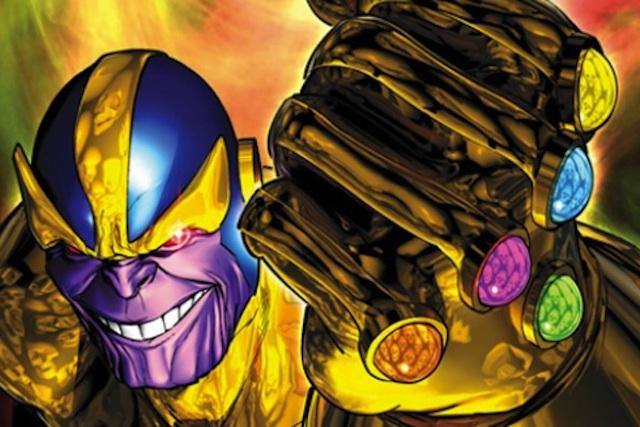 AVENGERS: INFINITY WAR PART 1 AND 2
Marvel has tossed down the gauntlet and signed up Joe and Anthony Russo to close out the next phase of superhero series with style in the cosmic battleground of Avengers: Infinity War Part 1 and 2. The sibling directors will be attacking the material once finished with next year's Captain America: Civil War, their followup to Captain America: The Winter Soldier. Although no screenwriters have yet to be announced, rumors have it that Marvel is eyeing the Captain America films' writers Christopher Markus and Stephen McFeely, with a plan to shoot both Infinity War movies back to back in 2016 and 2017. The official signing of the filmmaking brothers, reported by Badass Digest and confirmed by The Hollywood Reporter, shows not only Marvel's supreme confidence in its talents to bring sympathetic, complex characters to life amid these colossal special-effects extravaganzas, but also the utmost importance to keep a strong measure of tonal continuity in its MCU films, culminating with the epic battle between Earth's Mightiest Heroes and the mad titan Thanos in Infinity War.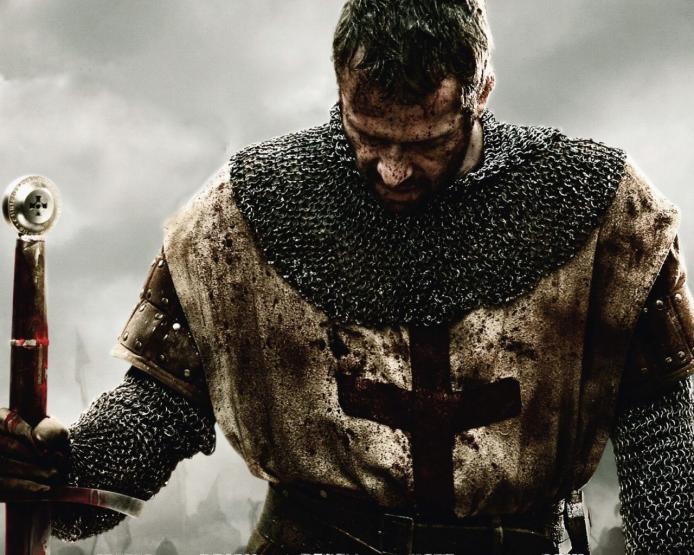 KNIGHTFALL
Avengers: Age of Ultron's Jeremy Renner and Fringe writer and executive producer Jeff Pinkner are about to unleash the history of the fall of the Knights Templar in a new TV series titled Knightfall. Knightfall will chronicle the events that led to, and followed the persecution, downfall and the burning at the stake of the Knights Templar, who were arrested on a Friday the 13th, in the Year of Our Lord 1307, under the French King Philip Le Bel (aka Philip the Fair, or the Iron King, whichever you prefer), who literally crushed the order because he was indebted to them. And this is just one of the reasons why, more than 700 years later, a Friday the 13th is considered unlucky to this day. The scripted series is currently in development over at History, with Jeremy Renner and Don Handfield's production company The Combine, and Midnight Radio, backing this up. Knightfall is being created and executive-produced by Handfield (Touchback) and Richard Rayner (L.A. Without A Map) with Renner (The Avengers, Age of Ultron, Mission: Impossible Rogue Nation) also serving as executive producer on the project. Midnight Radio, which includes Jeff Pinkner (Alias, Lost, Fringe), Andre Nemec (Mission: Impossible Ghost Protocol), Josh Appelbaum (Ghost Protocol) and Scott Rosenberg (Beautiful Girls) will also serve as executive producers on the new series. It's way too early for casting news yet, of course, and we don't know just how many episodes it'll have, but maybe we can expect something along the line of History's other historically inspired TV show, Vikings. Whether Knightfall will boast any supernatural elements — just as Vikings does this season — because of its link to Friday the 13th remains to be seen, but we doubt it. THE FLASH
The Flash (CW) Tuesday, 8 p.m. - "Rogue Time"
As we've discussed before, one of the joys of watching The Flash unfold in its first season is just how much it's embraced its comic-book roots, even if it has often done so in a very CW way that doesn't please every comic-book fan out there. This a show that kicked off with Weather Wizard and has delivered everyone from Gorilla Grodd to Reverse-Flash since. Arrow's had its fair share of supervillain showcases, too, but The Flash has taken even greater advantage of its many DC Comics ties, sharing trailers that tease the arrival and return of various villains like they're spectacularly drawn comics covers, and that makes the show a particular kind of appointment television for its fans. This week, Captain Cold and Heat Wave make their triumphant return, and they're bringing Captain Cold's sister Lisa (known in the comics as Golden Glider) along for the chaos. ORPHAN BLACK
Canadian network Space has released a brand-new promo for the upcoming third season of Orphan Black, touting Tatiana Maslany as the best actress on TV (and they're not wrong). Maslany plays multiple clones who are as wildly different in looks as they are in personality on BBC America's hit sci-fi series. It's truly hypnotizing to see the two-time Critics' Choice Award-winner and Golden Globe-nominee actress pull such a tour de force week after week. Actor Ari Millen — who joined the cast last season as Maslany's counterpart — is set to play at least four Project Castor military male clones this year, and you can see the actor in action in a new sneak peek from the season premiere where Sarah Manning (Maslany) comes face to face with one of Millen's said male clones. Here's a short series synopsis: More vulnerable than ever before, Sarah, Cosima, Alison, and Helena's bond will be put to the test with the reveal of highly trained, identical male-soldiers played by Ari Millen. Orphan Black season three will premiere on BBC America and Space on April 18. OLYMPUS
Syfy has unveiled the first full promo trailer for its upcoming Greek-myths-filled new fantasy series, Olympus. The new TV show follows the adventures of Hero (Tom York, Tyrant), the bastard son of King Aegeus (Graham Shiels, Guardians of the Galaxy), who is the holder of the Lexicon. The Lexicon is the secret code that allows man to enter Olympus, the legendary home of the gods. The cast also includes Sonya Cassidy (The Paradise) as Oracle, the inimitable Matt Frewer (Orphan Black) as Daedalus, Sonita Henry (Doctor Who, Young Dracula) as Medea, Wayne Burns (Remedy) as Lykos, Alan C. Peterson (Hemlock Grove) as King Minos and Sophia Lauchlin Hirt (Klondike) as Ariadne. We don't know about you, but this is giving us a strong Hercules: The Legendary Journey vibe, mixed in with the BBC's Merlin and Atlantis (the latter has recently gotten the ax from Auntie Beeb) and a strong dash of the waaay more adult Spartacus. This won't be a kids' TV show. Granted, the FX are far (and we mean really far) from mind-blowing, but it looks like it could be a sexy, fun romp into Greek mythology, filled with betrayal and drama. Here's a synopsis for the upcoming series: A young man's mythical quest to solve the riddle of the Gods, unlock the doors to Olympus and become an immortal. Hero's epic journey leads him through the darkest realms of Ancient Greece accompanied by the beautiful, but twisted Oracle of Gaia, the powerful sorceress Medea and genius inventor Daedalus. Hero battles trickster gods, vicious monsters, seductive nymphs, kings and despots, as he transforms from fresh-faced naive into a ruthless, coldhearted killer, and match for the gods themselves. Olympus will premiere on April 2 on Syfy.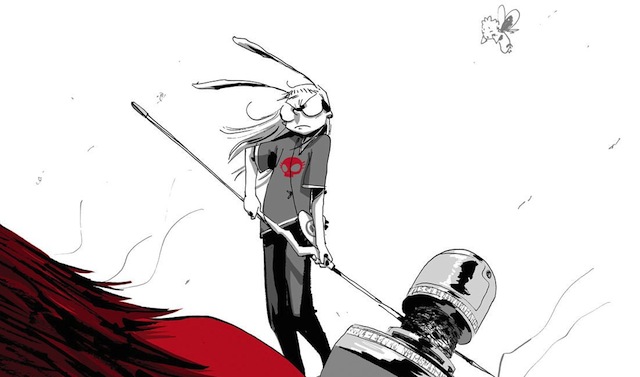 I KILL GIANTS
Treehouse Pictures has come on to fully finance Anders Walter's feature length directorial debut, I Kill Giants, a film adaptation of Joe Kelly's critically-acclaimed graphic novel about a young misfit girl battling both real and imagined monsters in her life. Chris Columbus is producing through his 1492 Pictures/Ocean Blue Entertainment, along with Treehouse, Man of Action Entertainment and XYZ Films. Kelly wrote the graphic novel and will write the screenplay adaptation. "Joe Kelly has written a deeply insightful story about a child using fantasy to navigate through a harsh reality," says Columbus, "and I am excited and proud to finally be able to bring this wonderful material to the screen." "I'm overwhelmed by the enthusiasm, vision and sheer talent of the team we've assembled," says Kelly. "Chris and Anders understand the book on an instinctive level and will translate it into a hell of a film. I could not be happier." "I am very excited to be working with Chris again," adds Treehouse's president Justin Nappi. "We both feel strongly that Anders has the depth and vision needed to bring the amazing story and characters of I Kill Giants to life. As exemplified by his work inHelium and 9 Meter, Anders has a unique understanding of children and their uncanny ability to face life's most difficult challenges." Kelly is a partner in Man of Action Entertainment, creators of the team and characters in Academy Award winner Big Hero 6, and creators of the worldwide action franchise Ben 10. Walter, meanwhile, is best known for writing and directing the 2014 Academy Award-winning live-action short Helium. I Kill Giants will be his first foray into feature length filmmaking. I Kill Giants, illustrated by J.M. Ken Niimura, Kelly's co-creator, won a Gaiman Award in 2013 (an overseas manga award selected by readers); the International Manga Award in 2012; was named to the "Top Ten Great Graphic Novels for Teens" in 2010 by the Young Adult Library Services Association; as well as "Best Indy Book of 2008" by IGN and was an Eisner Award finalist. The producers are currently casting, with production on I Kill Giants targeted for later this year. XYZ is handling worldwide sales on the project.
MONDAY, MARCH 23, 2015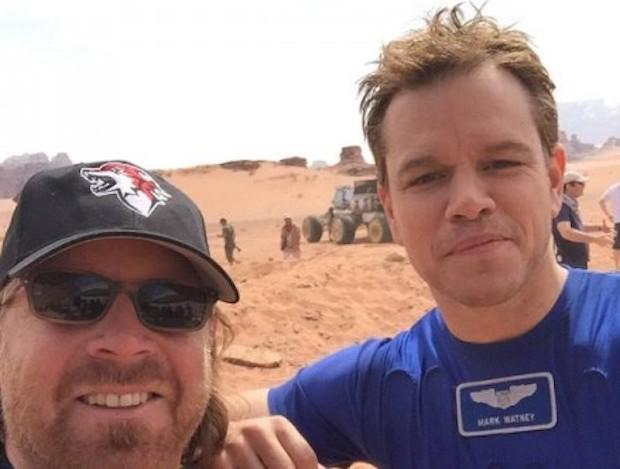 THE MARTIAN
Take a look at Matt Damon and his assistant, Colin, on set during the filming of Ridley Scott's The Martian, based on the best-selling novel written by Andy Weir. Damon plays astronaut Mark Watney, who is marooned on Mars after a devastating sandstorm kills his entire crew and he must survive long enough for an impossible rescue attempt. Weir shared this image through his Facebook page, and you can see the radical six-wheeled rover parked on a dune in the background. Apparently Damon is pointing to the fact that his assistant lost a Super Bowl bet and is required to wear a New England Patriots t-shirt for a year as punishment. The Martian screenplay was adapted by Drew Goddard (The Cabin in the Woods, World War Z, Lost) and hopefully his script spares us all the excruciating details of growing potatoes that became painfully tedious in the book. Directed by Ridley Scott and also starring Jessica Chastain, Kate Mara, Kristen Wiig, Chiwetel Oliofor, Sean Bean, Donald Glover, Michael Pena and Sebastian Stan, The Martian lands in theaters on Nov. 25, 2015. MISSION IMPOSSIBLE: ROGUE NATION
Ethan Hunt is on the move. On Sunday, Paramount revealed that the next installment in its iconic covert spy franchise is officially titled Mission: Impossible — Rogue Nation, a moniker that shares a key word with Lucasfilm and Disney's Star Wars spinoff, Rogue One. Those tuning into the NCAA basketball tournament will see the first television spot for Rogue Nation, returning Tom Cruise in the lead role and directed by Christopher McQuarrie. Until now, the film, scheduled to hit theaters July 31, has only been known as Mission: Impossible 5. Sunday's ad will be followed by the release of the first trailer on Monday, while the initial poster is likewise being unveiled. Paramount registered and cleared the title with the Motion Picture Association of America in January, well before Walt Disney chairman-CEO Robert Iger announced the name of the Star Wars spinoff at a shareholder meeting March 12. Sources say Disney didn't clear its title, meaning Paramount could have fought to block Disney and Lucasfilm from using it at all, even though Rogue One won't open until Dec. 16, 2016, long after Rogue Nation has come and gone. Instead, the two studios quickly worked out a deal whereby Disney will refrain from referring to Rogue One this summer in any promotional materials aimed at the general consumer (an exception is a Star Wars fan event in April). Rogue Nation will open more than three years after Mission: Impossible — Ghost Protocol grossed nearly $695 million worldwide, a franchise best. Jeremy Renner and Simon Pegg reprise their roles in Rogue Nation alongside Cruise, while Rebecca Ferguson joins the series. The plot, kept under wraps until now, follows Hunt and his team as they take on a highly-skilled rogue syndicate intent on destroying them, setting off a global chase. This isn't the first time that Star Wars and Mission: Impossible have butted heads. Paramount and Skydance Productions, who produced Rogue Nation alongside J.J. Abrams' Bad Robot, originally intended to open the movie on Dec. 25, 2015, but its release was moved up so as to avoid Star Wars: The Force Awakens, which hits theaters Dec. 18. Abrams is directing the high-profile Star Wars reboot for Disney and Lucasfilm.
ARROW NEWS
We learned last month that Doug Jones is heading to Starling City. The Fantastic Four: Rise of the Silver Surfer and Hellboy franchise star is set to play the supervillain Deathbolt in "Broken Arrow," the 19th episode of "Arrow's" third season. This weekend, Jones took to Twitter to reveal that just one DC Comics series won't be enough to contain his villainy. Deathbolt will return in "The Flash" episode 3.19, "Rogue Air"! Created by Roy Thomas and Jerry Ordway in All-Star Squadron #21 (May, 1983), Simmons had the ability to control lightning and electricity and was dubbed "the living battery." In "Arrow," his character will instead wield the power of controlling plasma energy. This makes him the first meta-human to make his debut on "Arrow" as opposed to the more super power-friendly "The Flash." Both shows air on The CW at 8:00pm ET/PT. "Arrow's" "Broken Arrow" will debut on April 15 with "The Flash's" "Rogue Air" following on April 21.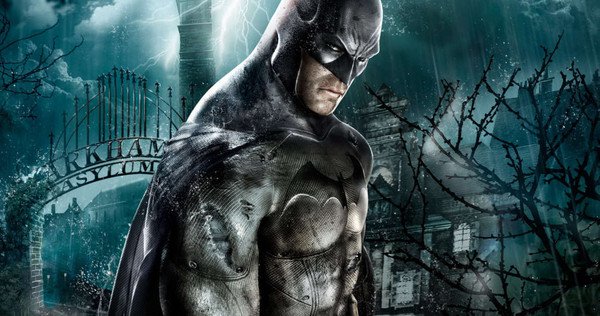 BATMAN: ARKHAM KNIGHT
Last summer, it was announced that players who pre-order the upcoming Batman: Arkham Knight would receive two DLC packs at no additional charge, the Red Hood story pack and the Harley Quinn story pack. Now, Amazon has updated their listing of the highly-anticipated title to reveal the first details on the Harley Quinn pack, which read as follows: "For the first time in the Arkham series take on the role of Joker's psychotic side-kick Harley Quinn and wreak havoc inside the Blüdhaven Police Department. With this exclusive Story Pack experience events in the lead-up to Arkham Knight as you infiltrate Blüdhaven to rescue your partner in crime: Poison Ivy. Delve deep into Harley's demented nature and utilize her devastating baseball bat to smash, crash and bash your way to a friend very much in need." In the explosive finale to the "Arkham" series, Batman faces the ultimate threat against the city he is sworn to protect. The Scarecrow returns to unite an impressive roster of super villains, including Penguin, Two-Face and Harley Quinn, to destroy The Dark Knight forever. Batman: Arkham Knight introduces Rocksteady's uniquely designed version of the Batmobile, which is drivable for the first time in the franchise. The addition of this legendary vehicle, combined with the acclaimed gameplay of the "Batman Arkham" series, offers gamers the ultimate and complete Batman experience as they tear through the streets and soar across the skyline of the entirety of Gotham City. Batman: Arkham Knight will be released for the PlayStation 4, Xbox One and PC on June 2, 2015.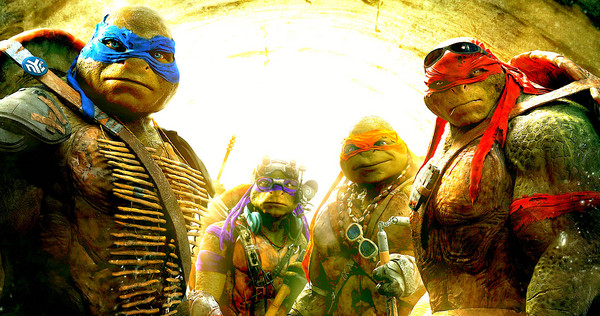 TEENAGE MUTANT NINJA TURTLES 2
The New York Daily News brings word that the upcoming Teenage Mutant Ninja Turtles 2 will begin filming next month in New York City and Buffalo. "There is no better way to project the character of this city than through television and film," Council Member Dan Garodnick said. "And what's more New York than pizza-loving ninjas and a talking rat?" Platinum Dunes' Michael Bay, Brad Fuller, and Andrew Form will return to produce the upcoming sequel which features a script by returning screenwriters Josh Appelbaum and André Nemec. Megan Fox is expected to reprise her role of April O'Neil along with William Fichtner as Eric Sacks. The original film also starred Will Arnett, Alan Ritchson, Jeremy Howard, Pete Ploszek, Noel Fisher, Danny Woodburn, Johnny Knoxville and Tony Shalhoub. It grossed more than $485 million at the worldwide box office. Though unconfirmed, previous reports on the sequel have alluded to the inclusion of the likes of Bebop and Rocksteady or even the interdimensional Krang as potential villains. Set to be directed by Earth to Echo's David Green, Teenage Mutant Ninja Turtles 2 is set for release on June 3, 2016.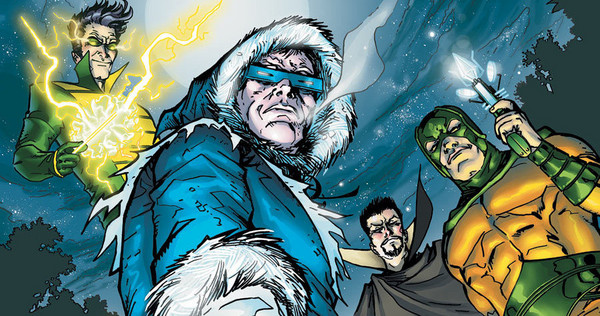 THE FLASH
Last month, we revealed that actor Doug Jones has signed on to play the villainous Deathbolt in CW's Arrow in an upcoming episode entitled "Broken Arrow". Today, the actor took to his Twitter page to reveal that his character will also appear in an episode of The Flash entitled "Rogue Air,"which will be the 22nd episode of Season 1. No details were given on how the character will cross over from Arrow's Starling City to The Flash's Central City, but it seems that The Flash keeps adding more members of the superhero group the Rogues, and who may be fully assembled by the season finale. Jake Simmons, a.k.a. Deathbolt, was created in 1983 by Roy Thomas and Jerry Ordway. first appearing in All-Star Squadron #21. This powerful villain has the ability to manipulate electricity, and was also given the nickname "The Human Battery" in the comics. His appearance in Arrow will be the the first time a "metahuman" will appear in the series, so it makes sense that he will also cross over to The Flash, where several metahumans have appeared. Deathbolt is just the latest of the previously-established Rogues villains from the DC Comics to emerge on The Flash, including Captain Cold (Wentworth Miller), Heat Wave (Dominic Purcell), Pied Piper (Andy Mientus) and Weather Wizard (Liam McIntyre), along with upcoming additions such as Golden Glider (Peyton List), The Trickster (Mark Hamill) and Gorilla Grodd. Executive producer Andrew Kreisberg also teased plans for The Rogues team in a recent interview with TV Line. Here's what he had to say below: "We're going to do something with all the Rogues. I can't promise it's going to be this season. We know that if the original [1990s] Flash series had gotten a second season, both John [Wesley Shipp] and Mark [Hamill] have told us that the first episode was going to be a giant Rogues episode. And that sounds like maybe a good thing for us to do, what they didn't get the opportunity to do." The "Broken Arrow" episode of Arrow will air on The CW April 15, while the Rogue Air episode of The Flash set to debut on April 21. Take a look at Doug Jones' tweet below, and stay tuned for more details about his appearances in both Arrow and The Flash, and the super villain team The Rogues.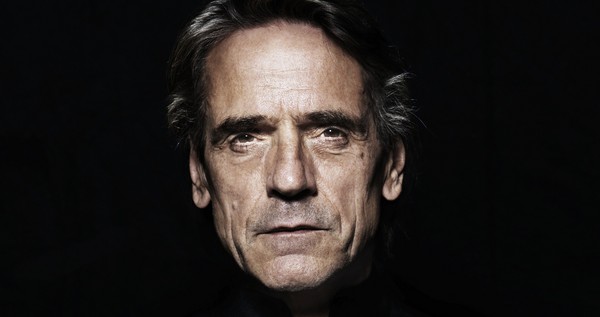 BATMAN V SUPERMAN: DAWN OF JUSTICE
While it may seem like it's taking Batman v Superman: Dawn of Justice longer to reach the big screen than most modern blockbusters, it's only because we heard about it so early in the process. Still, more than two years after it was first announced at Comic-Con 2013, there is so much we don't know about the actual story. We know that it has an epic fight between its two title characters. And we also know that it sets up Justice League Part 1. But the plot remains a mystery. And so does Jeremy Irons' take on iconic Butler and all-around servant Alfred. The actor himself isn't doing anything to make the picture any clearer. But he does have much praise for the screenplay. Jeremy Irons attended the Lucca Film Festival this past week. And of course, he was asked about working with director Zack Snyder in creating a new take on Alfred Pennyworth for Batman v Superman: Dawn of Justice. If you think he is going to give away any secrets, you're wrong. But he does have kind words for the story, which was written by Chris Terrio, Zack Snyder and David S. Goyer (who is receiving final screenplay credit at this time, but that could change). He says: "The next Batman has an amazing screenplay. It's a blockbuster written from the heart." You may remember that back in December of last year, Jeremy Irons said his was a very different take on Alfred. One that we haven't seen on the big screen before. He went onto hint that this is a very 'hands-on' butler, teasing the character's background in the Royal Marines, as seen in the comic books. And he may even be seen as Bruce Wayne's bodyguard. What do you think about this new take on Alfred? Is Jeremy Irons the right man for the job? Batman v Superman: Dawn of Justice comes to theaters March 25th, 2016 and stars Henry Cavill, Ben Affleck, Amy Adams, Diane Lane, Laurence Fishburne, Gal Gadot, Jesse Eisenberg, Jeremy Irons. The film is directed by Zack Snyder.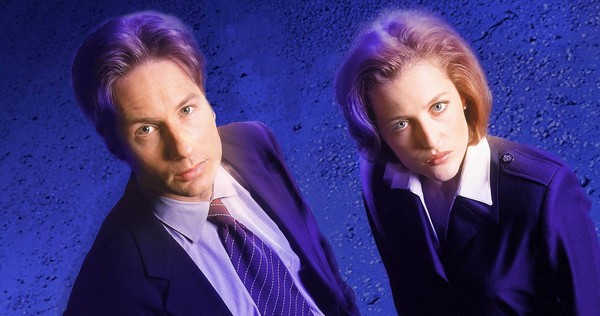 X-FILES RETURN
Back in January, we reported that Fox is planning a revival of The X-Files with original series creator Chris Carter. Today, TV Wise is reporting that the network is close to issuing a two-season order for the revival series, with original stars David Duchovny and Gillian Anderson set to return. Nothing is set in stone yet, since talks are still ongoing, but the site's source says each season will be less than 10 episodes. The report reveals the "short stack" order was decided on for two reasons, the first being story requirements set forth by series creator Chris Carter and the second being scheduling. It is believed that it would be easier to secure David Duchovny and Gillian Anderson, both of whom are still very much in demand, with a shorter order. David Duchovny's new NBC show Aquarius is an off-cycle summer series, and production won't begin on Season 3 of Gillian Anderson's series The Fall until late this year. The producers hope to start production on a new season of The X-Files sometime this summer. The original series ran for nine seasons between 1993 and 2002, and spawned two movies, 1998's The X-Files and 2008's The X-Files: I Want to Believe. Chris Carter will be back to write the scripts and serve as an executive producer, but it isn't known if executive producer Frank Spotnitz will be coming back, because he is still attached to produce the third season of Crossing Lines. It isn't known if co-stars such as Mitch Pileggi and other members of the writing staff on the original show will be back, but the hope is that every deal is secured in the next couple of weeks.
SUNDAY, MARCH 22, 2015

CRASH RYAN
Marvel's high-flying comic-book series Crash Ryan is heading to the big screen.

Variety reports that producer Ryan Heppe (the upcoming Short Circuit reboot, T.J. Hooker) has acquired movie rights to the Marvel Comics series created by Ron Harris in 1984. The story takes place in an alternate 1935, in a world of super airplanes and giant flying airports. Crash Ryan is a pilot who's caught up in the battle between good and evil, between the heroic United Airmen and the dastardly forces led by "the Doom," a masked world conqueror. David Cowper (Road Dawgs) has been tapped to write the script alongside Heppe.

Crash Ryan comic-book creator Ron Harris — the dude who wrote, drew and even colored the book — has said that "Crash Ryan is the product of a mishmash of influences: my childhood spent on Navy airbases; the old flying movies and Masked Villain serials I loved on late night TV; and especially my fascination with predictions of future life made in the 1930s."

The comic-book series was one of the first bunch of creator-owned titles that were published by Marvel Comics under its Epic Comics banner. Harris brought the character back in a four-part story that ran in Dark Horse Presents in 1990. Basically, it's a throwback to the old serial days and a swashbuckling adventure. Definitely a ripe concept for film.

Both he and Heppe have teamed up to write a 50-page outline that they've titled "Crash Ryan and the Eyes of Lemuria," reinventing the story as an earthbound fusion of Indiana Jones and Star Wars, with steampunk-inspired elements. We don't know about you, but that sounds super cool.

"It's an incredible canvas, but what attracted me was the redemption story: a man who can't save himself being tasked with saving the world," Heppe said.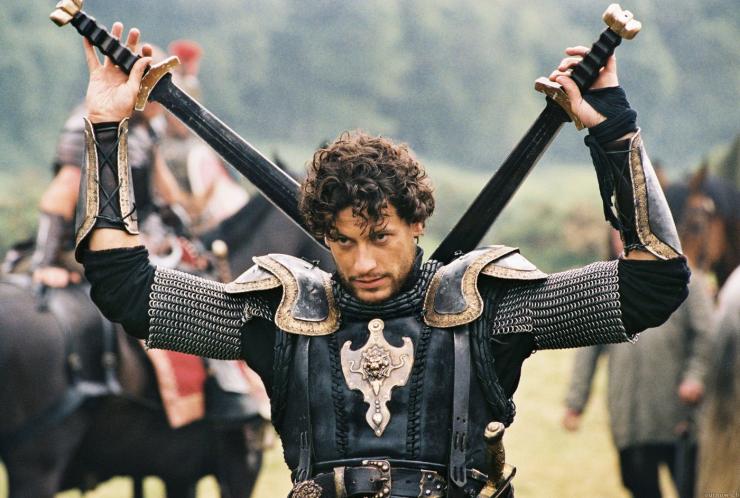 MEN AT ARMS
There's another King Arthur movie heading to the big screen, but this one will have an intriguing twist to it. Deadline reports that Jonathan Liebesman (Wrath of the Titans, Teenage Mutant Ninja Turtles) is set to helm Man at Arms, a King Arthur flick that is being touted as being reminiscent of Clint Eastwood's classic western Unforgiven. It will follow an older Sir Lancelot on his quest to make amends after his love affair with his BFF's wife Guinevere destroyed the Once and Future King's Camelot.
Liebesman is directing the project for Basil Iwanyk's Thunder Road Pictures. Liebesman and Iwanyk have worked together before on Wrath of the Titans. Man at Arms will be produced by Iwanyk, Adam Goldworm (through Aperture Entertainment) and Bryan Brucks (Scouts vs. Zombies). Erica Lee will executive-produce. Jeremy Lott (The Falling) — who has also written a script for a Robin Hood movie called Hood — penned the script.
The idea of having an older Lancelot looking for redemption in Man at Arms is based on an original idea by Brucks, and is apparently less of a postmodern invention the other King Arthur movie is aiming for. In case you're wondering what the other King Arthur flick is, it's Warner Bros.' Knights of the Round Table: King Arthur, directed by Guy Ritchie, which is currently filming. It's the one that stars Charlie Hunnam, Jude Law, Djimon Hounsou and Eric Bana. Joby Harold wrote the Guy Ritchie flick, and also wrote the script for another competing Robin Hood movie. You know the saying that when it rains, it pours? There's a deluge in Hollywood.
Can Man at Arms pull the sword from the stone and manage to spin an epic Arthurian tale? We're understandably a bit iffy. Not one King Arthur movie has ever managed to come close to John Boorman's brilliant take on Arthur and the Knights of the Round Table with Excalibur.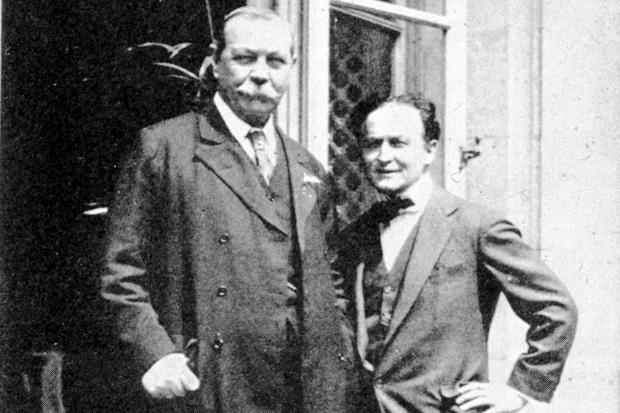 HOUDINI AND DOYLE
Fox has picked up a supernatural crime drama series titled Houdini and Doyle, with its basis being the real-life friendship of Sherlock Holmes creator Sir Arthur Conan Doyle and famed illusionist Harry Houdini. The two struck up a friendship through their common interest in spiritualism. But while Doyle was a true believer, Houdini thought mediums were frauds. The new TV show is heading straight through series.
Houdini and Doyle is the brainchild of The Librarian creator David Titcher, House creator David Shore and House writer-producer David Hoselton. Here's how Deadline describes the new series:
In Houdini And Doyle, two of the great characters of the 20th century —Houdini, master magician, escape artist and paranormal debunker, and Doyle, creator of the world's greatest detective and a paranormal aficionado — grudgingly join forces to investigate crimes with a supernatural slant. Although they're both rich, famous and brilliant, they're the original odd couple, with Houdini believing in nothing, Doyle in everything.
The 10-episode series has also been picked up by ITV in the UK and by Shaw Media in Canada. With Sleepy Hollow having been renewed for a third season yesterday, it sounds like Fox is making a nice little niche for itself in the supernatural drama category.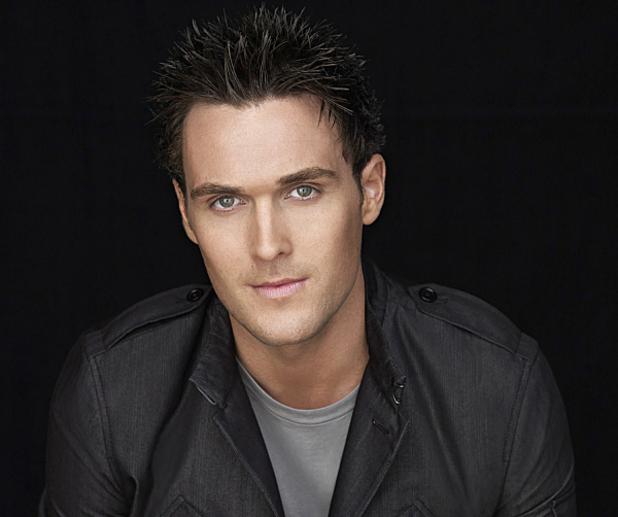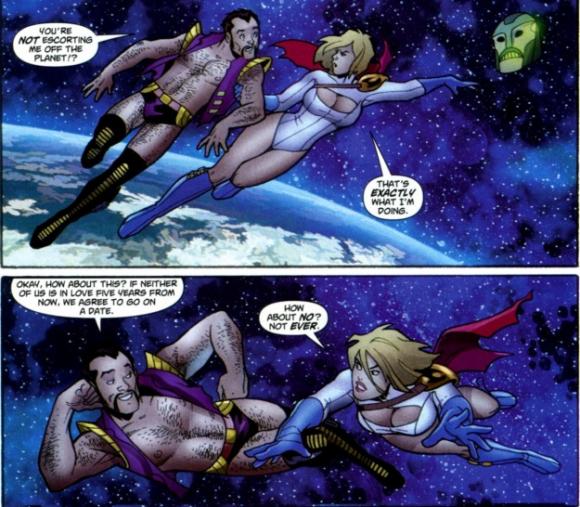 SUPERGIRL NEWS
Former Terminator Owain Yeoman (Terminator: The Sarah Connor Chronicles, The Mentalist, Extant) has been cast in the role of DC Comics supervillain Vartox in CBS' Supergirl, Comic Book Resources has confirmed. He will appear in a guest-star capacity in the pilot, which will also feature the Lumberjack (who is, as of yet, still uncast) and Star Trek and Iron Man actor Faran Tahir as the mysterious "The Commander."
According to the official description of the role obtained by CBR, "Owain Yeoman plays longtime DC Comics villain Vartox, an alien convict, who has been hiding on Earth for the past 12 years. After Supergirl's emergence on Earth, Vartox seeks her out to ascertain her identity and do battle with her."
Created back in 1974, Vartox is an alien who comes from the planet Valeron. The character was at first established as a "slightly older" friend of Superman, who had many of the same powers our Man of Steel possessed, including flight, invulnerability and super strength. A more modern take on the character had him travel to Earth in search of a perfect mate, following the release of a "contraceptive bomb" on Valeron, which rendered the women of his home planet sterile. While on this highly important mission, Vartox set his sights on Power Girl, the Earth-2 version of this show's Supergirl. Let's just hope Vartox will wear a better costume, though, and not sport so much body hair.
Supergirl stars Melissa Benoist, Mehcad Brooks, Laura Benanti, Calista Flockhart, Chlyer Leigh, David Harewood and Jeremy Jordan.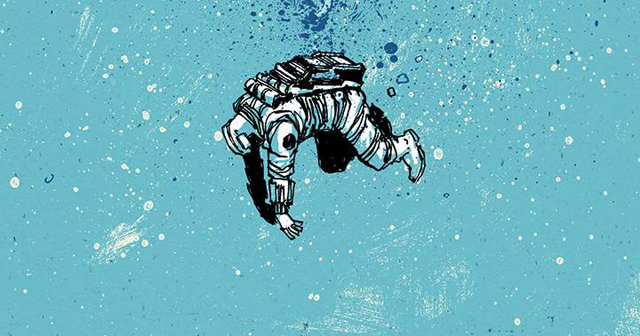 THE DISCIPLES
Although the first issue still hasn't hit the stands, "The Disciples," the new Black Mask Studios title from Steve Niles ("30 Days of Night") and Christopher Mitten ("Wasteland"), is heading to the small screen. The Hollywood Reporter today brings word that horror icon Wes Craven (A Nightmare on Elm Street, Scream) is set to executive produce a show based on the property through Universal Cable Productions. The book itself, scheduled to debut in May, was officially solicited with the following synopsis:
Dagmar, Rick, and Jules, intrepid private eyes/bounty hunters, have been hired by a high ranking Senator to retrieve his teenage daughter who's run off to join a mysterious religious cult. This is no ordinary cult though. In the near future of The Disciples, the ultra-wealthy have become true Masters of the Universe by colonizing moons throughout the solar system. Billionaire industrialist McCauley Richmond is one such colonist: he's built a new society on Ganymede, a moon of Jupiter, where his flock of cultists can have the religious freedom to worship him. But when the team reaches Ganymede in their Starship Venture, they discover something has gone horribly wrong!
Industry Entertainment's Sara Bottfeld is also attached to executive produce alongside Craven, Niles and Black Mask's Matt Pizzolo.
FRIDAY, MARCH 20, 2015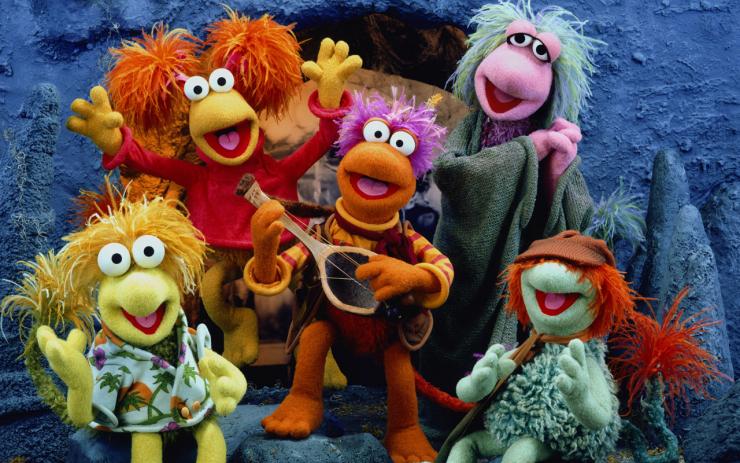 FRAGGLE ROCK
Good news, folks: Joseph Gordon-Levitt is apparently a very big Fraggle Rock fan, and that might finally be the break we've needed for the long-lost Muppets to make a comeback. The actor/director has signed on to star and produce a new live-action Fraggle Rock film, resurrecting a project that has spent almost a decade floating around in development hell in different forms. The movie has been through a few different studios and is now being backed by The Henson Co., New Regency and Lisa Henson. Fraggle Rock was an insanely weird kiddie puppet show, which ran from 1983-1987 and inspired some fiercely loyal fans. As Variety notes, the show focused on cave-dwelling muppets called Fraggles who went on adventures and had to deal with the industrious Doozers and furry giants called Gorgs. Jim Henson once described the series as "a high-energy, raucous musical romp. It's a lot of silliness. It's wonderful." That pretty much sums it up. In addition to his big-screen escapades (Sin City: A Dame To Kill For, Looper), Gordon-Levitt has been keeping busy with some more outside-the-box projects, such as his Pivot variety series HitRecord on TV, so the Fraggle Rock thing isn't that far out in left field. He's always had a keen eye for the quirky: "The first screen personas I ever loved were Henson creations, first on 'Sesame Street,' and then on 'Fraggle Rock,'" Gordon-Levitt said. "Jim Henson's characters make you laugh and sing, but they're also layered, surprising, and wise. From Oscar the Grouch, to Yoda, to the Fraggles. I've never stopped loving his work, even as a young frisky man, and on into adulthood. Collaborating with Lisa Henson makes me confident we can do something that Jim would have loved. I'm grateful and excited to be working with New Regency on this project." No film date, or release date, has been announced as of yet. Considering how long the project has been in development, it could be a while yet before it actually arrives. But having a name like Gordon-Levitt attached should definitely help. Just look at what the Muppets were able to do with Jason Segel and (to a lesser extent) Ricky Gervais. SALEM
All hell has broken loose in Salem, but that's actually the least of the worries for the town's citizens. When the supernatural series returns for its second season April 5 on WGN America, there's a witch war brewing. And by the looks of the first full trailer for the season, embedded below, no one in Salem is safe. A fictional re-imagining of the infamous witch trials in 17th-century Massachusetts, the first season of the show confirmed that dark magic was indeed present in the town. Now, as season two opens, top witch Mary Sibley (Janet Montgomery) has completed a ritual that has unleashed a plague upon Salem's residents. But Mary has much to contend with to remain in power. Former protege Mercy (Elise Eberle) seeks to claim the throne, newly emerged witch Anne Hale (Tamzin Merchant) displays exceptional power, and Mary's servant Tituba (Ashley Madekwe) appears to have her own motives. Meanwhile, the ancient witch Countess Marburg (Lucy Lawless) arrives in town with her son, and with an agenda to claim what she believes is hers. On the human front, the left-for-dead hero John Alden (Shane West) returns to Salem to challenge his former love, Mary. And the preacher's son Cotton Mather (Seth Gabel) is just all kinds of messed up after his faith is shaken, and he ends up in a brutal standoff with his witch-hunter father. Another mere mortal joins the action for season two as well: Dr. Samuel Wainwright (Stuart Townsend) is a man of science who visits Salem to investigate the plague. Oh, and Mary's son (Oliver Bell), who she thought was sacrificed years ago, shows back up. Whether the tyke is human or witch remains to be seen. Check out the season-two trailer below for Salem, which returns April 5 at 10 p.m. on WGN America. WAYWARD PINES
If you were watching the season finale of Empire last night, then you were in luck because Fox debuted the first trailer from executive producer M. Night Shyamalan's upcoming TV series Wayward Pines. If you didn't watch it, then you're still in luck, because we have it right here. The new series by writer Chad Hodge boasts quite the impressive cast, with Matt Dillon headlining the mysterious TV series. Also starring are Carla Gugino, Toby Jones, Shannyn Sossammon, Reed Diamond, Terrence Howard, Melissa Leo, Hope Davis and Juliette Lewis. Below is a short series synopsis: A Secret Service agent goes to Wayward Pines, Idaho, in search of two federal agents who have gone missing in the bucolic town. He soon learns that he may never get out of Wayward Pines alive. Whoa, that looks great! We don't know about you, but we definitely got a bit of a Twin Peaks vibe here, mixed in with The Village (one of Shyamalan's flicks) and a couple of other TV show concepts including the town of Woodbury from The Waking Dead. But with Terrance Howard standing in as "The Governor" instead of David Morissey. The trailer also reminds us a lot of that "Hotel California" song, you know, the one where they say: "You can check-out anytime you like, but you can never leave." Wayward Pines will premiere on May 14 at 9/8c on FOX.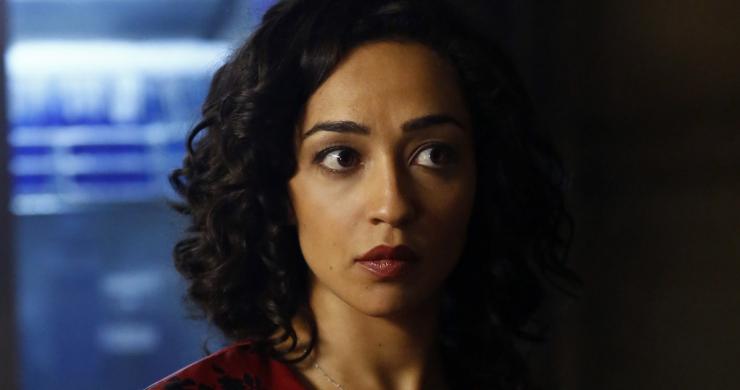 PREACHER
Agents of S.H.I.E.L.D. actress Ruth Negga has nabbed the lead female role in Preacher, AMC's drama pilot based on Garth Ennis and Steve Dillon's cult classic comic-book series that debuted in 1995. The project is being brought to us thanks to Seth Rogen and Evan Goldberg. Preacher centers around Jesse Custer, a preacher (of course) in a small Texas town who merges with a supernatural creature from heaven called Genesis and develops the ability to make anyone make everything he says. Now, that's a nifty power right there. He then embarks on a quest — along with his ex-girlfriend and true love Tulip and an Irish vampire named Cassidy — to literally find God. Literally. Rogen and Goldberg have promised the fans they will remain respectful of the source material, which sounds pretty good to us. Negga will play Tulip, who is described as being a "volatile, action-packed, sexified force of nature, a capable, unrepentant criminal with a love of fashion and ability to construct helicopter-downing bazookas out of coffee cans and corn shine who's not afraid to steal, kill or corn cob-stab her way out of a bad situation." Negga is the first to be cast in the comic-book TV series (Agent Carter's Dominic Cooper is being rumored to headline the series as Jesse Custer), and the actress already has a few geek creds under her belt. She not only starred as Raina, aka the Girl in the Flower Dress, on Marvel's Agents of S.H.I.E.L.D., but she will be seen on the big screen as Lady Taria in director Duncan Jones' (Moon) Warcraft alongside Cooper. She also had roles in Misfits and World War Z.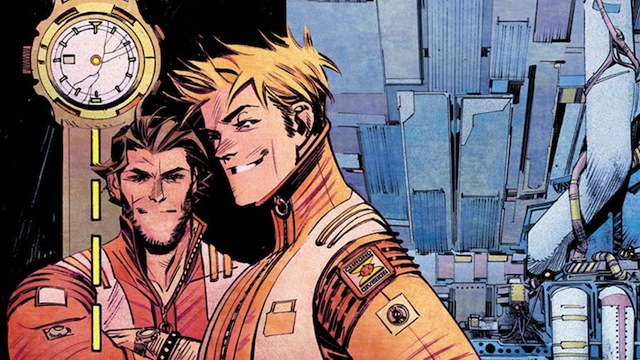 CHRONONAUGHTS
Although the first issue of the new comic book series only hit the shelf this week, Mark Millar and Sean Gordon Murphy's Chrononauts is already being planned for a feature film adaptation. Variety reports that Universal Pictures has acquired the big screen rights to the time travel tale, officially described as follows: Corbin Quinn and Danny Reilly are two buddies who love to have fun. They're also scientific geniuses. When their research leads them to a time-traveling adventure, will they use their knowledge for the good of all mankind? Or use the space-time continuum for their own ends? This is the story of man's first, televised steps through the time-stream and everything going wrong in the process. Millar, of course, is no strange to big screen adaptations of his works. Among the features based on his works are Timur Bekmambetov's Wanted and Matthew Vaughn's Kick-Ass and Kingsman: The Secret Service. Murphy, meanwhile, is well known for his recent Vertigo comics miniseries "Punk Rock Jesus," following a contemporary clone of Jesus Christ who, have been resurrected from DNA found on the shroud of Turin, winds up becoming a rebellious rock star. Chris Morgan is attached to produce through his Chris Morgan Productions with both Millar and Murphy attached to serve as executive producers.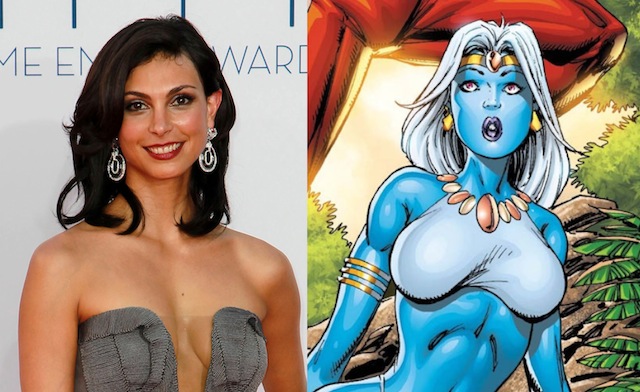 DEADPOOL
It's finally chimichanga time for 20th Century Fox's X-Men franchise spinoff Deadpool, as production begins in Vancouver on the feature film starring Ryan Reynolds as the "merc with a mouth." Hot on the heels of this morning's reveal that T.J. Miller will be playing Weasel comes confirmation that Morena Baccarin will be playing "Vanessa," who is almost certainly the comics' Vanessa Geraldine Carlysle, also known as the shapeshifting mutant Copycat. Baccarin herself made the reveal via Twitter. AVENGERS: AGE OF ULTRON
Marvel Studios has released an extended TV spot for Avengers: Age of Ultron featuring quite a bit of new footage from the highly-anticipated sequel. Avengers: Age of Ultron is the epic follow-up to the biggest Super Hero movie of all time. When Tony Stark tries to jumpstart a dormant peacekeeping program, things go awry and Earth's Mightiest Heroes, including Iron Man, Captain America, Thor, The Incredible Hulk, Black Widow and Hawkeye, are put to the ultimate test as the fate of the planet hangs in the balance. As the villainous Ultron emerges, it is up to The Avengers to stop him from enacting his terrible plans, and soon uneasy alliances and unexpected action pave the way for an epic and unique globaladventure. Marvel's Avengers: Age of Ultron stars Robert Downey Jr., who returns as Iron Man, along with Chris Evans as Captain America, Chris Hemsworth as Thor and Mark Ruffalo as The Hulk. Together with Scarlett Johansson as Black Widow and Jeremy Renner as Hawkeye, and with the additional support of Samuel L. Jackson as Nick Fury, Don Cheadle as James Rhodes/War Machine, Cobie Smulders as Agent Maria Hill and Stellan Skarsgård as Erik Selvig, the team must reassemble to defeat James Spader as Ultron, a terrifying technological villain hell-bent on human extinction. Along the way, they confront two mysterious and powerful newcomers, Wanda Maximoff, played by Elizabeth Olsen, and Pietro Maximoff, played by Aaron Taylor-Johnson, and meet an old friend in a new form when Paul Bettany becomes Vision. Written and directed by Joss Whedon and produced by Kevin Feige, Marvel's Avengers: Age of Ultron is based on the ever-popular Marvel comic book series "The Avengers," first published in 1963. Louis D'Esposito, Alan Fine, Victoria Alonso, Jeremy Latcham, Patricia Whitcher, Stan Lee and Jon Favreau serve as executive producers. Marvel's Avengers: Age of Ultron opens in theaters on May 1, 2015.
THURSDAY, MARCH 19, 2015
GAME OF THRONES
Game of Thrones' season 5 is coming, and with it, teasers, clips, and photos that remind us how much we've been pining for the show's return since last June. We have two clips and some photos for you, courtesy of HBO. In the first clip, Tyrion asks Varys why he helped Tyrion escape from Westeros. "I didn't do it for you," Varys says. Of course. But where we may have thought Varys is self-interested, we have learned over the last four seasons, the eunuch is more civic-minded than that. "I did it for the Seven Kingdoms," he says. Although we do not know where Tyrion and Varys currently are, we can make two guesses: He and 1) They could be in Pentos, where Varys has a friend and ally in Illyrio, who if you recall, is the man who brokered the marriage between Daenerys and Khal Drogo, or 2) they can be in Meereen, on their way to join forces with Daenerys. In the second clip, we get a conversation between Mace Rayder and Jon Snow. Prior to this, Jon had betrayed Mance by swearing allegiance to him, all the while belonging to the Night's Watch. Mance has every right to run Jon through with a sword. Instead, he listens while Jon drops some knowledge on their situation. As for the photos, some of these characters we know very well, and some we'll be getting to know. And if we're lucky, some of them will survive to the end of the season.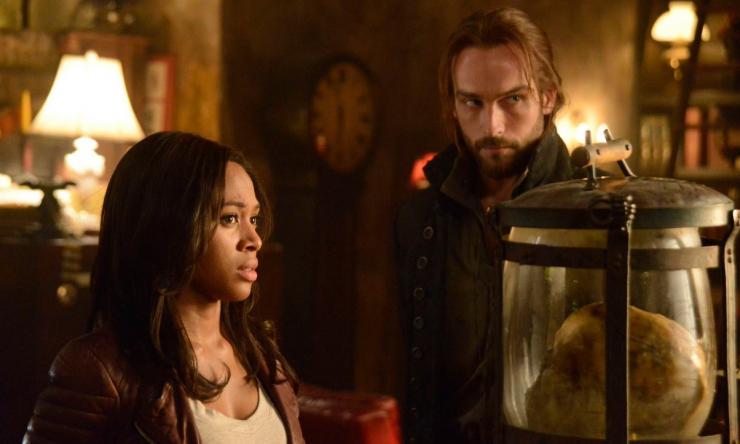 SLEEPY HOLLOW RENEWED
After weeks — nay, months — of painful speculation and being on the bubble, Fox has finally renewed Sleepy Hollow for a third season. The series will return for an 18-episode run in the fall, after the network just closed a deal with Clifton Campbell (The Glades) to take over from Mark Goffman as the new showrunner. Here's what Fox president David Madden said about Campbell: "I had the pleasure of working with Clifton on both The Glades and White Collar. He is an excellent producer, and we can't wait to see what this team has in store for Season 3." Goffman stepped down earlier this month after season two drew a lot of heated criticism. Instead of focusing on what worked, aka the amazing chemistry between the series' two main leads, Ichabod Crane (Tom Mison) and Abbie Mills (Nicole Beharie), and the battle between good and evil, the show literally lost its way and became too serialized. Most of year two saw the writers shoving Katrina (Katia Winter) and the Cranes' unending family drama down viewers' throats, leading to a massive backlash from the fans and a huge drop in ratings. Sleepy Hollow was down 40 percent compared to season one. That woke Fox the hell up. Back in January, Fox TV chairman and CEO Dana Walden made her mea culpa and promised some changes: "We are responding to a little bit to — not necessarily the criticisms — but this show has a high level of difficulty," she said. "It's a relationship show, a period show, you have iconic characters, you're trying to tell mysteries and the show got a little overly serialized this past season. It's very difficult on a show like this to get the exact right balance. Honestly, we felt watching the show, as passionate viewers, the show got too serialized." The third season of Sleepy Hollow will thankfully go back to the basics and explore the ever-evolving partnership and friendship between Ichabod and Abbie, following the dynamic duo's victory over evil (and Katrina) in the awesome season-two finale. Season three has the setup to serve as a fresh start, and here's hoping they recapture the magic that made the show so much fun in year one.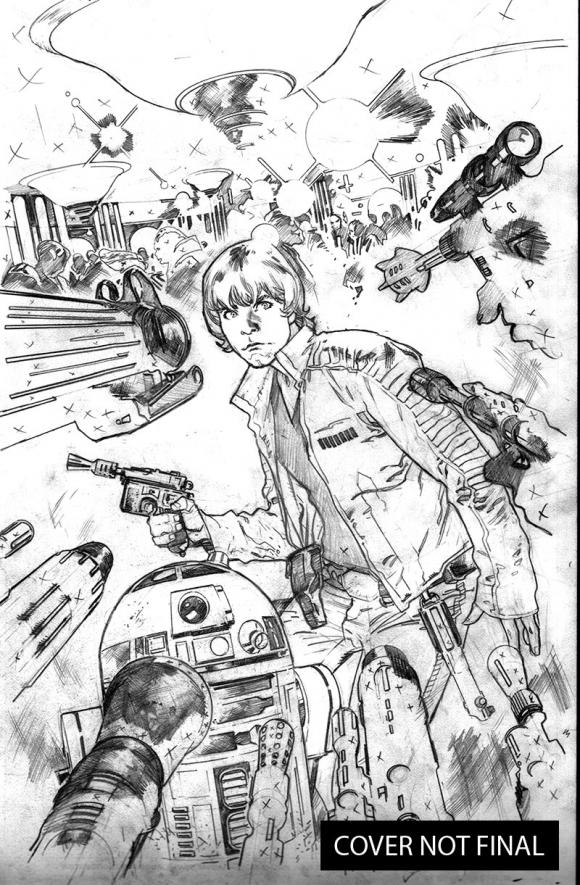 STAR WARS COMICS
Marvel assembled some of its top talent for its relaunch of Star Wars comics in January, including the killer team on the Star Wars main series of writer Jason Aaron and artist John Cassaday. Over the last couple of years Aaron's become one of the company's go-to scribes for the Big Stuff, including major events like Original Sin and the reveal of a new, female Thor, so it was no surprise to see him taking on such a high-profile project. For Cassaday, the series was a chance to helm interior art on yet another major launch at Marvel, after previously working with Joss Whedon on Astonishing X-Men and Rick Remender on the flagship book of Marvel NOW!, Uncanny Avengers. When this team was announced back in July, it was clear Marvel wasn't pulling any punches with its return to Star Wars, and Star Wars #1 became one of the bestselling comics of 2015 before it even hit stores. Now the Star Wars series is facing its first creative team change. On Monday, Cassaday announced via his official Facebook page that he'll be leaving the series after issue six, which is set to be released in June and will wrap up the first arc of the series, setting the stage from a nice trade collection of the Aaron/Cassaday issues. So, sadly, the series is losing a superstar artist, but you had to know Marvel would be looking for another superstar artist to replace Cassaday, and now they've revealed who: Stuart Immonen. Immonen's been working regularly at both Marvel and DC for more than two decades now, and he's built up an impressive list of credits, a large fanbase and tons of acclaim. In the last few years alone he's worked with Marvel on major events like Fear Itself, fan favorites like Nextwave: Agents of H.A.T.E. and major new series launches like All-New X-Men and All-New Captain America. Now he's tackling Star Wars for the first time, beginning with issue #8 of the series, and to accompany his arrival Marvel has just released a not-final early look at Immonen's pencils for the Star Wars #8 cover. Marvel also noted that a "very special guest artist" will be announced for Star Wars #7 in the coming days. As for Aaron, he made it clear he's not going anywhere. EX MACHINA
The ambitious sci-fi flick Ex Machina is getting rave reviews, and the latest trailer has us champing at the bit to see Alex Garland's new sci-fi film. This movie just keeps looking better and better. The trailer shows off a ton of new footage, and does an excellent job of setting up the deep questions at the heart of the film. What it means to be human, and what traits we use to define it. The story follows a computer programmer (Domhnall Gleeson) who visits a remote research facility owned by a tech genius (Oscar Isaac) to unwittingly test a cutting-edge new artificial intelligence (Alicia Vikander). Considering that reviews are already rolling in for the film (almost all of them glowing), the trailer is also interspersed with some media buzz and review notes. Garland cut his teeth writing modern sci-fi classics like Dredd and 28 Days Later, and it seems he's only sharpened his skills even more now that he's wearing two hats as both writer and director. If this movie is as good as it appears to be, Garland will be on the short list to direct sooner rather than later. Ex Machina opens April 10. POLTERGEIST
"There are ghost stories, and then there's 'Poltergeist.'" The first TV spot for the upcoming remake of the Steven Spielberg-produced, Tobe Hooper-directed 1981 horror classic puts the original on a pedestal and then recalls and references some of its finest moments. Legendary filmmaker Sam Raimi (Spider-Man, Evil Dead, The Grudge) and director Gil Kenan (Monster House) contemporize the classic tale about a family whose suburban home is haunted by evil forces. When the terrifying apparitions escalate their attacks and hold the youngest daughter captive, the family must come together to rescue her before she disappears forever. Written by David Lindsay-Abaire, Poltergeist boasts an impressive cast, including Sam Rockwell, Rosemarie DeWitt, Jared Harris, Saxon Sharbino, and Jane Adams, along with 8-year-old Kennedi Clements as Madison, a play on the iconic Carol Anne (Heather O'Rourke) from the original. 20th Century Fox and MGM will release Poltergeist in theaters on May 22.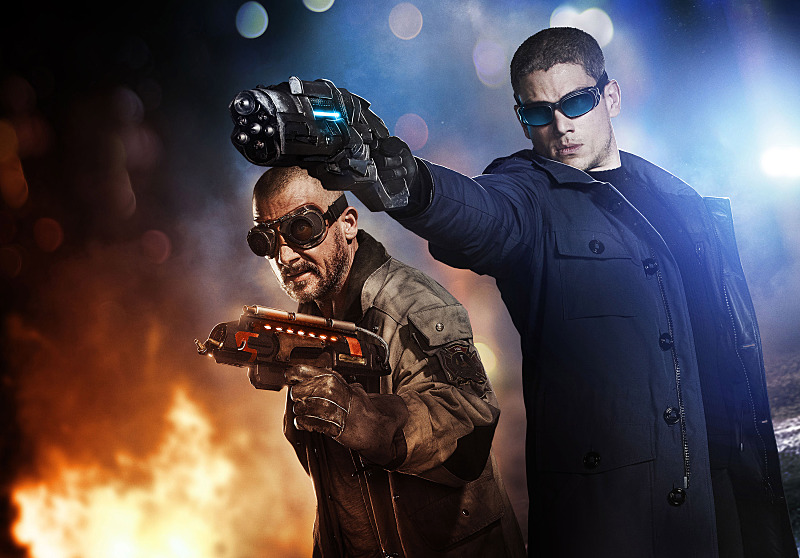 THE FLASH
Next week's episode of "The Flash" is set to feature the return of "The Rogues" once again as Captain Cold (Wentworth Miller) and Heat Wave (Dominic Purcell) will make their way to Central City. In anticipation of the episode, The CW has released a new stylized poster featuring the pair. Titled "Rogue Time," the episode is officially described as folllows: "The Flash learns that Captain Cold (guest star Wentworth Miller) and Heat Wave (guest star Dominic Purcell) have returned to Central City. This time Snart has brought along his baby sister Lisa (guest star Peyton List) to help wreak havoc on the city." Directed by John Behring with story by Grainne Godfree and teleplay by Brooke Eikmeier & Kai Yu Wu, "Rogue Time" is set to air March 24. "The Flash" airs Tuesdays at 8 P.M. EST on The CW. Both Miller and Purcell are set to reprise their roles in the upcoming "The Flash"/"Arrow" spin-off series which will debut next year. iZOMBIE
The CW has debuted the first promo for Episode 2 of "iZombie," their latest comic book based series, which you can check out in the player below. Titled "Brother, Can You Spare A Brain?" the episode is officially described as follows: "Liv (Rose McIver), Ravi (Rahul Kohli) and Clive (Malcolm Goodwin) work together to solve the mysterious death of a well-known painter. Liv finds herself consumed with passion after eating his brain, and can't resist trying to seduce Major (Robert Buckley). Meanwhile, Blaine (David Anders) makes a surprise visit to the morgue." Directed by John Kretchmer and written by Diane Ruggiero-Wright, "Brother, Can You Spare A Brain?" is set to air March 24. Based upon characters created by Chris Roberson and Michael Allred, and published by DC Entertainment's Vertigo imprint. "iZombie" airs Tuesdays at 9 P.M. EST on The CW. The series is produced by "Veronica Mars" executive producers Rob Thomas, Diane Ruggiero-Wright, Danielle Stokdyk and Dan Etheridge.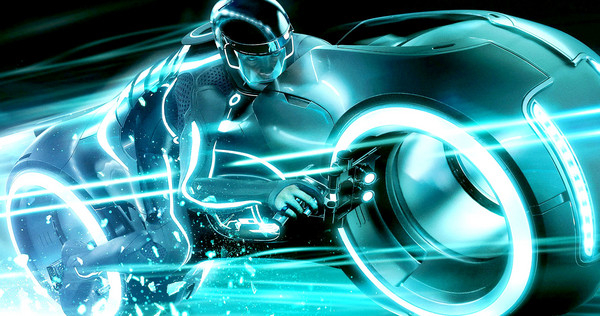 TRON 3
Back in December 2012, two years after Tron: Legacy hit theaters, Garrett Hedlund confirmed that he will return to play Sam Flynn in Disney's Tron 3, but we haven't heard much about the sequel since then. Today, VanCity Buzz reports that production is scheduled to begin on October 5, with Garrett Hedlund currently the only confirmed star at this time. Sources from Badass Digest and /Film confirm the report, while adding that Joseph Kosinski is coming back to direct. Joseph Kosinski revealed back in October 2013 that the script was still being written by Jesse Wigutow (The Crow reboot), who rewrote the original script by David DiGilio (Eight Below). While the director insisted at the time that the project was still moving forward, this is the first we've heard about production getting under way this year. It remains to be seen if Jeff Bridges (Kevin Flynn), Olivia Wilde (Quorra) or Bruce Boxleitner (Alan Bradley/Tron) will reprise their roles. Tron: Legacy earned over $400 million worldwide from a whopping $170 million budget, with a majority of the production taking place in Vancouver at Canadian Motion Picture Park in Burnaby. There were also exterior shoots at the Shangri-La Vancouver Hotel, the Lions Gate Bridge and other areas of East Vancouver. Nothing has been confirmed at this time by Disney regarding Tron 3, but we'll keep you posted as soon as more information is released. Tron 3 comes to theaters in 2016 and stars Olivia Wilde, Cillian Murphy, Garrett Hedlund, Bruce Boxleitner, Cindy Morgan, Nathan Corddry. The film is directed by Joseph Kosinski.
WEDNESDAY, MARCH 18, 2015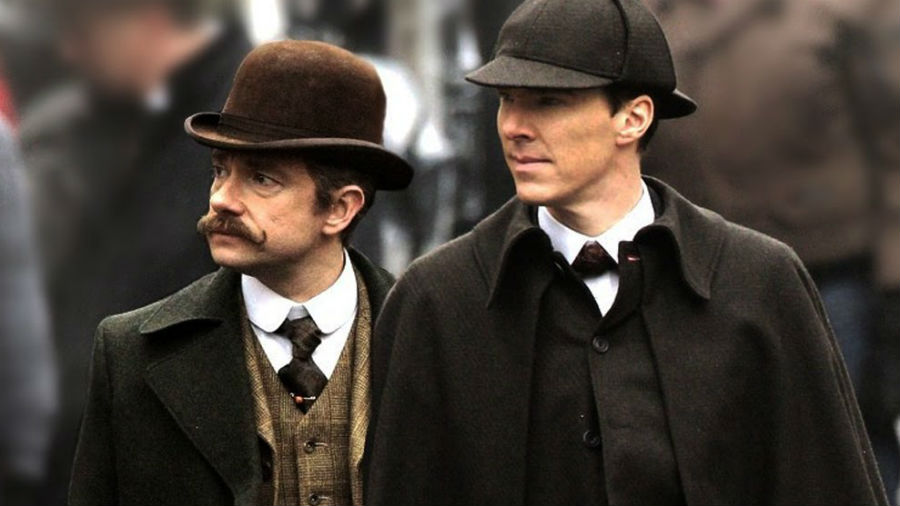 SHERLOCK
"Sherlock's" upcoming Christmas special is heading to London -- Victorian London that is. The BBC show co-creator Steven Moffat confirmed to Entertainment Weekly during an appearance at SXSW March 16 the special will be a stand alone historical adventure. "The special is its own thing," Moffat says. "We wouldn't have done the story we're doing, and the way we're doing it, if we didn't have this special." Fans have been speculating that Victorian London would be the setting for the special for awhile now. Rumors started flying when "Sherlock" stars Benedict Cumberbatch and Martin Freeman were spotted in Feb. filming for the show wearing old-fashioned clothing. Now it has been confirmed it was for a good reason, because the story will be taking the characters back over 100 years. No airdate has been set for the special as of yet, but Moffat did add he is "very pleased" with how it has turned out.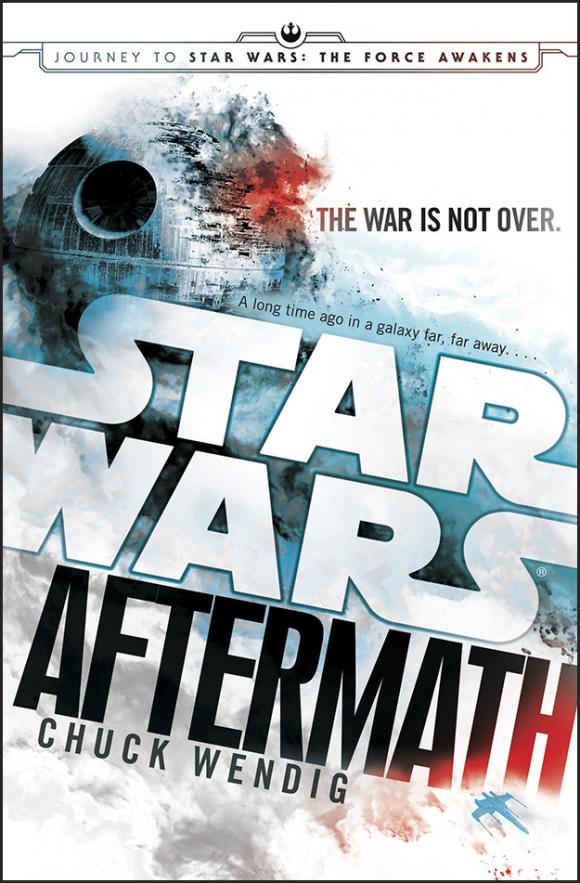 STAR WARS: AFTERMATH Last week, Disney and Lucas Books unveiled an ambitious plan to chart the course between the Star Wars films Return of the Jedi and The Force Awakens through the release of at least 20 books, ranging from children's sticker books to novels for adults, in the months leading up to the J.J. Abrams-directed seventh installment in the Star Wars saga this December. The years after Return of the Jedi were already described through an immense series of Star Wars novels that have now been rendered non-canon by Disney's purchase of Lucasfilm, and now Disney and Lucasfilm have the opportunity to reframe that story through a series of books, films, games and whatever else they can think of. Star Wars canon is being redefined in 2015, and now we have the first details of a novel that will document what happened in the aftermath of the Battle of Endor. In a post on the official Star Wars website, Lucas Books senior editor Jennifer Heddle announced Tuesday that the first novel to follow the events of Return of the Jedi will be titled Star Wars: Aftermath and will be written by acclaimed novelist Chuck Wendig (Blackbirds, Mockingbird). The novel will take place, as the title suggests, in the aftermath of the destruction of the second Death Star and the apparent defeat of the Empire by the Rebel Alliance. Heddle describes the novel's concerns like this: The second Death Star has been destroyed. Rumors are flying that the Emperor and his enforcer, Darth Vader, are dead. A new government is forming to replace the Empire. But the galaxy is a big place, and the fallout of this cataclysm will affect different worlds in different ways. Does everyone accept the fall of Imperial rule? Has everyone even heard the life-altering news? What rushes in to fill the vacuum the Empire has left? And who will try to stop them? Heddle also announced that Aftermath will be the first in a trilogy of novels bridging the gap between Return of the Jedi and The Force Awakens, so we can expect even more details to emerge after Aftermath. We've already been promised plenty of The Force Awakens easter eggs from this Star Wars publishing initiative, and now we know where many of those will begin: in the chaos that follows the great victory of the last chronological Star Wars film. You can pre-order the book here, and look for it in stores in September. DAREDEVIL
Ever since we got our first look at Daredevil's black suit, a lot of fans have been complaining about the — shall we say it? — utter lack of red in it, and the deviation from what many consider DD's standard look. But fear not, because our beloved Man Without Fear (Charlie Cox) will eventually sport the iconic red costume and horns that the fans have come to know and love in the Marvel comics on the upcoming Netflix series. Executive producer and showrunner Steven S. DeKnight recently spoke to Comics Continuum and explained how fans will recognize the influence of Frank Miller's Man Without Fear comics (which explored our Hell's Kitchen hero's early, formative years) on the black suit the show settled upon for the new series. He also explained how the costume will evolve throughout: "He always wore a black mask that was tied in the back," DeKnight said. "We went through a lot of different versions and did a lot of R&D before settling on something. If you watch very closely, you'll see the outfit evolve subtly into what we call the black ninja suit. The mask changes. He starts wearing protective pads. Eventually it morphs into the classic suit, because he wouldn't be Daredevil without it. Getting there is part of the fun. The idea was to back the story up to the point before Matt is Daredevil. Then we could take him to a place where some version of the red suit works in a grounded world. The solution is very exciting and makes complete sense." The decision to settle on that black costume was, of course, decided upon early in the show's development. Joe Quesada, Marvel's chief creative officer, who was also an artist on Marvel's Daredevil comic books, added: "We had to come up with a logic for it, It was a delicate balance, because the stories we're telling are so real-world. Matt starts out in a homemade outfit that develops slowly. As he starts getting the crap kicked out of him on the streets, he adds padding little by little." Marvel executive producer and head of TV Jeph Loeb added: "We couldn't just come out of the box with a guy running around in a red devil costume. We needed to be able to make sure that it looked not like a costume, but a uniform." Stephanie Maslansky, the show's costume designer, also chimed in on the reasons why our blind hero will get to wear the black costume at first: "There was definitely a history and mythology that needed to be adhered to, but it also had to seem authentic. It needed to be made of things that anyone could buy on the street, on the Internet or in an army-navy store. We wanted something that looked militaristic and functional, but also dramatic and sexy. It was really tricky to make it both be practical and look, as Joe Quesada likes to say, 'really bad-ass.'" All 13 episodes of Marvel's Daredevil will be available in one go on Netflix on Friday, April 10.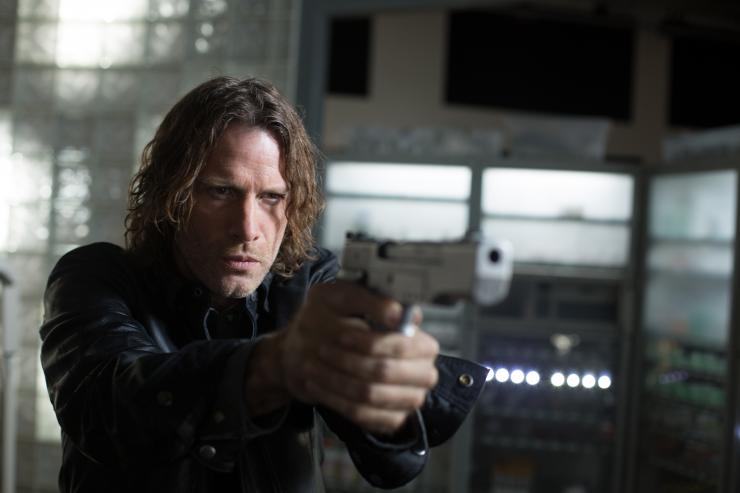 VICE
Whether you call them androids, replicants, cyborgs or Life Model Decoys, when humanity gets access to lifelike bodies with A.I., things are probably going to get a little messed up. Allow people to pay a fee to play out their fantasies with these androids, without fear of judgment or reprisal, and some weird scenarios are likely to play out -- which becomes problematic when one of the lifeforms gains sentience and escapes. This is the premise of Vice, available today on DVD/Blu-ray. Directed by Brian A. Miller, the Lionsgate film stars Bruce Willis, Thomas Jane, Ambyr Childers and Jonathan Schaech. And in the behind-the-scenes clip below, exclusively debuted here, Jane, Childers and Schaech discuss their characters in the futuristic thriller. The official synopsis: Julian Michaels (Willis) has designed the ultimate resort: VICE, where anything goes and the customers can play out their wildest fantasies with artificial inhabitants who look, think and feel like humans. When an artificial (Childers) becomes self-aware and escapes, she finds herself caught in the crossfire between Julian's mercenaries and a cop (Jane) who is hell-bent on shutting down VICE and stopping the violence once and for all. LAZER TEAM
A new trailer for the upcoming crowd-funded sci-fi movie Lazer Team has debuted on Yahoo!Movies, filled with brand-new scenes and some genuine laugh-out-loud moments. Not only that, but we also get a better look at how the alien suit found by the four hapless protagonists works. The flick is the first feature-length production from viral video specialists Rooster Teeth, a company based in Austin, Texas. With more than 8 million YouTube subscribers, Rooster Teeth is also behind the popular sci-fi web series Red vs. Blue, launched way back when in 2003. It happens to be the longest-running episodic series of its type on the Internet. Rooster Teeth raised almost $2.5 million to make this movie, breaking Indiegogo records along the way by becoming the third-most-backed crowdfunded movie ever, behind Zach Braff's Wish I Was Here and, of course, Veronica Mars. This might seem surprising given that Lazer Team has no big stars like Zach Braff and Kristen Bell behind it, but Rooster Teeth co-founder and CEO Matt Hullum, who also helmed the movie, says of their upcoming sci-fi flick: "Lazer Team has some pretty big stars… They're non-traditional, Internet celebrities. And they have a huge following. Their celebrity is in a different form." Lazer Team stars Rooster Teeth co-founder Burnie Burns, who's both an actor and a writer for the team. Also starring in the movie, and your keen eye will no doubt have spotted him in the new trailer, is Smallville's own Aquaman, Alan Ritchson, who also starred in The Hunger Games and is the voice of Raphael in the current Teenage Mutant Ninja Turtles reboot. He may not be a big name, but Ritchson does have his loyal fan base standing behind him. Beyond all that fan base stuff, Burns is, of course, counting on Rooster Teeth's whopping 8.1 million-strong YouTube following to help with the movie. He said: "Of them 35,000 people backed the Lazer Team campaign," he pointed out. "That's less than 0.2 percent. With a slim percentage we were able to break records." The guys are plenty aware that they may not make back the money they've raised for the project -- Veronica Mars, for example, only managed to make less than $3.5 million of the $5.7 million raised. But the backers received digital copies before the movie was released in theaters, and that's what Rooster Teeth will do with Lazer Team, at least, for those 32, 000 backers who donated more than $25. Rooster Teeth is looking to release Lazer Team across multiple platforms, in addition to the big screen. The movie should be released sometime in the summer, but there's no official release date yet, and a distributor still hasn't been named.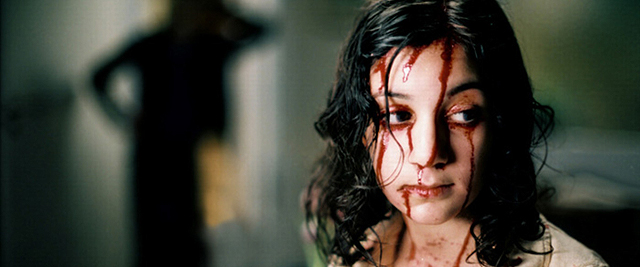 LET THE RIGHT ONE IN
According to The Hollywood Reporter, A&E is reviving the modern Swedish horror classic Let the Right One In for television, tapping "Teen Wolf" showrunner Jeff Davis and writer Brandon Boyce (Apt Pupil, also an actor on "Teen Wolf") to adapt the critically-acclaimed film. The highly-praised original was directed by Tomas Alfredson (Tinker Tailor Soldier Spy) in 2008, based on the best-selling Swedish book by John Ajvide Lindqvist. It concerned a young boy who befriends a 100-year-old vampire who appears to be a little girl as a string of murders rock a small town. It earned an English-language remake from Hammer Films a mere two-years later as Let Me In by director Matt Reeves (Dawn of the Planet of the Apes, Cloverfield), though that fairly faithful adaptation failed at the box office. Hammer's rights to "Let the Right One In" were the subject of a bidding war with Showtime, which already has the vampire-themed "Penny Dreadful" on its slate of shows. A&E, meanwhile, has found great success with "Bates Motel" and "The Returned," so they're looking to be in the horror game for the long haul. The property is being developed by Marty Adelstein and Becky Clements of Tomorrow Studios. Davis, Boyce, Adelstein, Clements and Simon Oakes will executive produce.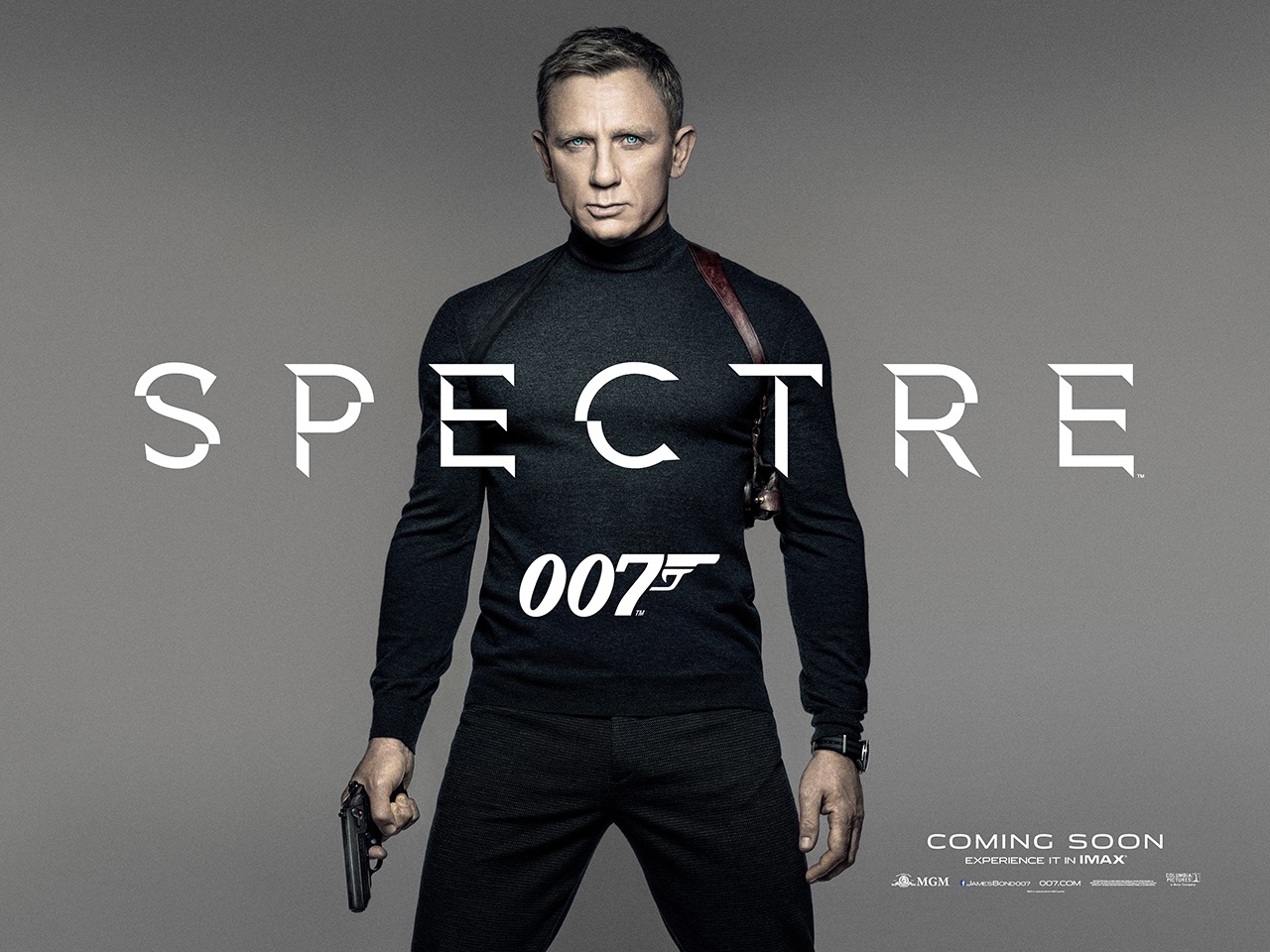 SPECTRE
Production continues on the latest James Bond adventure, the 24th in the series, and now EON Productions, Metro-Goldwyn-Mayer and Sony Pictures Entertainment have released the teaser poster for Spectre! Directed by the Academy Award winning Sam Mendes (Skyfall, American Beauty), Spectre stars Daniel Craig (Casino Royale, Munich), Ben Wishaw (Perfume: The Story of a Murderer, I'm Not There), Naomie Harris (Mandela: Long Walk to Freedom, 28 Weeks Later), Ralph Fiennes (The Grand Budapest Hotel, The Invisible Woman), Christoph Waltz (Django Unchained, Inglourious Basterds), Monica Bellucci (Irreversible, Malena), David Bautista (Guardians of the Galaxy, The Man with the Iron Fists), Léa Seydoux (Inglourious Basterds, Blue is the Warmest Color), Stephanie Sigman (Miss Bala, Pioneer), Andrew Scott (Locke, "Sherlock") and Rory Kinnear (Quantum of Solace, The Imitation Game). In the movie, a cryptic message from Bond's past sends him on a trail to uncover a sinister organisation. While M battles political forces to keep the secret service alive, Bond peels back the layers of deceit to reveal the terrible truth behind SPECTRE. SPECTRE (SPecial Executive for Counter-intelligence, Terrorism, Revenge and Extortion), as Bond fans know, is a fictional global terrorist organization featured in Ian Fleming's novels, as well as the films and video games based on those novels. The organization was led by the villain Ernst Stavro Blofeld, although the cast is definitely playing it coy about whether or not Blofeld will actually appear in the new film. Spectre, written by John Logan and Neal Purvis & Robert Wade, hits theaters on November 6, 2015.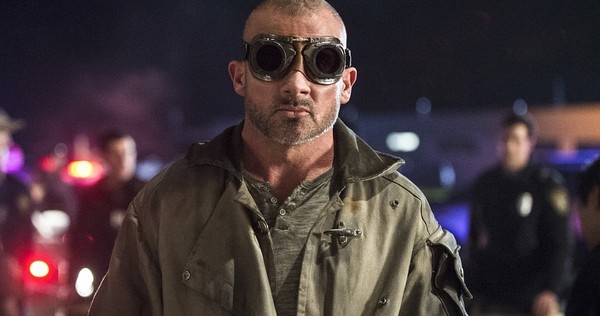 ARROW/FLASH SPIN-OFF
While The CW's Arrow/Flash Spinoff may not have a title quite yet, the cast keeps growing by the day, with Dominic Purcell signing on to play his Flash villain Heat Wave in the series, which is being targeted for a midseason debut. Dominic Purcell joins a cast that includes Heat Wave's villainous partner Captain Cold (Wentworth Miller) and Firestorm (Victor Garber) from The Flash, along with Arrow's Atom (Brandon Routh) and Caity Lotz in an unspecified role. The show will also mark the first series regular gigs for Dominic Purcell and Wentworth Miller since they both starred together on the Fox drama series Prison Break, which ran for four seasons between 2005 and 2009.<> Leonard Snart, a.k.a. Captain Cold, first appeared in the show's fourth episode "Going Rogue" by himself, but he returned in January's "Revenge of the Rogues" with his new partner Mick Rory, a.k.a. Heat Wave. Mick is a pyromaniac who is obsessed with fire and brandishes a special heat gun developed by S.T.A.R. Labs' Cisco Ramon (Carlos Valdes) that was eventually stolen and given to Mick by his friend Leonard Snart. Both Wentworth Miller's Captain Cold and Dominic Purcell return to The Flash in tonight's episode, "Out of Time". The initial announcement of this untitled series last month also mentioned the spinoff will feature three major DC Comics characters who haven't been featured in a TV series before, but we still have no word on these characters' identities. It's also unclear whether or not Caity Lotz will return as Black Canary, since she was killed off in the Arrow Season 3 premiere, of if she is playing another character entirely. Deadline also reports that Victor Garber, who plays Dr. Martin Stein, one half of Firestorm, will not be joined by the other half, Ronnie Raymond, since Robbie Amell did not sign on for the project. Arrow and The Flash executive producers Greg Berlanti, Andrew Kreisberg and Marc Guggenheim created the untitled spinoff series, although it isn't known when production may get under way. The writers will executive produce with Sarah Schechter.
TUESDAY, MARCH 17, 2015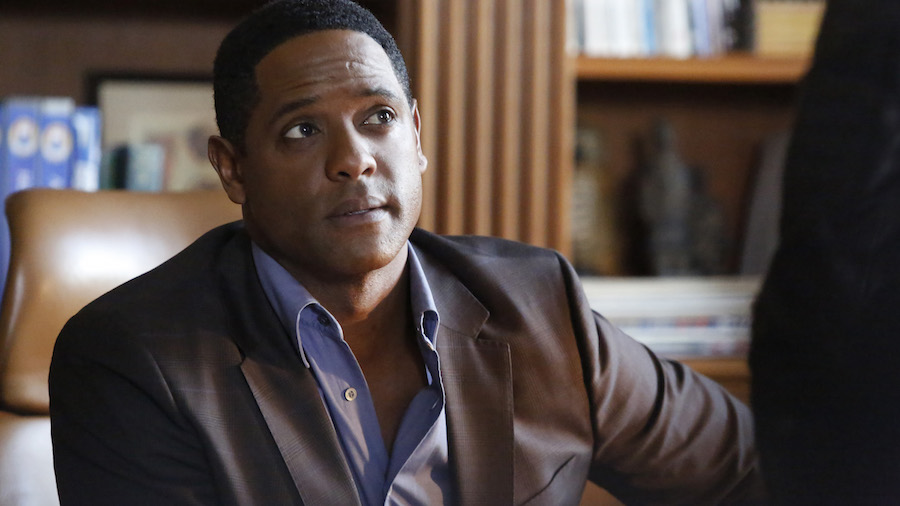 AGENTS OF S.H.I.E.L.D.
"Marvel's Agents of SHIELD" viewers will finally get to meet Melinda May's ex-husband, Dr. Andrew Garner (Blair Underwood), in Tuesday's (March 17) episode. But while there's some water under the bridge for May and her former flame, there's nothing but love between Underwood and Ming-Na Wen. "What's so incredible about the whole experience when I found out [he was cast] was that Blair and I are good friends," Wen tells Zap2it. "We stayed in touch all these years after we graduated, and this is the first time we're working together professionally. It's so crazy and I'm so excited because he's playing my ex-husband." Both actors went to Carnegie Mellon University in Pennsylvania, where they became friends. According to Wen, that's helped them act together on "Agents of SHIELD" because they come from the same background. "What's so fantastic is having been trained in the same format and forum, our background in how we were trained made it so much easier for us to work together, because it's almost like shorthand," she says. "We have the same sort of method or technique or understanding in how to interpret a script or how to work with each other, and we know each other so well it really actually lends itself to our back history without having to go through any elaborate details about it." May is still something of a mystery to audiences, even though there have been some reveals about her past. Wen promises more revelations are on the way, saying, "We're definitely going to find out a little bit more about her back history, and I can't wait. It's been an incredible buildup." SHERLOCK
The hit BBC series Sherlock has never even tried to keep a regular TV schedule, which has made any new episodes into something akin to a holy grail for fans. It sounds like the next installment might be the most ambitious yet. Entertainment Weekly is reporting that the mysterious new Sherlock "special" is set entirely in Victorian London, though it still stars Benedict Cumberbatch and Martin Freeman ... just in the more traditional (for Holmes stories) 19th century, as opposed to modern day. Moffat wouldn't explain exactly how they're telling a story for the modern-day series in Victorian England, but we wouldn't ramp up the Doctor Who crossover theories just yet. According to Moffat, the special is its own standalone piece, and apparently not associated with a larger run of episodes. It sounds like they just thought it'd be fun to tell a straight-up, period-set Sherlock Holmes story with Cumberbatch in the hat, so that's what they did. No strings attached to the show's larger narrative: "The special is its own thing. We wouldn't have done the story we're doing, and the way we're doing it, if we didn't have this special. It's not part of the run of three episodes. So we had this to do it – as we could hardly conceal – it's Victorian. [Co-creator Mark Gatiss] and me, we wanted to do this, but it had to be a special, it had to be separate entity on its own. It's kind of in its own little bubble." Though shooting is apparently all but wrapped on the special, no air date has been announced at this time by U.S. distributor PBS Masterpiece, or U.K. network BBC. It's suspected the special will air in December, which matches up with previous reports about a holiday special. ARROW/THE FLASH
The CW has built a tiny superhero empire over the past few years with The Flash and Arrow, and it looks like things are only getting bigger in 2015. There's no arguing the point: The CW definitely knows how to make a sizzle reel sizzle. Both shows were out in full force at the recent PaleyFest event, where the studio showed off some spoiler-filled trailers that drop some huge bombshells for the back halves of both shows current seasons. Secrets will be revealed, and new characters are definitely coming into play. Seriously, if you don't want to be spoiled, walk away now. In the Arrow trailer, we get to see a lot more of Ray Palmer's A.T.O.M. in action, and it doesn't take the billionaire genius long to figure out Oliver Queen is actually the Arrow — and it sounds like he wants to do something about it. There's also some payoff on that Ra's al Ghul cliffhanger, and it sounds like the insanity in Starling City could have Oliver seriously considering his offer. On The Flash, the mystery surrounding Dr. Harrison Wells looks to be paying off nicely. Along with the lingering investigation into Barry's mother, it looks like the Reverse-Flash story will be doing a lot of the narrative heavy lifting from here on out. We also got to see the Rogues causing all kinds of trouble (plus Mark Hamill!), and just watching this trailer, it's impressive how large of a superheroic world they've managed to build in less than one season. Watching these two sizzle reels back to back, it's amazing how you can literally feel the different vibe they've established for the two shows — while still keeping it all connected. There also seems to be more than a few crossovers playing out in the footage below (A.T.O.M. at STAR Labs!), so don't worry, these worlds will still definitely collide from time to time. The Flash airs Tuesday nights, and Arrow airs Wednesday nights on The CW. LEGO JURASSIC WORLD
LEGO has unleashed the first official trailer for its upcoming Jurassic World videogame, which will actually cover all four flicks in the long-running movie franchise. The gameplay trailer features scenes plucked straight from the movies — albeit with LEGO's trademark humorous twist, and I actually laughed out loud at a couple of them. Here's a short synopsis for the upcoming videogame: Based on Steven Spielberg's Jurassic Park motion picture trilogy, LEGO® Jurassic World™ follows the storyline of Jurassic Park, The Lost World: Jurassic Park, and Jurassic Park 3, as well as the highly anticipated Jurassic World, taking players through the epic story events retold in classic LEGO humor and fun, brick-building gameplay. LEGO Jurassic World will be released across most gaming platforms this June. HEROES REBORN
British actor Robbie Kay, who played the villainous Peter Pan on ABC's "Once Upon a Time," has joined the cast of NBC's upcoming 13-episode event series, "Heroes Reborn." He'll star opposite Zachary Levi and Jack Coleman. Deadline says Kay will play a new character, but the network is not sharing any details regarding the character at this time. Kay's credits also include Fugitive Pieces, Pinocchio and Pirates of the Caribbean: On Stranger Tides. "Heroes Reborn" will debut this year as a limited series reboot of the popular show. The original series chronicled the life-changing stories of a series of unrelated ordinary people who discovered they had superhuman abilities. As the saga unfolded, they learned they were part of a grand plan that brought them together to change the world. Prior to the debut of "Heroes Reborn," NBC is expected to launch a digital series that will introduce the characters and new storylines. Plot details for the new episodes have yet to be disclosed, but the series is said to follow a new stand-alone story arc. "Heroes" creator Tim Kring is executive producing with James Middleton and Peter Elkoff. Matt Shalman is directing the opening episode.
MONDAY, MARCH 16, 2015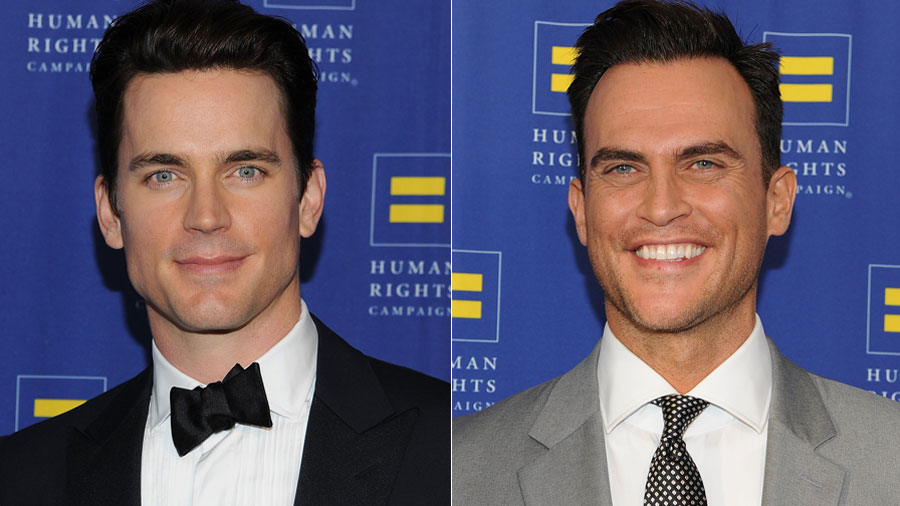 AMERICAN HORROR STORY
"American Horror Story" had its annual Paleyfest panel on Sunday (March 15), where the creators traditionally reveal something exciting about the upcoming next season. This year was no exception. "AHS: Hotel" has added two Ryan Murphy alums in the form of Matt Bomer and Cheyenne Jackson -- though their roles are being kept under wraps. "I know nothing," says Jackson with a laugh. While Bomer teases, "I can't really specify too much. I can't confirm or deny that it may be a romantic relationship [between him and Lady Gaga]." Bomer adds that on "Freak Show," he "only got to dip [his] toes in the freaky-deaky nature of this show," so he's "ready to go to the deep end, baby." But there is one person who won't be swimming in the "AHS" pool in Season 5. Jessica Lange has confirmed that she is done. "We've had a great run here," says Lange. "I mean, I have absolutely loved doing these four characters that I've had the opportunity to play. And in all the madness, I've loved my writers and the actors and Ryan and the whole insanity of it. ... but yes, I'm done." "American Horror Story: Hotel" will premiere in October, if pattern holds. GAME OF THRONES
HBO has released a new promo for "Game of Thrones" Season 5 as well as three behind-the-scenes videos. "Game of Thrones" Season 5 (watch the recent trailer) will premiere in over 170 countries and territories across the globe simultaneously with HBO's U.S. airing on Sunday, April 12 at 9:00pm ET. Among those participating are the HBO branded networks: HBO Asia, HBO Canada, HBO Europe, HBO Latin America, HBO Netherlands and HBO Nordic. Also included are international "Home of HBO" services including: Africa/M-Net, Australia/Foxtel, Belgium(Flemish)/Telenet, France/Orange, Iceland/365 Media, Israel/DBS, Sky Deutschland, Sky Italia and SKY New Zealand. HBO licensing partners in the simulcast include: Belgium(French)/Betv, Greece/Intervision, Russia/Amedia and Spain/DTS. Since its debut "Game of Thrones" has become a worldwide phenomenon and the most popular series in HBO history. Last year, the series was the most searched television show worldwide on Google and the #1 most talked about show on Facebook in the U.S. "Game of Thrones" is based on George R.R. Martin's fantasy series A Song Of Ice and Fire, where political and sexual intrigue abound as seven noble families fight for control of the mythical land of Westeros. The epic series, with storylines of treachery and nobility, family and honor, ambition and love, and death and survival, has captured the imagination of fans globally and become one of the most popular shows on television.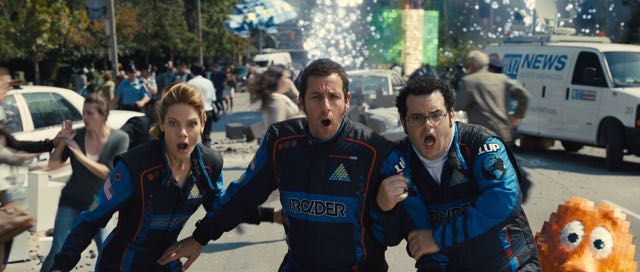 PIXELS
On Tuesday, Sony Pictures will unleash the first trailer for '80s arcade comedy action film Pixels, but the studio has already posted a short tease that you can watch below! The film, which stars Adam Sandler, Kevin James, Michelle Monaghan, Josh Gad, Peter Dinklage and Brian Cox, hits theaters on July 24. In Pixels, intergalactic aliens misinterpret video-feeds of classic arcade games as a declaration of war against them and attack the Earth, using the games as models for their various assaults. President Will Cooper (James) has to call on his childhood best friend, '80s video game champion Sam Brenner (Sandler), now a home theater installer, to lead a team of old-school arcaders (Dinklage and Gad) to defeat the aliens and save the planet. Monaghan plays the team's unique weapons specialist. The action-comedy is directed by Chris Columbus from a story by Tim Herlihy and a screenplay by Tim Herlihy and Timothy Dowling, based on the original short film of the same name by Patrick Jean. The film is produced by Adam Sandler, Chris Columbus, Mark Radcliffe, and Allen Covert. Executive Producers are Barry Bernardi, Michael Barnathan, Jack Giarraputo, Heather Parry, Tim Herlihy, Steve Koren, Patrick Jean, Benjamin Darras, Johnny Alves, Matias Boucard, Seth Gordon, and Ben Waisbren. Prepare yourself for an invasion of epic proportions. ?#?PixelsMovie? trailer is coming in 2 days.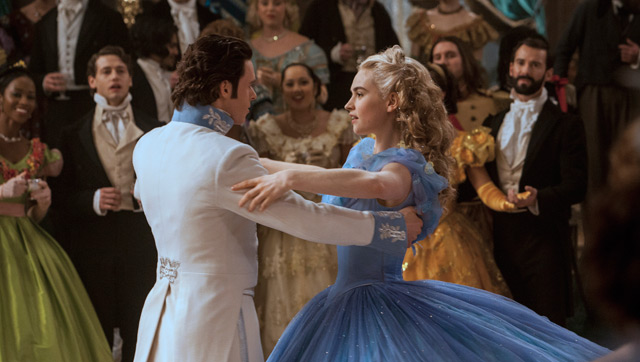 WEEKEND BOX OFFICE
After one of the worst March openings in nine years, the box office bounced back with the release of Disney's latest live-action fairy tale, Cinderella. Directed by Kenneth Branagh (Thor) and starring Lily James, Richard Madden, Cate Blanchett, Helena Bonham Carter and many more, the movie opened in 3,845 in theaters on Friday after earning $2.3 million from Thursday night previews. It took in $23 million (roughly 67% of the movies in theaters) and ended up with an estimated $70.1 million over the weekend or $18,219 per theater. It's the sixth-largest March opening and came out just ahead of Angelina Jolie's Maleficent last June. It also opened internationally in 55% of the overseas territories where it scored $62.4 million with a huge $25 million opening in China as well as #1 openings in other Asian and Latin American markets. Globally, the day and date release grossed $132 million with other major markets such as the UK, France, Germany, Brazil and others still to come. Cinderella also opened in 358 IMAX theaters in North America where it grossed more than $5 million, besting Night at the Museum: Battle for the Smithsonian's previous IMAX opening record for a 2D PG film. Internationally, it grossed over $4 million on 295 IMAX screens accounting for 7% of the film's global opening weekend. The movie received an "A" CinemaScore from moviegoers, making it one of those rare exceptions where they agree with the critics–it was 83% Fresh on Rotten Tomatoes–and a good sign for the film to have strong word-of-mouth throughout its theatrical run. Liam Neeson reunited with director Jaume Collet-Sera (Non-Stop) for their third action film Run All Night, co-starring Joel Kinnaman, Ed Harris, Common, Genesis Rodriguez and more, which also opened on Friday in 3,171 theaters but did less than Neeson's normal fare with just $11 million ($3,474 per theater) to take second place. Its "A-" CinemaScore is decent though, which could help it over the next few weeks before Universal's Furious 7 takes over. Matthew Vaughn's action-comedy Kingsman: The Secret Service (20th Century Fox) crossed the $100 million mark during the week and added another $6.2 million over the weekend (down just 25% from last week) to move up a notch back into third place. It has grossed $107.4 million so far after five weeks in theaters, pretty much holding off all other action movies post-American Sniper. There was a tight race for fourth place between three movies, but according to estimates, Will Smith and Margot Robbie's romantic crime-comedy Focus (Warner Bros.) came out slightly ahead of the others with $5.81 with a gross of $44 million so far. Last week's #1 movie, Neill Blomkamp's sci-fi action flick Chappie (Sony), starring Sharlto Copley, Dev Patel, Sigourney Weaver and Hugh Jackman, took a massive 57% plunge to fifth place (according to estimates) with $5.8 million. It has grossed a weak $23.3 million domestically, forcing it to rely on international box office to recoup its production budget. The ensemble comedy The Second Best Exotic Marigold Hotel (Fox Searchlight), starring Dames Judi Dench and Maggie Smith, Bill Nighy, Dev Patel, Richard Gere and more, expanded into 2,022 theaters on Friday, but despite a minimal 33% drop, its $5.7 million weekend gross put it behind Focus and Chappie, so it fell to sixth place (again, based on estimates). It has grossed $18.1 million and should continue to hold well without much direct competition for older audiences. Seventh place went to The SpongeBob Movie: Sponge Out of Water (Paramount/Nickelodeon) with $4.1 million and $155 million total after six weeks in theaters. Kevin Costner's sports drama McFarland, USA (Disney) continued to do well as it dropped just one place to eighth with $3.7 million (down 29%) to bring its domestic total to $35 million. Universal's controversial romantic drama Fifty Shades of Grey and CBS Films' high school comedy The DUFF were essentially tied for ninth place with $2.9 million each, although the former has grossed $161 million to the latter's $30.3 million. The Top 10 grossed approximately $118 million, which was up over $40 million from the same weekend last year when DreamWorks Animation's Mr. Peabody & Sherman pulled ahead of 300: Rise of an Empire with both of them staying ahead of DreamWorks' action flick Need for Speed, based on the popular video game. Opening in just four theaters, David Robert MItchell's festival fave horror film It Follows (RADiUS-TWC) scored $163,000 or $40,800 per theater, a decent showing for a horror film that gets a rare platform release. No word on how far RADiUS plans on expanding the film, but it is one of the few movies from the company that hasn't done a day-and-date VOD release.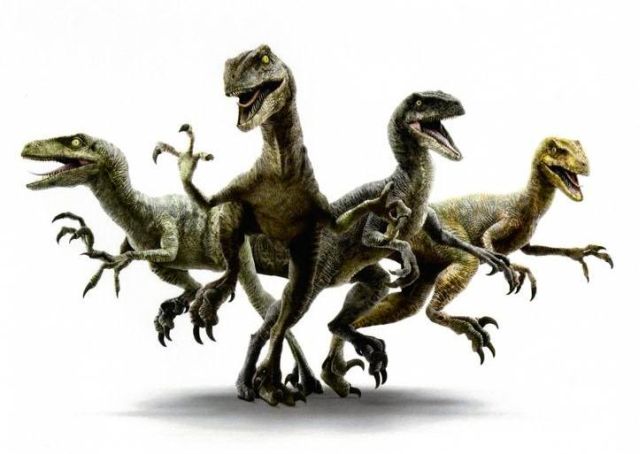 JURASSIC WORLD
Universal Pictures has released a new photo from the upcoming Jurassic World featuring stars Ty Simpkins and Nick Robinson as they arrive on Isla Nublar. In addition, a promo photo has debuted online featuring Chris Pratt's trained troop of Velociraptors. Opening in 3D, 2D and IMAX theaters, Jurassic World arrives from Safety Not Guaranteed helmer Colin Trevorrow and offers a terrifying sci-fi adventure set 22 years after the events of Steven Spielberg's original 1993 Michael Crichton adaption, Jurassic Park. According to Trevorrow, a huge part of what sparked his take on the blockbuster franchise was the image of a teenager texting, unimpressed with the T. Rex behind the glass in front of him. Jurassic World, which hits theaters on June 12, 2015, also stars Bryce Dallas Howard (The Help, Spider-Man 3), Ty Simpkins (Insidious, Iron Man 3), Jake Johnson (Let's Be Cops, "New Girl"), Nick Robinson (The Kings of Summer), Irrfan Khan (Life of Pi, The Amazing Spider-Man), Vincent D'Onofrio ("Daredevil," "Law & Order: Criminal Intent"), BD Wong (Jurassic Park, "Law & Order: Special Victims Unit"), Omar Sy (X-Men: Days of Future Past, The Intouchables), Judy Greer (Dawn of the Planet of the Apes, Tomorrowland), Katie McGrath (NBC's "Dracula," "Merlin"), Lauren Lapkus (Blended, The To Do List) and Andy Buckley (Bridesmaids, The Other Guys). SCREAM QUEEN
Just like they did a month ago on Friday the 13th in February, FOX is celebrating March's Friday the 13th with yet another teaser for the network's upcoming series "Scream Queens," a new comedy-horror anthology series from Ryan Murphy, Brad Falchuk, Ian Brennan and Dante Di Loreto, the executive producers of "Glee" and "American Horror Story." Jamie Lee Curtis (Halloween), Emma Roberts ("American Horror Story: Freak Show"), Oliver Hudson (who replaces Joe Manganiello due to scheduling), Emmy Award and Golden Globe Award nominee Lea Michele ("Glee"), Academy Award nominee Abigail Breslin (Little Miss Sunshine, Zombieland, August: Osage County) and Keke Palmer (Akeelah and the Bee, "Masters of Sex") will star in the limited series. Additionally, Grammy Award nominee and actress Ariana Grande will guest-star in a recurring role, as will Nick Jonas ("Kingdom"). The first installment in the new anthology series revolves around a college campus which is rocked by a series of murders. Production is scheduled to begin in the spring, with the series premiering in the fall of 2015 on FOX. "Scream Queens" is produced by 20th Century Fox Television in association Ryan Murphy Television. The series is co-created by Ryan Murphy, Brad Falchuk and Ian Brennan. Murphy, Falchuk, Brennan and Dante Di Loreto will serve as executive producers.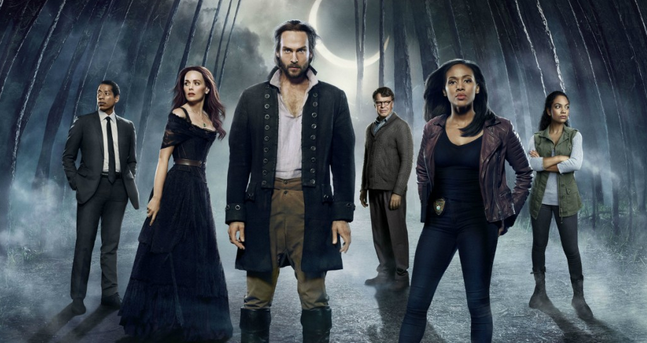 SLEEPY HOLLOW NEWS
With viewer numbers having dropped dramatically for the second season of 'Sleepy Hollow,' it seems that showrunner Mark Goffman is stepping away from the series. This ratings slump and actress Katia Winter verbally complaining about the writing on the series seems to be another major blow to the show. With Goffman having left the show, the network is now eagerly trying to line up a new showrunner and executive producer for this drama about Ichabod Crane having been transported to modern America to save the world from the Horsemen of the Apocalypse. While the first season had strong ratings that averaged in the 8 million mark, this season has fallen to half of that. Without a third season order officially having been lined up, these numbers combined with having to find a new showrunner to carry the series might spell bad news for the show. Of course, a change of direction might be just we need to push the series back into being a fan favorite. With how much I enjoyed Tom Mison and Nicole Beharie in the first season, I am firmly in the disappointed camp with how things have been unfolding. Even so, with how the finale ended I would hate for us to not have a chance to find out what happens from there. While I don't feel that the character of Katrina is fully to blame for this season, she absolutely got into the way of the dynamic between Crane and Lietenant Mills that was part of what made the show so enjoyable. I think things would have played out better if what happened to Mills at the end of the season had happened to Katrina instead.

PATIENT ZERO
It's no secret that zombies are all the rage right now. In the last few years, we've seen 'World War Z', 'Warm Bodies', 'Paranorman', 'Life After Beth', and 'Zombeavers' all achieve various degrees of success, but AMC's 'The Walking Dead' played a big part in the resurgence of the horror movie staple. The show based on Robert Kirkman's acclaimed comic series is even getting a spinoff with a two-season order. But now a new film featuring a few undead hoards is in production and they've borrowed stars from some of the most popular genre shows today. According to Collider, production has commenced on Stefan Ruzowitzsky's 'Patient Zero' at Shepperton Studios in the United Kingdom. The Academy Award-winning filmmaker is directing from a script written by Mike Le of 'Dark Summer'. But if those names don't sound familiar to you right now, you should definitely recognize some of the cast members. After spending time with Arnold Schwarzenegger on the set of 'Terminator Genisys', former 'Doctor Who' star Matt Smith leads the cast and the survivors in the film as the bridge between humans and the Infected. Joining him from House Tyrell and House Tarly are 'Game of Thrones' stars Natalie Dormer and John Bradley. Finally, Agyness Deyn of 'Clash of the Titans' and veteran actor Stanley Tucci round out the cast in unspecified roles. For more information about the film's plot, here's the official synopsis: In 'Patient Zero' an unprecedented global pandemic of a super strain of rabies has turned the majority of humankind into highly intelligent, streamlined killers known as 'The Infected.' One victim, Morgan (Matt Smith), who is asymptomatic and can communicate with the infected, leads the last survivors on a hunt for Patient Zero and a cure. Even though we're getting a lot of zombie-esque feature films recently, a combination of 'Contagion' and '28 Days Later' sounds fairly interesting, especially with a cast like that. But what do you think about 'Patient Zero'? Are you looking forward to seeing what else Matt Smith has up his sleeve after his time in the TARDIS? Share your thoughts in the comment section.
SUNDAY, MARCH 15, 2015
BEFORE I WAKE
Oculus was one of the finer horror outings of last year, and now we've got a look at the next supernatural shocker from its writer/director.

It took me most of the morning to realize that Before I Wake is the new title of Somnia, the film that Mike Flanagan completed after he made Oculus. The latter movie, starring Karen Gillan, Brenton Thwaites and Katee Sackhoff, was a superb, character-driven horror picture with a real sense of dread and a number of genuine frights throughout.

So what's why I checked out this trailer as soon as I realized this was Flanagan's next offering, and while the idea may be somewhat familiar -- a couple lose their son and adopt a little boy whose dreams and nightmares both become real when he sleeps -- the footage on display here suggests that Flanagan is continuing to deliver horror with a human, emotional punch to it.

Kate Bosworth (Superman Returns) and Thomas Jane (soon to be seen in SyFy's The Expanse) star as the adoptive parents, while the cast is rounded out by Annabeth Gish, Dash Mihok and Jacob Tremblay as 8-year-old Cody, the boy whose dreams can come all too true. Check out the trailer below and let us know what you think. Before I Wake is out in theaters on May 8.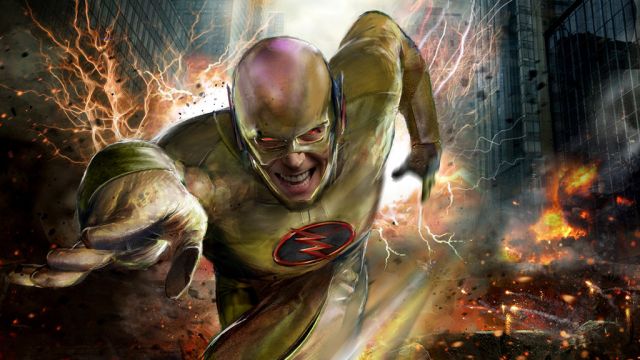 THE FLASH
The CW has unveiled today what is our first proper OFFICIAL look at the Scarlet Speedster's (Grant Gustin) archnemesis, Reverse-Flash, aka Dr. Harrison Wells, all suited up on The Flash's official Twitter account. Wells (Tom Cavanagh) is the dude who presumably killed Barry Allen's mom and framed his dad (original Flash John Wesley Shipp).
Sure, we've seen the suit a couple of different ways on the comic-book TV series before: as a blur, on display, from the neck up, but never ever almost completely together. Until now.
Seriously? That suit looks really cool. But what do you guys think? Love it, or hate it? And do you believe it's really Tom Cavanagh in that suit? (We happen to think so.) Will we finally get our proper look at him in the next episode? So many questions, so little time.
The Flash finally returns next week on March 17, after a painful month-long hiatus.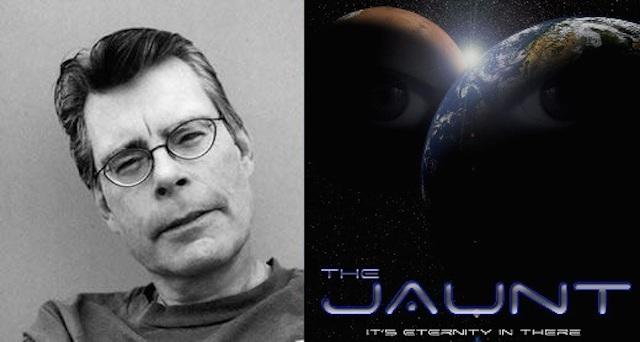 THE JAUNT
Brad Pitt's Plan B production company has dipped back into the genre well and snagged adaptation rights to Stephen King's teleportation story "The Jaunt," for Mama director Andy Muschietti.
Pitt is heavily committed to a pair of other high-profile sci-fi and horror projects with his command of World War Z 2 and a feature film deal to bring Scott Snyder's eerie Wytches comic-book series to life. This new addition to their slate dates back to 1981, when The Jaunt was first published in The Twilight Zone Magazine; it was later collected in King's 1985 anthology, Skeleton Crew.
The Jaunt is a 24th-century tale that follows a family about to embark on a voyage to Mars using a crude teleportation technique called "Jaunting." The hazardous travel method requires anesthesia, and there are strict rules to follow to prevent ... something ... happening during transit. It's a creepy and disturbing tale, for sure, although questions remain as to how it can be stretched to feature length. No casting info has been announced, but this seems like worthy sci-fi material for Pitt's Plan B and Muschietti to explore.
THUNDERBIRDS ARE GO
After months of teases, ITV Studios and Pukeko Pictures' have finally given us our first full-fledged trailer for their upcoming series reboot "Thunderbirds Are Go!"
Featuring effects by Weta Workshop, the iconic series is coming back and features a cast led by Rosamund Pike (Gone Girl) as Lady Penelope and David Graham ("Thunderbirds" 1965) reprising his role as chauffeur and International Rescue agent Parker.
Unstoppable inventor Brains will be voiced by Kayvan Novak, while Tracy brothers Gordon and John are both played by Thomas Brodie-Sangster (Love Actually, "Game of Thrones"). Rasmus Hardiker voices both the youngest and oldest Tracy brothers, Alan and Scott. The fifth Tracy brother, Virgil, will be played by David Menkin. Tracy Island matriarch Grandma Tracy is voiced by Sandra Dickinson and master villain The Hood is played by Andres Williams.
"Thunderbirds Are Go!" will feature new characters including Kayo, the Tracy brothers?' friend and fellow island resident, who will be played by Angel Coulby, and Colonel Casey voiced by Adjoa Andoh ("Doctor Who"). This re-invention of Gerry and Sylvia Anderson's much-loved series will be produced using an innovative mix of CGI animation and live-action miniature sets.
"Thunderbirds Are Go!" is executive produced by Estelle Hughes for ITV Studios, Giles Ridge for ITV Studios Global Entertainment (ITVS GE) and Richard Taylor and Andrew Smith for Pukeko Pictures. The head writer is Rob Hoegee and the series director is David Scott ("LEGO Star Wars"), with Theo Baynton as episodic director.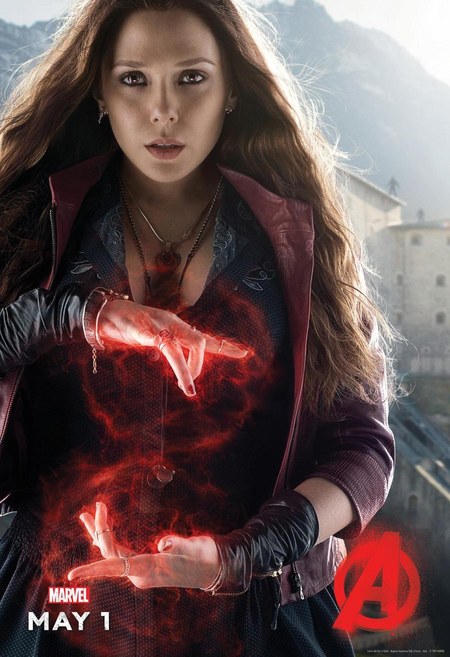 AVENGERS: AGE OF ULTRON
A few weeks ago, the stars of Avengers: Age of Ultron took to their respective Twitter pages to debut new character posters for this highly-anticipated Marvel Phase Two sequel, in theaters May 1. Today, the poster roll-out continues with the latest actors to join the Marvel Cinematic Universe, Aaron Taylor-Johnson as Quicksilver and Elizabeth Olsen as his sister Scarlet Witch. Since all of the main Avengers character posters have been revealed, we'll have to wait and see if Marvel brings out a poster for the villainous Ultron (James Spader) or Vision (Paul Bettany).
Avengers: Age of Ultron is the epic follow-up to the biggest Super Hero movie of all time, 2012's Marvel's The Avengers. When Tony Stark (Robert Downey Jr.) tries to jumpstart a dormant peacekeeping program, things go awry and Earth's Mightiest Heroes, including Iron Man, Captain America (Chris Evans), Thor (Chris Hemsworth), The Incredible Hulk (Mark Ruffalo), Black Widow (Scarlett Johansson) and Hawkeye (Jeremy Renner), are put to the ultimate test as the fate of the planet hangs in the balance. As the villainous Ultron emerges, it is up to The Avengers to stop him from enacting his terrible plans, and soon uneasy alliances and unexpected action pave the way for an epic and unique global adventure.
Joss Whedon wrote and directed Avengers: Age of Ultron, with Kevin Feige producing and Louis D'Esposito, Alan Fine, Victoria Alonso, Jeremy Latcham, Patricia Whitcher, Stan Lee and Jon Favreau serving as executive producers. Take a look at the latest character posters below, and stay tuned for more one-sheets, photos and footage as we get closer and closer to the May 1 release date.
Avengers: Age of Ultron comes to theaters May 1st, 2015 and stars Aaron Taylor-Johnson, Scarlett Johansson, Robert Downey Jr., Elizabeth Olsen, Chris Hemsworth, Chris Evans, Cobie Smulders, Jeremy Renner. The film is directed by Joss Whedon.
HOTEL TRANSYLVANIA 2
The Drac pack is back for an all-new monster comedy adventure in Sony Pictures Animation's Hotel Transylvania 2! The first teaser trailer has been released for director Genndy Tartakovsky's sequel to the 2012 smash hit Hotel Transylvania. Adam Sandler is back as Dracula, and this time he's bringing Mel Brooks in to help with some family drama!
Everything seems to be changing for the better at Hotel Transylvania...Dracula's rigid monster-only hotel policy has finally relaxed, opening up its doors to human guests. But behind closed coffins, Drac is worried that his adorable half-human, half-vampire grandson, Dennis, isn't showing signs of being a vampire. So while Mavis is busy visiting her human in-laws with Johnny - and in for a major cultural shock of her own - "Vampa" Drac enlists his friends Frank, Murray, Wayne and Griffin to put Dennis through a "monster-in-training" boot camp.
But little do they know that Drac's grumpy and very old, old, old school dad Vlad is about to pay a family visit to the hotel. And when Vlad finds out that his great-grandson is not a pure blood - and humans are now welcome at Hotel Transylvania - things are going to get batty! Check out this first official look at Hotel Transylvania 2, which brings comedy legends Adam Sandler and Mel Brooks. It promises to be a bloodsucking great show! In theaters this fall just in time for Halloween...
Hotel Transylvania 2 comes to theaters September 25th, 2015 and stars Adam Sandler, Mel Brooks, Selena Gomez, Andy Samberg, Kevin James, Steve Buscemi, Keegan Michael Key, Fran Drescher. The film is directed by Genndy Tartakovsky.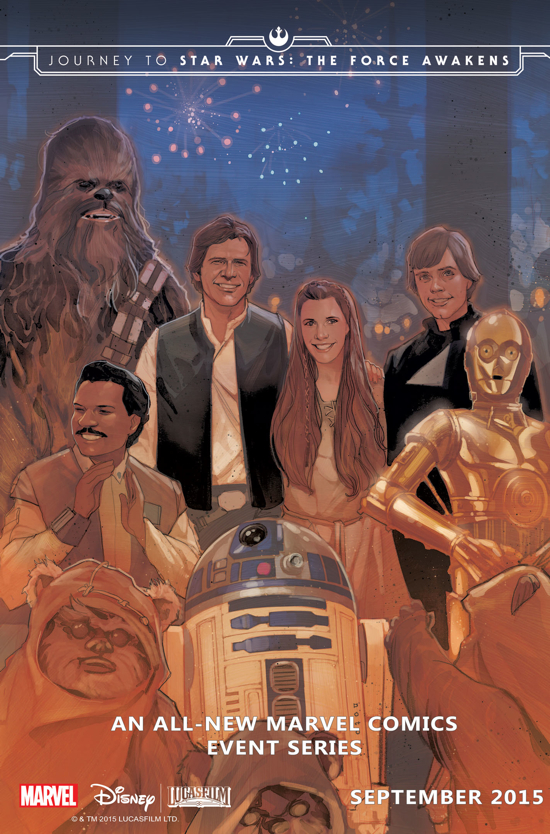 STAR WARS: JOURNEY TO THE FORCE AWAKENS
In his usual style, J. J. Abrams hasn't yet released much about 'Star Wars: The Force Awakens' but it looks like we may find out more when the expanded universe is rewritten in the form of the various books that will be part of the movie lead in called 'Journey to The Force Awakens.' Of the over twenty books that are planned to be released, one that fans will probably want to get their hands on is the comic 'Star Wars: The Journey to The Force Awakens: Shattered Empire' and we have the first look at the art from that book.
What makes 'Shattered Empire' appealing is that it will be a prequel comic that will take place right after the events of 'Return of the Jedi' and will be told from the perspective of everyone's favorite droid C-3PO. The art work that was released announcing the book is essentially the same exact shot as the one that was seen at the end of 'Return of the Jedi.'
The artwork was created by Phil Noto who is currently the illustrator for Marvel's 'Black Widow' series. Unfortunately no other information was included with the image debut except that 'Shattered Empire' is "an all-new Marvel Comics event series." It seems that Disney and Lucasfilms' promise to "keep the fans guessing until the film opens" will be in effect until December but at least we have until Fall (which is when 'Shattered Empire' is slated to hit stores) to get our first glimpse of what will lead up to 'The Force Awakens'! We can hardly wait!
FRIDAY, MARCH 13, 2015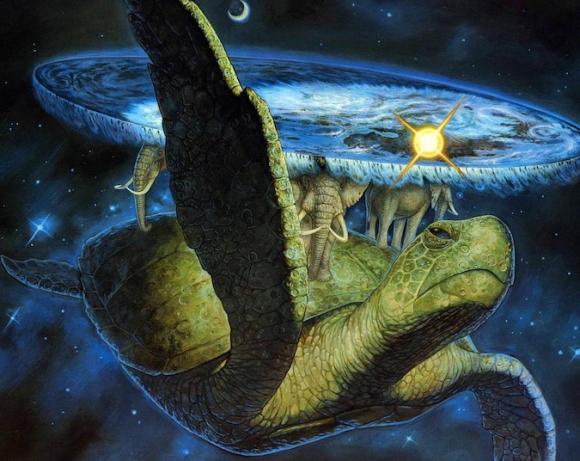 SIR TERRY PRATCHETT HAS DIED
Sir Terry Pratchett's legion of loyal fans are mourning today with sad news of his death at the age of 66. Pratchett had been battling posterior cortical atrophy (PCA), a rare degenerative brain and nervous system disorder categorized as the visual variant of Alzheimer's Disease, and passed quietly at home with his sleeping cat beside him on his bed, surrounded by close family. The satirical and wildly imaginitive English author was best known for his Discworld series of comedic fantasy novels and stories, set in the fictional land of Discworld, a flat cosmic kingdom situated on the backs of four elephants which stood atop an enormous star turtle named the Great A'Tuin. Starting with The Colour of Magic in 1983, 40 Discworld books have been published around the world, selling more than 80 million copies, making Pratchett the UK's best-selling author of all time after Harry Potter's J.K. Rowling. Pratchett completed his final Discworld novel last summer while struggling with the progressive disease and fought his ailments with his signature style and humor to the end. Knighted by the crown in 2009 for his brilliant contributions and service to literature, he was a recipient of the World Fantasy Award in 2010 in honor of his lifetime achievements. Pratchett is survived by his wife, Lyn, and their daughter, Rhianna, and mourned by a legion of fans. iZOMBIE
The CW has unveiled the cool opening titles sequence for its upcoming iZombie TV show, based on the Vertigo comics. As a nifty bit of connection to the source material, it uses the art of Michael Allred, Madman creator, Silver Surfer artist extraordinaire and the guy responsible for the look of the iZombie comic. The CW series, developed by Veronica Mars creator Rob Thomas, may be a loose adaptation of the comics, but this fun main title sequence does a very nice job of finding a way to unite the two together in a colorful, comic-booky manner. Here's what Thomas told ComicBook.com last summer, at San Diego Comic-Con, about the upcoming series: "I think what we carried over was the big idea of the comic book which is this woman in her mid-20s becomes a functioning zombie and when she eats brains she inherits the memories. Even in the comic book she tries to solve these outstanding issues of the dead and we play that in the TV series as well. What I needed was a story mechanism that allowed her to do it every week. I wanted very closed cases and working in the police morgue gave me a dead, murdered body each week which made it easier to adapt as a TV show." Starring Rose McIver as Liv, Malcolm Goodwin as Clive Babineaux, Rahul Kohli as Dr. Ravi Chakrabarti, Robert Buckley as Major Lilywhite and David Anders as Blaine DeBeers, iZombie will premiere on The CW on March 17.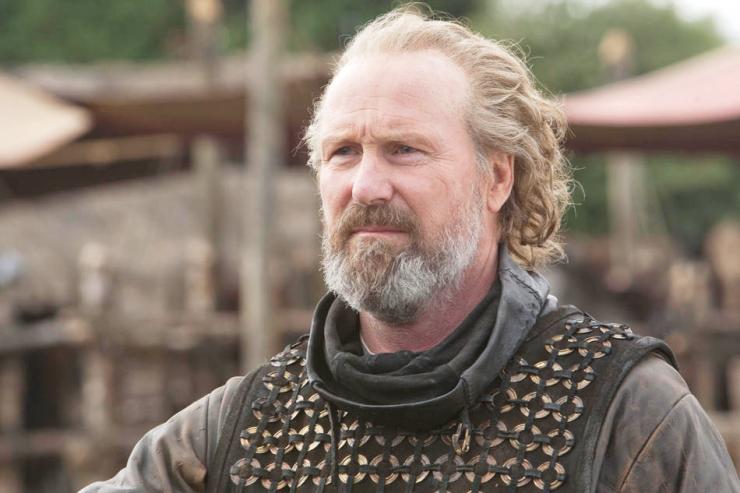 BEOWULF
A new re-imagining of Anglo-Saxon epic poem Beowulf is heading to TV, boasting quite the stellar cast. Deadline reports that Da Vinci's Demons actor Kieran Bew has been cast in the lead role of the mighty heroic warrior, Beowulf, who battles and slays Grendel, a terrifying monster that roamed and terrorized the mythical Shieldlands during Britain's Dark Ages, spurring the creature's mother into a deadly, bloody attack. The Game of Thrones-esque 13-episodes series will be produced by ITV Studios in the UK, and is the brainchild of James Dormer (Strike Back), Tim Haines (Primeval) and Katie Newman (Primeval). Dormer will pen the series as well as executive-produce it. Along with Bew (Crusoe, Waking the Dead) — who played bad guy Duke Alfonso of Calabria in the second season of Starz's Da Vinci's Demons — the action-packed new series will also star movie legend William Hurt in the role of the mythical Danish king Hrothgar. He is joined by Ed Speleers (Downton Abbey), who is returning to his fantasy roots in the role of Slean, and Joanne Whalley (Willow, The Borgias, Wolf Hall) as Rheda. Also rounding out this amazing cast are David Ajala (Black Box), Ian Puleston-Davies (Coronation Street), Ellora Torchia (Indian Summers), Gisli Orn Gardarsson (Spooks and Spirits), Susan Aderin (The Last Detective), Kirsty Oswald (Ripper Street), Laura Donnelly (Jamie's sister Jenny on Outlander), Edward Hogg (Indian Summers), Alex Price (Doctor Who, Father Brown), Jack Rowan (Silent Witness) and Itoya Osagiede (Okora: The Prelude). James Dormer said of the upcoming project: "Hundreds of years ago our ancestors listened to the story of Beowulf because it was a great adventure story – it scared them, thrilled them, made them laugh and cry." "But they also listened because they recognised themselves and their fears in it. By holding a mirror up to them this story helped define them and thus – us. So it's incredibly exciting to have the opportunity to make it relevant again for a wide audience." Filming on Beowulf is set to begin in late March 2015 in the UK, and the series will air sometime on ITV later this year. No word on when it will air in the U.S. yet.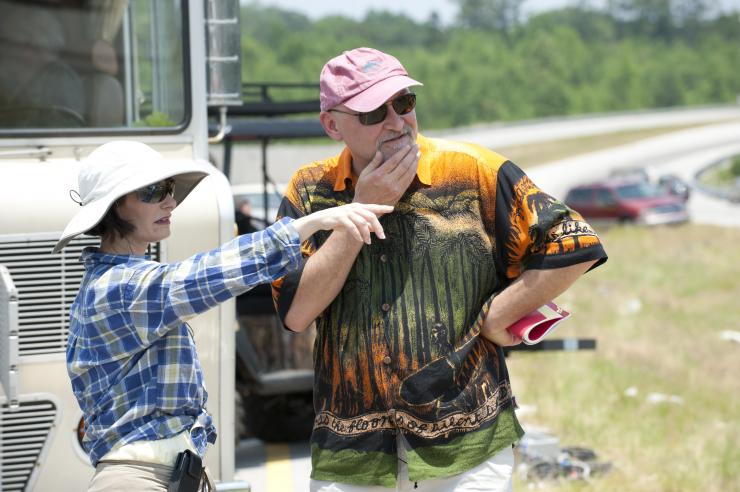 FALLING WATER
Cable network USA has placed a pilot order for Falling Water, which is described as "a mind-bending thriller intersecting reality and unconscious thoughts," according to The Hollywood Reporter. The series will tell the story of three unrelated people who realize they are dreaming separate parts of a connected dream. Each person is on a quest for something (missing loved one, etc.) that can only be found in their subconscious, though the visions could also put their lives at stake. The original pilot script was actually co-created and co-written by late Homeland Emmy winner Henry Bromell before his tragic passing in 2013. Producer Gale Anne Hurd, Blake Masters (Rubicon) and Juan Carlos Fresnadillo (28 Weeks Later) make up the rest of the brain trust behind the project. "People have always been fascinated by the subconscious and Falling Water explores that topic in very unique and unexpected ways," said Jackie de Crinis, exec vp original series at USA Network. "In this story, the immensely talented and prolific storytellers, Blake and Henry, have created an innovative thriller and compelling vehicle to bring the subject of dreams to television." If they can pull it off, this definitely has the potential to be a cool concept. There's quite a bit of talent behind it, and the logline is one of the most authentic pitches we've heard in a while. Kind of like a mashup of Awake and Flatliners, maybe? We'll be curious to keep an eye on this one as it winds through development.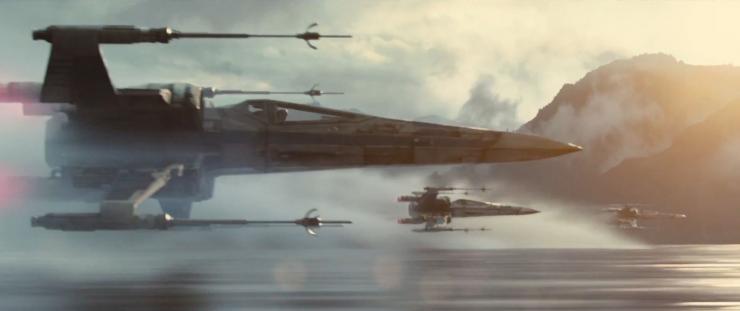 STAR WARS NEWS
If you're a fan hoping for some Star Wars movie redemption after those prequels, it's an exciting time. This December we get the continuation of the original saga with J.J. Abrams' Star Wars: The Force Awakens, and we already know eighth and ninth installments will follow, but that's only the beginning. The Walt Disney Company is also developing spinoff films that will take us beyond the main core of the story. We've known since last May that the first of these films will be helmed by Godzilla director Gareth Edwards, and now Disney CEO Bob Iger has revealed both the title and the first star of the film. At a shareholder meeting in Los Angeles today, Iger announced that Edwards' Star Wars spinoff is titled Rogue One. The project is described as "the first film in a unique series of big-screen adventures that explores the characters and events beyond the core Star Wars saga." We haven't been given any real plot information yet, but if you know the history of the word "Rogue" in Star Wars so far, it's not hard to make the logical leap that this film will be about a starfighter pilot, or a group of starfighter pilots like the legendary Rogue Squadron founded by Luke Skywalker and Wedge Antilles. Iger also confirmed that Oscar-nominated screenwriter Chris Weitz (About a Boy) is on board to script the film. Now on to the star. Iger confirmed reports from last month that Oscar nominee Felicity Jones (The Theory of Everything, The Amazing Spider-Man 2) has been cast in the film, but true to recent Star Wars announcement form, we don't know the name of her character, whether she's the lead or just a lead, or any other real details. The film will begin shooting in London this summer for a Dec. 16, 2016, release date, making the wait between new Star Wars films just slightly less than a year. Iger also confirmed that Looper director Rian Johnson is on board to write and direct Star Wars: Episode VIII, the followup to The Force Awakens. We already knew that, but Iger also added a release date to the mix: May 26, 2017, almost 40 years to the day from the release of the very first Star Wars film. So, there's a new batch of official but predictably vague Star Wars announcements for us all to chew on in the coming months. THE FLASH
The CW has released the latest producer's preview for "The Flash" which introduces Liam McIntyre as The Weather Wizard. The next episode of "The Flash," titled "Out of Time," and is described as follows: "Mark Mardon aka The Weather Wizard (guest star Liam McIntyre) appears in Central City intent on avenging his brother Clyde's death, and sets his sights on Joe, who shot Clyde. When Mardon attacks Joe and Barry, Barry is able to super-speed them to safety but Mardon gets away. Barry warns Joe not to go after a meta-human alone but Joe doesn't listen and ends up in grave danger. Meanwhile, Cisco looks into the night the team captured the Reverse Flash and realizes something doesn't add up and begins to wonder whether Joe was right about Dr. Wells. Barry and Linda (guest star Malese Jow) end up on an awkward double date with Eddie and Iris." Directed by Thor Freudenthal and written by Todd Helbing & Aaron Helbing, "Out of Time" is set to air on March 17. "The Flash" airs Tuesdays at 8 P.M. EST.
THURSDAY, MARCH 12, 2015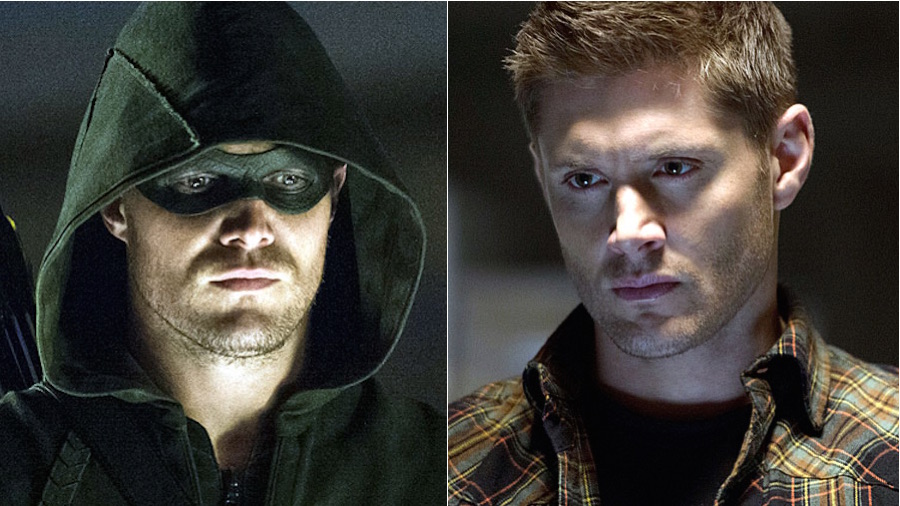 FINALE DATES FOR THE CW SHOWS
It might seem as if all of your favorite CW shows just got here, but it's getting to that sad time of year when fans have to say goodbye to their "Supernatural" and "Arrow" besties. The CW has revealed the season finale dates for seven of its series, with shows signing off for the summer starting the second week in May. All times below are ET/PT. "The Originals" -- Monday, May 11, 8 p.m.
"Jane the Virgin" -- Monday, May 11, 9 p.m.
"Arrow" -- Wednesday, May 13, 8 p.m.
"The Vampire Diaries" -- Thursday, May 14, 8 p.m.
"Reign" -- Thursday, May 14, 9 p.m.
"The Flash" -- Tuesday, May 19, 8 p.m.
"Supernatural" -- Wednesday, May 20, 9 p.m.
Not included in the above list are "The 100," which ends its second season Wednesday, and "Hart of Dixie," which will air its season finale -- and potentially series finale -- on Friday, March 27 at 9 p.m. Although there is a chance that Rachel Bilson and Co. might come back for a fifth season, just in case, you better start getting yourself ready to tearfully say farewell to the quaint town of Bluebell. AGENTS OF S.H.I.E.L.D.
SPOILERS FOR LAST NIGHT'S EPISODE AHEAD
In the wake of last night's squee-inducing episode of Marvel's Agents of S.H.I.E.L.D. (Lady Sif! A Kree! Skye getting her powers on again, even if involuntarily! The team finding out about it!), next week will see Skye's dad Cal (Kyle Maclachlan) assemble his own team of supervillains in order to take down Coulson and S.H.I.E.L.D. The episode will also introduce us to Melina May's ex-hubby, Dr. Andrew Garner, played by Blair Underwood. Comic Book also says that we may be getting our first look at two characters who got their origins in the pages of Marvel's Daredevil comics: Angar the Screamer, played by Jeff Daniel Phillips, and Karla Faye Gideon (a very minor character in the Marvel comics), played by Drea De Matteo, who doesn't look much like her comic book counterpart (she was a beaten wife). So, who's Angar the Screamer? Angar got his superhuman powers after volunteering for an experiment on his vocal cords. They were bombarded with something called "hyper sound," which gave Angar the ability to scream VERY LOUDLY and even make folks hallucinate. Check out the episode synopsis: "One of Us" - Cal seeks revenge on Coulson by assembling a team of Super Villains to destroy S.H.I.E.L.D. Meanwhile, May calls on renowned Dr. Andrew Garner (Blair Underwood), her charismatic ex-husband, with a crisis that threatens to tear the team apart, on "Marvel's Agents of S.H.I.E.L.D.," Tuesday, March 17 (9:00-10:00 p.m., ET) on the ABC Television Network. "Marvel's Agents of S.H.I.E.L.D." stars Clark Gregg as Director Phil Coulson, Ming-Na Wen as Agent Melinda May, Brett Dalton as Grant Ward, Chloe Bennet as Agent Skye, Iain De Caestecker as Agent Leo Fitz, Elizabeth Henstridge as Agent Jemma Simmons, Nick Blood as Lance Hunter and Adrianne Palicki as Bobbi Morse. Guest starring are Henry Simmons as Alphonso "Mack" Mackenzie, Kyle Maclachlan as The Doctor/Cal, Jamie Harris as Gordon, Blair Underwood as Dr. Andrew Garner, Drea De Matteo as Karla Faye Gideon, Ric Sarabia as Wendell Levi, Geo Corvera as Francis Noche, Jeff Daniel Phillips as David A. Angar, Gregg Martin as student, Jack Kennedy as security guard and Jamal Duff as John Bruno.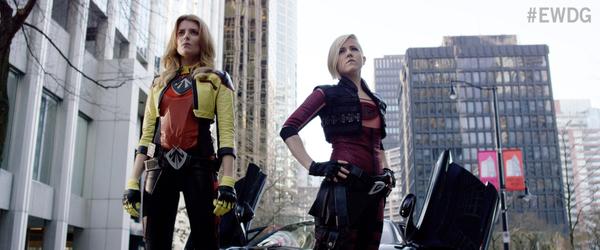 ELECTRA WOMAN AND DYNA GIRL
A few weeks ago, we told you that 1970s superhero series Electra Woman and Dyna Girl was getting rebooted by Legendary and Fullscreen as a new web series, with the dynamic crime-fighting duo being played by YouTube stars Grace Helbig and Hannah Hart. Now we have our first look at the two super gals! Here's what music video director Chris Marrs Piliero, who will helm the series, said: "Legendary is no stranger to the world of superheroes and we're excited that Sid & Marty Krofft's Electra Woman and Dyna Girl will mark the first female crime-fighting duo for our brand," said Legendary Digital Media senior vp development and production Greg Siegel. "Partnering with Fullscreen to deliver top quality digital content for our global fan base is an exciting next step for our growing digital division. I look forward to seeing how Grace and Hannah bring these caped crusaders back to life." There's no news yet on when Electra Woman and Dyna Girl will air, but we're keeping our eyes peeled. In the meanwhile, you can also check out their official website for details on the upcoming reboot. iZOMBIE
We're less than a week away from the debut of The CW's "iZombie," and a brand new pun-filled promo for the series has debuted online. Rose McIver stars as Olivia "Liv" Moore, a rosy-cheeked, disciplined, over-achieving medical resident who had her life path completely mapped out… until the night she attended a party that unexpectedly turned into a zombie feeding frenzy. As one of the newly undead, Liv has devised a way to resist her baser urges to devour fresh human brains – she's taken a job in the Seattle coroner's office. In this appropriately dead-end job, she can secretly snack on the brains of the many Jane and John Doe corpses that make a final stop in the morgue. Liv remains resigned to an eternity without hope or purpose, until she realizes that with every brain she consumes, she retains a portion of that person's memories, and she begins to experience visions from the point of view of the murder victims. It's not the same as being alive again, but at least she can find purpose in her undead existence by helping to solve the murders of those who are indeed fully dead. "iZombie" also stars Malcolm Goodwin, Rahul Kohli, Robert Buckley and David Anders. Based upon characters created by Chris Roberson and Michael Allred, and published by DC Entertainment's Vertigo imprint. "iZombie" will premiere on March 17 and the series will air Tuesdays at 9 P.M. EST.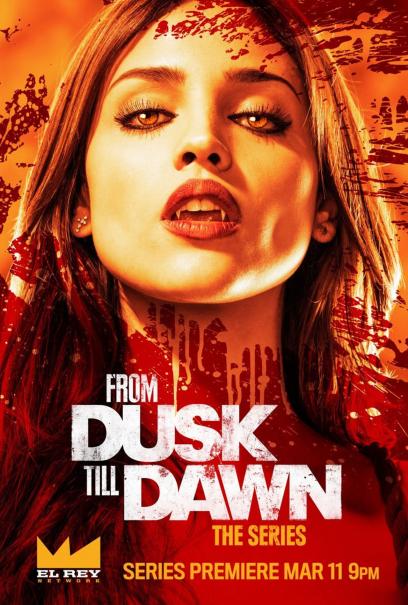 FROM DUSK TILL DAWN
In what only seems like news because it's hard to believe he wasn't already in it, El Rey Network and Miramax announced today that Robert Rodriguez's longtime onscreen collaborator Danny Trejo (Machete, Machete Kills) has joined the sophomore season of the Rodriguez-produced "From Dusk Till Dawn: The Series." Trejo has been cast in the role of "The Regulator," a horrifying agent of evil who has been summoned to perform a deadly errand. Trejo appeared in the From Dusk Till Dawn film franchise as "Razor Charlie." Trejo has had a prolific career in the entertainment industry, yet his road to success has been hard earned and anything but typical, spanning imprisonment to helping young people battle drug addiction, to acting and producing. Trejo has starred in dozens of films including Desperado, Heat, Con Air, Once Upon A Time In Mexico, the Spy Kids movies, Grindhouse, Dead in Tombstone and Muppets Most Wanted. He can be heard as the voice of Skeleton Luis in The Book Of Life. Danny's recent television work includes his first series regular role on the FX show "Saint George," as well as an appearance on "NCIS: Los Angeles." He has had recurring roles on "Sons of Anarchy" and "King of the Hill," and has appeared on episodes of "Franklin and Bash," "Bones," "Modern Family," and "Breaking Bad." Briana Evigan (Step Up 2) has also joined the cast of "From Dusk Till Dawn: The Series" as Sonja – an American expatriate working as a tattoo artist in a Mexican Mercado – who also has a sideline forging papers and passports out of her back room. The returning cast includes: D.J. Cotrona (Dear John, G.I. Joe: Retaliation); Zane Holtz (Holes, The Perks of Being a Wallflower); Jesse Garcia (Quinceañera, "Sons of Anarchy"); Eiza González ("Lola: Érase Una Vez"); Wilmer Valderrama ("That '70s Show," "To Whom It May Concern"); Madison Davenport (Noah, "Shameless"); and Brandon Soo Hoo (Tropic Thunder, Ender's Game). Season one of "From Dusk Till Dawn: The Series" centered on bank robber Seth Gecko (Cotrona) and his violent, unpredictable brother, Richard "Richie" Gecko (Holtz), who were on the run to Mexico when they encountered former pastor Jacob Fuller (Robert Patrick) and his family, who were taken hostage. Using the family RV to cross the border, chaos ensued when the group detoured to the Titty Twister, a strip club populated by culebras, snake-like ancient creatures who survive by drinking human blood. They were forced to fight until dawn in order to get out alive. Season Two explores a new chapter in this supernatural crime saga that travels from Mexico to the edgy, tricked-out Texas of Robert Rodriguez. It also deepens and complicates the core relationships between the characters, while adding new faces and new dynamics. Season Two begins with our characters in their separate worlds – Santanico (Gonzalez) and Richie (Holtz) are outside Houston, living like Bonnie and Clyde; Seth and Kate (Madison Davenport) are scraping by South of the Border; and Freddie Gonzalez (Jessie Garcia) is protecting his wife and young daughter in a Houston suburb. And Carlos Madrigal (Valderrama) and Scott Fuller (Brandon Soo-Hoo) emerge from the Titty Twister, changed men. They will all come together once again – this time facing off against an even bigger threat. "From Dusk Till Dawn: The Series" is a Miramax production in association with Rodriguez International Pictures, FactoryMade Ventures, and Sugarcane Entertainment. Executive producers are Robert Rodriguez, Carlos Coto (also showrunner), Diego Gutierrez (also writer) and FactoryMade Ventures and El Rey Network co-founders John Fogelman and Cristina Patwa. Miramax is distributing "From Dusk Till Dawn: The Series" internationally in all territories. BLOODLINE
On March 20, Netflix audiences around the world will meet the Rayburns, a contemporary American family who are hard-working pillars of their Florida community. But when the black sheep and eldest son, Danny (Ben Mendelsohn) comes home for the 45th anniversary of his parents' hotel, he threatens to expose the Rayburns dark secrets and shameful past, pushing his siblings to the limits of family loyalty. Created and executive produced by the Emmy and Golden Globe-nominated writers/executive producers Todd A. Kessler, Daniel Zelman, and Glenn Kessler, the series stars Kyle Chandler ("Friday Night Lights"), Ben Mendelsohn (The Dark Knight Rises), Linda Cardellini ("Mad Men"), Sam Shepard (The Right Stuff), Sissy Spacek (Carrie), Norbert Leo Butz (Dan in Real Life), Jamie McShane ("Sons of Anarchy"), Jacinda Barrett ("Suits") and Enrique Murciano ("Without a Trace"). The series also includes Chloe Sevigny, Steve Pasquale, Mia Kirshner, and Katie Finneran. All 13 episodes of "Bloodline," will launch only on Netflix on Friday, March 20th, and be available in 4K.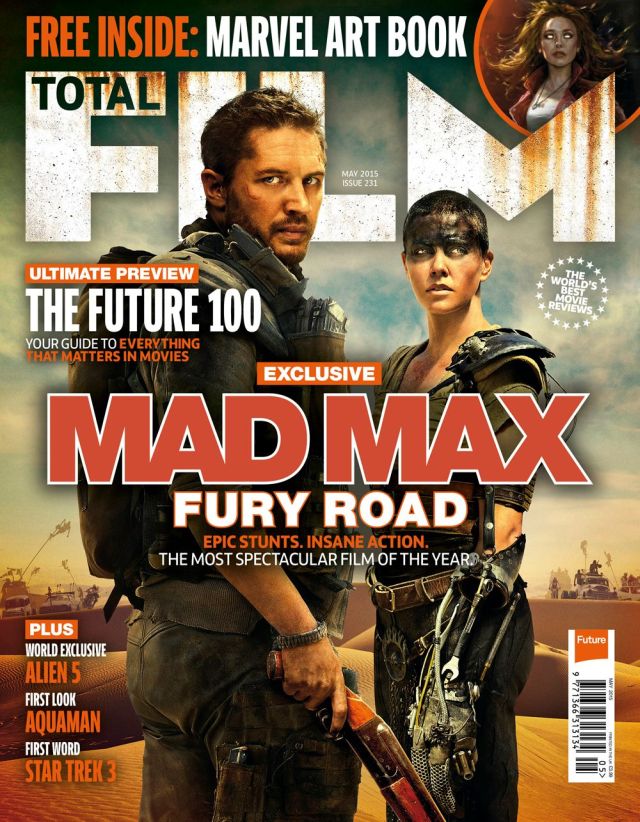 MAD MAX: FURY ROAD
Total Film has debuted the cover for their upcoming May 2015 issue and Mad Max: Fury Road stars Tom Hardy and Charlize Theron have landed on the cover. Mad Max: Fury Road is the fourth film of George Miller's Road Warrior/Mad Max franchise and is co-written and directed by Miller. The post-apocalyptic action film is set in the furthest reaches of our planet, in a stark desert landscape where humanity is broken, and most everyone is crazed fighting for the necessities of life. Within this world of fire and blood exist two rebels on the run who just might be able to restore order. There's Max (Tom Hardy), a man of action and a man of few words, who seeks peace of mind following the loss of his wife and child in the aftermath of the chaos and Furiosa (Charlize Theron), a woman of action and a woman who believes her path to survival may be achieved if she can make it across the desert back to her childhood homeland. Also starring Nicholas Hoult, Hugh Keays-Byrne, Nathan Jones, Zoe Kravitz, Riley Keough, Rosie Huntington-Whiteley, Mad Max: Fury Road opens in 2D and 3D theaters on May 15, 2015.
WEDNESDAY, MARCH 11, 2015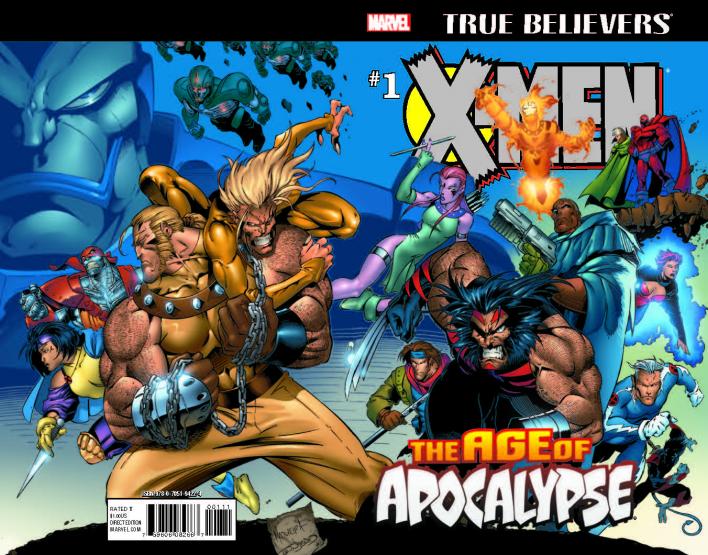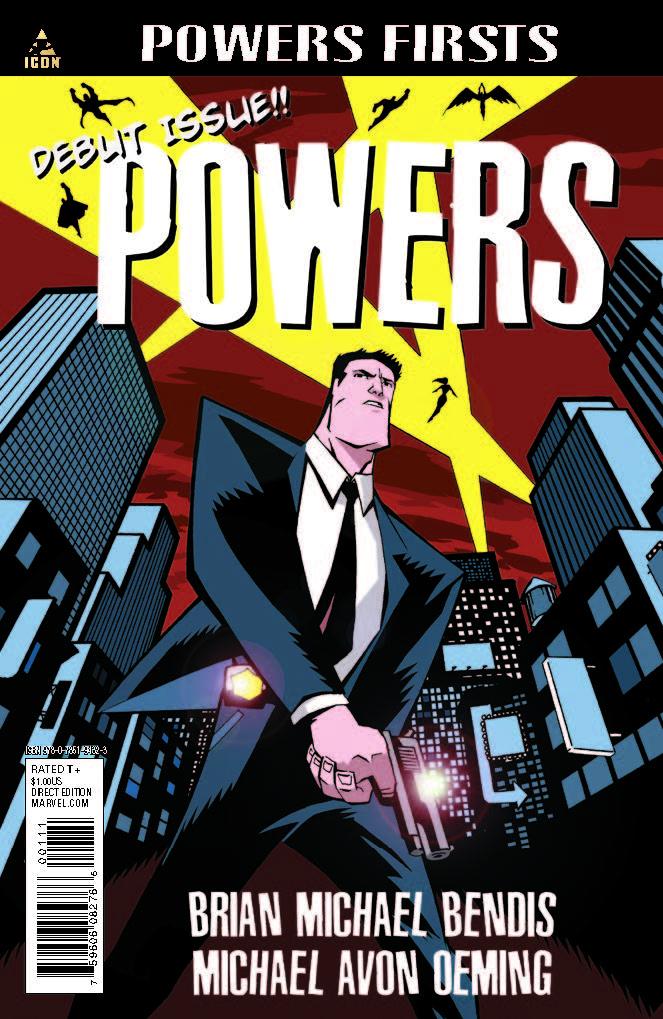 TRUE BELIEVERS
This May, as you may have heard by now, Marvel is launching Secret Wars, a massive event that will supposedly forever alter the Marvel Universe as we know it. The series will take place on Battleworld, a realm composed of various Marvel timelines and alternate realities all mashed together, and the event's announcements so far have featured everything from an all-female Avengers team to a return to the world of Old Man Logan and much more. Now, if you're a longtime Marvel reader, you may consider yourself already prepared for Secret Wars, and even if you're not, you could probably trust in the Secret Wars main series creative team of Jonathan Hickman and Esad Ribic to tell you a story you can understand even if you haven't done a lot of prior reading. But let's say you are a relatively new reader, someone who isn't intimiately familiar with Marvel imaginings like Old Man Logan or House of M or Planet Hulk, or let's say you're a longtime Marvel reader who's just hoping to get a little taste of what came before again in the lead-up to Secret Wars and its many callbacks to the Marvel past. Well, Marvel Comics has you covered. The publisher has just announced "True Believers," a line of comics appearing throughout April that will reprint first issues of classic Marvel events that we'll see revisited in some way during Secret Wars. The books will be priced at $1 per issue, so if you're new to Marvel events and you want to take a peek, you won't have to spend much. "True Believers are your perfect entry point to not only the Marvel Universe but the new Secret Wars Universe as well," Marvel SVP Sales & Marketing David Gabriel said. "They're a great way for retailers to promote and streamline consumers into Marvel's extensive back list and the ideal way for fans to get caught up before the cataclysmic events of Secret Wars! We're proud to present these great stories in this format, allowing fans to sample some of Marvel's best and brightest gems." So, what events can you expect to revisit via the True Believers releases? Well, there's classic cosmic adventures like Infinity Gauntlet and Planet Hulk; X-Men stories like House of M, Age of Apocalypse and Old Man Logan; Iron Man stories like Armor Wars; universe-spanning tales like Marvel Zombies, Age of Ultron and Civil War; and Ultimate Universe staples like Ultimate Comics Spider-Man. Plus, creator-owned series Powers will get a re-release of its first issue, just in time for new fans of its TV series to take a peek into the comic. BLADE RUNNER
Ridley Scott's Blade Runner is coming back to theaters for a limited run — and here's a new trailer for the 1982 sci-fi classic to prove it. The British Film Institute is sponsoring a theatrical re-release of Blade Runner: The Final Cut (a remastered director's cut released in 2007) that is set to open at cinemas across the U.K. on April 3. It presents a rare opportunity for sci-fi fans to actually see the film as it was intended, considering that it was kind of a box-office bomb when it first opened all those years ago. Scott himself actually gives his stamp of approval, on which, depending on how much you liked some of his more recent work (see: Prometheus), your mileage may vary. Here are Scott's comments on the theatrical re-release and new trailer via Deadline: "The Final Cut is my definitive version of Blade Runner, and I'm thrilled that audiences will have the opportunity to enjoy it in the way I intended -– on the big screen. This new trailer captures the essence of the film and I hope will inspire a new generation to see Blade Runner when it is re-released across the UK." Here's hoping this generates enough buzz for an eventual U.S. rerelease; we stateside fans would also like a shot at this. Blade Runner: The Final Cut opens theatrically in the U.K. on April 3.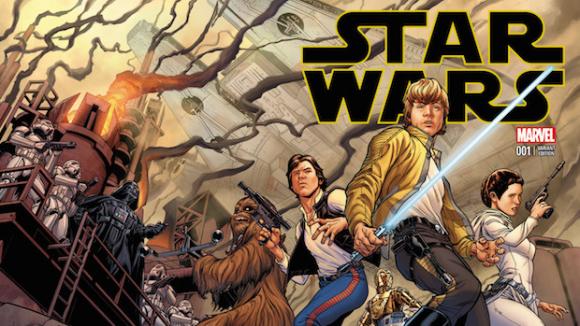 STAR WARS NEWS
Aside from some animated shows (and with the Expanded Universe tossed), it's been a long time since we had any new Star Wars stuff. Disney is apparently looking to rectify that problem while we wait for The Force Awakens to arrive this December. Entertainment Weekly reports Disney is planning to release at least 20 new Star Wars books between now and the opening of The Force Awakens in December. All the materials will fall into the newly established canon, and will range from novels for young adults and teens to picture books and sticker books for kids. Looks like we won't have to wait until December for the Star Wars marketing blitz to arrive. All these new books and releases apparently fall within the range of the mysterious new Lucasfilm story committee, meaning they'll be "filled with Easter eggs" leading into the release of The Force Awakens. If you needed a way to get hardcore fans to buy into this stuff even more, that should do it. The initiative has been dubbed Journey to Star Wars: The Force Awakens, and Disney has apparently been putting this plan together for a while: "The Force Awakens is an extraordinarily, heavily guarded storyline. To track it, a lot of top-secret meetings were happening up in San Francisco as we worked through this program," says Andrew Sugerman, executive vice president of Disney Publishing Worldwide. We've already seen the classic characters Han, Luke and Leia return in Marvel's super-hyped new Star Wars comic run, and it sounds like they'll be digging a whole lot deeper into those "lost" decades between the original trilogy and these new films. THE UNTAMED
It's a bit of a running gag for fans that Sean Bean (The Lord of the Rings, Game of Thrones) dies in almost every movie or TV show he's in. So it's pretty cool that the actor was cast to voice the main character for an upcoming animated TV series titled The Untamed, in which Bean plays a man raised from the dead and out for vengeance. Based on the graphic novel by Sebastian Jones, what you'll see below is actually a pitch made by Stranger Comics and veteran animation company Film Roman for a planned animated TV series of 26 half-hour episodes. The project was originally announced a couple years ago, back in 2010, so it's been a bit of a long road for The Untamed. The story, from the writer and Lord of the Rings comic artist Peter Bergting, recently achieved printing funding thanks to a Kickstarter campaign that's still alive and kicking. Alongside the print release, they've also released this extremely cool and bloody animation trailer from Watchmen producer Lloyd Levin and former BOOM! Studios executive Andrew Cosby. Ultimate Spider-Man director Alex Soto is at the helm. This awesome test animation (yep, test animation) gives us a look at what the final project would look and feel like. Comics vet Tomm Coker (Punisher, Batman, Daredevil) provided the concept art for the animation, which keeps up with the gritty "Frazetta Western" mood and tone of the comic series. Set in a brutal fantasy world, the story centers around a mysterious dead man who strikes a deal with the Devil to harvest the souls of his seven betrayers and avenge the murder of his wife and son. Considered a dark vengeance saga, the story is based on the seven-part comic book series by Stranger Comics president Sebastian A. Jones, who says of the project: "I have been creating this world for over two decades. I am just excited and honored to work with such an amazing creative force that is bringing this vision to life. Of course, it goes without saying that, as a life-long fantasy fan, having Sean Bean involved is a privilege." As for casting Bean as the main character, Jones said of the fact that the actor keeps dying on film and TV: "That's what everyone says about Sean. He always dies in brilliant fashion. Well, in our story, he gets a chance to come back to settle the score." The graphic novel for The Untamed will be released in an oversized hardcover edition later this year, but if you simply can't wait to get your hands on this, an exclusive, limited-edition hardcover is available early to backers of said Kickstarter campaign. Below is a detailed synopsis: Would you damn yourself to save the ones you love? Hidden within the Desert of the Dying Tree lies a town run by ruthless killers, a growing cancer upon the vast and volatile fantasy world of Asunda. Some say it's a watering hole for the devil. For one man, it's a second chance at revenge… and a last chance at redemption. A man with no name has returned to the brutal Town of Oasis. A mysterious Stranger whose violent past haunts his every footstep. It's been ten years since his wife and child were on the verge of turning him from wickedness, but they were murdered and so was he. Now, the Stranger has been released from Hell to reap the seven souls responsible. But having little recollection of his former life, the Stranger is lost in a sea of faded memories, glimpses of the life that was taken from him coming back in broken shards as he leaves a bloody trail. Conflict arises when lust for his lover steers him from his path of vengeance, and hate is tempered by the young orphan Niobe, who reminds him of his daughter. She acts as his conscience and ultimately his only hope for salvation. Have a look at some amazing pieces of concept art from Bergting, Hyoung Taek Nam, Sheldon Mitchell and James C. Webster in the gallery below, and let us know what you think of The Untamed. AVENGERS: AGE OF ULTRON
There's still a lot we don't know about Avengers: Age of Ultron, but Marvel has revealed a good bit of footage already. Want to catch up with one nifty, chronological supercut? One intrepid fan has spliced together all the footage from the various trailers that have been dropped, while trying to introduce all the footage in chronological order. Or, you know, as much chronological order as possible without having actually seen the movie at this point. All in all, it adds up to 5+ minutes of footage. Not bad for a movie that's still two months away. The footage is as awesome as ever, and though it's just a best guess at the moment, this supercut at least tries to give us a feel for the vibe and flow of the film. Basically: Expect a boatload of high-octane action. It's admittedly a bit slapdash, though the guy clearly has a knack for editing. But hey, what else are you going to do while we wait until May? Avengers: Age of Ultron opens May 1. iZOMBIE
The CW has just released two new clips from the pilot episode of their upcoming comic book-based series "iZombie," developed for television by "Veronica Mars" creator Rob Thomas. Rose McIver stars as Olivia "Liv" Moore, a rosy-cheeked, disciplined, over-achieving medical resident who had her life path completely mapped out… until the night she attended a party that unexpectedly turned into a zombie feeding frenzy. As one of the newly undead, Liv has devised a way to resist her baser urges to devour fresh human brains – she's taken a job in the Seattle coroner's office. In this appropriately dead-end job, she can secretly snack on the brains of the many Jane and John Doe corpses that make a final stop in the morgue. Liv remains resigned to an eternity without hope or purpose, until she realizes that with every brain she consumes, she retains a portion of that person's memories, and she begins to experience visions from the point of view of the murder victims. It's not the same as being alive again, but at least she can find purpose in her undead existence by helping to solve the murders of those who are indeed fully dead. "iZombie" also stars Malcolm Goodwin, Rahul Kohli, Robert Buckley and David Anders. Based upon characters created by Chris Roberson and Michael Allred, and published by DC Entertainment's Vertigo imprint. "iZombie" will premiere on March 17 and the series will air Tuesdays at 9 P.M. EST. DAREDEVIL
'Maybe if he had a magic suit or an iron hammer, that would explain why you keep getting your asses handed to you.' The full-length trailer for Marvel's Daredevil is here, and this time, the latest footage is definitely teasing a connection to a wider-reaching Marvel universe. It also gives us our first look at Vincent D'Onofrio as Wilson Fisk, the man that will become Kingpin. This latest Marvel's Daredevil trailer also delves further into the background of blind-lawyer Matt Murdock as he goes on his journey to becoming a Hell's Kitchen vigilant. While we don't get to see the infamous red outfit in this newest footage, we do get to see plenty of action, and an understanding of Matt's relationship with Karen Page, played by Deborah Ann Woll. Marvel's Daredevil is just one month away from making its premiere, with all 13 episodes streaming on Netflix starting April 10. The series will follows the journey of Matt Murdock, who was blinded as a young boy but imbued with extraordinary senses, now fighting against injustice by day as a lawyer, and by night as the super hero Daredevil in modern day Hell's Kitchen, New York City. And it also stars Elden Henson, Rosario Dawson, Ayelet Zurer, Bob Gunton, Vondie Curtis-Hall and the great Scott Glenn.
TUESDAY, MARCH 10, 2015
THE FLASH
Finally, the first look at Mark Hamill's return to the world of "The Flash" has arrived. A new trailer promoting "The Flash's" March 17 return teases several upcoming villains -- including Weather Wizard and Captain Cold's sister. However, none of them are more exciting to see than Hamill's Trickster -- a character he portrayed on the original series. The episode featuring Trickster original take on the villain is up to 20 years later. After being imprisoned for so long, a new Trickster as arrived on the scene and Barry goes to the source to learn his tricks and how to defeat him. Luckily, the original Trickster has retained some of his flare -- including the multicolored checker pattern of his shirt and love of tricks. Whether he'll stay longer than an episode is anyone's guess, but he looks to be a formidable foe for The Flash. TOMORROWLAND
Like many, we were a bit skeptical when we heard Disney was making a movie loosely based on the popular Tomorrowland area in its theme parks. But folks, this film is looking insanely fun. Directed by Brad Bird (The Incredibles) and co-written by Damon Lindelof (Lost), Tomorrowland basically tells the story of a secret place where the sky's the limit when it comes to sci-fi spectacles and technology. The story is framed around a young woman played by Britt Robertson (Casey) and a reclusive genius played by George Clooney (Frank), who have to travel to Tomorrowland for ... some reason. The newest trailer offers up a bit more intel on the plot, but not much. We see Casey track down Frank, and some shady folks chasing after the duo. They must return to Tomorrowland because something has happened, and Casey could hold the key to fixing the problem. But the real story is the visuals — the more we see of this film, the more we're taken by the look of the thing. Just. Wow. In a recent Facebook chat promoting the film, Bird described the story as "a counter argument against the current obsessions with dystopia." But more than anything, the director promised they're just aiming to create "a good time at the movies." Judging by the trailer, it looks like they might've just nailed it. Tomorrowland opens May 22. POWERS
Powers (PSN) Tuesday, Streaming - "Pilot"
Series premiere! - It's been a long, long road, but Powers is finally here. The first time anyone ever heard about an adaptation of the superhero police procedural comic from writer Brian Michael Bendis and artist Michael Avon Oeming, it was 2001, and no one had any idea just how long a wait the series had in store before finally making it to the screen. A pilot surfaced from FX back in 2011, but after lots of talk of reshoots, rewriting and even recasting, a show never materialized from that development. Now, at last, the show will arrive as the first-ever original series on the PlayStation Network. It's got a great cast (Sharlto Copley, Susan Heyward, Eddie Izzard and more) and a great look, and the early trailers have us really excited. Now we can finally see the whole thing. And oh, if you're wondering how to see the show if you're not a PlayStation owner, you should be able to watch online provided you're willing to pay for a PlayStation Plus subscription (which you can get free for 14 days if you just want to have a peek).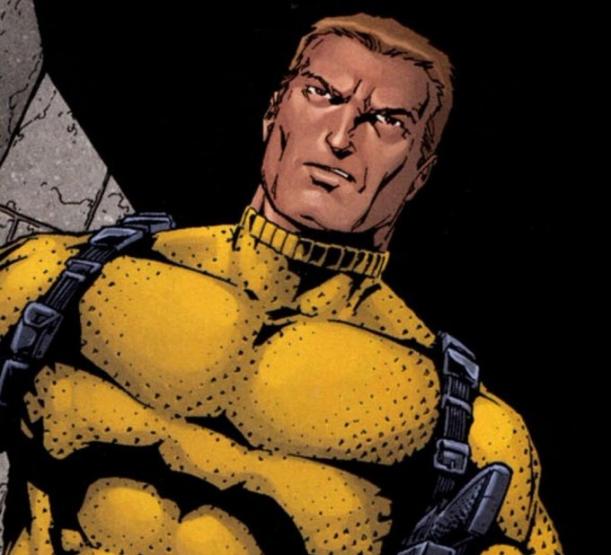 SUICIDE SQUAD
Finally! The rumors had been swirling around the Internet for a bit now, but RoboCop's Joel Kinnaman has finally confirmed that he's going to play Rick Flag in David Ayer's Suicide Squad. While Kinnaman was doing the rounds for his upcoming flick Run All Night starring Liam Neeson, the Swedish actor didn't want to reveal too much, but he did say this to French site AlloCine: "All I can say is that I will be in the movie, and it's going to be amazing." Jake Gyllenhaal (Nightcrawler) had also been considered at one point for the role vacated by Tom Hardy (The Dark Knight Rises), before he ultimately passed on playing the comic book character. Set to be released on Aug. 5, 2016, Suicide Squad also stars Will Smith, Margot Robbie, Jared Leto, Jai Courtney and Cara Delevingne.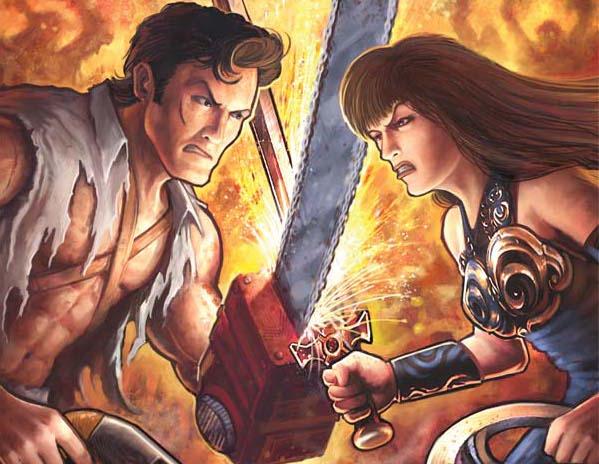 ASH VS. EVIL DEAD
Starz has announced today that Lucy Lawless ("Salem," "Spartacus") will play the role of Ruby in the network's upcoming original series "Ash vs Evil Dead." The series is the long-awaited follow-up to the classic The Evil Dead horror film franchise and is set to film on location in New Zealand this spring and premiere on Starz in late 2015. Ruby is a mysterious figure who is myopic in her quest to hunt down the source of the recent Evil outbreaks. The only problem: she believes that Ash (Bruce Campbell) is the cause of it all. The casting reteams Lawless with executive producers Sam Raimi and Rob Tapert whom she worked with when she starred in the television series "Xena: Warrior Princess" and "Spartacus." Also married to the latter, Lawless appeared in both men's feature films, including Raimi's Spider Man and Tapert's Boogeyman. She can also be seen coming up on the second season of WGN America's "Salem." In addition to Campbell, Lawless will also join previously-announced cast members Ray Santiago (Pablo Simon Bolivar), Dana DeLorenzo (Kelly Maxwell) and Jill Marie Jones (Amanda Fisher). The Starz Original series "Ash vs Evil Dead" will consist of 10 half-hour episodes. Campbell will be reprising his role as Ash, the stock boy, aging lothario and chainsaw-handed monster hunter who has spent the last 30 years avoiding responsibility, maturity and the terrors of the Evil Dead. When a Deadite plague threatens to destroy all of mankind, Ash is finally forced to face his demons –personal and literal. Destiny, it turns out, has no plans to release the unlikely hero from its "Evil" grip. Raimi will direct the first episode of "Ash vs Evil Dead" that he wrote with Ivan Raimi (Darkman, Army of Darkness, Drag Me to Hell), Craig DiGregorio ("Workaholics," "Chuck") and Tom Spezialy ("Chuck," "Reaper," "Desperate Housewives"). Raimi will also serve as executive producer, along with Rob Tapert (Evil Dead, "Spartacus") and Bruce Campbell (Evil Dead, "Burn Notice") along with Craig DiGregorio ("Workaholics," "Chuck") who will serve as executive producer/showrunner. Ivan Raimi will co-executive produce and Aaron Lam ("Spartacus") will serve as producer.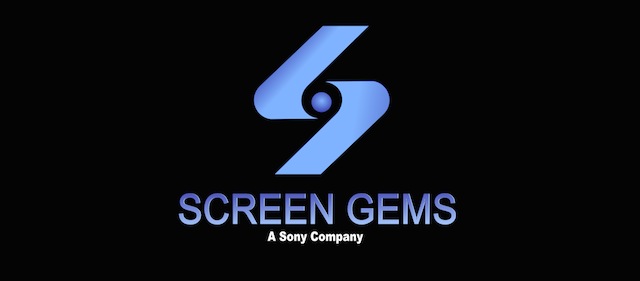 PATIENT ZERO
Shooting began this week on Academy Award winner Stefan Ruzowitzky's action-thriller, Patient Zero. The feature stars Matt Smith ("Doctor Who," Terminator Genisys), Natalie Dormer ("Game of Thrones"), John Bradley ("Game of Thrones"), Agyness Deyn (Clash of the Titans) and Academy Award nominee Stanley Tucci (The Hunger Games). Production is based in the UK at Shepperton Studios and will shoot in and around London until April 18, 2015. In Patient Zero, an unprecedented global pandemic of a super strain of rabies has turned the majority of humankind into highly intelligent, streamlined killers known as 'The Infected.' One victim, Morgan (Matt Smith), who is asymptomatic and can communicate with the infected, leads the last survivors on a hunt for Patient Zero and a cure. Patient Zero is directed by Austrian Writer/Director, Stefan Ruzowitzky, best known for the 2008 Academy Award Winner for Best Foreign Film The Counterfeiters, and is from a screenplay written by Mike Le. Vincent Newman (We're the Millers) produces along with Executive Producer Steve Norris (The Riot Club). Cinematography is by Benedict Neuenfels (The Counterfeiters), Production Design by Jonathan Lee (Stealth), Make-Up and Hair Design by Jane Walker (The World's End), Costume Design by Suzie Harman (RocknRolla) and VFX Produced by Raoul Yorke-Bologinini (Sinister 2). Patient Zero will be released by Screen Gems in the US in 2016 and will be distributed by SPE worldwide.
MONDAY, MARCH 9, 2015
ORPHAN BLACK
The new season of Orphan Black is almost here, and do-it-all star Tatiana Maslany promises the stakes will be higher than they've ever been this time around. Clone Club, things could get bloody. The risky little sci-fi show has grown into one of the best (albeit brutally underwatched) programs on television, and Maslany told Entertainment Weekly they want to take even more risks with the clone-centric drama this season. They've started digging deeper into the conspiracy that was always in the background last season, and along with bringing in some new male clones this year, she said we might also be saying goodbye to a few fan favorites. Hey, Maslany can't play everyone forever, can she? Check out some excerpts from her comments below: "I don't want to really speak too much about how [the clones] shift, but it's both external and internal influences. It's things that are changing within them and it's circumstances changing on the outside that change them forever. And I think they've all gone through that—all of the clones—but there are two in particular this season that were so exciting for me to dig into because it was so out of their environment and out of their comfort zone. I won't say whom, but you'll see… Yeah, that loyalty to the characters is what excites us so much—the fans' response to them and taking on of their personality as how they identify themselves. But I think what also keeps the show fresh is that all of the characters are up for grabs. As much as they are loved by the audience, and people have their favorites, they could go. They could easily go. And that threat keeps it interesting, and the potential for that makes it feel real and the stakes feel important. And we don't just expect them to always be there."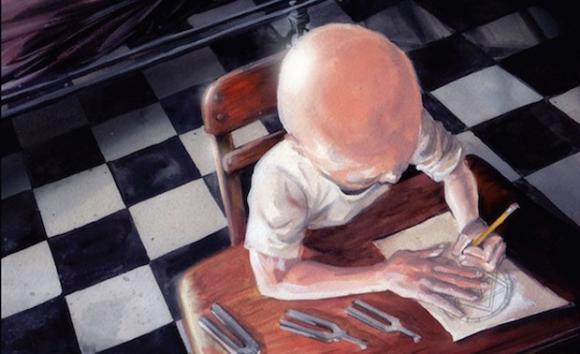 HEAVY METAL
John Barrowman already has a legion of sci-fi fans thanks to his work on Torchwood and Arrow — and now he's expanding his reach with another fan-fave genre property. Barrowman has signed on to executive-produce and star in an television miniseries based on author Erika Lewis' story The 49th Key, which is featured in the latest issue of the cult fave sci-fi/fantasy comic magazine Heavy Metal. The project is being billed as one of those "event series" that have become so popular in recent years. No network seems to be attached at this point. The story will run in a serialized format throughout this year, and is based on the 16th-century legend of Enochian magic, which tells of a secret language of angels. According to The Hollywood Reporter, the first chapter is "an expansive fantasy series that tells of a rogue archeologist and a young autistic and mute boy on a treacherous journey through England to bring the boy home. The boy turns out to be the key to a gateway between our world and that of Enochia, a magical society that exists below the Earth's surface, filled with fantasy creatures and highly advanced humans." Along with Barrowman, Heavy Metal's Jeff Krelitz and David Boxenbaum will executive-produce, with Dark Horse alum Jeremy Atkins as an associate producer. It's a fascinating, ambitious pitch for a sci-fi series — and anything with Barrowman attached automatically gets our antennae up. We'll be anxious to see how this one turns out. The 49th Key debuted in issue 273 of Heavy Metal, which hit shelves this week.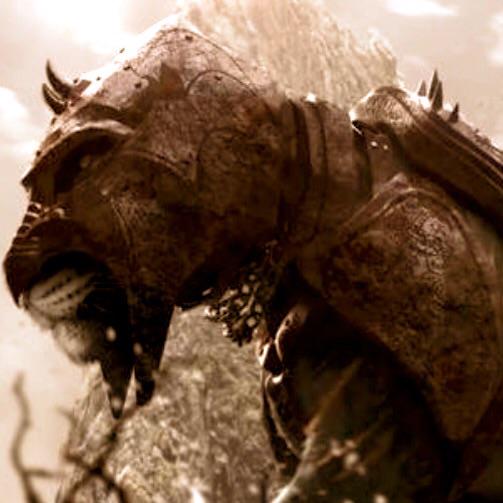 MASTERS OF THE UNIVERSE
After several years in development, Sony Pictures is finally moving forward with their Masters of the Universe. Sony executive DeVon Franklin revealed through his Twitter account in January that the script by Jeff Wadlow is now complete. During the week, the executive revealed what appears to be our first look at Battlecat in the movie. Masters of the Universe is based on the animated TV series He-Man and the Masters of the Universe, which also spawned the 1987 live action feature Masters of the Universe starring Dolph Lundgren as He-Man and Frank Langella as Skeletor. No story details have been confirmed at this time and it isn't known if casting is currently under way. Jeff Wadlow signed on to rewrite the script, which was previously worked on by Alex Litvak & Michael Finch (Predators), Terry Rossio (The Lone Ranger) and Richard Wenk (The Equalizer).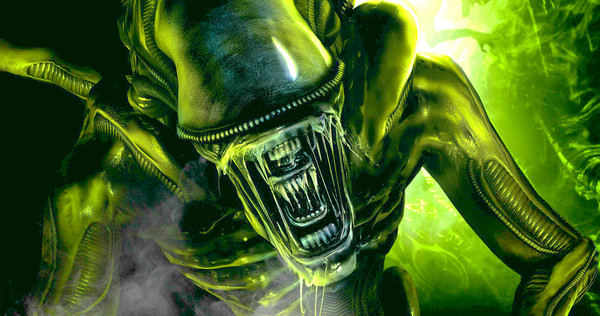 ALIEN 5 NEWS
In this age of the instant franchise, it makes since that 20th Century Fox would want more than one new Alien movie from director Neill Blomkamp. And now, in a new interview with Empire magazine, he is hinting at just that. While he doesn't come right out and say that he is planning a two-part adventure, or even a trilogy, he does tease the possibility of 'more' than one movie. He explains:

Ali

"I'd come up with an idea, and when I met Sigourney on the set of Chappie,I presumed that she would never want to play Ripley again. Rightly or wrongly, I had that in my head. I also didn't know where you could go with her, given 'Alien 3 and 4'. So when I started speaking to her, I just wanted to know more about the process of making the first two films. The first two are the ones that I care about. Then I started to realize there was a whole film - at least a film, if not more - that still contained Ripley, which I was really surprised by." If 20th Century Fox is to follow the current trend in big franchises, its likely that Alien 5 will be stretched into a new trilogy, whether or not that serves the story well. Neill Blomkamp went onto talk about his inspiration in building this new adventure for Ripley: "I had a bunch of different ideas for different films. My favorite, on a gut instinct, artistic level, was Alien, by a long way. But I had this inhibiting mental roadblock about wanting to work on my own stuff, and not being held accountable, whether it's by a studio or by fans, or whoever, I just wanted to be left alone to do my stuff. That's kind of a big deal for me. I knew that my artistic compass kept driving me to Alien. Whenever I wasn't needed on Chappie, I spent time on Alien, to the point where I hired my own concept artist and fleshed the entire movie out, basically. I saw Sigourney again, and her enthusiasm in it, and me still not knowing what I was doing... Well, the thing that actually made it really clear was that we have xenomorphs all over the house [including drinking glasses depicting graphic scenes from the films]. No bullshit, that actually is what made me realize that there's a massive portion of my brain that's taken up by the world of the xenomorph. And I'm like, 'Hmm. Valid point.'" What do you think? Should Neill Blomkamp just give us one last kick-ass ride for Ripley? Or should he stretch this into two or more movies? We've seen what can happen when an idea is stretched into 3 ivies, just look at what happened to The Hobbit: An Unexpected Journey. While they are wondrous technical achievements, many fans will tell you they suffer from bloat, and that's never a good thing. Alien 5 comes to theaters in 2017 and stars Sigourney Weaver. The film is directed by Neill Blomkamp.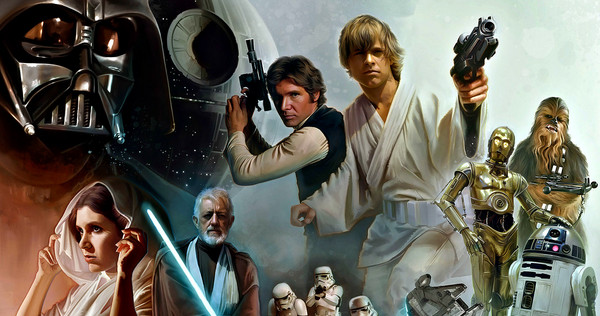 STAR WARS UPDATE
The first trailer released back in November for Star Wars: The Force Awakens was only 88 seconds long, but it introduced some of the new characters in director J.J. Abrams' long-awaited sequel. And it did what any good trailer does: get fans begging for more. There have been many rumors as to when we may see the first full-length trailer, with many expecting it to debut at this year's Star Wars Celebration in Anaheim, California next month. While another rumor surfaced that claims it will be attached to Avengers: Age of Ultron in theaters May 1. As we wait for confirmation on when the trailer will 'actually' show up, Latino-Review's Umberto Gonazalez has posted a rumored description of the trailer on his Instagram page, which, if true, will certainly make many fans happy. Take a look at the trailer breakdown below. Know that SPOILERS follow: Like the first teaser it opens with a shot of the desert planet. Although it's not dunes. It's a destroyed AT-AT on its side. Voice over (sounds like Lupita Nyong'o): "I shall show you the story..." Forest location with a very large structure (like a castle or something) with an opening in the base of a large tree. I believe this is the Puzzlewood location.
VO continues "of who you seek..." A large city in a tropical location. Looks like it's on the water.
VO continues "the one who taught me..." Cloaked figure (maybe Luke?) standing at the top of stone steps on a high green hill with mountain stones behind him. This is definitely Skellig Michael.
VO continues "I know why the weapon came to you." John Boyega (Finn), Daisy Ridley (Rey), and a small blue alien with a CG face in a dark (underground?) cave. Finn takes a lightsaber, and turns it on revealing a green blade. Rey is in the background and looks disturbed.
Things pick up from here. Lots of quick shots.
Han Solo wearing a brown duster and looking past the camera.
A black TIE Fighter attacking the forest location we saw earlier.
Kylo Ren in a POV shot approaching someone on the ground. His mask is dark with silver accents. The cross-guard saber is ignited.
People running in the city seen earlier in the trailer.
R2-D2 making a forlorn beep.
C-3PO and Princess Leia in what looks like a base command center.
New Voice Over (sounds like Andy Serkis from the first trailer) 'Don't get too sentimental.' As that VO is playing we see Han looking at Leia and then walking away from her towards the Falcon with Chewie. The snowy forest from the first trailer. Slow shot of Finn holding the saber, looks like he's protecting Rey from someone as we hear Han say "You can do this kid, I believe in you." Final shot of the trailer is a close-up of a hooded head looking up to reveal Luke. One of the fans' biggest complaints about the first trailer is it didn't feature any of the original Star Wars characters, Han Solo (Harrison Ford), Luke Skywalker (Mark Hamill) and Leia (Carrie Fisher). If this rumored description is true, it seems J.J. Abrams is giving the fans exactly what they wanted. It will be interesting to see how fans react to seeing the villainous Kylo Ren's mask for the first time, although one can only hope that we'll also get a hint at who may be playing him. This description is also the first time we've heard Lupita Nyong'o's character mentioned in any sort of context. Of course, only a handful of character identities have been confirmed, but hers is not one of them. This description, if true, also essentially confirms earlier rumors that the lightsaber essentially sets the whole plot in motion. While the light saber possibly sets the AWOL Stormtrooper Finn on a journey to becoming a Jedi, it is also rumored that the light saber is the key to unlocking an ancient Sith tomb, which Luke Skywalker has been guarding for several years. What do you think about this rumored trailer description? Chime in with your thoughts below, and stay tuned for more details about when this trailer will debut. Star Wars: The Force Awakens comes to theaters December 18th, 2015 and stars John Boyega, Daisy Ridley, Carrie Fisher, Harrison Ford, Mark Hamill, Adam Driver, Oscar Isaac, Domhnall Gleeson. The film is directed by J.J. Abrams.
SUNDAY, MARCH 8, 2015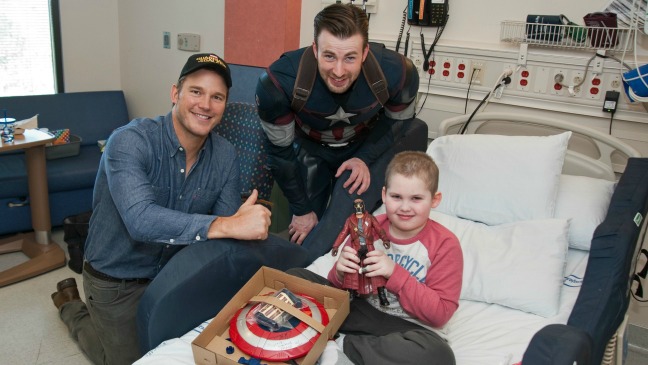 CAPTAIN AMERICA - SUPERBOWL BET
Chris Pratt and Chris Evans' Super Bowl bet has raised nearly $27,000 in total donations for the charities involved.

Seattle Children's Hospital was able to raise nearly $15,000 and Christopher's Haven raised close to $12,000, according to the organizations.

"We are grateful that real-life superheroes Chris Pratt and Chris Evans are turning their sports rivalry into an opportunity to support kids in their communities," Lisa Brandenburg, president of Seattle Children's Hospital, tells The Hollywood Reporter. "We are delighted that patients and families at both Seattle Children's and Christopher's Haven will benefit from these generous donations."

Joyce Duvall, executive director of Christopher's Haven, said, "The generosity of Chris Evans and Chris Pratt is overwhelming. They turned a simple, friendly wager into something very significant for both Christopher's Haven and Seattle Children's Hospital. The fun and goodwill that they have generated will stay with the children a long time."

The rivalry began in January after Evans, a New England Patriots fan, tweeted Pratt, a Seattle Seahawks fan, "Well, well, well @prattprattpratt, looks like our teams are going into battle. For the next 2 weeks, you are not my friend, you are my enemy."

Evans, who plays Captain America, and Pratt, who plays Star-Lord, then agreed to visit a charity of the other's choosing, dressed as his Marvel superhero, if his team lost the Super Bowl. Since the Seahawks lost, Pratt agreed to visit Christopher's Haven as Star-Lord, but not wanting to leave Seattle Children's in the lurch, Evans agreed to visit them too.

The donations flooded in after Pratt and Evans each tweeted links to the organizations' fundraising pages.

CAPTAIN AMERICA: CIVIL WAR
Back in September, Jeremy Renner teased that there were "whispers" that he might appear in the upcoming Captain America: Civil War. Now, The Hollywood Reporter brings word that he will in fact reprise his role of Hawkeye in the sequel. Though the character wasn't present for the original "Civil War" storyline in the source material, he was critical of Tony Stark's position after the fact, so expect him to join the ranks of Steve Rogers and company.
The cast for Captain America: Civil War continues to grow, in what Anthony Mackie calls "Avengers 3.8." In addition to Renner, "Civil War" will feature Chris Evans as Captain America, Robert Downey Jr. as Iron Man, Mackie as The Falcon, Scarlett Johansson as Black Widow, Chadwick Boseman in his MCU debut as Black Panther, Daniel Bruhl in a mystery role, Frank Grillo as Crossbones, and the brand-new Spider-Man.
Set to be directed once again by the Russo Brothers, Captain America: Civil War is set for release on May 6, 2016. Jeremy Renner can next be seen as Hawkeye in Avengers: Age of Ultron.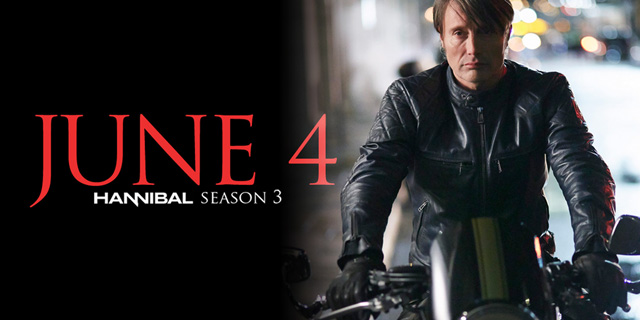 NBC SUMMER SCHEDULE
NBC has announced premiere dates for its summer tentpole programming, including "American Ninja Warrior," "America's Got Talent," "Aquarius" and "Hannibal." Check out the shows' premiere dates and descriptions below.
"American Ninja Warrior" – Monday, May 25, 8-10 p.m.
The action-packed series follows competitors as they tackle a series of challenging obstacle courses in both qualifying and finals rounds across the country. Those that successfully complete a course in their designated region move on to the national finals round in Las Vegas, where they face a stunning four-stage course modeled after the famed Mt. Midoriyama in Japan. Matt Iseman serves as host, along with former NFL player Akbar Gbaja Biamila (NFL Network).
"America's Got Talent" — Tuesday, May 26, 8-10 p.m.
NBC's top-rated summer series "America's Got Talent" celebrates its landmark 10th season with the hottest performers from across the country competing for America's vote. Howard Stern, Heidi Klum, Mel B and Howie Mandel return as judges and Nick Cannon returns as host.
With the talent search open to acts of all ages, "America's Got Talent" has brought the variety format back to the forefront of American culture by showcasing unique performers from across the country. The series is a true celebration of the American spirit, featuring a colorful array of singers, dancers, comedians, contortionists, impressionists, jugglers, magicians, ventriloquists and hopeful stars, all vying for their chance to win America's hearts and the $1 million prize.
Last year, for the first time in the show's history, America chose a magician as their winner: Rhode Island native Mat Franco, who went on to headline the "America's Got Talent Live" stage show in Las Vegas.
"Aquarius" — Thursday, May 28, 9-11 p.m.; beginning Thursday, June 4 at 9-10 p.m.
It's 1967 and the era of free love, drug experimentation and Vietnam is in full effect. When Emma (Emma Dumont, "Salvation"), the teenage daughter of a respected lawyer, goes missing, LAPD Sgt. Sam Hodiak (David Duchovny, "Californication," "The X-Files") starts asking around. He soon discovers that the hippie kids he's questioning don't take kindly to COPS, especially a cop with hair as short as his.
Needing the help of someone to trust, he partners with young undercover cop Brian Shafe (Grey Damon, "Percy Jackson: Sea of Monsters," "Friday Night Lights"), a law-abiding officer who struggles with his own demons. He also begins to rely on Charmain Tully (Claire Holt, "Vampire Diaries," "Pretty Little Liars"), an ambitious rookie cop who's anxious to prove herself in a male-dominated profession.
It's not long before they stumble upon a small-time cult leader seeking out vulnerable women to join his cause. From there, they follow this man's trail down a rabbit hole of drugs, sex, murder and a cultural revolution. Little could they know, however, the guy they're hunting will eventually become the killer we now recognize as Charles Manson (Gethin Anthony, "Game of Thrones") — a lost soul who desperately wanted to get into the music scene of the '60s until something snapped.
"Aquarius" will explore the cat-and-mouse game between Manson and the police in those turbulent years leading up to the Infamous Tate-LaBianca murders.
"Hannibal" — Thursday, June 4, 10-11 p.m.
The dark and haunting series "Hannibal" returns for a third season, revealing the fates of characters hanging in the balance, and their continuing psychological cat-and-mouse games.
After the shocking events of the season finale, Hannibal (Mads Mikkelsen, "Casino Royale") is on the run in Europe — accompanied by his psychiatrist Bedelia Du Maurier (Gillian Anderson, "The X-Files") — sporting a new identity, but servicing the same insatiable appetite. As the lives of Will (Hugh Dancy), Jack (Laurence Fishburne, "The Matrix," "CSI") and Alana (Caroline Dhavernas, "Wonderfalls," "The Pacific") converge toward HANNIBAL again, their deadly dance turns in startling and unexpected ways, and nothing will ever be the same again.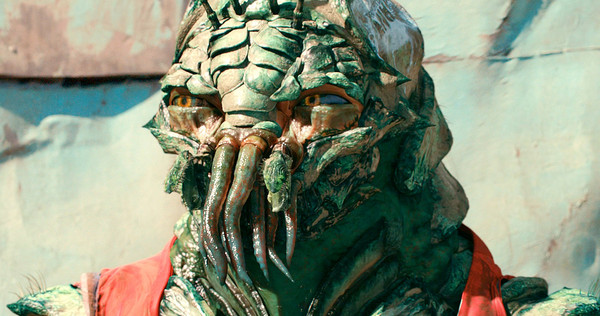 DISTRICT 10
South African director Neill Blomkamp made his stellar directorial debut with 2009's District 9, which was followed up by Elysium and this weekend's Chappie. Ever since District 9 came out, fans have been pining for the sequel District 10, but there is very little we know about the project except for the title. Of course, now the director is working on bringing Alien 5 to the big screen, with Sigourney Weaver reprising her role as Ripley and original Alien director Ridley Scott producing, so it may be quite some time before we ever see District 10 on the big screen. During an interview with IGN, Neill Blomkamp revealed that he does have an idea for District 10.
"I have an idea for District 10, which is really cool. The problem is I feel like Chappie is the end of three films that have a similar stylistic approach to them. Chappie is the odd one out in that is has no socio-political underpinnings. It doesn't have my experiences as a kid in South Africa incorporated into it. And Elysium - although it doesn't have my experiences as a kid in South Africa, it has the same notion of oppressor in the elites, and the large population base beneath it. And Chappie doesn't, but they are still part of a trilogy. So moving forward I would love to realize this idea of District 10 - I have every intention to do it, I just need to find the right time to do it - to not go back to Johannesburg and shoot something similar, yet."
The director added that when he finished District 9, he had no clue there was the potential for a sequel, until producer Peter Jackson pointed it out.
"I had no idea to the point that I remember walking into Peter Jackson's office, which was down the hall from the editing room I was in. The edit was locked and the movie was basically done, and I walked into his office and was like 'You know that the ending of the film is for a sequel?' And he may have known that all along, but I didn't, so he was like 'Mmm, yeah, it is sort of, isn't it?' And then the film came out and I left New Zealand. But no, there was zero, pre-meditated... I was not hinting at anything, and nothing was thought of."
The director added that he originally saw District 9 as a stand alone movie, adding that his new idea for District 10 will be something that fans of the original will want to see.
"It was a completely self-contained story about the Nazi becoming the Holocaust victim, basically. It was the oppressor becoming the oppressed. And when it's based on a character like that, it ends on that character. The inadvertent world creation that came with it, which to me is my perfect kind of thing that I love - having a bunch of weird alien weapons in the back of a shack that you can discover - that's just ripe for creative insanity, so it took a few years to process what that could be. And I think that the story that I have now is what I would want to see as a fan of the first film, I think. I know I would want to see it - I assume other people would. It's good man!" District 9 was released August 14th, 2009 and stars Sharlto Copley, Jason Cope, Nathalie Boltt, Sylvaine Strike, Elizabeth Mkandawie, John Sumner, William Allen Young, Greg Melvill-Smith. The film is directed by Neill Blomkamp.
District 10 is in development . The film is directed by Neill Blomkamp.
FRIDAY, MARCH 6, 2015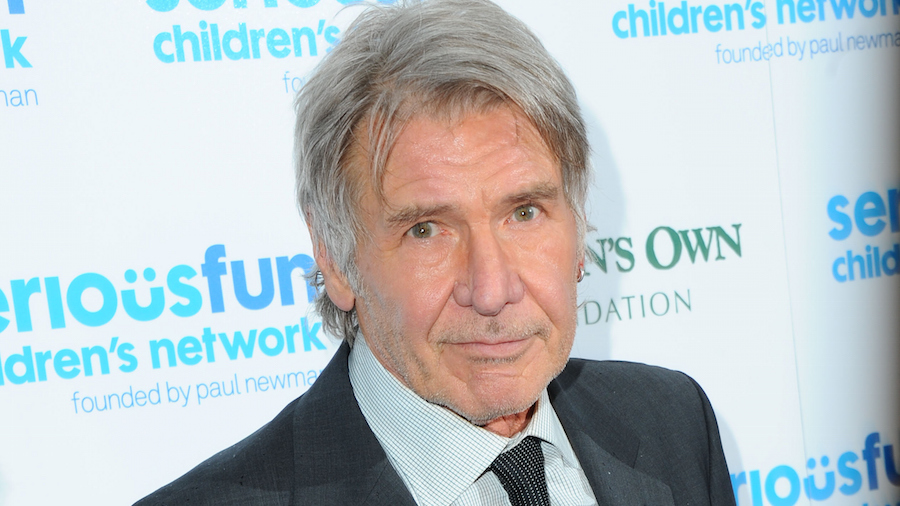 HARRISON FORD INJURED IN PLANE CRASH
Actor Harrison Ford has reportedly been involved in a plane crash that on a Los Angeles golf course on Thursday (March 5).
Ford was said to have been piloting a two-seater vintage fighter plane when it crash landed on the Penmar Golf Course in L.A.'s Venice neighborhood, according to TMZ.
NBC News also reports that Ford survived the crash, sustaining serious cuts to his head and face. A golf course employee reported that the actor's face was covered in blood, but that Ford was treated by two doctors on the course before being taken to a local hospital.
Of course, good news also comes from Twitter. Ford's son Ben also tweeted from the UCLA hospital where his father had been taken that Ford is doing well, and "every bit the man you would think he is."

Harrison Ford's team have released an official statement about the actor's flight and his current condition. He was flying the plane, but made an emergency landing and currently being treated. He is expected to make a full recovery.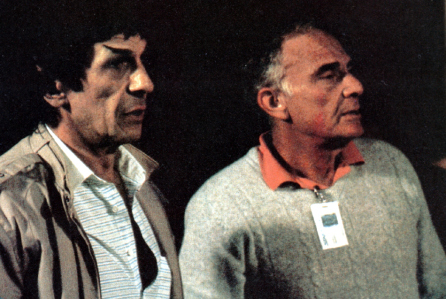 HARVE BENNETT DIES
Harve Bennett, the producer who helped guide four of Paramount's Star Trek movies in the 1980s and produced TV series Mod Squad, The Six Million Dollar Man and The Bionic Woman, died Wednesday in Oregon. He was 84 and becomes the latest key figure lost from the seminal Star Trek franchise following Leonard Nimoy's death February 27.
After executive stints at ABC and CBS and co-creating Mod Squad, Bennett had a hand in creating or producing some of the most iconic sci-fi series on TV including serving as exec producer on both The Six Million Dollar Man (he voiced the opening credits, according to Bennett in a 2008 Archive of American Television interview) and The Bionic Woman. Bennett then moved to Columbia Pictures Television as a TV producer where his shows included Salvage 1, the miniseries The Jesse Owens Story and A Woman Called Golda, which was Ingrid Bergman's final role and which co-starred Nimoy. Such creds led Bennett to the Star Trek movie franchise, eventually teaming with director Nicholas Meyer on the second movie in the series, Star Trek: The Wrath Of Khan — which featured the death of Nimoy's character Spock — after cramming for the writing gig by watching every episode of the TV series. The pic's success sealed the franchise's place and led to Bennett producing Star Treks III, IV and V. Harve Bennett helped turn Star Trek around after the disaster that was the first motion picture. This... "He was a remarkable man and he was unpretentious and self-effacing. I don't think there would be a Star Trek franchise without him. He rescued it. He's endangered of being lost in the shuffle, but he's the guy who figured it out," said Meyer, who worked with Bennett on Wrath Of Khan and Star Trek IV: The Voyage Home.
"He watched all 79 of those original episodes and he was the one who plucked out Khan," added Meyer. The fact that actor Ricardo Montalban, who originated the role of Khan, was in the spotlight at the time with ABC's Fantasy Island also further fueled the return of the character to the Star Trek canon.
1986's The Voyage Home became the first Star Trek film to surpass the century mark at the domestic box office with $109.7M. The film centered around the Star Trek crew time-traveling to 20th century America to retrieve humpback whales which could communicate with an alien probe. The film resonated with its environmentalism themes. Bennett and Nimoy, who served as director and co-screenwriter on the film, hatched the story. Meyer and Peter Krikes also worked on the script.
The Chicago-born Bennett appeared frequently as a child on the radio game show Quiz Kids, and after graduating from UCLA's film school he served in the Army in the Korean War. After he got out he became one of CBS' youngest executives. Eventually moving to ABC, he shifted into programming, becoming VP Daytime Programming and eventually VP Programming under Leonard Goldberg.
THE MESSANGERS
The CW has released a brand-new trailer for its upcoming apocalyptic sci-fi TV series, The Messengers.
The video centers on the newly revealed five Angels of the Apocalypse, who are tasked to stop the Devil (who looks pretty cool, in that fiery kind of way) and prevent the whole "The End Is Near" thing. It's a nice clip that builds some excitement for the show -- at least, it looks a tad better than the first two minutes of the pilot we got to see back in November of last year.
This is the show's synopsis:
When a mysterious object plummets to Earth, the blinding explosion it causes sends out a shock wave that instantly connects five strangers who awaken after the pulse with extraordinary gifts they can barely believe. Most mysterious of all is a figure known only as "The Man," who brings death and suffering wherever he appears. The wheels of Revelation have begun to turn, and these five newly christened Angels of the Apocalypse may be the only hope for preventing the impending Rapture.
The new CW series stars Shantel VanSanten (Gang Related, One Tree Hill), Jon Fletcher (City of Dreams), Sofia Black-D'Elia (Betrayal, Gossip Girl), JD Pardo (Revolution), Joel Courtney (Super 8), Anna Diop (Everybody Hates Chris), Craig Frank (Mixology) and Diogo Morgado (Son of God) as The Man.
The Messengers will premiere on The CW on April 17.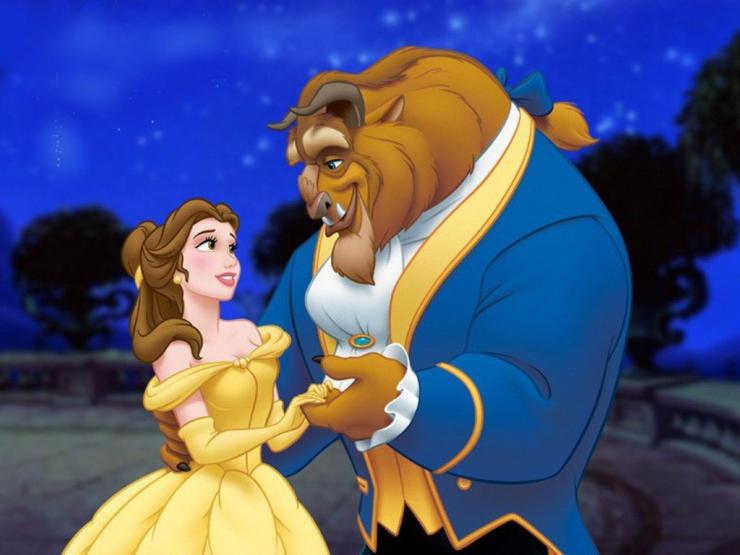 BEAUTY AND THE BEAST
The Beauty and the Beast live-action movie has finally found its Beast in Downton Abbey's Dan Stevens. According to The Hollywood Reporter, Stevens is in the negotiating stages to play the Beast/Prince in the Disney adaptation, which also stars Harry Potter's Emma Watson as Beauty/Belle and Dracula Untold's Luke Evans as the dastardly Gaston.
Set to be helmed by Bill Condon, Beauty and the Beast marks the third time Disney is taking one of its animated classics to give it a modern, live-action spin. Last year's Maleficent, starring Angelina Jolie, was a take on Sleeping Beauty, and Thor director Kenneth Branagh's Cinderella is set to hit the big screen on March 13, amid some pretty positive reviews.
A highly sought-after role, Beauty and the Beast's titular monster will be Dan Stevens' first real big movie break as a leading man. He recently had a guest-starring role in Night at the Museum: Secret of the Tomb and A Walk Among the Tombstones. Stevens was the lead in The Guest, but it was a much smaller movie, although the actor did get some pretty good reviews.
THURSDAY, MARCH 5, 2015
AVENGERS: THE AGE OF ULTRON
The brand-new trailer for Avengers: Age of Ultron is finally here, and we have our first glorious look at Paul Bettany's Vision.

The new trailer was unlocked thanks to a fan campaign on Twitter and features a ton of new scenes featuring Earth's Mightiest Heroes, including some nice Hulkbuster action and the movie's villain, Ultron (James Spader). But the most exciting bit about this new trailer is, without a doubt, that we're finally getting our first peek at the Vision after all this time.

Directed by Joss Whedon, Avengers: Age of Ultron stars Robert Downey Jr., Chris Evans, Scarlett Johannson, Chris Hemsworth, Jeremy Renner, Paul Bettany, Aaron Taylor-Johnson, Elizabeth Olsen, Samuel L. Jackson and James Spader. It is set to hit theaters on May 1.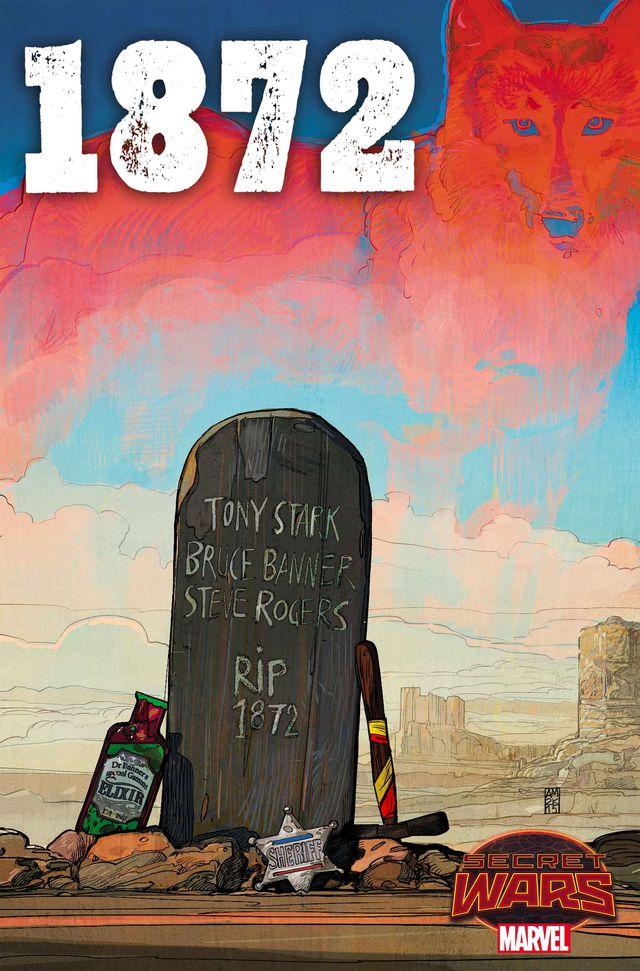 SECRET WARS
Secret Wars, a continuity-spanning event that will change the Marvel Universe as we know it, doesn't actually arrive until May, but ever since Marvel editor-in-chief Axel Alonso revealed just what's at stake in the event, we've seen plenty of exciting announcements that continue to broaden the scope and enhance the appeal of not just the main Secret Wars series, but all of the tie-in series Marvel's got cooking.
In case you haven't been keeping up, here's the deal: Secret Wars will take place on Battleworld, a massive map of various Marvel continuities in which past Marvel events, alternate universes, possible futures and more will all intermingle. It's a place where the Marvel Universe will be redefined, but it's also a place where creators can play in basically any Marvel sandbox they want, and that's led to some very exciting announcements over the last few weeks. Brian Michael Bendis is reviving the supervillain-conquered future that is Old Man Logan, longtime Thor writer Jason Aaron is basically doing a police procedural with hammers, an all-female Avengers team featuring the likes of She-Hulk, Medusa and Wasp will be revealed, and much more. We're increasingly getting the picture that Marvel is embracing the anything-is-possible vibe of Battleworld, and that's reinforced by today's announcement of 1872.
Writer Gerry Duggan (Deadpool) and artist Evan "Doc" Shaner (Adventures of Superman) will team up on the book, which takes us to a Marvel Universe in which Steve Rogers, Tony Stark, Bruce Banner and other characters emerge not in the 20th century, but in the 19th. Set in the fictional western town of Timely (named for Marvel's predecessor Timely Comics), the series will recast Rogers as a local sheriff, Stark as what looks to be drunken blacksmith and Banner as a dealer in various ... elixirs.
"Growing up, I loved comic books and Western films, so this a crack at something I've only dreamt about," Duggan said. "1872 is going to have fistfuls of action, suspense, drama and fun, but I hope that, like so many great Westerns, it will give us the chance to hold a mirror up to certain parts of this great country we live in. Sometimes the mirror ain't that flattering."
We don't know much about what to expect when it comes to the book's plot, except that Rogers will be battling corruption in Timely and he might be turning to Stark for help, but we do know that it will feature at least one classic Marvel supervillain: Wilson Fisk, the Kingpin, whose approach to profitable crime could fit right into this world. It's also simply exciting to see Marvel returning, however briefly, to the once-bountiful territory that is Western comics. Once upon a time, they were among the most successful books on the stands, and now Marvel's hoping to recapture some of that former glory, while also recapturing the success the publisher's had in recasting its heroes in the past, most notably through books like Marvel 1602.
Secret Wars and all of its tie-ins, including 1872, will launch in May.
MARVEL'S AGENTS OF S.H.I.E.L.D.
The exciting new promo for next week's episode of Marvel's Agents of S.H.I.E.L.D. features the return of badass Thor fan favorite Lady Sif (Jaimie Alexander).
After all the Inhuman drama that took place in last night's episode, it'll be great to see Sif make her eagerly anticipated return to the comic book TV series. Executive producer Jeffrey Bell previously said of the Asgardian's timely reappearance that she'll have a role to play in Skye's (Chloe Bennet), aka Daisy, aka Quake, understanding of her rockin' and shakin' newfound powers:
"We've been dealing a lot with space aliens and Inhumans in our last few episodes—things our Earth-bound heroes just don't know much about. They need help understanding what's really going on. Sif's memory—what's left of it—will come in very handy"
Below is the episode's synopsis:
"Who You Really Are" - Coulson and team come to the aid of a confused Lady Sif, who has lost her memory after fighting with a mysterious warrior whose true mission will send shockwaves through S.H.I.E.L.D. Meanwhile, Bobbi and MacK continue to hide their true mission from everyone close to them, on Marvel's Agents of S.H.I.E.L.D., Tuesday, March 10th on ABC.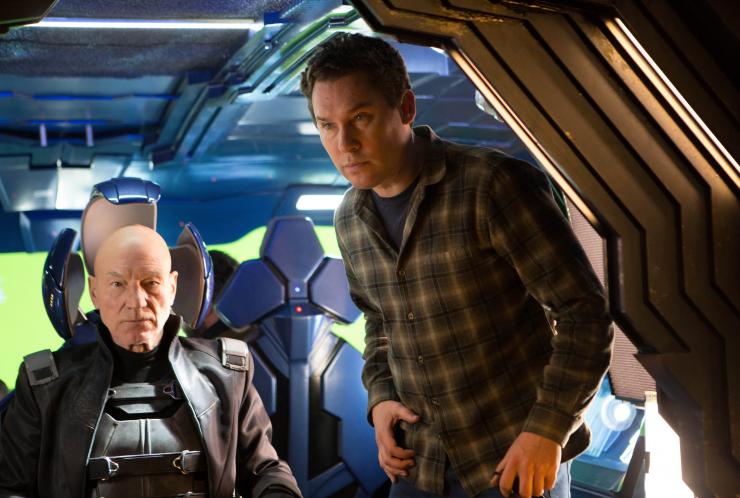 THE MOON IS A HARSH MISTRESS
Thanks largely to his work on the X-Men franchise, Bryan Singer is one of the most successful science fiction directors working right now. He returned to the world of mutants with last year's blockbuster X-Men: Days of Future Past, and he's continuing his X-work with next year's X-Men: Apocalypse. That doesn't mean he doesn't have time for other sci-fi cinema, though, and apparently his next project will be to bring a classic by one of the great sci-fi writers of the 20th century to the screen at last.
According to the Hollywood Reporter, Singer will direct an adaptation of Robert A. Heinlein's The Moon Is a Harsh Mistress for X-Men studio Fox. The adaptation, retitled Uprising, will be scripted by Marc Guggenheim, co-developer of the hit CW series Arrow, where he also serves as an executive producer and writer.
One of Heinlein's best-known works, The Moon Is a Harsh Mistress tells the story of a lunar colony's plans to revolt from Earth control and documents the subsequent revolution. The novel was nominated for the 1966 Nebula Award for Best Novel and won the Hugo Award for Best Novel in 1967. Several attempts have been made in the past to bring the novel to screen, including one by Pirates of the Caribbean screenwriters Ted Elliot and Terry Rossio, and another by Harry Potter producer David Heyman. Both eventually settled into development hell until the rights reverted back to the Heinlein estate, and now Fox has snagged those rights for Singer and Guggenheim. If all goes well, Uprising will join the ranks of Heinlein adaptations including Red Planet (the miniseries, not the film) and Starship Troopers.
At the moment, Singer's busy prepping Apocalypse, which is set to begin shooting next month, so it's not clear exactly when he'll tackle Uprising. What is clear, though, is that a pair of genre heavyweights are committed to the project, so we're already anxious to see if this one goes the distance.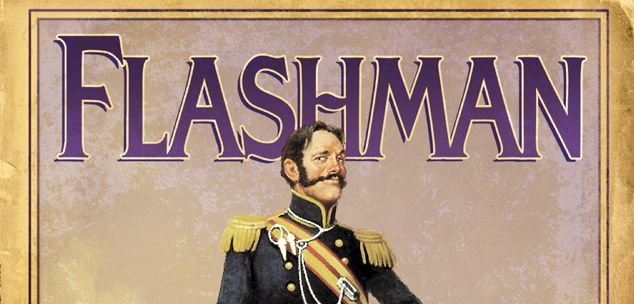 FLASHMAN
Variety reports that 20th Century Fox is developing the novel series "The Flashman Papers" into a feature film, simply titled Flashman, with Ridley Scott's Scott Free and Peter Chernin's Chernin Entertainment.
Based on a character that briefly appeared in the novel "Tom Brown's School Days," writer George MacDonald Fraser created Sir Harry Flashman, a Victorian soldier, who, despite being described as a liar and coward that flees danger, is often portrayed as a hero by the story's end. The series ran for 11 novels and one short story collection from 1969 all the way to 2005.
Fraser was no stranger to feature films either, having penned the screenplay for The Three Musketeers (1973), the James Bond film Octopussy, and even 1985's Red Sonja, starring Brigitte Nielsen and Arnold Schwarzenegger.
The character was previously brought to the big screen in the 1975 film Royal Flash, in which he was played by Malcolm McDowell.
THE BIG GAME
Watch the POTUS eat a sausage in the new trailer for Big Game, the latest from Finnish director Jalmari Helander (Rare Exports) starring Samuel L. Jackson and Onni Tommila.
Big Game tells the story of Oskari (Onni Tommila), a shy, nervous 13-year-old boy. Like his forefathers, his time has come to take a test of manhood by spending one day and one night alone in the wilderness of a vast local forest. Armed only with a bow and arrow, his task is to return with a prize to prove himself. But this is no ordinary night; Air Force One is shot down by terrorists and Oskari discovers the President of the United States (Samuel L. Jackson) in an escape pod. Now the fate of the most powerful man in the world lies in his hands.
With the terrorists closing in, Oskari and the President must team up to survive the most extraordinary 24 hours of their lives. Big Game also stars Jim Broadbent, Ted Levine, Victor Garber, Felicity Huffman, Mehmet Kurtulus and Ray Stevenson. Helander's native Finland will get the film on March 25, with more European openings throughout the following months. Big Game premieres in select theaters domestically and on Digital HD and On Demand on June 26.
WEDNESDAY, MARCH 4, 2015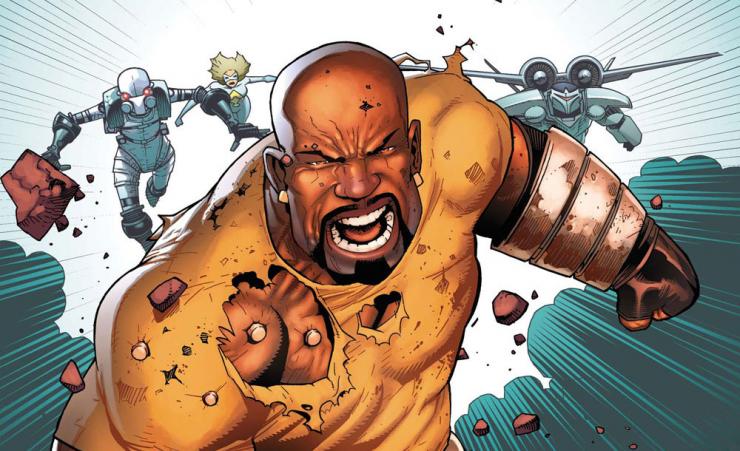 LUKE CAGE
We still have a while to wait until we see Marvel and Netflix's upcoming Luke Cage series, but the man who is bringing the character to life has finally opened up about what fans can expect. Mike Colter is making the rounds to promote his new project Halo: Nightfall, but IGN made it a point to ask him how prep work is going on his mysterious Marvel project. Daredevil is leading the charge on April 10, and Netflix is set to roll out Colter's Luke Cage series, an AKA Jessica Jones series and Iron Fist series in the coming years — all leading to a Defenders miniseries. It'll probably be a year or two before we see Luke Cage in action, but Colter revealed that the series will apparently stick closely to the "adult" vein they're tapping with Daredevil. According to what Colter has been told about the project, it sounds like these Netflix shows will definitely be very street-level and character-focused, which fits with the vibe we've already gleaned from Daredevil. Just don't expect it to be the li'l Avengers, y'all. Here's an excerpt from Colter's comments about the project via IGN: "I'm excited about playing the character because I've read the comic books. They're very detailed, gritty; the world they've written in the comic books is very clear. Marvel does a fantastic job about bringing human stories – because you're telling big stories with a heart at the centre of it – and that's what connects all of the characters to our audience members. Audience members have to feel connected with these characters, to make them relate to the character's situations and that's what you see with all of the Marvel characters. What I'm most excited about is touching on what makes him tick. It feels good to get a character that has such a story, background, and history. And when I look at the scripts, I'm really pleased with it because it's a slow-burn; there's nothing happening really fast that gets ahead of itself. I'm really with where they're taking it and how they're developing the characters, because it's really cool and it's geared towards an adult audience, which is something that will be different from the Marvel Cinematic Universe you've seen before on the big screen. We have a more gritty, focused story on our heroes and characters that live in New York City, but it's geared towards a more adult audience and I think that's the thing about the series that will be different."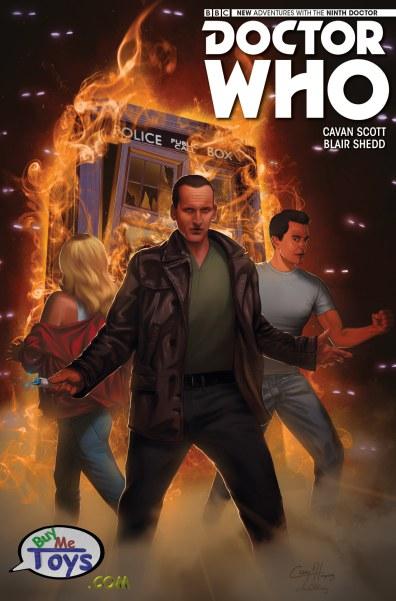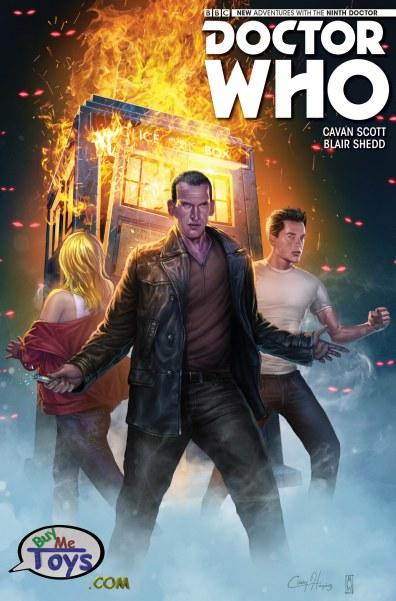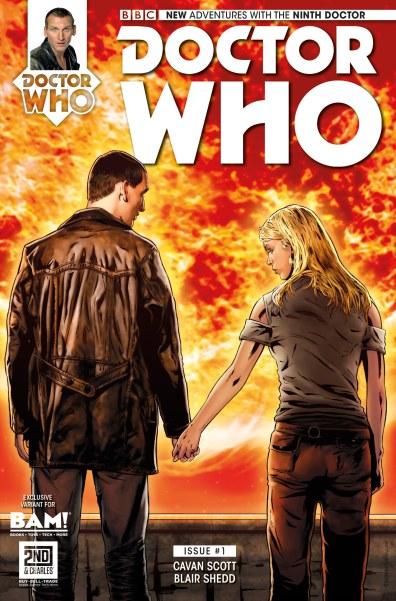 DOCTOR WHO COMICS
Christopher Eccleston's Ninth Doctor is about to set off on his own new timey-wimey comic book adventures this month thanks to Titan Comics, and we have a look at three new variant covers for the first issue. The first two covers are for BuyMeToys.com and are by artist Casey Heying, with Admira Wijava doing the colors for the first one and Andrew Hibner for cover number two. The third is from artist Joe Carroney and will be made exclusive to BAM! (Books a Million). The new miniseries is titled "Weapons of Past Destruction" and will feature the Ninth Doctor and his companions Rose Tyler (Billie Piper) and Captain Jack Harkness (John Barrowman). The series is penned by Cavan Scott. Check out the synopsis: The Ninth Doctor is BACK with a brand-new miniseries: WEAPONS OF PAST DESTRUCTION! Leaving World War II behind, The Ninth Doctor, Rose and Captain Jack discover that Time Lord technology, lost in the wake of the Time War, is being sold on the intergalactic black market! Now the threat of a NEW temporal war brews on the horizon. Can the Doctor stop history repeating itself? This story sounds like a lot of fun to us. Everything that has to do with the Time Lords and the Time War, we're always in! Here's what Cavan Scott said about the Ninth Doctor's upcoming, brand-new adventures: "The Ninth Doctor in space. A lot. In the 2005 series, the majority of his stories were earth-bound or set on space stations. When I started discussing the series with editor Andrew James, we decided early on that we wanted the mini-series to feel cosmic." Have a look at the three new Doctor Who Titan Comics variant covers below, and let us know what you think. GAME OF THRONES
A Game of Thrones behind-the-scenes video has been released giving us our first real look at the Red Viper of Dorne's daughters, the deadly Sand Snakes. Aside from the fact that it offers a fascinating peek at some cool Dornish weaponry, what's totally awesome about this video is seeing the three Sand Snakes, who are the bastard daughters of Prince Oberyn Martell (Pedro Pascal) and Ellaria Sand (Indira Varma) on the HBO series (but not in George R.R. Martin's books), in action. The show's weapons designer, Tommy Dunne, talks about designing the weapons for the Sand Snakes, as well as Areo Hotah's (DeObia Oparei) famous longaxe. Dunne says he has extended the design a full foot and that the weapon is seven feet long, whereas in the A Song of Ice and Fire books, Prince Doran Martell's (Alexander Siddig) massive Captain of the Guards' axe is actually one foot shorter. Dunne also talks about the three Sand Snakes' weapons: Obara's (Keisha Castle-Hughes) spear, which is similar to her father Oberyn's spear, Nymeria's (Jessica Henwick) very cool whip, and Tyene's (Rosabell Laurenti Sellers) deadly-looking daggers, which are called kris blades. This is a bit of a departure from the source, since Nymeria is the one in the books who is a whiz with daggers, while Tyene's weapon of choice is poison...but it's easy to understand why they made some different choices for the show, because kris blades look more bad-ass than poison. What do you think about the overall look and weapons of the Sand Snakes? What about Areo Hotah's awesome-looking longaxe? The fifth season of Game of Thrones will premiere on April 12 on HBO.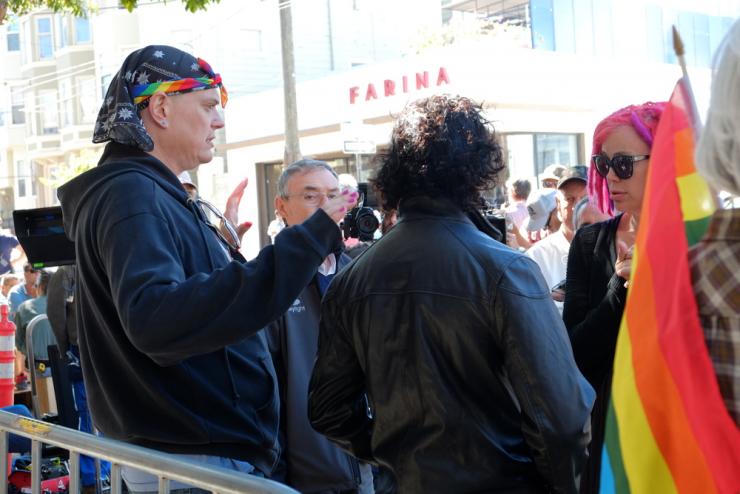 SENSE8
We finally know when we'll see Andy and Lana Wachowski's mysterious new TV series. Details have been slowly emerging about Sense8, the upcoming Netflix show created (with J. Michael Straczynski) by the siblings behind The Matrix, Cloud Atlas and other ambitious films, but one bit of information has been held back from us until now: the series' premiere date. Not anymore: Netflix has set June 5 as the date on which you'll be able to watch Sense8, with presumably all 12 episodes available at once in the now-standard fashion in which the streaming network delivers its original programming. We've also got an official synopsis to go along with that date: One gunshot, one death, one moment out of time that irrevocably links eight minds in disparate parts of the world, putting them in each other's lives, each other's secrets, and in terrible danger. Ordinary people suddenly reborn as "Sensates." The Wachowskis recently let a few details slip about the show, including the fact that it was shot in eight different countries -- one for each character -- and that viewers might see things like "crazy psychic orgies" and live births when they tune in. But will it be any good? That question looms even larger now in the wake of the spectacular crash and burn of the siblings' latest film, Jupiter Ascending, which arrived last month to an intense barrage of negative reviews and catastrophic numbers at the box office. Frankly, it's hard to envision any studio giving the Wachowskis the kind of budgets they've been enjoying for the past 16 years at this point, even for another Matrix movie. So going small, working with a (relatively) small budget and creating something for TV might just be the break the pair is looking for -- or will all the weird stuff promised on the show just continue to alienate viewers? We'll find out on June 5. SALEM
The first full trailer for the second season of Salem has been released, revealing our first awesome look at Lucy Lawless in a new witchy role. This dark new trailer released by WGN America gives us our first-ever look at Xena and Spartacus' Lucy Lawless, and The League of Extraordinary Gentlemen's Stuart Townsend, in the upcoming second season of the supernatural horror series. Lawless has joined the cast in a recurring capacity as Countess Marburg, who is "one of the last remaining survivors of the legendary line of ancient German witches." Townsend plays an English aristocrat named Samuel Wainwright. His character is said to be a "doctor looking to uncover the secrets of Salem and keep his own from those who would seek to discover them." Sounds pretty good to us! The gist of the story is this: It's the dawn of the Witch War, and Salem's most powerful witch, Mary Sibley (Janet Montgomery), will face off against old and new adversaries who will vie for her throne, while disease and and devastation are unleashed by a deadly supernatural ritual on the 17th-century town. Salem will return on April 5.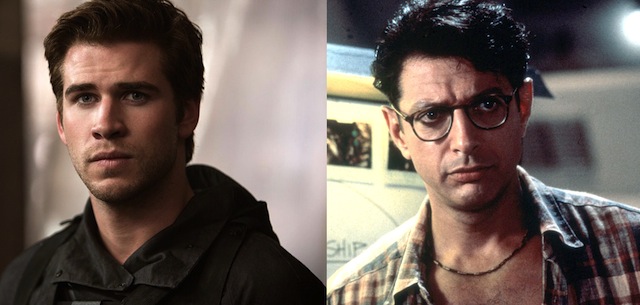 INDEPENDENCE DAY 2
Jessie Usher, who headlines the Starz original series "Survivor's Remorse," has taken a leading role in director Roland Emmerich's Independence Day 2. Emmerich himself broke the news on his official Facebook page with The Hollywood Reporter chiming in to reveal that Usher will be playing Dylan Hiller, the son of Will Smith's Captain Steven Hiller from the original ID4. Ross Bagley played the part in the 1996 original. "My producing partner Harald Kloser noticed Jessie in between sets of pushups at the gym and gave him an audition," Emmerich says of the chance encounter that brought Usher to his attention. "As they say, the rest is history!" Set to hit theaters June 24, 2016 (almost exactly 20 years after the original), Independence Day 2 is looking to begin production in May with a script most recently rewritten by Carter Blanchard (best known for the short-lived 2009 series "G vs E"). Previous drafts were done by Emmerich and Dean Devlin, and then by James Vanderbilt. Although Will Smith will not be returning, both Jeff Goldblum and Bill Pullman are expected to reprise their roles as David Levinson and President Thomas J. Whitmore, respectively. The original Independence Day opened on July 3, 1996 and earned an impressive $817.4 million worldwide. Emmerich is also set to produce the sequel alongside Devlin and Harald Kloser. UPDATE: Emmerich has confirmed via Twitter that Jeff Goldlbum is now confirmed as is Liam Hemsworth, who was rumored for a leading role last month. Golblum will reprise his role as David Levinson while it is believed that Hemsworth will be playing the son-in-law of Bill Pullman's President Whitmore.
THE ZOCALO TODAY
Be sure to check out The Zocalo Today on Facebook as well as at ISN News: The Zocalo Today on Yahoo Groups. Did you miss the news from yesterday -- or earlier in the week. Catch up by going to the February News Archive.
KEEPING UP WITH JMS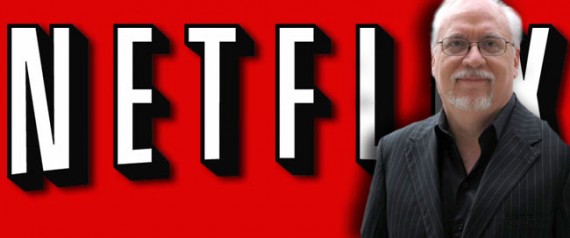 SENSE8
"Sense8," the sci fi thriller from J. Michael Straczynski and Andy and Lana Wachowski, will make its Netflix debut on June 5. The Wachowskis' first television venture, the series is touted as "a gripping global tale of minds linked and souls hunted." Brian J. Smith (SGU Stargate Universe), Tuppence Middleton (Jupiter Ascending), Aml Ameen (The Maze Runner), Doona Bae (Cloud Atlas), Miguel Silvestre (Velvet), Tena Desae (The Best Exotic Marigold Hotel), Max Riemelt (Amnesia) and Jamie Clayton (Dirty Work) play eight characters who are both emphatically linked — which gives them the ability to access each other's thoughts, feelings and deepest secrets — and hunted by an organization that wants to learn more about this power through any means possible. Daryl Hannah (Kill Bill), Naveen Andrews (Lost), Freema Agyeman (Doctor Who), Alfonso Herrera, Erendira Ibarra and Terrence Mann (The Dresden Files) also star. The 10-episode series was ordered in March 2013.
TUESDAY, MARCH 3, 2015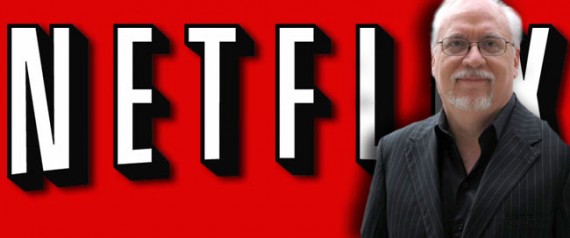 SENSE8
"Sense8," the sci fi thriller from J. Michael Straczynski and Andy and Lana Wachowski, will make its Netflix debut on June 5. The Wachowskis' first television venture, the series is touted as "a gripping global tale of minds linked and souls hunted." Brian J. Smith (SGU Stargate Universe), Tuppence Middleton (Jupiter Ascending), Aml Ameen (The Maze Runner), Doona Bae (Cloud Atlas), Miguel Silvestre (Velvet), Tena Desae (The Best Exotic Marigold Hotel), Max Riemelt (Amnesia) and Jamie Clayton (Dirty Work) play eight characters who are both emphatically linked — which gives them the ability to access each other's thoughts, feelings and deepest secrets — and hunted by an organization that wants to learn more about this power through any means possible. Daryl Hannah (Kill Bill), Naveen Andrews (Lost), Freema Agyeman (Doctor Who), Alfonso Herrera, Erendira Ibarra and Terrence Mann (The Dresden Files) also star. The 10-episode series was ordered in March 2013. ORPHAN BLACK
Poor Helena. She never gets a break. The Season 2 finale of "Orphan Black" saw Helena having the time of her life at an impromptu dance party with all of her sisters -- one of whom she had just met for the first time -- and then being rudely kidnapped by the creepy male clones. The very last time viewers saw her, she was being loaded into a military plane against her will. But thanks to the first full-length trailer for Season 3, fans now know where she is: In a box. (No one said it was going to be a pleasant place.) Specifically, it looks like at one point she's trapped in box -- Miller, the Castor soldier clone, is seen opening the box -- and is then later jailed behind some heavy looking iron. As everyone knows, Helena's least favorite place to be is in a small, confined space where she has no control. However, the good news for Helena is that Sarah is on a mission to save her and Helena herself is threatening to kill all of her captors. And when was the last time Helena didn't follow through on a threat? As for the rest of the incredibly confusing and fast-paced trailer, it appears as if Rachel -- yes, the evil stuck-up clone who had a pencil rammed into her eye -- is possibly alive, Delphine has straight hair now and Sarah is seriously mad at Mrs. S for betraying her. Oh, and, most importantly, there's definitely a new mustachioed male clone who has absolutely hilarious dance moves. Hopefully he'll make for quite a few laughs this season. "Orphan Black" premieres Saturday, April 18 at 9 p.m. ET/PT on BBC America. AVENGERS: AGE OF ULTRON OFFER
It's safe to say the Marvel Cinematic Universe would not be where it is today without the irresistible charm of Robert Downey Jr. He's not just the original Marvel Studios superhero; he's also the studio's resident showman and cheerleader, showing up at San Diego Comic-Con to toss roses into the crowd, tell a few jokes and bring his fellow Avengers out onstage. If studio president Kevin Feige is the brain of Marvel Studios, Downey may very well be the heart, and with Avengers: Age of Ultron looming, he's putting all the fan love he's earned over the last seven years to use for charity. Downey announced today that he's giving fans a chance to win a day of fun for themselves and a friend in Los Angeles, capped off by a trip to the Age of Ultron world premiere. The day will include indoor skydiving, a flight over the Hollywood sign, breakfast at the legendary Randy's Donuts (which you may recognize from Iron Man 2), a custom tuxedo or gown fitting, caviar tasting with Downey himself, and of course, a trip to the premiere in Downey's personal motorcade (because of course he has a motorcade). So, what do you have to do to earn a shot at this experience, complete with airfare and a stay in a four-star hotel? Just donate to charity. Downey's running the contest through charity platform Omaze, the same platform J.J. Abrams used to offer a part in Star Wars: The Force Awakens in exchange for charitable donations. To enter, donate $10 or more to the campaign, and you'll be helping the children's hospice charity Julia's House. Julia's House is a children's hospice charity dedicated to helping life-limited children and their families. The nurses and caregivers at Julia's house provide life-changing support for parents and their children both in the hospice and in their own homes. The majority of those children are unlikely to live beyond the age of 18, but thankfully Julia's House is there for them year-round, offering emergency respite and overnight care during treatment and offering emotional and practical support at the end of a child's life. If you're willing to give more than $10, you've got a shot at all kinds of RDJ-related goodies even if you don't win the premiere trip, including posters, t-shirts and, if you cough up $50,000, a trip to the set of Captain America: Civil War. Even if you don't have that kind of money lying around, though, you can give $10 and get a shot at seeing the biggest superhero movie to date before almost anyone else does. Head HERE to donate and check out all the possible rewards.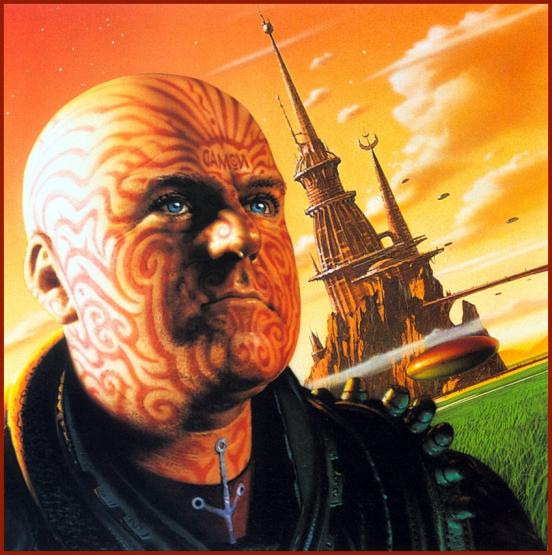 THE STARS MY DESTINATION
A classic sci-fi novel is about to head to the big screen, as Deadline reports that Paramount is about to close a deal for producer Mary Parent (Monster Trucks) and finally get its hands on the film rights for The Stars My Destination, written by Alfred Bester. The novel is considered to be one of the best science fiction stories out there. It was first published as a book in the UK under the title Tiger! Tiger!, based on William Blake's poem "The Tyger," because the first verse is printed as the first page of Bester's book. The gist of the story centers around a man named Gulliver Foyle, who has been marooned in space for years. When a rescue ship finally passes by him without picking him up, the man becomes hell-bent on revenge. Foyle sports tattoos on his face (hence that strange book cover image), which are later removed. However, the scars left underneath his skin become visible when Foyle's emotions get out of whack. The story includes telepathy and teleportation. Bester's story was serialized in the 1950s (beginning in October 1956, to be exact) in four parts in Galaxy magazine, which was one of the biggest pulp science fiction magazines at the time. It's said the story was inspired by an article published in National Geographic about a shipwrecked sailor trapped on a raft who couldn't get rescued by passing ships because they feared he was a decoy for German (Nazi) submarines. It's also a bit of an adaptation of Alexandre Dumas' The Count of Monte Cristo. The Stars My Destination has had a long history of failed adaptations. Richard Gere, Paul W.S. Anderson and Bernd Eichinger were all at one point attached to adapt Bester's book over the past two decades.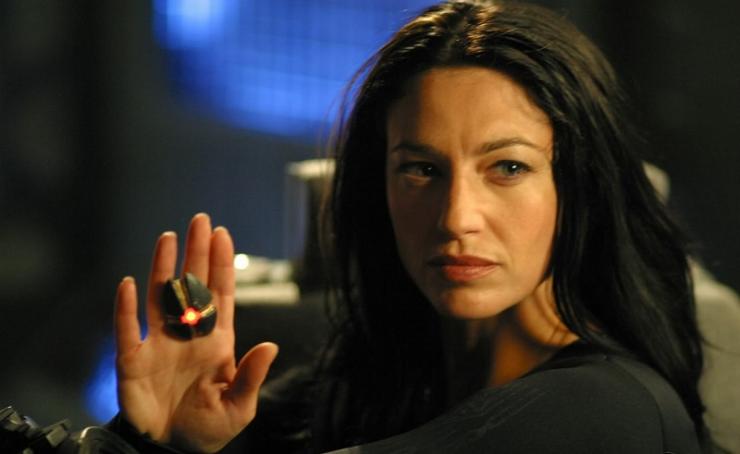 CLAUDIA BLACK JOINS THE ORIGINALS
The Vampire Diaries spinoff The Originals is really making a name for itself. The second half of the second season has taken a turn for the better. The title characters have spent most of their time battling their mother Esther, brothers Finn and Kol, and their psychotic father, Mikael. But those four are nothing compared to their newest threat, Dahlia. Dahlia is a powerful witch and the maternal aunt of the Mikaelson siblings. She's been spoken of many times, and even appeared in flashbacks. According to The Hollywood Reporter, the character is returning and will be played by Farscape actress Claudia Black. But this won't be a loving family reunion. Dahlia plans to collect a longstanding debt that's owed to her. When her barren sister Esther was younger, Dahlia healed her by using a fertility spell. In return, she took Esther's oldest daughter, Freya, and swore to take every firstborn after that for generations to come. That makes Dahlia a direct threat to Hope, the firstborn daughter of her nephew, Klaus. He's gone to immeasurable lengths to secure his child's safety. Dahlia may be the greatest power he's ever faced.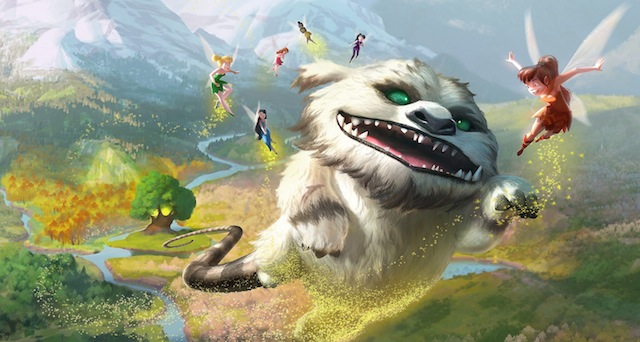 TINKER BELL AND THE LEGEND OF THE NEVERBEAST
Available today on Blu-ray Combo Pack, Digital HD, Disney Movies Anywhere, DVD and On Demand, Tinker Bell and the Legend of the NeverBeast marks the seventh animated feature film in the DisneyToon Studios series and features Ginnfer Goodwin ("Once Upon a Time," Something Borrowed) in the leading role of Fawn. ComingSoon.net recently paid a visit to the animation studio to chat with Goodwin and some of the talented people behind the new adventure. In the player below, check out our interviews with director Steve Loter, producer Michael Wigert, story artist Ryan Green, animation supervisor Mike Greenholt, music supervisor Brett Swain and featured musical artist Bleu McAuley. The story in the film itself begins when an ancient myth of a fabled creature sparks the curiosity of Tinker Bell and her good friend Fawn, an animal fairy who's not afraid to break the rules to help an animal in need. But this creature – massive and wondrous with glowing green eyes – is not welcome in Pixie Hollow – and the scout fairies are determined to capture the mysterious beast, who they fear will destroy their home. Fawn, who sees a tender heart beneath his gruff exterior, must convince Tink and her fairy friends to risk everything to rescue the NeverBeast. The voice cast also includes ?Rosario Dawson (Sin City: A Dame to Kill For, Trance) as Nyx, a Scout Fairy, along with returning Pixie Hollow players Mae Whitman ("Parenthood," The DUFF) as Tinker Bell, ?Raven-Symoné ("State of Georgia") as Iridessa, Megan Hilty ("Smash") as Rosetta, Lucy Liu ("Elementary") as Silvermist, Pamela Adlon ("Californication") as Vidia and Academy Award winner Anjelica Huston ("Smash") as Queen Clarion.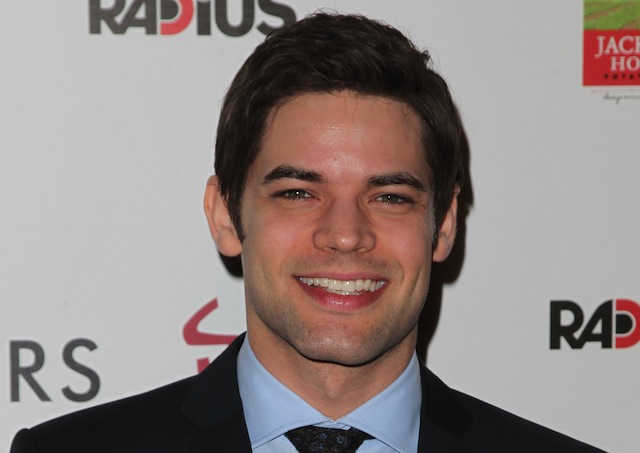 SUPERGIRL NEWS
The character announced as part of the pilot's cast some time ago, the role of Winslow "Winn" Schott has been cast on CBS' upcoming DC Comics series, "Supergirl." According to TheWrap, Schott — who comic book readers may recognize as the alter ego of The Toyman — will be played by The Last Five Years star Jeremy Jordan. According to the outlet, Jordan will guest star in the pilot episode and will likely return later in the series. Jordan joins a cast that already includes Melissa Benoist as Kara Zor-El, Mehcad Brooks as James Olsen, Laura Benanti as Alura Zor-El, Calista Flockhart as Cat Grant, Chyler Leigh as Alexandra "Alex" Danvers, David Harewood as Hank Henshaw and, in mystery roles, Dean Cain and Helen Slater. Hailing from Warner Bros. TV and Berlanti Productions (who also produce the hit DC Comics series "Arrow" and "The Flash" for The CW), "Supergirl" is based on the characters from DC Comics and centers on Kara Zor-El, who comes to Earth after escaping the destruction of Krypton. After many years hiding her abilities, she joins the ranks of her cousin Superman to become the hero she was meant to be. The Toyman first appeared way back in 1943's "Action Comics" #64 and has been reinvented several times over the past few decades. On "Supergirl," the pre-supervillain Schott will appear as one of Kara's co-workers at CatCo., a company run by Flockhart's Grant. The pilot episode was written by Ali Adler ("No Ordinary Family") and Greg Berlanti ("Arrow," "The Flash"). They will also executive produce along with Sarah Schechter and Warner Bros. TV. The show has a series commitment at CBS.
MONDAY, MARCH 2, 2015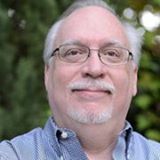 JMS NEWS:
A short note from JMS yesterday.
Come Monday, keep watching the skies...some news coming....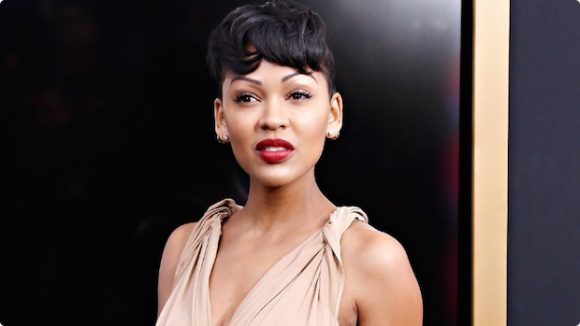 MINORITY REPORT
Fox's future-set Minority Report is one of the most intriguing genre series winding its way through development, and now we know who'll take over the lead role previously held by Tom Cruise's Chief Jon Anderton.
Deadline is reporting that Meagan Good (Think Like a Man) has signed on as the female lead in the series, playing Detective Lara Vega. According to the casting report, she's a cop who is "not afraid to break a few rules," and teams up with the former pre-cog Dash, who is now trying to live a normal life. It sounds like that relationship will be the focus of the series, which should be a nice way to shake up the formula from the 2002 film.
The television adaptation of the hit Steven Spielberg sci-fi flick is set 10 years after the events of the film. Considering Dash is apparently trying to live his own life and is not hooked up to a machine to solve crimes, it sounds like the shutdown of the Precrime division persists a decade later. But just because there's no official division doesn't mean Dash has lost those pre-cog skills. If there were ever a concept built for a sci-fi procedural, this would be it.
As the casting news makes apparent, Fox has already placed a pilot order for the series, and it's considered a leading candidate to eventually earn a spot on the network's schedule. Considering the genre series Gotham was one of the network's few breakout hits this year, it stands to reason they'd take another shot with a relatively well-known property. The pilot is being written by Max Borenstein (Godzilla) and directed by Mark Mylod (Game of Thrones), so there's also some solid pedigree behind the scenes.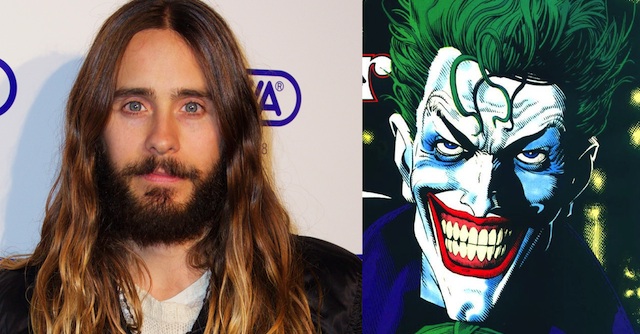 SUICIDE SQUAD
Suicide Squad director David Ayer (Fury, End of Watch) returned to Twitter today and answered a fan, who asked Ayer to describe what Jared Leto's Joker will be like in one word. "Majestic," the director said while also posting a new behind-the-scenes photo.
Leto himself previously described The Joker as a "nearly Shakespearean character." Leto said: "The opportunity to take on this nearly Shakespearean character — that's what graphic novels and comic books are becoming, right? [He's] this beautiful disaster of a character — what a big challenge."
In related news, The Hollywood Reporter talked to Viola Davis ("How to Get Away with Murder") about taking on the role of Amanda Waller in Suicide Squad.
"As a comic book and Wonder Woman fan, I love the whole DC Comics universe," she said. "I traded comic books as a kid so all of that appeals to me. When you dream about being an actor as a kid, that's what you dream about. That's like play acting: being the superhero, getting the gun; it plays into that fantasy. How to Get Away with Murder changed my exposure. I don't know if it changed the quality of roles as much as it changed the exposure. I mean certainly Amanda Waller is a fabulous character.
Created by Robert Kanigher and Ross Andru back in 1959, the Suicide Squad team has included countless DC villains among its ranks, including Deadshot, Captain Boomerang, Bane, Killer Frost, Poison Ivy, Count Vertigo, Deathstroke, and Harley Quinn. The CW's "Arrow" introduced their own version of the team in the most recent season of the series and the recent animated film, Batman: Assault on Arkham, offered another version of the team.
Leto and Davis star opposite two-time Academy Award nominee Will Smith as Deadshot; Joel Kinnaman as Rick Flagg; Margot Robbie as Harley Quinn; Jai Courtney as Captain Boomerang; and Cara Delevingne as Enchantress.
Written and directed by Ayer, Suicide Squad is setting up shop in Toronto, Canada at their Pinewood extension. Following two months of pre-production, the film will shoot from April until September for an August 5, 2016 release.
GAME OF THRONES
Two new clips from HBO's "Game of Thrones" season five are here, delivered via "The Sight," a promotional campaign launched last fall and thematically tied to the upcoming season. What's more, there's also a new teaser poster that you can check out in the gallery viewer below! The first new clip features Brienne of Tarth and Podrick Payne while the second offers a conversation between Jon Snow and Mance Rayder.
Also called "Greensight," The Sight is, in the original books, an incredibly rare prophetic ability that some children are born with. An animated "Histories and Lore" special feature on the season three set of "Game of Thrones" briefly explores the legend of The Sight with Isaac Hempstead-Wright narrating in character as Bran Stark.
Season 5 of "Game of Thrones" is set to premiere April 12 at 9 p.m on HBO, and will include new cast members Alexander Siddig, Toby Sebastian, Nell Tiger Free, Keisha Castle-Hughes, Jessica Henwick, Rosabell Laurenti Sellers, DeObia Oparei, Jonathan Pryce, Hannah Waddingham, Enzo Cilenti, Michael Condron, and Adewale Akinnuoye-Agbaje.
Series creators David Benioff and D.B. Weiss return as executive producers and showrunners for Season 5, which will be based mostly on the fourth and fifth novels of George R. R. Martin's A Song of Ice and Fire book series, "A Feast for Crows" and "A Dance with Dragons."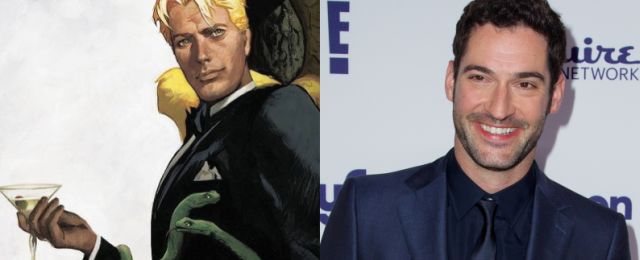 LUCIFER
FOX and DC Entertainment have announced that Tom Ellis ("Miranda," "Rush") has been cast in the title role of the upcoming "Lucifer" series, based on the Vertigo title by Mike Carey.
The TV series centers on Lucifer, who, bored and unhappy as the Lord of Hell, resigns his throne and abandons his kingdom for the gorgeous, shimmering insanity of Los Angeles, where he gets his kicks helping the LAPD punish criminals. "Sleepy Hollow" co-creator and Underworld director Len Wiseman will helm the pilot episode which has Jerry Bruckheimer as an executive producer.
Largely inspired by John Milton's approach to the character in "Paradise Lost," this version of Lucifer first appeared in Neil Gaiman's "Sandman" (itself in the process of heading to the big screen). Carey expanded the character into a solo title in 2000. The popular series was published through 2006 and ran 75 issues.
"Lucifer" joins the ever-growing slate of small screen DC Comics adaptations, including "Arrow," "The Flash," and "Gotham," the upcoming "iZombie," and the in-development "Supergirl", "Krypton," and "Titans."
WEEKEND EDITION - SUNDAY, MARCH 1, 2015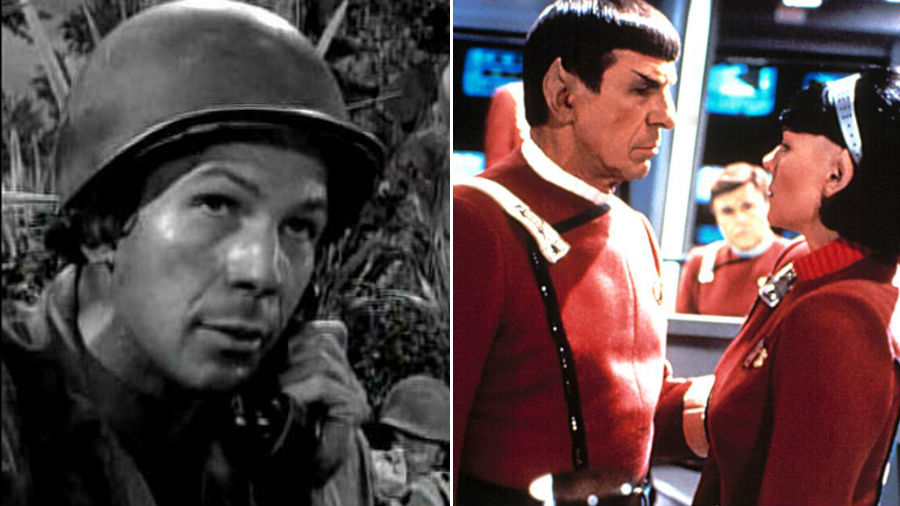 PASSING OF LEONARD NIMOY
Sunday, March 1
The internet is awash with tributes and memories of Leonard Nimoy. We want to reach out to his friends and family to express our deepest sympathy. We will all miss this great talent, kind person and friend.

SyFy: 5 hour salute to Leonard Nimoy 9 a.m. to 2 p.m. will include "The Twilight Zone" episode "A Quality of Mercy," arc on "Star Trek: The Next Generation" and "Star Trek 6"

EPIX: "A Conversation with Leonard Nimoy," 8:00 p.m., "Star Trek Into Darkness," 8:15 p.m.

In addition to regularly scheduled programming, stream these Nimoy classics anytime your heart desires if you have subscriptions to these services:

"Star Trek" (1966 TV Show): Available on Netflix, Hulu, Amazon Prime
"Mission Impossible" (1966 TV Show): Available on Netflix
"Invasion of the Body Snatchers" (1978): Available on Netflix, Amazon Prime
"Star Trek II: The Wrath of Khan" (1982): Available on Netflix
"Star Trek III: The Search for Spock" (1984): Available on Netflix
"Star Trek: The Next Generation" (1991): Available on Netflix
"Fringe" (2008): Available on Netflix, Amazon Prime
"Star Trek Into Darkness" (2013): Available on Netflix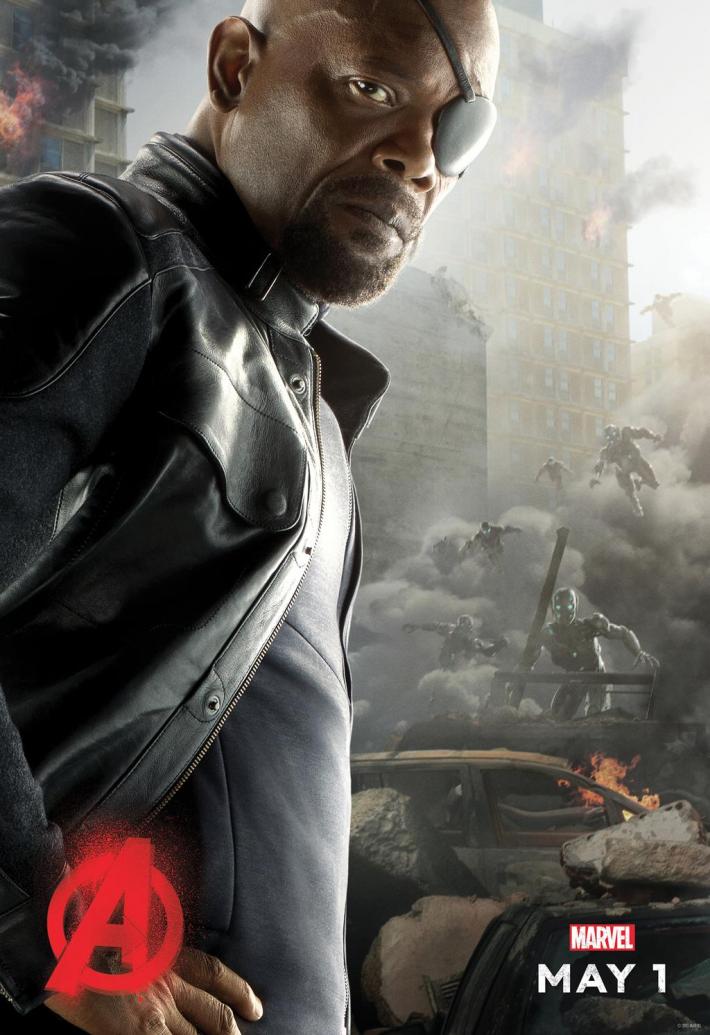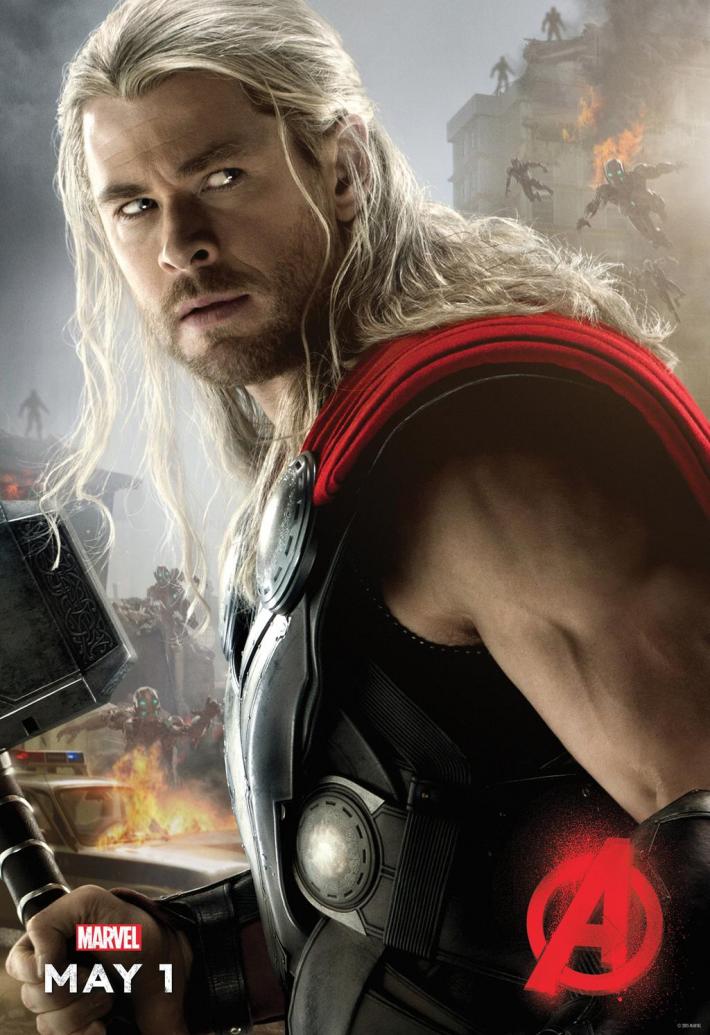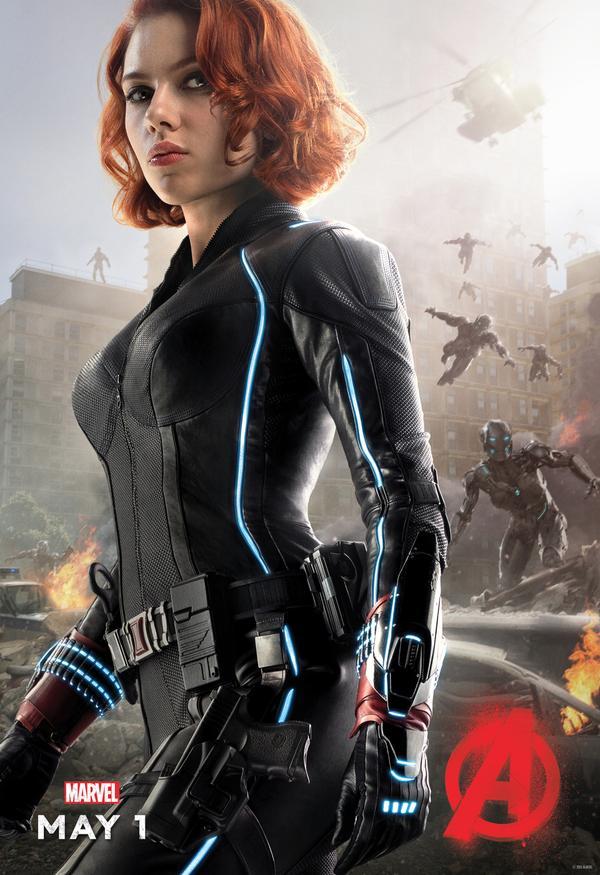 AVENGERS: AGE OF ULTRON
After Robert Downey Jr. and Mark Ruffalo, it was Samuel L. Jackson's turn to assemble a few more character posters for Avengers: Age of Ultron.
Jackson took to his Twitter and released the three cool one-sheet character posters (we think they look much better than that last poster) of himself, aka former S.H.I.E.L.D. director Nick Fury; the mighty Asgardian god of thunder Thor (Chris Hemsworth); and Natasha Romanov's Black Widow (Scarlett Johansson). They join Tony Stark, aka Iron Man (Downey) and Bruce Banner, aka the Hulk (Ruffalo), in their fight against Ultron (voiced and mo-capped by James Spader) and his villainous army of robots. We're still waiting for Captain America (Chris Evans), Hawkeye (Jeremy Renner), Vision (Paul Bettany), Scarlet Witch (Elizabeth Olsen) and Quicksilver (Aaron Taylor-Johnson).
STAR WARS REBELS
It's been a bit of a bumpy ride enduring delays between Disney XD's Star Wars Rebels episodes this debut season, but from the looks of this rowdy season-finale trailer, it's about to end with a crescendo of awesome. This extended preview of Monday's climactic episode asked the question "Who Will Fall?" Ezra and the Ghost's crew attempt a daring rescue of Kanan, who is being interrogated and tortured by the Inquisitor aboard Moff Tarkin's flagship Star Destroyer.
It's already been leaked that (SPOILERS) Darth Vader will be making a second appearance in this episode, so with all the TIE fighter dogfights, lightsaber showdowns, Imperial entanglements and intense pledges of loyalty, it's going to be a mission long remembered.
Disney XD's Star Wars Rebels season finale airs on Monday, March 2, 2015, at 9/8 C.
AGENTS OF S.H.I.E.L.D.
Marvel Entertainment has just brought online a first clip from the midseason return of "Marvel's Agents of S.H.I.E.L.D."
The premiere, titled "Aftershocks," is officially described as follows:
"After discovering an alien city with ties to his resurrection, Coulson and his team destroyed it before the forces of Hydra could claim its secrets, eliminating the villainous Whitehall in the process. But new threats to the world have arisen, including Skye's father, Cal, who now seeks retribution against Coulson for stealing his revenge against Whitehall; a disturbing alliance between former S.H.I.E.L.D. agent Ward and Agent 33; the enigmatic Raina, who struggles with her transformation into something inhuman by the alien Obelisk and seeks vengeance; and Skye, who developed mysterious new powers from the Obelisk but whose lack of experience with her new abilities may threaten the safety of those she loves. Meanwhile, Bobbi and Mack begin the next phase of a plan which seems to have grave repercussions for Coulson and his team, who are unaware that there's another mysterious force moving against them. And as Hunter is forced to make the biggest choice of his life, Coulson will find his mission threatened by this shocking endgame."
Written by Maurissa Tancharoen & Jed Whedon and directed by Billy Gierhart, "Aftershocks" is set to air on March 3. "Marvel's Agents of S.H.I.E.L.D." airs Tuesdays at 9 P.M. EST.
BATES MOTEL
A&E Networks have gone Psycho with new teaser trailers for the upcoming third season of their hit series, "Bates Motel."
Aimed to be filled with family strife, murder and mystery, the third season of "Bates Motel" is lead by Vera Farmiga as Norma Bates and Freddie Highmore as her son, Norman. This season focuses on the evolution of the Bates family and dives head first into Norman's waning ability to stay in denial about what's happening to him and the lengths he will go to gain control of his fragile psyche. The dramatic events of last season leaves Norma reluctantly more aware of Norman's mental fragility and is fearful of what he is capable of.
After a blissful summer of closeness with his mother, living within the safe confines of home and the Bates Motel, Norman's fears about what really happened with Blaire Watson resurface and Norma questions what really happened. Forced to look at the truths about Norman for the first time, their deeply intricate relationship continues to evolve. Norma finds herself turning to the other man in her life, Norman's half-brother, Dylan (Max Thieriot) and begins to rely on him in ways that she never expected. This relationship inevitably triggers jealousy in Norman and a new kind of love triangle between Norma and her two sons erupts. Estranged brother and uncle, Caleb (Kenny Johnson) returns to haunt the family throughout the season challenging the family bond even further. Pressures of the outside world take a hold of the family when newcomers Kevin Rahm ("Mad Men," "Desperate Housewives"), Tracy Spiradakos ("Revolution") and Ryan Hurst ("Sons of Anarchy") arrive at White Pine Bay. After a summer of living at the Bates Motel, Sheriff Romero (Nestor Carbonell) and Norma have grown closer but there will always have that troubling question mark surrounding Norman. Something doesn't feel right, but spite of his instincts, Romero finds himself continually drawn back to the Bates family — and to Norma. Emma (Olivia Cooke) also determined to find out what is happening to Norman becomes more emboldened, fearless, goes after the things she wants. Familiar face, Bradley (Nicola Peltz) returns to surprise the family and digs up old memories.
"Bates Motel" season three premieres Monday, March 9 at 9:00 ET/PT on A&E.
CROWDED ROOM
Leonardo DiCaprio has signed on to star in and produce an adaptation of The Crowded Room, where the actor will play the role he's been eyeing for nearly 20 years, Billy Milligan, the first person to successfully use multiple personality disorder as a defense in a court of law. New Regency will produce alongside Leonardo DiCaprio's company Appian Way, with screenwriters Jason Smilovic and Todd Katzberg coming aboard to write the screenplay adaptation. The project is based on the 1981 non-fiction book The Minds of Billy Milligan by Daniel Keyes.
Billy Milligan was charged with robbery and the rapes of three women on the Ohio State University campus in the 1970s. While preparing for his defense, Milligan was diagnosed with multiple personality disorder, and he plead not guilty by reason of insanity, which was caused by multiple personality disorder. Milligan and his lawyers contended that two of his 24 separate personalities committed the crimes without his knowledge. He was the first to ever use this defense, and also the first to be acquitted as well. Among Milligan's personalities were Adalena, a lesbian who fessed up to the rapes, Ragan, a Yugoslavian communist who admitted to the robberies, and a stuffy Englishman named Arthur. Milligan died in 2014.
Leonardo DiCaprio will produce with his Appian Way partner Jennifer Davisson Killoran and Alexandra Milchan. The project had been swirling around Hollywood for several years, with James Cameron among one of many filmmakers who have expressed interest in bringing this story to the big screen. Leonardo DiCaprio has talked about playing Milligan since 1997, and now the project is finally coming to fruition. The movie also strengthens the actor-producer's ties with New Regency, who are currently collaborating on The Revenant with Birdman director Alejandro González Iñárritu.
The Crowded Room is in development and stars Leonardo DiCaprio.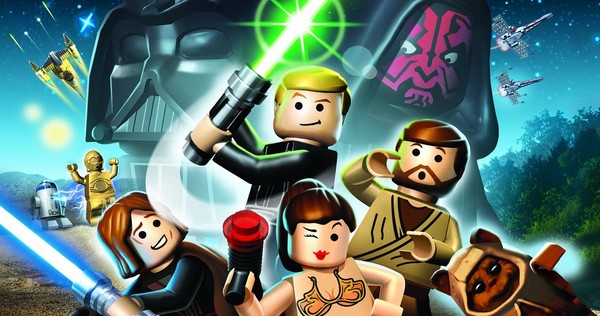 Lego Star Wars: Droid Tales
With the first season of Star Wars Rebels coming to a close next week, fans will be left without any new Star Wars content for several months, until Star Wars: The Force Awakens hits theaters on December 18. Thankfully, Disney XD is helping to fill the void in Star Wars programming with a new five-episode series entitled Lego Star Wars: Droid Tales, which will debut later this year before Star Wars: The Force Awakens' theatrical debut.
The five 22-minute episodes will be an animated take on all six Star Wars movies, with a new twist. The movies are being retold through the eyes of droids C3PO and R2D2 in a brand new story set after the events of Star Wars: Episode VI - Return of the Jedi. The droids are seen telling their story of how they ended up on Endor, shortly after the Rebel Alliance victory, when an "accidental kidnapping" leads to a brand new adventure that "progresses to the re-telling of the saga in the chronological order, starting from Star Wars: Episode I - The Phantom Menace to Star Wars: Episode VI - Return of the Jedi."
Disney XD would not reveal who is writing or directing Lego Star Wars: Droid Tales, or if any actors from the Star Wars franchise will lend their voices to the series. Lego and Disney XD will announce the air date within the next few months. We'll keep you posted as soon as any official details are released.
BACK ISSUES OF THE ZOCALO TODAY
The front page of the The Zocalo Today changes daily, so be sure to check the back issues to make sure that you haven't missed anything IMPORTANT! I don't want the front page getting too long so I shift information periodically into the archives. So if you aren't a regular visitor to The Zocalo Today, be sure to check out the back issues. Just use the button above!
---
Take care and I look forward to hearing from you.
Sandra Bruckner (sgbruckner@aol.com)
Editor/Publisher
ISN News: The Zocalo Today
http://www.isnnews.net
Copyright - SBruckner, 1999-2014