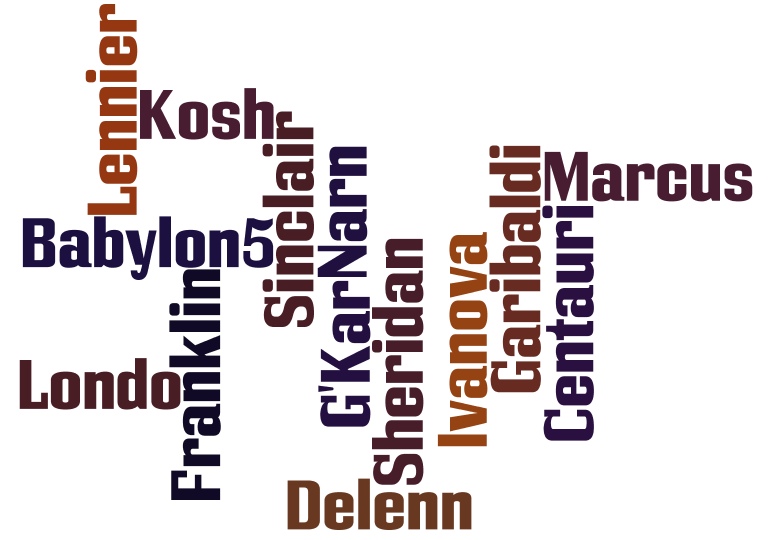 Welcome and thank you for dropping by. Babylon 5 brought many of us together -- and it remains with us, despite the fact that is no longer in production. The good thing is that the internet gives a LOT of ways to stay in touch. Don't be shy. Join in the discussion today or drop by Facebook or Twitter. If you have questions or items for the news, drop me a line at sgbruckner@aol.com.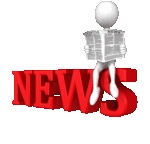 NEWS FOR THE MONTH OF MAY
SUNDAY, MAY 31, 2015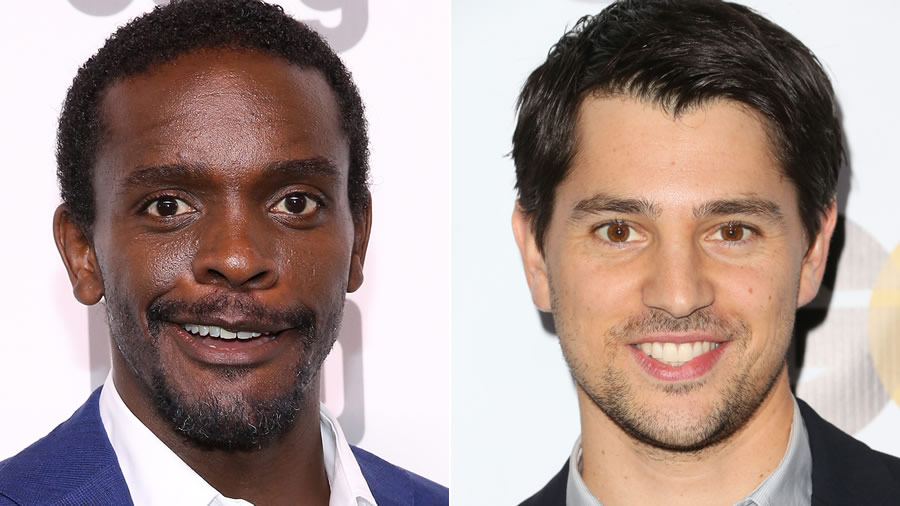 GOTHAM NEWS
The streets of "Gotham" are going to get a bit more crowded in Season 2. After appearing as guest stars during the first season of the show, Chris Chalk and Nicholas D'Agosto -- Lucius Fox and Harvey Dent, respectively -- have been promoted to series regular status.

Thank you to all of you @Gotham and #HarveyDent fans for your enthusiasm. I can't wait to join more of the fun as a regular in Season 2!
-- Nicholas D'Agosto (@nicholasdagosto) May 27, 2015

D'Agosto shared his happy news via Twitter, while TVLine reports on Chalk's promotion. The two join Morena Baccarin, who was previously upgraded to regular as Dr. Leslie Thompkins for next season.

It was already reported that the villain ranks will be growing as well, following the departure of Jada Pinkett Smith as Fish Mooney. Not only will Jerome (Cameron Monaghan) return and possibly become the Joker, but executive producer John Stephens told Zap2it that Mr. Freeze is on his way to "Gotham" in Season 2.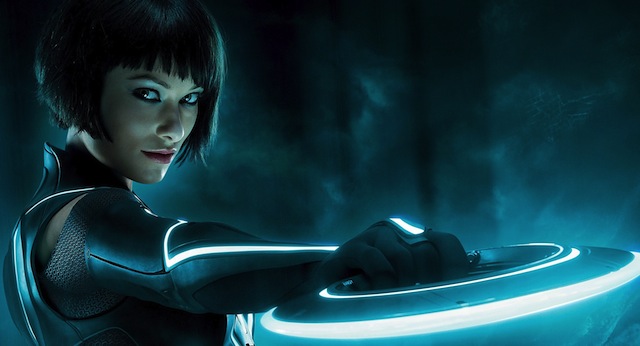 TRON 3 NO-GO
The House of Mouse just yanked the rug out from under the Tron trilogy. The third film, which would feature the return of Garrett Hedlund, Olivia Wilde, and director Joseph Kosinski, is dead in the water. Despite all of its pre-production movement, Disney's opted not to move forward with Tron 3.
According to The Hollywood Reporter, Tron 3 never received an official green light. But in spite of that, major castings and crew hirings were made. They'd already begun prepping for the shoot that was slated to begin this fall. The original Tron was released in 1982, and starred Jeff Bridges and Bruce Boxleitner. It grossed $33 million. In 2010, Disney produced the follow-up, Tron Legacy, in which Hedlund played the estranged son of Bridges' character. The sequel grossed over $400 million worldwide.
We're not exactly sure why Disney waited so late to call everything off. Perhaps they're trying to go in a different direction with their upcoming slate? Perhaps the relative underperformance of Tomorrowland spooked them? Most of their tentpoles are either Marvel-related or live-action adaptations of their animated classics (i.e. Beauty and the Beast, The Jungle Book). Either way, this is bad news for those of you who were interested in the next phase of the Tron saga.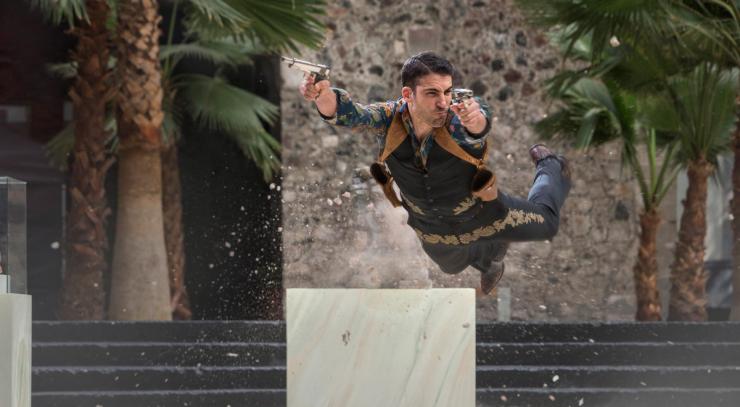 NETFLIX IN JUNE
Every month, Netflix makes some changes to its ever-popular Watch Instantly streaming service. Some movies and shows leave, and sometimes they're things we really like to keep on hand (I'll miss you, Bram Stoker's Dracula), but the change also means we get new stuff to watch, and each month we like to do our best to give you a little heads-up about the latest genre fare hitting the service.
This month is a little lighter than others, but what it lacks in quantity it makes up for in intrigue. The highlight is without question the new original series Sense8, a mysterious thriller from Andy and Lana Wachowski and J. Michael Straczynski, but it's not the only treat. Fans of the popular How to Train Your Dragon animated franchise get an all-new series later this month, Agents of S.H.I.E.L.D. Season 2 arrives so everyone can catch up, and if you still haven't seen the latest Transformers flick, now's your chance.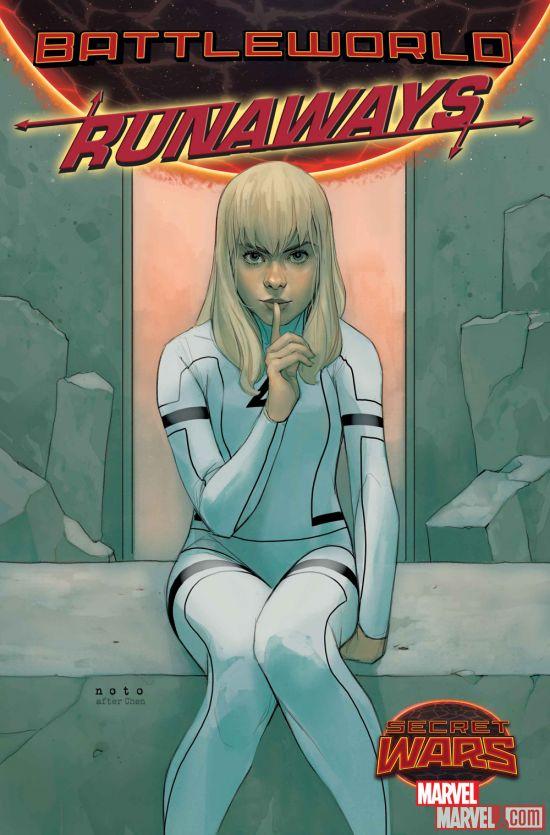 RUNAWAYS
We've been waiting a long time for news on a revival of Marvel's short-lived Runaways, and it looks like the Secret Wars will finally make it happen. Want a peek?
Marvel has released some concept art from the series, which will be written by Noelle Stevenson, with art from Sanford Greene. Though it bears the name of the Runaways series created by Brian K. Vaughan, and some of the same concepts (i.e. young heroes on the run, trying to find a place in the world), Secret Wars is putting a fresh twist on it. Sure, we'll miss the original, but a revamp could be exactly what this one needs to shine.
"Each character, they're rebels in this institution. They don't conform to the guidelines or the rules. Their outfits are a surefire sign of that," artist Sanford Greene told Marvel. "I coined it as 'the Breakfast Club for the millennial generation.' With all the characters—I was honestly going for a very urban feel. I've always been partial to urban fashion. This is actual fashion. People can actually wear these things."
This adaptation will see a mostly new version of the team (though Molly Hayes is still there!), anchored by folks like a young Bucky Barnes, Jubilee, Cloak and Dagger, Amadeus Cho, Skaar, Sanna, Pixie and Delphyne. The look is extremely cool, and if Stevenson can capture the vibe of the original series, this could be a highlight of the Secret Wars spinoffs. Fingers crossed, anyway.
The first issue hits shelves June 17. Until then, check out some art designs below and let us know what you think.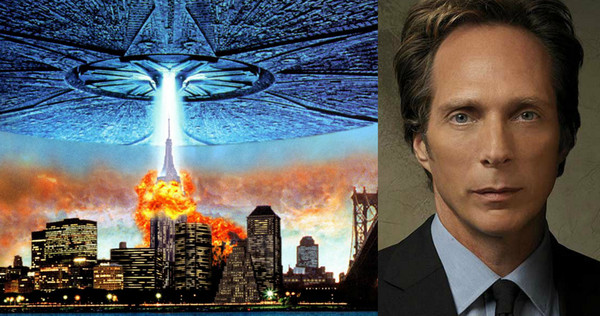 INDEPENDENCE DAY 2
As production continues on Independence Day 2 in New Mexico, the cast keeps growing and growing, with William Fichtner signing on for a lead role. The actor will play an important General in the sequel, a role that will actually expand in two more sequels that are being developed. This is the first we're hearing of two more sequels, but Independence Day 2 was previously-conceived as a two-parter, then known as ID Forever Part 1 and ID Forever Part 2, but those plans were eventually scrapped. Of course, very little is known about Independence Day 2 as it stands right now, so we're not sure what the plot may be for Independence Day 3 and Independence Day 4.
William Fichtner joins a cast that includes original Independence Day stars Jeff Goldblum (David Levinson), Vivica A. Fox (Jasmine Dubrow), Brent Spiner (Dr. Brackish Okun), Bill Pullman (Thomas A. Whitmore) and Judd Hirsch (Julius Levinson). New cast members include Jessie Usher as Jasmine's son, Sela Ward as U.S. President Lanford, and Liam Hemsworth, Charlotte Gainsbourg, Travis Tope, Joey King and Maika Monroe in unspecified roles. Vivica A. Fox recently revealed that the sequel is set 15 years after the original, and that the aliens do come back to Earth.
Roland Emmerich is directing from a script by Carter Blanchard. The script is based on characters created by Roland Emmerich and Dean Devlin, who are also producing with Harald Kloser. William Fichtner most recently starred in Teenage Mutant Ninja Turtles as Eric Sacks, a role he is reprising for Teenage Mutant Ninja Turtles 2, and last year's Western The Homesman.
Independence Day 2 comes to theaters June 24th, 2016.
Independence Day 3 is in development .
Independence Day 4 is in development .
FRIDAY, MAY 29, 2015
SENSE8
With the show's debut just a week away, Netflix has dropped a ton of new footage from the Wachowskis' mysterious new sci-fi series Sense8. The series, from Matrix masterminds the Wachowskis and Babylon 5 creator J. Michael Straczynski, focuses on a group of eight people who realize they are connected to one another from across the planet through a mysterious force. They can speak to one another and even access the other seven's skills and memories. The studio has dropped eight new trailers, with each one focused on the different "sensates." It definitely goes a long way toward piecing the concept together, but unless they come at this with a deft hand, this could be a hard idea for viewers to wrap their heads around. It definitely looks cool — just complicated. The massive cast includes Naveen Andrews, Brian J. Smith, Tuppence Middleton, Jamie Clayton, Miguel Angel Silvestre, Tina Desai, Doona Bae, Aml Ameen, Max Riemelt, Daryl Hannah, Terrence Mann, Freema Agyeman, Alfonso Herrera, Erendira Ibarra, Adam Shapiro, Ness Bautista and Joe Pantoliano.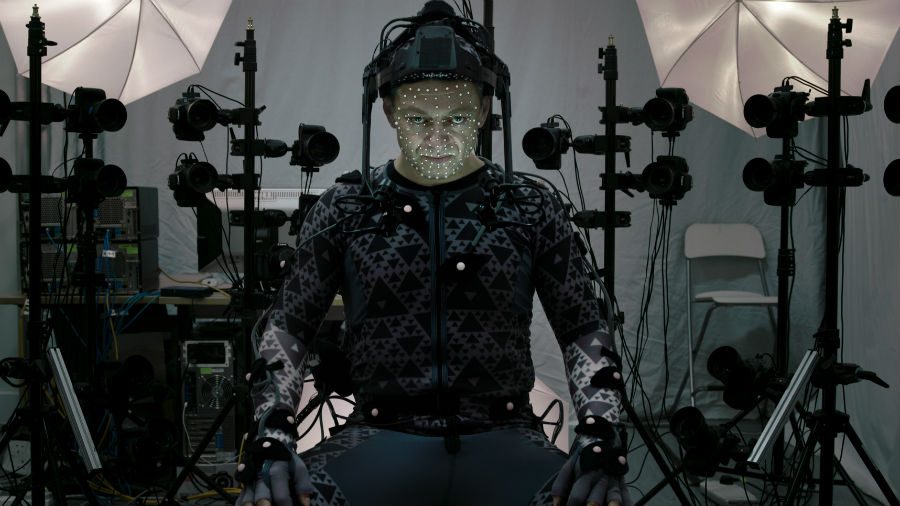 STAR WARS: THE FORCE AWAKENS
The latest "Star Wars: The Force Awakens" character has been revealed. Andy Serkis will be playing someone named Supreme Leader Snoke in the highly anticipated addition to the "Star Wars" franchise. An interview on StarWars.com with legendary photographer Annie Leibovitz reveals the actor will play the mysterious motion capture character. Little more is known at this time about his role in the film, which takes place 30 years after the events "Return of the Jedi." Leibovitz has been a long time fan and photographer of all things "Star Wars" related. She first photographed the cast of "The Empire Strikes Back" in 1980 for Rolling Stone and has been frequently shooting behind the scenes pictures for Vanity Fair ever since. Her latest pictorial features the cast of "Star Wars: The Force Awakens" which is a combination of new and old "Star Wars" faces. Harrison Ford, Carrie Fisher, Mark Hamill, Anthony Daniels, Peter Mayhew, and Kenny Baker are all returning to play their original characters. They are joined by John Boyega as Finn, Adam Driver as Kylo Ren, Oscar Isaac Poe Dameron, Lupita Nyong'o as Maz Kanata (another motion capture character), Daisy Ridley as Rey and Gwendoline Christie as Captain Phasma. "Star Wars: The Force Awakens" hits theaters December 18, 2015.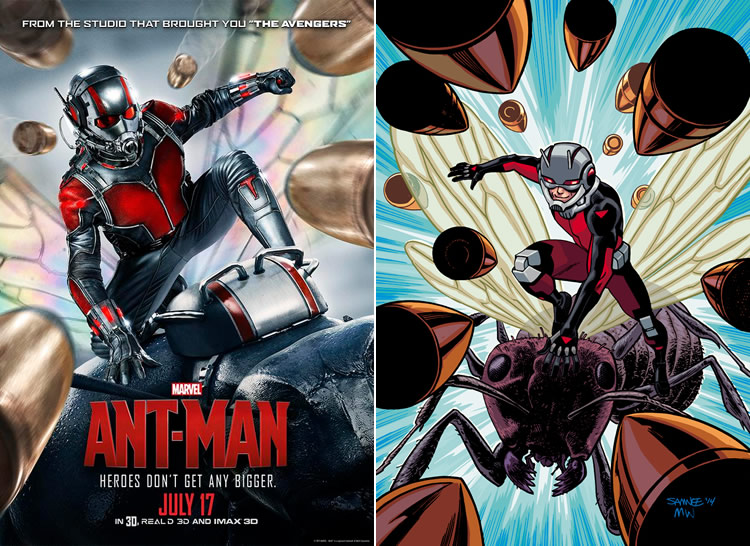 ANT-MAN
The latest poster for Marvel's "Ant-Man" puts Paul Rudd's Scott Lang in a tiny world of trouble, as he rides on the back of a fly into a a storm of bullets. Gunfire is scary enough for normal-sized people, but imagine how bad it is when you're the size of an ant. If the poster looks familiar, that's because it's actually a recreation of a recent comic book cover. The original image -- drawn by Chris Samnee -- appeared as an alternate cover for the first issue of the relaunched "Ant-Man" series that debuted in January 2015. Just because "Ant-Man" is borrowing a cover from the comics doesn't mean it's taking the story. While the two both follow the same version of the character -- Scott Lang -- their timelines are not connected. "Ant-Man," which co-stars Evangeline Lilly, Corey Stoll and Michael Douglas, hits theaters July 17.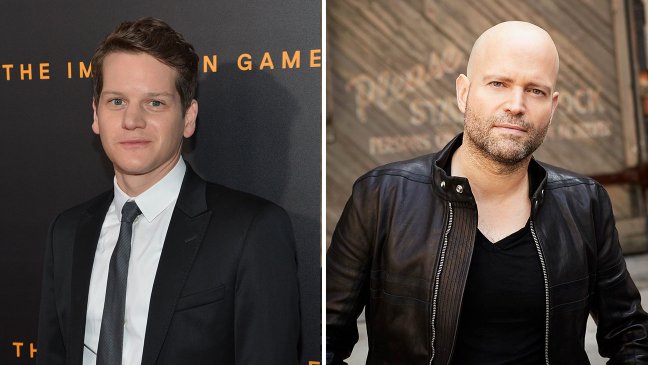 NBC'S OUTBREAK DRAMA
NBC is getting into the outbreak business. The network has handed out a 10-episode straight-to-series order for an untitled outbreak drama from The Imitation Game Oscar winner Graham Moore and World War Z's Marc Forster, The Hollywood Reporter has confirmed. The drama starts when a woman exhibits mysterious symptoms, and she and her loved ones find themselves at the center of an epidemic with global consequences. Meanwhile, across the world, an FBI agent investigates a seemingly unrelated terrorist attack that leads him to the brink of madness. The untitled drama is said to offer a candid look at an outbreak that pushes its characters to extremes, revealing the best — and very worst — humanity has to offer. Moore created the drama and will write the script and exec produce alongside Forster (Monster's Ball), with the latter on board to direct. Executive producers include Nora Grossman, Ido Ostrowsky and co-EP Jillian Kugler (Hand of God). The drama hails from Fifty Fathoms Productions, Tiger Aspect Productions, 2DUX2 and Bristol Automotive in association with Endemol Shine Studios. The series was co-developed with Sky U.K. and will air in the U.K. on Sky and be distributed by NBC International Studios. The outbreak drama marks NBC's latest straight-to-series order and joins Heroes: Reborn, Aquarius, Coach, Emerald City, Hot & Bothered and anthology drama Manhunt, as networks hand out hefty orders to land high-profile fare in an increasingly competitive marketplace. The Moore/Forster drama is NBC's 10th drama-series order for the 2015-16 season, though it's unclear just when this series will air. Outbreak dramas continue to be a target for broadcast and cable networks following AMC's global success with zombie drama The Walking Dead. The CW ordered Julie Plec's Containment (based on the Belgian series Cordon) to series, with that show exploring a deadly epidemic that breaks out in Atlanta, while AMC has Fear the Walking Dead, a Walking Dead prequel of sorts about the origin of the zombie outbreak, set for summer. Additionally, Fox found success with comedy The Last Man on Earth, which was renewed for a second season and spot on the fall schedule.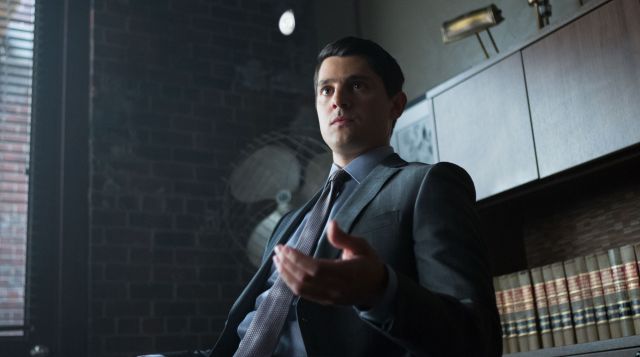 GOTHAM NEWS
"Gotham" co-star Nicholas D'Agosto has revealed today on Twitter that he has been given an upgrade for the upcoming second season and will appear as a series regular as Harvey Dent. D'Agosto previously appeared in three episodes of the Batman-inspired series. He joins Morena Baccarin as another promoted series regular for the new season. "Gotham" is an origin story of the great DC Comics super villains and vigilantes, revealing an entirely new chapter that has never been told. From executive producer/writer Bruno Heller ("The Mentalist," "Rome"), "Gotham" follows one cop's rise through a dangerously corrupt city teetering on the edge of evil and chronicles the birth of one of the most popular super heroes of our time. The series stars Ben McKenzie, Donal Logue, Sean Pertwee, Robin Lord Taylor, Erin Richards, David Mazouz, Camren Bicondova, Zabryna Guevara, Cory Michael Smith, Victoria Cartagena, Andrew Stewart Jones, and John Doman. "Gotham" airs Mondays on FOX.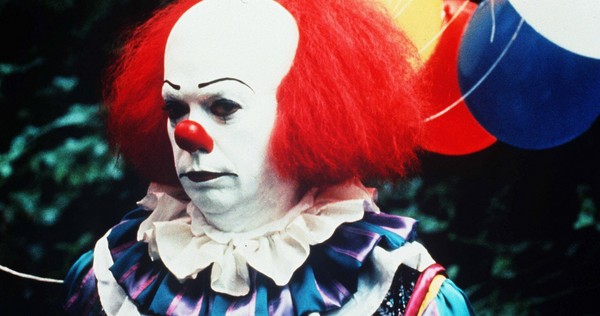 STEPHEN KING'S IT
Earlier this week, we reported that New Line Cinema's IT remake lost director Cary Fukunaga, putting the project's status in jeopardy. The report revealed that the filmmaker frequently clashed with New Line executives after they forced budget cuts upon the project, and he was adamant on shooting in New York City, which the studio thought was too expensive. Surprisingly, today we have a new report, which reveals that the project is still alive, moving back to Warner Bros. from New Line, with the project now set to shoot in New York City. Unfortunately, even though these changes are being made, which Cary Fukunaga wanted to happen at New Line, Warner Bros. is not bringing the filmmaker back for IT. This report also reveals that Warner Bros. is keeping Cary Fukunaga's two-movie format, after it was believed that New Line wanted to condense the project into one single movie. Warner Bros. plans on keeping the existing scripts written by Cary Fukunaga and Chase Palmer, which splits Stephen King's classic book in half. The first movie will focus on a group of children known as The Losers Club, who band together to defeat an evil supernatural entity disguised as a clown named Pennywise. The second movie follows these friends as adults, as they must band together again when Pennywise returns. It isn't clear if Warner Bros. will keep Will Poulter, who recently signed on to play Pennywise in IT. Warner Bros. hopes to find a new director within the next few weeks, with plans to start production in New York by the end of this year. Should Warner Bros. bring back Cary Fukunaga, especially after they made all of the changes he reportedly requested? Let us know what you think below, and stay tuned for more updates on IT. IT comes to theaters in 2017.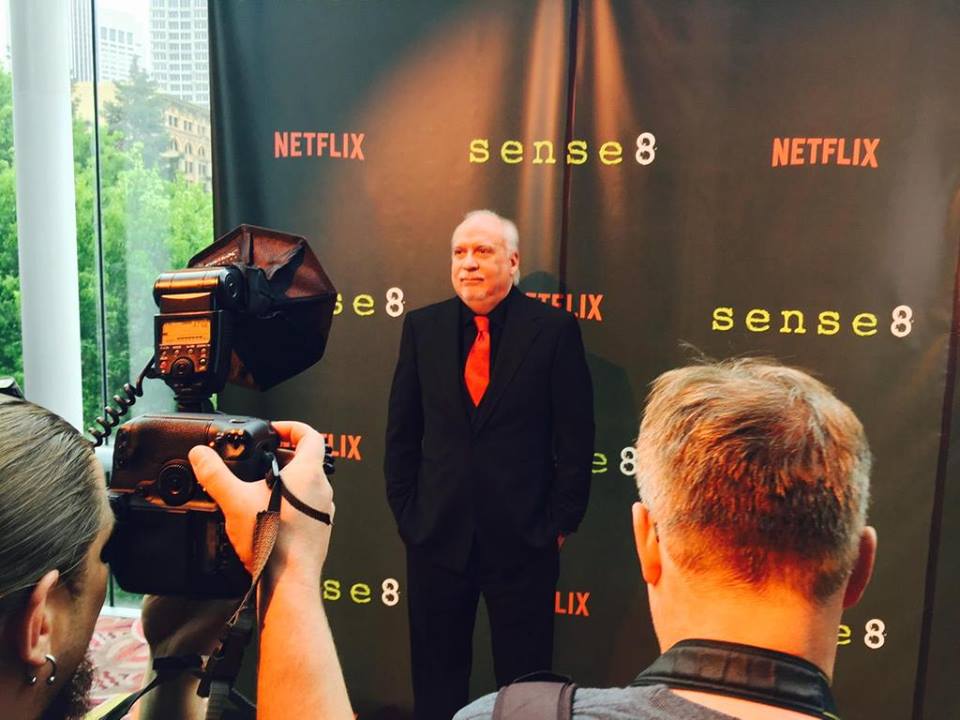 SENSE8
JMS arrives at the #Sense8 screening for cast and crew tonight in San Francisco.
THURSDAY, MAY 18, 2015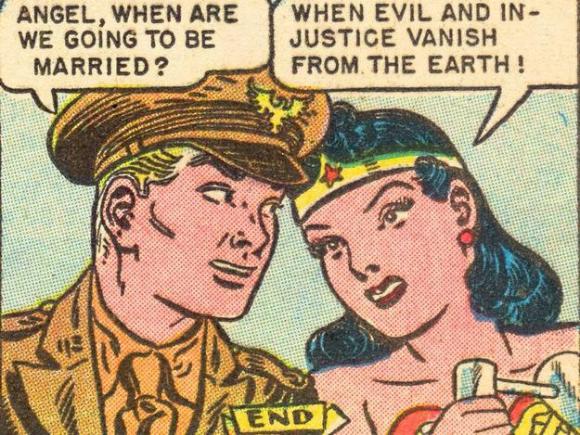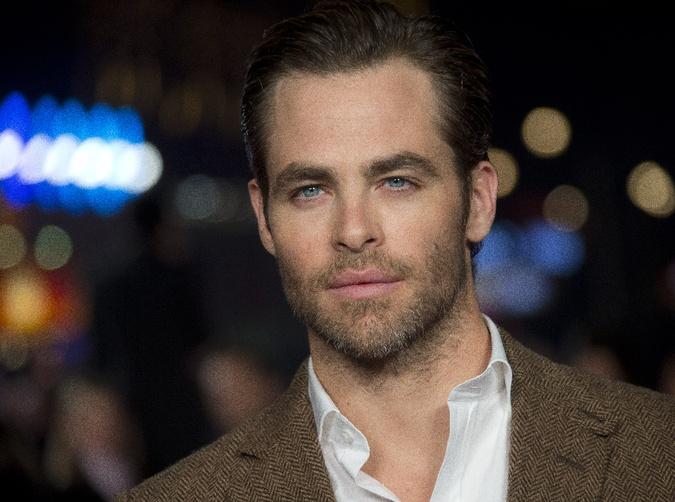 WONDER WOMAN NEWS
The current captain of the U.S.S. Enterprise might be beaming into a new franchise. Variety reports that Star Trek leading man Chris Pine is "in negotiations" to join the cast of Warner Bros Pictures/DC's Wonder Woman as Steve Trevor. Trevor, who made his debut in December 1941 in All Star Comics #8, was Wonder Woman's main love interest in the funnybooks. A U.S. Army intelligence officer during World War II, he crash-lands on Paradise Island, home of the Amazons, where he is rescued and nursed back to health by the Amazon princess Diana. They fall in love, and she returns to the States with him, where she assumes the civilian identity Diana Prince and, of course, the superhero persona Wonder Woman. Their relationship has gone through many ups and downs through the years, with Trevor killed off at least twice in the comics and subjected to the same continuity upheavals as every other character in the DC canon. His best-known screen incarnation before this was in the Wonder Woman TV series, in which Lyle Waggoner played Steve Trevor Sr. during the first season (set during World War II) and then portrayed his son, Steve Jr., in the next two 1970s-set seasons. If Pine signs on, this marks his first venture into the realm of superhero movies. He'll play Trevor opposite Gal Gadot as Diana, who will make her debut in next year's Batman v Superman: Dawn of Justice. Wonder Woman, to be directed by Patty Jenkins, will be released in 2017. First, however, Pine will play Captain James T. Kirk once again in Star Trek Beyond, which is slated to start shooting next month and arrive in July 2016. DARK MATTER
With shows like The Expanse and Killjoys on the horizon, Syfy seems at last serious about this whole return-to-space thing (we're looking at you, Ascension). A less-hyped, but no less interesting, addition to this lineup is Dark Matter, adapted by Stargate alumni Joseph Mallozzi and Paul Mullie from their Dark Horse graphic novel of the same name. The premise offers up six individuals who wake up on a spacecraft with no memory of their past, or the reason for their travel. What happens next is anybody's guess, at this point (unless you've read the comic, you sneaky devil), but if this exclusive sneak-peek clip is to be believed, there are going to be some super-powered shenanigans and the discovery that not everyone is all they appear to be. AQUARIUS
Aquarius (NBC) Thursday, 9 p.m. - "Everybody's Been Burned" and "The Hunter Gets Captured by the Game" Miniseries premiere! - We won't get that long-awaited X-Files revival for a while, but this week we do get David Duchovny back on TV, and he's even playing a law enforcement officer. Aquarius isn't a sci-fi or fantasy show, but given that our schedule is a little light right now, and given that it's Duchovny, we thought we'd let you know about it. Yet another attempt to capitalize on the "event series" wave that's swept our summers over the past few years, Aquarius is a 13-episode miniseries that documents the hunt for notorious cult leader Charles Manson. Duchovny stars as LAPD Sergeant Sam Hodiak, the man who will put together the pieces and hunt down the Manson Family, while Gethin Anthony (Game of Thrones) stars as Manson.
TRANSFORMERS
Last week, the curtain came down and revealed Paramount Pictures' "writer's room" for the Transformers franchise which included "The Walking Dead" and "Invincible" creator Robert Kirkman, the Iron Man writing pair of Art Marcum and Matt Holloway, "Fringe" and "Lost" scribe Jeff Pinkner, and X-Men: The Last Stand and The Incredible Hulk's Zak Penn. Now, Deadline brings word that Andrew Barrer & Gabriel Ferrari, who did production re-writes on Marvel's upcoming Ant-Man, have also joined the staff of writers that will expand the "cinematic universe" of the Transformers movies. In addition, the outlet reveals that one of the potential titles in development is Transformers One, a prequel film set on the planet Cybertron which was briefly seen in the first film of the series. They also reveal this idea originated from rights holders Hasbro, and that the film could be an animated feature, though this remains unconfirmed. I Am Legend's Akiva Goldsman will lead the group of writers who were selected by director Michael Bay, Steven Spielberg, and Lorenzo di Bonaventura to develop both multi-part sequels for the series and franchise spin-offs. Last year, Paramount released the franchise's fourth film, Transformers: Age of Extinction, starring Mark Wahlberg, Nicola Peltz and Jack Reynor. When asked if he'd be back for a sequel, Wahlberg previously stated that he's contracted for "a couple more." It is also believed that Bay himself will return to helm Transformers 5 after he completes work on his Benghazi drama 13 Hours. Age of Extinction grossed over $1 billion at the global box office with all four films combined grossing over $3.7 billion.

TT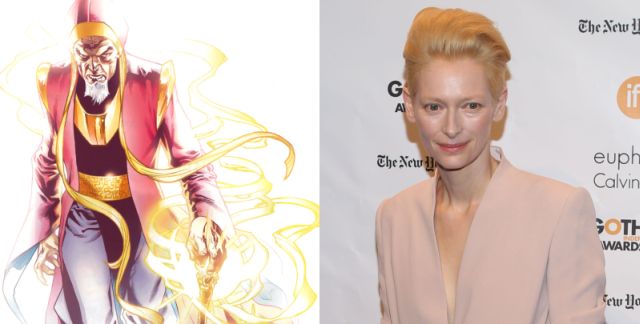 DOCTOR STRANGE
The Hollywood Reporter brings word today that Academy Award winner Tilda Swinton (Michael Clayton, The Chronicles of Narnia: The Lion, The Witch and The Wardrobe) is in negotiations to play The Ancient One in Marvel's Doctor Strange. No stranger herself to comic book roles, Swinton previously starred in the adaptation of Snowpiercer and 2005's Constantine. Secured high in the Himalayan mountains, the Ancient One served as a mentor to Stephen Strange and aided him in his ascendance to Sorcerer Supreme. When the character eventually died, Strange was still able to summon him from the spiritual plane in order to aid him. Though the character has traditionally been male in the comic books, THR notes that Marvel was originally searching for male actors but retooled the role to make it a female. Scheduled to hit theaters November 4, 2016, Doctor Strange is scripted by Jon Spaihts and is said to follow the story of neurosurgeon Dr. Stephen Strange who, after a horrific car accident, discovers the hidden world of magic and alternate dimensions. Scott Derickson will direct the film, which sees Benedict Cumberbatch in the titular role of the Sorcerer Supreme. A previous report noted that 12 Years a Slave star Chiwetel Ejiofor was in talks to play the film's villain, though this hasn't been confirmed by the studio. MR. ROBOT
USA Network has debuted the full pilot episode for "Mr. Robot," premiering on Wednesday, June 24 at 10/9c. "Mr. Robot" follows Elliot (Rami Malek), a young programmer who works as a cyber-security engineer by day and a vigilante hacker by night. Elliot finds himself at a crossroads when the mysterious leader (Christian Slater) of an underground hacker group recruits him to destroy the corporation he is paid to protect. Compelled by his personal beliefs, Elliot struggles to resist the chance to take down the multinational CEOs he believes are running (and ruining) the world. The series also stars Portia Doubleday, Carly Chaikin, and Martin Wallström. From Universal Cable Productions, "Mr. Robot" is from writer and executive producer Sam Esmail ("Comet") and executive producers Anonymous Content's Steve Golin ("True Detective") and Chad Hamilton ("Breakup at a Wedding"). "Mr. Robot" is the winner of the Audience Award (Episodic Category) at 2015 SXSW and an official selection of the 2015 Tribeca Film Festival.
WEDNESDAY, MAY 27, 2015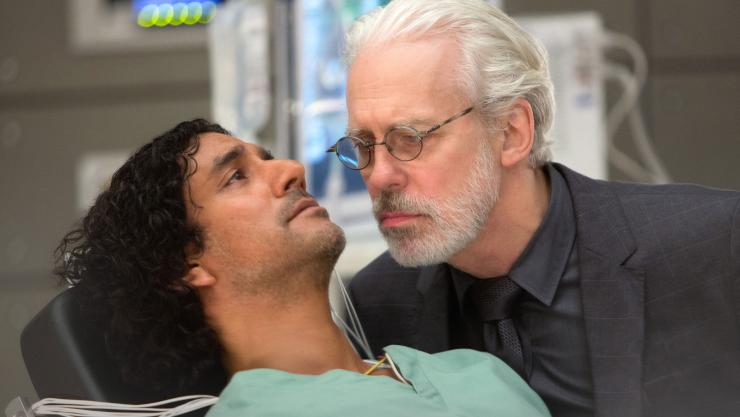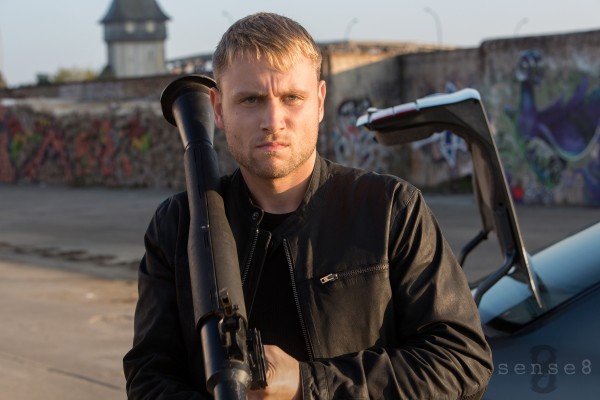 SENSE8 FROM J. MICHAEL STRACZYNSKI
After garnering a ton of genre fans with Daredevil, Netflix is going deeper into science fiction with the ambitious new series Sense8. One of the men pulling the strings? Babylon 5 creator J. Michael Straczynski. Straczynski teamed up with Matrix creators the Wachowskis to develop the series, which focuses on eight people from around the world who are suddenly connected. Following a violent vision, the strangers are able to see, feel, hear and talk to each other, as if they are in the same place. Just as they're starting to figure out their new abilities, a mysterious organization starts hunting them down. It's an intriguing setup, made even more interesting by the fact that the creative team already has a five-year plan for where they want to take this world. Despite the massive scope, Straczynski told Collider they made a point to keep the story honed in a "small" way to ensure they were always focusing on an emotional story, and not the cold, hard grandeur of it all: "It was more about establishing what the rules were, how this worked and what it was to be sensate. Our theory was that originally we're all sensate, and we all had this ability. The mutation was those who are born without the ability because they're more efficient killers. If you can't feel that person's pain, it's easy to wipe that person out. Over time, those individuals outnumbered those who were sensate. We got those rules first, and then we started to ask, what countries do we want to explore? It was about storytelling opportunity, but also about contrast, with Nairobi up against San Francisco, or Seoul up against Chicago, or Mexico City against Berlin. We went through a bunch of different permutations. At one point, we were going to be in Iraq and a couple of other countries. We finally figured out the ones we wanted, and then the characters came from there… Science fiction shows are traditionally about the gimmick or the gadget and tend to be emotionally cool to the touch. We thought, 'We're going to have these big, huge action moments, so, we need to have the quieter, more human moments to say what this is all about.' You can't always relate to the big action things, but you can relate to small moments. I worked with James Cameron, a few years ago, on a remake of Forbidden Planet, which is still sitting at Warner Bros., and he said one of the smartest things I've ever heard about science fiction. He said, 'I thought science fiction was about familiar characters in unfamiliar settings. It took me ten years to realize that was wrong. It's about relationships and not settings.' Terminator 2 was a father-son relationship, even though it's not. Aliens was a mother-daughter relationship, even though it's not. You don't buy into huge car chases or sensates or interstellar warfare, but you can buy into a loving relationship or a father-son relationship, and you can buy into the small humor. If you want to make your fiction universal, go small. That's the best way to do it." The full interview is a fascinating read, and Straczynski revealed that they shot everything (literally everything) in the globe-trotting series on location, and that Netflix gave them a ton of flexibility to tell the story they all wanted to tell (season one consists of 12 episodes). The entire first season of Sense8 debuts Friday, June 5, on Netflix.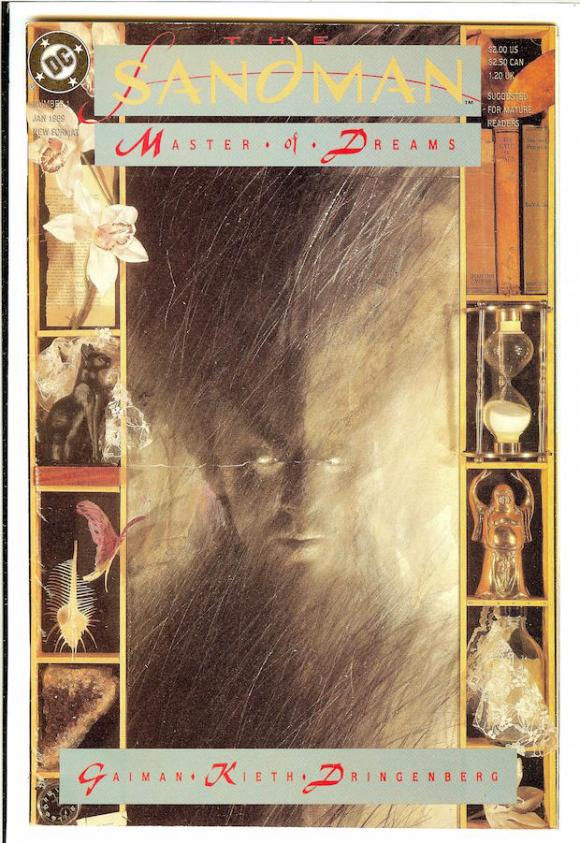 NEIL GAIMAN'S SANDMAN
Neil Gaiman returned to one of his seminal works this past year, putting together a gorgeous six-issue prequel comic to Sandman. So, what's it like returning to this freaky world a full 25 years later? Weird and filled with new perspective, mostly, at least according to what Gaiman told Vulture in a recent interview. Gaiman's new Overture series serves as a prequel to the original Sandman comic arc and will lead right into that first story, more than two decades later. According to Gaiman, he's revisiting ideas he had years ago, and learning new things he never even realized himself about the original story. Check out an excerpt from his comments below: "Are you plucking from the ether? Kind of. Are you making stuff up? Kind of. It's more that you can do the equivalent of saying, 'This character is behaving like this because he's heartbroken.' But then you go back and actually write the heartbreak, and you suddenly understand an awful lot more about what the character was doing. Even if nothing's changed, you go, 'Oh, this is because that reminded him of this, and that's why he was exhausted.' And so on and so forth. There were things that I've known, in some cases, for over 25 years, that just never got into Sandman because there wasn't a place for them in the monthly comic. Overture is very odd. Despite the title, it's not really meant to be read before reading Sandman. But it's also meant to be read before reading Sandman again. In a perfect world, for me, people would read Sandman, then read Sandman: Endless Nights, then read Sandman: Overture, and then go back and read Sandman all over again, and it would change things that they read, things they'd taken for granted, things they thought they knew. There are stories that get explained, mysteries from the first story, mysteries from Sandman: The Doll's House and even something from A Game Of You, things that didn't get explained because there wasn't room for it. And there are things about the idea of the Endless — who they were and their parentage — that I've been sitting on again, for 25 years. Most of what I did with Sandman: Overture was just regretting that we didn't have a lot more pages. J.H. Williams is doing work of such glorious loveliness that asking to put in any more pages, he'd go, 'Well, yes, but we need this finished before 2020.'" Gaiman also touched on Sandman's sometimes finicky place in the larger scheme of DC Comics' canon, and confirmed that the series is most definitely still meant to be in the major DC universe inhabited by folks like Batman and Superman. Sandman is just set in the weirder and more fantastical corner of that universe: "Because Sandman started out in the DC Universe, and even though it wandered a long way away from the DC Universe, that was always where it was set in my mind. I loved doing little things like sneaking in Mogo, the planet-size Green Lantern from the Green Lantern Corps, into Sandman: Overture, or the Space Canine Patrol Agents — these strange little DC Universe things — because it seemed fun to say, We are in deep space, but we're in the deep space of the DC Universe, the place where the planet Krypton could be. I played with the DC Universe cosmology and whatever aspects of the DC Universe cosmology that, when I was young and strange, I added to, threw in, and created." The first four issues of Overture are out now. JONNY QUEST
Jonny Quest and his gang of adventurers are finally coming out of retirement, with a very intriguing hand at the wheel of this long-awaited reboot. According to The Hollywood Reporter, Warner Bros. has signed Robert Rodriguez (Planet Terror, The Faculty) to direct a live-action version of Jonny Quest. The film will be based on the cult-hit 1964 Hanna-Barbera ABC cartoon of the same name, which followed a boy (Jonny), his father and a team of adventurers as they went on globe-trotting missions that featured everything from robots to mummies. No word on what direction the new film will take, but with Rodriguez at the helm, you'd have to think it'll be a fun one. This is the guy who directed both Spy Kids and Sin City — we can't wait to see what he does with Jonny Quest. Rodriguez is working with Terry Rossio (Pirates of the Caribbean series) to write the script. A Quest film has been kicking around for years (Zac Efron and the Rock were reportedly attached in 2010), but this might finally be the one to escape development hell. Having been around for decades, Jonny Quest has already gone through its own share of reimaginings along the way. The original 1960s series only lasted one season (because it was so darn expensive to produce), but it only got more and more popular in syndication. There were also some 1980s and 1990s animated revivals (The Real Adventures of Jonny Quest FTW), but a live-action film represents the biggest bet yet on Jonny's gang.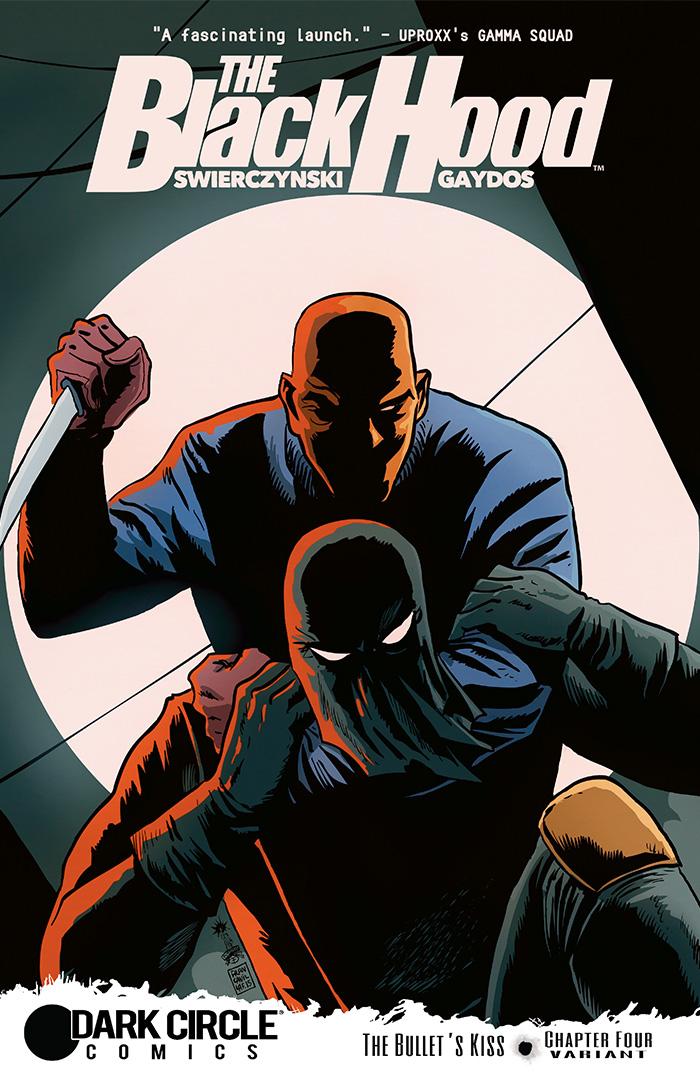 BLACK HOOD
n the new ongoing series from Dark Circle Comics, the imprint from Archie Comics, The Black Hood is about a cop who embraces the dark side in a hunt for an underground crime boss in Philadelphia. But with issue #4 hitting shelves tomorrow -- written by Duane Swierczynski -- we learn the hero is not necessarily destined to win the day. In "Bullet's Kiss, Part 4," lieutenant's of The Connection (the bad guy) have discovered the identity of the vigilante, the Black Hood. According to the synopsis from Dark Circle Comics, now the man under the mask, Greg Hettinger, has only 24 hours to unmask the boss --the man who set Greg up. As the badly-injured Black Hood struggles to piece together the puzzle, he's forced to put his faith in a woman who could end up saving him...or sending him straight to the slammer! And we have an exclusive look at what unfolds in four pages of The Black Hood #4, the latest adventure from Dark Circle Comics, on sale May 27, 2015. HUMANS
AMC has released two intense teasers and a viral video giving us an intriguing first look at its upcoming sci-fi series Humans. Based on the Swedish show Äkta människor (aka Real Humans), the story takes place in a parallel world where androids with robotic eyes, called "Synths," help people in their everyday lives, tasks and ... more. You know where I'm going with that, don't you? But if there's one thing all those Terminator movies and, most recently, Ex Machina have taught us, it's that all things A.I. can go south real quick. The new footage features acting legend William Hurt, Katherine Parkinson, Tom Goodman-Hill, Gemma Chan and more, with a cast that also includes Merlin's Colin Morgan (he might be the very small figure of a guy seen running in the forest in the second teaser). Here's an official synopsis: Humans is set in a parallel present where the latest must-have gadget for any busy family is a 'Synth' – a highly-developed robotic servant eerily similar to its live counterpart. In the hope of transforming the way they live, one strained suburban family purchases a refurbished synth only to discover that sharing life with a machine has far-reaching and chilling consequences. Parkinson and Goodman-Hill star as husband and wife whose new Synth Anita (Gemma Chan) reveals a much different side than her original, servile one. William Hurt plays George, a widower who treats his own outdated Synth Odi (Will Tudor, Game of Thrones) as if he were his son. Have a look at the two teasers and that cool viral advertisement for Persona Synthetics, the fictional company responsible for creating the Synths on the TV show: Humans will premiere on the channel that gave us The Walking Dead (AMC) on June 28.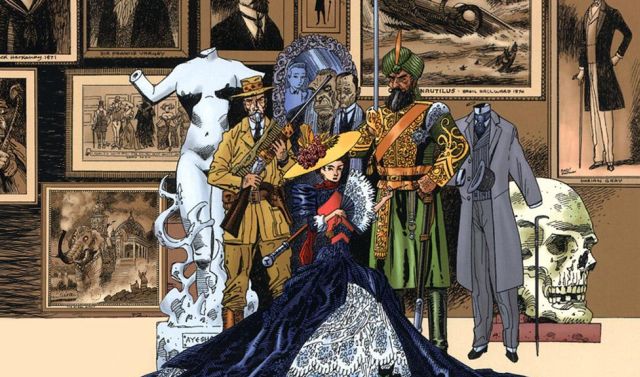 LEAGUE OF EXTRAORDINARY GENTLEMEN
Tracking Board brings word that 20th Century Fox is developing a big screen reboot of the comic book series The League of Extraordinary Gentlemen, hoping to turn the literary melting pot into a franchise. John Davis (Chronicle, The Man from U.N.C.L.E.) is on board the project as the producer which is currently seeking directors to shepherd it through development. Originally created by Alan Moore and Kevin O'Neill, The League of Extraordinary Gentlemen stars a group of Victiorian literature characters including Allan Quatermain ("King Solomon's Mines"), Captain Nemo ("Twenty Thousand Leagues Under the Sea"), the Invisible Man, Dr. Jekyll and Mr. Hyde, and Mina Harker of Dracula. The team is put together by the British government to foil a plot at the center of a war between villains Fu Manchu and Professor Moriarty. Later volumes of the series would weave in the plots of War of the Worlds, the works of H.P. Lovecraft, and even "Harry Potter. The League of Extraordinary Gentlemen was previously adapted into a film in 2003 starring Sean Connery (his last film role). It featured signifcant changes from the source material and famously began creator Alan Moore's antagonistic relationship with Hollywood. A TV adaptation of the series was planned in 2013 with writer Michael Green (Green Lantern, "Heroes," "Smallville") but never materialized.
TUESDAY, MAY 26, 2015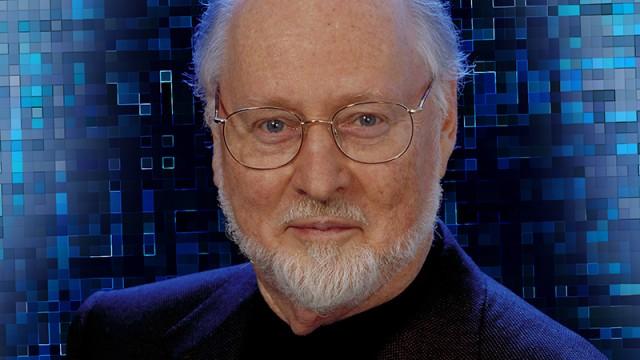 SCORE FOR STAR WARS: THE FORCE AWAKENS
What exactly does legendary composer John Williams have in store for us when his score for Star Wars: The Force Awakens rumbles out of theater speakers? According to an interview he did with Vanity Fair (via Screenrant), the 83-year-old Williams -- whose music for movies like Jaws, Superman, the Indiana Jones films and, of course, all six previous Star Wars entries is nothing short of iconic -- guarantees that we'll hear some well-loved passages in Chapter VII: There are some scenes where we do make reference to earlier thematic pieces. We haven't done it yet, but we're planning to do it. It's something that I think will seem very natural and right in the moments for which we've chosen to do these kinds of quotes. There aren't many of them, but there are a few that I think are important and will seem very much a part of the fabric of the piece in a positive and constructive way. Williams didn't get specific, naturally, but it seems almost certain that he and director J.J. Abrams will start the movie with the traditional and still magnificent main theme. Beyond that, will the "Force Theme" make its return, or will we hear some new variation on the Imperial March for the rechristened First Order? We can only anticipate what favorites we'll hear again, along with what is sure to be majestic new music from the indefatigable Williams. Speaking of favorites, the Oscar-winning composer was also asked if he had one among the now seven Star Wars scores he has done: I really don't. [Thinks about it for a moment anyway, then laughs] No. I've played so many of those pieces in concert over the year, and I think my affection for them, if I can put it that way, is pretty constant thing. If you pressed me, well, you could probably look up the concert programs over the years and say, You favored this one over that one. It's possible, I don't know, but I don't think I can say I have any favorites. Williams will also score Steven Spielberg's new movie, The BFG, later this year, and will be doing a series of concerts over the summer. Even though he is advancing in age, we hope this brilliant, one-of-a-kind composer is up for a few more Star Wars movies as well. Star Wars: The Force Awakens arrives in theaters Dec. 18, 2015. CHILDHOOD'S END
A new trailer for Syfy's upcoming miniseries Childhood's End has been released, showing off more of the creepy alien invasion drama from the mind of Arthur C. Clarke. The six-episode project stars Charles Dance (Game of Thrones) and Mike Vogel (Under the Dome) and focuses on the aftermath of a peaceful alien invasion from creatures dubbed the "Overlords." In Clarke's 1953 novel that inspired the series, the otherworldly arrival begins decades of apparent utopia under indirect alien rule, though it comes at the cost of human identity and culture. In the series adaptation, Dance will play Karellen, the ambassador for the Overlords. Vogel will take on the role of midwestern farmer Ricky Stormgren, whose life is "turned upside down" when he is named the human ambassador for the aliens. The trailer shows off a lot more footage, and it doesn't seem afraid to ask the big questions about freedom and who controls (and should control) our destiny. On the creative side, Childhood's End has Akiva Goldsman (Lone Survivor, I Am Legend) and Mike De Luca (Moneyball, The Social Network) attached as executive producers, with Matthew Graham (creator of BBC's Life on Mars and Ashes to Ashes) signed on to adapt the book into a screenplay. Needless to say, that's a decent bit of talent behind the scenes. Childhood's End is set to premiere December 2015 on Syfy.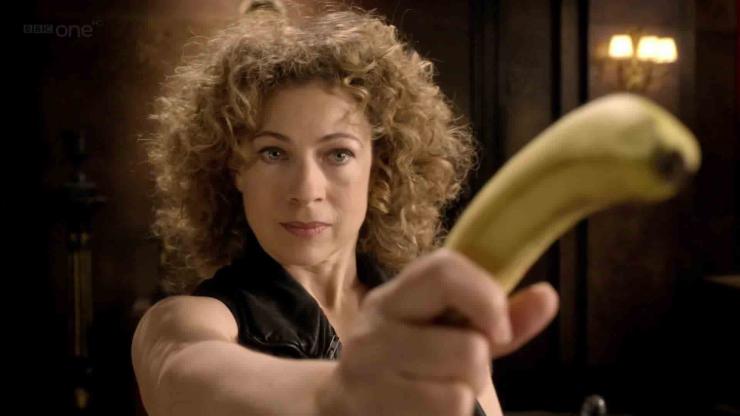 DOCTOR WHO NEWS
While a lot of us may all be sitting here, wistfully hoping Steven Moffat is not entirely done with River Song — actress Alex Kingston recently said her story wasn't over yet — the Doctor Who showrunner has admitted he had some reservations about the Doctor's wife spending more time with our beloved Time Lord. Nonetheless, the Moff doesn't rule out her return to the BBC series. At least, if it's done right: "It entirely depends on whether we've got a good story. It's certainly not ruled out. I have a sort of worry about keeping anybody around in the Doctor's life for too long. Because he's the Man who Leaves. He's the man who outlives everybody: that's his story. In the end it's the boy in his box, and he's alone. In the end if we had a great story, we'd do it." Could the man for the job be former Doctor Who showrunner Russell T. Davies? He really seems to be keen on seeing River with Peter Capaldi's Twelfth incarnation of the Doctor, although he's currently busy with Channel 4's drama series Cucumber, a show that is "really, really about sex" (Davies' words, not mine). Here's what Steven Moffat recently revealed about an interesting chat he had with Davies, who said a pairing between Alex Kingston and Peter Capaldi would be a "sex storm": "I mentioned in passing to Russell that we were probably done with River. He said, 'You can't be done with River! No, no, no. Capaldi and Kingston, it's a sex storm!' So if you see an episode called Sex Storm by Russell T Davies in his post-Cucumber years... [there will be] lots of editing from me saying 'We really can't do that, you've forgotten which show this is….'" The last time we saw River Song, was in "The Name of the Doctor," in which Matt Smith's Eleventh Doctor seemingly said goodbye forever (well, for Eleven, it probably was forever ...) to his wife's digitally preserved consciousness.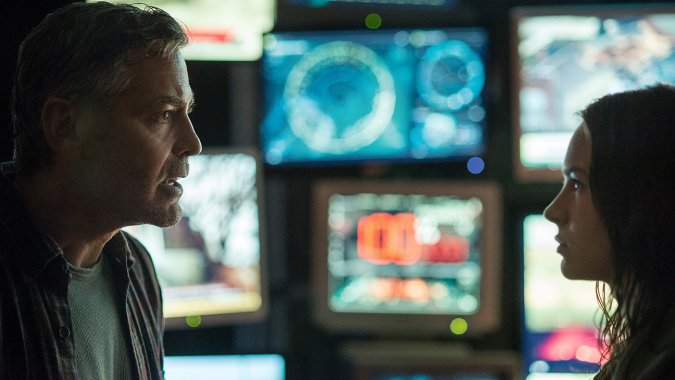 WEEKEND BOX OFFICE
Brad Bird's Tomorrowland suffered one of the worst Memorial Day starts in recent memory for an all-audience tentpole, marking a rare miss for an otherwise empowered Disney. The big-budget fantasy adventure, starring George Clooney and Britt Robertson, debuted to $41.7 million in North America over the four-day weekend, the lowest opening for a big-budget tentpole since Prince of Persia: The Sands of Time launched to $37.8 million in 2010. More problematic, Tomorrowland was even weaker overseas, grossing $26.7 million from 65 markets. (In their second weekends, Pitch Perfect 2 and Mad Max: Fury Road beat Tomorrowland's $2.1 million debut in the U.K. with $4.3 million and $2.2 million, respectively). Another key test for Tomorrowland will come on Tuesday when it opens in China. Overall, Memorial Day box office revenue in North America was down more than 15 percent from last year, when X-Men: Days of Future Past opened to $90.8 million. It could be the worst Memorial Day weekend since 2010, or, if Monday traffic is especially bad, since 2001. In 2010, total revenue only reached $192.7 million after Prince of Persia: The Sands of Time opened to $37.8 million, and Sex and the City 2, to $36.8 million. As of now, industry observers put 2015 Memorial Day revenue between $192 million and $193.5 million, but an official figure won't be released until Tuesday. In 2001, holiday revenue for the four days only reached $181.7 million. Tomorrowland will need to overcome its so-so B CinemaScore and enjoy strong word of mouth in order to end up in the black, considering the live-action fantasy adventure cost $180 million to produce. The last time Disney stumbled with a big-budget summer tentpole was in 2013 with The Lone Ranger, which opened to just $29.2 million. In Tomorrowland, Clooney stars as an inventor who takes along a spirited teen (Robertson) to an alternate world called Tomorrowland. Tomorrowland, an ode to Walt Disney's hopes for creating a utopian society, also stars Hugh Laurie and was co-written by Bird and Damon Lindelof. The film skewed slightly male (51 percent), while families made up 30 percent of ticket buyers, and adults 61 percent. Disney distribution chief Dave Hollis said that while the opening was disappointing, he believes Tomorrowland will begin to galvanize the family audience, noting that it's the only PG title until next month. "This morning, our numbers were a little better than what we thought on Sunday. We knew we had an original IP property and that it would take a beat for people to find it. And with kids beginning to get out of school, we are in a great position," he said. Heading into the long holiday weekend, most expected Bird's film to gross between $45 million and $50 million for the four days domestically, giving it a wide lead over Pitch Perfect 2. Instead, the race was much closer than expected as Pitch Perfect 2 continued to sing in perfect tune, taking $38.5 million in its second outing for an 11-day domestic total of $126 million for Universal. Overseas, Universal's female-fueled sequel took in another $15.2 million from only 37 markets, pushing its global total to nearly $190 million. Disney still remains the early king of summer to date, thanks to Avengers: Age of Ultron. From Disney and Marvel Studios, the superhero tentpole jumped the $400 million mark at the domestic box office on Sunday, becoming the first film to achieve that feat since The Hunger Games: Catching Fire and Frozen, both released in November 2013. Age of Ultron has now grossed $860 million internationally, including $210 million in China, for a global haul of $1.263 billion — the seventh-best showing of all time, passing Iron Man 3 this weekend. It also topped the weekend international chart with $45.8 million, thanks to its late China run. After Tomorrowland, the other new Memorial Day offering was MGM and Fox 2000's Poltergeist, which posted a $26.5 million four-day opening, putting it at No. 4, just behind holdover Mad Max: Fury Road. Fury Road, from Warner Bros. and Village Roadshow Pictures, held well in its second outing, grossing $32.1 million in North America and another $38.2 million overseas from 70 markets for a global total of $219.8 million. Poltergeist, directed by Gil Kenan and produced by Sam Raimi, is a solid swing for MGM and Fox 2000, coming in ahead of expectations, thanks to teenagers. Nearly 60 percent of the audience was under the age of 25, while 55 percent of ticket buyers were females, not unusual for a horror title. The remake of the 1982 cult classic stars Sam Rockwell, Rosemarie DeWitt, Jared Harris and Jane Adams. Poltergeist also impressed overseas, collecting $8.3 million from 35 markets. Fox had another win internationally with Paul Feig's Spy, which rolled out in select Asian markets a week ahead of its domestic launch. Starring Melissa McCarthy, Spy launched to $12.5 million from 10 markets, including a record $4.6 million in South Korea, the top opening of all time for a Hollywood action comedy. Age of Ultron rounded out the top five domestically. JURASSIC WORLD
Universal Studios and Legendary Pictures have just released a new behind-the-scenes look at their upcoming upcoming Jurassic World in the form of a featurette that offers insight from Steven Spielberg himself. "To see Jurassic World come to life is like seeing Jurassic Park come true," he says in the video. Opening in 3D, 2D and IMAX theaters, Jurassic World arrives from Safety Not Guaranteed helmer Colin Trevorrow and offers a terrifying sci-fi adventure set 22 years after the events of Spielberg's original 1993 Michael Crichton adaption, Jurassic Park. According to Trevorrow, a huge part of what sparked his take on the blockbuster franchise was the image of a teenager texting, unimpressed with the T. Rex behind the glass in front of him. Jurassic World, which hits theaters on June 12, 2015, stars Chris Pratt (Guardians of the Galaxy), Bryce Dallas Howard (The Help, Spider-Man 3), Ty Simpkins (Insidious, Iron Man 3), Jake Johnson (Let's Be Cops, "New Girl"), Nick Robinson (The Kings of Summer), Irrfan Khan (Life of Pi, The Amazing Spider-Man), Vincent D'Onofrio ("Daredevil," "Law & Order: Criminal Intent"), BD Wong (Jurassic Park, "Law & Order: Special Victims Unit"), Omar Sy (X-Men: Days of Future Past, The Intouchables), Judy Greer (Dawn of the Planet of the Apes, Tomorrowland), Katie McGrath (NBC's "Dracula," "Merlin"), Lauren Lapkus (Blended, The To Do List) and Andy Buckley (Bridesmaids, The Other Guys).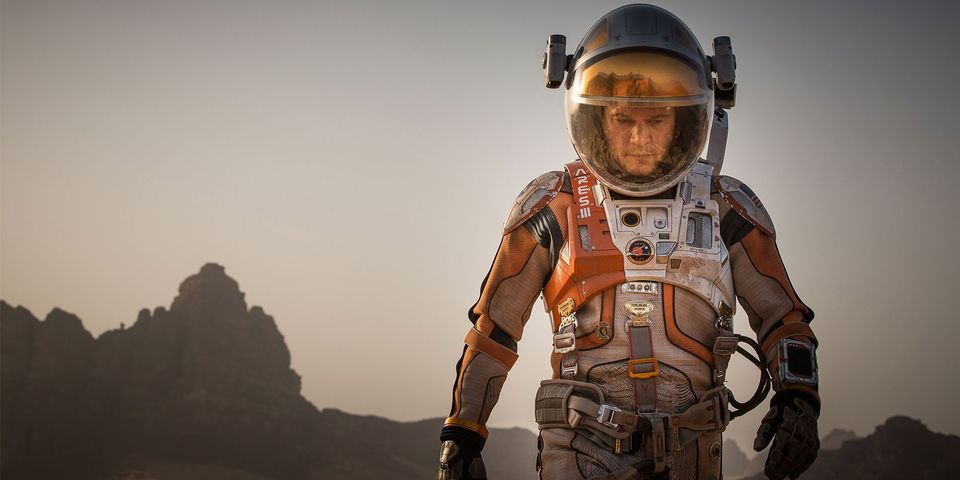 THE MARTIAN
20th Century Fox has debuted even more photos (via People and EW) from Ridley Scott's The Martian, the action adventure coming to theaters on November 25. During a manned mission to Mars, Astronaut Mark Watney (Matt Damon) is presumed dead after a fierce storm and left behind by his crew. But Watney has survived and finds himself stranded and alone on the hostile planet. With only meager supplies, he must draw upon his ingenuity, wit and spirit to subsist and find a way to signal to Earth that he is alive. Millions of miles away, NASA and a team of international scientists work tirelessly to bring "the Martian" home, while his crewmates concurrently plot a daring, if not impossible, rescue mission. As these stories of incredible bravery unfold, the world comes together to root for Watney's safe return. Based on a best-selling novel, The Martian features a star-studded cast that includes Jessica Chastain, Kristen Wiig, Kate Mara, Michael Pena, Jeff Daniels, Chiwetel Ejiofor, and Donald Glover. The film is produced by Ridley Scott, Simon Kinberg, Michael Schaefer, Mark Huffam and Aditya Sood. THE MAN FROM U.N.C.L.E.
Early word of mouth says that The Man from U.N.C.L.E. is a lot of fun, and it may turn out to be another stealth hit for director Guy Ritchie. With some other big budget blockbusters currently hogging the summer movie spotlight, we haven't heard too much about this thriller, which is based on the classic TV show. But Henry Cavill and Armie Hammer are said to have great chemistry, and a franchise is most likely in the cards. While we haven't seen any new footage since the first trailer debuted this past Feburary, today we get a slew of new photos that show off the movie's two leading men, their director and leading lady Alicia Vikander. Set against the backdrop of the early 1960s, at the height of the Cold War, The Man from U.N.C.L.E. centers on CIA agent Solo and KGB agent Kuryakin. Forced to put aside longstanding hostilities, the two team up on a joint mission to stop a mysterious international criminal organization, which is bent on destabilizing the fragile balance of power through the proliferation of nuclear weapons and technology. The duo's only lead is the daughter of a vanished German scientist, who is the key to infiltrating the criminal organization, and they must race against time to find him and prevent a worldwide catastrophe. These latest images put Henry Cavill front and center as Solo, with Armie Hammer tagging along behind as Kuryakin. The movie promises one of the best Vespa scooter chases ever committed to celluloid. And here, we get to see a couple other stunt scenes in action. While it's not high on everyone's radar right this second, The Man from U.N.C.L.E. will likely close out the summer with a big colorful bang when it hits this August. Take a look, and stand by, as the next trailer is sure to drop any second now! The Man from U.N.C.L.E. comes to theaters August 14th, 2015.
FRIDAY, MAY 22, 2015
TEEN WOLF
For most teenagers, senior year is a time of celebration as they prepare to enter adulthood. The McCall Pack on "Teen Wolf" isn't quite that lucky. In a trailer for Season 5, Scott (Tyler Posey) and his friends are in for a rude awakening at the hands of an evil that wants to tear them apart. The official Season 5 synopsis from MTV reads: "On the eve of Senior Year, Scott and his friends find themselves facing the possibility of a future without each other, a next phase of their lives that might take them in different directions despite their best intentions. Little do they know that outside forces are already plotting to break the pack apart long before they ever see graduation. New villains that use a combination of science and the supernatural for a malevolent and mysterious purpose that will eventually pit Scott and his friends against their greatest enemy yet." Making things more interesting is the addition of lone wolf Theo (Christian Cody), who joins the pack this season. While he says "lone wolves don't make it on their own," can this new addition to their group be trusted? According to a character description from MTV, Theo "isn't as new to Beacon Hills as everyone presumes, and his character may have some secrets about the town that attracts so many supernatural monsters." That could become a problem as the pack struggles to stay together -- especially if he encroaches on the friendship between Scott and Stiles (Dylan O'Brien). Season 5 of "Teen Wolf" premieres June 29, 2015 on MTV. HEROES REBORN
Your favorite telepathic detective is making his grand TV return. Greg Grunberg has signed on to return as Matt Parkman on "Heroes Reborn," Entertainment Weekly reports. Grunberg, who played a major role in the original series, is slated to appear in a guest starring arc for the continuation, though it's unclear how many episodes he will appear in. He's the fourth original cast member to sign on to the project, following Jack Coleman (Noah Bennett), Masi Oka (Hiro) and Jimmy Jean-Louis (The Hatian). Here's the scoop on "Heroes Reborn" thus far. Zap2it will update this post as more news develops. Returning cast Greg Grunberg as Matt Parkman: Originally introduced as a detective on the LAPD, Parkman discovers he can read the minds of others and manipulate their thoughts. In the series finale, he was injured when attempting to kill Sylar (Zachary Quinto). Masi Oka as Hiro: The former office drone turned hero had the ability to stop time and time-travel. Last seen helping defeat Samuel Sullivan (Robert Knepper) at the end of "Heroes." Oka says in a statement he's excited to reprise his role but details are being kept under wraps. Jimmy Jean-Louis as The Hatian: An associate of Noah Bennett throughout the series, The Hatian -- the only name he's known by -- has the ability to manipulate minds and memories. Jack Coleman as Noah Bennet/HRG: The Company man and adoptive father of Claire (Hayden Panettiere) also took part in bringing Samuel down at the end of "Heroes." He had hoped to cover up what happened but was heartbroken when Claire exposed her powers to the world. New cast Zachary Levi: The former "Chuck" star will be playing a signficant role, but just what that is remains to be seen. Other new cast members include Ryan Guzman ("The Boy Next Door"), Robbie Kay ("Once Upon a Time"), Danika Yarosh ("Shameless"), Judith Shekoni ("The Twilight Saga: Breaking Dawn - Part 2"), Kiki Sukezane ("Death Yankee 3"), Henry Zebrowski ("A to Z"), Gatlin Green ("Criminal Minds"), Eve Harlow ("The 100") and Toru Uchikado. The story So far, NBC and creator Tim Kring have said exactly nothing about where the show picks up, although it's understood that it will include stories of new characters discovering their abilities. Also, maybe it's cold?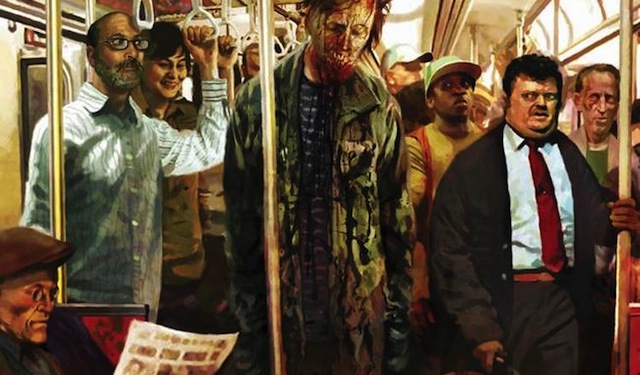 EMPIRE OF THE DEAD
The zombie genre is one of the hottest on TV these days, and now one of the concept's original auteurs is getting ready to throw his hat back into the ring. George A. Romero (Night of the Living Dead) is gearing up to adapt his comic-book series Empire of the Dead as a new television series. The project is still in the early phases, but Romero has teamed up with Demarest Films (Tusk) to write the pilot script, in conjunction with producers Sam Englebardt and William D. Johnson. Romero practically invented the modern-day zombie movie, but he doesn't have much experience with television. Empire found Romero expanding on his zombie canon by introducing vampires into the mix, with a story set in New York City years after the undead plague has erupted. Not only do the survivors have to deal with zombies, but a new (old) threat arises to "take a bite out of the Big Apple." Basically, we're talking about a big ol' Romero zombie movie strung out for the small screen. That's definitely not a bad thing. With The Walking Dead dominating the conversation these days, pulling Romero back into the fold is an excellent way for a zombie project to gain some instant credibility. But it's worth noting Romero's past few zombie films have been a bit lackluster (to say the least), so here's hoping a change of medium might be just the catalyst he needs to recapture the magic. BATMAN: ARKHAM KNIGHT
Though Ben Affleck is getting ready to bring Batman back to the big screen next year, one of the most popular takes on the character is in the Arkham videogame series -- and the latest trailer puts a live-action spin on Bruce Wayne's alter ego. While we patiently wait for the epic finale in the series, Batman: Arkham Knight, Rocksteady Studios has put together a new live-action trailer to get us amped up to "become" Batman. Taking things a step further from the videogame realm, the live-action trailer finds Average Joes facing challenges where they might need to channel their inner Batman. So, literally becoming Batman. Clever. As if that wasn't cool enough, there's also some nifty new gameplay footage tacked on the end, so that should sweeten the pot considerably. Arkham Knight will pit Batman against the "ultimate threat against the city that he is sworn to protect, as Scarecrow returns to unite the super criminals of Gotham and destroy the Batman forever." It'll also feature some seemingly awesome Batmobile gameplay. Batman: Arkham Knight is set to hit shelves on June 23.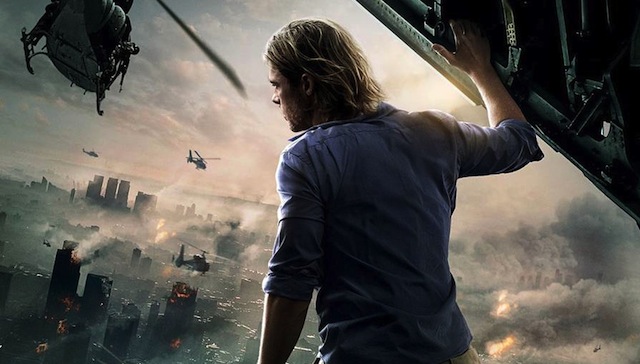 WORLD WAR Z 2
It was revealed back in 2013 that Brad Pitt will be reprising his role as Gerry Lane for an upcoming (still untitled) sequel to World War Z with The Impossible's Juan Antonio Bayona attached to direct. Today, Paramount Pictures has revealed that World War Z 2 will be waged on June 9, 2017. That's the same day that 20th Century Fox has earmarked for its planned Fantastic Four 2. That's not the only box office showdown potentially in the cards today, either. Universal Pictures is setting their romantic comedy sequel My Big Fat Greek Wedding 2 for release on March 25, 2016. That's the same day as Warner Bros.' comic book showdown Batman v Superman: Dawn of Justice. Locke writer and director Steven Knight will be providing the screenplay for World War Z 2 with Pitt again serving as producer. My Big Fat Greek Wedding 2, meanwhile, hails from Gold Circle Entertainment and Playtone production and serves as the long-awaited follow-up to the highest-grossing romantic comedy of all time. Written by Academy Award nominee Nia Vardalos, who stars alongside the entire returning cast of favorites, the film reveals a Portokalos family secret that will bring the beloved characters back together for an even bigger and Greeker wedding. Kirk Jones (Nanny McPhee, Waking Ned Devine) directs the next chapter of the film that will be once again produced by Rita Wilson and Playtone partners Tom Hanks and Gary Goetzman. Paul Brooks and Steven Shareshian return to executive produce alongside Vardalos and Scott Niemeyer. Universal Pictures will distribute the comedy domestically and in select international territories.
WEDNESDAY, MAY 20, 2015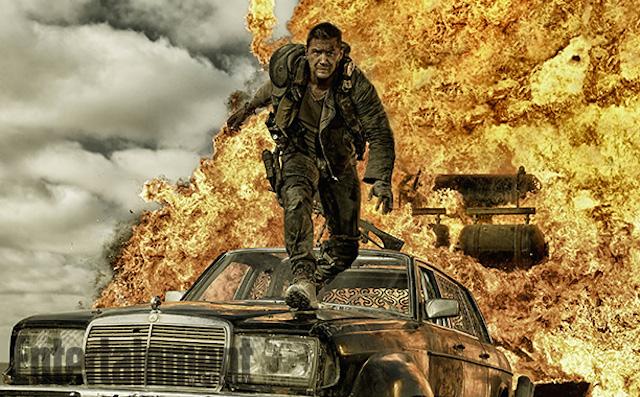 MAD MAX SEQUEL - MAD MAX: FURIOSA
Mad Max: Fury Road is mowing down any hint of negative press and gathering faithful converts from all avenues of life with its visceral brand of artful violence. It was a foregone conclusion that a sequel would be spawned after the rabid response to George Miller's cavalcade of motorized mayhem, but until now, its official name was mostly unknown. Years ago, when the Mad Max reboot was gathering steam, Miller had suggested that a second film might be named Mad Max: Furiosa, but that seems to have been left in the dust with the 70-year-old's recent announcement. According to a new podcast interview with The Q&A With Jeff Goldsmith, Miller announced that the next Mad Max movie would be called Mad Max: The Wasteland. Actor Tom Hardy will certainly return to star in the sequel as his contract binds him to three more movies, but it's unclear as to whether Charlize Theron will be back for another ride. No plot details have emerged yet but tell us what you think the newly branded follow-up might refer to and if The Wasteland suits its feverish, high-octane style. PAN
Hugh Jackman made an eagerly anticipated appearance during last night's Tonight Show With Jimmy Fallon, during which the Wolverine actor introduced a brand-new trailer for Pan. Sure enough, it didn't take long before Warner Bros. officially released it online, and you can watch it right here in all its glory. The upcoming fantasy movie wants to be The Boy Who Wouldn't Grow Up's origin story, and it offers a fresh new take on the beloved classic characters created by J.M. Barrie. The story follows the adventures of a young boy who is taken to Neverland, where he meets Hugh Jackman, who is hamming it up as the Dread Pirate Roberts Black Beard, and an Indiana Jones-esque Hook (Tron: Legacy's Garrett Hedlund). While there, Peter (Levi Miller) also meets up with Tiger Lily (Rooney Mara, The Girl With the Dragon Tattoo) and Smee (Adeel Akhtar, The Dictator). The story of an orphan who is spirited away to the magical Neverland. There, he finds both fun and dangers, and ultimately discovers his destiny -- to become the hero who will be forever known as Peter Pan. Directed by Joe Wright (Hanna), Pan also stars Nonso Anozie (Game of Thrones), Kathy Burke (Elizabeth), Paul Kaye (Game of Thrones, Jonathan Strange & Mr. Norrell), Cara Delevingne (Suicide Squad) and Amanda Seyfried (Les Miserables). The movie will soar into theaters on Oct. 9, 2015.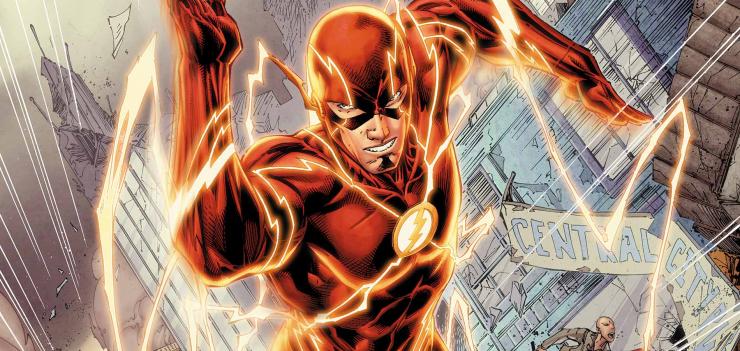 FLASH - THE MOVIE
Phil Lord and Chris Miller are the dynamic writing/directing duo who successfully brought the "everything is awesome" LEGO Movie to the big screen. And now they have their hands on one of the DC Cinematic Universe's hottest properties: The Flash. The upcoming comic-book movie is set to star Ezra Miller as the Scarlet Speedster, and in a recent interview with HippoJuice Podcast, Phil Lord spoke for the first time about the movie and where he and Miller (and Geoff Jones) were currently with the story. He also revealed which version -- Jay Garrick? Barry Allen? Wally West? Bart Allen? -- of the Fastest Man Alive we're likely to see on the big screen. Can you guess who's their top choice? It's the same character that's being successfully portrayed on our TV screens week after week on The CW's The Flash, starring Grant Gustin in the titular role of, ya know, Barry Allen. Here's what Lord had to say: We're trying to break a story. It's interesting, because there's a really popular TV show out there, and we're trying to carve out space for the movie that's apart from that. I think we're doing alright. … I believe [our Flash] is going to be Barry Allen. … It's going to be it's own [thing, apart from the TV show] — we're more trying to stick with the cinematic universe… it really is its own thing, and kind of a stand-alone movie. We're just trying to think of the best story. I think you guys will like it, it's kind of a different take on superhero stuff. Even though Phil Lord says Warner Bros.' The Flash will try to stick to the DCCU, I'm really intrigued by what he says here: "It really is its own thing, and kind of a stand-alone movie." What does he mean? Does he mean their big-screen version of the Scarlet Speedster will be more akin to Ant-Man (the Edgar Wright version) or even Guardians of the Galaxy? A movie that is part of the Marvel Cinematic Universe, but also feels somewhat like a separate beast because of its tone? There's no news yet on whether Phil Lord and Chris Miller will end up sitting in the director's chair on top of writing the comic-book movie, but I'm looking forward to finally seeing a big-screen version of The Flash. In Lord and Miller's capable hands, it could turn out to be an exciting entry in the DC Cinematic Universe. Not content with writing up The Flash for the DCCU, Lord and Miller are also hard at work on a Marvel property -- an animated Spider-Man movie for Sony. We're sort of juggling superheroes with the color red in them, that's all we do. [laughter] We're trying not to confuse their powers or anything, but it does get tricky. But it's the same thing, is there a way to do one of these movies in a new way? That's the exciting thing about it being animated, is it opens up a lot of different possibilities. The Flash arrives in theaters on March 23, 2018. SCREAM QUEENS
FOX has released the full new trailer for its the upcoming series "Scream Queens," the new killer comedy-horror series from Ryan Murphy, Brad Falchuk and Ian Brennan, the Emmy- and Golden Globe Award-winning executive producers of "Glee" and "American Horror Story." Wallace University is rocked by a string of murders. Kappa House, the most sought-after sorority for pledges, is ruled with an iron fist (in a pink glove) by its Queen Bitch, Chanel Oberlin (Emma Roberts, "American Horror Story: Freak Show," Scream 4). But when anti-Kappa Dean Munsch (Jamie Lee Curtis, Halloween, A Fish Called Wanda, True Lies) decrees that sorority pledging must be open to all students, and not just the school's silver-spooned elite, all hell is about to break loose, as a devil-clad killer begins wreaking havoc, claiming one victim, one episode at a time. Part black comedy, part slasher flick, "Scream Queens" is a modern take on the classic whodunit, in which every character has a motive for murder… or could easily be the next blood-soaked casualty. "Scream Queens" stars Emma Roberts, Jamie Lee Curtis, Emmy Award and Golden Globe Award nominee Lea Michele ("Glee"), Academy Award nominee Abigail Breslin (Little Miss Sunshine, Zombieland, August: Osage County), Nasim Pedrad ("Saturday Night Live"), Oliver Hudson ("Nashville," "Rules of Engagement"), Skyler Samuels ("American Horror Story: Coven"), Keke Palmer (Akeelah and the Bee, "Masters of Sex"), newcomer Billie Lourd, Diego Bonita (Rock of Ages), Glen Powell (The Expendables 3), Lucien Laviscount ("Episodes"), Niecy Nash ("Getting On," "The Soul Man"), pop superstar and actor Nick Jonas ("Kingdom") and Grammy Award nominee and actress Ariana Grande. THE STRAIN - COMING IN JULY
"The Strain" returns to FX this summer for its highly-anticipated second season on Sundays at 10 p.m. e/p, beginning July 12th. The award-winning thriller from Guillermo del Toro and Carlton Cuse, based off of the best-selling "The Strain" Trilogy by del Toro and Chuck Hogan, was the most-watched new cable drama of 2014. As the second season unfolds, the transformation has begun. It can no longer be denied — New York City is rapidly falling to an evil epidemic, and no one is coming to its rescue. Its citizens must fight or die. Dr. Ephraim Goodweather (Corey Stoll) and his unlikely allies tried to take down the embodiment of this evil — the Master — and failed. Now Eph and Dr. Nora Martinez (Mia Maestro) concentrate on creating a biological weapon to wipe out the creatures, while Abraham Setrakian (David Bradley) searches for an ancient book he hopes will reveal the strigoi's entire history…and possibly a way to kill them. Meanwhile, the Master is out for revenge, unleashing new and even more terrifying breeds of bloodthirsty creatures after our team. Our team must find a way to defeat him before the infection spreads too far and becomes irreparable … before they become monsters themselves. "The Strain" hails from Showrunner/Executive Producer/Writer Carlton Cuse along with Co-Creators/Executive Producers/Writers Guillermo del Toro and Chuck Hogan. Gary Ungar, J. Miles Dale, Bradley Thompson, David Weddle and Regina Corrado serve as Executive Producers. "The Strain" is produced by FX Productions. INDUSTRIAL LIGHT AND MAGIC
Wired Magazine has debuted an extensive oral history of visual effects company Industrial Light & Magic featuring interviews with George Lucas, Steven Spielberg, Michael Bay, Guillermo del Toro, Kathleen Kennedy, J.J. Abrams, and more. With it comes an expansive cover photo showcasing the legacy of the company and their countless creations, ranging from Davy Jones to Yoda and Bumblebee to Ant-Man. Within the feature there are some updates on upcoming blockbusters as well, including Warcraft, which just revealed its first official image. "There were three times in my 20 years here that I've almost soiled myself looking at a challenge we were going to take on," says Cary Phillips, Research and Development Supervisor for ILM. "The first was the concept art for Star Wars: Episode I. The second time was Davy Jones in Pirates of the Caribbean: Dead Man's Chest. The third time I almost soiled myself was seeing the concept art for the film we're working on now, Warcraft; it's the most amazing work we've done in the 20 years I've been here." "I think we recently rang the bell on having less than a thousand shots to go," director Duncan Jones said. "That was a good thing to hear." Jurassic World director Colin Trevorrow also opened up about the work ILM is doing for the sequel. "Harsh top light has often not flattered the dinosaurs, but in Jurassic World they're very naked and out in the open—it took that encouragement from Dennis for us to be willing to let these dinosaurs have sunlight hit their skin and not add any additional effects to mask them. It helps the movie feel intensely real." "Breaking Bad" and Star Wars: Episode VIII director Rian Johnson also offered a fun anecdote about his history with ILM. "When I was in high school, somebody gave me a copy of this ILM coffee table book called The Art of Special Effects. I almost burned my house down because of that book…My friends were doing a Back to the Future parody, and I decided I was going to re-create the tire trails behind the DeLorean. Genius that I am, I soaked strips of paper towel in gasoline and laid them out in a line behind this big model car of the DeLorean that I'd built in my parents' garage. I don't remember how I got the fire out, but I almost destroyed my family's house. And now I'm doing Star Wars. That's how you do it."

GENUS
It was revealed today that Joseph White will direct the sci-fi thriller Genus for London-based production and finance outfit Catalyst Global Media. The feature reunites the team behind the award-winning hit online short The Brain Hack. Based on the acclaimed novel by Jonathan Trigell (writer of "Boy A," dramatized by Film Four and The Weinstein Co. and recipient of four BAFTA Awards), Genus is a gripping and action-packed sci-fi thriller set in a bleak and dangerous future. The film is being adapted for the screen by Mike Carey, the award-winning novelist, graphic-novelist ("Lucifer," "Hellblazer" and "X-Men: Legacy") and screenwriter of Cannes 2015-reported Warner acquisition She Who Brings Gifts, starring Gemma Arterton, Paddy Considine and Glenn Close. Genus will be Carey's next film. In the not-so-distant future, genetic selection and physical perfection are the norm – all the qualities men and women aspire to can be purchased prior to birth, and those financially unable to 'self-improve' are ostracized as an underclass in London's King's Cross (The Kross). When a series of disturbing murders shakes the Kross, the unorthodox Detective Gunt is assigned to the case. As tensions mount between the improved and the unimproved, Gunt is running out of time. But as he gets closer to the truth and uncovers a larger conspiracy, he will come to question everything he's ever known to be true. Said Catalyst CEO Charlotte Walls,"'Genus' is a fascinating proposition from novelist Jonathan Trigell who presents us with a piece of science fiction that is relevant and frighteningly possible. Mike Carey was our number one choice for this adaptation and we are thrilled to be announcing the talented and visionary director Joe White at the helm. Tonally and stylistically we see Genus as 'Gattaca' meets 'Looper' wrapped up in a detective thriller akin to 'Se7en' and we know that Joe's wide-ranging talents can make this a reality." Joseph White, who's VFX background includes credits on such films as Skyfall, has recently garnered much notoriety and acclaim for The Brain Hack – an ambitious, mind-bending, award-winning and viral 19-minute online sci-fi thriller that he wrote and directed and which was commissioned, financed, produced and scored by Catalyst. The Brain Hack has already been optioned for a feature film remake by Jeff Robinov's Studio 8 and will be produced by 3 Arts Entertainment's Erwin Stoff, Will Rowbotham and Richard Abate. PIXELS
Sony Pictures has unleashed a new trailer for '80s arcade comedy-action film Pixels which you can watch below! The film, which stars Adam Sandler, Kevin James, Michelle Monaghan, Josh Gad, Peter Dinklage and Brian Cox, hits theaters on July 24. In Pixels, intergalactic aliens misinterpret video-feeds of classic arcade games as a declaration of war against them and attack the Earth, using the games as models for their various assaults. President Will Cooper (James) has to call on his childhood best friend, '80s video game champion Sam Brenner (Sandler), now a home theater installer, to lead a team of old-school arcaders (Dinklage and Gad) to defeat the aliens and save the planet. Monaghan plays the team's unique weapons specialist. The film is directed by Chris Columbus from a story by Tim Herlihy and a screenplay by Tim Herlihy and Timothy Dowling, based on the original short film of the same name by Patrick Jean. Pixels is produced by Adam Sandler, Chris Columbus, Mark Radcliffe, and Allen Covert. Executive Producers are Barry Bernardi, Michael Barnathan, Jack Giarraputo, Heather Parry, Tim Herlihy, Steve Koren, Patrick Jean, Benjamin Darras, Johnny Alves, Matias Boucard, Seth Gordon, and Ben Waisbren.
TUESDAY, MAY 19, 2015
ZOO
What would the world be like if the the animal kingdom decided to revolt? That's the premise of James Patterson's novel "Zoo" and the upcoming CBS series of the same name. While Patterson is no stranger to his books being adapted for the small and big screens, he promises Zap2it and other reporters at CBS' summer press event that the 13-part "Zoo" series will be even better than his novel. "P eople always say that the book is always better than the movies and the screenwriters always say 'We only had two hours,'" Patterson explains. "Now they have 13 hours so there's no excuse and, in this case, it's better than the book." Fans of the book expecting a strictly faithful adaptation should adjust beforehand. Patterson says the novel is already done and he gave executive producers permission to take the "spirit" of his book and go on their own adventure. When executive producers Jeff Pinkner and Cathy Konrad took the idea to CBS they sketched out a potential five seasons for the show, in case it accrues the popularity of CBS' other summer series "Under the Dome." "The series will not end where the book ends," Pinkner says, "but the message is the same." JONATHAN STRANGE & MR. NORELL
The more we see of BBC's new historical fantasy mini-series based on Susanna Clarke's best-selling novel, Jonathan Strange & Mr. Norell, the more anxious we become to pop on a top hat and start conjuring spells ourselves. This richly-detailed seven-episode series revealing real-life magicians in the time of Napoleon just began in the U.K, but we won't see it premiere until June 13th here in the states, so be wary of spoilery recaps lurking out in the wild. Directed by Toby Haynes (Doctor Who, Being Human) with a faithful adaptation by Peter Harness (Wallander, Doctor Who), it stars Eddie Marsan and Bertie Carval as the titled sorcerers. Earlier this month we showed you the first clip of Mr. Norrell's incredible library and now this exhilarating new TV spot teases more mystifying manifestations, including Jonathan Strange's summoning of spectral stallions from a sandy beach. Here's the official synopsis: Set at the beginning of the 19th century, England no longer believes in practical magic. The reclusive Mr Norrell (Eddie Marsan) of Hurtfew Abbey stuns the city of York when he causes the statues of York Cathedral to speak and move. With a little persuasion and help from his man of business, Childermass (Enzo Cilenti), he goes to London to help the government in the war against Napoleon. It is there Norrell summons a fairy (Marc Warren) to bring Lady Pole (Alice Englert) back from the dead, opening a whole can of worms… Jonathan Strange (Bertie Carvel) is charming, rich, and arrogant. While trying to secure his beloved Arabella's (Charlotte Riley) hand in marriage, he meets the magician of Threadneedle Street, Vinculus (Paul Kaye), who tells him he is destined to be a great magician. A shaken and disturbed Strange initially dismisses the claims, but intrigue overcomes; and in an attempt to find his occupation, he tries to practice magic… FEAR THE WALKING DEAD
The eagerly anticipated spinoff to AMC's The Walking Dead arrives this summer, and the new showrunner is here to explain how it'll differ from the flagship series. Dubbed Fear the Walking Dead, the new show is set in Los Angeles and will track the beginning of the zombie apocalypse through the eyes of a teacher and his family. It's basically a prequel to The Walking Dead, dealing with the early days we didn't get to see (i.e. the time Rick was in a coma). So showrunner Dave Erickson teases that we'll get to see the world fall apart as the characters try to figure out exactly what is happening when people start eating other people. Here's what he told TV Line about the project: "We're covering the period of time when Rick was in his coma, so we're getting to see things go sideways in a way that he did not. And we're telling our story through the filter of this highly dysfunctional blended family [led by Gang Related's Cliff Curtis and Deadwood's Kim Dickens]. It's about the shark you don't see. It's the education of our characters as to what is going on and how the world is unraveling and what is happening to people… It'll differ in so many ways… [It's about] the anxiety and anticipation. We don't go, for lack of a better term, full-zombie. There's a bit more of a slow-burn to the story. We don't get to a point where we're actually in a full-blown apocalypse until much later in the show. [Fellow EP] Robert [Kirkman] wanted to really dwell on what it's like to [commit] a violent act — especially in our world, because it's so early, and our walkers are fresher and far more human. It's [emotionally] difficult to kill them, even when somebody's coming after you… In terms of emotional tension, when we put one of our characters through a moment where they have to commit some brutality to defend themselves or others, they'll suffer for it." Though we're focusing on the early days of the zombie outbreak, Erickson was quick to note this won't be a top-down story about the government's response to the events, which is a comic approach in disaster films and television shows. They've found success focusing on a small group in a larger-than-life situation, and they don't want to stray too far from that formula: "One of the things I loved about the original [series], and one of the things we're going to maintain here, is we're going to see through the eyes of the family the aftermath of the decisions that were made on the command level. We'll never tell a story from the CDC's perspective, or from FEMA's perspective. It will never be World War Z." Other tidbits of note: Erickson said there are currently no plans for a crossover with the main series (which makes sense, considering we're in a different part of the country and in an earlier time period), but he added, "never say never." So there's always (a little) hope. He also teased that the zombies might be a bit faster and stronger, since they're technically younger and less decayed. So what's the take away here? AMC had better be very careful in trying to milk tension from a situation we've already seen play out. We already know it's zombies, so it's not going to be very entertaining to watch people freak out for a six-episode season to try and figure out what we already know. There's also the risk this slow burn could be a bit too, well, slow. The Walking Dead is successful because it keeps the action moving. The one time it did slow down, in season two at Hershel's Farm/The Search for Sophia, is considered a low point for the series. We don't need a whole spinoff season of that glacial pace. Again, we're hopeful this series will be fantastic — but there are definitely a few warning flags to be noted. THE MAGICIANS
We've talked a lot around here about Syfy's dedication to returning to more hard sci-fi programming over the next couple of years, but the network's also devoted to other kinds of genre series, and The Magicians is one of them. Based on a trilogy of novels by Lev Grossman that began with The Magicians in 2009, the show's been in development for nearly five years, first at Fox and then, finally, at Syfy (Disclosure: Syfy is Blastr's corporate parent - Ed.). The novels have received tremendous acclaim, Grossman's definitely behind the adaptation, and it's another chance for Syfy to get a prestigious drama under its belt. We won't see the series itself until 2016, but late last week Syfy did give us a peek with the first trailer, and it looks like fun. In case you're not up to speed, here's Syfy's synopsis of the show: "The Magicians stars Jason Ralph (A Most Violent Year, Aquarius) as Quentin Coldwater, a brilliant grad student who enrolls in Brakebills College for Magical Pedagogy, a secret upstate New York university specializing in magic. He and his 20-something friends soon discover that the magical fantasy world they read about as children is all too real— and poses grave danger to humanity." The trailer introduces us to Quentin and Brakebills, delivers plenty of clever looks at magic and gives us a tone that's a little bit funny, a little bit sexy and very magical. The cast might seem a bit prettier than one would expect from their descriptions in the books, but, well ... it is TV, after all. The magic we see particularly stood out to me, because it seems rooted in the personality of the characters. We don't know yet how faithful the show will end up being to Grossman's novels, but at the moment The Magicians feels very much like a show that will go its own way, and I like that. PAN
Escape to Neverland as Warner Bros. presents another look at director Joe Wright's lavishly fractured take on Peter Pan. Pan is set for a worldwide release in 3D and 2D in theaters and IMAX on October 9. Offering a new take on the origin of the classic characters created by J.M. Barrie, Pan follows the story of an orphan who is spirited away to the magical Neverland. There, he finds both fun and dangers, and ultimately discovers his destiny-to become the hero who will be forever known as Peter Pan. Pan is a live-action Peter Pan feature directed by Joe Wright (Atonement, Pride & Prejudice). Offering a new take on the origin of the classic characters created by J.M. Barrie, the action adventure follows the story of an orphan who is spirited away to the magical Neverland. There, he finds both fun and dangers, and ultimately discovers his destiny—to become the hero who will be forever known as Peter Pan. The film stars Oscar nominee Hugh Jackman (Les Misérables) as Blackbeard, Garrett Hedlund (Inside Llewyn Davis) as Hook, Oscar nominee Rooney Mara (The Girl with the Dragon Tattoo) as Tiger Lily, Adeel Akhtar (The Dictator) as Smee, and newcomer Levi Miller as Peter. Rounding out the cast are Taejoo Na (The Kick) as Kwahu, Nonso Anozie (Son of God, Atonement) as Bishop, Kathy Burke (Tinker Tailor Soldier Spy) as Mother Barnabas, Kurt Egyiawan (Skyfall) as Murray, Lewis MacDougall (UK TV's "In the Name of the Children") as Nibs, newcomer Leni Zieglmeier as Wendy Darling, Jack Charles (Mystery Road) as The Chief/Tiger Lily's father, and Amanda Seyfried (Les Misérables) as Mary. THE FLASH
The Flash (CW) Tuesday, 8 p.m. - "Fast Enough" Season finale! - At last, we've reached the end of the wild first season of The Flash, and we already know a second one is on the way. Back before things kicked off, we weren't really sure what to expect from this series, and in some ways it was a little worrying. Many fans (including myself) felt from the start that Flash shouldn't be Arrow, and worried that the grim vibe of so many of Oliver Queen's adventures would transfer to much into Barry Allen's. Turns out we didn't have much to worry about in that area, and what followed was a whole season of what might be the most-comic-book comic-book series on TV (at least until next season). We got superspeed, lots of supervillains, supervillain team-ups, time travel and even Gorilla Grodd all over the course of 21 episodes, and the 22nd promises to deliver even more crazy adventures for the Fastest Man Alive. This week, Barry faces a life-changing choice and Firestorm returns for the final fight. BETWEEN - COMING THURSDAY
Series premiere! - Netflix just keeps branching out with original and exclusive series, and the latest is the genre drama Between. It's the story of a town in which everyone over the age of 21 begins to die of a mysterious plague, leading to a quarantine that leaves the remaining young people (led by Sam & Cat star Jennette McCurdy) to try and solve the mystery of what's happened. Unlike most Netflix shows, this one will be streaming week by week, until all six episodes have aired, so you can't binge this time. The concept's definitely intruiging, and we're looking forward to seeing how this plays out.
MONDAY, MAY 18, 2015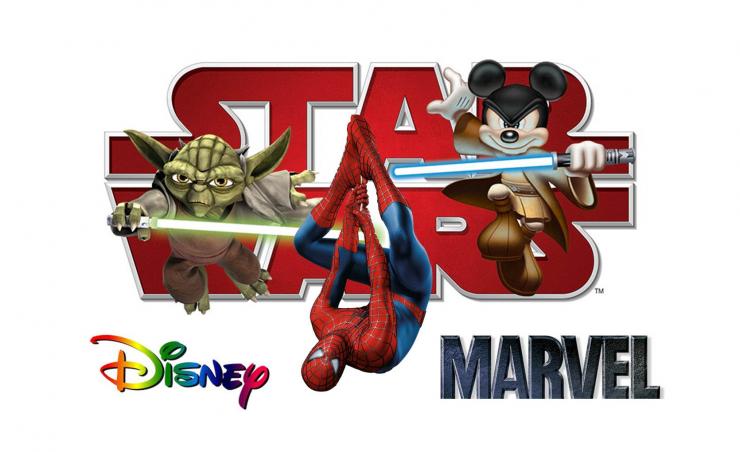 DISNEY-STAR WARS-MARVEL
Do you like what you're seeing from Marvel on ABC and Netflix? Enjoying Star Wars: Rebels on Disney XD? Well, get ready, because a lot more could be coming our way. During a conference call with investors, Disney CEO Robert Iger -- whose empire already controls TV and cable channels like ABC, ESPN, The Disney Channel and many more -- hinted that the company could possibly launch networks based around two of its cinematic crown jewels, Marvel and Star Wars. Here's the quote from Iger, as reported by Daily Finance: "We have said that with these channels and these brands -- ESPN, ABC, Disney, maybe even down the road something related to Star Wars and Marvel -- we do have an ability as a company to take product, specifically filmed entertainment, television, movies, directly to consumers." To be sure, the quote is somewhat vague and open to interpretation. Does Iger mean Star Wars or Marvel-themed movie channels where the entire theatrical franchises air all the time? Or full-service TV networks boasting all-original programming? There are thousands of characters and books in the Marvel canon alone that may never make it to theater screens -- but could they find their way to a 24-hour Marvel network? The mind reels at the possibilities. Again, this was just a comment that Iger threw out there, but it seems clear that Disney is thinking about something along these lines. MINIONS
Universal Pictures and Illumination Entertainment have released the new trailer for Minions. Arriving on the big screen July 10, 2015, this Despicable Me spinoff begins at the dawn of time. Starting as single-celled yellow organisms, Minions evolve through the ages, perpetually serving the most despicable of masters. Continuously unsuccessful at keeping these masters–from T. rex to Napoleon–the Minions find themselves without someone to serve and fall into a deep depression. But one Minion named Kevin has a plan, and he–alongside teenage rebel Stuart and lovable little Bob–ventures out into the world to find a new evil boss for his brethren to follow. The trio embarks upon a thrilling journey that ultimately leads them to their next potential master, Scarlet Overkill (Academy Award winner Sandra Bullock), the world's first-ever female super-villain. They travel from frigid Antarctica to 1960s New York City, ending in mod London, where they must face their biggest challenge to date: saving all of Minionkind… from annihilation. Featuring a soundtrack of hit music from the '60s, Minions is produced by Illuminatio'?s Chris Meledandri and Janet Healy, and is directed by Pierre Coffin and Kyle Balda. Brian Lynch has written the screenplay for the 3D-CG comedy adventure, and Chris Renaud serves as executive producer of the film. STEVE JOBS
The first trailer has arrived for Universal Pictures' Steve Jobs biopic, which is slated to hit theaters nationwide on October 9. Michael Fassbender leads an all-star cast as the title character and Apple co-founder in this biopic, which could certainly be an early Oscar contender when it debuts this fall. We have a long way to go until Oscar season, but this biopic could surely be one of the front runners for Best Picture. Set backstage at three iconic product launches and ending in 1998 with the unveiling of the iMac, Steve Jobs takes us behind the scenes of the digital revolution to paint an intimate portrait of the brilliant man at its epicenter. Steve Jobs is directed by Academy Award winner Danny Boyle and written by Academy Award winner Aaron Sorkin, working from Walter Isaacson's best-selling biography of the Apple founder. The producers are Mark Gordon, Guymon Casady of Film 360, Scott Rudin and Academy Award winner Christian Colson. Michael Fassbender plays Steve Jobs, the pioneering founder of Apple, with Academy Award-winning actress Kate Winslet starring as Joanna Hoffman, former marketing chief of Macintosh. Steve Wozniak, who co-founded Apple, is played by Seth Rogen, and Jeff Daniels stars as former Apple CEO John Sculley. The film also stars Katherine Waterston as Chrisann Brennan, Jobs' ex-girlfriend, and Michael Stuhlbarg as Andy Hertzfeld, one of the original members of the Apple Macintosh development team. Steve Jobs comes to theaters October 9th, 2015.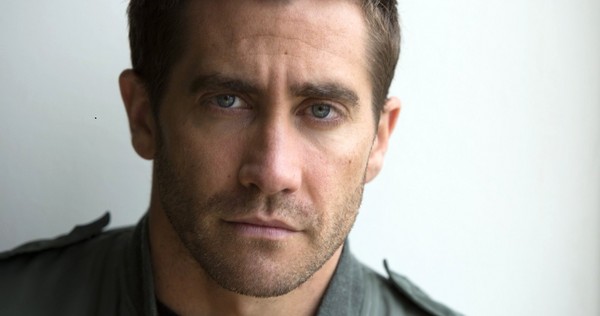 NOCTURNAL ANIMALS
In what is by far the biggest deal to emerge from the Cannes Film Festival this year, Focus Features has acquired director Tom Ford's adaptation Nocturnal Animals for a whopping $20 million. The deal includes an 8-figure commitment for publicity and advertising. While production has not yet started on the adaptation of Austin Wright's book Tony and Susan, Tom Ford delivered a presentation at the Carlton Hotel during the Cannes Film Festival, when offers started to pour in. Here's what Focus Features' Peter Schlessel had to say about the deal in a statement. "Tom's vision for his film is unique and inspiring and something that global audiences will be thrilled by. Tom has proven his prowess as a filmmaker and this romantic tale of revenge and regret will be a fantastic addition to our slate." Jake Gyllenhaal and Amy Adams are set to star as Tony Hastings and Susan Morrow in the adaptation. The story centers on Susan, who receives a manuscript from her ex-husband, which recounts the fictional life of Tony Hastings. As she becomes more drawn in to the story, she is forced to confront her past. The title of the adaptation comes from one of the stories in the manuscript. Tom Ford had originally planned on self-financing the adaptation, so he could retain all creative control, but he later became open to accepting a worldwide distribution deal. The deal is similar to Focus' The Theory of Everything, which took in over $120 million worldwide and earned 5 Oscar nominations, including one for Best Picture. The Nocturnal Animals adaptation marks Tom Ford's follow-up to his directorial debut, 2009's A Single Man, which was nominated for Best Picture. Nocturnal Animals comes to theaters in 2016.
SUNDAY, MAY 17, 2015
JURASSIC WORLD
Technological advancement in any field is no guarantee of that technology not running horribly amok, but the charismatic genetic biologists at InGen Technologies want to sway you otherwise in this slick viral video for Jurassic World.

Hear the top minds in the industry explain recent leaps in knowledge discovered on the very frontiers of science, leading to the creation of even more majestic hybrid dinosaurs through careful manipulation of cloning techniques mastered by their talented team.

Take a peek at their convincing three-minute corporate presentation and ingest InGen's "designer dino" ideology before all the running and screaming begins.

Directed by Colin Trevorrow, Jurassic World stomps into theaters on June 12, 2015.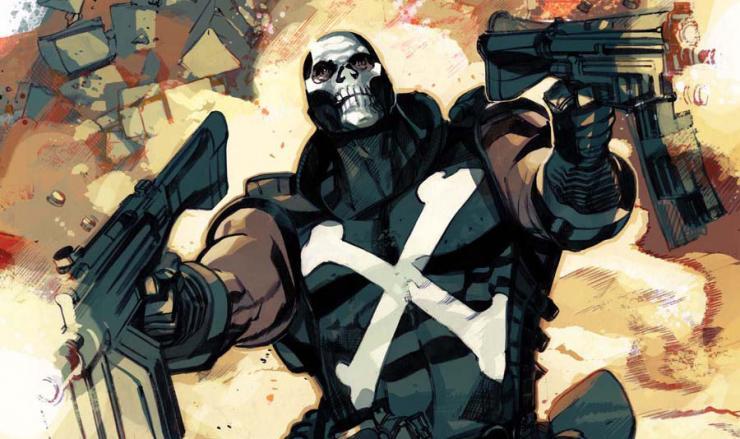 CAPTAIN AMERICA: CIVIL WAR
New filming pics from the set of Captain America: Civil War have emerged, giving us our first-ever look at the villainous Brock Rumlow (Frank Grillo), aka Crossbones, in all his costumed glory.
Potential spoilers ahead for Captain America: Civil War!
Not only that, but we have loads of pics featuring Captain America (Chris Evans) and Falcon (Anthony Mackie) in their new uniforms, Scarlett Johansson's Black Widow seemingly attending the same funeral as yesterday (possibly that of Hayley Atwell's Peggy Carter, since the casket is draped in a British flag) and Elizabeth Olsen as Scarlet Witch.
There's also some cool shots of Cap and Falcon in action as the dynamic duo was spotted filming among the extras at the African Market set in Atlanta, Ga. Check out the awesome set pics below, and let us know what you think about Crossbones' badass costume, Cap's slightly altered look and Falcon's new superhero duds. Captain America: Civil War will be released in theaters on May 6, 2016.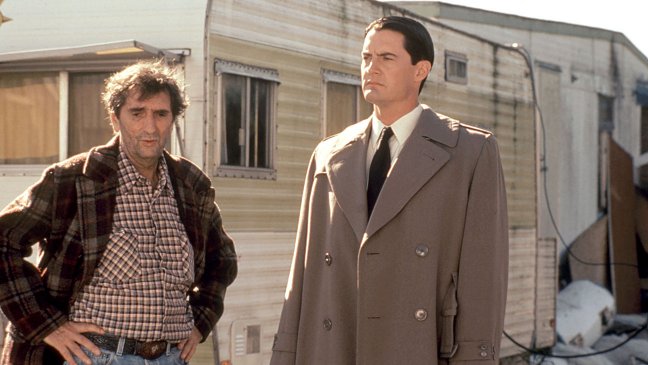 TWIN PEAKS UPDATE
How's this for a way to start the weekend: Showtime's Twin Peaks revival is all systems go.
Following a squabble with Showtime, David Lynch announced Friday via Twitter that he has resolved his salary and budgetary standoff with the premium cable network.
"Dear Twitter Friends, the rumors are not what they seem ..... It is !!! Happening again. #TwinPeaks returns on @SHO_Network," he wrote.
Not only is the stalemate over, but Showtime has committed to producing more than the nine episodes originally ordered.
"This damn fine cup of coffee from Mark and David tastes more delicious than ever," Showtime president David Nevins said in a statement Friday confirming the news. "Totally worth the extra brewing time and the cup is even bigger than we expected. David will direct the whole thing which will total more than the originally announced nine hours. Preproduction starts now!!"
The news comes a month and a half after Lynch announced that he was exiting Showtime's nine-episode revival over a salary dispute. He originally signed on to direct the project but noted that there was "not enough money offered to do the script the way I felt needed to be done."
Showtime already had a deal in place with Lynch and co-creator Mark Frost to bring back the cult hit with star Kyle MacLachlan for a run in 2016, with sources telling THR that the scripts had already been written. For its part, Showtime at the time noted that it "continues to hold out hope" that Twin Peaks can be brought back with both its creators at the helm.
Following Lynch's outburst, the cast teamed for a video backing the beloved director that went viral as part of a #SaveTwinPeaks campaign that said doing the show without Lynch is "like pies without cherries" in a nod to the cult series.
FRIDAY, MAY 15, 2015
LEGENDS OF TOMORROW
The CW has unveiled the first look at its "Arrow" and "The Flash" spinoff, "Legends of Tomorrow," and it's jam-packed with excitement. The series will join the heroes and villains of The CW's DC universe to fight a common enemy that threatens to destroy the world. While there's still quite a while before "Legends of Tomorrow" premieres, there's already plenty to know about the series. Follow along with Zap2it's primer for all the information you'll need. What's the story? Villains and heroes are brought together by the Flash (Grant Gustin) and the Arrow (Stephen Amell) in order to stop a force bigger than any of them could possibly face alone. With the introduction of two new characters, this team will travel through time to battle an immortal foe. Who are the legends? The team will be led by time-traveling adventurer Rip Hunter (Arthur Darvill). While he may not have the superpowers like some of the other Legends, in the comics he's a genius inventor and highly skilled in fighting. Of course, he's also the one who helps them travel through time. The team includes newcomer Hawkgirl (Ciara Renee), described in the trailer as having wings and a "past lives complex." She joins Martin Stein (Victor Garber), Captain Cold (Wentworth Miller) and Heat Wave (Dominic Purcell) from "The Flash," as well as "Arrow's" Ray Palmer (Brandon Routh) and Sara Lance (Caity Lotz). While Lance died on "Arrow," the trailer for "Legends of Tomorrow" teases that she'll be resurrected by the same Lazarus Pit that brought Oliver Queen and Thea Queen (Willa Holland) back to life. This time around, Lance is the White Canary. Another change to the team comes from Palmer. As was shown in the trailer, he's figured out how to make himself shrink inside the Atom suit. It's like if Ant-Man could fly. It's good to know he didn't exactly explode in the "Arrow" Season 3 finale. Who is the villain? The CW has announced the main antagonist of "Legends of Tomorrow" will be Vandal Savage. The actor playing him has yet to be revealed. Vandal is immortal and controls a vast army that the Legends will have to fight as they travel through time to save the world. When will it premiere? While there's not a set release date for "Legends of Tomorrow" yet, it will likely premiere in early 2016. TOMORROWLAND
We're just a few weeks away from the opening of Brad Bird's new sci-fi epic Tomorrowland, and two new clips are a glimpse at the jetpack-fueled world we always wanted. Disney has managed to keep much of this film under wraps, but the release date drawing nigh, they're finally starting to pull back the curtain and showcase some new footage. Surprise, surprise — it looks like a lot of fun. Bird has created a throwback sci-fi spectacle, and we're dying to see more of the futuristic alt-world. The first clip shows off an absolutely wild jetpack ride, and we just can't get over those retro sci-fi stylings. The second clip carries over an early scene from the trailer, showing Britt Robertson's character as she discovers the mysterious pin that sets her on her journey to Tomorrowland. The film stars Robertson as teenager Casey, who connects with former boy-genius Frank (George Clooney) and sets off on a mission to reach the mysterious city of Tomorrowland. The film is directed by sci-fi veteran Bird (The Incredibles), and was co-written by Damon Lindelof (Lost). Along with Robertson and Clooney, the film also stars Hugh Laurie, Tim McGraw and Judy Greer. Tomorrowland opens May 22.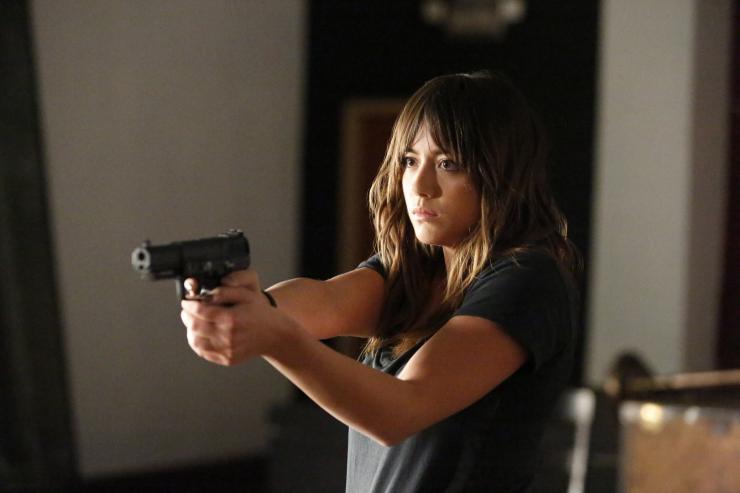 AGENTS OF S.H.I.E.L.D.
Agents of S.H.I.E.L.D. evolved a lot over the course of season two between introducing Mockingbird, unveiling the Inhumans and finally telling us Skye's real name, and the season finale teased an even bigger possible evolution for season three. By the way, if you still haven't watched the finale, you might want to turn away now if you're afraid of SPOILERS. So, as the two-hour finale neared its end, we saw Coulson and Skye (whose real name is Daisy "Quake" Johnson) getting set for a new mission that will see them hopefully rounding up a team of superpowered people. Remember that blue file folder in the scene? Well, Marvel Comics fans caught on to a very specific comic-book reference stamped on its label. For those of you who don't know, "Caterpillars" is a code name that the comic-book versions of Nick Fury and Daisy Johnson used for The Secret Warriors, an underground superhero team that was formed in 2008, when Fury first learned of the alien sleeper agents posing as superheroes which would form the basis for the Secret Invasion event. In the comics, they played a major role in fighting off the secret Skrull invasion, got their own ongoing series in 2009, and ultimately regrouped to battle HYDRA sleeper agents in S.H.I.E.L.D., something the Marvel Cinematic Universe has already tackled. The team was specifically made up of obscure heroes because Fury believed they were the least likely to be Skrull sleepers, and that obscurity could help the Agents of S.H.I.E.L.D. TV show, since lower-level heroes aren't likely to get their own movies (at least, not yet; I'm still hoping for a Fat Cobra movie by 2025). So, are the Secret Warriors really coming to Agents of S.H.I.E.L.D. in season three? According to executive producer Jeffrey Bell ... kind of. Maybe. "Well, Daisy Johnson certainly has a big part in Secret Warriors and having a team like that," Bell said. "If you'll notice, Coulson says right now she is the only person in what might be this new outfit. "But you know, the idea of a team of powered people is something we've seen in the show, and I think there's a world down the road where we do our version. We do our version of all these things so they may not be Secret Warriors but there's a whole lot of super-powered people fighting super-powered people. " That's not really what we do or what we can even do on a weekly series. But tipping our hats to that direction I think is something we're suggesting there in the new season." So, maybe not exactly Secret Warriors, but a hint of Secret Warriors? A Secret Warriors-esque story? Obviously, Bell doesn't want to give away where the show's going, but it's clear Agents of S.H.I.E.L.D. is after even more ambitious story goals for season three. SUPERGIRL
It's a bird! It's a plane! It's Superman's cousin! In the wake of yesterday's first extended promo for Supergirl, CBS has released a new action-packed trailer, as well as a cool video featurette. The new trailer is much more serious in tone and features some new scenes, including extended sequences of Kara's fight with the alien Lumberjack and her use of that ol' Kryptonian heat vision. On the other hand, the video featurette reveals some nice flying action from star Melissa Benoist (who looks like a pro) against a green screen. It also features interviews with executive producers/writers Andrew Kreisberg and Greg Berlanti, executive producer Sarah Schechter, chief creative officer DC Entertainment Geoff Johns and more. SUPERGIRL is an action-adventure drama based on the DC Comics character Kara Zor-El (Melissa Benoist), Superman's (Kal-El) cousin who, after 12 years of keeping her powers a secret on Earth, decides to finally embrace her superhuman abilities and be the hero she was always meant to be. Twelve-year-old Kara escaped the doomed planet Krypton with her parents' help at the same time as the infant Kal-El. Protected and raised on Earth by her foster family, the Danvers, Kara grew up in the shadow of her foster sister, Alex (Chyler Leigh), and learned to conceal the phenomenal powers she shares with her famous cousin in order to keep her identity a secret. Years later at 24, Kara lives in National City assisting media mogul and fierce taskmaster Cat Grant (Golden Globe Award winner Calista Flockhart), who just hired the Daily Planet's former photographer, James Olsen (Mehcad Brooks), as her new art director. However, Kara's days of keeping her talents a secret are over when Hank Henshaw (David Harewood), head of a super-secret agency where her sister also works, enlists her to help them protect the citizens of National City from sinister threats. Though Kara will need to find a way to manage her newfound empowerment with her very human relationships, her heart soars as she takes to the skies as Supergirl to fight crime. Supergirl is set to hit our TV screens in all its comic-book glory this fall.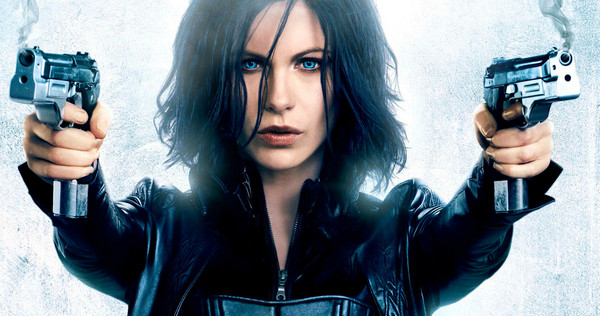 UNDERWORLD 5
Actress Kate Beckinsale has finalized a deal to return as the vampire Selene in Lakeshore Entertainment and Screen Gems' new Underworld 5. We last reported on the Underworld 5 back in September, when Underworld Awakening star Theo James signed on to reprise his role as David, although, at the time, it wasn't believed that Kate Beckinsale would be back as Selene. Our earlier report also revealed that the production was seeking two actresses to play brand new female characters. The sequel has also brought on director Anna Foerster, who will make her feature debut. She previously served as a second unit director for Roland Emmerich's The Day After Tomorrow and 2012, and she also served as his director of photography on 2013's White House Down. She has also directed episodes of Starz's Outlander and CBS' Madam Secretary. Cory Goodman (Apollo 18, The Last Witch Hunter) wrote the screenplay, which is said to be focused on a younger generation of vampires and werewolves locked in an ongoing war between the supernatural species. Production is scheduled to begin this October in Prague. Kate Beckinsale most recently starred in Stonehearst Asylum, and she will next be seen in Absolutely Anything, The Face of an Angel and The Disapppointments Room. Underworld 5 is in development .
THURSDAY, MAY 14, 2015
NEW FALL SHOWS
SUPERGIRL
The CBS network has debuted the first extended trailer for its latest DC Comics-based series, Supergirl, and it looks like a nice mix of day-in-the-life stuff from Superman's cousin Kara Zor-El (Melissa Benoist) as she navigates the workplace — then takes off to rescue a crashing plane in the evening. It's a fascinating, and very different, mix (kind of The Devil Wears Prada meets Argo City), and looks like a good version of what that aborted Wonder Woman series was trying to be. Judging by the footage here, the series will track Kara's genesis as she learns how to use her powers and overcomes her doubts to embrace the career track of her much more famous cousin. There are also an absolute ton of Superman nods, as there should be, but it looks like Kara can definitely stand on her own. There's also a hint of other extraterrestrial threats lingering around the corner, and a mysterious government program tracking them. Oh, and it looks like Mechad Brooks kills it as a more mature -- and, dare we say it, cool - Jimmy James Olsen. Supergirl debuts this fall on CBS. ANGEL FROM HELL
When Amy enters Allison's life and claims to be her guardian angel, they form an unlikely friendship and Allison can't be sure if Amy is an angel or just nuts. Cast: Jane Lynch, Maggie Lawson, Kyle Bornheimer and Kevin Pollak Producers: Tad Quill and Don Scardino LIMITLESS
A drama based on the 2011 feature. The series follows Brian Finch as he discovers the power of the mysterious drug NZT, and is coerced into using his newfound drug-enhanced abilities to solve weekly cases for the FBI. Cast: Jake McDorman, Jennifer Carpenter, Hill Harper, Mary Elizabeth Mastrantonio Producers: Craig Sweeny, Marc Webb, Alex Kurtzman, Roberto Orci, Heather Kadin, Bradley Cooper, Todd Phillips, Ryan Kavanaugh, Tucker Tooley and Tom Forman BETWEEN
With all the excitement over Daredevil and Netflix's other Marvel series, it's worth noting that the streaming network has some other interesting offerings coming up. A trailer has been released for the new original series Between, which takes place in a town where a mysterious disease has exterminated everyone over the age of 21. Now, that sounds right there like the basis for yet another post-apocalyptic young adult movie or a CW pilot...but the trailer makes the premise a lot more interesting and eerie. Jennette McCurdy (iCarly) stars in the six-episode series, for which the official synopsis reads: Between is the story of a town under siege from a mysterious disease that has wiped out everybody except those 21 years old and under. The series explores the power vacuum that results when a government has quarantined a 10-mile diameter area and left the inhabitants to fend for themselves. The one-hour program will be available for streaming on Netflix starting on Thursday, May 21 at 8:30pm PT, with a new episode available for the next five Thursdays after that.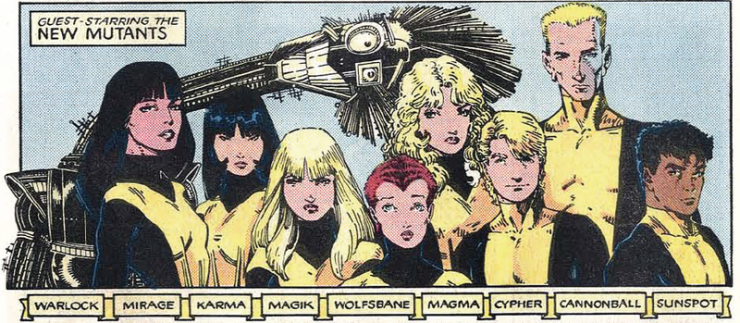 NEW MUTANTS
The X-Men series at Fox was re-invigorated by the release of X-Men: First Class in 2011, but things seem to have really kicked into high gear since the release of X-Men: Days of Future Past last year. In the next two years alone, we get a culmination of sorts with X-Men: Apocalypse, a third Wolverine movie and two solo films starring Deadpool and Gambit. We've heard that Apocalypse will basically serve as ending of sorts to the saga that began with First Class, and we've been wondering since then where Fox would take its mutants next (because you know they're not about to let the chance of a successful shared universe just go away). Now it seems we have our answer. The studio announced today that writer/director Josh Boone (The Fault in Our Stars) is developing a New Mutants spinoff film with co-writer Knate Gwaltney (Nitro Circus) and longtime X-Men producers Lauren Shuler Donner and Simon Kinberg. "We're so excited to explore this new part of the X-Men universe, and so excited to do it with Josh, who is uniquely suited to tell this story about young characters," Kinberg said. Boone's primarily known for his romantic films, but since the success of The Fault in Our Stars he's been developing genre projects, including an ambitious new adaptation of Stephen King's The Stand, and his deft handling of teenage characters in Fault certainly makes him a good fit for the kind of teen soap opera something like New Mutants needs underneath all the superheroics. First introduced in the early '80s as a spinoff of the wildly successful Uncanny X-Men, New Mutants recaptured the energy of a team of young heroes still in training at the X-Mansion, and spawned numerous very popular characters. We don't yet know when we'll see the movie, or which mutants will be on the team, though reportedly the team will feature an "all-new cast of superheroes" (please introduce Magik, please introduce Magik ...). So, even if the X-Men movie team as we know it will never be the same after Apocalypse, we know another team is waiting in the wings.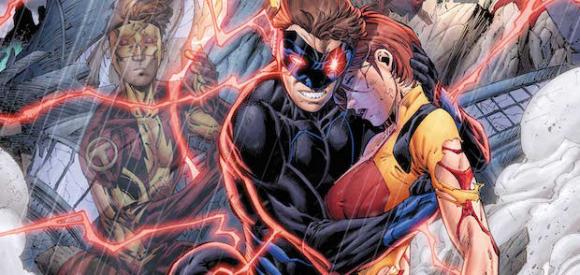 TEEN TITANS
It's been a while since we heard anything solid on TNT's upcoming Teen Titans series, but network president Kevin Reilly has finally offered an update. Spoiler alert: It's (mostly) good news. According to Reilly, the series is still working its way through development, and could potentially ramp up this summer and actually start production. One big delay is that the pilot's co-writer, Oscar winner Akiva Goldsman (A Beautiful Mind), has been a bit busy these days. Little has been announced about the series at this point, though it's been reported the show would potentially focus on DC characters Barbara Gordon, Hawk/Hank Hall and Dove/Dawn Granger, Raven/Rachel Roth and the alien princess Starfire. The team would be led by former Robin and future Nightwing Dick Grayson. As for what direction TNT wants to take the property? Goldsman offered up some hints, and judging by his comments, it seems they want to stay true to the vibe of the original comics. Tonally, it sounds like he's barking up the tree of something in the vein of Arrow, perhaps? Check out his comments to TV Line below: "I sat down with Akiva and said — and he ultimately agreed — that the [TV] landscape right now is well-serviced on the superhero front. So what space is this going to inhabit? And really what he wants to do is be very true [to the source material]. [It] was a groundbreaking property when it first started. There were consequences to things that happened; it wasn't somebody died and they moved on. There was the first superhero to be an addict [in Roy Harper's Speedy]. It's a coming-of-age story for Robin, who feels like Batman has betrayed him. I think it's going to end up being a very, very interesting offering. I think it's going to be excellent." Considering we already have a ton of superhero shows on TV, not to mention the upcoming Legends of Tomorrow team-up series on The CW, it's a good thing TNT is taking its time to nail down the pitch in an effort to create something unique in what has quickly become an insanely crowded space. DARK WAS THE NIGHT
A first official trailer for a little upcoming summer horror movie called Dark Was the Night has finally been released! The creature feature -- which was screened last year during Screamfest Horror Film Festival on Oct. 16 -- stars Kevin Durand (The Strain, Vikings) and Lukas Haas (Inception, Touch) as a small-town sheriff and his deputy who are facing off a murderous creature hiding in the woods. Well, in that case, no longer hiding in the woods. Here's the movie's official synopsis: Maiden Woods is a remote and quiet town of decent, hard-working people, but something stirs in the dark woods surrounding this isolated community. After a logging company decimates an area of the forest, a rash of increasingly violent and unexplainable events transpires. Sheriff Paul Shields (Kevin Durand) and his deputy (Lukas Haas) struggle to confront their own personal demons while facing down a new breed of raw terror that is possibly older than humanity itself… And much, much hungrier. It's great to see Durand -- who we're used to see playing the bad guy in most of the stuff he's been in -- portray one of the good guys for once. Should be fun. I also can't wait to see what this creature looks like. Seems to me like it's been a while since we've had a good horror movie featuring a creature of some sort instead of vengeful spirits and howling werewolves (gosh, I'm really hoping it's not a werewolf), bloodthirsty vampires and brain-eating zombies. Shock Till You Drop says that it looks like a "handsome, Stephen King-esque tale," and I have to agree. What do you think? Dark Was the Night is set to be released in theaters on July 24.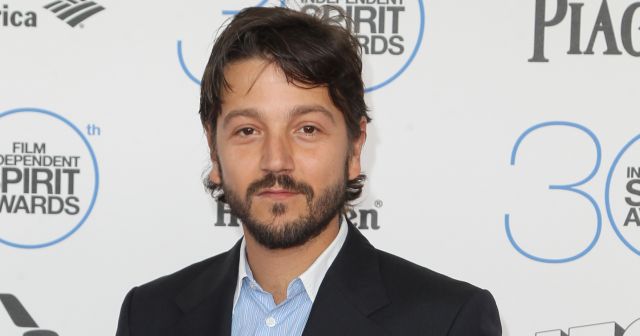 STAR WARS ANTHOLOGY: ROGUE ONE
Variety reports that Y Tu Mamá También and Elysium actor Diego Luna has joined the upcoming "Star Wars" spin-off film Star Wars Anthology: Rogue One in one of the lead roles. He's set to star alongside Felicity Jones as a rebel soldier in the film along with Riz Ahmed (Nightcrawler), Sam Claflin (Snow White and the Huntsman), and Ben Mendelsohn (The Dark Knight Rises). The cast for the film is set to expand even further, with comparisons being drawn to the Dirty Dozen and Magnificent Seven. The first in the "Star Wars Anthology" series of spin-off films, Rogue One will follow a rogue band of resistance fighters united to steal the Death Star plans and bring new hope to the galaxy. "It's the reality of war. Good guys are bad. Bad guys are good," director Gareth Edwards said at Star Wars Celebration. John Knoll, the Academy Award-winning visual effects supervisor who currently serves as chief creative officer at Industrial Light & Magic, is executive producing the film along with Simon Emanuel (The Dark Knight Rises, Fast & Furious 6) and Jason McGatlin (Tintin, War of the Worlds). Kathleen Kennedy and Tony To ("Band of Brothers," "The Pacific") are on board to produce with John Swartz (Star Wars: The Force Awakens) attached to co-produce. It was also recently confirmed that Alexandre Desplat (The Grand Budapest Hotel, The King's Speech) will be providing the score. Star Wars Anthology: Rogue One is set for release on December 16, 2016.
WEDNESDAY, MAY 13, 2015
AGENT CARTER
The first season of ABC's Agent Carter found the titular agent proving her mettle in New York to recover some stolen weapons, but year two will bring with it a ton of changes. The first official synopsis for the recently ordered second season has been released, and it includes some major details about where the show will be heading when it returns at midseason. The big change: We're leaving 1940s New York and jetting off to Los Angeles, where Peggy (Hayley Atwell) will have to deal with a new threat in a new city. Just because she'll be in a sunnier climate doesn't mean the threats will be any less real. We don't know exactly who the Big Bad will be this season (though HYDRA is a likely culprit, especially considering the events of Captain America: Winter Soldier), but it sounds like Peggy and her team (no word on which cast members, if any, will be back) will be taking the fight to them. Here's the official synopsis: Dedicated to the fight against new atomic age threats in the wake of World War II, Peggy must now journey from New York City to Los Angeles for her most dangerous assignment yet. But even as she discovers new friends, a new home — and perhaps even a new love — she's about to find out that the bright lights of the post-war Hollywood mask a more sinister threat to everyone she is sworn to protect. The synopsis doesn't give much away as far as details, but it does set the broad strokes for season two. Peggy spent much of season one dealing with the loss of Steve Rogers, but it sounds like she might start moving on here. There have been rumblings of a time jump for the new season (i.e., setting it a few years after the events of season one), so that could fit. As for the Los Angeles setting? Considering how much fun it was to see 1940s New York, we can't wait to have Peggy bustling through a period-set version of L.A. Not to mention the fact that season one was actually shot in Los Angeles, so, yeah, makes sense. The possibilities are endless.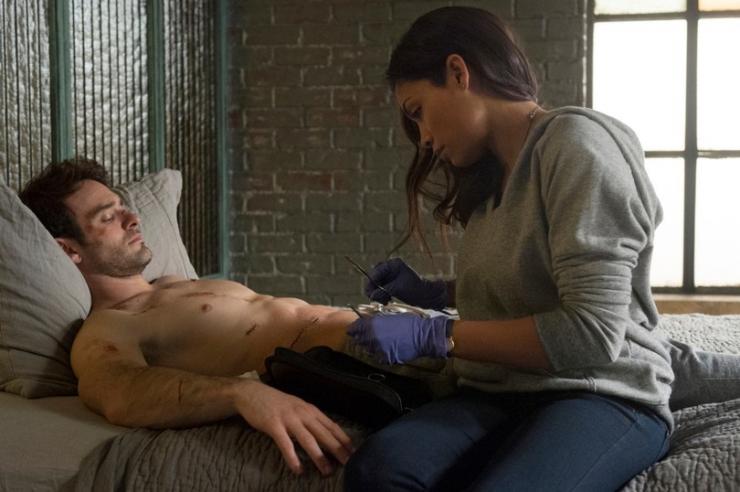 DAREDEVIL NEWS
Apparently we're going to see a lot more of Claire Temple in Marvel's Netflix universe of shows. The medical worker played by Rosario Dawson during the first season of Daredevil -- a hybrid of the comics' version of Claire and the character known as Night Nurse -- will return for a second season of the hit Netflix/Marvel series. But according to The Wrap, the actress has also struck a deal with the two companies that will allow her to appear on other upcoming Marvel shows as well. Here's what Jeph Loeb, head of Marvel Television, had to say: "After working with Rosario in the first season, we knew instantly that we had to have her back for our second. Claire Temple proved a fan favorite in Season 1, and we can't wait for fans to see all the plans we have for her next." Claire was a pivotal character in the first run of Matt Murdock's (Charlie Cox) adventures as an urban vigilante, patching him up after several brutal beatings and providing the possibility of a romantic relationship as well. Interestingly, there were three characters in the comics who used the monicker Night Nurse, and none of them were Claire Temple -- in the comics she was a romantic interest for Luke Cage. With Mike Colter playing Cage in one of the next Marvel series to arrive on Netflix, it seems likely that we might end up seeing Dawson there. Daredevil's second season will premiere in 2016, preceded by AKA Jessica Jones later this year and then followed by Luke Cage, Iron Fist and The Defenders later on. THE MUPPETS
A little more than a month ago, we got the news that ABC and producers Bill Prady (The Big Bang Theory) and Bob Kushell (3rd Rock From the Sun) were developing a new pilot for a Muppets revival series, the first since Muppets Tonight went off the air in 1998. Given the big-screen success the classic Jim Henson creations have had in recent years, it made sense, and we were eager to see the fruits of it. Now we know that the series really is happening, and we have the first trailer to prove it. As previously reported, the show will follow the Muppets as they attempt to develop and put on a brand-new TV series, complete with backstage interviews and other shenanigans. Kermit, Gonzo, Fozzie and the rest of the gang are all on board and working hard. There's just one problem: Miss Piggy doesn't seem interested. The trailer presents all of this in the form of the Muppets sitting around a conference table and pitching ideas, intercut with shots of those ideas in action. The footage has an interesting 30 Rock meets The Office meets something that's uniquely Muppets vibe, and while it's unlike anything these characters have been through before, I'm interested to see where it goes. After all, half the fun of The Muppet Show is seeing the backstage moments at the theater, so we could consider this the next evolution of that idea. Plus, it's just fun to see everyone together again. They're all here: Dr. Teeth, Beaker, Animal, Sam the Eagle, Rowlf and many more. Even Statler and Waldorf are back, and while they're not in their traditional theater box, they do still hate the show. The Muppets will air Tuesdays this fall on ABC.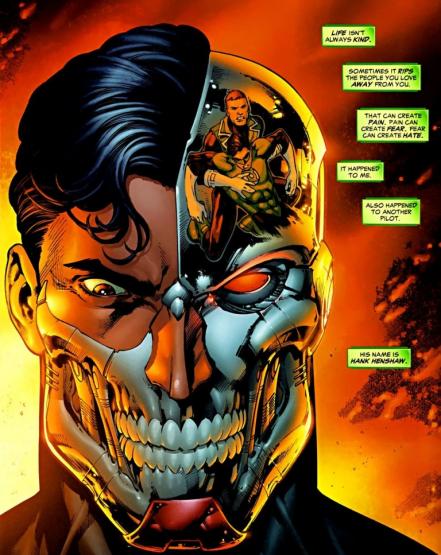 SUPERGIRL
While at the BAFTA awards, Digital Spy spoke to David Harewood (Homeland), who plays DEO agent Hank Henshaw on CBS' Supergirl. In the interview, the actor confirmed that he was heading out to L.A. in order to shoot the new DC superhero TV show (which has recently gotten a full series order over at CBS, thank you very much) starring Melissa Benoist as Kara Zor-El, aka Supergirl. Harewood shared his excitement at shooting the new series, which he called a potential "surprise package" for TV viewers, and had nothing but nice things to say about his co-star: "I think she's going to be a fantastic Supergirl. I've got two little girls, and I think they're going to be tremendously excited when they see Supergirl flying and kicking serious butt." Now, back to DEO (Department of Extra-Normal Operations) agent Hank Henshaw. In the pre-New 52 DC Comics, Henshaw was an astronaut on board a doomed NASA space shuttle who believed the disastrous events that plagued him and his crew were basically the Man of Steel's fault. But before he died of his injuries, he managed to transfer his consciousness into Supes' birthing matrix, thus becoming Cyborg Superman. Harewood — who was a big comic-book fan as a child — is very aware of this particular background for his villainous character. When he was asked about Hank Henshaw and what he'll become, here's what the actor said: "Hank Henshaw, yes, who ends up becoming Cyborg Superman in the comics, battling Superman. So I'm looking forward to that. He's a bit of a supervillain. He seems pretty indestructible. Which I kind of like because I keep getting blown up in these things. I'm kind of looking forward to being indestructible." Harewood then discussed how he planned to bring the character to life: "People always ask me that question, and at the end of the day you've got to bring it to life, and you've got to bring it to life the best way you think is fit... I've taken a lot of hints and clues from what people have said about him, and done a lot of background reading and I've put that together... He's a pretty 'gruff' guy - I'm hoping he's entertaining, but also... frightening." DAMIEN
A&E has just released the first teaser trailer for their upcoming original scripted drama series, "Damien." The hour-long drama hails from Fox 21 Television Studios and executive producer Glen Mazzara and serves as a follow-up to the classic horror film, The Omen. The series stars Bradley James as Damien Thorn ("Merlin," "Homeland"), along with Oscar nominee Barbara Hershey ("Once Upon a Time"), Omid Abtahi ("Better Call Saul") and Meganlyn Echikunwoke ("House of Lies"). "Damien" follows the adult life of Damien Thorn, the mysterious child from the 1976 motion picture who has grown up seemingly unaware of the satanic forces around him. Haunted by his past, Damien must now come to terms with his true destiny — that he is the Antichrist. Barbara Hershey stars as Ann Rutledge, the world's most powerful woman who has been tasked with making sure Damien fulfills his destiny. Omid Abtahi portrays Amani Golkar, a close colleague of Damien's whose fierce loyalty will be tested when he realizes who his brother-in-arms actually is. Meganlyn Echikunwoke plays Simone Baptiste, a woman whose life is thrown into turmoil when tragedy unexpectedly strikes. "Damien" is produced by Fox 21 Television Studios ("Homeland," "Sons Of Anarchy") for A&E Network. Glen Mazzara ("The Walking Dead," "The Shield") serves as writer and executive producer via his 44 Strong Productions. Ross Fineman ("Lights Out"), who developed the project alongside Mazzara, executive produces through his company, Fineman Entertainment. Pancho Mansfield ("Queen of the South") also serves as executive producer. Golden Globe®and BAFTA Award nominated director Shekhar Kapur (Elizabeth) directed and executive produces the first episode.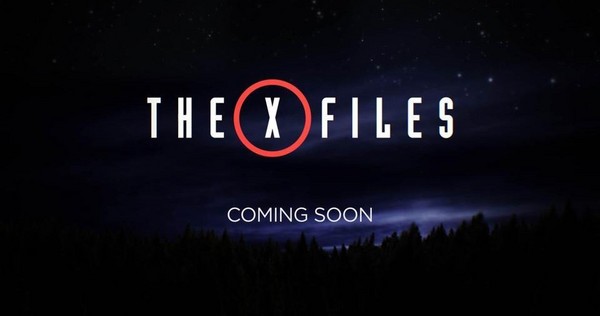 X-FILES COMING IN JANUARY
The 2015 upfront presentations are in full swing, and this morning Fox announced their upcoming fall schedule. Part of that announcement included the premiere date for the Untitled X Files Revival, which reunites Gillian Anderson as FBI realist Dana Scully and David Duchovny as her conspiracy theorist partner Fox Mulder. Fox will debut the series after the NFL's NFC Championship game on Sunday, January 24th. The second episode will then debut on Monday, January 25th, with the following four episodes to air on Mondays throughout February. The will begin shooting this June. Original The X-Files creator Chris Carter is back as an executive producer on the 6-episode Event series. About the show's return, he says: "[It's like coming back from] a 13-year commercial break. The good news is the world has only gotten that much stranger, a perfect time to tell these six stories." The will launch on Sunday, behind the NFC Championship game, to give it a built-in, excited audience, as Fox seeks to offer these 6 new episodes the most maximum exposure. The show will serve as a lead into the new Fox supernatural series Lucifer, based on the DC Vertigo comic book.The network hopes that it will help that freshman show find its audience. About whether the new will stand alone, or tie into existing mythology, a Fox executive reiterated what David Duchovny said in the recent past: "You will see a combination of episodes."

CRIMSON PEAK
Legendary Pictures and Universal Pictures have debuted a disturbing motion poster for the upcoming Crimson Peak, which features Mia Wasikowska's Edith Cushing offering an ominous warning about this haunted house. The studio has also announced that the second trailer will debut tomorrow, May 13, so be sure to keep your eyes peeled for that. We haven't seen or heard much since the first Crimsonn Peak trailer debuted back in February, so hopefully tomorrow's trailer offers plenty of new footage.

When her heart is stolen by a seductive stranger, a young woman is swept away to a house atop a mountain of blood-red clay: a place ?lled with secrets that will haunt her forever. Between desire and darkness, between mystery and madness, lies the truth behind Crimson Peak. From the imagination of director Guillermo del Toro comes a supernatural mystery starring Mia Wasikowska, Jessica Chastain, Mia Wasikowska and Charlie Hunnam. The supporting cast is rounded out by Doug Jones, Burn Gorman, Jim Beaver, Leslie Hope, Javier Botet and Kimberly-Sue Murray. Unfortunately, we still have several months until this haunted house thriller hits theaters on October 23, but hopefully it will be well worth the wait.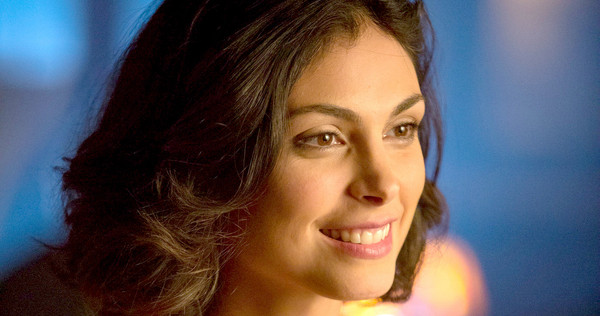 GOTHAM NEWS
Fox's Gotham has promoted actress Morena Baccarin to series regular for the upcoming second season. The actress joined the show in January's midseason premiere "Rogues Gallery" as Dr. Leslie Thompkins, who met Jim Gordon (Ben McKenzie) while they were both working at Arkham Asylum. They were introduced shortly after Gordon broke things off with his fiancee Barbara (Erin Richards), and started dating each other shortly thereafter. Of course, the actress signing on as a series regular is no guarantee that Leslie's romance with Jim will continue, but even if the romance dies, she still serves as the lead medical examiner for the Gotham City Police Department. The first season ended in quite a harrowing fashion for Leslie, since she tried to counsel Barbara after her encounter with the Ogre (Milo Ventimiglia), which ultimately lead to Barbara trying to kill Leslie. It remains to be seen how this will affect Leslie in Gotham Season 2. In the comic books, Leslie Thompkins was a close friend of Thomas Wayne, the late father of Bruce Wayne (David Mazouz), but there hasn't been any mentioned connection between Leslie and Thomas Wayne in the series yet. Now that Leslie is coming back, and she's still dating Jim, it's likely only a matter of time before Leslie and young Bruce end up meeting. FEAR THE WALKING DEAD
AMC announced today the start of production on its highly anticipated new series, Fear the Walking Dead in Vancouver. Additional filming will also take place in Los Angeles at a later date. A companion series to The Walking Dead, the #1 show on television among adults 18-49, Fear the Walking Dead is executive produced by Robert Kirkman, Gale Anne Hurd, Greg Nicotero, David Alpert and showrunner Dave Erickson and produced by AMC Studios. Co-Executive Producer Adam Davidson, who directed the pilot, is also directing the second and third episodes. The series' first season, consisting of six one-hour episodes, will premiere on AMC in late summer. Here's what Robert Kirkman had to say in a statement. "Fear the Walking Dead takes us back to the earlier, more dangerous, more terrifying days of The Walking Dead. A time when danger was lurking around every corner and the thing mostly likely to get you killed was your own ignorance of the rapidly changing world around you. The stakes are going to be higher and the ride more intense. We're going to show people all the insanity of civilization crumbling that Rick Grimes slept through. Buckle up." Executive producer and showrunner Dave Erickson also released his own statement. "I could not be more thrilled to be continuing on this apocalyptic journey, dramatizing the horrific disintegration of society through the lens of a dysfunctional family. We've assembled a stellar cast and crew to tell our story -- it's going to be a great ride." Fear the Walking Dead which is set in Los Angeles and focuses on new characters and storylines, stars Kim Dickens (Gone Girl, Sons of Anarchy) as Madison, Cliff Curtis (Missing, Gang Related) as Travis, Frank Dillane (Harry Potter and the Half-Blood Prince) as Nick and Alycia Debnam Carey (Into the Storm) as Alicia. Also joining the cast as series regulars are Elizabeth Rodriguez (Orange Is the New Black) as Liza and Mercedes Masöhn (Quarantine 2: Terminal) as Ofelia. AMC Global, the international AMC-branded television network, will air Fear the Walking Dead within 24 hours of the U.S. premiere. AMC Global launched in late 2014 and is available in over 115 countries and territories throughout Latin America, Europe, Asia, Africa and the Middle East. Also today, AMC released an exclusive new behind-the-scenes video from the filming of the pilot episode. Check out the video below, featuring Robert Kirkman, Gale Anne Hurd, Dave Erickson and Greg Nicotero, along with behind-the-scenes footage.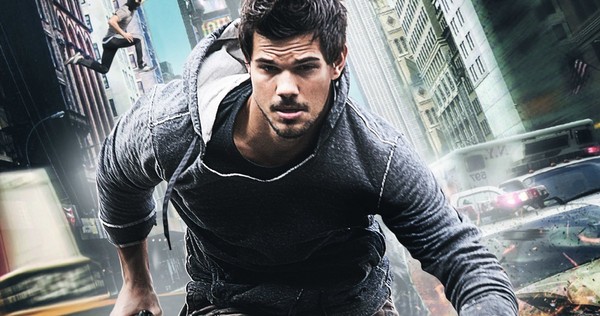 TRACERS
Taylor Lautner navigates the concrete jungle like never before in the parkour thriller, Tracers, arriving on Blu-ray™ (plus Digital HD), DVD (plus Digital) and Digital HD on May 12 from Lionsgate Home Entertainment. Tracers is currently available via On Demand. The action-adventure explores the dangerous world of mob crime, set against the landscape of parkour, and features a stellar cast including Marie Avgeropoulos, Adam Rayner and Rafi Gavron.

When Cam (Taylor Lautner), a New York City bicycle messenger in debt to an organized crime gang, crashes his bike into a sexy stranger, Nikki (Marie Avgeropoulos), it seems his luck may be changing. She introduces Cam to her crew, a team who uses parkour to pull off heists. Hoping to alleviate his debt, he quickly joins. As the stakes get higher with more dangerous side ventures, the payouts get bigger. Cam must use every ounce of his skill to stay alive as the crew's heists grow ever more bold and mob enforcers breathe relentlessly down his neck. The Tracers Blu-ray, DVD and Digital HD include two action-packed behind-the-scenes featurettes. "The Art of Motion" looks at the making of the film with cast and crew interviews and how the parkour stunts were produced. The "Director's Pitch Reel" is a short the director, Daniel Benmayor, produced to illustrate his vision for the film. We have an exclusive look at these special features with a clip that looks at Taylor Lautner and how he committed to learning the art of parkour for his leading role in the film, the physicality of it, and his knack for picking it up. Take a look at this sneak peek, then be sure to check out, available everywhere tomorrow! Tracers was released March 20th, 2015.
TUESDAY, MAY 12, 2015
BLINDSPOT
You'd think Greg Berlanti would be busy enough with superhero shows, but he's also spearheading the ambitious new mystery drama Blindspot, and he's brought a fan-favorite Marvel alum along for the ride. Berlanti (Arrow, The Flash) is executive-producing the new NBC drama, which stars Jamie Alexander (Thor) as a young woman who wakes up naked in Times Square covered with tattoos. She has no memory of who she is, and she teams up with an FBI agent played by Sullivan Stapleton (Strike Back) to solve the mystery. It's an excellent cast, and the duo seem to slide right into their roles. The first trailer looks extremely cool, and Alexander even gets the opportunity to show off her Lady Sif moves and kick some butt. The concept looks very slick, and if they can manage to build a solid mythology around the pitch (something Berlanti has done with flying colors in the comic-book realm), this could be one to watch this fall. Yes, other shows have tried (and failed) to build a series around this type of concept, but we have a lot of faith in Berlanti to actually pull it off. For a bit more background, here's the official synopsis: A vast international plot explodes when a beautiful Jane Doe is discovered naked in Times Square, completely covered in mysterious, intricate tattoos with no memory of who she is or how she got there. But there's one tattoo that is impossible to miss: the name of FBI agent Kurt Weller, emblazoned across her back. "Jane," Agent Weller and the rest of the FBI quickly realize that each mark on her body is a crime to solve, leading them closer to the truth about her identity and the mysteries to be revealed.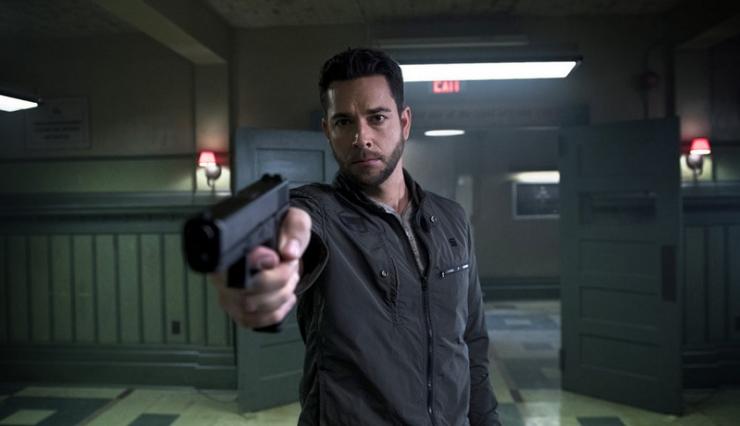 HEROES REBORN
In case you forgot, NBC's Heroes reboot is still happening. Once scheduled for the summer, Heroes Reborn will now debut during the fall. The network has released three photos, one of which includes the show's leading man, Zachary Levi. Not much is known about Heroes' new characters, but we have learned a couple of their names. For example, Levi plays a man called Luke Collins. In the above photo he's aiming a gun, which is unfortunate for whoever's on the opposite side of it. There's also an image of Kiki Sukezane, as Miko Otomo, holding a katana. Plus the return of Jack Coleman as Noah Bennett, aka the Man With the Horn-rimmed Glasses. From original creator Tim Kring, the supernatural phenomenon begins again with a fresh crop of inspiring heroes who take on the ultimate struggle between those with extraordinary abilities and those with nefarious motives to hunt and harness their powers. Epic adventures await these newly empowered allies as they cross paths with some of the original characters (such as the beloved "HRG" and fan-favorite time-traveler Hiro Nakamura), unlocking the mysterious fate of the universe and their place within it. Heroes Reborn will air Thursdays at 8 p.m.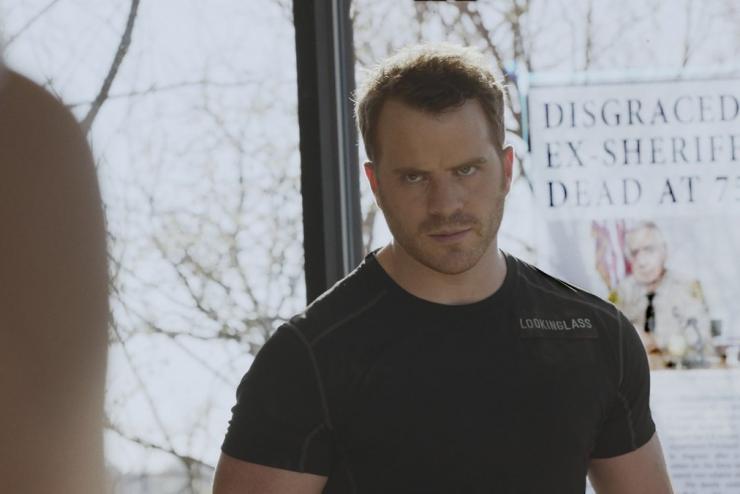 THE FRANKENSTEIN CODE
It's alive! Fox picks up that new Frankenstein contemporary series, but it's undergone a bit of a title change along the way, and has gained a first pic and an intriguing synopsis. Formerly called Frankenstein and now retitled The Frankenstein Code (not a huge fan, but it's not horrible, either), the upcoming modern-day take on Mary Shelley's classic horror tale stars True Blood's Rob Kazinsky in the role of Jimmy Pritchard, who is: A morally corrupt retired cop given a second chance at life when he is brought back from the dead. Now younger and stronger, Pritchard will have to choose between his old temptations and his new sense of purpose. Ah! Scientists playing god sure never gets old. Ever. The Frankenstein Code also co-stars Dilshad Vadsaria, Adhir Kalyan, Tim DeKay and Ciara Bravo. It's being created and produced by Rand Ravich (Candyman: Farewell to the Flesh) and Howard Gordon (who's got some impressive geek cred with The X-Files, Buffy the Vampire Slayer, Angel and 24). Michel Cuesta is producing and helming the pilot. Are you guys intrigued by the premise of The Frankenstein Code? And what do you think of the title change? By the way, if you look closely at the first official still from the series above, you can see what looks to be the dead, corrupt cop himself (Philip Baker Hall), behind Kazinsky's "new and improved" Pritchard.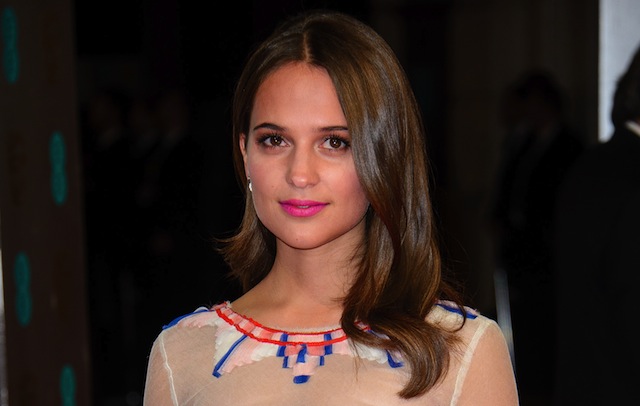 THE CIRCLE
Image Nation Abu Dhabi today announced a deal to fully finance James Ponsoldt's upcoming feature adaptation of Dave Eggers' novel The Circle, also revealing that Ex Machina star Alicia Vikander will join the previously-attached Tom Hanks. The film will be presented by Image Nation in association with Parkes MacDonald Productions. Eggers' novel focuses on a young woman who is hired for a big job in an Internet monopoly called the Circle, which links users' personal emails, social media, banking, and purchasing with their universal operating system, resulting in one online identity and a new age of civility and transparency. The book turns into contemporary thriller about the perils of life in a digital age where personal data is collected, sifted and monetized and used for surveillance, rendering privacy obsolete. The Circle has been written and will be directed by James Ponsoldt (The Spectacular Now). The film is being produced by Hanks and Goetzman for Playtone, Anthony Bregman for Likely Story, and Ponsoldt. Three other major roles are currently out to casting and will be announced shortly. Shooting on The Circle will start August 2015 in California. "The Circle is a fantastic modern day thriller that shines a light on the role of the Internet and our own identities in a world of increasing transparency and privacy issues," says Michael Garin, CEO of Image Nation. "Image Nation is thrilled to be working with the Playtone team, as well as A Likely Story and James Ponsoldt, on its next international production… Image Nation's international projects have helped subsidize and build our local industry here in Abu Dhabi and the region, while creating opportunities for our local talent to work on large scale international productions and this film will help continue that effort." "We have a long history with Tom Hanks and Playtone and have had the privilege of working with Tom on such projects as 'Catch Me If You Can,' 'Saving Private Ryan,' 'The Terminal' and 'Road to Perdition,'" adds Walter Parkes of Parkes Macdonald. "When we heard a filmmaker of James Ponsoldt's stature was looking for financing partners for The Circle, we felt that our relationship with Image Nation put us in a unique position to help make this extraordinary project a reality." This project marks the second time Hanks has collaborated with Eggers. Hanks also stars in the upcoming Eggers' adaptation A Hologram For the King, directed by Tom Tykwer. LUCIFER
Following the announcement of a first season order earlier today, FOX has revealed both the trailer for "Lucifer" as well as a behind-the-scenes featurette. "Lucifer" stars Tom Ellis (Rush) in the title role as Lucifer, who, bored and unhappy as the Lord of Hell, resigns his throne and abandons his kingdom for the gorgeous, shimmering insanity of Los Angeles, where he gets his kicks helping the LAPD punish criminals. Co-starring alongside Ellis are Lauren German ("Chicago Fire") as Chloe Dancer, an LAPD homicide detective who finds herself both repulsed and fascinated by Lucifer; Lesley-Ann Brandt ("Spartacus") as Lucifer's best friend Maze, a fierce demon who takes the form of a human woman; Nicholas Gonzalez ("Sleepy Hollow") as Dan, an LAPD homicide detective wary of Lucifer; D.B. Woodside as Amenadiel, an angel sent to L.A. to persuade Lucifer to return to hell; and Rachael Harris as Linda, Lucifer's therapist. The character was first introduced to Vertigo Comics in Neil Gaiman's "The Sandman," where he abandoned his role as the lord of hell in the beloved "Season of Mists" storyline. His self-titled series, written by Mike Carey, ran for 75 issues. "Lucifer" comes from Warner Bros. TV, DC Comics and Jerry Bruckheimer Television, and was written by "Californication" creator Tom Kapinos and directed by Len Wiseman. Kapinos and Wiseman will executive produce with Jerry Bruckheimer, Jonathan Littman and Ildy Modrovich. THE MINORITY REPORT
Following the announcement of a first season order, FOX has brought online both the first "Minority Report" trailer as well as a featurette that goes behind the scenes of the new series that continues the world of the 2002 Steven Spielberg film. "Minority Report" follows the unlikely partnership between a man haunted by the future and a cop haunted by her past, as they race to stop the worst crimes of the year 2065 before they happen. Set in Washington, D.C., it is 10 years after the demise of Precrime, a law enforcement agency tasked with identifying and eliminating criminals…before their crimes were committed. To carry out this brand of justice, the agency used three precogs – "precognitives" Dash, Arthur and Agatha – who were able to see the future. Now, crime-solving is different, and justice leans more on sophisticated and trusted technology than on the instincts of the precogs. Precog Dash (Stark Sands, Inside Llewyn Davis) – driven by his terrifying, but fragmented visions – now has returned in secret to help a brash, but shrewd, police detective, Lara Vega (Meagan Good, Think Like a Man, "Californication"), attempt to stop the murders that he predicts. As they navigate this future America, they will search for Dash's missing twin brother, Arthur, and elude others who will stop at nothing to exploit their precog abilities. Also complicating matters is Dash and Arthur's ingenious, but reclusive, foster sister, Agatha (Laura Regan, "Mad Men," Unbreakable), who just wants Dash to return home. A drama of crime and conspiracy, this is a timeless story of connection: two lost souls, Dash and Vega, who find friendship, purpose and redemption in each other. Hailing from Amblin, Paramount Television and 20th Century Fox TV, the series is executive produced by Max Borenstein (Godzilla), Spielberg, Justin Falvey, Darryl Frank, Mark Mylod and Kevin Falls.
SUNDAY, MAY 10, 2015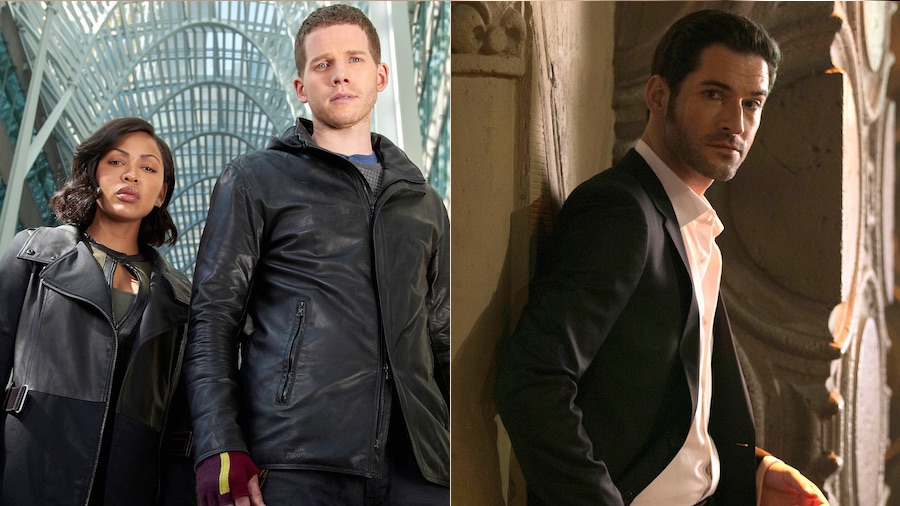 MINORITY REPORT/LUCIFER
FOX had something of a rough year in 2014-15, but hope springs eternal at the upfronts. The network has a fresh crop of new shows for 2015-16, and who knows? Maybe there's a new "Empire" or "Last Man on Earth" in the bunch.

'Minority Report'

Ten years after the end of Pre-crime in DC, one of the three Pre-cogs struggles to lead a "normal" human life, but remains haunted by visions of the future, when he meets a detective who just may help him find a purpose to his gift.

Cast: Meagan Good as Vega, Stark Sands as Dash/Arthur, Wilmer Valderrama as Will Blake, Daniel London as Wally, Laura Regan as Agatha, Li Jun Li as Akeela and Zhane Hall as Rico

Producers: Max Borenstein ("Godzilla"), Steven Spielberg ("Extant," "Under The Dome"), Kevin Falls ("Franklin & Bash"), Justin Falvey ("The Americans"), Darryl Frank ("The Americans") and Mark Mylod ("Game of Thrones")

'Lucifer'

Bored and unhappy as the Lord of Hell, Lucifer resigns his throne and abandons his kingdom for the gorgeous, shimmering insanity of Los Angeles, where he gets his kicks helping the LAPD punish criminals.

Based on the characters from DC Entertainment's Vertigo imprint. Cast: Tom Ellis as Lucifer, Lauren German as Det. Chloe Dancer, Rachael Harris as Kim Martin, DB Woodside as Amenadiel, Lesley-Ann Brandt as Maze, Nicholas Gonzalez as Dan, and Scarlett Estevez as Trixie

Producers: Tom Kapinos, Jerry Bruckheimer, Jonathan Littman and Ildy Modrovich

The Frankenstein Code
Jimmy Pritchard, a morally corrupt retired cop, is given a second chance at life when he is brought back from the dead. Now younger and stronger, Pritchard will have to choose between his old temptations and his new sense of purpose.

Cast: Rob Kazinsky as Jimmy Pritchard, Dilshad Vadsaria as Mary, Adhir Kalyan as Otto, Tim DeKay as Duval Pritchard and Ciara Bravo as Gracie Pritchard

Producers: Rand Ravich ("Life"), Howard Gordon ("Homeland") and Michael Cuesta ("Elementary").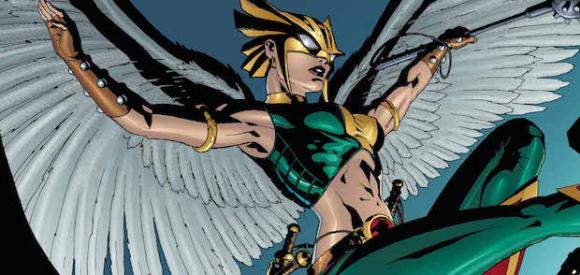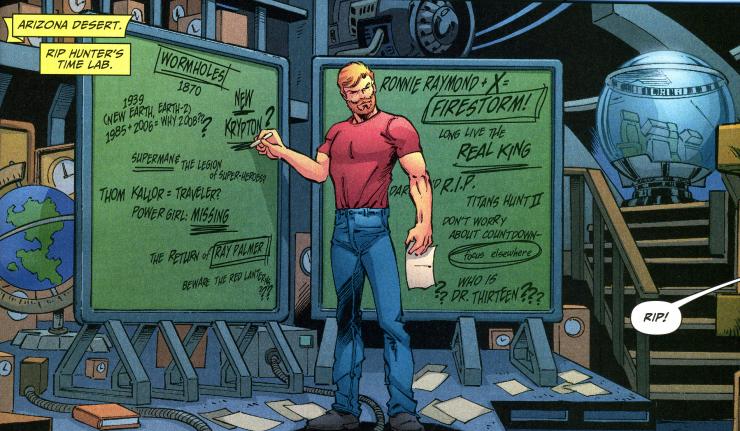 THE FLASH
Looks like we won't have to wait until the fall to meet a few of the new heroes from The CW's DC's Legends of Tomorrow - including a fan fave Doctor Who alum.
It's being reported that both Arthur Darvill's (Doctor Who) Rip Hunter and Ciara Renee's Hawkgirl will both make an appearance in The Flash's season finale later this month. That's a lot sooner than fans expected, and then the two will then go on to headline the recently-ordered spinoff series, along with several familiar faces from both The Flash and Arrow's ranks.
The new show will feature a team of heroes, assembled by Darvill's Rip Hunter, tossed together to face a massive new enemy. Hunter apparently travels back in time to face off with this "unstoppable threat" in an effort to avert a dark future he has already seen. Considering how much time travel has factored into The Flash this season, it makes sense the finale might be a good intro point to get fans familiar with what we'll see in Legends.
Along with Hawkgirl and Rip Hunter, Legends of Tomorrow will also feature Flash and Arrow alums The Atom (Brandon Routh), Sara "Canary" Lance (Caity Lotz), Leonard Snart/Captain Cold (Wentworth Miller), Mick Rory/Heat Wave (Dominic Purcell) and Dr. Martin Stein (Victor Garber). The series is being produced by the Flash and Arrow creative braintrust of Andrew Kreisberg, Greg Berlanti and Marc Guggenheim.
The Flash's season finale will air Tuesday, May 19 on The CW.
AGENTS OF S.H.I.E.L.D.
Following the news that ABC has renewed both "Marvel's Agents of S.H.I.E.L.D." and "Agent Carter" for next season, the network has released the first clip from the season finale of the former. In the clip, Skye (Chloe Bennet) must choose a side – The Inhumans or S.H.I.E.L.D. Do you think she will go against Coulson's team? The two-hour season finale will air on Tuesday, May 12th.
"Marvel's Agents of S.H.I.E.L.D." stars Clark Gregg as Director Phil Coulson, Ming-Na Wen as Agent Melinda May, Brett Dalton as Grant Ward, Chloe Bennet as Agent Skye, Iain De Caestecker as Agent Leo Fitz, Elizabeth Henstridge as Agent Jemma Simmons, Nick Blood as Lance Hunter and Adrianne Palicki as Bobbi Morse.
The series was co-created by Joss Whedon, Jed Whedon & Maurissa Tancharoen ("Dollhouse," "Dr. Horrible's Sing-Along Blog"), who also serve as executive producers along with Jeph Loeb ("Smallville," "Lost," "Heroes") and Jeffrey Bell ("Angel," "Alias"). "Marvel's Agents of SHIELD" is produced by ABC Studios and Marvel Television.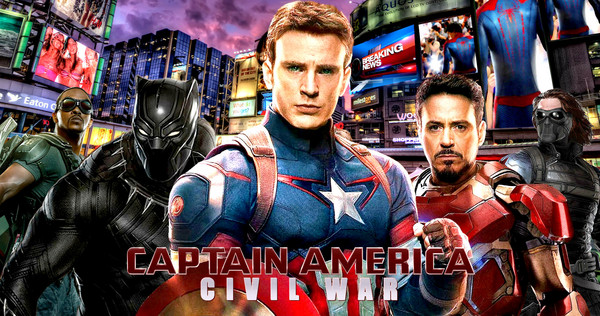 CAPTAIN AMERICA: CIVIL WAR
Marvel Studios has commenced principal photography at Pinewood Studios in Atlanta, Georgia on Captain America: Civil War, the third installment of its Super Hero franchise. The production will shoot on location in Atlanta, Georgia, which serves as the base for the film's production, as well as locations in Germany, Puerto Rico and Iceland.
Set for release in the United States on May 6, 2016, Captain America: Civil War is directed by Anthony Russo and Joe Russo (Marvel's Captain America: The Winter Soldier) from a screenplay by Christopher Markus & Stephen McFeely. The film returns Chris Evans as the iconic Super Hero character Steve Rogers/Captain America along with Robert Downey Jr. as Tony Stark/Iron Man, Scarlett Johansson as Natasha Romanoff/Black Widow, Sebastian Stan as Bucky Barnes/Winter Soldier, Anthony Mackie as Sam Wilson/Falcon, Paul Bettany as The Vision, Jeremy Renner as Clint Barton/Hawkeye, Don Cheadle as Jim Rhodes/War Machine and Elizabeth Olsen as Wanda Maximoff/Scarlet Witch.
After his debut in Marvel's Ant-Man on July 17, 2015, Paul Rudd will make his first appearance alongside the Avengers as Scott Lang/Ant-Man in Captain America: Civil War. The film also includes outstanding additional cast, including Chadwick Boseman as T'Challa/Black Panther, Emily VanCamp as Sharon Carter/Agent 13, Daniel Brühl, Frank Grillo as Brock Rumlow/Crossbones, William Hurt as General Thaddeus "Thunderbolt" Ross and Martin Freeman.
Captain America: Civil War picks up where Avengers: Age of Ultron left off, as Steve Rogers leads the new team of Avengers in their continued efforts to safeguard humanity. After another international incident involving the Avengers results in collateral damage, political pressure mounts to install a system of accountability and a governing body to determine when to enlist the services of the team. The new status quo fractures the Avengers while they try to protect the world from a new and nefarious villain. Marvel's Captain America: Civil War is produced by Marvel Studios' president, Kevin Feige, with Louis D'Esposito, Alan Fine, Victoria Alonso, Patricia Whitcher, Nate Moore and Stan Lee serving as executive producers. Directors Anthony Russo and Joe Russo creative team also includes director of photography Trent Opaloch, production designer Owen Paterson, and three time Oscar-nominated costume designer Judianna Makovsky.
Based on the Marvel comic character first published in 1941, Captain America: Civil War continues the lineage of epic big-screen adventures chronicled in Iron Man, The Incredible Hulk, Iron Man 2, Thor, Captain America: The First Avenger, The Avengers, Iron Man 3, Thor: The Dark World, Captain America: The Winter Soldier, Guardians of the Galaxy, Avengers: Age of Ultron and the upcoming release schedule, which includes Marvel's Ant-Man on July 17, 2015, Marvel's Doctor Strange, on November 4, 2016, Marvel's Guardians of the Galaxy 2, on May 5, 2017, and Marvel's Thor: Ragnarok, on November 3, 2017.
Marvel Studios most recently continued its unprecedented success with the release of Avengers: Age of Ultron on May 1, 2015. The film recorded the second biggest opening weekend of all time with a $191.3 million box office. It has also been the #1 release in every country where it has been released.
Captain America: Civil War comes to theaters May 6th, 2016.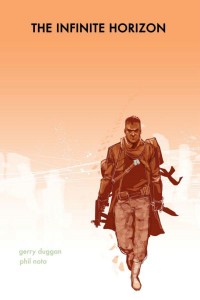 INFINITE HORIZON
Producer Greg Berlanti ('Pan','Warath of the Titans') is getting back into the comic to movie adaptation business by teaming with Warner Bros and bringing 'Infinite Horizon' to the big screen.
While best known for his work on 'The Flash' and 'Arrow,' you can't help but remember that his last comic themed movie was 'Green Lantern' and we all know how that one ended up. It's like the film version of 'Daredevil' for the DC Cinematic Universe. Still, this little gem from Image Comics might be just what we all need to put 'Green Langern' in the past and with writer Ryan Condal ('Hercules','Colony') on board, we'll have a fresh voice penning the tale for us.
Honestly with how Berlanti has done since moving to television, I don't think anyone can say that if he has creative control that they wouldn't be looking forward to this one.
Of course, it would help if you knew what the six-issue miniseries was actually about. 'The Infinite Horizon comic told "a military story set in the near future about a soldier who leads a group of abandoned soldiers on a 10-year journey back home. Along the way, he faces shipwrecks, an opponent wearing Cyclops-like battle tech armor and the call of sirens." Think of it as a military science fiction piece that riffs off of Homer's 'The Odyssey.'
Gerry Duggan wrote the original 2007 run with Phil Noto tackling the artwork. The entire run ended up taking quite awhile to finish with the last issue not being released until 2011. Four years is a pretty epic wait for a six issue mini-series.
Unlike other military themed science fiction in the works such as the reboot of 'Starship Troopers,' this one is a little more grounded in reality not being that far into the future.
FRIDAY, MAY 8, 2015
SENSE8
Andy and Lana Wachowski have been trying daring things with sci-fi and fantasy cinema on the big screen for years, and now they're taking it to the small screen with the help of Babylon 5 creator J. Michael Straczynski and Netflix. We first heard about Sense8 several years ago, but it seemed like ages before we got any real information about the series' plot, and even longer before that information actually started to make sense to us. When the concept finally did become clear, it was a very intriguing one, but one piece of the puzzle was missing: We hadn't seen any of the execution yet. Now we have, thanks to the first trailer for the series. In case you're not up to speed, here's Sense8's official synopsis: One gunshot, one death, one moment out of time that irrevocably links eight minds in disparate parts of the world, putting them in each other's lives, each other's secrets, and in terrible danger. Ordinary people suddenly reborn as "Sensates." The trailer lays out this concept in some very interesting visual ways. The "Sensates" see each other through mirrors, visualize places they've never been, suddenly grasp new skills they never had, all because they're somehow linked across continents, cultures and lifestyles. The concept is lent further clarity by narration provided by the character of Jonas (Lost's Naveen Andrews), an ally to the Sensates who both explains some of what they experience via their strange link and explains that their lives will be threatened. What he doesn't explain is why ... The trailer, like everything else about this series so far, is still quite vague, though. It doesn't give us character names, locations or any real exposition. It's a collection of ideas and images strung together with thrilling precision, and it definitely creates something the Wachowskis have said they wanted to convey all along: the idea that everything on this Earth is connected, whether you're a trans woman in San Francisco or a pharmacist in Mumbai. Sense8 premieres June 5 on Netflix.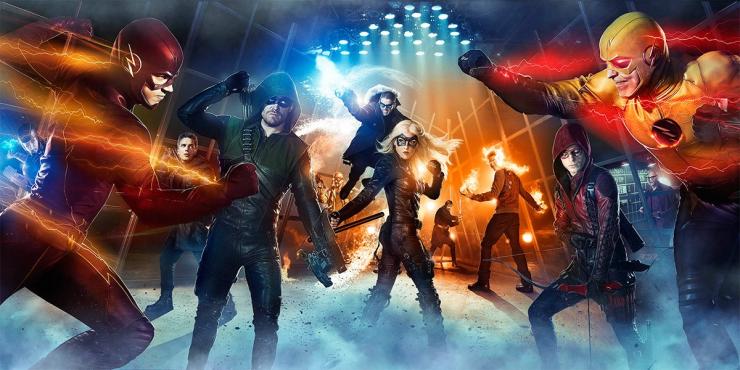 DC'S LEGENDS OF TOMORROW
The CW has just confirmed that they've picked up that Arrow/The Flash spinoff for a full-series order, and we have the title: DC's Legends of Tomorrow. Not only that, but the network has also released the first official synopsis. The upcoming superhero team-up TV series will star Wentworth Miller as Leonard Snart/Captain Cold, Dominic Purcell as Mick Rory/Heatwave, and Victor Garber as Dr. Martin Stein/one half of Firestorm. All hail from Team The Flash. From Team Arrow come Brandon Routh as Ray Palmer/the Atom and Caity Lotz, who may be back as Sara Lance/The Canary, although her character died this season, so how that'll happen is still unknown. The new additions include Ciara Renee as Kendra Saunders/Hawkgirl, Franz Drameh as Jay Jackson, and Arthur Darvill as Rip Hunter. The Hollywood Reporter says the series was picked up "sight unseen" since they haven't even shot the pilot, yet. Here's the official synopsis: "When heroes alone are not enough ... the world needs legends. Having seen the future, one he will desperately try to prevent from happening, time-traveling rogue Rip Hunter is tasked with assembling a disparate group of both heroes and villains to confront an unstoppable threat — one in which not only is the planet at stake, but all of time itself. Can this ragtag team defeat an immortal threat unlike anything they have ever known?" A special trailer specifically shot for the upfronts is apparently set to be unveiled next week. DC's Legends of Tomorrow is scheduled for The CW's 2015-2016 lineup and is executive produced by Arrow creators Greg Berlanti, Andrew Kreisberg and Marc Guggenheim. Berlanti and Kreisberg have also received a full-series order for CBS' Supergirl, starring Melissa Benoist. BATMAN: ARKHAM KNIGHT
Warner Bros. and Rocksteady Studios have released a new video featurette titled "The Voices of Arkham" for their upcoming Batman: Arkham Knight video game, revealing a most impressive voice cast. Along with Kevin Conroy, who's back as Bruce Wayne/Batman, Tara Strong as Harley Quinn, Troy Baker as Two-Face, and Nolan North (Uncharted's very own Nathan Drake) as Penguin, we also have some new cast members. The newbies joining the fray are Jonathan Banks (Breaking Bad, Better Call Saul) as James Gordon, Ashley Greene (The Twilight Saga) as Barbara Gordon/Oracle/Batgirl, John Noble (Sleepy Hollow, Fringe) as Scarecrow, and Scott Porter (Friday Night Lights, Hart of Dixie) as Nightwing. The new video features cool interviews with Conroy, Banks, Green and the always amazing John Noble, along with scenes plucked from the game, featuring some cool Batmobile action. I'm rather excited about driving the Dark Knight's sweet ride. The final entry into the Batman: Arkham game trilogy -- Batman: Arkham Knight -- will finally be released on June 23 for PlayStation 4, Xbox One, and PC.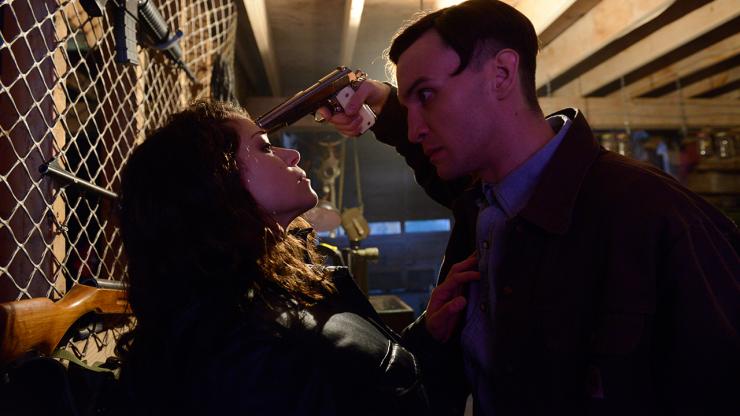 ORPHAN BLACK RENEWED FOR SEASON 4
The show might not be a ratings smash, but BBC America's ambitious little clone drama Orphan Black has grown into a cultural phenomenon -- and the network is bringing the twisty conspiracy back for another year. As we approach the midway point of the third season, the network has pre-emptively pulled the trigger on a fourth year of the series. Go ahead, Clone Club, breathe a sigh of relief and enjoy the current run with no worries. Sarah, Alison, Cosima and the rest of the gang will be sticking around for a long time. The 10-episode fourth season will air in 2016, likely in the spring/summer, if they follow the current release schedule. What started out as a compelling mystery about a woman seeing her clone jump in front of a train has expanded into a deep mythos with competing factions and a whole new set of clones. But, despite all the divergence, it still hasn't lost the heart that made that first season so surprisingly great. "We're thrilled to be moving forward with season four of the Orphan Black saga," co-creators John Fawcett and Graeme Manson said in a statement. "Huge thanks to our partners Temple Street Productions, and to BBC AMERICA and Space. We're extremely excited about where our story lines are going, and look forward to riding the rollercoaster with our amazing fans #CloneClub." Despite modest ratings, the show has been named to innumerable best-of lists and scored everything from a Peabody Award in 2014 to two Critics' Choice Awards and a TCA Award for breakout star Tatiana Maslany. Considering how may characters she plays on the show, Mislay honestly deserves a whole lot more than that (we're looking at you, Emmys). The cast has also grown in recent years, and now includes Tatiana Maslany, Tatiana Maslany, Tatiana Maslany, Tatiana Maslany, Tatiana Maslany, Ari Millen, Ari Millen, Ari Millen, Jordan Gavaris, Dylan Bruce, Maria Doyle Kennedy, Skyler Wexler, Kevin Hanchard, Evelyne Brochu, Kristian Bruun, Ksenia Solo, Michiel Huisman, Josh Vokey, Zoé De Grand Maison, Justin Chatwin and Kyra Harper. Orphan Black airs Saturday nights on BBC America. JONATHAN STRANGE & MR. NORRELL
Here's the first extended clip for the BBC's seven-part adaptation of Susanna Clarke's addictive historical-fantasy novel, Jonathan Strange & Mr. Norrell, with Honeyfoot (Brian Pettifer) and Segundus (Edward Hogg) of the York Society of Magicians paying a visit to the mysterious candlelit library of Mr. Norrell, a reclusive conjuror who hopes to bring the fine art of magic back to England after a prolonged absense. Last week we introduced you to the full-length trailer of this mesmerizing tale of dueling 19th-century magicians, and BBC One's new clip leaves us spellbound for its broadcast debut sometime this summer. Directed by Toby Haynes (Doctor Who, Being Human) and adapted by Peter Harness (Wallander, Doctor Who), the lavish production stars Eddie Marsan and Bertie Carval as the competing pair of proud prestidigitators. Have a look at Mr. Norrell's fantastic magical library and tell us if this ambitious BBC series will lure you into its mystical embrace. THE HOWLING
Genre films from the '80s have been fertile fields for Hollywood creative types lately, with rehashes coming down the path of Poltergeist, Gremlins and WarGames. Now, beware of the full moon, because Joe Dante's excellent 1981 werewolf flick, The Howling, is creeping toward a big-budget remake by Emaji Entertainment, based on author Gary Brandner's The Howling Trilogy. The original low-budget horror film centered around a news anchorwoman played by Dee Wallace who is drawn to a remote mountain retreat, where she discovers a depraved colony of horny werewolves after a frightening encounter with a serial killer. But it was the startling practical FX transformation scenes of maniac Eddie Quist by young creature effects wizard Rob Bottin (The Fog, The Thing, Total Recall) that had lycanthrope fans slavering for more. Using an innovative combination of makeup, prosthetics, air bladders, sprouting claws and jagged sets of gleaming fangs, Bottin created what is for many the finest werewolf metamorphosis in the history of mankind. And yes, slightly better than makeup legend Rick Baker's (Bottin's mentor) turn in An American Werewolf in London, released later that year! The Howling went on to spawn a series of sequels of diminishing quality, the most recent being 2011's The Howling: Reborn. No further details yet on any directorial choices or casting rumors, but let's hope the producers do Joe Dante's treasured version the justice it deserves.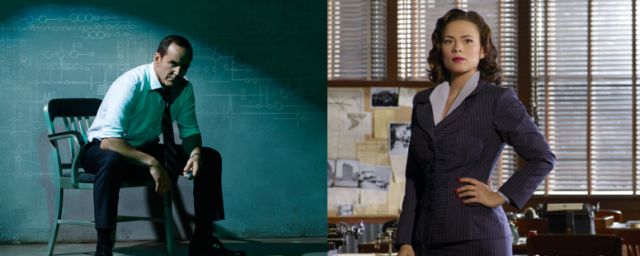 AGENT CARTER AND AGENTS OF S.H.I.E.L.D. RENEWED
Following the reveal that The CW had ordered "DC's Legends of Tomorrow" to series earlier today, ABC has announced two renewals of its own with "Marvel's Agents of SHIELD" set to return for a third season and "Agent Carter" coming back for a second. There's no official word as of yet on the proposed spin-off for "Agents of SHIELD" or the yet-to-be-titled series in-development with "American Crime" creator John Logan, but check back here for more details as we learn them. "Marvel's Agents of SHIELD" stars Clark Gregg as Director Phil Coulson, Ming-Na Wen as Agent Melinda May, Brett Dalton as Grant Ward, Chloe Bennet as Agent Skye, Iain De Caestecker as Agent Leo Fitz, Elizabeth Henstridge as Agent Jemma Simmons, Nick Blood as Lance Hunter and Adrianne Palicki as Bobbi Morse. Co-created by Joss Whedon, Jed Whedon & Maurissa Tancharoen ("Dollhouse," "Dr. Horrible's Sing-Along Blog"), who also serve as executive producers along with Jeph Loeb ("Smallville," "Lost," "Heroes") and Jeffrey Bell ("Angel," "Alias"). "Marvel's Agents of SHIELD" is produced by ABC Studios and Marvel Television. "Marvel's Agent Carter" stars Hayley Atwell as Agent Peggy Carter, James D'Arcy as Edwin Jarvis, Chad Michael Murray as Agent Jack Thompson, Enver Gjokaj as Agent Daniel Sousa and Shea Whigham as Chief Roger Dooley. It also featured Dominic Cooper as Howard Stark, Lyndsy Fonseca as Angie Martinelli, and Bridget Regan as "Dottie Underwood," a member of the Black Widow program. Tara Butters, Michele Fazekas, Christopher Markus, Stephen McFeely, Chris Dingess, Kevin Feige, Louis D'Esposito, Alan Fine, Joe Quesada, Stan Lee and Jeph Loeb are executive producers on the series. UPDATE: Deadline is reporting that the above-mentioned spin-off, that was to have starred "Agents of SHIELD" Season 2 additions Adrianne Palicki's Bobbi Morse (AKA Mockingbird) and Nick Blood's Lance Hunter, is not moving forward.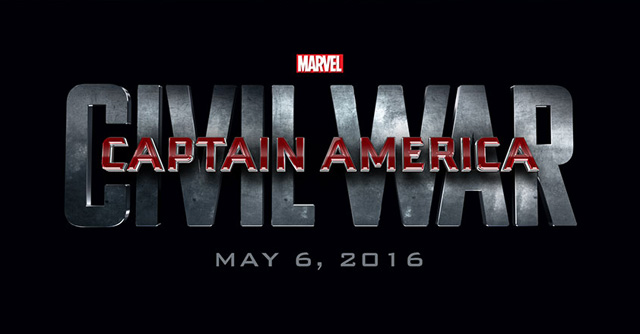 CAPTAIN AMERICA: CIVIL WAR
Marvel Studios has commenced principal photography at Pinewood Studios in Atlanta, Georgia on Captain America: Civil War, the third installment of its Super Hero franchise. The production will shoot on location in Atlanta, Georgia, which serves as the base for the film's production, as well as locations in Germany, Puerto Rico and Iceland. Set for release in the United States on May 6, 2016, Captain America: Civil War is directed by Anthony and Joe Russo (Marvel's Captain America: The Winter Soldier, "Community") from a screenplay by Christopher Markus & Stephen McFeely (Captain America: The Winter Solider, Marvel's Captain America: The First Avenger). The film returns Chris Evans as the iconic Super Hero character Steve Rogers/Captain America along with Robert Downey Jr. as Tony Stark/Iron Man, Scarlett Johansson as Natasha Romanoff/Black Widow, Sebastian Stan as Bucky Barnes/Winter Soldier, Anthony Mackie as Sam Wilson/Falcon, Paul Bettany as The Vision, Jeremy Renner as Clint Barton/Hawkeye, Don Cheadle as Jim Rhodes/War Machine and Elizabeth Olsen as Wanda Maximoff/Scarlet Witch. After his debut in Marvel's Ant-Man on July 17, 2015, Paul Rudd will make his first appearance alongside the Avengers as Scott Lang/Ant-Man in Captain America: Civil War. The cast of the film also includes Chadwick Boseman (42, Get on Up) as T'Challa/Black Panther, Emily VanCamp ("Revenge") as Sharon Carter/Agent 13, Daniel Brühl (Inglourious Basterds, Bourne Ultimatum) as Baron Helmut Zemo, Frank Grillo as Brock Rumlow/Crossbones, William Hurt (Marvel's The Incredible Hulk) as General Thaddeus "Thunderbolt" Ross and Martin Freeman (The Hobbit: An Unexpected Journey). Captain America: Civil War picks up where Avengers: Age of Ultron left off, as Steve Rogers leads the new team of Avengers in their continued efforts to safeguard humanity. After another international incident involving the Avengers results in collateral damage, political pressure mounts to install a system of accountability and a governing body to determine when to enlist the services of the team. The new status quo fractures the Avengers while they try to protect the world from a new and nefarious villain. Marvel's Captain America: Civil War is produced by Marvel Studios' president, Kevin Feige, with Louis D'Esposito, Alan Fine, Victoria Alonso, Patricia Whitcher, Nate Moore and Stan Lee serving as executive producers. Directors Joe and Anthony Russo's creative team also includes director of photography Trent Opaloch (Captain America: The Winter Soldier, Elysium), production designer Owen Paterson (Godzilla, The Matrix), and three time Oscar-nominated costume designer Judianna Makovsky (Captain America: The Winter Soldier, Harry Potter and the Sorcerer's Stone).
THURSDAY, MAY 7, 2015
TOMORROWLAND
For many sci-fi fans, Tomorrowland is one of the most anticipated movies of the year, in part because of its connection to the Disney theme park attraction of the same name, but also because it's united two of the best genre minds in the business -- director Brad Bird and writer Damon Lindelof -- in creating something new out of a very old Disney name. We've been hearing about this film since it was little more than a very cryptic hint, and now that it's almost here, I couldn't be more excited. In case you don't know yet, Tomorrowland is the story of a young lady (Britt Robertson) and an elusive inventor (George Clooney) who travel to what would seem to be the extra-dimensional "Tomorrowland" in an effort to change the future. The full plot of the film has been kept pretty much under wraps so far. We know that Tomorrowland seems to be a real place, and we know that it seems to have a real impact on the present and future of humanity, but what we don't yet know is how all of this will play out, which only makes the anticipation that much more fun. To ease that anticipation, and to build it for the film's upcoming release, Disney has released some new Tomorrowland TV spots as well as a load of new stills from the film, which give us a good look at the supporting cast, some new looks at Tomorrowland and a better idea of the sense of wonder this film is hoping to provide. Check out the videos here and the images in the gallery below, and get ready for Tomorrowland to hit theaters on May 22. STAR WARS
To be honest, I was completely sold on this the moment that old-school, 1990s LucasArts logo popped up. Most everyone has already watched that awesome new Star Wars: The Force Awakens trailer a few (dozen) times, so here's a vintage spin that fits right in with that old-school sci-fi vibe. Some intrepid fans have re-created the trailer in 16-bit videogame style, and this is the SNES game we always deserved. The team does a solid job of re-creating the trailer shot for shot, though a few of the sprites are a bit too clunky (even the 16-bit era could do a bit better than the almost unrecognizable Han and Chewie here). But overall, this is an insanely cool clip — and should help bide the time a little while we wait for Christmas.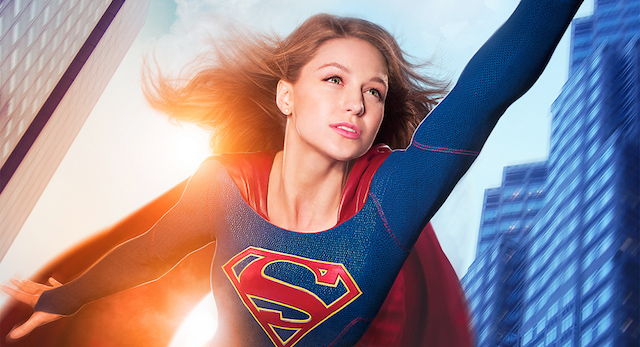 SUPERGIRL
Executive producer Greg Berlanti will have dramas on three of the five broadcast networks next season. CBS is officially in the superhero business. The network has handed out a series order to its DC Comics adaptation Supergirl, The Hollywood Reporter has learned. The drama — which had a hefty series commitment penalty attached — stars Glee and Whiplash breakout Melissa Benoist as Kara Zor-El, who was born on Krypton but has been hiding the powers she shares with her famous cousin since arriving on Earth. But now at age 24, she decides to embrace her superhuman abilities and be the hero she was always meant to be. Supergirl had a somewhat bumpy road to the network's schedule. Early buzz indicated that the drama co-starring Calista Flockhart, Mehcad Brooks, Chyler Leigh and David Harewood faced trouble and was being shopped to sibling network The CW, though the series was considered too expensive for that to realistically happen. The tide, as it tends to do this time of year, changed after CBS Entertainment chairman Nina Tassler — who has been looking for dramas with strong female leads — saw the final cut and loved it. The bigger question for CBS will be where to schedule Supergirl as the younger-skewing drama on paper doesn't seem to be well-suited to pair with any of its existing lineup. Multiple sources suggested CBS could slot it for the family-friendly Sundays at 8 p.m. slot or pair it in the summer with other sci-fi fare like pricey big-swings Under the Dome, Extant and Zoo. The Warner Bros. Television drama hails from writer/exec producers Ali Adler and Greg Berlanti (No Ordinary Family) with Berlanti's Arrow and Flash EP Andrew Kreisberg also attached. Supergirl hails from Berlanti Productions, with Sarah Schechter also exec producing. With CBS' Supergirl pickup, Berlanti now has series on three of the five broadcast networks. Supergirl joins NBC's newly ordered Blindspot as well as The CW's Arrow and Flash — with an expected spinoff from the two shows also considered a lock for midseason at the younger-skewing network. (NBC's Berlanti-produced Mysteries of Laura is on the bubble, and should the Debra Messing drama return and the super spinoff move forward, Berlanti could have six shows on the schedule for the 2015-16 season. Supergirl becomes the latest comic book show on the Big Five networks. It joins DC's Flash, Arrow and iZombie (The CW); Gotham (Fox); NBC's bubble drama Constantine; as well as ABC's Marvel dramas Agents of SHIELD and Agent Carter. While Constantine is considered a long shot to come back, a renewal would give each of the Big Five networks a comic show. Dean Cain, Helen Slater, Jeremy Jordan and Malina Weissman guest star in the pilot. MYST
A TV series based on the hit 1990s mystery videogame Myst has been in development since last year, and now the project has finally found a home. Deadline reports Hulu has picked up Myst with a script-to-series commitment, from a creative team comprised of Matt Tolmach (Amazing Spider-Man) and Evan Daugherty (Divergent). The series will reportedly blend fantasy and science fiction while exploring the original of the mysterious namesake island. Daugherty penned the pilot. Like the game, the series will follow a man who wakes up on a mysterious island with no knowledge of who he is or how he got there. No word on how many episodes they're aiming for, but considering the concept, we'd imagine a miniseries-size order is the most likely option. The project was apparently shopped around several places, garnering a fair bit of interest before Hulu snagged the rights. The click-based game was a monster hit in the early 1990s, selling millions of copies and spanning several (incrementally worse) sequels. For Hulu, this marks the second major series order in the sci-fi genre. The service already has 11/22/63, based on Stephen King's novel of he same name, in development from J.J. Abrams. That project was also a hot property, and could've easily landed at Netflix or a major network.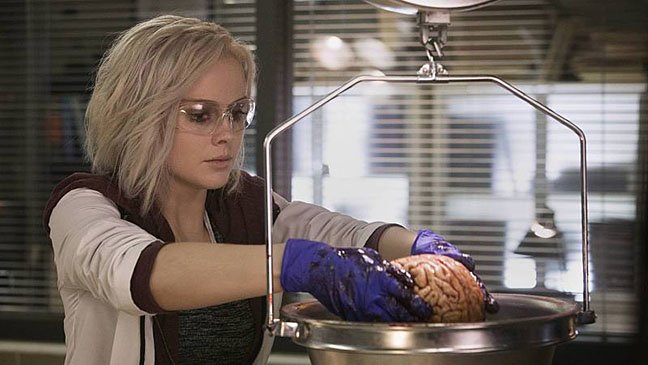 IZOMBIE
The midseason comedy from the creators of 'Veronica Mars' will return with an episode order number and scheduling still to be determined. With little room on its schedule, The CW got into the upfront fray Wednesday. The network has handed out a second-season renewal to comics adaptation iZombie, The Hollywood Reporter has learned. Scheduling and an episode count have yet to be determined. One of several CW genre series, the DC Comics adaptation from Warner Bros. Television and Veronica Mars duo Rob Thomas and Diane Ruggeiro is the network's largest attempt to date at a more procedural-type drama. Starring Rose McIver as a girl who finds her life transformed after zombies crash a party and she wakes up in a body bag the next morning, iZombie debuted to solid reviews and 2.3 million total viewers. The drama has been a sturdy midseason performer for the younger-skewing network following breakout hit The Flash, pulling 1.9 million total viewers. The renewal comes as network president Mark Pedowitz continues to court Thomas — who also created a Veronica Mars spinoff for The CW's digital platform. The news comes as The CW has little room on its schedule after handing out early renewals to The 100, Arrow, Beauty and the Beast, Masters of Illusion, The Originals, Reign, Supernatural, The Vampire Diaries, The Flash and Jane the Virgin. Still to be determined are the fates of veteran Hart of Dixie (which ended its four-season run and is not expected to continue) and midseason entry The Messengers, which was DOA. The CW presents its schedule to Madison Avenue on May 14 in New York. The renewal marks the latest win for DC Comics, which earlier Wednesday also scored a series pickup at CBS for its Supergirl take.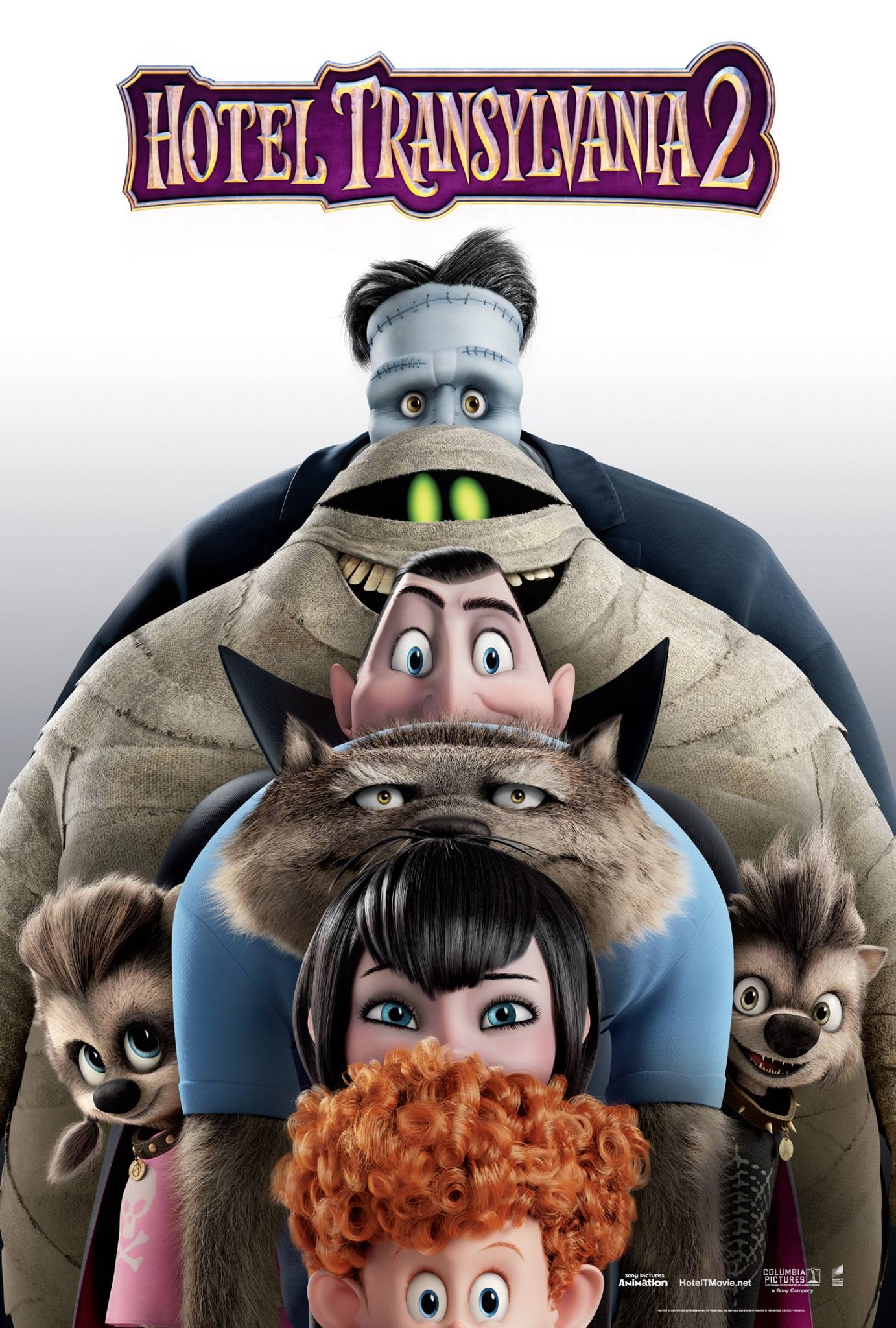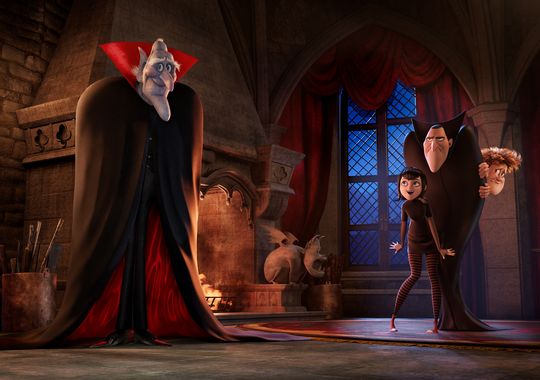 HOTEL TRANSYLVANIA 2
Sony Pictures Animation has revealed a new domestic teaser poster for Genndy Tartakovsky's upcoming animated sequel Hotel Transylvania 2. Everything seems to be changing for the better at Hotel Transylvania… Dracula's (Sandler) rigid monster-only hotel policy has finally relaxed, opening up its doors to human guests. But behind closed coffins, Drac is worried that his adorable half-human, half-vampire grandson, Dennis, isn't showing signs of being a vampire. So while Mavis (Selena Gomez) is busy visiting her human in-laws with Johnny (Andy Samberg) – and in for a major cultural shock of her own – "Vampa" Drac enlists his friends Frank (Kevin James), Murray (Keegan-Michael Key), Wayne (Steve Buscemi) and Griffin (David Spade) to put Dennis through a "monster-in-training" boot camp. But little do they know that Drac's grumpy and very old, old, old school dad Vlad (Mel Brook) is about to pay a family visit to the hotel. And when Vlad finds out that his great-grandson is not a pure blood – and humans are now welcome at Hotel Transylvania – things are going to get batty! Released in 2012, the original Hotel Transylvania was helmed by Tartakovsky, the creator of hit animated series like "Dexter's Laboratory" and "Samurai Jack," and grossed more than $350 million at the worldwide box office. Featuring a script by Adam Sandler and Robert Smigel, Hotel Transylvania 2 hits the big screen September 25, 2015.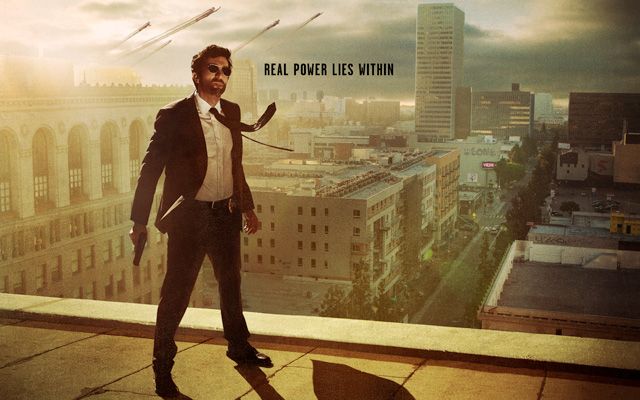 POWERS
Sony PlayStation has renewed "Powers," their series adaptation of the Brian Michael Bendis and Michael Avon Oeming's Icon Comics series, for a second season. The drama will return in 2016 to stream on the PlayStation Network, where it ranked as the most-watched series premiere on the platform. All ten episodes of Season One are available on the PlayStation Network and are free to PlayStation Plus subscribers. "The reception to 'Powers' has been incredible and we are thrilled to have successfully launched a platform for original content with the PlayStation gamer in mind," said John Koller, vp platforms marketing at Sony Computer Entertainment America. "We believe original content will continue to be a key pillar as we broaden the value proposition for PlayStation Plus, and we're excited for what's to come with season two of 'Powers.'" "We are so grateful to the PlayStation nation and fans of Powers for supporting us and making the second season a reality," said Powers co-creator and Executive Producer, Brian Michael Bendis. "I speak for the entire cast & crew when I say that we are really excited about season two and the opportunity to tell the story of the biggest case in Powers history." "We are proud to continue our collaboration with the PlayStation team to bring premium original programming to PlayStation Network," said Zack Van Amburg, President, Programming and Development, Sony Pictures Television. "There is a lot to look forward to in season two for both new and existing fans of the series, as we broaden the 'Powers' universe and bring even more of the fan-favorite characters and storylines to life," said Jamie Erlicht, president of programming and development at SPT. "Powers," written by Bendis and drawn by Oeming, follows two detectives as they investigate superhero-related homicides. The series stars Sharlto Copley as Detective Christian Walker and Susan Heyward as Detective Deena Pilgrim. They're joined by Max Fowler, Adam Godley, Noah Taylor, Olesya Rulin and Eddie Izzard.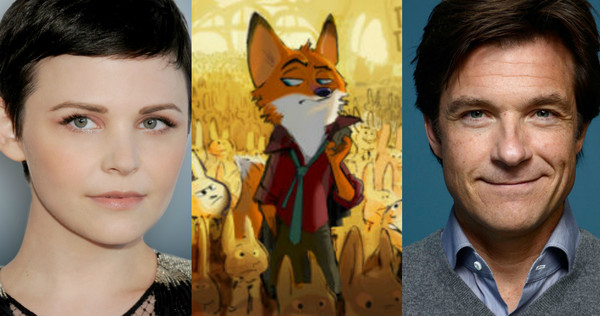 ZOOTOPIA
Walt Disney Animation Studios welcomes Ginnifer Goodwin and Jason Bateman to Zootopia, Disney's 2016 animated feature set in a modern mammal metropolis. Ginnifer Goodwin will lend her voice to an optimistic bunny named Judy Hopps who's new to Zootopia's police department. Jason Bateman voices the scamming fox, Nick Wilde, who Judy reluctantly teams up with to crack her first case. Said director Byron Howard: "We knew that Zootopia would only succeed if we found the perfect actors to play our main characters. This rabbit- and fox-duo are in practically every scene in the film together. After meeting Ginnifer, we knew she embodied Hopps, the ultimate pure-of-heart, idealist bunny. You fall in love with her character instantly. And for Nick Wilde, our cynical con-artist fox, we only ever had one actor in mind, the incomparable Jason Bateman. Jason has a way of saying the most hilarious sarcastic things while always staying completely charming. We feel so fortunate to be working with both of them." Zootopia, which opens nationwide March 4, 2016, shows a modern mammal metropolis in a city like no other. Comprised of habitat neighborhoods like ritzy Sahara Square and frigid Tundratown, it's a melting pot where animals from every environment live together, a place where no matter what you are, from the biggest elephant to the smallest shrew, you can be anything. But when optimistic Officer Judy Hopps arrives, she discovers that being the first bunny on a police force of big, tough animals isn't so easy. Determined to prove herself, she jumps at the opportunity to crack a case, even if it means partnering with a fast-talking, scam-artist fox, Nick Wilde, to solve the mystery.
WEDNESDAY, MAY 6, 2015

BRAVE NEW WORLD
A new television adaptation of Aldous Huxley's "Brave New World" is headed to Syfy. The network is reuniting with Emmy Award-winning Amblin Television to develop a scripted series based on the dystopian classic. Syfy and Amblin previously collaborated on "Steven Spielberg Presents: Taken," which won a 2003 Emmy for Best Miniseries, as well as nominations in six other categories. "Brave New World" is set in a world without poverty, war or disease. In this world, humans are given mind-altering drugs, free sex and rampant consumerism are the order of the day, and people no longer reproduce but are genetically engineered in "hatcheries." Those who won't conform are forced onto "reservations" – until one of these "savages" challenges the system, threatening the entire social order. First published in 1932, "Brave New World" was ranked fifth among the 100 best English-language novels of the 20th Century by Modern Library. "'Brave New World' is one of the most influential genre classics of all time," said Dave Howe, President, Syfy & Chiller. "Its provocative vision of a future gone awry remains as powerful and as timeless as ever. Promising to be a monumental television event, 'Brave New World' is precisely the groundbreaking programming that is becoming the hallmark of Syfy." "We've been looking for an opportunity to reunite with Les, Bonnie Hammer and Dave Howe, ever since our collaboration on 'Taken' over a decade ago," adds Darryl Frank and Justin Falvey, Co-Presidents, Amblin Television, "and 'Brave New World' is just the project we've been waiting for, to bring the band back together. We're thrilled to be working with Dawn Olmstead, with whom we produced 'The Whispers' for ABC, and under the leadership of Jeff Wachtel and Universal Cable Productions, we know the project is in just the right hands." "'Brave New World' is science fiction at its best – a brilliant, poignant story that continues to fascinate and illuminate," comments Jeff Wachtel, President and Chief Content Officer, NBCUniversal Cable Entertainment. "And there is simply no better team than Amblin to bring this exquisite project to life." Darryl Frank and Justin Falvey of Amblin Television ("The Americans," "Falling Skies," "Under the Dome") will be executive producers. Les Bohem ("Steven Spielberg Presents: Taken") will write the screenplay and also executive produce. Universal Cable Productions will serve as the studio.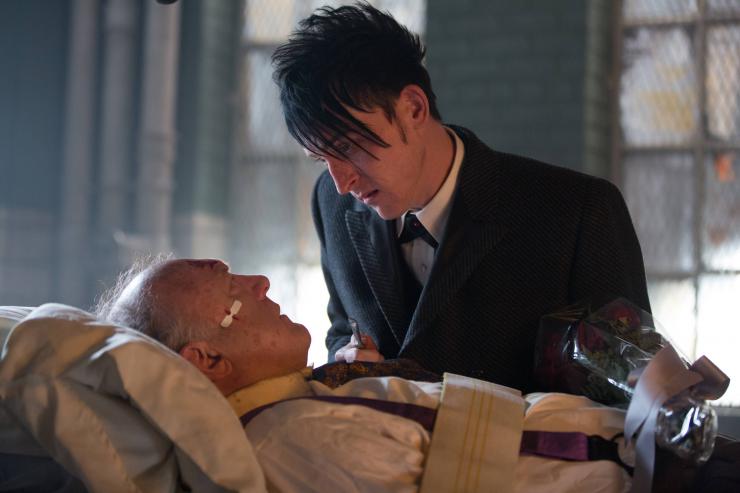 GOTHAM
The first season of Fox's Gotham is in the books. It's been a wild, weird ride. To say the least. So what's coming next? Spoilers ahead for the first season of Gotham! Executive producer Bruno Heller chatted with Deadline about the conclusion of the first season, which saw Oswald Cobblepot/The Penguin (Robin Lord Taylor) take a major step into becoming a mob leader, and also offered up our first tantalizing glimpse at the pre-Batcave. Though the season has seemed to meander at times, looking at the year as a whole actually does offer up some narrative threading. Well, kinda. Heller noted that the first season, with all its Falcone-Maroni rivalry battles between different factions, was basically just a precursor to prepare the universe for the addition of more supervillains. Yes, we've already glimpsed some creative baddies from the comic canon, but it sounds like that was just the appetizer. Here's an excerpt from Heller's comments: "Mobsters were the first stage of Gotham's criminal history. They gradually die out and have their places taken by the more spectacular villains. [But, running Gotham,] that's a very specific job description." So, can Penguin actually ascend to the throne? According to Heller, "That's the big question" they'll aim to answer in season two. He also teased Edward Nygma will be "a larger, more villainous character" in season two, which makes sense considering his arc in the back half of the first season. Heller also promised they'll "answer a lot of questions about the Joker" raised this year, with the introduction of creepy character Jerome (Cameron Monaghan). As for the other big reveal from the finale, Heller said they're definitely going somewhere with that secret door hidden in Thomas Wayne's office. Though he wouldn't go so far as to calling it the Bat-cave (It's "Dad's office" at the moment), Heller did say Bruce will learn his parents' lives weren't quite as simple as he might've originally believed: "[H]e'll learn that his parents are more complicated than he imagined. When you're a young kid, parents tend to be either heroes or villains; mostly heroes. It's hard to imagine just before Bruce's age when your parents can do no wrong. You can't imagine them having secret lives. Bruce will learn that his father was a complex, tortured person, but also heroic. His father was leading a double life and this leads to the creation of an alter ego. It's hard for anyone to present the fullness of themselves to the general public. If you have dark secrets to keep, you have to create an alter ego. That is the essence of what the Batcave means." THE STRAIN
The Strain was one of the biggest TV hits of last summer, drawing high ratings and critical acclaim for its new take on vampires and its very effective approach to both body horror and a kind pre-apocalyptic thriller vibe. Personally, what I loved about the show was how much it changed from season premiere to season finale. The slow burn of the vampire outbreak quickly turned into a blaze and, by the finale, we were living in a different world. I was hoping season two would continue that trend, and from the looks of this trailer, it definitely is heading that way. In the first full trailer for season two, we see not monsters and hunters, but soldiers on two sides of a war. The vampires have overrun New York City. leaving officials desperate to fight back and retake their metropolis from the hordes of strigoi. At the forefront of that fight are Eph (Corey Stoll), Setrakian (David Bradley) and Nora (Mia Maestro), who are all still devoted to hunting as many vampires as they can, while also looking for some kind of biological flaw they can exploit. On the other side, Eichhorst (Richard Sammel) promises a "wondrous transformation" for the Master, and Palmer (Jonathan Hyde) continues his quest to ultimately claim eternal life. Plus, Setrakian is still determined as ever to plunge his cane-sword into the Master's chest, and it looks like we'll finally get a better idea of what Quinlan (Stephen McHattie) and the undead ancients he represents are up to. The Strain's second season doesn't have a premiere date yet, but it won't be long until summer, and more vampires.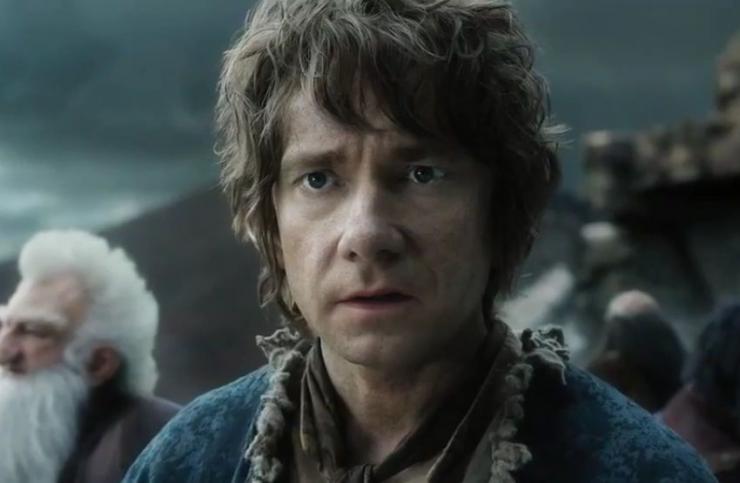 CAPTAIN AMERICA: CIVIL WAR
Just because Captain America: Civil War has already started filming, it doesn't mean the movie can't keep adding cast members. And that's exactly what directors Joe and Anthony Russo have done: According to The Wrap, the filmmaking brothers have recruited beloved Sherlock and The Hobbit star Martin Freeman for their already monster-sized cast. Marvel is keeping the identity of Freeman's character a secret for now, so we don't know if he'll play someone who will show up in multiple movies or is just on board for a one-off. Here's a statement from the official press release: "From his roles as Bilbo Baggins and Doctor Watson to Tim in The Office, Martin's range from the dramatic to the comedic has consistently impressed us," said Captain America: Civil War producer Kevin Feige. "We couldn't be more honored or excited to have such a talented actor join the Marvel Cinematic Universe." Freeman joins a cast that already includes Chris Evans (Cap), Robert Downey Jr. (Iron Man), Scarlett Johansson (Black Widow), Anthony Mackie (Falcon), Jeremy Renner (Hawkeye), Elizabeth Olsen (Scarlet Witch), Daniel Bruhl (Baron Zemo), Frank Grillo (Crossbones), Sebastian Stan (Bucky Barnes), Chadwick Boseman (Black Panther) and whoever is going to play Spider-Man. Captain America: Civil War hits theaters almost exactly a year from now, on May 6, 2016.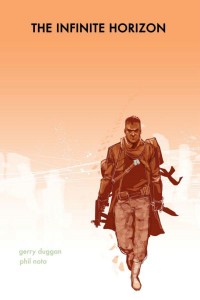 THE INFINITE HORIZON
Warner Bros. Pictures has plans to bring to the screen Gerry Duggan and Phil Noto's six-issue Image Comics miniseries The Infinite Horizon. Variety has the news, reporting that Hercules scribe Ryan Condal has adapted the tale, which was in turn inspired by Homer's "The Odyssey." The Eisner-nominated series ran from 2007 to 2011 and is officially described as follows: A soldier's long journey home after years of war in the Middle East. In the not-too-distant future a small group of abandoned soldiers are lead home by one man: The Captain. To get back he will have to cross half the globe and endure deadly encounters with many enemies including the Cyclops, and the Sirens…but first he will have to survive the final hours of the war! Homer's original text has inspired quite a few filmmakers over the years. A straightforward adaptation, Ulysses, was released in 1954 starring Kirk Douglas while Joel and Ethan Coen's 2000 hit, O Brother, Where Art Thou?, offered a musical adaptation set in the deep south of the 1930s. It was recently announced that Lionsgate is developing their own take on the tale with the team behind the hit Hunger Games franchise. No stranger to the world of sequential art, Greg Berlanti ("Arrow," "The Flash") is attached to produce The Infinite Horizon. Drew Crevello and Julia Spiro are set to oversee for Warner Bros. MR. HOLMES
Roadside Attractions has released a new trailer for director Bill Condon's Mr. Holmes, starring Sir Ian McKellen (The Hobbit, X-Men, The Lord of the Rings) as an aging Sherlock Holmes opposite fellow Academy Award-nominee Laura Linney (Kinsey, You Can Count on Me). The film, based on the novel "A Slight Trick of the Mind" by Mitch Cullin, was adapted for the screen by Jeffrey Hatcher (The Duchess, Stage Beauty) and begins in 1947 when an aging Holmes returns from Japan, where, in search of a plant with powerful restorative qualities, he has witnessed the devastation of nuclear warfare. Now in his remote seaside farmhouse Holmes faces the end of his days tending to his bees with only the company of his housekeeper (Laura Linney) and her young son, Roger. Grappling with the diminishing powers of his mind, Holmes comes to rely upon the boy as he revisits an unsolved case which forced him into retirement, and searches for answers to the mysteries of life and love before it's too late. The additional cast includes Hattie Morahan, Patrick Kennedy, Hiroyuki Sanada, Roger Allam, Philip Davis, Frances de la Tour and Milo Parker. Mr. Holmes will be released in U.S. theaters on July 17 and UK theaters on June 19.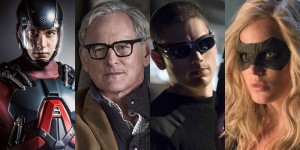 ARROW-FLASH SPINOFF
Based on the success of the freshmen season of 'The Flash,' and the continued success of 'Arrow,' which is finally back on track and picking up pace as it approaches the season finale, it is not too surprising to learn that the proposed spin-off, currently known as 'The Atom,' has been picked up for a series order, as 'The Flash' had a similar history after the network decided to forgo the back-door pilot plan and instead just order the show to produce a real pilot. In a recent interview with Victor Garber (the brainy half of Firestorm, portraying Professor Martin Stein) who is cast in the series, the elder actor revealed that production on the new show is beginning in August, and confirmed that he will be reprising his role as half of Firestorm: "They are going to unveil more details about it soon – I believe they are going to do something for it in May at the upfronts… it's a spin-off from THE FLASH, which I have been working on for a few [episodes]. To be honest, it is very wild for me that at this point of my life I am now in that world – I am now a half-superhero! "The character I play is half of Firestorm, so conjoined – together – they are Firestorm. It's been very wild and fun for me to do it… I think it's going to be a very fun ride. I really honestly can't tell you much about it except it is completely new and it will involve a lot of interesting people. We haven't filmed any of it yet – but, it is going straight to series. We start filming in August and it will be on [The CW] in January." Arrow-Flash-Spinoff-Show-Premiere-2016Also, apparently at the CW media upfronts on May 14, there will be a lot of new information released to the public, and a big reveal about the spin-off, with most people believing we will finally get a name for the show, potentially with the rumored name of 'Legends of Tomorrow.' The timing of the premiere, in January 2016, goes along with the idea that many networks are having, (including ABC with 'Marvel's Agent Carter' airing during 'Marvel's Agents of SHIELD winter hiatus) of having a "filler" show fill the weeks while the main ones are on hiatus, though whether the spin-off will have a reduced order of episodes has yet to be revealed.
TUESDAY, MAY 5, 2015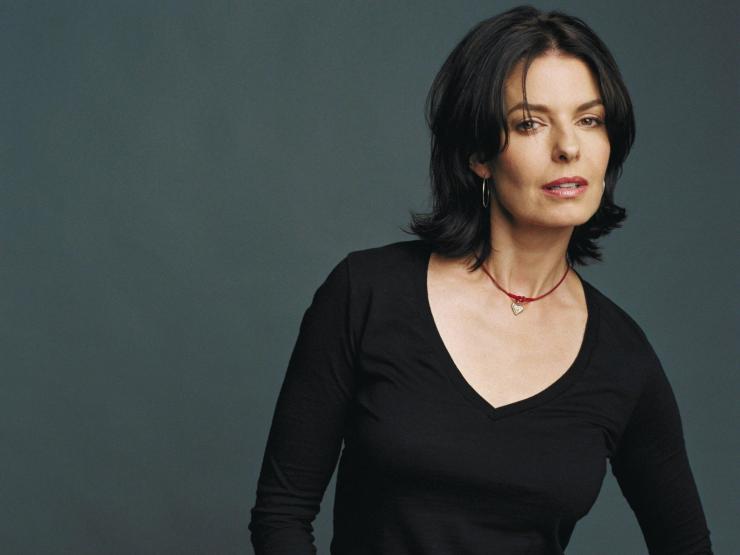 INDEPENDENCE DAY 2
It took a few decades, but pre-production is rolling along on Roland Emmerich's Independence Day sequel — and now we know who will take over for Bill Pullman as president of the U.S. of A. Entertainment Weekly reports veteran actress Sela Ward (The Day After Tomorrow, Gone Girl) will portray new President Lanford in the film, taking over for Bill Pullman's iconic Pres. Thomas J. Whitmore last seen in the 1996 original. Pullman will be back for the film, but he apparently won't be hanging out in the Oval Office (or what's left of it, anyway). Ward joins a growing cast of new faces and alien-fighting alums, including Pullman, Judd Hirsch, Vivica A. Fox, Brent Spiner and Jeff Goldblum. Newcomers include Liam Hemsworth, Jessie Usher (who plays the son of Will Smith's fighter pilot from the first film) and It Follows star Maika Monroe, who takes over for Mae Whitman as Pullman's character's daughter. Little is know about the plot of the sequel, though it will reportedly follow a new alien attack that was set off by a distress signal sent out by the first batch of invaders. Planet Earth just can't seem to catch a break. The Independence Day sequel is set to open June 24, 2016.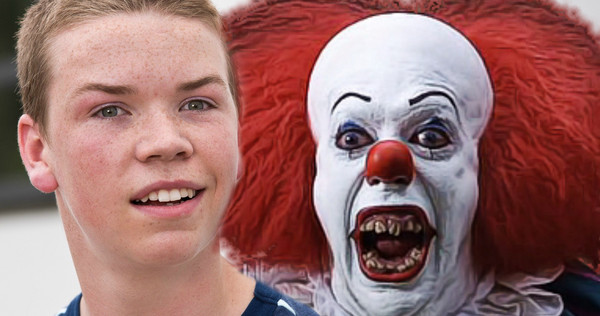 IT
It's pretty easy to get cynical about remakes, but the new, big-screen version of Stephen King's IT looks like it could be very interesting. The driving force behind is Cary Fukunaga, the insanely talented director who wowed us all with the first season of True Detective, who's been working on the project for years and serves as both director and co-writer. Plus, the plan is to split the project into two films, one documenting the struggles of "The Losers" against It as children, and another when they're adults trying to fight a resurgence of the creature, which gives plenty of room to explore the world laid out in King's 900-page behemoth of a novel. Now there's another reason to be intrigued: a Pennywise casting choice that basically came out of nowhere. Tim Curry played Pennywise -- the child-killing clown who terrified a generation of kids -- in the 1990 miniseries adaptation of the book, and of all the challenges facing Fukunaga and company in re-adapting IT, finding the right actor to fill those shoes is perhaps the biggest. Fukunaga has already spoken at length about the need to get that casting absolutely "perfect," and based on a new report, it seems he has found his man. According to Variety, 22-year-old actor Will Poulter (We're The Millers, The Maze Runner) is "in negotiations" to play Pennywise in the duo of films. In case you need a refresher on who Will Poulter is, here he is in The Maze Runner. So, yeah, he's really young, but picture clown makeup covering that very severe brow, and you can begin to see that he could actually be a terrifying Pennywise, despite being more than 20 years younger than Curry was when he took on the role. According to Variety, New Line (the studio producing the project) originally looked at older actors, then decided younger was the way to go, and Fukunaga was "blown away" by Poulter's audition. Despite how terrifying Curry was, it actually makes some sense. A younger, more physically energetic clown could draw in children in an entirely different, but equally terrifying way. Plus, Pennywise isn't supposed to be any particular age but ancient, so putting on a young face could just be part of his game. SAN ANDREAS
The big one finally hits in the upcoming San Andreas, and it does not look pretty. The third and last trailer (following this and this) has arrived for the film, which takes the disaster movie formula and basically puts it on steroids. Previous films like 1974's Earthquake and, more recently, 1997's Volcano focused the action on one city (in both cases, Los Angeles), but San Andreas basically sends all of California sliding into the sea. Disaster movies tend to walk a fine line between being authentically gripping and unintentionally hilarious (see Tommy Lee Jones stand fast against a wall of lava!) but the carnage in San Andreas seems escalated to terrifyingly realistic heights. And since there's been a lot of chatter about the Golden State being "due" for a major quake (it's been 20 years since the last one), the footage on display here might have an extra scary resonance. Then again, if anyone can punch out an earthquake, it's Dwayne Johnson, and the movie finds the Rock and his wife (Carla Gugino) struggling to find their daughter (Alexandra Daddario) as buildings and freeways come tumbling down around them. Will San Andreas induce smirks or screams or destruction-porn fatigue? We'll find out on May 29.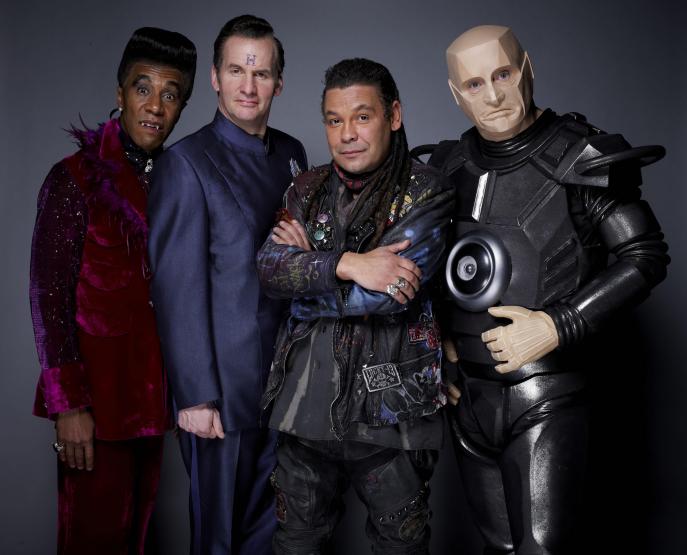 RED DWARF
Good news, everyone! Because if you miss the cosmic shenanigans of our four unlucky space explorers Lister, Rimmer, Kryten and Cat, they will be returning for two more seasons of the cult sci-fi comedy series Red Dwarf -- starting next year. Dave (a UKTV cable channel) has announced that Red Dwarf XI and Red Dwarf XII will begin production in the fall. The new episodes are set to air in 2016 and 2017, respectively. The last time we saw Chris Barrie as Rimmer, Craig Charles as Lister, Danny John-Jules as Cat and Robert Llewellyn as Kryten was three years ago in the 2012 six-part series Red Dwarf X; which was a followup to 2009's successful Red Dwarf: Back to Earth. Co-Produced by Grant Naylor Productions and Baby Cow Productions, Red Dwarf XI and XII will be penned and directed by series co-creator Doug Naylor, who said: "Everyone at UKTV have been so supportive of Red Dwarf from the start of their involvement with the show... [they] originally asked for more shows back in 2012 but frustratingly it's taken until now to get our ducks in a row and all the boys available at the same time. Now they are, we're all absolutely delighted." UKTV's commissioning editor Simon Lupton added that: "Red Dwarf has superb talent attached; writing, directing and acting plus an expert team who absolutely know what they are doing when it comes to delivering a stand-out piece of television. It has a universal appeal that manages to touch long-standing fans and recruit new ones. It is fantastic to be collaborating with them again on the next phase of the Red Dwarf adventure." First airing in 1982 on the BBC, Red Dwarf drew more than 8 million viewers during its eighth and final season. It has sold over 11.5 million DVD and videos worldwide (a nice feat for a British cult sci-fi series not called Doctor Who) and has been broadcast in 25 countries. It also won International Emmy and British Comedy Awards. Craig Charles, who plays Dave Lister, will have to leave the British soap Coronation Street after 10 years on the show in order to film the new series. He said: "I feel I owe it to my colleagues on Red Dwarf to join them in filming the new series and finding out what is in store for Lister and the others."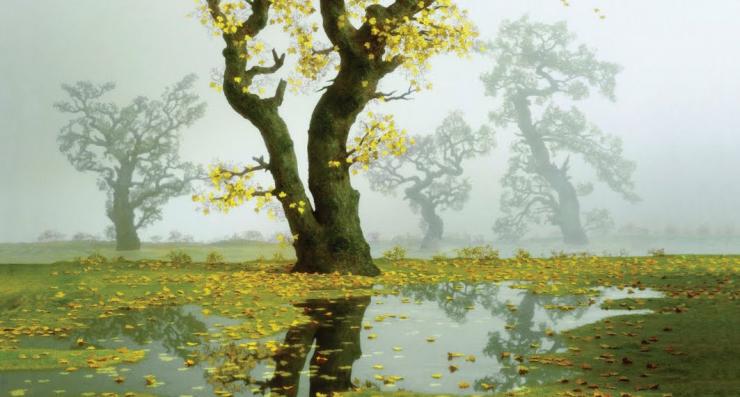 THE MAGICIANS
We heard last year that Syfy was developing a series based on Lev Grossman's best-selling urban fantasy series The Magicians, and now the network has pulled the trigger and greenlit a full season. The 12-episode debut season will essentially follow a group of 20-somethings as they attend a university that teaches magic and stumble upon something that could doom humanity. The adaptation stars Jason Ralph (A Most Violent Year) as Quentin Coldwater, a student who enrolls in Brakebills College for Magical Pedagogy, a secret New York university specializing in magic. Coldwater and his friends will find themselves sucked into a world they're not quite equipped to handle. Along with Ralph, the series also stars Stella Maeve (Chicago P.D.), Hale Appleman (Teeth), Arjun Gupta (Nurse Jackie) and Summer Bishil (Towelhead). Michael London and Janice Williams (Milk) are attached to executive-produce, along with the John McNamara (Aquarius) and Sera Gamble (Supernatural). The pilot was directed by Mike Cahill (I Origins). "The Magicians pilot beautifully delivers a world filled with wonder, fantasy and intrigue," Syfy president Dave Howe said. "We can't wait to delve deeper into the lives of Quentin and his college friends, as they struggle with the enormity of their burgeoning powers -- and unleash them upon the world." Grossman said he's wanted to see the story told ever since the book was first published back in 2009, and promises audiences have "never seen anything like this" before. Shooting is set to ramp up on the Syfy series in July, and a premiere date has (obviously) not been announced yet. ARROW
The CW has released both a new behind-the-scenes video exploring episode 3.22 of "Arrow" as well as the latest character poster in their "Cage Match" series, offering a look at Brandon Routh's ATOM in action! Titled "This Is Your Sword," episode 3.22 serves as the penultimate episode of season three and is officially described as follows: "Oliver/Al Sah-him finishes his training and is left with two final tasks to become the next Ra's al Ghul. Ra's (guest star Matt Nable) threatens Nyssa (guest star Katrina Law) and delivers some shocking news. Meanwhile, Malcolm makes a surprising offer to Team Arrow and Thea goes to see Roy." Directed by Wendey Stanzler with story by Erik Oleson and teleplay by Ben Sokolowski & Brian Ford Sullivan "This Is Your Sword" is set to air May 6. "Arrow" stars Stephen Amell as Oliver Queen/Arrow, Katie Cassidy as Dinah "Laurel" Lance, David Ramsey as John Diggle, Willa Holland as Thea Queen, Emily Bett Rickards as Felicity Smoak, John Barrowman as Malcom Merlyn and Paul Blackthorne as Detective Lance. It is executive produced by Greg Berlanti, Marc Guggenheim, Andrew Kreisberg and Sarah Schechter.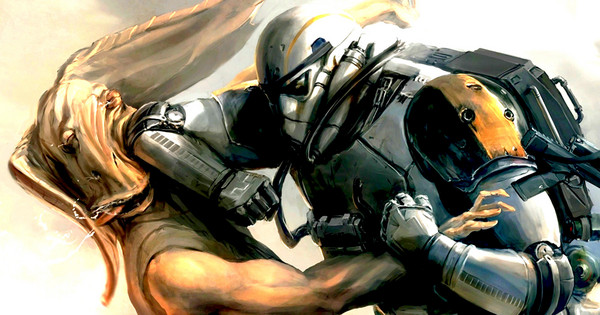 STAR WARS: THE FORCE AWAKENS
Is there any way to get on an old school Star Wars fan's good side quicker than teasing the death of controversial character Jar Jar Binks? J.J. Abrams wants to hide the much-hated Gugan's bones in the Jakku desert as a Star Wars: The Force Awakens Easter egg. But it sounds like he hasn't quite made up his mind. The director revealed his plans from the edit bay as the anticipated sequel continues to come together, stating: "I have a thought about putting Jar Jar Binks's bones in the desert there. I'm serious! Only three people will notice, but they'll love it." Star Wars: The Force Awakens has original fans excited for Star Wars once again, after the prequel trilogy did a lot to curb their enthusiasm. While younger audiences certainly enjoyed the last three films, older fans had quite a bit to complain about. And one of the biggest targets for many years has been Jar Jar Binks, who was first introduced in Star Wars: Episode I - The Phantom Menace. He was so criticized upon his debut that director George Lucas cut Jar Jar's story down to almost nothing, with his cameos in the next two films quite fleeting. Though he still played an important part in the overall plot line. A lot of fans have wanted to see Jar Jar Binks taken out. But LucasFilm probably won't allow that to happen on the big screen. The character, after all these years, has grown a strong cult following and has returned in Star Wars: The Clone Wars. There is no indication that he will pop up in Star Wars Rebels, but it certainly hasn't been ruled out, either. Heck, he might even show up in one of the Star Wars Anthology spinoffs. As of now, Jar Jar Bink's fate still hangs in the balance. Do you want to see Jar Jar Binks officially killed off? Or should he get a pardon? You can read more of 's interview when the Star Wars: The Force Awakens themed Vanity Fair issue hits digitally on May 7 and is on newsstands everywhere May 12. Star Wars: The Force Awakens comes to theaters December 18th, 2015.
MONDAY, MAY 4, 2015
STAR WARS: A FORCE AWAKENS
A 45-second behind-the-scenes video of the Vanity Fair cover feature shows an all-black Driver, Nyong'o in full motion-capture gear and more of Daisy Ridley. May the Fourth be with you! "Star Wars Day" got off to a good start with a new video giving us the briefest and clearest glimpse of Adam Driver's character so far. To promote its Star Wars: The Force Awakens cover feature, Vanity Fair has uploaded a 45-second, behind-the-scenes video that shows legendary photographer Annie Liebowitz talking to cast and crew, but also reveals a bit more than we already knew about The Force Awakens. In the video, we get a new and clearer look at Driver's as yet unnamed character and his all-black look. Speculation persists Driver is playing Kylo Ren and the images are likely to ramp up the rumors. We also see Lupito Nyong'o donning motion capture equipment, suggesting her character will be CG. The short video also gives us storm troopers running in an icy environment and a longer look at the speeder that Daisy Ridley seems so attached to. Vanity Fair has also promised never-before-seen images from the The Force Awakens set over the coming days, including images of Gwendoline Christie's as yet unnamed character.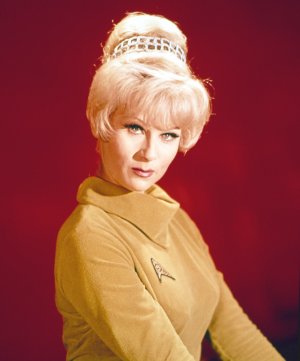 STAR TREK'S GRACE LEE WHITNEY PASSES
Grace Lee Whitney, who played the loyal Janice Rand, the personal assistant who served Captain James T. Kirk (William Shatner) aboard the USS Enterprise during the first season of Star Trek, has died. She was 85. Whitney, who reprised her role as Rand in four Star Trek films and in a 1996 episode of Star Trek: Voyager, died Friday at her home in Coarsegold, Calif., her son told The Fresno Bee. The attractive blond also appeared in two Billy Wilder films that starred Jack Lemmon: 1959's Some Like It Hot (as one of the members of the all-girl band) and as Kiki the Cossack in 1963's Irma la Douce. There was much sexual tension between Whitney's Yeoman Rand and Shatner's Kirk as the actress appeared in eight of the first 13 episodes of the 1966-69 NBC space drama. But then she suddenly was released from her contract. "There was a scene that Shatner and I did — and I remember when it happened — that scared the producers, because they said, 'Uh-oh, they're getting too close. This is getting too hot,'" she recalled in a 2011 interview. "We have to remove her because he's going to look like he's cheating when he falls in love with other women on other planets." Whitney wrote in her 1998 book, The Longest Trek: My Tour of the Galaxy, that she was sexually assaulted by an executive at Desilu, the production company behind Star Trek, and suffered from drug and alcohol abuse for years before turning her life around. She was welcomed back as Chief Petty Officer Rand in Star Trek: The Motion Picture (1979), followed by appearances in Star Trek III: The Search for Spock (1984), Star Trek IV: The Voyage Home (1986) and, as a lieutenant, in Star Trek VI: The Undiscovered Country (1991). A native of Ann Arbor, Mich., Whitney landed a job as a teenage singer on a radio station in Detroit and later played Chicago nightclubs with the likes of Buddy Rich and Billie Holliday. In 1951, she appeared on Broadway in the musical comedy Top Banana, starring Phil Silvers, and appeared in the 1954 movie version as well. Also in the early 1950s, she served as the inspiration for the Chicken of the Sea mermaid in ads for the canned tuna. Whitney had roles on such TV shows as The Life and Legend of Wyatt Earp, Bat Masterson, The Real McCoys, The Outer Limits, The Rifleman, Batman (as King Tut's pretty accomplice) and Bewitched. She also did a pilot episode for Police Story, a drama that never made it to series; it was written by Star Trek creator Gene Roddenberry, and that led her to being cast as Rand.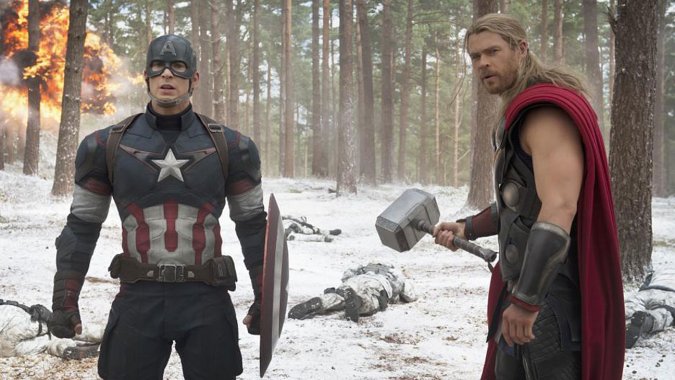 WEEKEND BOX OFFICE
Continuing Marvel Studios and Disney's winning streak, Joss Whedon's Avengers: Age of Ultron opened to $187.7 million from 4,276 theaters in North America, the No. 2 opening of all time behind The Avengers. Overseas, where the summer's first tentpole began opening last weekend, Age of Ultron earned another $168 million from 88 territories for a foreign total of $439 million and early worldwide haul of $627 million. In only 12 days, it has surpassed the lifetime global earnings of Captain America ($371 million), Thor ($449 million), Iron Man ($583 million) and Iron Man 2 ($622 million). In North America, all eyes were on the sequel to see if it could beat the $207.4 million debut of the first Avengers on the same weekend in 2012 and become the new champ. Instead, it came in more than 9 percent behind. As the weekend wore on, it became apparent that Saturday night's Floyd Mayweather and Manny Pacquiao fight was hurting Ultron in a big way. Some box office observers believe the movie could have approached $200 milion were it not for competition from the PPV event. Moviegoing tumbled 40 percent from Friday to Saturday in Los Angeles and San Francisco, for instance, and more than 50 percent in some Hispanic markets, such as El Paso, Texas. Costing $89-$99 to watch, the fight is expected to have generated hundreds of millions in revenue. Additionally, thousands watched the fight on pirate sites. "The fight dinged all films across the board. The numbers on Ultron are still phenomenal but definitely less than they would have been," said one rival studio executive. Males made up 59 percent of Ultron's audience, while nearly 60 percent of ticket buyers were 25 and over. Families represented 22 percent and teens 12 percent. Disney and Marvel now boast the top three opening weekends of all time domestically, thanks to the two Avengers entries and Iron Man 3, which debuted to $174.1 million in May 2013. Age of Ultron pushes Harry Potter and the Deathly Hallows — Part 2 ($169.2 million) to No. 4. Dave Hollis, Disney's distribution chief, says it's a testament to the "extraordinary achievements of Marvel," as well as the vast resources of Disney, from the film division, to theme parks to consumer products, among other units. "We are in a great place," says Hollis "And if someone didn't see Ultron Saturay night, they will see it today or next week. And overseas, in local currency, we are pacing 31 percent ahead of the first Avengers." Only eight films in history have opened to $150 million or more domestically, with only Marvel cracking the $170 million threshold. In other words, when a film gets to the level of Age of Ultron, no one is going on the attack against Marvel and Disney. The bigger question will be Age of Ultron's staying power, and whether it can ultimately match the $1.5 billion earned by Avengers worldwide in 2012. The latter had the cachet of being the first superhero mashup and earned an A+ CinemaScore, compared to an A for Age of Ultron. On Friday, Age of Ultron grossed a massive $84.5 milion domestically, the biggest opening day for a superhero film and the second-biggest of all time after the final Harry Potter film ($91.7 million). In 2012, Avengers pulled in $80.8 million on its first Friday. However, Age of Ultron lagged behind Avengers on Saturday ($57.2 million versus $69.6 million). Overseas, Ultron posted the biggest opening of all time in several markets this weekend, including Mexico ($25.5 million). Ditto last weekend in Brazil, Hong Kong and the Philippines. Overall, Korea leads with $55.4 million, followed by the U.K. ($48.1 million), Brazil ($29.5 million), Russia ($27.2 million), Australia ($23 million), France ($23 million), Germany ($19.7 million), Italy ($15.2 million), Taiwan ($14.3 million), India ($14 million) and Hong Kong (13.3 million), among other territories. Imax theaters showing Whedon's film generated $25.2 million in worldwide ticket sales this weekend without the benefit of China, a new record, inlcuding $18 million in the U.S. Rival premium large format screens turned in $13.5 million in the U.S. Age of Ultron, costing $250 million to make, returns Robert Downey Jr. as Iron Man, Chris Hemsworth as Thor, Mark Ruffalo as the Hulk, Chris Evans as Captain America and Scarlett Johansson as the Black Widow. The ensemble cast also includes Jeremy Renner, Don Cheadle and Paul Bettany. This time, the superheroes and their allies must work together to stop Ultron (James Spader), who intends to destroy the world. Elsewhere, Universal's Furious 7 finished Sunday with a global gross of $1.429 billion, passing up Deathly Hallows ($1.341 billion) to become the No. 4 top-grossing title of all time at the worldwide box office behind Avengers, Avatar ($2.8 billion) and Titanic ($2.2 billion). No other film dared open nationwide opposite Age of Ultron, leaving the rest of the box office battle to holdovers. Blake Lively-starrer The Age of Adaline placed No. 2 in North America, falling 53 percent in its second weekend to $6.3 million for a 10-day cume of $23.4 million for Lakeshore and Lionsgate. Furious 7 followed with $6.1 million, while Sony's Paul Blart: Mall Cop 2 placed No. 4 with $5.5 million for a domestic total of $51.2 million. A24 Films' indie hit Ex Machina crossed $10 million in North America, grossing $2.2 million from 1,279 theaters for a total of $10.9 million. The sci-fi film placed No. 7. At the specialty box office, Fox Searchlight's Far From the Madding Crowd, based on the classic Thomas Hardy novel, opened to $172,000 from 10 theaters in five cities for a location average of $17,200. And Alchemy Entertainment's Welcome to Me, starring Kristen Wiig, opened to $38,168 from two theaters for a location average of $19,084.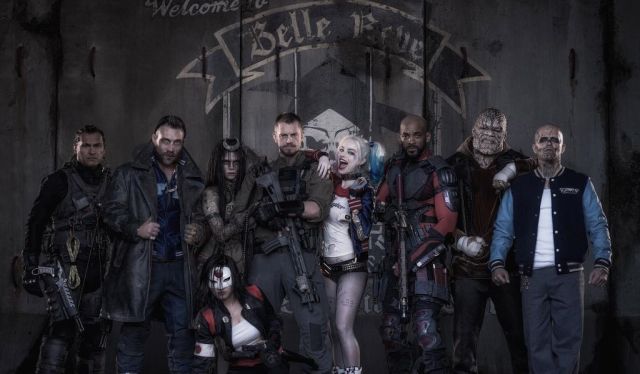 SUICIDE SQUAD
UPDATE: David Ayer has now revealed an image of Will Smith's Deadshot in his full costume which we've added below. The original story follows: As production continues on Warner Bros.' next DC Comics film, director David Ayer has assembled the super villain team for our first official Suicide Squad cast photo! Among those featured are Will Smith (The Pursuit of Happyness, Focus) as Deadshot; Joel Kinnaman (RoboCop, Easy Money) as Rick Flagg; Margot Robbie (The Wolf of Wall Street, Focus) as Harley Quinn; Jai Courtney (Divergent, The Water Diviner) as Captain Boomerang; Cara Delevingne (Anna Karenina, upcoming Pan) as Enchantress; Karen Fukuhara as Katana; Adewale Akinnuoye-Agbaje as Killer Croc; Jay Hernandez as El DIablo; and Adam Beach as Slipknot. Missing from the photo are Ike Barinholtz, Scott Eastwood, Raymond Olubowale, Alex Meraz, Jim Parrack, and Common in addition to Viola Davis' Amanda Waller and Jared Leto's previously-revealed Joker. Created by Robert Kanigher and Ross Andru back in 1959, the Suicide Squad team has included countless DC villains among its ranks, including Deadshot, Captain Boomerang, Bane, Killer Frost, Poison Ivy, Count Vertigo, Deathstroke, and Harley Quinn. The CW's "Arrow" introduced their own version of the team in the most recent season of the series and the recent animated film, Batman: Assault on Arkham, offered another version of the team. Written and directed by David Ayer, Suicide Squad is setting up shop in Toronto, Canada at their Pinewood extension. The film will shoot from until September for an August 5, 2016 release.
SUNDAY, MAY 3, 2015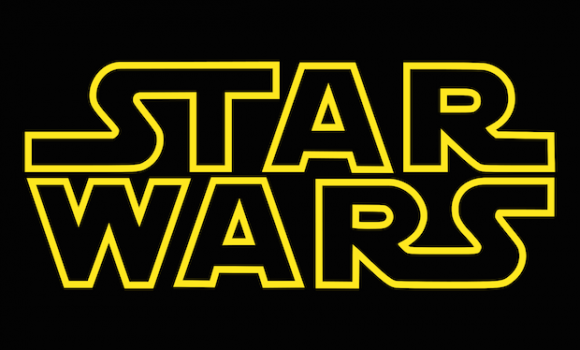 STAR WARS NEWS
The second film in Disney's Star Wars spinoff universe is looking for a new director — and it could be because of all those Fantastic Four troubles.

Director Josh Trank has officially exited the film to pursue other projects, according to The Hollywood Reporter. The 30-year-old director became a hot commodity thanks to his awesome sci-fi debut Chronicle, and is preparing to unveil his (somewhat controversial) take on the Fantastic Four later this year. A separate report notes that the wacky conditions behind the scenes of Fantastic Four (which shared a producer with the Star Wars spinoff, Simon Kinberg) were a major factor surrounding the exit.

The move is obviously a surprise, but it's apparently been in the works for a few weeks now. Trank was apparently having doubts about his long-term involvement before Star Wars Celebration, which was part of the reason he didn't participate in the spinoffs panel. At the time, his absence was blamed on a bad case of the flu — but new reports indicate the Disney brass asked him not to attend, since he already had one foot out the door.

Here's Trank's official statement on the departure:

"After a year of having the incredible honor of developing with the wonderful and talented people at Lucasfilm, I'm making a personal decision to move forward on a different path. I've put a tremendous amount of thought into this, and I know deep down in my heart that I want to pursue some original creative opportunities. That said, the Star Wars universe has always been one of my biggest influences, and I couldn't be more excited to witness its future alongside my millions of fellow Star Wars fans. I want to thank my friends Kathleen Kennedy, Kiri Hart, Simon Kinberg, and everyone at Lucasfilm and Disney for the amazing opportunity to have been a part of this. May the Force be with you all."

For a young director like Trank, it's a risky career move to drop off one of the biggest franchises in existence — but fresh off his troubled experience on Fantastic Four (though we have to admit the new trailers are looking solid), it makes sense why he might be hesitant to jump right into another major franchise. He cut his teeth on a personal project, and it seems that's apparently where his passion lies. Galaxy far, far away or not.

Lucasfilm VP of Development Kiri Hart noted it "was a privilege to collaborate with Josh," adding that the Star Wars team is "grateful for the energy and love" he brought to the project. Disney has also confirmed the project will (obviously) move forward with someone else at the helm. Much like the Marvel movies, these things are bigger than any one director for Disney. It's a machine, and the machine rolls on.

According to a separate report, the exit might not be quite as amicable as it seems. Apparently Disney caught wind of all the trouble surrounding Fantastic Four, and it seems some lack of communications behind the scenes and that fact that Edwards was reportedly overwhelmed by the experience threw up some red flags for the Disney brass. An anonymous studio source noted Trank has the talent but lacks the "character-based skills" for something of this scope.

As for what the film is actually about? We still don't know. The first Anthology spinoff film, Gareth Edwards' Star Wars: Rogue One, hits in 2016 and will focus on a team of rebel soldiers stealing the Death Star plans. Virtually nothing had been revealed about Trank's film, and considering its still a few years in the offing, Disney has more than enough time to put the pieces back together.

CUBE
Vincenzo Natali's bizarre 1997 indie horror movie, Cube, is getting repackaged and boxed up for a full remake by Lionsgate. The story documents the plight of a group of seemingly random strangers attempting to escape the diabolical design of an enormous, booby-trapped cube without being gassed, burnt or diced to pieces by lethal razor wire. Built by a clandestine government organization, the torturous maze-like cube is constantly realigning itself in a pattern of shifts that defy simple understanding. Survivors must work together to discover the sadistic secrets of this hellish device or die trying. Its Twilight Zone pedigree, fresh premise and ingenious set design made this micro-budget ($350,000) Canadian production into a cult classic among hardcore horror fans and spawned a 2002 sequel, Cube 2: Hypercube, and a decent 2004 prequel, Cube Zero.

Directed by Saman Kesh (Controller) from his updated script pitch, Lionsgate's new Cubed is described as a reimagining of Natali's classic and a sci-fi thriller about artificial intelligence, humanity and the dawn of a new digital race. Roy Lee (The Lego Movie) is assigned producer duties alongside Prometheus co-writer Jon Spaihts.

MAD MAX FURY ROAD
With George Miller's highly-anticipated Mad Max: Fury Road finally hitting theaters two weeks from today, Warner Bros. Pictures is helping fans get excited with six clips from the films and more than three dozen new stills.

Co-written and directed by Miller, Mad Max: Fury Road stars Tom Hardy as "Mad" Max Rockatansky, the character played by Mel Gibson in Miller's original three films (which also include The Road Warrior and Max Max Beyond Thunderdome)

Mad Max: Fury Road offers post-apocalyptic action set in the furthest reaches of our planet, in a stark desert landscape where humanity is broken, and most everyone is crazed fighting for the necessities of life.

Within this world of fire and blood exist two rebels on the run who just might be able to restore order. There's Max (Hardy), a man of action and a man of few words, who seeks peace of mind following the loss of his wife and child in the aftermath of the chaos and Furiosa (Charlize Theron), a woman of action and a woman who believes her path to survival may be achieved if she can make it across the desert back to her childhood homeland.

Also starring Nicholas Hoult (Warm Bodies, X-Men: Days of Future Past), Hugh Keays-Byrne (Mad Max, Sleeping Beauty), Nathan Jones (Conan the Barbarian, Troy), Zoe Kravitz (Divergent, X-Men: First Class), Riley Keough (The Runaways, Magic Mike) and Rosie Huntington-Whiteley (Transformers: Age of Extinction), Mad Max: Fury Road opens in 2D and 3D theaters on May 15, 2015.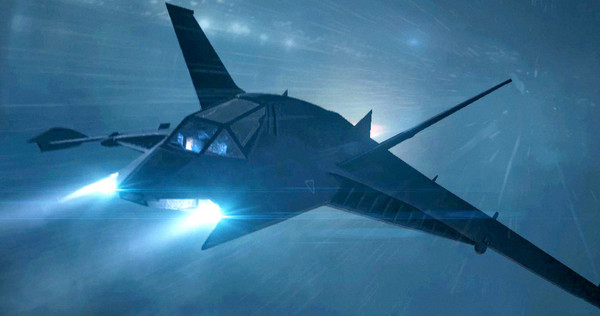 BATMAN V SUPERMAN: DAWN OF JUSTICE
When the full Batman v Superman: Dawn of Justice trailer was released last month, fans caught a brief glimpse at Batman's new Batwing ship, which is seen flying over an exploding pier. Since the shot is so quick, it isn't known if the Batwing caused this explosion, but it did upset some fans, because, in the comic books, Batman has a no-kill policy that he strictly adheres to. While we wait for even more footage to arrive from Batman v Superman: Dawn of Justice, the first full look at the Nightwing has been finally revealed.
As you can see, the ship has guns mounted in the front, so it certainly is capable of creating the explosion seen briefly in the trailer. It's possible that Warner Bros. and director Zack Snyder are straying from the comics to give fans a Batman (Ben Affleck) they have never seen before. There have been rumors that he is "semi-retired" when the movie starts, and he primarily fights crime with the use of drones and surveillance equipment. Given the rumored drone technology that Bruce may use, it's possible that he's not even flying the Batwing himself, or the ship may have also been taken over by the villainous Lex Luthor (Jesse Eisenberg). It's doubtful that we'll get any clear answers to these rumors anytime soon, but they certainly present a lot to think about.
Henry Cavill (Superman), Amy Adams (Lois Lane), Diane Lane (Martha Kent), Laurence Fishburne (Perry White), Gal Gadot (Lois Lane) and Jeremy Irons (Alfred Pennyworth) round out the main cast. Holly Hunter, Callan Mulvey, Tao Okamoto and Scoot McNairy also star, although their roles have not been confirmed.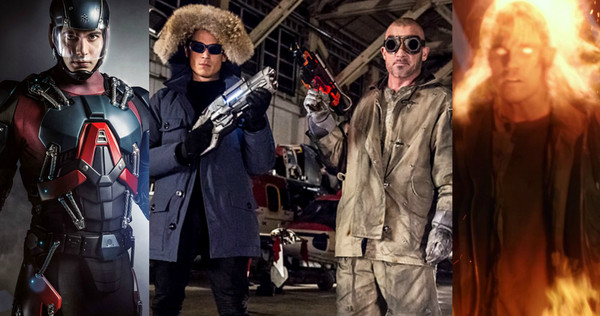 ARROW/FLASH SPIN-OFF
While we've been introduced to most of the cast members for the upcoming Arrow / Flash Spinoff, there is still much we do not know about this new DC Comics TV show coming to the CW, which will incorporate characters from both of their very popular series The Flash and Arrow. One of those characters is 's Professor Martin Stein, also known as the 'other-half' of Firestorm. BroadwayWorld caught up with the man behind Stein, Victor Garber, who revealed when we will actually see the show, and the fact that The CW has taken the adventure drama straight to series. He says:
"They are going to unveil more details about it soon - I believe they are going to do something for it in May at the upfronts... it's a spin-off from , which I have been working on for a few [episodes]. To be honest, it is very wild for me that at this point of my life I am now in that world - I am now a half-superhero! The character I play is half of Firestorm, so conjoined - together - they are Firestorm. It's been very wild and fun for me to do it... I think it's going to be a very fun ride. I really honestly can't tell you much about it except it is completely new and it will involve a lot of interesting people. We haven't filmed any of it yet - but, it is going straight to series. We start filming in August and it will be on [The CW] in January."
The CW's media upfronts will happen on May 14. It is here that many suspect the network will reveal a title, premiere date and perhaps the first look at the , with some people already calling it The Atom. While is returning in this third DC Comics show, there has been no mention yet of Robbie Amell's participation as the other half of Firestorm, or if Stein and Ronnie Raymond will reunite.
The currently consists of Franz Drameh in an unknown role, Brandon Routh as The Atom, Wentworth Miller as Captain Cold, Dominic Purcell as Heat Wave, as Dr. Martin Stein, Arthur Darvill as Rip Hunter, Ciara Renee as Hawkgirl and Caity Lotz, who originally played Black Canary before she was killed in the Arrow Season 3 premiere. Nothing else about the series is known at this time. It sounds like we just have a few weeks until we find out more.
FRIDAY, MAY 1, 2015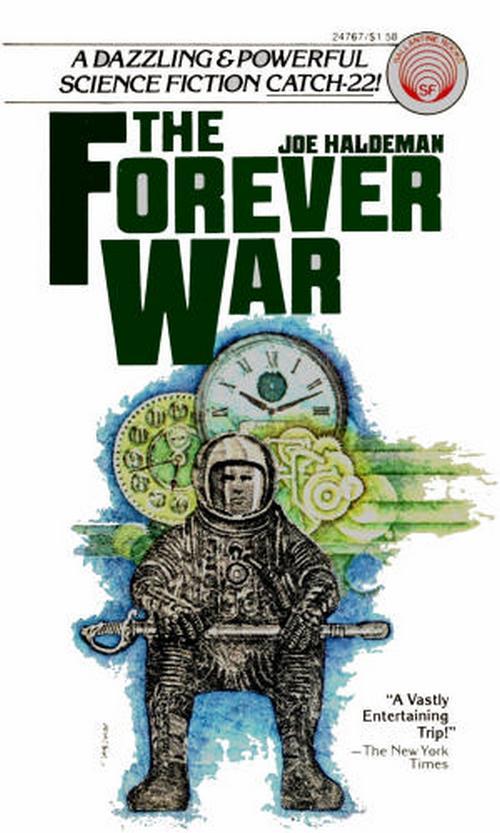 THE FOREVER WAR
The long-delayed film version of Joe Haldeman's classic novel The Forever War has landed its star. The Wrap reports that Channing Tatum is attached to play the lead role in the movie, which has been in development for years by director Ridley Scott. The director is no longer involved with the project, but two studios -- Sony and Warner Bros. -- are both bidding for the rights that Scott just recently let go. So now the movie needs a new director. A script has already been penned by Jon Spaihts, who wrote the original version of Prometheus for Scott (when it was called Alien: Engineers) and has also drafted Doctor Strange for Marvel and director Scott Derrickson. Haldeman's novel was published in 1974 and won both the Hugo and Nebula awards. It follows a soldier named William Mandella, who is sent into deep space as part of an elite force battling an alien species called the Taurans. Due to the time dilation of space travel, centuries pass on Earth during Mandella's two-year tour of duty, and he returns to an Earth and human race that quickly become unrecognizable to him. The novel, which was said to be heavily influenced by Haldeman's own service during the Vietnam War, has a lot of provocative aspects to it -- such as the government encouraging homosexuality in order to keep overpopulation down. It will be interesting to see if those elements of the story remain, or if Hollywood just turns this into another CG explosion extravaganza. Let's hope it's the former. And let's hope it works out well for Tatum, who could use a nice return to the genre after the spectacular crash-and-burn of Jupiter Ascending earlier this year.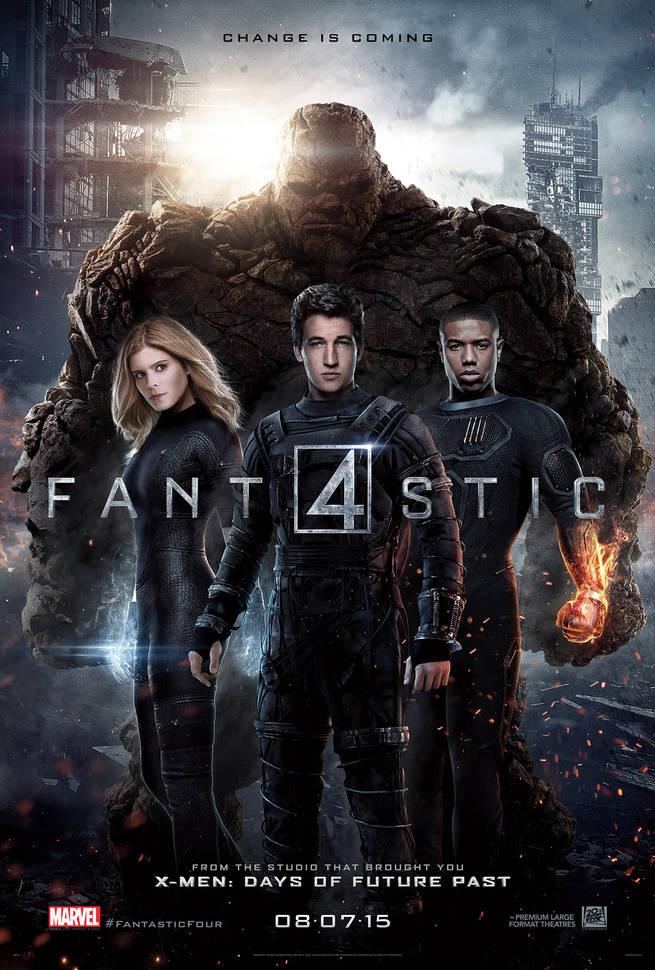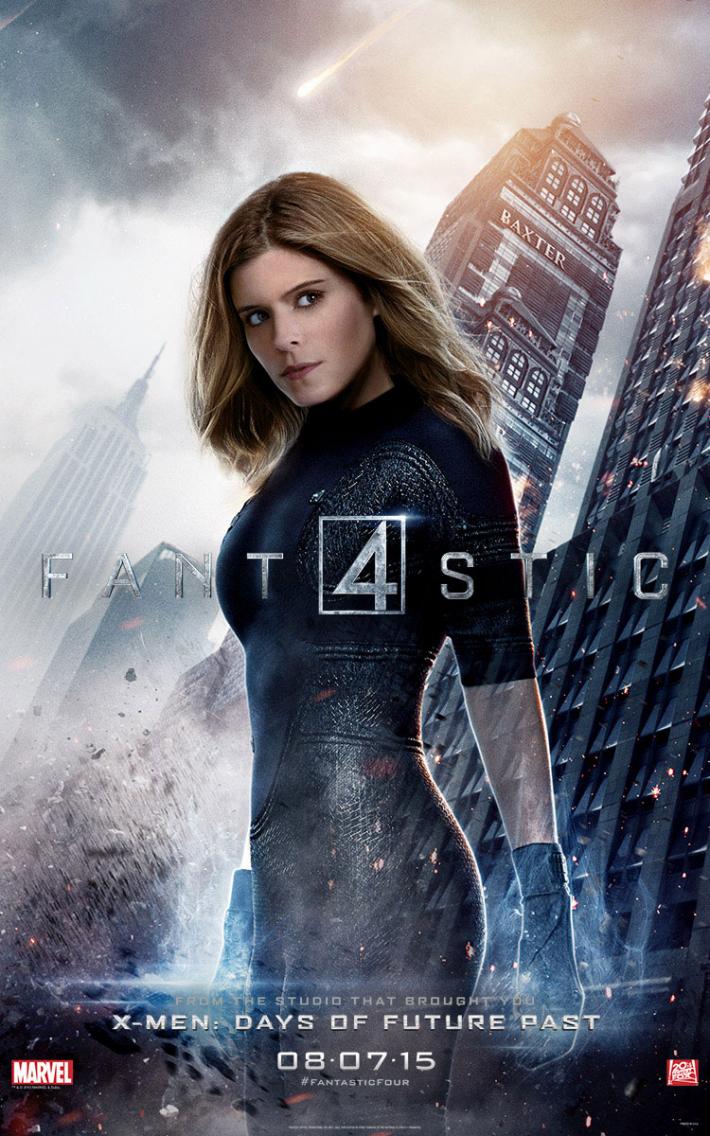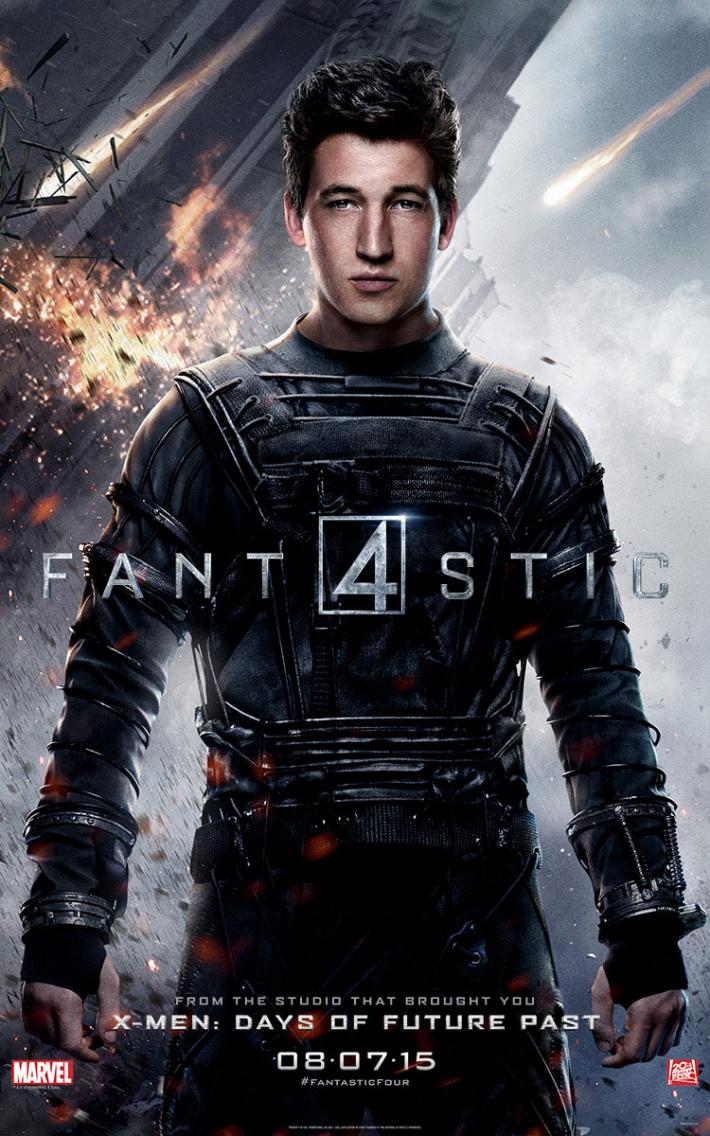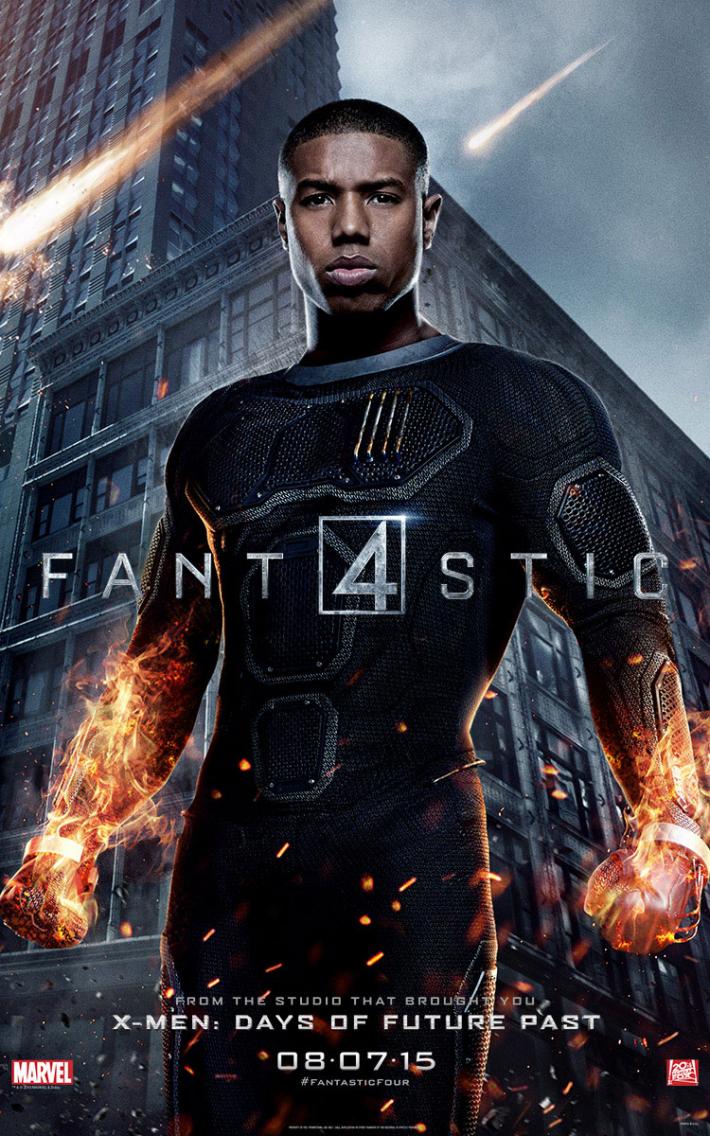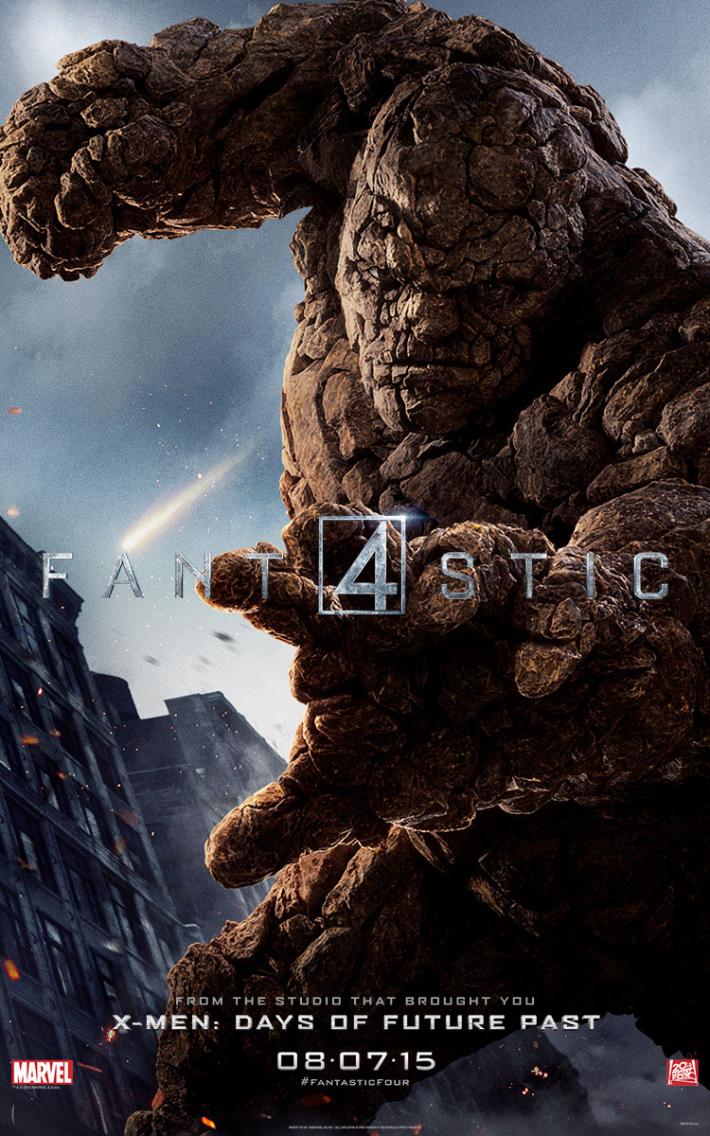 FANTASTIC FOUR
Fox has unleashed five new character posters and a movie banner for its upcoming superhero movie Fantastic Four. The character posters feature Sue Storm/Invisible Woman (Kate Mara), Reed Richards/Mr. Fantastic (Miles Teller), Johnny Storm/Human Torch (Michael B. Jordan) and Ben Grimm/The Thing (Jamie Bell) in all their powered-up glory — with the exception of Mr. Fantastic. Marvel's First Family strike individual heroic poses for the posters, before being reunited in all their photoshopped glory in one poster and a movie banner. Fantastic Four, a contemporary re-imagining of Marvel's original and longest-running superhero team, centers on four young outsiders who teleport to an alternate and dangerous universe, which alters their physical form in shocking ways. Their lives irrevocably upended, the team must learn to harness their daunting new abilities and work together to save Earth from a former friend turned enemy. Check out the movie posters below, and let us know what you think (My personal faves are the Human Torch and The Thing ones. It's clobberin' time, so flame on!). Directed by Josh Trank, Fantastic Four will open in theaters on Aug. 7, 2015.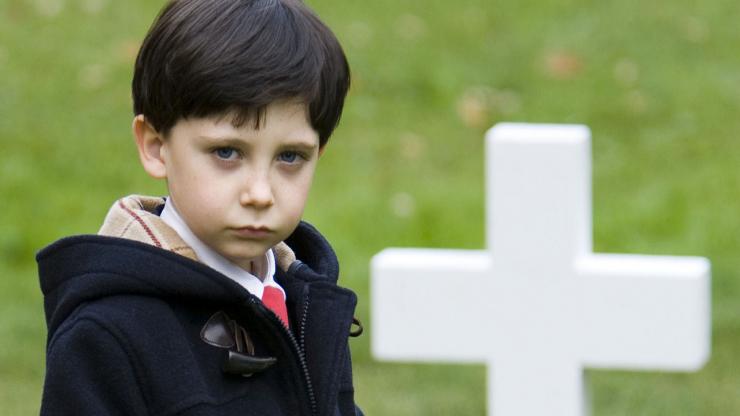 DAMIEN
When Lifetime announced it had ordered Damien, a straight-to-series drama that happens to be a sequel to The Omen -- a 1976 classic horror movie (that got a remake in 2006; see the pic above) -- I thought, really? This seems like a strange home for a horror-based TV show. Well, that just changed, because Deadline reports that the series will now air on sibling channel A&E and, as part of the move, the episode order for the upcoming series has been upped from 6 to 10. This is the first major synergistic play since Lifetime programming chief Rob Sharenow took over A&E two months ago as EVP and general manager A&E and Lifetime, and I think it's a smart move. After all, A&E is also the home of Bates Motel, a TV series based on another classic horror movie: Psycho. Sharenow said: "A&E's unwavering commitment to high quality original scripted drama programming, coupled with the sizable fan-base for our hit series 'Bates Motel,' which so perfectly aligns with 'Damien,' make the network the ideal fit for this exceptional show." The brainchild of Glen Mazzara (it's written and executive-produced by him) and Fox 21 TV Studios, Damien stars Bradley James (Merlin, iZombie) as a now-adult Damien Thorn, the mysterious child from the 1976 film, who is seemingly unaware of the Satanic forces that surround him. Haunted by his past, Damien must come to terms with the fact that he is the Antichrist. I'm guessing he may not take that well. Damien is slated to premiere sometime in 2015, with Shekhar Kapur (Elizabeth) set to helm and executive-produce the first episode in his first TV directing gig.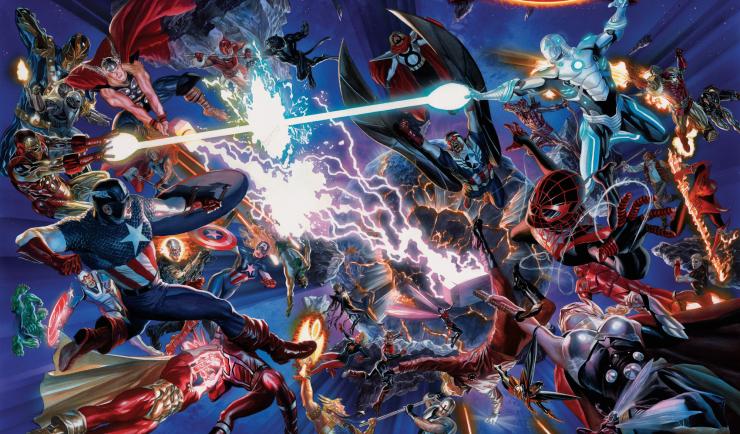 SECRET WARS
We're finally less than a week away from the kickoff of Secret Wars, the massive Marvel Comics event that features the collision of the 616 and the Ultimate Universe, a host of alternate realities and timelines gathered together on Battleworld, and what promises to be a continuity-altering chain of events. Marvel's buildup to the event has featured the announcement of dozens of tie-in series, including Old Man Logan, A-Force, Age of Ultron vs. Marvel Zombies and more. For some readers, it's been a lot to take in, a confusing collage of Marvel history, but throughout all of the Secret Wars promotion one thing has remained clear: We'll always have the main miniseries to fall back on. The Secret Wars series, from writer Jonathan Hickman (Infinity) and artist Esad Ribic (Thor: God of Thunder), is the flagship of this entire endeavor, the centerpiece where the biggest of big events unfold, and even if you don't read any of the other series in the event you'll still have a good picture of the future of the Marvel Universe if you just stick to these eight issues (plus the Free Comic Book Day zero issue). Hickman's teased in interviews that the series will open with "the end of the world" and then unveil the full Battleworld story after that, and we've been eager to see just how all of that comes together. Now we finally have our first glimpse. Marvel dropped (Via CBR) a lettered preview of Secret Wars #1 today, and though it's only two pages of story, it's an epic two pages. It features Iron Man, Luke Cage, Captain Marvel, Iron Fist, Storm, Thor, the Guardians of the Galaxy and other Marvel heroes engaged in a massive battle after two earths (presumably the 616 Earth and the Ultimate Earth) have collided. We don't know where the series is going just yet, but one thing's clear from this glimpse: Hickman and Ribic aren't starting small. Secret Wars #0 arrives on Free Comic Book Day, this Saturday, followed by Secret Wars #1 on May 6. Check out the preview, along with variant covers by Alex Ross, Amanda Conner. STAR WARS REBELS
Ezra, Kanan and the rest of the crew of the Ghost are headed back to the small screen in less than two months. Lucas film has just announced that "Star Wars Rebels" will air its Season Two premiere at 9:00pm ET/PT on Saturday, June 20! Be prepared for a full hour of "Rebels" with the extended Season Two premiere, "The Siege of Lothal" (which was screened for an audience of lucky fans at the recent Star Wars Celebration). Executive produced by Dave Filoni ("Star Wars: The Clone Wars"), "Rebels" features the voice talents of Freddie Prinze, Jr. (Kanan), Vanessa Marshall (Hera), Tiya Sircar (Sabine), Steve Blum (Zeb), and Taylor Gray (Ezra). Continuing the epic tradition of the legendary "Star Wars" saga, "Star Wars Rebels" unfolds between the events of Star Wars: Episodes III and IV and tells the story of the motley but clever crew of the starship Ghost who together face threatening new villains, encounter colorful adversaries and embark on thrilling adventures. In its second season, "Star Wars Rebels" will feature recurring appearances by fan-favorite characters including Darth Vader and Ahsoka Tano with James Earl Jones reprising his iconic role from the films and Ashlecky Eckstein returning to voice the "Clone Wars" character. Dee Bradley Baker will also return this season as Captain Rex (as well as Gregor and Wolffe).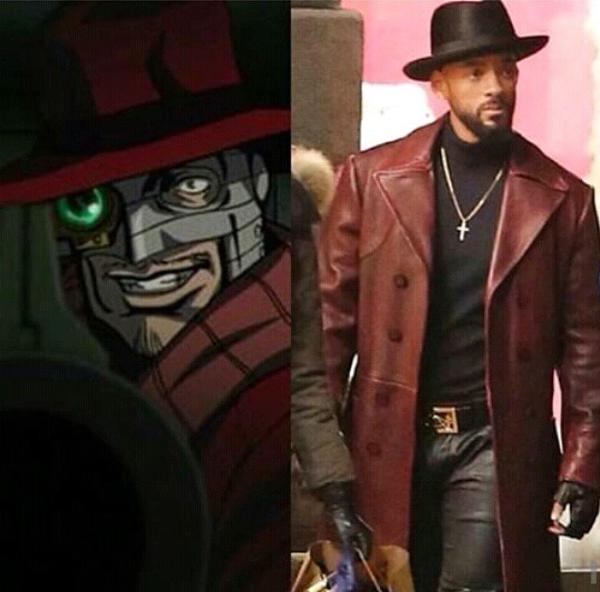 SUICIDE SQUAD
As the debate about Jared Leto's Joker look in Suicide Squad starts to die down, we now get our first look at Will Smith as Deadshot. And it's sure to cause just as much controversy amongst hardcore fans of the comic book. Though he is taking on a look associated with the character, also seems to be channeling his own Capt. James West persona from the Warner Bros. box office bomb Wild Wild West. We don't yet get to see his full assassin costume complete with Cybernetic eye. Will Smith was spotted in costume while filming scenes for Suicide Squad in the streets of Toronto, Canada. This iconic villain, best known for his battles against Batman and Commissioner Gordon, is seen shopping with a young girl. Here, we see him exiting a store with his arms full of shopping bags, and the girl, maybe his daughter, is holding a doll. This scene may take place before Floyd Lawton takes on the full Deadshot persona. Deadshot is a skilled marksman who holds no regard for human life. Perhaps because someone killed his daughter? In the comics, Deadshot discovers he has a daughter, Zoe, who is being raised in a crime-filled area of Star City. Lawton decides to do right by this daughter, and embarks on a lethal war on the local gangs that plague the area. The series ends with Deadshot faking his death, having realized a normal life isn't for him, but also having mostly cleared up the area and convincing Green Arrow to patrol it more regularly. It should also be noted that when Deadshot debuted, he wore a top coat and tails which transitioned to a red jumpsuit and distinctive metal face plate. So if you're not too familiar with the full background on the character, don't jump to any conclusions about Deadshot's look just yet. But maybe if you cry loud enough about it, director David Ayer will release an official photo of in his assassin costume complete with Cybernetic eye to calm you down.
THE ZOCALO TODAY
Be sure to check out The Zocalo Today on Facebook as well as at ISN News: The Zocalo Today on Yahoo Groups. April News Archive.
BACK ISSUES OF THE ZOCALO TODAY
The front page of the The Zocalo Today changes daily, so be sure to check the back issues to make sure that you haven't missed anything IMPORTANT! I hope you will become a regular visitor to The Zocalo Today!
---
Take care and I look forward to hearing from you.
Sandra Bruckner (sgbruckner@aol.com)
Editor/Publisher
ISN News: The Zocalo Today
http://www.isnnews.net
Copyright - SBruckner, 1999-2013