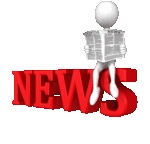 THURSDAY, OCTOBER 31, 2013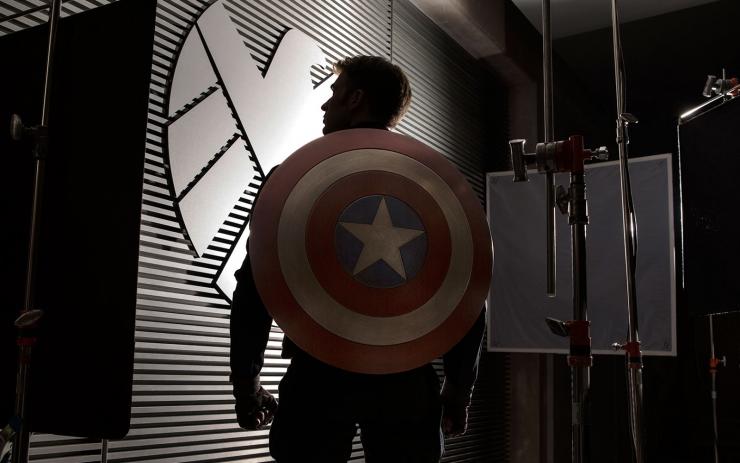 CAPTAIN AMERICA: WINTER SOLDIER
Now that you've seen the first teaser for Captain America: The Winter Soldier, here's how you can see even more of Marvel's next epic.
Fandango reports that a five-minute extended preview of Cap's second solo thriller will be shown in front of 3D screenings of Marvel's Thor: The Dark World, when that film opens on Nov. 8.
Dave Hollis, executive vice president of theatrical distribution at Disney (which owns Marvel) said, "After Marvel's The Avengers, the Marvel films are more interwoven than ever, and this pairing is the perfect complement to both of the new movies. Thor: The Dark World is going to be an exceptional theatergoing experience, and this sneak peek will really rev fans up for the return of not only the Mighty Avenger but the First Avenger as well."
Let's admit why this is really happening -- it's a way to get more butts in seats for those pricier but increasingly underwhelming 3D showings. That's nothing against the films themselves: It's just a fact that audiences are attending 3D screenings of movies less and less, probably because of the higher ticket prices and the fact that most of the movies coming out in the format look perfectly fine in two dimensions. Still, we have to admit that even a five-minute glimpse of Captain America: The Winter Soldier after that knockout trailer is intriguing. What about you? Will you shell out the extra bucks and see Thor: The Dark World in 3D just for that preview?
Captain America: The Winter Soldier opens on April 4, 2014.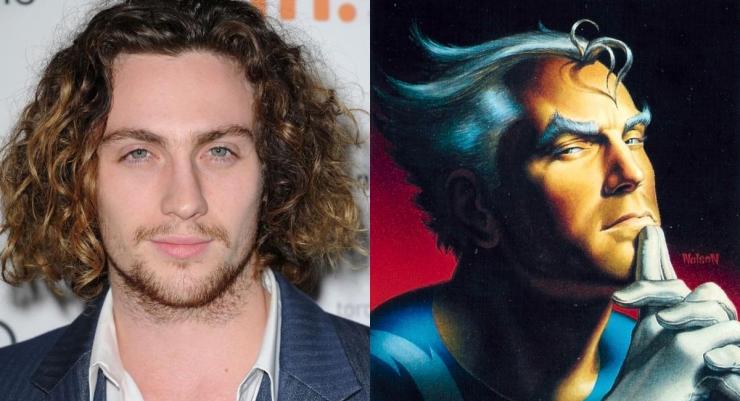 THE AGENGERS: AGE OF ULTRON
Not even Godzilla himself could stop Aaron Taylor-Johnson from suiting up for Marvel's premier superhero team.
According to The Wrap, British actor Aaron Taylor-Johnson has officially closed his deal to play Pietro Maximoff, aka Quicksilver, in Marvel's The Avengers: Age of Ultron.
Taylor-Johnson's involvement in Joss Whedon's followup to his colossal 2012 hit has been a badly kept secret for months. So what was the holdup in getting all the paperwork signed? Apparently the actor -- last seen in the title role of Kick-Ass 2-- had to juggle his schedule because Age of Ultron will begin shooting just as Taylor-Johnson is beginning the publicity tour for the other big sci-fi feature he's starring in, May 2014's Godzilla.
That's all been worked out now, and it seems Taylor-Johnson will be able to make the press rounds for the Godzilla reboot and show off his superhuman speed as Quicksilver. Still to be officially unveiled is the name of the actress playing his sister, Wanda -- also known as the Scarlet Witch -- although Elizabeth Olsen is reportedly all but a lock for that role.
If Olsen does end up playing Wanda, it will be a reunion for her and Taylor-Johnson, since she's also starring alongside him in Godzilla.
The Avengers: Age of Ultron will arrive in theaters on May 1, 2015. THE FALLING SKIES
Details about the fourth season of TNT's hit alien-invasion drama Falling Skies are starting to come together, and the series just added a Harry Potter alum in a mysterious new role.
Actress Scarlett Byrne, who played Pansy Parkinson in the last three Harry Potter flicks, has signed on as a new series regular in season four. The unnamed character is described as a "mysterious young woman with special powers and an unusual connection to the alien invaders." Hmm, intriguing.
The role is also supposed to be "key" to the plot of season four, meaning her role is likely something cooked up by new showrunner David Eick (Battlestar Galactica) since taking over earlier this year. Even sneakier? We've already seen Byrne in the promo footage released a few weeks ago, via a quick glimpse in the final frame.
Check out the trailer and stay until the very end to get a look at her. Considering his pedigree on Battlestar Galactica, we're definitely excited to see what Eick cooks up for season four. Whatever he has in store for Byrne, it'll probably be good.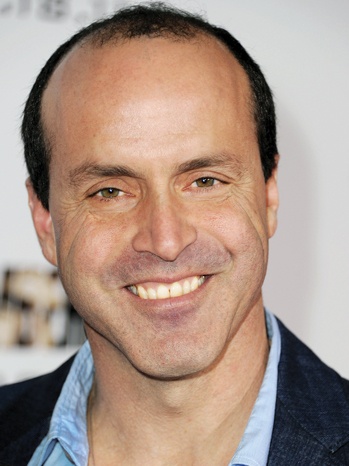 THE DISAPPOINTMENTS ROOM
D.J. Caruso has signed on to direct The Disappointments Room, a supernatural thriller being produced by Geyer Kosinski of Media Talent Group.
Foresight will sell the movie at AFM with Envision financing. Relativity is in final negotiations to pick up domestic distribution.
Kate Beckinsale has the offer to star as a mother who moves her family to a nice Colonial manse in the country. The woman slowly begins to lose her sanity as she learns of the home's bloody past and is afflicted by visions of a dead girl.
Wentworth Miller, the Prison Break star who wrote Stoker, penned Disappointments.
Media Talent Group is on a tear with its productions. The company is in production on London Fields, a thriller starring Amber Heard, and in preproduction on the TV version of Fargo, which will star Billy Bob Thornton, among other projects.
Caruso is the director behind the hit Shia LaBeouf thrillers Disturbia and Eagle Eye. He also directed I Am Number Four.
Caruso is repped by CAA, while Beckinsale is repped by UTA. Both are additionally repped by Media Talent Group.

RECLAIM
Reclaim, a new suspense-thriller inspired by real-life events, has announced a cast that includes John Cusack, Ryan Phillippe, Rachelle Lefevre, Jacki Weaver and Luis Guzman.
Reclaim follows Steven (Phillippe) and Shannon (LeFevre), a young, happy-go-lucky American couple, who travel to Puerto Rico to finalize the adoption of their new seven-year-old daughter, a Haitian orphan named Nina. Charmed by the picturesque island and eager to bond with their new daughter, Steven and Shannon take advantage of their time in Puerto Rico to explore the idyllic coast and see the sights as a family, confident they are just days from returning home to begin their new lives together.
Events take an alarming turn, however, when Steven clashes with an intimidating local (Cusack) and things go from strange to absolutely terrifying when Nina disappears from her bed one night. Despite frantic efforts to recover their daughter, the young couple hit roadblock after roadblock and become increasingly desperate once their trusted connection from the adoption agency (Weaver) also goes missing. Their only ally seems to be Commandante Diaz (Guzman). As the couple find themselves further entwined in a perplexing web of lies and confusion, their own relationship begins to unravel and things take an even more startling turn toward the unexpected.
"We're beyond excited to start production on what is shaping up to be a thrilling ride," said producers Fredrik Malmberg and Silvio Muraglia of Paradox Entertainment.
"We've assembled a brilliant cast and have an extremely talented director who will deliver something truly unique and unforgettable," added producers Brian and Josh Etting.
Written by Luke Davies, Reclaim is based on an original screenplay by Carmine Gaeta and will be directed by Alan White with Gary Hamilton and Mike Gabrawy also producing.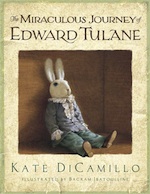 THE REMARKABLE JOURNEY OF EDWARD TULANE
Following his triumphant return to live-action directing with last year's Flight, Robert Zemeckis has been lining up new projects left and right. The latest, Variety reports, is New Line's upcoming adaptation of Kate DiCamillo's 2006 novel The Remarkable Journey of Edward Tulane, described on the author's official site as follows:
Once, in a house on Egypt Street, there lived a china rabbit named Edward Tulane. The rabbit was very pleased with himself, and for good reason: he was owned by a girl named Abilene, who treated him with the utmost care and adored him completely. And then, one day, he was lost.
Kate DiCamillo takes us on an extraordinary journey, from the depths of the ocean to the net of a fisherman, from the top of a garbage heap to the fireside of a hobos camp, from the bedside of an ailing child to the bustling streets of Memphis. And along the way, we are shown a true miracle: even a heart of the most breakable kind can learn to love, to lose, and to love again.
There's no specific word as of yet whether the adaptation will itself be live-action or done with motion capture like Zemeckis' Beowulf, The Polar Express and A Christmas Carol, but the project is moving forward with a script by Jeff Stockwell with Wendy Finerman, Jack Rapke and Steve Starkey attached to produce.
News of the project arrives on the heels of word that Zemeckis will also direct a narrative adaptation of the 2010 documentary Marwencol, which features a similar blend of toy-themed fantasy and reality. OPEN GRAVE
The U.S. trailer for the Sharlto Copley-starring Open Grave is here. The high-concept thriller follows a man (Copley) who wakes up in a pit of dead bodies with no memory of who he is or how he got there.
Fleeing the scene, he breaks into a nearby house and is met at gunpoint by a group of terrified strangers, all suffering from memory loss. Suspicion gives way to violence as the group starts to piece together clues about their identities, but when they uncover a threat that's more vicious than each other, they are forced to figure out what brought them all together - before it's too late.
The film will be released day and date this December on cable/telco and satellite video-on-demand platforms, as well as iTunes, Amazon Watch Instantly, VUDU, Playstation, and Google Play, followed by a theatrical release in major markets.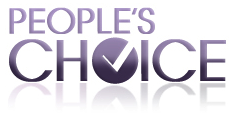 PEOPLE'S CHOICE AWARDS - VOTING ENDS TODAY
#FreeBabylon5 - Another chance to raise the awareness of others to BABYLON 5. Over at People's Choice you can vote for the series you miss the most. Too bad we can't see the results, like the survey below. But let's see if we can make a difference. VOTE!!! Write in Babylon 5.
WEDNESDAY, OCTOBER 30, 2013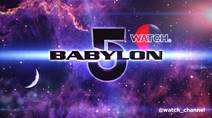 BABYLON 5 ON TV AGAIN!!!
I received a nice message from UKTV yesterday with the attached announcement of BABYLON 5 returning to UK TV. I'm including the entire note, since you helped make this all possible. Following a passionate campaign by Babylon 5 fans, we are absolutely thrilled to be announcing the return of the programme to TV screens in the UK. Viewers will be able to watch every single episode from the very beginning on entertainment channel Watch from 4th November.
TX: 4th November 2013, 5pm
The fans campaigned in their thousands for Babylon 5 to return to TV and we listened. From 4th November, viewers will be able to watch every single episode of the '90s sci-fi classic from the very beginning, only on Watch.
This exciting announcement follows a passionate campaign by the show's loyal fans, who took to social media platforms, websites and blogs to publicise their global 'Free Babylon 5' movement, which called for the series to be rerun on TV, to protect the show's legacy and gather new followers.
Determined to shine the spotlight on Babylon 5 once more, devoted fans have sent a whopping 4,139 Tweets using the hashtag #FreeBabylon5 and 2,780 have liked the dedicated Facebook page, since the campaign launched in September. They've even handed out bespoke merchandise at events and held auctions to fund their mission.
The quest has been an astronomical success. Now, superfans and new viewers alike will be able to see all 110 episodes of the cult classic, weekdays at 5pm, plus six feature length telefilms on Watch.
The series, which celebrates its twentieth anniversary next year, was created by J. Michael Straczynski, who also wrote Clint Eastwood's BAFTA-nominated film, Changeling.
The American writer and producer says: "I am thrilled beyond words that Watch has successfully drilled through the walls and allowed Babylon 5 to escape onto television screens throughout the UK TV universe. My thanks to the thousands of fans who made this happen. As noted more than once in the show, Faith Manages."
General Manager, Watch, Steve Hornsey said "The fans' sheer enthusiasm for Babylon 5 proves what an appetite there is for this iconic series and I'm delighted Watch its exclusive new home. This television epic perfectly matches the channel's premise of being a unique viewing destination that provides out-of-this-world programming."
The series, set between the years 2258 and 2281, is about an enormous space station called Babylon 5 which floats in a stationary orbit in a neutral corner of a distant galaxy. Manned by a crew of peaceful Earth men and women, Babylon 5 serves as a non-political economic and social hub for four alien races, which fight to control the galaxy.
Watch also showcases other popular sci-fi classics, including Dr Who, Torchwood and Doctor Who: The Doctors Revisited.

ARROW NEWS
Though we haven't seen much of her this season of Arrow, the addition of Summer Glau as corporate guru Isabel Rochev has added some spice to Starling City. So, might she might be more than a frenemy with Arrow before its all said and done?
Glau (Firefly, Terminator: The Sarah Connor Chronicles) sounds open to the prospect of becoming more than just a thorn is Oliver's side, and hinted their mutual respect will deepen as the year wears on and they attempt to salvage Queen Consolidated. But, what about a love connection?
Here's what she hinted to The Hollywood Reporter:
"From my perspective, their mutual respect is going to grow. I think they're curious about each other, testing the boundaries and really getting to know what the other is made of, their motivations and what drives them. From there, I think the audience will start to wonder what Isabel's motivations are … Knowing Oliver Queen -- I mean, chances are that something like that [romance] might arise. (Laughs) But Isabel is a strong woman, so his interactions with her are going to be complicated no matter how it changes…
Speaking to Andrew about Isabel and also with Stephen, we wanted to explore the fact that she is a different kind of feminine energy in Oliver's life, and it is absolutely a different relationship from many of the other women in his life. It's not something that he was looking for and certainly in the beginning, it's a challenge and a nuisance and something else for him to put his energy into. As it starts to go along, he starts to enjoy their sparring. It's a different type of woman in his life, who's demanding different things from him."
Oh, and some fuel to the fire? Glau hinted that her role on the show will cause some jealous sparks between her character and Felicity. Hmm, this could definitely get some 'shippers up in arms.
Glau's addition to the series has the potential to add a fun twist, as Oliver faces a challenge he can't just shoot in the face with an arrow. It'll be interesting to see his business savvy develop, as he plays off the lovely Ms. Glau.
Arrow airs Wednesday nights at 8 p.m. on The CW.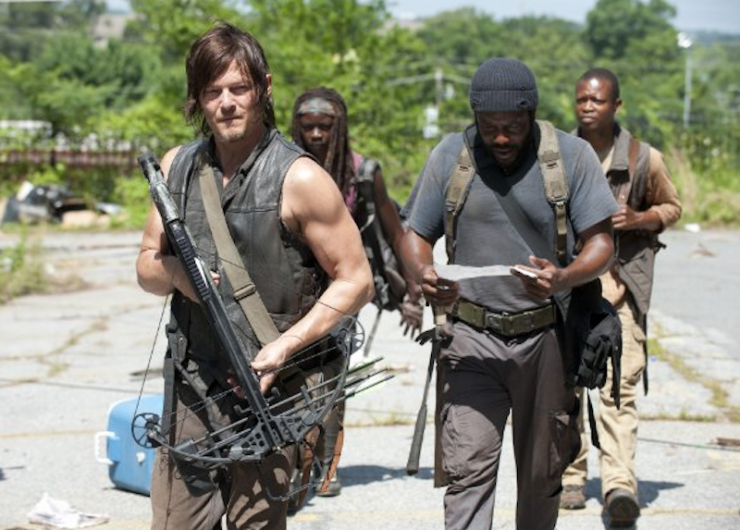 WALKING DEAD - RENEWED
The cast of The Walking Dead will live to die another day, as AMC announced today that the series has been renewed for a fifth season. Is anyone surprised by this? The Walking Dead is AMC's breadwinner, with ratings that rival and sometimes beat broadcast networks.
Scott Gimple will return as the series' showrunner, joined by executive producers Robert Kirkman, Gale Anne Hurd, David Alpert, Greg Nicotero and Tom Luse. Here's the official statement from AMC president Charlie Collier.
"We are very happy to make what has to be one of the most anti-climactic renewal announcements ever: The Walking Dead is renewed for a fifth season," said Collier. "This is a show that has erased traditional distinctions between cable and broadcast. Its expanding base of passionate fans has grown every season, most recently – and most notably – with the season four premiere earlier this month, which broke viewership records for the series and became the biggest non-sports telecast in cable history. On behalf of the incredible team on both sides of the camera, thank you to the fans and here's to more Dead."
The Walking Dead airs Sundays at 9 p.m. on AMC. X-MEN: DAYS OF FUTURE PAST
It's finally here! The first trailer for Bryan Singer's X-Men: Days of Future Past has arrived, and it finds everyone's favorite mutant heading back in time to save the world.
Despite the fairly convoluted pitch — with Logan (Hugh Jackman) sent back in time to stop a war before it begins, while simultaneously tying together the modern-day and prequel-era First Class casts — it seems to work.
The first thing that stands out is Singer's vision, and it's easy to see he's back in the director's chair. This footage and cut definitely showcase his trademark bombast. Even without Professor X's (Patrick Stewart) voiceover, you just feel the stakes are higher than they've ever been.
Highlights? Young Beast looks positively awesome, "Patience isn't my strongest suit" is a great line, and there definitely looks to be some berserker snikt-ing to go around for all you Wolverine fans.
The film stars Hugh Jackman, Ian McKellen, Patrick Stewart, Halle Berry, James McAvoy, Jennifer Lawrence, Michael Fassbender, Anna Paquin and Peter Dinklage. Check out the trailer above and let us know what you think.
The X-Men sequel is set to open May 23, 2014.
PATIENT Z
Screen Gems has taken the rights to Mike Le's zombie thriller, Patient Z, TheWrap reports. Vincent Newman is attached to produce the project for the studio through his Vincent Newman Entertainment.
Patient Z takes place in a post-outbreak zombie apocalypse and follows the adventures of one man who has the unique ability to speak with the undead and who hopes to use his gift to discover a cure for the plague and his infected wife.
Le is best known for scripting the upcoming Dark Summer, which is tentatively planned for release sometime in 2014. Peter Stormare stars in the Paul Solet thriller, which centers on a teenager placed under house arrest while his mother is traveling.
TUESDAY, OCTOBER 29, 2013
MISFITS
"Misfits" Season 5 is coming to Hulu, so it's time to celebrate several years of supernatural powers and hooligans with a special trailer covering all five seasons of the show. As this exclusive video shows, things only get progressively stranger in this British series.
Not normal superheroes at all, the juvenile delinquents of "Misfits" get their crazy powers when an electrical storm hit while they were doing community service. The kids slowly begin to understand their powers -- that they neither chose nor want -- over time and sometimes even use them for the greater good.
Considering that other people managed to get powers from that same storm, there's plenty to do if these "bad kids" want to save their town.
The first four seasons of "Misfits" are available for viewing on Hulu with the show's final Season 5 coming on Thursday, Oct. 31.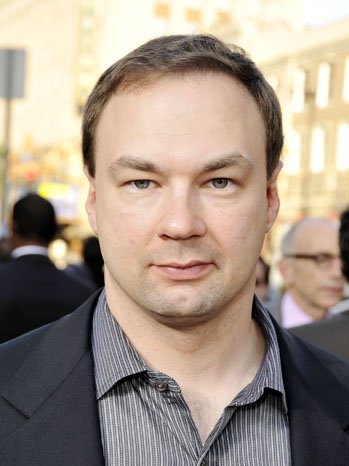 TRICK 'R TREAT SEQUEL
Trick 'r Treat is getting a sequel.
The announcement was made by Legendary CEO Thomas Tull at a special screening and Q&A event for the movie at Beyond Fest, held at Hollywood's Egyptian Theatre.
The horror anthology written and directed by Michael Dougherty and made by Legendary has garnered quite a cult following for a movie that never got a theatrical release. (Warner Bros. was to have released it but backed out.)
Made in 2007, the movie starred actors such as Brian Cox, Anna Paquin, and Leslie Bibb and told four stories held together by the appearance of Sam, a silent little…thing... in an orange suit and a burlap sack as a mask that is a creepy embodiment of the spirit of Halloween.
At Monday's event, in a nicely choreographed bit, Sam came out during the panel portion and showed a title card that said, "Make a sequel."
Dougherty responded by saying it wasn't his call but rather Tull's. Tull, in the audience, then said he couldn't say no to Sam and made his announcement to the crowd's great delight, according to witnesses.
No other details emerged, but it is expected that Doughterty will return to write and direct a new anthology and that Bryan Singer, also in attendance at the screening, will return as producer. BEYOND
Universal Pictures' Syfy Films division has optioned the rights to the sci-fi short Beyond, with the short's director on board to produce and helm the big-screen translation.
Raphael Rogers wrote, directed and produced Beyond, about a woman who is the last of lineage that possesses the ability to teleport across space and time and uses her powers to explore new planets.
Rogers, based in L.A., shot the short on a $1,000 budget, served as cinematographer and editor and was responsible for visual effects.
The project is currently an open writing assignment.
Scott Glassgold and Raymond Brothers of IAM Entertainment, which represents Rogers, will serve as executive producers.
Glassgold and Brothers are producers on True Skin and Spy's Kid, which are both in active development at Warner Bros. and Paramount, respectively. Earlier this month, IAM partnered with Roy Lee to develop a big-screen version of the sci-fi short Keloid.
Senior vice president of production Gregory Noveck and executive Josh Banta will oversee the project for Syfy Films.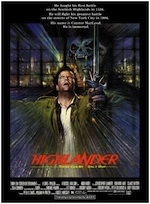 HIGHLANDER
Things have been relatively quiet on the Highlander reboot front ever since the formerly-attached Juan Carlos Fresnadillo departed the project last year before losing would-be leading man Ryan Reynolds this summer. Now, Deadline reports that things are picking up again and that visual effects supervisor Cedric Nicolas-Troyan is now slated to make the film his directorial debut.
The original Highlander movie, released way back in 1986, stars Christopher Lambert and Sean Connery. After centuries of dueling to survive against others like him, Connor MacLeod (Lambert), an immortal Scottish swordsman is forced to confront the last of his kind, a murderously brutal barbarian, who lusts for the Prize that comes with being the last of their kind.
Many writers have worked on the reboot including, most recently, Iron Man scribes Art Marcum and Matt Holloway. Their take is said to be the one that Lionsgate's Summit Entertainment is very happy with and the plan is now to move forward with, in addition to Nicolas-Troyan at the helm, Neal H. Mortiz, Peter Davis and (formerly attached to direct) Justin Lin producing.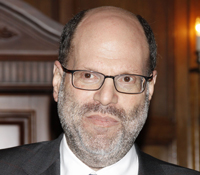 CITY ON FIRE
Although the book doesn't even have a publishing deal in place yet, The Hollywood Reporter today brings word that the screen rights to City on Fire, Garth Rick Hallberg's upcoming novel set in 1977 New York, have been picked up by producer Scott Rudin.
Details on City on Fire are currently few, but it is said to offer an ensemble look at life in the Big Apple in the summer of 1977, leading up to the infamous blackout that took place on July 13 and 14.
Rudin's latest, Captain Phillips, is in theaters now, close to breaking the $100 million mark at the box office. Next up is his re-teaming with Wes Anderson when The Grand Budapest Hotel hits theaters on March 7, 2014. JUSTICE LEAGUE: WAR
The trailer for the new DCU animated film Justice League: War has come online (via IGN)!
Produced by James Tucker (Justice League: The Flashpoint Paradox) and directed by Jay Oliva (Batman: The Dark Knight Returns, Man of Steel), the film features the voices of Jason O'Mara, Christopher Gorham, Alan Tudyk, Michelle Monaghan, Shemar Moore and Sean Astin.
Justice League: War will be released by Warner Bros. Home Entertainment in early 2014.
MONDAY, OCTOBER 28, 2013
BABYLON 5 RETURNS TO THE UK
How about this for good news!
Ranger Phil reports:
"Babylon 5 returns to the UK! The Watch channel will be showing it from Monday 4th November at 5pm (so expect cuts boo!), but strangely starting with Midnight on the Firing Line and not The Gathering." HUNTER GAMES: CATCHING FIRE
The final trailer for the upcoming "Hunger Games" sequel, "The Hunger Games: Catching Fire," debuted during the World Series baseball game on Sunday (Oct. 27), and the footage is more spoiler-filled than any other trailer released for the saga before.
Up until now, trailers for both "The Hunger Games" and "Catching Fire" have refrained from showing much of the arena portions of the books -- which actually make up the majority of the story -- but this new trailer throws that old rule aside and gives us glimpses of many major scenes in Suzanne Collins' sequel.
In fact, book readers can spot that the very first scene showed in this trailer holds significant importance to not only the second movie, but also the entire series going forward. There's a reason why President Snow (Donald Sutherland) looks so worried when Katniss (Jennifer Lawrence) aims her bow and arrow ... but we won't spoil that for you.
The trailer also gives us a sneak peek at some of the horrors the new arena has to offer. That island isn't as much of a paradise as it looks.
"The Hunger Games: Catching Fire" hits theaters Nov. 22.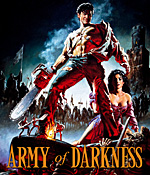 ARMY OF DARKNESS 2
Since we're all latching onto every bit of news regarding another Evil Dead film, here is a nugget of information for you to chew on.
Fede Alvarez, director of the Evil Dead remake, was asked by a fan if he would be directing Army of Darkness 2, a sequel which has picked up a lot of momentum on the rumor mill circuit this year. Alvarez replied: "Sam Raimi will!"
It's an obvious bit of information, given Raimi's enthusiasm about the notion of a sequel, but there you go. We'll see if this all works out. Bruce Campbell did a bit of chatting about Army of Darkness 2 recently, too.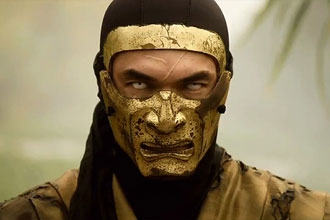 MORTAL KOMBAT
Although he was optimistic about the project just last month, choreographer-turned-director Kevin Tancharoen, the man behind the Mortal Kombat reboot webseries, just announced via Twitter that he is no longer involved in bringing the property to the big screen.
"After 3 years of Kombat," Tancharoen writes, "I've decided to move on to other creative opportunities. I wish everyone involved in the movie big success. Thanks!"
Tancharoen's "Mortal Kombat: Legacy" recently released its second season. The cast includes Harry Shum, Jr. ("Glee") as the warlord adviser "Kuai Liang," Casper Van Dien (Starship Troopers) as martial arts film actor "Johnny Cage," Brian Tee (The Wolverine) as Shaolin Monk "Liu Kang," and Mark Dacascos (Cradle 2 the Grave) as "Kung Lao" - a close friend of "Liu Kang." Additionally, Ian Anthony Dale ("Hawaii Five-O") returns as the resurrected ninja "Scorpion," and Cary Tagawa reprises the role he made famous in the first Mortal Kombat theatrical release as the powerful, arrogant sorcerer "Shang Tsung."
Although Tancharoen hints that the project will move forward without him, no other talent has been named at this time.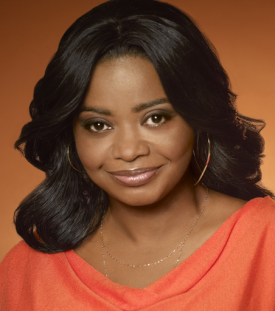 MURDER SHE WROTE REBOOT
NBC is looking to revive one of the most successful series in TV history – Murder, She Wrote — with a brand new take from writer Alexandra Cunningham and producer David Janollari that has Oscar winner Octavia Spencer succeeding Angela Lansbury in the lead role of an astute amateur detective. The new hourlong project, which has received a put pilot commitment, is a re-imagining of the long-running CBS series. Described as a light, contemporary procedural in the vein of Bones or Fargo, it follows a hospital administrator and amateur sleuth (Spencer) who self-publishes her first mystery novel. Set in a day where sensational headlines inundate the news, this woman's avid fascination with true crime leads her to become an active participant in the investigations. Former Desperate Housewives executive producer Cunningham is writing and will executive produce with Janollari. I hear Lansbury has been approached to be a part of the reboot. Universal TV, whose namesake predecessor produced the original series, is producing with studio-based David Janollari Entertainment.
This would mark the first series regular role for Spencer, who won an Oscar for The Help. She previously worked with NBC chairman Bob Greenblatt and Janollari on the 2001 Sci Fi Channel series The Chronicle, which the two exec produced and she recurred on. Spencer's involvement in Murder, She Wrote stems from an exploratory meeting she took with Greenblatt. "I've always considered myself an armchair detective and in a recent meeting with Bob Greenblatt, he asked me what type of character would be able to lure me to TV. Naturally, I said " J.B. Fletcher" meets "Colombo"… And here we are," she said. "I'm ecstatic to have the opportunity to work with Dave Janollari again, and Alex Cunningham a brilliant writer who shares my love for all things mysterious and Angela Lansbury." Cunningham also spoke of her and Spencer's shared passions. "Octavia and I are both huge true crime buffs, amateur criminologists, and fans of Angela Lansbury," she said. "To get the chance to reimagine Murder, She Wrote for a dynamic and multi-faceted actress like Octavia is a thrill and a pleasure." A SALUTE TO HOLLYWOOD
You have just got to watch this video of the Ohio State University Marching Band. It is absolutely awesome.
SUNDAY, OCTOBER 27, 2013
WEEKEND BOX OFFICE
Paramount and MTV Films' Jackass Presents: Bad Grandpa -- featuring Johnny Knoxville and child sidekick Jackson Nicoll -- easily topped the Friday box office with an estimated $12.6 million, putting the outrageous R-rated comedy on course to win the weekend with as much as $29 million.
After staying at No. 1 for three weeks, Warner Bros.' Gravity slipped to No. 2, grossing $6.1 million on Friday for a projected $20 million weekend. The 3D space epic will cross the $200 million mark in North America sometime on Sunday.
Bad Grandpa, the first Jackass film to have any sort of plot, stars Knoxville as signature character Irving Zisman, a crotchety 86-year-old, and Nicoll as 8-year-old grandson Billy. The outrageous duo embark on a hidden-camera road trip across America, performing stunts and punking people. Along the way they encounter, among others, male strippers, disgruntled child beauty pageant contestants and bikers.
The R-rated comedy, costing just $15 million to produce, is opening well behind the last two Jackass films (there are three in total). Paramount insiders suggest this is because Bad Grandpa is a spin-off. It opens three years after Jackass 3D debuted to a sizzling $50.4 million. Jackass: Number Two opened to $29 million in late September 2006. The first Jackass, opening in late October 2002, debuted to $22.8 million.
Jeff Tremaine returns to direct, and he produces alongside Knoxville, Spike Jonze and Derek Freda. Knoxville is the only Jackass regular to appear in the film, which received a B CinemaScore.
Ridley Scott's star-packed drama The Counselor, from an original screenplay by No Country for Old Men author Cormac McCarthy (his first), appears D.O.A., opening to $3.2 million on Friday for a No. 4 finish and projected $9 million weekend.
Moviegoers gave The Counselor a rare D CinemaScore despite Scott's pedigree and stars Michael Fassbender, Penelope Cruz, Cameron Diaz, Javier Bardem and Brad Pitt.
It may fare better overseas, where it begins rolling out this weekend in a handful of markets, including Brazil.
The Counselor, starring Fassbender as a greedy lawyer who gets caught up with drug traffickers, has received mostly negative reviews. Insiders say the film was a vanity project for Scott, but that it reportedly cost only $25 million to make, with talent taking a drastically reduced fee in order to work with Scott.
Scott, who has longtime ties to Fox, last directed Prometheus for the studio. The Fox empire is succeeding at the box office with Steve McQueen's 12 Years a Slave. The Fox Searchlight film, expanding into a total of 123 theaters in is second weekend, zoomed up to No. 8, grossing $620,000 on Friday for an expected $2.1 million weekend.
The other big headline at the specialty box office is Abdellatif Kechiche's French film Blue Is the Warmest Color, which is opening to solid business in New York and Los Angeles for IFC Films.
The steamy lesbian drama could gross $100,000 or more from four theaters, a strong showing for a foreign-language film. Blue Is the Warmest Color is rated NC-17, meaning that no one under 17 is allowed in. However, the IFC Center in New York has announced it will allow in teenagers it deems appropriate, regardless of age (the ratings system is voluntary).
In recent days, the war of words between Kechiche and star Lea Seydoux has escalated, with the filmmaker calling her an "arrogant, spoiled child" who said "slanderous" things about him in an effort to gain attention following the film's Palme d'Or win at the Cannes Film Festival in May. "Thus after having been celebrated and glorified thanks to the Palme d'Or won by Blue Is the Warmest Color, she started to drag me through the mud with lies and exaggerations," he said in an interview earlier this week.

THOR: THE DARK WORLD
Marvel Studios has released this new TV spot for THOR: THE DARK WORLD, hitting North America on November 8.
The film continues the big-screen adventures of Thor, the Mighty Avenger, as he battles to save Earth and all the Nine Realms from a shadowy enemy that predates the universe itself. In the aftermath of Marvel's THOR and MARVEL's THE AVENGERS, Thor fights to restore order across the cosmos...but an ancient race led by the vengeful Malekith returns to plunge the universe back into darkness. Faced with an enemy that even Odin and Asgard cannot withstand. Thor must embark on his most perilous and personal journey yet, one that will reunite him with Jane Foster and foce him to sacrifice everything to save us all.
SATURDAY, OCTOBER 26, 2013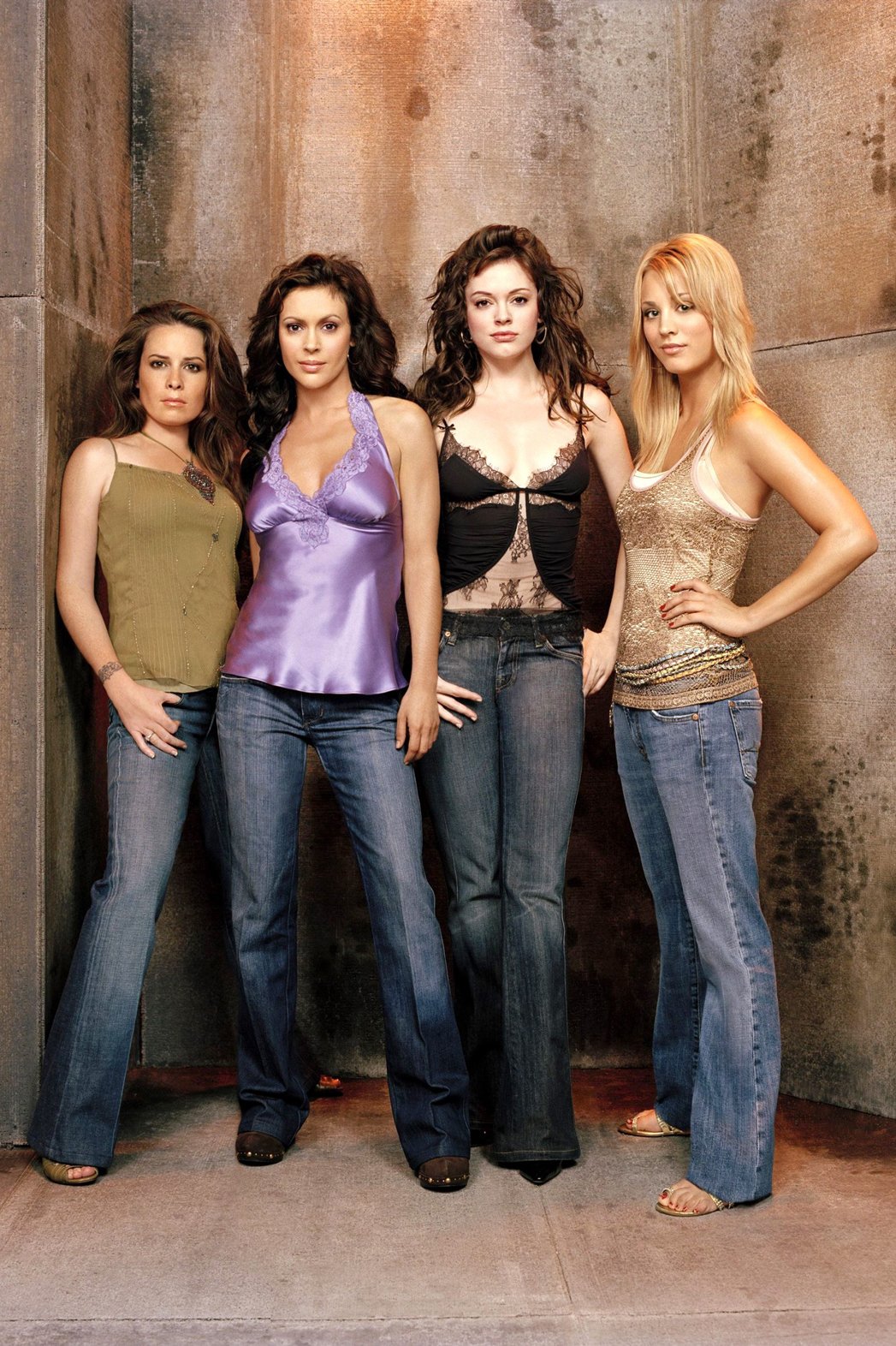 CHARMED REBOOT
The Season of the Witch is spreading to CBS.
The network has handed out a script commitment to a reimagining of Aaron Spelling's WB Network series Charmed, The Hollywood Reporter has confirmed.
As first reported by Vulture, Party of Five co-creator Chris Keyser and partner Sydney Sidner will pen the script for CBS Television Studios and The Tannenbaum Co. Keyser and Sidner will also co-executive produce. For its part, CBSTVS owns the rights to Spelling's library.
Charmed 2.0 is described as a reimaginging of the original series that centered around four sisters who discover their destiny -- to battle against the forces of evil using their witchcraft.
The original series ran for eight seasons from 1998-2006 and starred Shannen Doherty, Holly Marie Combs, Alyssa Milano and Rose McGowan.
The Charmed reboot comes as witches continue to be a draw on the small screen. The third season of FX anthology drama American Horror Story: Coven -- which centers on a school of witches -- is on track to be its biggest yet and Lifetime has found success with the freshman run of Witches of East End. Not to be outdone, WGN America ordered Brannon Braga's Salem Witch Trials drama Salem straight to series.
The Charmed update comes as reboots continue to be hot this development season. NBC is prepping Murder, She Wrote, and 1990s cult feature Reality Bites. NBC also attempted to reboot Ironside this season but axed the drama after three episodes. CBS, meanwhile, has found success with its reboot of Hawaii Five-0 and is adapting Cameron Diaz feature Bad Teacher.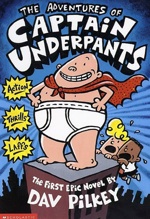 CAPTAIN UNDERPANTS
The project first announced back in 2011, DreamWorks Animation has found a director for their children's book series adaptation Captain Underpants. The Hollywood Reporter brings word that Monsters vs. Aliens helmer Rob Letterman will direct.
The "Captain Underpants" book series, written by Dav Pilkey, tells the story of two mischievous kids, George Beard and Harold Hutchins, who hypnotize their school principal and turn him into their comic book creation, Captain Underpants.
Scholastic first launched the "Captain Underpants" book series in September of 1997 and there are over 50 million Pilkey books in print in the U.S. alone. Eight "Captain Underpants" books have been published in 19 countries and several have debuted at #1 on various best-seller lists, including The New York Times and USA Today.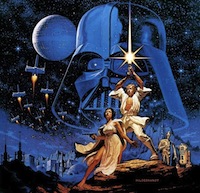 STAR WARS: EPISODE VII
Lucasfilm has revealed that Toy Story 3 screenwriter Michael Arndt, previously attached to script Star Wars: Episode VII, is no longer a credited writer on the project. Instead, Lawrence Kasdan and director J.J. Abrams will tackle the screenplay. The official press release on the matter reads as follows:
As "Episode VII" continues pre-production, Lawrence Kasdan and director J.J. Abrams have assumed screenwriting duties for the film. Kasdan, who has been serving as a consultant on the film, is a veteran of several classic Lucasfilm productions, writing the screenplay for "Raiders of the Lost Ark" and serving as co-screenwriter for "The Empire Strikes Back" and "Return of the Jedi." Acclaimed director and screenwriter Abrams' credits include "Super 8," "Mission: Impossible III," "Fringe," and "Lost."
"I am very excited about the story we have in place and thrilled to have Larry and J.J. working on the script," states Lucasfilm President Kathleen Kennedy. "There are very few people who fundamentally understand the way a "Star Wars" story works like Larry, and it is nothing short of incredible to have him even more deeply involved in its return to the big screen. J.J. of course is an incredible storyteller in his own right. Michael Arndt has done a terrific job bringing us to this point and we have an amazing filmmaking and design team in place already prepping for production."
Location scouting, production design, casting, and costume design are already underway on "Episode VII." A team of gifted artists are working to bring the latest installment of the "Star Wars" saga, including director of photography Dan Mindel ("Mission: Impossible III," "Star Trek"), production designers Rick Carter ("Lincoln," "Avatar") and Darren Gilford ("Oblivion," "TRON: Legacy"), costume designer Michael Kaplan ("Star Trek Into Darkness," "Mission: Impossible - Ghost Protocol"), special effects supervisor Chris Corbould ("Skyfall," "The Dark Knight Rises"), sound designer Ben Burtt ("Lincoln," "Star Wars: Episodes I-VI"), re-recording mixer Gary Rydstrom ("Jurassic Park," "Saving Private Ryan"), supervising sound editor Matthew Wood ("Star Trek Into Darkness," "The Master") of Skywalker Sound, and visual effects supervisor Roger Guyett ("Star Trek Into Darkness," "Pirates of the Caribbean: At World's End") of Industrial Light & Magic. Kathleen Kennedy, J.J. Abrams, and Bryan Burk are producing, with Tommy Harper ("Mission: Impossible - Ghost Protocol," "Star Trek Into Darkness") and Jason McGatlin ("Tintin," "War of the Worlds") serving as executive producers.
John Williams is returning to score Star Wars: Episode VII.
Shooting is scheduled to begin Spring 2014 at Pinewood Studios for an expected 2015 release.
Star Wars: Episode VII is rumored to focus on a new generation of heroes and could feature appearances by Mark Hamill, Carrie Fisher and Harrison Ford in older incarnations of their beloved characters from the original "Star Wars" trilogy.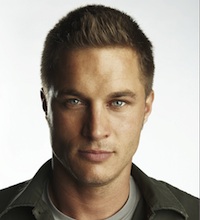 VIKINGS
As previously reported, negotiations are underway for Paula Patton and Colin Farrell to join the cast of the upcoming Legendary Pictures video game adaptation, Warcraft. Now, Variety brings word that "Vikings" star Travis Fimmel is set to play one of the film's four leading roles.
The "Warcraft" universe is a rich fantasy setting that revolves around the epic conflict between the opposing forces of the Horde and the Alliance. Since its debut in 1994, "Warcraft" has developed a loyal following across the globe, with several bestselling, award-winning PC games and a range of popular licensed products including novels, action figures, apparel, comic books, board games, and more. "World of Warcraft," Blizzard Entertainment's subscription-based massively multiplayer online role-playing game set in the Warcraft universe, is the most popular game of its kind in the world.
Set to be directed by Duncan Jones, Warcraft has Thomas Tull and Jon Jashni producing for Legendary along with Blizzard and Atlas Entertainment's Charles Roven and Alex Gartner. Charles Leavitt wrote the script.
FRIDAY, OCTOBER 25, 2013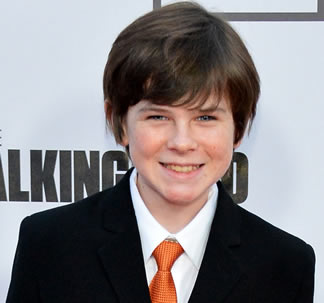 HOME INVASION
Even when he's not killing zombies on "The Walking Dead," Chandler Riggs can't get too far away from the horror world. Riggs, who plays Carl on the AMC show, will star in the upcoming thriller "Home Invasion."
According to THR, Chandler will join Ioan Gruffudd, Bella Thorne and Natalie Martinez in the movie, which finds a family being held prisoner in their own home as mysterious intruders force them to play a game with pretty severe consequences.
If "The Strangers," "The Purge" or "You're Next" have anything to say about it, the bad guys in the movie are bound to be wearing creepy masks. The only thing scarier than a burglar is one wearing a sheep's mask. At least Riggs won't have to also worry about turning into a zombie when all is said and done.
No release date has been announced.
NEW BONES CASTING
Even though Booth and Brennan have gotten married on "Bones," the excitement of Season 9 is not over yet. Proof of this can be seen in the most recent casting: Richard Schiff ("The West Wing") and McKayla Maroney (the meme-friendly gymnast) will both guest-star in an upcoming episode.
According to EW.com, both guests will appear in an episode focusing on the murder of a physicist's daughter, Amanda. Schiff will play Dr. Leon Watters, the "Brennan of theoretical physics." After his daughter dies, the man becomes detached -- but Brennan (Emily Deschanel), seeing herself in the scientific genius, understands that Watters has to focus on work in order to be able to cope with the situation.
Considering Brennan is a parent of a daughter herself, it's possible that this will be a very poignant situation for her.
Maroney, a medal-winning gymnast at the 2012 Olympics, will play Ellie. She is described as both a friend and a rival to Watters' deceased daughter.
While at some point, "Bones" is expected to move to Fridays, for now the show airs Mondays at 8 p.m. on FOX. The next episode -- focusing on Booth and Brennan's honeymoon -- airs Monday, Nov. 4.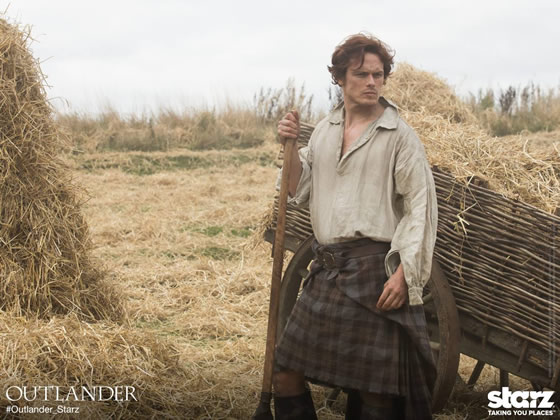 OUTLANDER
"Outlander" fans, the first look at your Jamie Fraser in the upcoming Starz adaptation of the novel by Diana Gabaldon. Fraser is portrayed by Sam Heughan.
The photo comes care of the "Outlander" Facebook page, as a gift for the fans with the message, "Here's what your wee hearts have desired. James Alexander Malcolm MacKenzie Fraser."
The series began production in Scotland earlier in October, aiming to air on Starz beginning in 2014. Fraser stars alongside Caitriona Balfe, who plays a nurse during World War II who gets swept back to 18th century Scotland and marries Fraser. X-MEN: DAYS OF FUTURE PAST
We won't get the full trailer until next week, but Bryan Singer thought it would be fun to tease us anyway.
The official X-Men Movies Instagram account posted a video earlier today that contains just a few brief seconds of footage from the forthcoming first trailer for Bryan Singer's third go-round with the Children of the Atom, and though there's no real sense of plot or tone here, there is plenty of action and a good look at several of our favorite mutants. We've got Wolverine looking as un-aging as ever, we've got young Xavier firing up Cerebro, old Xavier ducking danger, Mystique facing young Magneto, Beast roaring, Storm stirring up some lightning and something hidden under the floor of the Oval Office. The footage opens, very appropriately, with a shot of a blinking eye, but make sure you don't blink, because then you might have to play the video all over again.
Yes, sadly it really is that short, but we won't have to wait long to see the rest. Singer will participate in a Twitter chat on Monday ahead of the full trailer release, which will happen on Tuesday. After that, we'll surely see more trailers and a ton of promotional material ahead of the film's May 23, 2014, release. CAPTAIN AMERICA: THE WINTER SOLDIER
We've been waiting a long, long time — but the first trailer for Captain America: The Winter Soldier is finally here.
Not surprisingly, it looks positively kick-ass. We get our first look at Cap (Chris Evans) facing off with his old pal the Winter Soldier (Sebastian Stan), who actually looks like a pretty worthy adversary for America's golden boy. We also get a first look at Anthony Mackie taking flight as Falcon; Cap taking out a whole elevator full of guys; and some nifty downtown battles that are a little bit reminiscent of The Avengers.
Oh yeah, and you know the S.H.I.E.L.D. helicarrier? It's apparently coming down at some point. Hard.
The tone here definitely evokes the "political thriller" approach we've been hearing about, with new cast member Robert Redford (S.H.I.E.L.D. exec Alexander Pierce) dropping some veiled comments about the world needing to change. Coupled with Nick Fury's (Samuel L. Jackson) persistent paranoia, we're very curious to see where this one is going.
Sadly, we still have to wait until April 4, 2014, to see the movie itself. But if you want a look at this trailer on the big screen, be sure and catch Thor: The Dark World when it opens Nov. 8.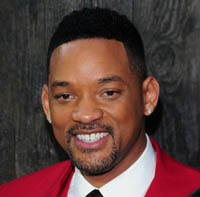 SELLING TIME
Although the status of Will Smith's involvement with 20th Century Fox's Independence Day 2 remains to be seen, TheWrap reports that Smith has boarded another Fox project with science fiction overtones. The outlet brings word that Smith plans to headline Selling Time for the studio.
Selling Time, originally scripted by Dan McDermott, follows a man who trades seven years of his life expectancy for the chance to relive a single day, the worst day of his life, over again.
Smith last starred opposite his son, Jaden, in M. Night Shyamalan's After Earth. He'll soon star opposite Margot Robbie in Glenn Ficarra and John Requa's grifter tale, Focus.
John Davis and Jennifer Klein are producing Selling Time through Davis Entertainment.
THURSDAY, OCTOBER 24, 2013
THE FOLLOWING
Ryan Hardy (Kevin Bacon) may have beaten Joe Carroll (James Purefoy) in "The Following" Season 1. But as the show moves toward Season 2, that dead serial killer is being resurrected by Hardy in two video teasers. Is Joe Carroll really alive? Or is his ghost merely Ryan Hardy's obsession.
The first of the videos, "Exist," aired during the first game of the World Series on FOX. In it, Ryan sits alone in an empty room -- perhaps symbolizing the vast emptiness of his life when Joe was done with it. Our hero questions the very death of Joe Carroll and notes that it might not be over at all.
At that point things get weird -- the voice changes and a face turns back to the camera. Both Ryan and Joe are in the chair.
"The greatest trick the devil ever played was convincing the world that he did not exist."
Is it all just a trick then?
Based on the second teaser, "Round Two," that may very well be the case. Ryan Hardy says directly that he doesn't believe in Joe Carroll's death. In that case, the victory that cost everything might not be a victory at all.
It's safe to say that "The Following" Season 2 will be dark when the show returns to FOX this spring. THOR: THE DARK WORLD
Don't let those dark, foreboding trailers fool you — Thor: The Dark World looks to be a fun romp, and this hilarious clip with Thor and Loki piloting a spaceship looks hella-fun.
Early reviews have cited that the more space-set sequel is a much "bigger" film than the original, and this new clip fits the bill. Featuring a wild, FX extravaganza of a space ship flight with Thor (Chris Hemsworth) at the wheel, we get to see the brothers back together again. Not surprisingly, it doesn't go well.
After three movies together (including The Avengers), you can tell Hemsworth and Loki actor Tom Hiddleston have developed some great chemistry to play off one another. The witty banter alone has us psyched to see this one when it opens next month.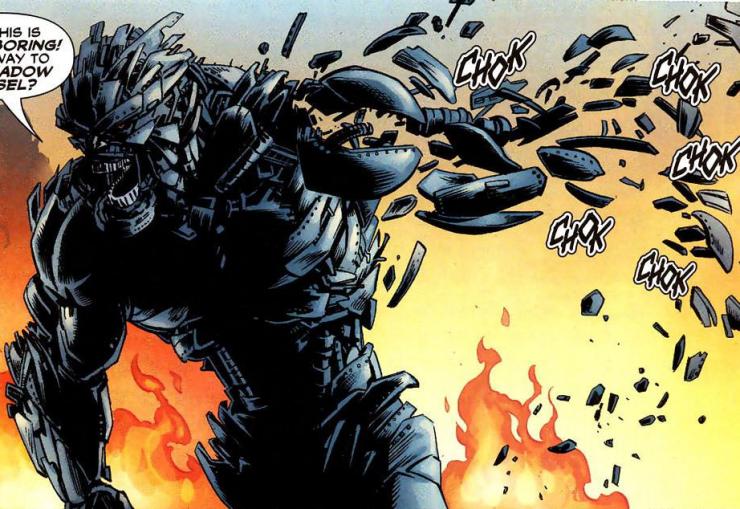 ARROW NEWS
The CW's Arrow keeps picking up our favorite actors, and today is no different.
We've already heard about Summer Glau being cast for season two, but she's not the only member of the Serenity crew making her way to the DC Universe. In fact, we're seeing a bit of a family reunion here. The former Dr. Simon Tamm, Sean Maher, is coming to Arrow. Not only that, but he's playing a bad guy.
Maher will be playing supervillain Shrapnel in the 10th episode of the season. The only catch is that, in the comics, Shrapnel is made of actual metal and has super strength. Considering the nature of Arrow, we doubt that either of those aspects will be a part of this adaptation of the character. Although he could have some full metal armor!
Regardless, we're excited to see another Firefly star make his way to Arrow.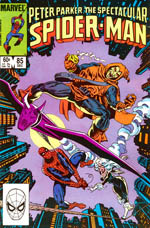 THE AMAZING SPIDER-MAN 2
Last week, The Amazing Spider-Man 2's viral Tumblr page updated with a faux story from "The Daily Bugle" that mentioned Spider Slayer inventor Spencer Smythe. Today, the site has been updated again with the below article from reporter Ned Leeds:
A trial date has been set in the New York Appellate Court for alleged bio-terrorist Dr. Curt Connors. The former Oscorp biogenetics scientist has been indicted on twenty city and state counts, including trespassing, malicious destruction of property, theft of private property, aggravated assault, and using a weapon of mass destruction.
Connors has pleaded "not guilty" to all counts. It is expected his defense attorney, Anne Weying, will claim Connors was not responsible for the actions of his genetically transformed alter ego, the Lizard.
Connors claimed that pressure placed on him by his employer, Oscorp, led him to rush his bio-restorative formula and test it on himself. He further stipulated to the grand jury that his decision to use the untested compound was made in an effort to protect the company from experimenting on innocent civilians, as directed by his superiors. Connors' immediate supervisor at Oscorp, Dr. Rajit Ratha, has been missing since the day before the Lizard's attack.
Oscorp spokesman, Donald Menken, responded, "We can't corroborate or deny Dr. Connor's claims. Dr. Ratha's abrupt departure from Oscorp has left us with far more questions than answers. Needless to say, Oscorp has always complied with the most stringent local, state and federal regulations for all of our research and development."
Leeds, Spider-fans will recall, was a regular character in "The Amazing Spider-Man" who, in addition to marrying Betty Brant, was at one point revealed to have been the face behind Spidey's mysterious foe, the Hobgoblin. It was retconned quite a few years later, however, that Leeds was never the villain and had, instead, been brainwashed into thinking he was by the true culprit, Roderick Kingsley.
Also mentioned in the article are Anne Weying and Donald Menken. The former was the ex-wife of Eddie Brock, aka Venom and herself took on the symbiote for a brief period as She-Venom. Although Menken himself doesn't have a colorful alter-ego, the character's first appearance as an Oscorp employee was "The Amazing Spider-Man" #239, the beginning of the first full-fledged Hobgoblin story.
Starring Andrew Garfield, Dane DeHaan, Emma Stone, Jamie Foxx, Paul Giamatti, Sally Field, Chris Cooper, B.J. Novak and Sarah Gadon, The Amazing Spider-Man 2 is directed by Marc Webb and scheduled for release on May 2, 2014.
THE SMURFS: THE LEGEND OF SMURFY HOLLOW
The Smurfs are back for some Halloween fun in Sony Pictures Animation's all-new animated mini-movie The Smurfs: The Legend of Smurfy Hollow, making its television premiere this Sunday, October 27th, at 8:30 a.m. ET/PT on ABC Family as part of their "13 Nights of Halloween." To give you a sneak peek, we've got an exclusive clip!
In The Smurfs: The Legend of Smurfy Hollow, which combines cutting-edge computer generated imagery and traditionally hand drawn animation, the Smurfs learn the value of friendship and family. When Brainy Smurf is favored to win the annual Smurfberry Hunt for the ninth year in a row, Gutsy Smurf sets out to discover how Brainy wins every year. Gutsy's investigation takes him into spooky Smurfy Hollow – and right into Gargamel's trap! Can Brainy and Gutsy, with the help of Smurfette, put aside their rivalry before Gargamel captures them, or worse, will they come face-to-face with the legendary ghost, the Headless Horseman?
Directed by Stephan Franck, "Smurfy Hollow" features the voice talents of Hank Azaria (Gargamel), Alan Cumming (Gutsy), Fred Armisen (Brainy) and Anton Yelchin (Clumsy), all of whom reprise their roles from the film, The Smurfs. The Smurfs: The Legend of Smurfy Hollow is also available on DVD and as a digital download.
WEDNESDAY, OCTOBER 22, 2013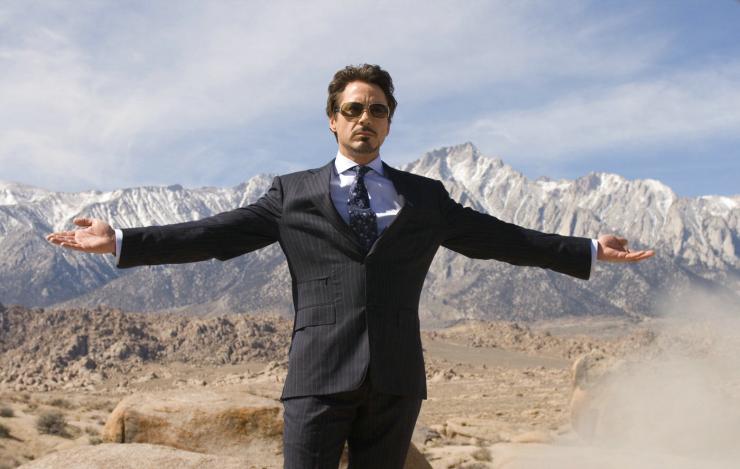 MOST VALUABLE MOVIE STARS OF 2013
Science fiction is big business at the movies, so it's no surprise that sci-fi stars made up half of the 10 most valuable movie stars of 2013. So who made the cut?
Not surprisingly, Iron Man star Robert Downey Jr. came in at the top spot, followed closely by Hunger Games sweetheart Jennifer Lawrence in third place. World War Z star Brad Pitt represented the zombie craze in fifth place, with Will Smith and the Dark Knight himself Christian Bale at sixth and seventh, respectively.
In case you noticed a certain ass-kicking member of the X-Men missing from the list, that's because Wolverine star Hugh Jackman just barely missed the cut and landed at 11 on the top 100. But if X-Men: Days of Future Past turns out as big as it seems, that'll probably change in a hurry.
Compiled by Vulture, the science behind the list is pretty intriguing. They factor in everything from box-office stats to likability and social media mentions to figure out who are the most "valuable" stars at the moment. But, that said, where the heck are the rest of The Avengers?!
Check out the top 10 below.
Robert Downey Jr.
Leonardo DiCaprio
Jennifer Lawrence
Sandra Bullock
Brad Pitt
Will Smith
Christian Bale
Denzel Washington
Tom Hanks
Johnny Depp ALMOST HUMAN
If J.J. Abrams' latest Fox series Almost Human doesn't fill that Fringe-sized hole in our hearts, it won't be for a lack of trying.
A new trailer for the series has been released, showing that fellow producer J.H. Wyman is definitely bringing along that Fringe sense of humor to the new future-set cop series. Admittedly, there's no Dr. Bishop, but the 'bot gets a fair share of jokes in during this new footage. It looks like it strikes a good tone, and we can't wait to see more.
The show stars Karl Urban and Michael Ely as LAPD officers in 2048, but with a nice twist — Ely plays a human-like robot, while Urban's character hates the "synthetics." It's a nice twist on the tried-and-true cop genre, while the network (and fans) hope it can be a more popular successor to Fringe.
To give the show a better chance at catching some eyeballs out of the gate, the network has bumped the premiere date back from Monday, Nov. 4, to Sunday, Nov. 17, where it will follow Sunday night NFL football. Good thinking. The second episode will air the next night, on Monday, Nov. 18.
Fox is obviously hoping the male-skewing demographic watching football will stick around, and it seems like a solid move. Admittedly, we don't want to wait longer to see the series — but if it gives the show a better chance at success, we're all for it.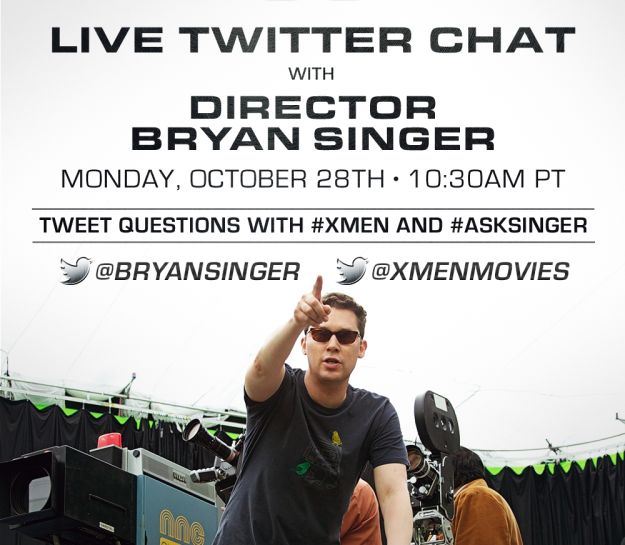 BRYAN SINGER CHAT - MONDAY, OCTOBER 28
Twentieth Century Fox has announced that director Bryan Singer will be answering fan questions, potentially including some about X-Men: Days of Future Past, next Monday on Twitter. Beginning at 10:30 A.M. PT/1:30 P.M. EST, users can tweet questions to Singer using the hashtags #XMen and #AskSinger.
Coming to theaters on May 23, 2014, X-Men: Days of Future Past is directed by Bryan Singer and stars Hugh Jackman, Ian McKellen, Patrick Stewart, James McAvoy, Jennifer Lawrence, Michael Fassbender, Nicholas Hoult, Anna Paquin, Ellen Page, Shawn Ashmore, Peter Dinklage, Omar Sy, Halle Berry, Daniel Cudmore, Fan Bingbing, Boo Boo Stewart, Adan Canto, Evan Peters, Josh Helman and Lucas Till.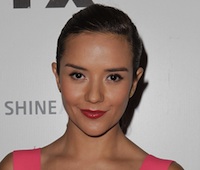 INCARNATE
Although it was announced in September that Rosario Dawson would be starring opposite Aaron Eckhart in the upcoming micro-budget supernatural thriller Incarnate, The Hollywood Reporter today brings word that scheduling conflicts have to lead to Maria Full of Grace star Catalina Sandino Moreno taking on the role instead.
Scripted by Ronnie Christensen (Dark Tide), Incarnate will be directed by Brad Peyton (Journey 2: The Mysterious Island) and follows an exorcist (Eckhart) who comes up against an evil from his past when he uses his supernatural skills to enter the subconscious of a nine-year-old boy.
Jason Blum will produce Incarnate with Trevor Engelson, Couper Samuelson and Michael Seitzman executive producing.
TUESDAY, OCTOBER 22, 2013
ALMOST HUMAN DELAYED
FOX has made a few changes to its November premiere schedule, moving the debut of "Almost Human" back a couple weeks and rolling it out over consecutive nights -- including a Sunday premiere following an NFL doubleheader.
The move means "Bones" will stay on Mondays for a little while longer. FOX is also stretching the finale of "Masterchef Junior" over two weeks, which in turn delays "Raising Hope's" season premiere by a week.
"Almost Human," which had been scheduled to move into the "Bones" slot on Mondays starting Nov. 4, will now debut at 8 p.m. ET Sunday, Nov. 17. It will likely have a sizable lead-in that night, as FOX has an afternoon NFL doubleheader that will most likely run over into primetime. The show, a futuristic crime drama starring Karl Urban and Michael Ealy, will then make its time-period debut at 8 p.m. Monday, Nov. 18, with "Sleepy Hollow" staying put at 9 p.m.
"Bones" will air original episodes on Nov. 4 and 11 before moving to its new home on Friday starting Nov. 15, leading into back-to-back episodes of "Raising Hope." On Oct. 28, "Bones" and "Sleepy Hollow" will most likely be pre-empted by Game 5 of the World Series, but in the event either the Boston Red Sox or St. Louis Cardinals sweep the first four games, repeats are scheduled.
"Masterchef Junior's" finale, initially slated for Nov. 1, will air Nov. 8.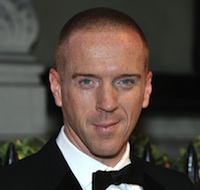 QUEEN OF THE DESERT
"Homeland" star Damian Lewis is set to join Nicole Kidman in Queen of the Desert, the upcoming period drama written and directed by Werner Herzog.
The film stars Kidman as Gertrude Bell, an explorer, writer, archeologist and attaché for the British Empire, who is credited with helping to catalyze the formation of the Middle East at the dawn of the 20th century.
Although production was originally aiming for earlier this year with both James Franco and Robert Pattinson attached to star, the film is now looking to lens in December in Morocco.
Nick Raslan will produce via his Palmyra Films banner along with Cassian Elwes and Michael Benaroya. Benaroya's Benaroya Pictures banner will finance the film. THOR: THE DARK WORLD
Another new clip from Marvel Studios' upcoming Thor: The Dark World is here! This one features Kat Dennings' Darcy interrupting Natalie Portman's Jane Foster on a date with Chris O'Dowd's Richard.
Opening in theaters on November 8, Marvel's Thor: The Dark World continues the big-screen adventures of Thor, the Mighty Avenger, as he battles to save Earth and all the Nine Realms from a shadowy enemy that predates the universe itself. In the aftermath of Marvel's Thor and Marvel's The Avengers, Thor fights to restore order across the cosmos...but an ancient race led by the vengeful Malekith returns to plunge the universe back into darkness. Faced with an enemy that even Odin and Asgard cannot withstand, Thor must embark on his most perilous and personal journey yet, one that will reunite him with Jane Foster and force him to sacrifice everything to save us all.
BLOOD ON SNOW
Leonardo DiCaprio is looking to produce and potentially star in an adaptation of crime fiction author Joe Nesbo's upcoming novel, Blood on Snow, Deadline reports. Warner Bros. is negotiating the rights to the tome for DiCaprio's Appian Way.
Blood on Snow marks the first book written by Nesbo under his new nom de plume, Tom Johansen. It follows a hitman who is tasked with offing his boss' wife only to find that he's fallen in love with her. Two literary sequels are already planned and, in the third, Johansen himself becomes a character.
In addition to DiCaprio, Appian Way's Jennifer Davisson Killoran will produce alongside Kevin McCormick of Langley Park.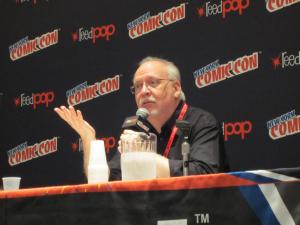 JMS AT NEW YORK COMIC CON
For those of us not able to get to New York Comic Con, Comib Cook Resource has a nice article on JMS's Spotlight panel. JMS goes into many of his upcoming projects, including Sense8 for Netflix and "Book of Lost Souls" from Studio JMS. He also gives a little background from his past. Interesting article. CBR.
MONDAY, OCTOBER 21, 2013
WEEKEND BOX OFFICE
Alfonso Cuaron's Gravity and Paul Greengrass' adult drama Captain Phillips served up a one-two punch at the North American box office as they stayed at No. 1 and No. 2, respectively, to beat a host of newcomers.
Gravity fell only 28 percent in its third weekend to $31 million, pushing its domestic total to $170.6 million and worldwide total to $284.8 million. Starring Tom Hanks, Captain Phillips likewise impressed. The Sony pic dropped 33 percent to $17.3 million for a 10-day domestic total of $53.3 million.
Overseas, Warner Bros.' Gravity also placed No. 1 for the third consecutive weekend, taking in $33.5 million from 51 markets and crossing the $100 million market for a foreign cume of $114.2 million.
Captain Phillips opened to a promising $9.1 million in 11 international markets, including a No. 1 finish in the U.K. with $5.6 million and ahead of other adult dramas including Argo and The Social Network.
Heading into the weekend, many box office observers believed Sony and MGM's Carrie had a shot at crossing $20 million in its North American opening, but the remake topped out at $17 million to come in No. 3. The pic was fueled by females (54 percent) and moviegoers under the age of 25 (56 percent).
Directed by Kimberly Pierce, Carrie stars Chloe Grace Moretz in the title role opposite Julianne Moore. MGM and Sony's Screen Gems spent under $30 million to produce the horror pic, which received a B- CinemaScore and opens more than three decades after Brian De Palma's original Carrie opened in theaters.
Sony's three films -- Captain Phillips, Carrie and Cloudy With a Chance of Meatballs 2 -- claimed spots No. 2 through No. 4 on the box office chart, with Cloudy 2's total domestic gross now at $93.1 million.
"It's not a bad place to be," said Sony president of worldwide distribution Rory Bruer. "In regards to Carrie, it opened within our expectations, although maybe on the lower end. Overall, the picture was made very reasonably and it will be success for us."
Coming in No. 5 was newcomer Escape Plan, the action pic hoping to capitalize on the teaming of Sylvester Stallone and Arnold Schwarzenegger. But hopes were dashed as the movie only took in $9.8 million, marking another blow for Schwarzenegger's campaign to resurrect his acting career.
Summit Entertainment and Emmett/Furla films partnered on Escape Plan, which cost north of $70 million before tax rebates. The pic, formerly titled The Tomb, received a B+ CinemaScore and was fueled by males (55 percent).
Escape Plan is doing marginally better overseas, where it has now earned $14.1 million from 34 territories. It opened No. 2 in Russia over the weekend with $3 million.
Bill Condon's adult thriller The Fifth Estate fared even worse in its North American launch, grossing an abysmal $1.7 million from 1,769 theaters to place No. 8. The movie -- marking the worst debut of 2013 so far for a movie opening in more than 1,500 theaters -- received a B CinemaScore, mirroring mixed reviews.
From DreamWorks and Participant Media, the $26 million film stars Benedict Cumberbatch as Julian Assange, the controversial founder of WikiLeaks. Insiders close to the project concede that Americans appear to have little interest in WikiLeaks or its founder. However, Fifth Estate is likewise struggling overseas, where it has only taken in $1.6 million so far.
In North America, Fifth Estate was even edged out by Nicole Holofcener's dramedy Enough Said, starring the late James Gandolfini opposite Julia Louis-Dreyfuss, which appeared back on the top 10 chart as it upped its theater count to 757 locations, grossing $1.8 million for a total $10.8 million.
Gravity's stellar box office run continues to impress box office observers. It remains a huge draw in 3D and in Imax, which has now delivered a total $38 million in total ticket sales. Over the weekend, Imax grosses clocked in at $7.4 million, the second best showing for a film in its third weekend after Avatar.
TARZAN
Constantin Film has released the full new trailer for the 3D animated adventure Tarzan, which is now playing in German and Russian theaters. The English version of the film features the captured performances and voices of Kellan Lutz ("The Twilight Saga," upcoming Hercules: The Legend Begins) and Spencer Locke ("Resident Evil" films).
The movie was directed by Reinhard Klooss from a script by Klooss, Jessica Postigo and Yoni Brenner.
SUNDAY, OCTOBER 20, 2013
DOCTOR WHO 50th ANNIVERSARY
The time is drawing even closer. Soon enough "The Day of The Doctor" will arrive as "Doctor Who" celebrates its 50th anniversary. The BBC has released the first trailer from the special 75-minute episode.
The trailer doesn't contain any actual footage from the special, but is a nice look back at each of the Doctors, set to a voice over of Matt Smith's 11th Doctor talking about "the day I've been running from all my life. The day of the Doctor." The trailer also reintroduces several iconic "Who" baddies, from Daleks to the Ood.
It's still unclear exactly what the day of the Doctor is, but the special episode features Smith, along with returning Doctor David Tennant. Then there's John Hurt, playing what's being called the dark Doctor. Three Doctors on one episode should make for some happy Whovians.
"The Day of the Doctor" airs November 23 on BBC America.
THOR: THE DARK WORLD
International press is assembled this week in London to see Thor: The Dark World, and some tidbits of info are beginning to leak out about the film.
While journalists are embargoed from posting full reactions to the movie, we're hearing that it's quite good -- and that film features not one, but two bonus scenes during the end credits.
According to Comic Book Movie, one of those scenes takes place as the credits are rolling, while the second happens at the very end of the movie. We verified that with our own source, who confirmed that both scenes are "amazing."
We didn't ask for any more info, since we don't want to be spoiled ourselves and would probably have the wrath of Marvel come down on our heads if we did. But at the very least, it seems like we'll be getting something a lot meatier than Tony Stark (Robert Downey Jr.) and Bruce Banner (Mark Ruffalo) sitting in Tony's living room at the end of Iron Man 3.
Will we get our first look at the Guardians of the Galaxy? Another glimpse of Thanos? Some sort of lead-in to Captain America: The Winter Soldier or The Avengers: Age of Ultron? Maybe even -- we're going out on a limb now -- a hint that Dr. Strange is on his way?
Whatever it is, all we know is that we're thrilled to see Marvel putting the pieces of its Phase 2 and Phase 3 films into place, and we're intrigued to see what Thor: The Dark World has up its armored sleeves when it opens on Nov. 8.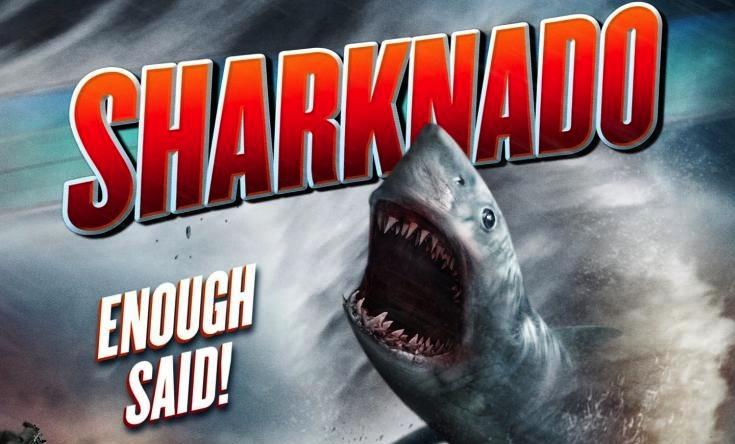 STONADOS
After scoring a monster hit with Sharknado earlier this year, Syfy has announced they'll be another 'nado coming soon — and no, we're not talking about Sharknado 2.
The network has announced the original flick Stonados will premiere Nov. 23, described as a "disaster movie about a freak weather system which hurls deadly boulders." The movie will star Paul Johanssen (One Tree Hill), William B. Davis (The X Files) and Thea Gill (Queer as Folk). Sharks are pretty scary, sure, but there's also some blunt allure to being crushed to death by flying boulders.
But that's not all. On Nov. 9, the network will debut the original movie Beast of the Bering Sea, which will follow a "sister and brother team prospecting for gold, who accidentally disturb a colony of blood-sucking amphibious predators (sea vampires) in an underwater cave." Yeah, that's right — sea vampires. This one will star Cassie Scerbo (Sharknado) and Jonathan Lipnicki (Jerry Maguire).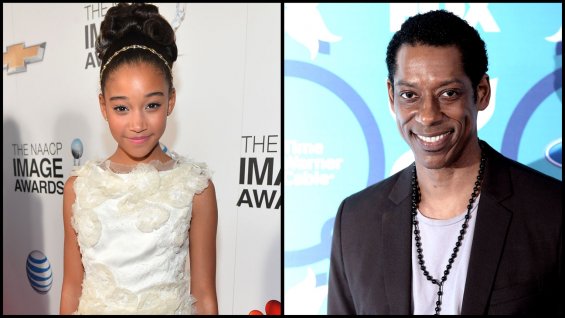 SLEEPY HOLLOW NEWS
A Hunger Games alum is heading to Sleepy Hollow.
Amandla Stenberg, who starred as Rue in the 2012 box-office juggernaut, The Hunger Games, will recur on the breakout Fox drama as Orlando Jones' daughter, The Hollywood Reporter has learned exclusively.
First appearing in the Nov. 25 episode, Stenberg will play Macey, the teenage daughter of Capt. Frank Irving and ex-wife Cynthia. Macey feels disconnected from her dad since he has taken up his post in Sleepy Hollow. (The character's name was previously Mae.)
Thus far this season, Sleepy Hollow is the biggest percentage gainer when factoring in DVR, posting a staggering 71 percent increase in its second episode's live-plus-seven numbers to a 5.3 rating in adults 18-49.
When the series returns after baseball, Fringe favorite John Noble will make his debut for a major recurring role.
Stenberg is repped by WME and The Schiff Co. She next voice stars in the Rio sequel and starred in NBC's Craig Robinson comedy pilot.
Sleepy Hollow returns Nov. 4 at 9 p.m. on Fox.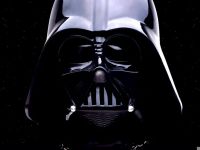 DARTH VADER SPECIALS
Ever since Disney purchased Lucasfilm, the future has looked very bright for the possibilities of "Star Wars," but today's announcement, straight out of the European Brand Licensing Show, is a little out of left field.
Jedi News has discovered a brochure from the official show that shares some details that Disney is planning for the franchise, most notably some "Darth Vader themed" television specials. The brochure doesn't specify if the specials will be animated or live action, but we have our guesses that it could be a tie-in to the upcoming Star Wars Rebels.
Other information included in the brochure includes Star Wars LEGO games coming for mobile platforms in the spring/summer of 2014, a "digital library" in the fall/winter of 2014, and the tentative plans for a spring/summer 2015 release date for the highly anticipated Star Wars: Episode VII.
JURASSIC WORLD
Josh Brolin is reportedly in talks to star in Universal Pictures' Jurassic World. TheWrap says a deal has not been made yet, however. Also in talks to star are Bryce Dallas Howard, Ty Simpkins and Nick Robinson.
Last month, the studio announced that Jurassic World will be released in 3D on Friday, June 12, 2015.
Steven Spielberg returns to produce the long-awaited next installment of his groundbreaking "Jurassic Park" series. Colin Trevorrow directs the epic action-adventure from a draft of the screenplay he wrote with Derek Connolly. Frank Marshall and Pat Crowley join the team as fellow producers.
SATURDAY, OCTOBER 19, 2013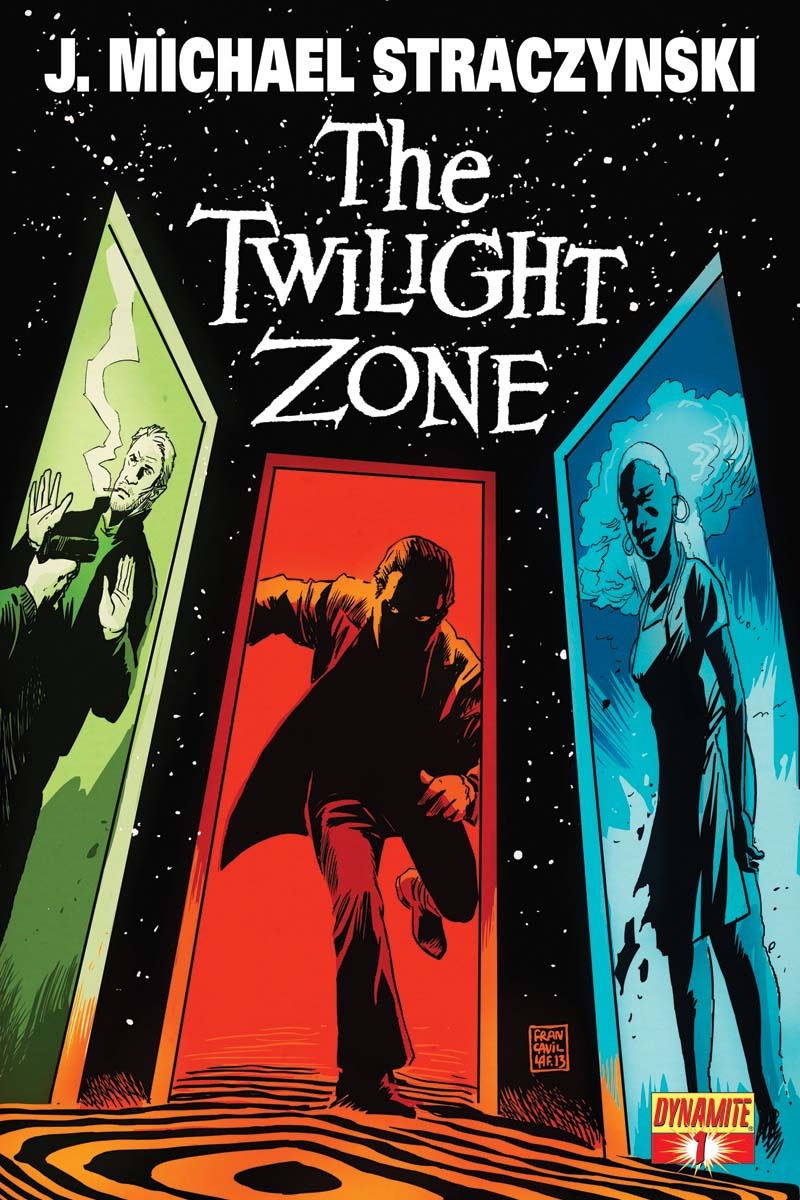 JMS-TWILIGHT ZONE
Back in July, Dynamite Entertainment announced J. Michael Straczynski would be writing THE TWILIGHT ZONE, based on the original television show. Today they are ready to announce the interior artist as well as give us a look at some pages.
Guiu Vilanova (DARK SHADOWS) will be joining JMS along with Francesco Francavilla providing art for the covers.
THE TWILIGHT ZONE #1 will be solicited in Diamond Previews November 2013 catalog. Each issue will also be available on digital platforms through comiXology, iVerse and Dark Horse Digital.
The Twilight Zone #1 introduces Wall Street investor Trevor Richmond, a man who has embezzled millions and is about to tank the economy. Desperate to avoid the consequences for his actions, he goes to Expedited Services, which offers to help him disappear and enjoy a life of leisure in a new life. But what exactly is this new life, how much is freedom worth, and what happens to the old life when someone else shows up to claim it? The first installment of three interlocking stories, The Twilight Zone #1 will push the boundaries of science fiction into new and uncharted territory, a journey that will travel into the past and the future, through murder and revenge, ...and into the sunrise of nuclear Armageddon.
To see more of this issue, go to http://www.comicvine.com/articles/first-look-twilight-zone-1/1100-147426/.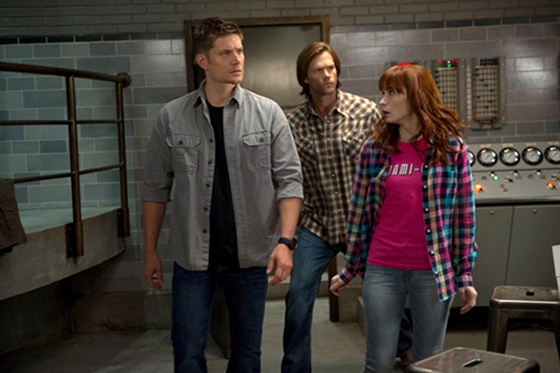 SUPERNATURAL NEWS
The Winchesters are about to follow the yellow brick road in an upcoming episode of "Supernatural" ... with returning fan-favorite guest star Felicia Day.
Sam and Dean's tech-saavy friend Charlie will be making her way back to the Men of Letters bunker in episode 4, "Slumber Party," just in time to help the Winchesters battle the Wicked Witch of Oz after they accidentally set her and Dorothy free from an enchanted wall in the bunker. The resulting magical fight is so massive, the Men of Letters bunker that Sam and Dean have worked so hard to make their home might not survive.
The CW just released first look photos from the episode airing Tuesday, Oct. 29, and the hour will allow viewers to see more of the Men of Letters bunker, including the garage that houses some pretty cool vehicles.
Read the full synopsis of the episode below:
"Sam and Dean discover that the table in the Men of Letters house (the one that lit up like a Christmas Tree when the angels fell), has an ancient computer attached to it. They figure if they can get the computer on, they can track the angels. Who better to call for help than the best IT girl there is, Charlie (guest star Felicia Day)? While moving the massive computer, they dislodge a hidden hexbag that unleashes a magical green-webbed wall. Sam and Dean break through it and discover the one and only Dorothy (guest star Tiio Horn) from Oz. She had trapped herself and the wicked witch (guest star Maya Massar) in the web years ago to stop the witch from finding the key that would open the gate that connected their world with Oz. With the wall broken, a massive and magical fight ensues that threatens to destroy the Men of Letters house."
"Supernatural" airs Tuesdays at 9 p.m. ET on The CW.
BATMAN: ARKHAM ORIGINS
This haunting new TV spot for the upcoming Batman: Arkham Origins videogame launches just before Halloween. Weep and witness the brutal reality of young Wayne's shattered childhood as he morphs into the cursed crimefighter of legend. It's a poignant prelude to the Dark Knight saga to prime us for the glorious game release next week.
Batman: Arkham Origins will strike on Oct. 25, 2013.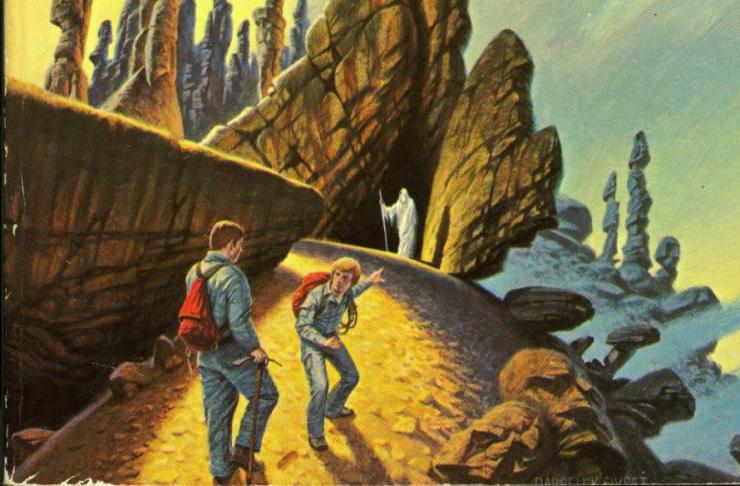 MARTIAN TIME-SLIP
From Minority Report to Blade Runner, the back catalog of sci-fi legend Philip K. Dick has been mined pretty deep for film projects — and now yet another classic is coming to the big screen.
Director Dee Rees (Pariah) has reportedly signed on to bring the 1964 novel Martian Time-Slip to the big screen, meaning it'll be the first time in a while that we get a nice, space-set Dick story. The book focuses on a schizophrenic repairman living on a Martian colony, and also has a fair bit of political undertones surrounding the real estate market on Mars.
So, it could be fun.
For those uninitiated, here's the synopsis for the novel:
On an arid Mars, local bigwigs compete with Earth-bound interlopers to buy up land before the UN develops it and its value skyrockets. Martian Union leader Arnie Kott has an ace up his sleeve, though: an autistic boy named Manfred who seems to have the ability to see the future. In the hopes of gaining an advantage on a Martian real estate deal, powerful people force Manfred to send them into the future, where they can learn about development plans. But is Manfred sending them to the real future or one colored by his own dark and paranoid filter? As the time travelers are drawn into Manfred's dark worldview in both the future and present, the cost of doing business may drive them all insane.
No word on how or when the adaptation will work out.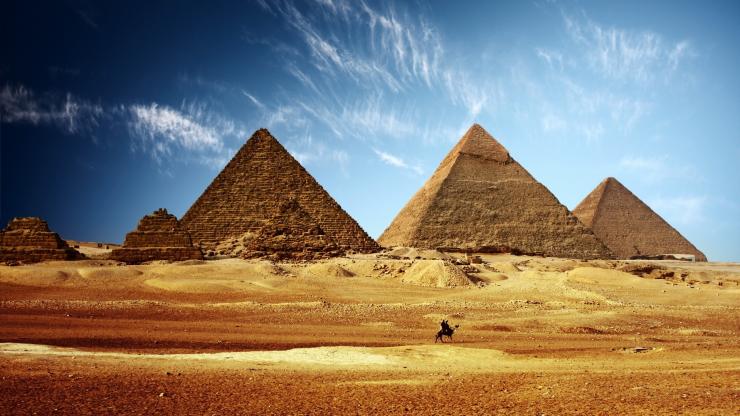 HIEROGLYPH
Fox is heading back in time with a new fantasy series set in ancient Egypt.
Following the surprising—and awesome—success of its hit series Sleepy Hollow, which was recently renewed for a second, 13-episode season (and ahead of the release of the upcoming and more sci-fi-ish series Almost Human), Fox has directly ordered to series Hieroglyph, a 13-part action/drama/fantasy series set to take place in the land of the pharaohs.
Penned by Travis Beacham, who worked on Clash of the Titans and Pacific Rim, Hieroglyph will blend fantasy with reality (a bit like Starz's Da Vinci's Demons, for example) by telling the tale of a disreputable thief taken from prison to serve the mighty Pharaoh of Egypt.
In his new position, the thief must face court intrigues, seductive concubines, the criminal underworld and divine sorcerers, to boot.
Fox entertainment chief Kevin Reilly said in a statement:
"We wanted to do a show about deceit, sex, intrigue in the court and fantastical goings-on – no better place to set that than ancient Egypt. Travis Beacham has an inventive mind, and he has wrapped this all together in this intoxicating new drama."
Beacham will also executive-produce alongside Peter Chenin (Rise of the Planet of the Apes). Katherine Pope (New Girl), and Miguel Sapochnik (Fringe), who will also be pulling double duty since he'll direct the pilot, as well.
The premise sounds intriguing—and frankly, there are no ancient Egypt shows out there (though perhaps the BBC's Atlantis comes close in genre, but that's more ancient Greek stuff and myths), so that's a bit refreshing. What's more, Fox seems to have discovered a very interesting niche here: fantasy and sci-fi shows that boast shorter (and, let's face it, tighter) seasons made up of 13 episodes.
FRIDAY, OCTOBER 18, 2013
BLACK ANGEL
One of the great legends surrounding Star Wars: The Empire Strikes Back is the fate of the mythical short film Black Angel that ran in front of it — which was thought to be lost forever. Until now.
Directed by Star Wars art director Roger Christian, and partially bankrolled by George Lucas, the 25-minute story of a "knight returning from the Crusades who is transported to a mystical realm where he must rescue a princess from a black knight" ran in front of theatrical cuts of Empire Strikes Back, mostly because Lucas thought it'd be a cool contrast to his futuristic film.
But over the years, the prints were lost or destroyed — and for decades, most believed the film was gone for good. That is, until the original negative turned up last year, and now Christian is prepping a full-fledged release via services like Netflix and iTunes next year so those of us who didn't make it out to the theater in 1980 can get a look.
Christian has also said he'd like to get the short back into theaters — possibly attached to a release of Empire Strikes Back, if that happens — but that's admittedly a long shot. But it sure would be awesome.
To whet our appetite, he's released the first clip from the short.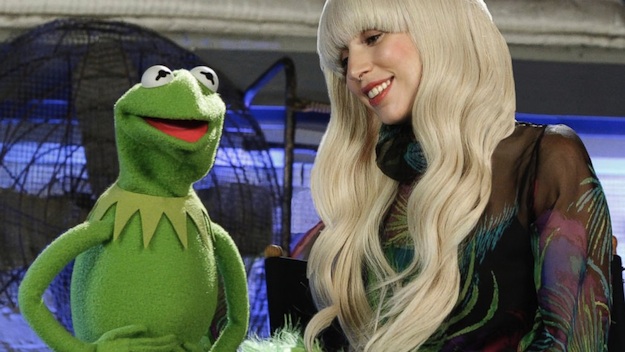 MUPPET HOLIDAY SPECIAL
On Thanksgiving night, November 28 (9:30-11:00 p.m., ET), ABC will air the 90-minute special, "Lady Gaga & The Muppets' Holiday Spectacular." The broadcast offers an avant-garde twist on the classic holiday variety show as Lady Gaga goes backstage with The Muppets, making a performance dream come true for the multi-platinum singer songwriter when they combine forces to sing holiday favorites and Lady Gaga hits.
"I was so excited when ABC called me about doing a holiday special this year," said Lady Gaga. "I knew it just wouldn't be a complete night of laughter and memories without The Muppets! Can't wait to see the gang again and I hope Miss Piggy's still not mad about Kermit. We're just friends!"
"What an incredible opportunity!" said Kermit the Frog. "We have a long history with Ms. Gaga, so we jumped at the chance to do a holiday special with her. We won't even mind if she mistakes some of the Muppets for pieces of her wardrobe - again."
The special features Lady Gaga performing songs from her new album, ARTPOP, available Monday, November 11 on Streamline/Interscope Records. Performance highlights include a duet between Lady Gaga and Kermit the Frog, a dazzling rendition of Gaga's hit "Applause" with special Muppet guests, and performance duets with Sir Elton John, Joseph Gordon-Levitt, and RuPaul. Kristen Bell appears in a special sketch alongside the Muppets and Lady Gaga. In addition, Swedish Chef, Beaker and Animal will perform special Muppet renditions of the holiday classics "Deck the Halls" and "Jingle Bells."
The program will also feature a sneak peek from the upcoming Disney movie Muppets Most Wanted, which features Lady Gaga herself in a cameo performance. Disney's Muppets Most Wanted hits theaters March 21, 2014.
This is Lady Gaga's second primetime Thanksgiving night special for ABC. "Lady Gaga & The Muppets' Holiday Spectacular" is produced by Sunset Lane Entertainment, in association with ABC's Lincoln Square Productions, with Salli Frattini as executive producer and directed by Gregg Gelfand. PARANORMAL ACTIVITY: THE MARKED ONES
Paramount Pictures has released the trailer for Paranormal Activity: The Marked Ones, the January 3, 2014 release written and directed by Christopher Landon. Richard Cabral, Carlos Pratts, Eddie J. Fernandez, Jorge Diaz, David Fernandez Jr., Kimberly Ables Jindra, Tonja Kahlens and Frank Salinas star in the spin-off of the "Paranormal Activity" series.
You can watch the trailer below and you can also upload a photo of paranormal activity in your city to Facebook, Twitter or Instagram tagging your city and #TheMarkedOnes for a chance to see "The Marked Ones" first!

HOT WHEELS
Legendary Pictures has closed deals with director Simon Crane and writer Paul Attanasio for the upcoming feature film Hot Wheels, based on the classic Mattel toy car line. Attanasio will rewrite from the draft written by Art Marcum and Matt Holloway which originally attracted Crane to the project.
Joe Roth, Palak Patel, and Sam Mercer of Roth Films will produce with Legendary. Alex Garcia is overseeing the project for Legendary.
Crane is one of the industry's preeminent second-unit directors, most recently on World War Z and the upcoming Edge of Tomorrow. Attanasio recently wrote Scarface for Universal, and previously wrote the screenplay for The Sum of All Fears, among others. He was twice nominated for an Oscar for his work writing Quiz Show and Donnie Brasco. Attanasio also created the series "House.">br> Art Marcum and Matt Holloway co-wrote Iron Man and Summit's Highlander reboot.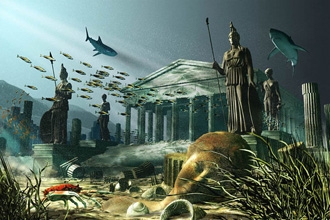 THE LOST CITY
"Gravity" scribe Jonas Cuaron has been brought in to pen the Atlantis-set sci-fi epic "The Lost City" for Warner Bros. Pictures, Weed Road Pictures and Safehouse Pictures.
All that's said of the plot is that it will be a new take on the mythical underwater kingdom.
The film is reportedly a big deal, at one point it was being considered by Peter Jackson. Akiva Goldsman, Torry Tunnell and Joby Harold will produce.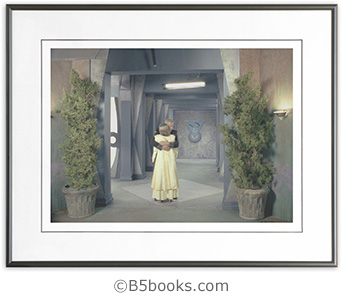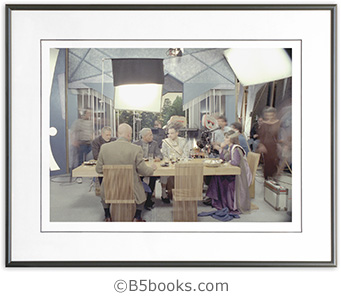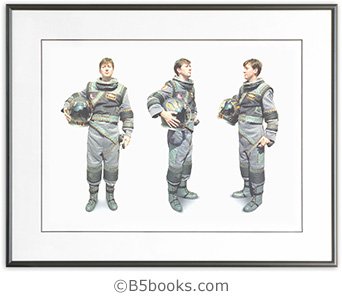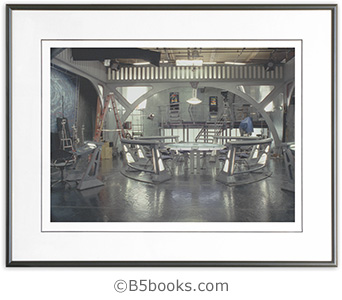 BABYLON 5 PRINTS
The countdown is on. These limited edition prints from the Babylon 5 20th Anniversary ends October 26.
About the Prints:
Archival inks will not fade.
Archival inks are pigment-based, intended for high-quality art reproductions.
Printed on acid-free paper that will not yellow.
Each image is hand printed on a 6-color digital printer for quality control.
Sourced from the original photographs used in Babylon 5 at Twenty: A Visual Celebration. For more information on these prints, go to http://www.cafepress.com/b5prints.
THURSDAY, OCTOBER 17, 2013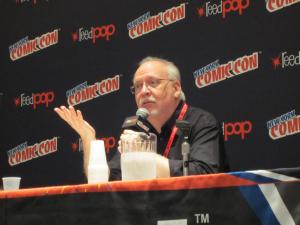 J. MICHAEL STRACZYNSKI CALL OUT
The man who created Babylon 5 — and wrote some awesome comics for DC — is calling out the company for not doing more with its superhero catalog. Welcome to the club.
In a chat with Film Buff Online, J. Michael Straczynski had a great discussion about the state of DC's big-screen ventures, laying out what he'd like to see from the company in the coming years. Like most fans, he believes it's high time The Flash and Wonder Woman got a shot at stardom — but he also lamented the fact that the even deeper roster has been all but ignored.
He also wasn't hugely impressed with the company's new direction a la Man of Steel, which will serve as a jumping-off point for the expanded DC universe from here on out.
Here's an excerpt:
"I've talked to the people at Warner Brothers and said 'What is wrong with you people?' They think that they have a very narrow bench – Superman, Batman and then nobody else. We're trying to get them to understand that we have a really good bench of characters if you treat them properly...
I thought [Man of Steel] had one fight more than it should have had. And it was a good movie that could have been a great movie had they put more time in on the characters. In the end, I don't care how good your effects are or the battles or the CGI, if we don't care about the characters you got nothing and nowhere to go."
Straczynski makes some good points, and as a successful comic writer and TV producer, his opinion should hold some weight. Here's hoping DC is listening.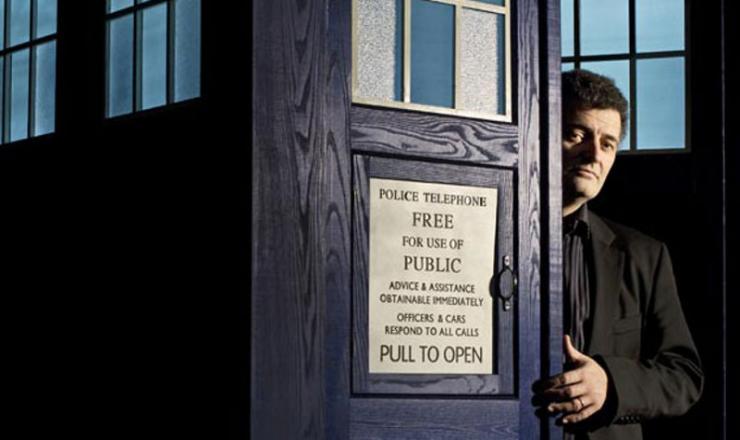 DOCTOR WHO CHANGES
The Doctor's story has been in the telling for nigh on 50 years, but according to Moffat, that story is just truly beginning now.
We've touched on this in the past, but telling the tale of one character and his many companions over the course of five decades is a challenge because there's an assumption that only so many stories can be told. And, if we're being honest, the Doctor has been reliving the same kinds of adventures the longer he's on the air.
But Moffat has already been trying to change that in drips and drabs. After the show's fifth season back on TV, Moffat gave us two seasons in a row that played with the formula quite a bit. First with the Doctor's death, then with his marriage to River Song, and finally with the revelation that he's got a past incarnation he's been hiding from everyone -- including us!
But, according to Moffat, those changes, and the show itself, are just the beginning. In an interview with SFX, Moffat hinted about where things are headed:
We've got to set the Doctor off in a brand new direction. It's chapter two of his life. Now something happens to him that changes the way he thinks and the way he will adventure from now on. You can celebrate an anniversary in many ways –- I think the most productive one within the narrative is to say, "This is where the story really starts. This is where he finds his mission, he finds his destiny."
The real question is, what new direction does Moffat mean? The Doctor has switched gears several times over the years -- he ran away from the Timelords, became their leader, was placed on trial, and then ostensibly killed all the Timelords during the infamous Time War. DA VINCI'S DEMONS
Starz released the first trailer for the upcoming second season of Da Vinci's Demons last Friday at New York Comic Con, and for those of you who haven't seen it yet, we've got it right here and you're in for a nice treat!
This new trailer is chock-full of awesomeness, Vatican and Pazzi conspiracies, visions, dreams and even a ghost (those who've seen the first series will recognize Casper the Friendly Ghost right away).
Also, looks like our boy Leonardo (Tom Riley) is going to go all Indiana Jones on us, heading for the Americas—most specifically South America—in search of the fabled Book of Leaves—an ongoing mystery started during season one. FROZEN
Walt Disney Pictures' Frozen has revealed a special Halloween TV spot!
Coming to theaters on November 27 (with a special Los Angeles run beginning November 22 at Disney's El Capitan Theater in Hollywood), Frozen features the voice talents of Kristen Bell, Idina Menzel, Jonathan Groff, Santino Fontana and Alan Tudyk.
In the Chris Buck and Jennifer Lee-directed film, when a prophecy traps a kingdom in eternal winter, Anna (Bell), a fearless optimist, teams up with extreme mountain man Kristoff (Groff) and his sidekick reindeer Sven on an epic journey to find Anna's sister Elsa (voice of Idina Menzel), the Snow Queen, and put an end to her icy spell. Encountering mystical trolls, an amazing and comedic snowman named Olaf, Everest-like conditions and magic at every turn, Anna and Kristoff battle the elements in a race to save the kingdom from destruction.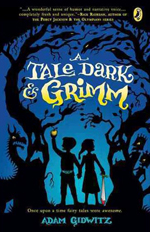 A TALE DARK AND GRIMM
Announced for development by FilmNation Entertainment last year, the planned big screen adaptation of Adam Gidwitz's A Tale Dark & Grimm has found a director in Henry Selick, Screen Daily reports. Selick is best known as the man behind modern stop-motion classics like The Nightmare Before Christmas and Coraline.
Planned as a live action feature film, A Tale Dark & Grimm will be based on Gidwitz's original frightening and witty stories. Inspired by some of Grimm's more gruesome tales, the story, adapted by Selick, Jon Gunn and John W. Mann, follows the adventures of two unsuspecting children who hold the key to breaking out of the dark ages.
Selick, whose next, The Shadow King, was picked up by K5 International earlier this year, previously worked with live action for segments of James and the Giant Peach and the feature film Monkeybone.
FilmNation has partnered with Marissa McMahon of Kamala Films to finance the development and produce A Tale Dark & Grimm alongside FilmNation Entertainment's Aaron Ryder and Karen Lunder.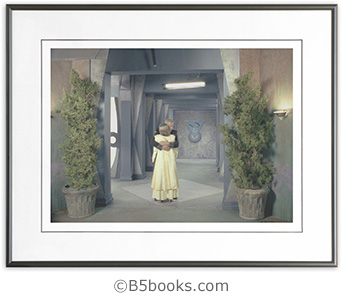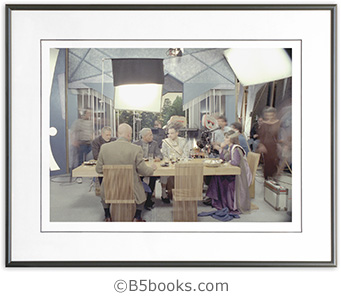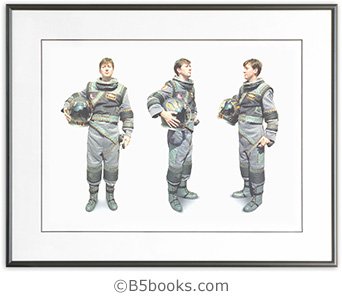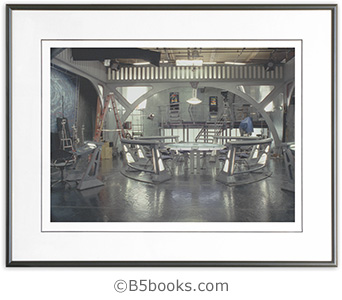 BABYLON 5 PRINTS
The countdown is on. These limited edition prints from the Babylon 5 20th Anniversary ends October 26.
About the Prints:
Archival inks will not fade.
Archival inks are pigment-based, intended for high-quality art reproductions.
Printed on acid-free paper that will not yellow.
Each image is hand printed on a 6-color digital printer for quality control.
Sourced from the original photographs used in Babylon 5 at Twenty: A Visual Celebration. For more information on these prints, go to http://www.cafepress.com/b5prints.
WEDNESDAY, OCTOBER 16, 2013
75TH ANNIVERSARY OF SUPERMAN
The Last Son of Krypton burst upon the comics scene in 1938 and heralded the dawn of the age of superheroes. This soaring animated salute to Superman's 75th anniversary year by Superman: The Animated Series' Bruce Timm and director Zack Snyder, whose invigorating Man of Steel last summer paved the way for the upcoming Superman VS Batman and eventual Justice League mega-projects.
This sweet short rockets through 75 years of Superman history, from the iconic images of Action Comics #1 to Alex Ross' silver-tinged hero and Richard Donner's patriotic rendition, all accompanied by the operatic strains of Hans Zimmer's rousing Man of Steel soundtrack. Watch Kal-El's many incarnations and adaptations over the decades as a stoic matinee idol, Saturday morning cartoon staple, Hollywood superstar and even a cheesy, 8-bit Atari 2600 video game.
After all the battles and beatdowns, Clark still looks mighty fine for a senior citizen in a crimson cape.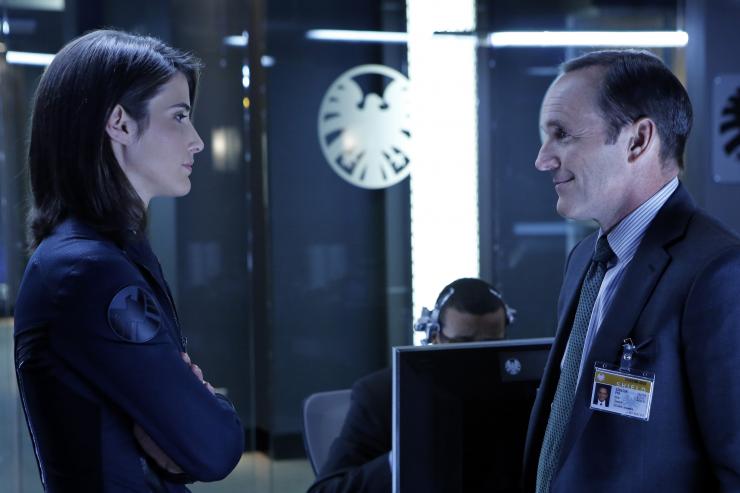 AGENTS OF S.H.I.E.L.D.
Marvel's small screen extension Agents of S.H.I.E.L.D. has gotten off to a rocking start in the ratings, but some fans have been a little disappointed that the story isn't moving a little faster. Apparently, there's a reason for that.
Series executive producer Jeph Loeb says the first few episodes were meant to feel a little redundant — almost like a handful of pilot episodes strung together, with the team still getting to know each other — to help get the audience acquainted with the concept.
But now that the series has both feet on the ground and the direction established, Loeb promises the action will start moving a lot faster soon. Here's what he told TV Line:
"Certainly the second episode was intended to be very much like 'The Pilot, Part 2,' because it was really the first time [the characters] could all work together and see who they are. Very much in the same kind of way that the audience is getting to know these characters, these characters are getting to know each other as well. That is the mission.
I think the show is absolutely getting better as we go — and we hope the audience feels that way as well," he continues. "We've absolutely found the show; the idea is to keep watching. It's very much like a roller coaster. You've got to go up the hill before you start coming down the hill at 100 miles-per-hour."
It's common for a show to take a few episodes before it gets really good, and it's even more common for a Joss Whedon series (Note: Except for Firefly). But, if S.H.I.E.L.D. follow's Whedon's usual curve, this one should be firing on all cylinders by the time the back half of season one comes around. SLEEPY HOLLOW
The gothic, supernatural series Sleepy Hollow has become a surprise mainstream hit this year — but that doesn't mean they won't be bringing in some sci-fi favorites to keep the genre fans happy.
We'd heard a while back that Fringe's John Noble would be heading to the cursed little town this season, and now we finally have our first look at him in action. We're happy to say his character definitely has that foreboding, Walter Bishop vibe.
It's possible his introduction could relate to an upcoming storyline that has been teased, which could release Ichabod from the curse that ties him to the Horseman. Traditionally, a "Sin Eater" is someone who takes on the sins of someone — so we're curious to see how that'll work out in the Hollow-verse.
It'll also be nice to have Noble back on the small screen in a sci-fi role. Sleepy Hollow looks like it could be Fox's genre successor to Fringe (albeit as a much bigger hit), and his certain brand of awesome should be a nice fit for this surprisingly good series.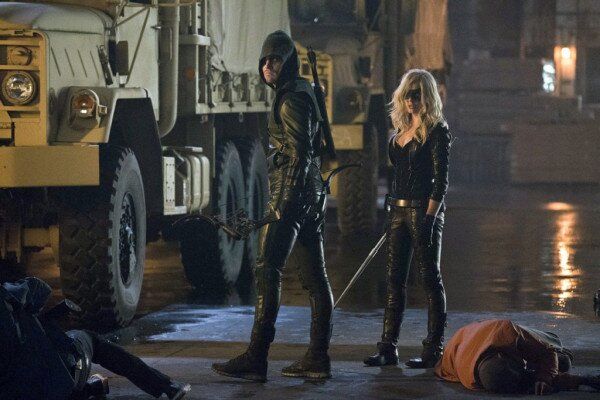 ARROW NEWS
The CW's Arrow already shook us with a few huge deaths at the end of season one, but it sounds like there's another shocking loss on the way.
Producer Marc Guggenheim dropped some hints about the new season, which continues this week. After axing main character Tommy Merlyn (Colin Donnell) in last year's finale, he said fans can expect one more major death at some point this season. After seeing the effects of Tommy's death, we can't imagine how another loss will rock this series.
In an interview with Entertainment Weekly, Guggenheim confirmed that "there is one more fatality that is coming up." Considering how tightly the main cast is woven at this point, it's hard to imagine who they might kill off.
Oh, and as for the upcoming return of Malcolm Merlyn (John Barrowman), who appeared to die after his epic rooftop battle with Arrow in the finale? Yeah, it's coming, but they're not dropping any details of how (or when) it might occur. Here's what we do know:
"We said at Comic-Con that John was coming back — but we didn't say when and we didn't say how. So, I'm going to continue to not spoil that. But I will remind everybody that you know we tell stories in two different time periods — we're actually doing an episode where Oliver sort of has hallucinations, we're doing flashbacks from different people's perspectives. OK, I'll make a joke — we've got a lot of different arrows in our quiver. So just because you think you may know something doesn't mean that you know how it's going to happen."
That's always been the fun of this series, as they take nuggets from the DC universe and give them a little different spin on the small screen. The flashbacks have also grown into a key component — sometimes beating out the "A" plot completely — so we can't wait to see where Barrowman fits back into the fold.
TUESDAY, OCTOBER 15, 2013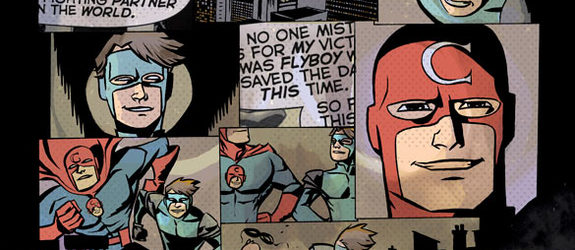 JMS at New York Comic Con. Were you wondering what was going on at New York Comic Con? Here is an article that covers J. Michael Straczynski's presentation.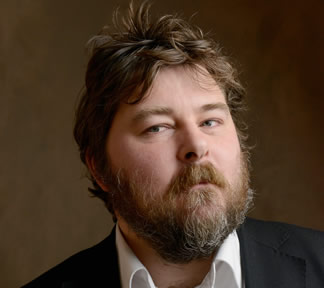 DOCTOR WHO NEWS
While Peter Capaldi's first episode as the next Doctor in "Doctor Who" is still far away, the pieces of the puzzle are slowly coming together. Ben Wheatley, the director behind movies like "Kill List" and "Sightseers," will helm the first two episode of Series 8.
Speaking to Screen Daily, Wheatley says, "I am very excited and honoured to be asked to direct the first two episodes of the new series of 'Doctor Who'. I've been a fan since childhood." He also notes that Tom Baker, the fourth Doctor, is his personal favorite.
While Wheatley says he is enjoying what Matt Smith has been doing on the show, he's excited about starting something new with the show. "I'm really looking forward to working with Peter Capaldi and finding out where Steven Moffat is planning to take the new Doctor," he explains.
Capaldi will make his first appearance in the role when Smith's Doctor regenerates during the annual Christmas special. Before then, Smith meets former Doctor David Tennant in the 50th anniversary special episode, "The Day of the Doctor," airing November 23 on BBC America.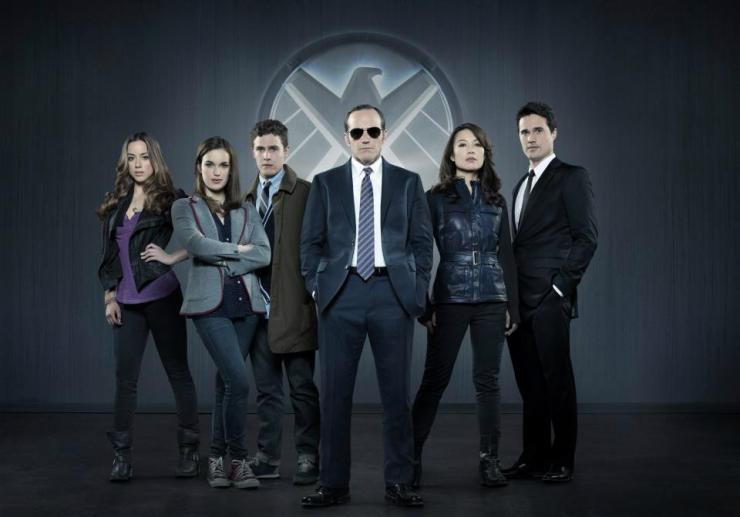 AGENTS OF S.H.I.E.L.D.
You knew Agents of S.H.I.E.L.D. was big, but you might not have known just how big.
With just three aired episodes under its belt, Marvel's Avengers spinoff series already has a full season pickup, and a second season renewal might be in its future, but that's only part of the story. S.H.I.E.L.D.'s premiere numbers were the best drama debut broadcast TV has seen in nearly four years, but those were just the live plus same day numbers. When you look at all the people who caught up with the show later in the week, the numbers get even more dramatic.
The series premiere racked up an impressive 4.7 score for the key 18-49 demographic in live plus same day ratings, winning its very competitive Tuesday night timeslot. There's since been some dropoff in that department, and there may be more, but things get pretty exciting when you look at how many viewers checked out the premiere in the six days that followed episode one's broadcast.
When you factor in the whole week of viewers who caught the show on DVR, Agents of S.H.I.E.L.D. pulled off a very, very impressive 7.0 key demo score, a 49 percent increase from the season premiere numbers. That makes it the second most popular show of its premiere week, right behind the relentless ratings juggernaut that is The Big Bang Theory. The show already had a strong opening, but this makes it even stronger.
Of course, for all the dazzle those numbers pack, none of it will matter if it can't retain an audience, and holding onto viewers who watch the show live is still crucial (you know, advertisers and all).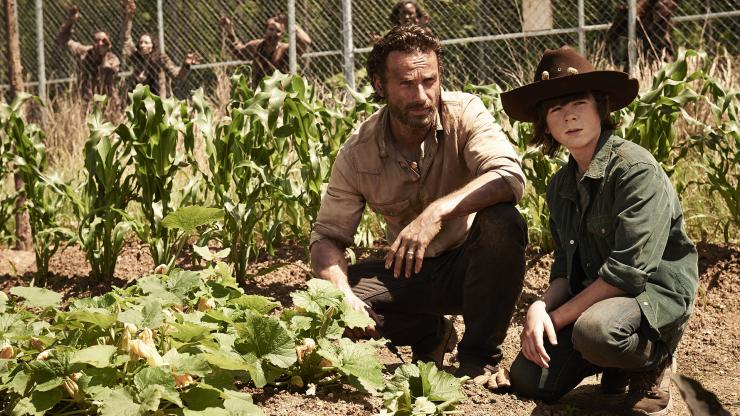 THE WALKING DEAD
After breaking ratings records with its past few premieres, you had to wonder if The Walking Dead could keep one-upping itself. Apparently, the answer is yes.
The season-four premiere, "30 Days Without an Accident," garnered a mind-boggling 16.1 million viewers, pulling in an insane 8.2 rating among adults 18-49 (the most coveted advertising demographic). It's the highest rating ever for the series. No wonder AMC is working on a spinoff.
For the sake of comparison, the season-four premiere is up almost 4 million from the season-three finale of 12.4 million viewers. The numbers maintain the series' position as the most popular series in basic cable history, and puts it in top contention with leading network shows (i.e. NCIS, Sunday Night Football, The Big Bang Theory).
For a basic cable show, that's insane. For a sci-fi show about zombies? Even crazier.
At this rate, and if new showrunner Scott Gimple can keep up the quality, this show could conceivably hit 18-20 million viewers by next season. Considering the absolute awesomeness of that supermarket showdown scene — which found the coolest way yet to stage a zombie attack — we wouldn't bet against it.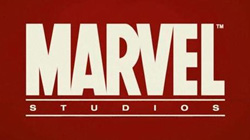 MARVEL NEWS
The future of the Marvel Cinematic Universe is looking especially bright on the small screen. Following the full season pick-up of "Agents of S.H.I.E.L.D." last week and rumors of a proposed Agent Carter spinoff series comes word, via Deadline, that a 60-episode package is being shopped around to cable networks and VOD distributors. It is said to include four dramas and a miniseries of some sort, although specific details are currently being kept top secret.
Although plans for a 60-episode commitment are virtually unheard of, the outlet hints that Marvel is looking to break new ground with their approach and that the package could ultimate go directly to Netflix, Amazon or WGN America. By planning 60 episodes from the beginning, it's a good bet that Marvel is looking to construct some character and/or plot crossovers within the five new shows. CATCHING FIRE: CATCHING FIRE
The first TV spot for director Francis Lawrence's The Hunger Games: Catching Fire has debuted its first TV spot.
Opening in conventional theaters and IMAX on November 22nd, The Hunger Games: Catching Fire stars Jennifer Lawrence, Josh Hutcherson, Liam Hemsworth, Lenny Kravitz, Elizabeth Banks, Stanley Tucci, Donald Sutherland, Toby Jones, Woody Harrelson, Jena Malone, Philip Seymour Hoffman, Amanda Plummer, Lynn Cohen, Patrick St. Esprit, Meta Golding, Bruno Gunn, Alan Ritchson, E. Roger Mitchell, Maria Howell, Stephanie Leigh Schlund, Sam Claflin and Jeffrey Wright.
The Hunger Games: Catching Fire begins as Katniss Everdeen has returned home safe after winning the 74th Annual Hunger Games along with fellow tribute Peeta Mellark. Winning means that they must turn around and leave their family and close friends, embarking on a "Victor's Tour' of the districts. Along the way Katniss senses that a rebellion is simmering, but the Capitol is still very much in control as President Snow prepares the 75th Annual Hunger Games (The Quarter Quell) - a competition that could change Panem forever.
MONDAY, OCTOBER 14, 2013
WEEKEND BOX OFFICE
Adults fueled another strong weekend at the North American box office as Warner Bros.' Gravity stayed at No. 1 with a record $44.3 million and Sony's Captain Phillips opened to a solid $26 million.
From director Alfonso Cuaron, Gravity raced past $100 million domestically to end the weekend with total earnings of $123.4 million. Worldwide, the space epic -- starring Sandra Bullock and George Clooney -- has earned $191.4 million.
Gravity isn't as much of a monster overseas, but it is still doing strong business. It dropped only 27 percent in its second weekend, grossing $28 million from 38 markets to come in No. 1 and pushing its foreign total to $68 million.
Gravity slipped only 21 percent in its second weekend domestically -- the lowest decline in history for a film that opened to more than $55 million (The Incredibles was the previous record holder at 29 percent). This doesn't count holiday weekends. It's also the lowest decline of the year to date for a movie playing in more than 2,000 theaters.
"This indicates the ability to open a tentpole in October," said Warner Bros. president of domestic distribution Dan Fellman, who also noted that the film is now playing to younger moviegoers, as well as to consumers who rarely take a trip to the multiplex.
Gravity continues to be a big draw in 3D (82 percent), with Imax theaters alone taking in a record $9 million over the weekend for total sales of $26.5 million. It's the largest second weekend gross in Imax history.
Internationally, Gravity likewise is prospering in 3D. Russia, a huge 3D market, leads with a total $14.5 million, including weekend grosses of $4.3 million.
Gravity was somewhat slowed by the debut of Russian epic Stalingrad, which opened to a record-breaking $14.4 million -- the biggest opening ever for a Russian film. Stalingrad also opened in the Ukraine, grossing $1.2 million.
The other big headline of the weekend was Paul Greengrass' Somali pirate pic Captain Phillips, which reverses a dry spell for Tom Hanks at the North American box office. The critically acclaimed film did better than expected after earning an A CinemaScore, eclipsing the $19.5 million earned a year ago by fellow adult drama Argo.
Captain Phillips, based on real events and costing $55 million to produce, skewed slightly male (52 percent), while more than 60 percent of the audience was over the age of 35. The film's awards prospects should be boosted by its promising box office performance. Hanks' last several films have underperformed, particularly Cloud Atlas (2012) and Larry Crowne (2011). "We couldn't be happier to be a part of this film. To open to $26 million with Gravity being in the marketplace is an extraordinary feat," said Sony president of worldwide distribution Rory Bruer. "It says volumes for the film and its life. It's one of those performances by Tom Hanks that everyone will want to see."
After Captain Phillips, the weekend's only other new wide player was exploitation action film Machete Kills, from writer-director Robert Rodriguez. Machete Kills quickly fizzled, debuting to roughly $3.8 million -- the worst wide opening of the filmmaker's career. With a cast led by Danny Trejo, Mel Gibson and Michelle Rodriguez, Machete Kills is the third film based on the fake trailers accompanying Grindhouse. Receiving a B CinemaScore, the movie also stars Charlie Sheen (who is credited as Carlos Estevez), Lady Gaga and Antonio Banderas and Cuba Gooding Jr.
Machete Kills placed No. 4 after Gravity, Captain Phillips and Cloudy With a Chance of Meatballs 2. Cloudy 2, from Sony, grossed $14.2 million in its third weekend to place No. 3, pushing the family film's total to $78 million.
New Regency's ill-fated gambling thriller Runner Runner and Warner Bros.' Prisoners tied for No. 5 with $3.7 million each.
Runner Runner, starring Justin Timberlake opposite Ben Affleck, continued to struggle in its second weekend, falling 52 percent to $3.7 million for a tepid domestic total of $14.1 million. Overseas, where the film is doing slightly better, Runner Runner grossed $5.3 million from 55 markets for an international total of $31.3 million and world total of $45.4 million.
Prisoners has grossed $53.6 million for Alcon Entertainment and Warner Bros. in North America.

HERCULES: THE LEGEND BEGINS
A new trailer for the movie, HERCULES: THE LEGEND BEGINS has hit the internet. Here is the synopsis:
In Ancient Greece 1200 B.C., a queen succumbs to the lust of Zeus to bear a son promised to overthrow the tyrannical rule of the king and restore peace to a land in hardship. But this prince, Hercules, knows nothing of his real identity or his destiny. He desires only one thing: the love of Hebe, Princess of Crete, who has been promised to his own brother. When Hercules learns of his greater purpose, he must choose: to flee with his true love or to fulfill his destiny and become the true hero of his time. The story behind one of the greatest myths is revealed in this action-packed epic - a tale of love, sacrifice and the strength of the human spirit.
SUNDAY, OCTOBER 13, 2013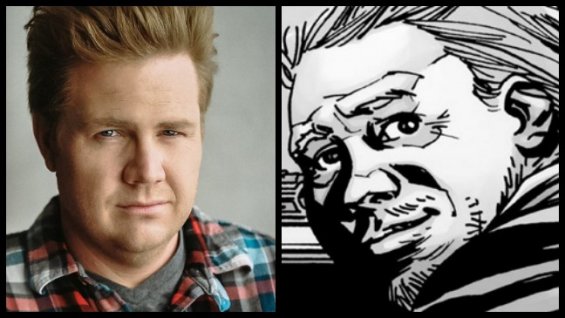 THE WALKING DEAD
AMC's The Walking Dead is bringing in two more pivotal characters from Robert Kirkman's long-running comic series on which it is based.
Retired at 35 alum Josh McDermitt has joined the zombie drama in the series regular role of Dr. Eugene Porter, The Hollywood Reporter has learned. He'll be joined by Southland alum Michael Cudlitz as his traveling companion (and series regular role) Abraham, producers announced Saturday at New York Comic-Con, where the actor was a surprise addition, appearing in character from the audience.
[Warning: Spoilers from the comics series follow.]
In the Image/Skybound comics, Eugene is a former high school science teacher who first appears in the 53rd issue of the series. He travels with sports coach/Army Sgt. Abraham Ford (Cudlitz) and Rosita (new recurring player Christian Serratos). The trio eventually crosses paths with Rick as they make their way to Washington. However, unbeknown to Rick as well as eventual couple Abraham and Rosita, Eugene is lying when he claims to know what caused the zombie outbreak and instead is using the physically superior former sports coach to protect him.
The character remains alive in the comics and proves to be a key part of Rick's group, using his science know-how to manufacture ammunition.
"We're going to tell a version of the Eugene, Abraham and Rosita comic stories, that's what we do," showrunner Scott Gimple tells THR, noting that like the series has done before, there will be similarities and differences to how AMC handles the characters. "I love those characters from the book, they are very different flavors of comic book characters than we've seen on the show."
Eugene for his part, disguises the fact that he's a smart guy by altering his appearance in order to further protect himself. "Josh looks breathtaking in a mullet, he was born to wear one," Gimple said with a laugh. "I can proudly announce we will see a mullet!"
The arrival of the characters also opens the door for the series to explore different locations than the prison. "We're going to get to those characters in a bit but before that, we're going to be exploring a lot of different locations," Gimple says. "We're at the prison the first two episodes. We start looking at other places in episode three on but that isn't even tied with them yet.
Abraham, meanwhile, is a married father of two who following the outbreak returned from a hunt for supplies to find his wife and young daughter had both been raped and his young son force to watch. He ultimately kills the culprits and loses his family, who flee him in fear and are latter found, turned. He eventually becomes Rick's right-hand man after his group loses a key member in battle.
Repped by Innovative and Trademark Talent, McDermitt's credits also include Work It, Last Comic Standing (where he was a semi-finalist during season four) as well asABC pilot Kings of Van Nuys. He was a regular on TV Land's recently canceled Retired at 35.
Cudlitz is repped by APA, Gold Coast and Stone Meyer. His credits include TNT's recently canceled Southland as well as Band of Brothers.
The Walking Dead returns for its fourth season Sunday at 9 p.m. on AMC.

WEEKEND BOX OFFICE
Alfonso Cuaron's Gravity continues to defy expectations, grossing $12.7 million on Friday for a projected $45 million weekend.
That means the 3D space epic -- starring Sandra Bullock and George Clooney -- will fall less than 18 percent in its second weekend -- marking the lowest decline in history for a film that opened over $50 million (The Incredibles was the previous record-holder at 29 percent). This doesn't count holiday weekends.
Gravity's North American total is $91.9 million through Friday; it will cross the $100 million mark sometime on Saturday. Globally, the movie should hit $175 million by Sunday.
The other big headline is Paul Greengrass' Somali pirate drama Captain Phillips. The adult drama opened to a strong $8.2 million on Friday, putting it on course to earn $25 million for the weekend in a victory for star Tom Hanks. The critically acclaimed Sony film earned an A CinemaScore. Captain Phillips, based on real events and costing $55 million to produce, is hoping to be an awards player.
After Captain Phillips, the weekend's only other new wide player is exploitation action film Machete Kills, from writer-director Robert Rodriguez. Machete Kills debuted to a dismal $1.4 million on Friday and may not hit $4 million in its debut.
With a cast led by Danny Trejo and Michelle Rodriguez, Machete Kills is the third film based on the fake trailers accompanying Grindhouse.

TEEN WOLF RENEWED
MTV has renewed Teen Wolf for a fourth season.
The cable network has picked up 12 more episodes of the supernatural drama, it was revealed Saturday at New York Comic-Con. Season four will premiere in 2014.
MTV also announced a new talk show, Wolf Watch, that will begin airing after new episodes of Teen Wolf when the series returns for the remaining 12 episodes of season three Monday, Jan. 6, 2014.
The half-hour Wolf Watch will be hosted by Jill Wagner, who plays Kate Argent on the series. Wolf Watch will offer more insight into Teen Wolf, touching on topics such as its mythology, romances and bromances. Guest appearances from the cast, as well as celebrity fans are expected.
The news comes following a strong first half of season three, during which Teen Wolf averaged 2.8 million viewers and a 2.5 rating in MTV's target 12-34 demographic, making it the most-watched and highest-rated season thus far.
MTV's announcement of an accompanying Teen Wolf talk show comes after other cable networks like AMC and TNT opted to continue the discussion for its flagship series with similar talk show formats for water-cooler series Breaking Bad, The Walking Dead and Falling Skies. The renewal keeps Teen Wolf firmly in the MTV family, along with Awkward, which was picked up for a fourth season. Teen Wolf was developed by Jeff Davis, who executive produces with Russell Mulcahy, Marty Adelstein, Rene Echevarria, Tony DiSanto and Liz Gateley. Tyler Posey, Crystal Reed, Dylan O'Brien, Tyler Hoechlin and Holland Roden star. The first half of the season is available on DVD on Dec. 10.

STAR WARS REBELS
Disney and Lucasfilm have unveiled the villain for animated TV series Star Wars Rebels.
The first image of the Inquisitor, dressed in all black and described as an "intimidating figure," debuted at New York Comic-Con during the Lucasfilm panel Saturday. The Inquisitor is hired by Darth Vader to hunt down the remaining Jedi. In the image above, four Stormtroopers are seen in shadow behind the Inquisitor, wielding his weapon as he prepares for battle.
Star Wars Rebels takes place between Star Wars: Episode III - Revenge of the Sith and Star Wars: Episode IV - A New Hope, which spans about two decades. The animated series is set "in a time where the Empire is securing its grip on the galaxy and hunting down the last of the Jedi Knights as a fledgling rebellion against the Empire is taking shape."
This comes less than a week after a 16-second teaser trailer for Star Wars Rebels debuted on Disney XD. During Comic-Con, concept art by Ralph McQuarrie and the official logo were released and The Hollywood Reporter first reported in September that David Oyelowo and Freddie Prinze Jr. were in the process of being cast as the voice leads.
Star Wars Rebels hits Disney Channel as a one-hour special in 2014, before premiering as a series on Disney XD.
SATURDAY, OCTOBER 12, 2013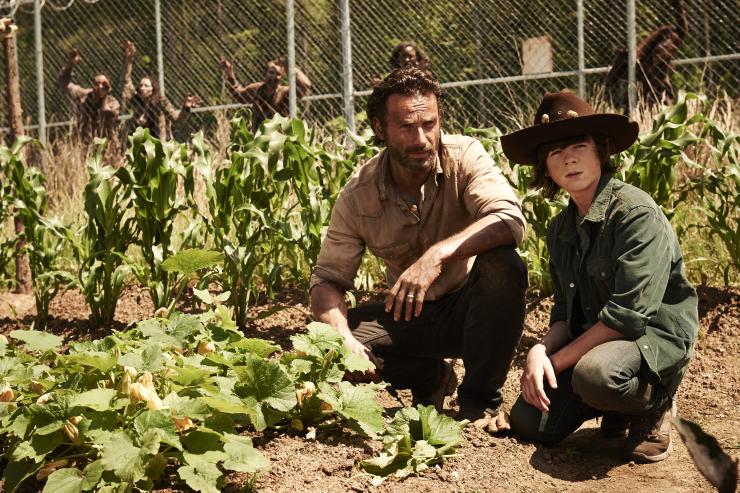 THE WALKING DEAD
We can't wait for season four, but that doesn't mean we shouldn't take some time to look back at the madness that was season three.
The last season of AMC's megahit The Walking Dead was the most plot-heavy year of the show so far, and that's really saying something. We said goodbye to favorite characters, watched a lot of incidental characters get munched on by Walkers, met plenty of new enemies, drew plenty of battle lines and set up an entirely new paradigm for the fourth season. It's a lot to process, especially if you haven't revisited it in a while.
So, in the spirit of helping you catch up while savoring the chance to relive all the blood, betrayal and body count of season three ourselves, we prepared this handy little guide featuring the key developments each episode from last season had to offer.
[Warning; Spoilers ahead!]
So, if you remember Lori died, but forgot how it happened, we've got your answer. If you remember the Governor attacked the prison, but not how it turned out, we've got your answer. If you simply can't remember the fate of T-Dog (OK, seriously, who doesn't remember the fate of T-Dog?), we've got your answer.
AMC has been running the old episodes every night. Tonight there are three more from 8-10:00pm. At 9:00pm, there is a preview of Season 4, so don't miss it.

The Walking Dead returns this Sunday at 9/8C on AMC.

THE FALLING SKIES
Sadly, not all of us can make it out to New York Comic-Con this weekend — but we at least have all the awesome new Falling Skies footage they were showing off in Manhattan.
The show has made a habit of reinventing itself each season, from being on the road to setting up camp at a human settlement to introducing a revolving cast of alien threats each year.
For year four, it looks like the 2nd Mass will be going back to its rambling roots, as the new footage shows the alien-fighting gang back on the run after the events of season three. Despite the change in venue, things looks as WTF-ey as usual — which is probably a good thing.
The new season is set to return in summer 2014.

DAVINCI'S DEMONS
A trailer for the second season of Starz's "Da Vinci's Demons" debuted today at New York Comic Con and you can now check it out.
The historical fantasy was created by David S. Goyer and produced by Adjacent Productions. It follows the 'untold' story of the world's greatest genius, Leonardo da Vinci, during his turbulent youth in Renaissance Florence.
Season two of "Da Vinci's Demons" finds Florence thrown into chaos in the wake of the Pazzi conspiracy and Leonardo da Vinci (Tom Riley) must push the limits of his mind and body to defend the city against the forces of Rome. While the Medicis go to unthinkable lengths to deal with new threats, da Vinci continues on his quest to find the fabled Book of Leaves and uncover the secret history of his mother. He'll come to realize that he has lethal competition in his quest -- new enemies who may be even worse than the forces of Pope Sixtus. His search will take him to faraway lands and force him to reevaluate everything he knew about the world and his own history.

BLACK SAILS
The series set to premiere in January 2014, Starz today debuted a trailer for their upcoming Michael Bay executive produced high-seas drama "Black Sails."
The pirate adventure centers on the tales of Captain Flint (Toby Stephens) and his men and takes place twenty years prior to Robert Louis Stevenson's classic "Treasure Island." Flint, the most brilliant and most feared pirate captain of his day, takes on a fast-talking young addition to his crew who goes by the name John Silver (Luke Arnold). Threatened with extinction on all sides, they fight for the survival of New Providence Island, the most notorious criminal haven of its day - a debauched paradise teeming with pirates, prostitutes, thieves and fortune seekers, a place defined by both its enlightened ideals and its stunning brutality.
The series also stars Zach McGowan ("Shameless") as rival Captain Charles Vane; Toby Schmitz as Rackham, Vane's right hand; Hannah New as Eleanor Guthrie, a determined young woman who runs the smuggling operation on New Providence; Jessica Parker Kennedy as Max, a tortured young prostitute who sees the dark side of New Providence; Clara Paget as the beautiful but cold-blooded Anne Bonny and Tom Hopper ("Merlin") as Billy Bones, boatswain of Flint's ship.
"Black Sails" is executive produced by Bay (Transformers) and his Platinum Dunes partners Brad Fuller and Andrew Form, producers on The Texas Chainsaw Massacre (2003) and Nightmare on Elm Street (2009). The series was created by showrunner and executive producer Jon Steinberg (creator "Jericho," "Human Target") and co-executive producer Robert Levine ("Touch").
"Black Sails" will debut with an eight-episode season in January 2014, exclusively on Starz.

AGENTS OF S.H.I.E.L.D.
Though it won't air for days, we've got the first trailer from the fifth episode of "Marvel's Agents of S.H.I.E.L.D.". Titled "Girl in the Flower Dress," here's the official description:
"An elusive girl in a flower dress may hold the key to the mystery that brings Coulson and team to Asia to rescue a young man with an unusual and dangerous power; and Skye has a secret that jeopardizes her relationship with the team right when they need her most."
This episode is set to air on October 22 at 8PM on ABC.
FRIDAY, OCTOBER 11, 2013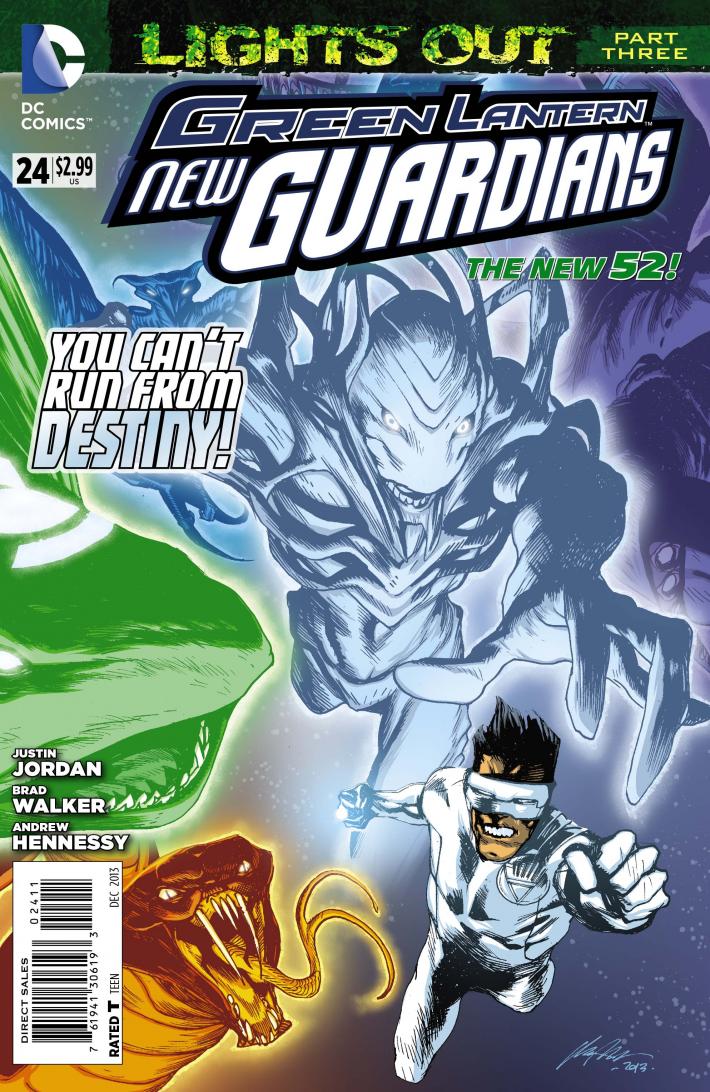 GREEN LANTERN
The Green Lantern Corps. just lost their home. Here's what happens next. Spoilers ahead!
If you haven't been reading any of DC's Lantern books, the Lights Out arc (and the few issues that led up to it) are a pretty cool jumping on point. Once long-time head writer Geoff Johns moved on from the Lanterns, there was an opportunity to really rip apart the status quo. And that's exactly what the new team of creators has done here. They've got a new (potentially) sympathetic antagonist in the form of Relic who isn't just invulnerable to the power of the Green Lanterns, but has utterly destroyed their home world of Oa.
So what happens next? How do Hal Jordan and co. fight back as their powers quickly dwindle? And why did the new Lantern creative team want to tell this specific story? While talking with Buzzfeed, current co-writer, Van Kensen says:
...the Green Lanterns are facing a situation where their inherent powers are borderline useless or even counterproductive. When you can't use your basic abilities then it's up to how smart you are or how creative you are to try to come up with a solution. That's been a lot of, I think, what makes this such a good story, and what made it so much fun to write.
And what about Relic? How does he fit into the mix? Jensen revealed this to Newsarama:
Relic is the best kind of villain, one that is completely justified (at least to himself) in his goal of saving the universe from the Lanterns. It's just that he is willing to use whatever means he can -- like destroying the Blue Lanterns and blowing up the Green Lanterns' Central Power Battery -- to achieve that goal. It's easy to sympathize with Relic, even as he commits atrocities. And Relic is all the more interesting because his very existence ties directly to the existence of the Lanterns.
With that, here are two covers and the first five pages of Green Lantern: New Guardians #24 which takes place immediately after the destruction of Oa and sees Hal at odds with his fellow teammates and Kyle Rayner about to face an unexpected change.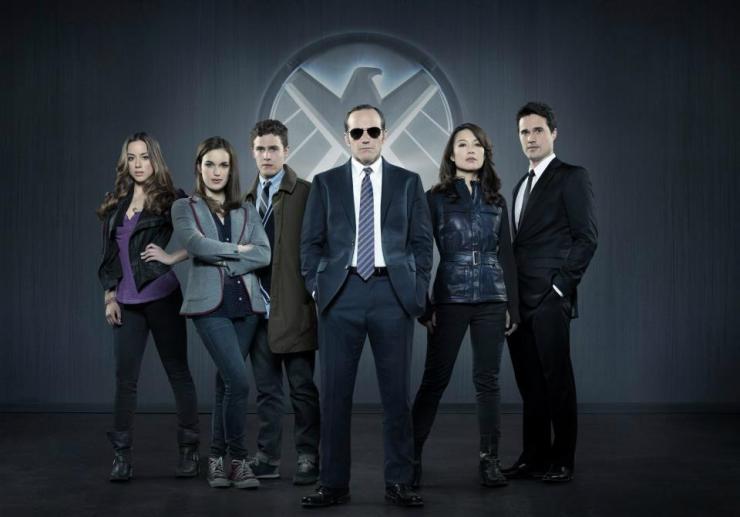 AGENTS OF S.H.I.E.L.D.
We're not surprised, but we're definitely excited: We're getting even more episodes of Agents of S.H.I.E.L.D.!
ABC announced today that Agent Coulson will live on for at least a little while longer on the small screen, as they've ordered an additional nine episodes of the Marvel Comics drama to bring its season total up to 22. It's definitely great news for fans, and it's a big step on the road to season two, but we've still got a lot of TV to get through before then, in a very competitive timeslot.
S.H.I.E.L.D. chalked up a very impressive debut two weeks ago, posting the best debut for a new drama in nearly four years, topping its timeslot in the key 18-49 demographic and besting powerhouses like NCIS and The Voice. It slipped in week two, and again slightly in week three, but it still finished second this week in the key demo with a 2.9 rating, just behind The Voice's 3.0. The show's holding its own against some very stiff competition, and that was enough to convince the network to give us more.
So Agents of S.H.I.E.L.D. will now be sticking around at least until the 2013-2014 TV season ends this spring, and given its early numbers that's not surprising at all. Now the question is whether it'll be able to stay strong through the season to come, including three crucial sweeps periods.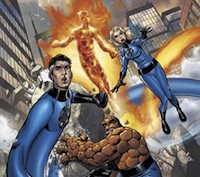 FANTASTIC FOUR
We've heard very little about that Fantastic Four reboot lately, but all of a sudden that's changing.
Variety reports that a short list of young actors and actresses are heading over to 20th Century Fox to read for the roles of Reed Richards/Mr. Fantastic and Sue Storm/The Invisible Woman.
Among the names mentioned for Mr. Fantastic are Kit Harington of Game of Thrones fame, Jack O'Connell (a U.K. actor who will be seen early next year in 300: Rise of an Empire) and Miles Teller, who has won acclaim for playing a high-school drunk in The Spectacular Now.
Meanwhile, Saoirse Ronan (Hanna), Kate Mara (American Horror Story) and Margot Robbie (who can be seen shortly in the time-travel romance About Time) are apparently being lined up to read for Sue Storm.
What's interesting about all three ladies is that they are Caucasian, while the longtime frontrunner for Johnny Storm/Human Torch, Michael B. Jordan (Chronicle), is African-American, indicating that there could be changes afoot in the team's origin story.
There's no word yet on who might play Ben Grimm/The Thing or who the movie's villain might be, but one thing is clear from this list: The filmmakers are going young for the roles, which likely means that we will in fact see all over again how the Four became Fantastic in the first place.
Chronicle director Josh Trank is still on board for the film, but the script has been through a few different laptops and is now getting spiffed up by screenwriter Simon Kinberg, who has X-Men: The Last Stand and X-Men: Days of Future Past on his resume.
Fox wants to get this show on the road by early 2014 to meet its March 6, 2015, release date, so we expect to hear about some casting confirmations soon.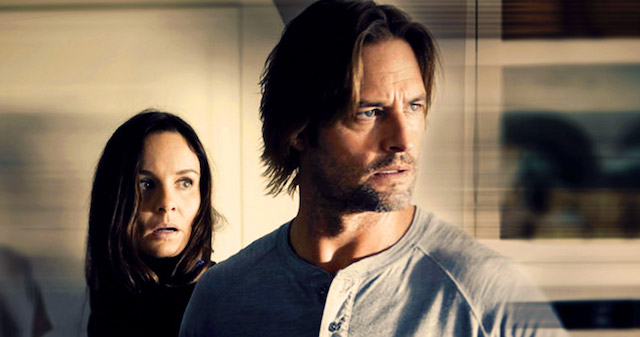 COLONY
It looks like The CW will be doubling down on Mars in the next pilot season.
The network has put its second Mars-set sci-fi series into development, which will join Red — a show that kind of sounds like Firefly meets Defiance.
The new series is dubbed Colony, and will take a page out of the classic Roanoke Colony legend of the 16th-century British settlement that disappeared seemingly without a trace and baffles historians to this day. Yeah, that actually sounds pretty cool.
The pilot is being written by Ian Goldberg (Once Upon a Time) and is described as "a thriller about a group of explorers sent to colonize Mars, willing to leave their lives behind to brave the dangers of another planet, and the terrifying reality they discover."
From Arrow to The Tomorrow People, The CW has been making a major push into the sci-fi genre the past few years (along with stalwarts like Supernatural), and it's nice to see that trend continue. THE HOBBIT: THE DESOLATION OF SMAUG
Warner Bros. Pictures has started airing the third TV spot for Peter Jackson's The Hobbit: The Desolation of Smaug.
The second in a trilogy of films adapting the enduringly popular masterpiece "The Hobbit," by J.R.R. Tolkien, The Hobbit: The Desolation of Smaug continues the adventure of the title character Bilbo Baggins (Martin Freeman) as he journeys with the Wizard Gandalf (Ian McKellen) and thirteen Dwarves, led by Thorin Oakenshield (Richard Armitage) on an epic quest to reclaim the lost Dwarf Kingdom of Erebor. The film opens in 3D, 2D and IMAX theaters on December 13.
THURSDAY, OCTOBER 10, 2013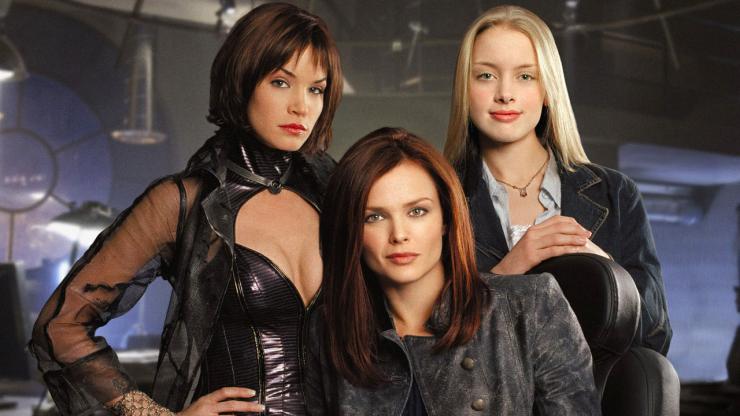 BIRDS OF PREY
Hey, remember when there was a Birds of Prey show on The WB?
Black Canary, Huntress and Oracle. Those are three of the greatest members of the DC Universe, and they were made even better when they teamed up to become the Birds of Prey. Gail Simone penned one of her best comic runs ever under that title, and since then those characters have stood out as some of the best-developed ladies in funny books.
When it comes to live-action incarnations, though, Birds of Prey came up dreadfully short. In its single season, it spent too much time trying to be a darker, edgier, more lady-fied Smallville and very little time actually bringing what made the comic great to the small screen. Yes, it had a bit of a campy charm, but not enough to justify a second season.
But these three women may be set to reunite under a very different banner -- Arrow.
In a recent interview, executive producers Marc Guggenheim and Andrews Kreisberg talked about Canary's upcoming appearence and acknowledged that, with Huntress already on the show, they are only one member away from a Birds of Prey reunion. Here's how Guggenheim weighed in on the possibility:
We have an idea for how to do our version of Birds of Prey. When you think about it, we have a lot of pieces. It's a lot like the Suicide Squad. As we continue to populate our world with new characters and some returning people from last year, you start to go, "We're really close to that!" We saw this awesome bit of production art for a new set that we realized plays into Birds of Prey completely. Our Art Department wasn't even intending that! There's certainly a momentum towards that, but everything has to happen in due time. With respect to Birds of Prey specifically, there's an actress that we particularly need to make that piece work and we need to check on her availability.
We think that's cause for some cautious excitement. While Arrow's shying away from the super part of superheroes can be hit-or-miss, we feel like it could really serve the Birds of Prey well, especially since doing the opposite proved so harmful to them on their own show. STAR WARS
If you take away one thing from this 1976 teaser for Star Wars, it's that movie trailers have come a long way.
For some reason known only to the people running it, the official YouTube channel for the Star Wars franchise has posted this two-minute teaser for Star Wars Episode IV: A New Hope (back when it was known as just plain Star Wars) online so you can recapture the magic that drew millions of moviegoers to the theater in the first place.
Or can you? The truth is that we have to wonder if the movie would sell today with a teaser like this. Anchored by a ponderous voiceover that promises a "big, sprawling space saga of rebellion and romance," the teaser compiles a lot of randomly edited clips together, mostly out of context, but never seems to generate much excitement about the film that's being marketed.
Also notable is the absence of any of the soaring John Williams themes that have played such a vital role in all the Star Wars movies. While it's commonplace for teasers to use temp music -- since they often are released before the picture has been scored -- the monotonous music used for this one is a further drain on our attention.
Of course, that could just be a byproduct on our part of watching too many modern trailers, which do everything but lift you out of your seat and shake you. There's also an argument to be made that current trailers give away too much of the movie or unveil all the best parts. And clearly this trailer did no harm whatsoever when Star Wars finally came out in May 1977. BITTEN
The first bloody sexy promo—as well as the show's first promotional poster—for Syfy's upcoming werewolf series Bitten are here.
Starring Smallville and V's Laura Vandervoort (who's many a sci-fi fan's favorite) as the only female werewolf in existence, Bitten is based on a novel written by Kelley Armstrong, and is the first part of her Women of the Otherworld series.
Like Lost Girl, Bitten is a Space network production that Syfy has acquired. The 13-part new fantasy drama series will air sometime in 2014.
Here's the upcoming series' synopsis:
The series follows Elena as she attempts to escape a world she never wanted to be part of (as well as the man who turned her into a werewolf), abandoning her pack and taking refuge in a new city, where she works as a photographer and hides her werewolf existence from her boyfriend. When bodies begin turning up in her pack's backyard, she finds herself back at Stonehaven, the werewolves' ancestral domain, where she will stop at nothing to defend her pack.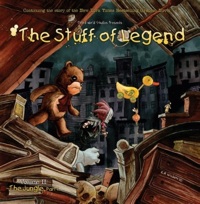 THE STUFF OF LEGEND
According to The Hollywood Reporter, the writing pair of Patrick Melton and Marcus Dunstan, who wrote four of the seven Saw movies, have been brought in to write the big screen adaptation of the comic book The Stuff of Legend.
Originally written by Mike Raicht and Brian Smith and illustrated by Charles Paul Wilson III, the Th3rd World Studios series is officially described as follows:
The year is 1944. An allied force advances along a war-torn beach in a strange land, outnumbered and far from home. Together, they fight the greatest evil they have ever known. Never ending waves of exotic enemies come crashing down on them, but they will not rest. Thousands of miles away, the world is on the brink of destruction. But here in a child's bedroom in Brooklyn, our heroes, a small group of toys loyal to their human master, fight an unseen war to save him from every child's worst nightmare.
Led by the toy soldier known as the Colonel and the boy's faithful teddy-bear named Max, the toys enter the realm known as The Dark. There they will face off against the Boogeyman and his army-- a legion of the boy's forgotten, bitter toys. Fighting to survive insurmountable odds, the toys will discover this is a battle not only for the soul of a child, but for their own as well.
Director Pete Candeland will helm the film, which is planned to blend both live action and CGI.
WEDNESDAY, OCTOBER 9, 2013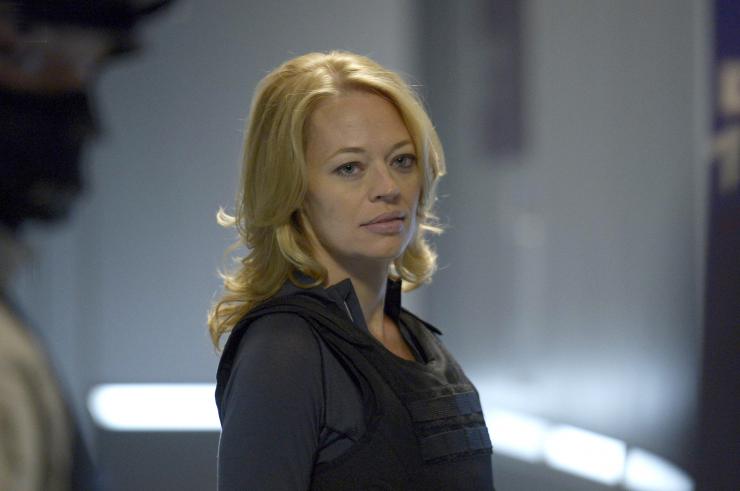 HELIX
Two of our favorite sci-fi icons are teaming up on Syfy.
We were already excited that Ron Moore was spearheading a new scripted sci-fi drama, Helix, which will weave the tale of a team of scientists from the Centers for Disease Control unraveling the mystery of a possible disease outbreak.
And while we expect government conspiracies, potential total annihilation and maybe a rogue Cylon hiding in the background, one thing we were not anticipating was this exciting new casting -- Star Trek: Voyager's own Jeri Ryan has officially joined the cast.
The former Borg will be taking on the role of Constance Sutton, the chief operating officer of Ilaria Corporation, owner of Arctic Biosystems. She's been described as "charming and savvy, (and) used to getting her way at any cost."
Ryan landed the Helix gig hot on the heels of her last show, Body of Proof, coming to an end after three seasons. We have to say, we're very pleased to see her returning to the sci-fi shores. After playing Seven of Nine for so many years, Ryan had been sticking mostly to more slice-of-life fare. And while we don't anticipate cybernetic implants or cat suits (what was the scientific explanation for that outfit again?), we imagine that strong, willful attitude Ryan brought to Voyager will be back again on Helix.
Ryan rounds out the current cast of Billy Campbell (The Killing, Killing Lincoln) and Hiroyuki Sanada (The Wolverine, 47 Ronin).
Helix is set to debut its 13-episode season in January 2014. BLADE RUNNER 2
Forget Indiana Jones and Han Solo — it sounds like Harrison Ford's other iconic sci-fi role might also be coming out of retirement.
After Prometheus, Ridley Scott got on a sequel kick, and we've been hearing for a while now that he was tinkering with a followup to his legendary classic Blade Runner. Well, apparently he's also been talking to former Replicant-hunter Ford about the gig.
Ford opened up to IGN about the project and revealed he's been meeting with Scott about the movie, specifically his potential involvement. He also drops the bombshell that he'd be "happy" to work with Scott again to bring the world of Blade Runner back to life. Yes, please.
Here's an excerpt:
"Yeah, we've been chatting about it… I truly admire Ridley as a man and as a director, and I would be very happy to engage again with him in the further telling of this story."
We've heard a lot of conflicting reports about the potential Blade Runner followup, but if Ford is involved, color us intrigued. For one thing, how exactly would that work ... especially considering the open-ended style of the original film. Hmm.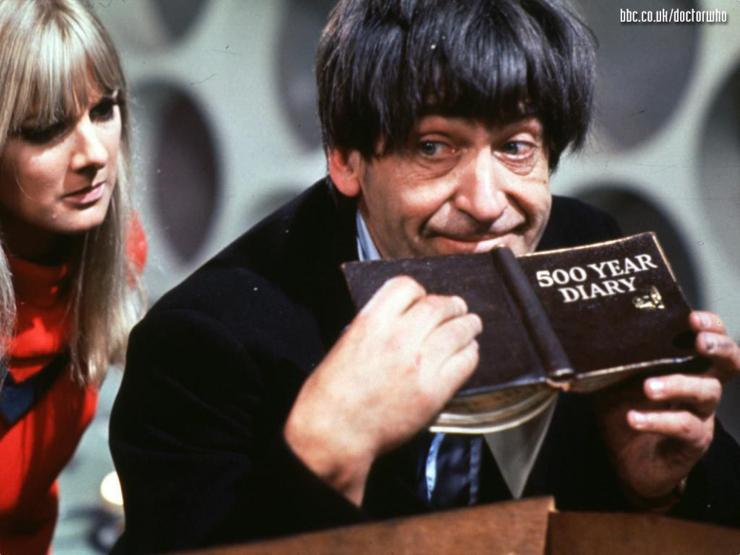 DOCTOR WHO EPISODES FOUND
Awesome news for Whovians everywhere! BBC News has confirmed long-running rumors that lost Doctor Who episodes had recently been found.
According to them, BBC Worldwide is set to confirm the exciting news at a press screening taking place later this week that a number (just how many is being kept under wraps for now) of early Doctor Who episodes were returned home to Auntie Beeb.
In all, 106 episodes from the early years of the beloved sci-fi series featuring the first two Doctors—William Hartnell's First Doctor and Patrick Troughton's Second Doctor—are currently missing because the BBC destroyed a staggering amount of original transmission tapes back in the 1960s and 1970s.
However—and thankfully—a lot of those episodes had been transferred to film for the foreign broadcasters, which saved a few of those heretofore-thought-forever-lost episodes.
Back in 1991, the full four installments of "The Tomb of the Cybermen," featuring Doctor number Two Patrick Troughton, were discovered in Hong Kong. This time, the lost Who episodes are rumored to come from Ethiopia.
The BBC will also probably announce how fans will be able to watch those recently found episodes later this week.
The extraordinary find coincides with the 50th anniversary of the long-running series, which will celebrate its half-century on Nov. 23 with a special episode titled "The Day of the Doctor," starring Matt Smith, David Tennant, Jenna Coleman, Billie Piper and John Hurt.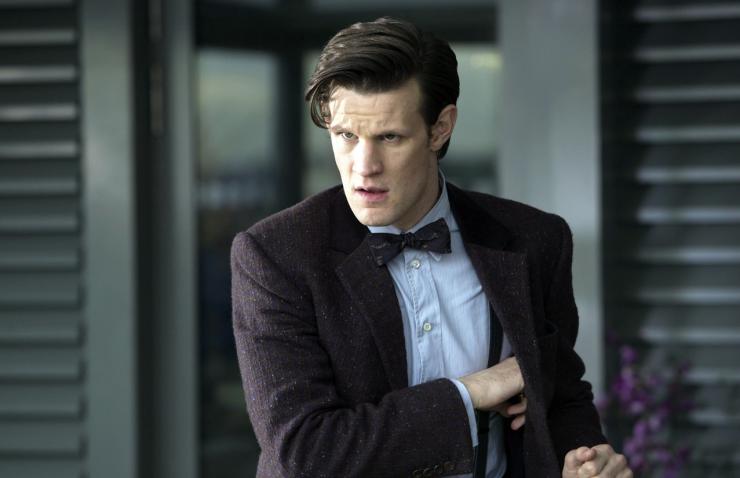 ARROW NEWS
If the Arrow powers-that-be have their way, Doctor Who's Matt Smith might show up in Starling City.
Arrow executive producer Andrew Kreisber is a major nerd (just check out the numerous geeky references made on Arrow and you'll see) and a massive Doctor Who fan to boot.
His current goal? Probably to nab the former Time Lord himself for a guest role on The CW's superhero drama series—according to the show's star himself.
Stephen Amell, who stars as Oliver Queen on Arrow, told SciFiNow:
"Andrew [Kreisberg] is such a Whovian, so if you were to say to him right now, 'Number one guest star actor/actress, who would it be?' Clearly it would be Matt Smith.
"I can tell you that if there was even the faintest chance that he is available, he would be hired immediately. They would probably hire him to take my job, they love Doctor Who so much."
If Smith signs up for an Arrow role (and we guess it may not happen before Smith finishes his run as everyone's favorite murdering psychopath, Patrick Bates, in the American Psycho musical, which opens in London in December), he'll be the third Doctor Who alum to appear on the series. The first being John Barrowman, aka Captain Jack Harkness, who'll be back for season two. The second one is the Doctor's wife herself, Alex Kingston, who played Dinah Lance in three episodes.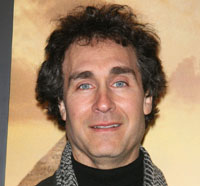 NARCO-SUB
The Bourne Identity and Mr. & Mrs. Smith director Doug Liman is in talks to take on Narco-Sub, TheWrap reports. The project was formerly set to be directed by the late Tony Scott.
Set up at 20th Century Fox, the action thriller is scripted by David Guggeneheim. Plot details of the project have not been released, but narco-subs in real life are so named because they're submersible vehicles built to transport narcotics (particularly from Colombia to Mexico) and their compact size is designed to elude radar.
Liman's next, Edge of Tomorrow, stars Tom Cruise and Emily Blunt and is set to hit theaters June 6, 2014.
TUESDAY, OCTOBER 8, 2013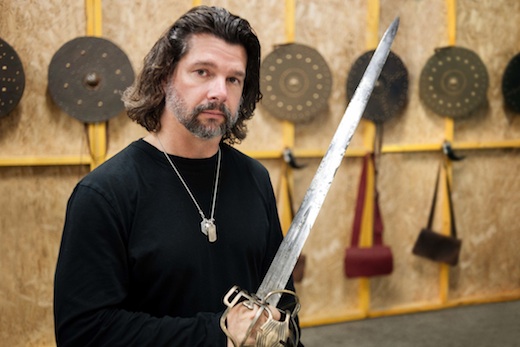 OUTLANDER
It's a big day for fans of Diana Gabaldon's novels: The Starz adaptation of "Outlander" has, at long last, gone into production.
The network announced on Monday (Oct. 7) that production on the highly-anticipated series, from "Battlestar Galactica" executive producer Ronald D. Moore, began filming on location in Scotland. To celebrate the news, Starz released a photo of Moore wielding a sword on set.
Moore had this to say about the series: "Day One and the battle is joined. We fight to do justice to the material and the fans. We'll return with our targes or on them." (For those wondering, a targe is a light shield used by the Scots. Don't worry, we had to look it up, too.)
"Outlander" tells the story of Claire Randall (Caitriona Balfe), a World War 11 combat nurse who's mysteriously swept back in time to the year 1743. Forced into a marriage with Jamie Fraser (Sam Heughan), she begins to fall for him, finding herself torn between her new reality and her desire to return to her husband in the 20th century.
The series is set to premiere on Starz in 2014. BEAUTY AND THE BEAST
With the return of "Beauty and the Beast" for Season 2, Catherine and Vincent are going to have to reevaluate their relationship. After all, Vincent (Jay Ryan) was kidnapped at end of the last season, leaving Catherine (Kristin Kreuk) behind.
In the Season 2 premiere, "Who Am I?," Cat has to deal with those changes. Actress Kristin Kreuk talked about this during a recent interview on the show's Toronto set.
What changes are coming to "Beauty and the Beast"?
Kristin Kreuk: It's going to be a different show this season. There's a whole new structure to it. Catherine and Vincent are kind of re-finding each other through -- at least in the beginning of the season ... And the stakes are going to be really high and there's a lot more action. I'm fighting a lot more this year. So we're very much on a mission this season.
Will we learn anything more about Cat's real father?
Kristin Kreuk: Because Catherine's dad -- as everyone but her knows -- is a bad guy or at least seems like a bad guy, that's going to drive a bunch of the plot.
Why does Catherine need to find Vincent so badly?
Kristin Kreuk: For Catherine, first of all, he was her lifeline. So when she finds him again, she can almost have access to herself. It's like her life comes back. And she discovers there's complications. In that, then it becomes about how do they come back together? So she's feeling love for him and frustration and a recognition that she's given up so much of her life for this one person and the struggle with that. And he's dealing with a whole other side of issues. But they have that strong connection, so they keep trying to find a way.
"Beauty and the Beast" Season 2 airs Mondays at 9 p.m. on The CW. STAR WARS REBELS
Lucasfilm has just debuted a short teaser for the highly-anticipated animated series "Star Wars Rebels"!
The series is set between the events of Episode III and IV -- an era spanning almost two decades never-before explored on-screen. It takes place in a time where the Empire is securing its grip on the galaxy and hunting down the last of the Jedi Knights as a fledgling rebellion against the Empire is taking shape.
"Star Wars Rebels" will be produced by Lucasfilm Animation, featuring many of the key talents that made "Star Wars: The Clone Wars." It is scheduled to premiere in fall 2014 as a one-hour special telecast on Disney Channel, and will be followed by a series on Disney XD channels around the world.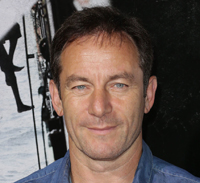 FURY
A new addition has been made to the ensemble cast of David Ayer's Fury. The Hollywood Reporter today brings word that Harry Potter franchise star Jason Isaacs is joining Brad Pitt, Shia LaBeouf, Logan Lerman, Michael Pena and Jon Bernthal for the World War II actioner.
Set at the very end of World War II, in April 1945, Fury follows the battle-hardened Wardaddy, who commands a Sherman tank and her five-man crew on a deadly mission behind enemy lines. Outnumbered and outgunned, Wardaddy and his men face overwhelming odds in their heroic attempts to strike at the heart of Nazi Germany.
Isaacs, who recently starred in A Single Shot, will play an experienced captain that Wardaddy turns to for advice.
QED is producing the film with John Lesher's Le Grisbi Productions and Ethan Smith. Alex Ott is co-producing the feature with Ayer. Principal photography has begun and Columbia Pictures anticipates releasing the film on November 14, 2014.
MASTERS OF THE UNIVERSE
Although the G.I. Joe: Retaliation helmer was officially attached to direct Masters of the Universe as recently as this past July, The Hollywood Reporter today brings word that Jon M. Chu is no longer set to direct the adaptation of the 1980's cartoon series. They also bring word that Terry Rossio, who recently worked on Gore Verbinski's The Lone Ranger, has signed on to rewrite the current screenplay.
Masters of the Universe follows Prince Adam, who transforms into a warrior called He-Man and becomes the last hope for a magical land called Eternia, ravaged by technology and the evil Skeletor.
Sony and Escape Artists' Todd Black, Jason Blumenthal and Steve Tisch have been developing the property, based on the popular Mattel toy line that originated in 1982 and spawned several animated series along with a 1987 live-action film.
MONDAY, OCTOBER 7, 2013
BABYLON 5 AND TODAY'S TECHNOLOGY
I did a total double-take yesterday while watching a football game. This wonderful Samsung Galaxy watch commercial came on and behold, Babylon 5 had two of the many segments illustrating how wrist communicators have been used in TV. It was awesome. This is a great way of keeping Babylon 5 out in front of the public. Many may not know the show, but having it included in a commercial can provide a discussion point. STAR WARS SPIN-OFF
With new Star Wars movies coming out in force starting in 2015, any potential TV series have been shelved. But what might have been?
Paul J. Alessi created what seems to be a pitch for a CTV series, and if we were able to travel to alternate worlds, we'd definitely like to visit the one where his vision was brought to life. What you're about to see seems like a battle between a Sith Lord and a Jedi, but it's much more than that.
If you're going to run with the idea of a young Jedi to bring in the kid audience, then this is how you do it. The effects are absolutely stellar, too. As for the subject matter? We're definitely hoping it'll be touched upon in Episode VII, or VIII, or IX. Just so long as it comes up. DRACULA RISING
The promotional campaign for NBC's Dracula series is heating up. In addition to a new TV spot, the network has kicked off a "Dracula Rising" animated series on YouTube which presents an origins tale.
The series premieres October 25th and stars Jonathan Rhys Meyers. It's the late 19th century, and the mysterious Dracula has arrived in London, posing as an American entrepreneur who wants to bring modern science to Victorian society. He's especially interested in the new technology of electricity, which promises to brighten the night - useful for someone who avoids the sun. But he has another reason for his travels: he hopes to take revenge on those who cursed him with immortality centuries earlier. Everything seems to be going according to plan... until he becomes infatuated with a woman who appears to be a reincarnation of his dead wife.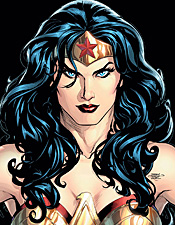 WONDER WOMAN
Warner Bros. Entertainment CEO Kevin Tsujihara participated in a lunchtime keynote interview at the USC Gould School of Law on Saturday and talked briefly about their DC Comics properties.
According to The Hollywood Reporter, Tsujihara said that the lack of superhero movies at Warner Bros. other than the Superman and Batman franchises had been a "missed opportunity." He added, however, that the studio has "huge plans for a number of other DC properties on TV."
He specifically addressed Wonder Woman: "We need to get Wonder Woman on the big screen or TV."
Will we get the Wonder Woman TV series "Amazon" on The CW? Is Wonder Woman part of Zack Snyder's Superman/Batman movie, as was rumored last month? Or would she get her own movie? We'll have to wait and see what's in store for Diana.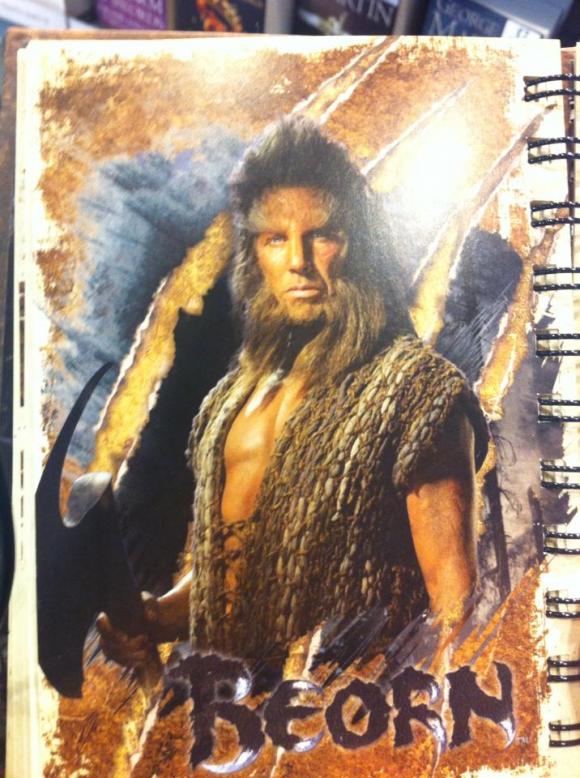 SUNDAY, OCTOBER 6, 2013
THE HOBBIT
After waiting for what seems like forever, we're finally getting our very first look at The Hobbit's shapeshifter character Beorn. But this time, it's in his human form.
Be aware that what you'll see below may be a tad spoilery.
The image (it's not high-res but it looks decent enough) comes courtesy of hobbitfilm.it and was plucked from the film's tie-in book The Hobbit: The Desolation of Smaug – Annual 2014.
Played by Swedish actor Mikael Persbrandt, the facially-hairy Beorn—who looks like he may have had the same hairdresser as Wolverine—is carrying what looks like a pretty dangerous sharp axe.
Frankly, we're not so sure about all that crazy facial hair happening there, but he looks fierce enough.
The Hobbit: The Desolation of Smaug will arrive into theaters on December 13, 2013.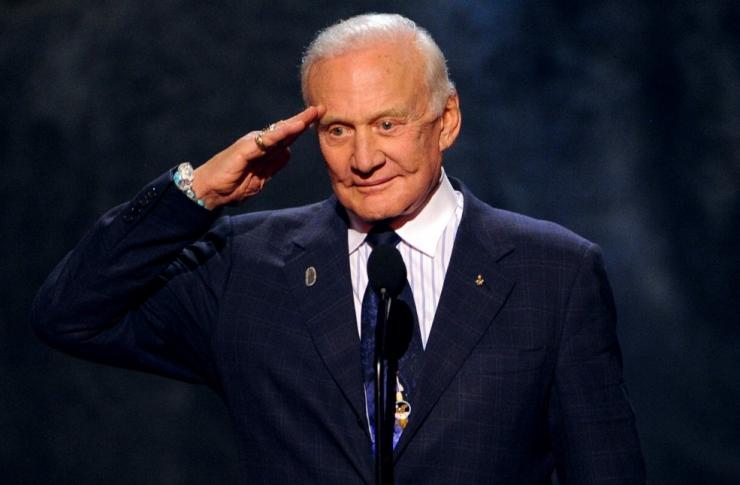 GRAVITY
Some are calling it the most realistic depiction of space ever, but what did a real astronaut think of Alfonso Cuaron's Gravity?
Buzz Aldrin is one of the most famous names in the history of space travel. He was the second person ever to set foot on the moon, after his Apollo 11 crewmate Neil Armstrong, and set a NASA record (which has since been broken) for spacewalking during the last Gemini mission, Gemini 12, in 1966. In the decades since his NASA career ended he's written several books about his space experiences and remains an outspoken advocate for the future of human space exploration. So of course he'd be interested in Cuaron's visually stunning depiction of two astronauts stranded in orbit after their spacewalk goes horribly wrong.
Aldrin got a chance to see an advance screening of Gravity, which opens today, and penned a review for The Hollywood Reporter from the perspective of someone who really knows what space looks like. So what did he think?
"I was so extravagantly impressed by the portrayal of the reality of zero gravity," Aldrin wrote. "Going through the space station was done just the way that I've seen people do it in reality."
Aldrin also praised the way Cuaron and company depicted the movements of the astronauts themselves, and proclaimed the way George Clooney's Matt Kowalski moves, especially when he and Sandra Bullock's Dr. Ryan Stone are tethered together, to be spot-on.
"I was happy to see someone moving around the spacecraft the way George Clooney was. It really points out the degree of confusion and bumping into people, and when the tether gets caught, you're going to be pulled -- I think the simulation of the dynamics was remarkable."
But Aldrin didn't find everything to be perfect. Two things in particular about Gravity rang not quite true for him.
"We were probably not as lighthearted as Clooney and Sandra Bullock. We didn't tell too many jokes when people were in some position of jeopardy outside the spacecraft, but I think that's the humanity coming through in the characters. This movie gave great clarity to looking down and seeing the features of Earth … but there weren't enough clouds, and maybe there was too precise a delineation from space."
For Aldrin, though, Gravity was more than a thrilling space adventure with remarkable technical prowess. Film critics are giving it rave reviews, and James Cameron has dubbed it "the best space film ever done," but it's not just a movie for the spaceflight legend who continues to worry about the future of space exploration. Aldrin's been excited about human space travel for decades, and he hopes Gravity's realistic depiction of it -- even if it is about the dangerous side of things -- will re-ignite a greater public interest in future spaceflights.
"We're in a very precarious position of losing all the advancements we've made in space that we did 40 years ago, 50 years ago," he said. "From my perspective, this movie couldn't have come at a better time to really stimulate the public. I was very, very impressed with it."
WEEKEND BOX OFFICE
Based on the strength of Friday's $17.5 million take, Alfonso Cuaron's 3D space epic Gravity is expected to gross between $48 million and $50 million in its North American debut. If so, it would mark one of the top October openings of all time and the best for a non-sequel.
Starring Sandra Bullock and George Clooney, the critically acclaimed Warner Bros. movie is doing huge business in 3D theaters (both conventional houses and Imax locations), with 83 percent of revenue coming from the more pricey format. It's a needed boost, considering the dramatic decline in 3D attendance. Imax's Friday take was a stellar $3.6 million.
Gravity is also destined to mark the biggest three-day opening ever for both stars, not accounting for inflation. Bullock's best is The Heat ($39.1 million); Clooney's record is Batman & Robin ($42.9 million). The 90-minute film earned an A- CinemaScore from moviegoers, and not the A+ that Bullock's The Blind Side enjoyed.
Overseas, Gravity debuted to $3.8 million on Thursday in select markets and is likewise enjoying big business on 3D screens. Russia turned in $1.2 million to claim the No. 1 spot ahead of fellow openers Insidious: Chapter 2 and local comedy Vsyo Vklyucheno 2. The 3D share was 76 percent, including 15 percent from Imax.
Gravity revolves around two astronauts left floating in space when their space shuttle is damaged. Producers include David Heyman, who played a key role in the Harry Potter franchise.
Paranormal Activity 3 sports the top October opening of all time ($52.6 million), followed by Jackass 3-D ($50.4 million), Taken 2 ($49.5 million) and Scary Movie 3 ($48.1 million).
The only other new wide player this weekend is New Regency and 20th Century Fox's gambling thriller Runner Runner, starring Justin Timberlake and Ben Affleck. Runner Runner grossed $2.8 million Friday and may not hit $8 million in its opening, a disappointment for its stars. The saving grace is the film's reported $30 million budget.
Adding intrigue to the weekend, Sony has decided to sneak Paul Greengrass' Somali pirate drama Captain Phillips, starring Tom Hanks, into 800 theaters on Saturday night a week ahead of its opening. Both Captain Phillips and Gravity are considered awards contenders.
Runner Runner was directed by Brad Furman and also stars Gemma Arterton and Anthony Mackie. New Regency, which fully financed the film, partnered with Leonardo DiCaprio's Appian Way on the project. From a script by Brian Koppelman and David Levien (Rounders), Runner Runner revolves around a Princeton University student (Timberlake) who is lured into an Internet poker scam by the owner of a popular gambling website (Affleck).
Runner Runner placed placed No. 3 on Friday, where it's expected to stay for the weekend, after Gravity and Sony's holdover Cloudy With a Chance of Meatballs 2. The 3D animated family film grossed $4.7 million on its second Friday for projected $20 million weekend.
Alcon Entertainment and Warners' Prisoners placed No. 4 on Friday with $1.7 million. The dark drama, starring Hugh Jackman and Jack Gyllenhaal, should take in $5.6 million for the weekend, pushing its domestic total to nearly $48 million in its third weekend.
Ron Howard's Rush fell to No. 5 on its second Friday, grossing $1.4 million for a projected $4.6 million weekend and North American total of $18.3 million.
Among more limited offerings, Pantelion Films -- the joint-venture between Lionsgate and Grupo Televisa -- entered the market with another Spanish-language film on the heels of the success of Instructions Not Included. Romantic comedy Pulling Strings, starring Mexican celebrity Jamie Camil, placed No. 9 Friday as it opened in 387 theaters, grossing $757,000 for a projected $2.8 million opening. That's well less than the $7.8 million opening of Instructions Not Included at the end of August, but with Gravity sucking up much of the oxygen, it's still a solid start. Pulling Strings is also facing competition from Instructions Not Included, which is expected to earn a pleasing $1.8 million for the weekend, bringing its North American total of $41 million.
Pulling Strings, set in Mexico City, stars Camil has a mariachi who falls for an American embassy employee (Laura Ramsay).
Nicole Holofcener's Enough Said, starring the late James Gandolfini opposite Julia Louis-Dreyfus, cracked the top 10 chart as it expanded into a total of 437 theaters in its third weekend, grossing $595,000 Friday. The dramedy is expected to earn $2.2 million for the weekend, pushing its domestic total to $5.4 million.
ENDER'S GAME
Summit Entertainment has released the first clip from the big screen adaptation of Ender's Game featuring Asa Butterfield and Harrison Ford.
Directed by Gavin Hood, Ender's Game also stars Ben Kingsley, Hailee Steinfield, Abigail Breslin, Viola Davis, Nonso Anozie, Stevie Ray Dillmore, Andrea Powell, Moises Arias, Conor Carroll, Aramis Knight, Branden Soo hoo, Jimmy "Jax" Pinchak, Suraj Parthasarathy and Khylin Rhambo. The film opens in conventon theaters in IMAX on November 1st.

VOTE FOR BABYLON 5
There's a poll on IMDb to vote for the best series finale episode. Predictably, 'Breaking Bad' has been winning hands down. ButBabylon 5's 'Sleeping in Light' is holding on to #2! Go to IMDb and cast your vote! It is a great way to show support for the show. #FREEBABYLON5
SATURDAY, OCTOBER 5, 2013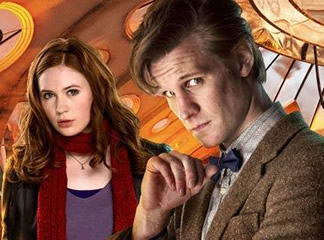 DOCTOR WHO ANNIVERSARY
Whovians that were excited at the possibility of another companion's return for "Doctor Who's" 50th anniversary special, cool your jets. Amy Pond will not be making an appearance, that that's coming from Karen Gillan herself.
While speaking with the Radio Times, Gillan confirms, "I'm not in it, just to put that out there." When Gillan left the series, her character was sent back in time along with her husband (Arthur Darvill) by a Weeping Angel, to a place where the Doctor's TARDIS cannot go.
Of course, Gillan is still excited about the special, that will see the return of David Tennant and Billie Piper, as the tenth Doctor and Rose Tyler, respectively. Not only is she planning to watch it, but Karen makes it sound like there could be a party happening. "I think I'm going to be in America, so I'll probably round up all the people who like to watch 'Doctor Who' in the area," she says. "We'll probably watch it and drink PG Tips and eat Jammy Dodgers, if I can get them."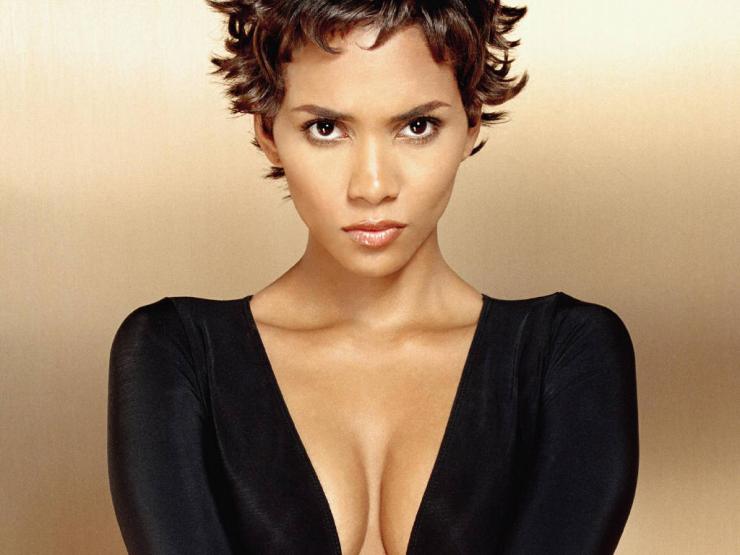 HALLE BERRY AND EXTANT
When Steven Spielberg heads back to the small screen, he has the clout to bring a few movie stars with him. His latest? Halle Berry, who has signed on for his new sci-fi series Extant.
Developed for CBS, the Spielberg-produced series will follow an astronaut (Berry) who returns home to her family after a year-long solo mission in space. That's intriguing in itself, but the sci-fi element comes in when her experiences could "ultimately change the course of human history."
Relatively untested writer Mickey Fisher is handling the script, and Berry will serve as a co-executive producer on the project, along with Spielberg and a few others. Much as Under the Dome served as an "event series" this summer, Extant would launch summer 2014 in a similar fashion.
Obviously, this is a pretty big deal. Berry is a legit movie star, and bringing her onto gives this project a ton of clout (especially when combined with Spielberg's presence). It'll be interesting to see how this one comes together.
Here's what Spielberg had to say about the project:
"There's only one Halle Berry and we are incredibly honored that she has chosen EXTANT to expand her illustrious career. As she does with everything she touches, she will bring a deep authenticity to her role and I very much look forward to working with her."
Berry also sounds pretty psyched to try out series television, and noted the shooting schedule should still fit in between her big-screen commitments:
"I'm always on the lookout for amazing roles and when you see material that contains this strong of auspices, nuance and complexity it compels me to run toward it no matter the medium. For five months a year I'll get to live with and play this incredibly intelligent and vulnerable woman, and for the remainder of the year I'll continue to look for other roles that move me as deeply as this one. I've found amazing partners in CBS's Nina Tassler and Les Moonves, and the incredible Steven Spielberg, along with his Amblin production team, whose vision and creativity in storytelling is unparalleled."
Considering that Under the Dome was a breakout hit this year, it's no surprise the network is doubling down on the "big" summer series concept. Combined with season two of Under the Dome, CBS should have one heck of a one-two punch in the dog days of 2014.
THOR: THE DARK WORLD
Thor and Loki are going on an adventure together once again, but this time the God of Thunder's forgetting about mercy.
Even as Loki was preparing to unleash a horde of Chitauri warriors on New York City and the world, Thor was still trying to reason with him, still defending him to the rest of the Avengers as his brother. Even through all of that, Thor was still showing at least a bit of a soft spot for Loki. But, apparently, no more.
We're now just a little more than a month away from the much-anticipated release of Thor: The Dark World, the third Marvel Studios adventure to feature both Chris Hemsworth's Thunder God and Tom Hiddleston's power-hungry trickster, and Marvel's marketing machine is really pushing the return of the Asgardian brothers to the big screen. In a new clip released today, Thor goes to Loki's prison cell and asks for his help, and Loki is predictably amused. But, as you'll see, Thor is in no mood for yet another betrayal, and assures his brother that he won't be lenient if it happens again. We've seen this particular scene teased in several of the film's trailers, but this is definitely a more intense look at the new paramenters of Thor and Loki's relationship.
Thor: The Dark World hits theaters on Nov. 8.
THE AFTER
We might still be jonesing for one more X-Files adventure, but creator Chris Carter is hard at work prepping a new supernatural series — and now we have some intriguing new info.
Dubbed The After, the new Amazon online series will be set at the moment of the apocalypse. It's an intriguing premise, and sounds like a nice change of pace from the alien drama of The X-Files.
Deadline is reporting that Jamie Kennedy (yes, that Jamie Kennedy), Adrian Pasdar (Heroes) and Aldis Hodge (Leverage) are the first actors to sign on for the thriller, which will be written and directed by Carter.
Kennedy will play a professional clown (seriously), Pasdar will portray a Beverly Hills businessman, and Hodge will play an escaped convict who claims he is innocent. It's hard to glean much from the characters' bios (except for spot-on casting when it comes to Kennedy), but it sounds like Carter might be telling some disparate stories about how the apocalypse affects people from different walks of life. Maybe.
No word on when the series might debut, though Amazon has a habit of releasing pilots before making full series orders — so we might get a look at this one sooner than we think.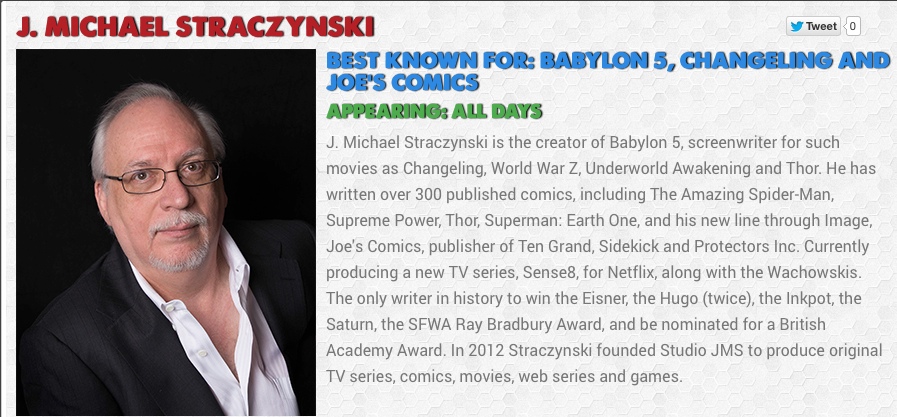 J. MICHAEL STRACZYNSKI - NEW YORK COMIC CON ADDS WRITING WORKSHOP NEXT WEEKEND
Revised NYCC Schedule:
Friday 12:30 writing workshop 1a03; 4:00 signing with Tom Mandrake at table dd10 for Sidekick 3; 5:15 MTV panel about The Adventures of Apocalypse Al.
Saturday: spotlight at 12:15 in 1a14; 2:00 JMS signing and distribution window for convention variant issue 1 of Protectors, Inc. at table dd10. 500 copies, first come, first gone.
For more information, go to http://www.newyorkcomiccon.com/.
FRIDAY, OCTOBER 4, 2013
ARROW
We've all thought it at one point, but now The CW has made a new Arrow trailer revealing why fans really watch the show. Hint: the abs.
With the hit superhero series set to return next week, the advertising team at the network has decided to double down on star Stephen Amell's most notable feature — his badass muscles, which the producers show off just about every episode. Specifically, those ripped abs.
It's a funny little trailer, and takes a tongue-in-cheek approach to all those shirtless shots the directors have managed to squeeze in across the first season. Who could blame 'em? The dude's a brick house, so they might as well use it to their advantage.
We also get some glimpses of new footage, including a peek at the new and improved Arrow lair. There's also a snippet of a scene that should be welcome to a certain subset of 'shippers, as well.
The second season premieres Oct. 9.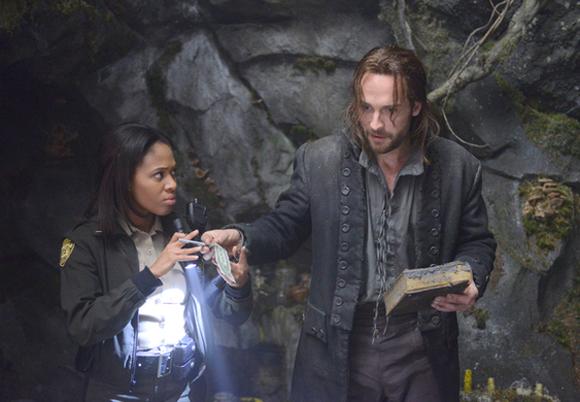 SLEEPY HOLLOW RENEWED
The fall TV season has only just started, and we've already got a verdict on the future of Fox's supernatural drama Sleepy Hollow.
The series, which follows the adventures of Ichabod Crane as he's revived in modern-day Sleepy Hollow, was one of the fall's earliest premieres. It's already aired three episodes, including the best fall premiere the Fox network has seen in more than a decade, and it's won its timeslot every week so far in the key 18-49 demographic. All that was good enough for Fox executives to go ahead and order a second season of the show. So, if you like visiting Sleepy Hollow every week, you've got at least one more year of trips there.
"The show has proven to be a risk well worth taking – it's a conceptual blast unlike anything else on television and it all holds together with inventive writing and a fantastic cast," Fox Entertainment Chairman Kevin Reilly said. "I can't wait for fans to experience what else is in store for this fall and even more of this wild ride into Season Two."
But, as EW's James Hibberd points out, there is more to the story. While Sleepy Hollow did get renewed for a second season today, it did not get an order of additional episodes beyond the first 12 Fox picked up for season one. That means we're now likely looking at a short, 12-episode first season, followed by a second season of similar length (though Fox has not yet confirmed how long or short season two will be). Shows like The Walking Dead and American Horror Story have had great success with the shorter season format on cable, and it seems Fox is ready to explore that deeper too.
So Sleepy Hollow will be back next season, but it'll also be gone relatively quickly this season. DRACULA
Sky Living has just released a brand-new sexy—and very stylish—promo for the upcoming drama series Dracula.
Dracula (the one and only—no sparkles for him, thank you very much!)—played by The Tudors' Jonathan Rhys Meyers—is slowly prowling a rather gloomy, gray and grimy London street, oozing raw sexuality as he does so. The only splash of color to this promo? Mina Murray (Jessica de Gouw), who stands out attired in a sexy (though probably not very historically correct) blue dress.
Meyers stars as the titular character in NBC and its partner Sky Living's 10-part drama series Dracula. Meyers was absolutely fantastic as King Henry VIII in The Tudors, and we can't wait to see him sink his teeth wholeheartedly into this new series as one of the literary world's most sacred monsters.
Here's the synopsis:
''Dracula (Meyers) arrives in London, posing as an American entrepreneur who maintains that he wants to bring modern science to Victorian society. In reality, he hopes to wreak revenge on the people who ruined his life centuries earlier but falls hopelessly in love with a woman who seems to be a reincarnation of his dead wife.''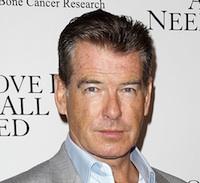 I.T.
Pierce Brosnan has taken the leading role in an upcoming revenge thriller from Voltage Pictures, Deadline reports. Titled I.T., the film will be directed by Stefano Sollima.
I.T., scripted by Dan Kay, will feature Brosnan as a book publisher whose livelihood and very life become threatened by an angry I.T. consultant. That role has not yet been cast.
Best known for his four-time portrayal of Ian Fleming's James Bond, Brosnan recently starred in Edgar Wright's The World's End.
Nicolas Chartier, Craig Flores, David T. Friendly and Beau St. Clair are attached to produce I.T. with production slated to begin in 2014. JACK RYAN: SHADOW RECRUIT
Paramount Pictures has released the trailer for Jack Ryan: Shadow Recruit, directed by Kenneth Branagh and starring Chris Pine, Keira Knightley, Kevin Costner, Peter Andersson, Kenneth Branagh, David Paymer and Colm Feore.
Based on the Jack Ryan character created by bestselling author Tom Clancy, who passed away this week, the film is a contemporary action thriller set in the present day. The original story, written by David Koepp, follows a young Jack as he uncovers a financial terrorist plot.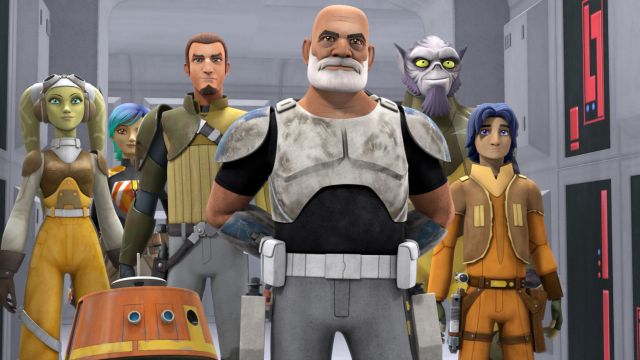 STAR WARS REBELS
Lucasfilm reports that a short teaser for the highly-anticipated animated series "Star Wars Rebels" will air this coming Monday during the premiere of "Mighty Med" on Disney XD. Tune in on Monday at 8:30 ET/PT to catch the teaser, but if you can't, don't worry, it'll be online shortly after.
The series is set between the events of Episode III and IV -- an era spanning almost two decades never-before explored on-screen. It takes place in a time where the Empire is securing its grip on the galaxy and hunting down the last of the Jedi Knights as a fledgling rebellion against the Empire is taking shape.
"Star Wars Rebels" will be produced by Lucasfilm Animation, featuring many of the key talents that made "Star Wars: The Clone Wars." It is scheduled to premiere in fall 2014 as a one-hour special telecast on Disney Channel, and will be followed by a series on Disney XD channels around the world.
THURSDAY, OCTOBER 3, 2013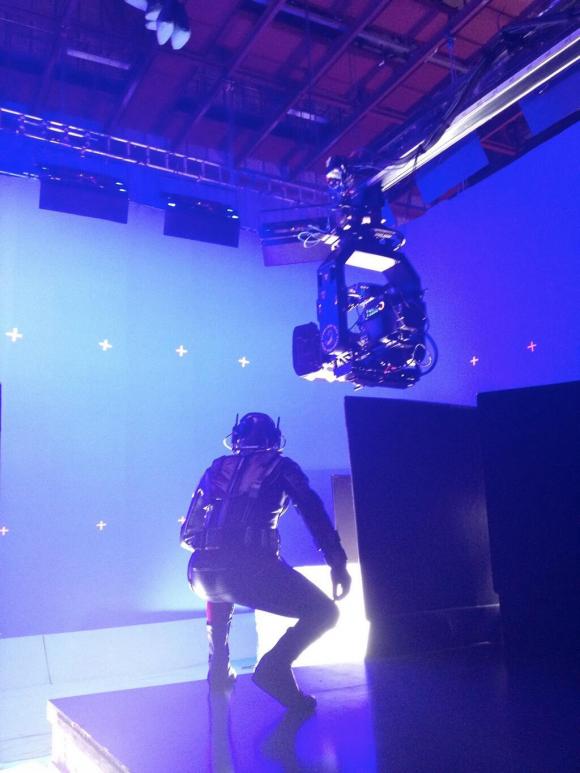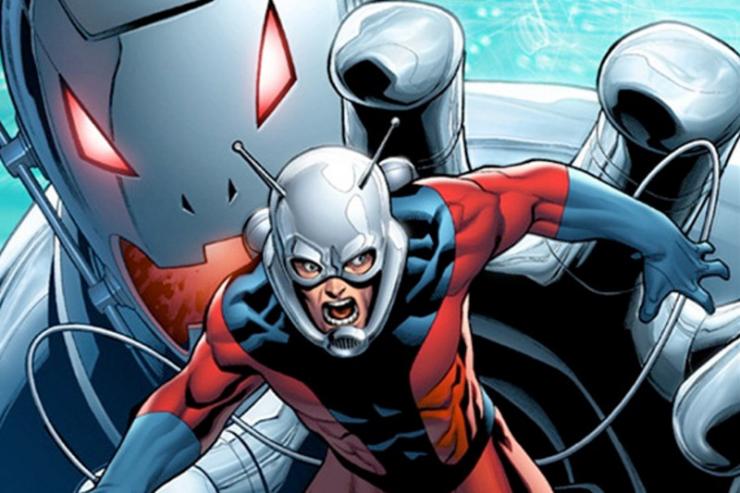 ANT MAN
One of Marvel's quirkiest movies is finally getting started, so it's high time we got our first glimpse of its hero, right?
Ant-Man may not be the genius inventor responsible for the creation of Ultron in Marvel's movie universe, but he's still getting his own movie courtesy of famed geek director Edgar Wright. And with an already popular test reel out in the world, people have been wondering just what the final product is going to look like.
Consider this picture (tweeted by Wright himself) your first scratch at the surface:
That costume looks very familiar to what we've been seeing so far. We're assuming that's just a stand-in wearing the costume, but you never know --maybe the real Hank Pym is already lurking behind the mask!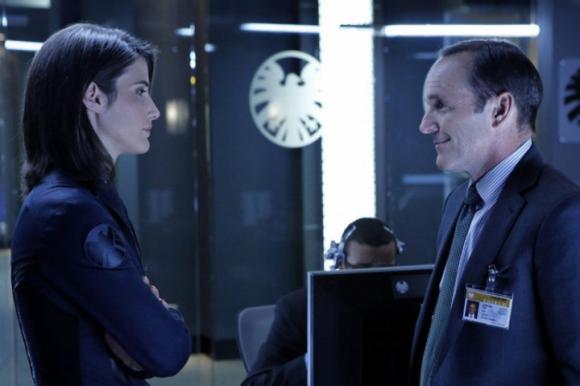 RATINGS SO FAR
Another week, another big genre series premiere.
After months of anticipation and buzz, Marvel's Agents of S.H.I.E.L.D. debuted on ABC and didn't disappoint. The numbers were the best we've seen from a new drama series in a long time, but we'll still have to wait and see how much of that audience will hang on for the long haul. Meanwhile, Sleepy Hollow had a solid second week, Once Upon a Time returned to strong numbers, The Big Bang Theory set a new series record, and things got worse for The Neighbors.

Sleepy Hollow (FOX) 8.59 million viewers/3.1/8 share
Sleepy Hollow took a bit of a drop in its second week, but held on to a very healthy chunk of its premiere audience and still managed to win its timeslot in the key demo. That's a good sign for people who want this show to stick around for a while.

Marvel's Agents of S.H.I.E.L.D. (ABC) 12.12 million viewers/4.7/13 share
Marvel's big TV venture had a fantastic premiere week, pulling the highest numbers for a new drama series in nearly four years. We still have to wait and see how much of that audience it'll hold onto, and how long it'll be able to hold it, but this is an encouraging start. Revolution (NBC) 6.81 million viewers/1.8/6 share
Revolution returned last Wednesday for its second season, and while it managed a few more viewers than its season-one finale, its ratings score was tied with the lowest point it hit last season.That definitely doesn't doom it, but it's not a great place to start. We'll see if next week brings some improvement. Haven (Syfy) 1.54 million viewers/0.5
Haven got a nice boost this week to hit a season high with its demo score. So far the show's on track to do just as well as last season. Once Upon a Time (ABC) 8.52 million viewers/2.6/7 share
Once Upon a Time returned Sunday with a season-three premiere that couldn't match either of the past two season premieres, but still managed to be better than almost all of the second half of season two. We'll see where it goes from here.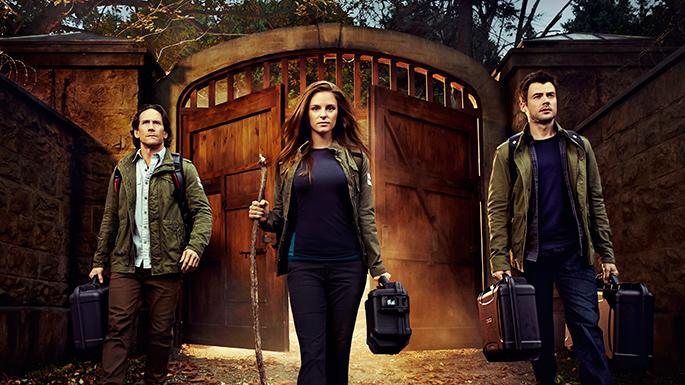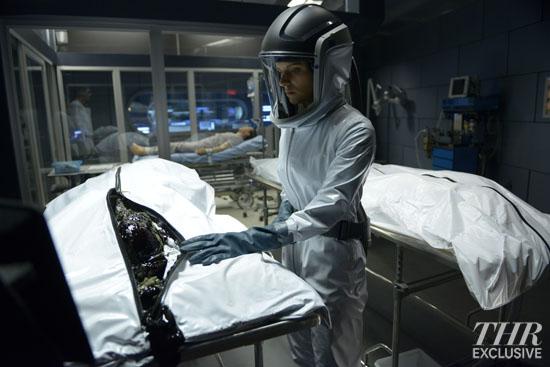 HELIX
After being teased for months, we finally have our first look at Ronald D. MooreÕs (Battlestar Galactica) new Syfy series, Helix. WeÕre going to go ahead and say it Ñ that black ooze is some scary, scary stuff.
The first pics come courtesy of The Hollywood Reporter, which has posted a small gallery of shots from the pilot episode. We finally get to see stars Billy Campbell (The 4400) and Hiroyuki Sanada (The Wolverine) in action, as they investigate a dangerous new pathogen at an arctic research facility.
Syfy ordered the project straight to series, meaning that Moore and company are hard at work now on the first 13-episode season. The story follows a team of CDC scientists at a high-tech research facility, where they encounter something that could hold the key to continued life (or annihilation) of the entire planet.
The new pics give us our first look at the visual style Moore is going for, as we get to see the team check out a victim of the mysterious black ooze at the center of the mystery. The stuff looks positively brutal, and we canÕt wait to see more of what Moore is cooking up.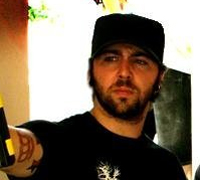 SUBMERGED
The Aggression Scale and Silent Night remake director Steven C. Miller is set to helm Evolution Entertainment's Submerged, says a story today at The Hollywood Reporter.
The script, which arrives from Mother's Day remake screenwriter Scott Milam, follows a group of college kids who become the target of deadly kidnappers and who are forced to fight for their lives when their limousine becomes trapped in a canal.
Evolution Entertainment's Brad Kaplan and Tiffany Kuzon will produce with Cassian Elwes, Robert Odgen Barnum and Cissy and Lainie Guidry executive producing.
Submerged is expected to begin casting shortly with production planned to begin in Los Angeles later this month. AGENTS OF S.H.I.E.L.D.
ABC and Marvel Entertainment have unveiled the preview for next week's episode of "Marvel's Agents of S.H.I.E.L.D." Titled "The Asset," here's the synopsis for the episode:
When the brilliant scientist Dr. Franklin Hall is kidnapped, Agent Coulson and his S.H.I.E.L.D. agents must race against the clock to locate him. Skye is their only way in Ñ pushing the team to their limits when the entire plan turns upside-down, on "Marvel's Agents of S.H.I.E.L.D."
Set to air Tuesday, October 8th at 8PM.
WEDNESDAY, OCTOBER 2, 2013
THE WALKING DEAD
Need a good undead distraction while you wait for The Walking DeadÕs season-four return? We have you covered.
All three episodes of the new Walking Dead web series have gone live, focusing on a group of survivors in search of medical attention after their camp is overrun by walkers. ItÕs a compelling arc, and shows how far these little web shorts have come in recent years.
It's also worth noting that the three-part series could give us a taste of how AMCÕs upcoming Walking Dead spinoff might work, by focusing on some new characters in the zombie-filled universe. Plus, with another week left until the proper show returns on Oct. 13, what else are you going to do?
HereÕs the synopsis for the web series:
AMCÕs award-winning The Walking Dead webisode series returns to amc.com today with three new installments. The Walking Dead: The Oath tells the story of the lone survivors of a massive walker-attack, Paul (Wyatt Russell, Cowboys and Aliens) and Karina (Ashley Bell, The Last Exorcism), who speed across the countryside, frantically searching for an aid-station as one of them slowly bleeds out from a wound. Finally coming upon a hospital that has not been overrun at first feels like a blessing, but could soon turn to misfortune, as a seemingly benevolent doctor (Ellen Greene, Little Shop of Horrors) may hide a darker agenda.
This is the first episode. AMCÕs Youtube Channel for the next two installments. THE HOBBIT: THE SESOLATION OF SMAUG
A lengthy new trailer for The Hobbit: Desolation of Smaug has been released, giving us our first real look at Benedict CumberbatchÕs Smaug and Evangeline LillyÕs ass-kicking elf warrior.
Director Peter Jackson has gone to great lengths in an effort to tell a story as epic as his previous Lord of the Rings trilogy, and the latest footage certainly looks the part. The dwarf gangÕs journey gets even wilder here, as Bilbo continues to hide the powerful discovery he made in the first film.
But the cool stuff is the new stuff. We finally get to hear CumberbatchÕs growling voice as the namesake dragon, as he stalks Bilbo through a room full of gold. ItÕs a breathtaking shot, and we canÕt wait to see it on the big screen. We also get a little mystery surrounding LillyÕs new elf Tauriel, which looks to add some spice to the drama.
The second film in the Hobbit trilogy opens Dec. 13, with the final installment coming next year.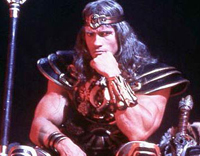 THE LEGEND OF CONAN
As reported last October, Arnold Schwarzenegger is planning a big screen return to the Hyborian Age of Robert E. Howard with The Legend of Conan. Deadline today reports that Universal Pictures has hired World Trade Center scribe Andrea Berloff to write the continuation of the adventures started in 1984's Conan the Barbarian.
The new film is said to be a direct sequel to Barbarian and will ignore the events of both Conan the Destroyer and of the most recent reboot, 2011's Conan the Barbarian, which features "Game of Thrones" star Jason Momoa in the lead.
Although initial reports had The Legend of Conan on track for a 2014 release, it is a near certainty that the film will arrive in theaters a bit later than that initial estimate.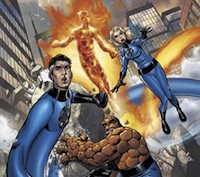 FANTASTIC FOUR
Josh Trank's Fantastic Four was rumored to begin production last month, but it's now looking like it may take a bit longer before Marvel's first family steps before the cameras. The Hollywood Reporter today brings word that X-Men: First Class and X-Men: Days of Future Past scribe Simon Kinberg has boarded the project as both a screenwriter and producer.
Seth Grahame-Smith, Michael Green T.S. Nowlin and Jeremy Slater previously worked on Fantastic Four and, while no casting is yet official, the release date is still set for March 6, 2015.
It was previously suggested that 20th Century Fox will set Fantastic Four in the same cinematic universe as their X-Men franchise, although no direct big screen crossover is currently being planned.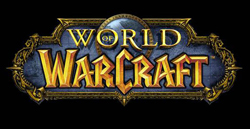 WARCRAFT
Legendary PicturesÕ Warcraft, based upon Blizzard Entertainment's globally-renowned universe, will be released by Universal Pictures on Friday, December 18, 2015.
Warcraft marks the first film dated under the recently formed partnership between Universal and Legendary.
The film, an epic adventure of world-colliding conflict, will be directed by Duncan Jones (Moon, Source Code) and is written by Charles Leavitt and Duncan Jones. The producers are Charles Roven and Alex Gartner for Atlas Entertainment and Thomas Tull and Jon Jashni for Legendary. Stuart Fenegan, Jillian Share and Brent OÕConnor will serve as executive producers. Blizzard's Chris Metzen will co-produce.
TUESDAY, OCTOBER 1, 2013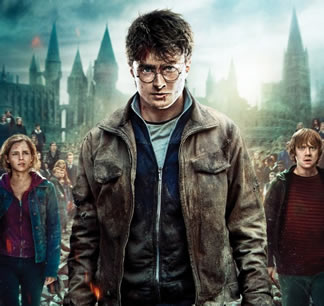 MORE HARRY POTTER?
Is Warner Bros. preparing for even more "Harry Potter" movies? That definitely seems like the idea with several new trademarks the studio has submitted. After the news that author J.K. Rowling was writing a new "Harry Potter" universe film, the studio naturally trademarked "Fantastic Beasts and Where to Find Them," the fake book the movie is based on, along with it's author, "Newt Scamander."
Now they've added a couple more book titles referenced in the "Harry Potter" series though, "Tales of Beedle The Bard" and "Quidditch Through The Ages." Additionally, they're trademarked the Quidditch team names "Wimbourne Wasps," "Chudley Cannons" and "Kenmare Kestrels," the Telegraph reports. The studio also trademarked the name of the fictitious Quidditch expert "Kennilworthy Whisp."
So, are we hoping for a movie that follows Quidditch in some way? The names were all trademarked for media purposes, including live-action films and reality TV, among other uses. Maybe someone decided to turn Quidditch into an actual sporting league. Sure, it would be hard to figure out that flying broom thing for a bunch of muggles, but it's not like "Potter" fans haven't already come up with their own version of the game.
Only time will tell what comes next for "Harry Potter," but it seems like the possibilities are endless. ARROW
We still have another week before Arrow returns to The CW. Thankfully, the network's released a clip from the season premiere titled, "City of Heroes." It features Diggle and Felicity in search of a missing Oliver, who's returned to Lian Yu. It's ironic he'd head back there, considering how much he hated that place.
[Spoilers ahead.]
The Undertaking, which inadvertently took Tommy's life, still weighs heavy on Oliver's heart. But Diggle and Felicity are dedicated to bringing him home. In the following video, the duo are fish out of water. They're not familiar with the trappings of the island. Felicity finds herself in a deadly predicament, when she accidentally steps on a land mine.
Diggle attempts to free her but is stopped by Oliver. Standing in a tree with bow in hand, Oliver swings (Tarzan-style) to Felicity's rescue. After months apart, the gang's together again.
Arrow premieres Oct. 9 at 8 p.m. ET/PT on The CW. DOCTOR WHO TEASER
The first teasers for Doctor WhoÕs upcoming 50th anniversary episode are finally here and do what they do best: which is to frustrate the heck out of us tease and tantalize us. Mission accomplished, BBC.
The extremely brief promos aired before and after the opening episode of the BBCÕs newest fantasy series Atlantis Sunday in the U.K., revealing the official hashtag of WhoÕs 50th-anniversary episode to be #SaveTheDay.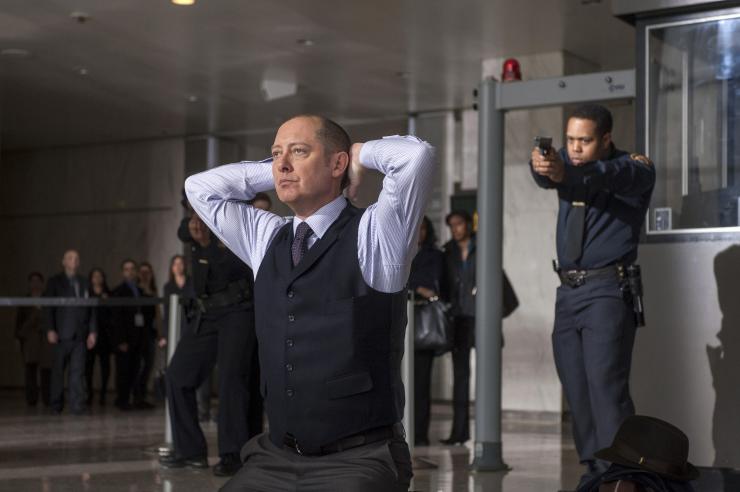 AVENGERS
Joss Whedon is mixing things up with the upcoming Avengers sequel, and now the new Big Bad has finally opened up about taking on the role of Ultron.
The talented James Spader will bring the Marvel baddie to life in the 2015 blockbuster, taking the reins from Avengers villain Loki (Tom Hiddleston) in Age of Ultron. So why did the accomplished (and currently very popular) TV actor want to head back to the big screen for this project?
Not surprisingly, because it looked like itÕd be a hell of a lot of fun. In separate interviews with Inquirer Entertainment and The Independent, Spader talked a bit about the project. He also reveals the early prep work required to play the robo-style character ... which we're thinking might have a CGI element? Maybe?
Here are some excerpts:
ÒI have spoken to Joss Whedon about it. And yes, actually, just this weekend I went in for them to take very extensive photographs, head scans, body scans, and all kinds of things in preparation for figuring out how the hell IÕm gonna fit in this Ultron character! ...
I think it'll be a lot of fun and it's incredibly nostalgic for me. When I was a kid my best friend had trunks of comics and I didn't have any so I used to love going for sleepovers at his house. Also I have three sons and two of them have a great interest in comics so they're excited I'm playing the role.Ó
The eagerly anticipated sequel opens May 1, 2015.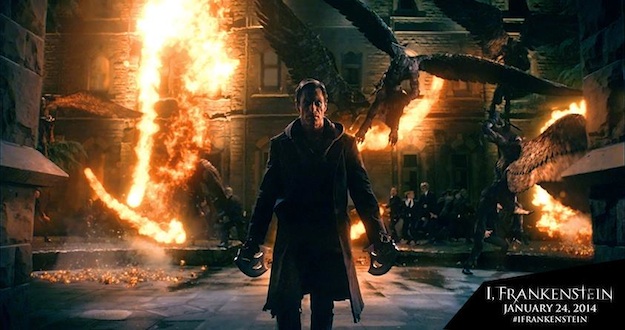 I, FRANKENSTEIN
Lionsgate has brought online a new still from director Stuart Beattie's upcoming I, Frankenstein. What's more, they've announced that the first trailer for the film will come online this Friday, October 4.
Set in a dystopic present where vigilant gargoyles and ferocious demons rage in a battle for ultimate power, Victor Frankenstein's creation Adam (Aaron Eckhart) finds himself caught in the middle as both sides race to discover the secret to his immortality.
Written for the screen and directed by Beattie, I, Frankenstein is based on the graphic novel by Kevin Grievous, and is brought to life by a cast that also includes Bill Nighy, Yvonne Strahovski, Miranda Otto, Jai Courtney, Socratis Otto, Mahesh Jadu, Caitlin Stasey and Aden Young as Victor Frankenstein.
I, Frankenstein hits theaters on January 24, 2014.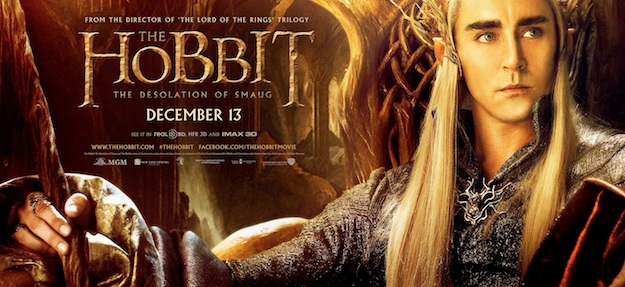 THE HOBBIT: THE DESOLATION OF SMAUG
Warner Bros. Pictures and MGM have debuted another new piece of banner art, showing off Lee Pace as the Elvenking, Thranduil. Today (Tuesday, October 1st) at 7 a.m. Pacific / 9 a.m. Eastern they promise the film's new trailer!
The second part of Peter Jackson's new trilogy, The Hobbit: The Desolation of Smaug continues the adventure of the title character Bilbo Baggins (Martin Freeman) as he journeys with the Wizard Gandalf (Ian McKellen) and thirteen Dwarves, led by Thorin Oakenshield (Richard Armitage) on an epic quest to reclaim the lost Dwarf Kingdom of Erebor. It hits theaters December 13.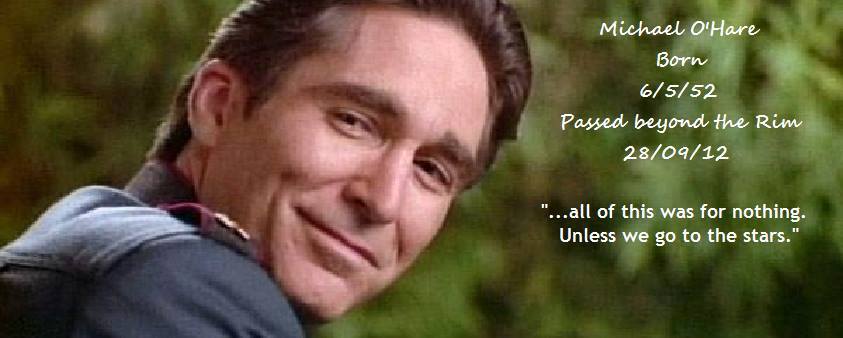 MICHAEL O'HARE
September 28 marked the first anniversary of the passing of Michael O'Hare. Someone posted this picture on Facebook and I thought I would share it with everyone. It is hard to believe it has been a year since his passing. A life cut short; a talent only partially exposed. For those fortunate to have met Michael, you will remember his engaging smile, his deep resounding voice, his infectious laughter -- and oh how he loved to laugh. Miss you Michael. September News.