The Zocalo Today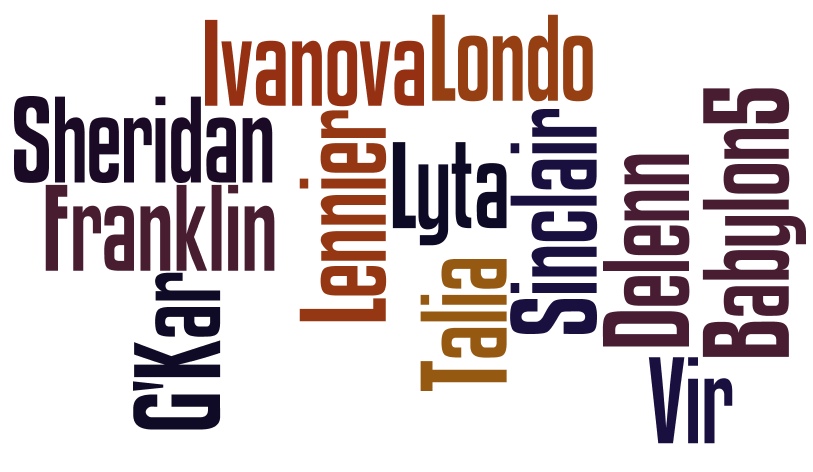 Welcome and thank you for dropping by. Babylon 5 brought many of us together -- and it remains with us, despite the fact that is no longer in production. The good thing is that the internet gives a LOT of ways to stay in touch. Don't be shy. Join in the discussion today or drop by Facebook or Twitter.

If you have questions or items for the news, drop me a line at sgbruckner@aol.com.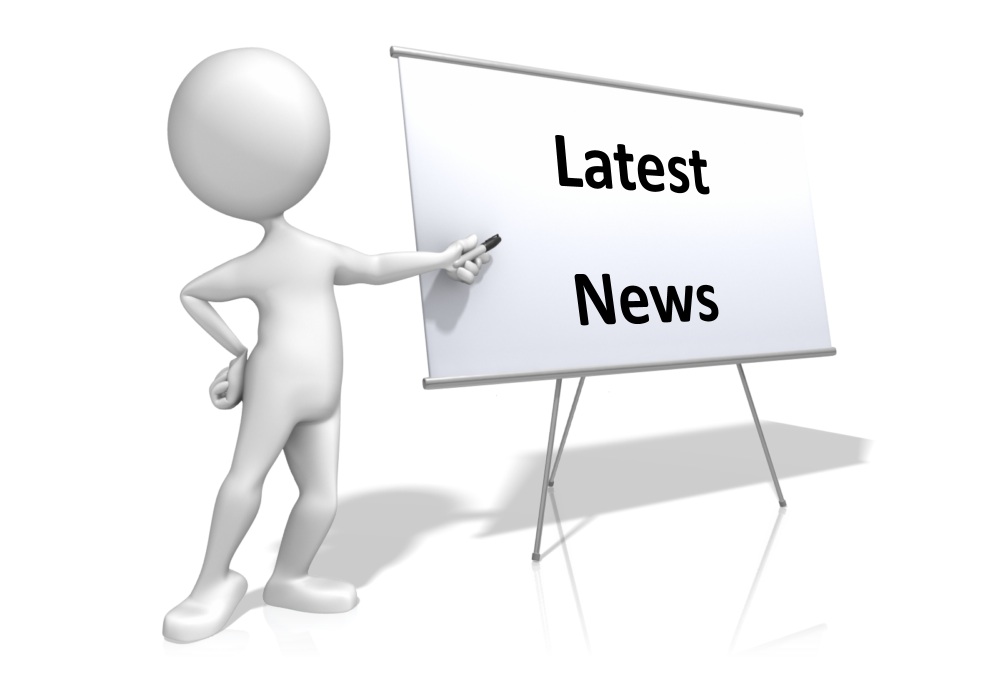 LATEST SCIENCE FICTION NEWS:
WEDNESDAY, OCTOBER 22, 2014
2001: A SPACE ODYSSEY
A new trailer for Stanley Kubrick's iconic sci-fi masterpiece 2001: A Space Odyssey has been unveiled, nearly 50 years after it was first released in theaters (in 1968). The new trailer was put together ahead of the digitally restored film's special limited U.K. release on Nov. 28, as part of the British Film Institute's "Sci-Fi: Days of Fears and Wonder" season, and was commissioned by the BFI and Warner Bros. And, guys, we're getting chills just watching it. The trailer is the first for the movie in 40 years, and it uses HAL as the focal point. Jan Harlan, Kubrick's executive producer, described it as "the best trailer for this film I have ever seen! To use HAL's voice is brilliant," he said in a statement released Tuesday. In addition to the screening of 2001: A Space Odyssey, stars Keir Dullea and Gary Lockwood will also take part in a panel discussion at the BFI Southbank in London on Nov. 28. Other flicks to be shown in the sci-fi season (which kicks off Tuesday) include other iconic titles such as Barbarella, Brazil, A Clockwork Orange and 1984. There will also be series of complementary events running alongside the films. HALO 5: GUARDIANS
Halo 5: Guardians doesn't launch until late 2015, but Master Chief mania is already rising to feverish levels. As an antidote to the hysteria, Microsoft and Xbox Entertainment offered up this video teaser for Halo: Nightfall, a digital feature directed by Sergio Mimica-Gezza and executive-produced by Ridley Scott and David Zucker, with a script by Prison Break's Paul Scheuring. Nightfall stars Mike Colter as Jameson Locke, an ambitious black-ops super-soldier climbing the ranks between the events of Halo 4 and Halo 5 and is meant to act as a bridging device and primer to inform gamers of the amped action leading up to the next Halo installment, landing sometime at the end of 2015. The Locke character will play a vital role in Halo 5: Guardians, and his inclusion in this film establishes his origins and dramatic arc in relation to John-117. Nightfall will be included in the Nov. 11, 2014, release of Halo: The Master Chief Collection, which gathers special remastered edtions of four previous Halo titles into one massive super-set. Have a look and let us know if you're ready to charge back into more Halo heroics.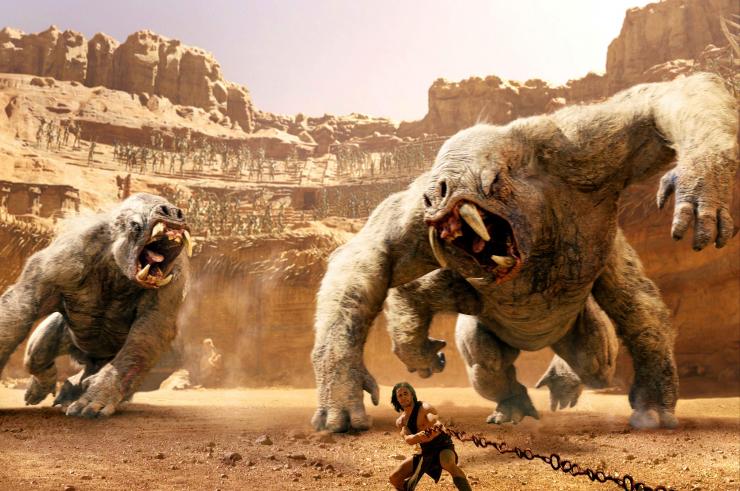 JOHN CARTER
Still wishing John Carter had more of a chance on the big screen? There's a new glimmer of hope. Director Andrew Stanton's ambitious adaptation of Edgar Rice Burroughs' A Princess of Mars was much-anticipated by many genre fans ahead of its 2012 release, but sadly it wound up being one of the year's biggest flops. The film earned a fair amount of critical praise, and a number of enthusiastic fans, but most moviegoers just never seemed to be interested in the sci-fi spectacle, something that's often been blamed on Disney's poor marketing of the flick. Stanton had plans for two more Mars films, but John Carter's financial failure meant Disney wasn't keen to make them. So Stanton returned to Pixar to make a sequel to Finding Nemo, and any John Carter sequel hopes evaporated. Well, those sequel hopes are likely still dead, but new adaptations of Burroughs' Barsoom novels could be in our future. Edgar Rice Burroughs Inc. announced this week that rights to the novels have now reverted back to them, and that they're eager to find a new avenue to deliver more filmed adventures for Carter and his friends. "We will be seeking a new partner to help develop new adventures on film as chronicled in the eleven Mars novels Burroughs wrote," Burroughs Inc. President James Sullos said. "This adventure never stops." The Barsoom books are among the most influential science fiction adventures of all time, so they certainly deserve every opportunity to make it to the screen, and hitting the reset button on a franchise is certainly not uncommon in Hollywood right now. It's easy to see John Carter coming back to the big screen, but the problem might be getting him back to the screen so soon after the financial failure of John Carter. Sure, we can blame Disney marketing all we want, but the writeoff Disney took on that film is still enough to make any executive skittish about diving back in that water. The small screen might be an option, particularly since there's so much Barsoom material to adapt. But again, financial fear could linger. So we might see John Carter on the screen again, but it could take a while. THE FLASH PREVIEW
Following tonight's third episode, titled "Things You Can't Outrun," The CW has released a preview and new photos from next week's fourth episode, titled "Going Rogue." In "Going Rogue," The Flash (Grant Gustin) stops a robbery but the culprits get away after shooting a guard, and The Flash chooses to save the man instead of following the criminals. Joe (Jesse L. Martin) shows Barry a book of suspects and Barry identifies Leonard Snart (guest star Wentworth Miller, "Prison Break") as the leader of the group. While investigating the case, Barry gets a surprise visit from an old friend -- Felicity Smoak (Emily Bett Rickards, "Arrow"), who heard about his new abilities and came to check them out for herself. She joins him at S.T.A.R. Labs to help stop Snart after it's revealed that Snart his gotten his hands on a stolen "cold gun," which could kill The Flash. Dr. Wells (Tom Cavanagh) is furious when he finds out that Cisco (Carlos Valdes) built the cold gun without telling anyone and now it's missing. Meanwhile, Iris (Candice Patton) is getting the silent treatment from Joe because of her relationship with Eddie (Rick Cosnett). Finally, The Flash and Captain Cold have an epic confrontation. Glen Winter directed the episode written by Geoff Johns and Kai Yu Wu (#104). The episode will air on October 28.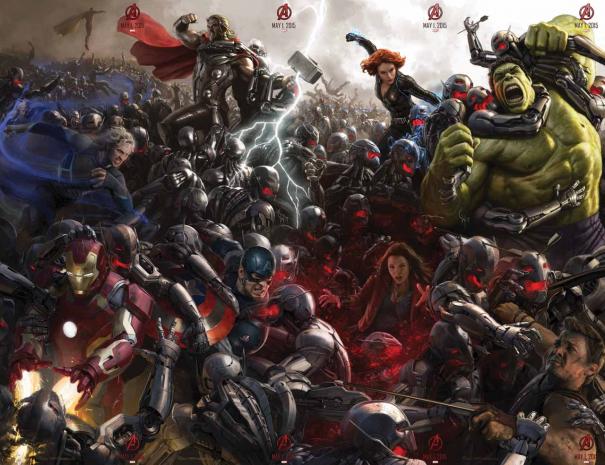 AVENGERS: AGE OF ULTRON
The first teaser trailer for next summer's Joss Whedon-helmed Avengers: Age of Ultron is coming one week from today! At the close of tonight's "Marvel's Agents of S.H.I.E.L.D.," it was revealed that next week's all-new episode will offer the reveal, so be sure to tune in to ABC Tuesday, October 28 at 9:00pm ET/PT. When Tony Stark tries to jumpstart a dormant peacekeeping program, things go awry and Earth's Mightiest Heroes, including Iron Man, Captain America, Thor, The Incredible Hulk, Black Widow and Hawkeye, are put to the ultimate test as the fate of the planet hangs in the balance. As the villainous Ultron emerges, it is up to The Avengers to stop him from enacting his terrible plans, and soon uneasy alliances and unexpected action pave the way for an epic and unique global adventure. Marvel's Avengers: Age of Ultron stars Robert Downey Jr., who returns as Iron Man, along with Chris Evans as Captain America, Chris Hemsworth as Thor and Mark Ruffalo as The Hulk. Together with Scarlett Johansson as Black Widow and Jeremy Renner as Hawkeye, and with the additional support of Samuel L. Jackson as Nick Fury and Cobie Smulders as Agent Maria Hill, the team must reassemble to defeat James Spader as Ultron, a terrifying technological villain hell bent on human extinction. Along the way, they confront two mysterious and powerful newcomers, Wanda Maximoff, played by Elizabeth Olsen, and Pietro Maximoff, played by Aaron Taylor-Johnson, and meet an old friend in a new form when Paul Bettany becomes Vision. Avengers: Age of Ultron hits the big screen on May 1, 2015. CONSTANTINE
NBC has released a new clip from their DC Comics-inspired series, "Constantine." Based on the "Hellblazer" character, the new show debuts this Friday, October 24. Check out the player below to watch Matt Ryan's Constantine converse with "LOST" star Harold Perrineau, playing an angel named Manny. Seasoned demon hunter and master of the occult John Constantine specializes in giving hell… hell. Armed with a ferocious knowledge of the dark arts and his wickedly naughty wit, he fights the good fight - or at least he did. With his soul already damned to hell, he's decided to leave his do-gooder life behind, but when demons target Liv (Lucy Griffiths), the daughter of one of Constantine's oldest friends, he's reluctantly thrust back into the fray - and he'll do whatever it takes to save her. Before long, it's revealed that Liv's "second sight"--an ability to see the worlds behind our world and predict supernatural occurrences--is a threat to a mysterious new evil that's rising in the shadows. Now it's not just Liv who needs protection; the angels are starting to get worried too. So, together, Constantine and Liv must use her power and his skills to travel the country, find the demons that threaten our world and send them back where they belong. After that, who knows… maybe there's hope for him and his soul after all. JUDGE DREDD
Following a wave of images yesterday, Dredd executive producer Adi Shankar's unofficial animated spin-off, "Judge Dredd: Superfiend" has brought online a teaser trailer! Much like Shankar's previously-released Punisher short starring Thomas Janes, the upcoming "Superfiend" series is not officially related to the original film in question but is intended as more of a treat for fans. The series is expected to debut online later this month and a full trailer will arrive this Thursday, October 23.
THE ZOCALO TODAY
Be sure to check out The Zocalo Today on Facebook as well as at ISN News: The Zocalo Today on Yahoo Groups. Did you miss the news from yesterday -- or earlier in the week. Catch up by going to the October News Archive. I have broken up the huge file into months to make it easier to scan through. It will bring you up to date for all that has been going on in the world of science fiction. Go to:
September News.
August News.
July News.
June News.
May News.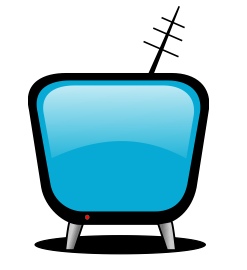 ON THE TUBE TONIGHT 8:00pm on The CW
Arrow
Season 3, Episode 3: Corto Maltese
When Felicity determines that Thea is in Corto Maltese, Oliver intends to bring her back home. 8:00pm on AMC
Lake Placid
When a mysterious creature violently kills a man in a Maine lake, Jack Wells (Bill Pullman), the local game warden, looks into the bizarre case, along with Sheriff Hank Keough (Brendan Gleeson) and visiting paleontologist Kelly Scott (Bridget Fonda). Looking for clues in a tooth that the beast left behind, Kelly and the others eventually locate the monster, a massive and vicious reptile eager to devour anything in its path. Can the crocodile-like creature be stopped? 8:00pm on FX
Paranormal Activity 3
In 1988 sisters Katie (Chloe Csengery) and Kristi (Jessica Tyler Brown) seem to be enjoying a normal, happy childhood at home. But when strange things start going bump in the night, their father, a wedding videographer, decides to use his cameras to discover the source, especially since Kristi appears to having conversations with an imaginary friend. While the cameras do indeed reveal a flurry of supernatural occurrences, the family is unprepared for the terror that awaits. 8:00pm on Syfy
Ghost Hunters
Season 10, Episode 2: A Textbook Case
Elizabeth V. Edwards Elementary School in Barnegat, N.J.; courthouse in Green Cove Springs, Fla. 9:00pm on CBS
Criminal Minds
Season 10, Episode 4: The Itch
The BAU tracks a suspect with a chronic skin disorder after a body with scratches turns up. 9:00pm on The CW
The 100
Season 2, Episode 1: The 48
Clarke frantically tries to make sense of her surroundings; an enemy returns. 9:00pm on Syfy
Ghost Hunters
Season 10, Episode 3: 200th Episode: Grant is Back
The TAPS team returns to one of their favorite haunted locations: Trans-Allegheny Lunatic Asylum. 10:00pm on CBS
Stalker
Season 1, Episode 4: Phobia
Jack and Beth track a stalker who exploits the phobias of his victims.
KEEPING UP WITH CAST AND CREW
LANTERN CITY
Lantern City is not a television show. Not yet. But Bruce Boxleitner is planning for it to be one. As he says… And now it will be a comic book from Archaia, a twelve issue series, and the first such title since The Secret History in 2007. More details to come, as and when….








Here is a quote from J. Michael Straczynski about emotions.
I had this theory that the more important and intimate the emotion, the fewer words are required to express it.

First it's in dating: "Will you go out with me?" Six words.
"Honey, I care for you." Five words.
"You matter to me." Four words.
"I love you." Three words.
"Marry me." Two words.
But what's left? What's the one most important and intimate word you can ever say to somebody? It's "goodbye."

While Michael O'Hare (Sinclair), Andreas Katsulas (G'Kar), Rick Biggs (Dr. Franklin), Tim Choate (Zathras) and Jeff Conoway (Zach Allen) are no longer with us, we will not forget their wonderful personalities and talent -- as well as their significant contributions to the BABYLON 5 universe. Be sure to visit In Memory Of for more information about memorial efforts.
Until we met again, in a place where no shadows fall.
BABYLON 5 BIRTHDAYS
OCTOBER
Dylan Neal - October 8
Jeff Conaway - October 5 - Gone too soon
John Vulich - October 10
Tim Choate - October 11 - we miss you
John Copeland - October 13
Linda Huse - October 16

Have I missed anyone? If you know the birthday of someone connected with Babylon 5, pass the information along. We want to include everyone in our Happy Birthday Wishes.


Go to http://www.hollywoodscifi.org/ for more information.
BABYLON 5 MUSIC VIDEOS AND TRIBUTES
John Hudgens has created many Babylon 5 videos, but I believe this is the most moving. It was first shown at the Phoenix Comic Con 20th Anniversary and honors many of the Babylon 5 family who have passed on.

Here is a link to John's Babylon 5 videos:
https://www.youtube.com/user/Babylon5MusicVideos?feature=watch

Richard Biggs memorial: http://www.youtube.com/watch?v=HyD4L8yNtsA

Andreas Katsulas memorial: http://www.youtube.com/watch?v=h2UQ2l9NPIg

- This is the extended version that I did for Andreas' widow ater the original cut was released on the net. It's never been seen online until now.

For those of you who've never seen these, I hope you enjoy them - and for those that have (and emailed me many times over the years about releasing them), I hope they're as good as you remember. Working with Joe on these videos was one of the highlights of my career, and I'll be forever grateful to him for the doors these have opened for me. I'm proud to have them on my resume.

John Hudgens
www.zteamproductions.com








Spooky's Ultimate Horror Weekend
Dates: Oct. 24-26, 2014
Place: Doubletree Universal Studios, Orlando, FL 32819
Guests:
Michael Rooker - Walking Dead & Jeremiah; Stephen Pearcy - Ratt; Dee Wallace Stone - ET & Cuju; Tyler Mane - Halloween & X Men, and Tobin Bell - Dexter
For more information, go to http://www.spookyempire.com/.

MALTA COMIC EXPO
Dates: October 31-November 2, 2014
Place: Mediterranean Conference Center, Valletta, Malta
Guests: Richard Piccardo, Dirk Benedict,Silvester McCoy and many more
For more information, go to http://maltacomicsexpo.com/. LOSCON 41
Dates: November 28-30, 2014
Place: LAX Marriott Hotel, LA, California
Babylon 5 Guest of Honor: J. Michael Straczynski
For more information, go to http://loscon.org/41/. STAR TREK SAN FRANCISCO: NEXT GENERATION REUNION
Dates: December 12-14, 2014
Place: Hyatt Regency San Francisco, CA
Guests: KATE MULGREW, JAMES DARREN, ROBERT PICARDO, Klingon Representatives GOWRON AND MARTOK, GARRETT WANG, DOMINIC KEATING AND CONNOR TRINNEER, JONATHAN FRAKES, BRENT SPINER, LeVAR BURTON, MICHAEL DORN, GATES McFADDEN and MARINA SIRTIS
For more information, go to www.creationent.com/cal/st_sanfrancisco.html. MAGIC CITY COMIC CON
Dates: January 16-18, 2015 Place: Miami Airport Convention Center
Comic Guests: John Romita, Jr., Allen Bellman, Adelso Corona, Greg Kirkpatrick, Dan Scott
For more information, go to http://www.magiccitycomiccon.com/. STEEL CITY CON
Dates: December 5-7, 2014
Place: Monroeville Convention Center, Monroeville, PA
Guests: Adam West, Burt Ward, Linda Blair, Henry Winkler, Michael Dorn, Peter Mayhew, Terry Farrell, John Wesley Shippe, and more.
For more information, go to http://www.steelcitycon.com/. FED-CON 24
Dates: May 21-24, 2015
Place: Maritim Hotel, Dusseldorf, Germany
Guests: Sam Jones, Aaron Douglas, Grant Bowler and more to come
For more information, go to http://www.fedcon.de/en/. SPECIAL ANNOUNCEMENTS!
Wizard World Conventions has a large number of events planned for the year. Be sure to visit the page to see if there is a convention of interest near you.

Creation Entertainment has a large number of conventions planned for the next several months. They include stars from TWILIGHT, SUPERNATURAL, STARGATE, FARSCAPE, XENA, SERENITY, STAR TREK, etc. Check out their calendar to see if one will be in your neighborhood soon. Don't miss their Videos page as well. It is full of some priceless video from a number of conventions.

Be sure to visit the referenced sites to see if there have been changes in dates/guests attending. Visit our Convention Calendar for a full listing of upcoming conventions.
BACK ISSUES OF THE ZOCALO TODAY
The front page of the The Zocalo Today changes daily, so be sure to check the back issues to make sure that you haven't missed anything IMPORTANT! I hope you will become a regular visitor to The Zocalo Today!
---
Take care and I look forward to hearing from you.
Sandra Bruckner (sgbruckner@aol.com)
Editor/Publisher
ISN News: The Zocalo Today
http://www.isnnews.net
Copyright - SBruckner, 1999-2014