The Zocalo Today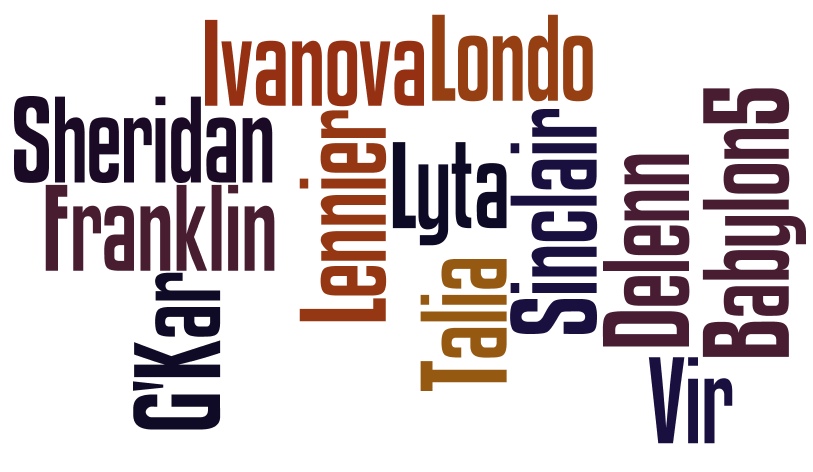 Welcome and thank you for dropping by. Babylon 5 brought many of us together -- and it remains with us, despite the fact that is no longer in production. The good thing is that the internet gives a LOT of ways to stay in touch. Don't be shy. Join in the discussion today or drop by Facebook or Twitter.

If you have questions or items for the news, drop me a line at sgbruckner@aol.com.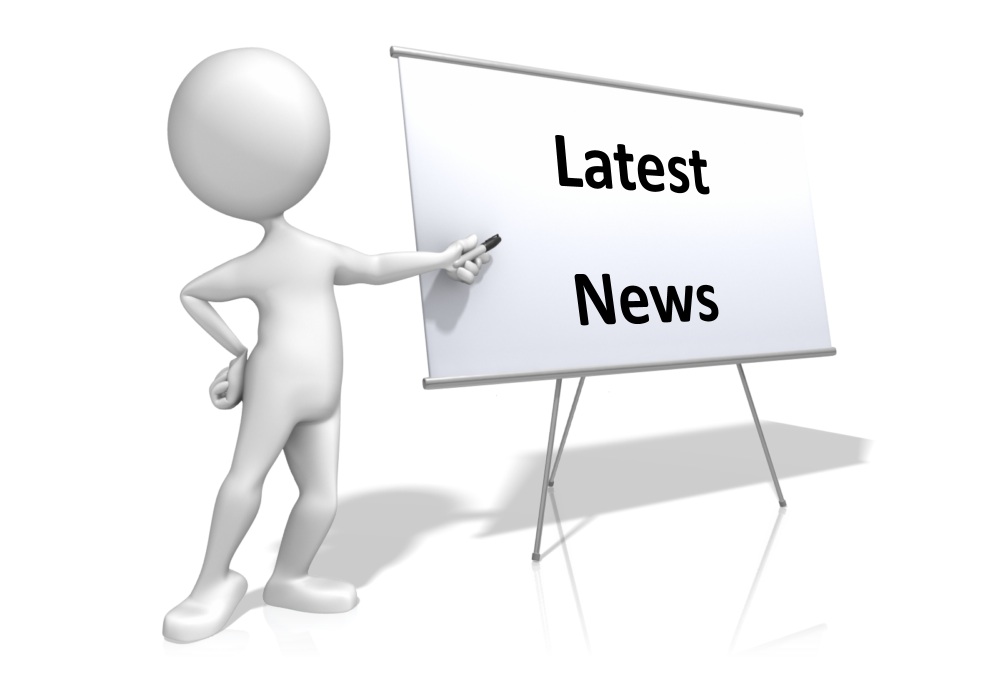 LATEST SCIENCE FICTION NEWS:
SATURDAY, AUGUST 30, 2014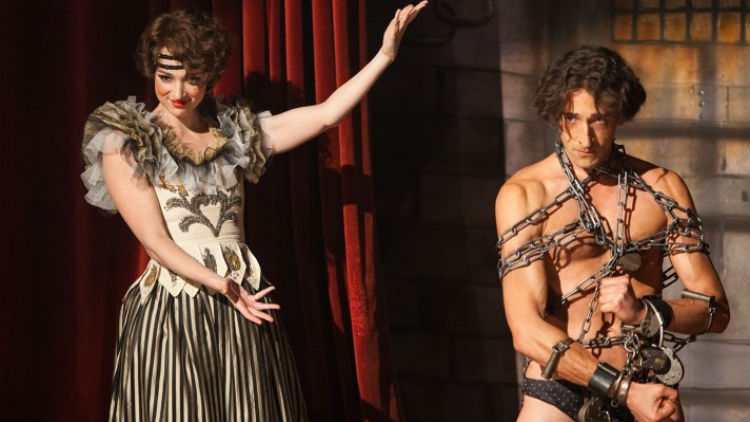 HOUDINI
History's latest mini-series "Houdini" tells the story of the great magician Harry Houdini like no one has ever seen before, and there are juicy nuggets sprinkled throughout the two night event for even the most die hard of fans.

Oscar winner Adrien Brody plays Houdini himself, while "House of Cards" actress Kristen Connolly plays his wife Bess, who was often his partner in magic as well as life. Zap2it got a chance to catch up with Connolly to find out just how she went about stepping into the role of Houdini's wife of 32 years.

What can you tease about why people should tune in to this version of the story? Audiences might know a little bit about these historical people, but I guarantee the general population are going to see things that surprise them. I hope it sparks an interest in Houdini, because the more you dig into who they are, they are so fascinating.

This is someone who became outrageously famous in a time where fame and the media was a very different thing. There were no viral videos or things like that. I think the way he manipulated the media and built a giant following in his career is really cool. As much as his ability as an escape artist was extraordinary, he also was really really gifted in keeping the public interested in him and changing with the times. His ability to constantly keep himself on the front page is a really interesting thing.

HOUDINI airs Monday, September 1st and Tuesday, September 2nd at 9 PM on HISTORY.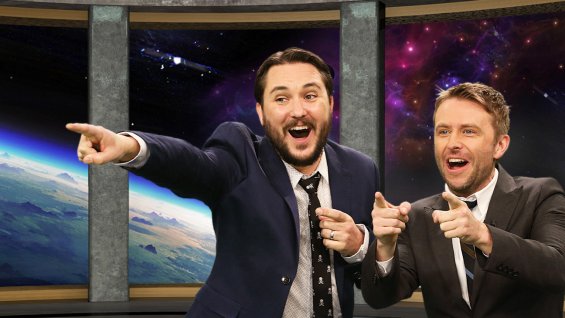 WIL WHEATON SHOW CANCELLED BY SYFY
Syfy will not continue on with its Wil Wheaton talk show.
The weekly Wil Wheaton Project has been canceled after 12 episodes, the host announced Friday. Syfy did not immediately return The Hollywood Reporter's request for comment. "I'm really OK with it," Wheaton recounted on his blog. "I'm super sad that I won't get to work with my writers and producers, and I'm sad that we don't get to keep writing jokes, but I did everything I could to help the show succeed. I promoted it the best way I could, I worked hard to write stuff that was funny, and I tried so, so, so hard to get the network executives in New York to understand how they could help the show succeed."
Ultimately he said Syfy executives told him that the series did not have "enough viewers to justify more episodes" of the series.
Syfy announced the series in April for a May debut. The show featured Wheaton dissecting sci-fil film, TV, video games, viral videos and news of interest to the geek community. The half-hour series hailed from Pilgrim Studios, with Craig Piligian and Mike Nichols (Ghost Hunters) on board as exec producers.
The cancellation comes as Syfy has recommitted to going back to the more traditional sci-fi and fantasy genre that viewers had come to expect from the network.
The NBCUniversal-owned network becomes the latest cabler to unsuccessfully attempt to enter the talk show space. While Comedy Central has found success with Chris Hardwick's geek-infused @Midnight and Bravo re-upped Andy Cohen and his Watch What Happens Live for two more seasons, FXX's W. Kamau Bell entry, Comedy Central's Anthony Jeselnik show as well as MTV's Nikki & Sara Live did not fare as well.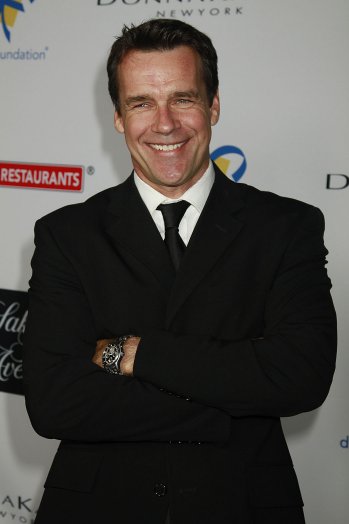 AMERICAN HANGMAN
David James Elliott, a star of the JAG TV series for 10 years, has boarded the U.S. indie American Hangman, The Hollywood Reporter has learned exclusively.
Elliott is to play Detective James Steptoe in the kidnapping thriller by writer-director Wilson Coneybeare of Los Angeles-based Canoe Lake Films.
American Hangman has already cast Sherlock's Martin Freeman and Brian Cox as leads.
The indie feature will shoot in Canada and the U.K. in November 2014, ahead of a 2015 release.
Marina Cordoni of Toronto-based Marina Cordoni Entertainment has joined the project as executive producer, and will chase pre-sales at the Toronto Film Festival.
Elliott, best known as JAG's Cmdr. Harmon "Harm" Rabb, is also set to play Hollywood legend John Wayne in Trumbo, the Dalton Trumbo biopic starring Bryan Cranston and directed by Jay Roach.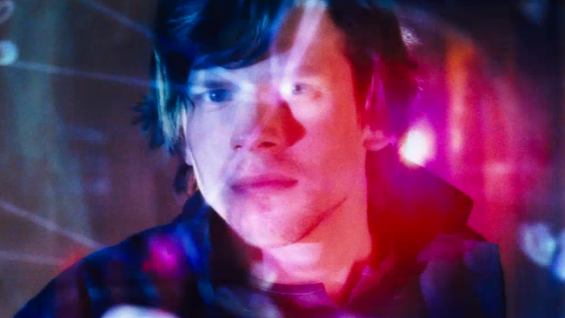 BATMAN VS SUPERMAN: DAWN OF JUSTICE
While we've seen Batman, Wonder Woman and Superman in their Batman v Superman: Dawn of Justice costumes — with the latter even being seen in drench-o-vision as part of the ALS Ice Bucket Challenge — Jesse Eisenberg's Lex Luthor has been surprisingly absent from any pre-release hype to date. In a recent interview, the actor merely added to the mystique around the new take on everyone's favorite mad scientist.
"I got to know one of the writers really well, Chris Terrio, and we were able to discuss things at length and figure out who this person is to create a real psychology behind what is, perhaps, in a comic book, a less than totally modern psychology," Eisenberg told Total Film Magazine when asked about the role, adding "I can only say I've been asked to play an interesting role: a complicated, challenging person."
The Social Network star did spill the beans that he had to express interest in playing Superman's long-standing nemesis before even seeing a script for the movie. "They asked me if I wanted to play the part before they sent me the script," Eisenberg said. "You know, they don't just hand the scripts out."
Despite his success to date, Eisenberg said that he was prepared for Lex to propel him into another level of celebrity. "To say, I can't do that which will appear in thousands of theaters on opening day, but I can do this which will appear in this amount of theaters... It's arbitrary," he reasoned, before turning the thought into a compliment for the production as a whole. "I realize how popular comic-book movies are, and now, working on one, I realize why they're popular — the story is really good, the dialogue is really good, the artistry behind every department is high, the acting is really good."
With the movie still more than a year away from release — and, indeed, still in production — it's not surprising that we've not seen Eisenberg's Luthor yet, but now that the actor is talking about the role, someone needs to ask the one question that really matters: Is he playing the role bald, as Lex Luthor should be, or in the Gene Hackman method of "supposedly wearing a wig throughout the entire movie for reasons of vanity"?
GREATEST AMERICAN HERO REMAKE
"The Greatest American Hero" is headed back to television with a pilot in the works from the 21 Jump Street and The LEGO Movie team of Phil Lord and Chris Miller! Deadline has the news, reporting that the show is being developed for FOX as an hourlong series.
Based on the ABC-TV series which ran from 1980 to 1983, "The Greatest American Hero" follows a nebbishy teacher who becomes a reluctant superhero after extraterrestrials give him a special suit with powers he can barely understand or control when he loses its instruction manual. The original stars William Katt, Robert Culp and Connie Sellecca.
Lord and Miller are working alongside Tawnia McKiernan, the daughter of the original show's creator, Steven J. Cannell. The pair will executive produce alongside Seth Cohen and Rodney Rothman, who is also attached to write.
AMERICAN GODS
We learned in early July that Bryan Fuller, Michael Green and Neil Gaiman are set to executive produce a small screen adaptation of Gaiman's 2001 bestseller "American Gods." Today, CraveOnline caught up with Fuller and learned a few intriguing details about his plans for the series, which he says will likely shoot in 2015 and air in 2016.
"It's basically the following the events of the books," says Fuller, "but expanding those events, and expanding the point of view to go above and beyond Shadow and Wednesday. In that way, as with 'Game of Thrones,' there are dozens of characters that you're tracking through the events and that's probably the biggest similarities between the worlds, in that there's a wide variety of characters at play."
"American Gods" posits a war brewing between old and new gods: the traditional gods of biblical and mythological roots from around the world steadily losing believers to an upstart pantheon of gods reflecting society's modern love of money, technology, media, celebrity and drugs. Its protagonist, Shadow Moon, is an ex-con who becomes bodyguard and traveling partner to Mr. Wednesday, a conman but in reality one of the older gods, on a cross-country mission to gather his forces in preparation to battle the new deities.
Fuller goes on to reveal that the series may also include elements of Gaiman's 2005 quasi-sequel, "Anansi Boys" and jokes that Gaiman "god damn well better" write some of the series' episodes.
THE ZOCALO TODAY
Be sure to check out The Zocalo Today on Facebook as well as at ISN News: The Zocalo Today on Yahoo Groups. Did you miss the news from yesterday -- or earlier in the week. Catch up by going to the August News Archive. I have broken up the huge file into months to make it easier to scan through. It will bring you up to date for all that has been going on in the world of science fiction. Go to:
July News.
June News.
May News.
April News.
March News.
February News
January News
December News
November News
October News.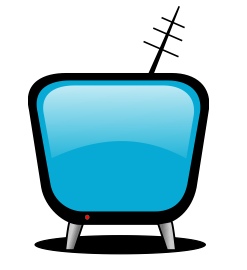 ON THE TUBE TONIGHT 8:00pm on CBS
Unforgettable
Season 3, Episode 9: Admissions
When a powerful CEO is murdered, Carrie and Al's investigation leads them to an elite prep school.

8:00pm on ABC Family
Rio
Captured by smugglers when he was just a hatchling, a macaw named Blu (Jesse Eisenberg) never learned to fly and lives a happily domesticated life in Minnesota with his human friend, Linda. Blu is thought to be the last of his kind, but when word comes that Jewel (Anne Hathaway), a lone female, lives in Rio de Janeiro, Blu and Linda go to meet her. Animal smugglers kidnap Blu and Jewel, but the birds soon escape and begin a perilous adventure back to freedom -- and Linda.

8:00pm on BBC America
Doctor Who: Earth Conquest

8:00pm on TNT
The Lord of the Rings: The Return of the King
The culmination of nearly 10 years' work and conclusion to Peter Jackson's epic trilogy based on the timeless J.R.R. Tolkien classic, "The Lord of the Rings: The Return of the King" presents the final confrontation between the forces of good and evil fighting for control of the future of Middle-earth. Hobbits Frodo and Sam reach Mordor in their quest to destroy the `one ring', while Aragorn leads the forces of good against Sauron's evil army at the stone city of Minas Tirith.

9:00pm on BBC America
Doctor Who
Season 8, Episode 2: Into the Dalek
The Doctor comes to the rescue of a lone rebel ship that is surrounded by a Dalek fleet.

9:00pm on FX
Battleship
Lt. Alex Hopper (Taylor Kitsch) is a weapons officer aboard the destroyer USS John Paul Jones, while his older brother, Stone (Alexander Skarsgård), is the commanding officer of the USS Sampson. Unknown to Alex, Stone or the rest of the U.S. Navy, alien invaders have arrived on Earth with plans to steal Earth's resources. When a confrontation with the invaders knocks out the Navy's radar capability, American and Japanese forces must work together to find a way to save the planet.

9:00pm on Syfy
Bait
A freak tsunami traps a group of people in a submerged grocery store. As they try to escape, they are hunted by white sharks that are hungry for meat.

10:00pm on BBC America
Intruders
Season 1, Episode 2: And Here... You Must Listen
Amy's movements raise more questions for Jack; Madison finds herself in a train station.
KEEPING UP WITH CAST AND CREW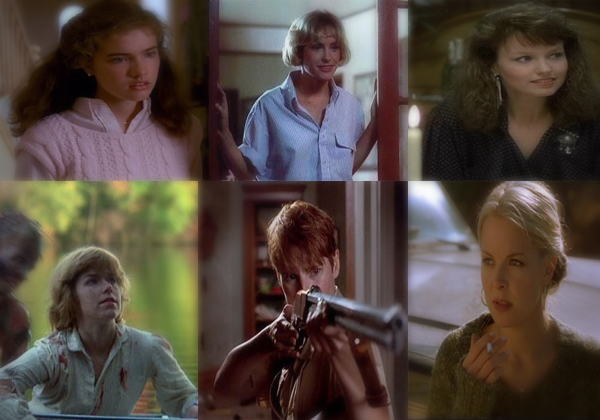 PAT TALLMAN IN FINAL GIRLS
Horror actor/director William Butler (LEATHERFACE: TCM III, NIGHT OF THE LIVING DEAD remake, director of MADHOUSE) has just announced THE SURVIVORS, an upcoming horror ensemble, featuring quite an impressive cast of some of horrors most beloved final girls, all banding together to stop a serial killer. This is a horror lover's dream, as it's always been a topic of conversation among fans regarding what it would be like if all of horror's final girls got together to kick some ass and thansk to Butler and his Transition Entertainment company, that topic is about to see the light of day. "Butler and writer Patrick J. Doody (Beneath) are currently penning the story for "THE SURVIVORS" a horror-action feature-film about a multi-generational group of strong female survivors who decide to get revenge as they ban to together and turn the tables on legendary murderer who, during their youth pursued them all. After the killer resurfaces, the women make a pack to track him down and end his twenty-five year killing spree. Starring in the project so far are an impressive cast of fan favorites including: Adrienne King (FRIDAY THE 13TH) Heather Langenkamp (NIGHTMARE ON ELM STREET) Jordan Ladd (CABIN FEVER) Amanda Wyss (A NIGHTMARE ON ELM STREET) Deborah Foreman (WAXWORK, APRIL FOOLS DAY) and Patricia Tallman (NIGHT OF THE LIVING DEAD '90). Butler is also meeting with with Amy Steel (FRIDAY THE 13th 2), P.J. Soles (HALLOWEEN), Kelli Maroney (NIGHT OF THE COMET), Tuesday Knight (NIGHTMARE ON ELM ST 4) and Lisa Wilcox (NIGHTMARE ON ELM ST 4/5), Beverly Randolph (RETURN OF THE LIVING DEAD) in hopes they will also join the dream team.

THE ART OF BABYLON 5
There was a fabulous panel at San Diego Comic Con to celebrate the art of Babylon 5. Follow this link to see the video and enjoy the exchange with John Iacovelli, Mark Walters, Tim Earls, Alan Kobayashi, Dark Hoffman and John Copeland. http://vimeo.com/channels/788028.

CLAUDIA CHRISTIAN - ONE LITTLE PILL
Claudia Christian has a number of wonderful B5 and other goodies at her store on her website. Please check them out to see if you would like to help Claudia complete her documentary. Follow the link below for more information.

All new goodies have landed in the Official Claudia Christian Store, including more autographed photos, postcards, scripts, magazines, and books! Remember, all proceeds go to support the C Three Foundation as we head in to the final lengths of the "One Little Pill" documentary post-production process. ~ Admin Kelly http://www.ClaudiaChristian.net/ecommerce/index.php.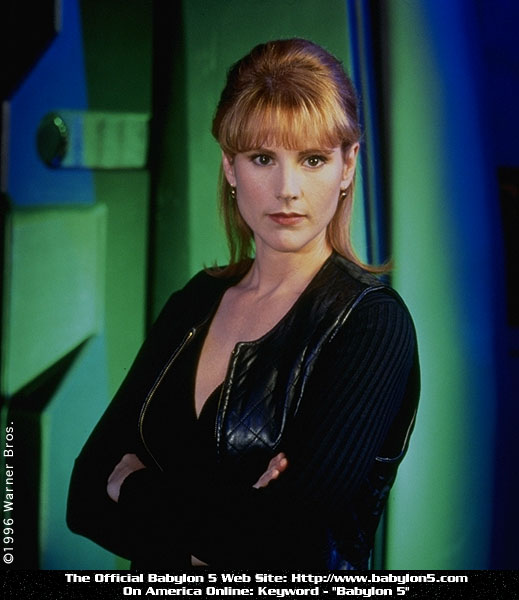 PAT TALLMAN UPDATE
Pat is talking to you straight! Facebook has made it harder than ever for you to see the posts from your favorite Pages. If you follow Pat on FB, you know her brand of snarky sexy humor. Well now it's no holds barred! Sign up for Pat's newsletter on her site PatriciaTallman.com and get it unsensored.The newsletter has content that will not be on the Facebook page or the site.
In this first issue, there is a special offer only available to those on the newsletter. Sign up by March 31st and be in the know.




Here is a quote from J. Michael Straczynski about emotions.
I had this theory that the more important and intimate the emotion, the fewer words are required to express it.

First it's in dating: "Will you go out with me?" Six words.
"Honey, I care for you." Five words.
"You matter to me." Four words.
"I love you." Three words.
"Marry me." Two words.
But what's left? What's the one most important and intimate word you can ever say to somebody? It's "goodbye."

While Michael O'Hare (Sinclair), Andreas Katsulas (G'Kar), Rick Biggs (Dr. Franklin), Tim Choate (Zathras) and Jeff Conoway (Zach Allen) are no longer with us, we will not forget their wonderful personalities and talent -- as well as their significant contributions to the BABYLON 5 universe. Be sure to visit In Memory Of for more information about memorial efforts.
Until we met again, in a place where no shadows fall.
BABYLON 5 BIRTHDAYS
AUGUST
Martin Sheen - August 3
Daneil Dae Kim - August 4
Claudia Christian - August 10
Stephen Austin - August 11
Tim Earls - August 15
Nancy Tarczynski - August 16
William Morgan Sheppard - August 25 (Soul Hunter and The Long Twilight Struggle)
Skip Beaudine - August 26

Have I missed anyone? If you know the birthday of someone connected with Babylon 5, pass the information along. We want to include everyone in our Happy Birthday Wishes.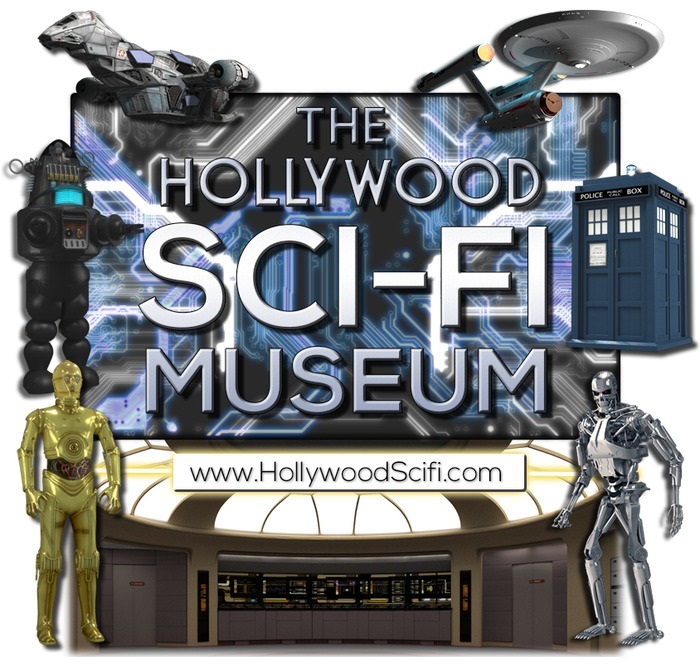 THE HOLLYWOOD SCI-FI MUSEUM
Here's a project you may want to get involved with!
About the Project:
New Starship Foundation, the nonprofit behind the Enterprise-D Bridge Restoration, with board members including the greatest talents in science fiction, presents THE HOLLYWOOD SCIENCE FICTION MUSEUM. This will be the first museum in the world to exclusively show the history of sci-fi films, TV, art and literature through props, sets and costumes, as well as show advancements in space travel and teach Real Science through Science Fiction. It will be an interactive museum with fully immersive environments and touch screens that will incorporate old and new footage from actors, filmmakers and NASA astronauts and scientists, and will present both the fact and fiction of sci-fi. This will eventually teach Science, Technology, Engineering and Math (STEM) based education in a fun new way to all ages. The museum will include exhibits from: Star Trek, Star Wars, Doctor Who, 2001, Alien, Metropolis, Thunderbirds, Firefly, Babylon 5, Battlestar Galactica, Stargate, Blake's 7, Ghostbusters, Farscape, The Time Machine, Godzilla, X-Men, Avengers, Superman, Planet of the Apes, Back to the Future, Day the Earth Stood Still, V, Batman, Six Million Dollar Man, Bionic Woman, Flash Gordon, Buck Rogers, as well as Fantasy like Lord of the Rings, Labyrinth, Legend, Munsters, Herbie the Love Bug, Chitty Chitty Bang Bang, Dark Crystal, Game of Thrones, Anime like Akira and Speed Racer, and anything else we can fit within our walls. This Kickstarter is to acquire the funds to develop our 2015 Hollywood Sci Fi Museum, which will be smaller than the future museum, but still significant and unique. This "concept art" of the giant Millennium Falcon and Enterprise-D is for our 2018 Hollywood Sci Fi Museum. Go to http://www.hollywoodscifi.org/ for more information.
BABYLON 5 MUSIC VIDEOS AND TRIBUTES
John Hudgens has created many Babylon 5 videos, but I believe this is the most moving. It was first shown at the Phoenix Comic Con 20th Anniversary and honors many of the Babylon 5 family who have passed on.

Here is a link to John's Babylon 5 videos:
https://www.youtube.com/user/Babylon5MusicVideos?feature=watch

Richard Biggs memorial: http://www.youtube.com/watch?v=HyD4L8yNtsA

Andreas Katsulas memorial: http://www.youtube.com/watch?v=h2UQ2l9NPIg

- This is the extended version that I did for Andreas' widow ater the original cut was released on the net. It's never been seen online until now.

For those of you who've never seen these, I hope you enjoy them - and for those that have (and emailed me many times over the years about releasing them), I hope they're as good as you remember. Working with Joe on these videos was one of the highlights of my career, and I'll be forever grateful to him for the doors these have opened for me. I'm proud to have them on my resume.

John Hudgens
www.zteamproductions.com
---





Worldcon, LONCON3
Dates: August 17-20, 2014
Place: London, England
For more information, go to http://www.loncon3.org/index.php. DRAGONCON 2014
Dates: August 29-September 1, 2014
Place: Atlanta, GA
Guests: Patrick Stewart, Peter Weller, Peter Williams, Richard Hatch, Wesley Eure - and many more
For more information, go to www.dragoncon.org. HAWAII CON
Dates: September 12-14, 2014
Place: Hapuna Beach Prince Hotel, Hawaii
Babylon 5 Guests: Pat Tallman, Claudia Christian, Walter Koenig
Other Guests from Stargate Atlantis, Battlestar Galactica, Games of Thrones and more
For more information, go to www.hawaiicon.com. CRYSTAL COAST CON
Date: October 18, 2014
Place: Mac Daddys Family Entertainment Facility, Cape Carteret, NC
B5 Guests: Pat Tallman and Bill Blair
Pat will be a media signing guest. The facility located at 130 Golfin Dolphin Dr., Cape Carteret, NC 28584
For more information, go to http://www.crystalcoastcon.com/. LONDON FILM AND COMIC CON WINTER
Dates: October 18-19, 2014
Place: Earls Court 2, Old Brompton Road, SW5 9TA
Guests: Katee Sackhoff, Nicola Bryant, Ralph Macchio, Christopher Cousins, Colin Baker, David Prowse and many more
For more information, go to http://www.londonfilmandcomiccon.com/ Spooky's Ultimate Horror Weekend
Dates: Oct. 24-26, 2014
Place: Doubletree Universal Studios, Orlando, FL 32819
Guests:
Michael Rooker - Walking Dead & Jeremiah; Stephen Pearcy - Ratt; Dee Wallace Stone - ET & Cuju; Tyler Mane - Halloween & X Men, and Tobin Bell - Dexter
For more information, go to http://www.spookyempire.com/. MALTA COMIC EXPO
Dates: October 31-November 2, 2014
Place: Mediterranean Conference Center, Valletta, Malta
Guests: Richard Piccardo, Dirk Benedict,Silvester McCoy and many more
For more information, go to http://maltacomicsexpo.com/. MAGIC CITY COMIC CON
Dates: January 16-18, 2015 Place: Miami Airport Convention Center
Comic Guests: John Romita, Jr., Allen Bellman, Adelso Corona, Greg Kirkpatrick, Dan Scott
For more information, go to http://www.magiccitycomiccon.com/. STEEL CITY CON
Dates: December 5-7, 2014
Place: Monroeville Convention Center, Monroeville, PA
Guests: Linda Blair, Henry Winkler, Michael Dorn, Peter Mayhew, Terry Farrell, John Wesley Shippe, and more.
For more information, go to http://www.steelcitycon.com/. FED-CON 24
Dates: May 21-24, 2015
Place: Maritim Hotel, Dusseldorf, Germany
Guests: Sam Jones, Aaron Douglas, Grant Bowler and more to come
For more information, go to http://www.fedcon.de/en/. SPECIAL ANNOUNCEMENTS!
Wizard World Conventions has a large number of events planned for the year. Be sure to visit the page to see if there is a convention of interest near you.

Creation Entertainment has a large number of conventions planned for the next several months. They include stars from TWILIGHT, SUPERNATURAL, STARGATE, FARSCAPE, XENA, SERENITY, STAR TREK, etc. Check out their calendar to see if one will be in your neighborhood soon. Don't miss their Videos page as well. It is full of some priceless video from a number of conventions.

Be sure to visit the referenced sites to see if there have been changes in dates/guests attending. Visit our Convention Calendar for a full listing of upcoming conventions.
BACK ISSUES OF THE ZOCALO TODAY
The front page of the The Zocalo Today changes daily, so be sure to check the back issues to make sure that you haven't missed anything IMPORTANT! I hope you will become a regular visitor to The Zocalo Today!
---
Take care and I look forward to hearing from you.
Sandra Bruckner (sgbruckner@aol.com)
Editor/Publisher
ISN News: The Zocalo Today
http://www.isnnews.net
Copyright - SBruckner, 1999-2014