The Zocalo Today

Welcome to ISN News: The Zocalo Today. Babylon 5 celebrated its 20th Anniversary but because of the quality of the series, fans are still out there supporting the show -- and new ones are joining each day. With J. Michael Straczynski promising a new production in the near future, we need to continue support of the show -- bringing new people to watch and discuss the show. Join in the discussion today on Facebook or Twitter.

If you have questions or items for the news, drop me a line at sgbruckner@isnnews.net.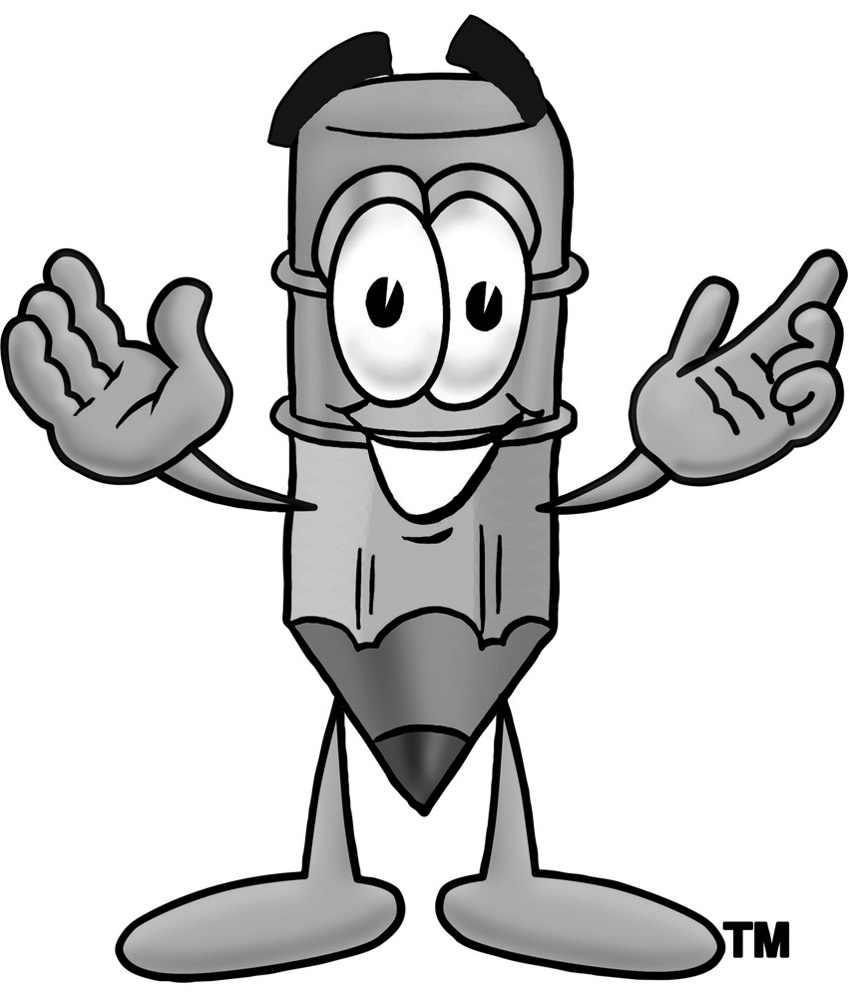 TODAY'S NEWS
FRIDAY, FEBRUARY 27, 2015

SENSE8
Not much information so far for JMS' new Netflix series Sense8, but check this out: Sense8 now has a page on Netflix. No release date yet but the blurb is: Coming 2015 One gunshot, one death, one moment out of time that irrevocably links eight minds in disparate parts of the world, putting them in each other's lives, each other's secrets, and in terrible danger. Ordinary people suddenly reborn as "Sensates." http://www.netflix.com/WiMovie/80025744.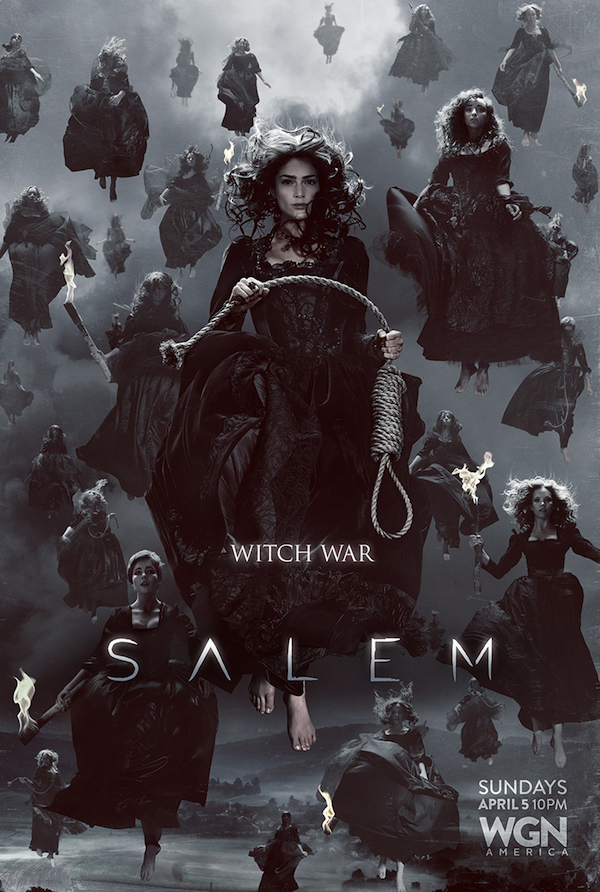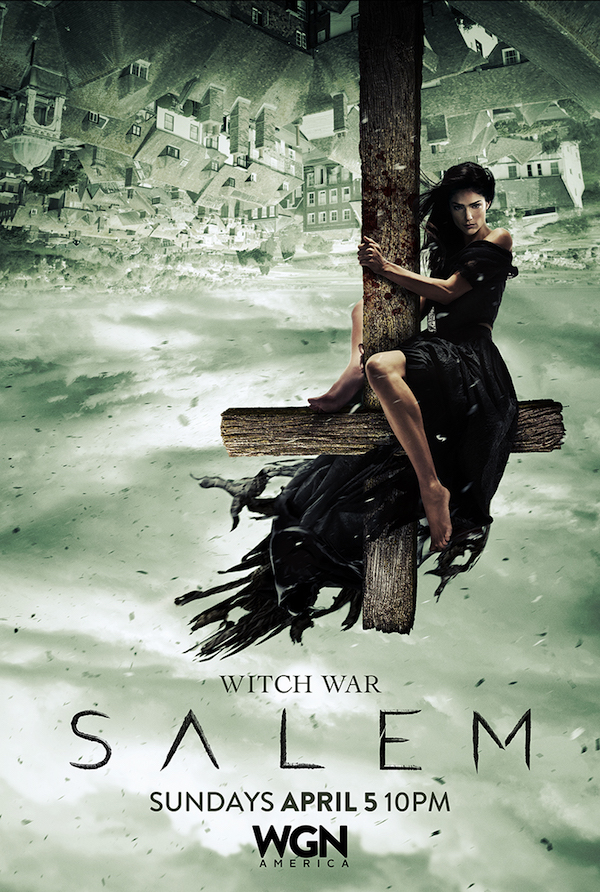 SALEM
Something very wicked is coming to "Salem" for its second season. WGN America released some fantastically creepy new posters for the period drama about the 17th century Massachusetts witch trials, and they show that there's plenty to fear from the show's April 5 return. Heralding the start of a "witch war," the new images show Mary Sibley (Janet Montgomery) leading the charge. Whether it's an army of witches hovering in the air holding nooses and torches or Mary sitting on an inverted cross, it's clear plenty of darkness is ahead. Season 1 left off on a major cliffhanger for Mary as her love interest, Capt. John Alden (Shane West), was saved by Native Americans from the brink of death. Executive producer Brannon Braga tells Zap2it, "Season 2 will be the complete transformation that occurs -- there are new stakes, emotionally, in that relationship. It'll be supercharged." EVA
The acclaimed sci-fi flick Eva has been kicking around internationally since 2011, but now it's finally getting a U.S. release. Directed by Kike Maíllo, the film stars Daniel Bruhl (Inglourious Basterds, Rush) in a near-future version of our world and is focused on an emotional tale of artificial intelligence. Considering we're about to see the release of both Neill Blomkamp's Chappie and Alex Garland's Ex Machina, it'd be easy to lump this one into the same category. But, despite the delayed U.S. release, it technically beat those flicks to market by four years. The film was a hit in its native Spain, and was nominated for more than a dozen awards in the nation's film competitions and netted wins for best new director and best special effects. We have the Weinstein Company to thank for finally setting up a U.S. release. It's set for a limited release in the States on March 13. Here's the official synopsis: The year 2014. Humans live along with machines. Alex, a renowned cybernetic engineer, returns to Santa Irene to carry out a very specific mission for the Robotic Faculty: the creation of a child robot. During his ten-year absence, life has moved on for his brother David and Lana, who got her life back together after his departure. Alex's routine is altered in an unexpected way by Eva, Lana and David's amazing daughter. She is a very special, charismatic little girl. She and Alex have a special connection from the moment they meet. They set out on a journey together, which will bring them to a revelatory end.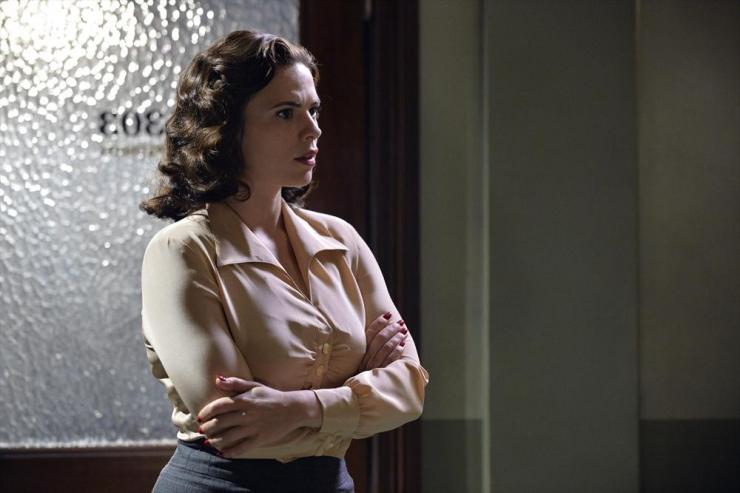 AGENT CARTER
Golly gosh was the season-one finale of Agent Carter high on action and emotions, mister. And if you stuck around right until the very end, the show managed to take us by surprise with an unexpected twist: a cameo appearance by a Captain America character last seen in Winter Soldier. SHOW SPOILERS AHEAD When the SSR took Dr. Fenhoff/Ivchenko (Ralph Brown) -- who, as it turned out, was well-established Marvel character Dr. Faustus -- into custody, he met his new cellmate, who was ... Captain America's Dr. Arnim Zola (Toby Jones). How did they pull this off? And why? Captain America writers and Agent Carter creators Christopher Markus and Stephen McFeely talked about how it all came together in a lengthy and interesting interview with Entertainment Weekly, revealing how the idea to have Toby Jones appear in the finale came about. Here's what McFeely said: "We've wanted Toby Jones to appear since we pitched this show. We did not know exactly where it would happen or where he was on his timeline, but we always wanted to show you how Hydra started its [reach within S.H.I.E.L.D.]" With Christopher Markus adding: "People having seen [Captain America:] Winter Soldier know what happens to S.H.I.E.L.D., so we didn't want to deal with that as a plot point because it's a given, but just to give them a delicious little taste of the story that they know happen. Also, it has become clear weirdly that there are four characters who span the entire marvel Cinematic Universe: Steve, Bucky (Sebastian Stan), Peggy and Zola. We wanted to see Toby's body again." Yeah, because last we saw Zola in Captain America: The Winter Soldier, we only saw the little man's "head" in that pretty old computer -- you know, aside from those little bits of flashbacks. McFeely revealed who it was who had the idea to put Toby Jones Zola in jail in the first place: "It was [showrunners] Tara Butters and Michelle Fazekas who decided to put him in jail. We said, "Let's have him!" and they figured out where to put him." Stephen McFeely also confirmed that Zola's appearance was their way of saying that all this was leading to the Winter Soldier program, since Dr. Faustus works on mind control, saying: "Yes, I think it is safe to say there is a connection." Christopher Marcus expanded a bit more on the subject: "It's a bit of a convoluted timeline in that in the first Captain America, Zola was captured in the same mission where Bucky fell off the train. Theoretically, a division of Hydra—possibly a Russian division of Hydra—went and got the body while Zola was in custody. Zola had already done something to Bucky, and experimented on him that made him beyond human, which allowed him to survive the fall and make him worth doing the research on. They kept him in stasis until Zola was able to have a little bit of freedom from the American government, at which point he maybe brought his new friend Johann Fennhoff to handle the mind control part of the Winter Soldier project." "That's how we see it," McFeely added. "I'm not positive that is gospel at the moment, but that's how we sleep at night." The Captain America writer then added a bit of intriguing news about the appearance of Arnim Zola in that last Cap flick: "Zola wasn't always going to be in Winter Soldier, but we needed a good way to have this exposition dump in the middle of the movie. We love Toby Jones and thought that would be a great idea. When we got the chance to do the television show, we wanted Toby Jones in that, too." McFeely and Markus were asked if they had considered some other, alternate endings when it came to Zola and Dr. Faustus, with Markus revealing the real debate was actually when Zola's involvement with S.H.I.E.L.D. came about: "The debate is when he went from prisoner to collaborator. In 1946, he was probably still a prisoner, but there was some debate of what side of the bars he's on." Markus and McFeely also teased what would happen in a potential season two, saying they'd love to delve in Peggy's backstory, i.e. what makes Peggy Peggy, in the words of McFeely. "Why is she that way? We have some thoughts on that."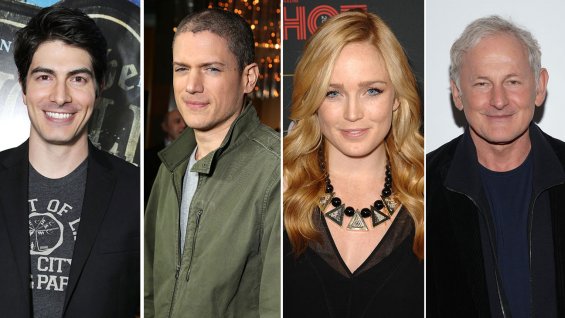 SUPER SPIN-OFF
The CW superhero universe may be getting bigger. The network is eying a star-studded spinoff featuring characters from Arrow and The Flash, The Hollywood Reporter has confirmed. Arrow creators Greg Berlanti, Andrew Kreisberg and Marc Guggenheim are behind the project, which would unite Arrow's Brandon Routh as Ray Palmer/The Atom and Caity Lotz whose Arrow character Sara Lance/Canary was killed off this season. It is unclear if she would revive the character or don a different identity. Also in the mix would be The Flash's Wentworth Miller, with the Prison Break alum playing Leonard Snart (the villainous Captain Cold) and Victor Garber as Dr. Martin Stein (one half of Firestorm). Arrow and The Flash found success this season with a series of crossover episodes, and it is possible other characters from those shows could pop up on this spinoff, which is described as a superhero team-up series. For now, the drama is in early development but considering its star power and success of its creative team, could go straight to series for next midseason. Three additional DC characters, who have not been featured on Arrow or The Flash, are also said to play important roles in the drama. This is the project that was first hinted at during January's Television Critics Association press tour, when it was described as spinoff featuring Routh's Atom. The DC "team-up" also comes as Berlanti and Kreisberg are busy prepping CBS' DC Comics take on Supergirl, which has a series commitment at the network. The potential Arrow/Flash team-up also hails from Warner Bros. Television and Greg Berlanti Productions' topper Sarah Schechter. It comes as DC has found mega-success on the small screen with Fox's Gotham in addition to Arrow, The Flash and potentially Supergirl. Routh joined Arrow this season as billionaire inventor Ray Palmer, with him making his debut in The Atom suit in Wednesday's Arrow. Lotz's Sara was an important part of team Arrow during season two. She was previously thought to be dead, and was killed of early on in the current season three. Miller's character Captain Cold, the only villain of the bunch, has appeared in two episodes of The Flash so far, with him giving The Flash (Grant Gustin) among his toughest battles, using a specially created gun that has the ability to shoot freezing cold and ice. Meanwhile, Garber's Stein recently completed a two-episode arc on The Flash as a scientist who became fused with twenty-something Ronnie Raymond (Robbie Amell), with the pair unwillingly combining to become a destructive force.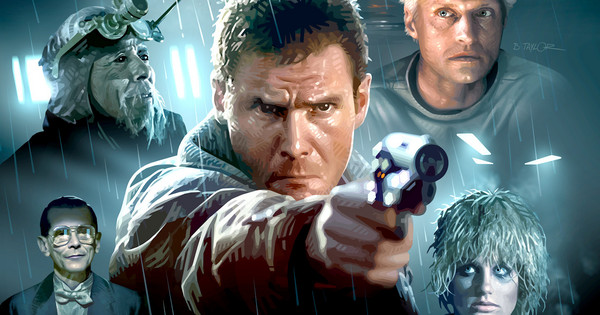 BLADE RUNNER
Harrison Ford is officially set to reprise his celebrated role of Rick Deckard in the sequel to Alcon Entertainment's Blade Runner and Academy Award nominee Denis Villeneuve (Prisoners, Incendies) is in negotiations to direct, it was announced by Alcon co-founders and co-CEO's Andrew Kosove and Broderick Johnson! The film is scheduled to start principal photography in summer of 2016. Hampton Fancher (co-writer of the original) and Michael Green have written the original screenplay, based on an idea by Fancher and Ridely Scott. The story takes place several decades after the conclusion of the 1982 original. "We are honored that Harrison is joining us on this journey with Denis Villeneuve who is a singular talent, as we experienced personally on 'Prisoners,'" said Johnson and Kosove, "Hampton and Michael, with Ridley Scott, have crafted a uniquely potent and faithful sequel to one of the most universally celebrated films of all time, and we couldn't be more thrilled with this amazing, creative team." Ford will next be seen in The Age of Adaline for Lionsgate before he reprises another iconic sci-fi role, returning as Han Solo in J.J. Abrams' much-anticipated Star Wars: The Force Awakens. Villeneuve's next, meanwhile, is the crime thriller Sicario, starring Emily Blunt, Josh Brolin and Benecio Del Toro, for Black Label Media and Lionsgate. Alcon Entertainment acquired the film, television and ancillary franchise rights to Blade Runner in 2011 from producer Bud Yorkin to produce prequels and sequels to the iconic science-fiction thriller. Yorkin will serve as a producer on the sequel along with Kosove and Johnson. Cynthia Sikes Yorkin will co-produce. Frank Giustra and Tim Gamble, CEO's of Thunderbird Films, will serve as executive producers. ALIEN SEQUEL
Continuity fans can breathe a sigh of relief today as Chappie helmer Neill Blomkamp today clarifies to French film site AlloCine that his plans for the next Alien film do not mean that he'll be dismissing the events of the second half of the sci-fi horror franchise. "I'm not trying to undo 'Alien 3′ or 'Alien Resurrection,'" he tells the outlet. "…My favorites are the first two movies. I want to make a film that's connected to 'Alien' and 'Aliens.' That's my goal." Blomkamp's comments come on the heels of a report yesterday that led many to speculate that the new film would rewrite the events of the latter sequels. We're still not entirely sure how Blomkamp's planned take fits into the chronology as his concept art (check it out in the gallery viewer below) seems to suggest that the film will feature Michael Biehn's Aliens character of Corporal Dwayne Hicks. Could the new film take place between Aliens and Alien 3, or does the District 9 director (and Alien franchise superfan) have some other tricks up his sleeve? Only time will tell, but check back for updates as they become available. Blomkamp's next, Chappie, stars Sigourney Weaver opposite Hugh Jackman and Sharlto Copley and arrives in theaters March 6.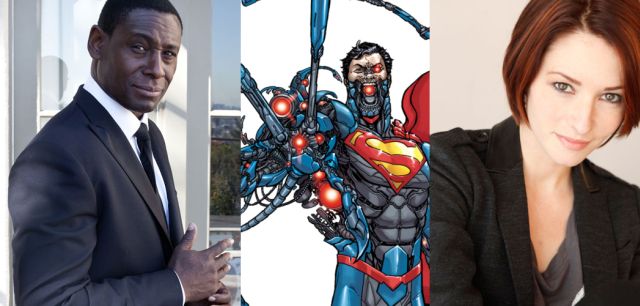 SUPERGIRL NEWS
CBS and DC Entertainment have announced two more have joined the cast of their upcoming "Supergirl" series with "Homeland" star David Harewood as Hank Henshaw and Chyler Leigh as Alexandra "Alex" Danvers. Henshaw, as comic fans know, will go on to become the villain Cyborg Superman, but in the series he is described as "A onetime CIA agent, who now runs the Department of Extra-Normal Operations (DEO), which tracks extraterrestrial threats on the planet Earth." Alex will be Kara's foster sister on the show, described as "fascinated by Kara's powers from a young age, Alex developed a lifelong obsession with science which inspired her to become a doctor." In addition, "Arrow" and "The Flash" executive producer/writer Andrew Kreisberg has signed on to executive produce the series, which will no doubt rekindle the crossover buzz between "Supergirl" and The CW shows. The two join as cast that includes Melissa Benoist as Kara Zor-El, Mehcad Brooks as James Olsen, Laura Benanti as Kara's Kryptonian mother Alura Zor-El, and Calista Flockhart as Cat Grant. Hailing from Warner Bros. TV and Berlanti Productions (who also produce the hit DC Comics series "Arrow" and "The Flash" for The CW), "Supergirl" is based on the characters from DC Comics and centers on Kara Zor-El, who comes to Earth after escaping the destruction of Krypton. After many years hiding her abilities, she joins the ranks of her cousin Superman to become the hero she was meant to be. The pilot episode was written by Ali Adler ("No Ordinary Family") and Greg Berlanti ("Arrow," "The Flash"). They will also executive produce along with Sarah Schechter and Warner Bros. TV. The show has a series commitment at CBS. DAREDEVIL
Netflix's first collaboration with Marvel Studios, 'Daredevil' is due to hit on April 10th and like all Netflix original series, all thirteen episodes will be available at the same time, so you can binge watch the whole thing in one sitting if you want! Or at least in one weekend. Or you can watch an episode a week like a normal TV show. (But nobody does that.) The series adds another live action hero to Marvel's ever-growing roster, which includes the various heroes from its Cinematic Universe and its TV spin-offs and now, even includes Spider-Man, thanks to a peace treaty with Sony. 'Daredevil' stars Charlie Cox as Matt Murdock a blind attorney, who secretly has super senses and incredible gymnastics and martial arts abilities, which he uses to protect Hell's Kitchen, one of the roughest and most crime-ridden neighborhoods of New York. It is executive produced by Steven S. DeKnight, Jeph Loeb and Drew Goddard. In addition to Cox, the cast includes Vincent D'Onofrio as Wilson Fisk aka The Kingpin of Crime, Deborah Ann Woll as Karen Page, Elden Henson as Foggy Nelson, Rosario Dawson as Claire Temple, Bob Gunton as Leland Owlsely aka The Owl, Vondie Curtis Hall as Ben Urich, Toby Leonard Moore as The Kingpin's right hand man Wesley and Ayelet Zurer as Vanessa Fisk. 'Daredevil' is the first of four new Marvel/Netflix shows, leading 'AKA Jessica Jones', 'Luke Cage' and 'Iron Fist'. All four will tie together and the starring heroes will join forces in a follow-up miniseries 'The Defenders'. As has already been revealed, Daredevil starts out as a "homemade" hero, wearing essentially store-bought clothes, but by the end of this season, he will adopt a red costume closer to his comic book look. But nevermind the super suit, it's the power suit on Matt Murdock that takes center stage on the latest piece of promotion for the series, this motion poster.
THE ZOCALO TODAY
Be sure to check out The Zocalo Today on Facebook as well as at ISN News: The Zocalo Today on Yahoo Groups. Did you miss the news from yesterday -- or earlier in the week. Catch up by going to the January News Archive.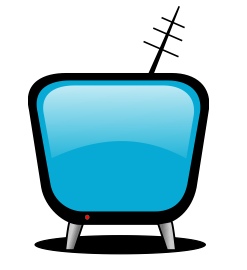 ON THE TUBE TONIGHT
7:00pm on AMC
Doomsday
When the first outbreak of the Reaper virus hit Scotland, Eden Sinclair was one of the last to escape containment and had to leave her mother behind. Twenty-five years later, Maj. Eden Sinclair (Rhona Mitra) leads a team back into the hot zone to find a counteragent to the virus, which has re-emerged in London. She and her comrades wage a desperate battle for survival against feral survivors, as they try to prevent it from ushering in a new dark age. 8:00pm on BBC America
Robin Hood: Prince of Thieves
Nobleman crusader Robin of Locksley (Kevin Costner) breaks out of a Jerusalem prison with the help of Moorish fellow prisoner Azeem (Morgan Freeman) and travels back home to England. But upon arrival he discovers his dead father in the ruins of his family estate, killed by the vicious sheriff of Nottingham (Alan Rickman). Robin and Azeem join forces with outlaws Little John (Nick Brimble) and Will Scarlett (Christian Slater) to save the kingdom from the sheriff's villainy. 8:00pm on FX
Prometheus
The discovery of a clue to mankind's origins on Earth leads a team of explorers to the darkest parts of the universe. Two brilliant young scientists lead the expedition. Shaw (Noomi Rapace) hopes that they will meet a race of benevolent, godlike beings who will in some way verify her religious beliefs, while Holloway (Logan Marshall-Green) is out to debunk any spiritual notions. However, neither the scientists nor their shipmates are prepared for the unimaginable terrors that await them. 9:00pm on CBS
Hawaii Five-0
Season 5, Episode 17: Kuka'awale
Danny and McGarrett pursue a woman who escaped after a diamond robbery. 9:00pm on Syfy
12 Monkeys
Season 1, Episode 7: The Keys
Cole, Dr. Railly and Aaron strive to stop the virus from being deployed as a bio-weapon in Chechnya. 9:30pm on AMC
Shaun of the Dead
Shaun (Simon Pegg) is a 30-something loser with a dull, easy existence. When he's not working at the electronics store, he lives with his slovenly best friend, Ed (Nick Frost), in a small flat on the outskirts of London. The only unpredictable element in his life is his girlfriend, Liz (Kate Ashfield), who wishes desperately for Shaun to grow up and be a man. When the town is inexplicably overrun with zombies, Shaun must rise to the occasion and protect both Liz and his mother (Penelope Wilton). 10:00pm on CBS
Blue Bloods
Season 5, Episode 2: Forgive and Forget
Sports analyst Boomer Esiason makes a difficult request of Frank. 10:00pm on Syfy
Helix
Season 2, Episode 7: Cross-Pollination
Walker decides to go to St. Germain when he learns about Michael; things go from bad to worse. KEEPING UP WITH JMS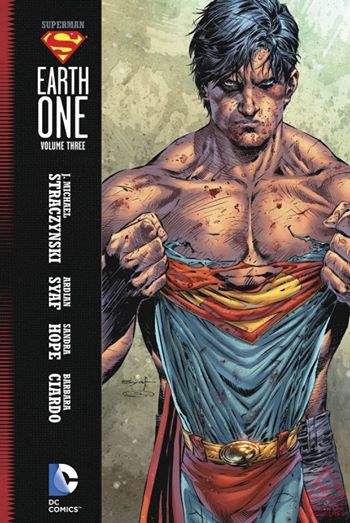 SUPERMAN: EARTH ONE VOLUME 1
Superman is back next week in a third volume, written by screenwriter and comics author J. Michael Straczynski (Brave and the Bold, Babylon Five), with art by Ardan Syaf (Bat Girl). In this book, a young Superman is just figuring out how to balance his life as Clark Kent with his heroic duties. And meanwhile his nemesis Lex Luthor is also beginning to figure out just what Superman's weakness may be…

The new Superman series is the latest addition to DC's Earth One line of graphic novels. The storylines follow DC's top heroes in origin stories with a fresher take to appeal to new generations of graphic novel readers. And so far, the line has been a hit, with the first book, 2010's Superman: Earth One Volume 1 hitting the NY Times bestseller list, and leading the way for further series featuring Batman and the Teen Titans. With Syaf's crisp, dynamic art—illuminated by Barbara Ciardo's coloring— and Straczynski's surehanded storytelling, it's a refreshing take on one of comics most lasting characters that new and veteran readers can enjoy. It's also proof that superheroes can succeed in the original graphic novel format. The Earth One series continues in May with the second volume of Batman: Earth One by Geoff Johns and Gary Frank.

Superman Earth One: Volume 3 goes on sale on February 4th in comics shops and February 10th in bookstores.

To see more, go to Publishers Weekly.








Here is a quote from J. Michael Straczynski about emotions.
I had this theory that the more important and intimate the emotion, the fewer words are required to express it.
First it's in dating: "Will you go out with me?" Six words.
"Honey, I care for you." Five words.
"You matter to me." Four words.
"I love you." Three words.
"Marry me." Two words.
But what's left? What's the one most important and intimate word you can ever say to somebody? It's "goodbye."
While Michael O'Hare (Sinclair), Andreas Katsulas (G'Kar), Rick Biggs (Dr. Franklin), Tim Choate (Zathras) and Jeff Conoway (Zach Allen) are no longer with us, we will not forget their wonderful personalities and talent -- as well as their significant contributions to the BABYLON 5 universe. Be sure to visit In Memory Of for more information about memorial efforts.
Until we met again, in a place where no shadows fall.
BABYLON 5 BIRTHDAYS
FEBRUARY
Michael Beck - February 4
Ardwight Chamberlain - February 16
Karen Harrell - February 21
John Iacovelli - February 25
Bill Mumy - February 1
Matt Plummer - February 26
Majel Barrett Roddenberry - February 23 - she is greatly missed
John Schuck - February 4
Myriam Sirois - February 2
Teller, Zooty in the episode "Day of the Dead (Season 5)," Feb. 14

Have I missed anyone? If you know the birthday of someone connected with Babylon 5, pass the information along. We want to include everyone in our Happy Birthday Wishes.



BABYLON 5 MUSIC VIDEOS AND TRIBUTES
John Hudgens has created many Babylon 5 videos, but I believe this is the most moving. It was first shown at the Phoenix Comic Con 20th Anniversary and honors many of the Babylon 5 familywho have passed on.

Here is a link to John's Babylon 5 videos:
https://www.youtube.com/user/Babylon5MusicVideos?feature=watch

Richard Biggs memorial: http://www.youtube.com/watch?v=HyD4L8yNtsA

Andreas Katsulas memorial: http://www.youtube.com/watch?v=h2UQ2l9NPIg

- This is the extended version that I did for Andreas' widow ater the original cut was released on the net. It's never been seen online until now.

For those of you who've never seen these, I hope you enjoy them - and for those that have (and emailed me many times over the years about releasing them), I hope they're as good as you remember. Working with Joe on these videos was one of the highlights of my career, and I'll be forever grateful to him for the doors these have opened for me. I'm proud to have them on my resume.

John Hudgens
www.zteamproductions.com








PENSACON - Pensacola Comic Con
Dates: February 27 - March 1, 2015
Place: Pensacola, Florida
Guests: Julian Glover, John Hudgens, Herbert Jefferson, Jr., Daavid Fielding, Lisa Bowerman, David Warner, Iita Ford, Natalia Tena, Marina Sirtis, Mira Furlan, Michael Biehn, Nichelle Nichols, Tony Todd, and many more
For more information about the convention, go to pensacon.com.

MEGACON 2015
Dates: April 10-12, 2015
Place: Orange County Convention Center in Orlando, FL
Guests include Stan Lee (GoH), Adam Baldwin, Cary Elwes, James Renar, Karen Gillian, Norman Reedus, Vic Mignogna, Ron Perlman.

For more information, call 386-364-1826 or go to http://megaconvention.com.
(About 2 weeks prior to Megacon, try listening to WTKS, real radio 104.1, to win free passes to Megacon. WTKS can be accessed anywhere in the country thru their free app)

STEEL CITY CON
Dates: April 10-12, 2015
Place: Monroeville Convention Center, Monroeville, PA
Guests include: Ari Lehman (First "Jason Moorhees"); Noah Wyle (Falling Skies, The Librarian); Tom Wopat (Dukes of Hazzard - Sunday only); Doug Bradley (Lord Cenobite-Hellraiser films), Ray Park (Darth Maul-Star Wars); Gates McFadden (Star Trek: Next Generation); Karen Allen (Raiders of the Lost Ark), and more.
For more information, go to www.steelcitycon.com. TREKLANTA
Dates: April 24-26, 2015
Place: Atlanta Marriott Century Center, Atlanta, GA
Guests: Jason Carter, Sean Kenney, Keith R.A. DeCandido, and more
For more information, go to http://www.trektrax.org/.

FED-CON 24
Dates: May 21-24, 2015
Place: Maritim Hotel, Dusseldorf, Germany
Guests: Sam Jones, Aaron Douglas, Grant Bowler and more to come
For more information, go to http://www.fedcon.de/en/.

PHOENIX COMIC CON 2014
Dates: May 28-31, 2015 Place: Phoenix Convention Center, Phoenix, Arizona
For more information, go to http://www.phoenixcomicon.com/. SOUTH FLORIDA SUPER CONVENTION
Date: Late June 2015
Place: Miami Beach Convention Center STAR TREK: THE OFFICIAL CONVENTION
Date: August 6-9, 2015
Place: Rio Suites Hotel, Las Vegas, Nevada
Guests: William Shatner, Karl Urban, Jeri Ryan, Walter Koenig, James Darren - and many more
For more information, go to http://www.creationent.com/cal/st_lasvegas.html. WORLDCON 2015: Sasquan
Dates: August 19-23, 2015
Place: Spokane, Washington
Guests: David Gerrold will be one of the featured guests
For More information, go to http://sasquan.org.
The Sasquan website says they are looking for help. Anyone looking for a way to help defray expenses, can go to sasquan.org and volunteer some time.
Hugo Nominations - Also deadline is drawing near to nominate. Nominations are due by March 10 at 11:59pm. SPECIAL ANNOUNCEMENTS!
Wizard World Conventions has a large number of events planned for the year. Be sure to visit the page to see if there is a convention of interest near you.

Creation Entertainment has a large number of conventions planned for the next several months. They include stars from TWILIGHT, SUPERNATURAL, STARGATE, FARSCAPE, XENA, SERENITY, STAR TREK, etc. Check out their calendar to see if one will be in your neighborhood soon. Don't miss their Videos page as well. It is full of some priceless video from a number of conventions.

Be sure to visit the referenced sites to see if there have been changes in dates/guests attending. Visit our Convention Calendar for a full listing of upcoming conventions.
BACK ISSUES OF THE ZOCALO TODAY
The front page of the The Zocalo Today changes daily, so be sure to check the back issues to make sure that you haven't missed anything IMPORTANT! I hope you will become a regular visitor to The Zocalo Today!
---
Take care and I look forward to hearing from you.
Sandra Bruckner (sgbruckner@isnnews.net)
Editor/Publisher
ISN News: The Zocalo Today
http://www.isnnews.net
Copyright - SBruckner, 1999-2015