The Zocalo Today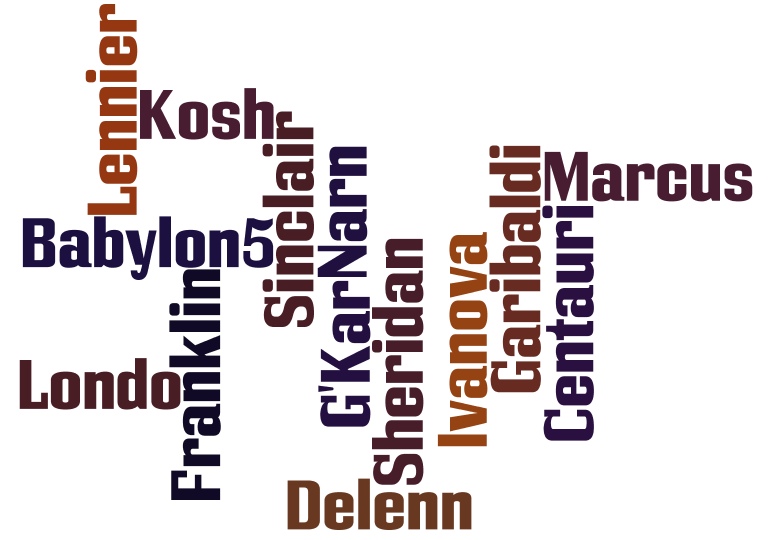 Welcome and thank you for dropping by. Babylon 5 brought many of us together -- and it remains with us, despite the fact that is no longer in production. The good thing is that the internet gives a LOT of ways to stay in touch. Don't be shy. Join in the discussion today or drop by Facebook or Twitter.

If you have questions or items for the news, drop me a line at sgbruckner@aol.com.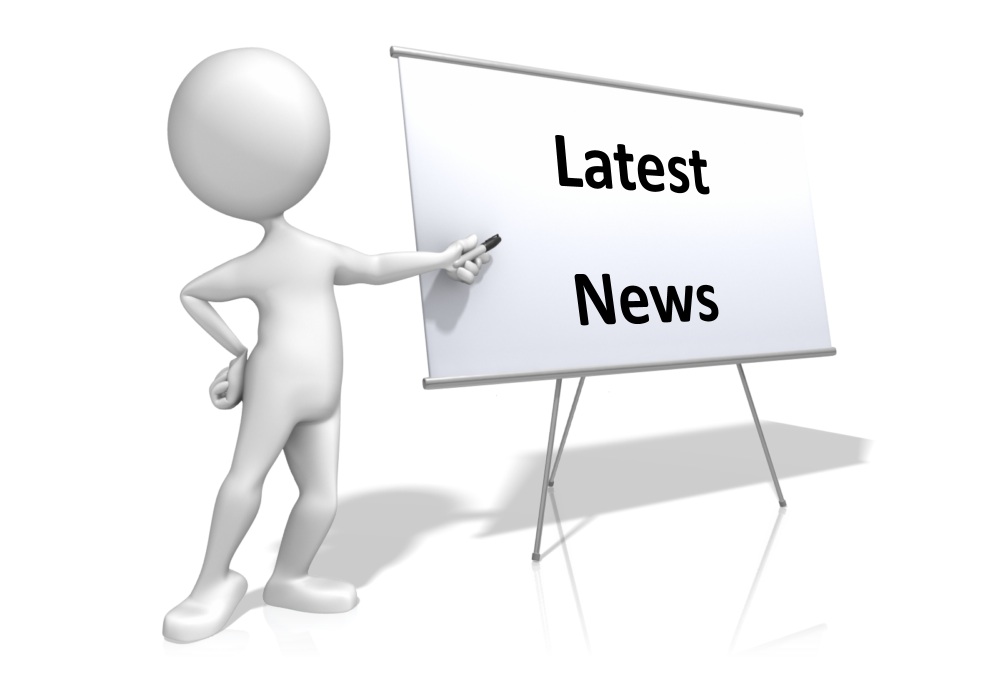 LATEST SCIENCE FICTION NEWS:
THURSDAY, JULY 24, 2014
MANHATTAN
MANHATTAN: Beyond the Bomb
Take a look inside what life was like for the families and scientist living in the secret city of Los Alamos who were tasked with inventing the world's first atomic bomb.
Don't miss the premiere of the explosive new series, "MANHATTAN", on Sunday at 9/8c on WGN America.
THE FLASH
"The Flash" Season 1 is adding a new meta-human character to the mix in Season 1: Plastique. According to TVLine, Sergeant Bette Sans Souci was once a bomb specialist in the Army before being injured by an IED in the Middle East. She gets exposed to the STAR Labs particle accelerator explosion, just like Barry Allen, and things change a bit. In her new persona as Plastique, the red-haired woman is capable of turning anything into a bomb with just a touch of her hand. There is no word yet on whether Bette will be a hero or a villain. Either way, she is bound to be a formidable character. "The Flash" series premiere airs Tuesday, Oct. 7 at 8 p.m. ET/PT on The CW. MARVEL COMICS
Better clear your calendar for a month-long carnival of digital comics as Marvel announces its 99-cent access to a treasure chest of Marvel Unlimited online content, made up of more than 15,000 comics. For one week only, in honor of the annual San Diego Comic-Con, Marvel gives up the keys to the kingdom for the price of a Snickers bar, with access to its deep archive of modern and classic titles from its entire universe. All comics can be viewed on a Mac or PC and any iOS and Android device after installing a Marvel Unlimited app. Rabid readers may download up to 12 comics at a time for extended offline personal reading for a whole month. Access also includes samplings from their new experimental line of Infinite Comics, which are infused with dynamic sound cues as you page through the story. New titles are absorbed into the Marvel Unlimited vault following a six-month publication period and includes most books making up the current Marvel Now! launch.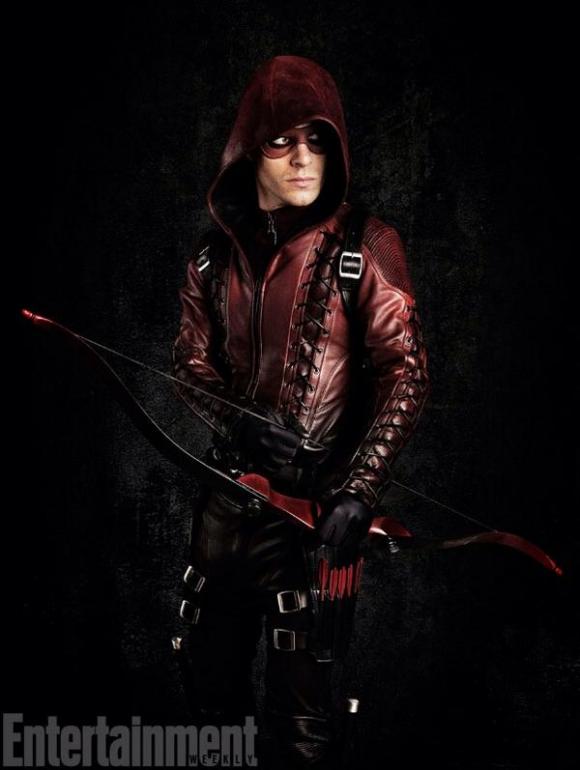 ARROW
Starling City is about to see the rise of a brand-new superhero, as Arrow's Colton Haynes will suit up to join the fight against evil. During the last season of The CW's Arrow, Roy Harper (Colton Haynes) found himself injected with Slade Wilson, aka Deathstroke's (Manu Bennett), Mirakuru serum as he began to train with Oliver Queen's (Stephen Amell) green-clad superhero. But he was eventually cured after joining the good fight against Arrow's nemesis, and we were left to wonder if the non-superpowered Harper would ever don his own hero gear. Now we have an answer. Apparently in between the end of season two and the start of season three, Roy Harper will have fully suited up in black and red leather as Arsenal, as a full-fledged, evil-fighting member of Team Arrow. Have a look below, and note he has his own bow and Arrow-like mask now (plus the hoodie-style costume): Arsenal will make his first appearance in the premiere episode of Arrow's third season, which is set to air Oct. 8 on The CW.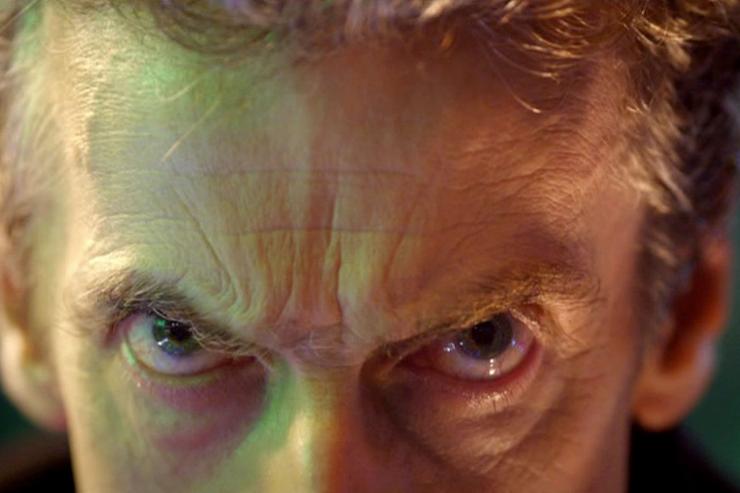 DOCTOR WHO
With one month to go, here's a little nugget of truth from each and every episode of Doctor Who's upcoming eighth series. It's 31 days and counting to the dawn of the age of Peter Capaldi, and so, with only a month left, it's time to move beyond simple trailers and start getting into the meat of what each of the Doctor's latest stories will be about. And, thankfully, SFX magazine has got just that. Every episode is represented in the tantalizing season wrapup below with something, even if it's just the most teasing of teases. Ya ready? 801. Clara trying to cope with her best friend being someone else. A terrifying monster. 802. Gritty Dalek ep that goes into the last place in the universe the Doctor should be. 803. Very funny Robin Hood story all about being a hero and whether the Doctor is as a good man. 804. The story of a date and the Doctor having what appears to be a mild nervous breakdown. Tiny guest cast, no CGI. A bit of Coupling. Quite scary. 805. A Doctor Who heist movie with a cracking monster, one of Neill Gorton's best. 806. What effect would slipping away with the Doctor have on your life? A hoot with some serious bits. Bit like The Lodger. 807. Proper drama with monsters and all the Doctor Who stuff that you could want. Also features a callback to a past episode (sort of). 808. Moffat playing the long game with a callback to something from Matt's first series. A brilliant idea of a monster. Foxes singing. 809. A horror story that starts off with a very cute idea and becomes really quite frightening by the end. One of the best ever sight gags in it. 810. Boldly beautiful, lyrical and poetic. A fairytale, but not Moffat fairytale. Quite different with a clever main visual idea. 811/12. High octane action, with Cybermen and some proper UNIT stuff. Strong emotional story about Clara and the Doctor and the fact that the way they interact might not be healthy for everyone around them. Lots to chew over. Nice little detail about episode one. The way it's described -- is the terrifying monster the villain of the story, or the Doctor himself? We're also glad the Dalek episode will come around so soon, so that fans can get to them right away, and, for those who are sick of them, they can be out of the way just as quickly. A lot of them look good, and it's exciting that so many of them seem to be featuring new monsters.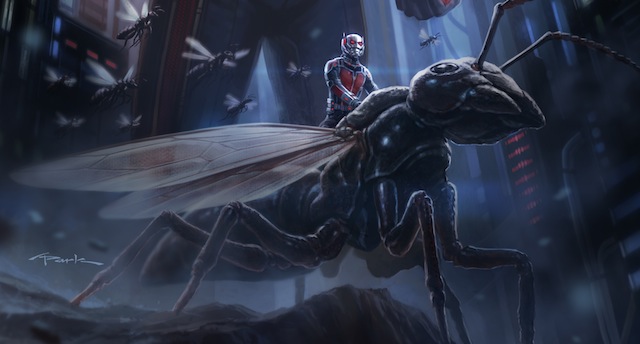 ANT-MAN
Marvel Studios has released new Comic-Con concept art for Ant-Man. The movie is set to start shooting in August for a July 17, 2015 release. Directed by Peyton Reed, Ant-Man will star Paul Rudd, Michael Douglas, Evangeline Lilly, Patrick Wilson, Corey Stoll and David Dastmalchian. Armed with the astonishing ability to shrink in scale but increase in strength, con-man Scott Lang (Rudd) must embrace his inner-hero and help his mentor, Dr. Hank Pym (Douglas), protect the secret behind his spectacular Ant-Man suit from a new generation of towering threats. Against seemingly insurmountable obstacles, Pym and Lang must plan and pull off a heist that will save the world.
THE ZOCALO TODAY
Be sure to check out The Zocalo Today on Facebook as well as at ISN News: The Zocalo Today on Yahoo Groups. Did you miss the news from yesterday -- or earlier in the week. Catch up by going to the July News Archive. I have broken up the huge file into months to make it easier to scan through. It will bring you up to date for all that has been going on in the world of science fiction. Go to:
June News.
May News.
April News.
March News.
February News
January News
December News
November News
October News.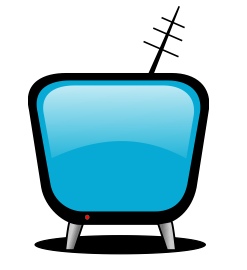 ON THE TUBE TONIGHT 8:00pm on The CW
The Vampire Diaries
Season 5, Episode 13: Total Eclipse of the Heart
Caroline talks Bonnie and Elena into attending a dance for broken-hearted students. 8:00pm on Syfy
Defiance
Season 2, Episode 6: This Woman's Work
After an Arkfall crash, Pottinger recruits Nolan to lead their salvage mission. 9:00pm on The CW
The Originals
Season 1, Episode 9: Reigning Pain in New Orleans
Hayley asks Elijah and Rebekah for help when she learns of a plan to harm werewolves. 9:00pm on Syfy
Dominion
Season 1, Episode 6: Black Eyes Blue
Alex seeks Michael and Claire's help to exorcise captive eight-balls of their angel possessors. 10:00pm on CBS
Elementary
Season 2, Episode 8: Blood Is Thicker
A beautiful woman with ties to a billionaire CEO is murdered. 10:00pm on Syfy
Spartacus: Blood and Sand
Season 1, Episode 5: Shadow Games
Batiatus is given a gladitorial opportunity of a lifetime; Crixus and Spartacus must act as a team.
KEEPING UP WITH CAST AND CREW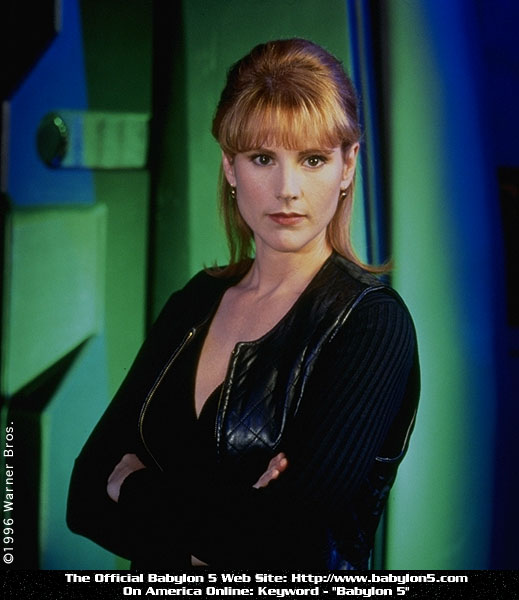 PAT TALLMAN UPDATE
Pat is talking to you straight! Facebook has made it harder than ever for you to see the posts from your favorite Pages. If you follow Pat on FB, you know her brand of snarky sexy humor. Well now it's no holds barred! Sign up for Pat's newsletter on her site PatriciaTallman.com and get it unsensored.The newsletter has content that will not be on the Facebook page or the site.
In this first issue, there is a special offer only available to those on the newsletter. Sign up by March 31st and be in the know.




Here is a quote from J. Michael Straczynski about emotions.
I had this theory that the more important and intimate the emotion, the fewer words are required to express it.

First it's in dating: "Will you go out with me?" Six words.
"Honey, I care for you." Five words.
"You matter to me." Four words.
"I love you." Three words.
"Marry me." Two words.
But what's left? What's the one most important and intimate word you can ever say to somebody? It's "goodbye."

While Michael O'Hare (Sinclair), Andreas Katsulas (G'Kar), Rick Biggs (Dr. Franklin), Tim Choate (Zathras) and Jeff Conoway (Zach Allen) are no longer with us, we will not forget their wonderful personalities and talent -- as well as their significant contributions to the BABYLON 5 universe. Be sure to visit In Memory Of for more information about memorial efforts.
Until we met again, in a place where no shadows fall.
BABYLON 5 BIRTHDAYS
JULY
Vaughn Armstrong, July 7 - He appeared in the Season 3 episodes "Messages From Earth" and "Point of No Return" as an unnamed security guard. IMDB referred to the role as "Security Guard #1."
Bruce McGill - July 11 - (Major Ed Ryan in "Severed Dreams" (Season 3)
Judson Scott - July 15 - (Knight One in "And the Sky Full of Stars")
Jerry Doyle - July 16
J. Michael Straczynski - July 17
David Warner - July 29

Have I missed anyone? If you know the birthday of someone connected with Babylon 5, pass the information along. We want to include everyone in our Happy Birthday Wishes.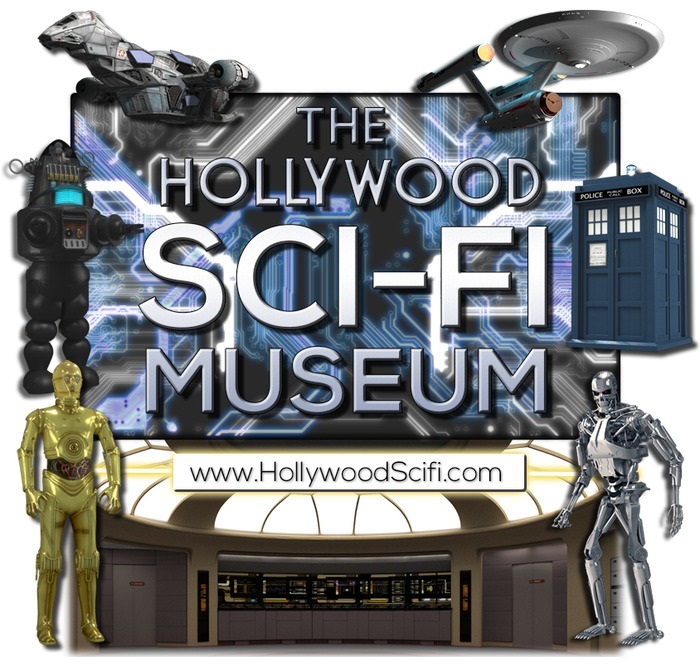 THE HOLLYWOOD SCI-FI MUSEUM
Here's a project you may want to get involved with!
About the Project:
New Starship Foundation, the nonprofit behind the Enterprise-D Bridge Restoration, with board members including the greatest talents in science fiction, presents THE HOLLYWOOD SCIENCE FICTION MUSEUM. This will be the first museum in the world to exclusively show the history of sci-fi films, TV, art and literature through props, sets and costumes, as well as show advancements in space travel and teach Real Science through Science Fiction. It will be an interactive museum with fully immersive environments and touch screens that will incorporate old and new footage from actors, filmmakers and NASA astronauts and scientists, and will present both the fact and fiction of sci-fi. This will eventually teach Science, Technology, Engineering and Math (STEM) based education in a fun new way to all ages. The museum will include exhibits from: Star Trek, Star Wars, Doctor Who, 2001, Alien, Metropolis, Thunderbirds, Firefly, Babylon 5, Battlestar Galactica, Stargate, Blake's 7, Ghostbusters, Farscape, The Time Machine, Godzilla, X-Men, Avengers, Superman, Planet of the Apes, Back to the Future, Day the Earth Stood Still, V, Batman, Six Million Dollar Man, Bionic Woman, Flash Gordon, Buck Rogers, as well as Fantasy like Lord of the Rings, Labyrinth, Legend, Munsters, Herbie the Love Bug, Chitty Chitty Bang Bang, Dark Crystal, Game of Thrones, Anime like Akira and Speed Racer, and anything else we can fit within our walls. This Kickstarter is to acquire the funds to develop our 2015 Hollywood Sci Fi Museum, which will be smaller than the future museum, but still significant and unique. This "concept art" of the giant Millennium Falcon and Enterprise-D is for our 2018 Hollywood Sci Fi Museum. Go to http://www.hollywoodscifi.org/ for more information.
BABYLON 5 MUSIC VIDEOS AND TRIBUTES
John Hudgens has created many Babylon 5 videos, but I believe this is the most moving. It was first shown at the Phoenix Comic Con 20th Anniversary and honors many of the Babylon 5 family who have passed on.

Here is a link to John's Babylon 5 videos:
https://www.youtube.com/user/Babylon5MusicVideos?feature=watch

Richard Biggs memorial: http://www.youtube.com/watch?v=HyD4L8yNtsA

Andreas Katsulas memorial: http://www.youtube.com/watch?v=h2UQ2l9NPIg

- This is the extended version that I did for Andreas' widow ater the original cut was released on the net. It's never been seen online until now.

For those of you who've never seen these, I hope you enjoy them - and for those that have (and emailed me many times over the years about releasing them), I hope they're as good as you remember. Working with Joe on these videos was one of the highlights of my career, and I'll be forever grateful to him for the doors these have opened for me. I'm proud to have them on my resume.

John Hudgens
www.zteamproductions.com
---





COMIC-CON INTERNATIONAL
Dates: July 24-27, 2014 Place: San Diego Convention Center
Guests: J. Michael Straczynski will be there along with a host of other guests
For more information, go to San Diego Comic Con. Star Trek Convention - Creation Entertainment
Dates: July 31 - August 3, 2014
Place: Rio Suites Hotel, Las Vegas, Nevada
Guests: WILLIAM SHATNER, KATE MULGREW, COLM MEANEY, WALTER KOENIG, NICHELLE NICHOLS, "ROM and NOG" as portrayed by Max Grodenchik and Aron Eisenberg, ANTHONY MONTGOMERY, JERRY HARDIN, TIM RUSS and MICHAEL FOREST. 87 plus more guests to come!
For more information, go to http://www.creationent.com/cal/st_lasvegas.html. SHORE-LEAVE
Dates: August 1-3, 2014
Place: Hunt Valley, MD (near Baltimore)
Guests: Richard Dean Anderson, Robert Piccardo and many more.
For more information, go to www.shore-leave.com. OSFest 7
Dates: August 1-3, 2014
Place: Omaha, Nebraska
B5 Media Guest of Honor: Maggie Egan-Cunningham (ISN Reporter)
For more information, go to http://www.osfes.org/. Worldcon, LONCON3
Dates: August 17-20, 2014
Place: London, England
For more information, go to http://www.loncon3.org/index.php. DRAGONCON 2014
Dates: August 29-September 1, 2014
Place: Atlanta, GA
Guests: Patrick Stewart, Peter Weller, Peter Williams, Richard Hatch, Wesley Eure - and many more
For more information, go to www.dragoncon.org. HAWAII CON
Dates: September 12-14, 2014
Place: Hapuna Beach Prince Hotel, Hawaii
Babylon 5 Guests: Pat Tallman, Claudia Christian, Walter Koenig
Other Guests from Stargate Atlantis, Battlestar Galactica, Games of Thrones and more
For more information, go to www.hawaiicon.com. Spooky's Ultimate Horror Weekend
Dates: Oct. 24-26, 2014
Place: Doubletree Universal Studios, Orlando, FL 32819
Guests:
Michael Rooker - Walking Dead & Jeremiah; Stephen Pearcy - Ratt; Dee Wallace Stone - ET & Cuju; Tyler Mane - Halloween & X Men, and Tobin Bell - Dexter
For more information, go to http://www.spookyempire.com/. MAGIC CITY COMIC CON
Dates: January 16-18, 2015 Place: Miami Airport Convention Center
Comic Guests: John Romita, Jr., Allen Bellman, Adelso Corona, Greg Kirkpatrick, Dan Scott
For more information, go to http://www.magiccitycomiccon.com/. MALTA COMIC EXPO
Dates: October 31-November 2, 2014
Place: Mediterranean Conference Center, Valletta, Malta
Guests: Richard Piccardo, Dirk Benedict,Silvester McCoy and many more
For more information, go to http://maltacomicsexpo.com/. SPECIAL ANNOUNCEMENTS!
Wizard World Conventions has a large number of events planned for the year. Be sure to visit the page to see if there is a convention of interest near you.

Creation Entertainment has a large number of conventions planned for the next several months. They include stars from TWILIGHT, SUPERNATURAL, STARGATE, FARSCAPE, XENA, SERENITY, STAR TREK, etc. Check out their calendar to see if one will be in your neighborhood soon. Don't miss their Videos page as well. It is full of some priceless video from a number of conventions.

Be sure to visit the referenced sites to see if there have been changes in dates/guests attending. Visit our Convention Calendar for a full listing of upcoming conventions.
BACK ISSUES OF THE ZOCALO TODAY
The front page of the The Zocalo Today changes daily, so be sure to check the back issues to make sure that you haven't missed anything IMPORTANT! I hope you will become a regular visitor to The Zocalo Today!
---
Take care and I look forward to hearing from you.
Sandra Bruckner (sgbruckner@aol.com)
Editor/Publisher
ISN News: The Zocalo Today
http://www.isnnews.net
Copyright - SBruckner, 1999-2014