The Zocalo Today

Welcome to ISN News: The Zocalo Today. Babylon 5 celebrated its 20th Anniversary but because of the quality of the series, fans are still out there supporting the show -- and new ones are joining each day. With J. Michael Straczynski promising a new production in the near future, we need to continue support of the show -- bringing new people to watch and discuss the show. Join in the discussion today on Facebook or Twitter.

If you have questions or items for the news, drop me a line at sgbruckner@isnnews.net.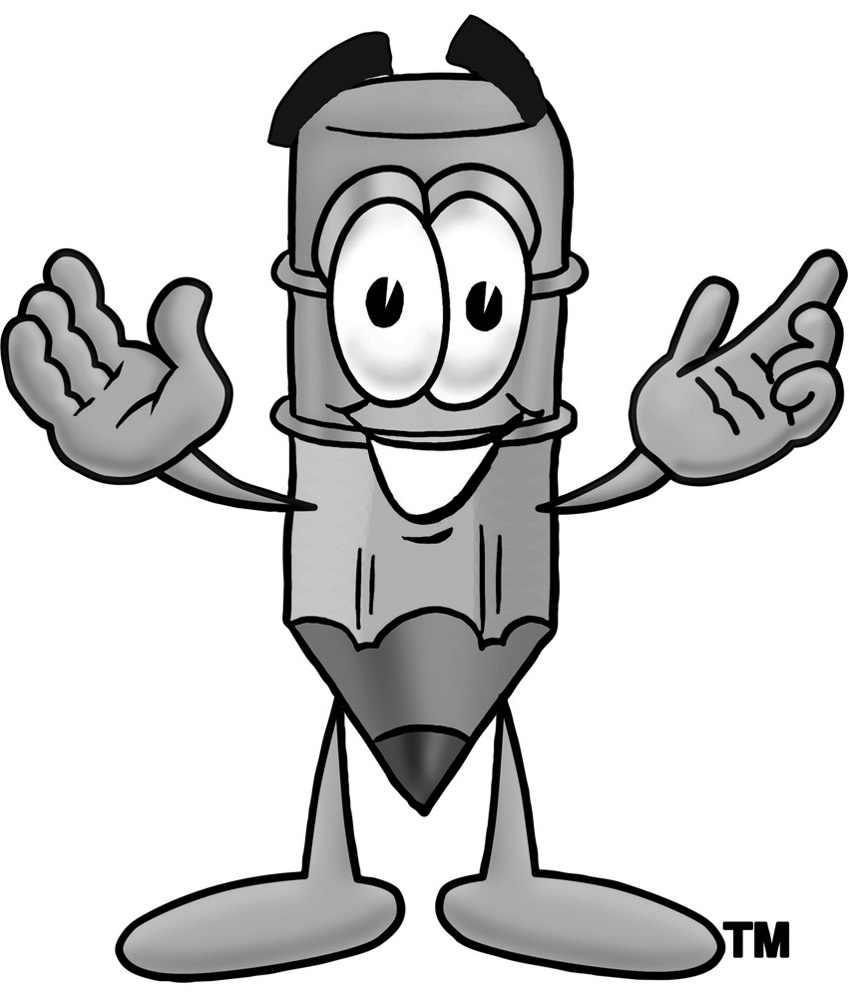 HERE IS TODAY'S NEWS
FRIDAY, FEBRUARY 12, 2016
OUTLANDER SEASON 2
Forget the past and prepare to rewrite history. Starz has released the first official trailer for the second season of showrunner Ron D. Moore's time-traveling drama series, Outlander. They've also unveiled a new promo poster with the slogan "Vive les Frasers" (which translates to "Long live the Frasers") and a premiere date for the new season: April 9. That's exactly a week before the 270th anniversary of the Battle of Culloden (April 16, 1746), which Jamie (Sam Heughan) and Claire (Caitriona Balfe) are desperately trying to avoid by stopping the Jacobite Rising. The key art features Claire all-dressed up in the book's infamous Red Dress, which the fans have long wanted to see. The gown was so low-cut, a scandalized Jamie remarked to Claire that he could "see all the way down to her rib." (Click on the pic below to see exactly what Jamie meant by that.) Based on Diana Gabaldon's second Outlander novel, Dragonfly in Amber, the 13-episode season will see the Frasers traveling to France and to the very fashionable court of 18th century Versailles not only to escape the memory of Black Jack Randall (Tobias Menzies), but also to put a stop to Prince Charles Edward Stuart's (Andrew Gower) endeavour to gather funds for the Rebellion that will ultimately destroy the Scots. In the new trailer, Jamie, Claire and Murtagh (Duncan Lacroix) are literally trying to change the future thanks to Claire's knowledge of the past (all thanks to her time traveling skill-set). There's, of course plenty of drama to be seen, including more sexy times between our favorite couple, a fiery ship, and the instigator of the Scott's impending doom: Bonnie Prince Charlie. And in a huge book departure, we see that Murtagh is let in on Claire's secret that she's from the future.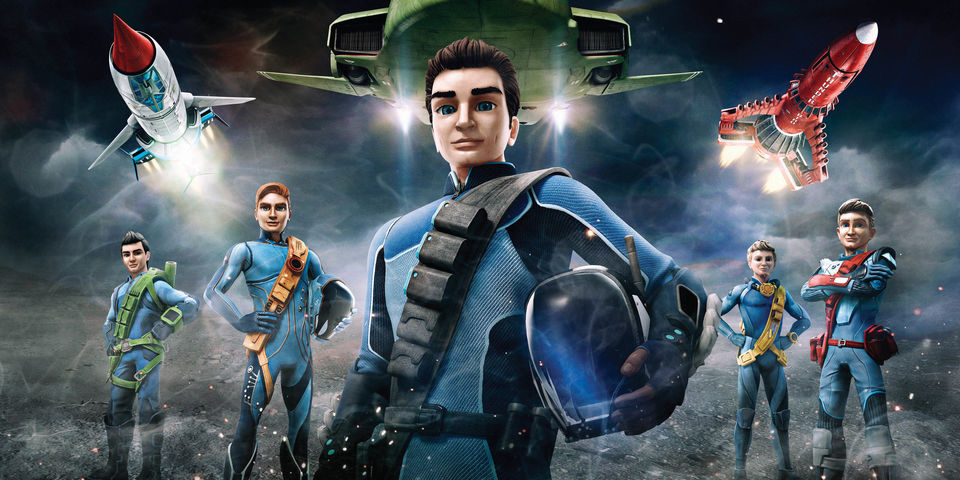 THUNDERBIRDS COMING TO THE US
Even though the first 26 episodes of Thunderbirds Are Go debuted in the U.K. last year on ITV, the series had yet to premiere on our shores. Well, here it finally comes, because Amazon has just ordered four 13-episode seasons of the series, a modern reimagining of the classic Thunderbirds series of yore that ran from 1965 to 1966. Starring Gone Girl's Rosamund Pike as the voice of Lady Penelope, with a voice cast that also includes Thomas Brodie-Sangster (Game of Thrones), Thunderbirds Are Go feature the exploits of the Tracy brothers Scott, John, Virgil, Gordon and Alan, piloting their awesome vehicles to engage in rescue missions around the world from their base on Tracy Island. The new series has been using a mix of CGI and live-action model sets. Deadline reports that the series produced by ITV Studios and Pukeko Pictures, along with Weta Workshop, will launch on Amazon later this year before streaming in the U.K. on Prime Video. Seasons 3 and 4 will premiere on ITV later this year. Head of Kids Programming at Amazon Studios Tara Sorensen said in a statement: "We're thrilled to be collaborating with ITV Studios Global Entertainment on a world-renowned property that kids and families today will embrace. Our customers will enjoy the same action and adventure found on the classic series infused with a contemporary aesthetic and visually stunning world." With EVP EMEA Distribution and Global Digital Partners for ITV Studios Global Entertainment Dan Gopal adding: "We are delighted to be working with Amazon to launch Thunderbirds Are Go in the US; their position as an innovative content provider and their passion for the show makes them the perfect partner. Our strategy is to give audiences the flexibility to watch our content any time, any place, and the launch of Thunderbirds Are Go on Amazon Prime Video means children and families across the US, as well as in the UK, Germany and Austria, will be able to watch the entire series whenever and wherever they want." BATMAN V SUPERMAN: DAWN OF JUSTICE
The final official trailer for director Zack Snyder's Batman v Superman: Dawn of Justice has dropped, featuring even more Batman/Bruce Wayne than the previous trailers, and a speaking Wonder Woman! Opening next month, Batman v Superman will be the first movie in which DC's Holy Trinity of Batman (Ben Affleck), Superman (Henry Cavill) and Wonder Woman (Gal Gadot) will finally appear together on the big screen. The superhero movie will also see the introduction of future Justice League members Aquaman (Jason Momoa), The Flash (Ezra Miller) and Cyborg (Ray Fisher). Released by Warner Bros. and DC Comics, the new trailer also features plenty of brand-new scenes to sink our teeth into — starting with that cool opening sequence with Alfred (Jeremy Irons) helping a Batman on one of his missions before the buttler tells him, "Even you got too old to die young. Not for lack of trying." Here's a synopsis: Fearing the actions of a god-like Super Hero left unchecked, Gotham City's own formidable, forceful vigilante takes on Metropolis's most revered, modern-day savior, while the world wrestles with what sort of hero it really needs. And with Batman and Superman at war with one another, a new threat quickly arises, putting mankind in greater danger than it's ever known before. Batman v Superman: Dawn of Justice opens in theaters on March 25.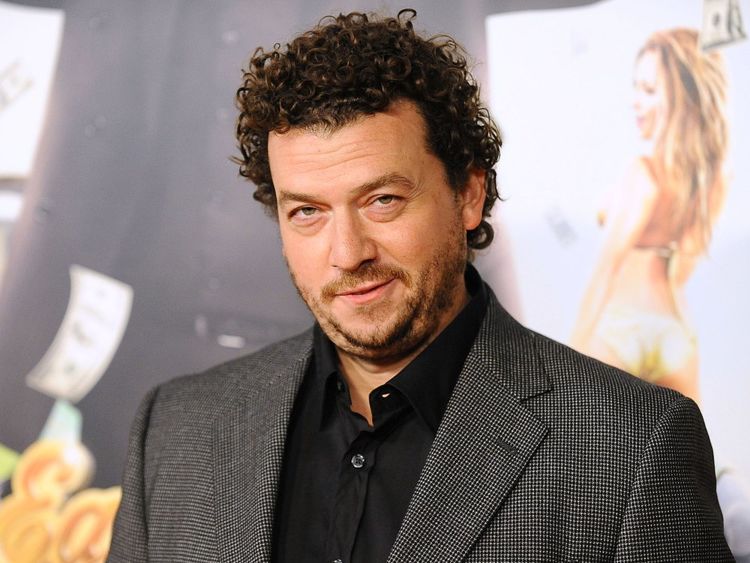 ALIEN: COVENANT
A report over at The Wrap claims HBO's Eastbound & Down star Danny McBride is currently in talks to join director Ridley Scott's next sci-fi film, Alien: Covenant. The comedian is said to be in early discussions to join the cast that (so far) includes Michael Fassbender and Katherine Waterston. Sadly, Prometheus star Noomi Rapace will not return in the role of Elizabeth Shaw. As for Waterston, she'll play a character named Daniels, a member of the colony ship Covenant. She's believed to be the movie's new Ellen Ripley (Sigourney Weaver)/Shaw. There's no news as to the role McBride is in talks for, but I'm guessing he'll also be another crew member. Taking place 10 years after the events of Prometheus that saw Shaw and the synth David (Fassbender) set up a course for the Engineer's homeworld, Alien: Covenant will center on the crew of the colony ship Covenant, who discover an uncharted paradise. Well, that's what they think, but it's actually a dark and dangerous world whose sole inhabitant is David, the last survivor of the Prometheus expedition. Scott promised the new movie will dig deep into the mythology of the Xenomorphs and the Engineers and will feature the classic Alien monsters: from egg to face-hugger to chest-burster, and then the "big boy." Alien: Covenant will mark the beginning of a new Alien trilogy that will link the events of Prometheus to Scott's 1979 Alien movie. Adding McBride to the Alien: Covenant cast would certainly be an intriguing move on the movie's part, since the actor is known for his comedic chops (see: Pineapple Express, Your Highness, This Is the End) and not his dramatic ones (and no, I'm not saying he wouldn't be good in the film). But what say you, do you think Danny McBride would make a great addition? Alien: Covenant will burst into theaters on Oct. 6, 2017.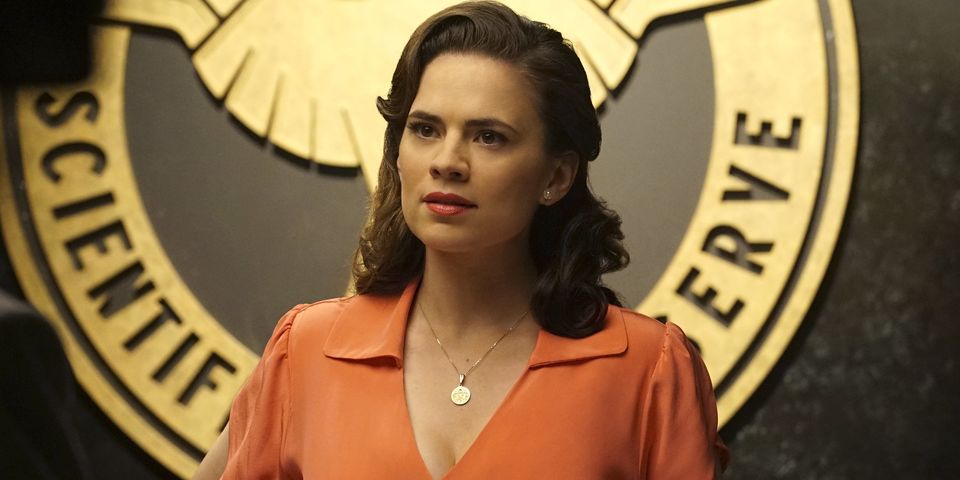 CONVICTIONS
In what could potentially be devastating news for Agent Carter fans everywhere (myself included), Marvel series star Hayley Atwell has been cast in the lead role in ABC's new drama pilot Conviction. According to The Hollywood Reporter, Atwell's role in Conviction is in first position to Agent Carter, which means that if Conviction gets picked up to series, the actress would have to juggle both that and the Agents of S.H.I.E.L.D. spinoff. That is if (and that's a big if *sniff!*) Agent Carter gets a Season 3 renewal. But all could still be swell, right? Well, the Marvel series has been struggling in the ratings this season, but like Peggy, we can still hang on to a sliver of hope because, if ABC decides to renew Agent Carter, the network promises it will work out a production schedule to allow Hayley Atwell to film both series. At least there's that. But what also makes me fear for Agent Carter's future besides the rating game is the news that current Agent Carter showrunners Michele Fazekas and Tara Butters also have a pilot order at ABC, a soap titled The Death of Eva Sofia Valdez. At least ABC is somewhat keeping Conviction in the Marvel family with Jessica Jones writer and executive producer Liz Friedman penning the script that tells the story of Carter Morrison (Atwell), the "brilliant but ne'er-do-well daughter" of a former U.S. president, blackmailed into taking a gig as the head of a newly created Conviction Integrity Unit in Los Angeles. Along with a team of lawyers, investigators and CSIs, she'll work to re-examine cases where there's a high probability that the wrong person may have been convicted of a crime. THE PURGE: ELECTION YEAR
The first trailer for The Purge: Election Year has finally arrived. The third entry in writer/director James DeMonaco's The Purge horror movie franchise sees the return of Frank Grillo (Captain America: The Winter Soldier's Brock Rumlow, aka Crossbones) as Sergeant Leo Barnes, the badass character introduced in the second movie, The Purge: Anarchy. The Purge 3 also introduces Elizabeth Mitchell (Lost, Once Upon a Time) in the role of Senator Charlie Roan, who is running for president by using the end of the annual 12-hour Purge Night as her electoral platform. You can place your bets right now that this is bound to make a lot of murderously inclined people pretty angry. Here's the movie's official synopsis: It's been two years since Leo Barnes (Frank Grillo) stopped himself from a regrettable act of revenge on Purge Night. Now serving as head of security for Senator Charlie Roan (Elizabeth Mitchell), his mission is to protect her in a run for president and survive the annual ritual that targets the poor and innocent. But when a betrayal forces them onto the streets of D.C. on the one night when no help is available, they must stay alive until dawn…or both be sacrificed for their sins against the state. The Purge: Election Year is set to open in movie theaters on July 1, 2016. THE WALKING DEAD SEASON PREMIERE
The flagship series The Walking Dead will be returning to AMC this Sunday, but the dead won't die as a promo for Fear the Walking Dead season 2 has made its way online. You might think that a good way to get away from the dead would be the open seas, you'd be wrong. Season one of Fear the Walking Dead left off with Madison (Kim Dickens), Travis (Cliff Curtis) and their extended family taking temporary shelter in Strand's (Colman Domingo) gated estate overlooking the Pacific Ocean. As civil unrest continues to grow and the dead take over Los Angeles, Strand prepares to escape to "Abigail," his large yacht moored offshore. Fear the Walking Dead takes us back to the beginning of the zombie apocalypse – a time when the world was changing rapidly for reasons unknown, before anyone understood exactly what was happening, when life as everyone knew it was upended and altered in ways no one could have ever imagined. The series also stars Frank Dillane as Nick, Alycia Debnam-Carey as Alicia, Ruben Blades as Daniel, Mercedes Mason as Ofelia,and Lorenzo James Henrie as Chris. CRIMINAL
Summit Entertainment and Millennium Films have debuted the first trailer for Criminal, the action-thriller with a sci-fi twist that stars Kevin Costner, Gary Oldman, Tommy Lee Jones, Gal Gadot and Ryan Reynolds. Directed by Ariel Vroman (The Iceman) from a script by Douglas Cook and David Weisberg, the film stars Costner as a death-row prison inmate who is implanted with the memories of a dead CIA operative in hopes the he will complete the operative's mission in order to prevent a large-scale catastrophe. Criminal is produced by Chris Bender, Kevin King and J.C. Spink with Jason Bloom, Christa Campbell and Lati Grobman executive producing. It opens in theaters on April 15.
THE ZOCALO TODAY
Be sure to check out The Zocalo Today on Facebook as well as at ISN News: The Zocalo Today on Yahoo Groups. Catch up on news by going to the January News Archive.
ON THE TUBE TONIGHT
8:00pm on Fox
Sleepy Hollow
Episode: Incident at Stone Manor NEW S03, E10
Crane and Sophie battle a supernatural force targeting Sleepy Hollow residents as Pandora and the Hidden One grow stronger; Jenny investigates Abbie's disappearance, and has an encounter with her father. 8:00pm on The CW
The Vampire Diaries
Episode: Postcards From the Edge NEW S07, E12
When Stefan tries to reason with an increasingly reckless Damon, he learns the devastating reason for his brother's behavior; Caroline turns to Valerie when she begins suffering dangerous side effects of her pregnancy. 8:00pm on BBC America
The Fifth Element (1997)
A New York City cabdriver tries to save 2259 Earth from impact with an onrushing anti-life force.
Bruce Willis, Gary Oldman, Ian Holm, Milla Jovovich, Chris Tucker 8:00pm on FX
Battleship (2012)
An epic adventure unfolds across the high seas, as American sailors go to war against an army of invading aliens. Based on the Hasbro naval combat game.
Taylor Kitsch, Alexander Skarsgård, Rihanna, Brooklyn Decker, Tadanobu Asano 9:00pm on Fox
Second Chance
Episode: Scratch That Glitch NEW S01, E05
A dead pool predicts Mary will die on the same day as the launch of an important Lookinglass product; a near-fatal brawl sends Pritchard to the hospital; Otto discovers glitches in Pritchard's code. 9:00pm on The CW
The Originals
Episode: Dead Angels NEW S03, E12
Klaus finds himself in a standoff with an unlikely foe when a weapon that could take down his family ends up in the wrong hands; Elijah's efforts to reclaim the Strix result in a violent showdown; a new coven tries to elicit Davina's help. 9:00pm on Syfy
Men in Black II (2002)
Two interstellar agents try to stop an alien disguised as a lingerie model from destroying the world.
Tommy Lee Jones, Will Smith, Rip Torn, Lara Flynn Boyle, Rosario Dawson








Here is a quote from J. Michael Straczynski about emotions.
I had this theory that the more important and intimate the emotion, the fewer words are required to express it.

First it's in dating: "Will you go out with me?" Six words.
"Honey, I care for you." Five words.
"You matter to me." Four words.
"I love you." Three words.
"Marry me." Two words.
But what's left? What's the one most important and intimate word you can ever say to somebody? It's "goodbye."

While Michael O'Hare (Sinclair), Andreas Katsulas (G'Kar), Rick Biggs (Dr. Franklin), Tim Choate (Zathras) and Jeff Conoway (Zach Allen) are no longer with us, we will not forget their wonderful personalities and talent -- as well as their significant contributions to the BABYLON 5 universe. Be sure to visit In Memory Of for more information about memorial efforts.
Until we met again, in a place where no shadows fall.
BABYLON 5 BIRTHDAYS
FEBRUARY
Michael Beck - February 4
Ardwight Chamberlain - February 16
Karen Harrell - February 21
John Iacovelli - February 25
Bill Mumy - February 1
Matt Plummer - February 26
Majel Barrett Roddenberry - February 23 - she is greatly missed
John Schuck - February 4
Myriam Sirois - February 2
Teller, Zooty in the episode "Day of the Dead (Season 5)," Feb. 14

Have I missed anyone? If you know the birthday of someone connected with Babylon 5, pass the information along. We want to include everyone in our Happy Birthday Wishes.



BABYLON 5 MUSIC VIDEOS AND TRIBUTES
John Hudgens has created many Babylon 5 videos, but I believe this is the most moving. It was first shown at the Phoenix Comic Con 20th Anniversary and honors many of the Babylon 5 familywho have passed on.

Here is a link to John's Babylon 5 videos:
https://www.youtube.com/user/Babylon5MusicVideos?feature=watch

Richard Biggs memorial: http://www.youtube.com/watch?v=HyD4L8yNtsA

Andreas Katsulas memorial: http://www.youtube.com/watch?v=h2UQ2l9NPIg

- This is the extended version that I did for Andreas' widow ater the original cut was released on the net. It's never been seen online until now.

For those of you who've never seen these, I hope you enjoy them - and for those that have (and emailed me many times over the years about releasing them), I hope they're as good as you remember. Working with Joe on these videos was one of the highlights of my career, and I'll be forever grateful to him for the doors these have opened for me. I'm proud to have them on my resume.

John Hudgens
www.zteamproductions.com








FARPOINT 23
Dates: February 12-14, 2016
Place: Radisson Hotel North Baltimore
Guests: David Gerrold, Sean Maher - more to be announced
For more information, go to http://www.farpointcon.com

PENSACON
Date: Feburary 19- 21, 2016
Location: Pensacola, Florida, USA
Official Website: http://pensacon.com. GNOMECON
Dates: March 4-6, 2016
Place: Savanah, GA
For more information, go to http://gnomecon.org TRIAD ANIME CONVENTION 5
Dates: March 11-13 2016
Place: Winston Salem Marriott, North Carolina
For more information, go to http://triadanimecon.com. Mace
March 18-20 2016
MACE 2016 - Anime and game Convention on UpcomingCons.com MEGACON 2016
Dates: May 26-29, 2016
Place: Orange County Convention Center
For more information, go to http://megaconvention.com/. PHOENIX COMIC CON
Dates: June 2-5, 2016
Place: Phoenix Convention Center
For more information, go to http://phoenixcomiccon.com. ConCarolinas
http://www.concarolinas.org/
https://www.eventbrite.com/e/concarolinas-2015-registration-6735603371 Heroes Convention
June 17-19 2016
http://www.heroesonline.com/heroescon/ Conregate
July 15-17 2016
https://www.facebook.com/fansofcongregate?fref=ts Charlotte Comic Con
Min con happen four times a year http://charlottecomicon.info/ SPECIAL ANNOUNCEMENTS!
Wizard World Conventions has a large number of events planned for the year. Be sure to visit the page to see if there is a convention of interest near you.

Creation Entertainment has a large number of conventions planned for the next several months. They include stars from TWILIGHT, SUPERNATURAL, STARGATE, FARSCAPE, XENA, SERENITY, STAR TREK, etc. Check out their calendar to see if one will be in your neighborhood soon. Don't miss their Videos page as well. It is full of some priceless video from a number of conventions.

Be sure to visit the referenced sites to see if there have been changes in dates/guests attending. Visit our Convention Calendar for a full listing of upcoming conventions.
BACK ISSUES OF THE ZOCALO TODAY
The front page of the The Zocalo Today changes daily, so be sure to check the back issues to make sure that you haven't missed anything IMPORTANT! I hope you will become a regular visitor to The Zocalo Today!
---
Take care and I look forward to hearing from you.
Sandra Bruckner (sgbruckner@isnnews.net)
Editor/Publisher
ISN News: The Zocalo Today
http://www.isnnews.net
Copyright - SBruckner, 1999-2016