The Zocalo Today

Welcome to ISN News: The Zocalo Today. Babylon 5 celebrated its 20th Anniversary but because of the quality of the series, fans are still out there supporting the show -- and new ones are joining each day. With J. Michael Straczynski promising a new production in the near future, we need to continue support of the show -- bringing new people to watch and discuss the show. Join in the discussion today on Facebook or Twitter.

If you have questions or items for the news, drop me a line at sgbruckner@isnnews.net.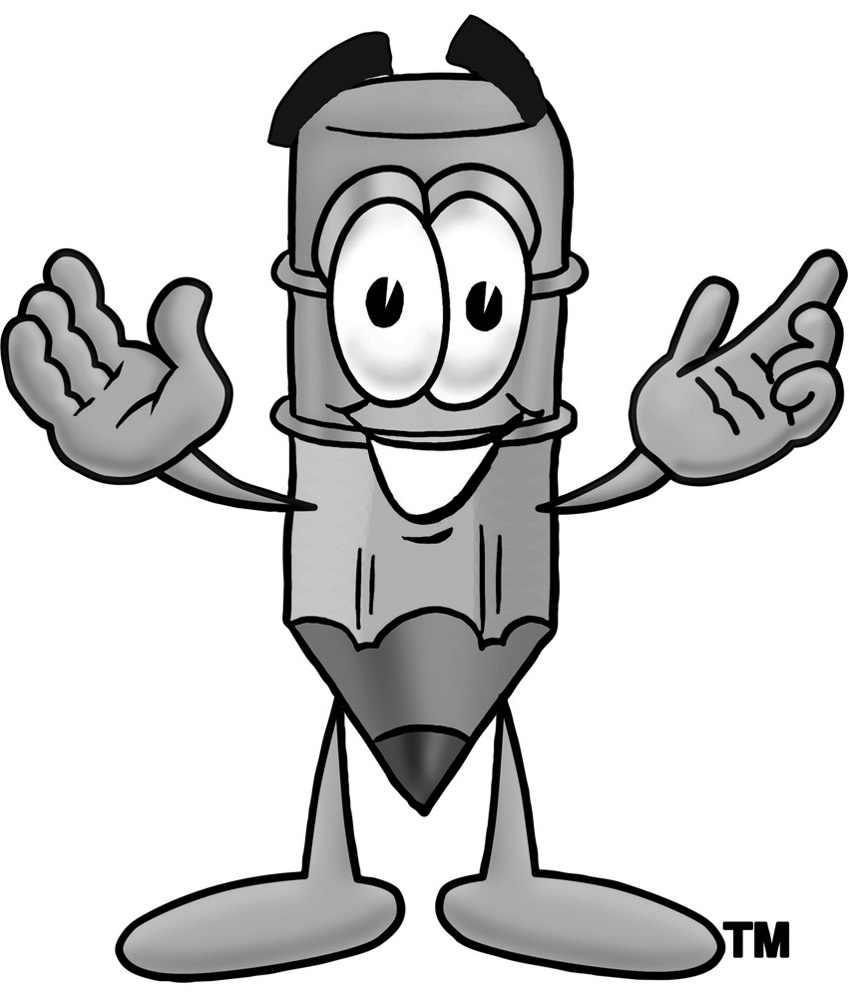 TODAY'S NEWS
TUESDAY, APRIL 21, 2015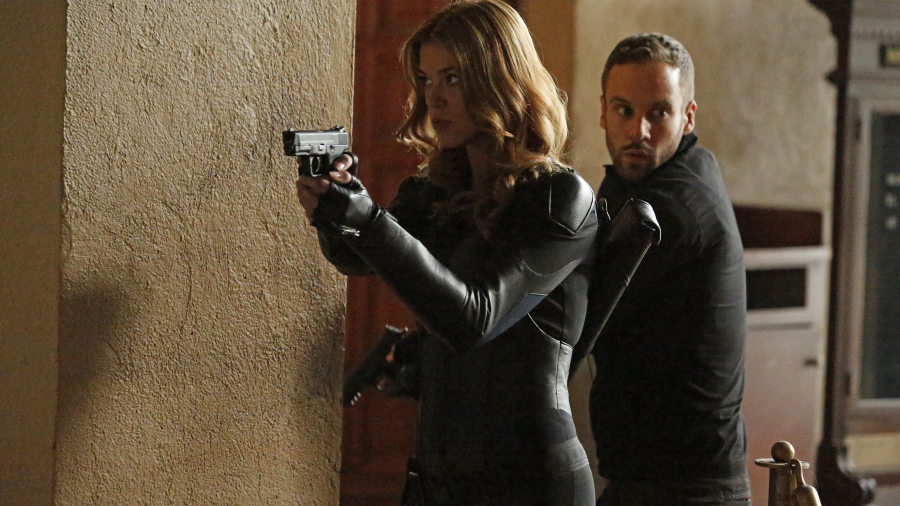 SHIELD - MOCKINGBIRD
UPDATE: It seems a "SHIELD" spinoff premise has been found. Deadline is reporting that Adrianne Palicki (Bobbi Morse, aka Mockingbird) and Nick Blood (Lance Hunter) are in talks to star in the spinoff, which will be established in Season 2 of "Marvel's Agents of SHIELD." Marvel declined to comment to Zap2it, but considering the plan seems to be to have this on lock by ABC's Upfronts, official news could come in the next few weeks. The original report continues as follows. The Marvel Cinematic Universe continues to grow on the small screen the same way it's growing on the big one. According to a new report, ABC and Marvel are in discussions about making a spinoff to "Marvel's Agents of SHIELD." Entertainment Weekly broke the news that "SHIELD" executive producer Jeffrey Bell and writer Paul Zbyszewski are working on the proposed project. Beyond that little is known, though EW does say that story elements being introduced in Season 2 will be used as set up for the potential series, though there won't be an implanted pilot episode. Unfortunately, that doesn't narrow the field down much. There's no word on which characters could make the jump, but storylines like the recently introduced Inhumans, the "real SHIELD" with Edward James Olmos and Adrianne Palicki, and Kyle McLachlan's group of mutated villains all seem like they could be contenders for their own storylines. Marvel declined to comment on the rumor to Zap2it, but it's worth noting that not even "Agents of SHIELD's" future -- or that of ABC's other Marvel series "Agent Carter" -- are set. ABC hasn't announced season renewals for either show, so it makes sense that nothing is set in stone for this potential spinoff. According to EW, the spinoff could premiere as soon as fall 2015. It's smart that Marvel and ABC want to move down the spinoff route, as their DC competitors at The CW have had good success with "Arrow" and its spinoff "The Flash," and are already in the works on a third companion series. JURASSIC WORLD
As is the case for the genetically enhanced new dinosaur at its center, there's a lot to digest in the new trailer for "Jurassic World." The reveal of the new dino is probably the biggest moment in the trailer, but its showing how main character Owen Grady (Chris Pratt) controls a pack of raptors is probably the best/most ridiculous part. At least now this all makes sense: The basic plot of the movie is that the suits behind a new version of Jurassic Park decide that they should genetically modify a dinosaur to be bigger than a T-Rex -- all to draw more guests. Since these people apparently ignored the lessons of the first few times people attempted to create a theme park filled with prehistoric creatures, they're surprised when the new dino escapes, starts killing for sport and generally wreaks havoc on an island filled with people and not enough boats. This trailer does a great job showcasing the big story moments, and all the action and intensity previewed is on point for the expectations a movie in the "Jurassic Park" franchise draws. It also includes that scene Joss Whedon wasn't partial to, which definitely works better as part of a teaser than on its own. "Jurassic World" also stars Bryce Dallas Howard, Ty Simpkins, B.D. Wong, Judy Greer, Vincent D'Onofrio and Jake Johnson. It's due in theaters on June 12.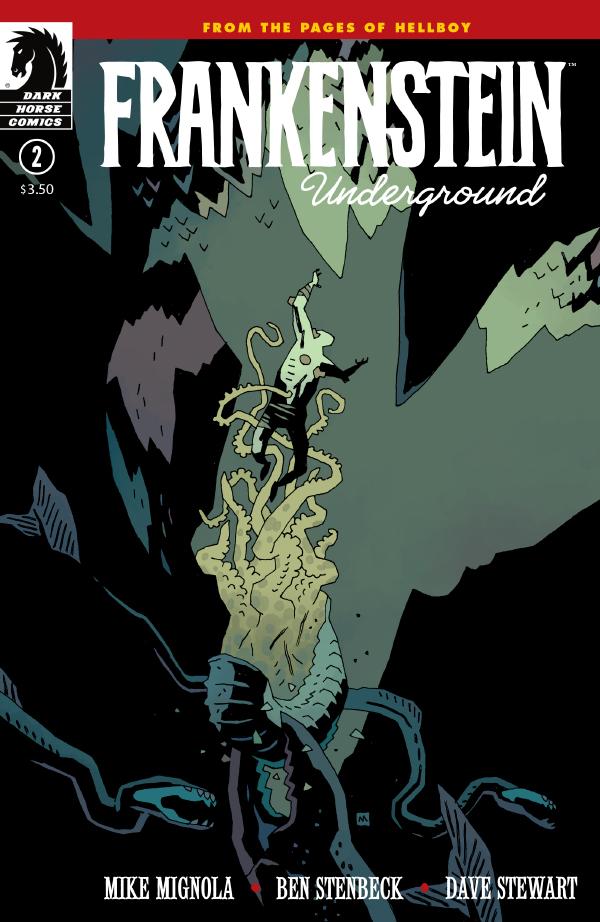 FRANKENSTEIN UNDERGROUND
In the new miniseries sequel to Hellboy: House of the Living Dead, Frankenstein's monster is chased by his tormentors into the center of the earth and becomes prey for a different kind of creature. Written by Mike Mignola, who also worked on the cover, with art by Ben Stenbeck and Dave Stewart, Frankenstein Underground #2 is published by Dark Horse Comics. Check out our exclusive preview of the first seven pages of this new book.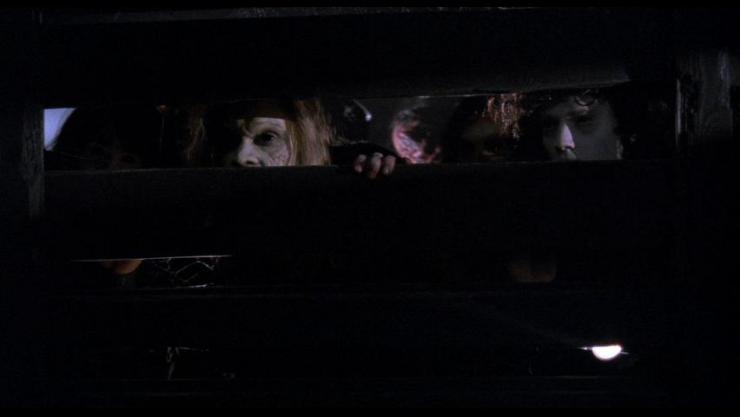 WES CRAVEN AND SYFY SERIES
The man who created Freddy Krueger is turning his talents back to the small screen. According to the Hollywood Reporter, legendary horror filmmaker Wes Craven has signed a deal with Universal Cable Productions to develop two projects for Syfy, with room for more down the line. The first is a show based on Craven's 1991 movie The People Under the Stairs. Described as "Downton Abbey meets The Amityville Horror," the series follows what happens when the search for a missing young woman at the Robeson family manor unearths the centuries-old horrors living under the estate. While Craven is an executive producer on that one, he's getting even more hands-on with a second project called We Are All Completely Fine, for which he intends to write and direct the pilot himself. It's based on a novella, by Daryl Gregory, in which a mysterious psychologist gathers together five survivors of supernatural violence and trauma in a support group and attempts to discover which of them are suffering from horrors within themselves and which were assaulted by terrors lurking in the real world. All this comes as MTV is also launching a Craven-related series, Scream, based on his post-modern slasher franchise. Craven's filmography includes a string of horror classics (many of which have been remade), including The Last House on the Left, The Hills Have Eyes, A Nightmare on Elm Street (which introduced Mr. Krueger to the world), The Serpent and the Rainbow and the Scream movies. He previously created the TV shows The People Next Door (1989) and Nightmare Cafe (1992). CHILDHOOD'S END
Here's the first peek at Syfy's upcoming adaptation of Arthur C. Clarke's classic sci-fi saga Childhood's End, with Charles Dance (Game of Thrones, Alien 3) hosting this harrowing introduction to the epic invasion. The three-part, six-hour presentation is set to air this December and will star Dance as Overlord Karellen, the alien ambassador to Earth during an uneasy occupation and seemingly benign integration into human life. Executive-produced by Akiva Goldsman (A Beautiful Mind, I Am Legend) and Michael Deluca (Dracula Untold, The Social Network), this ambitious series also stars Julian McMahon (Fantastic Four, Fantastic Four: Rise of the Silver Surfer), Mike Vogel (Under The Dome) and Daisy Betts (Shutter). Syfy has further bolstered the premium production with an impressive creative team, having Clarke's seminal 1953 novel adapted by Matthew Graham (BBC's Life on Mars) and the pilot directed by Emmy nominee Nick Hurran (Doctor Who, Sherlock: His Last Vow). Here's Syfy's official synopsis: Childhood's End follows the peaceful invasion of Earth by the mysterious Overlords. Karellen (Dance), the ambassador for the Overlords, makes first contact with Earthling Ricky Stormgren. Karellen's comforting words and amazing technological gifts quickly win humanity's favor, beginning decades of apparent utopia at the cost of human identity and culture. However, his refusal to reveal his physical appearance and insistence on dealing only through Ricky have some people questioning whether his intentions are truly benevolent.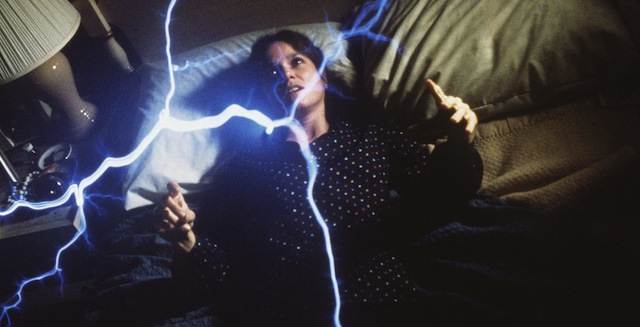 THE ENTITY
With his Furious Seven doing massive business at the global box office, it seems The Conjuring's James Wan has yet another tale of supernatural terror on the way. According to a story today at The Hollywood Reporter, Wan will produce a remake of director Sidney J. Furie's 1982 feature The Entity. That film was based on the 1978 novel of the same name by Frank De Filetta. Currently published by Valancourt Books, the tome is, in turn, inspired by a series of events that were said to have occurred in 1974. It is officially described as follows: Carlotta Moran, a young single mother with three children, suddenly has her life turned upside down when she begins to be attacked in her bed each night, violated by a spectral rapist. This brutal unseen force makes attempts on her life and terrorizes her children, but the worst part is that no one believes her. Among the skeptics is psychiatrist Dr. Sneidermann, who believes Carlotta is psychotic, a danger to herself and her children who should be committed. But two graduate students in parapsychology have a different theory: that Carlotta is being tormented by a powerful entity from beyond our reality, outside space and time. The tension builds to an electrifying conclusion, and the truth may be far more frightening than any of them ever imagined… The Conjuring scribes Chad and Carey Hayes will provide the screenplay for the new take, which also has Roy Lee (The Woman in Black, The LEGO Movie) producing. Wan is not planning to direct, although he'll be back in the genre soon as he's about to begin The Conjuring 2, set for release June 10, 2016.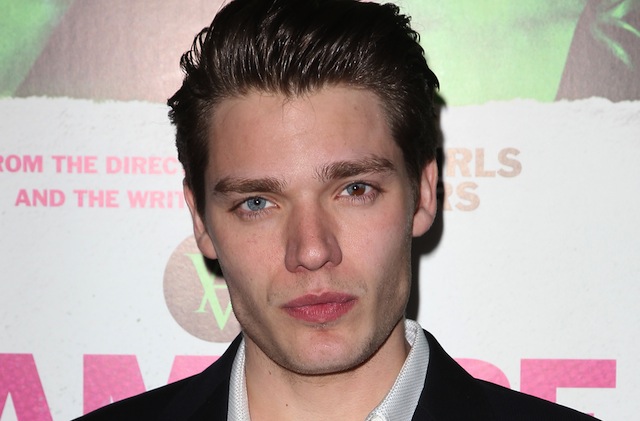 SHADOWHUNTERS
ABC Family announced today that it has cast British actor Dominic Sherwood as Jace Wayland on their upcoming series "Shadowhunters." Sherwood was recently seen starring in the feature film Vampire Academy and was featured in Taylor Swift's "Style" video. Based on the bestselling young adult fantasy book series "The Mortal Instruments" by Cassandra Clare, "Shadowhunters" follows 18 year-old Clary Fray who finds out on her birthday that she is not who she thinks she is, but rather comes from a long line of Shadowhunters — human-angel hybrids who hunt down demons. When her mother Jocelyn is kidnapped, Clary is thrown into the world of demon hunting with mysterious Shadowhunter Jace and her best friend Simon. Now living among faeries, warlocks, vampires and werewolves, Clary begins a journey of self-discovery as she learns more about her past and what her future may hold. Narcissistic, and lethally gorgeous, Jace is a determined and expert Shadowhunter. A skilled soldier in a war against demons. After his father is killed, Jace makes it his life mission to seek revenge on the man who is responsible. The Jace role was played by Jamie Campbell Bower in the 2013 feature film The Mortal Instruments: City of Bones.
THE ZOCALO TODAY
Be sure to check out The Zocalo Today on Facebook as well as at ISN News: The Zocalo Today on Yahoo Groups. March News Archive.
ON THE TUBE TONIGHT
8:00pm on CBS
NCIS
Episode: Check S12, E11 (First Aired: Jan. 06, 2015)
The team investigates a series of crime scenes that appear to be copycats of previous cases; two of Gibbs' ex-wives show up at a crime scene. 8:00pm on The CW
The Flash
Episode: Who Is Harrison Wells? NEW S01, E19
Joe and Cisco go to Starling City where they ask Capt. Lance for help with their investigation into Dr. Wells; the Black Canary asks Cisco for a favor; Barry is faced with a foe who can transform himself into anyone he touches. 8:00pm on FX
Avatar (2009)
On an alien planet, a former Marine falls in love with a blue-skinned warrior and sides with her people against humankind's encroachment on their lush world.
Sam Worthington, Zoe Saldana, Sigourney Weaver, Stephen Lang, Michelle Rodriguez 8:00pm on Syfy
Ghost Hunters
Episode: Ghost Friends Forever S09, E09 (First Aired: Jun. 19, 2013)
The team travels to Little Rock, Ark. where a family believes a bungalow next door to their home is cursed. 9:00pm on ABC
Marvel's Agents of S.H.I.E.L.D.
Episode: Frenemy of My Enemy NEW S02, E18
Coulson and Hunter form a dangerous alliance as they turn to someone unexpected for help; Lincoln and Skye are drawn into a conflict. 9:00pm on CBS
NCIS: New Orleans
Episode: Baitfish S01, E11 (First Aired: Jan. 06, 2015)
The investigation into an explosion at the Navy-Marine Corp Relief Gala reveals Pride was the bomb's target. 9:00pm on The CW
iZombie
Episode: Virtual Reality Bites NEW S01, E06
Liv inherits agoraphobia -- and computer gaming skills -- after eating a hacker's brain; Blaine gets acquainted with someone Liv knows. 9:00pm on Syfy
Ghost Hunters
Episode: Vintage Spirits S09, E10 (First Aired: Jun. 26, 2013)
TAPS investigates paranormal activity at the Belvoir Winery in Liberty, Mo. 10:00pm on ABC
Forever
Episode: The Night in Question NEW S01, E21
Henry tries to find out what really happened to Abigail after she left him; the details of a horrifying secret are revealed. 10:00pm on CBS
CSI: Cyber
Episode: URL, Interrupted NEW S01, E07
A high school student promises to retaliate after her classmates make her a victim of intense cyberbullying. 10:00pm on Syfy
Haunting
Episode: Adelaide Arcade NEW S01, E05
KEEPING UP WITH JMS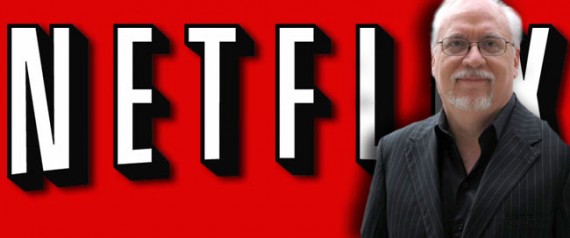 SENSE8
"Sense8," the sci fi thriller from J. Michael Straczynski and Andy and Lana Wachowski, will make its Netflix debut on June 5. The Wachowskis' first television venture, the series is touted as "a gripping global tale of minds linked and souls hunted." Brian J. Smith (SGU Stargate Universe), Tuppence Middleton (Jupiter Ascending), Aml Ameen (The Maze Runner), Doona Bae (Cloud Atlas), Miguel Silvestre (Velvet), Tena Desae (The Best Exotic Marigold Hotel), Max Riemelt (Amnesia) and Jamie Clayton (Dirty Work) play eight characters who are both emphatically linked — which gives them the ability to access each other's thoughts, feelings and deepest secrets — and hunted by an organization that wants to learn more about this power through any means possible. Daryl Hannah (Kill Bill), Naveen Andrews (Lost), Freema Agyeman (Doctor Who), Alfonso Herrera, Erendira Ibarra and Terrence Mann (The Dresden Files) also star. The 10-episode series was ordered in March 2013.








Here is a quote from J. Michael Straczynski about emotions.
I had this theory that the more important and intimate the emotion, the fewer words are required to express it.

First it's in dating: "Will you go out with me?" Six words.
"Honey, I care for you." Five words.
"You matter to me." Four words.
"I love you." Three words.
"Marry me." Two words.
But what's left? What's the one most important and intimate word you can ever say to somebody? It's "goodbye."

While Michael O'Hare (Sinclair), Andreas Katsulas (G'Kar), Rick Biggs (Dr. Franklin), Tim Choate (Zathras) and Jeff Conoway (Zach Allen) are no longer with us, we will not forget their wonderful personalities and talent -- as well as their significant contributions to the BABYLON 5 universe. Be sure to visit In Memory Of for more information about memorial efforts.
Until we met again, in a place where no shadows fall.
BABYLON 5 BIRTHDAYS
APRIL
Phil Morris - April 4 (Season 3-Lt. Bill Trainor, EAS Alexander)
Christopher Franke - April 6
Maggie Egan - April 11
Tony Dow - April 13
Erick Avari - April 13 (Rabbi Leo Mayers in "And the Rock Cried Out, No Hiding Place" -Season 3.) Clive Revill - April 18 - (Trakis, the Golian criminal & slave owner in "Born to the Purple" Season 1.
Warren Takeuchi - April 19
Peter Jurasik - April 25

Have I missed anyone? If you know the birthday of someone connected with Babylon 5, pass the information along. We want to include everyone in our Happy Birthday Wishes.



BABYLON 5 MUSIC VIDEOS AND TRIBUTES
John Hudgens has created many Babylon 5 videos, but I believe this is the most moving. It was first shown at the Phoenix Comic Con 20th Anniversary and honors many of the Babylon 5 familywho have passed on.

Here is a link to John's Babylon 5 videos:
https://www.youtube.com/user/Babylon5MusicVideos?feature=watch

Richard Biggs memorial: http://www.youtube.com/watch?v=HyD4L8yNtsA

Andreas Katsulas memorial: http://www.youtube.com/watch?v=h2UQ2l9NPIg

- This is the extended version that I did for Andreas' widow ater the original cut was released on the net. It's never been seen online until now.

For those of you who've never seen these, I hope you enjoy them - and for those that have (and emailed me many times over the years about releasing them), I hope they're as good as you remember. Working with Joe on these videos was one of the highlights of my career, and I'll be forever grateful to him for the doors these have opened for me. I'm proud to have them on my resume.

John Hudgens
www.zteamproductions.com








TREKLANTA
Dates: April 24-26, 2015
Place: Atlanta Marriott Century Center, Atlanta, GA
Guests: Jason Carter, Sean Kenney, Keith R.A. DeCandido, and more
For more information, go to http://www.trektrax.org/.

WIZARD WORLD COMIC CON LAS VEGAS
Dates: April 24-26
Place: Las Vegas Convention Center
Guests: Tom Mison, Kevin Sorbo, Billy Martin, and many more
For more information, go to http://www.wizardworld.com/home-lasvegas.html

WIZARD WORLD COMIC CON PHILADELPHIA
Dates: May 5-10, 2015
Place: Pennsylvania Convention Center
Guests: Nathan Fillion, Ben McKenzie, Stephen Amell, Hayley Atwell and many more
For more information, go to http://www.wizardworld.com/home-philadelphia.html FED-CON 24
Dates: May 21-24, 2015
Place: Maritim Hotel, Dusseldorf, Germany
Guests: Sam Jones, Aaron Douglas, Grant Bowler and more to come
For more information, go to http://www.fedcon.de/en/. PHOENIX COMIC CON 2014
Dates: May 28-31, 2015 Place: Phoenix Convention Center, Phoenix, Arizona
For more information, go to http://www.phoenixcomicon.com/. AWESOME CON
Dates: May 29-31, 2015
Place: Washington Convention Center, Washington, DC
Guests: George Takei, William Shatner, Sean Astin, John Rhys-Davies - and many, many more
For more information, go to http://www.awesome-con.com/. SOUTH FLORIDA SUPER CONVENTION
Date: June 25-28, 2015
Place: Miami Beach Convention Center
Guests: Billie Piper (Dr Who, Penny Dreadful, Secret Diary of a Call Girl); Maximillian Hernandez (Agents of S.H.I.E.L.D. Walking Dead); Brett Dalton (Agents of S.H.I.E.L.D.); Paul McGann, Simon Fisher-Becker (Dr. Who); Walter Koenig (Babylon5, Star Trek); Nichelle Nichols, Marina Sirtis (Star Trek); Billy Dee Williams, Peter Mayhew (Star Wars) and Lew Temple, Vincent Ward, Daniel Thomas (Walking Dead), Robin Curtis (Star Trek)
For more information, go to http://floridasupercon.com/. STAR TREK: THE OFFICIAL CONVENTION
Date: August 6-9, 2015
Place: Rio Suites Hotel, Las Vegas, Nevada
Guests: William Shatner, Karl Urban, Jeri Ryan, Walter Koenig, James Darren - and many more
For more information, go to http://www.creationent.com/cal/st_lasvegas.html. SHORE LEAVE 37
Dates: August 7-9, 2015
Place: Hunt Valley Inn, Hunt Valley, MD
Guests: John Barrowman, David Nykl, Daniel Davis, Shawn Ashmore, Aaron Ashmore and many more
For more information, go to WORLDCON 2015: Sasquan
Dates: August 19-23, 2015
Place: Spokane, Washington
Guests: David Gerrold will be one of the featured guests
For More information, go to http://sasquan.org.
The Sasquan website says they are looking for help. Anyone looking for a way to help defray expenses, can go to sasquan.org and volunteer some time.
Hugo Nominations - Also deadline is drawing near to nominate. Nominations are due by March 10 at 11:59pm. PHOENIX COMICON
Dates: December 12-14, 2015
Place: Phoenix Convention Center, Phoenix, AR
Guests: Tom Skerritt, Linda Blair, Eddie McClintock, Ben Browser
For more information, to go http://phoenixcomicon.com/. SPECIAL ANNOUNCEMENTS!
Wizard World Conventions has a large number of events planned for the year. Be sure to visit the page to see if there is a convention of interest near you.

Creation Entertainment has a large number of conventions planned for the next several months. They include stars from TWILIGHT, SUPERNATURAL, STARGATE, FARSCAPE, XENA, SERENITY, STAR TREK, etc. Check out their calendar to see if one will be in your neighborhood soon. Don't miss their Videos page as well. It is full of some priceless video from a number of conventions.

Be sure to visit the referenced sites to see if there have been changes in dates/guests attending. Visit our Convention Calendar for a full listing of upcoming conventions.
BACK ISSUES OF THE ZOCALO TODAY
The front page of the The Zocalo Today changes daily, so be sure to check the back issues to make sure that you haven't missed anything IMPORTANT! I hope you will become a regular visitor to The Zocalo Today!
---
Take care and I look forward to hearing from you.
Sandra Bruckner (sgbruckner@isnnews.net)
Editor/Publisher
ISN News: The Zocalo Today
http://www.isnnews.net
Copyright - SBruckner, 1999-2015