The Zocalo Today

Welcome to ISN News: The Zocalo Today. Babylon 5 celebrated its 20th Anniversary but because of the quality of the series, fans are still out there supporting the show -- and new ones are joining each day. With J. Michael Straczynski promising a new production in the near future, we need to continue support of the show -- bringing new people to watch and discuss the show. Join in the discussion today on Facebook or Twitter.

If you have questions or items for the news, drop me a line at sgbruckner@isnnews.net.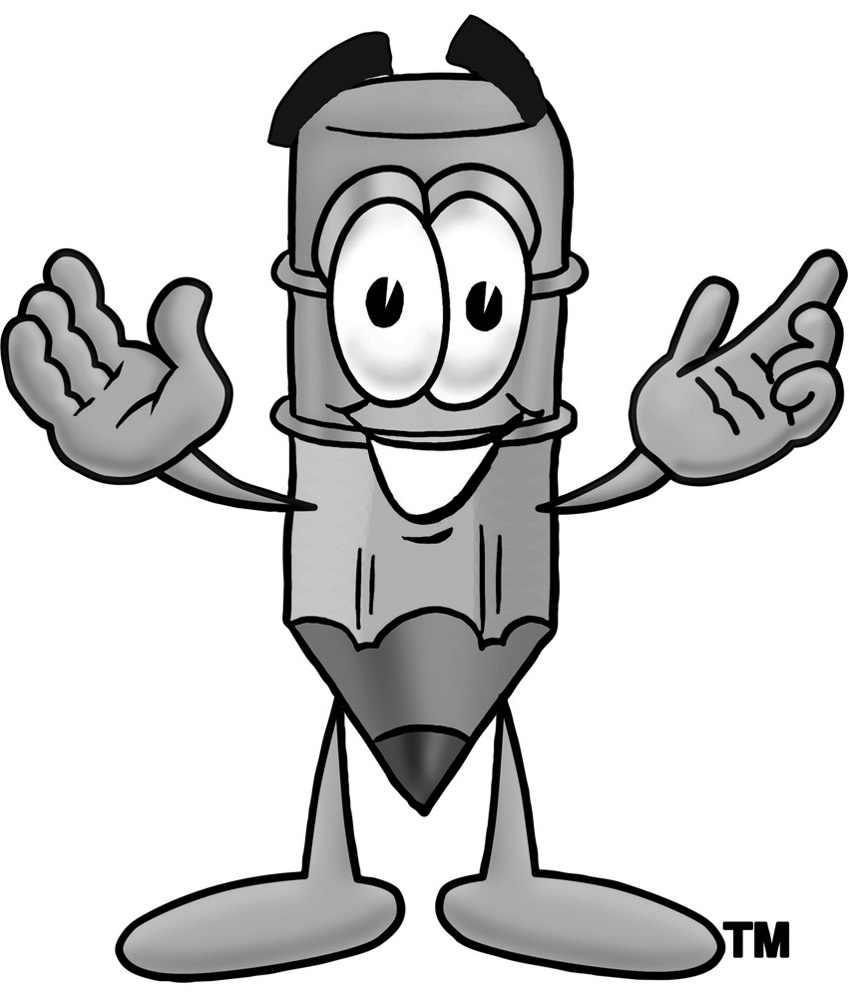 TODAY'S NEWS
TUESDAY, MAY 26, 2015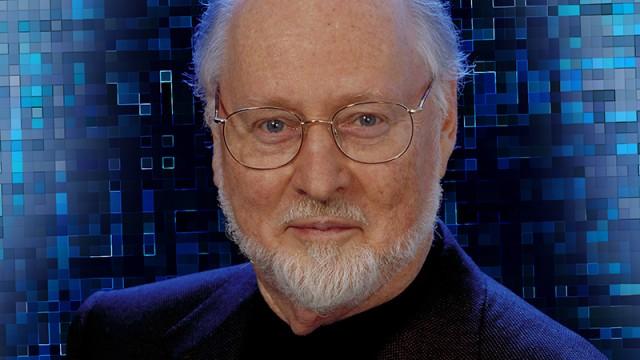 SCORE FOR STAR WARS: THE FORCE AWAKENS
What exactly does legendary composer John Williams have in store for us when his score for Star Wars: The Force Awakens rumbles out of theater speakers? According to an interview he did with Vanity Fair (via Screenrant), the 83-year-old Williams -- whose music for movies like Jaws, Superman, the Indiana Jones films and, of course, all six previous Star Wars entries is nothing short of iconic -- guarantees that we'll hear some well-loved passages in Chapter VII: There are some scenes where we do make reference to earlier thematic pieces. We haven't done it yet, but we're planning to do it. It's something that I think will seem very natural and right in the moments for which we've chosen to do these kinds of quotes. There aren't many of them, but there are a few that I think are important and will seem very much a part of the fabric of the piece in a positive and constructive way. Williams didn't get specific, naturally, but it seems almost certain that he and director J.J. Abrams will start the movie with the traditional and still magnificent main theme. Beyond that, will the "Force Theme" make its return, or will we hear some new variation on the Imperial March for the rechristened First Order? We can only anticipate what favorites we'll hear again, along with what is sure to be majestic new music from the indefatigable Williams. Speaking of favorites, the Oscar-winning composer was also asked if he had one among the now seven Star Wars scores he has done: I really don't. [Thinks about it for a moment anyway, then laughs] No. I've played so many of those pieces in concert over the year, and I think my affection for them, if I can put it that way, is pretty constant thing. If you pressed me, well, you could probably look up the concert programs over the years and say, You favored this one over that one. It's possible, I don't know, but I don't think I can say I have any favorites. Williams will also score Steven Spielberg's new movie, The BFG, later this year, and will be doing a series of concerts over the summer. Even though he is advancing in age, we hope this brilliant, one-of-a-kind composer is up for a few more Star Wars movies as well. Star Wars: The Force Awakens arrives in theaters Dec. 18, 2015. CHILDHOOD'S END
A new trailer for Syfy's upcoming miniseries Childhood's End has been released, showing off more of the creepy alien invasion drama from the mind of Arthur C. Clarke. The six-episode project stars Charles Dance (Game of Thrones) and Mike Vogel (Under the Dome) and focuses on the aftermath of a peaceful alien invasion from creatures dubbed the "Overlords." In Clarke's 1953 novel that inspired the series, the otherworldly arrival begins decades of apparent utopia under indirect alien rule, though it comes at the cost of human identity and culture. In the series adaptation, Dance will play Karellen, the ambassador for the Overlords. Vogel will take on the role of midwestern farmer Ricky Stormgren, whose life is "turned upside down" when he is named the human ambassador for the aliens. The trailer shows off a lot more footage, and it doesn't seem afraid to ask the big questions about freedom and who controls (and should control) our destiny. On the creative side, Childhood's End has Akiva Goldsman (Lone Survivor, I Am Legend) and Mike De Luca (Moneyball, The Social Network) attached as executive producers, with Matthew Graham (creator of BBC's Life on Mars and Ashes to Ashes) signed on to adapt the book into a screenplay. Needless to say, that's a decent bit of talent behind the scenes. Childhood's End is set to premiere December 2015 on Syfy.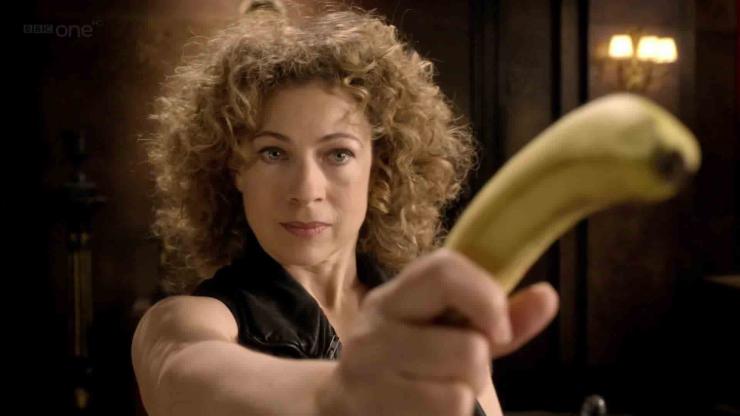 DOCTOR WHO NEWS
While a lot of us may all be sitting here, wistfully hoping Steven Moffat is not entirely done with River Song — actress Alex Kingston recently said her story wasn't over yet — the Doctor Who showrunner has admitted he had some reservations about the Doctor's wife spending more time with our beloved Time Lord. Nonetheless, the Moff doesn't rule out her return to the BBC series. At least, if it's done right: "It entirely depends on whether we've got a good story. It's certainly not ruled out. I have a sort of worry about keeping anybody around in the Doctor's life for too long. Because he's the Man who Leaves. He's the man who outlives everybody: that's his story. In the end it's the boy in his box, and he's alone. In the end if we had a great story, we'd do it." Could the man for the job be former Doctor Who showrunner Russell T. Davies? He really seems to be keen on seeing River with Peter Capaldi's Twelfth incarnation of the Doctor, although he's currently busy with Channel 4's drama series Cucumber, a show that is "really, really about sex" (Davies' words, not mine). Here's what Steven Moffat recently revealed about an interesting chat he had with Davies, who said a pairing between Alex Kingston and Peter Capaldi would be a "sex storm": "I mentioned in passing to Russell that we were probably done with River. He said, 'You can't be done with River! No, no, no. Capaldi and Kingston, it's a sex storm!' So if you see an episode called Sex Storm by Russell T Davies in his post-Cucumber years... [there will be] lots of editing from me saying 'We really can't do that, you've forgotten which show this is….'" The last time we saw River Song, was in "The Name of the Doctor," in which Matt Smith's Eleventh Doctor seemingly said goodbye forever (well, for Eleven, it probably was forever ...) to his wife's digitally preserved consciousness.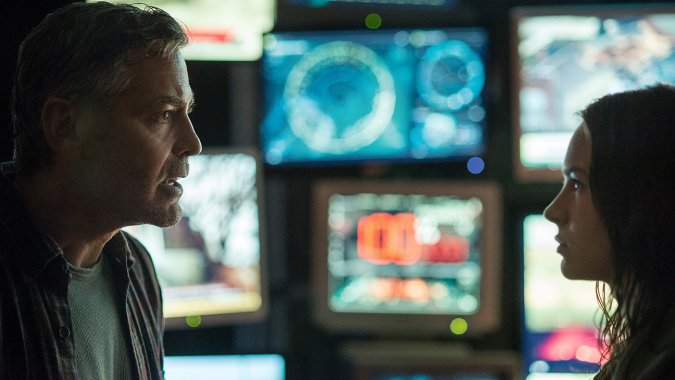 WEEKEND BOX OFFICE
Brad Bird's Tomorrowland suffered one of the worst Memorial Day starts in recent memory for an all-audience tentpole, marking a rare miss for an otherwise empowered Disney. The big-budget fantasy adventure, starring George Clooney and Britt Robertson, debuted to $41.7 million in North America over the four-day weekend, the lowest opening for a big-budget tentpole since Prince of Persia: The Sands of Time launched to $37.8 million in 2010. More problematic, Tomorrowland was even weaker overseas, grossing $26.7 million from 65 markets. (In their second weekends, Pitch Perfect 2 and Mad Max: Fury Road beat Tomorrowland's $2.1 million debut in the U.K. with $4.3 million and $2.2 million, respectively). Another key test for Tomorrowland will come on Tuesday when it opens in China. Overall, Memorial Day box office revenue in North America was down more than 15 percent from last year, when X-Men: Days of Future Past opened to $90.8 million. It could be the worst Memorial Day weekend since 2010, or, if Monday traffic is especially bad, since 2001. In 2010, total revenue only reached $192.7 million after Prince of Persia: The Sands of Time opened to $37.8 million, and Sex and the City 2, to $36.8 million. As of now, industry observers put 2015 Memorial Day revenue between $192 million and $193.5 million, but an official figure won't be released until Tuesday. In 2001, holiday revenue for the four days only reached $181.7 million. Tomorrowland will need to overcome its so-so B CinemaScore and enjoy strong word of mouth in order to end up in the black, considering the live-action fantasy adventure cost $180 million to produce. The last time Disney stumbled with a big-budget summer tentpole was in 2013 with The Lone Ranger, which opened to just $29.2 million. In Tomorrowland, Clooney stars as an inventor who takes along a spirited teen (Robertson) to an alternate world called Tomorrowland. Tomorrowland, an ode to Walt Disney's hopes for creating a utopian society, also stars Hugh Laurie and was co-written by Bird and Damon Lindelof. The film skewed slightly male (51 percent), while families made up 30 percent of ticket buyers, and adults 61 percent. Disney distribution chief Dave Hollis said that while the opening was disappointing, he believes Tomorrowland will begin to galvanize the family audience, noting that it's the only PG title until next month. "This morning, our numbers were a little better than what we thought on Sunday. We knew we had an original IP property and that it would take a beat for people to find it. And with kids beginning to get out of school, we are in a great position," he said. Heading into the long holiday weekend, most expected Bird's film to gross between $45 million and $50 million for the four days domestically, giving it a wide lead over Pitch Perfect 2. Instead, the race was much closer than expected as Pitch Perfect 2 continued to sing in perfect tune, taking $38.5 million in its second outing for an 11-day domestic total of $126 million for Universal. Overseas, Universal's female-fueled sequel took in another $15.2 million from only 37 markets, pushing its global total to nearly $190 million. Disney still remains the early king of summer to date, thanks to Avengers: Age of Ultron. From Disney and Marvel Studios, the superhero tentpole jumped the $400 million mark at the domestic box office on Sunday, becoming the first film to achieve that feat since The Hunger Games: Catching Fire and Frozen, both released in November 2013. Age of Ultron has now grossed $860 million internationally, including $210 million in China, for a global haul of $1.263 billion — the seventh-best showing of all time, passing Iron Man 3 this weekend. It also topped the weekend international chart with $45.8 million, thanks to its late China run. After Tomorrowland, the other new Memorial Day offering was MGM and Fox 2000's Poltergeist, which posted a $26.5 million four-day opening, putting it at No. 4, just behind holdover Mad Max: Fury Road. Fury Road, from Warner Bros. and Village Roadshow Pictures, held well in its second outing, grossing $32.1 million in North America and another $38.2 million overseas from 70 markets for a global total of $219.8 million. Poltergeist, directed by Gil Kenan and produced by Sam Raimi, is a solid swing for MGM and Fox 2000, coming in ahead of expectations, thanks to teenagers. Nearly 60 percent of the audience was under the age of 25, while 55 percent of ticket buyers were females, not unusual for a horror title. The remake of the 1982 cult classic stars Sam Rockwell, Rosemarie DeWitt, Jared Harris and Jane Adams. Poltergeist also impressed overseas, collecting $8.3 million from 35 markets. Fox had another win internationally with Paul Feig's Spy, which rolled out in select Asian markets a week ahead of its domestic launch. Starring Melissa McCarthy, Spy launched to $12.5 million from 10 markets, including a record $4.6 million in South Korea, the top opening of all time for a Hollywood action comedy. Age of Ultron rounded out the top five domestically. JURASSIC WORLD
Universal Studios and Legendary Pictures have just released a new behind-the-scenes look at their upcoming upcoming Jurassic World in the form of a featurette that offers insight from Steven Spielberg himself. "To see Jurassic World come to life is like seeing Jurassic Park come true," he says in the video. Opening in 3D, 2D and IMAX theaters, Jurassic World arrives from Safety Not Guaranteed helmer Colin Trevorrow and offers a terrifying sci-fi adventure set 22 years after the events of Spielberg's original 1993 Michael Crichton adaption, Jurassic Park. According to Trevorrow, a huge part of what sparked his take on the blockbuster franchise was the image of a teenager texting, unimpressed with the T. Rex behind the glass in front of him. Jurassic World, which hits theaters on June 12, 2015, stars Chris Pratt (Guardians of the Galaxy), Bryce Dallas Howard (The Help, Spider-Man 3), Ty Simpkins (Insidious, Iron Man 3), Jake Johnson (Let's Be Cops, "New Girl"), Nick Robinson (The Kings of Summer), Irrfan Khan (Life of Pi, The Amazing Spider-Man), Vincent D'Onofrio ("Daredevil," "Law & Order: Criminal Intent"), BD Wong (Jurassic Park, "Law & Order: Special Victims Unit"), Omar Sy (X-Men: Days of Future Past, The Intouchables), Judy Greer (Dawn of the Planet of the Apes, Tomorrowland), Katie McGrath (NBC's "Dracula," "Merlin"), Lauren Lapkus (Blended, The To Do List) and Andy Buckley (Bridesmaids, The Other Guys).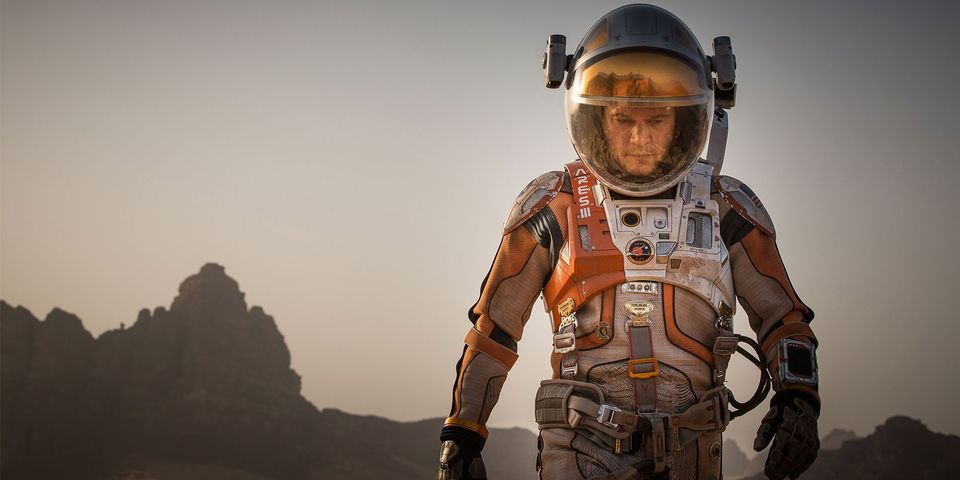 THE MARTIAN
20th Century Fox has debuted even more photos (via People and EW) from Ridley Scott's The Martian, the action adventure coming to theaters on November 25. During a manned mission to Mars, Astronaut Mark Watney (Matt Damon) is presumed dead after a fierce storm and left behind by his crew. But Watney has survived and finds himself stranded and alone on the hostile planet. With only meager supplies, he must draw upon his ingenuity, wit and spirit to subsist and find a way to signal to Earth that he is alive. Millions of miles away, NASA and a team of international scientists work tirelessly to bring "the Martian" home, while his crewmates concurrently plot a daring, if not impossible, rescue mission. As these stories of incredible bravery unfold, the world comes together to root for Watney's safe return. Based on a best-selling novel, The Martian features a star-studded cast that includes Jessica Chastain, Kristen Wiig, Kate Mara, Michael Pena, Jeff Daniels, Chiwetel Ejiofor, and Donald Glover. The film is produced by Ridley Scott, Simon Kinberg, Michael Schaefer, Mark Huffam and Aditya Sood. THE MAN FROM U.N.C.L.E.
Early word of mouth says that The Man from U.N.C.L.E. is a lot of fun, and it may turn out to be another stealth hit for director Guy Ritchie. With some other big budget blockbusters currently hogging the summer movie spotlight, we haven't heard too much about this thriller, which is based on the classic TV show. But Henry Cavill and Armie Hammer are said to have great chemistry, and a franchise is most likely in the cards. While we haven't seen any new footage since the first trailer debuted this past Feburary, today we get a slew of new photos that show off the movie's two leading men, their director and leading lady Alicia Vikander. Set against the backdrop of the early 1960s, at the height of the Cold War, The Man from U.N.C.L.E. centers on CIA agent Solo and KGB agent Kuryakin. Forced to put aside longstanding hostilities, the two team up on a joint mission to stop a mysterious international criminal organization, which is bent on destabilizing the fragile balance of power through the proliferation of nuclear weapons and technology. The duo's only lead is the daughter of a vanished German scientist, who is the key to infiltrating the criminal organization, and they must race against time to find him and prevent a worldwide catastrophe. These latest images put Henry Cavill front and center as Solo, with Armie Hammer tagging along behind as Kuryakin. The movie promises one of the best Vespa scooter chases ever committed to celluloid. And here, we get to see a couple other stunt scenes in action. While it's not high on everyone's radar right this second, The Man from U.N.C.L.E. will likely close out the summer with a big colorful bang when it hits this August. Take a look, and stand by, as the next trailer is sure to drop any second now! The Man from U.N.C.L.E. comes to theaters August 14th, 2015.
THE ZOCALO TODAY
Be sure to check out The Zocalo Today on Facebook as well as at ISN News: The Zocalo Today on Yahoo Groups. April News Archive.
ON THE TUBE TONIGHT
8:00pm on CBS
NCIS
Episode: Cabin Fever S12, E15 (First Aired: Feb. 17, 2015)
When an explosion rocks a summit on global terror, the team suspects Gibbs' archenemy is responsible; Gibbs tries to help Fornell after his wife's murder. 8:00pm on The CW
The Flash
Episode: Pilot S01, E01 (First Aired: Oct. 07, 2014)
Orphaned by tragedy and raised by his best friend's father, brilliant CSI Barry Allen gains powers when lightning strikes him during a freak storm; when another meta-human attacks the city, Barry puts his powers to the test. 9:00pm on CBS
NCIS: New Orleans
Episode: Le Carnivale de la Mort S01, E15 (First Aired: Feb. 17, 2015)
A petty officer is murdered during Mardi Gras festivities; Pride contemplates what to tell his daughter about his strained relationship with his father. 8:00pm on ABC Family
The Hunger Games (2012)
A resourceful teen takes her younger sister's place in a brutal contest in which youths from each of 12 districts fight to the death on live television. Based on the book by Suzanne Collins.
Jennifer Lawrence, Josh Hutcherson, Liam Hemsworth, Woody Harrelson, Elizabeth Banks 8:00pm on FX
Life of Pi (2012)
After the freighter they're on sinks in a storm, a teenager and a Bengal tiger wind up on a small lifeboat and must learn to trust each other to survive. Based on a book by Yann Martel.
Suraj Sharma, Irrfan Khan, Tabu, Rafe Spall, Gérard Depardieu 8:00pm on Syfy
28 Weeks Later (2007)
As the U.S. Army tries to restore order, a carrier of rage virus enters London and reinfects the populace.
Robert Carlyle, Rose Byrne, Jeremy Renner, Harold Perrineau, Catherine McCormack 9:00pm on The CW
iZombie
Episode: Astroburger NEW S01, E11
A person close to Major dies of an apparent suicide; a secret computer file comes to light that may have important details regarding the investigation and the killer. 10:00pm on Syfy
Troy: Street Magic
NEW S02, E02
Troy's talents are displayed in a ping pong club, a movie theater, and a candy store; a risky feat of escape at a go-karting track.
KEEPING UP WITH JMS
Good news from JMS on Facebook. He has indicated that all episodes have been delivered to Netflix and that a trailer should be on the way soon. "Sense8," the sci fi thriller from J. Michael Straczynski and Andy and Lana Wachowski, will make its Netflix debut on June 5. The Wachowskis' first television venture, the series is touted as "a gripping global tale of minds linked and souls hunted." Brian J. Smith (SGU Stargate Universe), Tuppence Middleton (Jupiter Ascending), Aml Ameen (The Maze Runner), Doona Bae (Cloud Atlas), Miguel Silvestre (Velvet), Tena Desae (The Best Exotic Marigold Hotel), Max Riemelt (Amnesia) and Jamie Clayton (Dirty Work) play eight characters who are both emphatically linked — which gives them the ability to access each other's thoughts, feelings and deepest secrets — and hunted by an organization that wants to learn more about this power through any means possible. Daryl Hannah (Kill Bill), Naveen Andrews (Lost), Freema Agyeman (Doctor Who), Alfonso Herrera, Erendira Ibarra and Terrence Mann (The Dresden Files) also star. The 10-episode series was ordered in March 2013.








Here is a quote from J. Michael Straczynski about emotions.
I had this theory that the more important and intimate the emotion, the fewer words are required to express it.

First it's in dating: "Will you go out with me?" Six words.
"Honey, I care for you." Five words.
"You matter to me." Four words.
"I love you." Three words.
"Marry me." Two words.
But what's left? What's the one most important and intimate word you can ever say to somebody? It's "goodbye."

While Michael O'Hare (Sinclair), Andreas Katsulas (G'Kar), Rick Biggs (Dr. Franklin), Tim Choate (Zathras) and Jeff Conoway (Zach Allen) are no longer with us, we will not forget their wonderful personalities and talent -- as well as their significant contributions to the BABYLON 5 universe. Be sure to visit In Memory Of for more information about memorial efforts.
Until we met again, in a place where no shadows fall.
BABYLON 5 BIRTHDAYS
MAY
Theodore Bikel - May 2
Michael O'Hare - May 6-- We miss you old friend
Stephen Furst - May 8
Melissa Gilbert - May 8
Bruce Boxleitner - May 12
Andreas Katsulas - May 18
Steven Ford - May 19 (Commander Alan Chafin, First Officer on EAS Prometheus)
Andrea Thompson - May 22
Doug Wise - May
Douglas Netter - May 23
Paul Winfield - May 22
Roy Dotrice - May 26
Harlan Ellison - May 27

Have I missed anyone? If you know the birthday of someone connected with Babylon 5, pass the information along. We want to include everyone in our Happy Birthday Wishes.



BABYLON 5 MUSIC VIDEOS AND TRIBUTES
John Hudgens has created many Babylon 5 videos, but I believe this is the most moving. It was first shown at the Phoenix Comic Con 20th Anniversary and honors many of the Babylon 5 familywho have passed on.

Here is a link to John's Babylon 5 videos:
https://www.youtube.com/user/Babylon5MusicVideos?feature=watch

Richard Biggs memorial: http://www.youtube.com/watch?v=HyD4L8yNtsA

Andreas Katsulas memorial: http://www.youtube.com/watch?v=h2UQ2l9NPIg

- This is the extended version that I did for Andreas' widow ater the original cut was released on the net. It's never been seen online until now.

For those of you who've never seen these, I hope you enjoy them - and for those that have (and emailed me many times over the years about releasing them), I hope they're as good as you remember. Working with Joe on these videos was one of the highlights of my career, and I'll be forever grateful to him for the doors these have opened for me. I'm proud to have them on my resume.

John Hudgens
www.zteamproductions.com








FED-CON 24
Dates: May 21-24, 2015
Place: Maritim Hotel, Dusseldorf, Germany
Guests: Sam Jones, Aaron Douglas, Grant Bowler and more to come
For more information, go to http://www.fedcon.de/en/.

PHOENIX COMIC CON 2014
Dates: May 28-31, 2015 Place: Phoenix Convention Center, Phoenix, Arizona
For more information, go to http://www.phoenixcomicon.com/. AWESOME CON
Dates: May 29-31, 2015
Place: Washington Convention Center, Washington, DC
Guests: George Takei, William Shatner, Sean Astin, John Rhys-Davies - and many, many more
For more information, go to http://www.awesome-con.com/. SOUTH FLORIDA SUPER CONVENTION
Date: June 25-28, 2015
Place: Miami Beach Convention Center
Guests: Billie Piper (Dr Who, Penny Dreadful, Secret Diary of a Call Girl); Maximillian Hernandez (Agents of S.H.I.E.L.D. Walking Dead); Brett Dalton (Agents of S.H.I.E.L.D.); Paul McGann, Simon Fisher-Becker (Dr. Who); Walter Koenig (Babylon5, Star Trek); Nichelle Nichols, Marina Sirtis (Star Trek); Billy Dee Williams, Peter Mayhew (Star Wars) and Lew Temple, Vincent Ward, Daniel Thomas (Walking Dead), Robin Curtis (Star Trek)
For more information, go to http://floridasupercon.com/. STAR TREK: THE OFFICIAL CONVENTION
Date: August 6-9, 2015
Place: Rio Suites Hotel, Las Vegas, Nevada
Guests: William Shatner, Karl Urban, Jeri Ryan, Walter Koenig, James Darren - and many more
For more information, go to http://www.creationent.com/cal/st_lasvegas.html. SHORE LEAVE 37
Dates: August 7-9, 2015
Place: Hunt Valley Inn, Hunt Valley, MD
Guests: John Barrowman, David Nykl, Daniel Davis, Shawn Ashmore, Aaron Ashmore and many more
For more information, go to http://www.shore-leave.com/. STEEL CITY CON
Dates: August 7-9, 2015
Place: Monroeville Convention Center, Monroeville, PA
Guests: Ralph Macchio, Andrew McCarthy, Tricia Helfer, Nichelle Nichols, Matthew Wood, and many more
For more information, go to Steel City Con. WORLDCON 2015: Sasquan
Dates: August 19-23, 2015
Place: Spokane, Washington
Guests: David Gerrold will be one of the featured guests
For More information, go to http://sasquan.org.
The Sasquan website says they are looking for help. Anyone looking for a way to help defray expenses, can go to sasquan.org and volunteer some time.
Hugo Nominations - Also deadline is drawing near to nominate. Nominations are due by March 10 at 11:59pm. PHOENIX COMICON
Dates: December 12-14, 2015
Place: Phoenix Convention Center, Phoenix, AR
Guests: Tom Skerritt, Linda Blair, Eddie McClintock, Ben Browser
For more information, to go http://phoenixcomicon.com/. SPECIAL ANNOUNCEMENTS!
Wizard World Conventions has a large number of events planned for the year. Be sure to visit the page to see if there is a convention of interest near you.

Creation Entertainment has a large number of conventions planned for the next several months. They include stars from TWILIGHT, SUPERNATURAL, STARGATE, FARSCAPE, XENA, SERENITY, STAR TREK, etc. Check out their calendar to see if one will be in your neighborhood soon. Don't miss their Videos page as well. It is full of some priceless video from a number of conventions.

Be sure to visit the referenced sites to see if there have been changes in dates/guests attending. Visit our Convention Calendar for a full listing of upcoming conventions.
BACK ISSUES OF THE ZOCALO TODAY
The front page of the The Zocalo Today changes daily, so be sure to check the back issues to make sure that you haven't missed anything IMPORTANT! I hope you will become a regular visitor to The Zocalo Today!
---
Take care and I look forward to hearing from you.
Sandra Bruckner (sgbruckner@isnnews.net)
Editor/Publisher
ISN News: The Zocalo Today
http://www.isnnews.net
Copyright - SBruckner, 1999-2015