[an error occurred while processing this directive]

The Zocalo Today
Welcome and thank you for dropping by. Babylon 5 brought many of us together -- and it remains with us, despite the fact that is no longer in production. The good thing is that the internet gives a LOT of ways to stay in touch. Don't be shy. Join in the discussion today or drop by Facebook or Twitter.

If you have questions or items for the news, drop me a line at sgbruckner@aol.com.

Again, WELCOME!

SUNDAY, JANUARY 6, 2013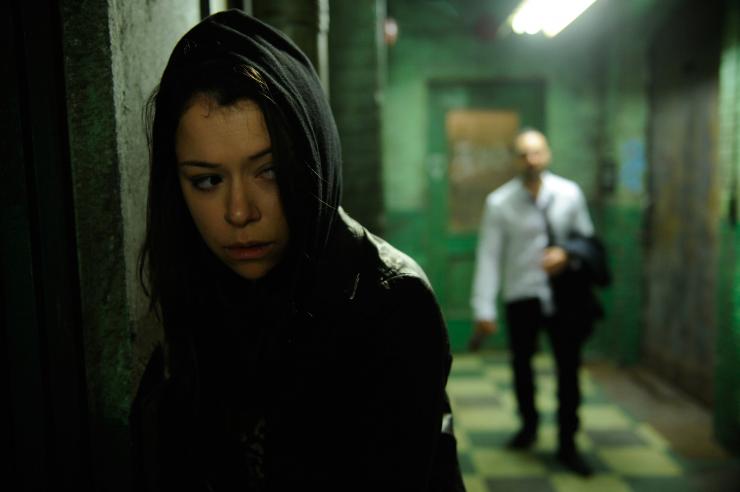 ORPHAN BLACK
Who are you if you're a clone? What about if you assume the clone's identity? Those are the questions at the heart of "Orphan Black," the upcoming BBC America show about a young woman named Sarah who finds out that there are more of her than meets the eye.
She's a clone. It's problematic.
The stars -- Tatiana Maslany (Sarah), Jordan Gavaris (Felix) and Dylan Bruce (Paul) -- and co-creator Graeme Manson did their best to explain the twisted and creepy new show. What did they share?
The story begins...
...With Sarah, a street-smart and independent orphan who sees a woman commit suicide by stepping in front of a train. The thing is, the dead woman looked exactly like Sarah. A purse-snatching and some identity theft later, Sarah has assumed the life of her doppelganger, Beth. But Beth's life turns out to have more than its share of problems.
And then there are more women who look like Sarah.
Clones!
The cast and producer wouldn't share exactly how many clones there would be -- or which of the women is the original -- but there may be a lot. "It's like 'The Parent Trap' on steroids," Bruce explained on the clone aspects of the show.
The results of all this
Although "Orphan Black" was originally conceived of as a feature, the writers decided there was too much story for just a couple of hours. The result is supposed to be a creepy (and at least occasionally sexy) descent into sci-fi territory.
The central theme of it all, according to Tatiana Maslany, is as follows: "It's all about the clone identity. What makes me me?"
You can find out the answer to that question when "Orphan Black" premieres on BBC America on Saturday, March 30 at 9pm.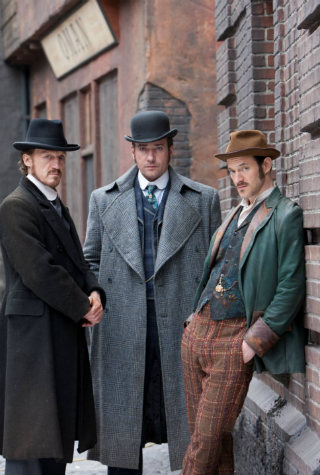 RIPPER STREET
Jack the Ripper was the most notorious killer of the Victorian era, but he wasn't the only one. Haunted by their failure to apprehend him, the police on "Ripper Street," the new period procedural premiering January 19 on BBC America, have to move on.
"The whole idea for us setting out on this journey was to really discard Jack the Ripper at least in terms of wondering who he was or trying to catch him," creator Richard Warlow said at the TCA winter press tour Saturday (Jan. 5).
"What we wanted to do really was tell stories about the streets down which he walked and committed his crimes in the wake of those terrible murders and how it affected the community -- most importantly the police who tried and failed to catch him."
Detective Inspector Edmund Reid (Matthew MacFayden) and Detective Sergeant Bennet Drake (Jerome Flynn, who plays Bronn on "Game of Thrones") are working during a "time of great change" and experimentation in police work, notes executive producer Will Gould. "So many things, like fingerprinting, were just around the corner, [but] our characters" -- especially roguish American captain Homer Jackson (Adam Rothenberg) -- "felt they were in a modern age."
"Reid is convinced that if tomorrow's technology had been here today, they would've got the Ripper. They just didn't have the resources they needed to get that guy."
Thanks in part to the detectives' controversial and "cutting edge" (for that time) forensics, each episode of "Ripper Street" will feature a "standalone crime that is solved," promises Warlow. But will the "Ripper Street" detectives ever identify Jack?
"I think the answer's no," says Warlow. "The whole point of show is what it was like for police at the time --- the confusion and loss and trying to move on. The whole credo of Reid's character is that we are moving on, there are other things to concentrate on and we always have to be true to that."
"[The Ripper] will always be part of our characters' lives," notes Gould. "Obviously we'll never come up with this is the guy, because no one ever did."
"Unless we do work it out," laughs Warlow.
"If we work it out," cracks Gould, referencing the holiday-themed episodes of shows like "Downton Abbey" and "Doctor Who," "then it will be a Christmas special."
"Ripper Street" debuts Saturday, Jan. 19 at 9 p.m. on BBC America.
THOR: THE DARK WORLD
Next appearing on the big screen opposite Arnold Schwarzenegger in January 18th's The Last Stand, Jaimie Alexander is also set to reprise her role as Sif in this fall's Thor: The Dark World. Today, Alexander spoke with IAmRogue about the Marvel Studios project in this video interview..
"We sort of explore the Sif/Thor relationship a little bit," she tells the outlet. "…It's more getting a feel of who these people are and how they are the way they are with each other."
Alexander goes on to discuss director Alan Taylor, the recasting of Fandral and the overall darker tone of Thor's third big screen appearance.
The sequel takes place in the aftermath of Thor and Marvel's The Avengers, following Thor as he fights to restore order across the cosmos when an ancient race, led by the vengeful Malekith, returns to plunge the universe back into darkness. Faced with an enemy that even Odin and Asgard cannot withstand, Thor must embark on his most perilous and personal journey yet, one that will reunite him with Jane Foster and force him to sacrifice everything to save us all.
Thor: The Dark World hits theaters on November 8, 2013.
BATMAN: THE DARK KNIGHT RETURNS, PART 2
Although physical DVDs and Blu-rays won't be hitting store shelves until January 29, Amazon already has Batman: The Dark Knight Returns, Part 2 available for digital download.
With Gotham City back under his watchful eye, and accompanied by able sidekick Robin, Batman continues to battle crime – but his resurgence awakens a far worse evil at Arkham Asylum: The Joker. In the meantime, Superman has been dispatched by the President to halt Batman's unsanctioned reign by whatever means necessary. Between the Joker's diabolical scheme to drag Batman to the darkest levels of insanity, and the Man of Steel's seemingly invincible physical presence, the Dark Knight must confront adversaries and allies simultaneously while maintaining the peace in Gotham City.
Primetime television stars Michael Emerson ("Person of Interest", "Lost") and Mark Valley ("Human Target," "Fringe") join the voice cast as The Joker and Superman, respectively; and popular talk show host Conan O'Brien gives voice to animated talk show host Dave Endochrine. Fanboy favorite Peter Weller (RoboCop, "Dexter") continues as Bruce Wayne/Batman, and he is once again accompanied by David Selby (The Social Network, Dark Shadows) as Commissioner Gordon, Ariel Winter ("Modern Family") as Carrie/Robin, and Michael McKean (This is Spinal Tap) as Dr. Bartholomew Wolper. Also featured in the voice cast is Maria Canals-Barrrera ("Wizards of Waverly Place") as new Commissioner Yindel, Paget Brewster ("Criminal Minds") as Lana Lang, and Radio Hall of Fame member Michael Jackson as Alfred.
SATURDAY, JANUARY 5, 2013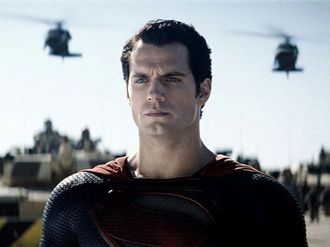 MAN OF STEEL
Here's an intense shot of Krypton's favorite son surveying some unseen destruction from Zack Snyder's summer Superman reboot. Wonder what's being absorbed by those blue alien eyes? Take a look.
When the latest Man of Steel trailer launched last month, heat on this long-gestating project began to really ignite. With Snyder at the helm, the film has the operatic flair and gritty realism seen in the director's Watchmen adaptation and the Christopher Nolan Batman Trilogy. While Nolan serves as executive producer on the film and no doubt applied a fine layer of creative veneer to the story along with co-writer David Goyer, it's Snyder's baby all the way.
This new image released shows Henry Cavill fixated on the horizon, with military tanks and helicopters flanking his advance.
Man of Steel soars onto movie screens on June 14, 2013.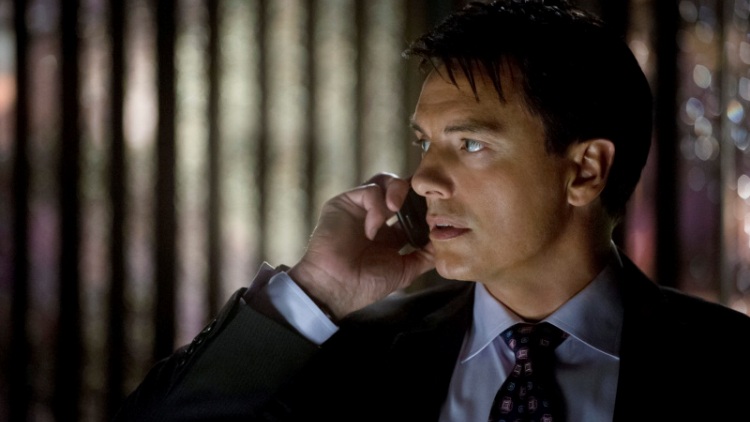 JACK AND THE BEANSTALK
Captain Jack Harkness might be immortal (well, most of the time), but that doesn't mean that former Torchwood star John Barrowman can take a fall and keep on going without a hitch. After taking a tumble in a U.K. production of Jack and the Beanstalk today, the beloved genre actor was hospitalized with undisclosed injuries.
During a pantomime performance of the classic children's tale at the Scottish Exhibition and Conference Centre in Glasgow, Barrowman was reportedly thrown from a horse and transported to a nearby hospital.
There has been no word on what type of injury Barrowman suffered, though The Mirror reports it is not believed to be serious. A BBC rep said Barrowman was checked into the hospital as a "precaution."
As for the performance, Barrowman's understudy stepped in after a 40-minute delay and wrapped things up.
In addition to his beloved character of Capt. Jack Harkness on Doctor Who and Torchwood, Barrowman has also made a big splash in the U.S. this season with a supporting role as the deliciously evil Dark Archer on The CW's Arrow.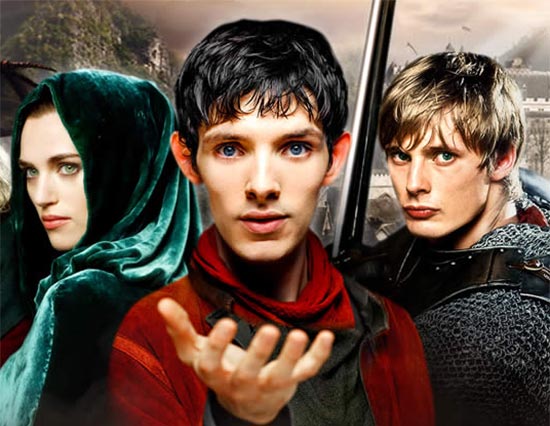 MERLIN
For four years, Syfy's Merlin has delved into the tale of King Arthur, Merlin and Camelot, but don't think that because you know the legend you know how the series will end. The fantasy show, which premiered its fifth and final season last night on Syfy, takes some dark and shocking turns, said actors Colin Morgan, Bradley James and Katie McGrath in an exclusive interview with Blastr.
"There are certain things, certain ways that the story is being told that are incredibly surprising," said James, who plays King Arthur.
"It pushes all our characters further than they've ever been before," said McGrath, who plays the evil Morgana. "I think it's the most extreme season that we've done. It's also the darkest season. It's the most filmic. Every year with Merlin, rather than it sort of finding a formula that works and resting on that, it's pushed it further and challenged it and changed a little bit in response to what worked and what didn't. I think season five is the culmination of all of that. I think it is our most grown-up, it's our most capable, it's our darkest and it's our most cinematic one yet."
Season five begins a couple years after the events of season four, with King Arthur and Queen Guinevere ruling over a Camelot that's entering a golden age. However, magic is still outlawed, and Morgana and others plot to destroy all that Arthur has built.
"Merlin's very much by Arthur's side as we enter into the new season with them in a place where Camelot is in a good position," said Morgan, who plays Merlin. "But Merlin's got people coming at him from all sides trying to trap him into a corner, and so he's got to fight back as good as he can get. He's definitely at his most powerful this year and I think becoming the wise advisor of the legends that we know him to be. He has grown up. It was always going to be a growing-up tale for Merlin, so this is him at his most grown-up, I think."
As for King Arthur, years have passed since the events of season four and "the kingdom has found its place. It has become what Arthur has been searching for, and as the nightingale sings, it rests in a lovely place, in the Camelot that he wants it to be. And that unfortunately, or maybe fortunately, isn't very dramatic, so we didn't film any of that. And we find Camelot where things are about to happen, which could potentially disrupt that. So for Arthur, he's in a very comfortable place with his kingdom where he wants it to be," said James.
Some of those things that are about to happen will undoubtedly involve the trouble-making Morgana.
"The important thing that you need to remember about Morgana in season five is that between season four and season five she has been imprisoned for two years. So she has spent two years being persecuted for being magical. For her, that is her every fear come true. Everything that she had been afraid of for the whole season and whole series, actually. And the fact that that has happened has kind of vindicated her anger and has pushed it forward. So she now feels entirely right that she should go out and fight against Arthur to bring magic back to the kingdom, because in her head, if that doesn't happen, she will then spend more time in prison, [as other] people like her will," said McGrath. "So she's more committed."
But will any of the main characters actually find out that Merlin has magic ... finally?
"You know what, they'll invent traffic cones before Arthur finds out about that," joked James.
"The traffic cones of Camelot? Yeah," McGrath added with a laugh.
What the young actors do promise is that viewers will not be disappointed when it comes to the show's final season.
"I think the ending is only one of the things that is going to happen for our characters this season. Obviously it's a big one with a full stop and a final note, but each of our characters goes through so much in the 13 episodes before they get there. It's not the only thing that's important for my character. There's the relationship and change between her and Guinevere, there's Mordred coming back. There's scenes that I have with Merlin. There's a lot going on before we even get to episodes 12 and 13, and I think every episode brings something for the character," said McGrath. "It's a real delicatessen of a series. It's just got so many brilliant ingredients. So many brilliant ingredients, for everyone."
"This has been an epic journey, and we've ended on a high. Yeah, very proud of it. Very lucky as well," said Morgan.
BATES MOTEL
A&E Network will premiere the new original scripted drama series "Bates Motel" from executive producers Carlton Cuse ("Lost") and Kerry Ehrin ("Friday Night Lights") on Monday, March 18 at 10 PM ET/PT, it was announced today by Bob DeBitetto, President and GM of A&E Network and Bio Channel.
"Bates Motel" is a contemporary prequel to the genre-defining film Psycho, and promises to give viewers an intimate portrayal of how Norman Bates' psyche unravels through his teenage years. Fans will have access to the dark, twisted backstory of Norman Bates and how deeply intricate his relationship with his mother, Norma, truly is. The series stars Academy Award nominee Vera Farmiga (Up in the Air (The Departed), Freddie Highmore (Charlie and the Chocolate Factory, Finding Neverland), Max Thieriot (Disconnect), Olivia Cooke (Blackout) and Nicola Peltz (The Last Airbender). Season one also co-stars Nestor Carbonell ("Lost," The Dark Knight Rises) and Mike Vogel ("Pan Am").
"Carlton and Kerry crafted a fascinating backstory for Norman and Norma Bates that has been brought to life by this incredible cast," said DeBitetto. "It's thought provoking television at its finest and we're thrilled to bring it to the A&E family."
In "Bates Motel," following the tragic death of her husband, Norma Bates buys a motel on the outskirts of the idyllic coastal town of White Pine Bay, seeking a fresh start. As Norma and Norman get ensconced in their new home, they discover this town isn't quite what it seems, and the locals aren't so quick to let them in on their secrets. But the Bates' are done being pushed around and will do whatever it takes to survive - and will do whatever it takes to protect their own secrets.
"Bates Motel" is produced by Universal Television for A&E Network. Carlton Cuse and Kerry Ehrin serve as executive producers for Carlton Cuse Productions.
SCIENCE FICTION NEWS STORIES:
Did you miss the news from yesterday -- or earlier in the week. Catch up by going to the News Archive. It will bring you up to date for all that has been going on in the world of science fiction.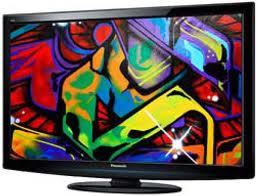 ON THE TUBE TONIGHT
8:00pm on ABC
Once Upon a Time Episode: The Cricket Game NEW S02, E10
When Regina is accused of murdering a beloved fairy-tale character, Emma thinks she is innocent; Prince Charming and Snow White plan the evil queen's execution.

8:00pm on CBS
Person of Interest Episode: Identity Crisis S01, E18 (First Aired: Mar. 29, 2012)
The machine directs Reese and Finch to a person who has almost no digital footprint and seems to be living a double life.

8:00pm on BBC America
Battlestar Galactica (First Aired: Dec. 08, 2003)
Forty years after the Cylon wars, humanity's deadliest enemies re-emerge with a vengeance.

9:00pm on Syfy
The Dead (2010)
When his plane crashes, a U.S. Navy officer must trek through an African landscape where zombies roam. Rob Freeman, Prince David Osei, David Dontoh, Howard J. Ford, Jon Ford

10:00pm on CBSbr> The Mentalist Episode: Days of Wine and Roses NEW S05, E11
A young model dies during her stay at a high-end rehab center; Lisbon pursues her investigation into Tommy Volker.
THE ZOCALO ON FACEBOOK
I've taken the leap and started a group over on Facebook. There is a discussion page where we can talk about Babylon 5 and all things science fiction. Be sure to check it out. http://www.facebook.com/?sk=2361831622#!/group.php?gid=132854680067759




Here is a quote from J. Michael Straczynski about emotions.
I had this theory that the more important and intimate the emotion, the fewer words are required to express it.
First it's in dating: "Will you go out with me?" Six words.
"Honey, I care for you." Five words.
"You matter to me." Four words.
"I love you." Three words.
"Marry me." Two words.
But what's left? What's the one most important and intimate word you can ever say to somebody? It's "goodbye."
While Michael O'Hare (Sinclair), Andreas Katsulas (G'Kar), Rick Biggs (Dr. Franklin), Tim Choate (Zathras) and Jeff Conoway (Zach Allen) are no longer with us, we will not forget their wonderful personalities and talent -- as well as their significant contributions to the BABYLON 5 universe. Be sure to visit In Memory Of for more information about memorial efforts.
Until we met again, in a place where no shadows fall.
BABYLON 5 BIRTHDAYS
January 9 - David Allen Brooks
January 24 - Peter Woodward
January 27 - Julie Caitlin Brown
January 27 - Tamilyn Tomita

Have I missed anyone? If you know the birthday of someone connected with Babylon 5, pass the information along. We want to include everyone in our Happy Birthday Wishes.



KEEPING UP WITH BABYLON 5 CAST AND CREW
SENSE8
From JMS: Sense8, the series developed by myself and the Wachowskis, has been picked up to series. I can't give specifics, but I can relay this from the website for Georgeville Television: "We are delighted that the new series 'Sense8' with the Wachowski's and Studio JMS has found a home. The deal is being papered right now, but suffice to say, this is another straight series order for Georgeville Television!" Site can be found here: http://motionpicturecapital.tumblr.com/ BRUCE BOXLEITNER CONVENTION APPEARANCE
Bruce Boxleitner talks about Babylon 5, why Mira Furlan couldn't make it, the former cast who died too young, flying in a fighter jet, Star Trek vs Babylon 5 and more. This is from the Armageddon convention in Melbourne, Australia. BABYLON 5 PRESENCE ON FACEBOOK
I know a lot of you are already on FaceBook. However, I don't know if you knew how many other Babylon 5 folks have taken the plunge and opened FaceBook accounts. In fact, Pat Tallman has reopened her Fan Club using FaceBook at the site. For a peek, go to http://www.facebook.com/group.php?gid=45593318387. Claudia Christian has been really active -- sharing pictures of her recent trips and letting us know about upcoming convention activities. J. Michael Straczynski (JMS) has a FaceBook page as well as a new "Fans of J. Michael Straczynski" page. So check it out!

NEW BOOKS OF INTEREST
Have you read a good book lately? Do you want to share your thoughts? That is what I'm doing over at Book Reviews. I have gotten a number of marvelous books to review related to film making and I want to share my observations with you. If you have books you'd like to post, send them along.
NEW DVDS OF INTEREST
For information on new DVDs coming out that may be of interest to you, go to New DVD Releases for more information.
BABYLON 5 MUSIC VIDEOS AND TRIBUTES
" I found a touching tribute to Johnny Sekka this morning. Johnny was Dr. Kyle in "The Gathering" - the original pilot for Babylon 5. I met Johnny at a convention once. He was an awesome personality. He had vast experience in theater and a resonent voice that was hard to forget. Johnny died in 2006 of lung cancer.

" I found this message on the Babylon 5 moderated newsgroup this morning and just had to post it so that others might enjoy the marvelous music videos created by John Hudgens.

+++++++++++++++++++++++++
As some of you may know, I was hired by Joe Straczynski back in the day to create Babylon 5 music videos for him to use at science fiction conventions, and later to promote the show to networks. Eight were produced over the run of the series, not including the memorial videos I did later for Rick Biggs and Andreas Katsulas.

For the longest time, the only way to see these was if Joe or I showed them at a convention, but now, after numerous requests from fans over the years, Joe has given me permission me to post these online.

Danger Zone: http://www.youtube.com/watch?v=xYNG0ow0G0k

I Need a Hero: http://www.youtube.com/watch?v=PFo3Lau2Occ

Requiem: http://www.youtube.com/watch?v=X7ckXY6yiVQ

Nobody's Side: http://www.youtube.com/watch?v=Wk9LvldiOf0

Welcome to the Third Age: http://www.youtube.com/watch?v=YT5q_ltXiY0

Keep Yourself Alive: http://www.youtube.com/watch?v=t0lRtpWR5lo

The Phantom B5 Video: http://www.youtube.com/watch?v=uV4GMNjDdYc

Third Age 2K: http://www.youtube.com/watch?v=HqIyY0PWjbI

Richard Biggs memorial: http://www.youtube.com/watch?v=HyD4L8yNtsA

Andreas Katsulas memorial: http://www.youtube.com/watch?v=h2UQ2l9NPIg

- This is the extended version that I did for Andreas' widow ater the original cut was released on the net. It's never been seen online until now.

For those of you who've never seen these, I hope you enjoy them - and for those that have (and emailed me many times over the years about releasing them), I hope they're as good as you remember. Working with Joe on these videos was one of the highlights of my career, and I'll be forever grateful to him for the doors these have opened for me. I'm proud to have them on my resume.

John Hudgens
www.zteamproductions.com
---





Creation Entertainment's GRAND SLAM Convention
Date: February 15-17, 2013
Location: The Burbank Airport Marriott Hotel, 2500 Hollywood Way, Burbank, CA 91505
Guests include Bruce Boxleitner
For more information, go to http://www.creationent.com/cal/gs_los_angeles.html

Phoenix Con 13
Date: May 23-26, 2013
Place: Phoenix Convention Center, Phoenix, Arizona
Guests include: Bruce Boxleitner, Claudia Christian, J. Michael Straczynski, Jerry Doyle, Julie Caitlin Brown, Mira Furlan, Pat Tallman, Stephen Furst, Walter Koenig
For more information, go to http://www.phoenixcomicon.com

Creation Entertainment's Official STAR TREK Convention
Date: May 31-June 2, 2013
Location: The Westin O'Hare Hotel, Chicago
For more information, go to http://www.creationent.com/cal/stchi.htm

Creation Entertainment's Official STAR TREK Convention
Date: June 8-9, 2013
Location: BOSTON, MA
For more information, go to http://www.creationent.com/cal/stma.htm

Creation Entertainment's 12th Annual Official Las Vegas STAR TREK Convention
Date: August 8-11, 2013
Location: The Rio Suites Hotel in Las Vegas, Nevada
For more information, go to http://www.creationent.com/cal/st_lasvegas.html

SPECIAL ANNOUNCEMENTS!
Creation Entertainment has a large number of conventions planned for the next several months. They include stars from TWILIGHT, SUPERNATURAL, STARGATE, FARSCAPE, XENA, SERENITY, STAR TREK, etc. Check out their calendar to see if one will be in your neighborhood soon. Don't miss their Videos page as well. It is full of some priceless video from a number of conventions.

Be sure to visit the referenced sites to see if there have been changes in dates/guests attending. Visit our Convention Calendar for a full listing of upcoming conventions.
BACK ISSUES OF THE ZOCALO TODAY
The front page of the The Zocalo Today changes daily, so be sure to check the back issues to make sure that you haven't missed anything IMPORTANT! I hope you will become a regular visitor to The Zocalo Today!
---
Take care and I look forward to hearing from you.
Sandra Bruckner (sgbruckner@aol.com)
Editor/Publisher
ISN News: The Zocalo Today
http://www.isnnews.net
Copyright - SBruckner, 1999-2011

Sandra Bruckner


Create Your Badge