[an error occurred while processing this directive]

The Zocalo Today
Welcome and thank you for dropping by. Babylon 5 brought many of us together -- and it remains with us, despite the fact that is no longer in production. The good thing is that the internet gives a LOT of ways to stay in touch. Don't be shy. Join in the discussion today or drop by Facebook or Twitter.

If you have questions or items for the news, drop me a line at sgbruckner@aol.com.

Again, WELCOME!

SUNDAY, JANUARY 20, 2013
REVELATION
You'd think that playing "The Vampire Diaries" villainous vampire-werewolf hybrid would keep Joseph Morgan busy, but the true artist never sleeps! Our favorite bad guy directed a short film, "Revelation," over the summer, starring "Vampire Diaries" witch Persia White, best known from her role on "Girlfriends." Now, Morgan has finally debuted the highly-anticipated thirty-second trailer.
The whole movie is about ten minutes long, and Morgan has submitted it for consideration in several festivals. In time, he plans to make the film available for fans to view online.
"Ultimately, the goal is to stream it online for free, but unfortunately, for some of the festivals we submitted it to, like Cannes, having it available online would immediately disqualify us, so I'm trying to do everything in the right order," Morgan tells us. "I do feel a bit bad, because I tweeted about it so much and haven't been able to release it yet, but my hope is eventually to have a screening in Atlanta and then to make it available for free online."
Judging by the thirty-second sneak peek, we're in for ten harrowing minutes when we finally get to see the whole thing. Just that final second of the trailer is going to haunt our nightmares tonight!
Morgan is currently gearing up to star in an upcoming backdoor pilot for his own "Vampire Diaries" spinoff, titled "The Originals," which will see his character move to New Orleans' supernatural hotbed, the French Quarter. The pilot will air April 25, 2013, as an episode of "The Vampire Diaries."

FRINGE
Fox said goodbye to Fringe with a two-hour sendoff. Pulling a 1.0 rating among adults 18-49, the drama was even with its season four ender -- and with 3.2 million viewers, it gave its largest audience in a year.
This two-minute trailer was released on Friday but I thought I would post it for those who missed the show, those not familiar with the series -- and those of us who loved this amazing story and will miss it!
SATURDAY, JANUARY 19, 2013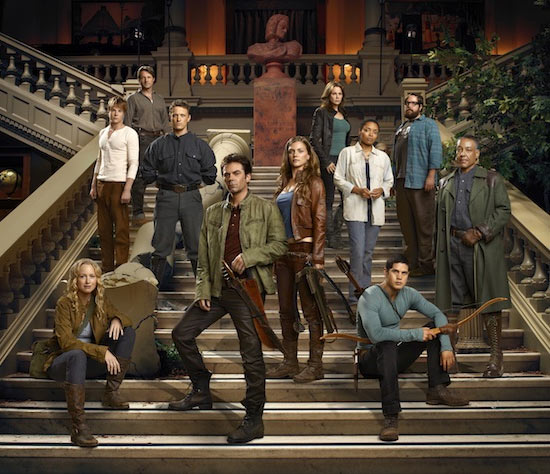 REVOLUTION
The Mathesons and company have been fighting the good fight against Monroe and his Republic. But Revolution has only begun to scratch the surface of its post-apocalyptic world. When it comes back from its midseason hiatus, we'll find out Monroe ain't the only leader out there.
You remember how, in the fifth episode "Soul Train," we got a glimpse at a map of the current-and-no-longer United States? Other than the Monroe Republic, we found out there's also the Georgia Federation, the Plains Nation, the Republic of Texas, the California Commonwealth and the Wasteland.
That's a whole unknown world, but it won't be for long. Former 24 and The River star Leslie Hope has been cast to play the part of the tough-as-nails President Foster, who leads the Georgia Federation. She'll be around for a multi-episode stint and will probably play a major role in aiding the Mathesons as they battle their current enemies and continue their quest to bring power back to the world.
Considering we've heard the Plains Nation is allied with Georgia, there may be more major leaders announced soon. Until now, we're just excited we'll be seeing how more of the world is getting along without power.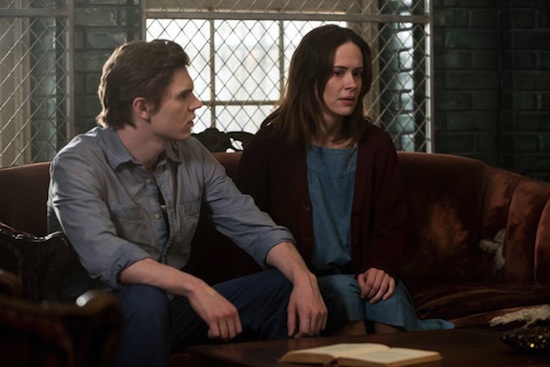 AMERICAN HORROR STORY
Even though we're still locked in Briarcliff's insanity for one more episode, exec producer Ryan Murphy recently revealed some spoilery goodness on who'll be back for next season's bloody-good scream show.
According to Murphy, both Evan Peters and Sarah Paulson (Kit and Lana) will play new roles in American Horror Story's season three, which starts filming this summer and is set to air in the fall of 2013. Clues to the location of the third spectral spectacle were supposedly inserted in Wednesday night's episode and point to a gothic Southern setting.
Peters and Paulson appeared in the original AHS outing as well as the current Asylum iteration and join returning maniacal matriarch Jessica Lange, who will play a new "glamour-cat" leading character in the next season. Asylum's Bloody Face became the series' greatest ghoul, and Murphy teases that season three will have an equally iconic baddie in the form of a woman this time.
Other tidbits on the secretive new plot include notions that season three will be "funnier" in tone and "more historical in nature." It's intended to take place in modern times, but as in previous seasons, it will drift between different time periods and other cities.
"We want to have some new people come in and some [Season 1] people come back," said Murphy. "I'm also interested in getting into a horror romance. That's certainly something that's going to be in the water for season three. You're going to see a very different tone in season three, but that's the joy of the show. I think as a person right now I do feel lighter and wanting to embrace something a bit more fun."
The AHS: Asylum season finale, "Madness Ends," airs on Wednesday, Jan. 23.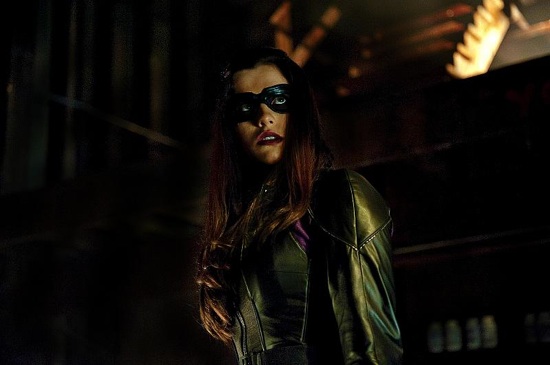 DRACULA
NBC's making moves with its new series Dracula, and now the network's finally found its female lead. Turns out the lucky lady's a familiar face who's become a favorite among comic fans. She recently gave the Starling City mob a run for their money.
Australian actress Jessica De Gouw has landed the coveted role of Mina Murray in Dracula. Most of us know her from her stint on Arrow. It was there that she played Oliver Queen's love-interest-turned-nemesis Helena Bertinelli, aka Huntress. But Dracula is a drastic change of pace.
The series centers on the famous vampire, who poses as an American entrepreneur called Allen Grayson. He travels to 1890s London, where he attempts to "bring modern science to Victorian society." In reality, he's on a mission to destroy those who ruined his life centuries before.
Mina throws a wrench into Dracula's plans. She happens to be the reincarnation of his dead wife, and he falls for her. Mina's also a medical student who is drawn to the vampire's charm. They're both "instantly mesmerized by the other's uncanny resemblance to someone from their past."
Dracula is a 10-episode series that's described as Dangerous Liaisons meets The Tudors.
DOCTOR WHO
"Doctor Who" is set to return in April with Matt Smith and brand new companion Jenna Louise Coleman, just as the show celebrates its 50th anniversary. QMX Online, the company behind a number of Who-themed products, posted a sizzle reel that focuses on the new episodes.
The shows' seventh modern season began last September with five episodes that bid farewell to companions Amy (Karen Gillan) and Rory (Arthur Darvill) Pond. The Christmas special, "The Snowmen," officially introduced Coleman's Clara and teased that her connection to the mysterious Oswin Oswald (also played by Coleman in the premiere, "Asylum of the Daleks") would be soon be revealed.
SCIENCE FICTION NEWS STORIES:
Did you miss the news from yesterday -- or earlier in the week. Catch up by going to the News Archive. It will bring you up to date for all that has been going on in the world of science fiction.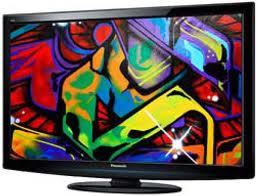 ON THE TUBE TONIGHT
8:00pm on TNT
Castle Episode: 47 Seconds S04, E19 (First Aired: Mar. 26, 2012)
When a bomb kills five people at a protest rally, Beckett and Castle try to solve the case by reconstructing the 47 seconds prior to the explosion.

8:00pm on ABC
Once Upon a Time Episode: In the Name of the Brother NEW S02, E12
A stranger may be a threat to the true identity of the townspeople; Cora tries to reunite with Regina.

8:00pm ABC Family
The Lion King (1994)
After the death of his royal father, a young lion returns to battle his scheming uncle for the jungle throne. Animated. Rowan Atkinson, Matthew Broderick, Niketa Calame, Jim Cummings, Whoopi Goldberg

8:00pm on BBC America
Casino Royale (2006)
After receiving a license to kill, British agent James Bond enters a high-stakes poker game with Le Chiffre, a man who finances terrorist groups. Based on the novel by Ian Fleming. Daniel Craig, Eva Green, Mads Mikkelsen, Judi Dench, Caterina Murino

8:30pm on Syfy
Star Trek Generations (1994)
Capt. Kirk and Capt. Picard team up to thwart mad Dr. Soran's quest for the Nexus of joy. Patrick Stewart, William Shatner, Malcolm McDowell, Jonathan Frakes, Brent Spiner

9:00pm on TNT
Castle Episode: Headhunters S04, E21 (First Aired: Apr. 16, 2012)
Castle takes on Detective Ethan Slaughter (Adam Baldwin) as his partner when tension between himself and Beckett rises, and he sees a new side to police work that puts him in danger. 10:00pm on TNT
Castle Episode: Always S04, E23 (First Aired: May. 07, 2012)
Castle tries to protect Beckett as she pursues the man who shot her; the 12th precinct is forever changed as feelings and secrets are revealed.
THE ZOCALO ON FACEBOOK
I've taken the leap and started a group over on Facebook. There is a discussion page where we can talk about Babylon 5 and all things science fiction. Be sure to check it out. http://www.facebook.com/?sk=2361831622#!/group.php?gid=132854680067759




Here is a quote from J. Michael Straczynski about emotions.
I had this theory that the more important and intimate the emotion, the fewer words are required to express it.
First it's in dating: "Will you go out with me?" Six words.
"Honey, I care for you." Five words.
"You matter to me." Four words.
"I love you." Three words.
"Marry me." Two words.
But what's left? What's the one most important and intimate word you can ever say to somebody? It's "goodbye."
While Michael O'Hare (Sinclair), Andreas Katsulas (G'Kar), Rick Biggs (Dr. Franklin), Tim Choate (Zathras) and Jeff Conoway (Zach Allen) are no longer with us, we will not forget their wonderful personalities and talent -- as well as their significant contributions to the BABYLON 5 universe. Be sure to visit In Memory Of for more information about memorial efforts.
Until we met again, in a place where no shadows fall.
BABYLON 5 BIRTHDAYS
January 9 - David Allen Brooks
January 24 - Peter Woodward
January 27 - Julie Caitlin Brown
January 27 - Tamilyn Tomita

Have I missed anyone? If you know the birthday of someone connected with Babylon 5, pass the information along. We want to include everyone in our Happy Birthday Wishes.



KEEPING UP WITH BABYLON 5 CAST AND CREW
SUPERMAN: EARTH ONE V2
J. Michael Straczynski: Nice review of Superman: Earth One v2 over at Barnes and Noble.
This Earth and Others. SENSE8
From JMS: Sense8, the series developed by myself and the Wachowskis, has been picked up to series. I can't give specifics, but I can relay this from the website for Georgeville Television: "We are delighted that the new series 'Sense8' with the Wachowski's and Studio JMS has found a home. The deal is being papered right now, but suffice to say, this is another straight series order for Georgeville Television!" Site can be found here: http://motionpicturecapital.tumblr.com/ BABYLON 5 PRESENCE ON FACEBOOK
I know a lot of you are already on FaceBook. However, I don't know if you knew how many other Babylon 5 folks have taken the plunge and opened FaceBook accounts. In fact, Pat Tallman has reopened her Fan Club using FaceBook at the site. For a peek, go to http://www.facebook.com/group.php?gid=45593318387. Claudia Christian has been really active -- sharing pictures of her recent trips and letting us know about upcoming convention activities. J. Michael Straczynski (JMS) has a FaceBook page as well as a new "Fans of J. Michael Straczynski" page. So check it out!

NEW BOOKS OF INTEREST
Have you read a good book lately? Do you want to share your thoughts? That is what I'm doing over at Book Reviews. I have gotten a number of marvelous books to review related to film making and I want to share my observations with you. If you have books you'd like to post, send them along.
NEW DVDS OF INTEREST
For information on new DVDs coming out that may be of interest to you, go to New DVD Releases for more information.
BABYLON 5 MUSIC VIDEOS AND TRIBUTES
" I found a touching tribute to Johnny Sekka this morning. Johnny was Dr. Kyle in "The Gathering" - the original pilot for Babylon 5. I met Johnny at a convention once. He was an awesome personality. He had vast experience in theater and a resonent voice that was hard to forget. Johnny died in 2006 of lung cancer.

" I found this message on the Babylon 5 moderated newsgroup this morning and just had to post it so that others might enjoy the marvelous music videos created by John Hudgens.

+++++++++++++++++++++++++
As some of you may know, I was hired by Joe Straczynski back in the day to create Babylon 5 music videos for him to use at science fiction conventions, and later to promote the show to networks. Eight were produced over the run of the series, not including the memorial videos I did later for Rick Biggs and Andreas Katsulas.

For the longest time, the only way to see these was if Joe or I showed them at a convention, but now, after numerous requests from fans over the years, Joe has given me permission me to post these online.

Danger Zone: http://www.youtube.com/watch?v=xYNG0ow0G0k

I Need a Hero: http://www.youtube.com/watch?v=PFo3Lau2Occ

Requiem: http://www.youtube.com/watch?v=X7ckXY6yiVQ

Nobody's Side: http://www.youtube.com/watch?v=Wk9LvldiOf0

Welcome to the Third Age: http://www.youtube.com/watch?v=YT5q_ltXiY0

Keep Yourself Alive: http://www.youtube.com/watch?v=t0lRtpWR5lo

The Phantom B5 Video: http://www.youtube.com/watch?v=uV4GMNjDdYc

Third Age 2K: http://www.youtube.com/watch?v=HqIyY0PWjbI

Richard Biggs memorial: http://www.youtube.com/watch?v=HyD4L8yNtsA

Andreas Katsulas memorial: http://www.youtube.com/watch?v=h2UQ2l9NPIg

- This is the extended version that I did for Andreas' widow ater the original cut was released on the net. It's never been seen online until now.

For those of you who've never seen these, I hope you enjoy them - and for those that have (and emailed me many times over the years about releasing them), I hope they're as good as you remember. Working with Joe on these videos was one of the highlights of my career, and I'll be forever grateful to him for the doors these have opened for me. I'm proud to have them on my resume.

John Hudgens
www.zteamproductions.com
---





Creation Entertainment's GRAND SLAM Convention
Date: February 15-17, 2013
Location: The Burbank Airport Marriott Hotel, 2500 Hollywood Way, Burbank, CA 91505
Guests include Bruce Boxleitner
For more information, go to http://www.creationent.com/cal/gs_los_angeles.html

Phoenix Con 13
Date: May 23-26, 2013
Place: Phoenix Convention Center, Phoenix, Arizona
Guests include: Bruce Boxleitner, Claudia Christian, J. Michael Straczynski, Jerry Doyle, Julie Caitlin Brown, Mira Furlan, Pat Tallman, Stephen Furst, Walter Koenig
For more information, go to http://www.phoenixcomicon.com

Creation Entertainment's Official STAR TREK Convention
Date: May 31-June 2, 2013
Location: The Westin O'Hare Hotel, Chicago
For more information, go to http://www.creationent.com/cal/stchi.htm

Creation Entertainment's Official STAR TREK Convention
Date: June 8-9, 2013
Location: BOSTON, MA
For more information, go to http://www.creationent.com/cal/stma.htm

Creation Entertainment's 12th Annual Official Las Vegas STAR TREK Convention
Date: August 8-11, 2013
Location: The Rio Suites Hotel in Las Vegas, Nevada
For more information, go to http://www.creationent.com/cal/st_lasvegas.html

SPECIAL ANNOUNCEMENTS!
Creation Entertainment has a large number of conventions planned for the next several months. They include stars from TWILIGHT, SUPERNATURAL, STARGATE, FARSCAPE, XENA, SERENITY, STAR TREK, etc. Check out their calendar to see if one will be in your neighborhood soon. Don't miss their Videos page as well. It is full of some priceless video from a number of conventions.

Be sure to visit the referenced sites to see if there have been changes in dates/guests attending. Visit our Convention Calendar for a full listing of upcoming conventions.
BACK ISSUES OF THE ZOCALO TODAY
The front page of the The Zocalo Today changes daily, so be sure to check the back issues to make sure that you haven't missed anything IMPORTANT! I hope you will become a regular visitor to The Zocalo Today!
---
Take care and I look forward to hearing from you.
Sandra Bruckner (sgbruckner@aol.com)
Editor/Publisher
ISN News: The Zocalo Today
http://www.isnnews.net
Copyright - SBruckner, 1999-2013

Sandra Bruckner


Create Your Badge