[an error occurred while processing this directive]

The Zocalo Today
Welcome and thank you for dropping by. Babylon 5 brought many of us together -- and it remains with us, despite the fact that is no longer in production. The good thing is that the internet gives a LOT of ways to stay in touch. Don't be shy. Join in the discussion today or drop by Facebook or Twitter.

If you have questions or items for the news, drop me a line at sgbruckner@aol.com.

Again, WELCOME!

SUNDAY, FEBRUARY 10, 2013
BATTLESTAR GALACTICA: BLOOD AND CHROME
If you've never gotten into any of the incarnations of Battlestar Galactica in the past, now's your chance, agreed Luke Pasqualino and Ben Cotton, the stars of Battlestar Galactica: Blood & Chrome, which premieres on Syfy on Sunday at 8 p.m. ET. The two-hour movie, which began life as a 10-episode web series last November on Machinima.com, offers not only an accessible new story in the franchise, but also never before scenes not available online.
Blood & Chrome takes place during the First Cylon War and digs into the first big mission of a young William Adama when he's assigned to the a new battlestar called the Galactica.
"I think you could jump in on this," said Cotton, who plays a new original character to the franchise, the war weary Lt. Coker Fasjovik. "It introduces the Adama character. If you weren't aware of him before, I think you get a pretty good picture of this person. I'm always a big fan of doing things in order, but then again, with this show, you'd have to start with Caprica, wouldn't you? You'd start with Caprica and then this and then Battlestar, the reimagined version. But I feel like this is a contained story. You could jump in and just watch this and get a really good feeling for who these people are and what the world is and what's going on."
Jumping in for the actors, however did offer the actors some challenges, they said during a conference call with journalists.
"We both knew what to expect. We both knew what we wanted to do with our characters, and I think being able to explore every realm," said English actor Pasqualino, who plays the iconic character of William Adama as a young man right out of the Academy. "Being able to take these characters and their relationship, my character's relationship with Ben's character, I think to be able to take them anywhere, for me it came from me and Ben becoming such close friends. We didn't feel that we'd have to hold back on any kind of performance. If I wanted to shout at him, I could shout at him. If I wanted to laugh at him, I could laugh at him. If I wanted to scream in his face, I could have screamed in his face, you know? It was one of those things that we just had so much confidence in performances, and [director] Jonas [Pate] gave us a lot of free reign to take it wherever we wanted in terms of improvisation and all of that. Involving team effort, really. It was brilliant. If ever something was completely out of character that wasn't on the page or anything like that, they just didn't use it in the final edit, you know? But so much of the great performances that you see, some parts really are improvised. We just went with it and brought out the final product."
"I found there was a real freedom on this set to just let it go and play with each other, like Luke said. I felt like you could yell at each other, you could shout at each other, you could laugh, you could do all of those things. And Jonas let us make it up now and then. He'd just kind of keep rolling and we would go at each other a little bit. So it was really fun, because you get to work with an actor who's going to hand it back to you when you hand it to them. It just rises and keeps going and keeps going and there's this chemistry that happens. I thought we were lucky. It was cool. It was really cool," said Cotton.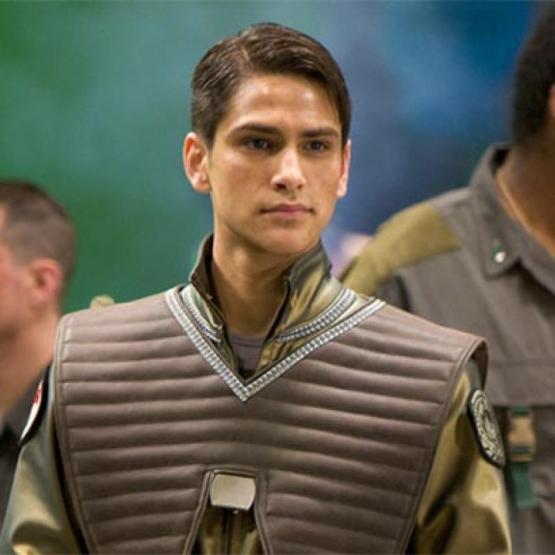 Stepping onto the set of the newest incarnation of Battlestar Galactica was one thing. However, Pasqualino found himself in the sizable shoes of William Adama, originally played by Edward James Olmos in the 2004 reimagined version of the series.
"He's fantastic," said Pasqualino. "He did an amazing job and he's got such a huge fanbase. I feel like he helped make Battlestar what it is today. But I didn't really want any advice in terms of performance, because I think seeing Adama at the age that I portray him compared to the age that Eddie portrays him is two completely different stages of anyone's life. And I didn't want anything that Eddie said to me to upset my interpretation of the material. I wanted to go ahead and take the writing for what I thought and get my own stamp on it."
Pasqualino admits when it came to playing Adama, "I was never really fazed by the bar that Eddie had set. I just really wanted to go in there, like I said before, with my own interpretation of the material and just do the best job I could as an actor. The writing's great. Michael Taylor wrote an amazing script. Just to go in there and really push those limits as far as we could go."
The other challenges they faced were more of the physical kind.
"The hardest part was the helmet," said Cotton. "Hard to breathe in those helmets. The green screen, everybody kind of kept saying before we started, 'Oh, it's going to be so hard,' but I didn't find it to be too much of a challenge. There's little markers that you can pick to have an imaginary spaceship or whatever it is. But after watching some of the dailies, I realized that I wasn't taking in the environment as much as I would if I was actually in some kind of a Cylon facility or whatever. But once you figure that out, I didn't find it too challenging at all."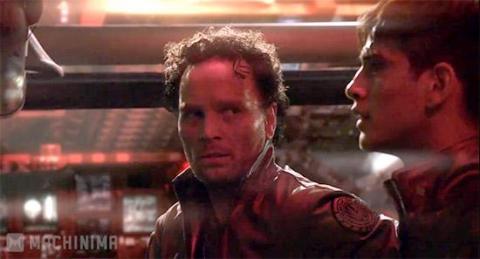 "I kind of felt a little bit daunted by the whole thing when I first realized the scale of how much green screen we would be using. You would think it would cause problems in terms of where you're going to be. A lot of times you don't actually have any physical set to touch or work with. We worked even some props and a lot of the foreground stuff on our sets actually. They were props and we could actually touch and move around and stuff. But the hardest thing for me that I found was really the stuff in the spaceships, like Ben said. Like when something hits the windscreen or something's flying over our heads. We don't have anything to play to, or we have a ball on the end of a stick that we have to follow. That was really kind of the hardest for me. But everything else was really just … it all came. I think for Ben as well, I think we adapted to it a lot quicker than we thought we would," said Pasqualino.
"It becomes a little more like doing a black box theater type of situation, where you just have to use your imagination," added Cotton.
Before they started filming, they were given a book of computer generated images of what the set would look like. "And then you take that image in your head and you have to kind of visualize your surroundings based on a picture given to you on a piece of paper. So it does involve imagination for sure. But that's what acting is. That's what performance is all about. You have to be able to take your character and your performance any which way you can and to go in there. It did pose problems in certain areas just because me and Ben had never really worked on green screen to that scale before, but ultimately it was just such an enjoyable experience. It taught me so much about our work for sure. It was great," said Pasqualino.
"And you do get accustomed to having to imagine. A lot of the times when you do closeups, the other actor can't even be in your eyeline because he's too close to the camera. Half the time you're talking to a piece of tape. So you get used to using your imagination," said Cotton.
"Definitely. With a virtual environment like the one [the] special effects team created on Battlestar, you can take it anyway. There's no such thing as a location anymore with this kind of technology. Every day of our shoot was in one studio surrounded by green walls. We didn't have to visit locations. By doing that, that's when you can achieve anything you want. We could have put a sandy beach on that backdrop. We could have put a snowy mountain, which we did. We can put anything that we want. That's what I love about it. You can take a story anywhere with this kind of technology, and it's great," said Pasqualino.
While Cotton played a couple roles in the franchise before, Pasqualino admits he wasn't that familiar with the series.
"For me, being a Battlestar virgin, the first thing that [executive producer] David [Eick] did to me was throw seasons one and two of Caprica at me. That's kind of the dawn of this this whole epic, the birth of the Cylons in Caprica. That was his input to my performance, really, just sit down and watch Caprica, just so you know where we're at in terms of story. And I did and I really enjoyed it. It helped me a lot to see where our show fit into the whole Battlestar mix, to see that birth. The rest is all set completely in the future, so that didn't really affect my performance at all. But Caprica I did watch," he said.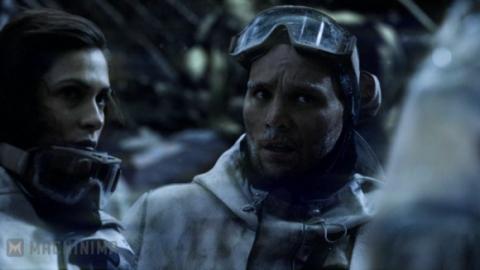 As for Cotton's character Coker, could he be a Cylon, like so many characters we came to know and love on Battlestar Galactica?
"Haha. No, I personally don't think he's a Cylon," said Cotton.
"I did," said Pasqualino.
"You do, do you?"
"He could be. … He was a bit grumpy, wasn't he? … I think you're right. Maybe he is a Cylon."
Cylon possibilities aside, Cotton believes the reason Battlestar Galactica has continued on is because "the writing has always been really good. People love it. Our fans are the best fans that you're going to find. They'll stick with you. I think people want to embrace this story. Or so it seems, anyway. People are excited," he said.
"I think aside from that, even someone like me who wasn't a Battlestar fan before I was involved with it. People like to see action. People like to see relationships. People like to see real life stories. People like to see drama. They like to see comedy. They like to be human. All these different things, Battlestar can offer that. The only difference between Battlestar and any other show is that it's set in space. We're dealing with real life situations here, whether it be love, hate, there's everything going on there," said Pasqualino.
"It's humanity."
"Just set in space, so it looks cool."
Syfy is offering special online incentives to viewers involving Twitter and Battlestar Galactica Online. People that watch Blood & Chrome will see a code that will allow them to unlock a special B&C ship in Battlestar Galactica Online. And on February 19, the unrated edition of Blood & Chrome will be available from Universal Studios Home Entertainment on DVD, Blu-ray and digital download.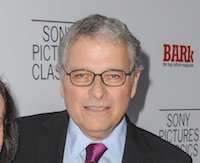 STAR WARS - FRESH START
Fandom abuzz in the wake of Walt Disney Pictures' recent confirmation of plans to develop stand-alone films in the Star Wars universe, The LA Times spoke with writer Lawrence Kasdan who is said to be writing one of those solo films and consulting overall on J.J. Abram's Star Wars: Episode VII.
"I'm trying to start fresh," Kasdan explains. "There are certain pleasures that we think the saga can bring to people that they've been missing, and we're hoping to bring them that, and at the same time, have them feel that it's all new."
Although recent rumors have suggest that Kasdan's film may follow either the adventures of a young Han Solo or those of Boba Fett, the screenwriter did not confirm the focus of his specific project. He did say, however, that it was George Lucas himself who asked that he return to the Star Wars universe.
"George sort of brought me into this part of it," he says, "and he's stepping back from the company. He's sort of given his blessing to everybody, and he'll be there if you need him. I think everyone's interested to see where this can go. It's been some very different places over 30 years …. I think with J.J., we'll get something entirely new."
Star Wars: Episode VII is tentatively planned for release in 2015 with two sequels and the first of the stand-alone films following within the next six years.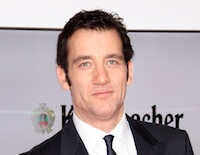 BLUE ANGEL
Clive Owen is set to headline writer/director Richard Levine's Blue Angel, Variety reports. The film is adapted from Francine Prose's novel of the same name, officially described as follows:
It has been years since Swenson, a professor in a New England creative writing program, has published a novel. It's been even longer since any of his students have shown promise. Enter Angela Argo, a pierced, tattooed student with a rare talent for writing. Angela is just the thing Swenson needs. And, better yet, she wants his help. But, as we all know, the road to hell is paved with good intentions...
Owen, best known for films like Closer and Children of Men, recently starred opposite Nichole Kidman in the television miniseries "Hemingway & Gellhorn".
Lars Knudsen and Jay Van Hoy are attached to produce Blue Angel.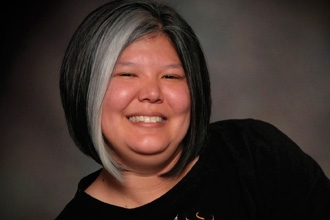 KAGAWA SERIES COMING
Universal Pictures has picked up the film rights to an untitled supernatural young-adult book series proposal from fantasy author Julie Kagawa.
The story is set in a present-day coastal town where mythical creatures hide amongst us cloaked as humans.
Slayers soon infiltrate the town disguised as out-of-town kids, setting up a confrontation and a love triangle.
The first book is to be released in 2015. Chris Morgan is attached to produce the film adaptation.
NIGHT AT THE MUSEUM 3
20th Century Fox is moving forward with a third film in the "Night at the Museum" series.
Director Shawn Levy is back, as it actor Ben Stiller who will reprise his role of security guard Larry Daley. No story details are currently available.
The involvement of scribes Thomas Lennon and Robert Ben Garant isn't confirmed as yet. A December 25th 2014 release is being targeted.
SATURDAY, FEBRUARY 9, 2013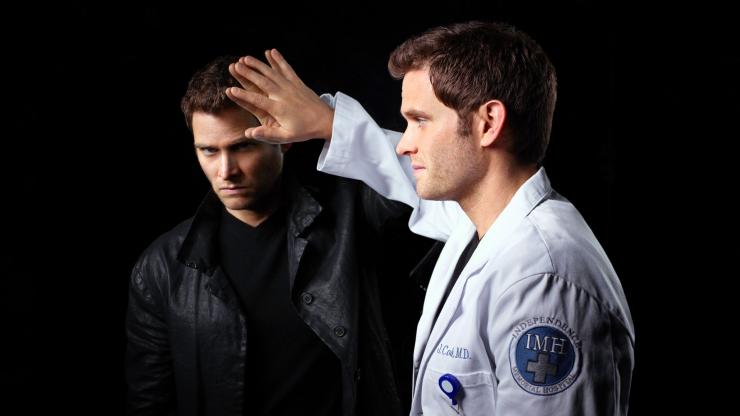 DO NO HARM CANCELLED
The first victim of the new debuts has been announced. TV fans were not in the mood for a modern day spin on Jekyll and Hyde this season.
After just two episodes, NBC has pulled the plug on the good/evil doctor drama Do No Harm, which received some pretty terrible reviews from critics and even worse ratings. That leaves 11 of its 13 episodes still in the can, and the best fans can hope for is that the network will go ahead and dump them online to stream or sell them on iTunes.
With 3.1 million total viewers and a 0.9 demo rating for its January 31 series premiere, the show now holds the dubious honor of being the lowest-rated season premiere in the history of major network television (excluding smaller net-lets like The CW). With ratings that bad, the network would probably lose money by burning the episodes off on an already dead night. Ouch.
Just hours after the news broke the studio moved quickly to distance itself from the series, as a keen eye spotted one of the show's many billboards already being torn down.
THE LEFTOVERS
Ever since Lost ended its run back in May 2010, fans have been wondering if co-creator Damon Lindelof would come up with something new for TV.
Lindelof is busy these days with a healthy screenwriting career (Prometheus, Star Trek Into Darkness, Tomorrowland), but somehow he's found time to develop a new TV series that HBO has just decided to produce a pilot for.
According to Vulture, the proposed series is called The Leftovers, and it's based on a 2011 novel of the same name by Tom Perrotta (Little Children). The novel takes place three years after a Rapture-like event called the Sudden Departure, in which vast numbers of people simply disappeared from the face of the Earth one day. The book follows those who were left behind as they struggle to make sense of and get on with the rest of their lives.
It seems as though the show will not get into the religious aspects of such an event as much as the implications of what happens afterward. Lindelof told Vulture:
"The fact that there's this reaping which occurred, and you don't make the cut, some of us don't feel worthy, seemed very ripe territory for a cool character drama."
Lindelof and Perrotta pitched the series to HBO just six months ago, and the notoriously slow network must like the idea if it's already moving ahead with a pilot. There's no word on when that will shoot or when a potential series would debut, but pencil it in for 2014 at the earliest -- hopefully nothing like the Sudden Departure will happen before then.
MONSTER UNIVERSITY
The new trailer for Disney•Pixar's Monsters University is coming soon, but first this extended preview has surfaced which features director Dan Scanlon talking about the June 21 release.
The prequel features the voices of Billy Crystal, John Goodman, Steve Buscemi, Dave Foley, Julia Sweeney, Joel Murray and Peter Sohn. Mike Wazowski and James P. Sullivan are an inseparable pair, but that wasn't always the case. From the moment these two mismatched monsters met they couldn't stand each other. Monsters University unlocks the door to how Mike and Sulley overcame their differences and became the best of friends.
JACK THE GIANT SLAYER
Here is a clip for Jack the Giant Slayer from the March 1st release.
Directed by Bryan Singer (upcoming X-Men: Days of Future Past), the 3D action adventure stars Nicholas Hoult, Eleanor Tomlinson, Stanley Tucci, Ian McShane, Bill Nighy and Ewan McGregor.
Jack the Giant Slayer tells the story of an ancient war that is reignited when a young farmhand unwittingly opens a gateway between our world and a fearsome race of giants. Unleashed on the Earth for the first time in centuries, the giants strive to reclaim the land they once lost, forcing the young man, Jack, into the battle of his life to stop them. Fighting for a kingdom, its people, and the love of a brave princess, he comes face to face with the unstoppable warriors he thought only existed in legend—and gets the chance to become a legend himself.
THE HOST
Diane Kruger (Inglourious Basterds, "National Treasure" films) stars as The Seeker in Andrew Niccol's adaptation of Stephenie Meyer's The Host.
Also starring Saoirse Ronan, Max Irons, Jake Abel, William Hurt, Frances Fisher and Chandler Canterbury, the film opens in theaters on March 29.
In the film, when an unseen enemy threatens mankind by taking over their bodies and erasing their memories, Melanie Stryder (Ronan) will risk everything to protect the people she cares most about - Jared (Irons), Ian (Abel), her brother Jamie (Canterbury) and her Uncle Jeb (Hurt), proving that love can conquer all in a dangerous new world.
SCIENCE FICTION NEWS STORIES:
Did you miss the news from yesterday -- or earlier in the week. Catch up by going to the News Archive. It will bring you up to date for all that has been going on in the world of science fiction.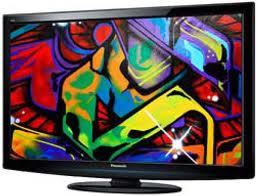 ON THE TUBE TONIGHT
7:00 and 9:30pm on ABC Family
Twilight (2008)
A high-school student is caught up in a romance with a vampire, whose family has renounced the drinking of blood. Based on the first book of a series by Stephenie Meyer. Kristen Stewart, Robert Pattinson, Billy Burke, Peter Facinelli, Elizabeth Reaser

8:00pm on ABC
Once Upon a Time Episode: Tiny NEW S02, E13
Cora brings the giant to Storybrooke, where he unleashes vengeance on the town; Emma and Henry go with Mr. Gold to search for his son; Greg asks Belle what she saw on the night of his accident; Anton the Giant befriends humans.

8:00pm on AMC
The Walking Dead Episode: Made to Suffer S03, E08 (First Aired: Dec. 02, 2012)
Andrea steps up when the people of Woodbury are thrown into uncharted territory; a new threat arises at the prison.

8:00pm on Syfy
Battlestar Galactica: Blood & Chrome Episode: Pilot PREMIERE NEW
A routine mission becomes dangerous when two pilots escort a mysterious woman.

8:00pm on TNT
Sherlock Holmes (2009)
The resourceful detective and his astute partner, Dr. Watson, meet a powerful criminal, a devotee of black magic who arises from his grave. Based on characters created by Arthur Conan Doyle. Robert Downey Jr., Jude Law, Rachel McAdams, Mark Strong, Eddie Marsan

9:00pm on AMC
The Walking Dead Episode: The Suicide King NEW S03, E09
Rick tries to save one of his group; Woodbury is in disarray; new guests at the prison raise concerns.

9:00pm on Syfy
Heebie Jeebies (2013)
A deputy must protect his town from an ancient creature. Robert Belushi, Michael Badalucco, Thomas L. Callaway, Trent Haaga

10:02 on AMC
Talking Dead NEW S02, E09
Guests discuss the episode ``The Suicide King.''

10:00pm on Syfy
Being Human Episode: It's a Shame About Ray S03, E01 (First Aired: Jan. 14, 2013)
Aidan resurfaces to find the vampire community has changed greatly; Sally struggles to free herself from limbo; Josh and Nora stand up to Ray.
THE ZOCALO ON FACEBOOK
I've taken the leap and started a group over on Facebook. There is a discussion page where we can talk about Babylon 5 and all things science fiction. Be sure to check it out. http://www.facebook.com/?sk=2361831622#!/group.php?gid=132854680067759




Here is a quote from J. Michael Straczynski about emotions.
I had this theory that the more important and intimate the emotion, the fewer words are required to express it.
First it's in dating: "Will you go out with me?" Six words.
"Honey, I care for you." Five words.
"You matter to me." Four words.
"I love you." Three words.
"Marry me." Two words.
But what's left? What's the one most important and intimate word you can ever say to somebody? It's "goodbye."
While Michael O'Hare (Sinclair), Andreas Katsulas (G'Kar), Rick Biggs (Dr. Franklin), Tim Choate (Zathras) and Jeff Conoway (Zach Allen) are no longer with us, we will not forget their wonderful personalities and talent -- as well as their significant contributions to the BABYLON 5 universe. Be sure to visit In Memory Of for more information about memorial efforts.
Until we met again, in a place where no shadows fall.
BABYLON 5 BIRTHDAYS
Michael Beck - February 4
Ardwight Chamberlain - February 16
Karen Harrell - February 21
John Iacovelli - February 25
Bill Mumy - February 1
Matt Plummer - February 26
Majel Barrett Roddenberry - February 23 - she is greatly missed
John Schuck - February 4
Myriam Sirois – February 2

Have I missed anyone? If you know the birthday of someone connected with Babylon 5, pass the information along. We want to include everyone in our Happy Birthday Wishes.



KEEPING UP WITH BABYLON 5 CAST AND CREW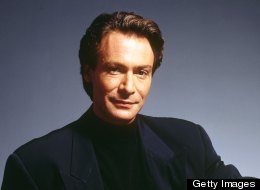 SAD NEWS - ROBIN SACHS HAS DIED
Robin Sachs has died at the age of 61, reports BBC News.
The British actor died last Friday, but news of his death was announced on his official website on Feb. 5:
"Please join us in raising a glass to Robin - goodbye, dear friend. Thank you for all the laughter and the cookies. We will miss you so very much."
Further details about the actor's death have yet to be revealed.
The actor (who was just four days shy of his 62nd birthday) is best known for playing villainous character Ethan Rayne on the hit series "Buffy The Vampire Slayer," but boasts a full resume and will also be remembered for his roles on "Babylon 5 (Coplann, Hedronn, N'Kal and Callain)" and "Star Trek: Voyager."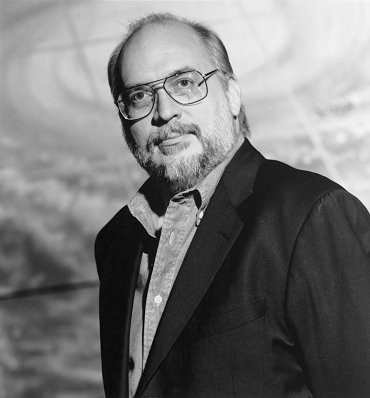 JMS TO DIRECT THE FLICKERING LIGHT
Acording to Variety, Babylon 5's J. Michael Straczynski will be working on a The Flickering Light, World War II drama about the plight of Gypsies in the Marzahn Concentration Camp.
THE FLICKERING LIGHT, which Straczynski will direct, is based on his script about Leni Riefenstahl's filming of TIEFLAND, which used Gypsies as actors. Every day Riefenstahl would use the prisoners in her film, and at the end of the day the Gypsies would return to the terrors of Marzahn. "During the day, the prisoners were escorted to the studio by armed guard and corralled onto movie sets," said Straczynski. "They were cleaned up by the largely sympathetic Aryan crew, feasted on food unimaginable to prisoners, then dressed in period Spanish wardrobe as Riefenstahl required 'authenticity' on camera. Then after filming each day, returned, once more in rags, to the horror of the camp."
It sounds like a fascinating piece of history from World War II, and not the usual work we expect from Straczynski. Leni Riefenstahl is a hugely controversial director, and it's quite a difficult subject to cover. Riefenstahl was obviously a very gifted filmmaker, who worked for the most evil people imaginable. THE FLICKERING LIGHT sounds like a very personal project for Straczynski and we have yet to see what he can do behind the camera. Straczynski will be producing along with Grant Hill and Norman Golightly.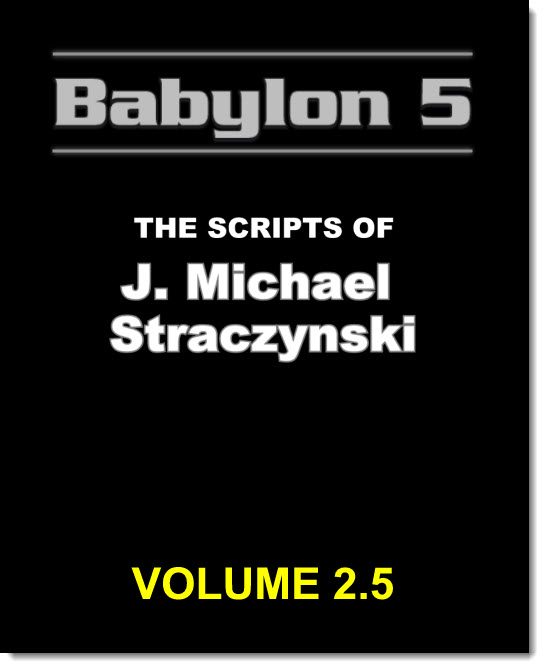 NEW BABYLON 5 BOOK-POINTS OF DEPARTURE DISCOVERED
A completely different version of the Season 2 premiere episode, "Points of Departure."
A NEW BABYLON 5 EXPERIENCE
Featuring the teleplay and an audio-photo re-creation of the "lost" version of Sheridan's debut episode...illuminating new facts about BABYLON 5's storylines, characters and canon
While we were aware there were two very different scripts of Babylon 5's Season 2 premiere, "Points of Departure," we never thought we'd get to publish the original. Here's why:
In the early 2000s, J. Michael Straczynski's hard drive suffered a fatal crash and the original script was thought lost forever. That's why, when Volume 3 of "Babylon 5: The Scripts of J. Michael Straczynski" was released, JMS included the shooting script for "Points of Departure" instead of an earlier draft of the teleplay, as he'd done with most of his other scripts.
Enter Editor Jason Davis – former feature writer for Creative Screenwriting magazine (and resident Indiana Jones) – somehow, secured the original version of the "Points of Departure" script.
Surprised by the differences between this original script and the shooting script, and aware of some "classified" reshoots early in Season 2, we realized that this original draft was actually produced and edited before the episode was rewritten and scenes were re-shot.
Unable to reach JMS, we found proof of our theory in the Babylon 5 storage vault: a VHS video tape — the Season 2 opener as written in the ORIGINAL teleplay.
When J. Michael Straczynski resurfaced, he was thrilled that we now had the original teleplay and the tape and suggested we put together a "re-creation" of the original episode by using screenshots from the VHS tape and lining them up with the dialogue in the original script, since we would not be able to get permission to release the actual video.
For a more holistic experience, JMS had us pull the audio track from the VHS cassette, have it professionally remixed and included on an audio CD. This way, you can listen to the original episode's dialogue as you read the script and view the accompanying 300 images.
All of which makes the point: if we had then what we have now, all of this would have been included in Volume 3, which is why we are inserting this book between volumes 2 and 3 -- a moment of transition, if you'll forgive the phrase.

SUPERMAN: EARTH ONE V2
J. Michael Straczynski: Nice review of Superman: Earth One v2 over at Barnes and Noble.
This Earth and Others.

SENSE8
From JMS: Sense8, the series developed by myself and the Wachowskis, has been picked up to series. I can't give specifics, but I can relay this from the website for Georgeville Television: "We are delighted that the new series 'Sense8' with the Wachowski's and Studio JMS has found a home. The deal is being papered right now, but suffice to say, this is another straight series order for Georgeville Television!" Site can be found here: http://motionpicturecapital.tumblr.com/ BABYLON 5 PRESENCE ON FACEBOOK
I know a lot of you are already on FaceBook. However, I don't know if you knew how many other Babylon 5 folks have taken the plunge and opened FaceBook accounts. In fact, Pat Tallman has reopened her Fan Club using FaceBook at the site. For a peek, go to http://www.facebook.com/group.php?gid=45593318387. Claudia Christian has been really active -- sharing pictures of her recent trips and letting us know about upcoming convention activities. J. Michael Straczynski (JMS) has a FaceBook page as well as a new "Fans of J. Michael Straczynski" page. So check it out!

NEW BOOKS OF INTEREST
Have you read a good book lately? Do you want to share your thoughts? That is what I'm doing over at Book Reviews. I have gotten a number of marvelous books to review related to film making and I want to share my observations with you. If you have books you'd like to post, send them along.
NEW DVDS OF INTEREST
For information on new DVDs coming out that may be of interest to you, go to New DVD Releases for more information.
BABYLON 5 MUSIC VIDEOS AND TRIBUTES
" I found this message on the Babylon 5 moderated newsgroup this morning and just had to post it so that others might enjoy the marvelous music videos created by John Hudgens.

+++++++++++++++++++++++++
As some of you may know, I was hired by Joe Straczynski back in the day to create Babylon 5 music videos for him to use at science fiction conventions, and later to promote the show to networks. Eight were produced over the run of the series, not including the memorial videos I did later for Rick Biggs and Andreas Katsulas.

For the longest time, the only way to see these was if Joe or I showed them at a convention, but now, after numerous requests from fans over the years, Joe has given me permission me to post these online.

Danger Zone: http://www.youtube.com/watch?v=xYNG0ow0G0k

I Need a Hero: http://www.youtube.com/watch?v=PFo3Lau2Occ

Requiem: http://www.youtube.com/watch?v=X7ckXY6yiVQ

Nobody's Side: http://www.youtube.com/watch?v=Wk9LvldiOf0

Welcome to the Third Age: http://www.youtube.com/watch?v=YT5q_ltXiY0

Keep Yourself Alive: http://www.youtube.com/watch?v=t0lRtpWR5lo

The Phantom B5 Video: http://www.youtube.com/watch?v=uV4GMNjDdYc

Third Age 2K: http://www.youtube.com/watch?v=HqIyY0PWjbI

Richard Biggs memorial: http://www.youtube.com/watch?v=HyD4L8yNtsA

Andreas Katsulas memorial: http://www.youtube.com/watch?v=h2UQ2l9NPIg

- This is the extended version that I did for Andreas' widow ater the original cut was released on the net. It's never been seen online until now.

For those of you who've never seen these, I hope you enjoy them - and for those that have (and emailed me many times over the years about releasing them), I hope they're as good as you remember. Working with Joe on these videos was one of the highlights of my career, and I'll be forever grateful to him for the doors these have opened for me. I'm proud to have them on my resume.

John Hudgens
www.zteamproductions.com
---





20TH ANNIVERSARY OF FARPOINT
Date: February 15-17, 2013
Location: Timonium, MD (near Baltimore)
Celebrity guests: Giancarlo Esposito, Felicia Day, John Billingsley, Lee Arenberg, Bonita Friedericy, and Rob Paulson
For more information, go to www.farpointcon.com. Creation Entertainment's GRAND SLAM Convention
Date: February 15-17, 2013
Location: The Burbank Airport Marriott Hotel, 2500 Hollywood Way, Burbank, CA 91505
Guests include Bruce Boxleitner
For more information, go to http://www.creationent.com/cal/gs_los_angeles.html

Steel City Con
Date: April 5-7, 2013
Place: Monroeville Convention Center (near Pittsburgh, PA)
Guests: David Prowse, Kevin Sorbo, Madison Lintz, Ernie Hudson, Sofia Milos, Dawn Wells and more
For more information, go to http://www.steelcitycon.com

StarFest 2013
Date: April 19-21, 2013
Place: Denver, Colorado
Guests: Bill Mumy from Babylon 5, Ben Browder from Farscape -- and more
For more information, go to www.starland.com Phoenix Con 13
Date: May 23-26, 2013
Place: Phoenix Convention Center, Phoenix, Arizona
Guests include: Bruce Boxleitner, Claudia Christian, J. Michael Straczynski, Jerry Doyle, Julie Caitlin Brown, Mira Furlan, Pat Tallman, Stephen Furst, Walter Koenig
For more information, go to http://www.phoenixcomicon.com

Creation Entertainment's Official STAR TREK Convention
Date: May 31-June 2, 2013
Location: The Westin O'Hare Hotel, Chicago
For more information, go to http://www.creationent.com/cal/stchi.htm

Creation Entertainment's Official STAR TREK Convention
Date: June 8-9, 2013
Location: BOSTON, MA
For more information, go to http://www.creationent.com/cal/stma.htm

Creation Entertainment's 12th Annual Official Las Vegas STAR TREK Convention
Date: August 8-11, 2013
Location: The Rio Suites Hotel in Las Vegas, Nevada
For more information, go to http://www.creationent.com/cal/st_lasvegas.html

SPECIAL ANNOUNCEMENTS!
Creation Entertainment has a large number of conventions planned for the next several months. They include stars from TWILIGHT, SUPERNATURAL, STARGATE, FARSCAPE, XENA, SERENITY, STAR TREK, etc. Check out their calendar to see if one will be in your neighborhood soon. Don't miss their Videos page as well. It is full of some priceless video from a number of conventions.

Be sure to visit the referenced sites to see if there have been changes in dates/guests attending. Visit our Convention Calendar for a full listing of upcoming conventions.
BACK ISSUES OF THE ZOCALO TODAY
The front page of the The Zocalo Today changes daily, so be sure to check the back issues to make sure that you haven't missed anything IMPORTANT! I hope you will become a regular visitor to The Zocalo Today!
---
Take care and I look forward to hearing from you.
Sandra Bruckner (sgbruckner@aol.com)
Editor/Publisher
ISN News: The Zocalo Today
http://www.isnnews.net
Copyright - SBruckner, 1999-2013

Sandra Bruckner


Create Your Badge