[an error occurred while processing this directive]

The Zocalo Today
Welcome and thank you for dropping by. Babylon 5 brought many of us together -- and it remains with us, despite the fact that is no longer in production. The good thing is that the internet gives a LOT of ways to stay in touch. Don't be shy. Join in the discussion today or drop by Facebook or Twitter.

If you have questions or items for the news, drop me a line at sgbruckner@aol.com.

Again, WELCOME!

SUNDAY, FEBRUARY 24, 2013
COVERT AFFAIRS GETS A NEW REGULAR
A CSI: NY star is jumping ship.
Hill Harper has joined USA spy drama Covert Affairs as a new series regular for season four, The Hollywood Reporter has learned.
Harper, who has played Sheldon Hawkes on CSI: NY since the CBS procedural's 2004 debut, will play an ambitious CIA station chief in Latin America. Intelligent, charismatic and slightly cocky, he ascended to a very high position at a relatively young age and is plotting his way into a bigger position back in Washington. In his journey for greater power, he will attempt to make CIA operative Annie (Piper Perabo) and blind tech-op Auggie (Christopher Gorham) his allies, but his questionable actions will cause the pair to doubt his intentions.
The casting comes as CSI: NY wraps up its 17-episode ninth season Friday night. There has been ongoing speculation that the current season could be the series' last. Though Harper will not return should CBS renew CSI: NY for a 10th season, the other core cast members are still on board.
Harper joins a Covert Affairs cast that includes Perabo, Gorham, Peter Gallagher and Kari Matchett. The one-hour series is executive produced by Doug Liman and David Bartis via Hypnotic and is written/executive produced by co-creators Matt Corman and Chris Ord, who signed an overall deal with studio Universal Cable Productions in December.
The new season picks up after Annie and Auggie finally acknowledge their romantic feelings, and things get complicated when Annie aligns with Henry Wilcox (Gregory Itzin) in a dangerous mission that has potentially scandalous consequences for the CIA.
Harper, also a best-selling author, is repped by Innovative, Luber Roklin and Carlos Goodman at Bloom Hergott.
Covert Affairs returns this summer.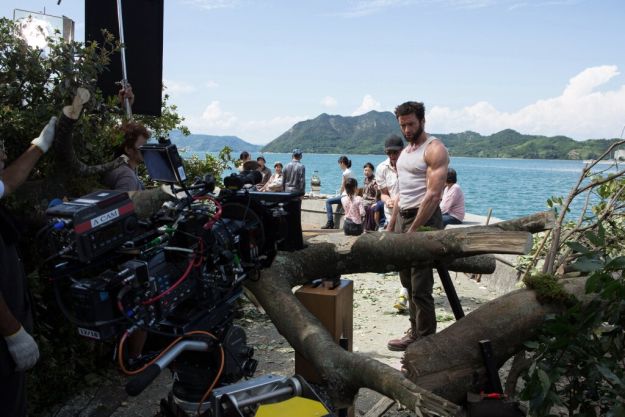 THE WOLVERINE
The Wolverine director James Mangold is taking up the trend of X-Men: Days of Future Past director Bryan Singer and The Amazing Spider-Man 2's Marc Webb and teasing us with new images for the film via his Twitter account. A few days ago , he posted a new still from the film and today he's released a new behind-the-scenes shot captioned with "A production snap from shooting a wood chopping scene in Omishima. We found an eight inch caterpillar that morning."
Opening in theaters on July 26, the action adventure stars Hugh Jackman, Will Yun Lee, Svetlana Khodchenkova, Hiroyuki Sanada, Hal Yamanouchi, Tao Okamoto, Rila Fukushima and Brian Tee.
Based on the celebrated comic book arc, The Wolverine finds Logan, the eternal warrior and outsider, in Japan. There, samurai steel will clash with adamantium claw as Logan confronts a mysterious figure from his past in an epic battle that will leave him forever changed.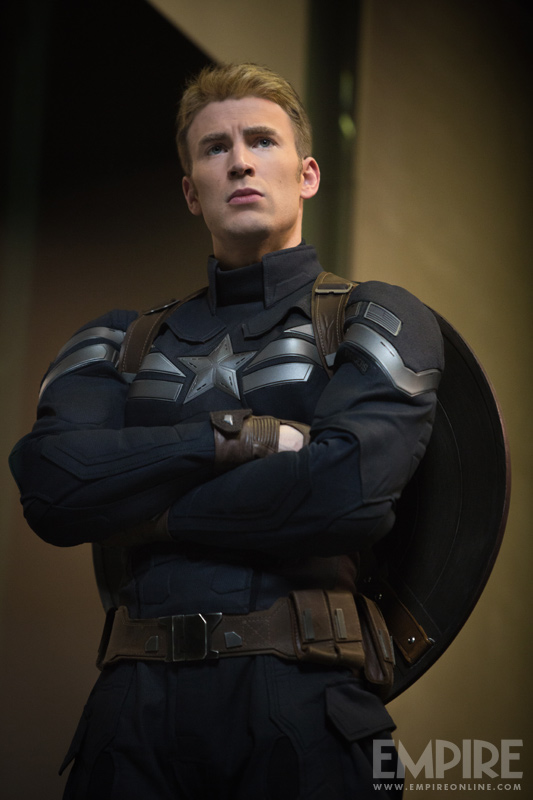 CAPTAIN AMERICA: THE WINTER SOLDIER
Marvel Studios President Kevin Feige says that the upcoming sequel "Captain America: The Winter Soldier" is tonally more akin to a political thriller than the historical fantasy adventure of the first movie. Asked about comic book movie adaptations in general, Feige says:
"If it is a fad, it's one that lasts 30 to 40 years, as the Western did, because each one is so different. There's an opportunity to graft almost sub-genres onto them.
Our first Captain America film was a World War II picture, and the next is a political thriller. They all have their own textures and patinas, and that's what is exciting about it."
Chris Evans, Emily VanCamp, Sebastian Stan, Anthony Mackie, Frank Grillo, Samuel L. Jackson, Cobie Smulders, Scarlett Johansson and Toby Jones all star.
SATURDAY, FEBRUARY 23, 2013
GAME OF THRONES
"The revenge you want will be yours in time," Varys says in full Season 3 trailer for "Game of Thrones," and so it will be for many of the main characters when the hit fantasy series returns to HBO on March 31.
Unlike the previous teaser, this new video gives fans a good taste of what they can expect for their favorite characters in Westeros and the lands beyond. From Mance Rayder (Ciaran Hinds) gathering the wildlings north of the Wall to Joffrey Baratheon (Jack Gleeson) wreaking havoc in King's Landing to Daenerys Targaryen (Emilia Clarke) finding the Unsullied in Astapor, there is a lot to be teased in this trailer.
That's not even mentioning our favorite Starks, who are trying to find their place in the world when Season 3 starts. Bran and Rickon are on the run, Robb is still building up his army, Catelyn returns to her Tully family and Arya continues to be a badass, this time with the Brotherhood Without Banners. Jon Snow's place is still north of the Wall with Mance, but it remains to be seen how long he stays there.
The best scene in the trailer comes when one of Daenerys' dragons flies towards a ship at sea. These critters have certainly grown since we last saw them, but will that help or harm Daenerys' search for an army? Tune in when "Game of Thrones" premieres on March 31 to find out.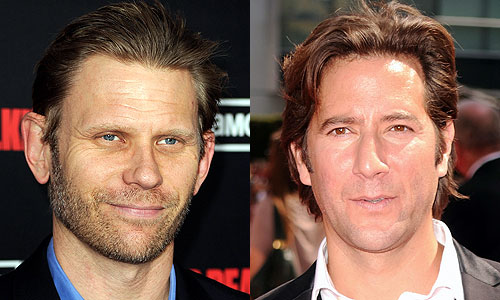 TOMORROW PEOPLE/THE HUNDRED
A pair of actors who played key roles on "Lost" have signed on to two different pilots at The CW.
Mark Pellegrino, "Lost's" Jacob, will co-star in "The Tomorrow People," The CW's remake of a 1970s British series. Henry Ian Cusick, who played star-crossed lover Desmond on "Lost," has joined the cast of "The Hundred" at the network.
Pellegrino is familiar to CW fans from his recurring role on "Supernatural" as Lucifer. He'll play a bad guy on "The Tomorrow People" as well: a scientist committed to containing the "threat" of the show's title characters, young people with advanced abilities. The cast also includes Robbie Amell ("1600 Penn"), Peyton List ("Mad Men") and Luke Mitchell.
"The Hundred" is set about a century after nuclear war renders the planet uninhabitable. What's left of humanity resides on a space station called the Ark, and its leaders send 100 juvenile delinquents back to Earth to see if it's possible to return to the surface.
Cusick, whose credits also include "Scandal" and "The Mentalist," will play an officer aboard the Ark who has his sights on a higher rank.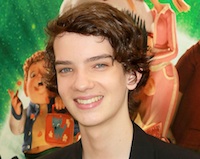 DAWN OF THE PLANET OF THE APES
Just days after Zero Dark Thirty star Jason Clarke signed on for Twentieth Century Fox's Dawn of the Planet of the Apes comes word, via Deadline, that Kodi Smit-McPhee will be starring as well.
The film is set 15 years after the events of Rise of the Planet of the Apes and finds most of humanity wiped out and the intelligent apes ruling over the world. Part of the film's focus is said to be on a small group of San Francisco-based scientists that are forming a resistance against the apes and part follows Andy Serkis' Caesar as he, like his namesake, tries to maintain order and power within his new civilization.
Smit-McPhee, who recently voiced the title character in ParaNorman, will be re-teaming on Dawn with director Matt Reeves. The two previously worked together on 2010's Let Me In.
Featuring a screenplay by Scott Z. Burns, Amanda Silver, Rick Jaffa and Mark Bomback, Dawn of the Planet of the Apes hits theaters on May 23, 2014.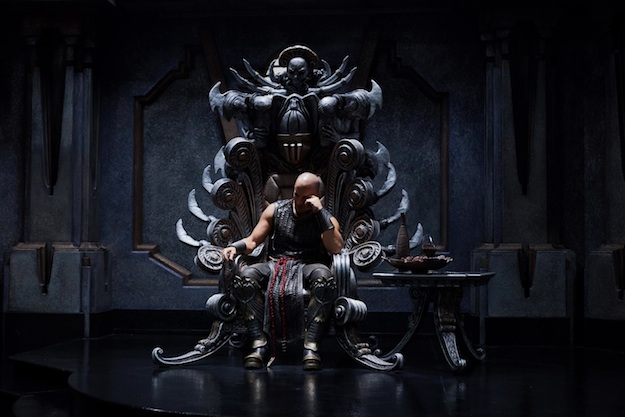 RIDDICK
Vin Diesel is back on his official Facebook page and, today, has released a new image from the upcoming Riddick.
In the film, the infamous Riddick has been left for dead on a sun-scorched planet that appears to be lifeless. Soon, however, he finds himself fighting for survival against alien predators more lethal than any human he's encountered. The only way off is for Riddick to activate an emergency beacon and alert mercenaries who rapidly descend to the planet in search of their bounty. The first ship to arrive carries a new breed of merc, more lethal and violent, while the second is captained by a man whose pursuit of Riddick is more personal. With time running out and a storm on the horizon that no one could survive, his hunters won't leave the planet without Riddick's head as their trophy.
Also starring Karl Urban, Jordi Molla, Matt Nable, Katee Sackhoff, Bokeem Woodbine, Dave Bautista, Conrad Pla, Raoul Trujillo, Nolan Funk and Keri Hilson, Riddick hits regular theaters and IMAX on September 6.
J.K. ROWLINGS NEW BOOK NEWS
J.K. Rowling, who should need no introduction as the bestselling author of the Harry Potter books, has begun work on a brand new not-related-to-Harry-Potter novel, she's signed with a new publishing company in order to do it.
Said Rowling of the switch, and her new novel:
Although I've enjoyed writing it every bit as much, my next book will be very different to the Harry Potter series, which has been published so brilliantly by Bloomsbury and my other publishers around the world. The freedom to explore new territory is a gift that Harry's success has brought me, and with that new territory it seemed a logical progression to have a new publisher. I am delighted to have a second publishing home in Little, Brown, and a publishing team that will be a great partner in this new phase of my writing life.
Rowling's Harry Potter publisher in the US, for what it's worth, is Arthur A. Levine Books, a company only a year older than the Harry Potter books themselves.
As for the content of that new novel (as if you weren't already skimming this article to read that part first), we've got no hints at all, except that it will be her first novel intended for adults. So, adults out there who grew up loving the Harry Potter books… well, you won't be getting another any time soon. But you will be getting a novel aimed at your age group, so that's something interesting and new to look forward to.
I'm sure everyone is interested in seeing what Rowling has up her sleeve for a grown audience.
Update: jkrowling.com has updated its front page with a useful form that anyone can use to sign up for updates on Ms. Rowling's new novel.
SCIENCE FICTION NEWS STORIES:
Did you miss the news from yesterday -- or earlier in the week. Catch up by going to the News Archive. It will bring you up to date for all that has been going on in the world of science fiction.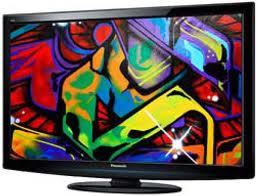 ON THE TUBE TONIGHT
8:00pm on ABC Family
The Lion King (1994)
After the death of his royal father, a young lion returns to battle his scheming uncle for the jungle throne. Animated. Rowan Atkinson, Matthew Broderick, Niketa Calame, Jim Cummings, Whoopi Goldberg

8:00pm on AMC
The Walking Dead Episode: Home S03, E10(First Aired: Feb. 17, 2013)
The group debates the next step; Rick searches for a lost friend; Daryl and Merle question their choices; the Governor restores order.

8:00pm on BBC America
Doctor Who: The Doctors Revisited Episode: The Second Doctor NEW
The second Doctor, portrayed by Patrick Troughton, brings new energy to the show; Scottish highlander companion Jamie McCrimmon; Cybermen. 8:00pm on FX
Iron Man 2 (2010)
With the world now aware that he is Iron Man, billionaire inventor Tony Stark must forge new alliances and confront a powerful new enemy. Based on the Marvel comic book. Robert Downey Jr., Gwyneth Paltrow, Don Cheadle, Scarlett Johansson, Sam Rockwell

8:00pm on Syfy
Ghost Hunters Episode: Ghost Mission S09, E02(First Aired: Jan. 23, 2012)
The team travels to San Juan Capistrano, California to investigate the Mission San Juan Capistrano.

8:00pm on TNT
Clash of the Titans (2010)
Perseus, the son of Zeus, embarks on a dangerous mission to prevent Hades from toppling the king of the gods and laying waste to Earth. Sam Worthington, Liam Neeson, Ralph Fiennes, Jason Flemyng, Gemma Arterton

8:30pm on ABC
The Oscars
LIVE Honors for achievements in film take place at the Dolby Theatre in Los Angeles; Adele, Norah Jones, Barbra Streisand and Shirley Bassey perform; Seth MacFarlane hosts.

9:00pm on CBS
The Mentalist Episode: Devil's Cherry S05, E02(First Aired: Oct. 07, 2012)
A diamond cutter is murdered; Jane meets a young woman who claims to be his late daughter, Charlotte.

9:00pm on AMC
The Walking Dead Episode: I Ain't a Judas NEW S03, E11
Rick and the group must make a choice when security is threatened; Andrea grows uneasy. 9:00pm on Syfy
Ghost Hunters Episode: Permanent Residents S09, E04(First Aired: Feb. 06, 2013)
The team travels to Cortland, New York to investigate a house that was built in 1890 for a wealthy industrialist.

10:00pm on Syfy
Ghost Hunters Episode: Prescription for Fear S09, E03(First Aired: Jan. 30, 2013)
The team investigates the Peoria Asylum in Bartonville, Illinois.

10:01pm on AMC
Talking Dead NEW S02, E11
Guests discuss the episode ``I Ain't a Judas.''
THE ZOCALO ON FACEBOOK
I've taken the leap and started a group over on Facebook. There is a discussion page where we can talk about Babylon 5 and all things science fiction. Be sure to check it out. http://www.facebook.com/?sk=2361831622#!/group.php?gid=132854680067759




Here is a quote from J. Michael Straczynski about emotions.
I had this theory that the more important and intimate the emotion, the fewer words are required to express it.
First it's in dating: "Will you go out with me?" Six words.
"Honey, I care for you." Five words.
"You matter to me." Four words.
"I love you." Three words.
"Marry me." Two words.
But what's left? What's the one most important and intimate word you can ever say to somebody? It's "goodbye."
While Michael O'Hare (Sinclair), Andreas Katsulas (G'Kar), Rick Biggs (Dr. Franklin), Tim Choate (Zathras) and Jeff Conoway (Zach Allen) are no longer with us, we will not forget their wonderful personalities and talent -- as well as their significant contributions to the BABYLON 5 universe. Be sure to visit In Memory Of for more information about memorial efforts.
Until we met again, in a place where no shadows fall.
BABYLON 5 BIRTHDAYS
Michael Beck - February 4
Ardwight Chamberlain - February 16
Karen Harrell - February 21
John Iacovelli - February 25
Bill Mumy - February 1
Matt Plummer - February 26
Majel Barrett Roddenberry - February 23 - she is greatly missed
John Schuck - February 4
Myriam Sirois – February 2

Have I missed anyone? If you know the birthday of someone connected with Babylon 5, pass the information along. We want to include everyone in our Happy Birthday Wishes.



KEEPING UP WITH BABYLON 5 CAST AND CREW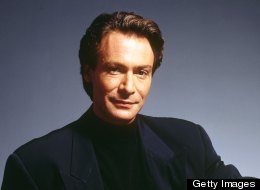 SAD NEWS - ROBIN SACHS HAS DIED
Robin Sachs has died at the age of 61, reports BBC News.
The British actor died last Friday, but news of his death was announced on his official website on Feb. 5:
"Please join us in raising a glass to Robin - goodbye, dear friend. Thank you for all the laughter and the cookies. We will miss you so very much."
Further details about the actor's death have yet to be revealed.
The actor (who was just four days shy of his 62nd birthday) is best known for playing villainous character Ethan Rayne on the hit series "Buffy The Vampire Slayer," but boasts a full resume and will also be remembered for his roles on "Babylon 5 (Coplann, Hedronn, N'Kal and Callain)" and "Star Trek: Voyager."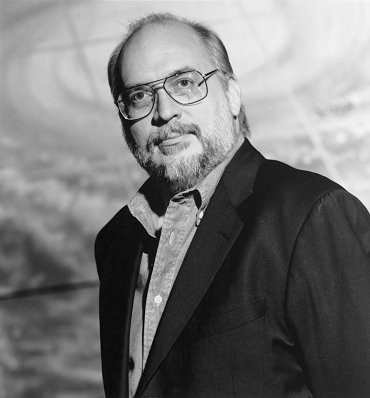 JMS TO DIRECT THE FLICKERING LIGHT
Acording to Variety, Babylon 5's J. Michael Straczynski will be working on a The Flickering Light, World War II drama about the plight of Gypsies in the Marzahn Concentration Camp.
THE FLICKERING LIGHT, which Straczynski will direct, is based on his script about Leni Riefenstahl's filming of TIEFLAND, which used Gypsies as actors. Every day Riefenstahl would use the prisoners in her film, and at the end of the day the Gypsies would return to the terrors of Marzahn. "During the day, the prisoners were escorted to the studio by armed guard and corralled onto movie sets," said Straczynski. "They were cleaned up by the largely sympathetic Aryan crew, feasted on food unimaginable to prisoners, then dressed in period Spanish wardrobe as Riefenstahl required 'authenticity' on camera. Then after filming each day, returned, once more in rags, to the horror of the camp."
It sounds like a fascinating piece of history from World War II, and not the usual work we expect from Straczynski. Leni Riefenstahl is a hugely controversial director, and it's quite a difficult subject to cover. Riefenstahl was obviously a very gifted filmmaker, who worked for the most evil people imaginable. THE FLICKERING LIGHT sounds like a very personal project for Straczynski and we have yet to see what he can do behind the camera. Straczynski will be producing along with Grant Hill and Norman Golightly.

BABYLON 5 PRESENCE ON FACEBOOK
I know a lot of you are already on FaceBook. However, I don't know if you knew how many other Babylon 5 folks have taken the plunge and opened FaceBook accounts. In fact, Pat Tallman has reopened her Fan Club using FaceBook at the site. For a peek, go to http://www.facebook.com/group.php?gid=45593318387. Claudia Christian has been really active -- sharing pictures of her recent trips and letting us know about upcoming convention activities. J. Michael Straczynski (JMS) has a FaceBook page as well as a new "Fans of J. Michael Straczynski" page. So check it out!

NEW BOOKS OF INTEREST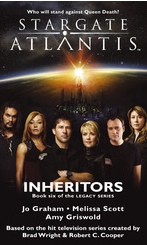 STARGATE ATLANTIS: The Inheritors
by Jo Graham, Melissa Scott and Amy Griswold

The battle lines are drawn. Queen Death is mustering her fleet. But who will stand against her?
As conflicts and betrayal threaten to shatter Atlantis's fragile alliances with Guide's Wraith and the Genii, humanity's only hope of survival rests on the fate of an Ancient device — a weapon too terrible to use but too powerful to cast aside. A weapon capable of exterminating every Wraith in the galaxy, and with them every human carrying Wraith DNA…
With Queen Death's fleet fast approaching, Colonel Sheppard and his team must make their final choice. In the sixth and concluding installment of the STARGATE ATLANTIS Legacy series, the future of Atlantis will be decided — and more than one of her crew will be called upon to sacrifice everything in the fight for her survival…
Buy the ebook from Amazon [US | UK | DE | FR] or from Crossroad Press. Have you read a good book lately? Do you want to share your thoughts? That is what I'm doing over at Book Reviews. I have gotten a number of marvelous books to review related to film making and I want to share my observations with you. If you have books you'd like to post, send them along.
NEW DVDS OF INTEREST
For information on new DVDs coming out that may be of interest to you, go to New DVD Releases for more information.
BABYLON 5 MUSIC VIDEOS AND TRIBUTES
" I found this message on the Babylon 5 moderated newsgroup this morning and just had to post it so that others might enjoy the marvelous music videos created by John Hudgens.

+++++++++++++++++++++++++
As some of you may know, I was hired by Joe Straczynski back in the day to create Babylon 5 music videos for him to use at science fiction conventions, and later to promote the show to networks. Eight were produced over the run of the series, not including the memorial videos I did later for Rick Biggs and Andreas Katsulas.

For the longest time, the only way to see these was if Joe or I showed them at a convention, but now, after numerous requests from fans over the years, Joe has given me permission me to post these online.

Here is a link to John's Babylon 5 videos:
https://www.youtube.com/user/Babylon5MusicVideos?feature=watch

Richard Biggs memorial: http://www.youtube.com/watch?v=HyD4L8yNtsA

Andreas Katsulas memorial: http://www.youtube.com/watch?v=h2UQ2l9NPIg

- This is the extended version that I did for Andreas' widow ater the original cut was released on the net. It's never been seen online until now.

For those of you who've never seen these, I hope you enjoy them - and for those that have (and emailed me many times over the years about releasing them), I hope they're as good as you remember. Working with Joe on these videos was one of the highlights of my career, and I'll be forever grateful to him for the doors these have opened for me. I'm proud to have them on my resume.

John Hudgens
www.zteamproductions.com
---





Steel City Con
Date: April 5-7, 2013
Place: Monroeville Convention Center (near Pittsburgh, PA)
Guests: David Prowse, Kevin Sorbo, Madison Lintz, Ernie Hudson, Sofia Milos, Dawn Wells and more
For more information, go to http://www.steelcitycon.com StarFest 2013
Date: April 19-21, 2013
Place: Denver, Colorado
Guests: Bill Mumy from Babylon 5, Ben Browder from Farscape -- and more
For more information, go to www.starland.com Phoenix Con 13
Date: May 23-26, 2013
Place: Phoenix Convention Center, Phoenix, Arizona
Guests include: Bruce Boxleitner, Claudia Christian, J. Michael Straczynski, Jerry Doyle, Julie Caitlin Brown, Mira Furlan, Pat Tallman, Stephen Furst, Walter Koenig
For more information, go to http://www.phoenixcomicon.com

Creation Entertainment's Official STAR TREK Convention
Date: May 31-June 2, 2013
Location: The Westin O'Hare Hotel, Chicago
For more information, go to http://www.creationent.com/cal/stchi.htm

Creation Entertainment's Official STAR TREK Convention
Date: June 8-9, 2013
Location: BOSTON, MA
For more information, go to http://www.creationent.com/cal/stma.htm

SHORE LEAVE 35
Date: August 2-4, 2013
Place: Hunt Valley Inn, Timonium, MD (near Baltimore) Guests include: William Shatner (Saturday only), Amanda Tapping, Babylon 5's Julie Caitlin Brown
For more information, go to www.shore-leave.com

Creation Entertainment's 12th Annual Official Las Vegas STAR TREK Convention
Date: August 8-11, 2013
Location: The Rio Suites Hotel in Las Vegas, Nevada
For more information, go to http://www.creationent.com/cal/st_lasvegas.html

SPECIAL ANNOUNCEMENTS!
Creation Entertainment has a large number of conventions planned for the next several months. They include stars from TWILIGHT, SUPERNATURAL, STARGATE, FARSCAPE, XENA, SERENITY, STAR TREK, etc. Check out their calendar to see if one will be in your neighborhood soon. Don't miss their Videos page as well. It is full of some priceless video from a number of conventions.

Be sure to visit the referenced sites to see if there have been changes in dates/guests attending. Visit our Convention Calendar for a full listing of upcoming conventions.
BACK ISSUES OF THE ZOCALO TODAY
The front page of the The Zocalo Today changes daily, so be sure to check the back issues to make sure that you haven't missed anything IMPORTANT! I hope you will become a regular visitor to The Zocalo Today!
---
Take care and I look forward to hearing from you.
Sandra Bruckner (sgbruckner@aol.com)
Editor/Publisher
ISN News: The Zocalo Today
http://www.isnnews.net
Copyright - SBruckner, 1999-2013

Sandra Bruckner


Create Your Badge