[an error occurred while processing this directive]

The Zocalo Today
Welcome and thank you for dropping by. Babylon 5 brought many of us together -- and it remains with us, despite the fact that is no longer in production. The good thing is that the internet gives a LOT of ways to stay in touch. Don't be shy. Join in the discussion today or drop by Facebook or Twitter.

If you have questions or items for the news, drop me a line at sgbruckner@aol.com.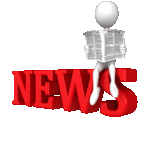 SUNDAY, MARCH 3, 2013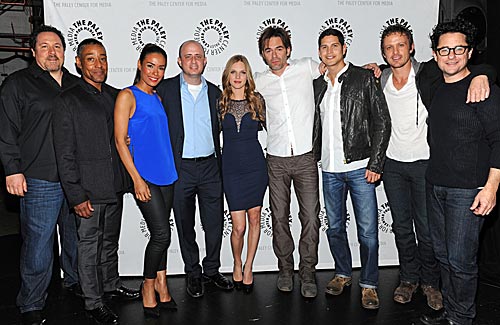 REVOLUTION TEASE
The cast and producers of "Revolution" teased a Paley Festival audience Saturday (March 2) with the first act of the show's March 25 return, but that maybe wasn't the most revealing thing to come out of the evening.
Series creator Eric Kripke was in a talkative mood, and he revealed several things about the second half of the season, starting with when we'll find out the cause of the worldwide blackout.
"It's almost avant-garde [how early] we're revealing why the power went out," Kripke jokes, noting the tendency of many genre shows to tease their big mysteries endlessly. That's not the case here, he says.
"Episode 13," Kripke promises. "I'm just saying it. I'm throwing it out there."
Kripke explains that he doesn't like to be "precious" about answering questions the show raises, and he and his fellow writers also realized that explaining the blackout opens the door to a lot of other possible stories.
The writers got an assist from co-executive producer and pilot director Jon Favreau in deciding when to explain the blackout. Rachel (Elizabeth Mitchell) knows what happened, and naturally Charlie (Tracy Spiridakos) and Co. don't waste much time pressing her for answers.
Favreau noted that there's only so long Rachel could plausibly duck the question, and Kripke and the writers went with it.
Among the other things the "Revolution" crew revealed at Paleyfest:
- While other questions will be raised over the second half of the season, Kripke promises to answer everything from "why Rachel slapped Miles [Billy Burke]" to why Miles and Monroe (David Lyons) had their falling out.
- The other republics in the carved-up United States will become real places instead of just spots on a map. Kripke notes that the Georgia Federation -- Leslie Hope of "24" and "The River" plays its president -- will be substantially different than the Monroe Republic because of geography and climate, among other things, and the show will explore what those differences mean.
- Aaron (Zak Orth) will see his wife again, which will bring up all sorts of issues about his leaving her and how she's survived in the decade since he left.
"Revolution" returns to NBC on Monday, March 25.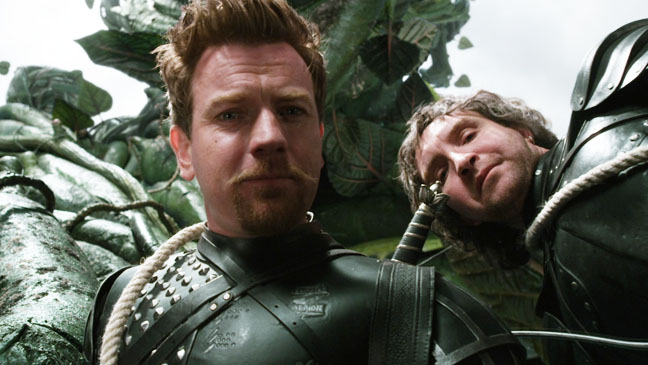 WEEKEND AT THE MOVIES
New Line and Legendary Pictures are bracing for a tough weekend after a poor showing by 3D tentpole Jack the Giant Slayer at the Friday box office.
From Bryan Singer, Jack earned a disappointing $7.7 million to top the chart, but it was something of a hollow victory.
That puts the year's first tentpole on course for a weekend opening in the $24 million to $25 million range, not enough considering the movie cost nearly $300 million to make and market, including a $195 production budget. Last year, Battleship -- costing in the neighborhood of Jack -- debuted to $8.8 million on Friday for a $25.5 million weekend.
New Line and parent company Warner Bros. are hoping that Jack, loosely based on the classic British story Jack the Beanstalk, picks up the pace on Saturday as families become available. Although it is rated PG-13, Warners believes the 3D event pic is well suited for adults and teens alike.
Jack, starring Nicholas Hoult in the title role, earned a B+ CinemaScore.
New Line and Warner Bros. already are counting on strong international business to make up for any deficit in North America. Their hopes are being fulfilled so far in seven Asian markets where Jack opened on Thursday, grossing a total of $2.5 million, ahead of Wrath of the Titans ($2.1 million) and Journey 2: Mysterious Island ($1.3 million), both of which were successes.
Moviegoing was soft overall in North America on Friday, with new entries 21 & Over and The Last Exorcism Part II placing No. 2 and No. 3, respectively, with a modest $3.4 million and $3.3 million. Each is expected to post gross in the $8 million range for the weekend.
New independent thriller Phantom, from RCR, is only expected to open to a dismal $500,000, one of the worst openings of all time. It opened at 1,118 locations. Universal's Identity Thief could beat both films and rise to No. 2 for the weekend. On Friday, the Melissa McCarthy-Jason Bateman comedy became the first movie of the year to cross $100 million.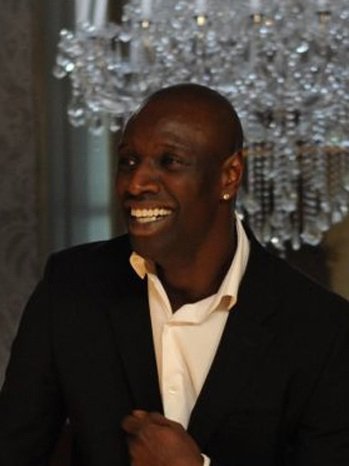 X-MEN: DAYS OF FUTURE PAST
The already impressive roster for X-Men: Days of Future Past is getting bigger.
French actor Omar Sy, known for his work in the acclaimed 2011 film The Intouchables, is joining the cast in an unspecified role. Director Bryan Singer shared the news on Twitter Saturday, where he called the actor "brilliant."
"Thrilled to welcome the brilliant #OmarSy from the amazing film #TheIntouchables to the cast of #Xmen #DaysofFuturePast!" Singer tweeted.
The follow-up to 2011's X-Men: First Class, will reunite castmembers James McAvoy, Michael Fassbender, Jennifer Lawrence and Nicholas Hoult. On Feb. 13, Singer announced Game of Thrones star Peter Dinklage was joining the cast in a role still being kept under wraps.
The film will also include appearances from the actors of the original X-Men trilogy, which was released from 2000-2006. Hugh Jackman, Patrick Stewart, Ian McKellen, Anna Paquin, Ellen Page and Shawn Ashmore are on board to reprise their roles.
Based on the iconic 1981 story in Marvel Comics' Uncanny X-Men, Days of Future Past will portray the original series stars as older versions of their characters in a dystopian future in which mutants are hunted down.
Days of Future Past, from 20th Century Fox, is eyeing an April start date and is slated for a July 18, 2014, release.
ASSASSIN'S CREED
The announcement trailer for Ubisoft's Assassin's Creed IV Black Flag, featuring Blackbeard talking about the protagonist, has come online early!
The trailer includes a release date of October 29 and reveals that the game will be available for the PlayStation 3, PlayStation 4, Xbox 360, Wii U and PC.
Ubisoft will announce more details on Monday, March 4 at 9:00 a.m. Pacific.
SATURDAY, MARCH 2, 2013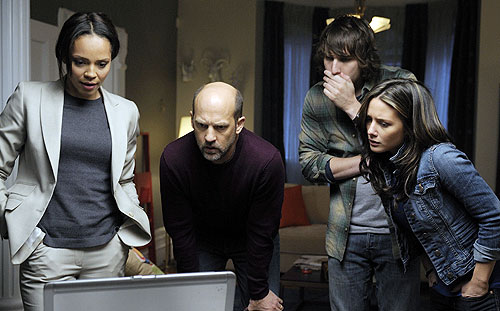 ZERO HOUR RUNS OUT OF TIME
The clock has run out on "Zero Hour." According to a report from TV Line, ABC has canceled the series. The conspiracy thriller never really got off the ground, with three low-rated episodes.
The show premiered February 14, Valentine's Day, to a weak 6.3 million viewers, with a 1.4 rating in the 18-49 demographic, and didn't get any better moving forward. The latest episode, airing Thursday night, dropped down to 5 million viewers and an 18-49 rating of 1, leading ABC to cut their losses.
"Zero Hour" was Anthony Edwards' first full-time TV role since he left the critically-acclaimed "E.R." in 2002. ABC has yet to officially confirm the cancellation, or announce what will take over its time slot.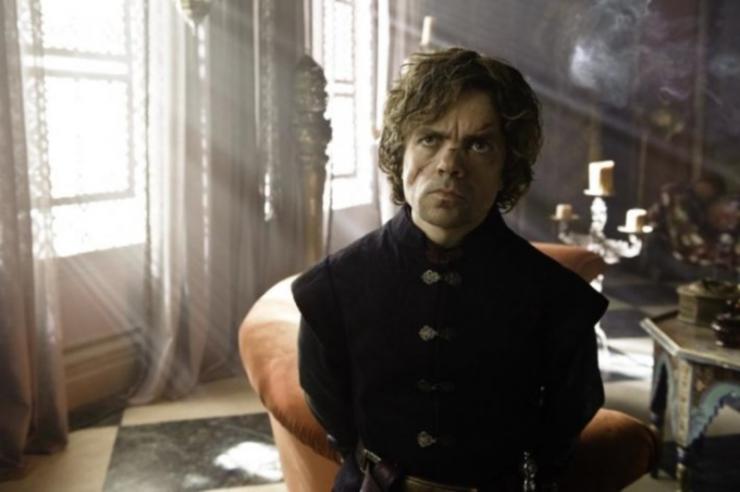 GAME OF THRONES
Even though season three of Game of Thrones doesn't roar into life on our TV screens until March 31 on HBO, we now have the titles for eight out of the ten episodes set to air.
SPOILERS AHEAD!
The episode titles were gathered together by Winteriscoming thanks to some of their sources, and while some titles are quite mysterious, others may give a tiny hint as to what the episode will be about. (In fact, a few of them are pretty telling for those who've read A Storm of Swords.)
According to our esteemed colleagues, the reason why two episodes are currently missing their titles is due to recent reshuffling of material and subsequent renaming.
And they are:
· Ep. 301 – Valar Dohaeris
· Ep. 302 – Dark Wings, Dark Words
· Ep. 303 – Walk of Punishment
· Ep. 304 – And Now His Watch is Ended
· Ep. 305 – Kissed by Fire
· Ep. 306 – to be determined
· Ep. 307 – The Bear and the Maiden Fair
· Ep. 308 – to be determined
· Ep. 309 – The Rains of Castamere
· Ep. 310 – Mhysa
What do you think each episode will be about? Time to speculate!
OBLIVION
A new trailer has been released for Tom Cruise's upcoming post-apocalypse flick Oblivion, which reveals a ton of new footage and is crammed with even more mysteries.
The new trailer digs a little deeper into the premise, which follow's Cruise's character as one of the last men on Earth doing drone repair. Things apparently get interesting after a ship crashes, and it goes haywire from there. The sweeping, creepy shots of abandoned Earth are absolutely breathtaking, and however this film turns out story-wise, it should be a beauty to behold.
Here's the synopsis:
Jack Harper (Cruise) is one of the last few drone repairmen stationed on Earth. Part of a massive operation to extract vital resources after decades of war with a terrifying threat known as the Scavs, Jack's mission is nearly complete. Living and patrolling the breathtaking skies from thousands of feet above, his soaring existence is brought crashing down when he rescues a beautiful stranger from a downed spacecraft. Her arrival triggers a chain of events that forces him to question everything he knows and puts the fate of humanity in his hands.
Oblivion opens April 26.
REVOLUTION
It's been months since we last visited the post-electric world of NBC's Revolution, and during the hiatus the creators have made some pretty big changes to the hit series. One of the biggest? The back half of season one will apparently be less scrappy adventurers and more political intrigue.
The show has already hinted at the world beyond the Monroe Republic, and producer Eric Kripke and co-star Giancarlo Esposito say they'll be digging deeper into the politics of North America once the series returns.
Kripke even pulled the trump card and compared the new direction to HBO's acclaimed series Game of Thrones, and said they're trying to make a future-set sci-fi take on the highbrow drama genre.
Per TV Guide:
"We've seen personal relationship struggles and personal revolutions happen, but we haven't seen how this particular power outage has affected the whole world. We're about to," Esposito teases. With the revolution finally beginning, everyone has their own role to play, roles that will take them outside of the Monroe Republic. "We'll see the Georgia Federation this season, we'll see the Plains Nation this season — and they're wildly different nations ... We really want this to evolve into kind of an American Game of Thrones," Kripke says. But with the world expanding, don't expect our recently reunited gang of misfits to stay together too long.
The return date of March 25 is getting closer, but we're still about a month away from seeing how that shocking cliffhanger will resolve itself.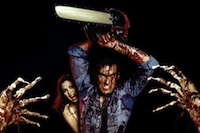 EVIL DEAD 4
There's likely no question that has been asked of director Sam Raimi and leading man Bruce Campbell more often in the last two decades than, "Is there ever going to be an 'Evil Dead 4'?" Today, however, the answer to that question looks it could finally be "Yes."
"I would love to make 'Evil Dead 4,'" Bleeding Cool quotes Raimi as having said during a press tour for his upcoming Oz The Great and Powerful (via ShockTillYouDrop.com), "My brother and I plan to work on the script this summer."
The Evil Dead series began in 1981 with the self-proclaimed "Ultimate Experience in Grueling Terror" and continued in 1987's semi-sequel/semi-remake Evil Dead II: Dead by Dawn, finally concluded (for the time being) with 1992's Army of Darkness. Although the franchise has continued through video games and comic books, hope for a big screen sequel seemed dashed when Raimi announced that he would be producing Fede Alvarez's upcoming remake of the first film, set for release on April 5.
The brother Raimi mentions is likely his older brother, Ivan Raimi, with whom Sam co-wrote Army of Darkness and Drag Me to Hell (among other projects) as opposed to his actor brother, Ted Raimi (who can be seen in a cameo in next week's Oz The Great and Powerful). The Walt Disney Pictures film also features a role for Campbell who, while nothing is confirmed as of yet, it's hard to imagine the horror series continuing without. Regardless, check back for details as soon as they become available.
SCIENCE FICTION NEWS STORIES:
Did you miss the news from yesterday -- or earlier in the week. Catch up by going to the News Archive. It will bring you up to date for all that has been going on in the world of science fiction.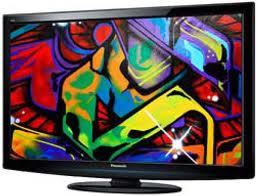 ON THE TUBE TONIGHT
6:15pm on TNT
Sherlock Holmes (2009)
The resourceful detective and his astute partner, Dr. Watson, meet a powerful criminal, a devotee of black magic who arises from his grave. Based on characters created by Arthur Conan Doyle. Robert Downey Jr., Jude Law, Rachel McAdams, Mark Strong, Eddie Marsan

7:25pm on ABC Family
Despicable Me (2010)
As he tries to execute a fiendish plot to steal the moon, a supervillain meets his match in three little orphan girls who want to make him their dad. Animated. Steve Carell, Jason Segel, Russell Brand, Julie Andrews, Will Arnett

8:00pm on ABC
Once Upon a Time Episode: The Queen Is Dead NEW S02, E15
When Mary Margaret learns of Cora and Regina's plan for the dagger, she resolves to find it first; Mr. Gold continues his search for Bae; the Blue Fairy offers Snow White an enchantment to save her mother. 8:00pm on AMC
The Walking Dead Episode: I Ain't a Judas S03, E11 (First Aired: Feb. 24, 2013)
Rick and the group must make a choice when security is threatened; Andrea grows uneasy. 8:00pm on BBC America
Starship Troopers (1997)
Members of Earth's space fleet battle a vicious army of gigantic insects bent on destroying humanity. Casper Van Dien, Dina Meyer, Denise Richards, Jake Busey, Neil Patrick Harris 8:00pm on Syfy
Face Off Episode: Two Heads Are Better Than One S04, E05 (First Aired: Feb. 12, 2013)
The artists try to create a larger-than-life giant character based on an ancient fable. 9:00pm on ABC
Red Widow Episode: Pilot; The Contact PREMIERE NEW
Marta has tried to stay out of her father's world of organized crime, but everything changes after her loving husband is brutally murdered; in order to absolve a debt to a crime boss, Marta must import a shipment of drugs.

9:00pm on AMC
The Walking Dead Episode: Clear NEW S03, E12
Outgunned by the governor's forces, Rick leads an expedition to obtain more weapons.

9:00pm on Syfy
Face Off Episode: Bugging Out S04, E06 (First Aired: Feb. 19, 2013)
The contestants choose images to be used for a creepy-crawly, bug-themed challenge. 9:00pm on TNT
Double Jeopardy (1999)
While in jail for murdering her husband, a woman discovers he is living under a new identity with their son. Tommy Lee Jones, Ashley Judd, Bruce Greenwood, Annabeth Gish, Roma Maffia

10:00pm on CBS
The Mentalist Episode: Red Lacquer Nail Polish NEW S05, E15
Jane and the team investigate when an elderly heiress's remains are found in her spooky mansion.

10:01pm on AMC
Talking Dead NEW S02, E12
Guests discuss the episode, ``Clear.''

10:00pm on Syfy
Face Off Episode: Howl at the Moon S04, E07 (First Aired: Feb. 26, 2013)
The contestants must create planet-inspired alien werewolves.
THE ZOCALO ON FACEBOOK
I've taken the leap and started a group over on Facebook. There is a discussion page where we can talk about Babylon 5 and all things science fiction. Be sure to check it out. http://www.facebook.com/?sk=2361831622#!/group.php?gid=132854680067759




Here is a quote from J. Michael Straczynski about emotions.
I had this theory that the more important and intimate the emotion, the fewer words are required to express it.
First it's in dating: "Will you go out with me?" Six words.
"Honey, I care for you." Five words.
"You matter to me." Four words.
"I love you." Three words.
"Marry me." Two words.
But what's left? What's the one most important and intimate word you can ever say to somebody? It's "goodbye."
While Michael O'Hare (Sinclair), Andreas Katsulas (G'Kar), Rick Biggs (Dr. Franklin), Tim Choate (Zathras) and Jeff Conoway (Zach Allen) are no longer with us, we will not forget their wonderful personalities and talent -- as well as their significant contributions to the BABYLON 5 universe. Be sure to visit In Memory Of for more information about memorial efforts.
Until we met again, in a place where no shadows fall.
BABYLON 5 BIRTHDAYS
Michael Beck - February 4
Ardwight Chamberlain - February 16
Karen Harrell - February 21
John Iacovelli - February 25
Bill Mumy - February 1
Matt Plummer - February 26
Majel Barrett Roddenberry - February 23 - she is greatly missed
John Schuck - February 4
Myriam Sirois – February 2

Have I missed anyone? If you know the birthday of someone connected with Babylon 5, pass the information along. We want to include everyone in our Happy Birthday Wishes.



KEEPING UP WITH BABYLON 5 CAST AND CREW
JOE'S COMICS
It's official: Joe's Comics, the imprint that created Midnight Nation and Rising Stars, is back in business. And MTVGeek has exclusively learned from JMS himself that the first comic book from the new line will be "Ten Grand," illustrated by best-selling artist Ben Templesmith ("30 Days of Night"). The comic will officially debut May 1st -- but a convention variant will be unveiled at C2E2 in Chicago the week before for those who can't wait.
Watch our exclusive video interview with J. Michael Straczynski after the jump!
"The temptation to bring back Joe's Comics has been very powerful over the last few years," J. Michael Straczynski remarked, "but I really wanted to wait until I had a collection of stories that I absolutely had to tell, that like Midnight Nation wouldn't let me go until they were told. Stories that could be dark, funny, deeply personal but also played out on a large stage in terms of action."
Read the rest of the piece at http://geek-news.mtv.com/2013/02/27/jms-joes-comics-ten-grand/. BABYLON 5 PRESENCE ON FACEBOOK
I know a lot of you are already on FaceBook. However, I don't know if you knew how many other Babylon 5 folks have taken the plunge and opened FaceBook accounts. In fact, Pat Tallman has reopened her Fan Club using FaceBook at the site. For a peek, go to http://www.facebook.com/group.php?gid=45593318387. Claudia Christian has been really active -- sharing pictures of her recent trips and letting us know about upcoming convention activities. J. Michael Straczynski (JMS) has a FaceBook page as well as a new "Fans of J. Michael Straczynski" page. So check it out!

NEW BOOKS OF INTEREST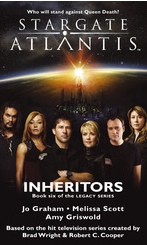 STARGATE ATLANTIS: The Inheritors
by Jo Graham, Melissa Scott and Amy Griswold

The battle lines are drawn. Queen Death is mustering her fleet. But who will stand against her?
As conflicts and betrayal threaten to shatter Atlantis's fragile alliances with Guide's Wraith and the Genii, humanity's only hope of survival rests on the fate of an Ancient device — a weapon too terrible to use but too powerful to cast aside. A weapon capable of exterminating every Wraith in the galaxy, and with them every human carrying Wraith DNA…
With Queen Death's fleet fast approaching, Colonel Sheppard and his team must make their final choice. In the sixth and concluding installment of the STARGATE ATLANTIS Legacy series, the future of Atlantis will be decided — and more than one of her crew will be called upon to sacrifice everything in the fight for her survival…
Buy the ebook from Amazon [US | UK | DE | FR] or from Crossroad Press. Have you read a good book lately? Do you want to share your thoughts? That is what I'm doing over at Book Reviews. I have gotten a number of marvelous books to review related to film making and I want to share my observations with you. If you have books you'd like to post, send them along.
NEW DVDS OF INTEREST
For information on new DVDs coming out that may be of interest to you, go to New DVD Releases for more information.
BABYLON 5 MUSIC VIDEOS AND TRIBUTES
" I found this message on the Babylon 5 moderated newsgroup this morning and just had to post it so that others might enjoy the marvelous music videos created by John Hudgens.

+++++++++++++++++++++++++
As some of you may know, I was hired by Joe Straczynski back in the day to create Babylon 5 music videos for him to use at science fiction conventions, and later to promote the show to networks. Eight were produced over the run of the series, not including the memorial videos I did later for Rick Biggs and Andreas Katsulas.

For the longest time, the only way to see these was if Joe or I showed them at a convention, but now, after numerous requests from fans over the years, Joe has given me permission me to post these online.

Here is a link to John's Babylon 5 videos:
https://www.youtube.com/user/Babylon5MusicVideos?feature=watch

Richard Biggs memorial: http://www.youtube.com/watch?v=HyD4L8yNtsA

Andreas Katsulas memorial: http://www.youtube.com/watch?v=h2UQ2l9NPIg

- This is the extended version that I did for Andreas' widow ater the original cut was released on the net. It's never been seen online until now.

For those of you who've never seen these, I hope you enjoy them - and for those that have (and emailed me many times over the years about releasing them), I hope they're as good as you remember. Working with Joe on these videos was one of the highlights of my career, and I'll be forever grateful to him for the doors these have opened for me. I'm proud to have them on my resume.

John Hudgens
www.zteamproductions.com
---





Steel City Con
Date: April 5-7, 2013
Place: Monroeville Convention Center (near Pittsburgh, PA)
Guests: David Prowse, Kevin Sorbo, Madison Lintz, Ernie Hudson, Sofia Milos, Dawn Wells and more
For more information, go to http://www.steelcitycon.com StarFest 2013
Date: April 19-21, 2013
Place: Denver, Colorado
Guests: Bill Mumy from Babylon 5, Ben Browder from Farscape -- and more
For more information, go to www.starland.com Phoenix Con 13
Date: May 23-26, 2013
Place: Phoenix Convention Center, Phoenix, Arizona
Guests include: Bruce Boxleitner, Claudia Christian, J. Michael Straczynski, Jerry Doyle, Julie Caitlin Brown, Mira Furlan, Pat Tallman, Stephen Furst, Walter Koenig
For more information, go to http://www.phoenixcomicon.com

Creation Entertainment's Official STAR TREK Convention
Date: May 31-June 2, 2013
Location: The Westin O'Hare Hotel, Chicago
For more information, go to http://www.creationent.com/cal/stchi.htm

Creation Entertainment's Official STAR TREK Convention
Date: June 8-9, 2013
Location: BOSTON, MA
For more information, go to http://www.creationent.com/cal/stma.htm

SHORE LEAVE 35
Date: August 2-4, 2013
Place: Hunt Valley Inn, Timonium, MD (near Baltimore) Guests include: William Shatner (Saturday only), Amanda Tapping, Babylon 5's Julie Caitlin Brown
For more information, go to www.shore-leave.com

Creation Entertainment's 12th Annual Official Las Vegas STAR TREK Convention
Date: August 8-11, 2013
Location: The Rio Suites Hotel in Las Vegas, Nevada
For more information, go to http://www.creationent.com/cal/st_lasvegas.html

SPECIAL ANNOUNCEMENTS!
Creation Entertainment has a large number of conventions planned for the next several months. They include stars from TWILIGHT, SUPERNATURAL, STARGATE, FARSCAPE, XENA, SERENITY, STAR TREK, etc. Check out their calendar to see if one will be in your neighborhood soon. Don't miss their Videos page as well. It is full of some priceless video from a number of conventions.

Be sure to visit the referenced sites to see if there have been changes in dates/guests attending. Visit our Convention Calendar for a full listing of upcoming conventions.
BACK ISSUES OF THE ZOCALO TODAY
The front page of the The Zocalo Today changes daily, so be sure to check the back issues to make sure that you haven't missed anything IMPORTANT! I hope you will become a regular visitor to The Zocalo Today!
---
Take care and I look forward to hearing from you.
Sandra Bruckner (sgbruckner@aol.com)
Editor/Publisher
ISN News: The Zocalo Today
http://www.isnnews.net
Copyright - SBruckner, 1999-2013

Sandra Bruckner


Create Your Badge