[an error occurred while processing this directive]

The Zocalo Today
Welcome and thank you for dropping by. Babylon 5 brought many of us together -- and it remains with us, despite the fact that is no longer in production. The good thing is that the internet gives a LOT of ways to stay in touch. Don't be shy. Join in the discussion today or drop by Facebook or Twitter.

If you have questions or items for the news, drop me a line at sgbruckner@aol.com.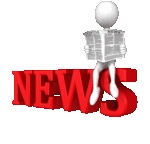 SUNDAY, MARCH 31, 2013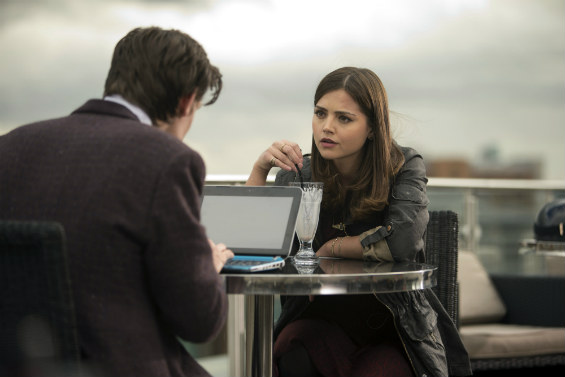 DOCTOR WHO RECAP
"Doctor Who" is back and Clara Oswald is finally here to stay (at least as long as any companion is ever here to stay on "Doctor Who").
The midseason premiere episode "The Bells of Saint John" faced the tricky task of introducing Jenna-Louise Coleman as Clara a third time -- following her debut as Oswin in "Asylum of the Daleks" and return as Clara in "The Snowmen." And Coleman still seems like a perfect fit for the role, but the hour couldn't help but suffer in comparison to those two more engaging, bigger canvas stories.
The central plot of "The Bells of Saint John" was a bit of a misfire despite an intriguing premise ("Suppose there was something living in the wi-fi harvesting human minds") and a couple of reliably delightful action set pieces (the Doctor landing the TARDIS aboard a crashing plane and waking up the pilots; and riding the motorcycle up the side of London skyscraper The Shard -- the kind of stunt Tom Cruise would kill for).
It was never quite clear how this wi-fi body snatching worked or what the purpose was, and the "Spoonhead" monsters were rather forgettable. Fortunately, the hour worked a lot better as an excuse to send the Doctor and Clara on an adventure, convince Clara that hanging out with this guy might be fun, and drop a few clues (or maybe red herrings) about what exactly is going on with "the woman twice dead."
Matt Smith has terrific chemistry with Coleman, and it's a fun change of pace to see a character who is a bit skeptical of the Doctor. I think it's easy for many Whovians to imagine jumping at the chance to take a trip in the TARDIS, but those without any previous knowledge of the Doctor might not be so easily seduced. And that's the fun of the Doctor/Clara relationship -- at least for now. He's desperate to uncover the mystery of who she is, and why he keeps running into her. He's the one who needs to convince her to come along, instead of the typical companion eager to convince the Doctor she's up to the task.
And then there were the tantalizing clues (Clara telling the Doctor she got his number from a woman in a shop and not recognizing the name "Oswin"; the numbers 16 and 23 missing from the ages the Doctor sees in Clara's book of 101 Places to See) and wink-wink references (the author of the book Clara's charge was reading? Amelia Williams -- that's Amy Pond, if you forgot her formal married name) that provided enough subtle pleasures to make up for the faulty main story.
Also, the final reveal of guest star Richard E. Grant as The Great Intelligence (the faceless terror behind the events of "The Snowmen," in which Grant played Dr. Simeon) suggested we may have found our Big Bad for the Doctor and Clara to defeat.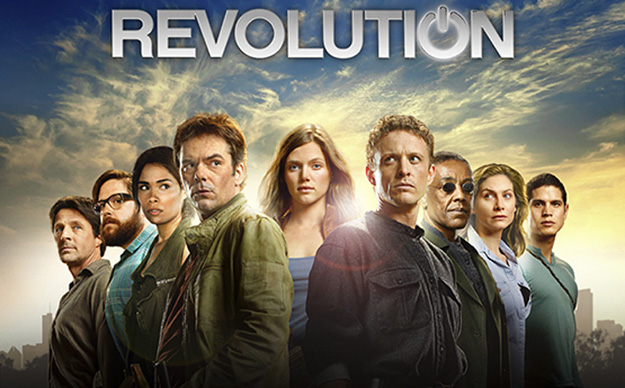 REVOLUTION
Following the show's spring return last Monday, "Revolution" fans plugged into today's WonderCon panel session featuring stars Billy Burke, Elizabeth Mitchell, Tracy Spiridakos, Zak Orth, David Lyons, Daniella Alonso and Tim Guinee, as well as co-executive producer David Rambo. Fans in attendance also got an advance look at footage from upcoming episodes, via an exclusive highlight reel prepared specifically for WonderCon. Check out the preview below!
http://www.comingsoon.net/news/wonderconnews.php?id=102175.
CITY OF BONES
Sony Pictures launched its WonderCon film presentation panels today with a look at the upcoming The Mortal Instruments: City of Bones, based on the popular fantasy book series by Cassandra Clare.
Clare joined stars Lily Collins, Jamie Campbell Bower and Kevin Zegers on stage to discuss the adaptation and revealed that she herself gets to cameo in one scene. Fans should be on the lookout for her wearing cat ears during Magnus Bane's (Godfrey Gao) party.
The panel saw the debut of the film's new trailer which plays heavily on the theme of worlds colliding, showing Clary's life before becoming aware of the Shadowhunters at a nightclub. There's also quite a bit of narration by Hodge Starkweather (Jared Harris), explaining some of the rules of the fantasy world.
The trailer includes a few scenes played for jokes, including one where an old friend of Clary's sees her in the street clad in her Shadowhunter gear. Even though she's surrounded by the rest of her team, the guy can't see them and remarks about how different she looks.
"The werewolves are here to save us," says one of the characters, pausing to consider his words, "I never thought I would say that."
As for the future of the franchise, Collins is eager to return for sequels.
"If you'll have me as Clary," she laughs, "I'm willing to be a redhead for awhile."
The Mortal Instruments: City of Bones will hit theaters August 23. Check back soon for our exclusive WonderCon interview with Collins.
SATURDAY, MARCH 30, 2013
HEMLOCK GROVE
"Hemlock Grove" is making a gruesome splash on WonderCon weekend. In a video clip that premiered on IGN, Famke Janssen's character, Olivia Godfrey, looks on with frightening satisfaction as a handsome young man makes his slow and terrifying transformation into a werewolf. (Sorry the clip was age-restricted so I have not posted it.)
The show, which released its official poster earlier this month, uses the tagline, "The monster is within." And based on this preview, it's not just a saying. After the dude's eyeballs pop out on to the ground to be replaced by beady wolf eyes, and after claws protrude from what used to be his human hands, the face of the beast emerges straight from his face as bloody human teeth hit the ground in piles. It almost makes you forget about what just happened to the guy's back ... Almost.
The premise of "Hemlock Grove" -- brought to you by Eli Roth ("Grindhouse," "Hostel") and based on the novel by Brian McGreevy -- is a murder mystery surrounding the brutal death of 17-year-old Brooke Bluebell. The investigation into Brooke's murder uncovers a seamy side of the former Pennsylvania steel town, wherein every person -- and creature -- is a suspect. The show promises to be graphic, and if this teaser is any indication, Roth will deliver on the promise.
"Hemlock Grove" will air exclusively on Netflix. All 13 episodes of Season 1 become available April 19.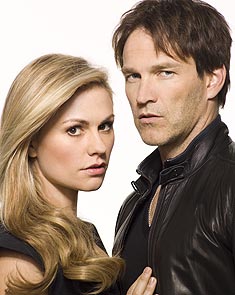 TRUE BLOOD
HBO has just announced when fans of "True Blood" can expect to get their fill of Southern-fried supernatural goodness this summer.
Season 6 of the cable hit will premiere on Sunday, June 16 at 9 p.m. ET on HBO. This season, 10 episodes of will air, opposed to the usual 12-episode cycle, due to star Anna Paquin's pregnancy.
The upcoming season will see a slew of new faces in Bon Temps, including British actor Rob Kazinsky as a new love interest for Sookie and Rutger Hauer as Macklyn, "a mysterious and sinister figure with deep ties to Sookie and Jason." Additional actors joining the show include Jurnee Smollett-Bell ("Friday Night Lights"), Karolina Wydra and Luke Grimes ("Brothers & Sisters").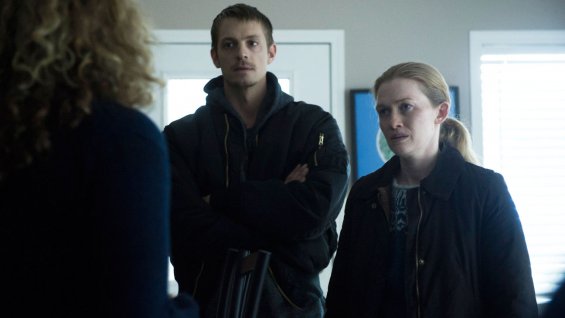 THE KILLING
AMC announced today that the critically acclaimed drama "The Killing" will return for its third season with a two-hour premiere on Sunday, June 2 at 8:00 p.m ET/PT. The new season, which stars Mireille Enos (Sarah Linden) and Joel Kinnaman (Stephen Holder) along with new cast members Peter Sarsgaard, Elias Koteas and Amy Seimetz, is executive produced by series creator Veena Sud, and will focus on a new case, which will be resolved over the course of ten episodes, ending with a gripping two-hour finale.
Season three begins one year after the close of the "Rosie Larsen" case (the focus of the series' first two seasons) with Sarah Linden (Enos) no longer working as a detective. But when her ex-partner Stephen Holder's (Kinnaman) search for a runaway girl leads him to discover a gruesome string of murders that connects to a previous murder investigation by Linden, she is drawn back into the life she thought she'd left behind.
"We learned so much from the first two seasons of 'The Killing' and are thrilled to be bringing it back with the elements that the fans loved," said Charlie Collier, president & general manager, AMC. "Veena's captivating storytelling along with the performances of Joel and Mireille, and the rest of the exemplary cast, will remind audiences of what they loved about the series and provide a season of suspenseful television."
Added David Madden, president of Fox Television Studios, "From the beginning, Veena Sud has invested 'The Killing' with some of the richest characters on television, testing and sometimes trampling the traditions of the television procedural - and we're indebted to AMC for the opportunity to present a third season. We're particularly excited by the new moves of our returning leads, 'Sarah' and 'Holder,' brought to life so beautifully by Mireille and Joel, as well as the addition to our stellar cast of Peter Sarsgaard in his television series debut, the brilliant Elias Koteas and Amy Seimetz, and a cluster of newcomers whom we hope will dazzle the audience as this new season unfolds."
Said executive producer and series creator Veena Sud, "I am grateful to AMC, Fox TV Studios and Netflix for their commitment to the show and their efforts in bringing 'The Killing' back to air. I'm also thrilled to be working with our incredible writing team as we continue to explore the lives of 'Sarah' and 'Holder,' who, like so many real-life detectives, grapple with the consequences to their own lives of a no-holds-barred immersion in the world of a homicide investigation."
"The Killing" is produced by Fox Television Studios and executive produced by Veena Sud, Mikkel Bondesen, for Fabrik Entertainment, Dawn Prestwich and Nicole Yorkin. Kristen Campo and Ron French serve as co-executive producers.
As previously announced by Fox Television Studios, which produces the series for AMC, and Netflix, "The Killing" season three will be available to Netflix members three months after the season finale airs on AMC.
SCIENCE FICTION NEWS STORIES:
Did you miss the news from yesterday -- or earlier in the week. Catch up by going to the News Archive. It will bring you up to date for all that has been going on in the world of science fiction.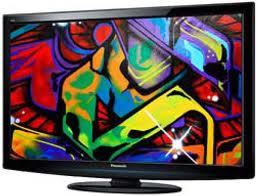 ON THE TUBE TONIGHT
7:00pm on ABC Family
The Lion King (1994)
After the death of his royal father, a young lion returns to battle his scheming uncle for the jungle throne. Animated. Rowan Atkinson, Matthew Broderick, Niketa Calame, Jim Cummings, Whoopi Goldberg

8:00pm on TNT
The Bourne Ultimatum (2007) Jason Bourne continues his international quest to uncover his true identity while staying one step ahead of those who want to kill him. Based on the novel by Robert Ludlum. Matt Damon, Julia Stiles, Joan Allen, David Strathairn, Scott Glenn

8:00pm on ABC
Once Upon a Time Episode: Queen of Hearts S02, E09 (First Aired: Dec. 02, 2012)
Hook and Cora face off with Emma and Mary Margaret in a race for the compass; Mr. Gold and Regina plan to kill anyone who enters the portal.

8:00pm on AMC
The Walking Dead Episode: This Sorrowful Life S03, E15 (First Aired: Mar. 24, 2013)
Rick and the others learn that if they want a truce with the Governor, they must make a sacrifice.

8:00pm on BBC America
Doctor Who: The Doctors Revisited Episode: The Third Doctor NEW
The third Doctor is portrayed by Jon Pertwee; the introduction of color, action, stunts and car chases; The Doctor joins the British Army; meeting The Master.

8:00pm on FX
Megamind (2010)
An evil genius must create a powerful new opponent after defeating his heroic nemesis leaves him without purpose. Animated. Will Ferrell, Brad Pitt, Tina Fey, Jonah Hill, David Cross

8:00pm on Syfy
Casino Royale (2006)
After receiving a license to kill, British agent James Bond enters a high-stakes poker game with Le Chiffre, a man who finances terrorist groups. Based on the novel by Ian Fleming. Daniel Craig, Eva Green, Mads Mikkelsen, Judi Dench, Caterina Murino

9:00pm on ABC Family
Beauty and the Beast (1991)
A French maiden takes the place of her captured father in the enchanted castle of an accursed prince, and her love is his only chance to resume human form, in the Disney version of a French fairy-tale. Animated. Paige O'Hara, Robby Benson, Richard White, Jerry Orbach, David Ogden Stiers

9:00pm on AMC
The Walking Dead Episode: Welcome to the Tombs NEW S03, E16
Rick and the others consider the defense of the prison as the Governor's impending attack looms. 10:00pm on CBS
The Mentalist Episode: The Red Glass Bead S05, E01 (First Aired: Sep. 30, 2012)
As Jane tries to determine Lorelei's (Emmanuelle Chriqui) connection to Red John, the team and the FBI collaborate on an investigation into the murder of a hotel employee.

10:00pm on AMC
The Walking Dead Episode: Walk With Me S03, E03 (First Aired: Oct. 28, 2012)
Andrea and Michonne find a new community of survivors; a decision must be made.

10:05pm on AMC
Talking Dead NEW S02, E16
Guests discuss the episode, ``Welcome to the Tombs.''
THE ZOCALO ON FACEBOOK
I've taken the leap and started a group over on Facebook. There is a discussion page where we can talk about Babylon 5 and all things science fiction. Be sure to check it out. http://www.facebook.com/?sk=2361831622#!/group.php?gid=132854680067759




Here is a quote from J. Michael Straczynski about emotions.
I had this theory that the more important and intimate the emotion, the fewer words are required to express it.
First it's in dating: "Will you go out with me?" Six words.
"Honey, I care for you." Five words.
"You matter to me." Four words.
"I love you." Three words.
"Marry me." Two words.
But what's left? What's the one most important and intimate word you can ever say to somebody? It's "goodbye."
While Michael O'Hare (Sinclair), Andreas Katsulas (G'Kar), Rick Biggs (Dr. Franklin), Tim Choate (Zathras) and Jeff Conoway (Zach Allen) are no longer with us, we will not forget their wonderful personalities and talent -- as well as their significant contributions to the BABYLON 5 universe. Be sure to visit In Memory Of for more information about memorial efforts.
Until we met again, in a place where no shadows fall.
BABYLON 5 BIRTHDAYS
Richard Biggs - March 18 (in loving memory)
Jesus Trevino - March 26
Ed Wasser - March 26

Have I missed anyone? If you know the birthday of someone connected with Babylon 5, pass the information along. We want to include everyone in our Happy Birthday Wishes.



BABYLON 5 BOOKS UPDATE
ALERT #1 - CRUSADE UPDATE
WHAT THE HELL HAPPENED?, Volume 2 is planned for release after the re-launch of B5books.com.
J. Michael Straczynski, being painfully aware of the lag in the CRUSADE book release schedule, is putting together a "thank you for your patience" bonus that makes it worth the wait: he's producing his two unfilmed CRUSADE episodes as audio dramas with "voices the fans are familiar with." The audio drama episodes are "To the Ends of the Earth" and "The End of the Line".
Since neither of these unproduced scripts are in Volume 2, one CD will be included FREE with Volume 3 of WHAT THE HELL HAPPENED? and the other CD FREE with Volume 4.
Reminder: ALL CRUSADE books will be available until the HELL series is complete.

ALERT #2 - RELEASE SCHEDULE ADJUSTMENT
B5-20, our release honoring the 20th Anniversary of BABYLON 5, will be released in June instead of April.
Budget-constrained fans are requesting we hold the release of more books until after the ECHOES series is retired so they can complete their ECHOES collection before the May 15th deadline. (Apparently, ECHOES is a popular way for U.S. customers to spend their tax refunds.)
This means that instead of releasing B5-20 in April, we are going to release B5-20 in June, after ECHOES retires (and is never, ever available again in any form).
Be assured, the dates below are LOCKED and will NOT change again.
ADJUSTED RELEASE SCHEDULE
March: No new releases
April: No new releases
May 15: ECHOES retired
June: B5-20 released

ABOUT B5-20
In our next update we will be revealing more details about B5-20.

KEEPING UP WITH CAST AND CREW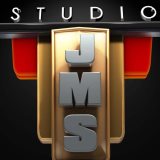 SENSE8 - BREAKING NEWS
Netflix signs up The Matrix, Babylon 5 creators to develop a new sci-fi series: Sense8
Continuing its quest to sate subscribers' appetites with a flow of original content, Netflix has announced a new original series, Sense8. Due in late 2014, it's being developed by the Wachowskis of The Matrix, V for Vendetta, Cloud Atlas and Speed Racer fame, as well as J. Michael Straczynski, creator of Babylon 5. Details are thin, but the press release promises a gripping global tale of minds linked and souls hunted with a ten episode run for its first season.
As it did with House of Cards, Arrested Development and other productions, Netflix is relying heavily on data from viewers to decide which programs to support. According to chief content officer Ted Sarandos, "Andy and Lana Wachowski and Joe Straczynski are among the most imaginative writers and gifted visual storytellers of our time," whose creations are very frequently viewed on the service. According to the creators themselves, they've sought to work together for a decade, and this idea started from a late night conversation about "the ways technology simultaneously unites and divides us." If that's not enough for now, then there are a few more details and quotes in the press release, which is included after the break.
Go to http://www.engadget.com/2013/03/27/netflix-wachowskis-sense8/ to read the Press Release. TEN GRAND
Writer J. Michael Straczynski wanted to do something special to commemorate the launch of his Joe's Comics at Image Comics. The creator has teamed up with Dynamic Forces to release two variant covers by artist Jae Lee. The covers will be for the first series, TEN GRAND #1 which is set to hit comic store shelves this May.
In addition to the new series TEN GRAND, Straczynski has an entire new line of series and titles prepared to be released under the Joes Comics banner.
Read more over at http://www.comicvine.com/news/exclusive-first-look-j-michael-straczynskis-joe-comics-variant-covers/146226/. BABYLON 5 PRESENCE ON FACEBOOK
I know a lot of you are already on FaceBook. However, I don't know if you knew how many other Babylon 5 folks have taken the plunge and opened FaceBook accounts. In fact, Pat Tallman has reopened her Fan Club using FaceBook at the site. For a peek, go to http://www.facebook.com/group.php?gid=45593318387. Claudia Christian has been really active -- sharing pictures of her recent trips and letting us know about upcoming convention activities. J. Michael Straczynski (JMS) has a FaceBook page as well as a new "Fans of J. Michael Straczynski" page. So check it out!

NEW BOOKS OF INTEREST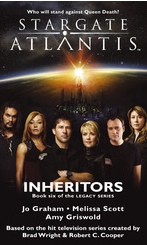 STARGATE ATLANTIS: The Inheritors
by Jo Graham, Melissa Scott and Amy Griswold

The battle lines are drawn. Queen Death is mustering her fleet. But who will stand against her?
As conflicts and betrayal threaten to shatter Atlantis's fragile alliances with Guide's Wraith and the Genii, humanity's only hope of survival rests on the fate of an Ancient device — a weapon too terrible to use but too powerful to cast aside. A weapon capable of exterminating every Wraith in the galaxy, and with them every human carrying Wraith DNA…
With Queen Death's fleet fast approaching, Colonel Sheppard and his team must make their final choice. In the sixth and concluding installment of the STARGATE ATLANTIS Legacy series, the future of Atlantis will be decided — and more than one of her crew will be called upon to sacrifice everything in the fight for her survival…
Buy the ebook from Amazon [US | UK | DE | FR] or from Crossroad Press. Have you read a good book lately? Do you want to share your thoughts? That is what I'm doing over at Book Reviews. I have gotten a number of marvelous books to review related to film making and I want to share my observations with you. If you have books you'd like to post, send them along.
NEW DVDS OF INTEREST
For information on new DVDs coming out that may be of interest to you, go to New DVD Releases for more information.
BABYLON 5 MUSIC VIDEOS AND TRIBUTES
" I found this message on the Babylon 5 moderated newsgroup this morning and just had to post it so that others might enjoy the marvelous music videos created by John Hudgens.

+++++++++++++++++++++++++
As some of you may know, I was hired by Joe Straczynski back in the day to create Babylon 5 music videos for him to use at science fiction conventions, and later to promote the show to networks. Eight were produced over the run of the series, not including the memorial videos I did later for Rick Biggs and Andreas Katsulas.

For the longest time, the only way to see these was if Joe or I showed them at a convention, but now, after numerous requests from fans over the years, Joe has given me permission me to post these online.

Here is a link to John's Babylon 5 videos:
https://www.youtube.com/user/Babylon5MusicVideos?feature=watch

Richard Biggs memorial: http://www.youtube.com/watch?v=HyD4L8yNtsA

Andreas Katsulas memorial: http://www.youtube.com/watch?v=h2UQ2l9NPIg

- This is the extended version that I did for Andreas' widow ater the original cut was released on the net. It's never been seen online until now.

For those of you who've never seen these, I hope you enjoy them - and for those that have (and emailed me many times over the years about releasing them), I hope they're as good as you remember. Working with Joe on these videos was one of the highlights of my career, and I'll be forever grateful to him for the doors these have opened for me. I'm proud to have them on my resume.

John Hudgens
www.zteamproductions.com
---





WONDER CON
Date: March 29-31, 2013
Place: Anaheim Convention Center
For more information, go to http://www.comic-con.org/wca

Steel City Con
Date: April 5-7, 2013
Place: Monroeville Convention Center (near Pittsburgh, PA)
Guests: David Prowse, Kevin Sorbo, Madison Lintz, Ernie Hudson, Sofia Milos, Dawn Wells and more
For more information, go to http://www.steelcitycon.com

StarFest 2013
Date: April 19-21, 2013
Place: Denver, Colorado
Guests: Bill Mumy from Babylon 5, Ben Browder from Farscape -- and more
For more information, go to www.starland.com Phoenix Con 13
Date: May 23-26, 2013
Place: Phoenix Convention Center, Phoenix, Arizona
Guests include: Bruce Boxleitner, Claudia Christian, J. Michael Straczynski, Jerry Doyle, Julie Caitlin Brown, Mira Furlan, Pat Tallman, Stephen Furst, Walter Koenig
For more information, go to http://www.phoenixcomicon.com

Creation Entertainment's Official STAR TREK Convention
Date: May 31-June 2, 2013
Location: The Westin O'Hare Hotel, Chicago
For more information, go to http://www.creationent.com/cal/stchi.htm

WIZARD WORLD CONVENTION
Date: May 30-June 2, 2013
Place: Philadelphia, PA
Guests: Nathan Fllio, Jewel Staite, Adam Baldwin, Summer Glau, Stan Lee, William Shatner, and more
For more information, go to http://www.wizardworld.com/home-pa.html.

Creation Entertainment's Official STAR TREK Convention
Date: June 8-9, 2013
Location: BOSTON, MA
For more information, go to http://www.creationent.com/cal/stma.htm

South Florida FSC 2013 Date: July 4-7, 2013
Place: Miami (International) Airport Convention Center Miami, Florida
Media guests include: Adam Baldwin, Alex Zahara (Legend of the Rangers), Erin Gray,
George Takei-Guest of Honor, Traci Lord and Dana Snyder
Contact: 954-399-1330 mike@supercon.com

SHORE LEAVE 35
Date: August 2-4, 2013
Place: Hunt Valley Inn, Timonium, MD (near Baltimore) Guests include: William Shatner (Saturday only), Amanda Tapping, Babylon 5's Julie Caitlin Brown
For more information, go to www.shore-leave.com

Creation Entertainment's 12th Annual Official Las Vegas STAR TREK Convention
Date: August 8-11, 2013
Location: The Rio Suites Hotel in Las Vegas, Nevada
For more information, go to http://www.creationent.com/cal/st_lasvegas.html

Worldcon 2014: Loncon 3 - 72nd World Science Fiction Convention
Place: London, England
Date: Thur 14 Aug 2014 - Mon 18 Aug 2014
For more information, go to http://www.loncon3.org/contact

Worldcon 2013: Lone Star Con 3 the 71st World Science Fiction Convention, Place: San Antonio, Texas, USA
Date: Thur 29 Aug 2013 - Mon 2 Sept 2013
For more information: Email: info@lonestarcon3.org
Postal: Alamo, Inc., PO Box 27277, Austin, TX 78755-7277
Writer Guests: Ellen Datlow, James Gunn, Willie Siros, Norman Spinrad, Paul Cornell, Leslie Fish
Nominations for Hugo Awards is now open, download the link.
All Attendees and Supporters can vote http://www.lonestarcon3.org/hugo-awards/index.shtml.

Dragoncon 2013
Dates: Aug. 30 - Sept. 2, 2013
Place: Atlanta, GA
Wknd Memberships: $100 to 5/15; $115, 5/15-7/15; $130, 8/16 to door, And daily memberships
Banquet $65
Guests include Alex Zahara from Legend of the Rangers: To Live and Die in Starlight
For more information, go to http://www.dragoncon.org/

Worldcon 2014: Loncon 3 72nd World Science Fiction Convention, London, England Thur 14 Aug 2014 - Mon 18 Aug 2014 http://www.loncon3.org/contact 13 Collette Court, Eleanor Close, London, GB, SE166PW SPECIAL ANNOUNCEMENTS!
Creation Entertainment has a large number of conventions planned for the next several months. They include stars from TWILIGHT, SUPERNATURAL, STARGATE, FARSCAPE, XENA, SERENITY, STAR TREK, etc. Check out their calendar to see if one will be in your neighborhood soon. Don't miss their Videos page as well. It is full of some priceless video from a number of conventions.

Be sure to visit the referenced sites to see if there have been changes in dates/guests attending. Visit our Convention Calendar for a full listing of upcoming conventions.
BACK ISSUES OF THE ZOCALO TODAY
The front page of the The Zocalo Today changes daily, so be sure to check the back issues to make sure that you haven't missed anything IMPORTANT! I hope you will become a regular visitor to The Zocalo Today!
---
Take care and I look forward to hearing from you.
Sandra Bruckner (sgbruckner@aol.com)
Editor/Publisher
ISN News: The Zocalo Today
http://www.isnnews.net
Copyright - SBruckner, 1999-2013