[an error occurred while processing this directive]

The Zocalo Today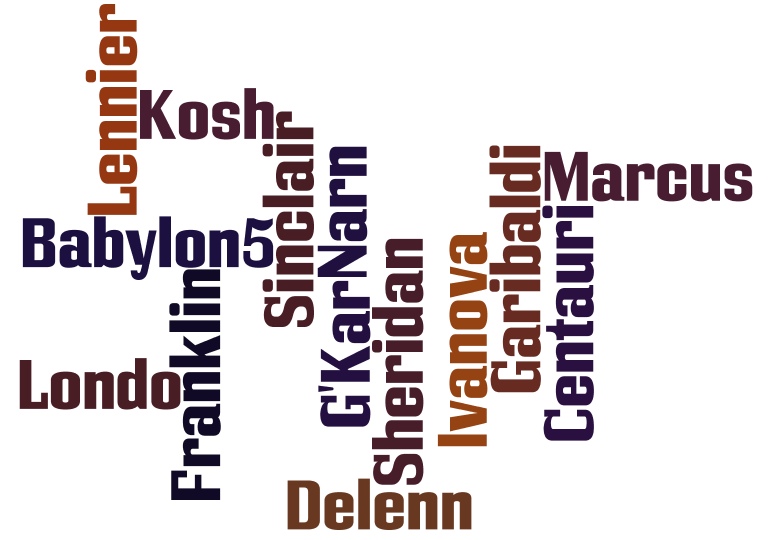 Welcome and thank you for dropping by. Babylon 5 brought many of us together -- and it remains with us, despite the fact that is no longer in production. The good thing is that the internet gives a LOT of ways to stay in touch. Don't be shy. Join in the discussion today or drop by Facebook or Twitter.

If you have questions or items for the news, drop me a line at sgbruckner@aol.com.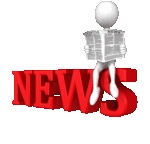 SUNDAY, MAY 19, 2013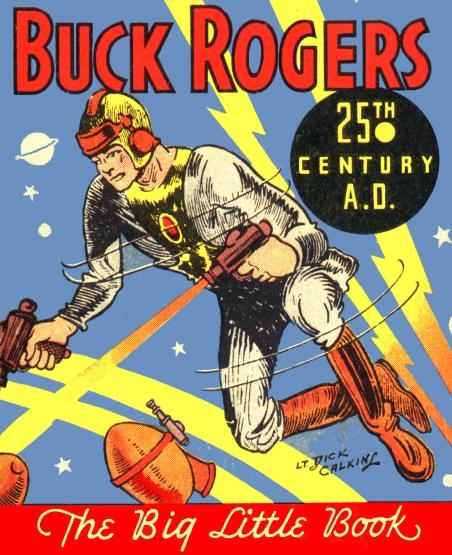 BUCK ROGERS
Sci-fi's 1st hero Buck Rogers gets whole new look for his comic return. The 25th century gets an upgrade.
We told you Howard Chaykin would be bringing Buck back, but it turns out our first peek at Chaykin's take on the character was just him aping the classic style. Today we've got the brand-new art that shows us just how Buck's gonna look this coming August, when he returns through Hermes Press.
Buck Rogers, the first, best, and original Sci-Fi hero returns with Howard Chaykin drawing and writing this action packed incarnation of this iconic title. Over eighty years after the creation of the newspaper strip that become a household word, Howard Chaykin has returned the character and his universe back to basics: Buck Rogers, former World War I ace is accidentally suspended in time only to awaken to new and different earth, 500 years in the future, fragmented by war and ruled by an omnipotent force – the Chinese. Now, Buck along with Colonel Wilma Deering, begins a new fight, to free the United States!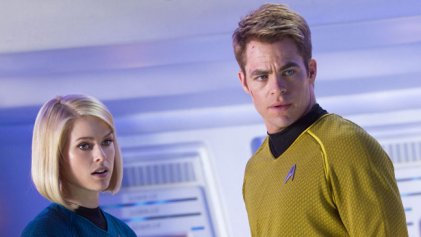 STAR TREK INTO DARKNESS
J.J. Abrams' Star Trek Into Darkness took in roughly $22 million on Friday for a projected four-day debut of $83 million, in line with the opening of the director's 2009 reboot. The 3D sequel opened late Wednesday night in North America and has earned $25.3 million to date.
Into Darkness should benefit from a coveted A CinemaScore and generally upbeat reviews, although some had expected the movie to open close to $100 million (Paramount had always estimated $80 million to $100 million).
Abrams' 2009 Star Trek, which successfully relaunched the iconic sci-fi franchise, opened to $79.2 million in May 2009 (that film wasn't in 3D).
The sequel returns Chris Pine and Zachary Quinto in the roles of Captain James T. Kirk and Spock. Other returning castmembers include Zoe Saldana, Anton Yelchin, Simon Pegg, John Cho and Karl Urban. This time out, a scheming villain played by Benedict Cumberbatch resorts to terrorism to threaten Earth.
Paramount and Skydance co-financed the $190 million tentpole, and produced alongside Abrams' Bad Robot. The script was written by Roberto Orci, Alex Kurtzman and Damon Lindelof. Into Darkness faces a crowded marketplace in North America, competing with Iron Man 3 and The Great Gatsby.
Disney and Marvel Studios' Iron Man 3 placed second on Friday, grossing $9.5 million for a domestic total of $311.4 million. The Great Gatsby, from Warner Bros. and Village Roadshow Pictures, came in No. 3 on its second Friday, grossing $7.7 million for a cume of $74.4 million.
Q&A: 'Star Trek's' Damon Lindelof on 'Star Wars' Influences and His 'Fatal Flaw' Overseas, Into Darkness opened in seven markets last weekend. The 3D pic has grossed a stellar $37 million through Wednesday, 70 percent ahead of the 2009 film.
Its projected to hit $35 million overseas for the weekend, lead by Russia at $9 million. (That's $2 million more than the opening on last film.)
By this weekend, the international cume is predicted to hit $75 million with just over half of all markets opened.
As Abrams' rolled out in North America, Universal's Fast & Furious 6 and The Great Gatsby commenced their international runs.
Zooming out of the gate, Fast & Furious 6 debuted in the U.K. and Ireland on Friday, grossing $4.6 million and marking the best opening performance ever for a Universal title in those territories.
Gatsby, which opened the Cannes Film Festival on May 15, began rolling out internationally Wednesday and is now playing in 49 countries. From Wednesday through Friday, it has grossed $17 million, more than the entire opening weekend of Moulin Rouge, which took in $13.8 million during its opening weekend in 2001.
In France, the third top-grossing market for the film, behind only Russia and the U.K., Gatsby has taken in $2.2 million on 660 screens to rank first.

I AM ZOZO
Image Entertainment has acquired U.S. rights to Scott Di Lalla's Ouija board thriller I Am ZoZo from Outsider Pictures and One World Studios Ltd. The film was written and directed by documentarian Scott Di Lalla (Choppertown: The Sinners) and stars Kelly McLaren, Courtney Foxworthy, Demetrius Sager, Caleb DeBattista, and Caleb Courtney.
The film was produced by Zack Coffman and executive produced by Martin Perlberger. I Am ZoZo was filmed entirely on Super 8mm and recently received Best Feature and Audience Choice Awards at the 2012 US Super 8 Film Festival. Bill Bromiley, Chief Acquisitions Officer for Image Entertainment made today's announcement.
I Am ZoZo centers on five young friends who play with a Ouija board that inadvertently summons the malevolent Ouija demon "ZoZo." The film's horrific account of possession is based on widely reported real experiences with this ancient and evil spirit that attaches itself to people exclusively through Ouija boards.
SATURDAY, MAY 18, 2013
EUROPA REPORT
While seeking out alien life on Jupiter's moon Europa, a group of astronauts will prove the old adage "In space, no one can hear you scream."
Documentary-style horror has been a pretty common in the last decade, but usually because it's cheaper to produce. But with Europa Report, we're instead experencing a very real foray into a place where most humans will never go -- outer space.
If there's one thing of which we are unabashed fans, it's practical effects, and, as is often the case with found-footage movies, Europa Report seems to be favoring that over CGI.
And here's the official synopsis:
EUROPA REPORT follows a contemporary mission to Jupiter's moon Europa to investigate the possible existence of alien life within our solar system. When unmanned probes suggest that a hidden ocean could exist underneath Europa's icy surface and may contain single-celled life, Europa Ventures, a privately funded space exploration company, sends six of the best astronauts from around the world to confirm the data and explore the revolutionary discoveries that may lie in the Europan ocean. After a near-catastrophic technical failure that leads to loss of communication with Earth and the tragic death of a crewmember, the surviving astronauts must overcome the psychological and physical toll of deep space travel, and survive a discovery on Europa more profound than they had ever imagined.
One of the coolest things about the film is that it'll hit iTunes before it even lands in theaters. So if your appetite is as whetted as ours, this flick will be ready to scare the space pants off of you on June 27.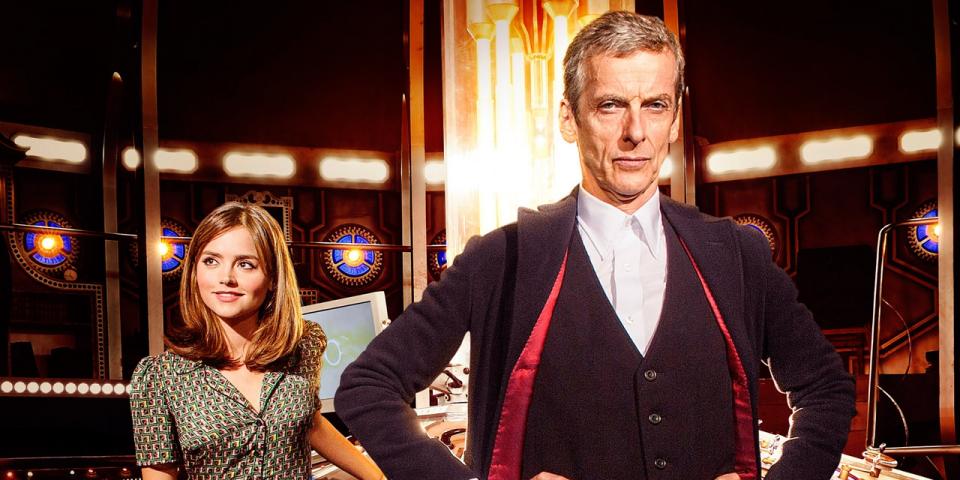 DOCTOR WHO - SEASON 8
It seems like we're always wondering when the next Doctor, or next showrunner, will be falling in line for Doctor Who. But it sounds like Matt Smith isn't going anywhere — at least not until after season eight.
Smith is locked in for 2014 — though the same can't be said about showrunner Steven Moffat, apparently. He's off shooting a feature film for a few months, but after the Christmas special is wrapped up, he says he's returning in 2014 for the next series.
Here's his statement, via The Sun:
"I'm on a break for a couple of months while I'm in Detroit making How To Catch A Monster. We come back and shoot the Christmas special over the summer, then we go on to the next series, which will either start filming at the end of this year or at the start of 2014."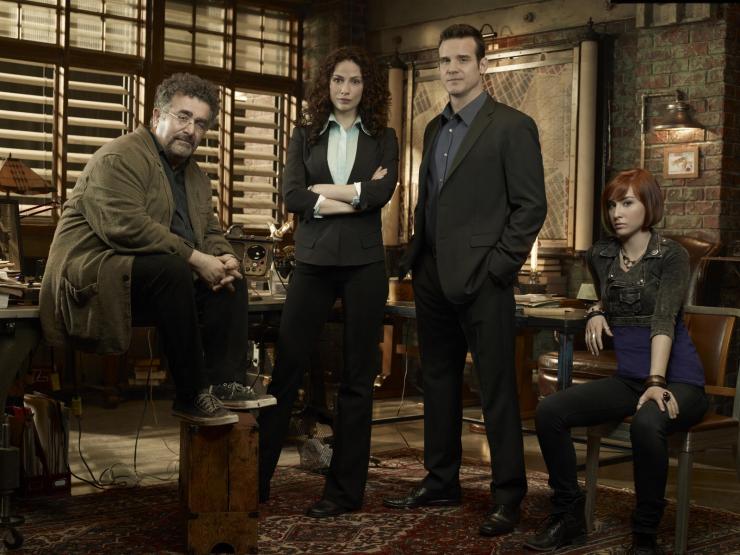 WAREHOUSE 13 TO END
There will be one more season of artifact hunting, and then Syfy's Warehouse 13 will officially come to a close.
The network has announced that the hit series has received an order for a fifth and final season, which will consist of six episodes. The show is currently airing the back half of its fourth season.
Syfy President of Original Content Mark Stern had this to say about the decision:
"Warehouse 13 has been an incredible signature series for us. We are grateful to the loyal and passionate fan base and know that Jack Kenny, his gifted creative team, and outstanding ensemble cast will give them an amazing finale season."
The series has been a consistent performer, and has a pretty solid fan base following the gang of artifact hunters. It's nice to know the writers will get a chance to close out the story on their own terms with a final season.
The series stars Eddie McClintock, Joanne Kelly, Saul Rubinek, Allison Scagliotti and Aaron Ashmore.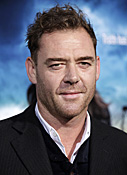 THE EQUALIZER
Marton Csokas (upcoming Sin City: A Dame to Kill For and The Amazing Spider-Man 2) will play the villain in Columbia Pictures' The Equalizer. He will be joining Denzel Washington and Chloë Grace Moretz in director Antoine Fuqua's big screen adaptation of the 1980s TV show.
The original show was created by Michael Sloan and Richard Lindheim. It starred Edward Woodward as Robert McCall, a private detective with a lot of contacts who is available for hire if you have a problem that you don't know how to solve.
In the movie, McCall is living a quiet life while working at a Home Depot when one of his acts of kindness towards a prostitute (Moretz) gets him embroiled with the Russian mob. Csokas plays a vicious fixer for the Russia mob.
The movie was written by Richard Wenk with Todd Black, Jason Blumenthal, Steve Tisch producing through Escape Artists, alongside Alex Siskin, Mace Neufeld, Tony Eldridge, Michael Sloan, and Washington.
The Equalizer will shoot this summer in Boston.
THE AVENGERS 2
A rumor started a few weeks ago that Quicksilver and Scarlet Witch would be joining the team in the upcoming Avengers sequel. Further signs continued to point towards the characters' inclusion in the film and now writer/director Joss Whedon has confirmed the characters will appear in an interview with IGN. In the interview, he spoke about their involvement in the film.
"You know, they had a rough beginning. They're interesting to me because they sort of represent the part of the world that wouldn't necessarily agree with The Avengers. So they're not there to make things easier. I'm not putting any characters in the movie that will make things easier."
We've learned exclusively at SuperheroHype that Irish actress Saoirse Ronan is the "prototype" for their version of the Scarlet Witch, but no casting has taken place.
Whedon also spoke about how the ending to Iron Man 3 (spoiler ahead!) showed a potentially changed Tony, but he's still tied to The Avengers.
"Well, I feel like in Iron Man 3, even though he said, 'I've changed' -- he blew up his remote suits, but I don't think anybody thinks he doesn't have one anymore. The question is, if The Avengers are called, does he show up? And the answer is, 'Yes!'"
Casting for The Avengers 2 is still coming together with many rumors flying around about potential actors being replaced. Regardless of who ultimately assembles for the sequel, Marvel's The Avengers 2 hits the big screen on May 1, 2015.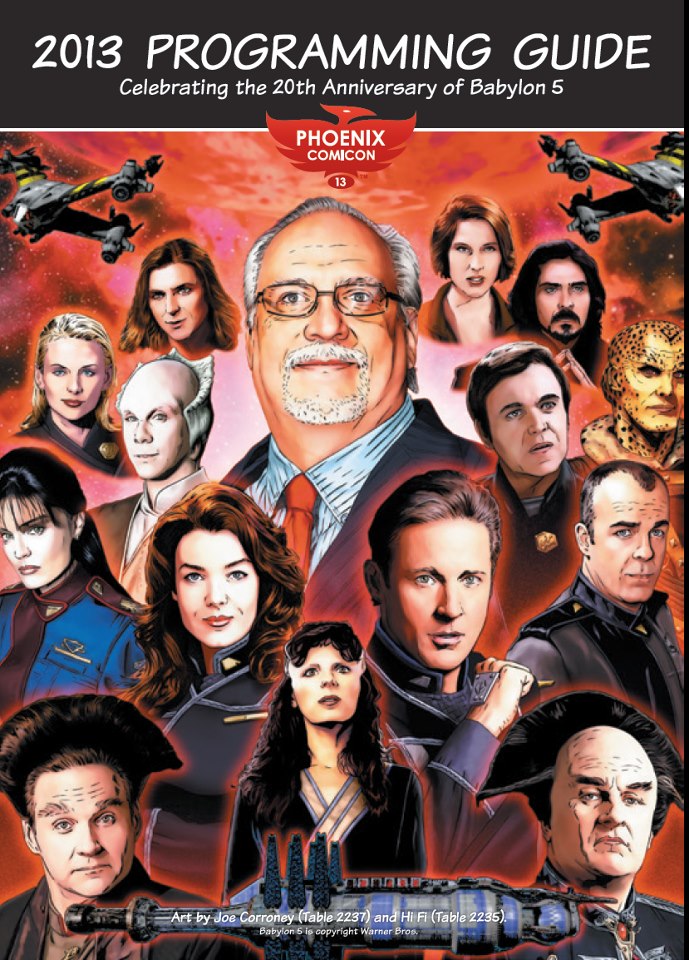 PHOENIX BABYLON 5 EXTRAVAGANZA
The Phoenix Comicon has the Babylon 5 Programming that you are looking for! 2013 will feature over 19 hours of B5 focused programming over all 4 days. We are beginning with Babylon 5 101 & 102 and going all the way up to panels with J. MIchael Straczynski and culminating with the 20 Anniversary Reunion panel featuring 14 of the Starring Cast and the Creator himself all on one-stage. Come join us for the once in a life-time experience, after Phoenix Comicon an experience like this will disappear fast that the 4th Bablyon.
Go to https://www.phoenixcomicon.com/page/70 for a look at the full program.
For more information about the convention, go to https://www.phoenixcomicon.com/page/1.

SCIENCE FICTION NEWS STORIES:
Did you miss the news from yesterday -- or earlier in the week. Catch up by going to the News Archive. It will bring you up to date for all that has been going on in the world of science fiction.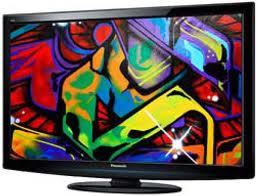 ON THE TUBE TONIGHT
7:00pm on ABC Family
Happy Feet (2006)
Born without the ability to sing, a young emperor penguin expresses himself and hopes to attract a mate through his amazing dancing talent. Animated. Elijah Wood, Robin Williams, Brittany Murphy, Hugh Jackman, Nicole Kidman

8:00pm on FX
Star Trek (2009)
Young James T. Kirk, Spock and the rest of the Enterprise crew embark on a collision course with a vengeful Romulan. Based on the TV series. Chris Pine, Zachary Quinto, Leonard Nimoy, Eric Bana, Bruce Greenwood

9:00pm on Syfy
Underworld: Rise of the Lycans (2009)
Lucian and Sonja, his vampire lover, rally the Lycans against their cruel enslavement at the hands of Viktor, the vampire king. Michael Sheen, Bill Nighy, Rhona Mitra, Steven Mackintosh, Kevin Grevioux
BABYLON 5 20TH ANNIVERSARY BOOK
FIRST EVER BABYLON 5 BOOK PRINTED EXCLUSIVELY IN COLOR
Not just full color, but the actual colors of the sets, costumes and props. Extensive care was taken to ensure that the final pages precisely matched the color qualities of the original photographs, which were taken on set during production. B5-20 covers everything from the pilot through The Lost Tales.
DETAILS ABOUT THE PHYSICAL BOOK
256 pages. 753 images. 150gsm heavy-weight paper designed for high-resolution, full-color printing. Matte finish. Extra durable WIBALIN® cloth cover. WIBALIN® slipcase. Title and B5-20 logo embossed with foil stamping. Ribbon bookmark.
A NOTE ABOUT THE BINDING
We used the highest quality Smyth-sewn binding. This means the book lays flat for every page. More importantly, the pages will not pull away from the binding (nor will the spine crack) because the pages are NOT glued.
HOW THIS OVERSIZED BOOK IS BEING SHIPPED
We had a custom shipping box made to the exact specs of the book. It is a padded, double-walled bumper box that will withstand the weight of this book during shipping. The book itself is shrink-wrapped for authenticity and additional protection. Your B5-20 is guaranteed to arrive in perfect condition and if not, we will pay all expenses to get you one in pristine condition (including return shipping, and this does include international orders.) There is zero risk to you.
ABOUT THE PRICE
The retail price—the final price the book will be sold for—is $134.
HOWEVER, during the debut discount period (the first 7 days the book is released) the price will be $88. This $46 savings will only be available once, when we release the book on June 24. Exception: Books being picked up at the Phoenix Comicon will also be $88.
We are still negotiating the shipping prices and will have that information closer to the June 24 on-sale date.
RELEASE SCHEDULE
The official release date is Monday, June 24. Pre-orders will be available closer to the ship date.
For more information on this magnificant volume, go to b5books.com.
THE ZOCALO ON FACEBOOK
I've taken the leap and started a group over on Facebook. There is a discussion page where we can talk about Babylon 5 and all things science fiction. Be sure to check it out. http://www.facebook.com/?sk=2361831622#!/group.php?gid=132854680067759




Here is a quote from J. Michael Straczynski about emotions.
I had this theory that the more important and intimate the emotion, the fewer words are required to express it.
First it's in dating: "Will you go out with me?" Six words.
"Honey, I care for you." Five words.
"You matter to me." Four words.
"I love you." Three words.
"Marry me." Two words.
But what's left? What's the one most important and intimate word you can ever say to somebody? It's "goodbye."
While Michael O'Hare (Sinclair), Andreas Katsulas (G'Kar), Rick Biggs (Dr. Franklin), Tim Choate (Zathras) and Jeff Conoway (Zach Allen) are no longer with us, we will not forget their wonderful personalities and talent -- as well as their significant contributions to the BABYLON 5 universe. Be sure to visit In Memory Of for more information about memorial efforts.
Until we met again, in a place where no shadows fall.
BABYLON 5 BIRTHDAYS
Theodore Bikel - May 2
Michael O'Hare - May 6
Stephen Furst - May 8
Melissa Gilbert-Boxleitner - May 8
Bruce Boxleitner - May 12
Andreas Katsulas - May 18
Andrea Thompson - May 22
Doug Wise - May 21
Douglas Netter - May 23
Paul Winfield - May 22
Roy Dotrice - May 26
Harlan Ellison - May 27

Have I missed anyone? If you know the birthday of someone connected with Babylon 5, pass the information along. We want to include everyone in our Happy Birthday Wishes.


KEEPING UP WITH CAST AND CREW

BILL MUMY - COMIC AUTHOR
Bill announced on Facebook that today the very first issue of his brand new monthly comic book, "The Curse of the Mumy" was released on Bluewater Comics. It is available on Amazon at http://amzn.to/110NmPL .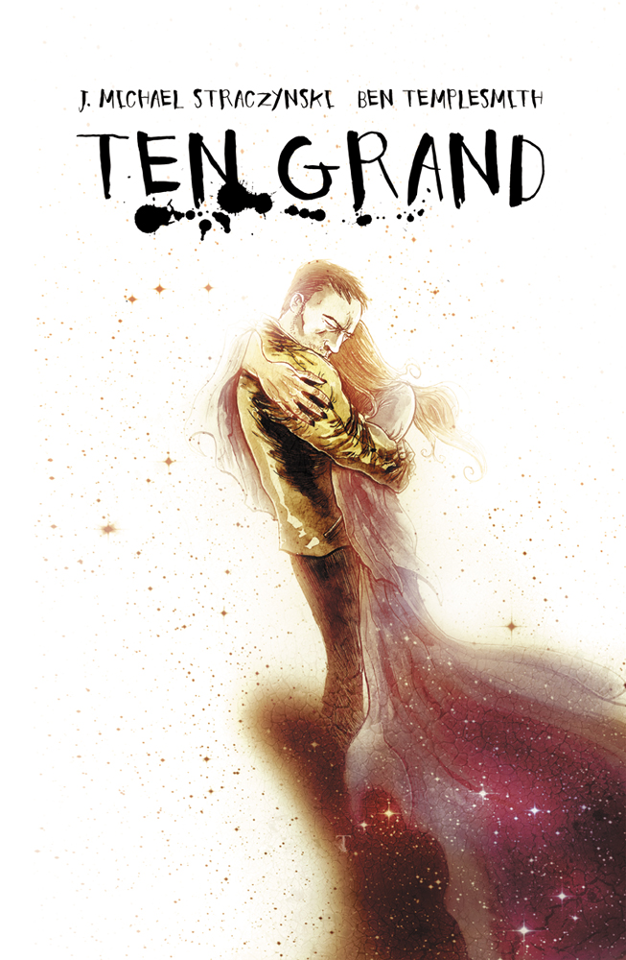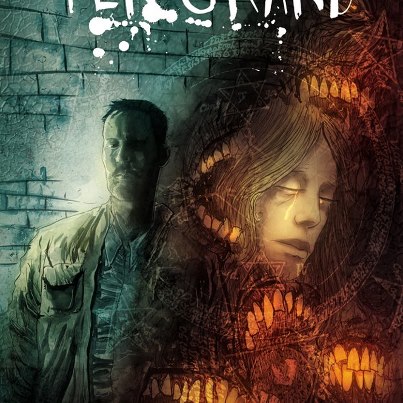 J. MICHAEL STRACZYNSKI
JMS reports on Facebook that his new comic, TEN GRAND is doing very well.
"Spectacular news! Pre-orders for Ten Grand #1 = 67,218! Stunning debut, likely top 15-20! On par with Walking Dead!"
Read more about it at http://www.comicbookresources.com/?page=article&id=45104. TEN GRAND - ISSUE #2 AND #3
J. Michael Straczynski's comic book #2 hits the street on June 5. Issue #3 is shipping July 3. Here's a peek at the cover art from JMS.
Those wishing to order our premiere comic Ten Grand can do so through Midtown comics http://www.midtowncomics.com/ Gahl Buslov is the point of contact. gahl@midtowncomics.com.
JMS SIGNING MAY 1 IN SAN DIEGO
Justin posted this information about JMS signing at Yesteryear Comics on May 1 at 3:00pm.
Read his post at http://thirteenminutes.blogspot.com/2013/04/j-michael-straczynski-yesteryear-comics.html.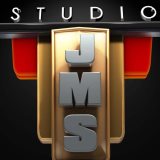 SENSE8 - BREAKING NEWS
Netflix signs up The Matrix, Babylon 5 creators to develop a new sci-fi series: Sense8
Continuing its quest to sate subscribers' appetites with a flow of original content, Netflix has announced a new original series, Sense8. Due in late 2014, it's being developed by the Wachowskis of The Matrix, V for Vendetta, Cloud Atlas and Speed Racer fame, as well as J. Michael Straczynski, creator of Babylon 5. Details are thin, but the press release promises a gripping global tale of minds linked and souls hunted with a ten episode run for its first season.
As it did with House of Cards, Arrested Development and other productions, Netflix is relying heavily on data from viewers to decide which programs to support. According to chief content officer Ted Sarandos, "Andy and Lana Wachowski and Joe Straczynski are among the most imaginative writers and gifted visual storytellers of our time," whose creations are very frequently viewed on the service. According to the creators themselves, they've sought to work together for a decade, and this idea started from a late night conversation about "the ways technology simultaneously unites and divides us." If that's not enough for now, then there are a few more details and quotes in the press release, which is included after the break.
Go to http://www.engadget.com/2013/03/27/netflix-wachowskis-sense8/ to read the Press Release. BABYLON 5 PRESENCE ON FACEBOOK
I know a lot of you are already on FaceBook. However, I don't know if you knew how many other Babylon 5 folks have taken the plunge and opened FaceBook accounts. In fact, Pat Tallman has reopened her Fan Club using FaceBook at the site. For a peek, go to http://www.facebook.com/group.php?gid=45593318387. Claudia Christian has been really active -- sharing pictures of her recent trips and letting us know about upcoming convention activities. J. Michael Straczynski (JMS) has a FaceBook page as well as a new "Fans of J. Michael Straczynski" page. So check it out!

NEW BOOKS OF INTEREST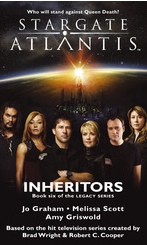 STARGATE ATLANTIS: The Inheritors
by Jo Graham, Melissa Scott and Amy Griswold

The battle lines are drawn. Queen Death is mustering her fleet. But who will stand against her?
As conflicts and betrayal threaten to shatter Atlantis's fragile alliances with Guide's Wraith and the Genii, humanity's only hope of survival rests on the fate of an Ancient device — a weapon too terrible to use but too powerful to cast aside. A weapon capable of exterminating every Wraith in the galaxy, and with them every human carrying Wraith DNA…
With Queen Death's fleet fast approaching, Colonel Sheppard and his team must make their final choice. In the sixth and concluding installment of the STARGATE ATLANTIS Legacy series, the future of Atlantis will be decided — and more than one of her crew will be called upon to sacrifice everything in the fight for her survival…
Buy the ebook from Amazon [US | UK | DE | FR] or from Crossroad Press. Have you read a good book lately? Do you want to share your thoughts? That is what I'm doing over at Book Reviews. I have gotten a number of marvelous books to review related to film making and I want to share my observations with you. If you have books you'd like to post, send them along.
NEW DVDS OF INTEREST
For information on new DVDs coming out that may be of interest to you, go to New DVD Releases for more information.
BABYLON 5 MUSIC VIDEOS AND TRIBUTES
" I found this message on the Babylon 5 moderated newsgroup this morning and just had to post it so that others might enjoy the marvelous music videos created by John Hudgens.

+++++++++++++++++++++++++
As some of you may know, I was hired by Joe Straczynski back in the day to create Babylon 5 music videos for him to use at science fiction conventions, and later to promote the show to networks. Eight were produced over the run of the series, not including the memorial videos I did later for Rick Biggs and Andreas Katsulas.

For the longest time, the only way to see these was if Joe or I showed them at a convention, but now, after numerous requests from fans over the years, Joe has given me permission me to post these online.

Here is a link to John's Babylon 5 videos:
https://www.youtube.com/user/Babylon5MusicVideos?feature=watch

Richard Biggs memorial: http://www.youtube.com/watch?v=HyD4L8yNtsA

Andreas Katsulas memorial: http://www.youtube.com/watch?v=h2UQ2l9NPIg

- This is the extended version that I did for Andreas' widow ater the original cut was released on the net. It's never been seen online until now.

For those of you who've never seen these, I hope you enjoy them - and for those that have (and emailed me many times over the years about releasing them), I hope they're as good as you remember. Working with Joe on these videos was one of the highlights of my career, and I'll be forever grateful to him for the doors these have opened for me. I'm proud to have them on my resume.

John Hudgens
www.zteamproductions.com
---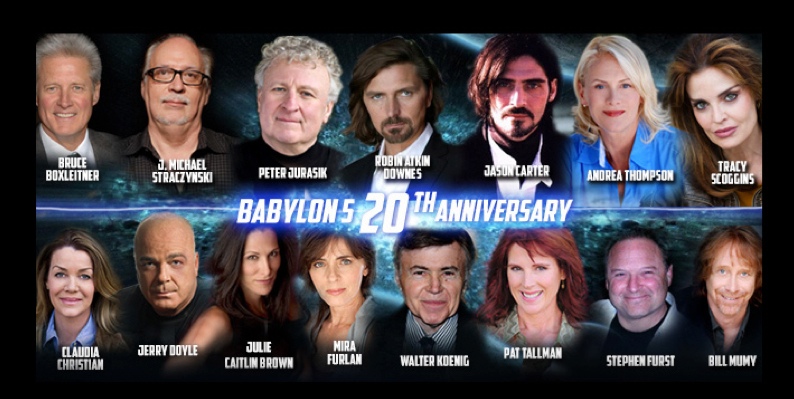 Phoenix Con 13
Date: May 23-26, 2013
Place: Phoenix Convention Center, Phoenix, Arizona
Guests include: Bruce Boxleitner, Claudia Christian, J. Michael Straczynski, Jerry Doyle, Julie Caitlin Brown, Mira Furlan, Pat Tallman, Stephen Furst, Walter Koenig
For more information, go to http://www.phoenixcomicon.com

SPOOKY EMPIRE'S MAY-HEM
Date: May 24-26, 2013
Place: Rosen Centre, Orlando, Florida
For more information, go to http://spookyempire.com/#

Creation Entertainment's Official STAR TREK Convention
Date: May 31-June 2, 2013
Location: The Westin O'Hare Hotel, Chicago
For more information, go to http://www.creationent.com/cal/stchi.htm

WIZARD WORLD CONVENTION
Date: May 30-June 2, 2013
Place: Philadelphia, PA
Guests: Nathan Fllio, Jewel Staite, Adam Baldwin, Summer Glau, Stan Lee, William Shatner, and more
For more information, go to http://www.wizardworld.com/home-pa.html.

Creation Entertainment's Official STAR TREK Convention
Date: June 8-9, 2013
Location: BOSTON, MA
For more information, go to http://www.creationent.com/cal/stma.htm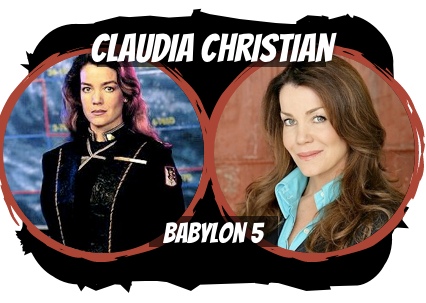 HEROES FOR SALE
Date: June 29-30, 2013
Place: Manchester, UK
Guests include Claudia Christian (Ivanova from Babylon 5)
For more information, go to http://www.heroesforsale.co.uk/.

South Florida FSC 2013 Date: July 4-7, 2013
Place: Miami (International) Airport Convention Center Miami, Florida
Media guests include: Adam Baldwin, Alex Zahara (Legend of the Rangers), Erin Gray,
George Takei-Guest of Honor, Traci Lord and Dana Snyder
Contact: 954-399-1330 mike@supercon.com

STEEL CITY CON
Date: July 26-28, 2013
Place: Monroeville Convention Center, Monroeville, PA
Guests: Eric Roberts (The Dark Knight), Jett Lucas (son of George), Laine Kazan, "Rowdy" Roddy Piper, Ernie Hudson (Ghostbusters), Theodus Crane (Walking Dead), James Best (Dukes of Hazzard), Marta Kristen (Lost in Space), Eliza Roberts (Animal House)
For more information, go to www.steelcitycon.com.

SHORE LEAVE 35
Date: August 2-4, 2013
Place: Hunt Valley Inn, Timonium, MD (near Baltimore) Guests include: William Shatner (Saturday only), Amanda Tapping, Babylon 5's Julie Caitlin Brown
For more information, go to www.shore-leave.com Creation Entertainment's 12th Annual Official Las Vegas STAR TREK Convention
Date: August 8-11, 2013
Location: The Rio Suites Hotel in Las Vegas, Nevada
For more information, go to http://www.creationent.com/cal/st_lasvegas.html

Worldcon 2014: Loncon 3 - 72nd World Science Fiction Convention
Place: London, England
Date: Thur 14 Aug 2014 - Mon 18 Aug 2014
For more information, go to http://www.loncon3.org/contact

Worldcon 2013: Lone Star Con 3 the 71st World Science Fiction Convention,
Place: San Antonio, Texas, USA
Date: Thur 29 Aug 2013 - Mon 2 Sept 2013
For more information: Email: info@lonestarcon3.org
Postal: Alamo, Inc., PO Box 27277, Austin, TX 78755-7277
Writer Guests: Ellen Datlow, James Gunn, Willie Siros, Norman Spinrad, Paul Cornell, Leslie Fish
Nominations for Hugo Awards is now open, download the link.
All Attendees and Supporters can vote http://www.lonestarcon3.org/hugo-awards/index.shtml.

Dragoncon 2013
Dates: Aug. 30 - Sept. 2, 2013
Place: Atlanta, GA
Wknd Memberships: $100 to 5/15; $115, 5/15-7/15; $130, 8/16 to door, And daily memberships
Banquet $65
Guests include Alex Zahara from Legend of the Rangers: To Live and Die in Starlight
For more information, go to http://www.dragoncon.org/

SPECIAL ANNOUNCEMENTS!
Creation Entertainment has a large number of conventions planned for the next several months. They include stars from TWILIGHT, SUPERNATURAL, STARGATE, FARSCAPE, XENA, SERENITY, STAR TREK, etc. Check out their calendar to see if one will be in your neighborhood soon. Don't miss their Videos page as well. It is full of some priceless video from a number of conventions.

Be sure to visit the referenced sites to see if there have been changes in dates/guests attending. Visit our Convention Calendar for a full listing of upcoming conventions.
BACK ISSUES OF THE ZOCALO TODAY
The front page of the The Zocalo Today changes daily, so be sure to check the back issues to make sure that you haven't missed anything IMPORTANT! I hope you will become a regular visitor to The Zocalo Today!
---
Take care and I look forward to hearing from you.
Sandra Bruckner (sgbruckner@aol.com)
Editor/Publisher
ISN News: The Zocalo Today
http://www.isnnews.net
Copyright - SBruckner, 1999-2013