[an error occurred while processing this directive]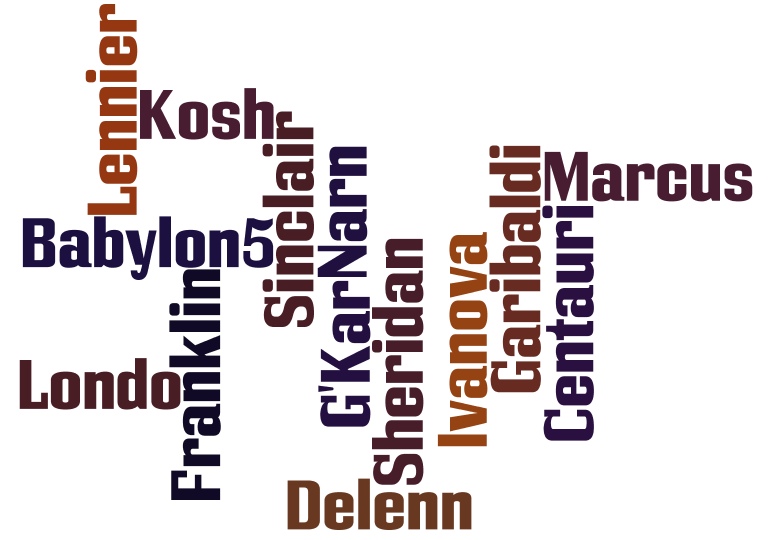 Welcome and thank you for dropping by. Babylon 5 brought many of us together -- and it remains with us, despite the fact that is no longer in production. The good thing is that the internet gives a LOT of ways to stay in touch. Don't be shy. Join in the discussion today or drop by Facebook or Twitter.

If you have questions or items for the news, drop me a line at sgbruckner@aol.com.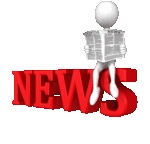 SUNDAY, JUNE 16, 2013
SIDEKICK!
Surprise! A video trailer for issue one of Sidekick, the second title coming this summer from Joe's Comics, a division of Studio JMS!
The first promo image/ad/poster for SIDEKICK, the next title due out from Joe's Comics! The book is due out in early August but we're publishing a special convention variant just for San Diego Comic Con a couple of weeks earlier.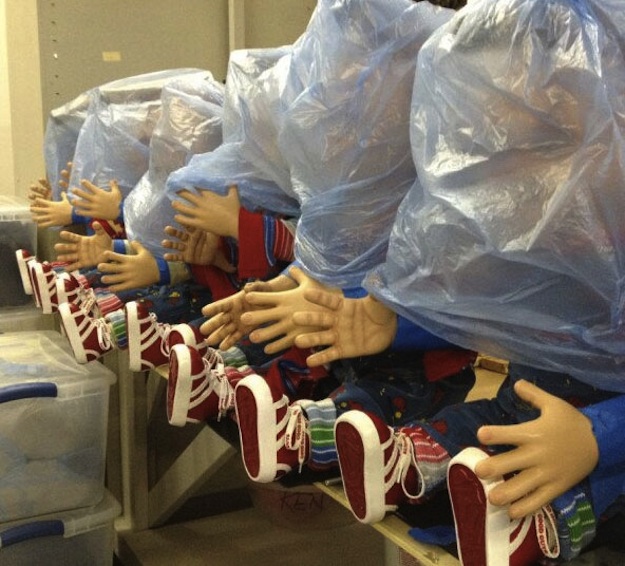 CHUCKY The sixth installment of the Child's Play franchise, Curse of Chucky is on the way, targeting an unspecified direct-home-video release (likely this fall)!
The franchise comes full circle as Toyland's most gruesome serial killer returns in a horrifying all-new movie from Universal 1440 Entertainment, a production entity of Universal Studios Home Entertainment.
Curse of Chucky stars Fiona Dourif (The Master, "True Blood," "Deadwood"), A Martinez ("Longmire," "General Hospital"), Danielle Bisutti (Get Smart, "CSI: Miami") and Brennan Elliott (Flight 93, Double Jeopardy). Brad Dourif ("The Lord of the Rings," Dune) once again returns to provide the voice of Chucky, the pint-sized doll possessed by the spirit of notorious serial killer Charles Lee Ray, who returns to settle some unfinished business.
The film is directed by Don Mancini, the Child's Play franchise creator who has written or co-written each of the previous movies and was the director of Seed of Chucky. Also an integral part of the "Child's Play" franchise from inception, David Kirschner (An American Tail, Hocus Pocus, Bride of Chucky) produces from a screenplay by Mancini. The film's top-flight production team includes special-effects wizard Tony Gardner (Zombieland, Seed of Chucky), production designer Craig Sandells (Mother's Day) and costume designer Patricia J. Henderson (ATM).
In the film,Nica (Fiona Dourif) is grieving over the gruesome suicide of her mother when her domineering older sister Barb (Danielle Bisutti) arrives with her young family in tow to help settle their mother's affairs. As the sisters butt heads over Nica's plans for the future, Barb's young daughter comforts herself with a grinning, red-haired talking doll named Chucky (voiced again by Brad Dourif) that recently arrived mysteriously in the mail. But as a string of brutal murders begins to terrorize the household, Nica suspects the doll may hold the key to the bloodshed. What she doesn't know is that Chucky has a personal score to settle. He's determined to finish a job he started more than 20 years earlier, and this time he's going to see it through to the bloody and shocking end.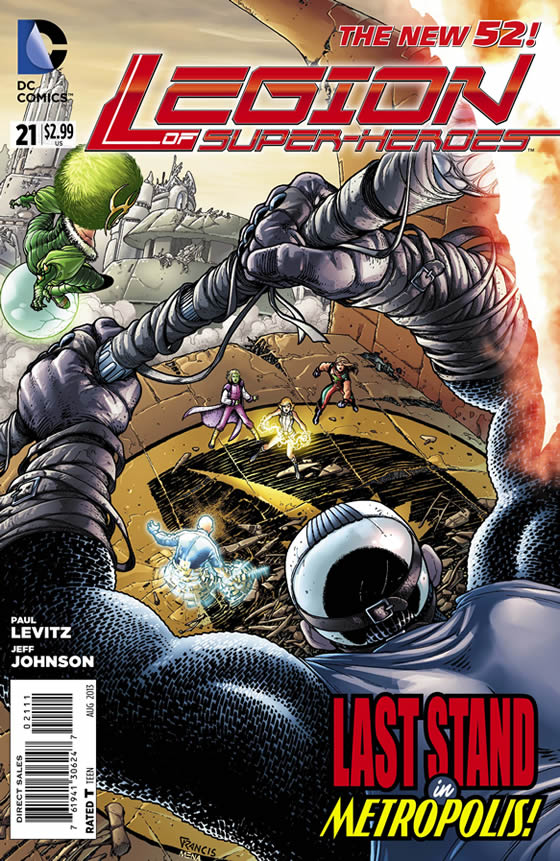 LEGION OF SUPER HEROES
There's only three issues left before the end of "League of Super-Heroes" in the DC Comics universe. Issue #21 hits newsstands Wednesday, June 19, but here is your first look. Want to see more? Go to http://blog.zap2it.com/pop2it/2013/06/dcs-legion-of-super-heroes-21-cover-and-6-pages-revealed.html to see the first six pages.
In the comic's story, the League of Super-Heroes team is at a very low point, nearly defeated by the evil Fatal Five. The Fatal Five entered the series in issue 18, led by the Emerald Empress.
Members of the Legion are on the losing end of a battle against the Fatal Five's Persuader. The issue is written by Paul Levitz, with art by Jeff Johnson. The cover is drawn by Francis Portela.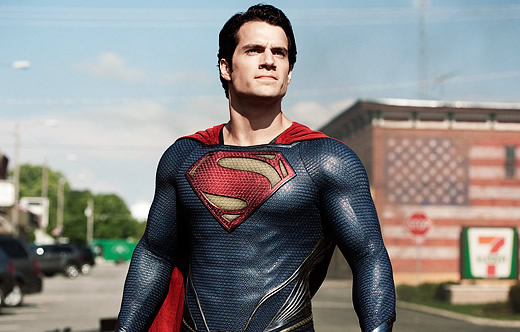 EARLY BOX OFFICE RETURNS
It should come as no surprise that "Man of Steel" is number one at the weekend box office, by far. The newest Superman adventure, which is a reboot of the franchise, pulled in $44 million Friday, and is working toward a $120 million weekend. Adding in an extra $12 million from Thursday showings, and "Man of Steel" seems to be doing alright.
It's Friday total more than doubled that of 2006's "Superman Returns," giving it the 20th highest opening day of all time.
"This Is the End" ranks at a distant number 2 with a $7 million Friday, working toward $21 million for the 3-day weekend. Factoring in grosses from Wednesday and Thursday will bring the R-rated comedy to a total of $32.3 million.
"After Earth" continues to fall down the Top 10, landing at number nine in its third week, bringing in $1 million Friday. The entire Top 10 can be found below with Friday estimates.
1. Man of Steel $44 million
2. This is the End $7 million
3. Now You See Me $3.1 million
4. The Purge $2.8 million
5. Fast & Furious 6 $2.5 million
6. The Internship $2.2 million
7. Epic $1.6 million
8. Star Trek Into Darkness $1.3 million
9. After Earth $1 million
10. Iron Man 3 $650,000
GUARDIANS OF THE GALAXY
We can finally put the rumors to rest. Guardians of the Galaxy has cast its Rhomann Dey. As suspected, Oscar-nominated actor John C. Reilly landed the part. He'll play the leader of the Nova Corps in the superhero film. Rhomann has a tragic history ultimately caused by the warlord Zorr. Zorr massacred many of the citizens of Rhomann's home planet Xandar, including his family.
Rhomann was driven by vengeance and made it his mission to chase Zorr to the ends of space. Some of Rhomann's powers include superhuman strength, flight, endurance and resistance. Reilly's a talented actor, and we're interested to see if he can pull this off.
Guardians of the Galaxy also stars Chris Pratt, Benicio Del Toro, Glenn Close, Zoe Saldana, Lee Pace and Michael Rooker. The film is directed by James Gunn and opens in theaters Aug. 1, 2014.
SATURDAY, JUNE 15, 2013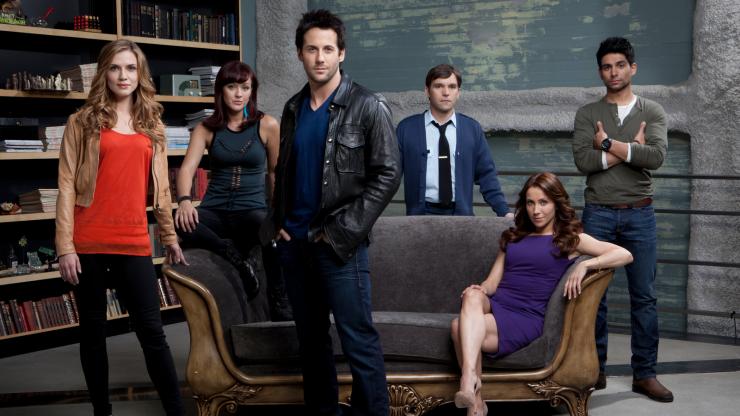 PRIMEVAL: NEW WORLD
Primeval: New World will build on the bones of the original series, while heading into brand-new territory, said Canadian actor Niall Matter, who plays Evan Cross on Syfy's Primeval spinoff. And Matter, who also starred in Syfy's Eureka, promises that there will be some crossover between the Primevals beyond the arrival of Andrew-Lee Potts' Connor in last week's premiere.
"People can watch New World and then understand the world of the original Primeval," said Matter during an exclusive interview with Blastr. "It might cause some people to go back and watch the original after watching New World. And that is definitely a possibility, because when you're dealing with time paradoxes and everything else that comes with these anomalies, who knows what series actually occurs first? You know what I mean?"
Primeval: New World takes place in Vancouver and follows Evan and the team he builds, who begin to investigate temporal anomalies that set prehistoric and future creatures loose on our world. This team, however, is unaware of the adventures that happened during the original British series, Primeval.
"We have crossover, obviously, so it's operating in the same realm of reality as the original Primeval, which is really cool. But you also get introduced to a completely new team. Obviously, when you're working with dinosaurs or creature-of-the-week type episodes, you're going to have similarities between some of the episodes. But I do really think that we did our best to make it our own show. You don't necessarily need to be a fan of the original to be a fan of New World, because we lay all the track work," said Matter.
While there will be plenty of dinosaurs and future-saurs popping up, the series will also explore what happens when people try to control the anomalies and the creatures within.
"There's a lot of dark layers in our show. A lot of dark layers. There's motives that become questioned halfway through the season. I mean, I can't really give anything away, because those are huge plot points, but yeah, we definitely have similar elements to the original Primeval. We definitely play that role as well," he said.
As for his character, Evan Cross, he's a world apart from Matter's computer genius misfit, Zane Donovan, from Eureka, who battled computers more than anything that might eat him. Evan Cross is "a visionary-type leader." He heads up a team of anomaly and dinosaur trackers, "so he's very similar [to Primeval's] character, Cutter. So he's the New World's Cutter. Early on, in the very first episode, you'll learn that Evan actually lost his wife to his first discovery of an anomaly, and the dinosaur that came out of it ends up brutally killing [her]. That's what sets Evan on his path to discover more about these anomalies and to prevent other people from losing their loved ones. But Evan becomes a little bit of a recluse, and he hides out in a secret facility within his factory, which they nicknamed the Tank, basically inventing technology and weaponry to prevent anybody else from getting hurt," he said.
While there's a lot of CGI used to bring the dinosaurs and future creatures to life, Matter feels the cast brought a distinctive emotional effect onto the screen with each dinosaur and future creature.
"Each creature affected us differently, which was quite interesting. And we always played the fear of the situation," said Matter. "[Executive producer] Martin Wood was the guy behind that. He would always come to set and be like, 'Guys, guys! You gotta be running! You gotta be moving! There's more fear! Keep it moving! There's fear here!'"
Scary dinosaurs and creatures included, while there's much to look forward to with a full 13-episode season of Primeval: New World, the series has unfortunately been canceled in Canada. That means there will only be the one season. Unless ...
"It's doing great internationally, so who knows?" said Matter. "All we need is another network to step in, play archaeologists, dust off some prehistoric bones, and bring life back into our show, so to speak."
Primeval: New World airs on Saturday nights on Syfy at 10 p.m. ET.

TRUE BLOOD
True Blood's season-six premiere is only two days away—and we're pretty stoked about that—but in order to while away the time, we've got some new bloody cool sneak peeks to share.
(These are actually three clips all rolled into to one, courtesy of ETOnline.)
The first part has Erik (Alexander Skarsgard) and Pam (Kristin Bauer Van Starten) arguing, and things don't look so hot between them.
The second one has Lillith Billith Bill issuing a warning to Sookie (Anna Paquin), Jessica (Deborah Ann Woll) and Erik. Is our beloved Bill really gone? Just who is he now?
The third and final part of the clip has Sookie meeting her new beau, played by Rob Kazinsky. In good ol' True Blood fashion, this one's in trouble, and our favorite faery-telepathic waitress can't resist the need to lend a helping hand.

MAN OF STEEL BOX OFFICE THURSDAY
Zack Snyder's Superman reboot "Man of Steel" took in $12 million from special Walmart screenings, and $9 million in midnight runs on Thursday night.
That tops the $15.6 million scored earlier this summer by "Iron Man 3" which also began rolling out on a Thursday night. However, it's behind the $30.6 million that "The Dark Knight Rises" grossed in midnight previews last year.
The studio is currently projecting an $80 million opening weekend, whereas box-office analysts are more bullish with $85-100 million estimates.
This follows on from the film already opening yesterday in the Philippines and Taiwan where it scored the largest opening day ever, and the largest Warners opening ever respectively.

SCIENCE FICTION NEWS STORIES:
Did you miss the news from yesterday -- or earlier in the week. Catch up by going to the News Archive. It will bring you up to date for all that has been going on in the world of science fiction.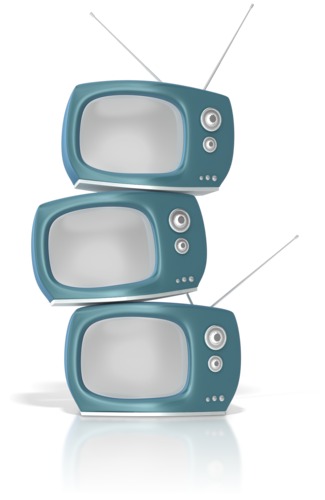 ON THE TUBE TONIGHT:
8:00pm on FX
Superman Returns (2006)
While Lex Luthor plots against him, the Man of Steel tries to reconnect with Lois Lane and find his place in a world that learned to survive in his absence. Brandon Routh, Kate Bosworth, James Marsden, Frank Langella, Eva Marie Saint.

8:00pm on BBC America
RoboCop (1987)
Scientists use the mangled remains of a dead police officer to create the ultimate crime-fighter -- an indestructible cyborg. Peter Weller, Nancy Allen, Ronny Cox, Daniel O'Herlihy, Kurtwood Smith

8:00pm on Syfy
The Chronicles of Narnia: Prince Caspian (2008)
The Pevensie children return to Narnia, where 1300 years have passed, to help a prince overthrow his evil uncle and restore peace to the land. Based on the book by C.S. Lewis. Georgie Henley, Skandar Keynes, William Moseley, Anna Popplewell, Ben Barnes.

10:00pm on CBS
The Mentalist Episode: Red Dawn S05, E05 (First Aired: Oct. 28, 2012)
The first time Jane met Lisbon and the CBI team.
BABYLON 5 20TH ANNIVERSARY BOOK
FIRST EVER BABYLON 5 BOOK PRINTED EXCLUSIVELY IN COLOR
Not just full color, but the actual colors of the sets, costumes and props. Extensive care was taken to ensure that the final pages precisely matched the color qualities of the original photographs, which were taken on set during production. B5-20 covers everything from the pilot through The Lost Tales.
DETAILS ABOUT THE PHYSICAL BOOK
256 pages. 753 images. 150gsm heavy-weight paper designed for high-resolution, full-color printing. Matte finish. Extra durable WIBALIN® cloth cover. WIBALIN® slipcase. Title and B5-20 logo embossed with foil stamping. Ribbon bookmark.
A NOTE ABOUT THE BINDING
We used the highest quality Smyth-sewn binding. This means the book lays flat for every page. More importantly, the pages will not pull away from the binding (nor will the spine crack) because the pages are NOT glued.
HOW THIS OVERSIZED BOOK IS BEING SHIPPED
We had a custom shipping box made to the exact specs of the book. It is a padded, double-walled bumper box that will withstand the weight of this book during shipping. The book itself is shrink-wrapped for authenticity and additional protection. Your B5-20 is guaranteed to arrive in perfect condition and if not, we will pay all expenses to get you one in pristine condition (including return shipping, and this does include international orders.) There is zero risk to you.
ABOUT THE PRICE
The retail price—the final price the book will be sold for—is $134.
HOWEVER, during the debut discount period (the first 7 days the book is released) the price will be $88. This $46 savings will only be available once, when we release the book on June 24. Exception: Books being picked up at the Phoenix Comicon will also be $88.
We are still negotiating the shipping prices and will have that information closer to the June 24 on-sale date.
RELEASE SCHEDULE
The official release date is Monday, June 24. Pre-orders are being accepted now.
For more information on this magnificant volume, go to b5books.com.
THE ZOCALO ON FACEBOOK
I've taken the leap and started a group over on Facebook. There is a discussion page where we can talk about Babylon 5 and all things science fiction. Be sure to check it out. http://www.facebook.com/?sk=2361831622#!/group.php?gid=132854680067759




Here is a quote from J. Michael Straczynski about emotions.
I had this theory that the more important and intimate the emotion, the fewer words are required to express it.
First it's in dating: "Will you go out with me?" Six words.
"Honey, I care for you." Five words.
"You matter to me." Four words.
"I love you." Three words.
"Marry me." Two words.
But what's left? What's the one most important and intimate word you can ever say to somebody? It's "goodbye."
While Michael O'Hare (Sinclair), Andreas Katsulas (G'Kar), Rick Biggs (Dr. Franklin), Tim Choate (Zathras) and Jeff Conoway (Zach Allen) are no longer with us, we will not forget their wonderful personalities and talent -- as well as their significant contributions to the BABYLON 5 universe. Be sure to visit In Memory Of for more information about memorial efforts.
Until we met again, in a place where no shadows fall.
BABYLON 5 BIRTHDAYS
Jeffrey Willerth - June 5
Donovan Brown (Optic Nerve) - June 6
Ann Bruice Aling - June 8
Mark Walters (Art Dept.) - June 10
Susan Norkin (Post) - June 10
Adrienne Barbeau (Amanda Carter) - June 11
Mike Vejar - June 25

Have I missed anyone? If you know the birthday of someone connected with Babylon 5, pass the information along. We want to include everyone in our Happy Birthday Wishes.


KEEPING UP WITH CAST AND CREW

BILL MUMY - COMIC AUTHOR
Bill announced on Facebook that today the very first issue of his brand new monthly comic book, "The Curse of the Mumy" was released on Bluewater Comics. It is available on Amazon at http://amzn.to/110NmPL .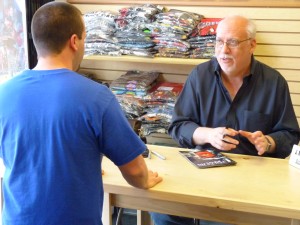 J. MICHAEL STRACZYNSKI
JMS was at Southwestern College the other day and was interviewed by "The Sun" of Southwestern College. To read the entire interview, to go http://www.theswcsun.com/straczynski/. Joe recounts a lot of the work he has been involved with, including "Jake and the Fat Man", "Murder She Wrote" and "Babylon 5". He also talks about comic books and movies.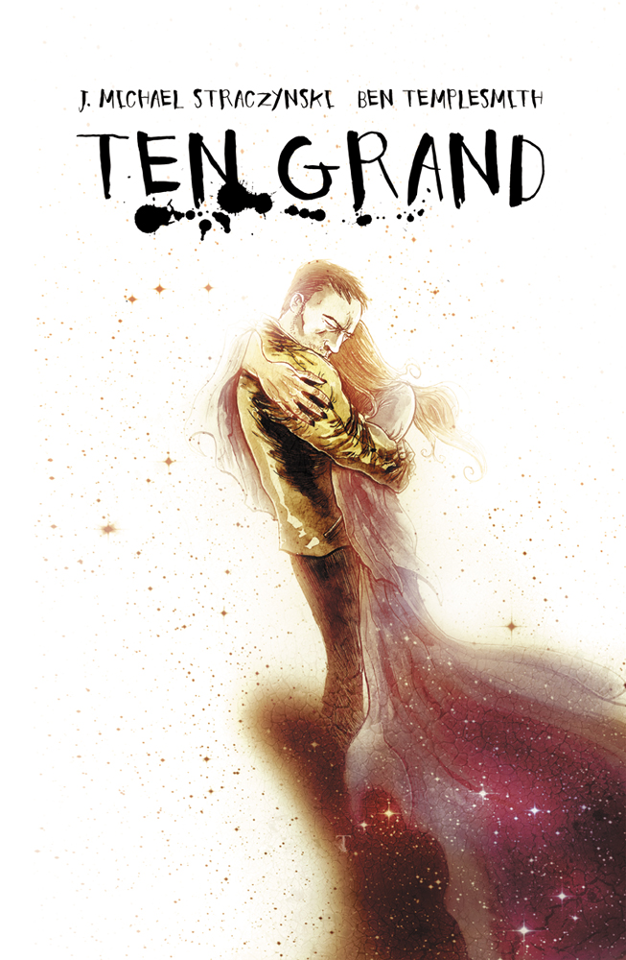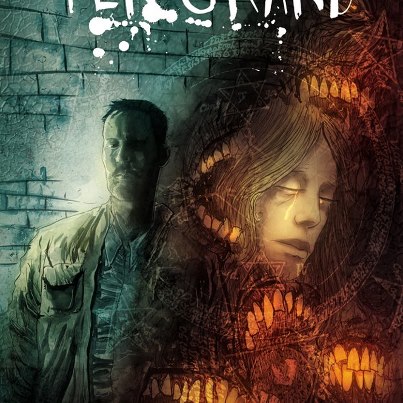 TEN GRAND
JMS reports on Facebook that his new comic, TEN GRAND is doing very well.
"Spectacular news! Pre-orders for Ten Grand #1 = 67,218! Stunning debut, likely top 15-20! On par with Walking Dead!"
Read more about it at http://www.comicbookresources.com/?page=article&id=45104. TEN GRAND - ISSUE #2 AND #3
J. Michael Straczynski's comic book #2 hits the street on June 5. Issue #3 is shipping July 3. Here's a peek at the cover art from JMS.
Those wishing to order our premiere comic Ten Grand can do so through Midtown comics http://www.midtowncomics.com/ Gahl Buslov is the point of contact. gahl@midtowncomics.com.

SENSE8 - BREAKING NEWS
Netflix signs up The Matrix, Babylon 5 creators to develop a new sci-fi series: Sense8
Continuing its quest to sate subscribers' appetites with a flow of original content, Netflix has announced a new original series, Sense8. Due in late 2014, it's being developed by the Wachowskis of The Matrix, V for Vendetta, Cloud Atlas and Speed Racer fame, as well as J. Michael Straczynski, creator of Babylon 5. Details are thin, but the press release promises a gripping global tale of minds linked and souls hunted with a ten episode run for its first season.
As it did with House of Cards, Arrested Development and other productions, Netflix is relying heavily on data from viewers to decide which programs to support. According to chief content officer Ted Sarandos, "Andy and Lana Wachowski and Joe Straczynski are among the most imaginative writers and gifted visual storytellers of our time," whose creations are very frequently viewed on the service. According to the creators themselves, they've sought to work together for a decade, and this idea started from a late night conversation about "the ways technology simultaneously unites and divides us." If that's not enough for now, then there are a few more details and quotes in the press release, which is included after the break.
Go to http://www.engadget.com/2013/03/27/netflix-wachowskis-sense8/ to read the Press Release. BABYLON 5 PRESENCE ON FACEBOOK
I know a lot of you are already on FaceBook. However, I don't know if you knew how many other Babylon 5 folks have taken the plunge and opened FaceBook accounts. In fact, Pat Tallman has reopened her Fan Club using FaceBook at the site. For a peek, go to http://www.facebook.com/group.php?gid=45593318387. Claudia Christian has been really active -- sharing pictures of her recent trips and letting us know about upcoming convention activities. J. Michael Straczynski (JMS) has a FaceBook page as well as a new "Fans of J. Michael Straczynski" page. So check it out!

NEW BOOKS OF INTEREST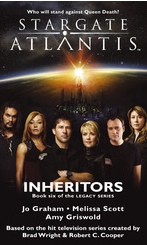 STARGATE ATLANTIS: The Inheritors
by Jo Graham, Melissa Scott and Amy Griswold

The battle lines are drawn. Queen Death is mustering her fleet. But who will stand against her?
As conflicts and betrayal threaten to shatter Atlantis's fragile alliances with Guide's Wraith and the Genii, humanity's only hope of survival rests on the fate of an Ancient device — a weapon too terrible to use but too powerful to cast aside. A weapon capable of exterminating every Wraith in the galaxy, and with them every human carrying Wraith DNA…
With Queen Death's fleet fast approaching, Colonel Sheppard and his team must make their final choice. In the sixth and concluding installment of the STARGATE ATLANTIS Legacy series, the future of Atlantis will be decided — and more than one of her crew will be called upon to sacrifice everything in the fight for her survival…
Buy the ebook from Amazon [US | UK | DE | FR] or from Crossroad Press. Have you read a good book lately? Do you want to share your thoughts? That is what I'm doing over at Book Reviews. I have gotten a number of marvelous books to review related to film making and I want to share my observations with you. If you have books you'd like to post, send them along.
NEW DVDS OF INTEREST
For information on new DVDs coming out that may be of interest to you, go to New DVD Releases for more information.
VIDEOS FROM PHOENIX COMIC CON BABYLON 5 REUNION

There are lot of funny stories recounted by the cast members, including Jerry talking about rooming with Andreas and the joke played on Jason by Bill Mumy.

BABYLON 5 MEMORIAL VIDEO BY JOHN HUDGENS
John Hudgens created a marvelous video to honor all who have gone beyond the Rim. Here is a link to John's Babylon 5 videos:
https://www.youtube.com/user/Babylon5MusicVideos?feature=watch

Richard Biggs memorial: http://www.youtube.com/watch?v=HyD4L8yNtsA

Andreas Katsulas memorial: http://www.youtube.com/watch?v=h2UQ2l9NPIg

- This is the extended version that I did for Andreas' widow ater the original cut was released on the net. It's never been seen online until now.

For those of you who've never seen these, I hope you enjoy them - and for those that have (and emailed me many times over the years about releasing them), I hope they're as good as you remember. Working with Joe on these videos was one of the highlights of my career, and I'll be forever grateful to him for the doors these have opened for me. I'm proud to have them on my resume.

John Hudgens
www.zteamproductions.com
---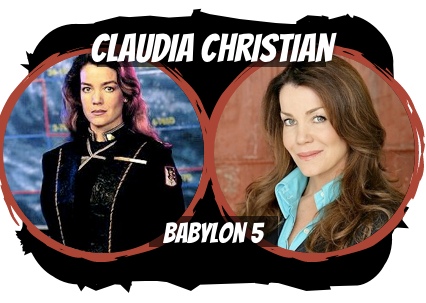 HEROES FOR SALE
Date: June 29-30, 2013
Place: Manchester, UK
Guests include Claudia Christian (Ivanova from Babylon 5)
For more information, go to http://www.heroesforsale.co.uk/. South Florida FSC 2013 Date: July 4-7, 2013
Place: Miami (International) Airport Convention Center Miami, Florida
Media guests include: Adam Baldwin, Alex Zahara (Legend of the Rangers), Erin Gray,
George Takei-Guest of Honor, Traci Lord and Dana Snyder
Contact: 954-399-1330 mike@supercon.com

STEEL CITY CON
Date: July 26-28, 2013
Place: Monroeville Convention Center, Monroeville, PA
Guests: Marina Sirtis (Star Trek), Eric Roberts (The Dark Knight), Jett Lucas (son of George), Laine Kazan, "Rowdy" Roddy Piper, Ernie Hudson (Ghostbusters), Theodus Crane (Walking Dead), James Best (Dukes of Hazzard), Marta Kristen (Lost in Space), Eliza Roberts (Animal House), Tom Kane (animator)
For more information, go to www.steelcitycon.com.

SHORE LEAVE 35
Date: August 2-4, 2013
Place: Hunt Valley Inn, Timonium, MD (near Baltimore) Guests include: William Shatner (Saturday only), Amanda Tapping, Babylon 5's Julie Caitlin Brown
For more information, go to www.shore-leave.com Creation Entertainment's 12th Annual Official Las Vegas STAR TREK Convention
Date: August 8-11, 2013
Location: The Rio Suites Hotel in Las Vegas, Nevada
For more information, go to http://www.creationent.com/cal/st_lasvegas.html

SPACE CITY CON
Date: August 2-4, 2013
Place: Houston Marriott, Houston, Texas
Guests include: Babylon 5's Walter Koenig, Tracey Scoggins and Jason Carter. Other guests include Jewel Staite from Firefly and an assortment of people from Star Trek, Stargate and other science fiction programming.
For more information, go to http://www.spacecitycon.com/# for more information.

Worldcon 2014: Loncon 3 - 72nd World Science Fiction Convention
Place: London, England
Date: Thur 14 Aug 2014 - Mon 18 Aug 2014
For more information, go to http://www.loncon3.org/contact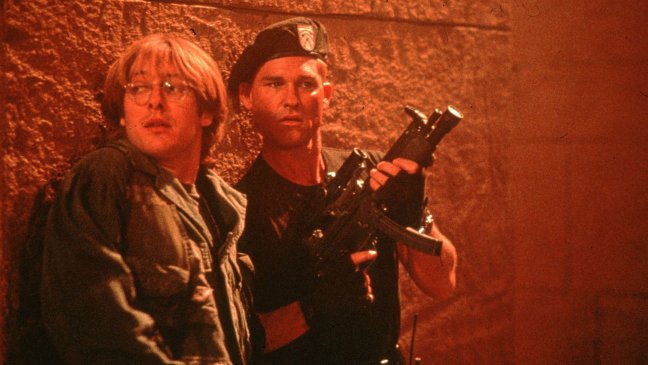 OFFICIAL STARTATE SG-1/ATLANTIS/UNIVERSE CONVENTION
Date: August 16-18, 2013
Place: Westin O'Hare, Chicago, Illnois
Guests: Amanda Tapping, Ben Browder, Christopher Judge, Joe Flanigan, Torri Higginson and more
For additional information, go to http://www.creationent.com/cal/sgchi.htm.

WORLDCON 2013: Lone Star Con 3 the 71st World Science Fiction Convention,
Place: San Antonio, Texas, USA
Date: Thur 29 Aug 2013 - Mon 2 Sept 2013
For more information: Email: info@lonestarcon3.org
Postal: Alamo, Inc., PO Box 27277, Austin, TX 78755-7277
Writer Guests: Ellen Datlow, James Gunn, Willie Siros, Norman Spinrad, Paul Cornell, Leslie Fish
Nominations for Hugo Awards is now open, download the link.
All Attendees and Supporters can vote http://www.lonestarcon3.org/hugo-awards/index.shtml.

DRAGONCON 2013
Dates: Aug. 30 - Sept. 2, 2013
Place: Atlanta, GA
Wknd Memberships: $100 to 5/15; $115, 5/15-7/15; $130, 8/16 to door, And daily memberships
Banquet $65
Guests include Alex Zahara from Legend of the Rangers: To Live and Die in Starlight
For more information, go to http://www.dragoncon.org/

SPECIAL ANNOUNCEMENTS!
Creation Entertainment has a large number of conventions planned for the next several months. They include stars from TWILIGHT, SUPERNATURAL, STARGATE, FARSCAPE, XENA, SERENITY, STAR TREK, etc. Check out their calendar to see if one will be in your neighborhood soon. Don't miss their Videos page as well. It is full of some priceless video from a number of conventions.

Be sure to visit the referenced sites to see if there have been changes in dates/guests attending. Visit our Convention Calendar for a full listing of upcoming conventions.
BACK ISSUES OF THE ZOCALO TODAY
The front page of the The Zocalo Today changes daily, so be sure to check the back issues to make sure that you haven't missed anything IMPORTANT! I hope you will become a regular visitor to The Zocalo Today!
---
Take care and I look forward to hearing from you.
Sandra Bruckner (sgbruckner@aol.com)
Editor/Publisher
ISN News: The Zocalo Today
http://www.isnnews.net
Copyright - SBruckner, 1999-2013