[an error occurred while processing this directive]

The Zocalo Today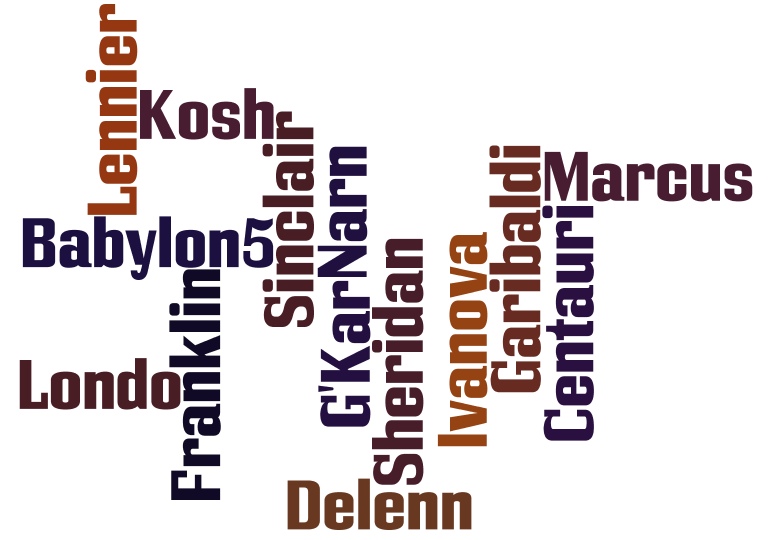 Welcome and thank you for dropping by. Babylon 5 brought many of us together -- and it remains with us, despite the fact that is no longer in production. The good thing is that the internet gives a LOT of ways to stay in touch. Don't be shy. Join in the discussion today or drop by Facebook or Twitter.

If you have questions or items for the news, drop me a line at sgbruckner@aol.com.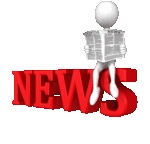 SUNDAY, JUNE 30, 2013
THE HOBBIT
Well, that's a wrap — or at least it is for Ian McKellen's Gandalf on the Hobbit trilogy.
Director Peter Jackson has been keeping fans apprised on the lengthy shoot via hia Facebook page, and has now revealed a pic from McKellen's final day of shooting. Of course, Gandalf is expected to appear in the remaining two Hobbit films, set for release later this year and in 2014, but McKellen's scenes are apparently complete.
Jackson essentially called the wrap an end to an era, dating back almost 15 years to when they filmed the Lord of the Rings trilogy:
"Seconds ago we finished our last shot with Gandalf. The end of an incredible adventure that began in 1999. I'm feeling very sad right now."
The pic above shows a sad Jackson and McKellen saying goodbye to one of the most iconic characters in modern fantasy.
Oh well ... at least we still have two more movies on the way in which to enjoy our favorite wizard. Factor in the extended editions that Jackson is surely prepping, and we should still have more than enough Gandalf to go around.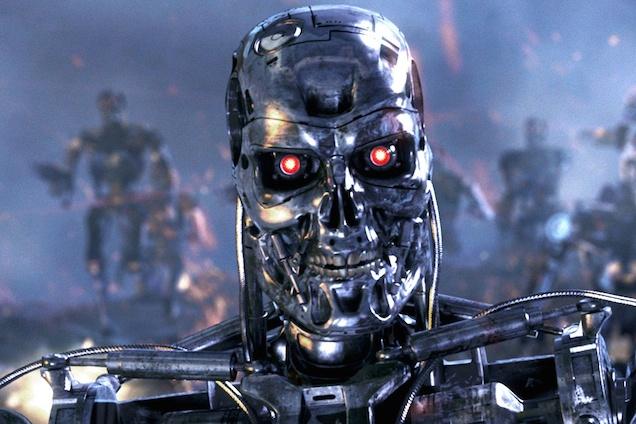 THE TERMINATOR
Arnie may be back, but Terminator itself is going back to square one.
We've been hearing talk of a Terminator 5 for a little while now, but it turns out the roboapocalypse is getting a little more of a facelift than we originally thought.
The new film, which will be called simply Terminator, will be a reboot for the franchise. Not only that, but it will be the first film in a standalone trilogy. Considering that the last two Terminator films weren't exactly the most successful or well-regarded, we can't say we're surprised. In fact, we're not terribly bummed about it, either. Terminator has always been about time travel anyway, so it's not hard to imagine that messing with the space-time continuum wouldn't eventually get us right back to the beginning anyway.
Here's the full press release:
Skydance Productions, Annapurna Pictures and Paramount Pictures have jointly announced they will partner on a rebooted "TERMINATOR" movie, to be released by Paramount Pictures on June 26, 2015.
The first in a stand-alone trilogy, "TERMINATOR" will be produced by Megan Ellison of Annapurna and David Ellison of Skydance. Dana Goldberg and Paul Schwake of Skydance will serve as executive producers. Laeta Kalorgridis ("Avatar," "Shutter Island") and Patrick Lussier ("Drive Angry") are attached to write the screenplay.
Launched in 1984 with star Arnold Schwarzenegger as the title character, "TERMINATOR" spanned 3 subsequent films, which have earned over $1 billion at the worldwide box office.
David Ellison most recently executive produced, along with his partners at Paramount, "World War Z," "Star Trek Into Darkness," "G.I. Joe: Retaliation" and "Mission: Impossible – Ghost Protocol". A 5th installment of in the "Mission: Impossible" franchise is in active development, along with a 3rd film in the "G.I. Joe" franchise, among other films.
Megan Ellison most recently produced the Academy Award®-nominated "Zero Dark Thirty," "The Master" and executive produced "Spring Breakers" via her Annapurna Pictures banner and has David O. Russell's "American Hustle," Spike Jonze's "Her," and Bennett Miller's "Foxcatcher" set for release later this year.
Now we're wondering if Schwarzenegger is still going to be playing the titular one-man robot death machine or if his role will be something else entirely.
Either way, we're glad that, despite the reboot, he still seems to be on board. Our only other request? Please, oh, please, do not turn this new iteration of the franchise into a CGI-fest. The first two films were successful in many ways because of their excellent practical effects. Imagine this as a post-apocalyptic Field of Dreams -- if you build a giant robot of death, we will come ... to the movie theater, that is.
DOCTOR WHO
This trailer for the Doctor Who 50th anniversary isn't real, but it's so good you won't even care.
We're less than half a year out from an episode that, at the very least, will see Matt Smith and David Tennant go toe to toe in a two-Doctors extravaganza. So people are understandably salivating at the thought of seeing footage from the landmark episode. You can imagine how thrilled people were when they thought the first teaser trailer had finally leaked.
The trailer is absolutely amazing, but it's also absolutely fake. But if someone hadn't told us up front that this wasn't the real thing, we never would have known. It's so good that we're left feeling that the actual trailer (whenever it turns up) will have some big shoes to fill.
PACIFIC RIM
On the heels of the first two clips from the July 12 release, Pacific Rim has revealed a new featurette. Dubbed "Under Attack."
Opening in 3D, 2D and IMAX theaters, the Guillermo del Toro film stars Charlie Hunnam, Idris Elba, Rinko Kikuchi, Charlie Day, Ron Perlman, Robert Kazinsky, Max Martini, Clifton Collins, Jr., Burn Gorman, Larry Joe Campbell, Brad William Henke and Diego Klattenhoff.
When legions of monstrous creatures, known as Kaiju, started rising from the sea, a war began that would take millions of lives and consume humanity's resources for years on end. To combat the giant Kaiju, a special type of weapon was devised: massive robots, called Jaegers, which are controlled simultaneously by two pilots whose minds are locked in a neural bridge. But even the Jaegers are proving nearly defenseless in the face of the relentless Kaiju. On the verge of defeat, the forces defending mankind have no choice but to turn to two unlikely heroes—a washed up former pilot (Hunnam) and an untested trainee (Kikuchi)—who are teamed to drive a legendary but seemingly obsolete Jaeger from the past. Together, they stand as mankind's last hope against the mounting apocalypse.
THE WORLD'S END
A new UK TV spot for The World's End, directed by Edgar Wright and starring Simon Pegg, Nick Frost, Martin Freeman, Paddy Considine, Eddie Marsan and Rosamund Pike, is here.
In The World's End, 20 years after attempting an epic pub crawl, five childhood friends reunite when one of them becomes hellbent on trying the drinking marathon again. They are convinced to stage an encore by Gary King (Simon Pegg), a 40-year-old man trapped at the cigarette end of his teens, who drags his reluctant pals to their hometown and once again attempts to reach the fabled pub – The World's End. As they attempt to reconcile the past and present, they realize the real struggle is for the future, not just theirs but humankind's. Reaching The World's End is the least of their worries.
SATURDAY, JUNE 29, 2013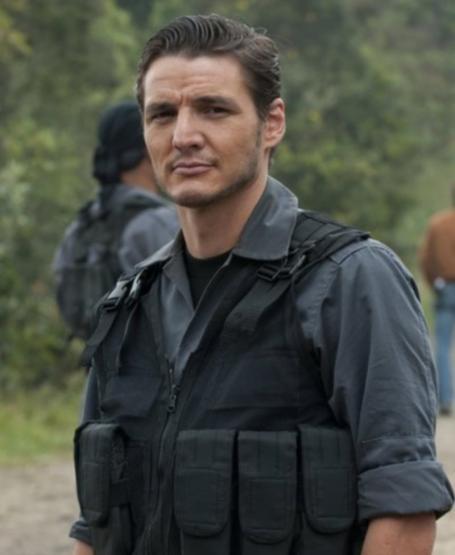 GAME OF THRONES NEWS
Game of Thrones just cast its biggest season four character: The Red Viper of Dorne.
In what must be one of the most anticipated season four casting news, HBO just revealed through James Hibberd's Inside TV on EW that Chilean actor Pedro Pascal (Graceland, Red Widow) had been cast in the coveted role of Prince Oberyn Martell of Dorne.
Prince Oberyn, aka the Red Viper, will arrive in King's Landing in what will be a pivotal storyline in the upcoming fourth season of Game of Thrones.
What's exciting (besides the awesome casting news), is that it'll be the first time that a character from Dorne will actually be featured on the show. As most book fans know, and without being too spoilery here, Dorne will become another major player in the power struggle for the Iron Throne in Westeros.
Showrunners David Benioff and Dan Weiss have said:
"This was a tough one. The Red Viper is sexy and charming, yet believably dangerous; intensely likable, yet driven by hate. The boys love him, the girls love him, and he loves them all back. Unless your last name is Lannister. We found a fellow who can handle the job description and make it seem effortless. He wasn't easy to find and he won't be easy to stop."
So far, casting director Nina Gold and her team have been amazing in their casting choices for the show so we're looking forward to seeing what Pascal will bring as the Red Viper to HBO's hit fantasy series.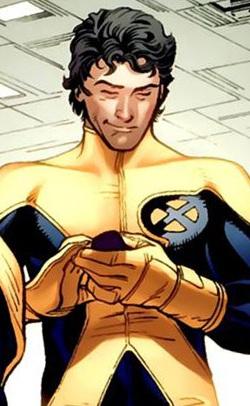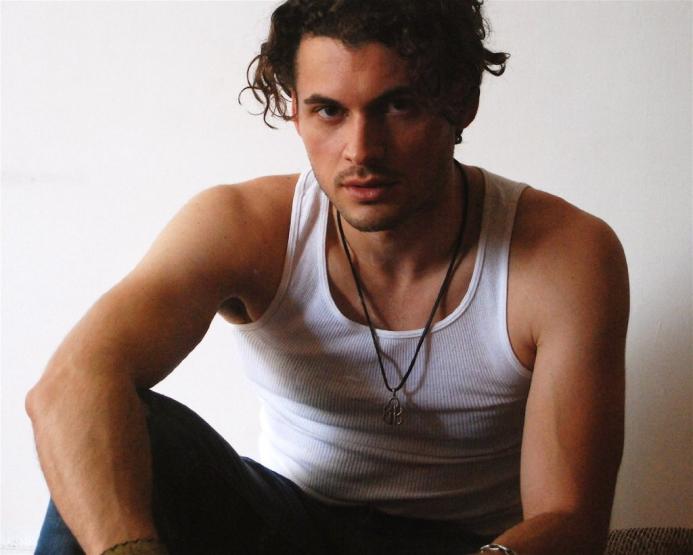 X-MEN: DAYS OF FUTURE PAST
The roster just keeps expanding for Bryan Singer's X-Men: Days of Future Past, and the director has added yet another mutant to the fold.
Meet Adan Canto, who will reportedly be playing the Brazilian mutant Sunspot, aka Roberto Costa. Sunspot was created in the 1980s, and has the ability to absorb solar energy that can be used in energy blasts.
If Canto looks familiar, he's popped up recently in the U.S. on the hit Fox series The Following, though he's a relative unknown outside of his native Mexico.
Word broke a while back that Canto had joined the X-Men sequel, but there was no word on who he might be playing. But the actor slipped up and responded to a fan on Twitter who had said they were looking forward to him playing Sunspot with this reply: "Thanks! Next summer."
He deleted the post soon after, but the damage was done.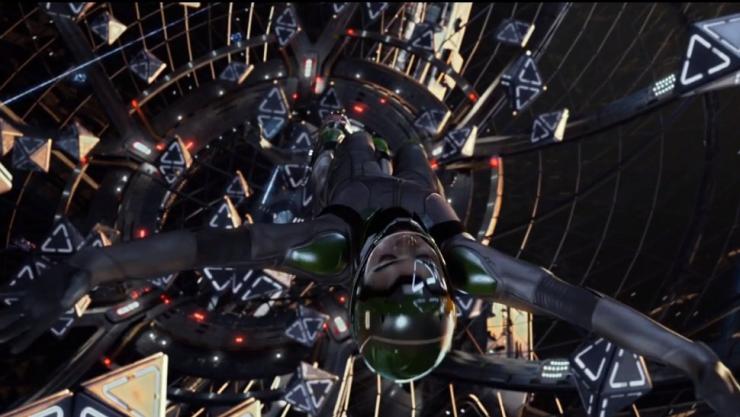 ENDER'S GAME
As the marketing machine gears up for this sci-fi epic, there's one face that's noticeably absent.
San Diego's annual Comic-Con is still the mecca for all things geeky. So, naturally, it's the place where all sci-fi things great and small come to promote what they're working on.
It's no surprise, then, that Ender's Game will be looking to make a big splash at the con. In addition to the expected panel, Summit Entertainment will also be providing an eight-room interactive Ender's Game exhibit. That's pretty cool, even by Comic-Con standards.
As for the panel proper, it will take place on July 18 in the famed Hall H, where the line to get in never ends. On the panel will be star Harrison Ford, producer Bob Orci, director Gavin Hood and co-stars Asa Butterfield, Hailee Steinfeld and Abigail Breslin. Everyone. Well, almost. The man who wrote the book series upon which the film is based, Orson Scott Card, won't be there.
While Card has long been known for his gifts as a sci-fi creator, in recent years he has also become infamous for his very public anti-gay views. His stance hasn't gone over very well with many people (fans included), and so it seems likely that Card is being purposefully kept at arm's length from promotion for the Ender's Game film adaptation in order to prevent fans from attempting to start a boycott.
Whether or not that's a good thing, we can't say we're surprised. After Card was fired from a Superman comic due to fan backlash at his involvement, we almost assumed he wouldn't turn up for Comic-Con.
But now it's official -- no Orson Scott Card for San Diego Comic-Con.

PACIFIC RIM
Warner Bros. has released a new clip from Guillermo Del Toro's Pacific Rim featuring Charlie Hunnum as Raleigh Becket and Rinko Kikuchi as Mako Mori. According to the synopsis, the duo is our only hope against those monstrous creatures called Kaiju. But before they can battle them, they have to battle each other.
In the following scene, Raleigh puts Mako through the wringer. He's a former pilot looking for a partner, and she's an untested trainee. They engage in combat and are constantly trying to one-up each other. Mako may not have much experience, but she's no pushover. Her natural skills shine through, and she quickly proves herself to her superiors.
It looks like neither actor held back in this scene. They freely toss each other around like rag dolls.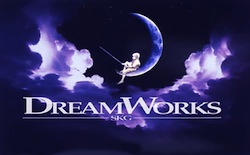 THE FIRE SERMON
DreamWorks has taken the film rights to the upcoming literary trilogy The Fire Sermon, Deadline reports. The dystopian science fiction tale arrives from Francesca Haig and will be seeking a domestic publisher next month.
Set in a post-apocalyptic 25th century, The Fire Sermon has humanity evolved without technology and all children are born as twins. The Alpha twins represent a ruling class while the mutated Omega twins are treated as lower-class individuals and sent to live in their own villages. The catch is that when one twin dies, so does the other and the story follows a brother and sister pair, one of whom rises up to become a ruler amongst the Omegas.
Carla Hacken, whose credits include films like Walk the Line and The Devil Wears Prada, is attached to produce.
SCIENCE FICTION NEWS STORIES:
Did you miss the news from yesterday -- or earlier in the week. Catch up by going to the News Archive. It will bring you up to date for all that has been going on in the world of science fiction.
READER'S CORNER
If anyone would like to submit reports from a convention they recently attended or items they would like to share with fellow Zocalo readers, please send them along to me at sgbruckner@aol.com. I will happily open up a new page for any submissions you care to send along.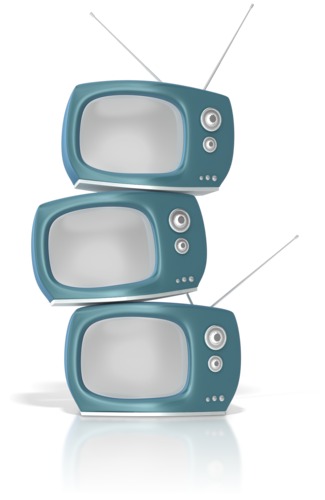 ON THE TUBE TONIGHT:
7:30pm on BBC America
X2: X-Men United (2003)
After a mutant-hating militarist named Stryker invades their school, the X-Men must join forces with Magneto to rescue Professor Xavier and neutralize the threat posed by Stryker. Patrick Stewart, Hugh Jackman, Ian McKellen, Halle Berry, Famke Janssen

7:30pm on TNT
The Bourne Ultimatum (2007)
Jason Bourne continues his international quest to uncover his true identity while staying one step ahead of those who want to kill him. Based on the novel by Robert Ludlum. Matt Damon, Julia Stiles, Joan Allen, David Strathairn, Scott Glenn

8:00pm on Syfy
Covert Affairs Episode: Glass Spider NEW S03, E08
Arthur makes bringing Simon in a top priority; Annie requests the task of bringing Simon in.

9:00pm on CBS
Under the Dome Episode: Pilot S01, E01 (First Aired: Jun. 24, 2013)
The residents of Chester's Mill find themselves trapped under an enormous, transparent dome; panic escalates as resources dwindle rapidly.

9:00pm on ABC Family
Ice Age: The Meltdown (2006)
Manny, Sid and Diego reunite to warn their friends about the danger to their homes posed by swiftly melting ice. Animated. Ray Romano, John Leguizamo, Denis Leary, Queen Latifah, Chris Wedge

9:00pm on Syfy
Covert Affairs Episode: Suffragette City NEW S03, E09
The team tries to discover the truth.

10:00pm on ABC
Castle Episode: Secret Santa S05, E09 (First Aired: Dec. 03, 2012)
Castle and Beckett investigate when a bearded man named Kriss Kringle falls from the sky in Central Park; Beckett and Castle work on a Christmas list together.

10:00pm on CBS
The Mentalist Episode: Days of Wine and Roses S05, E11 (First Aired: Jan. 06, 2013)
A young model dies during her stay at a high-end rehab center; Lisbon pursues her investigation into Tommy Volker.

10:00pm on NBC
Crossing Lines Episode: The Terminator NEW S01, E03
When a mysterious virus kills several wealthy businessmen, the team's investigation leads to a group of art thieves; a confrontation with the killer puts the whole team at risk.

10:00pm on Syfy
Covert Affairs Episode: Let's Dance NEW S03, E10
The CIA tries to obtain proof that an enemy is hiding in Russia.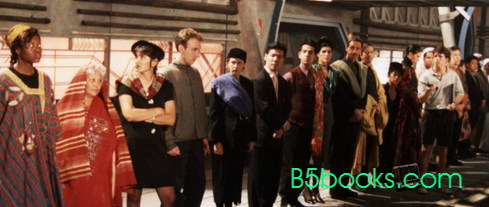 BABYLON 5 BOOKS - NEWSLETTER FEATURES
STUMP THE EDITOR
We got the idea to add this feature to the newsletter during the Stump the Editor Panel at the Babylon 5 20th Anniversary Reunion at Phoenix Comicon. Let us know how you like it by replying to this this newsletter. -- Captain Jaclyn What religion was Mr. Gold in "The Parliament of Dreams?"
What was the honorific bestowed upon accomplished citizens of the Minbari Federation?
Why was the jalwah tree significant to G'Kar? The answers will be revealed in the next newsletter.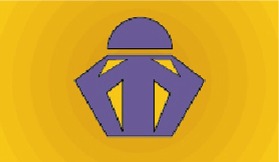 NEW FEATURE: Name that Image
What does this image represent?
Beware that Google image search will not help you. The answer will be revealed in our next newsletter. To subscribe to the newsletter, go to http://b5books.com and enter your e-mail address.
BABYLON 5 20TH ANNIVERSARY BOOK
FIRST EVER BABYLON 5 BOOK PRINTED EXCLUSIVELY IN COLOR
Not just full color, but the actual colors of the sets, costumes and props. Extensive care was taken to ensure that the final pages precisely matched the color qualities of the original photographs, which were taken on set during production. B5-20 covers everything from the pilot through The Lost Tales.
DETAILS ABOUT THE PHYSICAL BOOK
256 pages. 753 images. 150gsm heavy-weight paper designed for high-resolution, full-color printing. Matte finish. Extra durable WIBALIN® cloth cover. WIBALIN® slipcase. Title and B5-20 logo embossed with foil stamping. Ribbon bookmark.
A NOTE ABOUT THE BINDING
We used the highest quality Smyth-sewn binding. This means the book lays flat for every page. More importantly, the pages will not pull away from the binding (nor will the spine crack) because the pages are NOT glued.
HOW THIS OVERSIZED BOOK IS BEING SHIPPED
We had a custom shipping box made to the exact specs of the book. It is a padded, double-walled bumper box that will withstand the weight of this book during shipping. The book itself is shrink-wrapped for authenticity and additional protection. Your B5-20 is guaranteed to arrive in perfect condition and if not, we will pay all expenses to get you one in pristine condition (including return shipping, and this does include international orders.) There is zero risk to you.
ABOUT THE PRICE
The retail price—the final price the book will be sold for—is $134.
HOWEVER, during the debut discount period (the first 7 days the book is released) the price will be $88. This $46 savings will only be available once, when we release the book on June 24. Exception: Books being picked up at the Phoenix Comicon will also be $88.
We are still negotiating the shipping prices and will have that information closer to the June 24 on-sale date.
RELEASE SCHEDULE
The official release date is Monday, June 24. Pre-orders will be available closer to the ship date.
For more information on this magnificant volume, go to b5books.com.
THE ZOCALO ON FACEBOOK
I've taken the leap and started a group over on Facebook. There is a discussion page where we can talk about Babylon 5 and all things science fiction. Be sure to check it out. http://www.facebook.com/?sk=2361831622#!/group.php?gid=132854680067759




Here is a quote from J. Michael Straczynski about emotions.
I had this theory that the more important and intimate the emotion, the fewer words are required to express it.
First it's in dating: "Will you go out with me?" Six words.
"Honey, I care for you." Five words.
"You matter to me." Four words.
"I love you." Three words.
"Marry me." Two words.
But what's left? What's the one most important and intimate word you can ever say to somebody? It's "goodbye."
While Michael O'Hare (Sinclair), Andreas Katsulas (G'Kar), Rick Biggs (Dr. Franklin), Tim Choate (Zathras) and Jeff Conoway (Zach Allen) are no longer with us, we will not forget their wonderful personalities and talent -- as well as their significant contributions to the BABYLON 5 universe. Be sure to visit In Memory Of for more information about memorial efforts.
Until we met again, in a place where no shadows fall.
BABYLON 5 BIRTHDAYS
Jeffrey Willerth - June 5
Donovan Brown (Optic Nerve) - June 6
Ann Bruice Aling - June 8
Mark Walters (Art Dept.) - June 10
Susan Norkin (Post) - June 10
Adrienne Barbeau (Amanda Carter) - June 11
Mike Vejar - June 25

Have I missed anyone? If you know the birthday of someone connected with Babylon 5, pass the information along. We want to include everyone in our Happy Birthday Wishes.


KEEPING UP WITH CAST AND CREW

BILL MUMY - COMIC AUTHOR
Bill announced on Facebook that today the very first issue of his brand new monthly comic book, "The Curse of the Mumy" was released on Bluewater Comics. It is available on Amazon at http://amzn.to/110NmPL .
WORLD WAR Z
Listen as J. Michael Straczynski talks about his involvement with WORLD WAR Z. SIDEKICK!
Surprise! A video trailer for issue one of Sidekick, the second title coming this summer from Joe's Comics, a division of Studio JMS!
The first promo image/ad/poster for SIDEKICK, the next title due out from Joe's Comics! The book is due out in early August but we're publishing a special convention variant just for San Diego Comic Con a couple of weeks earlier.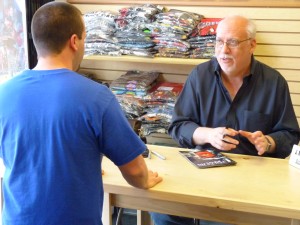 J. MICHAEL STRACZYNSKI
JMS was at Southwestern College the other day and was interviewed by "The Sun" of Southwestern College. To read the entire interview, to go http://www.theswcsun.com/straczynski/. Joe recounts a lot of the work he has been involved with, including "Jake and the Fat Man", "Murder She Wrote" and "Babylon 5". He also talks about comic books and movies.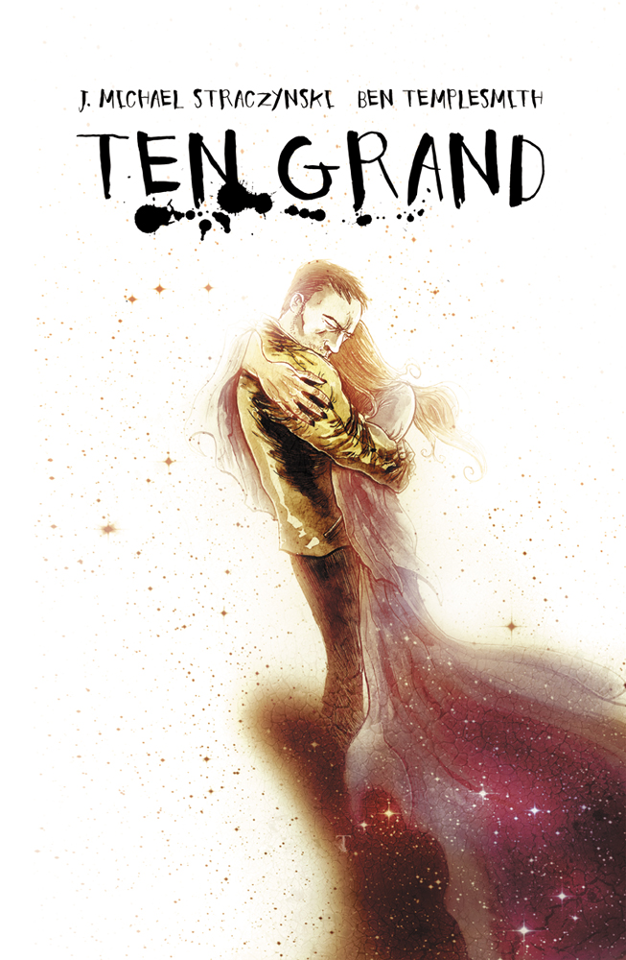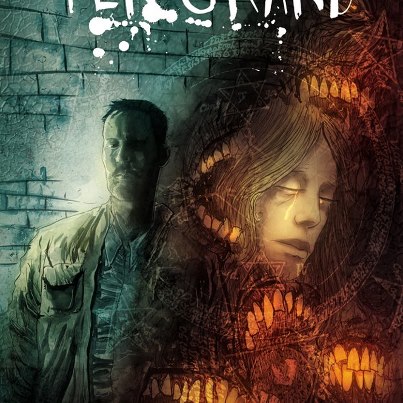 TEN GRAND
JMS reports on Facebook that his new comic, TEN GRAND is doing very well.
"Spectacular news! Pre-orders for Ten Grand #1 = 67,218! Stunning debut, likely top 15-20! On par with Walking Dead!"
Read more about it at http://www.comicbookresources.com/?page=article&id=45104. TEN GRAND - ISSUE #2 AND #3
J. Michael Straczynski's comic book #2 hits the street on June 5. Issue #3 is shipping July 3. Here's a peek at the cover art from JMS.
Those wishing to order our premiere comic Ten Grand can do so through Midtown comics http://www.midtowncomics.com/ Gahl Buslov is the point of contact. gahl@midtowncomics.com.
BABYLON 5 PRESENCE ON FACEBOOK
I know a lot of you are already on FaceBook. However, I don't know if you knew how many other Babylon 5 folks have taken the plunge and opened FaceBook accounts. In fact, Pat Tallman has reopened her Fan Club using FaceBook at the site. For a peek, go to http://www.facebook.com/group.php?gid=45593318387. Claudia Christian has been really active -- sharing pictures of her recent trips and letting us know about upcoming convention activities. J. Michael Straczynski (JMS) has a FaceBook page as well as a new "Fans of J. Michael Straczynski" page. So check it out!

NEW BOOKS OF INTEREST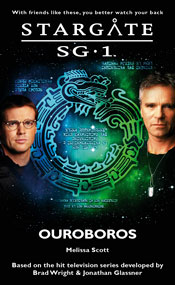 STARGATE SG-1: Ouroboros
From the pen of Melissa Scott (co-author of the STARGATE ATLANTIS Legacy series) comes STARGATE SG-1: Ouroboros, a fast paced adventure taking Colonel O'Neill and his team into new and dangerous territory. Oh, and if you're a fan of STARGATE Legacy, watch out for a few familiar faces along the way… These books are now available for the kindle as well as paperback. Go to www.stargatenovels.com to order or to to Amazon.com.

Have you read a good book lately? Do you want to share your thoughts? That is what I'm doing over at Book Reviews. I have gotten a number of marvelous books to review related to film making and I want to share my observations with you. If you have books you'd like to post, send them along.
NEW DVDS OF INTEREST
For information on new DVDs coming out that may be of interest to you, go to New DVD Releases for more information.
BABYLON 5 MUSIC VIDEOS AND TRIBUTES
" I found this message on the Babylon 5 moderated newsgroup this morning and just had to post it so that others might enjoy the marvelous music videos created by John Hudgens.

+++++++++++++++++++++++++
As some of you may know, I was hired by Joe Straczynski back in the day to create Babylon 5 music videos for him to use at science fiction conventions, and later to promote the show to networks. Eight were produced over the run of the series, not including the memorial videos I did later for Rick Biggs and Andreas Katsulas.

For the longest time, the only way to see these was if Joe or I showed them at a convention, but now, after numerous requests from fans over the years, Joe has given me permission me to post these online.

Here is a link to John's Babylon 5 videos:
https://www.youtube.com/user/Babylon5MusicVideos?feature=watch

Richard Biggs memorial: http://www.youtube.com/watch?v=HyD4L8yNtsA

Andreas Katsulas memorial: http://www.youtube.com/watch?v=h2UQ2l9NPIg

- This is the extended version that I did for Andreas' widow ater the original cut was released on the net. It's never been seen online until now.

For those of you who've never seen these, I hope you enjoy them - and for those that have (and emailed me many times over the years about releasing them), I hope they're as good as you remember. Working with Joe on these videos was one of the highlights of my career, and I'll be forever grateful to him for the doors these have opened for me. I'm proud to have them on my resume.

John Hudgens
www.zteamproductions.com
---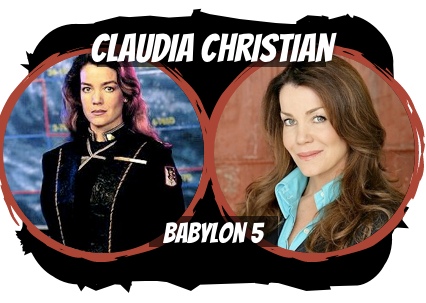 HEROES FOR SALE - POSTPONED
Date: June 29-30, 2013
Place: Manchester, UK
Guests include Claudia Christian (Ivanova from Babylon 5)
For more information, go to http://www.heroesforsale.co.uk/. South Florida FSC 2013 Date: July 4-7, 2013
Place: Miami (International) Airport Convention Center Miami, Florida
Media guests include: Adam Baldwin, Alex Zahara (Legend of the Rangers), Erin Gray,
George Takei-Guest of Honor, Traci Lord and Dana Snyder
Contact: 954-399-1330 mike@supercon.com

SHORE LEAVE 35
Date: August 2-4, 2013
Place: Hunt Valley Inn, Timonium, MD (near Baltimore) Guests include: William Shatner (Saturday only), Amanda Tapping, Babylon 5's Julie Caitlin Brown
For more information, go to www.shore-leave.com

SPACE CITY CON
Date: August 2-4, 2013
Place: Houston, Texas (Houston Marriott Westchase)
Babylon 5 Guests: Jason Carter, Tracey Scoggins, Walter Koenig
Other guests include: Jewel Staite, Sylvester McCoy, Tim Russ, John deLancie, Robert Picardo, Torri Higginson
and many more
For more information, go to www.spacecitycon.com. Creation Entertainment's 12th Annual Official Las Vegas STAR TREK Convention
Date: August 8-11, 2013
Location: The Rio Suites Hotel in Las Vegas, Nevada
For more information, go to http://www.creationent.com/cal/st_lasvegas.html

Worldcon 2014: Loncon 3 - 72nd World Science Fiction Convention
Place: London, England
Date: Thur 14 Aug 2014 - Mon 18 Aug 2014
For more information, go to http://www.loncon3.org/contact

Worldcon 2013: Lone Star Con 3 the 71st World Science Fiction Convention,
Place: San Antonio, Texas, USA
Date: Thur 29 Aug 2013 - Mon 2 Sept 2013
For more information: Email: info@lonestarcon3.org
Postal: Alamo, Inc., PO Box 27277, Austin, TX 78755-7277
Writer Guests: Ellen Datlow, James Gunn, Willie Siros, Norman Spinrad, Paul Cornell, Leslie Fish
Nominations for Hugo Awards is now open, download the link.
All Attendees and Supporters can vote http://www.lonestarcon3.org/hugo-awards/index.shtml.

Dragoncon 2013
Dates: Aug. 30 - Sept. 2, 2013
Place: Atlanta, GA
Wknd Memberships: $100 to 5/15; $115, 5/15-7/15; $130, 8/16 to door, And daily memberships
Banquet $65
Guests include Alex Zahara from Legend of the Rangers: To Live and Die in Starlight
For more information, go to http://www.dragoncon.org/

SPECIAL ANNOUNCEMENTS!
Creation Entertainment has a large number of conventions planned for the next several months. They include stars from TWILIGHT, SUPERNATURAL, STARGATE, FARSCAPE, XENA, SERENITY, STAR TREK, etc. Check out their calendar to see if one will be in your neighborhood soon. Don't miss their Videos page as well. It is full of some priceless video from a number of conventions.

Be sure to visit the referenced sites to see if there have been changes in dates/guests attending. Visit our Convention Calendar for a full listing of upcoming conventions.
BACK ISSUES OF THE ZOCALO TODAY
The front page of the The Zocalo Today changes daily, so be sure to check the back issues to make sure that you haven't missed anything IMPORTANT! I hope you will become a regular visitor to The Zocalo Today!
---
Take care and I look forward to hearing from you.
Sandra Bruckner (sgbruckner@aol.com)
Editor/Publisher
ISN News: The Zocalo Today
http://www.isnnews.net
Copyright - SBruckner, 1999-2013