[an error occurred while processing this directive]

The Zocalo Today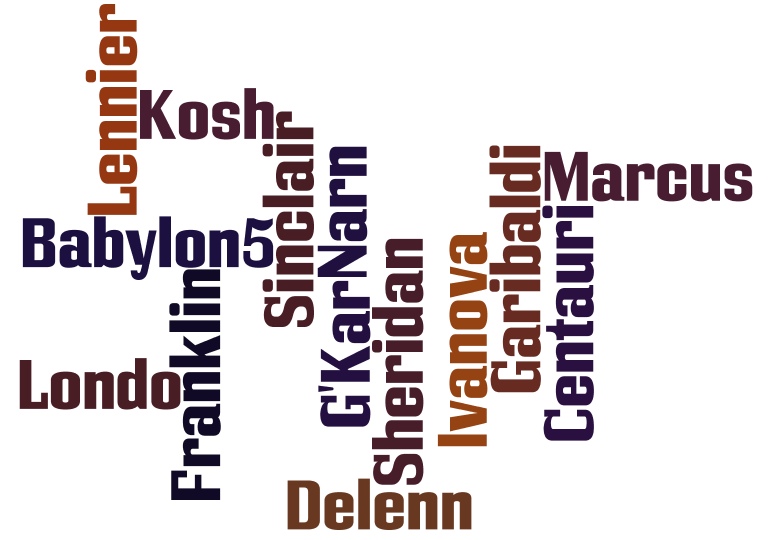 Welcome and thank you for dropping by. Babylon 5 brought many of us together -- and it remains with us, despite the fact that is no longer in production. The good thing is that the internet gives a LOT of ways to stay in touch. Don't be shy. Join in the discussion today or drop by Facebook or Twitter.

If you have questions or items for the news, drop me a line at sgbruckner@aol.com.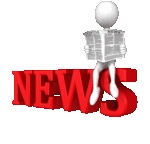 SUNDAY, JULY 7, 2013
MC FARLAND
Fresh off his role as Clark Kent's earthly father in "Man of Steel," Kevin Costner has signed play a high school track coach in Disney's "McFarland."
In a plot that sounds much like "Stand and Deliver" meets "Remember the Titans," Variety reports the film revolves around a real-life track coach who created a championship team in a predominantly Hispanic town in California after the young athletes defeat "social and physical hurdles."
While Disney has yet to announce a release date for "McFarland," Costner next stars with Chris Pine and Keira Knightley in Paramount's "Jack Ryan," scheduled to hit theaters on Christmas Day 2013.
Costner recently won an Emmy Award, a Golden Globe and a SAG Award for his portrayal of 'Devil' Anse Hatfield in The History Channel mini-series "Hatfield & McCoys."

SNOWPIERCER
A plan to stop global warming has gone very, very wrong in Snowpiercer, which has debuted a new trailer.
A class system has developed, with the poor living in the train's tale and the rich living in the front. One man (Chris Evans) has had enough, and seeks to reach the front of the train to benefit everyone on it. Among those seeking to stop him is the strangely dressed Mason (Tilda Swinton). It's the first English-language film for Bong, known for directing the Korean monster blockbuster The Host (2006).
The film also stars Jamie Bell, Alison Pill, John Hurt, Octavia Spencer, and Ed Harris. Frequent Bong colaborator Song Kang-ho plays Namgoong Minsu, a mysterious securty specialist Evans' character seeks out for help.
Snowpiercer is being released domestically by the Weinstein Company, which has not announced a release date. It hits South Korean theaters this summer.

PHINEAS AND FERB: MISSION MARVEL
USA Today has posted this new sneak peek at "Phineas and Ferb: Mission Marvel," airing on August 16th on the Disney Channel.
In "Phineas and Ferb: Mission Marvel," Spider-Man, Iron Man, Thor and Hulk stand powerless after being struck by Dr. Doofenshmirtz's power-draining "inator." Once the Marvel Super Villains – Red Skull, Whiplash, Venom and M.O.D.O.K. – find out that Dr. Doofenshmirtz is responsible for robbing the Super Heroes of their powers, they seek him out and together create mayhem in Danville. Meanwhile, Phineas and Ferb do everything they can to restore the Super Heroes' powers before the evil villains take over the world.

TARZAN
Constantin Film has released the new German trailer for the 3D animated adventure Tarzan, opening in Germany on October 10. The English version of the film features the voices of Kellan Lutz ("The Twilight Saga") and Spencer Locke ("Resident Evil" films).
The movie was directed by Reinhard Klooss from a script by Klooss, Jessica Postigo and Yoni Brenner.
SATURDAY, JULY 6, 2013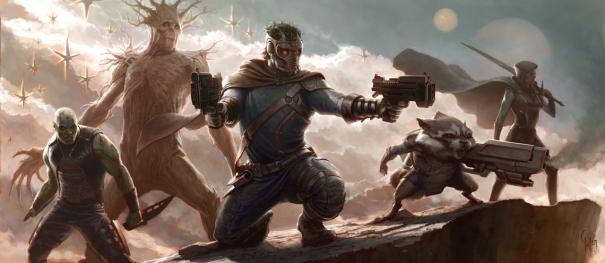 GUARDIANS OF THE GALAXY
Disney has already started flexing its Marvel muscle with a handful of animated series either in the works or already on the air — and now it sounds like that other Marvel super team could be up next.
Marvel comics editor Steve Wacker dropped some hints in the letters section of the latest issue of Guardians of the Galaxy that imply a Guardians animated series could be in development. Wacker talks about his time at a Disney XD summit for Ultimate Spider-Man, and it turns out Guardians was a very hot topic at the event. Hmm.
Here's an excerpt:
"Now, look, I can't officially confirm that we spent a LOT of time talking about the Guardians Of The Galaxy cartoon but wouldn't that HYPOTHETICALLY… be amazing?"
It makes sense that Marvel would be looking to leverage every Marvel asset they have, and with a Guardians film coming down the pike, corporate synergy dictates that it'd be a perfect time to get folks acclimated to the deep-space team with an animated series.
The Mouse House is already working on Ultimate Spider-Man, Avengers Assemble and Hulk and the Agents of S.M.A.S.H./.

DEFIANCE
The first season of Syfy's Defiance comes to an end Monday night, but you can see the first four minutes of the finale right now.
Picking up pretty quickly after last week's penultimate installment, the season finale sets up the search for Irisa and the mayoral election for the soul of the city.
From killing off characters to ass-kicking fights, the past few episodes have brought some major game-changers for the first-year series. It'll be interesting to see what the writers have in store as they try to bring at least some of these dangling storylines to a close.
Luckily for us, the show has already been renewed for a second season, so hopefully we won't have to wait too long to head back into the post-invasion melting pot. Oh well, at least we can still play the MMORPG game in the off-season.

RIDDICK
Vin Diesel has revealed the first TV spot for Riddick, coming to theaters and IMAX on September 6.
Written and directed by David Twohy, the film stars Diesel, Karl Urban, Jordi Molla, Matt Nable, Katee Sackhoff, Bokeem Woodbine, Dave Bautista, Conrad Pla, Raoul Trujillo, Nolan Funk and Keri Hilson.
The infamous Riddick has been left for dead on a sun-scorched planet that appears to be lifeless. Soon, however, he finds himself fighting for survival against alien predators more lethal than any human he's encountered. The only way off is for Riddick to activate an emergency beacon and alert mercenaries who rapidly descend to the planet in search of their bounty.
The first ship to arrive carries a new breed of merc, more lethal and violent, while the second is captained by a man whose pursuit of Riddick is more personal. With time running out and a storm on the horizon that no one could survive, his hunters won't leave the planet without Riddick's head as their trophy.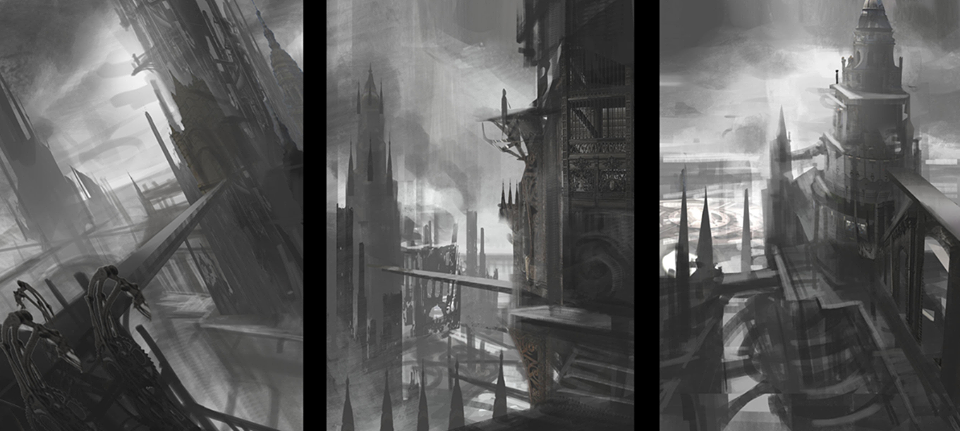 LANTERN CITY
The first preview pages from 'Rise' - telling the story of Lantern City, a new project from Bruce Boxleitner.
Facebook posting: It has taken a lot of work to get to the publication of "RISE". Here, we invite you to take a sneak peek at some of the original artwork concept sketches.
For more information, go to www.lanterncitytv.com.
SCIENCE FICTION NEWS STORIES:
Did you miss the news from yesterday -- or earlier in the week. Catch up by going to the News Archive. It will bring you up to date for all that has been going on in the world of science fiction.
READER'S CORNER
If anyone would like to submit reports from a convention they recently attended or items they would like to share with fellow Zocalo readers, please send them along to me at sgbruckner@aol.com. I will happily open up a new page for any submissions you care to send along.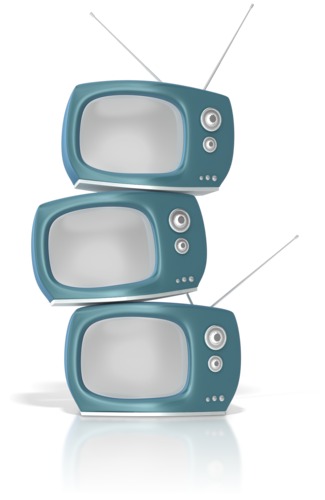 ON THE TUBE TONIGHT:
7:00pm on BBC America
The World Is Not Enough (1999)
James Bond serves as bodyguard to the daughter of a late friend and faces a villain who is impervious to pain. Pierce Brosnan, Sophie Marceau, Robert Carlyle, Denise Richards, Robbie Coltrane

8:00pm on AMC
The Walking Dead Episode: Welcome to the Tombs S03, E16 (First Aired: Mar. 31, 2013)
Rick and the others consider the defense of the prison as the Governor's impending attack looms.

8:00pm on BBC America
GoldenEye (1995)
A secret weapon's theft sends Agent 007 to Russia, where a pretty computer programmer helps him track an ex-cohort believed dead. Pierce Brosnan, Sean Bean, Izabella Scorupco, Famke Janssen, Joe Don Baker

9:00pm on CBS
Under the Dome Episode: The Fire S01, E02 (First Aired: Jul. 01, 2013)
Panic is heightened when a house catches on fire in Chester's Mill, but the fire department is outside of the dome.

9:00pm on AMC
The Killing Episode: Hope Kills NEW S03, E07
Holder and Sarah get a break in the case; Seward clashes with death; Bullet becomes a protector.

9:00pm on Syfy
Resident Evil: Afterlife(2010)
Joined by an old friend, Alice and her companions head to a rumored safe haven in Los Angeles but find it overrun with the walking dead. Milla Jovovich, Ali Larter, Kim Coates, Shawn Roberts, Sergio Peris-Mencheta

10:00pm on ABC
Castle Episode: Significant Others S05, E10 (First Aired: Jan. 07, 2013)
Several angry ex-husbands come under suspicion when a divorce attorney who only represented women is murdered; when Alexis gets sick, Castle's ex-wife moves into the loft to take care of her.

10:00pm on CBS
The Mentalist Episode: Little Red Corvette S05, E12 (First Aired: Jan. 13, 2013)
The team looks into the death of a geologist, which Lisbon thinks could be the key to taking down Tommy Volker.

10:00pm on AMC
The Killing Episode: Hope Kills S03, E07 (First Aired: Jul. 07, 2013)
Holder and Sarah get a break in the case; Seward clashes with death; Bullet becomes a protector.

10:00pm on BBC America
Copper Episode: The Children of the Battlefield NEW S02, E03
Corcoran must choose between fealty and loyalty; Maguire embraces his position; Morehouse and Elizabeth exchange vows.

10:00pm on TNT
Falling Skies Episode: Be Silent and Come Out NEW S03, E06
Hal reveals his internal struggle; Lourdes experiments with a new medical procedure; Charleston's government sees a shift in leadership when a group breaks away on a search and rescue mission.
JMS NEWS
Here are a few announcements from JMS News.

Finally, in terms of comics, the last big announcement to come from Joe's Comics is the collaboration between myself and Bill Sienkiewicz on a new six-part series called Alone.
We're not letting a lot out about this book for the moment, but in general terms what we're trying to do is deconstruct how comic book storytelling is done. Since we first said this, some folks have interpreted this being tonal in nature, i.e., "the hero who is actually the evil guy" deconstruction that we've all seen before. That's not at all what we're trying to do, which is to address is the physical process by which a story is rendered in comic form.
Those who know my work know that I'm constantly experimenting with form. In the last Dr. Manhattan book, we flipped the reader, and the pages, upside down to show a change in perspective and point of view. In Rising Stars there's a page dealing with a character who can hear the dead, and the page is blank other than just seeing him sitting in a chair, surrounded by white page. Flip the page over and there's hovering spirits with their dialogue balloons rendered backward. So if you go back to the previous page and hold it up to the light, you can now see through the page to see the spirits talking to him.
That's more the kind of thing we're talking about...trying to use the comics from in new and unconventional ways. Which is why I reached out to Bill. I need more than someone who thinks outside the box, I need someone who lives outside the box, and may not actually believe there is a box.
So it's going to be a great experiment with form and delivery and technique. Should be a lot of fun.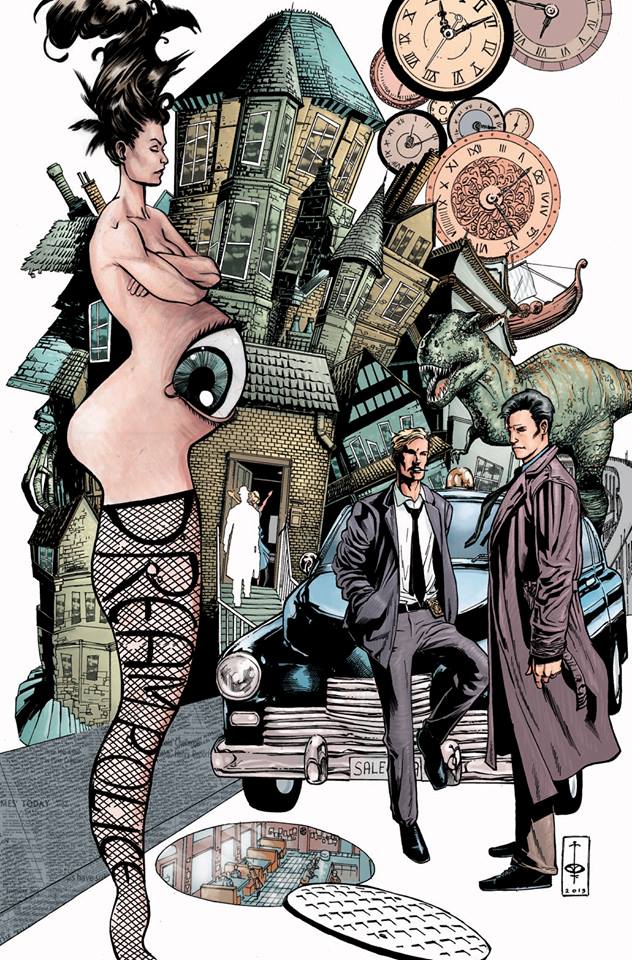 DREAM POLICE
The second big Joe's Comics announcement to come out of Image Expo was the return of DREAM POLICE, which effectively puts all of my creator-owned material under one roof.
The 12-part initial arc tells the background of the Dream Police, who protect the Dreamscape and those who visit it from dangers from a wide and rather surreal range of characters. Though it has its serious moments, it's primarily a book designed to get laughs and have fun, most of it written with Dragnet-level deadpan dialogue.
The artist for the book is Sid Kotian, who came to our attention when we picked him to pencil The Adventures of Apocalypse Al, currently in production for MTV.com's new line of graphic novels. His concept art debuted at Image Expo appears below.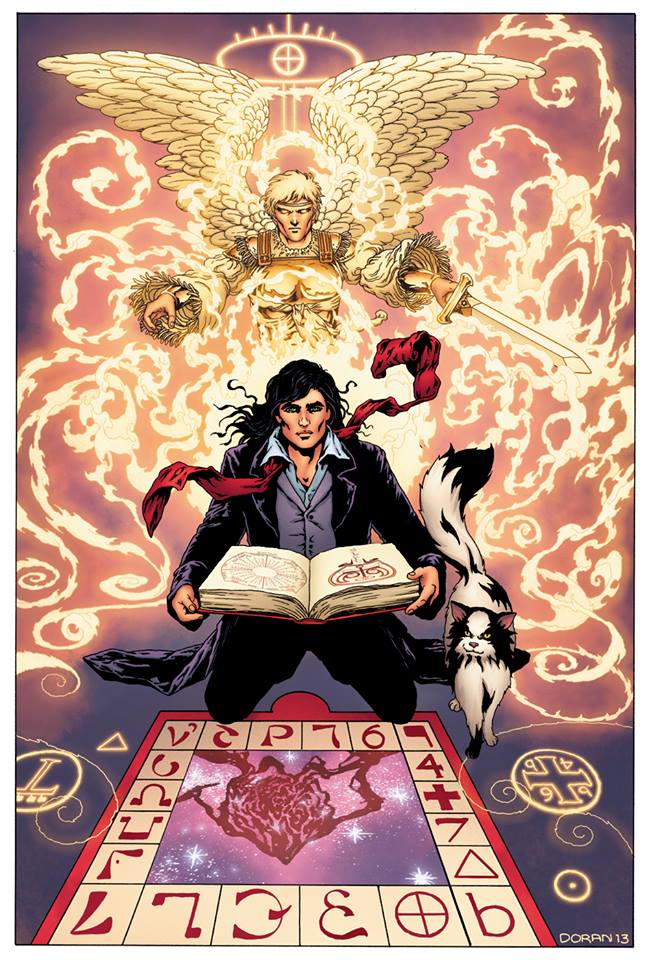 BOOK OF LOST SOULS
Back from San Francisco, a bit under the weather but glad to be home. Y'all probably saw the announcements from Image Expo, of which the one most demanded by fans over the years is the return of THE BOOK OF LOST SOULS, returning next year with original artist Colleen Doran. For those who didn't catch the book when it came out (which is probably most of you as it was pretty deep under the radar per Icon's marketing strategy), the book is about a man named Jonathan who decided to take his own life after being disappointed by love, and was brought back with a mission to help those who are equally without hope. He is aided in this by his talking cat, Mystery, who like most cats may be more than he appears.
We will be rebooting the series from the ground up, in the process learning more about Jonathan's past (and how Mystery came to be, well, Mystery...without of course betraying any of the mystery).
Here's the new promo artwork by Colleen debuted at Image Expo to announce the book's return.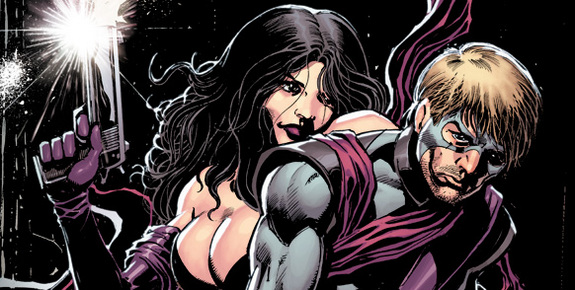 SIDEKICK
Here's a sneak peek at the San Diego Comic Con variant cover for Sidekick 1, courtesy of the amazing talents of Whilce Portacio! The second title from Joe's Comics, following the terrific reception to Ten Grand, Sidekick tells the story of what happens to a sidekick after his mentor is apparently assassinated.
We will be having a limited-edition black-and-white version at Image Expo in San Francisco on July 2nd, this SDCC variant the weekend of 20th, and the book proper (or improper) comes out August 7th. Pre-sales on the book continue for another couple of weeks, so there's still time to get in your order.
If you haven't yet seen the trailer for the book, you can find it at: http://www.youtube.com/watch?v=L-A0Bma0gII.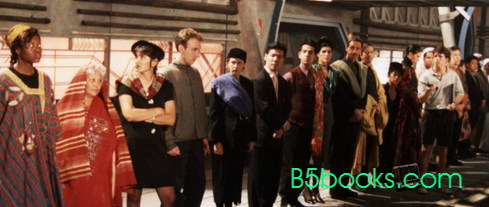 BABYLON 5 BOOKS - NEWSLETTER FEATURES
STUMP THE EDITOR
We got the idea to add this feature to the newsletter during the Stump the Editor Panel at the Babylon 5 20th Anniversary Reunion at Phoenix Comicon. Let us know how you like it by replying to this this newsletter. -- Captain Jaclyn What religion was Mr. Gold in "The Parliament of Dreams?"
What was the honorific bestowed upon accomplished citizens of the Minbari Federation?
Why was the jalwah tree significant to G'Kar? The answers will be revealed in the next newsletter.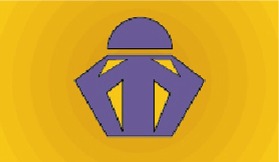 NEW FEATURE: Name that Image
What does this image represent?
Beware that Google image search will not help you. The answer will be revealed in our next newsletter. To subscribe to the newsletter, go to http://b5books.com and enter your e-mail address.
BABYLON 5 20TH ANNIVERSARY BOOK
FIRST EVER BABYLON 5 BOOK PRINTED EXCLUSIVELY IN COLOR
Not just full color, but the actual colors of the sets, costumes and props. Extensive care was taken to ensure that the final pages precisely matched the color qualities of the original photographs, which were taken on set during production. B5-20 covers everything from the pilot through The Lost Tales.
DETAILS ABOUT THE PHYSICAL BOOK
256 pages. 753 images. 150gsm heavy-weight paper designed for high-resolution, full-color printing. Matte finish. Extra durable WIBALIN® cloth cover. WIBALIN® slipcase. Title and B5-20 logo embossed with foil stamping. Ribbon bookmark.
A NOTE ABOUT THE BINDING
We used the highest quality Smyth-sewn binding. This means the book lays flat for every page. More importantly, the pages will not pull away from the binding (nor will the spine crack) because the pages are NOT glued.
HOW THIS OVERSIZED BOOK IS BEING SHIPPED
We had a custom shipping box made to the exact specs of the book. It is a padded, double-walled bumper box that will withstand the weight of this book during shipping. The book itself is shrink-wrapped for authenticity and additional protection. Your B5-20 is guaranteed to arrive in perfect condition and if not, we will pay all expenses to get you one in pristine condition (including return shipping, and this does include international orders.) There is zero risk to you.
ABOUT THE PRICE
The retail price—the final price the book will be sold for—is $134.
HOWEVER, during the debut discount period (the first 7 days the book is released) the price will be $88. This $46 savings will only be available once, when we release the book on June 24. Exception: Books being picked up at the Phoenix Comicon will also be $88.
We are still negotiating the shipping prices and will have that information closer to the June 24 on-sale date.
RELEASE SCHEDULE
The official release date is Monday, June 24. Pre-orders will be available closer to the ship date.
For more information on this magnificant volume, go to b5books.com.
THE ZOCALO ON FACEBOOK
I've taken the leap and started a group over on Facebook. There is a discussion page where we can talk about Babylon 5 and all things science fiction. Be sure to check it out. http://www.facebook.com/?sk=2361831622#!/group.php?gid=132854680067759




Here is a quote from J. Michael Straczynski about emotions.
I had this theory that the more important and intimate the emotion, the fewer words are required to express it.
First it's in dating: "Will you go out with me?" Six words.
"Honey, I care for you." Five words.
"You matter to me." Four words.
"I love you." Three words.
"Marry me." Two words.
But what's left? What's the one most important and intimate word you can ever say to somebody? It's "goodbye."
While Michael O'Hare (Sinclair), Andreas Katsulas (G'Kar), Rick Biggs (Dr. Franklin), Tim Choate (Zathras) and Jeff Conoway (Zach Allen) are no longer with us, we will not forget their wonderful personalities and talent -- as well as their significant contributions to the BABYLON 5 universe. Be sure to visit In Memory Of for more information about memorial efforts.
Until we met again, in a place where no shadows fall.
BABYLON 5 BIRTHDAYS
Jerry Doyle - July 16
J. Michael Straczynski - July 17
David Warner - July 29

Have I missed anyone? If you know the birthday of someone connected with Babylon 5, pass the information along. We want to include everyone in our Happy Birthday Wishes.


KEEPING UP WITH CAST AND CREW

BILL MUMY - COMIC AUTHOR
Bill announced on Facebook that today the very first issue of his brand new monthly comic book, "The Curse of the Mumy" was released on Bluewater Comics. It is available on Amazon at http://amzn.to/110NmPL .
WORLD WAR Z
Listen as J. Michael Straczynski talks about his involvement with WORLD WAR Z. J. MICHAEL STRACZYNSKI
JMS was at Southwestern College the other day and was interviewed by "The Sun" of Southwestern College. To read the entire interview, to go http://www.theswcsun.com/straczynski/. Joe recounts a lot of the work he has been involved with, including "Jake and the Fat Man", "Murder She Wrote" and "Babylon 5". He also talks about comic books and movies. BABYLON 5 PRESENCE ON FACEBOOK
I know a lot of you are already on FaceBook. However, I don't know if you knew how many other Babylon 5 folks have taken the plunge and opened FaceBook accounts. In fact, Pat Tallman has reopened her Fan Club using FaceBook at the site. For a peek, go to http://www.facebook.com/group.php?gid=45593318387. Claudia Christian has been really active -- sharing pictures of her recent trips and letting us know about upcoming convention activities. J. Michael Straczynski (JMS) has a FaceBook page as well as a new "Fans of J. Michael Straczynski" page. So check it out!

NEW BOOKS OF INTEREST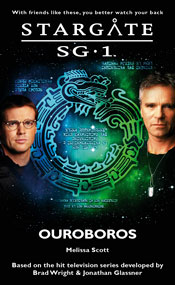 STARGATE SG-1: Ouroboros
From the pen of Melissa Scott (co-author of the STARGATE ATLANTIS Legacy series) comes STARGATE SG-1: Ouroboros, a fast paced adventure taking Colonel O'Neill and his team into new and dangerous territory. Oh, and if you're a fan of STARGATE Legacy, watch out for a few familiar faces along the way… These books are now available for the kindle as well as paperback. Go to www.stargatenovels.com to order or to to Amazon.com.

Have you read a good book lately? Do you want to share your thoughts? That is what I'm doing over at Book Reviews. I have gotten a number of marvelous books to review related to film making and I want to share my observations with you. If you have books you'd like to post, send them along.
NEW DVDS OF INTEREST
For information on new DVDs coming out that may be of interest to you, go to New DVD Releases for more information.
BABYLON 5 MUSIC VIDEOS AND TRIBUTES
" I found this message on the Babylon 5 moderated newsgroup this morning and just had to post it so that others might enjoy the marvelous music videos created by John Hudgens.

+++++++++++++++++++++++++
As some of you may know, I was hired by Joe Straczynski back in the day to create Babylon 5 music videos for him to use at science fiction conventions, and later to promote the show to networks. Eight were produced over the run of the series, not including the memorial videos I did later for Rick Biggs and Andreas Katsulas.

For the longest time, the only way to see these was if Joe or I showed them at a convention, but now, after numerous requests from fans over the years, Joe has given me permission me to post these online.

Here is a link to John's Babylon 5 videos:
https://www.youtube.com/user/Babylon5MusicVideos?feature=watch

Richard Biggs memorial: http://www.youtube.com/watch?v=HyD4L8yNtsA

Andreas Katsulas memorial: http://www.youtube.com/watch?v=h2UQ2l9NPIg

- This is the extended version that I did for Andreas' widow ater the original cut was released on the net. It's never been seen online until now.

For those of you who've never seen these, I hope you enjoy them - and for those that have (and emailed me many times over the years about releasing them), I hope they're as good as you remember. Working with Joe on these videos was one of the highlights of my career, and I'll be forever grateful to him for the doors these have opened for me. I'm proud to have them on my resume.

John Hudgens
www.zteamproductions.com
---





South Florida FSC 2013 Date: July 4-7, 2013
Place: Miami (International) Airport Convention Center Miami, Florida
Media guests include: Adam Baldwin, Alex Zahara (Legend of the Rangers), Erin Gray,
George Takei-Guest of Honor, Traci Lord and Dana Snyder
Contact: 954-399-1330 mike@supercon.com

SHORE LEAVE 35
Date: August 2-4, 2013
Place: Hunt Valley Inn, Timonium, MD (near Baltimore) Guests include: William Shatner (Saturday only), Amanda Tapping, Babylon 5's Julie Caitlin Brown
For more information, go to www.shore-leave.com

SPACE CITY CON
Date: August 2-4, 2013
Place: Houston, Texas (Houston Marriott Westchase)
Babylon 5 Guests: Jason Carter, Tracey Scoggins, Walter Koenig
Other guests include: Jewel Staite, Sylvester McCoy, Tim Russ, John deLancie, Robert Picardo, Torri Higginson
and many more
For more information, go to www.spacecitycon.com. CONTAMINATION DEFCON 4
Date: August 2-4, 2013
Place: St. Louis Horror & Pop Culture Convention
Guests: David Naughton, Andrew Prine, Steve Railsback, cast members from The Walking Dead, and many more
For more information, go to http://www.con-tamination.com/. Creation Entertainment's 12th Annual Official Las Vegas STAR TREK Convention
Date: August 8-11, 2013
Location: The Rio Suites Hotel in Las Vegas, Nevada
For more information, go to http://www.creationent.com/cal/st_lasvegas.html

Worldcon 2014: Loncon 3 - 72nd World Science Fiction Convention
Place: London, England
Date: Thur 14 Aug 2014 - Mon 18 Aug 2014
For more information, go to http://www.loncon3.org/contact

Worldcon 2013: Lone Star Con 3 the 71st World Science Fiction Convention,
Place: San Antonio, Texas, USA
Date: Thur 29 Aug 2013 - Mon 2 Sept 2013
For more information: Email: info@lonestarcon3.org
Postal: Alamo, Inc., PO Box 27277, Austin, TX 78755-7277
Writer Guests: Ellen Datlow, James Gunn, Willie Siros, Norman Spinrad, Paul Cornell, Leslie Fish
Nominations for Hugo Awards is now open, download the link.
All Attendees and Supporters can vote http://www.lonestarcon3.org/hugo-awards/index.shtml.

Dragoncon 2013
Dates: Aug. 30 - Sept. 2, 2013
Place: Atlanta, GA
Wknd Memberships: $100 to 5/15; $115, 5/15-7/15; $130, 8/16 to door, And daily memberships
Banquet $65
Guests include: Eddie McClintock, Richard Dean Anderson, John Barrowman, Edward James Olmos, William Shatner, George Takei, Nicholas Brendon, Avery Brooks, and many, many more. Alex Zahara has cancelled his appearance.
For more information, go to http://www.dragoncon.org/

SPECIAL ANNOUNCEMENTS!
Creation Entertainment has a large number of conventions planned for the next several months. They include stars from TWILIGHT, SUPERNATURAL, STARGATE, FARSCAPE, XENA, SERENITY, STAR TREK, etc. Check out their calendar to see if one will be in your neighborhood soon. Don't miss their Videos page as well. It is full of some priceless video from a number of conventions.

Be sure to visit the referenced sites to see if there have been changes in dates/guests attending. Visit our Convention Calendar for a full listing of upcoming conventions.
BACK ISSUES OF THE ZOCALO TODAY
The front page of the The Zocalo Today changes daily, so be sure to check the back issues to make sure that you haven't missed anything IMPORTANT! I hope you will become a regular visitor to The Zocalo Today!
---
Take care and I look forward to hearing from you.
Sandra Bruckner (sgbruckner@aol.com)
Editor/Publisher
ISN News: The Zocalo Today
http://www.isnnews.net
Copyright - SBruckner, 1999-2013