[an error occurred while processing this directive]

The Zocalo Today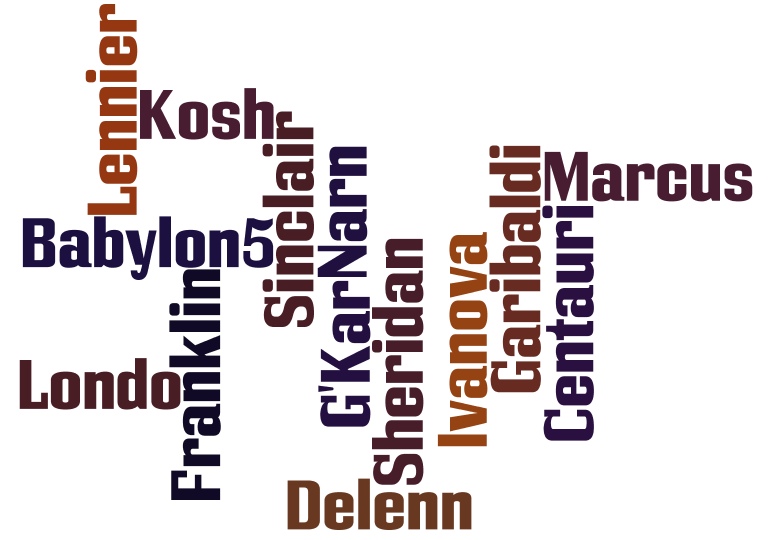 Welcome and thank you for dropping by. Babylon 5 brought many of us together -- and it remains with us, despite the fact that is no longer in production. The good thing is that the internet gives a LOT of ways to stay in touch. Don't be shy. Join in the discussion today or drop by Facebook or Twitter.

If you have questions or items for the news, drop me a line at sgbruckner@aol.com.



SUNDAY, JULY 21, 2013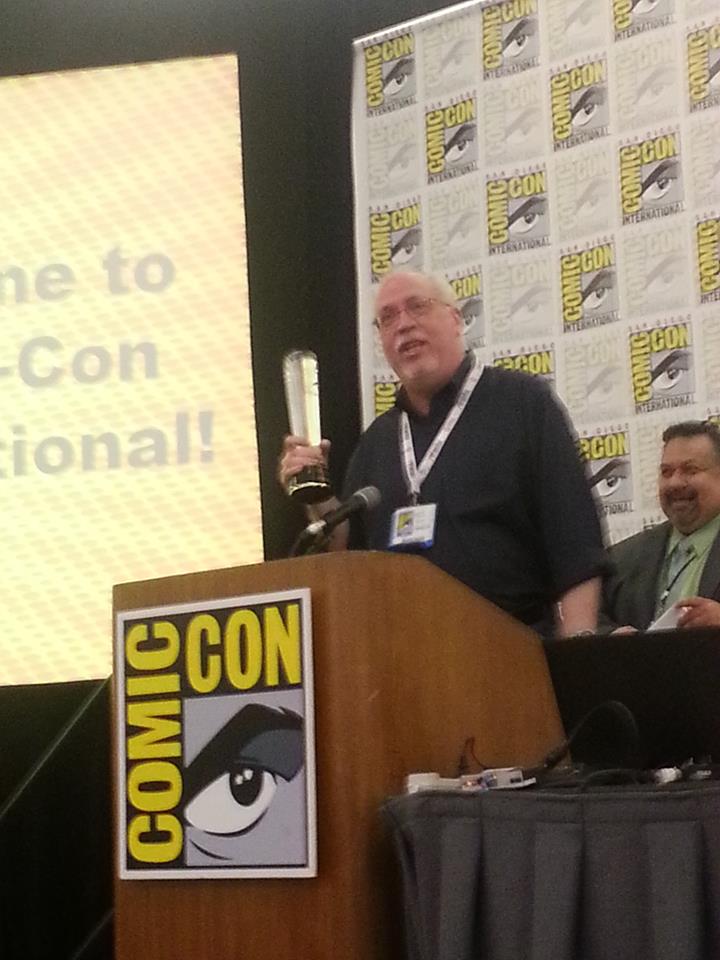 J. MICHAELSTRACZYNSKI HONORED
Congratulations to J. Michael Stracznyski, the 2013 Comic-Con International Icon Award recipient!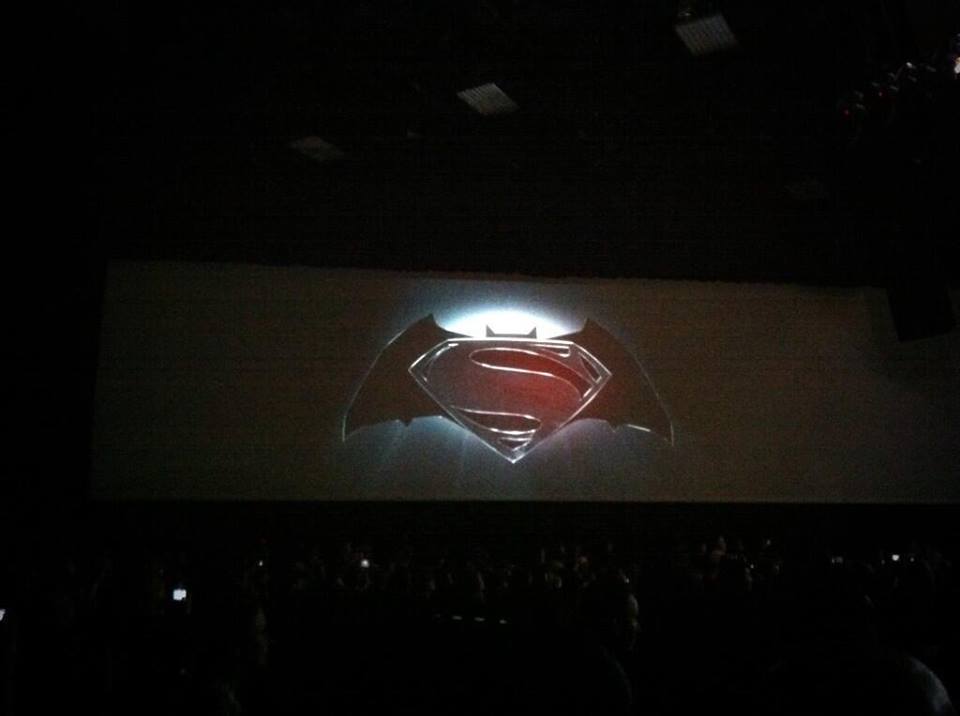 SUPERMAN/BATMAN MOVIE COMING
"Man of Steel" director Zack Snyder took the stage at Comic-Con to reveal that he has begun work on a sequel. Batman and Superman will unite for a sequel to Warner Bros.' "Man of Steel," paving the way for a "Justice League" movie, the studio announced at Comic-Con on Saturday. The news was leaked just before the panel began, but that didn't temper fans' rapturous reaction to what would be the first time the superheroes were united on screen.
Director Zack Snyder ("Man of Steel," "300") made a surprise appearance in Hall H to announce he was working on the sequel, and promised to reveal something to "inform" audience expectations. He brought out actor Harry Lennix, who read a passage from Frank Miller's "The Dark Knight" - and then the screen flashed the Superman "S" symbol, shadowed by the distinctive wings of Batman. The crowd, as they say, went wild.
Snyder and David Goyer, who wrote the first one, will write the second one, maintaining the core creative team from the summer's monster hit.
Though Snyder disclosed nothing more, Warner Bros. then sent out a press release announcing that Henry Cavill would return as Superman. Amy Adams, Laurence Fishburne and Diane Lane will repreise their roles as well. It remains unclear who will play Batman.
Christian Bale, who played Batman in Christopher Nolan's "Dark Knight" trilogy, has said he is done with the part.
The new film also brings back Charles Roven and Deborah Snyder as producers. Nolan and partner Emma Thomas are serving as executive producers, along with Benjamin Melniker and Michael E. Uslan.
In a prepared statement, Warner production chief Greg Silverman said: "Zack Snyder is an incredibly talented filmmaker, but beyond that, he's a fan first and he utterly gets this genre. We could not think of anyone better suited to the task of bringing these iconic superheroes to the screen in his own way."
"Superman and Batman together on the big screen is a dream come true for DC fans everywhere. All of us at DC Entertainment could not be more excited for Zack's continuing vision for the DC Universe," said Diane Nelson, president of DC Entertainment.
The success of Nolan's Batman movies made the rebirth of Superman the next logical step for Warner Bros. in its efforts to leverage the DC Comics library, which also includes iconic characters such as the Flash, the Green Lantern, Wonder Woman and Aquaman.
Bryan Singer's "Superman Returns" did not reinvigorate the franchise, delaying those plans for a few years. Snyder's "Man of Steel" gave Warner Bros. exactly what it wanted, grossing more than $600 million at the worldwide box office and furthering speculation that Warner Bros. would plot a multi-character "Justice League" movie.
TheWrap reported on the eve of the film's debut that Warner Bros. was planning to make a sequel to "Man of Steel" first, and then move on to "Justice League" and the other DC characters. Though early reports on Saturday indicated Warner Bros. would formally announce those plans for movies about The Flash and Justice League, the studio did not say anything beyond "Man of Steel."
Warner Bros. announced its plans for Superman and Batman on Saturday at a panel where the studio showcased seven different upcoming movies, including "Godzilla," "Lego: The Movie" and Alfonso Cuaron's "Gravity."
One question that went unanswered on Saturday is whether Legendary Entertainment will be involved in any way. Legendary co-financed and co-produced the "Dark Knight" movies and "Man of Steel" under a deal it had with Warner Bros. Yet Legendary has now moved on to NBCUniversal, and the schism was evident on Saturday as Warner Bros. slotted all the Legendary movies at the beginning of the panel, and reserved the second half for its own projects.
Regardless of who makes it, it is inevitable that Cavill, Snyder and the gang will return to Comic-Con in future years, promoting what Warner Bros. hopes will become a lengthy streak of hit movies.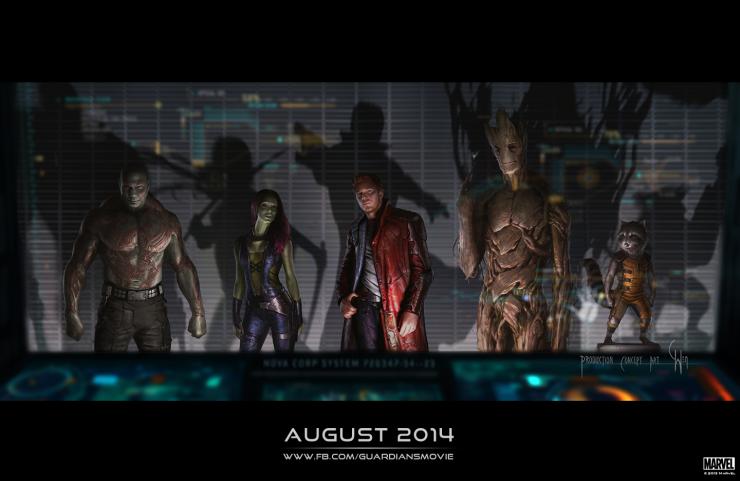 GUARDIANS OF THE GALAXY
They weren't scheduled to make an appearance, but the cast and crew of Marvel's next new title, "Guardians of the Galaxy," surprised the crowd at San Diego Comic-Con.
After they left the fans in Hall H cheering for more, the cast sat down to talk to the press about the movie and their characters, along with director James Gunn. Gunn kicked it off with his interpretation of what the story is. "'Guardians' is about a family coming together," he says, "It really is about a group of individuals who have acted selfishly, and only as individuals throughout their life, learning something about themselves that makes them heroes.
He also says the script for the movie isn't too dark in his opinion, though that's sort of what Gunn does best. "I don't think of it as darkly comedic. I do think of it as me. There's a lot of James Gunn in this movie." While some might not agree with that approach, it seems producer Kevin Feige and "Avengers" director Joss Whedon go. Upon turning the first draft of the script in, Gunn says, "Their biggest note was 'More James Gunn', which freaked the hell out of me.
As for his goals for the movie, Gunn jokes that he wants to avoid spoilers but, "I have some really big injuries planned for Michael Rooker (Yondu) and hopefully [Dave] Bautista (Drax the Destroyer) is going to help me with those."
When asked about his process of preparing for his role as Star Lord, Chris Pratt says it took six months to get in the shape he needed to be in. It paid off though, and Pratt has the selfie to prove it.
Zoe Saldana, who plays Gamora, says she's excited to be entering the Marvel universe, especially in a movie like "Guardians." "I do believe that Guardians have bigger powers in a way," she says, "and if we were up against Captain America or Thor, I would totally kick his a**."
Bautista is still relatively new to the acting game, even though he's a former WWE World Champion. He admits that he's still learning and honing his craft and that "Guardians" is hands down the biggest thing he's ever been involved with.
Benicio del Toro was announced during the Hall H panel as joining the movie in the role of The Collector. When asked what weird or wonderful thing his character brought to the table, del Toro offered a simple, "Well, he collects things."
Before ending the panel, Gunn shared a personal story Benicio told him during the casting process. The pair were talking about the character and collecting in general when del Toro looked at him and said, "You know, I was the first kid in my neighborhood to have an alligator." According to Gunn, it's in his top five favorite sentences of all time. "It's true," del Toro confirms.
"Guardians of the Galaxy" will be in theaters August 1, 2014.
REVOLUTION SEASON 2
Saturday, the cast of NBC's Revolution made an appearance at San Diego Comic-Con. They teased the upcoming second season and debuted a new trailer. We have to admit, it's much more brutal than we expected. There are tons of explosions and a fair share of stabbings. Once again, series regulars are put on the chopping block. Showrunner Eric Kripke has no problem killing off fan favorites.
At the panel, Kripke discussed the amount of destruction ahead. "We're trying to be the first network show in history that loses two American cities in the first 15 seconds [of a season]," he said. "We're back to a very intense set of basics, [a world] that's even more dangerous than in season one." Is that even possible?
It appears there's been a time jump and it hasn't been kind to everyone. Monroe's spending his nights in fight clubs, Rachel's dealing with flashbacks of Randall's suicide and Miles is off somewhere being pessimistic.
ARROW
The CW and DC Comics have just unveiled a new sizzle reel for the upcoming second season of the hit series Arrow. Though be warned, if you haven't been watching it goes into heavy spoilers for the first season. Keep your eyes open throughout the video for some special surprises and teases and sound off below telling us what you think!
Star Stephen Amell has spoken about the upcoming season and teased that it will feature "a growing world" for Oliver Queen. New series regular Colton Haynes has also teased that "a few of the most important DC characters" will be joining the series.
Arrow also stars Katie Cassidy as Laurel Lance, Willa Holland as Thea Queen, Manu Bennett as Slade Wilson, Colton Haynes as Roy Harper, Emily Bett Rickards as Felicity Smoak, with Susanna Thompson as Moira Queen and Paul Blackthorne as Detective Quentin Lance. The show airs on Wednesdays at 8 p.m. ET/PT.
The first season of the series will be available on Blu-ray and DVD on September 7th with season 2 premiering on October 9th.
SATURDAY, JULY 20, 2013
HANNIBAL
With a show as grim and gory as NBC's "Hannibal," it's hard to remember that the folks involved laugh from time to time. But as the Season 1 gag reel, which creator Bryan Fuller and Co. brought to San Diego Comic-Con on Thursday (July 18), reveals, the cast finds levity whenever they can.
Whether it's Laurence Fishburne cracking up after screaming, in character, about knowing when he's awake or Hugh Dancy calling a vegetarian a "w****" during a dinner scene, it's clear this cast has found a way to enjoy themselves and get back the darkness that envelopes the series.
As revealed during the panel, all 13 episodes of "Hannibal" Season 1 will be available for purchase on Sept. 24.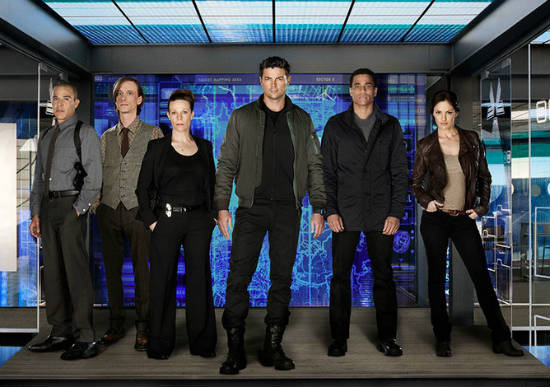 ALMOST HUMAN
It's no secret the cast of FOX's new sci-fi procedural "Almost Human" is really, really, ridiculously good looking. But when one of the hot main characters is an android policeman (Michael Ealy) and not actually human, the romantic pairing possibilities suddenly get a lot creepier (if still very attractive).
Karl Urban, who plays the human half of the future crime-fighting duo at the center of the show, which takes place in Los Angeles 35 years in the future, leaves the possibility of an android/human relationship open. "With J.J. Abrams [who produces the show], anything's possible," he jokes at the show's Friday afternoon panel at San Diego Comic Con. The relationship between Urban's John Kennex and Ealy's Dorian is strictly bromantic at this point, however.
The show follows LAPD Los Angeles detective Kennex as he's paired up with Dorian, who's not the standard issue android most of his colleagues team up with. This android has human-like emotions, which will make Kennex's experience very different. So it's not your typical crime procedural, says executive producer Naren Shankar.
"We have cases of the week which deal with future crimes and technology, but the human elements are really [the cast]," says Shankar, "their relationships and human beings dealing with the world of the future."
Though this near-future world is by no means the ruined America portrayed in many a current young adult novel, creator J.H. Wyman warns that there will also be some downsides. "We've sort of all been promised this incredible utopia of computers and technology, but there's another side to that," he says. "There's a dark side to that, there's a what if side to that. There's cautious side."
"Almost Human" premieres Monday, Nov. 3 on FOX.
WALKING DEAD SEASON 4 PREVIEW
Uneasy alliances, treachery, next to no hope, and a horde of zombies at your door? Yup -- The Walking Dead's back, all right.
Things were, as ever, in a murky place at the end of Walking Dead's third season. And that's just on-screen. While Walking Dead may be a critical darling, the show has gone through a number of showrunners since the comic made its way to the small screen.
But the new showrunner, Scott M. Gimple, is obviously ready and raring to go. He was at San Diego Comic-Con's famed Hall H along with comic creator Robert Kirkman with a brand-new trailer to show off.
Kirkman says of season four that "things are going to be way crazier, it's an escalation." Well, let's see, shall we?
An escalation, indeed. Who's feeding those zombies and leading them inside? What's up with the voice on the radio? And what surprise deaths will the fourth season have in store?
Gimple suggests things might be calm at first, but not for long, saying, "They might get a little comfortable, but then things might get a little dangerous."
And as for Rick and Carl, we'll be seeing some changed there as well. According to actor Andrew Lincoln, "The relationship with Carl is integral to the beginning of the season from Rick. [Carl] turning into a sociopath at the end of the season woke him up to his parenting duties. You find Rick in a completely different place this season."
We've got less than three months left to wait (and speculate). The Walking Dead season four premieres Sunday, Oct. 13.
GAME OF THRONES MEMORIAL FILM
Directly from San Diego, HBO has debuted online the "In Memoriam" video shown at their "Game of Thrones" Hall H panel. If you're not caught up on the show, do not watch this. Spoilers for the first three seasons ahead! But at the end of the video, you can see the tagline for season 4 of "Game of Thrones," which is set to debut in spring 2014.
Based on the bestselling fantasy book series by George R.R. Martin, "Game of Thrones" is an epic story of treachery and nobility set on the continent of Westeros, where summers and winters can last years, and only the lust for power is eternal. The series' fourth season is on track to air in the spring of 2014.
SCIENCE FICTION NEWS STORIES:
Did you miss the news from yesterday -- or earlier in the week. Catch up by going to the News Archive. It will bring you up to date for all that has been going on in the world of science fiction.
ON THE TUBE TONIGHT
7:30pm on BBC America
Tomorrow Never Dies (1997)
James Bond and female agent Wai Lin pursue a megalomaniacal tycoon trying to start World War III. Pierce Brosnan, Jonathan Pryce, Michelle Yeoh, Teri Hatcher, Joe Don Baker

8:00pm on Hallmark
Cedar Cove Episode: Pilot S01, E01 (First Aired: Jul. 20, 2013)
Judge Olivia Lockhart is given the opportunity of a lifetime for a federal judgeship but she must face the challenging decision which involves possibly losing her new romance and leaving the town and the people she loves most.

8:00pm on Syfy
Buffy the Vampire Slayer Episode: Graduation Day S03, E22 (First Aired: Jul. 13, 1999)
Buffy and her friends risk their lives to prevent the mayor's impending transformation into a pure demon.

9:00 and 10:00pm on AMC
The Killing Episode: Reckoning NEW S03, E09
The hunt for a pornographer leads to a shocking revelation; Holder looks for a scapegoat; Twitch and Lyric find their dream home.

9:00pm on Syfy
Buffy the Vampire Slayer Episode: Hush S04, E10 (First Aired: Dec. 14, 1999)
Sunnydale residents lose the power of speech as mysterious creatures search the town for human hearts to steal.

10:00pm on ABC
Castle Episode: Death Gone Crazy S05, E12 (First Aired: Jan. 21, 2013)
When the founder of an adult video franchise is murdered, Beckett and Castle are faced with a lengthy list of suspects; Castle is upset when Alexis starts a revealing video blog.

10:00pm on CBS
The Mentalist Episode: Red in Tooth and Claw S05, E14 (First Aired: Feb. 17, 2013)
As the team investigates a case involving a graduate student at a natural history museum, they are thrust into the cutthroat world of academics.

10:00pm on BBC America
Copper Episode: A Morning Song NEW S02, E05
A local safe haven is seized; coppers and civilians race to restore peace; Maguire takes an opportunity to settle a score.

10:00pm on Syfy
Buffy the Vampire Slayer Episode: Buffy vs. Dracula S05, E01 (First Aired: Sep. 26, 2000)
Buffy and friends encounter Dracula, the greatest vampire of all time; Giles contemplates returning to England.

10:00pm on TNT
Falling Skies Episode: Strange Brew NEW S03, E08
Tom grows suspicious of his surroundings; Tom makes several discoveries on his way back to Charleston; Weaver and Pope clash over how to handle the suspected mole.
READER'S CORNER
If anyone would like to submit reports from a convention they recently attended or items they would like to share with fellow Zocalo readers, please send them along to me at sgbruckner@aol.com. I will happily open up a new page for any submissions you care to send along.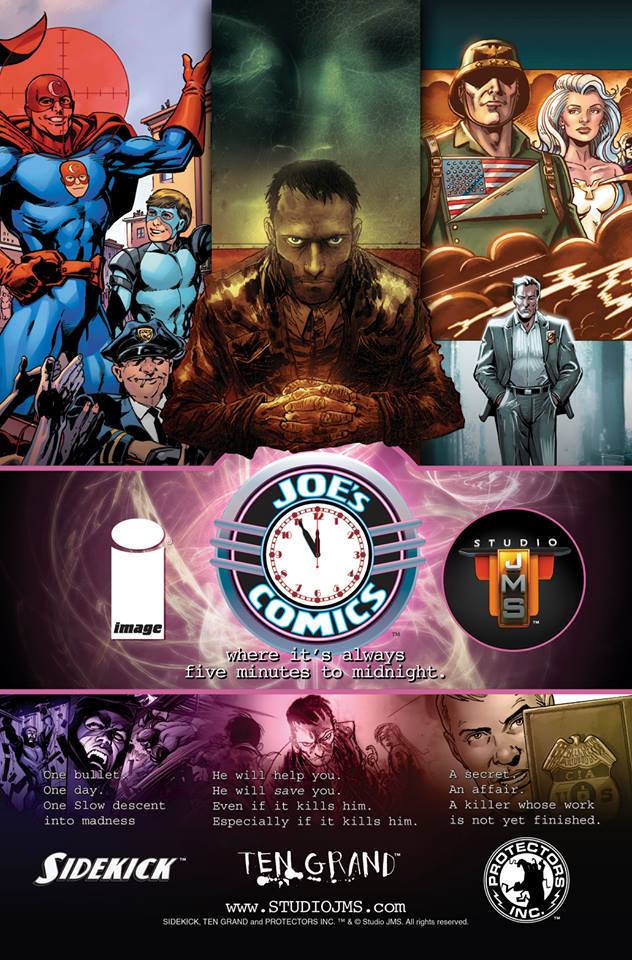 JMS AT COMIC CON
Sunday:
2:00 Signing at the Image Comics booth with Whilce Portacio (that time might change to 1, so check back)
2:45 Joe's Comics panel, with production editor Phil Smith and Pat Tallman

Might be one or two other surprise appearances here and there, and some special announcements, so stay tuned.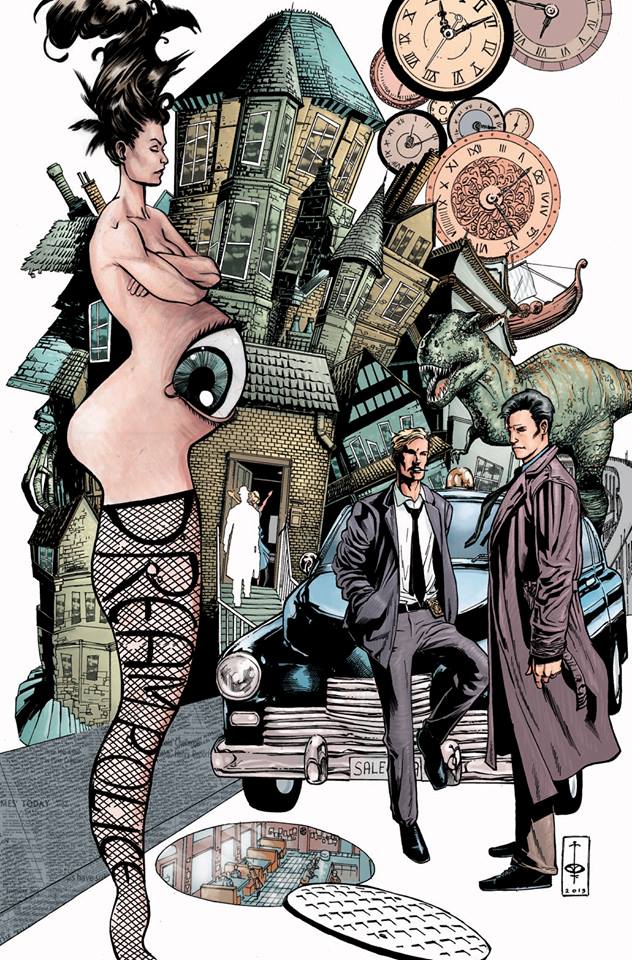 DREAM POLICE
The second big Joe's Comics announcement to come out of Image Expo was the return of DREAM POLICE, which effectively puts all of my creator-owned material under one roof.
The 12-part initial arc tells the background of the Dream Police, who protect the Dreamscape and those who visit it from dangers from a wide and rather surreal range of characters. Though it has its serious moments, it's primarily a book designed to get laughs and have fun, most of it written with Dragnet-level deadpan dialogue.
The artist for the book is Sid Kotian, who came to our attention when we picked him to pencil The Adventures of Apocalypse Al, currently in production for MTV.com's new line of graphic novels. His concept art debuted at Image Expo appears below.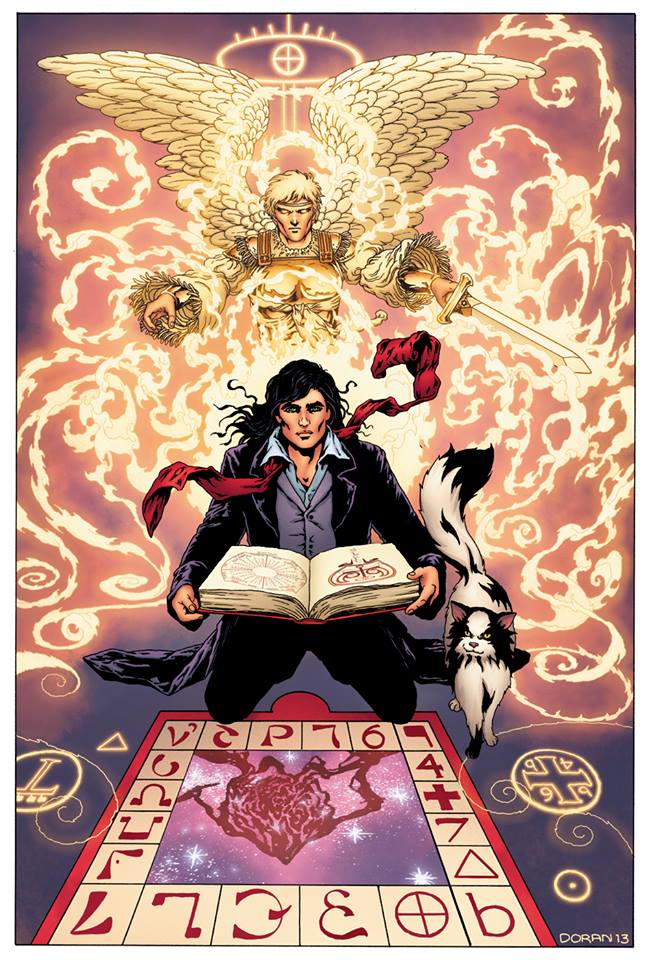 BOOK OF LOST SOULS
Back from San Francisco, a bit under the weather but glad to be home. Y'all probably saw the announcements from Image Expo, of which the one most demanded by fans over the years is the return of THE BOOK OF LOST SOULS, returning next year with original artist Colleen Doran. For those who didn't catch the book when it came out (which is probably most of you as it was pretty deep under the radar per Icon's marketing strategy), the book is about a man named Jonathan who decided to take his own life after being disappointed by love, and was brought back with a mission to help those who are equally without hope. He is aided in this by his talking cat, Mystery, who like most cats may be more than he appears.
We will be rebooting the series from the ground up, in the process learning more about Jonathan's past (and how Mystery came to be, well, Mystery...without of course betraying any of the mystery).
Here's the new promo artwork by Colleen debuted at Image Expo to announce the book's return.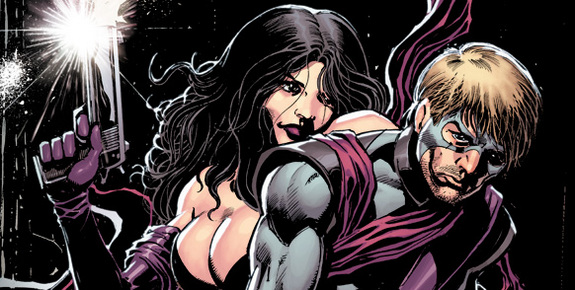 SIDEKICK
Here's a sneak peek at the San Diego Comic Con variant cover for Sidekick 1, courtesy of the amazing talents of Whilce Portacio! The second title from Joe's Comics, following the terrific reception to Ten Grand, Sidekick tells the story of what happens to a sidekick after his mentor is apparently assassinated.
We will be having a limited-edition black-and-white version at Image Expo in San Francisco on July 2nd, this SDCC variant the weekend of 20th, and the book proper (or improper) comes out August 7th. Pre-sales on the book continue for another couple of weeks, so there's still time to get in your order.
If you haven't yet seen the trailer for the book, you can find it at: http://www.youtube.com/watch?v=L-A0Bma0gII.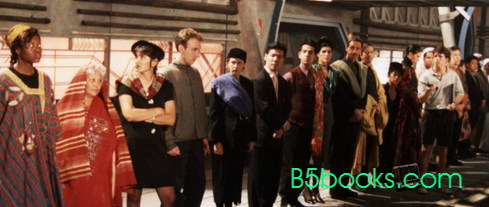 BABYLON 5 BOOKS - NEWSLETTER FEATURES
STUMP THE EDITOR
We got the idea to add this feature to the newsletter during the Stump the Editor Panel at the Babylon 5 20th Anniversary Reunion at Phoenix Comicon. Let us know how you like it by replying to this this newsletter. -- Captain Jaclyn What religion was Mr. Gold in "The Parliament of Dreams?"
What was the honorific bestowed upon accomplished citizens of the Minbari Federation?
Why was the jalwah tree significant to G'Kar? The answers will be revealed in the next newsletter.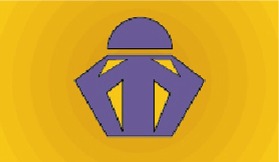 NEW FEATURE: Name that Image
What does this image represent?
Beware that Google image search will not help you. The answer will be revealed in our next newsletter. To subscribe to the newsletter, go to http://b5books.com and enter your e-mail address.
BABYLON 5 20TH ANNIVERSARY BOOK
FIRST EVER BABYLON 5 BOOK PRINTED EXCLUSIVELY IN COLOR
Not just full color, but the actual colors of the sets, costumes and props. Extensive care was taken to ensure that the final pages precisely matched the color qualities of the original photographs, which were taken on set during production. B5-20 covers everything from the pilot through The Lost Tales.
DETAILS ABOUT THE PHYSICAL BOOK
256 pages. 753 images. 150gsm heavy-weight paper designed for high-resolution, full-color printing. Matte finish. Extra durable WIBALIN® cloth cover. WIBALIN® slipcase. Title and B5-20 logo embossed with foil stamping. Ribbon bookmark.
A NOTE ABOUT THE BINDING
We used the highest quality Smyth-sewn binding. This means the book lays flat for every page. More importantly, the pages will not pull away from the binding (nor will the spine crack) because the pages are NOT glued.
HOW THIS OVERSIZED BOOK IS BEING SHIPPED
We had a custom shipping box made to the exact specs of the book. It is a padded, double-walled bumper box that will withstand the weight of this book during shipping. The book itself is shrink-wrapped for authenticity and additional protection. Your B5-20 is guaranteed to arrive in perfect condition and if not, we will pay all expenses to get you one in pristine condition (including return shipping, and this does include international orders.) There is zero risk to you.
ABOUT THE PRICE
The retail price—the final price the book will be sold for—is $134.
HOWEVER, during the debut discount period (the first 7 days the book is released) the price will be $88. This $46 savings will only be available once, when we release the book on June 24. Exception: Books being picked up at the Phoenix Comicon will also be $88.
We are still negotiating the shipping prices and will have that information closer to the June 24 on-sale date.
RELEASE SCHEDULE
The official release date is Monday, June 24. Pre-orders will be available closer to the ship date.
For more information on this magnificant volume, go to b5books.com.
THE ZOCALO ON FACEBOOK
I've taken the leap and started a group over on Facebook. There is a discussion page where we can talk about Babylon 5 and all things science fiction. Be sure to check it out. http://www.facebook.com/?sk=2361831622#!/group.php?gid=132854680067759




Here is a quote from J. Michael Straczynski about emotions.
I had this theory that the more important and intimate the emotion, the fewer words are required to express it.
First it's in dating: "Will you go out with me?" Six words.
"Honey, I care for you." Five words.
"You matter to me." Four words.
"I love you." Three words.
"Marry me." Two words.
But what's left? What's the one most important and intimate word you can ever say to somebody? It's "goodbye."
While Michael O'Hare (Sinclair), Andreas Katsulas (G'Kar), Rick Biggs (Dr. Franklin), Tim Choate (Zathras) and Jeff Conoway (Zach Allen) are no longer with us, we will not forget their wonderful personalities and talent -- as well as their significant contributions to the BABYLON 5 universe. Be sure to visit In Memory Of for more information about memorial efforts.
Until we met again, in a place where no shadows fall.
BABYLON 5 BIRTHDAYS
Jerry Doyle - July 16
J. Michael Straczynski - July 17
David Warner - July 29

Have I missed anyone? If you know the birthday of someone connected with Babylon 5, pass the information along. We want to include everyone in our Happy Birthday Wishes.


KEEPING UP WITH CAST AND CREW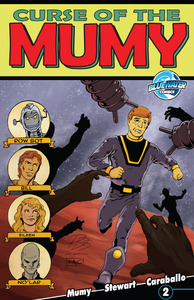 BILL MUMY - COMIC AUTHOR
THE CURSE OF THE MUMY - Issue #2
As the first arc of The Curse of the Mumy continues... The Wolf Cub has captured Spaceboy and is holding him prisoner on the nazi moon base with plans to sacrifice the nobel boy astronaut in a blood ritual to summon a demon... We meet the mysterious alien mystic warrior, No'Lar... and learn that Mumy's family infiltrated the Illuminati over a century ago in hopes to thwart the present danger that threatens to wipe out millions. All this, plus Eileen makes tea!
You can order an issue at http://www.comicfleamarket.com/servlet/the-432/Curse-of-the-Mumy/Detail. BABYLON 5 PRESENCE ON FACEBOOK
I know a lot of you are already on FaceBook. However, I don't know if you knew how many other Babylon 5 folks have taken the plunge and opened FaceBook accounts. In fact, Pat Tallman has reopened her Fan Club using FaceBook at the site. For a peek, go to http://www.facebook.com/group.php?gid=45593318387. Claudia Christian has been really active -- sharing pictures of her recent trips and letting us know about upcoming convention activities. J. Michael Straczynski (JMS) has a FaceBook page as well as a new "Fans of J. Michael Straczynski" page. So check it out!

NEW BOOKS OF INTEREST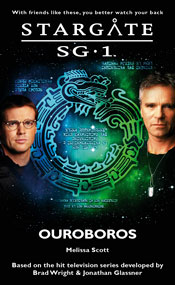 STARGATE SG-1: Ouroboros
From the pen of Melissa Scott (co-author of the STARGATE ATLANTIS Legacy series) comes STARGATE SG-1: Ouroboros, a fast paced adventure taking Colonel O'Neill and his team into new and dangerous territory. Oh, and if you're a fan of STARGATE Legacy, watch out for a few familiar faces along the way… These books are now available for the kindle as well as paperback. Go to www.stargatenovels.com to order or to to Amazon.com.

Have you read a good book lately? Do you want to share your thoughts? That is what I'm doing over at Book Reviews. I have gotten a number of marvelous books to review related to film making and I want to share my observations with you. If you have books you'd like to post, send them along.
NEW DVDS OF INTEREST
For information on new DVDs coming out that may be of interest to you, go to New DVD Releases for more information.
BABYLON 5 MUSIC VIDEOS AND TRIBUTES
" I found this message on the Babylon 5 moderated newsgroup this morning and just had to post it so that others might enjoy the marvelous music videos created by John Hudgens.

+++++++++++++++++++++++++
As some of you may know, I was hired by Joe Straczynski back in the day to create Babylon 5 music videos for him to use at science fiction conventions, and later to promote the show to networks. Eight were produced over the run of the series, not including the memorial videos I did later for Rick Biggs and Andreas Katsulas.

For the longest time, the only way to see these was if Joe or I showed them at a convention, but now, after numerous requests from fans over the years, Joe has given me permission me to post these online.

Here is a link to John's Babylon 5 videos:
https://www.youtube.com/user/Babylon5MusicVideos?feature=watch

Richard Biggs memorial: http://www.youtube.com/watch?v=HyD4L8yNtsA

Andreas Katsulas memorial: http://www.youtube.com/watch?v=h2UQ2l9NPIg

- This is the extended version that I did for Andreas' widow ater the original cut was released on the net. It's never been seen online until now.

For those of you who've never seen these, I hope you enjoy them - and for those that have (and emailed me many times over the years about releasing them), I hope they're as good as you remember. Working with Joe on these videos was one of the highlights of my career, and I'll be forever grateful to him for the doors these have opened for me. I'm proud to have them on my resume.

John Hudgens
www.zteamproductions.com
---





SHORE LEAVE 35
Date: August 2-4, 2013
Place: Hunt Valley Inn, Timonium, MD (near Baltimore) Guests include: William Shatner (Saturday only), Amanda Tapping, Babylon 5's Julie Caitlin Brown, Teryl Rothery has had to cancel her appearance
For more information, go to www.shore-leave.com SPACE CITY CON
Date: August 2-4, 2013
Place: Houston, Texas (Houston Marriott Westchase)
Babylon 5 Guests: Jason Carter, Tracey Scoggins, Walter Koenig
Other guests include: Jewel Staite, Sylvester McCoy, Tim Russ, John deLancie, Robert Picardo, Torri Higginson
and many more
For more information, go to www.spacecitycon.com. CONTAMINATION DEFCON 4
Date: August 2-4, 2013
Place: St. Louis Horror & Pop Culture Convention
Guests: David Naughton, Andrew Prine, Steve Railsback, cast members from The Walking Dead, and many more
For more information, go to http://www.con-tamination.com/. Creation Entertainment's 12th Annual Official Las Vegas STAR TREK Convention
Date: August 8-11, 2013
Location: The Rio Suites Hotel in Las Vegas, Nevada
For more information, go to http://www.creationent.com/cal/st_lasvegas.html

Worldcon 2014: Loncon 3 - 72nd World Science Fiction Convention
Place: London, England
Date: Thur 14 Aug 2014 - Mon 18 Aug 2014
For more information, go to http://www.loncon3.org/contact

Worldcon 2013: Lone Star Con 3 the 71st World Science Fiction Convention,
Place: San Antonio, Texas, USA
Date: Thur 29 Aug 2013 - Mon 2 Sept 2013
For more information: Email: info@lonestarcon3.org
Postal: Alamo, Inc., PO Box 27277, Austin, TX 78755-7277
Writer Guests: Ellen Datlow, James Gunn, Willie Siros, Norman Spinrad, Paul Cornell, Leslie Fish
Nominations for Hugo Awards is now open, download the link.
All Attendees and Supporters can vote http://www.lonestarcon3.org/hugo-awards/index.shtml.

Dragoncon 2013
Dates: Aug. 30 - Sept. 2, 2013
Place: Atlanta, GA
Wknd Memberships: $100 to 5/15; $115, 5/15-7/15; $130, 8/16 to door, And daily memberships
Banquet $65
Guests include: Eddie McClintock, Richard Dean Anderson, John Barrowman, Edward James Olmos, William Shatner, George Takei, Nicholas Brendon, Avery Brooks, and many, many more. Alex Zahara is scheduled from LEGEND OF THE RANGERS
For more information, go to http://www.dragoncon.org/

SPECIAL ANNOUNCEMENTS!
Creation Entertainment has a large number of conventions planned for the next several months. They include stars from TWILIGHT, SUPERNATURAL, STARGATE, FARSCAPE, XENA, SERENITY, STAR TREK, etc. Check out their calendar to see if one will be in your neighborhood soon. Don't miss their Videos page as well. It is full of some priceless video from a number of conventions.

Be sure to visit the referenced sites to see if there have been changes in dates/guests attending. Visit our Convention Calendar for a full listing of upcoming conventions.
BACK ISSUES OF THE ZOCALO TODAY
The front page of the The Zocalo Today changes daily, so be sure to check the back issues to make sure that you haven't missed anything IMPORTANT! I hope you will become a regular visitor to The Zocalo Today!
---
Take care and I look forward to hearing from you.
Sandra Bruckner (sgbruckner@aol.com)
Editor/Publisher
ISN News: The Zocalo Today
http://www.isnnews.net
Copyright - SBruckner, 1999-2013