[an error occurred while processing this directive]

The Zocalo Today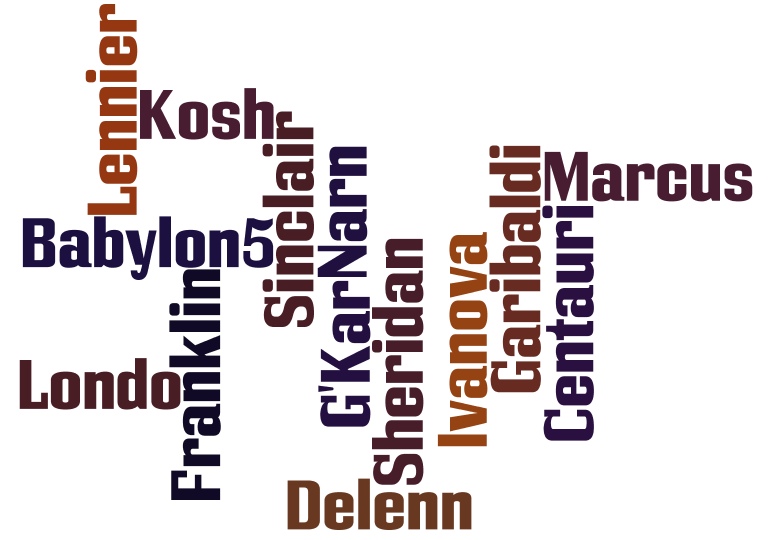 Welcome and thank you for dropping by. Babylon 5 brought many of us together -- and it remains with us, despite the fact that is no longer in production. The good thing is that the internet gives a LOT of ways to stay in touch. Don't be shy. Join in the discussion today or drop by Facebook or Twitter.

If you have questions or items for the news, drop me a line at sgbruckner@aol.com.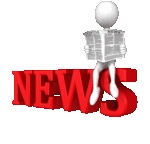 SUNDAY, AUGUST 4, 2013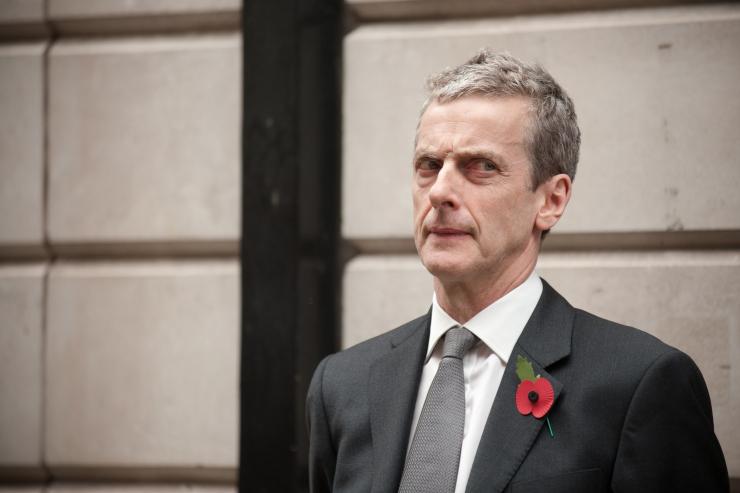 NEXT DOCTOR WHO
The search for the next star of Doctor Who has made for heavy betting in the U.K., but now bookmakers are starting to lock it down — because they're that sure they know who the next Doctor will be.
The leading candidate? Peter Capaldi, best known for his roles in The Thick of It, The Hour, World War Z and In The Loop, is heavily leading the bets to take over in the TARDIS. He's up so big, many bookies are shutting down bets because they're so sure it's him.
But that doesn't mean it's a lock. Other outlets are reporting that everyone from William Hills, Daniel Rigby and Idris Elba are all still in the hunt to make their debut Sunday during the big reveal.
If it turns out to be Capaldi, it would be a marked departure from the recent casting since Who was brought back to life in 2005. At 55, he would by far be the oldest Doctor of the modern era. Considering that fans are used to the Doctor being a bit younger these days, it'll be interesting to see if they go for a throwback and bring in an older actor for the iconic role.

NEXT BATMAN
Less than 24 hours ago, SuperHeroHype launched their own front page poll to find out which actors SHH readers want to see take over the role of Batman for Zack Snyder's recently announced Superman/Batman movie. Today, Borys Kit at The Hollywood Reporter has a list of six names that have been mentioned behind the scenes.
As is always the case with these theoretical casting stories, the usual caveats apply in that the script hasn't even been fully written yet and getting an actor to commit to a role like Batman would likely require something for them to read and respond to.
One of the top choices on Kit's list seems to be 46-year-old Josh Brolin, who famously starred in Warner Bros.' Western bomb Jonah Hex but who also has cred with the comic book and genre crowd from working with the likes of Robert Rodriguez, including his starring role in next year's Sin City: A Dame to Kill For.
It's probably not too surprising that the story also mentions Brolin's Gangster Squad co-star Ryan Gosling as a candidate, because Gosling tends to get mentioned whenever they're casting any superhero movie, although being only 32 does veer further away from the idea of having a more experienced Batman under the cowl.
Here are the other four names mentioned in the piece, two of which have been discussed on the SHH Forums and at least one seeming to come from out of left field:
Joe Manganiello - The 36-year-old star of "True Blood" was being considered for the role of Superman at one point, according to Kit.
Richard Armitage - The 41-year-old British actor who got attention playing the dwarf Thorin in Peter Jackson's The Hobbit.
Matthew Goode - The 35-year-old who previously played Ozymandias in Snyder's Watchmen.
Max Martini - The 43-year-old TV star who has appeared on "Revenge" and "Castle" and who recently appeared in Guillermo del Toro's Pacific Rim.
Regardless of who is cast in the important role, Warner Bros. hopes to start filming in early 2014 in order to make a summer 2015 release date.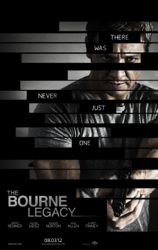 BOURNE NEWS
Just a little over one week short of a year to the date of the release of The Bourne Legacy, Universal Pictures is making plans to move forward with their lucrative "Bourne" franchise, having hired writer Anthony Peckham (Sherlock Holmes, Invictus) to script the fifth installment which will once again feature Jeremy Renner's character Aaron Cross.
Directed by regular series writer Tony Gilroy, The Bourne Legacy opened domestically on August 10, 2012 to the tune of $38.1 million its opening weekend and while it went on to make just $113.2 million domestically, its $276.6 million worldwide gross proved that the franchise was strong and the world was ready for a new Bourne lead, following the departure of Matt Damon.
Jeremy Renner's Cross was a new agent introduced in "Legacy" who had been enhanced medically to be smarter and stronger than other agents as part of Operation Outcome until he was targeted for termination. According to Deadline, Universal hopes there's enough interest to keep following that divergent storyline masterminded by Gilroy, which moved away from the original concept in the late Robert Ludlum's novels, in hopes to keep the franchise going with the ever-decreasing chances of Damon returning.
SATURDAY, AUGUST 3, 2013
MICHAEL ANSARA PASSES AWAY
One of the best voices in science fiction has passed away.
The hallmark of a truly great performer isn't that you immediately recognize his face, it's that you recognize his voice. And, within an instant of hearing it, you'll always know Michael Ansara's voice, even if his face isn't there to go along with it.
Science fiction fans know him for so many great performances -- he was the Klingon, Kang, on three separate Star Trek series, Kane on Buck Rogers, and Mr. Freeze for the Batman Animated Series. He played so many roles between 1944 and 2001 that it's hard to imagine how he was able to successfully inhabit so many.
Long before we knew him, though, Michael Ansara was born in Syria, before emigrating with his parents to the United States at the age of 2. In Lowell, Mass., he was a shy boy who had originally thought he'd be a physician. It was acting lessons that brought that boy out of his shell and helped him realize he had another destiny.
It wouldn't be easy. Acting never is. He was relegated to being a bit player mostly from the '40s and more than halfway through the '50s. He was typecast because of his dark skin and played mostly Native American roles.
It was through that particular stereotype that Ansara found his first standout role, as Cochise on the popular western Broken Arrow. He'd take on another Native American character, Deputy U.S. Marshal Sam Buckhart, in Law of the Plainsman.
The 1960s would afford Ansara the chance to break into sci-fi with roles on Outer Limits, Voyage to the Bottom of the Sea, Lost in Space and Time Tunnel. How lucky for him (and for all of us) that this path led him to discover the Klingon Dahar Master Kang. He faced off against Capt. James T. Kirk himself in the Trek classic Day of the Dove. The struggle between these two titans cemented Ansara and Kang as one of the great characters in Trek, if not all science fiction. Kang was so popular that Ansara would reprise the role on Deep Space Nine and Voyager, making him one of a select few performers to feature on three different Star Trek shows.
It was also during this time that he would marry Barbara Eden, star of I Dream of Jeannie. The two would have one child together, son Matthew.
Ansara snuck back behind the limelight again, flitting in and out of the many cop dramas that typified 1970s television. Naturally, we remember him for playing the sympathetic antagonist, Kane, on Buck Rogers in the 25th Century. It was sadly also during this time that his marriage to Eden came to an end. A few short years later, Ansara would begin again by marrying Beverly Kushida. This marriage would last.
Life has a funny way of turning around on a man. The '80s didn't bring anything substantial in the way of major roles, but the '90s would see Ansara return to Kang and, more importantly, they would find him playing one of the most richly complex villains in all of fiction -- Mr. Freeze.
For every fan of TV and film, there is a role for which a performer becomes most known, a part that it seems he was born to play. The very first time I heard Ansara's voice, it came from the mouth of Victor Fries. From that moment on, the two men, one fictional, one real, were inexorably linked.
And, indeed, Mr. Freeze became the one role Ansara would continually return to between 1992 and 2001. It would be the last role he would play. 2001 was also the year Ansara's son, Michael, passed away from a drug overdose.
It's not hard to imagine a man wanting to shy away from fame after the death of his son. The tragedy of Mr. Freeze, a man unable to save the one person he loves most, trapped forever in an unfeeling prison of ice, suddenly feels all too familiar.
And now, in a way that is much more final, Michael Ansara's deep and moving voice is silenced after battling with prolonged illness. Michael Ansara died July 31 at his home in Calabasas, Calif. He is survived by his wife, Beverly, his sister Rose, his niece Michelle, and his nephew Michael John.
He is also survived by every role he ever played, every character he ever inhabited. And in that way his voice endures, eternal, even if the man is not.

CONVENTION GUEST
Michael Ansara was a guest at my first science fiction convention - the Big E-CON in Norfolk, Virginia. Mr. Ansara was gracious and just a wonderful convention guest. On Facebook, I see other comments from folks who met him at conventions around the country. He will be missed.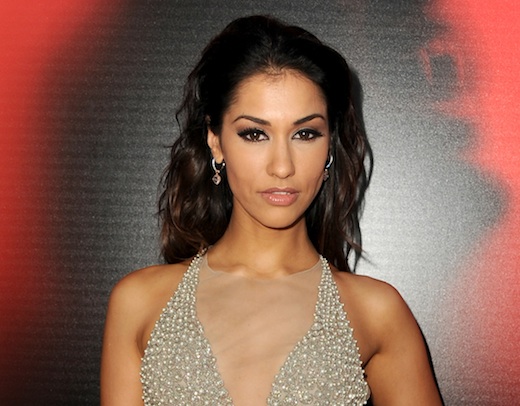 VAMPIRE DIARIES NEWS
Janina Gavankar is trading in Bon Temps for Mystic Falls.
The former "True Blood" shape-shifter (RIP, Luna!) has booked a potentially recurring role on Season 5 of "The Vampire Diaries," TV Line reports. Gavankar will play Tessa, a "beautiful, exotic and self-assured" woman who comes to Mystic Falls to rekindle an old flame.
Gavankar will first appear in the hit CW series' third episode of the season, which is also a flashback hour. Her other TV credits include "Arrow," "The League" and "The Gates."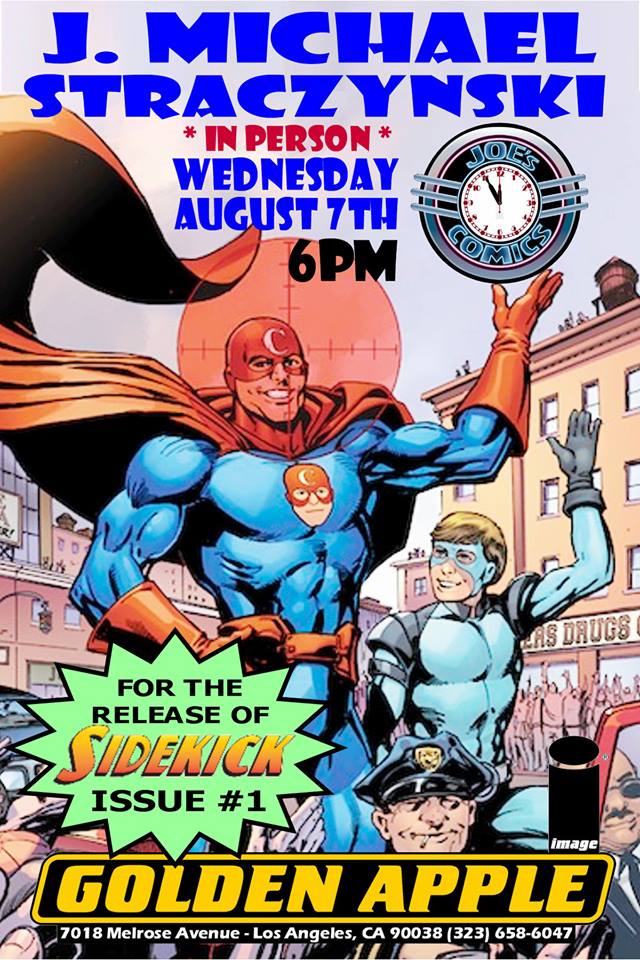 J. MICHAEL STRACZYNSKI SIGNING THIS WEEKEND
Two LA-area signings this week for Sidekick #1! Golden Apple on Melrose 8/7 6 p.m. and Collector's Paradise in Pasadena 8/10 at 1 p.m. Also: Ten Grand #4 comes out the same day!
RIDDICK
After floundering with a big-budget PG-13 sequel, Vin Diesel wants to take Riddick back to its R-rated roots — and the latest trailer shows just how hard he's trying.
From the claustrophobic setting on a dangerous alien world to the freaky monsters wreaking havoc on a small crew, this has all the makings of another sci-fi classic. There's no question anymore: This is definitely a sequel to Pitch Black, not Chronicles of Riddick — and that looks to be a very good thing.
The new footage shows a bit more of Diesel's Riddick being badass, and Battlestar Galactica alum Katee Sackhoff pops up a few more times along the way. We also get to see a bit more alien tech and weapons, which look pretty sharp.
Maybe it's just the editing job, but the production values seem a little better here when compared to previous trailers — so here's hoping this one is good and polished when it finally arrives on Sept. 6.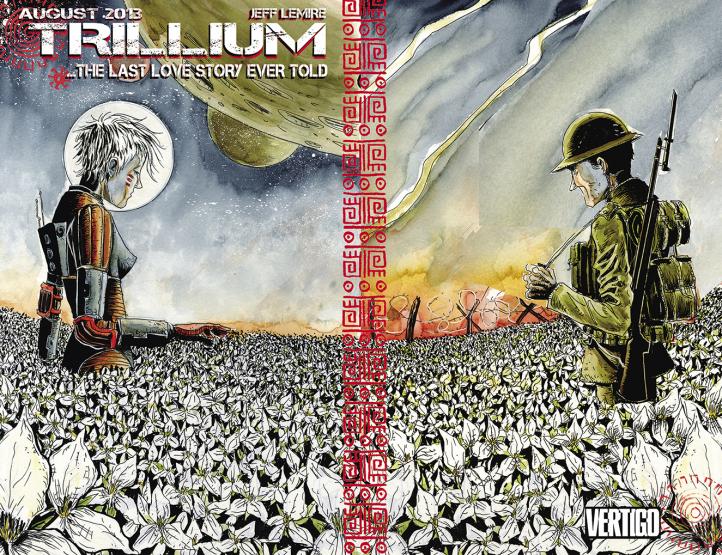 TRILLIUM
How can a man from 1921 fall in love with a woman living in 3797?
Vertigo, like any comic imprint, has its ups and downs. Lately, though, they've been knocking 'em out of the park with books like The Wake and Collider. And today we have a six-page preview of their next series, Trillium, written and drawn by one of our absolute favorite comic creators, Jeff Lemire.
If you like your science fiction with a little Twilight Zone sprinkled in for zest, then the plot for Trillium should prove a delicious one. From the official press release:
An epic and powerful love story, Trillium intertwines the lives of two souls separated by thousands of years and hundreds of millions of miles. William and Nika seem destined to meet and fall in love, but their love just might tear the universe apart. This isn't just a love story; it's the last love story ever told.
The Solider. 1921. Having faced death in the trenches of WW1, renowned English explorer William Pike now finds himself leading an expedition deep into the dangerous Peruvian jungle, in search of the 'Los t Temple of the Incas' and its mythical healing properties.
The Scientist. 3797. Dr. Nika Temsmith, Xeniologist, is attempting communication with an indigenous population near a remote science station near the outermost rim of colonized space. These strange life forms might hold the key to human survival, but no party has survived initial contact.
Even though science fiction set in space isn't the usual for Lemire, the rest of this concept is an absolute Lemire standard. The hope and sadness are already palpable just from the description. What we're saying is -- we're excited.
The first issue is due out next week on Aug. 7 and, what's more, it's "an oversized flip-book with two covers and two separate but connected stories." So, basically, you can start with either WIlliam or Nika and see where the story takes you.

SHERLOCK TRAILER
BBC One has posted a brief teaser trailer for the third series of Steven Moffat's popular television show "Sherlock," starring Benedict Cumberbatch and Martin Freeman, which will be returning sometime in 2014.
Launched in 2010, the series which airs on BBC One in the UK and on PBS in the States is a modern day retelling of the adventures of Arthur Conan Doyle's classic detective with Cumberbatch playing Holmes and Freeman playing his trusty partner, Dr. John Watson.

CONVENTION REMINDER
One of the best fan-run conventions is taking place this weekend near Baltimore. William Shatner is the guest for today only, but Amanda Tapping from Stargate SG-1 is also a guest along with Babylon 5's own Julie Caitlin Brown. For more information, go to www.shore-leave.com

SCIENCE FICTION NEWS STORIES:
Did you miss the news from yesterday -- or earlier in the week. Catch up by going to the News Archive. It will bring you up to date for all that has been going on in the world of science fiction.
THE ZOCALO ON FACEBOOK
I hope that you will join us over on FACEBOOK. We have a great discussion group, tons of visuals and just a nice group of people participating on the page every day. Do drop over and stay a while.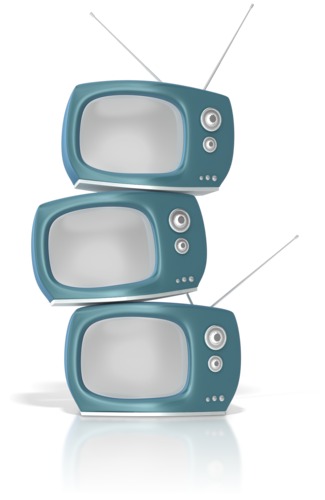 ON THE TUBE TONIGHT
6:30pm on TNT
Independence Day (1996)
A fighter pilot, a computer whiz and others fight back after 15-mile-wide alien ships zap Earth's major cities. Will Smith, Bill Pullman, Jeff Goldblum, Mary McDonnell, Judd Hirsch

7:00pm on BBC America
A Knight's Tale (2001)
An English commoner dons the armor of a dead jouster and, with the help of friends, competes against nobles in 14th-century France. Heath Ledger, Mark Addy, Rufus Sewell, Paul Bettany, Shanynn Sossamon

8:00pm on Hallmark
Cedar Cove Episode: Reunion S01, E03
(First Aired: Aug. 03, 2013) Jack is reunited with his son in Cedar Cove; Charlotte tries to find out the secret behind the identity of a stroke patient she is caring for; Justine is learning how to deal with a long distance relationship; Olivia tries to repair a relationship.

8:00pm on TNT
The Dark Knight (2008)
Batman has to keep a balance between heroism and vigilantism to fight a vile criminal known as the Joker, who would plunge Gotham City into anarchy. Christian Bale, Heath Ledger, Aaron Eckhart, Michael Caine, Maggie Gyllenhaal

9:00pm on CBS
Unforgettable Episode: Incognito NEW S02, E02
Carrie goes under cover with a team of bank robbers to pursue a lead on the gang's notorious and elusive leader.

9:00pm on AMC
The Killing Episode: From Up Here; The Road to Hamelin FINALE NEW
Sarah seeks peace; the detectives pick up a new case; Sarah risks her life when a loved one goes missing.

9:00pm on Syfy
Lake Placid 3 (2010)
Giant crocodiles feast on humans at a secluded lakeside getaway. Colin Ferguson, Yancy Butler, Kacey Barnfield, Kirsty Mitchell, Jordan Grehs

10:00pm on ABC
Castle Episode: Reality Star Struck S05, E14 (First Aired: Feb. 11, 2013)
The young rising star of ``The Wives of Wall Street'' is murdered; Castle tries to give Beckett a Valentine's Day gift, but his plans go awry.

10:00pm on CBS
The Mentalist Episode: There Will Be Blood S05, E16 (First Aired: Mar. 10, 2013)
Lorelei returns, determined to find out if Red John had a part in her sister's death; Jane is forced to admit his role in Lorelei's prison escape.

10:00pm on BBC America
Copper Episode: The Hope Too Bright to Last NEW S02, E07
Corcoran hits a dead end in the investigation; Freeman tries to contain the oubreak in Five Points; Elizabeth tries to engage in Morehouse's business affairs; Donovan and Eva conspire.

KEEPING UP WITH CAST AND CREW
PENDRAGON P.I. - HELP JASON CARTER
Want to see British actor Jason Carter (Marcus on the classic hit sci-fi series Babylon 5) return as an unconventional private investigator who's a bit of Sherlock Holmes, a splash of Sam Spade, and a dash of The Doctor?
Jason Carter is working with Jerry Seward, creator and executive producer of an independent movie pilot titled Pendragon, P.I.that They are developing a gifted and accomplished production team to produce this series. Jason will play the lead, a man who - along with his helper Lucy (played by April Washko) - relies on his deductive skills to sort through a maze of clues in an attempt to solve the case of mysterious disappearances in a small, lakeside town where impossible things happen.
For more information on how you can help, go to http://www.indiegogo.com/projects/help-get-pendragon-p-i-jason-carter-project-made?show_todos=true.

BILL MUMY - ACTOR/COMIC AUTHOR/MUSICIAN
BILL MUMY is quite a musician as well as a marvelous actor. We all know and love him as Lennier, but here is a link to his latest CD "Illumination" http://gragroup.com/bill_mumy.html. The CD can also be purchased on iTunes and Amazon.
After nearly 2 years of waiting Bill Mumy is back with a new release. Bill's latest release Illuminations is truly a masterpiece of Americana music. This album continues the musical format journey that Bill has been developing over his last three albums, Carnival Sky, Glorious in Defeat and Until the Big Bang Whimpers were all leading up to the pinnacle and that is Bill's latest release Illuminations.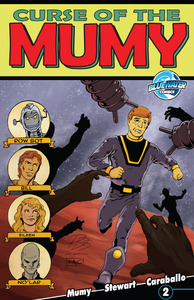 THE CURSE OF THE MUMY - Issue #2
As the first arc of The Curse of the Mumy continues... The Wolf Cub has captured Spaceboy and is holding him prisoner on the nazi moon base with plans to sacrifice the nobel boy astronaut in a blood ritual to summon a demon... We meet the mysterious alien mystic warrior, No'Lar... and learn that Mumy's family infiltrated the Illuminati over a century ago in hopes to thwart the present danger that threatens to wipe out millions. All this, plus Eileen makes tea!
You can order an issue at http://www.comicfleamarket.com/servlet/the-432/Curse-of-the-Mumy/Detail. J. MICHAEL STRACZYNSKI
JMS has a ton of new projects in various forms of production. This video talks about a documentary JMS is pulling together on Babylon 5 fandom. Here is a recent interview with Ain't It Cool News http://www.aintitcool.com/node/63381. BABYLON 5 VIDEO - PHOENIX COMIC CON
Here is a great video that was shot at the Phoenix Comic Con. It may become part of the documentary JMS is pulling together on Babylon 5 fandom.

SAN DIEGO COMIC CON VIDEO
Here is a video JMS used at San Diego Comic Con. It goes over many of the upcoming projects including Ten Grand, Sidekick, and Studio JMS Games!
READER'S CORNER
If anyone would like to submit reports from a convention they recently attended or items they would like to share with fellow Zocalo readers, please send them along to me at sgbruckner@aol.com. I will happily open up a new page for any submissions you care to send along.
BABYLON 5 20TH ANNIVERSARY BOOK - DISCOUNT EXTENDED TO JULY 31
FIRST EVER BABYLON 5 BOOK PRINTED EXCLUSIVELY IN COLOR
Not just full color, but the actual colors of the sets, costumes and props. Extensive care was taken to ensure that the final pages precisely matched the color qualities of the original photographs, which were taken on set during production. B5-20 covers everything from the pilot through The Lost Tales.
DETAILS ABOUT THE PHYSICAL BOOK
256 pages. 753 images. 150gsm heavy-weight paper designed for high-resolution, full-color printing. Matte finish. Extra durable WIBALIN® cloth cover. WIBALIN® slipcase. Title and B5-20 logo embossed with foil stamping. Ribbon bookmark.
A NOTE ABOUT THE BINDING
We used the highest quality Smyth-sewn binding. This means the book lays flat for every page. More importantly, the pages will not pull away from the binding (nor will the spine crack) because the pages are NOT glued.
HOW THIS OVERSIZED BOOK IS BEING SHIPPED
We had a custom shipping box made to the exact specs of the book. It is a padded, double-walled bumper box that will withstand the weight of this book during shipping. The book itself is shrink-wrapped for authenticity and additional protection. Your B5-20 is guaranteed to arrive in perfect condition and if not, we will pay all expenses to get you one in pristine condition (including return shipping, and this does include international orders.) There is zero risk to you.
ABOUT THE PRICE
The retail price—the final price the book will be sold for—is $134.
The final day to get B5 at Twenty for $88 -- $46 off the retail price of $134 -- is July 31.
For more information on this magnificant volume, go to b5books.com.




Here is a quote from J. Michael Straczynski about emotions.
I had this theory that the more important and intimate the emotion, the fewer words are required to express it.

First it's in dating: "Will you go out with me?" Six words.
"Honey, I care for you." Five words.
"You matter to me." Four words.
"I love you." Three words.
"Marry me." Two words.
But what's left? What's the one most important and intimate word you can ever say to somebody? It's "goodbye."

While Michael O'Hare (Sinclair), Andreas Katsulas (G'Kar), Rick Biggs (Dr. Franklin), Tim Choate (Zathras) and Jeff Conoway (Zach Allen) are no longer with us, we will not forget their wonderful personalities and talent -- as well as their significant contributions to the BABYLON 5 universe. Be sure to visit In Memory Of for more information about memorial efforts.
Until we met again, in a place where no shadows fall.
BABYLON 5 BIRTHDAYS
Martin Sheen - August 3
Daneil Dae Kim - August 4
Claudia Christian - August 10
Stephen Austin - August 11
Tim Earls - August 15
Nancy Tarczynski - August 16
Skip Beaudine - August 26

Have I missed anyone? If you know the birthday of someone connected with Babylon 5, pass the information along. We want to include everyone in our Happy Birthday Wishes.


BABYLON 5 PRESENCE ON FACEBOOK
I know a lot of you are already on FaceBook. However, I don't know if you knew how many other Babylon 5 folks have taken the plunge and opened FaceBook accounts. In fact, Pat Tallman has reopened her Fan Club using FaceBook at the site. For a peek, go to http://www.facebook.com/group.php?gid=45593318387. Claudia Christian has been really active -- sharing pictures of her recent trips and letting us know about upcoming convention activities. J. Michael Straczynski (JMS) has a FaceBook page as well as a new "Fans of J. Michael Straczynski" page. So check it out!

NEW BOOKS OF INTEREST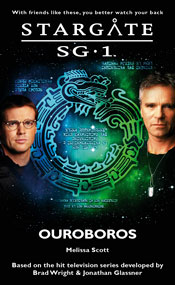 STARGATE SG-1: Ouroboros
From the pen of Melissa Scott (co-author of the STARGATE ATLANTIS Legacy series) comes STARGATE SG-1: Ouroboros, a fast paced adventure taking Colonel O'Neill and his team into new and dangerous territory. Oh, and if you're a fan of STARGATE Legacy, watch out for a few familiar faces along the way… These books are now available for the kindle as well as paperback. Go to www.stargatenovels.com to order or to to Amazon.com.

Have you read a good book lately? Do you want to share your thoughts? That is what I'm doing over at Book Reviews. I have gotten a number of marvelous books to review related to film making and I want to share my observations with you. If you have books you'd like to post, send them along.
NEW DVDS OF INTEREST
For information on new DVDs coming out that may be of interest to you, go to New DVD Releases for more information.
BABYLON 5 MUSIC VIDEOS AND TRIBUTES
" I found this message on the Babylon 5 moderated newsgroup this morning and just had to post it so that others might enjoy the marvelous music videos created by John Hudgens.

+++++++++++++++++++++++++
As some of you may know, I was hired by Joe Straczynski back in the day to create Babylon 5 music videos for him to use at science fiction conventions, and later to promote the show to networks. Eight were produced over the run of the series, not including the memorial videos I did later for Rick Biggs and Andreas Katsulas.

For the longest time, the only way to see these was if Joe or I showed them at a convention, but now, after numerous requests from fans over the years, Joe has given me permission me to post these online.

Here is a link to John's Babylon 5 videos:
https://www.youtube.com/user/Babylon5MusicVideos?feature=watch

Richard Biggs memorial: http://www.youtube.com/watch?v=HyD4L8yNtsA

Andreas Katsulas memorial: http://www.youtube.com/watch?v=h2UQ2l9NPIg

- This is the extended version that I did for Andreas' widow ater the original cut was released on the net. It's never been seen online until now.

For those of you who've never seen these, I hope you enjoy them - and for those that have (and emailed me many times over the years about releasing them), I hope they're as good as you remember. Working with Joe on these videos was one of the highlights of my career, and I'll be forever grateful to him for the doors these have opened for me. I'm proud to have them on my resume.

John Hudgens
www.zteamproductions.com
---





SHORE LEAVE 35
Date: August 2-4, 2013
Place: Hunt Valley Inn, Timonium, MD (near Baltimore) Guests include: William Shatner (Saturday only), Amanda Tapping, Babylon 5's Julie Caitlin Brown, Teryl Rothery has had to cancel her appearance
For more information, go to www.shore-leave.com SPACE CITY CON
Date: August 2-4, 2013
Place: Houston, Texas (Houston Marriott Westchase)
Babylon 5 Guests: Jason Carter, Tracey Scoggins, Walter Koenig
Other guests include: Jewel Staite, Sylvester McCoy, Tim Russ, John deLancie, Robert Picardo, Torri Higginson
and many more
For more information, go to www.spacecitycon.com. CONTAMINATION DEFCON 4
Date: August 2-4, 2013
Place: St. Louis Horror & Pop Culture Convention
Guests: David Naughton, Andrew Prine, Steve Railsback, cast members from The Walking Dead, and many more
For more information, go to http://www.con-tamination.com/. Creation Entertainment's 12th Annual Official Las Vegas STAR TREK Convention
Date: August 8-11, 2013
Location: The Rio Suites Hotel in Las Vegas, Nevada
For more information, go to http://www.creationent.com/cal/st_lasvegas.html

Worldcon 2014: Loncon 3 - 72nd World Science Fiction Convention
Place: London, England
Date: Thur 14 Aug 2014 - Mon 18 Aug 2014
For more information, go to http://www.loncon3.org/contact

Worldcon 2013: Lone Star Con 3 the 71st World Science Fiction Convention,
Place: San Antonio, Texas, USA
Date: Thur 29 Aug 2013 - Mon 2 Sept 2013
For more information: Email: info@lonestarcon3.org
Postal: Alamo, Inc., PO Box 27277, Austin, TX 78755-7277
Writer Guests: Ellen Datlow, James Gunn, Willie Siros, Norman Spinrad, Paul Cornell, Leslie Fish
Nominations for Hugo Awards is now open, download the link.
All Attendees and Supporters can vote http://www.lonestarcon3.org/hugo-awards/index.shtml.

Dragoncon 2013
Dates: Aug. 30 - Sept. 2, 2013
Place: Atlanta, GA
Wknd Memberships: $100 to 5/15; $115, 5/15-7/15; $130, 8/16 to door, And daily memberships
Banquet $65
Guests include: Eddie McClintock, Richard Dean Anderson, John Barrowman, Edward James Olmos, William Shatner, George Takei, Nicholas Brendon, Avery Brooks, and many, many more. Alex Zahara is scheduled from LEGEND OF THE RANGERS
For more information, go to http://www.dragoncon.org/

SPECIAL ANNOUNCEMENTS!
Creation Entertainment has a large number of conventions planned for the next several months. They include stars from TWILIGHT, SUPERNATURAL, STARGATE, FARSCAPE, XENA, SERENITY, STAR TREK, etc. Check out their calendar to see if one will be in your neighborhood soon. Don't miss their Videos page as well. It is full of some priceless video from a number of conventions.

Be sure to visit the referenced sites to see if there have been changes in dates/guests attending. Visit our Convention Calendar for a full listing of upcoming conventions.
BACK ISSUES OF THE ZOCALO TODAY
The front page of the The Zocalo Today changes daily, so be sure to check the back issues to make sure that you haven't missed anything IMPORTANT! I hope you will become a regular visitor to The Zocalo Today!
---
Take care and I look forward to hearing from you.
Sandra Bruckner (sgbruckner@aol.com)
Editor/Publisher
ISN News: The Zocalo Today
http://www.isnnews.net
Copyright - SBruckner, 1999-2013