[an error occurred while processing this directive]

The Zocalo Today

Welcome and thank you for dropping by. Babylon 5 brought many of us together -- and it remains with us, despite the fact that is no longer in production. The good thing is that the internet gives a LOT of ways to stay in touch. Don't be shy. Join in the discussion today or drop by my blog! You can also find me on FaceBook and Twitter.

If you have questions or items for the news, drop me a line at sgbruckner@aol.com.

Again, WELCOME!
SUNDAY, AUGUST 28, 2010
WEEKEND BOX OFFICE
The Hollywood Reporter writes that on Friday, Liongate's THE LAST EXORCISM took over the box office, while James Cameron's AVATAR staged a 3D return to theaters as its cumulative domestic gross crossed $750 million.
The PG-13 EXORCISM, directed by Daniel Stamm and produced by "Hostel" horror-meister Eli Roth, handily beat back all comers as it attracted an estimated $9.4 million in 2,874 theaters in North America.
TAKERS, the weekend's other wide opener, ranked second for the day. Sony/Screen Gems' PG-13 crime tale, starring Hayden Christensen and Chris Brown and directed by John Luessenhop, grabbed $7.5 million in 2,206 theaters.
Playing in just 812 3D locations, Fox's AVATAR was further down the list, falling just outside the top ten for the day. But its gross of just over $1.2 million was enough to raise the film's already stratospheric domestic tally to more than $751 million.
Rounding out the top five, Lionsgate's macho THE EXPENDABLES, which has commanded the boxoffice for the past two weeks, shifted to number three as it took in about $2.7 million as it climbs above the $75 million mark this weekend.
Sony's Julie Roberts starrer EAT PRAY LOVE was fourth with $2.2 million. And the same studio's comedy THE OTHER GUYS was fifth with $1.9 million.
THE HOBBIT NEWS
Scottish actor Sylvester McCoy ("Doctor Who") revealed to the Argyllshire Standard that he is in talks to join THE HOBBIT: Mr McCoy told the Standard that contrary to widespread internet rumours, he's not vying for the role of Bilbo in THE HOBBIT (due to start filming next year) - but is one of two actors being considered for one of the wizard parts.
"I am being cast in The Hobbit," he said. "We're currently in negotiations - there are two of us under consideration. It's not the Bilbo role, but could be bigger."
TheOneRing.net speculates that he may be playing Radagast the Brown.
SATURDAY, AUGUST 27, 2010
VAMPIRE DIARIES PROMOS
The CW really wants to make sure we tune in when THE VAMPIRE DIARIES returns. First they teased us with news that Kevin Williamson would be introducing a gay character this season. Now along come two smoldering-hot ads to remind us of the eye candy the show has in store.

VAMPIRE DIARIES returns for a second season Sept. 9 at 8 p.m.

AGE OF THE DRAGON
Ryan Little, the director of SAINTS OF SOLDIERS, is making a new movie out of MOBY DICK, only he's gotten rid of that white whale and replaced it with a dragon. And Ahab being is played by Danny Glover!
Here's the official synopsis for the film:
AGE OF DRAGONS is an adaptation of Herman Melville's classic novel Moby Dick. Set in a medieval realm where Captain Ahab and crew hunt dragons for the vitriol that powers their world, Ishmael, a charismatic harpooner joins their quest. Ahab's adopted daughter Rachel, beautiful and tough, runs the hunting vessel. Ahab's obsession is to seek revenge on a great "White Dragon" that slaughtered his family when he was young and left his body scarred and mauled, drives the crew deeper into the heart of darkness. In the White Dragon's lair Ahab's secrets are revealed and Rachel must choose between following him on his dark quest or escaping to a new life with Ishmael.
No word yet on when AGE OF DRAGONS might be released.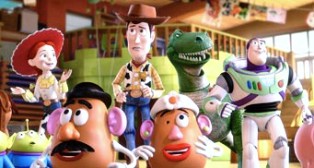 TOY STORY 3
Disney/Pixar's "Toy Story 3" ranks seventh among all-time worldwide grossers and is expected to cross the $1 billion mark Friday, according to the studio, making Disney the first company to field two $1 billion blockbusters in the same year.
Earlier this year, Disney's "Alice in Wonderland," also crossed that line and currently stands in fifth place in the all-time worldwide rankings with $1.024 billion.
Disney has one other previous movie in the $1 billion club: 2006's "Pirates of the Caribbean: Dead Man's Chest," which ranks fourth with $1.066 billion.
On the domestic all-time chart, "Toy Story 3" ranks ninth with $404.6 million.
As of Thursday, the movie had collected more than $592.9 million internationally, to become Disney's largest international animated release.
Latin American contributed $138 million, making the movie the highest-grossing Disney film ever released in the region. It is the most successful U.K. release in Disney history and currently stands as the fourth biggest title in that territory's history with $102.4 million in boxoffice receipts to date. In Japan, it has taken in $111.2 million and spent five consecutive weeks as the No. 1 movie.
"It's been an incredible year as we saw the Pixar team bring Buzz and Woody back to the big screen and watched Tim Burton's vision for 'Alice in Wonderland' take the world by storm," Disney studios chairman Rich Ross said. "These boxoffice triumphs prove that creative storytelling brought to life by imaginative, inspired and talented professionals is something audiences respond to the world over."
With "Toy Story 3" muscling its way into the select circle of $1 billion grossers, three of the seven movies in that exclusive club were presented in 3D. In addition to "Alice" and "Toy," Fox's "Avatar" tops the list with $2.74 billion.
COLOMBIANA
Heat Vision reports that Michael Vartan ("Hawthorne," "Alias") will star opposite Zoe Saldana (Avatar, Star Trek) in COLOMBIANA, produced and co-written by Luc Besson and directed by Olivier Megaton (Transporter 3).
Saldana plays a young woman who, after witnessing her parents' murder as a child in Bogota, grows up to be a stone-cold assassin. She works for her uncle as a hitman by day, but her personal time is spent engaging in vigilante murders that she hopes will lead her to her ultimate target: the mobster responsible for her parents' death.
Vartan will play Saldana's boyfriend, an artist with no idea what she does for a living who is her only link to normalcy.
Besson wrote the script with Robert Mark Kamen; the pair previously teamed to pen Taken, The Transporter and The Fifth Element.
Production will begin in late summer in Chicago, New Orleans and Mexico City. The action thriller is set to be released September 2, 2011.
SCIENCE FICTION NEWS STORIES:
News from yesterday and the last couple of months can be found in the News Archive. Check it out to catch up on all that has been going on in the world of science fiction.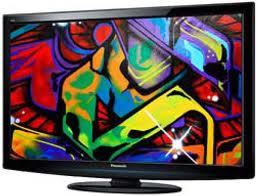 8:00pm on ABC
Casino Royale (2006)
After receiving a license to kill, British agent James Bond enters a high-stakes poker game with Le Chiffre, a man who finances terrorist groups. Based on the novel by Ian Fleming. Daniel Craig, Eva Green, Mads Mikkelsen, Judi Dench, Caterina Murino
8:00pm on BBC America
A Fish Called Wanda (1988)
An American flirts with a crook, a barrister and a mercenary to find diamonds in London. John Cleese, Jamie Lee Curtis, Kevin Kline, Michael Palin, Maria Aitken
9:00pm on TNT
Leverage-Episode: The King George Job (NEW)
The team discovers that an antiquities trafficker is using refugee children to smuggle artifacts; Sophie confronts the consequences of her past.
9:00pm on HBO
True Blood=-Episode: Fresh Blood (NEW)
Bill tries to earn Sookie's trust; Eric tempts Russell; Sam embraces his dark side; Hoyt and Jessica take their romance to the next level; Arlene puts her future in the hands of a goddess; Lafayette struggles with new demons.
ON SYFY TONIGHT
7:00pm
Supernova (2005)
Electromagnetic pulses wreak havoc on the Earth following a scientist's secret discovery that the sun will soon explode. Peter Fonda, Luke Perry, Tia Carrere, Lance Henriksen, Emma Samms
CRUSADE: WHAT THE HELL HAPPENED? VOLUME 1
Release Date: August 25, 2010
Here is the book CRUSADE fans have been waiting for! Scheduled to be released on August 25, 2010, the covers are white and the design matches CRUSADE: BEHIND THE SCENES. The series includes all twelve of J. Michael Straczynski's CRUSADE scripts (including two episodes that were never produced)–plus the TV movie A CALL TO ARMS.

Read the entire press release over at Hell-Crusade-1.
SPECIAL NOTE
JUMPGATE PINS
Saw a note from Ranger Jan on Facebook about JumpGate pins being available again. Elana created the pins years ago as a way of honoring Babylon 5. Now you can help Elana in her fight against cancer by purchasing one of these beautiful pins. They are quite beautiful -- and become quite a conversation piece when worn. For more information, go to http://www.jumpgatepins.com/index.html.
SPECIAL AUCTION ANNOUNCED
Ranger Jan has arranged a special auction to benefit Elana K's fight with cancer. Up so far are a Lost Tales mini-comic (autographed by JMS) and five of the lovely Rawcliffe pewter figures (Londo, G'Kar, Sheridan, Delenn and Garibaldi). Proceeds will go directly to Elana K. to help with her expenses. To see these items and put in your bids, go to http://shop.ebay.com/neversurrenderdreams/m.html?_dmd=1&_ipg=50&_sop=12&_rdc=1.
ISN BLOG
Join me on the ISN News Blog at http://isnnews.blogspot.com. I'll put in stuff that I think is interesting for others to read about and I hope you will join in to discuss of the issues -- related to science fiction or not!
KEEPING UP WITH CAST AND CREW
PAT TALLMAN:
Pat Tallman (Lyta) is now appearing in the short horror video "Firsts."
This 6 minute YouTube film description:
"A young girl contemplates losing her virginity.... but her overbearing and overly devout Aunt has other ideas. Starring Alyson Daniel, Patricia Tallman, Damian Daly, and Kristen Holloway. This script was the winner of the talenthouse.com "Write a short script for Fewdio" contest!"
Patricia Tallman play the Aunt. See the video at http://www.youtube.com/watch?v=TmVV94tvf7I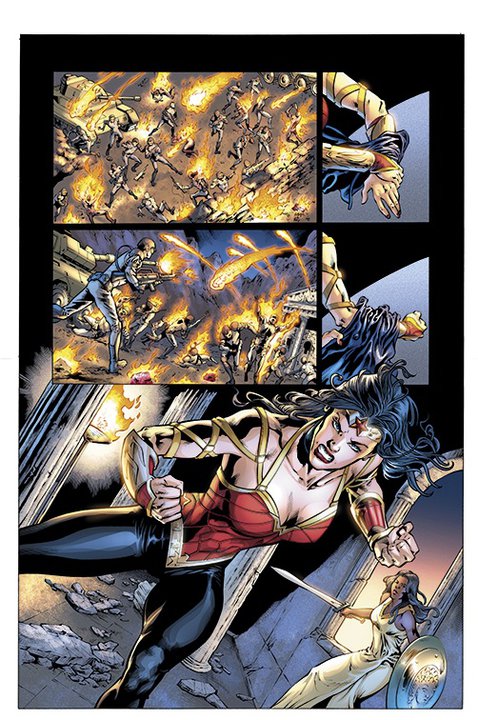 J. MICHAEL STRACZYNSKI: JMS writes on his FaceBook page:ngest yet for Dian This coming week marks the next issue of Wonder Woman, which is the stroa in terms of action and character. I'd asked folks to give us two issues to make our case, and I think this does the job nicely. It's also quite beautiful in terms of the art. I'd noted a while back that when the jacket comes off, you know someone's about to get their ass kicked. Here's a sample of what that looks like in 602.
BILL MUMY
: Bill has a new music CD out GLORIOUS IN DEFEAT. He writes on facebook:
My brand new cd, "Glorious in Defeat" is on a small indie label out of San Francisco, GRA, and they do their very best to promote it, but... it's a hard business... SO, I'...m hoping with the help of all you facebook pals, we can spread the word. I do hope you'll pick it up, and I'd very much like to hear your thoughts on this project as it's brand new and of course, the songs are personal and important to me. I played everything on the album and I hope you'll check it out. You can order it here. http://www.gragroup.com/bill_mumy.html
NEW INTERVIEWS
Marc N. Kleinhenz has begun a series of interviews of the cast of BABYLON 5, one of the landmark television shows in American history. Look back with them as they discuss their characters, their emotional evolution, and their participation in television history.

Maggie Egan the ISN Reporter at
http://poplitiko.blogspot.com/2010/08/and-sky-full-of-stars-ii.html

Pat Tallman at:
http://poplitiko.blogspot.com/2010/06/and-sky-full-of-stars-i.html

Me, Sandra Bruckner:
http://poplitiko.blogspot.com/2010/05/interview-sandy-bruckner.html
BABYLON 5 PRESENCE ON FACEBOOK
I know a lot of you are already on FaceBook. However, I don't know if you knew how many other Babylon 5 folks have taken the plunge and opened FaceBook accounts. In fact, Pat Tallman has reopened her Fan Club using FaceBook at the site. For a peek, go to http://www.facebook.com/group.php?gid=45593318387. Claudia Christian has been really active -- sharing pictures of her recent trips and letting us know about upcoming convention activities. J. Michael Straczynski (JMS) has a FaceBook page as well as a new "Fans of J. Michael Straczynski" page. So check it out!
THE ZOCALO ON FACEBOOK
I've taken the leap and started a group over on Facebook. There is a discussion page where we can talk about Babylon 5 and all things science fiction. Be sure to check it out. http://www.facebook.com/?sk=2361831622#!/group.php?gid=132854680067759
BILL MUMY RADIO
Bill Mumy has a new CD out. Check it out at: http://www.reverbnation.com/artist/artist_songs/648253

Also, listen to Bill Mumy's interview on ON SCREEN & BEYOND at www.OnScreenAndBeyond.com

Bill is inviting you to check out his brand new weekly radio show, "THE REAL GOOD RADIO HOUR with your host Bill Mumy". We'll be listening to many different styles of music and learning about those who pioneered them. "The Real Good Radio Hour" will air every Wednesday and Friday at 7 PM both Pacific and Eastern time and can be heard weekly on KSAV.org.

Bill has a new place on FaceBook as well http://www.myspace.com/billmumy. There you will find information about some of his new projects, including a graphic novel LOST IN SPACE and a Star Trek novel with Peter David, "The Return of the Worthy."




Here is a quote from J. Michael Straczynski about emotions.
I had this theory that the more important and intimate the emotion, the fewer words are required to express it.

First it's in dating: "Will you go out with me?" Six words.
"Honey, I care for you." Five words.
"You matter to me." Four words.
"I love you." Three words.
"Marry me." Two words.
But what's left? What's the one most important and intimate word you can ever say to somebody? It's "goodbye."

While Andreas Katsulas (G'Kar), Rick (Biggs) and Tim (Choate) are no longer with us, we will not forget their wonderful personalities and talent -- as well as their significant contributions to the BABYLON 5 universe. Be sure to visit In Memory Of for more information about memorial efforts.
Until we met again, in a place where no shadows fall.
BABYLON 5 BIRTHDAYS
Martin Sheen - August 3
Daneil Dae Kim - August 4
Claudia Christian - August 10
Stephen Austin - August 11
Tim Earls - August 15
Nancy Tarczynski - August 16
Skip Beaudine - August 26

Have I missed anyone? If you know the birthday of someone connected with Babylon 5, pass the information along. We want to include everyone in our Happy Birthday Wishes.



BABYLON PODCAST
Welcome to Show #208!

John from Jersey joins Summer, Tim and Bret for this episode, and brings us a quick update on future story explorations on tap for the Voices of Babylon audio dramas.
Discussion: This episode scratches the surface of some of the untapped, the unexplored, the rewritten, and the highly speculative Babylon 5 storylines that were changed or dropped to give us the story we have, leaving us little option other than to argue about whether or not they should have been, and how things might have progressed differently for the series as a whole.
Would you have wanted 10 years of Babylon 5, or a very different 5 years from the ones we fell in love with?
Fanfic aficionados got nothin' on us.
Let the disagreements, debates and discussions commence!
Submitting your own Feedback: If you have any suggestions or comments, please let us know! Call 206-338-2259, or just email us a comment you've recorded yourself!
Lurker's Guide 2.0: Summer is starting a push to get Lurker's Guide 2.0 completed and finished, including missing collectibles, photos of magazine covers and toys, and all sorts of other B5 goodies that didn't get included in the original guide during the years after Crusade. Let her know if you want to lend a hand.
More Parody/Filk Songs Wanted: If you know of any more B5-related fan songs out there, definitely let us know, so we can let other B5 fans know where to buy them! And if those CDs are out of print, let's brainstorm on ways to get those songs back out there for fans!
Second Life Info: FarPoint Media's Second Life space can be found on the Third Life Books island in the Wind River Territory. Find the island here: http://slurl.com/secondlife/Wind%20River%20Territory/50/129/22
Babylon 5 Information Gathering: If you know of a dead or abandoned B5 related website that may be in need of a new home, let Summer know! Maybe we can mirror it here or house it on a sister site.
If you can, Please Donate to the show!
To catch up on all the previous Babylon 5 podcasts, go to www.babylonpodcast.com
NEWS FROM WARNER BROS.
DVD TO BLU
Starting today, through TV on DVD2BLU, consumers can now experience their favorite television series again for the very first time in stunning 1080p picture quality and crisp, superior sound that only comes from a Blu-ray Disc. Titles such as "Smallville", "The Sopranos", "Fringe", "Supernatural" and more can be upgraded for as low as $14.95 plus shipping. Consumers who place orders of over $35 will receive free shipping.
The process to upgrade is simple. Consumers select the titles they want to upgrade on DVD2BLU.com, mail in their standard DVDs with pre-paid postage and a short time later receive copies of the same title and complete season on Blu-ray. See below for a complete list of TV titles available for upgrade with DVD2BLU.com:
$19.95
Smallville Season 8
Supernatural Season 1
Supernatural Season 4
Chuck Season 2
Fringe S1
The Sopranos S1

$14.95
Smallville Season 6
Smallville Season 7
Supernatural Season 3
Chuck Season 1
Pushing Daisies S1
Pushing Daisies S2
Terminator SCC S1
Terminator SCC S2
Nip/Tuck S4

Here are clips from:
SMALLVILLE, S.8:
http://pdl.warnerbros.com/wbol/us/dd/med/dvdtoblu-ray/clips/ss8_plastique_first_day_qt_700.mov

FRINGE, S.1:
http://pdl.warnerbros.com/wbol/us/dd/med/dvdtoblu-ray/clips/fs1td_3T7658_john_scott_qt_700.mov
MTV NEEDS YOUR HELP
SAVAGE COUNTRY
MTV is teaming up with Eventful to experiment with a social media campaign that will allow folks to vote if they want to see the indie horror film, SAVAGE COUNTRY, on MTV2. Directed by up-and-coming filmmaker David Harris, SAVAGE COUNTRY follows a group of teens that collide with their towns dark past when a prank gone wrong makes them the target of a family of bloodthirsty killers.
Use this link to watch the trailer and then vote if they want to see it premiere on MTV2. If 100,000 fans demand it, MTV2 will air it.
http://eventful.com/competitions/savagecounty2010/confirmed
WARNER HOME VIDEO
DC SHOWCASE: Superman/Shazam! The Return of Black Adam
On November 9, 2010, Warner Home Video will distribute the DC Showcase Original Shorts Collection, the first quartet of animated adventures featuring the never-before-seen Superman/Shazam! The Return of Black Adam. DC Showcase is a series of animated shorts featuring characters from the celebrated DC Comics vault. To read more about this new collection of animated original movies, go to WB Press Release.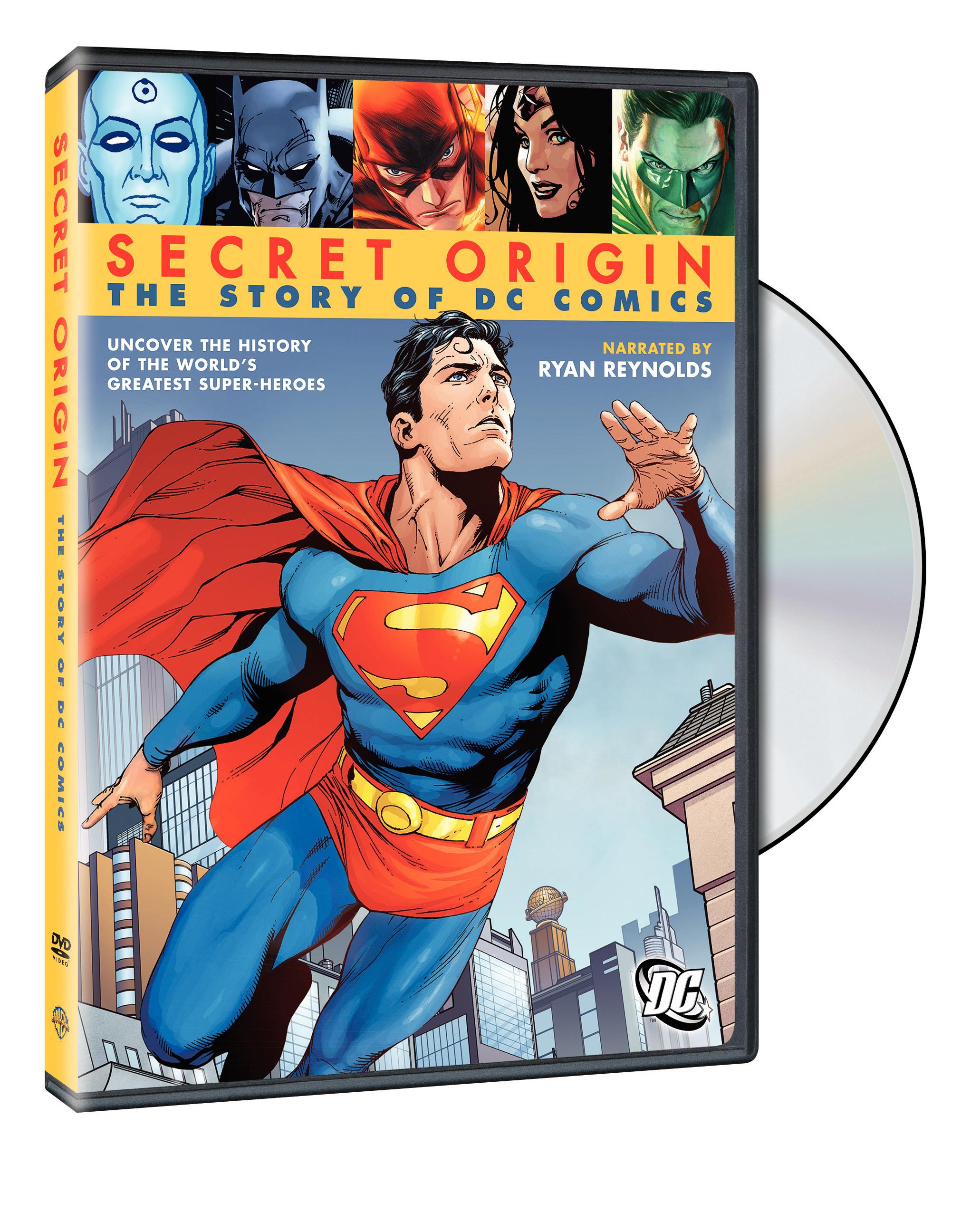 SECRET ORIGIN: THE STORY OF DC COMICS
Warner Bros. Pictures presents an enthralling examination of the creative forces behind the World's Greatest Super Heroes in Secret Origin: The Story of DC Comics, an all-new documentary that takes viewers behind the scenes of the iconic company with unprecedented access to the Warner Bros. and DC Comics archives.
Narrated by Ryan Reynolds, Secret Origin: The Story of DC Comics will be distributed by Warner Home Video on November 9, 2010 on DVD for $24.98 (SRP). Secret Origin: The Story of DC Comics will also be available On Demand and for Download.
For more information, go to Secret Origin page.
THE MIDDLE: THE COMPLETE FIRST SEASON
Release date: August 31, 2010
Official website: Synopsis:
Patricia Heaton stars as Frankie Heck in this warm and witty single-camera comedy about raising a family and lowering your expectations. Frankie Heck is a superhero. Well, no, not an actual superhero - but sometimes it seems to Frankie as though getting her kids out the door for school every morning is a superheroic act. Middle aged, middle class and living in the middle of the country, this harried wife and working mother of three uses her wry wit and sense of humor to try to get her family through each day intact.
Review:
THE MIDDLE is definitely in the same category of such great comedies as EVERYONE LOVES RAYMOND, FRAZIER and SEINFELD. ABC's THE MIDDLE gives us a look at the American family and you see your family on screen. With the same distribution of kids in the same ages and genders. THE MIDDLE gives you an honest look at life today, something no regular studio audience sitcom could convey.
The show depicts how children actually behave and the realities of middle class life without being sarcastic, mean, or condescending. It's as though real people sneaked into Hollywood and produced this show. The cast is spot on and Patricia Heaton shows she can easily lead a series all on her own.
It is rare when you get a show that you can watch through several showings -- and not be bored to tears. With THE MIDDLE, you see something a little different each time. You may have missed something because you were laughing too loudly or caught up in the moment the first time through.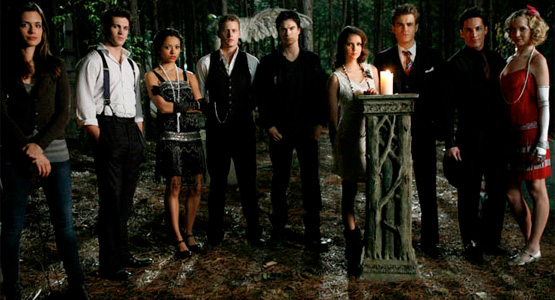 VAMPIRE DIARIES - THE COMPLETE FIRST SEASON
The best selling young adult book series is now a hit CW show. Two vampire brothers -- one good, one evil -- are at war for 17-year-old Elena Gilbert's soul and for the sourls of her friends & family. Contains all 22 episodes and over 8 hours of bonus material including featurettes, unaired scenes, gag reel, webisodes, and a downloadable audio book.
Pre-order your copy now by going to http://www.wbshop.com/on/demandware.store.
Be sure to check out all the swag at http://www.wbshop.com/Vampire-Diaries/vd,default,sc.html.
THE NEW ADVENTURES OF OLD CHRISTINE - SEASON THREE
Release date: July 27, 2010
I-tunes download site: http://bit.ly/WBS_Christine3
Audiences will love Emmy® Award winner Julia Louis-Dreyfus (Seinfeld) as Christine Campbell in the third season of this hilarious ensemble comedy.
Life gets even more complicated for Christine in season three when she recognizes that her ex-husband, Richard (Clark Gregg - Ironman), has moved on with his life and his impossible-to-hate new girlfriend, aptly named New Christine (Emily Rutherford - Van Wilder). While successfully juggling the daily stresses of motherhood and owning a woman's gym with her best friend, Barb (Wanda Sykes - The Wanda Sykes Show, Curb Your Enthusiasm), "Old" Christine realizes it may be time to move on with her love life as well. Things get steamy for Christine as she embraces a romantic relationship with Mr. Harris (recurring guest star Blair Underwood - Dirty Sexy Money, Something New, L.A. Law), a teacher at her son Ritchie's school. Will Old Christine finally find new love?
Video clip from the WB:

CLASH OF THE TITANS
Release date: July 27, 2010
Official website: http://clash-of-the-titans.warnerbros.com/dvd/
Synopsis
In Clash of the Titans, the ultimate struggle for power pits men against kings and kings against gods. But the war between the gods themselves could destroy the world. Born of a god but raised as a man, Perseus (Sam Worthington) is helpless to save his family from Hades (Ralph Fiennes), vengeful god of the underworld. With nothing to lose, Perseus volunteers to lead a dangerous mission to defeat Hades before he can seize power from Zeus (Liam Neeson) and unleash hell on earth. Battling unholy demons and fearsome beasts, Perseus and his warriors will only survive if Perseus accepts his power as a god, defies fate and creates his own destiny.
Video Clips
http://www.youtube.com/watch?v=2U_6_sgCEAI
http://www.youtube.com/watch?v=4LH1j2jk2gc
http://www.youtube.com/watch?v=ngCENLNnshw
REVIEW
I really didn't know what to expect from this movie. The reviews were mixed and like most remakes, CLASH OF THE TITANS will always be compared to the one before -- in this case the 1981 version starring Harry Hamlin as Perseus. This version is a more realistic Bronze age world, but the story hasn`t changed all that much. The citizens of Argos have become disenchanted with the rule of the Gods. The Gods have caused too much chaos and ruin to their lives so they've decided to take their destinies into their own hands, and destroy the temples and statues of the Gods. In doing so, Perseus'(Sam Worthington) family is killed by a falling statue of Zeus. When Zeus (Liam Neeson) learns of the desecration urged on by Hades (Ralph Fiennes), he decides to destroy the city in four days or they can offer the sacrifice of the King of Argos' daughter Andromeda (Alexa Davalos). In a visit to the throne room of Argos, Hades tells Perseus he is a son of Zeus, a demi-god. Being told of his near divinity, Perseus and a group of soldiers go off on their quest to save the city.
The advances in special effects are very evident in this movie. They are great! The monsters look real and the characters realistically interact with them. The giant scorpions look deadly, Medusa is creepy, and the Kraken is HUGE. I sort of had a flashback to STAR WARS as I watched the heroes riding the scorpions with the help of a tribe of warriors made of stone. The photography is awesome. The special features are wonderful as well. You follow the crew as they build the ships and sets. This project became a labor of love for everyone. This is a good adventure movie everyone should enjoy.
SUPER FRIENDS
Release date: July 20, 2010

Available for the first time since its debut in 1973, this highly-anticipated deluxe two-disc collector's set features eight exciting one-hour episodes starring the most recognizable DC Comics super heroes and villains of all time.
Super Friends! Season 1 Volume 2 follows the adventures of Superman, Batman, Robin, Wonder Woman and Aquaman as they join forces to save the world from unthinkable disasters. This crime-stopping squad, along with heroes in training Wendy, Marvin and Wonder Dog, combine their special superhuman skills to defeat the evil villains at hand. The collection also features DC Comics favorites Plastic Man, The Flash and Green Arrow. Each hour is packed with timeless adventures of the universe's greatest heroes as they pave the way for a brighter future.
ER: THE COMPLETE 13th SEASON
Release date: July 6, 2010
Synopsis:
Shaking things up: Former paramedic, now intern Dr. Tony Gates arrives with a straightforward attitude and a complicated personal life. Except for his devotion to healing, he's Gallant's opposite: brash, cocksure, with a bad-boy past – and maybe he's the right prescription for Neela's broken heart. Really shaking things up: Contentious Weaver leaves County General for a career move you wouldn't expect. And the profound dramas of the outside world continue to make their way to the ER, including a hostile patient whose real condition is a secret even to himself, homeless children who escape to a magic world of their own making, and a Christmas miracle. Then again, miracles happen every day at County General.
REVIEW
This series just keeps going and going. This season opens with trama in the ER -- both patients and doctors are affected. The drama builds as Abby has her baby and Sam is kidnapped by her ex-husband. Each episode of the series is filled not only with your usual hospital drama, but deep charcterizations that have made this series a favorite for years. Even if you haven't been following the series for years, you can enjoy the well-written episodes that involve some very good segments showing surgery and trama medicine, but you'll quickly get caught up in the personal lives of the staff at County General. This season includes guest appearances from Forrest Whitaker, who received an emmy nomination for his role as Curtis Ames, a former patient of Dr. Kovac who sues him for malpractice.
DARK BLUE – THE COMPLETE FIRST SEASON
Release date: July 6, 2010 exclusively online at WBSHOP.com and TNT.tv

DARK BLUE (from iconic producer Jerry Bruckheimer and starring Golden Globe® winner Dylan McDermott) is the story of Lt. Carter Shaw (McDermott) and his special undercover task force that tread the line between right and wrong to bring down a criminal underworld.
Experience each heart-stopping moment again or for the first time with the release of SEASON 1 on DVD before the start of the all-new DARK BLUE Season 2, August 4 only on TNT.

REVIEW
If you are looking for a good, tight, gritty police drama, look no further than DARK BLUE. From the pilot onward, you get a little information on each of the main characters -- just enough to keep you watching! Dylan McDermott is an awesome actor and he fits the persona outlined for Lt. Carter Shaw. In the pilot, one of the main characters says, he will do anthing to protect you and anything to get the bad guy. It's just hard figuring out which one comes first."
Produced by Jerry Bruckheimer, you get that feel of realism and you are on the edge of your seat with each episode. There is a good bit of violence, so it may be a bit much for some. But the violence fits the feel of this cable TV show -- dark and hard. I can't wait to see what season two brings.
THE CLOSER: THE COMPLETE FIFTH SEASON
Release date: June 29, 2010
Official website: http://www.closerondvd.com

Synopsis:
At work, L.A. Deputy Chief Brenda Johnson is a woman in charge. Got a suspect to grill, a case to crack, a murderer about to walk? Call Brenda in and watch the fireworks. But at home...well, that's another story. Kyra Sedgwick headlines a sizzling 4-disc, 15-episode Season 5 of the series that combines heart, humor and homicide into a show that's equally compelling as a police procedural and a personal drama. As a cop, Brenda takes on everything from a corpse that comes COD to a serial killer to Sharon Raydor, an internal affairs officer as tough as she is. As a civilian, Brenda loses one family member (bye, Kitty) and gains another: her surly niece Charlie. Brenda can outsmart, outmaneuver and out a killer. But can she handle a teenager?

Here's a video clip from this outstanding series:
http://www.amazon.com/gp/mpd/permalink/m3OMTVLIEM71XS
HOW THE EARTH CHANGED HISTORY
Release: June 29, 2010

Product Description:
The traditional interpretation of history has focused largely on human factors. Yet the natural environment has also shaped history since the dawn of time. This series reveals for the first time on television how geology, geography and climate have had a far more powerful influence on mankind than has previously been acknowledged. With passionate storytelling and extraordinary HD camerawork, this series combines bold ideas with a new science, geo-determinism, to form an original version of human history. Discover why societies have succeeded or failed, and how the environment has influenced every aspect of our history from art to industry, religion to war, world domination or collapse. This series overturns preconceptions about our nations and our cultures to offer a new perspective on who we are today.

REVIEW
Iain Stewart takes you on a journey to some of the most remote parts on the Earth. The journey is divided into water, deep earth, wind and fire. Each segment will show how these elements have affected history on Earth. Water, or the lack of it in places like the Sahara Desert, has shifted the balance of power. He traces how ancient people tried to manage water and how water affected the economy as well as culture of civilization.
BBC has done an awesome job on this DVD. The photography is amaing. You follow Stewart as he ventures underwater to see where caves lead; down caverns and caves to see how ancient civilizations built tunnels to manage water. Ever wonder about the faults of the Earth? You will learn all about them and see how they have been dealt with from ancient times. A very educational -- and entertaining -- DVD.

EVERWOOD: COMPLETE THIRD SEASON
Release date: June 15, 2010
Official website: http://www.everwooddvd.com

Synopsis:
This season, love is in the clear mountain air of Everwood. Back from a troubled summer at Juilliard, Ephram commits himself to his music and to Amy. Andy is drawn to a patient's wife – and into an ethical dilemma. Dr. Jake Hartman moves to town and starts eating a lot of pancakes, as long as Nina's serving 'em up. And mousey Hannah Rogers flips over Bright. But don't expect love to conquer all, especially when the secret Andy kept from Ephram last season comes spilling out. Suddenly, trust is destroyed, lives are turned upside down and the bonds of love – romantic and father-son – are stretched to the breaking point. Andy wanted Everwood to be his family's home. Now it may be just another place they used to live.

REVIEW
I loved this series from the very first episode. When we got to Season Three, there were moments of "soap opera" stories, but because the characters were so well developed, you wanted to see how things would work out. When new characters were introduced, like Jake Hartman, you want Nina to be happy, but you know she loves Andy and hope he realizes his feelings for her before it is too late!
NEW FAMILY DVDS
Looking for movies you can watch with your children? I have moved many of the family-oriented DVDs to a Family DVDs page. Here you will find wonderful DVDs you can enjoy with your entire family -- no matter the age. You will find background information about the DVD, but there are clips as well from Warner Bros. Enjoy!
BABYLON 5 MUSIC VIDEOS AND TRIBUTES
I found this message on the Babylon 5 moderated newsgroup this morning and just had to post it so that others might enjoy the marvelous music videos created by John Hudgens.

+++++++++++++++++++++++++
As some of you may know, I was hired by Joe Straczynski back in the day to create Babylon 5 music videos for him to use at science fiction conventions, and later to promote the show to networks. Eight were produced over the run of the series, not including the memorial videos I did later for Rick Biggs and Andreas Katsulas.

For the longest time, the only way to see these was if Joe or I showed them at a convention, but now, after numerous requests from fans over the years, Joe has given me permission me to post these online.

Danger Zone: http://www.youtube.com/watch?v=xYNG0ow0G0k

I Need a Hero: http://www.youtube.com/watch?v=PFo3Lau2Occ

Requiem: http://www.youtube.com/watch?v=X7ckXY6yiVQ

Nobody's Side: http://www.youtube.com/watch?v=Wk9LvldiOf0

Welcome to the Third Age: http://www.youtube.com/watch?v=YT5q_ltXiY0

Keep Yourself Alive: http://www.youtube.com/watch?v=t0lRtpWR5lo

The Phantom B5 Video: http://www.youtube.com/watch?v=uV4GMNjDdYc

Third Age 2K: http://www.youtube.com/watch?v=HqIyY0PWjbI

Richard Biggs memorial: http://www.youtube.com/watch?v=HyD4L8yNtsA

Andreas Katsulas memorial: http://www.youtube.com/watch?v=h2UQ2l9NPIg

- This is the extended version that I did for Andreas' widow ater the original cut was released on the net. It's never been seen online until now.

For those of you who've never seen these, I hope you enjoy them - and for those that have (and emailed me many times over the years about releasing them), I hope they're as good as you remember. Working with Joe on these videos was one of the highlights of my career, and I'll be forever grateful to him for the doors these have opened for me. I'm proud to have them on my resume.

John Hudgens
www.zteamproductions.com
COMIC BOOKS
WONDER WOMAN #601
Written by J. MICHAEL STRACZYNSKI Art and cover by DON KRAMER & MICHAEL BABINSKI Best-selling comics writer J. Michael Straczynski (THE BRAVE AND THE BOLD, Thor) smashes all your expectations of Wonder Woman by lauching an all-new era for the Amazon Princess! Spinning out of the mind-bending events of WONDER WOMAN #600, Diana must face the biggest mystery of all - who destroyed Paradise Island? On sale JULY 28 32 pg, FC, $2.99 US





CANADA'S FAN EXPO
Dates: August 27-29, 2010
Place: Metro Toronto Convention Centre
Guests: Stan "The Man" Lee, artists Andy Kubert, Adam Kubert, Dan Didio, Tim Bradstreet, actors Dean Stockwell, Lance Henrikson, James Marsters, William Shatner, Adam West, Burt Ward, Julie Newmar, Summer Glau, Michael Dorn, William Forsythe, Ernest Borgnine, directors David Cronenberg, Ken Russell - and more
For more information, go to http://www.sneakpeek.ca/2010/08/fanexpo-canada-august-27-28-29.html
AUSSIECON FOUR
Place: Melbourne, Australia
Date: September 2-6, 2010
Guests: Kim Stanely Robinson, Shaun Tan and Robin Johnson
For more information, go to http://www.aussiecon4.org.au/index.php?page=1
DRAGON CON
Date: September 3-6, 2010
City: Atlanta, GA
Babylon 5 Guests: Claudia Christian, Jason Carter
Other Guests: There are tons of guests shows like Farscape, Battlestar Galactica and movies as well.
For more information, go to www.dragoncon.org
BIG APPLE COMIC CON
Date: October 1-3, 2010
City: New York City - Penn Plaza Pavilion
Guests: Lee Majors, Jake Lloyd
For more information, go to http://www.wizardworld.com/home-apple.html"
SPECIAL ANNOUNCEMENTS!
Creation Entertainment has a large number of conventions planned for the next several months. They include stars from TWILIGHT, SUPERNATURAL, STARGATE, FARSCAPE, XENA, SERENITY, STAR TREK, etc. Check out their calendar to see if one will be in your neighborhood soon. Don't miss their Videos page as well. It is full of some priceless video from a number of conventions.
Be sure to visit the referenced sites to see if there have been changes in dates/guests attending. Visit our Convention Calendar for a full listing of upcoming conventions.
BACK ISSUES OF THE ZOCALO TODAY
The front page of the The Zocalo Today changes daily, so be sure to check the back issues to make sure that you haven't missed anything IMPORTANT! I don't want the front page getting too long so I shift information periodically into the archives. So if you aren't a regular visitor to The Zocalo Today, be sure to check out the back issues. Just use the button above!
---
Take care and I look forward to hearing from you.
Sandra Bruckner (sgbruckner@aol.com)
Editor/Publisher
ISN News: The Zocalo Today
http://www.isnnews.net
Copyright - SBruckner, 1999-2010