[an error occurred while processing this directive]

The Zocalo Today

Welcome and thank you for dropping by. Babylon 5 brought many of us together -- and it remains with us, despite the fact that is no longer in production. The good thing is that the internet gives a LOT of ways to stay in touch. Don't be shy. Join in the discussion today or drop by my blog! You can also find me on FaceBook and Twitter.

If you have questions or items for the news, drop me a line at sgbruckner@aol.com.

Again, WELCOME!
SUNDAY, SEPTEMBER 12, 2010
RESIDENT EVIL
Here's good news if you like the RESIDENT EVIL movies and bad news if you don't like the whole 3-D craze that's taken over movie theaters. Resident Evil: Afterlife 3D is on track to have the biggest opening weekend in the franchise's history, which can be attributed almost entirely to its 3-D-ization.
The movie debuted last night on 3,200 theater screens, and 2,000 of those were of the new 3-D variety, meaning movie theaters charged you a higher ticket price for getting the extra viewing dimension. So far the film has made $11 million and looks like it will finish with about $28 million for the weekend.
That's $5 million more than any of the previous films made (they earned between $17 million and $25 million during their first weekends) and will probably just convince more filmmakers to go the 3-D route. That also makes the prospect of a RESIDENT EVIL 5 more likely.
SHERLOCK HOLMES 2
The Hollywood Reporter writes that Noomi Rapace, the Swedish star of "The Girl with the Dragon Tattoo," has booked her first English-language role: the plum part of the female lead in Warner Bros.'s SHERLOCK HOLMES 2.
The sequel reunites most of the team from the original: Robert Downey Jr. as Holmes and Jude Law as Dr. Watson. Guy Ritchie is back as director while Joel Silver, Susan Downey, Lionel Wigram and Dan Lin return as producers.
The logline is being kept under wraps, although it is known Holmes will face off against Moriarty. Also making an appearance will be Holmes' brother, Mycroft.
Rapace's role is shrouded in mystery although sources say the character may be a French Gypsy. It is unclear if the role is romantic in nature.
Warners is looking to start production later this year.
THE MOTH DIARIES
According to the Hollywood Reporter, Sarah Bolger and Sarah Gadon have joined the cast of Mary Harron's THE MOTH DIARIES. Bolger and Gadon join the already-attached Lily Cole and Scott Speedman.
Based on the 2003 Rachel Klein novel, The Moth Diaries tells the story of a mentally ill student at an all-girl boarding school. Bolger will play the girl (unnamed in the original text) with Cole and Gadon as two of her friends. Though the specific roles are not listed, Gadon is likely playing Lucy Blake, the protagonist's roommate, with Cole as Ernessa, a mysterious friend to Blake who Bolger's character begins to suspect may be a vampire. Speedman, meanwhile, is confirmed to play a professor that Bolger's character develops a crush on.
Harron is best known for AMERICAN PSYCHO, the 2000 film adaptation of Bret Easton Ellis' novel. Similar to THE MOTH DIARIES, American Psycho's original text featured a mentally troubled first person narrator.
LEGEND OF THE GUARDIANS: THE OWLS OF GA'HOOLE
Here is the music video for Owl City's "To the Sky" theme song for Zack Snyder's LEGEND OF THE GUARDIANS: THE OWLS OF GA'HOOLE which features lots of new footage from the September 24 release.
Based on the books by Kathryn Lasky, the animated fantasy adventure is voiced by Emily Barclay, Abbie Cornish, Emilie de Ravin, Ryan Kwanten, Jay Laga'aia, Miriam Margolyes, Helen Mirren, Sam Neill, Richard Roxburgh, Geoffrey Rush, Jim Sturgess, Hugo Weaving and David Wenham.
SEPTIMUS HEAP
HarperCollins Publishers announced that Warner Bros. Pictures has acquired the feature film rights to the seven-book fantasy series, "Septimus Heap." This bestselling series marks UK author Angie Sage's first foray into middle-grade fantasy.
"Septimus Heap: Magyk," the first book in the series will be produced by Karen Rosenfelt (The Devil Wears Prada) with Sage as Executive Producer.
The series tells the story of two babies that are switched at birth: one, a boy who discovers his birthright as the seventh son of a seventh son, and ultimately, a powerful wizard; the other, a girl who is destined to become Princess. Their stories are set in a weird and wonderful fairy-tale England and their journeys of self-discovery are filled with hilarious characters and clever charms, potions and spells.
"We are delighted that Warner Bros. will be creating films from the 'Septimus Heap' series," said Susan Katz, President and Publisher of HarperCollins Children's Books. "We know that the producers share our belief that the world of 'Septimus Heap' is quirky, humorous, and unlike anything else in children's fantasy."
Published in March 2005 by HarperCollins Children's Books, "Septimus Heap: Magyk" was an international bestseller. It debuted at #3 on the New York Times Best Sellers List and moved to #1 in its second week on-sale. The subsequent books in the series, "Septimus Heap: Flyte" and "Septimus Heap: Physik," were published in March 2006 and March 2007, respectively.
Since its inception, the "Septimus Heap" series has sold more than 1 million units in the United States. All of the books have appeared on national bestseller lists in the U.S. immediately following publication, including the New York Times, USA Today, Publishers Weekly, and Book Sense. The series has been sold in 28 languages and has appeared on the bestseller lists in France, Sweden, Spain, and in the UK.
Angie Sage was born in London and grew up in the Thames Valley, London, and Kent, and currently lives in Cornwall, England. She has created many picture books and chapter books, published primarily in the UK.
The "Septimus Heap" series is published by Katherine Tegen Books, an imprint of HarperCollins Children's Books.
SATURDAY, SEPTEMBER 11, 2010
BEING HUMAN
Syfy's all-new drama series BEING HUMAN, starring Sam Witwer (Smallville, Battlestar Galactica), Meaghan Rath (The Assistants), Sam Huntington (Cavemen, Superman Returns) and Mark Pellegrino (Lost, Supernatural) has commenced production in Montreal, Canada. Adam Kane (The Mentalist, Heroes) is Director and Co-Executive Producer with Executive Producer Michael Prupas (The Kennedys, Pillars of the Earth) and husband and wife Executive Producers/ Writers Jeremy Carver (Supernatural) and Anna Fricke (Men in Trees, Everwood). Muse Entertainment is producing 13 1-hour episodes for Syfy.
BEING HUMAN, a re-imagining of the acclaimed UK series created by Toby Whithouse, follows three paranormal, 20-something roommates living in Boston - vampire "Aidan" (Witwer), werewolf "Josh" (Huntington) and ghost "Sally" (Rath) - as they struggle to hide their dark secrets from the world, while helping each other navigate the complexities of living double lives and trying to be human. Mark Pellegrino plays Aidan's charismatic but menacing vampire mentor "Bishop."
The producer is Irene Litinsky (Human Trafficking, The Phantom) of Muse Entertainment, the director of photography is Pierre Jodoin (The Last Templar, Secrets of the Mountain) and the production designer is Zoe Sakellaropoulo (The Last Templar, The Phantom).

HEREAFTER
Until seeing this trailer, HEREAFTER sounded like a romantic comedy or something. However, it's directed by Clint Eastwood, a guy who has done some amazing work on the big screen. It stars Matt "Jason Bourne" Damon as a psychic who can talk to the dead.
See for yourself -- this movie looks pretty good. Here is the official description for the film:
"Hereafter" tells the story of three people who are touched by death in different ways. George (Matt Damon) is a blue-collar American who has a special connection to the afterlife. On the other side of the world, Marie (Cecile De France), a French journalist, has a near-death experience that shakes her reality. And when Marcus, a London schoolboy, loses the person closest to him, he desperately needs answers. Each on a path in search of the truth, their lives will intersect, forever changed by what they believe might--or must--exist in the hereafter.
THE CW PREMIERES
The Hollywood Reporter writes that The CW fired its second round of premieres Thursday night, with "Vampire Diaries" returning for a sophomore season and the network's "Nikita" reboot making its primetime entrance.
Opening the evening, "Vampire Diaries" (3.4 million viewers, 1.6 adults 18-49 rating) returned down 24% in the demo compared to its series opener last fall, though the drama was on par with its overall first season average. "Diaries" had its best women 18-34, The CW's target, since last February.
"Nikita" (3.6 million, 1.4) at 9 p.m. dropped slightly from its "Diaries" lead-in in the adult demo, though grew 9% in total viewers. "Nikita" also matched the premiere rating of CW stalwart "Supernatural" in the time period last fall, and scored the largest audience in the time slot since January, 2009. "Nikita" was able to maintain its audience throughout its hour.
"Nikita" performed 17% better than Wednesday's "Hellcats" premiere, though also benefited from a stronger and scripted lead-in. Critic reviews on "Nikita" averaged a bit better than "Hellcats," according to Metacritic. THR's review was lukewarm, while Salon and TV Guide were positive.
OBLIVION
According to Deadline New York, William Monahan (The Departed) will write the script for OBLIVION, to be directed by TRON: Legacy helmer Joseph Kosinski. The Walt Disney Pictures project is described as follows:
In a future where the Earth's surface has been irradiated beyond recognition, the remnants of humanity live above the clouds, safe from the brutal alien Scavengers that stalk the ruins. But when surface drone repairman Jak discovers a mysterious woman in a crash-landed pod, it sets off an unstoppable chain of events that will force him to question everything he knows.
TRON LEGACY
The Disney Channel is airing a sneak peek at TRON: Legacy. The clip features an intro by Garrett Hedlund and Olivia Wilde. Opening in 3D, 2D and IMAX 3D on December 17, the Joseph Kosinski-directed follow-up also stars Jeff Bridges, Bruce Boxleitner, James Frain, Beau Garrett and Michael Sheen.
SCIENCE FICTION NEWS STORIES:
News from yesterday and the last couple of months can be found in the News Archive. Check it out to catch up on all that has been going on in the world of science fiction.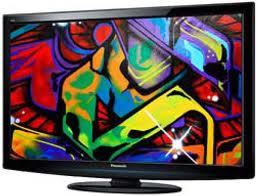 8:00pm on ABC Family
Snow White and the Seven Dwarfs (1937)
A wicked queen casts a spell upon a beautiful young girl in this Disney adaptation of the classic fairy tale. Animated. Adriana Caselotti, Harry Stockwell, Lucille La Verne, Moroni Olsen, Billy Gilbert
8:00pm on BBC America
Star Trek Generations (1994)
Capt. Kirk and Capt. Picard team up to thwart mad Dr. Soran's quest for the Nexus of joy. Patrick Stewart, William Shatner, Malcolm McDowell, Jonathan Frakes, Brent Spiner
8:00pm on TNT
The Lord of the Rings: The Return of the King (2003)
Frodo and Sam march toward Mount Doom to destroy the ring, while Gandalf and warriors prepare for a final confrontation with Sauron and his allies. Elijah Wood, Ian McKellen, Liv Tyler, Viggo Mortensen, Sean Astin
9:00pm on HBO
True Blood -Episode: Evil Is Going On (NEW)
Eric plots his revenge against Russell; Sookie considers a new life without Bill; Tara discovers some surprising news about Sam; Jason finds a new calling; Lafayette turns to Jesus for help; Hoyt hopes for a future with Jessica.
10:pm on CBS
CSI: Miami-Episode: Mommie Deadest (First Aired: May 10, 2010)
When a suburban mother is murdered, the CSIs uncover her family's dark past; Delko continues his undercover mission.
ON SYFY TONIGHT
9:00pm
Goblin (2010)
A vacation becomes a nightmare when a malevolent sprite steals a family's baby. Camille Sullivan, Donnelly Rhodes
CRUSADE: WHAT THE HELL HAPPENED? VOLUME 1
Release Date: August 25, 2010
Here is the book CRUSADE fans have been waiting for! Released on August 25, 2010, the covers are white and the design matches CRUSADE: BEHIND THE SCENES. The series includes all twelve of J. Michael Straczynski's CRUSADE scripts (including two episodes that were never produced)–plus the TV movie A CALL TO ARMS.

Read the entire press release over at Hell-Crusade-1.
SPECIAL NOTE
JUMPGATE PINS
Saw a note from Ranger Jan on Facebook about JumpGate pins being available again. Elana created the pins years ago as a way of honoring Babylon 5. Now you can help Elana in her fight against cancer by purchasing one of these beautiful pins. They are quite beautiful -- and become quite a conversation piece when worn. For more information, go to http://www.jumpgatepins.com/index.html.
ISN BLOG
Join me on the ISN News Blog at http://isnnews.blogspot.com. I'll put in stuff that I think is interesting for others to read about and I hope you will join in to discuss of the issues -- related to science fiction or not!
KEEPING UP WITH CAST AND CREW
JMS AT NEW YORK COMIC CON
JMS posted this information on his Fans of JMS page:
Starting to get panel/appearance information for New York Comic Con. The main appearance, my spotlight, is now scheduled for Sunday the 10th at 1:30. Just FYI for folks who're coming into town and need to schedule things accordingly.

CLAUDIA CHRISTIAN
Claudia has joined the Wizard World Tour. The Former "Sexiest Woman in Sci-Fi," Claudia Christian is coming to a city near you! Christian began her career on the soap "Dallas" in 1978, followed by Calendar Girl Murders in 1984 and found her big break in 1994 when she landed the part of "Susan Ivanova" on the science-fiction series "Babylon 5." Her next appearance will be at Big Apple Comic Con, October 1-3, 2010 at Penn Plaza Pavilion in New York City. For more information on her appearances, go to http://www.wizardworld.com/.

PAT TALLMAN:
Pat Tallman (Lyta) is now appearing in the short horror video "Firsts."
This 6 minute YouTube film description:
"A young girl contemplates losing her virginity.... but her overbearing and overly devout Aunt has other ideas. Starring Alyson Daniel, Patricia Tallman, Damian Daly, and Kristen Holloway. This script was the winner of the talenthouse.com "Write a short script for Fewdio" contest!"
Patricia Tallman play the Aunt. See the video at http://www.youtube.com/watch?v=TmVV94tvf7I
BILL MUMY
: Bill has a new music CD out GLORIOUS IN DEFEAT. He writes on facebook:
My brand new cd, "Glorious in Defeat" is on a small indie label out of San Francisco, GRA, and they do their very best to promote it, but... it's a hard business... SO, I'...m hoping with the help of all you facebook pals, we can spread the word. I do hope you'll pick it up, and I'd very much like to hear your thoughts on this project as it's brand new and of course, the songs are personal and important to me. I played everything on the album and I hope you'll check it out. You can order it here. http://www.gragroup.com/bill_mumy.html
NEW INTERVIEWS
Marc N. Kleinhenz has begun a series of interviews of the cast of BABYLON 5, one of the landmark television shows in American history. Look back with them as they discuss their characters, their emotional evolution, and their participation in television history.

Maggie Egan the ISN Reporter at
http://poplitiko.blogspot.com/2010/08/and-sky-full-of-stars-ii.html

Pat Tallman at:
http://poplitiko.blogspot.com/2010/06/and-sky-full-of-stars-i.html

Me, Sandra Bruckner:
http://poplitiko.blogspot.com/2010/05/interview-sandy-bruckner.html
AN OPEN LETTER FROM PAT TALLMAN
August 30th 2010
" Hello Dear Friends, Elves, Santas and Angels,
Over 20 years ago now, I met the kids of Penny Lane. These kids were one step away from lock up. They were so abused they couldn't be placed in regular foster care. Penny Lane helps the kids that no one else can. They make the world a better place by saving our kids, giving them hope and a future. Please join me in supporting Penny Lane and the Be A Santa program, where we make sure each of these kids has a warm holiday to remember! Thanks so much for being YOU!
love,
Pat

How can you help? You can share this link via email and Facebook: http://birthdays.causes.com/wishes/21754

You can donate via this link $20 or whatever you can afford! No donation too small!http://birthdays.causes.com/wishes/21754

You can send a check made out to Penny Lane, to P.Tallman 6433 Topanga Canyon Blvd. #207 Canoga Park, CA 91303
Check back with us in a month and we'll start asking for other items to help us make the holidays special for an abused child!

I need $10,000 a year to make this program work. The total in the Facebook Causes page reflects donations over the past 2 years. This year's total will be updated on the http://www.beasanta.org/
Thanks again! Here we GO!!!!!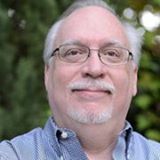 BABYLON 5 PRESENCE ON FACEBOOK
I know a lot of you are already on FaceBook. However, I don't know if you knew how many other Babylon 5 folks have taken the plunge and opened FaceBook accounts. In fact, Pat Tallman has reopened her Fan Club using FaceBook at the site. For a peek, go to http://www.facebook.com/group.php?gid=45593318387. Claudia Christian has been really active -- sharing pictures of her recent trips and letting us know about upcoming convention activities. J. Michael Straczynski (JMS) has a FaceBook page as well as a new "Fans of J. Michael Straczynski" page. So check it out!
THE ZOCALO ON FACEBOOK
I've taken the leap and started a group over on Facebook. There is a discussion page where we can talk about Babylon 5 and all things science fiction. Be sure to check it out. http://www.facebook.com/?sk=2361831622#!/group.php?gid=132854680067759
BILL MUMY RADIO
Bill Mumy has a new CD out. Check it out at: http://www.reverbnation.com/artist/artist_songs/648253

Also, listen to Bill Mumy's interview on ON SCREEN & BEYOND at www.OnScreenAndBeyond.com

Bill is inviting you to check out his brand new weekly radio show, "THE REAL GOOD RADIO HOUR with your host Bill Mumy". We'll be listening to many different styles of music and learning about those who pioneered them. "The Real Good Radio Hour" will air every Wednesday and Friday at 7 PM both Pacific and Eastern time and can be heard weekly on KSAV.org.

Bill has a new place on FaceBook as well http://www.myspace.com/billmumy. There you will find information about some of his new projects, including a graphic novel LOST IN SPACE and a Star Trek novel with Peter David, "The Return of the Worthy."




Here is a quote from J. Michael Straczynski about emotions.
I had this theory that the more important and intimate the emotion, the fewer words are required to express it.

First it's in dating: "Will you go out with me?" Six words.
"Honey, I care for you." Five words.
"You matter to me." Four words.
"I love you." Three words.
"Marry me." Two words.
But what's left? What's the one most important and intimate word you can ever say to somebody? It's "goodbye."

While Andreas Katsulas (G'Kar), Rick (Biggs) and Tim (Choate) are no longer with us, we will not forget their wonderful personalities and talent -- as well as their significant contributions to the BABYLON 5 universe. Be sure to visit In Memory Of for more information about memorial efforts.
Until we met again, in a place where no shadows fall.
BABYLON 5 BIRTHDAYS
Pat Tallman - September 4
Cinzia Zanetti - September 5
Robin Atkin Downes - September 6
Mira Furlan - September 7
Walter Koenig - September 14
Paul Williams - September 19
Robert Rusler - September 20
Gary Cole - September 20
Bear Burge - September 23
Jason Carter - September 23
Manny Case - September 23

Have I missed anyone? If you know the birthday of someone connected with Babylon 5, pass the information along. We want to include everyone in our Happy Birthday Wishes.



BABYLON PODCAST
Welcome to Show #210!

The Babylon Podcast has once again been nominated for a Parsec Award (to be awarded at Dragon*Con, September 3-5th)! I hope we win…
Bret highly recommends The Changeling, the feature film starring Angelina Jolie that was written by JMS… enthusiatically endorses it (so everyone should see it!)
Discussion: Tim, Bret and Gary dive into the first batch of voicemails and emails discussing the "Babylon 5 Topics" series, addressing listener perspectives and opinions on those very topics, and theories we didn't fully discuss.

Submitting your own Feedback: If you have any suggestions or comments, please let us know! Call 206-338-2259, or just email us a comment you've recorded yourself!
Lurker's Guide 2.0: Summer is starting a push to get Lurker's Guide 2.0 completed and finished, including missing collectibles, photos of magazine covers and toys, and all sorts of other B5 goodies that didn't get included in the original guide during the years after Crusade. Let her know if you want to lend a hand.
More Parody/Filk Songs Wanted: If you know of any more B5-related fan songs out there, definitely let us know, so we can let other B5 fans know where to buy them! And if those CDs are out of print, let's brainstorm on ways to get those songs back out there for fans!
Second Life Info: FarPoint Media's Second Life space can be found on the Third Life Books island in the Wind River Territory. Find the island here: http://slurl.com/secondlife/Wind%20River%20Territory/50/129/22
Babylon 5 Information Gathering: If you know of a dead or abandoned B5 related website that may be in need of a new home, let Summer know! Maybe we can mirror it here or house it on a sister site.
If you can, Please Donate to the show!
To catch up on all the previous Babylon 5 podcasts, go to www.babylonpodcast.com
NEW MOVIE RELEASES
WHAT IF
Kevin Sorbo fans! Here is some news for you.
WHAT IF stars KEVIN SORBO (Hercules, the Legendary Journeys, Gene Roddenberry's, Andromeda), DEBBY RYAN (Bailey Pickett on the Disney Channel hit show, The Suite Life on Deck, and the upcoming Disney Channel movie, Sixteen Wishes), JOHN RATZENBERGER (Cheers. voice in every one of Pixar's films) and KRISTY SWANSON (Buffy the Vampire Slayer). WHAT IF is directed and produced by Dallas Jenkins (son of famed Jerry Jenkins, co-author of the Left Behind series).
FILM OVERVIEW: WHAT IF tells the story of Ben Walker (Kevin Sorbo), fifteen years after leaving his college sweetheart Wendy (Kristy Swanson) and his calling to be a preacher in order to pursue a business opportunity. Now with a high-paying executive gig, a trophy fiancé and a new Mercedes, he hasn't even considered a family nor felt the need to set foot in a church in fifteen years.
While on a thrill ride outside the city, his new car mysteriously breaks down, and he's visited by a tow truck driver named Mike (John Ratzenberger) who claims to be an angel sent to show Ben what his life would look like had he followed his true calling. Suddenly Ben wakes up in the middle of domestic chaos as his wife Wendy and daughters (including Debby Ryan) are getting ready for church, where Ben is the new pastor.
Before he can get back to his old life, Ben must first embrace this reality and discover the value of faith and family, and perhaps restore his love for those who were heartbroken fifteen years ago: Wendy and God. In the tradition of Its a Wonderful Life and The Family Man, What If is a story of finding your true purpose in life.
For more information, go to http://thewhatifmovie.com.
To see if your city will be getting to see WHAT IF, go to http://thewhatifmovie.com/theaters-3.

Review:
To tell you the truth, I never liked Kevin Sorbo in Andromeda. There was just something about him I didn't care for. Perhaps it was an arrogance about the character that just rubbed me the wrong way. That said, I have to say that I really enjoyed WHAT IF. He was very good in the title role of Ben Walker. He showed great range as an actor and the entire cast, especially John Ratzenberger as the angel, were awesome. While the plot was familiar, very much like the classic, IT'S A WONDERFUL LIFE, there were some new twists and turns in WHAT IF that I think you'll enjoy. It was also nice not having to listen to all the foul language and seeing people getting blown away every three seconds. This was just a good, down-to-Earth movie that you could sit and watch with anyone, Mom, Dad, kids - anyone. I hope that it will be available on DVD soon so that many others will have an opportunity to watch it.
NEWS FROM WARNER BROS.
DVD TO BLU
Starting today, through TV on DVD2BLU, consumers can now experience their favorite television series again for the very first time in stunning 1080p picture quality and crisp, superior sound that only comes from a Blu-ray Disc. Titles such as "Smallville", "The Sopranos", "Fringe", "Supernatural" and more can be upgraded for as low as $14.95 plus shipping. Consumers who place orders of over $35 will receive free shipping.
The process to upgrade is simple. Consumers select the titles they want to upgrade on DVD2BLU.com, mail in their standard DVDs with pre-paid postage and a short time later receive copies of the same title and complete season on Blu-ray. See below for a complete list of TV titles available for upgrade with DVD2BLU.com:
$19.95
Smallville Season 8
Supernatural Season 1
Supernatural Season 4
Chuck Season 2
Fringe S1
The Sopranos S1

$14.95
Smallville Season 6
Smallville Season 7
Supernatural Season 3
Chuck Season 1
Pushing Daisies S1
Pushing Daisies S2
Terminator SCC S1
Terminator SCC S2
Nip/Tuck S4

Here are clips from:
SMALLVILLE, S.8:
http://pdl.warnerbros.com/wbol/us/dd/med/dvdtoblu-ray/clips/ss8_plastique_first_day_qt_700.mov

FRINGE, S.1:
http://pdl.warnerbros.com/wbol/us/dd/med/dvdtoblu-ray/clips/fs1td_3T7658_john_scott_qt_700.mov
WARNER HOME VIDEO
SUPERMAN/BATMAN: APOCALYPSE
Warner Home Video, UGO.com and The Paley Center for Media proudly present the bi-coastal World Premieres of Superman/Batman: Apocalypse, the highly anticipated next entry in the ongoing series of DC Universe Animated Original PG-13 Movies, in Los Angeles on September 21 and New York on September 23. Filmmakers and members of the voice cast will attend both events for red carpet media interviews and post-screening panel discussions.
In SUPERMAN/BATMAN: APOCALYPSE, a spaceship splashes down in Gotham City Harbor -- leading Batman and Superman to encounter a mysterious Kryptonian with powers as great as those of the Man of Steel. The Kryptonian is soon revealed to be Kara, cousin of Superman, who takes her under his wing to educate her about the ways of Earth. However, the villainous Darkseid has other plans. Seeing an opportunity to finally defeat Superman, Darkseid abducts and gains control of Kara, utilizing the powerful Kryptonian to do his bidding. It's up to Batman and Superman to save Kara, but they'll have to take the fight to Darkseid within his hostile world – where unknown, deadly threats lurk around every corner, including a brainwashed Kryptonian able to match Superman blow-for-blow.

For more information about the premiere event, go to Apocalpyse. The SUPERMAN/BATMAN APOLALYPSE will be available on DVD September 28, 2010.

DC SHOWCASE: Superman/Shazam! The Return of Black Adam
On November 9, 2010, Warner Home Video will distribute the DC Showcase Original Shorts Collection, the first quartet of animated adventures featuring the never-before-seen Superman/Shazam! The Return of Black Adam. DC Showcase is a series of animated shorts featuring characters from the celebrated DC Comics vault. To read more about this new collection of animated original movies, go to WB Press Release.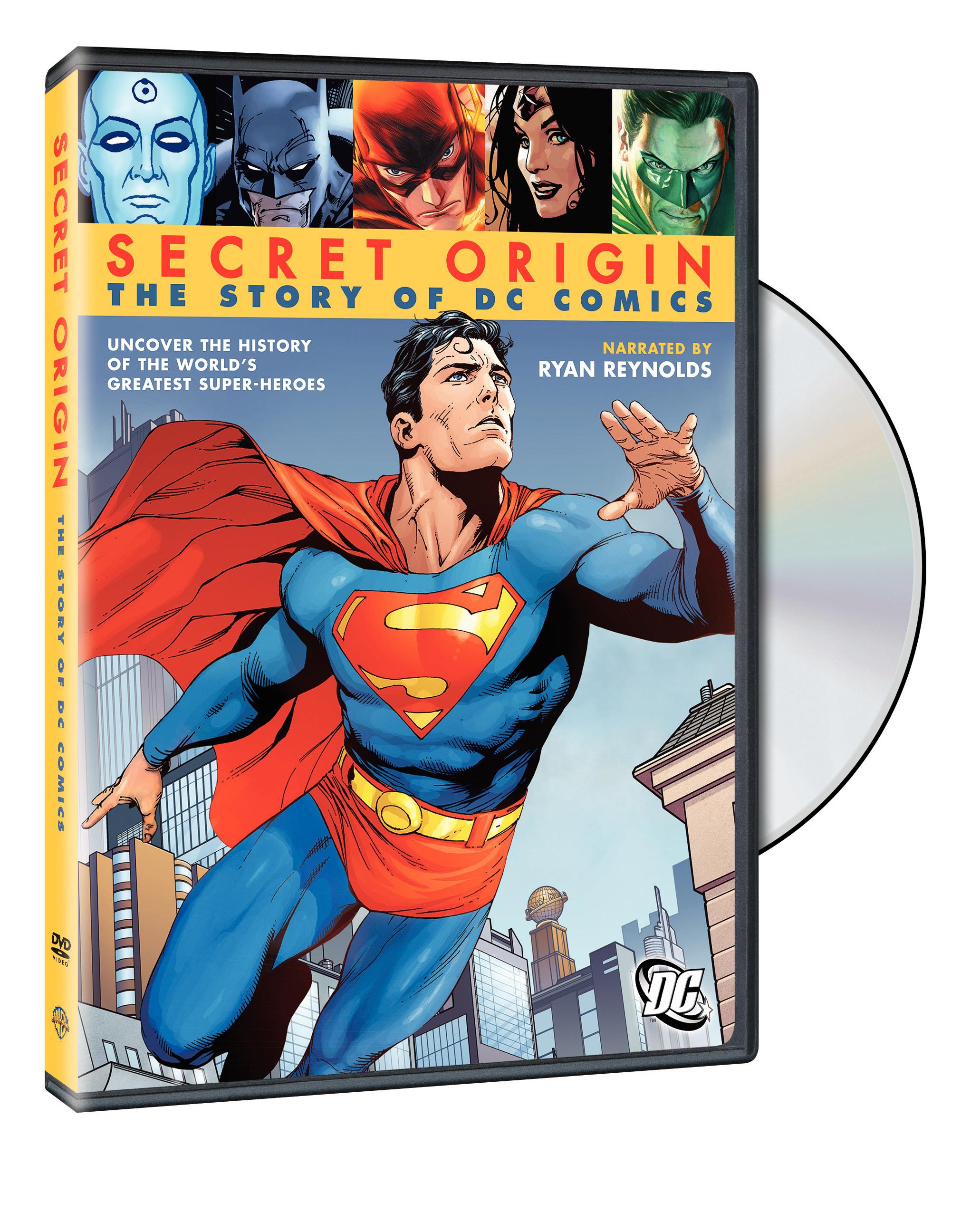 SECRET ORIGIN: THE STORY OF DC COMICS
Warner Bros. Pictures presents an enthralling examination of the creative forces behind the World's Greatest Super Heroes in Secret Origin: The Story of DC Comics, an all-new documentary that takes viewers behind the scenes of the iconic company with unprecedented access to the Warner Bros. and DC Comics archives.
Narrated by Ryan Reynolds, Secret Origin: The Story of DC Comics will be distributed by Warner Home Video on November 9, 2010 on DVD for $24.98 (SRP). Secret Origin: The Story of DC Comics will also be available On Demand and for Download.
For more information, go to Secret Origin page.





SUPERNATURAL: THE COMPLETE FIFTH SEASON
Release date: September 7, 2010
Official website: http:// www.supernaturaldvd.com
Product Description:
Twenty-six years ago, Sam and Dean Winchester lost their mother to a mysterious and demonic supernatural force. Subsequently, their father raised them to be soldiers. He taught them about the paranormal evil that lives in the dark corners and on the back roads of America ... and he taught them how to kill it. This haunting series follows the Winchester brothers as they crisscross the lonely and mysterious back roads of the country in their '67 Chevy Impala, hunting down every evil supernatural force they encounter along the way. At the end of the fourth season, Sam unwittingly broke the final seal – that held Lucifer captive in Hell. Now, Lucifer is free, the Apocalypse is here and angels prepare for a spectacular final battle. Against a landscape of celestial violence, natural disasters and a rising human death toll, Sam and Dean, with the help of fallen angel Castiel, must find a way to achieve the impossible: Kill the Devil.
SMALLVILLE: THE COMPLETE NINTH SEASON
Release date: September 7, 2010
Official website: http://www.smallvilledvd.com
Product Description
After a meteor shower bursts from the heavens, raining destruction on the unsuspecting citizens of Smallville, years pass, and the healing process leaves the town's inhabitants with scars and secrets. From the ashes of tragedy, a popular yet awkward teen attempts to decipher the meaning of his life and his clouded past. As he struggles with the transition from boyhood to adulthood, Clark finds that his strength and strange abilities set him uncomfortably apart from his peers. Soaring into its ninth season, this modern retelling of the Superman legend and its classic characters continues to blend realism, action and emotional depth to reveal a new interpretation of the enduring mythology. This season, as Metropolis's clock tower tolls our characters' darkest hour, we find Clark Kent (series star TOM WELLING) finally making his first attempts to embrace his calling as a superhero.
FRINGE: THE COMPLETE SECOND SEASON
Release date: September 14, 2010
Official website: http://www.thewb.com/shows/fringe-on-dvd/
Product Description
From J.J. Abrams (Lost), Alex Kurtzman and Roberto Orci – the team behind Star Trek and Alias – and executive producers Jeff Pinkner, J.H. Wyman and Bryan Burk, Fringe returns for a second thrilling season and continues to explore the unexplained phenomena and terrifying occurrences linked throughout the world – known simply as "The Pattern" – in pursuit of a larger, more shocking truth. Set in Boston, the FBI's Fringe Division formed when Special Agent Olivia Dunham (Anna Torv) enlisted the help of institutionalized "fringe" scientist Walter Bishop (John Noble) and his son, Peter (Joshua Jackson), to save her partner and lover from a mind-bending death. Through unconventional and unorthodox methods, the Fringe team imagines and tests the impossibilities while investigating unbelievable events, macabre crimes and mystifying cases involving teleportation, reanimation, genetic mutation, precognition, artificial intelligence and other fantastical theories. When the unimaginable happens, it's their job to stop it.
THE MIDDLE: THE COMPLETE FIRST SEASON
Release date: August 31, 2010
Official website: Synopsis:
Patricia Heaton stars as Frankie Heck in this warm and witty single-camera comedy about raising a family and lowering your expectations. Frankie Heck is a superhero. Well, no, not an actual superhero - but sometimes it seems to Frankie as though getting her kids out the door for school every morning is a superheroic act. Middle aged, middle class and living in the middle of the country, this harried wife and working mother of three uses her wry wit and sense of humor to try to get her family through each day intact.
Review:
THE MIDDLE is definitely in the same category of such great comedies as EVERYONE LOVES RAYMOND, FRAZIER and SEINFELD. ABC's THE MIDDLE gives us a look at the American family and you see your family on screen. With the same distribution of kids in the same ages and genders. THE MIDDLE gives you an honest look at life today, something no regular studio audience sitcom could convey.
The show depicts how children actually behave and the realities of middle class life without being sarcastic, mean, or condescending. It's as though real people sneaked into Hollywood and produced this show. The cast is spot on and Patricia Heaton shows she can easily lead a series all on her own.
It is rare when you get a show that you can watch through several showings -- and not be bored to tears. With THE MIDDLE, you see something a little different each time. You may have missed something because you were laughing too loudly or caught up in the moment the first time through.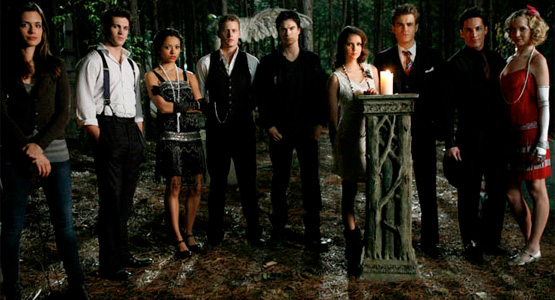 VAMPIRE DIARIES - THE COMPLETE FIRST SEASON
The best selling young adult book series is now a hit CW show. Two vampire brothers -- one good, one evil -- are at war for 17-year-old Elena Gilbert's soul and for the sourls of her friends & family. Contains all 22 episodes and over 8 hours of bonus material including featurettes, unaired scenes, gag reel, webisodes, and a downloadable audio book.
Pre-order your copy now by going to http://www.wbshop.com/on/demandware.store.
Be sure to check out all the swag at http://www.wbshop.com/Vampire-Diaries/vd,default,sc.html.
THE NEW ADVENTURES OF OLD CHRISTINE - SEASON THREE
Release date: July 27, 2010
I-tunes download site: http://bit.ly/WBS_Christine3
Audiences will love Emmy® Award winner Julia Louis-Dreyfus (Seinfeld) as Christine Campbell in the third season of this hilarious ensemble comedy.
Life gets even more complicated for Christine in season three when she recognizes that her ex-husband, Richard (Clark Gregg - Ironman), has moved on with his life and his impossible-to-hate new girlfriend, aptly named New Christine (Emily Rutherford - Van Wilder). While successfully juggling the daily stresses of motherhood and owning a woman's gym with her best friend, Barb (Wanda Sykes - The Wanda Sykes Show, Curb Your Enthusiasm), "Old" Christine realizes it may be time to move on with her love life as well. Things get steamy for Christine as she embraces a romantic relationship with Mr. Harris (recurring guest star Blair Underwood - Dirty Sexy Money, Something New, L.A. Law), a teacher at her son Ritchie's school. Will Old Christine finally find new love?
Video clip from the WB:

CLASH OF THE TITANS
Release date: July 27, 2010
Official website: http://clash-of-the-titans.warnerbros.com/dvd/
Synopsis
In Clash of the Titans, the ultimate struggle for power pits men against kings and kings against gods. But the war between the gods themselves could destroy the world. Born of a god but raised as a man, Perseus (Sam Worthington) is helpless to save his family from Hades (Ralph Fiennes), vengeful god of the underworld. With nothing to lose, Perseus volunteers to lead a dangerous mission to defeat Hades before he can seize power from Zeus (Liam Neeson) and unleash hell on earth. Battling unholy demons and fearsome beasts, Perseus and his warriors will only survive if Perseus accepts his power as a god, defies fate and creates his own destiny.
Video Clips
http://www.youtube.com/watch?v=2U_6_sgCEAI
http://www.youtube.com/watch?v=4LH1j2jk2gc
http://www.youtube.com/watch?v=ngCENLNnshw
REVIEW
I really didn't know what to expect from this movie. The reviews were mixed and like most remakes, CLASH OF THE TITANS will always be compared to the one before -- in this case the 1981 version starring Harry Hamlin as Perseus. This version is a more realistic Bronze age world, but the story hasn`t changed all that much. The citizens of Argos have become disenchanted with the rule of the Gods. The Gods have caused too much chaos and ruin to their lives so they've decided to take their destinies into their own hands, and destroy the temples and statues of the Gods. In doing so, Perseus'(Sam Worthington) family is killed by a falling statue of Zeus. When Zeus (Liam Neeson) learns of the desecration urged on by Hades (Ralph Fiennes), he decides to destroy the city in four days or they can offer the sacrifice of the King of Argos' daughter Andromeda (Alexa Davalos). In a visit to the throne room of Argos, Hades tells Perseus he is a son of Zeus, a demi-god. Being told of his near divinity, Perseus and a group of soldiers go off on their quest to save the city.
The advances in special effects are very evident in this movie. They are great! The monsters look real and the characters realistically interact with them. The giant scorpions look deadly, Medusa is creepy, and the Kraken is HUGE. I sort of had a flashback to STAR WARS as I watched the heroes riding the scorpions with the help of a tribe of warriors made of stone. The photography is awesome. The special features are wonderful as well. You follow the crew as they build the ships and sets. This project became a labor of love for everyone. This is a good adventure movie everyone should enjoy.
SUPER FRIENDS
Release date: July 20, 2010

Available for the first time since its debut in 1973, this highly-anticipated deluxe two-disc collector's set features eight exciting one-hour episodes starring the most recognizable DC Comics super heroes and villains of all time.
Super Friends! Season 1 Volume 2 follows the adventures of Superman, Batman, Robin, Wonder Woman and Aquaman as they join forces to save the world from unthinkable disasters. This crime-stopping squad, along with heroes in training Wendy, Marvin and Wonder Dog, combine their special superhuman skills to defeat the evil villains at hand. The collection also features DC Comics favorites Plastic Man, The Flash and Green Arrow. Each hour is packed with timeless adventures of the universe's greatest heroes as they pave the way for a brighter future.
ER: THE COMPLETE 13th SEASON
Release date: July 6, 2010
Synopsis:
Shaking things up: Former paramedic, now intern Dr. Tony Gates arrives with a straightforward attitude and a complicated personal life. Except for his devotion to healing, he's Gallant's opposite: brash, cocksure, with a bad-boy past – and maybe he's the right prescription for Neela's broken heart. Really shaking things up: Contentious Weaver leaves County General for a career move you wouldn't expect. And the profound dramas of the outside world continue to make their way to the ER, including a hostile patient whose real condition is a secret even to himself, homeless children who escape to a magic world of their own making, and a Christmas miracle. Then again, miracles happen every day at County General.
REVIEW
This series just keeps going and going. This season opens with trama in the ER -- both patients and doctors are affected. The drama builds as Abby has her baby and Sam is kidnapped by her ex-husband. Each episode of the series is filled not only with your usual hospital drama, but deep charcterizations that have made this series a favorite for years. Even if you haven't been following the series for years, you can enjoy the well-written episodes that involve some very good segments showing surgery and trama medicine, but you'll quickly get caught up in the personal lives of the staff at County General. This season includes guest appearances from Forrest Whitaker, who received an emmy nomination for his role as Curtis Ames, a former patient of Dr. Kovac who sues him for malpractice.
DARK BLUE – THE COMPLETE FIRST SEASON
Release date: July 6, 2010 exclusively online at WBSHOP.com and TNT.tv

DARK BLUE (from iconic producer Jerry Bruckheimer and starring Golden Globe® winner Dylan McDermott) is the story of Lt. Carter Shaw (McDermott) and his special undercover task force that tread the line between right and wrong to bring down a criminal underworld.
Experience each heart-stopping moment again or for the first time with the release of SEASON 1 on DVD before the start of the all-new DARK BLUE Season 2, August 4 only on TNT.

REVIEW
If you are looking for a good, tight, gritty police drama, look no further than DARK BLUE. From the pilot onward, you get a little information on each of the main characters -- just enough to keep you watching! Dylan McDermott is an awesome actor and he fits the persona outlined for Lt. Carter Shaw. In the pilot, one of the main characters says, he will do anthing to protect you and anything to get the bad guy. It's just hard figuring out which one comes first."
Produced by Jerry Bruckheimer, you get that feel of realism and you are on the edge of your seat with each episode. There is a good bit of violence, so it may be a bit much for some. But the violence fits the feel of this cable TV show -- dark and hard. I can't wait to see what season two brings.
NEW FAMILY DVDS
Looking for movies you can watch with your children? I have moved many of the family-oriented DVDs to a Family DVDs page. Here you will find wonderful DVDs you can enjoy with your entire family -- no matter the age. You will find background information about the DVD, but there are clips as well from Warner Bros. Enjoy!
BABYLON 5 MUSIC VIDEOS AND TRIBUTES
I found this message on the Babylon 5 moderated newsgroup this morning and just had to post it so that others might enjoy the marvelous music videos created by John Hudgens.

+++++++++++++++++++++++++
As some of you may know, I was hired by Joe Straczynski back in the day to create Babylon 5 music videos for him to use at science fiction conventions, and later to promote the show to networks. Eight were produced over the run of the series, not including the memorial videos I did later for Rick Biggs and Andreas Katsulas.

For the longest time, the only way to see these was if Joe or I showed them at a convention, but now, after numerous requests from fans over the years, Joe has given me permission me to post these online.

Danger Zone: http://www.youtube.com/watch?v=xYNG0ow0G0k

I Need a Hero: http://www.youtube.com/watch?v=PFo3Lau2Occ

Requiem: http://www.youtube.com/watch?v=X7ckXY6yiVQ

Nobody's Side: http://www.youtube.com/watch?v=Wk9LvldiOf0

Welcome to the Third Age: http://www.youtube.com/watch?v=YT5q_ltXiY0

Keep Yourself Alive: http://www.youtube.com/watch?v=t0lRtpWR5lo

The Phantom B5 Video: http://www.youtube.com/watch?v=uV4GMNjDdYc

Third Age 2K: http://www.youtube.com/watch?v=HqIyY0PWjbI

Richard Biggs memorial: http://www.youtube.com/watch?v=HyD4L8yNtsA

Andreas Katsulas memorial: http://www.youtube.com/watch?v=h2UQ2l9NPIg

- This is the extended version that I did for Andreas' widow ater the original cut was released on the net. It's never been seen online until now.

For those of you who've never seen these, I hope you enjoy them - and for those that have (and emailed me many times over the years about releasing them), I hope they're as good as you remember. Working with Joe on these videos was one of the highlights of my career, and I'll be forever grateful to him for the doors these have opened for me. I'm proud to have them on my resume.

John Hudgens
www.zteamproductions.com
COMIC BOOKS
WONDER WOMAN #601
Written by J. MICHAEL STRACZYNSKI Art and cover by DON KRAMER & MICHAEL BABINSKI Best-selling comics writer J. Michael Straczynski (THE BRAVE AND THE BOLD, Thor) smashes all your expectations of Wonder Woman by lauching an all-new era for the Amazon Princess! Spinning out of the mind-bending events of WONDER WOMAN #600, Diana must face the biggest mystery of all - who destroyed Paradise Island? On sale JULY 28 32 pg, FC, $2.99 US





BIG APPLE COMIC CON
Date: October 1-3, 2010
City: New York City - Penn Plaza Pavilion
Guests: Lee Majors, Jake Lloyd
For more information, go to http://www.wizardworld.com/home-apple.html"
NEW YORK COMIC CON
Date: October 8-10, 2010
Place: Jacob K. Javits Center, New York City
Guests: J. Michael Straczynski, Stan Lee, Bruce Campbell, and many others
For more information, go to http://www.newyorkcomiccon.com/
SPECIAL ANNOUNCEMENTS!
Creation Entertainment has a large number of conventions planned for the next several months. They include stars from TWILIGHT, SUPERNATURAL, STARGATE, FARSCAPE, XENA, SERENITY, STAR TREK, etc. Check out their calendar to see if one will be in your neighborhood soon. Don't miss their Videos page as well. It is full of some priceless video from a number of conventions.
Be sure to visit the referenced sites to see if there have been changes in dates/guests attending. Visit our Convention Calendar for a full listing of upcoming conventions.
BACK ISSUES OF THE ZOCALO TODAY
The front page of the The Zocalo Today changes daily, so be sure to check the back issues to make sure that you haven't missed anything IMPORTANT! I don't want the front page getting too long so I shift information periodically into the archives. So if you aren't a regular visitor to The Zocalo Today, be sure to check out the back issues. Just use the button above!
---
Take care and I look forward to hearing from you.
Sandra Bruckner (sgbruckner@aol.com)
Editor/Publisher
ISN News: The Zocalo Today
http://www.isnnews.net
Copyright - SBruckner, 1999-2010