[an error occurred while processing this directive]

The Zocalo Today

Welcome! I am glad that you found The Zocalo Today and dropped by. Take your shoes off, get comfortable and stay a while. There is a LOT of information here and you won't want to miss any of it.

The Zocalo Today is an interactive newsletter, encouraging interaction with readers through a discussion topic each week. If you have suggestions as to how The Zocalo can be improved -- or be more responsive -- send them along. The Zocalo Today is as much YOUR newsletter as it is mine! I'm just pulling together things for you!

Join our weekly discussion topic. It is just one way you can interact with other Z readers. If you have other information you would like to share, send it along. If you see Babylon 5 cast and crew in other roles, let us know. We enjoy convention reports, photos, etc. Don't miss our back issues. I hope this will become more than just a newsletter. It's a community of people that enjoy sharing their experiences and interests. Don't be shy. Join us today!

If you have questions, drop me a line at sgbruckner@aol.com or thezocalo@aol.com. If you would like to join the mailing list for our bi-weekly newsletter, send me a note and I'll include you on the list. Or you can use the subscription block at the left.

Again, WELCOME!




What's New Today
Saturday, January 18:
HARRY POTTER: Despite the fact that the book will not be available until June 21, Reuters reports that HARRY POTTER AND THE ORDER OF THE PHOENIX is already topping the best-seller lists. Announced on Jan. 15 by the publisher, online book store Amazon.com made J.K. Rowling's long-awaited sequel available for pre-order almost immediately after the announcement, without listing a price. Two hours later the book was the top seller on the site. While first-day figures were not released by Amazon.com, they did exceed the first-day figures of the last book, Harry Potter and the Goblet of Fire, which set a record for the largest book pre-order in history at more than 400,000 orders prior to its release three years ago. Ranger Sara indicates that her Barnes & Noble has been flooded with orders and they will be having a HARRY POTTER party on the day the book is actually available.
---
SHREK: A new addition is coming to the Universal Studios Theme Parks in California, Florida and Japan. According to AP, SHREK will join other Universal characters and delight guests. The film's stars Mike Myers, Eddie Murphy, Cameron Diaz and John Lithgow will provide voices for the attraction, called Shrek 4-D. Universal and DreamWorks Pictures are producing the film, which will be shown in a special castlelike theater with seats capable of vertical and horizontal motion. Park guests will need to wear special "OgreVision" eyeglasses to watch the 15-minute film, which will be combined with in-theater effects.
---
Speaking of SHREK, Dark Horizons reports that Julie Andrews will voice the character of Princess Fiona's mother in the upcoming sequel SHREK 2. Andrews joins Mike Myers, Cameron Diaz and Eddie Murphy, who all reprise their roles from the original, and John Cleese, who will provide the voice of Fiona's father.
---
DREAM TEAM: No, this isn't Mel Gibson and Danny Glover or The Lone Ranger and Tonto. It's Annabelle Gurwitch and Michael Lennox, co-hosts of SCIFI's new DREAM TEAM WITH ANNABELLE AND MICHAEL. Gurwitch, best known as the former co-host of TBS' "Dinner and a Movie," and Lennox, a psychotherapist who has been interpreting dreams for 15 years, join forces on January 20 at 11pm. Guest dreamers are featured live in the studio, as well as by videophone and telephone, but have been pre-selected by submitting their nighttime fantasies to the producers. According to Lennox, every dream has an interpretable meaning. Whether or not it is relevant is up to the individual. The only value in an interpretation of a dream is if the person who had the dream can do something with the information gleaned, or is comforted by it.
---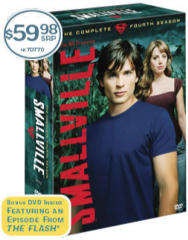 SMALLVILLE: I love this show -- and I'm not alone. On The WB Winter Press Tour last weekend in Hollywood, SMALLVILLE was named the network's most-watched series. Al Gough and Miles Millar and cast members Tom Welling, Michael Rosenbaum and Kristin Kreuk held a press conference to discuss the series. An abbreviated transcript can be found at http://www.comicscontinuum.com/stories/0301/17/smallville.htm.
---
INSIDE SCIFI THIS WEEK:
Friday, January 17:
RATINGS: Top 10 SF Network Shows: Touched by an Angel 4.8; Alias 3.7; Dinotopia 2.7; Firefly 2.7; Futurama 2.6; Buffy 2.6; Smallville 2.2; Birds of Prey 1.9; Twilight Zone 1.7, and Sabrina 1.7. Source: Nielsen Galaxy Report, 12/16/02 - 12/22/02/
---
WEST WING: According to The Hollywood Reporter, WEST WING has been renewed for another TWO years, with a third-year option! Now that is a DEAL! NBC will pay the studio a license fee of at least $5 million per episode, insiders said, though one informed source said the figure will be closer to $7 million per episode once Warners recoups deficits already paid for previous seasons of the multiple Emmy-winning show. The formal announcement of renewal at the TV press tour sponsored by the Television Critics Assn. in Hollywood.
---
THE HULK: "The Hulk is a summer movie event that will transcend beyond the theatre," said Russ Brown, executive vice president, consumer products, promotions & media sales at Marvel Enterprises. "That is why Marvel has aligned itself with partners that will extend the fantasy through a whole range of apparel-related products suited for youngest Hulk fan to the oldest admirer of this classic tale of conflict." There is a HUGE list of upcoming merchandise. To see if there's something there for you, go to http://www.comicscontinuum.com/stories/0301/16/index.htm,
---
Thursday, January 16:
RATINGS: Top SF Syndicated Shows: Stargate SG-1 2.5; Buffy 2.3; The X-Files 2.3; 3rd Rock 1.9; Andromeda 1.9; Mutant X 1.9; Beastmaster 1.7; The Outer Limits 1.6; Sabrina 1.4, and The Lost World 1.3. Source: Nielsen Galaxy Report, 12/16/02 - 12/22/02.
---
FIREFLY: Christopher Buchanan, president of Joss Whedon's production company, Mutant Enemy, indicated that ABC, CBS, NBC, UPN and the SCI FI Channel have all turned down deals to resurrect FIREFLY. While Buchanan said that the series' elaborate sets remain intact, time is running out. There are three original episodes that have yet to air. One problem is Firefly's cost: $2 million per episode. Other options are being explored, but Buchanan said, "We've gone so far as to explore the options in terms of, ... without going into great detail, everything from could we move the show to Canada? ... But the reality is, it's a pretty expensive show. And the budget would have to come down significantly. And just given [studio] 20th [Television]'s investment and all the people involved and stuff, it's pretty unlikely that we would go on, I think, in syndication."
---
RED ROSE SEQUEL: According to The Hollywood Reporter, ABC will be revisiting the haunted Seattle mansion Rose Red with "The Diary of Ellen Rimbauer," a telefilm based on the book of the same name released as a prequel tie-in to the net's hit miniseries "Rose Red." Written as a first-person account by young Ellen Rimbauer, the diary documents the eerie events in the house built by her husband, oil magnate John Rimbauer, in 1907 and features many of the "Rose Red" characters. Lisa Brenner ("The Patriot") and Steven Brand ("The Scorpion King") have been cast to play Ellen and John Rimbauer in the project. Craig Baxley back to direct; Mark Carliner will executive produce and Thomas Brodek to produce. Ridley Pearson, author of "Diary," has also penned the script for the ABC movie. It is not clear at this point if Stephen King, writer/executive producer of "Rose Red," will be involved in "Diary."
---
HARRY POTTER: U.K.-based Bloomsbury Publishing announced Wednesday that HARRY POTTER AND THE ORDER OF THE PHOENIX, the long-awaited fifth book in J.K. Rowling's children fantasy series, will finally hit bookstores on June 21.
---
Wednesday, January 15:
SMALLVILLE: Tom Welling and Allison Mack talked to SCI FI Wire about "sparks" that will fly shortly between Clark and Chloe on SMALLVILLE. Welling added, "The triangle of Chloe and Lana [Kristin Kreuk] and Clark, ... that's going to get quite tense in the not-too-distant future. It's like a time bomb waiting to happen. I don't know what direction it's going to go, but it's definitely something to keep a close eye on."
---
Speaking of SMALLVILLE, "Rosetta" -- the episode in which Christopher Reeve will guest star, is set to air February 25. "It's going to be a fun thing to do," Reeve said. "I actually play a scientist who has some information about Krypton that will be useful to Clark Kent." Alfred Gough, co-creator and executive producer of Smallville, said Reeve could become a recurring character. "We had a wonderful 45-minute conversation with Reeve," Gough said. "Sort of pitched him the character and the character's sort of role, not only in the episode, but also in the series, because every hero needs a wise man. And that's really his role in the show. It's sort of the passing of the torch from one generation of Superman to the next."
---
SCIFI FRIDAY RATINGS: Friday night brought back two favorites to SCIFI. FARSCAPE earned a 1.35 rating and its second airing at midnight a 0.78. While that is not bad, it is far from what was expected. STARGATE scored a 1.78 rating. The premiere of TRACKER was decent, with a 1.45 rating.
---
BATTLESTAR GALACTICA: Reports indicate that Universal has decided to suspend the release of the BATTLESTAR GALACTICA DVD one season boxed set. They have removed it from their website and all pre-orders have been canceled.
---
ANGEL: Eliza Dushku is returning for a three-episode story arc on ANGEL. The episodes are current filming, as Slayer Faith returns.
---
Tuesday, January 14:
BUFFY/ANGEL ROMANCE: Alexis Denisof (Wesley on ANGELl) and Alyson Hannigan (Willow on BUFFY) are engaged! The two have been a couple since Alexis left BUFFY to star in the spin-off series ANGEL. The special moment came during Christmas break as the two drove up to a mountain lake in Napa Valley. A tentative September or October date for the nuptials has been set, which will likely take place in California, Denisof said.
---
ANGEL: Andy Hallett, who plays Lorne on ANGEL is becoming a regular cast member, starting with the 14th episode. In a recent interview, Hallett said, "They just announced it two days ago. So you'll be seeing more of Lorne, which I never expected, by the way. I was originally signed on for, like, two episodes at the very beginning. And yesterday or the day before was my 48th episode. And then I got a wonderful call from Joss Whedon, ... and I was absolutely stunned. He caught me totally off guard. And he said, 'I want to let you know that we're making you a regular for the back nine episodes of this season.' ... They've been using me a lot anyway, so I kind of anticipated being with them for the duration, but I really wasn't sure. So this just really solidified it." New episodes of ANGEL being on Wednesday, ANGEL's new night at 9 p.m. ET/PT.
---
TOUCHED BY AN ANGEL: After nine seasons, TOUCHED BY AN ANGEL will end during May sweeps. Executive Producer, Martha Williamson says the finale will include some depiction of heaven, although all the details haven't been hammered out yet. CBS President Les Moonves says, "This shows imprint on prime time, for a lot of reasons, deserves a lot of special recognition. CBS has obviously grown since then, but we owe a lot to 'Touched by an Angel' and Martha especially." The finale will likely be two hours long and air either as a two-hour event or over two consecutive weeks.
---
HARRY POTTER: According to Entertainment Weekly, the "Singing Detective", Michael Gambon will play Dumbledore in the next HARRY POTTER movie.
---
DIE ANOTHER DAY: While the movie is still in theaters, MGM's marketing director Vincent Peterson talked to Timecode magazine about the DVD release of the Bond movie which seems headed for a May launch in the US & UK. He confirmed there'll be Deleted Scenes with commentary by Director Lee Tamahori (a first for a 007 DVD), the music video for Madonna's Die Another Day title song, and a featurette about the various gadgets. This matches some of the rumoured list of extras released late in November. Also likely to be included are two making of documentaries, two feature commentaries, trailers, multi-angle action sequence and opening credits clips, and trivia tracks.
---
MUTANT X: New episodes are ahead for MUTANT X this weekend. The next episode, entitled "Understudy," was by Darrell Fetty and directed by John Bell. Photos and a synopsis of the episode can be found at http://www.comicscontinuum.com/stories/0301/14/index.htm.
---
Monday, January 13:
RATINGS: Top 10 SCIFI Channel Shows: targate SG-1 1.8; Epoch 1.2; Gargantua 1.2; Witches of Eastwick 1.1; Dante's Peak 1.0; Target Earth 1.0; The X-Files 0.9; In Search of ... 0.9; Vampire in Brooklyn 0.9, and DNA 0.8. Source: Nielsen Galaxy Report, 12/16/02 - 12/22/02.
---
WEEKEND BOX OFFICE: JUST MARRIED with Brittany Murphy-Ashton Kutcher comedy knocked THE TWO TOWERS out of the #1 slot this week, bringing in $18 million in revenue. THE TWO TOWERS slipped substantially to $15 million this weekend. The total revenues for the film now stand at $283 million. Here are the numbers for the weekend: 1. JUST MARRIED, $18.0 million in this opening weekend; 2. THE LORD OF THE RINGS: THE TWO TOWERS, $15.0 million this weekend, $283.6 million since opening; 3. CATCH ME IF YOU CAN, $14.8 million this weekend, $119.5 million since opening; 4. TWO WEEKS NOTICE, $6.7 million this weekend, $78.9 million since opening; 5. ABOUT SCHMIDT, $6.3 million this weekend, $21.4 million since opening; 6. CHICAGO, $5.6 million this weekend, $17.1 million since opening; 7. MAID IN MANHATTAN, $5.0 million this weekend, $83.7 million since opening; 7. GANGS OF NEW YORK, $5.0 million this weekend, $55.1 million since opening; 9. ANTWONE FISHER, $3.8 million this weekend, $10.5 million since opening, and 10. ADAPTATION, $2.9 million this weekend, $9.5 million since opening.
---
BUFFY THE VAMPIRE SLAYER: A lot of people have been indicating that this may be the last season for BUFFY. According to The Hollywood Reporter, UPN said Sunday that they were exploring several options for the teen satire created by writer-producer Joss Whedon, including renewal or a possible spinoff. Low ratings and high production costs are running against "Buffy's" return. The network license fee for "Buffy" currently stands at more than $2.3 million per episode.
---
PEOPLE'S CHOICE AWARDS: Some of our favorites were acknowledged last night at the People's Choice Awards. William Petersen, accepting the award for "CSI" summed up the awards show perfectly, saying he was glad he was accepting the award from "no committees, no critics -- just people who like watching TV." "The Lord of the Rings: Fellowship of the Ring" tied "Spider-man" as the favorite motion picture, while "CSI: Crime Scene Investigation" won for favorite television drama series.
---
THE WB: The WB is looking at bringing back a couple of old TV series, namely THE LONE RANGER and TARZAN. Set to premiere during the February sweeps, THE LONE RANGER is a two hour pilot starring Luke Hartman as the 19th century law student who takes a secret identity as the masked man. The role of Tonto will be played by Nathaniel Arcand and Anita Brown will play his sister Alope. TARZAN is still in development but will be set in the present day. The brother of TARZAN's tragically killed parents become obsessed with tracking down his nephew and bringing him to the Greystoke estate in New York. While his uncle has good intentions, Tarzan is out-of-place in his new home and through a series of circumstance meets Jane in a heated moment.
---
Sunday, January 12:
HOME VIDEO: According to The Hollywood Reporter, home video, long thought of as the ugly stepsister of the glamorous theatrical queens of the Hollywood movie industry, became the belle of the ball in 2002, with DVD alone overtaking domestic boxoffice grosses for the first time. An independent survey of studio and independent industry sources shows that combined DVD sales and rental revenue for last year topped $11.6 billion, eclipsing theatrical's record-breaking $9.5 billion boxoffice take for the same period. Overall revenue generated by sales of DVD and VHS came in at about $12.1 billion for 2002. Furthermore, when combining VHS and DVD sales and rentals for the same period, the home video industry overall realized an annual cume of $20.3 billion, according to most estimates. Clearly at the top of this heap is Warner Home Video, capturing 21.7% of the home video pie by capitalizing on such hit titles as "Harry Potter and the Sorcerer's Stone" and those from its sister studio, New Line Home Entertainment, including "The Lord of the Rings: The Fellowship of the Ring," to name a few.
---
THURSDAY NIGHT RATINGS BATTLE: CSI is showing just how strong it is in today's TV ratings battle on Thursday nights. "Friends" opened the night for NBC with 23.7 million viewers and 11.5 rating/30 share in the adults 18-49 demographic, according to Nielsen Media Research. With "Survivor" on hiatus, CBS served up another hour of its revival of "Star Search," which delivered a respectable 13.8 million viewers and 4.4/11 in adults 18-49. At 9 p.m., CBS' "CSI" soared to 25.5 million viewers and 9.1/22 in adults 18-49 to dominate the hour against NBC's "Will & Grace" (16.3 million, 8.1/19) and "Good Morning Miami" (13 million, 6.4/15). Fox had a better-than-usual showing on the night with its two-hour "Cops: Top 15 Moments of All Time" special (8.2 million, 3.6/9). ABC was still D.O.A. with a 8-10 p.m. telecast of the theatrical "Snow Day" and 10 p.m. newsmagazine "Primetime Thursday" yielding an average of 6.5 million and 2.0/5 for the night.
---
B5 CAST ON THE TUBE: Be sure to check out the B5 Cast on the Tube page. I've updated it with Peter Woodward's new show as well as movies for Bruce, Melissa, Gary and others.
---
WHAT'S ON TODAY
On SCIFI tonight: 5:30 PM
Tom Clancy's `Netforce'
Pleasantly puzzling 1999 adaptation of a story by Tom Clancy and Steve Pieczenik, focusing on a special FBI unit policing the Internet. Michaels: Scott Bakula. Day: Kris Kristofferson. Toni: Joanna Going. Lowell Davidson: Brian Dennehy. Will Stiles: Judge Reinhold. Sandra Knight: CCH Pounder. "Control Factor" (World Premiere) on Sci-Fi Channel, 9:00pm - 11:00pm ET
After nearly being killed by a mysterious, disheveled man, a happily married insurance salesman begins to hear a powerful voice in his head pushing him to murder his wife. Questioning his sanity, he soon discovers the voice is part of a highly classified government mind-control project. With the help of a few renegades - ordinary citizens like himself - he must stop a plan that could rob the nation of its privacy, its liberty and its free will. On Syndicated TV this weekend - check your local listings: Mutant X
Understudy
While chasing four bikers making off with a device that can freeze electron movement, Shalimar meets up with old friend Nikki (Jeyna Lano) who, like her, is a feral mutant. While Shalimar recuperates from an injury, Nikki substitutes for her on the team in its quest to recover the device. Shalimar, however, becomes increasingly suspicious of her friend's motivations. Gene Roddenberry's Andromeda
The Leper's Kiss
Dylan leads the hunt for an elusive killer called "The Leper," who may be out to assassinate the Commonwealth's new governor. Stargate SG-1
48 Hours
The SG-1 team races against time when Teal'c fails to return through the Stargate. Buffy the Vampire Slayer
The `I' in Team
Buffy's relationship with Riley allows her almost total access to the Initiative. But the more she sees, the more questions she has about their operation and the motives of Maggie Walsh (Lindsay Crouse). Meanwhile, Willow feels she's been abandoned by Xander and Buffy because they both have significant others. Outer Limits
The Origin of the Species
During a first-contact mission, a doctor (Ron Rifkin) who altered his body so he could communicate with aliens mysteriously disappears.
B5 SIGHTINGS
Ranger Michael reports that:
Richard Biggs was on NYPD Blue Tuesday night as Sgt. Snider of IAB. The following report is from Ranger Penny:
While we were watching "24" last night, I was happy to see Daniel Dae Kim's name in the credits. He played a CTU agent named Baker for a few short scenes in tonight's ep - I don't know if he'll be back. There was another piece of dialogue that brought B5 to mind for my whole family .... President Palmer's wife answered a remark of his by saying, "I've always been here." We all looked at each other and said "oooo, how Vorlon of her!" :-)
JMS UPDATE
Here is a portion of an update submitted by JMS thru the B5 moderated discussion group. For the entire listing, go to JMS Speaks. On projects new and old...there's been a variety of happenings. On Jeremiah, we're about to start on episode 7, "Voices in the Dark," and I just finished writing 8 and 9, "Crossing Jordan" and "Running on Empty." By the time we hit mid-week, we'll be halfway through shooting on the season, which should wrap around the first week of April, though post will take us through mid-May. On Polaris...we got down to one of three projects of which one or two would be greenlighted for production. It went down to the wire, but finally SFC decided that the premise of Polaris was a little too science fictiony, when they were looking to go for ideas that had more immediate mainstream appeal. So even though they felt that Polaris was the best written of the projects they had in development, they went for a project about intergalactic (not interstellar, intergalactic) vampires called "Bloodsuckers." It is, to be fair, one of those concepts that, when you hear it, you get it, there isn't a lot of background needed. It happens. Networks develop tons of shows but only green-light a handful every year. Showtime had something like 35 projects in development this past season, and picked 3. So at least we made it to the final cut, which is something. We still feel strongly about Polaris, and once the turn-around period has expired, plan to bring it elsewhere. But as one door closes, another opens. The thing about television is that you can only have x-number of projects in the works at one time as a show runner (as opposed to someone who EPs and just sells shows). For instance, on Jeremiah, I'm in first position, meaning MGM and Jeremiah have first call on my services. When Polaris was in development, it occupied second position, meaning that had it gone ahead, that show would've had call on me above any other projects, but second behind Jeremiah in case of any conflicts of priorities or schedules. It's very difficult to sell or develop projects in third or fourth position, because it has the potential to compromise those productions if you get jammed up on shows with higher priority. Which is a long way to say that, once Polaris went away, it cleared the decks to take on another television project in development, which is very new and I can't discuss it yet until we're further down the road. On the comics front, I've turned in the first 2 issues of Supreme Power, and should have the third issue in sometime next week. I'm working with Gary Frank and Joe Quesada on the art and look of the book, which is very cool. Also working on issue 51 of Amazing Spider-Man, which I hope to turn in this week. (Issue 49 should be out in a couple weeks, I think.) I've been told the writer/directors doing the dust-up on Rising Stars: The Movie are progressing well, and I keep hearing about this thing shooting sometime later this year, but that's strictly unofficial until somebody tells me on the record. The text for the B5 Quote Book is nearly done, and I think that one will be out around April. I'm also doing an 80-minute audio drama called "The Adventures of Apocalypse Al," for a company that will put the show out later this year.
BABYLON 5 DVDs
News on Season Two DVD:
Here is the rundown on the Season Two DVD of Babylon 5 from Warner Home Video. The acclaimed second season of this science fiction cult favorite is now available for the first time ever as a 6-disc DVD set. All 22 episodes have been digitally remastered to provide Dolby Digital 5.1 sound and widescreen format. Special Features:
Introduction by producer/creator J. Michael Straczynski and various cast members. 2 episode commentaries by producer/creator J. Michael Straczynski. Episode commentary by cast members Bruce Boxleitner, Claudia Christian and Jerry Doyle. Building Babylon: Blueprint of an Episode featurette. Shadows and Dreams: Honors of Babylon featurette. The Universe of Babylon 5 data/tech/personnel files. Babylon 5 Timeline. Original episode promos. JMS wrote this in the B5 moderated newsgroup recently:
Interviews for year 2's DVD have been set, or already conducted, with Stephen Furst, Andrea Thompson, John Iacovelli, Anne Bruice-Ailing, Jerry, Claudia, Bruce, me, John Copeland, Doug Netter and others. In addition, I'll be doing commentaries on "The Coming of Shadows" and "The Fall of Night," and there will be a bonus group commentary by Bruce, Claudia and Jerry on "The Long, Twilight Struggle." There's talk about a special musical sequence for the season 3 DVD, with Chris re-scoring 2-3 episodes end to end with non-stop music, future segments on "The Future According to Babylon 5" with NASA and JPL guys (btw, James over at a certain House subcommittee, if you're reading this and could drop me a note, that'd be great). I'd like to see the final bonus section on year 5 be about the fans of the show. Point being...they're putting a LOT of energy and work into this to make each set better than the one before.
Season One DVD
The long awaited Season One of BABYLON 5 is now available on DVD. The 6-disc set is loaded with extras, including commentaries by series creator, J. Michael Straczynski. You can pre-order the DVD over at www.babylon5.com for $79.95. Warner Home Video has extended their "Free Shipping" deadline thru November 30th. For a preview of a few of the extras available on this wonderful DVD set, WB has given me permission to post a number of trailer streams (they are in Windows Media, Real Media and Quicktime formats). Go to Extras to hear Joe, Rick Biggs, Jerry Doyle, Stephen Furst and others talk about their time on Babylon 5. Use this link to read the Press Release from WB. Here's the latest from The WB on distribution of the DVD sets: Babylon 5 season 1 has already been released in Europe. The Gathering will be available in Europe in January. Season 2 will be available in Europe in May, and season 3 in September. Babylon 5 Seasons 1,2 & 3 do in fact have worldwide rights, but the other international territories (Latin America, Japan and Asia) are not releasing...for now.
BABYLON 5 CHRONOLOGY
Terry Jones has updated the tremendous Babylon 5 chronology and we will post it here in segments, beginning with the INTRODUCTION TO THE BABYLON 5 CHRONOLOGY. New segments will be added over the next few weeks, so stay tuned. Another section of the wonderful Babylon 5 Chronology is available for your enjoyment. Go to 20th Century . A BIG THANK YOU and note appreciation goes to Terry for taking the time (and considerable effort) to pull the chronology together -- and for updating it to include CRUSADE, the novels and other relevant Babylon 5 material. THANKS TERRY!
DISCUSSION TOPIC
How do you think the science fiction of today compares with years ago? Is it better, worse, the same? Is there too much concentration on special effects in movies? Are stories being lost in the spectacular nature of movie-making? Send in your opinions to sgbruckner@aol.com or thezocalo@aol.com. I'll post the responses on the Discussion Page for everyone to share.
REVIEWS WANTED:
Reviews have begun to come in. See if your opinion of LORD OF THE RINGS matches that of Ranger Helen. Go to Reviews to see. Want to express your opinion? Just drop me a line and you too can see your name in lights. Read any good books lately? How about the movies. Did you like LORD OF THE RINGS, NEMESIS? Send along a review and share your thoughts with the readers here. Let's make one of our New Years Resolution one of staying in touch here at The Zocalo Today.
SCI FI TALK
Tony Tellado is constantly conducting marvelous interviews with individuals involved in some way with science fiction. He is pulling out an interview with Robert Wortham Krimmer (Cartagia) from the archives where he discusses his B5 experience. Be sure to check out www.scifitalk.com. For 56K modem or less connections, go to http://www.live365.com/stations/211667. For a broadcast schedule, go to http://hometown.aol.com/scifitalk/broadcast.htm.
KEEPING UP WITH CAST AND CREW
BILL MUMY: Bill Mumy will be traveling to Vancouver next week to film the sequel to "It's A Good Life" titled "It's Still a Good Life" for the "Twilight Zone" TV series. Bill will be reprising the role of "Anthony Fremont," the kid who send you into the cornfield if you upset him. Bill Mumy's daughter Liliana (who costarred in "Santa Clause II," currently has a recurring role on "My Wife And Kids,") plays his daughter, Amy Fremont. Liliana looks just like her dad! Cloris Leachman may be involved, although that cannot be confirmed right now. It's 30 years later in Peakesville, Ohio... the village that was separated from the world by Anthony all those years ago. If you thought it was tough going THEN... "It's Still A Good Life" will air in February during sweeps. Thanks to Bill's Fan Club for the update.
---
ANDREA THOMPSON: Andrea Thompson was Talia Winter on B5, a copy of NYPD Blue and a CNN reporter on Headline News. Now she is hoosting a show examining the use of psychic mediums by police for Court TV. Told from a detective's point of view, "Psychic Detectives" looks at crimes where a psychic was brought in to help locate missing persons or solve crimes. Stressing that everyone is psychic (or intuitive) to a certain degree, the show will teach the audiences some of the techniques used.
---
PETER WOODWARD: The schedule for Peter's upcoming series can be found on the B5 Cast page. CONQUEST airs tomorrow and Sunday with DEMOLITION DERBY and WEIRD WEAPONS OF THE MIDDLE AGES.
---
JASON CARTER: Jason's latest movie, BEHIND THE RED DOOR (starring Kiefer Sutherland, Stockard Channing, and Kyra Sedgwick) will air on Showtime on January 12, 2003 at 8:00pm ET. For more information on the movie, go to http://www.sho.com/movies/movies_product.cfm?titleid=114974.
---
TIM CHOATE: I received a postcard from Tim the other day. He's starring in THE EMIGRANTS at The Coronet Theater in Los Angeles. The play by Slawomir Mrozek (translated by Henry Belssel) is being directed by Neno Pervan. The play runs from December 6 thru the 22nd. If you are interested in attending, call 310-657-7377 for reservations.
---
RICHARD BIGGS: Richard was in the series ANY DAY NOW for quite a while. The series is running on A&E now so check your local listings.
---
BABYLON 5 BIRTHDAYS
January 9 - David Allen Brooks
January 24 - Peter Woodward
January 27 - Julie Caitlin Brown
January 27 - Tamilyn Tomita Have I missed anyone? If you know the birthday of someone connected with Babylon 5, pass the information along. We want to include everyone in our Happy Birthday Wishes.
READER DIRECTORY
Sometimes you just can't find the e-mail address for someone you know you have -- it's someone who responded to a discussion topic or you met in one of the chat rooms. You'd like to send a personal note, but .... No address!!!!

We've started a White Pages of Zocalo Readers! It's a handy way of keeping track of people -- and putting together a birthday/greeting card list as well. If you would like to be part of the listing, just send me your name, state, e-mail address and (if you'd like to have it listed) birthday (without year) to sgbruckner@aol.com. Check out the Directory of Readers.

HAPPY BIRTHDAY READERS

Here are some of our readers who are having birthdays this month:

Name: Justin Fisch
State: Ohio
E-mail address: jfisch2042@aol.com
Birthday: January 1

Name: Lessa Redding
State: Colorado
E-mail address: queendragonrider@juno.com
Birthday: January 26

Name: Arwen Rosenbaum
State: New York
E-mail: arwen@panix.com
Birthday: Jan. 1

Name: Michael Rosenthal
Birthday: January 12

Don't see YOUR birthday here? That's easy to remedy. Send your birthdate along to me and I'll post it with others in our directory.
COMIC BOOKS
Kolchak the Night Stalker: Lambs to the Slaughter GN
by Joe Gentile & Trevor Von Eeden Kolchak investigates a spree of "typical" missing persons cases in Hollywood. Tinseltown dreams led the poor kids astray, right? It's an old story told here, but exactly how old is sure to come to a shock to Carl — as will the genetic experiments covered up by unknown forces. I picked up a bunch of comic books last night, including Rising Stars #21 and Amazing Spiderman #48. Here's an update from JMS:
BTW, for those following the comics, Spidey 46 and 47 came out over the last month or so, and 48 is due out this coming week. I've just finished going over the balloon placements on 49, and in some ways, though this has the least amount of action, it's my favorite issue to date...there are a lot of laugh-out-loud pages, and some real emotion, and it follows up on what I wanted to do from the start, to really build up Peter's character, get to the core of who he is. This builds on that foundation and takes it to the next level. I'm just real happy with it. I should have 51 turned in shortly.
---
NOVELS
A Day in the Life: The Unofficial and Unauthorized Guide to 24
by Keith Topping Extraordinary, dangerous, high-octane, and sexy, 24 has been nothing short of a television phenomena on both sides of the Atlantic. Author Keith Topping delves deep into the confines of this critically acclaimed series to reveal the hidden agendas lurking in the backdrop, and the root of its overwhelming success in mainstream media.
SPACE 1999: Powys Media has joined forces with Carlton International Media to continue the cosmic odyssey of Moonbase Alpha in a series of officially authorized and licensed original novels based on the cult science fiction series SPACE: 1999. The first two titles in this new line of original novels are RESURRECTION by William Latham and THE FORSAKEN by John Kenneth Muir. For more information on how to order the books, go to http://www.cerebralmassage.com/powysmedia.html.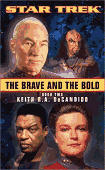 Over at Cinescape.com the latest Star Trek novel is reviewed. Star Trek: The Brave and the Bold, Book 2 by Keith R.A. DeCandido covers both Voyager and Next Generation, having Captains Picard and Janeway working together. The review is quite favorable and makes me want to check out Book 1 to see how the entire story plays out!
Buffy the Vampire Slayer: Angel & Buffy—Monster Island
by Christopher Golden & Thomas E. Sniegoski
The half-demon Doyle's demonic father, Axtius, has arrived in Los Angeles, intent on building a pure-demon army and avenging his son's death. But the massing of a demon army has not escaped the notice of Buffy the Vampire Slayer! Now, on a small island off the coast of California, a showdown is scheduled, with nothing less than the fate of the world, and a human soul, at stake!
---
BABYLON 5 NOVEL
DelRey has reprinted one of the most popular Babylon 5 novels written! Jeanne Cavelos' novel SHADOW WITHIN is now at your book store or available through online ordering. If you haven't read the book already, now is your chance to own a copy. Here is the description of the novel from DelRey: The electrifying space epic continues as Anna and John Sheridan battle deadly foes at opposite ends of the universe. The dedication of the new Babylon 5 Station is fast approaching, and desperate enemies intend to see it end in catastrophe. The fate of the fledgling space alliance lies in the hands of John Sheridan, newly appointed captain of the spaceship Agamemnon. His orders are to stop the attack. Unless he first gets to the bottom of the near-mutinous behavior of the Agamemnon's unruly crew, Sheridan and his spaceship will share Babylon 5's doom. Time is also running out for his wife Anna, headed to Z'ha'dum aboard the Icarus. Young, beautiful, and brilliant, she was thrilled to be appointed chief science officer of the follow-up mission to this mysterious planet on the edge of the known universe, where artifacts rumored to hold stupendous powers have been discovered. But the offer she could not resist threatens to become a dark destiny she cannot avoid, for an unimaginable horror lies somnolent on Z'ha'dum–and the monstrous consequences of disturbing the sleeping evil will haunt every living thing in the cosmos. . . . Babylon 5 created by J. Michael Straczynski
SCI FI PUBLICATIONS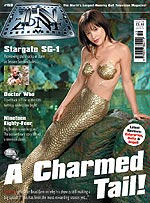 TV Zone #159: CHARMED gets some space in this latest issue. Executive Producer Brad Kern and Director James L. Conway talk about this season with three beautiful witches. The cast of STARGATE SG-1 talks about the last half of season six -- and Doctor Who turns 40!







Cult Times #88: Nicholas Brendon takes a look at being Xander Harris on Buffy; Sam Jones III talks about being Clark Kent's friend and Amy Acker and J. August Richards discuss their lives on and off the set of Angel.
Cult Times Special #24: This special issue looks back at 2002 and ahead to 2003! There are previews of Angel, Buffy, Charmed, Enterprise, Smallville, Alias and more. Tim Minear talks about the new season of Angel and Brandon Camp, co-creator of John Doe, takes a look at the series and it's main character.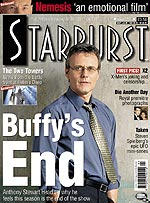 Starburst #294: Anthony Stewart Head has returned to Buffy as Rupert Giles; the actor talks about coming back and playing an active role in the series. New releases are also featured, including Two Towers, Nemesis, Die Another Day and Harry Potter.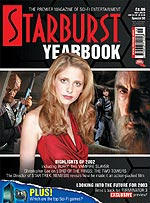 Starburst Special #55: A look at 2002 -- Harry Potter, Lord of the Rings, Terminator 3, Nemesis, Firefly, Buffy. Christopher Lee discusses his role as Saruman in Lord of the Rings.
Expose #75: The Two Towers is breaking records at the box office. In this issue, some of the cast talk about making the movie -- including Brad Dourif -- from B5 fame. Dominic Purcell talks about being John Doe -- and how much fun he is having on the show. Also featured, Victoria Pratt of Mutant X and Vincent Kartheiser as Connor on Angel.




Expose Special #22: A look at some of the best programs for 2002 -- including Stargate SG-1, Buffy, Angel and Dead Zone. John Shea talks about Mutant X and Bryan Singer looks at X2.



BABYLON 5 BOOK OF QUOTES
For all those who submitted quotes and experiences to the Babylon 5 Book of Quotes, word from JMS is that the book, plus emails and suggestions, is being compiled now, and they're targeting February, the 10th anniversary of B5, for the publication date.
SCI-FI SCHEDULE
STARGATE SCHEDULE: 20-JAN-03 7:00 PM STARGATE:SG-1 PAST AND PRESENT
20-JAN-03 8:00 PM STARGATE:SG-1 JOLINAR'S MEMORIES -PT 1
20-JAN-03 9:00 PM STARGATE:SG-1 THE DEVIL YOU KNOW -PT 2
20-JAN-03 10:00 PM STARGATE:SG-1 FOOTHOLD
20-JAN-03 1:00 AM STARGATE:SG-1 PAST AND PRESENT
21-JAN-03 1:00 AM STARGATE:SG-1 JOLINAR'S MEMORIES -PT 1
22-JAN-03 1:00 AM STARGATE:SG-1 THE DEVIL YOU KNOW -PT 2
23-JAN-03 1:00 AM STARGATE:SG-1 FOOTHOLD
24-JAN-03 9:00 PM STARGATE:SG-1 SMOKE AND MIRRORS
24-JAN-03 11:30 PM STARGATE:SG-1 SMOKE AND MIRRORS
27-JAN-03 7:00 PM STARGATE:SG-1 PRETENSE
27-JAN-03 8:00 PM STARGATE:SG-1 URGO
27-JAN-03 9:00 PM STARGATE:SG-1 A HUNDRED DAYS
27-JAN-03 10:00 PM STARGATE:SG-1 SHADES OF GREY
27-JAN-03 1:00 AM STARGATE:SG-1 PRETENSE
28-JAN-03 1:00 AM STARGATE:SG-1 URGO
29-JAN-03 1:00 AM STARGATE:SG-1 A HUNDRED DAYS
30-JAN-03 1:00 AM STARGATE:SG-1 SHADES OF GREY
31-JAN-03 9:00 PM STARGATE:SG-1 PARADISE LOST
31-JAN-03 11:30 PM STARGATE:SG-1 PARADISE LOST
BABYLON 5/CRUSADE PHOTOSHOP PHOTOS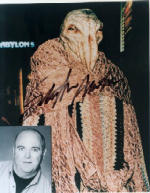 You do NOT have to pay the prices asked for over at e-bay! Here are photos of B5 and Crusade cast members at fantastic prices. Check out Photo Shop. Ordering is easy -- and you can't beat the prices! Just let me know which photos you want and I'll check to make sure they are still in stock.
---
BABYLON 5 TOONS
John Cook has a new cartoon contest going. Try your hand at a punch line.



BABYLON 5/CRUSADE CONVENTIONS
CONVENTION CALENDAR
Farpoint 2003
February 14-16, 2003
Place: Hunt Valley Inn, Hunt Valley, MD
Guests: Armin Shimerman, Gary Graham, Eric Pierpoint, Michele Scarabelli, Gil Gerard, Erin Gray
For more information, visit their website at http://www.bcpl.net/~wilsonr/flier.htm.
---
Gallifrey 2003
February 14-16, 2003
Place: Airtel Plaza Hotel, Los Angeles, CA
B5 Guests: Julia Nickson, Tim Choate, Julie Caitlin Brown, Carrie Dobro, Stephen Austin and Bill Blair
For more information, visit their website at http://www.gallifreyone.org.
---
Slanted Fedora
February 20-23, 2003
Place: Las Vegas, NV
B5 Guests: Jerry Doyle, Bill Mumy
For more information, visit their website at http://www.sfedora.com/Conventionschedule.htm.
---
Redemption '03
February 21-23, 2003
Place: Ashford, Kent, England
B5 Guest: Damian London (Regent of Centauri Prime), Mike Collins (comic artist who worked on In Valen's Name)
For more information, visit their website at http://www.smof.com/redemption.
---
Be sure to visit our Convention Calendar for a full listing of upcoming conventions featuring Babylon 5, Crusade and Legend of the Rangers cast members as guests.
If you would like to share your convention experience with your other Zocalo readers, send along a convention report. I will gladly post it for all to read. Got pictures? I'll post those as well.
ZOCALO TRADING POST
Do you have extra copies of B5, Amazing Spiderman, Midnight Nation or Rising Stars comics you'd like to trade? How about those extra trading cards or B5 magazines? There are a lot of fans looking for these items -- and the Trading Post can help you buy or sell them. To see what's available, just use this link to the Trading Post. To have items included in The Trading Post, send a note to The Zocalo. Please put Trading Post in the subject line.
Pen Pals
If you are looking for someone to talk about Babylon 5 and Crusade with, the Pen Pal section is for you! Check it out! Drop a note to someone who is feeling B5 withdrawal -- BIG TIME!

People thought a Pen Pal page was a good idea. If you would like to meet people who you could chat with or share your opinions of the show with, send along your e-mail or snail-mail address The Zocalo. It will be incorporated on the new Pen Page Page.
MAIL FOR CAST AND CREW
Here's a recent note from JMS on the subject:

Just an FYI to those who've been using the Ventura Blvd. mail drop for fan mail to actors....

As mentioned before, we're phasing out the forwarding of fan mail because we a) don't have the resources, complicated by b) the actors have scattered to the four winds, and it makes it very difficult to get everything to everybody in a timely fashion.

So, having provided prior notice...fan mail to actors coming to the Ventura Blvd. mail drop will be sent back. Mail to actors should be sent via their official fan clubs. I will still be taking mail there, since it's my mailbox, but that's it.

Just so's y'all know and save a few bucks on postage and returns.

JMS' mail can be sent to:

14431 Ventura Boulevard, PMB 260
Sherman Oaks, CA 91423

WARNER BROS:

Warner Bros. Address:

Warner Bros. Domestic Television Distribution
4000 Warner Blvd.
Burbank, CA 91522

Warner Home Video:

Mr. Douglas Wadleigh
VP for Marketing and Special Features
Warner Bros.
4000 Warner Blvd.
Burbank, CA 91522

SCIFI:
Bonnie Hammer, President
Sci-Fi Channel
1230 Avenue of the Americas
New York, NY. 10020-1513

Mr. Thomas Vitale
Senior VP of Acquisitions, Scheduling & Program-Planning
BACK ISSUES OF THE ZOCALO TODAY
The front page of the The Zocalo Today changes daily, so be sure to check the back issues to make sure that you haven't missed anything IMPORTANT! I don't want the front page getting too long so I shift information periodically into the archives. So if you aren't a regular visitor to The Zocalo Today, be sure to check out the back issues. Just use the button above!
---
Take care and I look forward to hearing from you.
Sandra Bruckner (sgbruckner@aol.com)
Editor/Publisher
The Zocalo Today
http://www.isnnews.net
Copyright - SBruckner, 2002