[an error occurred while processing this directive]

The Zocalo Today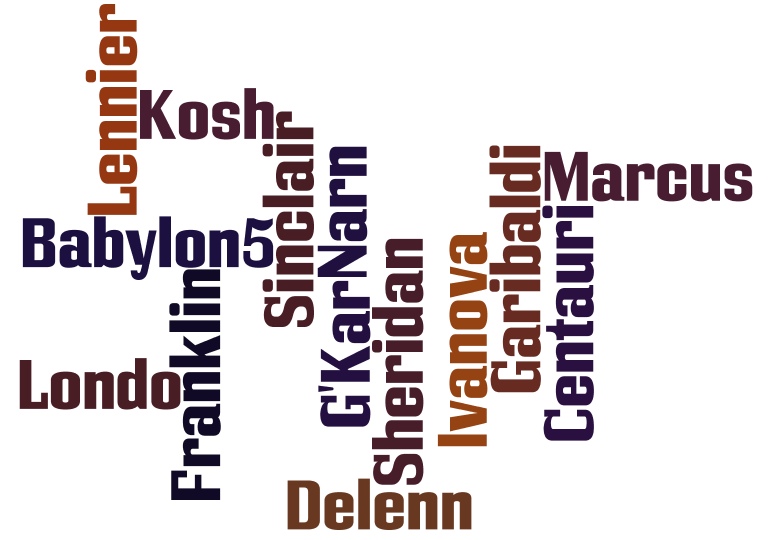 Welcome and thank you for dropping by. Babylon 5 brought many of us together -- and it remains with us, despite the fact that is no longer in production. The good thing is that the internet gives a LOT of ways to stay in touch. Don't be shy. Join in the discussion today or drop by Facebook or Twitter.

If you have questions or items for the news, drop me a line at sgbruckner@aol.com.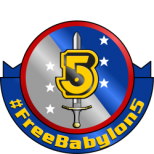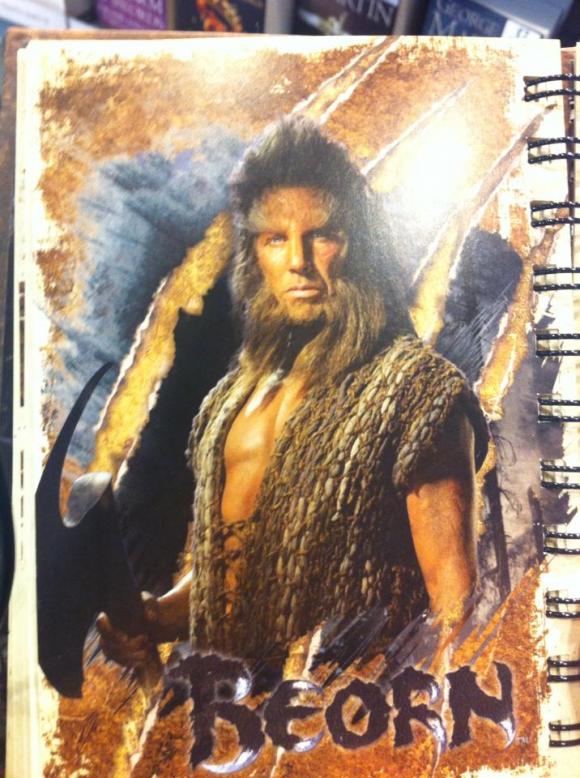 SUNDAY, OCTOBER 6, 2013
THE HOBBIT
After waiting for what seems like forever, we're finally getting our very first look at The Hobbit's shapeshifter character Beorn. But this time, it's in his human form.
Be aware that what you'll see below may be a tad spoilery.
The image (it's not high-res but it looks decent enough) comes courtesy of hobbitfilm.it and was plucked from the film's tie-in book The Hobbit: The Desolation of Smaug – Annual 2014.
Played by Swedish actor Mikael Persbrandt, the facially-hairy Beorn—who looks like he may have had the same hairdresser as Wolverine—is carrying what looks like a pretty dangerous sharp axe.
Frankly, we're not so sure about all that crazy facial hair happening there, but he looks fierce enough.
The Hobbit: The Desolation of Smaug will arrive into theaters on December 13, 2013.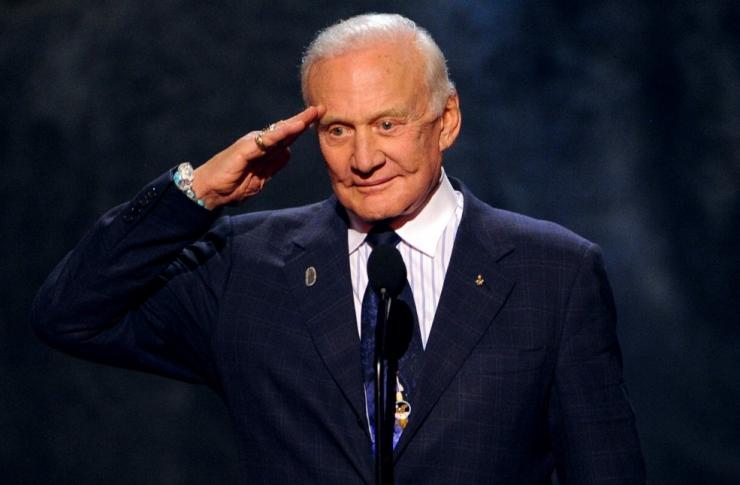 GRAVITY
Some are calling it the most realistic depiction of space ever, but what did a real astronaut think of Alfonso Cuaron's Gravity?
Buzz Aldrin is one of the most famous names in the history of space travel. He was the second person ever to set foot on the moon, after his Apollo 11 crewmate Neil Armstrong, and set a NASA record (which has since been broken) for spacewalking during the last Gemini mission, Gemini 12, in 1966. In the decades since his NASA career ended he's written several books about his space experiences and remains an outspoken advocate for the future of human space exploration. So of course he'd be interested in Cuaron's visually stunning depiction of two astronauts stranded in orbit after their spacewalk goes horribly wrong.
Aldrin got a chance to see an advance screening of Gravity, which opens today, and penned a review for The Hollywood Reporter from the perspective of someone who really knows what space looks like. So what did he think?
"I was so extravagantly impressed by the portrayal of the reality of zero gravity," Aldrin wrote. "Going through the space station was done just the way that I've seen people do it in reality."
Aldrin also praised the way Cuaron and company depicted the movements of the astronauts themselves, and proclaimed the way George Clooney's Matt Kowalski moves, especially when he and Sandra Bullock's Dr. Ryan Stone are tethered together, to be spot-on.
"I was happy to see someone moving around the spacecraft the way George Clooney was. It really points out the degree of confusion and bumping into people, and when the tether gets caught, you're going to be pulled -- I think the simulation of the dynamics was remarkable."
But Aldrin didn't find everything to be perfect. Two things in particular about Gravity rang not quite true for him.
"We were probably not as lighthearted as Clooney and Sandra Bullock. We didn't tell too many jokes when people were in some position of jeopardy outside the spacecraft, but I think that's the humanity coming through in the characters. This movie gave great clarity to looking down and seeing the features of Earth … but there weren't enough clouds, and maybe there was too precise a delineation from space."
For Aldrin, though, Gravity was more than a thrilling space adventure with remarkable technical prowess. Film critics are giving it rave reviews, and James Cameron has dubbed it "the best space film ever done," but it's not just a movie for the spaceflight legend who continues to worry about the future of space exploration. Aldrin's been excited about human space travel for decades, and he hopes Gravity's realistic depiction of it -- even if it is about the dangerous side of things -- will re-ignite a greater public interest in future spaceflights.
"We're in a very precarious position of losing all the advancements we've made in space that we did 40 years ago, 50 years ago," he said. "From my perspective, this movie couldn't have come at a better time to really stimulate the public. I was very, very impressed with it."
WEEKEND BOX OFFICE
Based on the strength of Friday's $17.5 million take, Alfonso Cuaron's 3D space epic Gravity is expected to gross between $48 million and $50 million in its North American debut. If so, it would mark one of the top October openings of all time and the best for a non-sequel.
Starring Sandra Bullock and George Clooney, the critically acclaimed Warner Bros. movie is doing huge business in 3D theaters (both conventional houses and Imax locations), with 83 percent of revenue coming from the more pricey format. It's a needed boost, considering the dramatic decline in 3D attendance. Imax's Friday take was a stellar $3.6 million.
Gravity is also destined to mark the biggest three-day opening ever for both stars, not accounting for inflation. Bullock's best is The Heat ($39.1 million); Clooney's record is Batman & Robin ($42.9 million). The 90-minute film earned an A- CinemaScore from moviegoers, and not the A+ that Bullock's The Blind Side enjoyed.
Overseas, Gravity debuted to $3.8 million on Thursday in select markets and is likewise enjoying big business on 3D screens. Russia turned in $1.2 million to claim the No. 1 spot ahead of fellow openers Insidious: Chapter 2 and local comedy Vsyo Vklyucheno 2. The 3D share was 76 percent, including 15 percent from Imax.
Gravity revolves around two astronauts left floating in space when their space shuttle is damaged. Producers include David Heyman, who played a key role in the Harry Potter franchise.
Paranormal Activity 3 sports the top October opening of all time ($52.6 million), followed by Jackass 3-D ($50.4 million), Taken 2 ($49.5 million) and Scary Movie 3 ($48.1 million).
The only other new wide player this weekend is New Regency and 20th Century Fox's gambling thriller Runner Runner, starring Justin Timberlake and Ben Affleck. Runner Runner grossed $2.8 million Friday and may not hit $8 million in its opening, a disappointment for its stars. The saving grace is the film's reported $30 million budget.
Adding intrigue to the weekend, Sony has decided to sneak Paul Greengrass' Somali pirate drama Captain Phillips, starring Tom Hanks, into 800 theaters on Saturday night a week ahead of its opening. Both Captain Phillips and Gravity are considered awards contenders.
Runner Runner was directed by Brad Furman and also stars Gemma Arterton and Anthony Mackie. New Regency, which fully financed the film, partnered with Leonardo DiCaprio's Appian Way on the project. From a script by Brian Koppelman and David Levien (Rounders), Runner Runner revolves around a Princeton University student (Timberlake) who is lured into an Internet poker scam by the owner of a popular gambling website (Affleck).
Runner Runner placed placed No. 3 on Friday, where it's expected to stay for the weekend, after Gravity and Sony's holdover Cloudy With a Chance of Meatballs 2. The 3D animated family film grossed $4.7 million on its second Friday for projected $20 million weekend.
Alcon Entertainment and Warners' Prisoners placed No. 4 on Friday with $1.7 million. The dark drama, starring Hugh Jackman and Jack Gyllenhaal, should take in $5.6 million for the weekend, pushing its domestic total to nearly $48 million in its third weekend.
Ron Howard's Rush fell to No. 5 on its second Friday, grossing $1.4 million for a projected $4.6 million weekend and North American total of $18.3 million.
Among more limited offerings, Pantelion Films -- the joint-venture between Lionsgate and Grupo Televisa -- entered the market with another Spanish-language film on the heels of the success of Instructions Not Included. Romantic comedy Pulling Strings, starring Mexican celebrity Jamie Camil, placed No. 9 Friday as it opened in 387 theaters, grossing $757,000 for a projected $2.8 million opening. That's well less than the $7.8 million opening of Instructions Not Included at the end of August, but with Gravity sucking up much of the oxygen, it's still a solid start. Pulling Strings is also facing competition from Instructions Not Included, which is expected to earn a pleasing $1.8 million for the weekend, bringing its North American total of $41 million.
Pulling Strings, set in Mexico City, stars Camil has a mariachi who falls for an American embassy employee (Laura Ramsay).
Nicole Holofcener's Enough Said, starring the late James Gandolfini opposite Julia Louis-Dreyfus, cracked the top 10 chart as it expanded into a total of 437 theaters in its third weekend, grossing $595,000 Friday. The dramedy is expected to earn $2.2 million for the weekend, pushing its domestic total to $5.4 million.
ENDER'S GAME
Summit Entertainment has released the first clip from the big screen adaptation of Ender's Game featuring Asa Butterfield and Harrison Ford.
Directed by Gavin Hood, Ender's Game also stars Ben Kingsley, Hailee Steinfield, Abigail Breslin, Viola Davis, Nonso Anozie, Stevie Ray Dillmore, Andrea Powell, Moises Arias, Conor Carroll, Aramis Knight, Branden Soo hoo, Jimmy "Jax" Pinchak, Suraj Parthasarathy and Khylin Rhambo. The film opens in conventon theaters in IMAX on November 1st.
SATURDAY, OCTOBER 5, 2013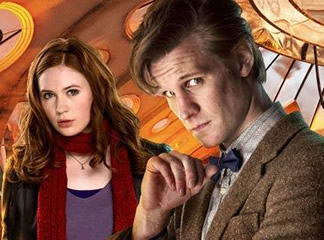 DOCTOR WHO ANNIVERSARY
Whovians that were excited at the possibility of another companion's return for "Doctor Who's" 50th anniversary special, cool your jets. Amy Pond will not be making an appearance, that that's coming from Karen Gillan herself.
While speaking with the Radio Times, Gillan confirms, "I'm not in it, just to put that out there." When Gillan left the series, her character was sent back in time along with her husband (Arthur Darvill) by a Weeping Angel, to a place where the Doctor's TARDIS cannot go.
Of course, Gillan is still excited about the special, that will see the return of David Tennant and Billie Piper, as the tenth Doctor and Rose Tyler, respectively. Not only is she planning to watch it, but Karen makes it sound like there could be a party happening. "I think I'm going to be in America, so I'll probably round up all the people who like to watch 'Doctor Who' in the area," she says. "We'll probably watch it and drink PG Tips and eat Jammy Dodgers, if I can get them."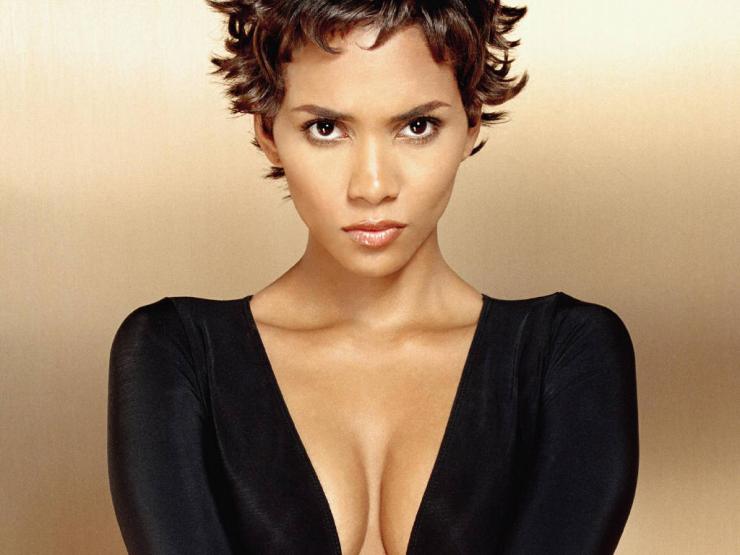 HALLE BERRY AND EXTANT
When Steven Spielberg heads back to the small screen, he has the clout to bring a few movie stars with him. His latest? Halle Berry, who has signed on for his new sci-fi series Extant.
Developed for CBS, the Spielberg-produced series will follow an astronaut (Berry) who returns home to her family after a year-long solo mission in space. That's intriguing in itself, but the sci-fi element comes in when her experiences could "ultimately change the course of human history."
Relatively untested writer Mickey Fisher is handling the script, and Berry will serve as a co-executive producer on the project, along with Spielberg and a few others. Much as Under the Dome served as an "event series" this summer, Extant would launch summer 2014 in a similar fashion.
Obviously, this is a pretty big deal. Berry is a legit movie star, and bringing her onto gives this project a ton of clout (especially when combined with Spielberg's presence). It'll be interesting to see how this one comes together.
Here's what Spielberg had to say about the project:
"There's only one Halle Berry and we are incredibly honored that she has chosen EXTANT to expand her illustrious career. As she does with everything she touches, she will bring a deep authenticity to her role and I very much look forward to working with her."
Berry also sounds pretty psyched to try out series television, and noted the shooting schedule should still fit in between her big-screen commitments:
"I'm always on the lookout for amazing roles and when you see material that contains this strong of auspices, nuance and complexity it compels me to run toward it no matter the medium. For five months a year I'll get to live with and play this incredibly intelligent and vulnerable woman, and for the remainder of the year I'll continue to look for other roles that move me as deeply as this one. I've found amazing partners in CBS's Nina Tassler and Les Moonves, and the incredible Steven Spielberg, along with his Amblin production team, whose vision and creativity in storytelling is unparalleled."
Considering that Under the Dome was a breakout hit this year, it's no surprise the network is doubling down on the "big" summer series concept. Combined with season two of Under the Dome, CBS should have one heck of a one-two punch in the dog days of 2014.
THOR: THE DARK WORLD
Thor and Loki are going on an adventure together once again, but this time the God of Thunder's forgetting about mercy.
Even as Loki was preparing to unleash a horde of Chitauri warriors on New York City and the world, Thor was still trying to reason with him, still defending him to the rest of the Avengers as his brother. Even through all of that, Thor was still showing at least a bit of a soft spot for Loki. But, apparently, no more.
We're now just a little more than a month away from the much-anticipated release of Thor: The Dark World, the third Marvel Studios adventure to feature both Chris Hemsworth's Thunder God and Tom Hiddleston's power-hungry trickster, and Marvel's marketing machine is really pushing the return of the Asgardian brothers to the big screen. In a new clip released today, Thor goes to Loki's prison cell and asks for his help, and Loki is predictably amused. But, as you'll see, Thor is in no mood for yet another betrayal, and assures his brother that he won't be lenient if it happens again. We've seen this particular scene teased in several of the film's trailers, but this is definitely a more intense look at the new paramenters of Thor and Loki's relationship.
Thor: The Dark World hits theaters on Nov. 8.
THE AFTER
We might still be jonesing for one more X-Files adventure, but creator Chris Carter is hard at work prepping a new supernatural series — and now we have some intriguing new info.
Dubbed The After, the new Amazon online series will be set at the moment of the apocalypse. It's an intriguing premise, and sounds like a nice change of pace from the alien drama of The X-Files.
Deadline is reporting that Jamie Kennedy (yes, that Jamie Kennedy), Adrian Pasdar (Heroes) and Aldis Hodge (Leverage) are the first actors to sign on for the thriller, which will be written and directed by Carter.
Kennedy will play a professional clown (seriously), Pasdar will portray a Beverly Hills businessman, and Hodge will play an escaped convict who claims he is innocent. It's hard to glean much from the characters' bios (except for spot-on casting when it comes to Kennedy), but it sounds like Carter might be telling some disparate stories about how the apocalypse affects people from different walks of life. Maybe.
No word on when the series might debut, though Amazon has a habit of releasing pilots before making full series orders — so we might get a look at this one sooner than we think.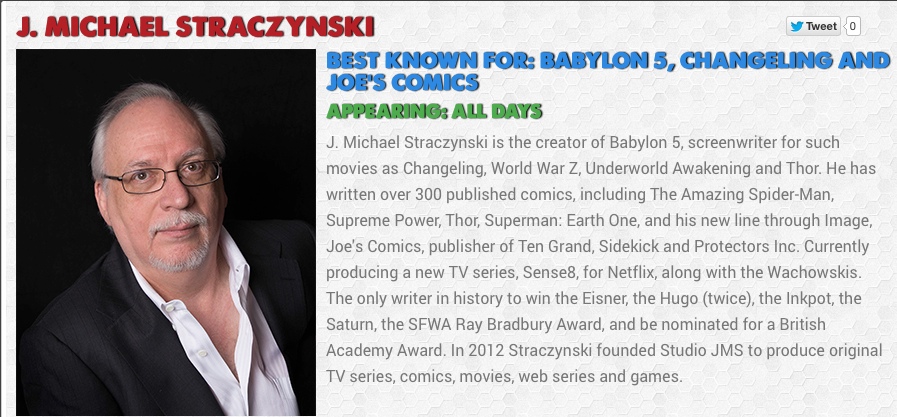 J. MICHAEL STRACZYNSKI - NEW YORK COMIC CON ADDS WRITING WORKSHOP NEXT WEEKEND
Revised NYCC Schedule:
Friday 12:30 writing workshop 1a03; 4:00 signing with Tom Mandrake at table dd10 for Sidekick 3; 5:15 MTV panel about The Adventures of Apocalypse Al.
Saturday: spotlight at 12:15 in 1a14; 2:00 JMS signing and distribution window for convention variant issue 1 of Protectors, Inc. at table dd10. 500 copies, first come, first gone.
For more information, go to http://www.newyorkcomiccon.com/.

#FREEBABYLON5
The Voice of the Resistance has started. Become part of the avalanche! Make your own video. Tag it FreeBabylon5, Babylon 5 and Warner Bros. Entertainment. Email your video link to FreeBabylon5@gmail.com and we will help you spread the message. "
There are more talented folks out there who can make more videos. Let's create our own Voice of Free Babylon 5!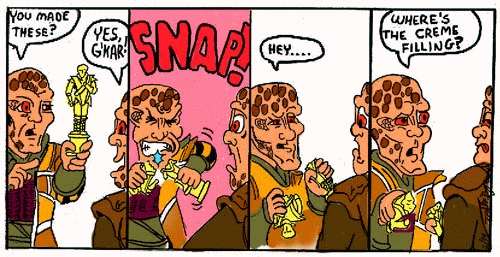 BABYLON 5 TOONS
Ranger Todd has created some amazing toons that he has allowed me to share here and on Facebook. Be sure to check them out. Wonderful stuff. Thanks Todd.
SCIENCE FICTION NEWS STORIES:
Did you miss the news from yesterday -- or earlier in the week. Catch up by going to the News Archive. It will bring you up to date for all that has been going on in the world of science fiction.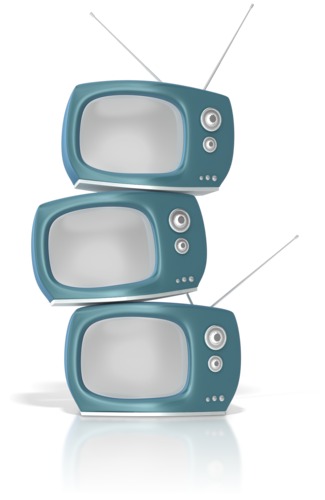 ON THE TUBE TONIGHT
8:00pm on ABC
Once Upon a Time Episode: Lost Girl NEW S03, E02
Peter Pan offers Emma a map that will help her find Henry, but she must come to terms with who she is in order to use it; Mr. Gold gets unexpected advice; Charming works to stop Snow from accepting a deal from the Evil Queen.

8:00pm on BBC America
Fantastic Four (2005)
Four people gain unusual powers after a space mission exposes them to cosmic radiation. Based on the comic book. Ioan Gruffudd, Jessica Alba, Chris Evans, Michael Chiklis, Julian McMahon

8:00pm on FX
Green Lantern (2011)
A test pilot becomes the first human to join a band of warriors sworn to preserve peace and justice throughout the universe. Ryan Reynolds, Blake Lively, Peter Sarsgaard, Mark Strong, Tim Robbins

9:00pm on Syfy
The Ninth Gate (1999)
A rare-book broker, hired by a wealthy collector, discovers his latest find may hold the key to summoning Satan. Johnny Depp, Frank Langella, Lena Olin, Emmanuelle Seigner, Barbara Jefford

10:30pm on CBS
The Mentalist Episode: Black-Winged Redbird NEW S06, E02
Jane finds a significant clue about Red John's methods as the team encounter four suspects; a drone strike kills a software engineer.
KEEPING UP WITH CAST AND CREW
THE PROTECTORS - NEW FROM JMS - COMING IN NOVEMBER
What's it like to be a hero in a world without villains? In PROTECTORS, INC., the life of a superhero is wonderful, thanks to a bevy of corporate sponsors, an adoring public, polite rivalries, sports franchises, and best of all, no super-powered bad guys to worry about. Wonderful, that is, until a hero is murdered in such a way that the only possible culprit is an unknown person with superpowers, throwing the status quo into upheaval. PROTECTORS, INC. comes from a place of deep appreciation for genre fiction.
"I've always loved superhero stories told from the bottom-up, from the point of view of ordinary people caught up in extraordinary circumstances, between people with massive amounts of power that can be used for good or ill," says Straczynski. "The book is a twelve-issue maxiseries, a superhero story crossed with a mystery and a procedural police story, and should be a fun read for folks interested in any one of those three genres."
The latest project from writer J. Michael Straczynski (TEN GRAND, SIDEKICK, RISING STARS) and artist Gordon Purcell (Star Trek: The Next Generation/Doctor Who, The X-Files), PROTECTORS, INC. focuses on Lieutenant Detective John Riley's search for the truth behind the murder of a being that shouldn't have been able to be murdered by anyone. Nothing is as it seems, however, and Riley's case will lead to a fifty-year-old secret, love affairs, and possibly even more death.
Purcell is equally excited and ready to unleash PROTECTORS, INC. on the world.
"Protectors, Inc. is one of the best projects I've ever worked on! Joe's script (I have all 12 issues here!) is fantastic and fascinating, and I feel like I'm drawing on all my comic experience to flesh out the Protectors world. I'm so jazzed to be able to share this project with the fans! Dig in–this is tasty stuff!"
PROTECTORS, INC. #1 will be in stores on November 6, is currently available to pre-order from the September issue of Previews, and features two separate covers. Cover A (Diamond Code SEP130489) features art by Gordon Purcell and Mike Atiyeh, while Cover B (Diamond Code SEP130489) features art by Whilce Portacio and Mike Atiyeh. BILL MUMY - ACTOR/COMIC AUTHOR/MUSICIAN
Been really busy for the last several days... writing final scripting tweaks on the "Curse of the Mumy" comic book issue # 4, Shooting on location for a new "Illuminations" video, voice over auditions, writing two other new spec projects... (who knows?)... wrote a new song yesterday... and I'm writing new instrumental music for a soundtrack to a novel... (interesting!)... AND, this Friday, I'll be on a panel with Marc Vahanian at the Billy Wilder Theater in Westwood at a screening of Stanley Kramer's "Bless the Beasts & Children"... come on down and see the film. CD "Illumination" http://gragroup.com/bill_mumy.html. The CD can also be purchased on iTunes and Amazon.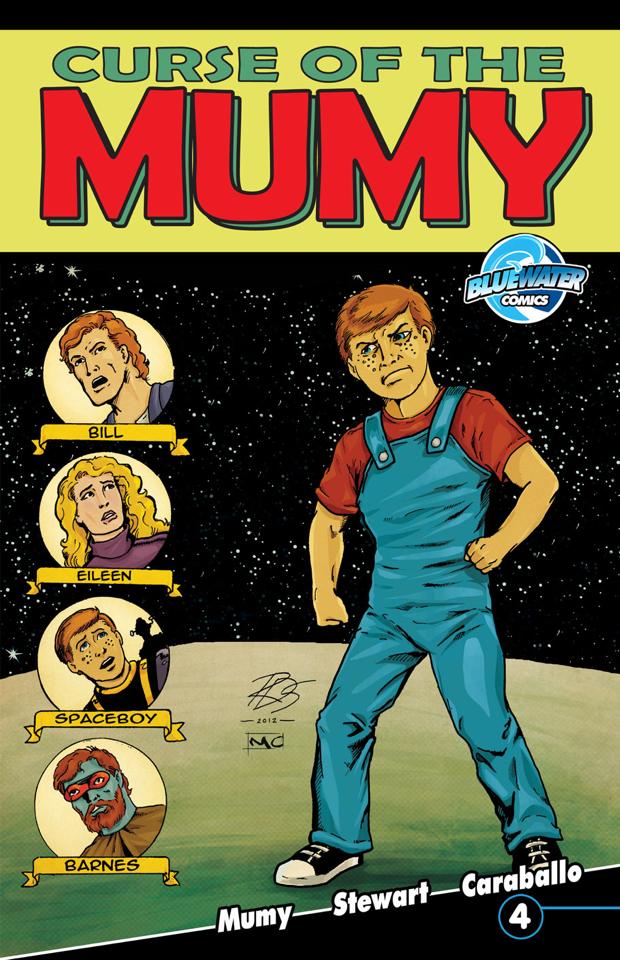 THE CURSE OF THE MUMY - Issue #4
Issue #4 The Curse of the Mumy continues...
You can order an issue at http://www.comicfleamarket.com/servlet/the-432/Curse-of-the-Mumy/Detail. PENDRAGON P.I. - HELP JASON CARTER
Want to see British actor Jason Carter (Marcus on the classic hit sci-fi series Babylon 5) return as an unconventional private investigator who's a bit of Sherlock Holmes, a splash of Sam Spade, and a dash of The Doctor?
Jason Carter is working with Jerry Seward, creator and executive producer of an independent movie pilot titled Pendragon, P.I.that They are developing a gifted and accomplished production team to produce this series. Jason will play the lead, a man who - along with his helper Lucy (played by April Washko) - relies on his deductive skills to sort through a maze of clues in an attempt to solve the case of mysterious disappearances in a small, lakeside town where impossible things happen.
For more information on how you can help, go to http://www.indiegogo.com/projects/help-get-pendragon-p-i-jason-carter-project-made?show_todos=true.
THE ZOCALO ON FACEBOOK
I hope that you will join us over on FACEBOOK. We have a great discussion group, tons of visuals and just a nice group of people participating on the page every day. Do drop over and stay a while.
READER'S CORNER
If anyone would like to submit reports from a convention they recently attended or items they would like to share with fellow Zocalo readers, please send them along to me at sgbruckner@aol.com. I will happily open up a new page for any submissions you care to send along.
BABYLON 5 20TH ANNIVERSARY BOOK
FIRST EVER BABYLON 5 BOOK PRINTED EXCLUSIVELY IN COLOR
Not just full color, but the actual colors of the sets, costumes and props. Extensive care was taken to ensure that the final pages precisely matched the color qualities of the original photographs, which were taken on set during production. B5-20 covers everything from the pilot through The Lost Tales.
For more information on this magnificant volume, go to b5books.com.




Here is a quote from J. Michael Straczynski about emotions.
I had this theory that the more important and intimate the emotion, the fewer words are required to express it.

First it's in dating: "Will you go out with me?" Six words.
"Honey, I care for you." Five words.
"You matter to me." Four words.
"I love you." Three words.
"Marry me." Two words.
But what's left? What's the one most important and intimate word you can ever say to somebody? It's "goodbye."

While Michael O'Hare (Sinclair), Andreas Katsulas (G'Kar), Rick Biggs (Dr. Franklin), Tim Choate (Zathras) and Jeff Conoway (Zach Allen) are no longer with us, we will not forget their wonderful personalities and talent -- as well as their significant contributions to the BABYLON 5 universe. Be sure to visit In Memory Of for more information about memorial efforts.
Until we met again, in a place where no shadows fall.
BABYLON 5 BIRTHDAYS
Pat Tallman - September 4
Cinzia Zanetti - September 5
Robin Atkin Downes - September 6
Mira Furlan - September 7
Walter Koenig - September 14
Paul Williams - September 19
Robert Rusler - September 20
Gary Cole - September 20
Bear Burge - September 23
Jason Carter - September 23
Manny Case - September 23

Have I missed anyone? If you know the birthday of someone connected with Babylon 5, pass the information along. We want to include everyone in our Happy Birthday Wishes.


BABYLON 5 PRESENCE ON FACEBOOK
I know a lot of you are already on FaceBook. However, I don't know if you knew how many other Babylon 5 folks have taken the plunge and opened FaceBook accounts. In fact, Pat Tallman has reopened her Fan Club using FaceBook at the site. For a peek, go to http://www.facebook.com/group.php?gid=45593318387. Claudia Christian has been really active -- sharing pictures of her recent trips and letting us know about upcoming convention activities. J. Michael Straczynski (JMS) has a FaceBook page as well as a new "Fans of J. Michael Straczynski" page. So check it out!
BABYLON 5 MUSIC VIDEOS AND TRIBUTES
John Hudgens has created many Babylon 5 videos, but I believe this is the most moving. It was first shown at the Phoenix Comic Con 20th Anniversary and honors many of the Babylon 5 family who have passed on.

Here is a link to John's Babylon 5 videos:
https://www.youtube.com/user/Babylon5MusicVideos?feature=watch

Richard Biggs memorial: http://www.youtube.com/watch?v=HyD4L8yNtsA

Andreas Katsulas memorial: http://www.youtube.com/watch?v=h2UQ2l9NPIg

- This is the extended version that I did for Andreas' widow ater the original cut was released on the net. It's never been seen online until now.

For those of you who've never seen these, I hope you enjoy them - and for those that have (and emailed me many times over the years about releasing them), I hope they're as good as you remember. Working with Joe on these videos was one of the highlights of my career, and I'll be forever grateful to him for the doors these have opened for me. I'm proud to have them on my resume.

John Hudgens
www.zteamproductions.com
---





New York Comic Con
Dates: October 10-13, 2013
Place: Javits Center, NYC
Guests: J. Michael Straczynski
For more information go to http://www.newyorkcomiccon.com/. Salute to SUPERNATURAL
Dates: October 11-13, 2013
Place: Toronto, Canada - Westin Harbour Castle
Guests: Jensen Ackles, Jared Padalecki, Misha Collins, Mark Sheppard and more
For more information, go to http://www.creationent.com/cal/supernatural_toronto.htm. Spooky Empire's Ultimate Horror Weekend
Date: October 25-27, 2013
Place: Doubletree Universal, Orlando, FL
Just added, special guest George Romero
For more information, go to www.spookyempire.com. STEEL CITY CON
Dates: December 6-8, 2013
Place: Monroeville Convention Center, Monroeville, PA
Guests: Star Trek's George Takei, Terminator's Michael Biehn, Catherine Bach, Kyle Szymanski and more.
For more information, go to http://www.steelcitycon.com. SPACE CITY CON
Dates: January 3-5, 2014
Place: Galveston City, Texas
Guests: Claudia Christian, Mira Furlan, Bill Mumy. Peter Jurasik, Stephen Furst, Pat Tallman, Julie Caitlin Brown, Tracey Scoggins, Jerry Doyle
For more information, go to http://spacecitycon.com/.

FARPOINT
Dates: February 15-17, 2014
Place: Corwne Plaza, Baltimore, MD
Guests: Melissa McBride, others to be named shortly
For more information, go to . SPECIAL ANNOUNCEMENTS!
Creation Entertainment has a large number of conventions planned for the next several months. They include stars from TWILIGHT, SUPERNATURAL, STARGATE, FARSCAPE, XENA, SERENITY, STAR TREK, etc. Check out their calendar to see if one will be in your neighborhood soon. Don't miss their Videos page as well. It is full of some priceless video from a number of conventions.

Be sure to visit the referenced sites to see if there have been changes in dates/guests attending. Visit our Convention Calendar for a full listing of upcoming conventions.
BACK ISSUES OF THE ZOCALO TODAY
The front page of the The Zocalo Today changes daily, so be sure to check the back issues to make sure that you haven't missed anything IMPORTANT! I hope you will become a regular visitor to The Zocalo Today!
---
Take care and I look forward to hearing from you.
Sandra Bruckner (sgbruckner@aol.com)
Editor/Publisher
ISN News: The Zocalo Today
http://www.isnnews.net
Copyright - SBruckner, 1999-2013