[an error occurred while processing this directive]

The Zocalo Today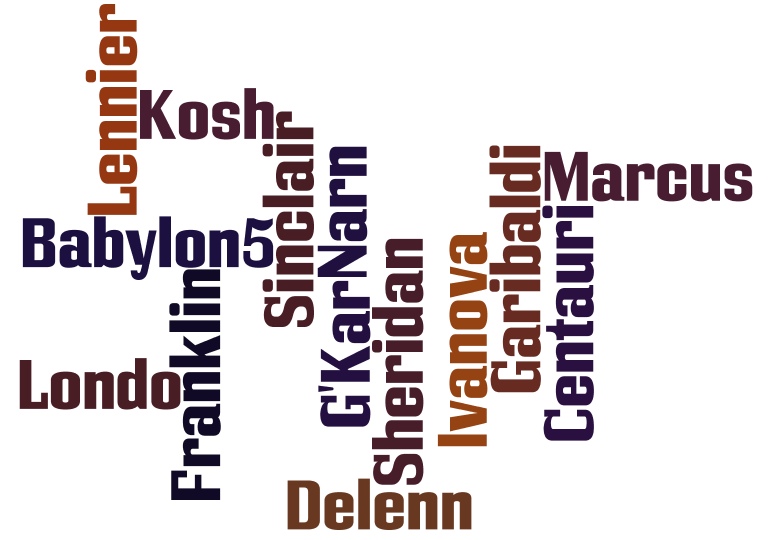 Welcome and thank you for dropping by. Babylon 5 brought many of us together -- and it remains with us, despite the fact that is no longer in production. The good thing is that the internet gives a LOT of ways to stay in touch. Don't be shy. Join in the discussion today or drop by Facebook or Twitter.

If you have questions or items for the news, drop me a line at sgbruckner@aol.com.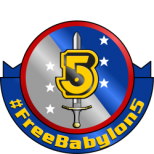 SUNDAY, OCTOBER 13, 2013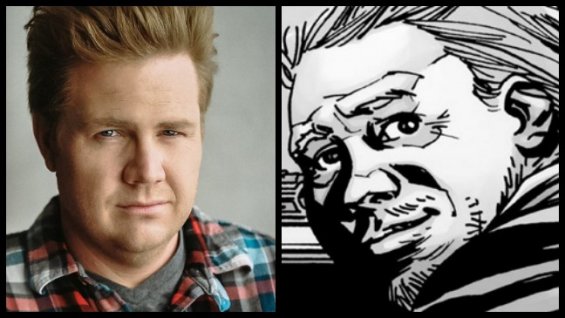 THE WALKING DEAD
AMC's The Walking Dead is bringing in two more pivotal characters from Robert Kirkman's long-running comic series on which it is based.
Retired at 35 alum Josh McDermitt has joined the zombie drama in the series regular role of Dr. Eugene Porter, The Hollywood Reporter has learned. He'll be joined by Southland alum Michael Cudlitz as his traveling companion (and series regular role) Abraham, producers announced Saturday at New York Comic-Con, where the actor was a surprise addition, appearing in character from the audience.
[Warning: Spoilers from the comics series follow.]
In the Image/Skybound comics, Eugene is a former high school science teacher who first appears in the 53rd issue of the series. He travels with sports coach/Army Sgt. Abraham Ford (Cudlitz) and Rosita (new recurring player Christian Serratos). The trio eventually crosses paths with Rick as they make their way to Washington. However, unbeknown to Rick as well as eventual couple Abraham and Rosita, Eugene is lying when he claims to know what caused the zombie outbreak and instead is using the physically superior former sports coach to protect him.
The character remains alive in the comics and proves to be a key part of Rick's group, using his science know-how to manufacture ammunition.
"We're going to tell a version of the Eugene, Abraham and Rosita comic stories, that's what we do," showrunner Scott Gimple tells THR, noting that like the series has done before, there will be similarities and differences to how AMC handles the characters. "I love those characters from the book, they are very different flavors of comic book characters than we've seen on the show."
Eugene for his part, disguises the fact that he's a smart guy by altering his appearance in order to further protect himself. "Josh looks breathtaking in a mullet, he was born to wear one," Gimple said with a laugh. "I can proudly announce we will see a mullet!"
The arrival of the characters also opens the door for the series to explore different locations than the prison. "We're going to get to those characters in a bit but before that, we're going to be exploring a lot of different locations," Gimple says. "We're at the prison the first two episodes. We start looking at other places in episode three on but that isn't even tied with them yet.
Abraham, meanwhile, is a married father of two who following the outbreak returned from a hunt for supplies to find his wife and young daughter had both been raped and his young son force to watch. He ultimately kills the culprits and loses his family, who flee him in fear and are latter found, turned. He eventually becomes Rick's right-hand man after his group loses a key member in battle.
Repped by Innovative and Trademark Talent, McDermitt's credits also include Work It, Last Comic Standing (where he was a semi-finalist during season four) as well asABC pilot Kings of Van Nuys. He was a regular on TV Land's recently canceled Retired at 35.
Cudlitz is repped by APA, Gold Coast and Stone Meyer. His credits include TNT's recently canceled Southland as well as Band of Brothers.
The Walking Dead returns for its fourth season Sunday at 9 p.m. on AMC.

WEEKEND BOX OFFICE
Alfonso Cuaron's Gravity continues to defy expectations, grossing $12.7 million on Friday for a projected $45 million weekend.
That means the 3D space epic -- starring Sandra Bullock and George Clooney -- will fall less than 18 percent in its second weekend -- marking the lowest decline in history for a film that opened over $50 million (The Incredibles was the previous record-holder at 29 percent). This doesn't count holiday weekends.
Gravity's North American total is $91.9 million through Friday; it will cross the $100 million mark sometime on Saturday. Globally, the movie should hit $175 million by Sunday.
The other big headline is Paul Greengrass' Somali pirate drama Captain Phillips. The adult drama opened to a strong $8.2 million on Friday, putting it on course to earn $25 million for the weekend in a victory for star Tom Hanks. The critically acclaimed Sony film earned an A CinemaScore. Captain Phillips, based on real events and costing $55 million to produce, is hoping to be an awards player.
After Captain Phillips, the weekend's only other new wide player is exploitation action film Machete Kills, from writer-director Robert Rodriguez. Machete Kills debuted to a dismal $1.4 million on Friday and may not hit $4 million in its debut.
With a cast led by Danny Trejo and Michelle Rodriguez, Machete Kills is the third film based on the fake trailers accompanying Grindhouse.

TEEN WOLF RENEWED
MTV has renewed Teen Wolf for a fourth season.
The cable network has picked up 12 more episodes of the supernatural drama, it was revealed Saturday at New York Comic-Con. Season four will premiere in 2014.
MTV also announced a new talk show, Wolf Watch, that will begin airing after new episodes of Teen Wolf when the series returns for the remaining 12 episodes of season three Monday, Jan. 6, 2014.
The half-hour Wolf Watch will be hosted by Jill Wagner, who plays Kate Argent on the series. Wolf Watch will offer more insight into Teen Wolf, touching on topics such as its mythology, romances and bromances. Guest appearances from the cast, as well as celebrity fans are expected.
The news comes following a strong first half of season three, during which Teen Wolf averaged 2.8 million viewers and a 2.5 rating in MTV's target 12-34 demographic, making it the most-watched and highest-rated season thus far.
MTV's announcement of an accompanying Teen Wolf talk show comes after other cable networks like AMC and TNT opted to continue the discussion for its flagship series with similar talk show formats for water-cooler series Breaking Bad, The Walking Dead and Falling Skies. The renewal keeps Teen Wolf firmly in the MTV family, along with Awkward, which was picked up for a fourth season. Teen Wolf was developed by Jeff Davis, who executive produces with Russell Mulcahy, Marty Adelstein, Rene Echevarria, Tony DiSanto and Liz Gateley. Tyler Posey, Crystal Reed, Dylan O'Brien, Tyler Hoechlin and Holland Roden star. The first half of the season is available on DVD on Dec. 10.

STAR WARS REBELS
Disney and Lucasfilm have unveiled the villain for animated TV series Star Wars Rebels.
The first image of the Inquisitor, dressed in all black and described as an "intimidating figure," debuted at New York Comic-Con during the Lucasfilm panel Saturday. The Inquisitor is hired by Darth Vader to hunt down the remaining Jedi. In the image above, four Stormtroopers are seen in shadow behind the Inquisitor, wielding his weapon as he prepares for battle.
Star Wars Rebels takes place between Star Wars: Episode III - Revenge of the Sith and Star Wars: Episode IV - A New Hope, which spans about two decades. The animated series is set "in a time where the Empire is securing its grip on the galaxy and hunting down the last of the Jedi Knights as a fledgling rebellion against the Empire is taking shape."
This comes less than a week after a 16-second teaser trailer for Star Wars Rebels debuted on Disney XD. During Comic-Con, concept art by Ralph McQuarrie and the official logo were released and The Hollywood Reporter first reported in September that David Oyelowo and Freddie Prinze Jr. were in the process of being cast as the voice leads.
Star Wars Rebels hits Disney Channel as a one-hour special in 2014, before premiering as a series on Disney XD.
SATURDAY, OCTOBER 12, 2013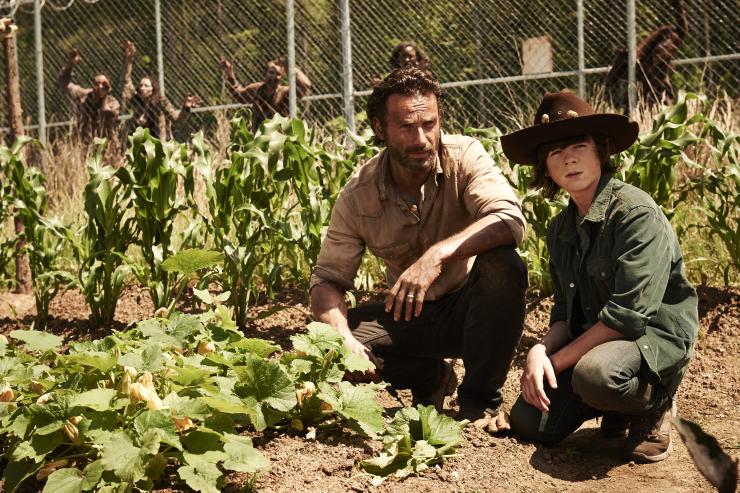 THE WALKING DEAD
We can't wait for season four, but that doesn't mean we shouldn't take some time to look back at the madness that was season three.
The last season of AMC's megahit The Walking Dead was the most plot-heavy year of the show so far, and that's really saying something. We said goodbye to favorite characters, watched a lot of incidental characters get munched on by Walkers, met plenty of new enemies, drew plenty of battle lines and set up an entirely new paradigm for the fourth season. It's a lot to process, especially if you haven't revisited it in a while.
So, in the spirit of helping you catch up while savoring the chance to relive all the blood, betrayal and body count of season three ourselves, we prepared this handy little guide featuring the key developments each episode from last season had to offer.
[Warning; Spoilers ahead!]
So, if you remember Lori died, but forgot how it happened, we've got your answer. If you remember the Governor attacked the prison, but not how it turned out, we've got your answer. If you simply can't remember the fate of T-Dog (OK, seriously, who doesn't remember the fate of T-Dog?), we've got your answer.
AMC has been running the old episodes every night. Tonight there are three more from 8-10:00pm. At 9:00pm, there is a preview of Season 4, so don't miss it.

The Walking Dead returns this Sunday at 9/8C on AMC.

THE FALLING SKIES
Sadly, not all of us can make it out to New York Comic-Con this weekend — but we at least have all the awesome new Falling Skies footage they were showing off in Manhattan.
The show has made a habit of reinventing itself each season, from being on the road to setting up camp at a human settlement to introducing a revolving cast of alien threats each year.
For year four, it looks like the 2nd Mass will be going back to its rambling roots, as the new footage shows the alien-fighting gang back on the run after the events of season three. Despite the change in venue, things looks as WTF-ey as usual — which is probably a good thing.
The new season is set to return in summer 2014.

DAVINCI'S DEMONS
A trailer for the second season of Starz's "Da Vinci's Demons" debuted today at New York Comic Con and you can now check it out.
The historical fantasy was created by David S. Goyer and produced by Adjacent Productions. It follows the 'untold' story of the world's greatest genius, Leonardo da Vinci, during his turbulent youth in Renaissance Florence.
Season two of "Da Vinci's Demons" finds Florence thrown into chaos in the wake of the Pazzi conspiracy and Leonardo da Vinci (Tom Riley) must push the limits of his mind and body to defend the city against the forces of Rome. While the Medicis go to unthinkable lengths to deal with new threats, da Vinci continues on his quest to find the fabled Book of Leaves and uncover the secret history of his mother. He'll come to realize that he has lethal competition in his quest -- new enemies who may be even worse than the forces of Pope Sixtus. His search will take him to faraway lands and force him to reevaluate everything he knew about the world and his own history.

BLACK SAILS
The series set to premiere in January 2014, Starz today debuted a trailer for their upcoming Michael Bay executive produced high-seas drama "Black Sails."
The pirate adventure centers on the tales of Captain Flint (Toby Stephens) and his men and takes place twenty years prior to Robert Louis Stevenson's classic "Treasure Island." Flint, the most brilliant and most feared pirate captain of his day, takes on a fast-talking young addition to his crew who goes by the name John Silver (Luke Arnold). Threatened with extinction on all sides, they fight for the survival of New Providence Island, the most notorious criminal haven of its day - a debauched paradise teeming with pirates, prostitutes, thieves and fortune seekers, a place defined by both its enlightened ideals and its stunning brutality.
The series also stars Zach McGowan ("Shameless") as rival Captain Charles Vane; Toby Schmitz as Rackham, Vane's right hand; Hannah New as Eleanor Guthrie, a determined young woman who runs the smuggling operation on New Providence; Jessica Parker Kennedy as Max, a tortured young prostitute who sees the dark side of New Providence; Clara Paget as the beautiful but cold-blooded Anne Bonny and Tom Hopper ("Merlin") as Billy Bones, boatswain of Flint's ship.
"Black Sails" is executive produced by Bay (Transformers) and his Platinum Dunes partners Brad Fuller and Andrew Form, producers on The Texas Chainsaw Massacre (2003) and Nightmare on Elm Street (2009). The series was created by showrunner and executive producer Jon Steinberg (creator "Jericho," "Human Target") and co-executive producer Robert Levine ("Touch").
"Black Sails" will debut with an eight-episode season in January 2014, exclusively on Starz.

AGENTS OF S.H.I.E.L.D.
Though it won't air for days, we've got the first trailer from the fifth episode of "Marvel's Agents of S.H.I.E.L.D.". Titled "Girl in the Flower Dress," here's the official description:
"An elusive girl in a flower dress may hold the key to the mystery that brings Coulson and team to Asia to rescue a young man with an unusual and dangerous power; and Skye has a secret that jeopardizes her relationship with the team right when they need her most."
This episode is set to air on October 22 at 8PM on ABC.

VOTE FOR BABYLON 5
There are two polls over at IMDb now where you can vote and make a difference. The first is for the best series finale episode. Predictably, 'Breaking Bad' has been winning hands down. But Babylon 5's 'Sleeping in Light' is holding on to #3! Not bad for a show that hasn't been on the tube for a long while! Go to IMDb and cast your vote! It is a great way to show support for the show. #FREEBABYLON5

The second poll is for your favorite story set in the 23rd century. Go to Favorite 23rd Century Story and vote for BABYLON 5. Early voting shows Babylon 5 just ahead of Star Trek.

SCIENCE FICTION NEWS STORIES:
Did you miss the news from yesterday -- or earlier in the week. Catch up by going to the News Archive. It will bring you up to date for all that has been going on in the world of science fiction.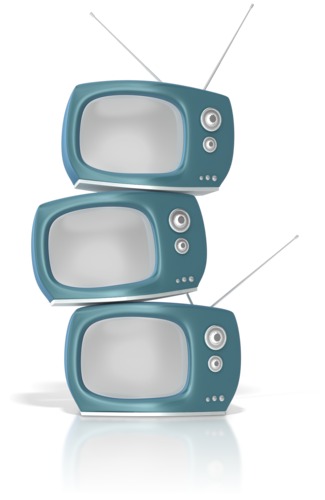 ON THE TUBE TONIGHT
8:00pm on ABC
Once Upon a Time
Episode: Quite a Common Fairy NEW S03, E03

8:00pm on AMC
The Walking Dead Episode: Welcome to the Tombs S03, E16 (First Aired: Mar. 31, 2013)
Rick and the others consider the defense of the prison as the Governor's impending attack looms.

8:00pm on FX
Iron Man (2008)
A wealthy industrialist builds an armored suit and uses it to defeat criminals and terrorists. Based on the comic book character. Robert Downey Jr., Terrence Howard, Gwyneth Paltrow, Jeff Bridges, Shaun Toub

8:00pm on BBC America
Interview With the Vampire (1994)
The immortal Louis tells of his life as a vampire recruited by Lestat in 1791 Louisiana. From the Anne Rice book. Tom Cruise, Brad Pitt, Antonio Banderas, Stephen Rea, Christian Slater

8:00pm on Hallmark
Cedar Cove Episode: Homecoming NEW S01, E13
Christmas brings a flurry of activity to Cedar Cove; Jack is desperate to talk to his still-missing son Eric; Justine learns that Warren is being investigated by the FBI.

9:00pm on Syfy
Blade II (2002)
Blade forms an alliance with a band of hardened enemies in order to battle powerful vampires. Wesley Snipes, Kris Kristofferson, Ron Perlman, Leonor Varela, Norman Reedus

9:00pm on AMC
The Walking Dead Episode: 30 Days Without an Accident PREMIERE NEW S04, E01
The group lives an ideal life at the prison, and strives to hold onto humanity.
10:00pm on CBS
The Mentalist Episode: Wedding in Red NEW S06, E03
Jane and the CBI team get involved with a case in Napa; Rigsby and Van Pelt get married.

10:00pm on AMC
Talking Dead PREMIERE NEW S03, E01
Guests discuss ``30 Days Without an Accident.''

10:00pm on BBC America
28 Days Later (2002)
Survivors try to stay a step ahead of vicious, virus-infected humans that have overrun London. Cillian Murphy, Noah Huntley, Naomie Harris, Brendan Gleeson, Megan Burns
KEEPING UP WITH CAST AND CREW
BILL MUMY - ACTOR/COMIC AUTHOR/MUSICIAN
Been really busy for the last several days... writing final scripting tweaks on the "Curse of the Mumy" comic book issue # 4, Shooting on location for a new "Illuminations" video, voice over auditions, writing two other new spec projects... (who knows?)... wrote a new song yesterday... and I'm writing new instrumental music for a soundtrack to a novel... (interesting!)... AND, this Friday, I'll be on a panel with Marc Vahanian at the Billy Wilder Theater in Westwood at a screening of Stanley Kramer's "Bless the Beasts & Children"... come on down and see the film. CD "Illumination" http://gragroup.com/bill_mumy.html. The CD can also be purchased on iTunes and Amazon.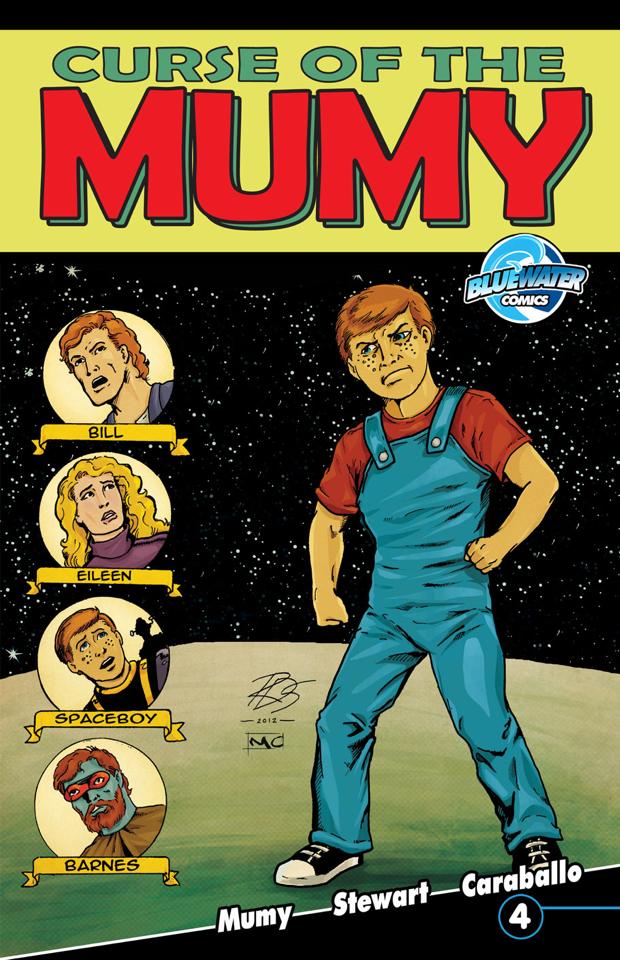 THE CURSE OF THE MUMY - Issue #4
Issue #4 The Curse of the Mumy continues...
You can order an issue at http://www.comicfleamarket.com/servlet/the-432/Curse-of-the-Mumy/Detail. PENDRAGON P.I. - HELP JASON CARTER
Want to see British actor Jason Carter (Marcus on the classic hit sci-fi series Babylon 5) return as an unconventional private investigator who's a bit of Sherlock Holmes, a splash of Sam Spade, and a dash of The Doctor?
Jason Carter is working with Jerry Seward, creator and executive producer of an independent movie pilot titled Pendragon, P.I.that They are developing a gifted and accomplished production team to produce this series. Jason will play the lead, a man who - along with his helper Lucy (played by April Washko) - relies on his deductive skills to sort through a maze of clues in an attempt to solve the case of mysterious disappearances in a small, lakeside town where impossible things happen.
For more information on how you can help, go to http://www.indiegogo.com/projects/help-get-pendragon-p-i-jason-carter-project-made?show_todos=true. THE PROTECTORS - NEW FROM JMS - COMING IN NOVEMBER
What's it like to be a hero in a world without villains? In PROTECTORS, INC., the life of a superhero is wonderful, thanks to a bevy of corporate sponsors, an adoring public, polite rivalries, sports franchises, and best of all, no super-powered bad guys to worry about. Wonderful, that is, until a hero is murdered in such a way that the only possible culprit is an unknown person with superpowers, throwing the status quo into upheaval. PROTECTORS, INC. comes from a place of deep appreciation for genre fiction.
"I've always loved superhero stories told from the bottom-up, from the point of view of ordinary people caught up in extraordinary circumstances, between people with massive amounts of power that can be used for good or ill," says Straczynski. "The book is a twelve-issue maxiseries, a superhero story crossed with a mystery and a procedural police story, and should be a fun read for folks interested in any one of those three genres."
The latest project from writer J. Michael Straczynski (TEN GRAND, SIDEKICK, RISING STARS) and artist Gordon Purcell (Star Trek: The Next Generation/Doctor Who, The X-Files), PROTECTORS, INC. focuses on Lieutenant Detective John Riley's search for the truth behind the murder of a being that shouldn't have been able to be murdered by anyone. Nothing is as it seems, however, and Riley's case will lead to a fifty-year-old secret, love affairs, and possibly even more death.
Purcell is equally excited and ready to unleash PROTECTORS, INC. on the world.
"Protectors, Inc. is one of the best projects I've ever worked on! Joe's script (I have all 12 issues here!) is fantastic and fascinating, and I feel like I'm drawing on all my comic experience to flesh out the Protectors world. I'm so jazzed to be able to share this project with the fans! Dig in–this is tasty stuff!"
PROTECTORS, INC. #1 will be in stores on November 6, is currently available to pre-order from the September issue of Previews, and features two separate covers. Cover A (Diamond Code SEP130489) features art by Gordon Purcell and Mike Atiyeh, while Cover B (Diamond Code SEP130489) features art by Whilce Portacio and Mike Atiyeh.
THE ZOCALO ON FACEBOOK
I hope that you will join us over on FACEBOOK. We have a great discussion group, tons of visuals and just a nice group of people participating on the page every day. Do drop over and stay a while.
READER'S CORNER
If anyone would like to submit reports from a convention they recently attended or items they would like to share with fellow Zocalo readers, please send them along to me at sgbruckner@aol.com. I will happily open up a new page for any submissions you care to send along.
BABYLON 5 20TH ANNIVERSARY BOOK
FIRST EVER BABYLON 5 BOOK PRINTED EXCLUSIVELY IN COLOR
Not just full color, but the actual colors of the sets, costumes and props. Extensive care was taken to ensure that the final pages precisely matched the color qualities of the original photographs, which were taken on set during production. B5-20 covers everything from the pilot through The Lost Tales.
For more information on this magnificant volume, go to b5books.com.




Here is a quote from J. Michael Straczynski about emotions.
I had this theory that the more important and intimate the emotion, the fewer words are required to express it.

First it's in dating: "Will you go out with me?" Six words.
"Honey, I care for you." Five words.
"You matter to me." Four words.
"I love you." Three words.
"Marry me." Two words.
But what's left? What's the one most important and intimate word you can ever say to somebody? It's "goodbye."

While Michael O'Hare (Sinclair), Andreas Katsulas (G'Kar), Rick Biggs (Dr. Franklin), Tim Choate (Zathras) and Jeff Conoway (Zach Allen) are no longer with us, we will not forget their wonderful personalities and talent -- as well as their significant contributions to the BABYLON 5 universe. Be sure to visit In Memory Of for more information about memorial efforts.
Until we met again, in a place where no shadows fall.
BABYLON 5 BIRTHDAYS
Dylan Neal - October 8
Jeff Conaway - October 5 - Gone too soon
John Vulich - October 10
Tim Choate - October 11 - we miss you
John Copeland - October 13
Linda Huse - October 16 Have I missed anyone? If you know the birthday of someone connected with Babylon 5, pass the information along. We want to include everyone in our Happy Birthday Wishes.



ITEMS OF INTEREST
BATMAN: THE DARK KNIGHT RETURNS
Listen to the great soundtrack for this video.
"Batman: The Dark Knight Returns Deluxe Edition" arrived October 8, 2013 from Warner Bros. Home Entertainment as a Blu-ray Combo Pack and as a DVD.
This seamless combination of the heralded two-part "Batman: The Dark Knight Returns" is accompanied on the Blu-ray Combo Pack by several new bonus features, including a 70-minute Frank Miller retrospective, an all-new filmmaker commentary, four exclusive collector cards with never-before-seen artwork, and all of the extra content originally found on the original Part 1 & 2 releases.
Based on Frank Miller's celebrated graphic novel, the film finds the Dark Knight, along with new sidekick Robin, battling iconic villains, including Two-Face and The Joker. Beyond his longtime foes awaits a global catastrophe racing toward Gotham City, and with it comes a familiar face, Superman – though this time he has Batman in his sights. Witness this aging Dark Knight as he wages a tireless war against crime while proving that courage and will are indeed timeless. BABYLON 5 PRESENCE ON FACEBOOK
I know a lot of you are already on FaceBook. However, I don't know if you knew how many other Babylon 5 folks have taken the plunge and opened FaceBook accounts. In fact, Pat Tallman has reopened her Fan Club using FaceBook at the site. For a peek, go to http://www.facebook.com/group.php?gid=45593318387. Claudia Christian has been really active -- sharing pictures of her recent trips and letting us know about upcoming convention activities. J. Michael Straczynski (JMS) has a FaceBook page as well as a new "Fans of J. Michael Straczynski" page. So check it out!
BABYLON 5 MUSIC VIDEOS AND TRIBUTES
John Hudgens has created many Babylon 5 videos, but I believe this is the most moving. It was first shown at the Phoenix Comic Con 20th Anniversary and honors many of the Babylon 5 family who have passed on.

Here is a link to John's Babylon 5 videos:
https://www.youtube.com/user/Babylon5MusicVideos?feature=watch

Richard Biggs memorial: http://www.youtube.com/watch?v=HyD4L8yNtsA

Andreas Katsulas memorial: http://www.youtube.com/watch?v=h2UQ2l9NPIg

- This is the extended version that I did for Andreas' widow ater the original cut was released on the net. It's never been seen online until now.

For those of you who've never seen these, I hope you enjoy them - and for those that have (and emailed me many times over the years about releasing them), I hope they're as good as you remember. Working with Joe on these videos was one of the highlights of my career, and I'll be forever grateful to him for the doors these have opened for me. I'm proud to have them on my resume.

John Hudgens
www.zteamproductions.com
---





New York Comic Con
Dates: October 10-13, 2013
Place: Javits Center, NYC
Guests: J. Michael Straczynski
For more information go to http://www.newyorkcomiccon.com/. Salute to SUPERNATURAL
Dates: October 11-13, 2013
Place: Toronto, Canada - Westin Harbour Castle
Guests: Jensen Ackles, Jared Padalecki, Misha Collins, Mark Sheppard and more
For more information, go to http://www.creationent.com/cal/supernatural_toronto.htm. Spooky Empire's Ultimate Horror Weekend
Date: October 25-27, 2013
Place: Doubletree Universal, Orlando, FL
Just added, special guest George Romero
For more information, go to www.spookyempire.com. DOCTOR WHO CRUISE
Ranger Lyta sends the following information in:
In celebration of the 50th Anniversary, Oct 29, 2013, cruise the Caribbean with Peter Davison and Sylvester McCoy. The cruise leaves from the Port of Miami on Sat., Oct 29. If you live or are going to be in South Florida, but can't make the cruise, you can attend the pre-cruise party on Fri., Oct. 28. Go to http://scificruise.com or just type in Doctor Who Cruise. STEEL CITY CON
Dates: December 6-8, 2013
Place: Monroeville Convention Center, Monroeville, PA
Guests: Star Trek's George Takei, Terminator's Michael Biehn, Catherine Bach, Kyle Szymanski and more.
For more information, go to http://www.steelcitycon.com. SPACE CITY CON
Dates: January 3-5, 2014
Place: Galveston City, Texas
Guests: Claudia Christian, Mira Furlan, Bill Mumy. Peter Jurasik, Stephen Furst, Pat Tallman, Julie Caitlin Brown, Tracey Scoggins, Jerry Doyle, Bruce Boxleitner, Robin Atkin Downes
For more information, go to http://spacecitycon.com/.

FARPOINT
Dates: February 15-17, 2014
Place: Crowne Plaza, Baltimore, MD
Guests: Melissa McBride, others to be named shortly
For more information, go to . Star Trek Convention - Creation Entertainment
Dates: July 31 - August 3, 2014
Place: Rio Suites Hotel, Las Vegas, Nevada
Guests: WILLIAM SHATNER, KATE MULGREW, COLM MEANEY, WALTER KOENIG, NICHELLE NICHOLS, "ROM and NOG" as portrayed by Max Grodenchik and Aron Eisenberg, ANTHONY MONTGOMERY, JERRY HARDIN, TIM RUSS and MICHAEL FOREST. 87 plus more guests to come!
For more information, go to www.creationent.com/cal/st_lasvegas.html.

SPECIAL ANNOUNCEMENTS!
Creation Entertainment has a large number of conventions planned for the next several months. They include stars from TWILIGHT, SUPERNATURAL, STARGATE, FARSCAPE, XENA, SERENITY, STAR TREK, etc. Check out their calendar to see if one will be in your neighborhood soon. Don't miss their Videos page as well. It is full of some priceless video from a number of conventions.

Be sure to visit the referenced sites to see if there have been changes in dates/guests attending. Visit our Convention Calendar for a full listing of upcoming conventions.
BACK ISSUES OF THE ZOCALO TODAY
The front page of the The Zocalo Today changes daily, so be sure to check the back issues to make sure that you haven't missed anything IMPORTANT! I hope you will become a regular visitor to The Zocalo Today!
---
Take care and I look forward to hearing from you.
Sandra Bruckner (sgbruckner@aol.com)
Editor/Publisher
ISN News: The Zocalo Today
http://www.isnnews.net
Copyright - SBruckner, 1999-2013