[an error occurred while processing this directive]

The Zocalo Today

Welcome and thank you for dropping by. Take your shoes off, get comfortable and stay a while. There is a LOT of information here and you won't want to miss any of it.

The Zocalo Today is an interactive newsletter, encouraging readers to join a discussion topic or to send along letters that can be shared with other readers.

If you have suggestions as to how The Zocalo can be improved -- or be more responsive -- send them along. The Zocalo Today is a newsletter for Babylon 5 fans everywhere. It is as much YOUR newsletter as it is mine! I'm just pulling together things for you!

Join our discussion topic. It is just one way you can share with other Z readers. If you see Babylon 5 cast and crew in other roles, let us know. We enjoy convention reports, photos, etc. Don't miss our back issues. I hope this will become more than just a newsletter. It's a community of people that enjoy sharing their experiences and interests. Babylon 5 brought many of us together -- and it remains with us, despite the fact that is no longer in production. Don't be shy. Join us today!

If you have questions, drop me a line at sgbruckner@aol.com. If you would like to join the mailing list for our newsletter, send me a note and I'll include you on the list. Or you can use the subscription block at the left.

Again, WELCOME!




What's New Today
Friday, October 24: TOP SF DVD SALES:
1. Adventures of Indiana Jones
2. The Matrix Reloaded
3. Finding Nemo
4. The Two Towers extended edition
5. Pirates of the Caribbean
6. The Lion King platinum edition
7. Terminator 3: Rise of the Machines
8. Looney Tunes golden collection
9. Charlie's Angels: Full Throttle
10. X2
Source: Amazon.com, top-selling genre DVDs, 10/17/03

---
INDIANA JONES: The Complete DVD Movie Collection of THE ADVENTURES OF INDIANA JONES is on the road to becoming the best-selling box set in DVD history. According to The Hollywood Reporter, it sold about 600,000 copies in the United States on Oct. 21, its first day of retail release. Total consumer spending on the four-disc box set is estimated to have generated upwards of $28 million within the first 24 hours on store shelves. Disc four also includes a series of featurettes of about ten minutes each covering different aspects of the trilogy (music, f/x, stunts) in greater detail, several trailers, and DVD-ROM weblinks to more exclusive content. These are just a few of the extra included on the set.
---
LORD OF THE RINGS: As we approach the release date of December 17 for the final installment of the LORD OF THE RINGS trilogy, more information is being made available. Over at MSN you can find some behind-the-scenes footage of the making of the Battle of Pelennor Fields from the upcoming THE RETURN OF THE KING.
---
THE BUTTERFLY EFFECT: Ashton Kutcher's new movie opens January 23, 2004. The New Line project, THE BUTTERFLY EFFECT, has posted a teaser trailer at http://www.butterflyeffectmovie.com/trailer.html.
---
THE MATRIX: On November 2 at 8:00pm, TBS will air a special presentation of THE MATRIX, with interviews, behind-the-scenes footage and scenes from the upcoming MATRIX REVOLUTIONS. During breaks, TBS will present interviews with Keanu Reeves, Carrie-Anne Moss, Laurence Fishburne, Hugo Weaving and Jada Pinkett Smith, as well as producer Joel Silver.
---
ENTERPRISE: The Trek Today website is reporting that Jeffrey Combs will reprise his role as the Andorian Shran in the thirteenth episode of STAR TREK: ENTERPRISE, "Proving Ground", marking Shran's fourth appearance in an ENTERPRISE episode. The growing antagonism between the blue-skinned Andorians and humans is at a crossroads. In "Proving Ground" the decision Shran will make in that episode will dictate what happens in the future.
---
THE LAST SAMURAI: Set to release on December 5, Tom Cruise's LAST SAMURAI is set in Japan during the 1870s. It tells the story of Capt. Nathan Algren (Cruise), an American military officer who is hired by the Emperor of Japan to train the country's first army in the art of modern warfare. As the government attempts to eradicate the ancient Samurai warrior class in preparation for more Westernized and trade-friendly policies, Algren finds himself unexpectedly affected by his encounters with the Samurai, which places him at the center of a struggle between two eras and two worlds, with only his own sense of honor to guide him. Check out the latest trailer at http://www.apple.com/trailers/wb/the_last_samurai/trailer/.
---
HERBIE THE LOVE BUG: Remember the LOVE BUG movies? Disney is tapping the comedy writing team Thomas Lennon and Robert Ben Garant for a remake of HERBIE THE LOVE BUG. Several previous drafts will be scrapped and the two writers will be starting from scratch. The Lennon and Garant take puts Herbie in the world of NASCAR. The scribe duo also wrote Fox's Taxi, which is currently filming in Los Angeles. Queen Latifah and Jimmy Fallon star for director Tim Story.
---
HOOLIGANS: Elijah Wood and Charlie Hunnam have been tapped to star in HOOLIGANS, an independent film due to start shooting in April with Lexi Alexander at the helm. The story centers on a Harvard undergraduate (Wood) who moves to London after he is wrongfully expelled from the Ivey League school. Once there, he meets a young man named Pete (Hunnam) who introduces him to the violent underworld of scorrer hooliganism. Alexander teamed with author-journalist Dougie Brimson to develop the original story and the due then took it to Josh Shelov to flesh out into a full screenplay. After his draft, Alexander and Brimson did a rewrite. Brimson is the author of 10 books about British soccer and the culture that surrounds it including "Barny Army" and "The Crew".
---
INSIDE SCI-FI THIS WEEK:
Thursday, October 23:
HAPPILY N'EVER AFTER: According to the Hollywood Reporter, Sigourney Weaver, Sarah Michelle Gellar, Freddie Prinze Jr. and George Carlin will voice characters in a computer-animated movie from the IDT Media animation unit Digital Production Solutions, BAF Berlin Animation Film and Vanguard Films entitled HAPPILY N'EVER AFTER.
---
DARK ANGEL: Season Two of DARK ANGEL went on sale yesterday. The six-disc set containing all 21 episodes including the season finale directed by creator James Cameron. Fox incorporated additional bonus material into the set including commentaries for four episodes (including the final one, "Freak Nation"); three featurettes; and a blooper reel. The episodes are presented in full-frame aspect (1.33:1) as they were originally broadcast. Thanks to our pals at M80 and Fox, we've got a preview of the second season's bonus features for you to check out, including a look at the gags and outtakes from the second season. For a preview of the DVD, go to www.cinescape.com.
---
BIONIC MAN: You remember Steve Austin, the Six Million Dollar Man with Lee Majors. Well Universal is talking about a remake -- starring Jim Carrey. Yes, it would be a comedy. Todd Phillips (ROAD TRIP, STARSKY & HUTCH) will write a new script and direct the film, which should go into production next year or so.
---
SMALLVILLE: Next week's episode of SMALLVILLE, "Perry" will feature the first appearance of Perry White. The WB has released new images of the episode, along with new cast photos. You can get a preview of them at http://www.comicscontinuum.com/stories/0310/22/index.htm. Michael McKean is featured as Perry White, a once promising journalist whose career was destroyed by Lionel Luthor (John Glover).
---
ANGEL: During the summer hiatus from ANGEL, David Boreanaz took on the role of Luc Crash, leader of a satonic biker gang in the upcoming The Crow: Wicked Prayer. Crash murders a young man named Jimmy Cuervo (Edward Furlong) and his girlfriend, Lily (Emmanuelle Chriqui), as part of a ritual to turn Crash into an immortal demon. Cuervo rises from the dead to take revenge. Tara Reid, Dennis Hopper and Macy Gray also star. Boreanaz says. "It was great. I had a lot of fun. It was a hard-paced film. We shot in 23 days. It was not an easy shoot. But from what I hear from the trailer, it looks great. I've seen a little bit of dailies, I'm happy. Dimension Films is happy. It could breathe some good life into a franchise that's been dead for a while."
---
Wednesday, October 22:
AMAZING SPIDERMAN: Issue #500 is supposed to hit stands today. So if you are a collector, be sure to get your copy. I'm sure they won't be there long!
---
RATINGS: Top SF Syndicated Shows:
She Spies 2.4
Stargate SG-1 2.1
Andromeda 1.8
Mutant X 1.8
Buffy 1.6
Angel 1.5
Beastmaster 1.4
The X-Files 1.4
3rd Rock 1.3
Adventure, Inc. 1.3
Source: Nielsen Galaxy Report, 9/22/03 - 9/28/03
---

ROSWELL: According to TV Guide Online, Fox Home Entertainment will release the first season of the ROSWELL on DVD this February.
---
GLOBAL FREQUENCY: According to Variety, Survivor's Producer Mark Burnett has sold The WB a pilot script for GLOBAL FREQUENCY, an hour long superhero show based on the DC Comics series by Warren Ellis. FREQUENCY deals with a shadowy figure named Miranda Zero who starts a top-secret worldwide independent defense intelligence organization. John Rogers (The Core) has been tapped to write GLOBAL FREQUENCY.
---
PIRATES OF THE CARIBBEAN: With the tremendous success of the original PIRATES OF THE CARIBBEAN, Variety reports that executives working at Walt Disney Pictures are considering making two sequels and that they would be both made at the same time. This kind of production was first attempted with the second and third BACK TO THE FUTURE films and was also used for THE MATRIX RELOADED and THE MATRIX REVOLUTIONS as well as all three LORD OF THE RINGS movies. Disney has reportedly approached the returning stars to see how they feel about committing to two sequels at once. Orlando Bloom has experience with this format already -- having gone through the process playing Legolas in the RINGS pictures. Johnny Depp and Keira Knightly are also both attached to star in one sequel at the present time. Should two sequels get the green light, Disney will need another script. Screenwriters Terry Rossio and Ted Elliott are hard at work on the second PIRATES sequel's script right now.
---
FLIGHT OF THE PHOENIX: The Invisible Man from THE LEAGUE OF EXTRAORDINARY GENTLEMEN, Tony Curran has just joined the cast of the upcoming remake of 20th Century Fox's THE FLIGHT OF THE PHOENIX. Curran will play an aircraft mechanic who is recovering from alcoholism. Curran joins Dennis Quaid who's topping the film. Shooting is sheduled to commence this year.
---
23 DAYS OF FEAR: People in the Wasington area were glued to their TV sets during the entire sniper incident last year. Friday night USA Network original film "D.C. Sniper: 23 Days of Fear" , a film that recounts those days, reached 3.6 million total viewers. The film was strong enough to outperform the network's usual Friday original series "Monk" in total viewers and adults 18-49. Its 11 p.m. replay also scored well, drawing 2.2 million viewers.
---
HARRY POTTER WALK-ON: On Nov. 28 you'll have a chance to bid on a walk-on part in the upcoming " Harry Potter and the Goblet of Fire." According to Empire Online, best-selling author J.K. Rowling is offering two minor roles in the fourth film based on her acclaimed children's book series. Competition for the roles will be fiercer than any quidditch match. The money raised from the auction will go to the Multiple Sclerosis Society Scotland, a charity that Rowling has championed since her mother died of the illness 13 years ago. "Being able to campaign for multiple sclerosis is the most meaningful thing to have come out of being famous," she told the BBC. "It would mean everything to me if I thought even one person did not have to go through what my mother did." Director Alfonso Cuaron is currently directing the third installment in the seven-part series, "Harry Potter and the Prisoner of Azkaban," which will be released next summer.
---
Tuesday, October 21:
JMS SIGNINGS: On October 23 from 4-6pm, JMS will be in NYC at MidTown Comics with John Romita SR and others to commemmorate the 500th issue of The Amazing Spider-Man. This is JMS' first appearance east of the Rockies in about five years (since I-CON I think), and his only appearance with JR SR. For more info, you can go to the Midtown Comics site at: http://www.midtowncomics.com..
JMS will be at Earth2Comics in Sherman Oaks, CA on Saturday, October 25 from 2-4pm to celebrate the release of ASM >#500.
---
TOP 10 BEST SELLING SF BOOKS:
1. The Da Vinci Code
2. Angels & Demons
3. Eragon (Inheritance, Book 1)
4. The Slippery Slope (Lemony Snicket)
5. Wolves of the Calla
6. Harry Potter and the Order of the Phoenix
7. Quicksilver (The Baroque Cycle, Vol. 1)
8. Blood Canticle
9. The Time Traveler's Wife
10. Sandman: Endless Nights
Source: Amazon.com, 10/17/03
---
TEEN READ WEEK: New Line Cinema announced that LORD OF THE RINGS cast member Orlando Bloom (Legolas) will appear on a poster for the Young Adult Library Services Association's 2003 Teen Read Week, Oct. 19-25. Teen Read Week is a national literacy initiative sponsored by YALSA, a division of the American Library Association, that encourages teenagers to read.
---
PHENOMENA: There is a new bi-monthly magazine on stands now -- one dedicated to the exploration of the unexplained. Mania Entertainment (Cinescape) will publish the magazine. Former CBS president Jeff Sagansky announced the publication, saying, "This content has been a passion of mine for some time, and Phenomena presents a forum to let readers in on the latest research and speculation from writers all over the world." Simon Cox (the CD-ROM magazine DUAT) will be the editor-in-chief of Phenomena. The November/December 2003 premiere issue features an article by Cox, Robert Kirby and Sam Parnia examining near-death experiences from a medical point of view.
---
BOY FROM OZ: Everyone who has enjoyed X-MEN knows Hugh Jackman is very talented. His portrayal portrayal of entertainer-songwriter Peter Allen in "Boy From Oz" has garnered rave reviews from theatergoers and according to The Hollywood Reporter, should be the first stop for anyone who's Broadway-bound.
---
MONSTER ISLAND: MTV has a new film project -- MONSTER ISLAND. Carmen Electra has been cast as herself in the the satire of classic monster movies. Electra is featured as the celebrity host of a fictional MTV beach concert that goes awry when a giant creature crashes the party and flies away with her in its beak. The teen cast tries to rescue her with the help of a mad scientist, played by Adam West, star of the 1960s TV series Batman.
---
PLANET OF THE APES: The PLANET OF THE APES DVD is coming. The set will include the 112-minute film in anamorphic widescreen video (a full frame version will also be available), with audio in Dolby Digital and DTS 5.1 surround. Extras will include audio commentary by composer Jerry Goldsmith, additional commentary with actors Roddy Mc Dowell, Natalie Trundy, Kim Hunter, producer Richard Zanuck and make-up artist John Chambers, a text commentary by Eric Greene (author of Planet of the Apes as American Myth), the Behind the Planet of the Apes documentary (126 mins), a 1998 promo for Behind the Planet of the Apes, an original makeup test with Edward G. Robinson, 20 minutes of Roddy McDowall's home movies, original dailies and outtakes, the 1967 N.A.T.O. Presentation Reel, an original featurette from 1968, the 1972 A Look Behind the Planet of the Apes featurette, the Don Taylor Directs Escape from the Planet of the Apes featurette, the J. Lee Thompson Directs Conquest of the Planet of the Apes featurette, original theatrical trailers for all films in the series, original film reviews, a theatrical poster gallery, a production photo gallery, a gallery of original costume sketches, a gallery of toys and merchandise, an Easter egg featuring a vintage MEGO toy commercial, and a DVD-ROM Planet of the Apes timeline.
---
Monday, October 20:
RATINGS: Top 10 SCIFI Channel shows:
Stargate SG-1 1.4
The Night Flier 1.3
Firestarter: Rekindled Pt. 2 1.3
Taken, Part 1 1.1
Firestarter: Rekindled Pt. 1 1.1
Sleepwalkers 1.1
E.T. 20th Anniversary 1.0
The Second Arrival 1.0
Sometimes They ... Again 1.0
Alien Hunter 1.0
Source: Nielsen Galaxy Report, 9/22/03 - 9/28/03
---
HIDE AND SEEK: Famke Janssen (Jean Grey from X-MEN) is currently in New York starring opposite Robert De Niro and Dakota Fanning in the 20th Century Fox's Hide and Seek. Under the direction of John Polson and written by Ari Schlossberg, the thriller centers on a young girl who loses her mother at an early age. Her father soon discovers that she's coping with the death in an unusual and ultimately terrifying way.
---
PIRATES OF THE CARIBBEAN: PIRATES hit a milestone this weekend. The Disney film hit the $300 million mark over the weekend. The only other film hitting that mark this year was another Disney flick, FINDING NEMO.
---
BLACK AUGUST: CSI's Gary Dourdan will star in the independent feature BLACK AUGUST as Black Panther party field marshal and controversial civil rights activist George Jackson. The film follows Jackson - also a prominent leader of the Black Guerrilla Family organization - until his death at the hands of San Quentin Prison guards in 1971. Jackson's writings include the book "Soledad Brother." Veteran music video helmer Samm Styles is directing the feature, which goes before the cameras this month in the Bay Area.
---
SCI FI DECLASSIFIED On October 24 at 9:00pm, Bryant Gumbel will host SCI FI DECLASSIFIED. The episode will explore events of December 9, 1965 when an object landed near Kecksburg, Penn. It was observed as a fireball in the sky across several U.S. states and Canada. Witnesses provided signed statements and independent, corroborated descriptions of the object and its location. Firefighters, reporters and a radio news director described a military presence at the crash site — and some saw a military truck quickly leaving with a large, tarpaulin-covered object. New witness accounts and a breakthrough forensic study done at the site by scientists reveal fascinating new scientific evidence in this exclusive SCI FI DECLASSIFIED special. Viewers go to the actual site, and to a town-hall meeting moderated by host Bryant Gumbel.
---
Sunday, October 19:
WEEKEND BOX OFFICE: New Line's horror remake THE TEXAS CHAINSAW MASSACRE, starring Jessica Biel, slaughtered the competition on Friday, earning an estimated $11 million in one day from 3,016 theaters. The film looks to be headed for a weekend take of about $28 million. Quentin Tarantino's KILL BILL: Vol. 1 added $4.3 million from 3,102 theaters on Friday for a total of $35.1 million. Coming in close on third was RUNAWAY JURY, the adaptation of John Grisham's novel. The movie debuted with $4.1 million for the day in 2,815 locations. Jack Black's SCHOOL OF ROCK took fourth place, with $3.5 million for a total of $47.4 million. Clint Eastwood's critically-acclaimed drama MYSTIC RIVER made $3.2 million from 1,467 locations for the fifth spot.
---
BROTHER BEAR: While this weekend's offerings at the theater seem to be more blood and goar, next week offers some terrific family entertainment. BROTHER BEAR marks the end of an era at Disney. This will be the last 2-D or cel animated feature cartoon to come out of Disney for a long time. Whether Disney will ever return to traditional animation is an open question. Disney bids farewell to 2-D in fine style. For "Brother Bear" is a playful movie that celebrates nature and the spirit world with striking imagery and a smooth blend of drama and comedy. The film should attract solid family business at the boxoffice. For a complete review, go to The Hollywood Reporter.
---
MELISSA GILBERT: HOLLYWOOD WIVES: THE NEXT GENERATION premieres on CBS tonight at 9:00pm. This film, starring Melissa Gilbert, Farrah Fawcett and Robin Givens is reviewed at The Hollywood Reporter.
---
Saturday, October 18:
BABYLON 5: Everyone is picking up on JMS' comment on a coming project for BABYLON 5. Yesterday, Cinescape had a main page story; today a comment is out on Prevue Magazine. What did he say?
To the many questions that have arisen here of late...yes, as I mentioned before, there is the possibility of something Babylon 5 related on the horizon, but again I don't want anyone getting excited until we know if either one of these two projects is going to actually come to fruition. We should know where this lands in the next few weeks. The only thing I will say is that they're not print projects, so if you were to assume it's for TV or film you wouldn't be too far off...but that neither of them are series. And that's all I'm going to say about them for now.

Let's all keep our fingers crossed on this one.
---
TOP SF NETWORK SHOWS:
Enterprise 2.4
Smallville 9:00 2.3
Smallville 8:00 2.0
Jake 2.0 1.9
Source: Nielsen Galaxy Report, 9/15/03 - 9/21/03.
---
THE TIMELINE: A new site has been opened for Paramount's THE TIMELINE movie from Michael Crichton. You can see a couple of dozen stills from the movie, read a synopsis, learn more about the filmmakers, download TIMELINE screensavers, go behind the scenes with production photos and watch the film's trailer. There's even an option that allows you to send in a question that can be answered by the film's director, Richard Donner. The film is set to open on Nov. 26.
---
NEW SEASON PICK-UPS: Competition is really tough in the TV world and a number of new series are already in jeopardy. A few look very promising and they have gotten orders for more episodes. These include JOAN OF ARCADIA -- the CBS show about a young girl who talks to God. CBS wants six more teleplays for "Joan of Arcadia." It seems that gone are the days of ordering a full season at the start of production.
---
THE PUNISHER: Here is a new poster of the upcoming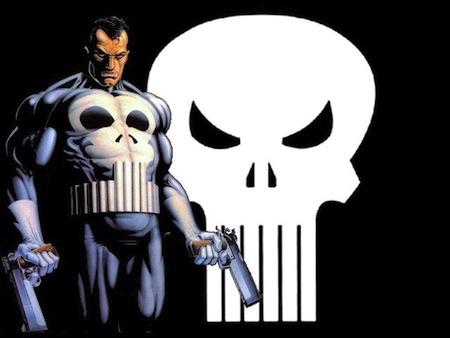 PUNISHER movie from Artisan Entertainment. For more from Thomas Jane, the start of the film, go to ComicsContinuum. Principal photography wrapped this week under the direction of Jonathan Hensleigh, with an April 16 release now set. In addition to Jane, John Travolta, Rebecca Romijn-Stamos, Laura Harring and Samantha Mathis as the main actors. There is a strong supporting cast as well, featuring Roy Scheider, Will Patton, Ben Foster, James Carpinello, Mark Collie, Eddie Jemison, Russell Andrews, John Pinette and Kevin Nash.
---
WEEKEND MOVIES: Three new movies open in wide release this weekend. There's the remake of TEXAS CHAINSAW MASSACRE with Jessica Biel, Dustin Hoffman and Gene Hackman in RUNAWAY JURY, and Katie Holmes' PIECES OF APRIL. For reviews, go to http://filmforce.ign.com/articles/455/455436p1.html.
---
WHAT'S ON TONIGHT
8:00pm on CBS
Joan of Arcadia
Just Say No
In preparation for a garage sale suggested by God, Joan (Amber Tamblyn) uncovers some of Helen's (Mary Steenburgen) paintings she did in college. Revisiting the paintings she once created, Helen's painful memories of being raped while in college resurface. Now, Helen must decide if she wants to share this part of her history with her daughter. 9:30pm on TCM
"The Haunting"
Filmed in England by the Oscar-winning director Robert Wise, this mental shocker tells the familiar tale of a small group of people who stay in a New England mansion in order to prove that it isn't haunted or to find the ghosts that hang around the dark place if it is possessed. Julie Harris, Richard Johnson, Claire Bloom, Russ Tamblyn and Bond's Lois Maxwell star. 10:00pm on SHOWTIME
Jeremiah
Strange Attractors
Jeremiah returns to Thunder Mountain; Markus sends Jeremiah and Kurdy to free Alliance leaders. On SCIFI Tonight:

6:00pm
Stargate SG-1
The Entity

7:00pm
Stargate SG-1
Orpheus
Teal'c is powerless to save his son from enslavement in a death camp. 8:00pm
Stargate SG-1
Revisions
SG-1 discovers an oasis of life in a force-field dome on a desolate planet. 9:00pm
The New Roswell: Kecksberg Exposed
Have people been searching the wrong area of the country all this time to find proof that aliens have visited this planet? Some of the citizens of Kecksburg, Pennsylvania think so. They still remember that time in 1965 when a fireball appeared in the evening sky, landed, and was hunted by the military. Former "Today" show host Bryant Gumbel takes part in this two-hour investigation that uses forensic science and event witnesses to get down to the bottom of the truth ... even if it leads to the top of another galaxy.
JEREMIAH - TONIGHT'S EPISODE
"Strange Attractors," a new episode of Jeremeiah, will premiere on Showtime on Friday at 10 p.m. Here's how the episode is described:
"After a brief reunion with his father Jeremiah returns to Thunder Mountain, where he finds Kurdy still blames him for Elizabeth's death. Markus assigns them to separate -- and dangerous -- parts of a mission to free the imprisoned Alliance leaders before their captors can carry out a standing execution order." The episode was written by J. Michael Straczynski and directed by Charles Winkler.
SEASON FOUR OF BABYLON 5
Warner Brothers have announced that January 6th, 2004 (Region 1) is the release date for Babylon 5: The Complete Fourth Season ("No Surrender, No Retreat"). There is no information at this time about when region 2 will be released. DESCRIPTION:
The future begins -- or ends -- here and now. Here is the huge space station Babylon 5. Now is the fateful year 2261. Commander John Sheridan has already declared the station free, breaking the ties between it and Earth Alliance. It was perhaps only a matter of time before he would have to fight to remain free. That time has come in this complete 22-episode fourth-season adventure presented on 6 discs and featuring an exciting array of Exclusive Extras. This six DVD set will include (preliminary listing):
Introduction to Babylon 5 - Season 4 by series creator J. Michael Straczynski
Two commentaries by series creator J. Michael Straczynski and another from director Mike Vejar
Commentary by cast members Bruce Boxleitner, Jerry Doyle, Peter Jurasik and Patricia Tallman
"Celestial Sounds" featurette about series composer Christopher Franke and the making of the series music
"No Surrender, No Retreat" DVD Suite, original music composed exclusively for the DVD
"The Universe of Babylon 5"
Personnel Files and Data Files
Gag Reel
Episode Previews
16x9 Anamorphic Widescreen
Dolby Surround 5.1 (English only)
Subtitles in English, French, and Spanish
Closed Captioned for the hearing impaired Pre-orders should be available soon.
BABYLON 5 SEASON THREE DVD - OUT NOW!
Season Three of Babylon 5 was released in the U.S. on August 12. It will be available in the UK beginning October 27. A review can be found over at http://www.imdb.com/Recommends/Rec2.html and the DVD series is on their recommended list. It was a featured item on http://www.imdb.com/. BABYLON 5: THE COMPLETE THIRD SEASON DVD Order Date: 7/15/03 Street Date: 8/12/03
Catalog #: 24243 WB Synopsis: The long-running Emmy Award-winning television series Babylon 5 takes place in the year 2257 A.D. on an immense spaces station floating in a stationary orbit in a neutral corner of a distant galaxy. Staffed by a crew of peaceful Earthmen and women, Babylon 5 serves as a non-political economic and social hub for the four alien races - the Narn, Centauri, Vorlon and Minbari - who fight to control the galaxy. Starring Bruce Boxleitner, Claudia Christian, Jerry Doyle, and Bill Mumy. Special Features and Specifications: o Six-disc DVD collector's set
o Introduction from series creator J. Michael Straczynski,
o Commentary on three key episodes by series creator and stars,
o"Behind the Mask: Creating the Aliens of Babylon 5" Documentary
o"Designing a Better Narn" Documentary
o"Designing Tomorrow: The Look of Babylon 5" Documentary
o Data and Personnel Files
o 16X19 Anamorphic Widescreen
o Dolby Digital 5.1
o English, French Spanish subtitles
o Running Time: 968 minutes For a look at Season Three, go to Season Three. Here you will find individual synopses of each episode and a graphic provided by Warner Bros.
GAG REEL
As with the other DVDs, there is a gag reel portion on the Season Three DVD as well. Ranger Mike sent along instructions on how to get there.

Babylon 5 Season 3 DVD Blooper Reel

The Season 3 "Gag Reel" is for real! It is actually an Easter Egg (a hidden component in the DVD) and is about three minutes long. There is a brief musical introduction and the segment mostly contains dialog goofs and other blunders the cast had.

To get to the Gag Reel, put in disc #6 and from the main menu:

* Select "The Universe Of Babylon 5"
* Select "Data Files"
* Cursor down Between the middle menu option "The Battle For Babylon 5" and the bottom menu option "The Universe Of Babylon 5". You should get a highlighted "5" logo to appear
* Press select to view the Gag Reel.
DISCUSSION TOPIC
What do you think of the new series out so far this year? Do you enjoy any of them? Which are winners -- which are stinkers?

Send in your comments to sgbruckner@aol.com and I'll post them on the Discussion Page for everyone to share.
KEEPING UP WITH CAST AND CREW
JERRY DOYLE: Over on the SCIFI B5 site, I noticed a message saying JERRY DOYLE would be on an upcoming episode of JAG. Filming was underway so we can keep an eye out for the episode in 4-5 weeks.
---
BRUCE BOXLEITNER: Bruce has just finished filming an independent movie entitled THEY ARE AMONG US. SNAKEHEAD TERROR was filmed for the Sci-Fi Channel, also starring Carol Alt and William B. Davis. That project is currently in post-production.
---
STEPHEN AUSTIN: I got a wonderful note from the Pa'Ka'Ma Ambassador, saying that he will be appearing at UNITED FAN CON, November 7-9 at the Sheraton Hotel, Springfield, Mass. (For more information on the convention, go to http://www.unitedfancon.com/. In addition, he's been quite busy with a number of projects. He has has completed work on two CDs and is putting the finishing touches on a DVD/Video -- a compelation of several of his stand-up comedy performances. Another CD is a work done by an ensemble group of comedians including Stephen, Vic Dunlop and The Unknown Comic titiled "Lunatics and Losers" a lampoon about our war on terrorism.
---
CRUISE WITH PETER WOODWARD
Peter is considering cruising the Caribbean in early 2005 and wants to invite his fans to join the fun. He would like to see if there is sufficient interest before going too far into planning, so if you would like to receive a brochure about Peter's upcoming cruise once the details are finalized please advise of your: Name:
Postal Address, City, State, Zip:
E-mail address:
Phone number:
Total number of guests in your party:
Age range of the guests including yourself:

Send this information to pwoodwardinfo@yahoo.com. Any information you send us will be handled respectfully. This is not a commitment from you, just an indication of interest.
BABYLON 5 BIRTHDAYS
Jeff Conaway - October 5
Dylan Neal - October 8
John Vulich - October 10
Tim Choate - October 11
John Copeland - October 13
Linda Huse - October 16 Have I missed anyone? If you know the birthday of someone connected with Babylon 5, pass the information along. We want to include everyone in our Happy Birthday Wishes.
READER BIRTHDAYS
Sometimes you just can't find the e-mail address for someone you know you have -- it's someone who responded to a discussion topic or you met in one of the chat rooms. You'd like to send a personal note, but .... No address!!!!

We've started a White Pages of Zocalo Readers! It's a handy way of keeping track of people -- and putting together a birthday/greeting card list as well. If you would like to be part of the listing, just send me your name, state, e-mail address and (if you'd like to have it listed) birthday (without year) to sgbruckner@aol.com. Check out the Directory of Readers.

Name: W Andrew York
State: Texas
EMail: wandrew@compuserve.com
Birthday: October 28

Name: James Green
State: Massachusetts
E-mail address: jrgreenmd@yahoo.com
Birthday: October 29

Name: Oliver Iten
Country: Switzerland
E-Mail: oliveriten@itenuscars.com
Birthday: October 23

Name: Mike Tuck
State: Tennessee
E-mail address: tuckbros@crunet.com
Birthday: October 24
BABYLON 5 FANS - SPECIAL HELP SECTION
BABYLON 5 FAN CLUBS
Swedish Babylon 5-Club We're situated in Gothenburg, Sweden's second largest city, and have been around since 1999. Our activities consist of showing B5 episodes on the big screen. The next time will be on November 8th here in Gothenburg. Our webpage is at http://www.babcon.org/. Asbjorn
President, Interstellar Alliance
sheridan@babcon.org -- Interstellar Alliance - Sweden's largest Babylon 5 club
BabCon XIII on November 8th 12.30 - 02.00
http://www.babcon.org/ Italian Babylon 5 News Ranger Bianca has a website that provides Italian Babylon 5 fans with news. The site is located at www.babylon5.it.
BABYLON 5 MERCHANDISE
Are you looking for Babylon 5 merchandise? Would you like to possess some of the wonderful patches or pins sold by the B5 Fan Club? Do you want to put in an order for the latest DVD? Bruce at Uncomyn Gifts still has one of the best collections around. Check out www.uncomyngifts.com. You may just find the magazine or t-shirt or patch you are looking for.
---
BABYLON 5 SCREENSAVER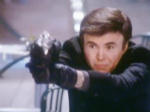 I received a wonderful note from Warner Bros. yesterday. It said:
"we also got this link from WHV for B5 screensavers, if you want to post this anywhere:
http://www.eyetide.com/download/?p=104117."
The graphics are awesome and it will add a certain measure of class to any desktop. Don't miss the preview feature. You can see what graphics have been included for your viewing pleasure. Thanks WB.
---
BABYLON 5 ROLE PLAYING AND FACT BOOK
The Babylon 5 Roleplaying Game and Fact Book
"Signs and Portents"
By Matthew Sprange
Mongoose Publishing
ISBN: 1-904577-11-3
MSRP: $49.99 From the review written at http://www.scifi.com/sfw/current/games.html B5 fans might want to pick up this game whether they actually play it or not. Based on the first season of the series, the "fact book" portion of the book includes an overview and maps of Babylon 5 and an episode-by-episode breakdown of the first season.
TRADING CARD HELP
Ranger Tia sent along this note to share with B5 card collectors:

Don't know if you've heard of my card program yet or not, but I thought the other B5 card collectors might like to try it out. With having almost all of the B5 trading cards and CCG cards available and no program to keep track of them withm, I started writing my own. Here's the website for it. Go half way down and click on the small screen shot for a full size screen shot. I have the pic of Pat Tallman's card from the Profiles card set feautured in the shot.

Oh, and I also have a lot of the card lists already saved as files so people won't need to type in all the card names. Being written by a B5 fan, ALL the card lists have already been made and are downloadable. :)

http://cardkeeper.usethis.com/keeper/index.html

Tia
NEW SCI-FI PUBLICATIONS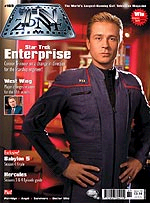 TV Zone #169: In this issue, J. Michael Straczynski continues to reminise about the final days of the fourth season of BABYLON 5. Conner Trinneer from ENTERPRISE talks about his job as chief engineer Trip Tucker and they look at the departure of Rob Lowe from THE WEST WING.





TV Zone #53: This special issue looks at all the returning shows -- and some of the hotter new ones. Inside, Scott Bakula looks at the coming second season of ENTERPRISE; Executive Producer Alfred Gough discusses the challenges of re-creating a superhero on SMALLVILLE. Among new shows, they look at BATTLESTAR GALACTICA, JAKE 2.0, JOAN OF ARCADIA and TARZAN.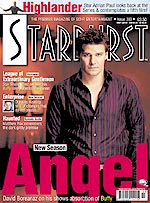 Starburst #303: ANGEL is back for a fifth season and David Boreanaz looks at the changes ahead -- and reveals what BUFFY meant to him. Also in this issue, Dominic Keating from ENTERPRISE talks about the future of his character, Lt. Malcolm Reed.
Cult Times #97: ANGEL takes over Wolfram & Hart this year and J. August Richards (Charles Gunn) talks about his character and changes ahead. Showtime's DEAD LIKE ME gets some pace, talking with Ellen Muth and Callum Blue about the tricky work of taking souls. Also read more from John Billingsley (Phlox on ENTERPRISE) and John L. Adams (Bruce Lewis on DEAD ZONE).





Expose #80: This month's issue focus on the upcoming HARRY POTTER movie. New Director Alfonso Cuaron will be making his mark and the kids are growing up. What other changes await? Also in this issue, a look at the extended second season of DEAD ZONE.
The Buffy finale saw Spike crumbling into the light, sacrificing himself so that humanity, and Buffy, might be saved. But now he's back from limbo and settling into LA life alongside Angel. We talk to James Marsters about his new role. Plus, Alexis Denis tells about Wes' transformation from Watcher to Rogue Demon Hunter and now Commander of Angel Investigations. Available at Newsstand.
Cult Times #100: Celebrate a century of Cult Times with this issue. Read interviews with the stars, and features on shows currently airing in the UK. A Classic Series is given a light-hearted but informative look in our Instant Guide and the highlights of the previous month's viewing are featured in Times Past. Cult Times is the complementary magazine to TV Zone, and together they provide the ultimate guide to the many worlds of Cult Television.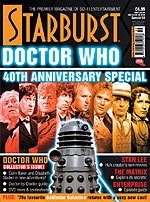 Starburst Special #59 A look back at 40 years of Doctor Who makes this issue special indeed. Also included in this issue - Battlestar Galactica -- an update on the SCIFI miniseries; Stan Lee on his upcoming film projects, and Michael Rosenbaum talk about being Lex Luthor on SMALLVILLE.
Cult Times Special #27: With the passing of BUFFY the Vampire Slyaer, CT looks back over the series; its characters and why it was so successful. Also included in this issue, Joss Whedon talks about possiblities for the future, including a movie for FIREFLY -- and BUFFY.



Shivers #107: As the new season approaches, everyone is speculating about the fireworks that could occur between Spike and ANGEL. Shivers takes a look at that this month -- along with Freddy vs. Jason, Underworld, and House of the Dead. There is an interview with Jeffrey Combs -- who most will know from Babylon 5 and Star Trek.



BABYLON 5 NOVEL - ON BOOK SHELVES NOW
DelRey is reprinting the original Babylon 5 novels. They started with #7 - Jeanne Cavelos' THE SHADOW WITHIN. Here's one I've been waiting for -- Kathryn Drennan's TO DREAM IN THE CITY OF SORROWS. The release date is scheduled for July 29, 2003. I love the new cover art! It can be pre-ordered from www.amazon.com. For those of you who love Babylon 5, this one reads just like an episode from the series. You just can't put it down.




AMAZING SPIDERMAN
Amazing Spider-Man #500 will arrive in stores on Wednesday from Marvel Comics. The issue is written by J. Michael Straczynski, with art by John Romita Jr. and John Romita Sr. and a cover by J. Scott Campbell.
Here's how Marvel describes the issue:
"It's Peter Parker's birthday ... but how do you throw a surprise party for someone with a Spider-sense? Someone figures out how and Spidey spends his special day looking back at his career and every villain he's faced over those years ... against his will. A special story for Spidey fans new and old. " Amazing Spider-Man #500 will be 48 pages and will cost $3.50.
RISING STARS UPDATE
Since many of us wonder when JMS will be able to finish the RISING STARS comic book, here is an update from JMS: I've asked Top Cow for three things: for Dream Police back, since they've had it now for 3 years and have done nothing with it...for confirmation that the Joe's Comics title belongs to me, and for an apology for deliberately keeping me out of the loop on my own project at the feature stage and misleading me about drafts that had come in. Once those three things have been attended to, I can finish the series.
SCI-FI SCHEDULE
BABYLON 5 27-OCT-03 9:00 AM BABYLON 5 (LBX) SURVIVORS
28-OCT-03 9:00 AM BABYLON 5 (LBX) BY ANY MEANS NECESSARY
29-OCT-03 9:00 AM BABYLON 5 (LBX) SIGNS AND PORTENTS
30-OCT-03 9:00 AM BABYLON 5 (LBX) TKO
04-NOV-03 9:00 AM BABYLON 5 (LBX) EYES
05-NOV-03 9:00 AM BABYLON 5 (LBX) LEGACIES
06-NOV-03 9:00 AM BABYLON 5 (LBX) A VOICE IN THE WILDERNESS -PT 1
07-NOV-03 9:00 AM BABYLON 5 (LBX) A VOICE IN THE WILDERNESS -PT 2
10-NOV-03 9:00 AM BABYLON 5 (LBX) BABYLON SQUARED
12-NOV-03 9:00 AM BABYLON 5 (LBX) THE QUALITY OF MERCY
13-NOV-03 9:00 AM BABYLON 5 (LBX) CHRYALIS
14-NOV-03 9:00 AM BABYLON 5 (LBX) POINTS OF DEPARTURE
17-NOV-03 9:00 AM BABYLON 5 (LBX) REVELATIONS
18-NOV-03 9:00 AM BABYLON 5 (LBX) THE GEOMETRY OF SHADOWS
19-NOV-03 9:00 AM BABYLON 5 (LBX) A DISTANT STAR
20-NOV-03 9:00 AM BABYLON 5 (LBX) THE LONG DARK
21-NOV-03 9:00 AM BABYLON 5 (LBX) SPIDER IN THE WEB
23-NOV-03 3:00 AM MOVIE BABYLON 5: IN THE BEGINNING (LBX)
24-NOV-03 9:00 AM BABYLON 5 (LBX) SOUL MATES
25-NOV-03 9:00 AM BABYLON 5 (LBX) A RACE THROUGH DARK PLACES
26-NOV-03 9:00 AM BABYLON 5 (LBX) THE COMING OF SHADOWS
29-NOV-03 3:00 AM MOVIE MARATHON BABYLON 5: A CALL TO ARMS (LBX) CRUSADE:

26-OCT-03 2:00 AM CRUSADE RULING FROM THE TOMB
02-NOV-03 2:00 AM CRUSADE THE RULES OF THE GAME
09-NOV-03 2:00 AM CRUSADE WAR ZONE
16-NOV-03 2:00 AM CRUSADE APPEARANCES AND OTHER DECEITS
20-NOV-03 11:00 AM DAYTIME ROTATION - CRUSADE
23-NOV-03 2:00 AM CRUSADE RACING THE NIGHT
30-NOV-03 2:00 AM CRUSADE THE NEEDS OF EARTH

STARGATE SCHEDULE: 23-OCT-03 6:00 PM STARGATE SG-1 PRODIGY
24-OCT-03 6:00 PM STARGATE SG-1 ENTITY
24-OCT-03 7:00 PM STARGATE SG-1 (LBX) ORPHEUS
24-OCT-03 8:00 PM STARGATE SG-1 (LBX) REVISIONS
27-OCT-03 6:00 PM STARGATE SG-1 DOUBLE JEOPARDY
27-OCT-03 7:00 PM STARGATE SG-1 FIRE AND WATER
27-OCT-03 8:00 PM STARGATE SG-1 HATHOR
27-OCT-03 9:00 PM STARGATE SG-1 SINGULARITY
27-OCT-03 10:00 PM STARGATE SG-1 COR-AI
28-OCT-03 6:00 PM STARGATE SG-1 EXODUS -PT 1
29-OCT-03 6:00 PM STARGATE SG-1 ENEMIES -PT 2
30-OCT-03 6:00 PM STARGATE SG-1 THRESHOLD -PT 3 FARSCAPE SCHEDULE:

10-NOV-03 11:00 AM DAYTIME ROTATION - FARSCAPE PICTURE IF YOU WILL
10-NOV-03 12:00 PM DAYTIME ROTATION - FARSCAPE HOME ON THE REMAINS
10-NOV-03 1:00 PM DAYTIME ROTATION - FARSCAPE OUT OF THEIR MINDS
10-NOV-03 2:00 PM DAYTIME ROTATION - FARSCAPE BEWARE OF DOG
10-NOV-03 3:00 PM DAYTIME ROTATION - FARSCAPE WON'T GET FOOLED AGAIN

EARTH: FINAL CONFLICT

24-OCT-03 5:00 AM EARTH: FINAL CONFLICT UNEARTHED
07-NOV-03 5:00 AM EARTH: FINAL CONFLICT
12-NOV-03 11:00 AM DAYTIME ROTATION - EARTH: FINAL CONFLICT
14-NOV-03 5:00 AM EARTH: FINAL CONFLICT
21-NOV-03 5:00 AM EARTH: FINAL CONFLICT
BABYLON 5/CRUSADE PHOTOSHOP PHOTOS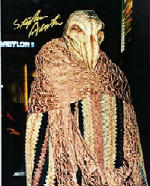 Peter Woodward has sent along a new photo -- a rather dreadful one -- from his appearance on CHARMED. It will be added to the collection of photos available from Peter, including additional copies of the Crusade poster in photo format. Both are autographed by Peter. You do NOT have to pay the prices asked for over at e-bay! Here are photos of B5 and Crusade cast members at fantastic prices. Check out Photo Shop. Ordering is easy -- and you can't beat the prices! Just let me know which photos you want and I'll check to make sure they are still in stock.
---
BABYLON 5 TOONS
John Cook has a wonderful collection of cartoons -- many are take-offs from Babylon 5. Here's just one of them.

He has a cartoon caption contest going on as well. Try your hand at a punch line.

Go to http://contests.sev.com.au/index.php?contestid=1


SCI-FI CARTOONS
You've heard of Charlie's Angels. Well now Tye Bourdony has introduced you to Kirk's Angels. Visit Tye's site at www.thelightersideofscifi.com.



BABYLON 5/CRUSADE CONVENTIONS
CONVENTION UPDATE
CONVENTION CALENDAR
JVL-CON 2003
October 24-27, 2003
Jainesville, Wisconsin
Place: Ramada Inn
Guest: Barbara March
For more information, visit their website at www.si-fi-nut.com .
---
Galacticon 2003
October 24-26, 2003
Place: Sheraton Universal Hotel, Los Angeles, CA
Guests: Stars, Producers, Writers and Crew fro the Original Battlestar Galactica
For more information, visit their website at http://www.galacticonevents.com/index2.html .
---
Vulkon
October 31-November 2, 2003
Place: Nashville, TN
B5 Guest: Robin Atkin Downes
Other Guests: Julie Benz, Robia LaMorte, George Hertzberg
For more information, visit their website at http://www.vulkon.com.
---
United Fan Con
November 7-9, 2003
Place: Marriott Hotel, Springfield, MA
B5 Guest: Stephen Austin
Other guests: Michael Shanks, Mercedes McNab, Peter Davison, Gary Graham, Katy Manning, Matthew Waterhouse
For more information, visit their website at http://www.unitedfancon.com/.
---
Montreal Science Fiction Expo 2003
November 14-16, 2003
Place: Palais des Congres, Montreal, Quebec, Canada
Other Guests: Marina Sirtis, Ethan Phillips, Peter Mayhew, Lou Ferrigno, Kirby Morrow
For more information, visit their website at http://www.hobbystar.com/montreal-eng/index.html.
---
Alternate Universe POSTPONED UNTIL JULY 23-25, 2004
November 14-16, 2003
Place: London, UK
Site: Thistle London Heathrow
B5 Guests: Andrea Thompson, Sarah Douglas
Other Guests: Kent McCord, JRBourne, Peter Stebbings, Marc Cass, Brian Aldiss
For more information, visit their website at http://www.l3conventions.co.uk/alternateuni.htm.
---
Vulkon Orlando
November 14-16, 2003
Place: ORLANDO HILTON NORTH
Orlando, FL
B5 Guests: Julie Caitlin Brown, Jeffrey Combs
Other Guests: William Shatner, John Billingsley, Chase Masterson, Lolita Fatjo, Walt Cunningham, Boby Clark, Arne Starr
For more information, visit their website at http://www.vulkon.com.
---
Farscape Convention
November 14-16, 2003
Location: Hilton Burbank Airport & Convention Center
Place: Burbank, CA
Guests: Most of the Farscape Cast
For more information, visit their website at " TARGET="_new"> http://www.creationent.com"> .
---
Slanted Fedora Convention
November 28-30, 2003
Location: Indianapolis Marriott
Place: Indianapolis, IN
B5 Guests: Richard Biggs, Jason Carter
Other Guests: Tony Amendola, Julie Benz, Teryl Rothery, Robert Duncan Mcneill
For more information, visit their website at " TARGET="_new"> http://www.sfedora.com"> .
---
Be sure to visit our Convention Calendar for a full listing of upcoming conventions featuring Babylon 5, Crusade and Legend of the Rangers cast members as guests.
CONVENTION HIGHLIGHTS
Ranger Brian had a blast with Rick, Jason and Jeffrey at the 2BeContinued Convention last week in Indiana. He sent along a picture for everyone to enjoy. Thanks Brian.
If you would like to share your convention experience with your other Zocalo readers, send along a convention report. I will gladly post it for all to read. Got pictures? I'll post those as well.
ZOCALO TRADING POST
Do you have extra copies of B5, Amazing Spiderman, Midnight Nation or Rising Stars comics you'd like to trade? How about those extra trading cards or B5 magazines? There are a lot of fans looking for these items -- and the Trading Post can help you buy or sell them. To see what's available, just use this link to the Trading Post. To have items included in The Trading Post, send a note to The Zocalo. Please put Trading Post in the subject line.
PEN PALS
If you are looking for someone to talk about Babylon 5 and Crusade with, the Pen Pal section is for you! Check it out! Drop a note to someone who is feeling B5 withdrawal -- BIG TIME!

People thought a Pen Pal page was a good idea. If you would like to meet people who you could chat with or share your opinions of the show with, send along your e-mail or snail-mail address The Zocalo. It will be incorporated on the new Pen Page Page.
MAIL FOR CAST AND CREW
Here's a recent note from JMS on the subject:

Just an FYI to those who've been using the Ventura Blvd. mail drop for fan mail to actors....

As mentioned before, we're phasing out the forwarding of fan mail because we a) don't have the resources, complicated by b) the actors have scattered to the four winds, and it makes it very difficult to get everything to everybody in a timely fashion.

So, having provided prior notice...fan mail to actors coming to the Ventura Blvd. mail drop will be sent back. Mail to actors should be sent via their official fan clubs. I will still be taking mail there, since it's my mailbox, but that's it.

Just so's y'all know and save a few bucks on postage and returns.

WARNER BROS:

Warner Bros. Address:

Warner Bros. Domestic Television Distribution
4000 Warner Blvd.
Burbank, CA 91522

Warner Home Video:

Mr. Douglas Wadleigh
VP for Marketing and Special Features
Warner Bros.
4000 Warner Blvd.
Burbank, CA 91522

SCIFI:
Bonnie Hammer, President
Sci-Fi Channel
1230 Avenue of the Americas
New York, NY. 10020-1513

Mr. Thomas Vitale
Senior VP of Acquisitions, Scheduling & Program-Planning
BACK ISSUES OF THE ZOCALO TODAY
The front page of the The Zocalo Today changes daily, so be sure to check the back issues to make sure that you haven't missed anything IMPORTANT! I don't want the front page getting too long so I shift information periodically into the archives. So if you aren't a regular visitor to The Zocalo Today, be sure to check out the back issues. Just use the button above!
---
Take care and I look forward to hearing from you.
Sandra Bruckner (sgbruckner@aol.com)
Editor/Publisher
The Zocalo Today
http://www.isnnews.net
Copyright - SBruckner, 1999-2003