[an error occurred while processing this directive]

The Zocalo Today

Welcome! I am REALLY glad you dropped by. Take your shoes off, get comfortable and stay a while.

The Zocalo Today is an interactive newsletter. If you have suggestions, please send them along. The Zocalo Today is as much YOUR newsletter as it is mine! I'm just pulling together things for you! Join our weekly discussion topic. It is just one way you can interact with other Z readers. Send along letters, sightings of B5 cast and crew in other projects, convention reports, photos, etc. Don't miss our back issues. There is a LOT of information contained there and you'll not want to miss anything.

If you have questions, drop me a line at sgbruckner@aol.com or b5web@aol.com.

Again, WELCOME!

October 26, 2001 4:04am
What's New
Over at Zap2It.com JMS talks about his upcoming Spiderman issue in which the events of September 11 are addressed. The issue is due out sometime in early November.
---
JERRY DOYLE is hosting a cruise for him and fans. Cruise details below.
---
BABYLON 5 CALENDAR FOR 2002: Yes, there is a Babylon 5 calendar listed at CalendarMart for 2002. Calendar ordering details are given below.
---
CRUSADE: I read over on the "Save Crusade" website that the Crusade Chain Reaction did VERY well on October 8. The rating numbers were terrific all day long. Here is a quote from the site: "The ratings averaged a 0.5 for the entire marathon. This quite good considering that the marathon ran on a holiday and that the average includes the ratings for the early morning episodes (starting at 7 am). Even more encouraging, the 5 and 6 pm episodes each earned a 0.6 rating, and the 7 pm episode got a 0.9 which is a very good rating for that timeslot."
---
The latest version of the MGM Online Newsletter has a section on Jeremiah. There is some wonderful background information about the upcoming series, including profiles for each of the major characters in the series. Go to http://www.mgm.com/scifi/01sept/jeremiah.html for more information.
---
RANGER REVIEW AT AINT-IT-COOL-NEWS: Recently there was a rather negative review of the "Legend of the Rangers" telemovie out at http://www.aint-it-cool-news.com. JMS has posted a response to the review -- and both are out on the Ranger page. This is one time the computer leaves someting to be desired. I just wanted to give JMS a HIGH FIVE.
---
HELP PROMOTE "LEGEND OF THE RANGERS" Yes, you can send in ideas to help promote the upcoming telemovie. See Help Promote details below.
---
CLAUDIA CHRISTIAN: CinemaConfidential has an interview with Claudia Christian. Catch up with Claudia and see what life has been like after Babylon 5.
---
GOOD NEWS: Despite Babylon 5 being in it's 4-5th run through at SCIFI, it made the Top 10 Programs at SCIFI -- holding down the 10th slot with a .7 rating during the week of 9/24/01 - 9/30/01. That's great news.
---
I've added a couple of new items to the Special Efforts page. Soap Opera actors are getting together on October 20 for a benefit to assist victims of September 11's tragedies. Check it out -- and send along others that you would like to make sure people know about.
---
The B5 Cast on TV has been updated. Don't miss the cast in other roles.
---

BLOOD DRIVES: If you are able, be sure to roll up your sleeves and give blood -- both now and in a couple of weeks. The need for blood will be continual. Right now, the tremendous outpouring of volunteers has filled quotas and storage space! FANTASTIC!!! But those supplies will be utilized and a new supply will be needed soon. Check out donation drives near you. I'm signed up already.
---
The e-mail version of The Zocalo Today goes out on Saturdays. If you would like to be included on the mailing list, just send a blank note to thezocalo-subscribe@yahoogroups.com. If that doesn't work for you, drop me a note at sgbruckner@aol.com. I can add you manually.
---
NEWS AROUND THE SCI-FI GENRE
October 26:
PHANTOM MENACE: According to Variety, Star Wars: Episode I - The Phantom Menace sold 2.2 million copies during its first week of release. Based on a $29.98 price tag, that translates into an additional $45 million for the film and breaks the record of 2 million copies sold set by The Mummy Returns just two weeks ago.
---
RATINGS: Top 10 SF Network Shows: Alias 6.6; Enterprise 5.8; Wolf Lake 4.7; Buffy 4.5; Dark Angel 4.4; Special Unit 2 3.1, and Angel 2.9. Source: Nielsen Galaxy Report, 10/1/01 - 10/7/01.
---
ENTERPRISE: We all know that it's "the numbers" that make the difference. Enterprise is making UPN VERY happy! It is the highest-rated new drama of the 2001-2002 season in the coveted 18-34 demographic. The series is placing ahead of Alias on ABC, Crossing Jordan on NBC and Smallville on The WB.
---
HARRY POTTER: Variety reports that Kenneth Branagh will play Gilderoy Lockhart in the next Harry Potter feature, Harry Potter and the Chamber of Secrets. Lockhart is a smooth and likable wizard who teaches Harry (Daniel Radcliffe), Ron (Rupert Grint) and Hermione (Emma Watson) at Hogwart's School of Witchcraft. Production on Chamber of Secrets will begin on Nov. 16, the same day that Harry Potter and the Sorcerer's Stone hits theaters.
---
SONY: The Hollywood Reporter writes that Sony Pictures Entertainment has announced a major restructuring, with plans to shut down its prime-time TV operation, Columbia TriStar Television.
---
October 25:
STAR WARS: The official Star Wars website reports that longtime Star Wars author R.A. Salvatore has delivered the first draft of his novelization of the upcoming Episode II: The Attack of the Clones. Covering more than 20 chapters, the novel not only describes what will be seen on movie screens next year, but also offers insights into the characters' thought processes and establishes new scenes that did not appear in the screenplay. Del Rey Books is set to publish the Episode II novelization around the time the film is released in 2002.

Speaking of Star Wars, another trailer is supposed to be available on November 2.
---
MUTANT X: Tribune Entertainment is VERY happy with the returns thusfar for their new "Mutant X" series. The show debutted with an impressive 3.3 rating, making them the No. 1 weekly action hour in syndication for the week ending Oct. 14. Tribune's "Andromeda," posted a 3.2 rating, up 28% from last week's repeat episode of the sci-fi series.
---
SMALLVILLE: According to the Hollywood Reporter, WB has already decided on a full-season pickup for "Smallville". The show attracted the WB's largest audience ever in its premiere last week (8.4 million) and managed to retain a solid 87% during its second outing Tuesday as well as more than 90% of its audience in key demos, including adults 18-34 and persons 12-34.
---
SPIDERMAN: Are you in the LA area and dying to be in the final scene of the upcoming Spiderman movie? Well, here's your chance. Over at TVTixs.com you can get details about being on location with the Spiderman production. They are looking for 200 to be in a scene of spectators.
---
K-PAX: Here's a movie that looks interesting. When I first saw a synopsis of this movie, I thought this could be really good. I guess only watching it will answer that question, but if you are curious as well, there's a review out at ComingSoon.Net.
---
October 24:
RATINGS: Top 10 SF Syndicated Shows: 3rd Rock 2.8; The X-Files 2.7; Buffy 2.6; Andromeda 2.5; Stargate SG-1 2.5; John Edward 2.0; The Invisible Man 1.8; Earth: Final Conflict 1.6; Pretender 1.4, and Voyager 1.3. Source: Nielsen Galaxy Report, 10/1/01 - 10/7/01.
---
ROSWELL: Ronald D. Moore, co-executive producer of Roswell, told SCI FI Wire that he's pleased so far with the direction the show is taking on its new network. He said that WB wanted more episodes with a story arc; UPN is the opposite. "We want it to be more episodic. We want you to be able to tune in and not feel like you've missed everything. But it's a delicate balance, because at the same time, we need to maintain the continuity of the show to the people who are already our fans and who expect a certain follow-up. But we don't want it to be so burdensome to the new viewer that they turn it off and go, 'Oh, God, I don't know what's going on.' But we feel pretty good about it, and we think we've sort of struck that balance." The question now is how they will fair against "Smallville".
---
X-FILES: If you have been waiting for the season premiere, you are going to have to wait another week. Instead of November 4, the first episode of season nine will air on November 11. The premiere is being moved to avoid the rescheduled Emmy Awards ceremony and the possible game seven of the World Series. The two-part premiere will feature Lucy Lawless (Xena) and Cary Elwes (Princess Bride). The second part of the episode will air on Nov. 18.
---
October 23:
PRETENDER: Fans of this show have loved Michael T. Weiss as Jarod and have followed his adventures faithfully. He will be turning up on the big screen soon in quite a different role. In the upcoming supernatural horror film Bones, Michael says, "I play this fat, corpulent evil cop. It's a fun gangster horror film, like an urban Shaft meets a horror film." Jarod will be returning soon. Yes, Weiss will be back in the role soon. TNT's The Pretender: Island of the Haunted premieres on Dec. 10. This is the second Pretender movie since the series was canceled by NBC.
---
FARSCAPE: SCIFI announced that it is planning to air the last four new season-three episodes of Farscape in March or April 2002. The fourth season will begin in June 2002. SCIFI Channel has made a 44-episode commitment to Farscape for a fourth and fifth season.
---
BUFFY: Buffy has a musical episode ahead! Yes, you heard right. The episode, entitled "Once More With Feeling," on November 6th. The story has a demon summoned in Sunnydale that forces Buffy and the Scooby Gang to sing their most private - and sometimes shocking - secrets to one another. Joss Whedon, creator of the series, wrote and directed the episode as well as the music and lyrics for the songs, which the cast, themselves, had to perform.
---
ENTERPRISE: StarTrek.com has a tremendous of information about the new series. Curious about the upcoming episode? Want more information about the cast and how they feel about the characters they are portraying? It's all there. Drop over and have a look.
---
DRAGON'S LIAR: Don Bluth has been a master animator for years, having worked on such Disney greats as Fantasia. Don is now teaming with Gary Goldman to reinvent Dragon's Lair for a new generation, making a movie out of the arcade game. SciFi.Com has an exclusive interview with Bluth and Goldman as they talk about the film, scheduled to begin production early next year.
---
October 22:
RATINGS: Top 10 SF Channel Shows (10/1/01 - 10/7/01): Primal Force 1.1; Tales From the Crypt 0.9; John Edward 0.8; Crocodile 0.8; Farscape 0.7; The Invisible Man 0.7; Clash of the Titans 0.7; The Outer Limits 0.7; Ravenous 0.7, and Official Denial 0.7.
---
INVISIBLE MAN: While wandering through the newsgroups this morning, I saw a note saying the "Invisible Man" had been cancelled. There isn't anything out at SCIFI about this yet, so stay tuned.
---
X-MEN 2: Rumors are flying about where the next movie will be filmed. It appears as if director Bryan Singer would like to move from Toronto to Vancouver. This is not only the location of his upcoming "Battlestar Galactica" project, but it has an advantage of being only 2 1/2 hours from LA. Production is expected to begin sometime during the spring or summer with a release date around Christmas of 2002.
---
IRON FIST: While speaking at the American Comic Book Expo, Ray Park ("X-Men") spoke about his upcoming lead role in "Iron Fist". Park confirmed that he won't be in tights but instead a special robe which will symbolize the temple from which Danny Rand (Iron Fist) comes from. He will also have the famous dragon tattoo in the film. The film will be produced by Artisan Entertainment and directed by Kirk Wong ("The Big Hit"). It is tentatively targeting a 2003 release date.
---
EPISODE II: Dark Horizons has a terrific new poster for Episode II. It's definitely different -- but who can tell if it's official or a teaser.
---
October 21:
ENTERPRISE: Fans have voiced a number of opinions regarding the musical theme for Enterprise. You can cast your vote, for or against, over at www.scifi.com.
---
BUFFY: When Buffy moved from the WB to UPN, they changed more than networks -- they lost their bulletin board and website! Since the move, fans have been asking UPN to re-establish the "Bronzer" website. The fans had used the site to arrange charity events -- as well as keep in touch with events related to the series. A new site was indeed established by UPN at www.buffyupn.com but fans are finding it difficult to use.
---
TRACKER: Adrian Paul's new series, Tracker, is reviewed over at www.cinescape.com. Like most first episodes, there is a LOT of exposition -- but the reviewer feels "it's on the right track".
---
MUTANT X: For a preview of this week's episode (with photos), go to http://www.comicscontinuum.com:8080/stories/0110/19/mxindex.htm.
---
HELP PROMOTE LEGEND OF THE RANGERS
Babylon 5 Fans,

The SCI FI Channel has teamed up with J. Michael Straczynski to create a new BABYLON 5 movie, THE LEGEND OF THE RANGERS. The movie will air on SCI FI in January 2002, and you can find more information about it on our newly relaunched RANGERS Web site at http://www.scifi.com/b5rangers.

As most of you know, RANGERS is both a stand-alone movie and a pilot for a potential series. That means the better the movie does in the ratings, the better chance there will be for an ongoing RANGERS show. SCI FI will be launching a traditional marketing campaign in the coming months to support the movie, but we'd also like to try something that's never been done before: we'd like to add you to the RANGERS support team.

We know BABYLON 5 fans are among the most passionate fans on the planet, and we also know that you want what we want: to see more BABYLON 5 on the air. So we'd like to enlist BABYLON 5 fans who want to help us with a grassroots effort aimed at attracting new viewers to Rangers. Here is how you can help:

YOUR IDEAS

->Send us your ideas about how fans could best help promote/support the movie, keeping in mind that the goal is to reach sci-fi fans who would not ordinarily tune into a BABYLON 5 movie.

OUR IDEAS

->Let us now if you think invitations, T-shirts and downloadable flyers (that can be printed and handed out and/or posted) with tune-in information would be useful for B5 fans to give out and/or wear in order to get other people to watch the movie.

CAR WRAPS

->If you are a fan who owns a car and frequently drives in the New York, Los Angeles, Chicago, Philadelphia, San Francisco, Boston, Dallas, Washington, Detroit or Atlanta metropolitan areas, and you would be willing to have your car "wrapped" in advertising for RANGERS, please let us know. The types of cars most suited for wrapping are:

Plymouth - P.T. Cruiser
Volkswagen - Beetles, Jettas
Lincoln – Navigator
Ford - Explorer, Expeditions, Excursions, F-150, Dulies, All Vans
GMC - Jimmy, All Vans
Chevy - Astro Vans, Conversion Vans, All commercial Vans
Dodge - Durango, Ram Trucks
Nissan - Pathfinder, Extera, Maxima
Honda - Civic
BMW - M-3

Please send your ideas to b5rangers@www.scifi.com and/or indicate your interest in having your car wrapped by Wednesday, Oct. 24.

And please visit http://www.scifi.com/b5rangers for the latest news and updates on the series.
BABYLON 5 CALENDAR FOR 2002
The folks at CalendarMart have a 2002 Babylon 5 Calendar available. Go to http://secure.venus.co.uk/bluemask/calendar_babylon_5.html to place your orders. Slow Dazzle hasn't come up with any new photos to use in this version of the calendar -- but it is Babylon 5 and will look terrific on your wall.
---
THIS WEEK'S DISCUSSION TOPIC:
OK, we've had a couple of weeks to digest the new series offerings -- along with returning series. Have any stood out for you? Do you like/hate any in particular? How about the return of Andromeda? Mutant X? Here's your chance to speak out! Do it!.

Send in your comments to TheZocalo@aol.com or B5web@aol.com. I'll post them on the Discussion Topic page for everyone to share.
---
BABYLON 5 ON DVD
It appears that Warner Bros. may release ONLY "In the Beginning" and "The Gathering" in December. They feel that VHS sales were not terrific and are apprehensive about DVD sales.

Ranger Adam has put a petition up on-line that people can sign to show their support for more Babylon 5 on DVD. The URL is http://www.petitionpetition.com/cgi/petition.cgi?id=2625. Add your name to the list. Send the URL to your friends and have them sign up. You never know that might happen!

I have put some addresses in the section below -- for Warner Home Video. Take pen in hand and write. Your letter do count.

A few rangers have suggested that ONLY sales of the initial DVD will translate into something WB can understand. Why not purchase the first DVD -- for you and a friend. The holidays are quickly approaching and I'm sure that the new B5 DVD would be a welcome addition to anyone's collection. AND it's reasonably priced as well.
CRUISE WITH JERRY
Jerry Doyle is hosting a cruise for him and his fans. For more details, go to www.SwainWorldCruises.com. This will be a cruise for 7 nights on the Maasdam, Sunday July 21-28, 2002, sailing roundtrip from Ft. Lauderdale to the Western Caribbean.

Date Port Arrive Depart
Sun 7/21/02 Depart Ft Lauderdale Florida 5:00 pm
Mon 7/22/02 At Sea - 2 hours seminar with Jerry
Tue 7/23/02 Cozumel, Mexico, 2 hour seminar 6:30am 2:00pm
Wed 7/24/02 George Town, Grand Cayman 9:00 am 5:00pm
Thu 7/25/02 Montego Bay, Jamaica 8:00am 5:00pm
Fri 7/26/02 At Sea - 2 hour seminar with Jerry
Fri 7/26/02 Evening Cocktail party with Jerry
Sat 7/27/02 Half Moon Cay, Bahamas* 8:00 am 4:00 pm
Sun 7/28/02 Ft. Lauderdale, Florida 8:00 am

*Conditions Permitting
E-mail: Susan@Swaintours for further details.
TOONS FOR CHARITY
Tye Bourdony and The Lighter Side of Sci-Fi have teamed up to create two brand new Celebrity Satires with Classic Star Trek guest stars France Nuyen (Elaan of Troyius) and Paul Carr (Lt. Lee Kelso "Where No Man Has Gone Beore") to benefit the Gene Roddenberry Memorial Society and the Red Cross disaster relief effort in support of our nation's recent tradegy.

The Celebrity Charity auction will be held on the GlobeList Auction web site beginning on the 8th of this month and lasting until the 25th of October. Bidding for both satires signed by both Paul Carr and France Nuyen will begin at $25.00. You can view the satires at The Lighter Side of Sci-Fi.
KEEPING UP WITH CAST AND CREW
MELISSA GILBERT: According to the Hollywood Reporter, Tracey Ullman has been coaxed into the fray of the Screen Actors Guild presidential election. Members of SAG presidential candidate Valerie Harper's Actors Moving Forward slate took out a quarter-page advertisement in the Sept. 19 issue of an entertainment trade publication that proclaimed in bold, block-letter writing, "Tracey Ullman says: VALERIE HARPER ... EVERYONE'S PRESIDENT." The problem was, nobody had checked with Ullman. "I had no idea they were using my name, and I took umbrage to the fact that they were using my name in this huge ad that seemed to be playing into the current political thing," Ullman said. Adding insult to injury, Ullman claims that repeated calls to the Actors Moving Forward camp inquiring about the ad went unreturned. "That's very rude," she said. "It's not that I have anything against Valerie -- or Melissa Gilbert, for that matter. I am totally neutral. I know both ladies, and I admire them, but you can't use somebody's name without their permission.
---
DANIEL DAE KIM: Daniel has been a very busy fellow. He has a recurring role on "Angel" (see him in the episode "Billy coming up on Oct. 29), he was in a very recent episode of "Charmed" and in a repeat of "Ally McBeal" on FX.
---
BRUCE BOXLEITNER: Bruce has been doing a number of audio books lately. "The Holy Road" by Michael Blake is the sequel to "Dances With Wolves" and the audio cassette version (with Bruce narrating) is now available at www.amazon.com.
---
DEAN MARSHALL: Dean Marshall, who plays Malcolm Bridges in the upcoming Legend of the Rangers, will be performing in Riff Raff, a play by The Matrix's Laurence Fishburne. Dean will be in the production at Havana Theatre in Vancouver, Canada, from September 19 to October 6 2001.
---
BABYLON 5/CRUSADE CHRONOLOGY
A number of you have written to ask about having an index of the chronology published thusfar. Terry has given permission for this so I'm working on it. You can now find the index to the timeline published thusfar at B5 Chronology Index .

Terry Jones created a FANTASTIC Babylon 5/Crusade Chronology that was published in the Official Babylon 5 magazine. He has not stopped with the end of the series though. He has included items from the latest novels as well as things from the Crusade series. Here's a note from Terry to tell you all about it.

To look at the timeline in a different way, I have been working with Terry Jones on personal chronologies for the Babylon 5 universe. At The Galactic Gateway you will fine Parts 1-4 of the chronology for John Sheridan along with Part 1 for KOSH. Others will follow. I hope you will visit GG and give the chronologies a look.

Three new installments to the Babylon 5 Chronology are now available. They are 2249-2255; In The Beginning, and The Great War.
SCI FI PUBLICATIONS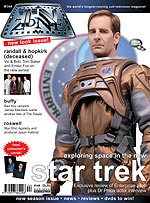 TV Zone #144: Enterprise is dominating nearly every magazine cover these days. TZ grabs an interview with the new doctor, John Billingsley as Doctor Phlox. Also in the issue, James Marsters talks about Buffy's new season.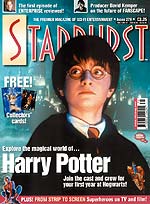 STARBURST #279: The new Harry Potter movie has indeed created a stir. Have you seen all the merchandise already? Starburst talks with producer David Heyman, Director Chris Columbus and screenwriter Steve Kloves. And, they also sit with young star David Radcliffe who talks about being Harry! Farscape producer David Kemper looks back on season three and drops a few hints about this season's finale!
Cult Times #73: The striking Virginia Hey adorns the cover this month as Zhaan from Farscape. She has left the series, but still feels very strongly about the series. Also in this issue: Brad Wright talks about the fifth season of Stargate and we learn about changes ahead for Roswell.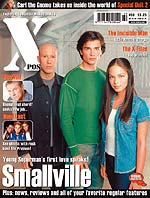 Expose #60: Smallville hopes to break new ground in the Superman saga, including showing Clark Kent as both boy of steel and teenager. Bill Sadler provides some insight into Roswell -- talking about the past two seasons and looking ahead to #3. Other features: X-Files, Special Unit 2; Invisible Man and Witchblade!
SCI-FI SCHEDULE
BABYLON 5's Schedule: 7pm each evening:

Air Date Title

Oct. 29 In the Shadows of Z'Ha'Dum
Oct. 30 Knives
Nov. 1 Confessions and Lamentations

Nov. 5 Divided Loyalties
Nov. 6 The Long, Twilight Struggle
Nov. 7 Comes the Inquisitor
Nov. 8 The Fall of Night

Nov. 12 Matters of Honor
Nov. 13 Convictions
Nov. 14 A Day in the Strife
Nov. 15 Passing Through Gethsemane

Nov. 19 Voices of Authority
Nov. 20 Dust to Dust
Nov. 21 Exogenesis

Nov. 26 Message from Earth
Nov. 27 Point of No Return
Nov. 28 Severed Dreams
Nov. 29 Ceremonies of Light and Dark
BABYLON 5 NOVELS
In the front of Jeanne's latest novel is a brief paragraph that seems SO appropriate for today:

There is a greater darkness than the one we fight
It is the darkness of the soul that has lost its way.
The war we fight is not against powers and principalities;
it is against chaos and despair. Greater than the death of
flesh is the death of hope, the death of dreams.
Against this peril we can never surrender.

---G'Quan

The third book of the Technomage trilogy is scheduled for released on November 27, 2001. You may order it now at amazon.com.

Book #7 "Shadow Within" by Jeanne Cavelos has been very hard to find over the past year. However, the author has a few copies she will let fans purchase. If you are interested, let me know and I'll get details.

DelRey has a few Babylon 5 projects in the works. DelRey's Steve Staffel is trying to acquire the rights to the Babylon 5 novels published by Dell. His plan is to begin with the two favorites--by Jeanne Cavelos and Kathryn Drennan--and see what kind of response they get from the Babylon 5 fans. In addition, DelRey is considering publishing the short story collection, if they can pick up the license.
---
BABYLON 5/CRUSADE PHOTOSHOP
NEW PHOTOS
You do NOT have to pay the prices asked for over at e-bay! Here are photos of B5 and Crusade cast members at fantastic prices. Check out Photo Shop. Ordering is easy -- and you can't beat the prices! Just let me know which photos you want and I'll check to make sure they are still in stock.
---
COMIC BOOKS
SPIDERMAN NEWS
Amazing Spiderman is on shelves now. It's a great issue and according to IGN.COM, it's one that you'll want to buy. The ending is terrific -- making you want to lay your hands on #36 very quickly.

Here's a portion of a quote from JMS regarding upcoming Spiderman issues:
Date: 22 Sep 2001 09:17:32 GMT

Ever since the events surrounding the WTC, I have said little because, as noted in response to another note, I simply didn't have the words and didn't know where to look for them. And consequently declined invitations to make a statement, on the further grounds that I'm not qualified.

Here's where life just nails you.

I got an email from Marvel, who felt that in at least one of their books they needed to really address the issue of what happened at the WTC. Their feeling was that the one character best suited to this was Spider-Man because after all, he's a native New Yorker.

So they asked me to write it. Unsure if I had the wherewithal necessary to pull it off without embarrassing myself or trivializing the situation through any inadequacies on my part, I asked for 24 hours to think it over. Figured I'd probably pass, since I just didn't know how I could handle it in a comic book format.

Somewhere along the way that night, I found the words...and 24 hours after my email, I sent in the script

. I think it says what needs to be said.

jms

TOP COW: For those of us anticipating the next Midnight Nation and Rising Stars issue from JMS, it looks like we'll have a while to wait! I picked up this note today:

In a press release, Top Cow Productions announced it has made some adjustments to its editorial schedule in the interest of "its continuing mission to publish the absolute highest quality level in comics while maintaining scheduled ship dates."

Top Cow announced Fathom #13 and #14 and Tomb Raider: Greatest Treasure of All are all being cancelled pending resolicitation once these issues are complete. Midnight Nation #9 and Rising Stars #17 are both being resolicited for December 2001.

"Ultimately our goal is very simple, we want to publish the best written, best drawn comics in the industry and put them out in the month we solicit them in," said Top Cow President Matt Hawkins. "The changes we're making in the editorial schedule are being made to help ensure both aspects of this goal. There are a couple other scheduling changes we'll be making, but we'll announce those once we have them confirmed."
---
BUFFY - HAUNTED #1: A new Buffy comic is ready to hit the stands. Here's the blurb from Diamond Previews:

It seems that the ghost of one of Buffy's recently deceased enemies has a bone to pick with her. But how can she kill something that's already dead?

**If you are having trouble finding the comic issues, drop me a line. My comic guy seems to be a HUGE JMS fan and has ordered more Marvel comics than anyone in the area!
NEW BABYLON 5 TOONS
John Cook has a new cartoon contest going. Try your hand at a punch line.




READER DIRECTORY
Sometimes you just can't find the e-mail address for someone you know you have -- it's someone who responded to a discussion topic or you met in one of the chat rooms. You'd like to send a personal note, but .... No address!!!!

We've started a White Pages of Zocalo Readers! It's a handy way of keeping track of people -- and putting together a birthday/greeting card list as well. If you would like to be part of the listing, just send me your name, state, e-mail address and (if you'd like to have it listed) birthday (without year) to sgbruckner@aol.com. Check out the Directory of Readers.

HAPPY BIRTHDAY TO YOU!

Name: James Green
State: Massachusetts
E-mail address: jrgreenmd@yahoo.com
Birthday: October 29

Name: Mike Tuck
State: Tennessee
E-mail address: tuckbros@crunet.com
Birthday: October 24
BABYLON 5 REFERENCE PAGES
The Official Babylon 5 Magazine is indexed here as well. With the closure of the magazine in May, you'll want to see which magazines you have -- and which ones you will want to collect. The index may help you make a decision on which ones to choose. The Fan Club has many of the issues at thestation.com , making it very easy to complete your collection.

Universe Today -- the Babylon 5 Fan Club quarterly can also be found here. The index gives you a rundown of what articles were presented, what interviews published.

If you have magazines that have featured Babylon 5 or Crusade that are not listed, send along their issue number and a note to indicate what the article was about. It would be nice to have a fairly comprehensive listing of Babylon 5 publications here.

I have added a listing of all the Babylon 5 novels and now the B5 comic books to the reference page. If there are other items that you feel should be included, let me know.
MAILING LISTS
NW-B5
NW-B5 is a mailing list devoted to bringing critical information to the Vancouver Island, Lower Mainland, and Northern Washington areas. More specifically, anyone north of Seattle. B5 is broadcast on SPACE:TIS in Canada, and Sci-Fi channel in the US. By subscribing to nw-b5, you'll be able to know info bringing you up to date on the current scheduling and events happening in the community related to B5. You'll also be subscribed to the list itself, which means that you'll receive email when there is a scheduling change or critical information needs to go out to you (for example, if we need to start another mailing campaign).

For further information, see http://www.nw-b5.com
John Francis
Webmaster, Listowner, and Co-Moderator
mailto:nw-b5@iname.com

Reports of "The Gathering" are beginning to turn up on the list. John posted a mini-report, with photos, over at http://www.geocities.com/jnf.geo/nw-b5/gathered.htm#0501. You may want to check it out. It was a terrific event in which JMS showed clips from the new "Legend of the Rangers".
BABYLON 5 DISCUSSION LIST
The Babylon 5 discussion mailing list is for any and all discussions and/or news pertaining to or related to Babylon 5 and/or Crusade. The list has been in existence for the past three years now, and has recently moved. The new location is http://lists.apparition.org/cgi-bin/lyris.pl, and you can subscribe by sending a blank e-mail message to join-babylon_5-l@lists.apparition.org.
THE GALACTIC GATEWAY
Here's a unique site for you! Jeffrey Willerth, Patricia Tallman, Mira Furlan, Claudia Christian, Robin Atkin Downes, Rick Biggs, Jerry Doyle, Bruce Boxleitner, Melissa Gilbert, Peter Jurasik and Bill Mumy are under it's umbrella. Actors from other shows have joined the Gateway. Ted Raimi and Robert Trebor from Xena and Hercules are now at GG. To subscribe to a mailing list for GG, send a blank note to thegalacticgateway-subscribe@egroups.com.
GATEWAY CHATTERS
There is never enough time to keep in touch with friends! To help out, a mailing list has been started for chatters over at the Galactic Gateway. If you are interested in joining, send a blank note to gateway-chatter-subscribe@egroups.com.
GATEWAY TRADER
Are you looking for a particular Babylon 5 collectible? Do you have some items you'd like to trade? Then this is the list for you. To join, send a blank note to gateway-trader-subscribe@egroups.com.
CALLING ALL ARTISTS
The Art Gallery at The Zocalo Today is open. There are SO MANY talented people in our Babylon 5 community. We have enjoyed works by Todd Brugman and Tye Bourdony on our toons page, but there are a host of others who enjoy drawing, painting, sketching their favorite characters. Here are a few works that have been received. I have some others that will be added soon.

If you would like to share your work with us at The Zocalo Today, please send along a digital photo of your work and I'll begin putting the gallery together. If you do not have your work in digital format, drop me a note and we'll see what we can work out.
CALLING ALL CLUBS
Amanda, a member of the club 'Friends of Science Fiction' in Sydney, Australia, dropped a note to say that they will host an event with Marjean Holden on September 9. More information can be found on the convention calendar. If you are in beautiful Sydney, you may want to check out the Club. It meets at: Lidcombe Catholic Club; John St; Lidcombe. If you have questions, drop Amanda a note at Amanda_Beachcroft@msn.com.au.

There are a number of fabulous Babylon 5/Crusade Clubs around the world. I'd like to begin listing them here on The Zocalo Today. Eric dropped me a note the other day providing information about a Club in France. I know there are other clubs in Brazil, Germany, Russia -- and who knows how many here in the US. Let's get a listing together. Perhaps we can share resources, even get together as we travel around. Drop the information about your Club to me at sgbruckner@aol.com or bruckner@isnnews.net. That information will be added to the new B5 Fan Club Listing.
BABYLON 5 FAN CLUB
Sad news. I don't know what the fate of the B5 Fan Club will be. Netter Digital filed for bankruptcy in July and all their worldly posessions were auctioned off on December 7. Thestation.com is back on-line, however the Emporium has been closed.
BABYLON 5 NEWSLETTERS
If you have a newsletter you'd like to have listed at The Zocalo Today, send the information along. It will be posted on the B5 Fan Club/Newsletter page.

Ranger Shane in North Carolina sent in the following note about their "Jumpgate" newsletter.

Hey Sandy! Just wanted to give you an update on the NC B5 group's newsletter, Jumpgate. There's now a dedicated EMail address for submissions - jumpgatemag@bellsouth.net - and any submissions, solicited or un-, can be sent to this address. Also, issues are available for free download at the URL at the bottom of this message.

Jumpgate - The Newsletter of the North Carolina Babylon 5 Fan Club
Shane Killian, Editor
HELP WANTED
A new HELP WANTED section has been added to the Z. If you need help finding a comic book, getting a special item, etc. here's the place to post a note. Just send whatever help you need to thezocalo@aol.com.
---
BABYLON 5/CRUSADE CONVENTIONS
CONVENTION CALENDAR
With the events of September 11, many changes have been made to conventions around the country. If you are planning to go to a convention, please check with the organizers to see if there are any changes -- like guest cancellations, etc.

Use this link Convention Calendar. to see if there is a convention happening near you. Have a convention you would like to have listed here? Pass along the information.
CONVENTION ALERT
Andreas Katsulas has cancelled his appearance at Chiller Theatre in East Rutherford, NJ.

CONVENTION ATTENDANCE

Are you attending one of the conventions on the calendar? Or another one perhaps? Do you want to see who else might be there? Drop your e-mail address to TheZocalo@aol.com. We've begun an attendance page so that perhaps we can get together while enjoying the activities of the convention. Convention Attendance .
UPCOMING EVENTS
Utopia II
October 20-21, 2001, Scheveningen, The Netherlands
Guest: Julie Caitlin Brown, Ted Raimi, Max Grodenchik

For more information, you can e-mail utopia@club.tip.nl or visit their website at http://www.starfall.net/utopia.
---

Star Trek, Xena, Sci-Fi TV & Film Convention
October 20-21, 2001
Civic Plaza
Phoenix, Arizona
Guests: Kevin Smith, Keith Hamilton Cobb, Roxann Dawson, Virginia Hey, Manu Intiraymi, Grace Lee Whitney
ROBIN ATKIN DOWNES from Babylon 5

For more information, visit the Creation Entertainment website at http://www.creationent.com.
---
Chiller Theatre
October 26-28, 2001; E. Rutherford, NJ
Guests: Claudia Christian, Peter Jurasik, Bill Mumy, David Allen Brooks, Julia Nickson

For more information, visit their website at http://www.chillertheatre.com/.
---
ZOCALO TRADING POST
Do you have extra copies of B5, Amazing Spiderman, Midnight Nation or Rising Stars comics you'd like to trade? How about those extra trading cards or B5 magazines? There are a lot of fans looking for these items -- and the Trading Post can help you buy or sell them. To see what's available, just use this link to the Trading Post. To have items included in The Trading Post, send a note to The Zocalo. Please put Trading Post in the subject line.
Pen Pals
If you are looking for someone to talk about Babylon 5 and Crusade with, the Pen Pal section is for you! Check it out! Drop a note to someone who is feeling B5 withdrawal -- BIG TIME!

People thought a Pen Pal page was a good idea. If you would like to meet people who you could chat with or share your opinions of the show with, send along your e-mail or snail-mail address The Zocalo. It will be incorporated on the new Pen Page Page.
BABYLON 5 BIRTHDAYS
Dylan Neal - October 5
Jeff Conaway - October 5
John Vulich - October 10
Tim Choate - October 11
John Copeland - October 13
Linda Huse - October 16

Have I missed anyone? If you know the birthday of someone connected with Babylon 5, pass the information along. We want to include everyone in our Happy Birthday Wishes.
MAIL FOR CAST AND CREW
Here's a recent note from JMS on the subject:

Just an FYI to those who've been using the Ventura Blvd. mail drop for fan mail to actors....

As mentioned before, we're phasing out the forwarding of fan mail because we a) don't have the resources, complicated by b) the actors have scattered to the four winds, and it makes it very difficult to get everything to everybody in a timely fashion.

So, having provided prior notice...fan mail to actors coming to the Ventura Blvd. mail drop will be sent back. Mail to actors should be sent via their official fan clubs. I will still be taking mail there, since it's my mailbox, but that's it.

Just so's y'all know and save a few bucks on postage and returns.

JMS' mail can be sent to:

14431 Ventura Boulevard, PMB 260
Sherman Oaks, CA 91423

WARNER BROS:

Warner Bros. Address:

Warner Bros. Domestic Television Distribution
4000 Warner Blvd.
Burbank, CA 91522

Warner Home Video:

Mike Finnegan, Vice President
Editorial and Programming Services

Paul Hemstreet, Vice President
Special Features/DVD

Michael Radiloff, Vice President
DVD Marketing

Kristin Grossnandler, Manager
DVD Special Features

Warner Home Video
4000 Warner Blvd.
Burbank, CA 91522
BACK ISSUES OF THE ZOCALO TODAY
The front page of the The Zocalo Today changes daily, so be sure to check the back issues to make sure that you haven't missed anything IMPORTANT! I don't want the front page getting too long so I shift information periodically into the archives. So if you aren't a regular visitor to The Zocalo Today, be sure to check out the back issues. Just use the button above!
---
Take care and I look forward to hearing from you.
Sandra Bruckner (sgbruckner@aol.com)
Editor/Publisher
The Zocalo Today
http://www.isnnews.net
Copyright - SBruckner, 2001