[an error occurred while processing this directive]

The Zocalo Today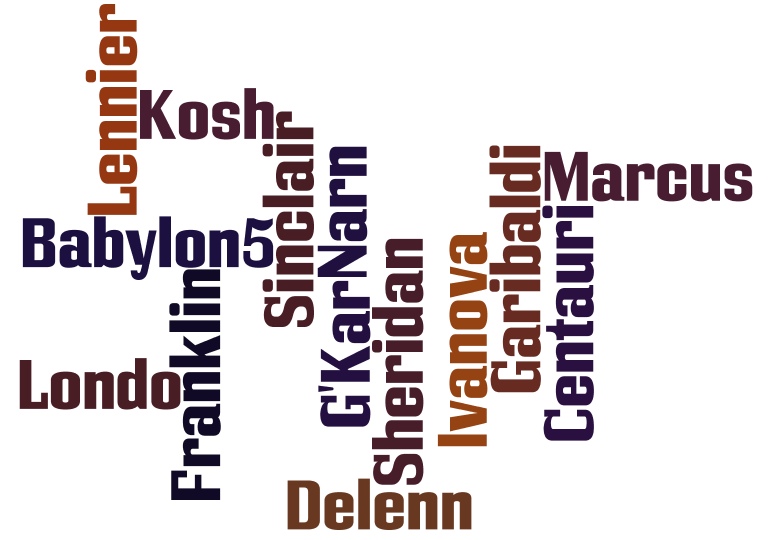 Welcome and thank you for dropping by. Babylon 5 brought many of us together -- and it remains with us, despite the fact that is no longer in production. The good thing is that the internet gives a LOT of ways to stay in touch. Don't be shy. Join in the discussion today or drop by Facebook or Twitter.

If you have questions or items for the news, drop me a line at sgbruckner@aol.com.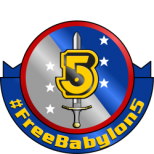 SUNDAY, OCTOBER 27, 2013
WEEKEND BOX OFFICE
Paramount and MTV Films' Jackass Presents: Bad Grandpa -- featuring Johnny Knoxville and child sidekick Jackson Nicoll -- easily topped the Friday box office with an estimated $12.6 million, putting the outrageous R-rated comedy on course to win the weekend with as much as $29 million.
After staying at No. 1 for three weeks, Warner Bros.' Gravity slipped to No. 2, grossing $6.1 million on Friday for a projected $20 million weekend. The 3D space epic will cross the $200 million mark in North America sometime on Sunday.
Bad Grandpa, the first Jackass film to have any sort of plot, stars Knoxville as signature character Irving Zisman, a crotchety 86-year-old, and Nicoll as 8-year-old grandson Billy. The outrageous duo embark on a hidden-camera road trip across America, performing stunts and punking people. Along the way they encounter, among others, male strippers, disgruntled child beauty pageant contestants and bikers.
The R-rated comedy, costing just $15 million to produce, is opening well behind the last two Jackass films (there are three in total). Paramount insiders suggest this is because Bad Grandpa is a spin-off. It opens three years after Jackass 3D debuted to a sizzling $50.4 million. Jackass: Number Two opened to $29 million in late September 2006. The first Jackass, opening in late October 2002, debuted to $22.8 million.
Jeff Tremaine returns to direct, and he produces alongside Knoxville, Spike Jonze and Derek Freda. Knoxville is the only Jackass regular to appear in the film, which received a B CinemaScore.
Ridley Scott's star-packed drama The Counselor, from an original screenplay by No Country for Old Men author Cormac McCarthy (his first), appears D.O.A., opening to $3.2 million on Friday for a No. 4 finish and projected $9 million weekend.
Moviegoers gave The Counselor a rare D CinemaScore despite Scott's pedigree and stars Michael Fassbender, Penelope Cruz, Cameron Diaz, Javier Bardem and Brad Pitt.
It may fare better overseas, where it begins rolling out this weekend in a handful of markets, including Brazil.
The Counselor, starring Fassbender as a greedy lawyer who gets caught up with drug traffickers, has received mostly negative reviews. Insiders say the film was a vanity project for Scott, but that it reportedly cost only $25 million to make, with talent taking a drastically reduced fee in order to work with Scott.
Scott, who has longtime ties to Fox, last directed Prometheus for the studio. The Fox empire is succeeding at the box office with Steve McQueen's 12 Years a Slave. The Fox Searchlight film, expanding into a total of 123 theaters in is second weekend, zoomed up to No. 8, grossing $620,000 on Friday for an expected $2.1 million weekend.
The other big headline at the specialty box office is Abdellatif Kechiche's French film Blue Is the Warmest Color, which is opening to solid business in New York and Los Angeles for IFC Films.
The steamy lesbian drama could gross $100,000 or more from four theaters, a strong showing for a foreign-language film. Blue Is the Warmest Color is rated NC-17, meaning that no one under 17 is allowed in. However, the IFC Center in New York has announced it will allow in teenagers it deems appropriate, regardless of age (the ratings system is voluntary).
In recent days, the war of words between Kechiche and star Lea Seydoux has escalated, with the filmmaker calling her an "arrogant, spoiled child" who said "slanderous" things about him in an effort to gain attention following the film's Palme d'Or win at the Cannes Film Festival in May. "Thus after having been celebrated and glorified thanks to the Palme d'Or won by Blue Is the Warmest Color, she started to drag me through the mud with lies and exaggerations," he said in an interview earlier this week.

THOR: THE DARK WORLD
Marvel Studios has released this new TV spot for THOR: THE DARK WORLD, hitting North America on November 8.
The film continues the big-screen adventures of Thor, the Mighty Avenger, as he battles to save Earth and all the Nine Realms from a shadowy enemy that predates the universe itself. In the aftermath of Marvel's THOR and MARVEL's THE AVENGERS, Thor fights to restore order across the cosmos...but an ancient race led by the vengeful Malekith returns to plunge the universe back into darkness. Faced with an enemy that even Odin and Asgard cannot withstand. Thor must embark on his most perilous and personal journey yet, one that will reunite him with Jane Foster and foce him to sacrifice everything to save us all.
SATURDAY, OCTOBER 26, 2013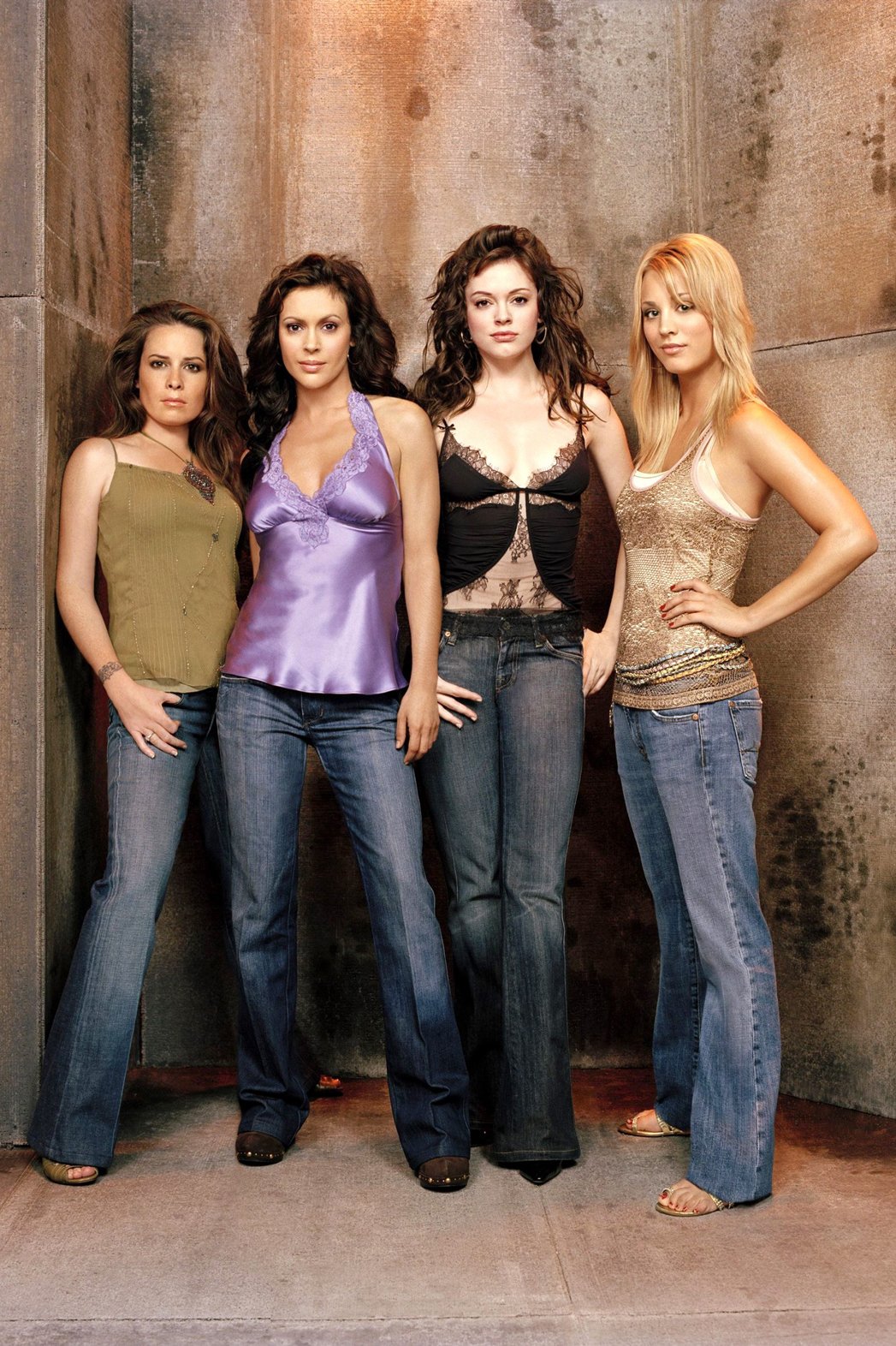 CHARMED REBOOT
The Season of the Witch is spreading to CBS.
The network has handed out a script commitment to a reimagining of Aaron Spelling's WB Network series Charmed, The Hollywood Reporter has confirmed.
As first reported by Vulture, Party of Five co-creator Chris Keyser and partner Sydney Sidner will pen the script for CBS Television Studios and The Tannenbaum Co. Keyser and Sidner will also co-executive produce. For its part, CBSTVS owns the rights to Spelling's library.
Charmed 2.0 is described as a reimaginging of the original series that centered around four sisters who discover their destiny -- to battle against the forces of evil using their witchcraft.
The original series ran for eight seasons from 1998-2006 and starred Shannen Doherty, Holly Marie Combs, Alyssa Milano and Rose McGowan.
The Charmed reboot comes as witches continue to be a draw on the small screen. The third season of FX anthology drama American Horror Story: Coven -- which centers on a school of witches -- is on track to be its biggest yet and Lifetime has found success with the freshman run of Witches of East End. Not to be outdone, WGN America ordered Brannon Braga's Salem Witch Trials drama Salem straight to series.
The Charmed update comes as reboots continue to be hot this development season. NBC is prepping Murder, She Wrote, and 1990s cult feature Reality Bites. NBC also attempted to reboot Ironside this season but axed the drama after three episodes. CBS, meanwhile, has found success with its reboot of Hawaii Five-0 and is adapting Cameron Diaz feature Bad Teacher.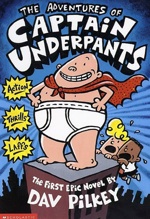 CAPTAIN UNDERPANTS
The project first announced back in 2011, DreamWorks Animation has found a director for their children's book series adaptation Captain Underpants. The Hollywood Reporter brings word that Monsters vs. Aliens helmer Rob Letterman will direct.
The "Captain Underpants" book series, written by Dav Pilkey, tells the story of two mischievous kids, George Beard and Harold Hutchins, who hypnotize their school principal and turn him into their comic book creation, Captain Underpants.
Scholastic first launched the "Captain Underpants" book series in September of 1997 and there are over 50 million Pilkey books in print in the U.S. alone. Eight "Captain Underpants" books have been published in 19 countries and several have debuted at #1 on various best-seller lists, including The New York Times and USA Today.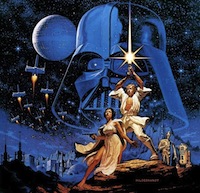 STAR WARS: EPISODE VII
Lucasfilm has revealed that Toy Story 3 screenwriter Michael Arndt, previously attached to script Star Wars: Episode VII, is no longer a credited writer on the project. Instead, Lawrence Kasdan and director J.J. Abrams will tackle the screenplay. The official press release on the matter reads as follows:
As "Episode VII" continues pre-production, Lawrence Kasdan and director J.J. Abrams have assumed screenwriting duties for the film. Kasdan, who has been serving as a consultant on the film, is a veteran of several classic Lucasfilm productions, writing the screenplay for "Raiders of the Lost Ark" and serving as co-screenwriter for "The Empire Strikes Back" and "Return of the Jedi." Acclaimed director and screenwriter Abrams' credits include "Super 8," "Mission: Impossible III," "Fringe," and "Lost."
"I am very excited about the story we have in place and thrilled to have Larry and J.J. working on the script," states Lucasfilm President Kathleen Kennedy. "There are very few people who fundamentally understand the way a "Star Wars" story works like Larry, and it is nothing short of incredible to have him even more deeply involved in its return to the big screen. J.J. of course is an incredible storyteller in his own right. Michael Arndt has done a terrific job bringing us to this point and we have an amazing filmmaking and design team in place already prepping for production."
Location scouting, production design, casting, and costume design are already underway on "Episode VII." A team of gifted artists are working to bring the latest installment of the "Star Wars" saga, including director of photography Dan Mindel ("Mission: Impossible III," "Star Trek"), production designers Rick Carter ("Lincoln," "Avatar") and Darren Gilford ("Oblivion," "TRON: Legacy"), costume designer Michael Kaplan ("Star Trek Into Darkness," "Mission: Impossible - Ghost Protocol"), special effects supervisor Chris Corbould ("Skyfall," "The Dark Knight Rises"), sound designer Ben Burtt ("Lincoln," "Star Wars: Episodes I-VI"), re-recording mixer Gary Rydstrom ("Jurassic Park," "Saving Private Ryan"), supervising sound editor Matthew Wood ("Star Trek Into Darkness," "The Master") of Skywalker Sound, and visual effects supervisor Roger Guyett ("Star Trek Into Darkness," "Pirates of the Caribbean: At World's End") of Industrial Light & Magic. Kathleen Kennedy, J.J. Abrams, and Bryan Burk are producing, with Tommy Harper ("Mission: Impossible - Ghost Protocol," "Star Trek Into Darkness") and Jason McGatlin ("Tintin," "War of the Worlds") serving as executive producers.
John Williams is returning to score Star Wars: Episode VII.
Shooting is scheduled to begin Spring 2014 at Pinewood Studios for an expected 2015 release.
Star Wars: Episode VII is rumored to focus on a new generation of heroes and could feature appearances by Mark Hamill, Carrie Fisher and Harrison Ford in older incarnations of their beloved characters from the original "Star Wars" trilogy.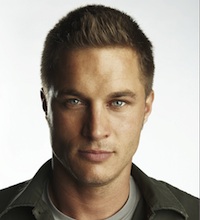 VIKINGS
As previously reported, negotiations are underway for Paula Patton and Colin Farrell to join the cast of the upcoming Legendary Pictures video game adaptation, Warcraft. Now, Variety brings word that "Vikings" star Travis Fimmel is set to play one of the film's four leading roles.
The "Warcraft" universe is a rich fantasy setting that revolves around the epic conflict between the opposing forces of the Horde and the Alliance. Since its debut in 1994, "Warcraft" has developed a loyal following across the globe, with several bestselling, award-winning PC games and a range of popular licensed products including novels, action figures, apparel, comic books, board games, and more. "World of Warcraft," Blizzard Entertainment's subscription-based massively multiplayer online role-playing game set in the Warcraft universe, is the most popular game of its kind in the world.
Set to be directed by Duncan Jones, Warcraft has Thomas Tull and Jon Jashni producing for Legendary along with Blizzard and Atlas Entertainment's Charles Roven and Alex Gartner. Charles Leavitt wrote the script.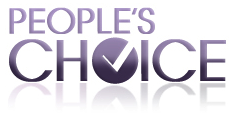 PEOPLE'S CHOICE AWARDS
#FreeBabylon5 - Another chance to raise the awareness of others to BABYLON 5. Over at People's Choice you can vote for the series you miss the most. Too bad we can't see the results, like the survey below. But let's see if we can make a difference. VOTE!!! Write in Babylon 5.

VOTE FOR BABYLON 5
There are two polls over at IMDb now where you can vote and make a difference. The first is for the best series finale episode. Predictably, 'Breaking Bad' has been winning hands down. But Babylon 5's 'Sleeping in Light' is holding on to #3! Not bad for a show that hasn't been on the tube for a long while! Go to IMDb and cast your vote! It is a great way to show support for the show. #FREEBABYLON5
The second poll is for your favorite story set in the 23rd century. Go to Favorite 23rd Century Story and vote for BABYLON 5. Early voting shows Babylon 5 just ahead of Star Trek.
THE ZOCALO TODAY
Be sure to check out The Zocalo Today on Facebook as well as the ISN News Blog at ISN News Blog. SCIENCE FICTION NEWS STORIES:
Did you miss the news from yesterday -- or earlier in the week. Catch up by going to the News Archive. I have broken up the huge file into months to make it easier to load. It will bring you up to date for all that has been going on in the world of science fiction.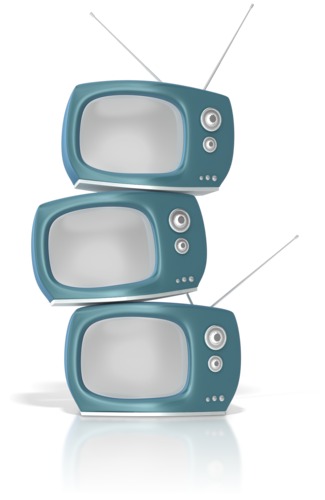 ON THE TUBE TONIGHT
8:00pm on ABC
Once Upon a Time Episode: Good Form NEW S03, E05
Hook brings ailing David with him to find the sextant that may help them decipher a map that shows the way out of Neverland; Killian Jones and his brother sail off to find a plant in an uncharted land.

8:00pm on AMC
The Walking Dead Episode: Infected S04, E02 (First Aired: Oct. 20, 2013)
The group faces a new enemy; Rick and the others fight to protect their hard-won livelihood.

8:00pm on BBC America
Doctor Who: The Doctors Revisited Episode: The Tenth Doctor NEW
Portrayed by David Tennant, the Tenth Doctor is one of the most popular Doctors of all.

8:00pm on FX
Paranormal Activity (2007)
A young couple move into their first new home but are disturbed by what appears to be a supernatural presence that is most active at night. Katie Featherston, Micah Sloat, Amber Armstrong, Mark Fredrichs, Ashley Palmer

8:00pm on TNT
The Dark Knight (2008)
Batman has to keep a balance between heroism and vigilantism to fight a vile criminal known as the Joker, who would plunge Gotham City into anarchy. Christian Bale, Heath Ledger, Aaron Eckhart, Michael Caine, Maggie Gyllenhaal

9:00pm on ABC Family
Hocus Pocus (1993)
Halloween trick-or-treaters come face to face with three witch sisters from the past in Salem, Mass. Bette Midler, Sarah Jessica Parker, Kathy Najimy, Omri Katz, Thora Birch

9:00pm on AMC
The Walking Dead Episode: Isolation NEW S04, E03
A group leaves the prison to search for supplies; the remaining members of the group deal with recent losses.

9:00pm on Syfy
Ghost Rider (2007)
A motorcycle stuntman who sold his soul to save a loved one becomes a fiery agent for justice at night in the presence of evil. Based on the comic book. Nicolas Cage, Eva Mendes, Wes Bentley, Sam Elliott, Donal Logue

10:01pm on CBS
The Mentalist Episode: The Red Tattoo NEW S06, E05
Jane investigates the murder of a prominent member of Visualize in hopes that a clue will lead him to Red John.

10:01pm on AMC
Talking Dead NEW S03, E03
Guests discuss ``Isolation.''
KEEPING UP WITH CAST AND CREW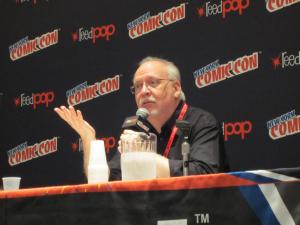 JMS AT NEW YORK COMIC CON
For those of us not able to get to New York Comic Con, Comib Cook Resource has a nice article on JMS's Spotlight panel. JMS goes into many of his upcoming projects, including Sense8 for Netflix and "Book of Lost Souls" from Studio JMS. He also gives a little background from his past. Interesting article. CBR.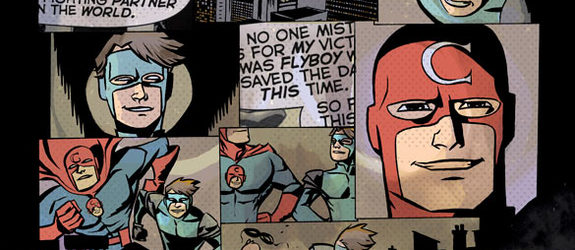 JMS at New York Comic Con. Were you wondering what was going on at New York Comic Con? Here is an article that covers J. Michael Straczynski's presentation. BILL MUMY - ACTOR/COMIC AUTHOR/MUSICIAN
Been really busy for the last several days... writing final scripting tweaks on the "Curse of the Mumy" comic book issue # 4, Shooting on location for a new "Illuminations" video, voice over auditions, writing two other new spec projects... (who knows?)... wrote a new song yesterday... and I'm writing new instrumental music for a soundtrack to a novel... (interesting!)... AND, this Friday, I'll be on a panel with Marc Vahanian at the Billy Wilder Theater in Westwood at a screening of Stanley Kramer's "Bless the Beasts & Children"... come on down and see the film. CD "Illumination" http://gragroup.com/bill_mumy.html. The CD can also be purchased on iTunes and Amazon.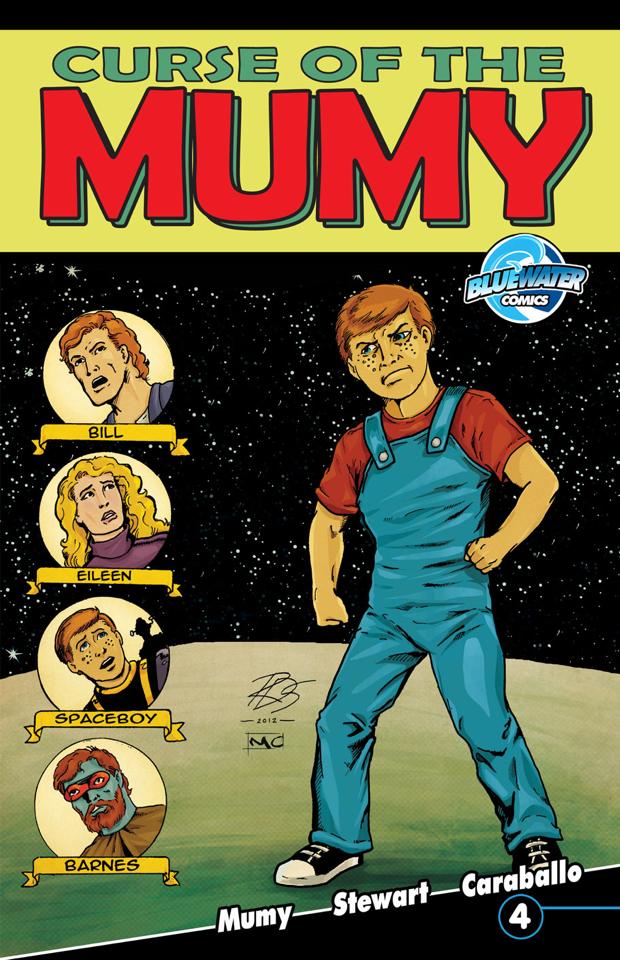 THE CURSE OF THE MUMY - Issue #4
Issue #4 The Curse of the Mumy continues...
You can order an issue at http://www.comicfleamarket.com/servlet/the-432/Curse-of-the-Mumy/Detail. PENDRAGON P.I. - HELP JASON CARTER
Want to see British actor Jason Carter (Marcus on the classic hit sci-fi series Babylon 5) return as an unconventional private investigator who's a bit of Sherlock Holmes, a splash of Sam Spade, and a dash of The Doctor?
Jason Carter is working with Jerry Seward, creator and executive producer of an independent movie pilot titled Pendragon, P.I.that They are developing a gifted and accomplished production team to produce this series. Jason will play the lead, a man who - along with his helper Lucy (played by April Washko) - relies on his deductive skills to sort through a maze of clues in an attempt to solve the case of mysterious disappearances in a small, lakeside town where impossible things happen.
For more information on how you can help, go to http://www.indiegogo.com/projects/help-get-pendragon-p-i-jason-carter-project-made?show_todos=true. THE PROTECTORS - NEW FROM JMS - COMING IN NOVEMBER
What's it like to be a hero in a world without villains? In PROTECTORS, INC., the life of a superhero is wonderful, thanks to a bevy of corporate sponsors, an adoring public, polite rivalries, sports franchises, and best of all, no super-powered bad guys to worry about. Wonderful, that is, until a hero is murdered in such a way that the only possible culprit is an unknown person with superpowers, throwing the status quo into upheaval. PROTECTORS, INC. comes from a place of deep appreciation for genre fiction.
"I've always loved superhero stories told from the bottom-up, from the point of view of ordinary people caught up in extraordinary circumstances, between people with massive amounts of power that can be used for good or ill," says Straczynski. "The book is a twelve-issue maxiseries, a superhero story crossed with a mystery and a procedural police story, and should be a fun read for folks interested in any one of those three genres."
The latest project from writer J. Michael Straczynski (TEN GRAND, SIDEKICK, RISING STARS) and artist Gordon Purcell (Star Trek: The Next Generation/Doctor Who, The X-Files), PROTECTORS, INC. focuses on Lieutenant Detective John Riley's search for the truth behind the murder of a being that shouldn't have been able to be murdered by anyone. Nothing is as it seems, however, and Riley's case will lead to a fifty-year-old secret, love affairs, and possibly even more death.
Purcell is equally excited and ready to unleash PROTECTORS, INC. on the world.
"Protectors, Inc. is one of the best projects I've ever worked on! Joe's script (I have all 12 issues here!) is fantastic and fascinating, and I feel like I'm drawing on all my comic experience to flesh out the Protectors world. I'm so jazzed to be able to share this project with the fans! Dig in–this is tasty stuff!"
PROTECTORS, INC. #1 will be in stores on November 6, is currently available to pre-order from the September issue of Previews, and features two separate covers. Cover A (Diamond Code SEP130489) features art by Gordon Purcell and Mike Atiyeh, while Cover B (Diamond Code SEP130489) features art by Whilce Portacio and Mike Atiyeh.
THE ZOCALO ON FACEBOOK
I hope that you will join us over on FACEBOOK. We have a great discussion group, tons of visuals and just a nice group of people participating on the page every day. Do drop over and stay a while.
READER'S CORNER
If anyone would like to submit reports from a convention they recently attended or items they would like to share with fellow Zocalo readers, please send them along to me at sgbruckner@aol.com. I will happily open up a new page for any submissions you care to send along.
BABYLON 5 20TH ANNIVERSARY BOOK
FIRST EVER BABYLON 5 BOOK PRINTED EXCLUSIVELY IN COLOR
Not just full color, but the actual colors of the sets, costumes and props. Extensive care was taken to ensure that the final pages precisely matched the color qualities of the original photographs, which were taken on set during production. B5-20 covers everything from the pilot through The Lost Tales.
For more information on this magnificant volume, go to b5books.com.




Here is a quote from J. Michael Straczynski about emotions.
I had this theory that the more important and intimate the emotion, the fewer words are required to express it.

First it's in dating: "Will you go out with me?" Six words.
"Honey, I care for you." Five words.
"You matter to me." Four words.
"I love you." Three words.
"Marry me." Two words.
But what's left? What's the one most important and intimate word you can ever say to somebody? It's "goodbye."

While Michael O'Hare (Sinclair), Andreas Katsulas (G'Kar), Rick Biggs (Dr. Franklin), Tim Choate (Zathras) and Jeff Conoway (Zach Allen) are no longer with us, we will not forget their wonderful personalities and talent -- as well as their significant contributions to the BABYLON 5 universe. Be sure to visit In Memory Of for more information about memorial efforts.
Until we met again, in a place where no shadows fall.
BABYLON 5 BIRTHDAYS
Dylan Neal - October 8
Jeff Conaway - October 5 - Gone too soon
John Vulich - October 10
Tim Choate - October 11 - we miss you
John Copeland - October 13
Linda Huse - October 16 Have I missed anyone? If you know the birthday of someone connected with Babylon 5, pass the information along. We want to include everyone in our Happy Birthday Wishes.



ITEMS OF INTEREST
BATMAN: THE DARK KNIGHT RETURNS
Listen to the great soundtrack for this video.
"Batman: The Dark Knight Returns Deluxe Edition" arrived October 8, 2013 from Warner Bros. Home Entertainment as a Blu-ray Combo Pack and as a DVD.
This seamless combination of the heralded two-part "Batman: The Dark Knight Returns" is accompanied on the Blu-ray Combo Pack by several new bonus features, including a 70-minute Frank Miller retrospective, an all-new filmmaker commentary, four exclusive collector cards with never-before-seen artwork, and all of the extra content originally found on the original Part 1 & 2 releases.
Based on Frank Miller's celebrated graphic novel, the film finds the Dark Knight, along with new sidekick Robin, battling iconic villains, including Two-Face and The Joker. Beyond his longtime foes awaits a global catastrophe racing toward Gotham City, and with it comes a familiar face, Superman – though this time he has Batman in his sights. Witness this aging Dark Knight as he wages a tireless war against crime while proving that courage and will are indeed timeless. BABYLON 5 PRESENCE ON FACEBOOK
I know a lot of you are already on FaceBook. However, I don't know if you knew how many other Babylon 5 folks have taken the plunge and opened FaceBook accounts. In fact, Pat Tallman has reopened her Fan Club using FaceBook at the site. For a peek, go to http://www.facebook.com/group.php?gid=45593318387. Claudia Christian has been really active -- sharing pictures of her recent trips and letting us know about upcoming convention activities. J. Michael Straczynski (JMS) has a FaceBook page as well as a new "Fans of J. Michael Straczynski" page. So check it out!
BABYLON 5 MUSIC VIDEOS AND TRIBUTES
John Hudgens has created many Babylon 5 videos, but I believe this is the most moving. It was first shown at the Phoenix Comic Con 20th Anniversary and honors many of the Babylon 5 family who have passed on.

Here is a link to John's Babylon 5 videos:
https://www.youtube.com/user/Babylon5MusicVideos?feature=watch

Richard Biggs memorial: http://www.youtube.com/watch?v=HyD4L8yNtsA

Andreas Katsulas memorial: http://www.youtube.com/watch?v=h2UQ2l9NPIg

- This is the extended version that I did for Andreas' widow ater the original cut was released on the net. It's never been seen online until now.

For those of you who've never seen these, I hope you enjoy them - and for those that have (and emailed me many times over the years about releasing them), I hope they're as good as you remember. Working with Joe on these videos was one of the highlights of my career, and I'll be forever grateful to him for the doors these have opened for me. I'm proud to have them on my resume.

John Hudgens
www.zteamproductions.com
---





Spooky Empire's Ultimate Horror Weekend
Date: October 25-27, 2013
Place: Doubletree Universal, Orlando, FL
Just added, special guest George Romero
For more information, go to www.spookyempire.com. STEEL CITY CON
Dates: December 6-8, 2013
Place: Monroeville Convention Center, Monroeville, PA
Guests: Star Trek's George Takei, Terminator's Michael Biehn, Catherine Bach, Kyle Szymanski and more.
For more information, go to http://www.steelcitycon.com. SPACE CITY CON
Dates: January 3-5, 2014
Place: Galveston City, Texas
Guests: Claudia Christian, Mira Furlan, Bill Mumy. Peter Jurasik, Stephen Furst, Pat Tallman, Julie Caitlin Brown, Tracey Scoggins, Jerry Doyle, Bruce Boxleitner, Robin Atkin Downes
For more information, go to http://spacecitycon.com/.

FARPOINT
Dates: February 15-17, 2014
Place: Crowne Plaza, Baltimore, MD
Guests: Melissa McBride, others to be named shortly
For more information, go to Farpoint.

Star Trek Convention - Creation Entertainment
Dates: July 31 - August 3, 2014
Place: Rio Suites Hotel, Las Vegas, Nevada
Guests: WILLIAM SHATNER, KATE MULGREW, COLM MEANEY, WALTER KOENIG, NICHELLE NICHOLS, "ROM and NOG" as portrayed by Max Grodenchik and Aron Eisenberg, ANTHONY MONTGOMERY, JERRY HARDIN, TIM RUSS and MICHAEL FOREST. 87 plus more guests to come!
For more information, go to www.creationent.com/cal/st_lasvegas.html. SPECIAL ANNOUNCEMENTS!
Creation Entertainment has a large number of conventions planned for the next several months. They include stars from TWILIGHT, SUPERNATURAL, STARGATE, FARSCAPE, XENA, SERENITY, STAR TREK, etc. Check out their calendar to see if one will be in your neighborhood soon. Don't miss their Videos page as well. It is full of some priceless video from a number of conventions.

Be sure to visit the referenced sites to see if there have been changes in dates/guests attending. Visit our Convention Calendar for a full listing of upcoming conventions.
BACK ISSUES OF THE ZOCALO TODAY
The front page of the The Zocalo Today changes daily, so be sure to check the back issues to make sure that you haven't missed anything IMPORTANT! I hope you will become a regular visitor to The Zocalo Today!
---
Take care and I look forward to hearing from you.
Sandra Bruckner (sgbruckner@aol.com)
Editor/Publisher
ISN News: The Zocalo Today
http://www.isnnews.net
Copyright - SBruckner, 1999-2013