[an error occurred while processing this directive]

The Zocalo Today

Welcome and thank you for dropping by. Take your shoes off, get comfortable and stay a while. There is a LOT of information here and you won't want to miss any of it.

The Zocalo Today is an interactive newsletter, encouraging readers to join a discussion topic or to send along letters that can be shared with other readers.

If you have suggestions as to how The Zocalo can be improved -- or be more responsive -- send them along. The Zocalo Today is a newsletter for Babylon 5 fans everywhere. It is as much YOUR newsletter as it is mine! I'm just pulling together things for you!

Join our discussion topic. It is just one way you can share with other Z readers. If you see Babylon 5 cast and crew in other roles, let us know. We enjoy convention reports, photos, etc. Don't miss our back issues. I hope this will become more than just a newsletter. It's a community of people that enjoy sharing their experiences and interests. Babylon 5 brought many of us together -- and it remains with us, despite the fact that is no longer in production. Don't be shy. Join us today!

If you have questions, drop me a line at sgbruckner@aol.com. If you would like to join the mailing list for our newsletter, send me a note and I'll include you on the list. Or you can use the subscription block at the left.

Again, WELCOME!




What's New Today

Friday, October 31: TOP 10 SF DVD SALES:
1. Adventures of Indiana Jones
2. Finding Nemo
3. The Two Towers extended edition
4. The Matrix Reloaded
5. Pirates of the Caribbean
6. The Lion King platinum edition
7. Looney Tunes golden collection
8. Buffy season five
9. Terminator 3: Rise of the Machines
10. Hulk
Source: Amazon.com, top-selling genre DVDs, 10/24/03
---
THE END OF ETERNITY: With his latest project, THE SINGING DETECTIVE, now in limited release, director Keith Gordon has been hired to write the screenplay and direct the movie adaptation of Isaac Asimov's science-fiction novel THE END OF ETERNITY. The project is set up at Paramount Pictures, with Cruise/Wagner Productions developing the project. Asimov's story is about an individual in a future society that falls in love with a woman from the modern day. The problem is that the woman will be eliminated from all of history as a result of a forthcoming change in the timeline, and he wants to ensure that she survives -- even if it means at the cost of everything.
---
THE BOURNE SUPREMACY: Mark Damon will be back to reprise his role as Jason Borne, a man on a search to find out his real identity as he evades the CIA and assassins, as cameras role at Studio Babelsberg outside Berlin in coming weeks. Paul Greengrass' follow-up to Universal's 2002 hit The Bourne Identity will film in Berlin and other German locations through February after its shoot in Russia. In the sequel, a Chinese vice-premier has been slain by the legendary assassin Jason Bourne. Of course, there is no Jason Bourne. The identity is simply a cover for the CIA's David Webb. But with someone else assuming the Bourne identity, the U.S. must find a way to avert a international diplomatic scandal that imperils Sino-American peace.
---
INSIDE SCI-FI THIS WEEK:
Thursday, October 30:
RATINGS: TOP 10 SYNDICATED SHOWS:
Andromeda 2.2
Mutant X 2.2
Stargate SG-1 1.8
She Spies 1.7
Beastmaster 1.6
3rd Rock 1.5
Angel 1.4
Buffy 1.4
The X-Files 1.3
John Edward 1.0
Source: Nielsen Galaxy Report, 9/29/03 - 10/5/03
---
LORD OF THE RINGS: On November 25, Howard Shore's original soundtrack to THE LORD OF THE RINGS: THE RETURN OF THE KING, the final installment in Peter Jackson's epic film trilogy, will be released on Reprise/WMG Soundtracks. The film, RETURN OF THE KING, opens nationwide on Dec. 17 from New Line Cinema.
---
UNDERWORLD: To celebrate Halloween, Screen Gems is having a special re-release of their hit action/horror film UNDERWORLD. On October 31 to November 2, audiences can see UNDERWORLD on the big screen again. The film will be running in 1,200 theaters nationwide.
---
HARRY POTTER VIDEO GAME: You now have your opportunity to grab your broomstick and chase after Quaffles, Bludgers and the elusive Golden Snitch in the game of Quiddich. You have read about playing the magical sport of Quidditch in J.K. Rowling's HARRY POTTER novels and seen it realized on the screen in the Warner Bros. movies . Electronic Arts has just shipped its latest video game, HARRY POTTER: QUIDDITCH WORLD CUP, to retail stores around the globe. The game lets you select and play at any position in a Quidditch match and from any of the four house teams at Harry Potter's school of Hogwarts. You'll be able to pursue your quest to win the school's Quidditch Cup and then going on to compete in the Quidditch World Cup elimination matches. In the international World Cup tournament mode, players can choose to play from nine different Quidditch teams including America, Bulgaria, Nordic, England, Japan, France, Germany, Spain and Australia. Each country has their own unique Quidditch uniforms, stadiums and players with different strengths and tactics. Gamers can play either in single-player mode or in multiplayer competition. The game is available for the top five game systems, namely PlayStation 2, Xbox, GameCube, GameBoy Advance and the personal computer.
---
PERFECT HUSBAND: According to the Hollywood Reporter, Dean Cain (SUPERMAN) has been tapped to portray accused murderer Scott Peterson in USA Network's telefilm "The Perfect Husband." Also cast in the movie from Sony Pictures TV are Dee Wallace-Stone (ET), Tim Quill and David Denman. Emmy-winning director Roger Young ("Murder in Mississippi") is on board to direct from a script by Dave Erickson (USA's "Murder in Greenwich"). "The Perfect Husband" will tell Peterson's story, beginning with the mysterious disappearance of the eight-months-pregnant Laci Peterson on Christmas Eve last year. It will chronicle the extensive search for the missing Modesto, Calif., woman and the grim discovery of the remains of Laci and her baby along the San Francisco Bay and will end with the arrest of a disguised Scott Peterson in April as he traveled to Mexico.
---
24: The third season premiere of 24 got the series off to a terrific start, winning the 9 p.m. hour in total viewers and tying with ABC's comedy block for No. 1 status in the adults 18-49 demographic, according to preliminary estimates from Nielsen Media Research.
---
WHERE THE WILD THINGS ARE: Universal Studios has tapped Spike Jonze to direct WHERE THE WILD THINGS ARE, a classic children's tale by Maurice Sendak. Jonze brought Susan Orlean's book, "The Orchid Thief," to life last year with the Oscar-nominated "Adaptation," which starred Nicolas Cage, Meryl Streep and Chris Cooper. WHRE THE WILD THINGS ARE was originally conceived as a computer-animated movie, but will now be shot in live action. Published in 1963, "Wild Things" is a Caldecott Medal-winning story of a mischievous little boy named Max, who is sent to bed without supper. In his room, Max uses his imagination to conjure up a forest populated by the wild things, exotic monsters who embrace Max as their leader.
---
Wednesday, October 29:
TOP 10 BESTSELLING SF BOOKS:
1. The Da Vinci Code
2. Wolves of the Calla
3. Blood Canticle
4. Eragon (Inheritance, Book 1)
5. Angels & Demons
6. Harry Potter and the Order of the Phoenix
7. The Slippery Slope (Lemony Snicket)
8. Alice's Adventures in Wonderland
9. The Time Traveler's Wife
10. Dark Melody
Source: Amazon.com, 10/24/03
---
UFO: According to the Hollywood Reporter, Carlton America has partnered with Pen Densham, Neil Kaplan and John Watson of Trilogy Entertainment Group (The Twilight Zone) to adapt the British SF series UFO for American TV.
---
MATRIX REVOLUTION: On November 5, the MATRIX saga comes to an end. With that comes the bittersweet reality of bidding farewell to some incredible characters and the actors who have brought those characters to life have quite mixed emotions. In a news conference at the new Disney Concert Hall in Los Angeles following the world premiere, Carrie-Anne Moss (Trinity) told reporters "I really want to celebrate this evening and to really feel with my friends and family here the fruits of the labor that we put all of our hearts and souls into." "And at the same time, like the poster says, every beginning has an end. I feel very much that way. And when I saw that first poster I literally started crying. I was like, 'Oh my God, that's so reflective, not only of the journey of the film, but the journey of my life on this movie.' And it's a very exciting day, being in the venue. I can't wait for that, to see the movie with everybody and to say goodbye to a big segment of my life. It's big." Keanu Reeves said of his lead role as Neo, "It was a great role. Great project. And I got to work with some really special artists and people. It was for me a really special endeavor. And it's exciting that they're at the last one. Revolutions is opening tonight. It's exciting." While no sequels are anticipated, Joel Silver, producer of the Matrix movies, told reporters that there may be more games set in the Matrix universe.
---
THE GRID: The Hollywood Reporter reports that TNT is ready to commit to giving a greenlight to an six episode mini-series called THE GRID, a series about a terrorist attack in the heart of London. The show's lead characters will tell the events from both sides: one group will be American-British counterterrorism experts, while the other faction is an al-Qaida-like terrorist cell. The finite series is a joint co-production between the American cable network and the BBC. It's still too early for any casting to have happened.
---
NEW SERIES: Variety announced that UPN has three new genre shows in development as possible new series for the fall of 2004. NIGHTINGALE, from Brandon Camp, Mike Thompson and Sony Pictures Television, is about a woman who fights crime in the middle of the night, then returns back to her home and has no recollection of ever being out of the house. Writer J.F. Lawton (UNDER SIEGE, V.I.P.) has an untitled project in development about two actresses working on a kids Saturday morning TV show who discover that their costumes really do give them superpowers. The show will reportedly blend together live-action and anime. Finally, writer Justin Tanner has another untitled project about a guy who uses his psychic powers to communicate with the dead and resolve their unfinished business that they left behind. We'll have to wait an see if any of them emerge from development and move toward production.
---
NEW SERIES PICK-UP: CBS has asked for the back nine episodes for "Two and a Half Men," "Cold Case," "Joan of Arcadia," "Navy NCIS" and "The Handler." The pickups assure CBS of a better track record than last fall, when "Bram and Alice," "Presidio Med" and "Robbery Homicide Division" didn't make it the first nine episodes.
---
SMALLVILLE: PERRY WHITE IS COMING TO TOWN. In tonight's episode of SMALLVILLE, Perry White makes his first appearance. In an article at Comics Continuum Smallville executive producer Al Gough says he was very pleased with how "Perry," the episode airing Wednesday on The WB, turned out. In the episode, Michael McKean plays Perry White, the future editor of The Daily Planet who currently is a down-and-out reporter with a drinking problem. "The writing, acting and direction are all top notch. Michael McKean gives a wonderful performance as Perry and brings a dimension to the character that you haven't seen in any other incarnation of Superman. And we finally answer the age-old question: Why the hell did Perry White ever hire Clark Kent in the first place?"
---
KINGDOM OF HEAVEN: Orlando Bloom ["Pirates of the Caribbean"] will be headlining Ridley Scott's KINGDOM OF HEAVEN, an epic love story that he will shoot in Morocco beginning January 12 for 20th Century Fox. The director told Variety that he had "wanted to do a film with knights in armor, but thought why do some homogenous story when screenwriter William Monahan came up with such rich history? He based this drama on accurate research, which he spent 19 months compiling and writing." The film, which takes place in the 12th century during the time of the Crusades, will be staged on a scale that Scott described as being slightly larger than his Oscar-winning epic Gladiator.
---
Tuesday, October 28:
THE PASSION OF CHRIST: According to The Hollywood Reporter, Mel Gibson's THE PASSION OF CHRIST will open in the United States on Feb. 25, 2004, which is Ash Wednesday on the Christian calendar.
---
CODY BANKS 2: When CODY BANKS 2 opens in theaters on March 12, 2004, there will be some obvious differences from the previous movie. Anthony Anderson has taken over the position of CIA handler (previously played by Angie Harmon) in the first film. "I take over her role as being Cody's handler-slash-partner," Anderson said in an interview while promoting his latest film, Scary Movie 3. "He's sent over to London to solve this case, which is where I've sort of been exiled to as a CIA agent, because I was sort of, not disruptive, but almost inept. So they send me to this little backwater place where nothing really goes down. It's sort of a demotion, but .. they demoted me to London, so I'm having a ball."
---
BATTLESTAR GALACTICA - THE GAME: As we await the arrival of the new BATTLESTAR GALACTICA mini-series on SCIFI in early December, the video game designed as a prequel to the classic TV series is ready to hit stores on November 18. The master disc has now been shipped to the manufacturer for duplication, a stage known in the video game industry as "gone gold". The game will be available for purchase by PlayStation 2 and Xbox gamers starting November 18. BATTLESTAR GALACTICA takes place 40 yahrens before the Cylon attack that destroyed the twelve colonies of man and sent the last battlestar and her rag-tag fleet off in search of the mythical planet of Earth. You are newly minted Viper pilot Ensign William Adama, stationed onboard the battlestar Galactica for your first deep space assignment. As you advance in rank and prestige, you will develop friendships with other Viper pilots as you tangle with deadly Cylons, pirates and other hostile alien forces. Original GALACTICA stars Richard Hatch (Apollo) and Dirk Benedict (Starbuck) as well as TERMINATOR 3's Kristanna Loken and STAR TREK: THE NEXT GENERATION's Dwight Shultz have been recruited to provide voice talent for the game. BABYLON 5's own Robin Atkin Downes is William Adama. Take a look at the game over at http://videogame.galactica2003.net/intro.htm and read an interview with Robin and others involved with the game..
---
24: One of the most anticipated premieres kicks off tonight. 24, starring Kiefer Sutherland begins season three -- and a new fight against biological terrorism. For a review of tonight's show, go to http://www.hollywoodreporter.com/thr/reviews/review_display.jsp?vnu_content_id=2010561.
---
FOREVER KNIGHT: If you were a fan of this late-night show, FOREVER KNIGHT will be released on October 21. You can hear Forever Knight's star, Geraint Wyn Davies (Detective Nick Knight/Nicholas de Brabant) & the show's creator, James D. Parriot talk about their groundbreaking show and answered questions at http://www.sonypictures.com/cthe/foreverknight/player/.
---
SLIPSTREAM: According to The Hollywood Reporter, model-turned-actress Ivana Milicevic (Vanilla Sky, HBO's The Mind of the Married Man) has been cast opposite Sean Astin (The Lord of the Rings, JEREMIAH) and Vinnie Jones (Lock, Stock and Two Smoking Barrels) in the sci-fi independent feature SLIPSTREAM. Set to begin filming later this month in South Africa, Slipstream follows "a young scientist (Astin) who invents a time-travel device that allows those who touch it to travel 10 minutes into the past. His plan to use the machine for a bank heist goes awry when a group of robbers tries to hold up the same place." Milicevic will reportedly portray an FBI agent who is assigned to thwart the plot.
---
ZORRO 2: Director Martin Campbell talked to the Calgary Sun about the forthcoming sequel Zorro 2 (a.k.a. Mask of Zorro 2). "We're in the final stages of negotiations with (Antonio Banderas) and Catherine Zeta-Jones," reveals Campbell. "If they are both available and everything goes as planned, we could begin shooting in Mexico in April or May for a 2005 release." Campbell says the filmmakers had "rejected several scripts over the past four years, but have a great one now, which is why the project has been green-lit." Campbell claims, "Zorro 2 is much more than your typical sequel. It's a full-out new film that uses the same two central characters."
---
Monday, October 27:
RATINGS: Top 10 SCIFI CHANNEL SHOWS:
Stargate SG-1 1.5
Beyond Re-Animator 1.1
Tremors: The Series 1.0
Army of Darkness 1.0
Taken, Part 2 1.0
Pumpkinhead 2 1.0
Dune, Part 2 0.9
What Dreams May Come 0.9
In Search Of 0.9
The Extraordinary 0.9
Source: Nielsen Galaxy Report, 9/29/03 - 10/5/03
---
NO JINX: It appears as if Halle Berry will not be hitting the big screen in a James Bond spin-off from DIE ANOTHER DAY. MGM has nixed their planned spin-off movie featuring Berry's character, which was due to be made before the next Bond film much to the dismay of Bond producers Barbara Broccoli and Michael Wilson at Eon. JINX was being written by Bond scribes Neal Purvis and Rob Wade, and was due to be directed by Stephen Frears (which hadn't been announced yet). Last week MGM told Eon to stop work on the project and press ahead instead with Bond 21, due to shoot in 2005.
---
PHANTOM: Crusader Entertainment and Hyde Park have tapped Olympic gold medalist-turned-feature film screenwriter Mel Stewart to write a project based on The Phantom comics. When the comic book hero hit the big screen in 1996, Billy Zane, Catherine Zeta-Jones, Kristy Swanson and Treat Williams teamed to star in the Simon Wincer-directed 1996 feature, which grossed $17 million at the box office. The superhero, clad in a purple suit, has no supernatural powers but appears immortal and fights evil in Africa. "While I like the comic book franchises of the 1990s, I always wanted to be able to identify with my hero more," Stewart said. "Take all of the technology of 2004, where science fiction is no longer that -- it's science fact. If you had all that technology at your fingerprints, you would be a superhero."
---
Sunday, October 26:
EARLY BOX OFFICE RETURNS: Dimension's SCARY MOVIE 3, a new comedy from director David Zucker, earned an estimated $18.5 million on Friday alone in 3,503 theaters. It's expected to earn around $48 million for the three-day weekend, which would easily beat the $36.5 million October record opening set by Red Dragon in 2002. New Line's THE TEXAS CHAINSAW MASSACRE held up well in second place with another $4.95 million for the day from 3,018 theaters. The $9.5 million-budgeted horror flick has collected $41.4 million in eight days. Newcomer RADIO debuted in third to $4.35 million from 3,074 locations. RUNAWAY JURY took the fourth spot and $2.66 million for a $18.3 million total, while MYSTIC RIVER rounded out the top five with $2.29 million and a sum of $19.2 million. It looks like there was no audience for Angelina Jolie's BEYOND BORDERS, which managed to take in only $692,000 from 1,798 theaters for the tenth spot. On the other hand, Disney's BROTHER BEAR played in just 2 theaters and made an impressive $81,362. That film goes wide next Saturday, November 1. Meg Ryan's IN THE CUT added $29,400 from 6 theaters to bring its three-day total to $63,000.
---
MATRIX REVOLUTIONS: Over at YahooMovies, you will find about 7 minutes from the upcoming movie -- interviews with Keanu Reeves, Carrie-Ann Moss and Jada Pinkett-Smith. The special effects are extraordinary.
---
JEREMIAH: Over at Cinescape.com Scott Mitchell Rosenberg, executive producer JEREMIAH, talks a bit about the second episode in JEREMIAH, "Strange Attractors." Rosenberg thought of "Strange Attractors", written by J. Michael Straczynski, particularly one scene involving the new character of Mister Smith (played by LORD OF THE RINGS star Sean Astin), and of a chilling prophecy Smith reveals during the episode... If you watched the episode, you know which one -- 'Look to the east, and despair.'
---
TIME CHANGE: I hope all of you in the US and elsewhere that change time over the weekend did so.
---
Saturday, October 25:
NASA AND KECKSBURG: On Dec. 9, 1965, witnesses described seeing a fireball in the sky, a controlled landing and the systematic military recovery of an object. This incident was the subject of the SCI FI Channel documentary THE NEW ROSWELL: KECKSBURG EXPOSED which aired last night, hosted by Bryant Gumbel. Following this special and threatened legal action by the SCIFI Channel, NASA has now agreed to turn over documents relating to the alleged crash of a UFO in Kecksburg, Pa. The release comes after 10 months of pursuing the records through the Freedom of Information Act. The Department of Defense and the U.S. Army have yet to release any records under similar requests, the Channel said.
---
ALIEN VS. PREDATOR: According to Variety, Sanaa Lathan will star in 20th Century Fox's SF movie ALIEN VS. PREDATOR. This will match two of the studio's most popular screen monsters. Shooting begins Oct. 28 in Prague, and Fox will release the film in August 2004. Paul Anderson is directing from a script he wrote with Shane Salerno. Lathan will play explorer-adventuress Lex Kline, who leads an expedition to Antarctica to uncover warring alien races. Italian actor Raoul Bova, British actor Ewen Bremner and Lance Henriksen also star; Henriksen plays the industrialist who finances the expedition.
---
MAN-THING: Rather than going direct to video, Artisan's MAN-THING movie will be opening in theaters on August 27, 2004. The movie, which stars Jack Thompson, Rawiri Paratene, Matt Le Nevez, Rachel Taylor and Steve Bastoni, is based on the muck-encrusted Marvel Comics monster of the same name. The picture was filmed in Australia earlier this year under the supervision of Brett Leonard (THE LAWNMOWER MAN) and was written by Hans Rodionoff. MAN-THING cost around $15 million dollars and as a lower budgeted film serves as an experiment for Marvel and another investor (Fierce Entertainment) to see if the comic company's secondary characters can create their own viable film franchises.
---
AMITYVILLE HORROR: With the success of the remake of THE TEXAS CHAINSAW MASSACRE, Platinum Dunes has been brought on to remake another 1970s horror film -- THE AMITYVILLE HORROR. This 1979 movie, based on Jay Anson's book of the same title, is set up at MGM. Platinum Dunes' principal partners, director Michael Bay, Andrew Form and Brad Fuller will produce the new HORROR. No director is attached to the project as of yet.
---
CSI: Even Game 5 of the World Series couldn't keep people away from CSI this week. According to Nielsen Media Research, "CSI: Crime Scene Investigation" pulled in 27 million viewers and 9.9 rating/24 share in adults 18-49.
---
NEW MAGAZINES AND COMIC BOOKS: There are some new magazines and comic books arriving on the scene. ALIAS has a new magazine out and STARGATE SG-1 returns to the comic book scene. Check out the magazine & comic book section below for more information.
---
WHAT'S ON TONIGHT
7:00pm on Showtime
Spy Kids 2
The Island of Lost Dreams - A girl and her brother search for a destructive device. 8:00pm on CBS
Joan of Arcadia
Bringeth It On
When the Lord asks Joan (Amber Tamblyn) to try out for cheerleading, she can't explain to her parents why she has a sudden interest in the "rah, rah" club. Meanwhile, Luke (Michael Welch) asks Kevin (Jason Ritter) for girl advice when he develops a crush on Grace (Becky Wahlstrom). He should have asked Joan. She's connected. 8:00pm on TCM
"Frankenstein Fun"
Two of the best horror films of all time from director James Whale, based on the literary work of Mary Shelley, should cap off this festive night of fun. First up, "Frankenstein" - the tale of a mad scientist and his creature. It's followed by "Bride of Frankenstein" - the story of love between assorted body parts. Boris Karloff, Colin Clive and Elsa Lanchester shine. 8:00pm on UPN
Blade
A man with vampire blood and his mortal partner hunt a rebel vampire and his coterie of undead. 10:00pm on Showtime
Jeremiah
Deus Ex Machina
Markus struggles to achieve consensus; Kurdy is sent to rescue some delegates. 10:45pm on Showtime
Jeremiah
Rites of Passage
Theo looks to the future; Jeremiah questions the past. On SCIFI Tonight:

6:00pm
Wishmaster 3
Beyond the Gates of Hell
A college student tries to stop an evil genie from granting deadly wishes to unsuspecting victims.

7:00pm
Wishmaster
The Prophecy Fulfilled
A genie must grant three wishes to a troubled woman in order to awaken his evil cohorts. 9:00pm
Criss Angel
Supernatural
Horror master Clive Barker once called this amazing illusionist "post-apocalyptic chic." After you watch the Magician walk up the side of a building, pass a quarter through his skin and spontaneously combust, you'll know why. If you are still a doubter, you won't be after watching a creature burst out of his chest. Criss Angel is the only performer in history who has been named Magician of the Year more than once by the International Magicians Society. Warning to the small viewers in the house: Do not try the stunts anywhere on this planet. They are dangerous. 10:00
Scare Tactics Halloween Special
Host Shannen Doherty introduces some of the most cruel pranks and unseen clips of jokes gone awry.
JEREMIAH TONIGHT -- TWO EPISODES BACK TO BACK
Deus Ex Machina
Written by: J. Michael Stracynski
Directed by: Mike Vejar
Synopsis: Markus struggles to achieve consensus among the factions that could re-build the country. He sends Kurdy, with a new partner, to rescue some of the delegates who have fallen into very tough hands. Rites of Passage

Written by: Sara (Samm) Barnes
Directed by: Martin Wood
Synopsis: Theo looks to the future with apprehension while Jeremiah, with his father finally visiting Thunder Mountain, ponders the past. He has a lot of questions but will the cost of the answers be too high?
SEASON FOUR OF BABYLON 5
Warner Brothers have announced that January 6th, 2004 (Region 1) is the release date for Babylon 5: The Complete Fourth Season ("No Surrender, No Retreat"). There is no information at this time about when region 2 will be released. DESCRIPTION:
The future begins -- or ends -- here and now. Here is the huge space station Babylon 5. Now is the fateful year 2261. Commander John Sheridan has already declared the station free, breaking the ties between it and Earth Alliance. It was perhaps only a matter of time before he would have to fight to remain free. That time has come in this complete 22-episode fourth-season adventure presented on 6 discs and featuring an exciting array of Exclusive Extras. This six DVD set will include (preliminary listing):
Introduction to Babylon 5 - Season 4 by series creator J. Michael Straczynski
Two commentaries by series creator J. Michael Straczynski and another from director Mike Vejar
Commentary by cast members Bruce Boxleitner, Jerry Doyle, Peter Jurasik and Patricia Tallman
"Celestial Sounds" featurette about series composer Christopher Franke and the making of the series music
"No Surrender, No Retreat" DVD Suite, original music composed exclusively for the DVD
"The Universe of Babylon 5"
Personnel Files and Data Files
Gag Reel
Episode Previews
16x9 Anamorphic Widescreen
Dolby Surround 5.1 (English only)
Subtitles in English, French, and Spanish
Closed Captioned for the hearing impaired Pre-orders should be available soon.
BABYLON 5 SEASON THREE DVD - OUT NOW!
Season Three of Babylon 5 was released in the U.S. on August 12. It will be available in the UK beginning October 27. A review can be found over at http://www.imdb.com/Recommends/Rec2.html and the DVD series is on their recommended list. It was a featured item on http://www.imdb.com/. BABYLON 5: THE COMPLETE THIRD SEASON DVD Order Date: 7/15/03 Street Date: 8/12/03
Catalog #: 24243 WB Synopsis: The long-running Emmy Award-winning television series Babylon 5 takes place in the year 2257 A.D. on an immense spaces station floating in a stationary orbit in a neutral corner of a distant galaxy. Staffed by a crew of peaceful Earthmen and women, Babylon 5 serves as a non-political economic and social hub for the four alien races - the Narn, Centauri, Vorlon and Minbari - who fight to control the galaxy. Starring Bruce Boxleitner, Claudia Christian, Jerry Doyle, and Bill Mumy. Special Features and Specifications: o Six-disc DVD collector's set
o Introduction from series creator J. Michael Straczynski,
o Commentary on three key episodes by series creator and stars,
o"Behind the Mask: Creating the Aliens of Babylon 5" Documentary
o"Designing a Better Narn" Documentary
o"Designing Tomorrow: The Look of Babylon 5" Documentary
o Data and Personnel Files
o 16X19 Anamorphic Widescreen
o Dolby Digital 5.1
o English, French Spanish subtitles
o Running Time: 968 minutes For a look at Season Three, go to Season Three. Here you will find individual synopses of each episode and a graphic provided by Warner Bros.
GAG REEL
As with the other DVDs, there is a gag reel portion on the Season Three DVD as well. Ranger Mike sent along instructions on how to get there.

Babylon 5 Season 3 DVD Blooper Reel

The Season 3 "Gag Reel" is for real! It is actually an Easter Egg (a hidden component in the DVD) and is about three minutes long. There is a brief musical introduction and the segment mostly contains dialog goofs and other blunders the cast had.

To get to the Gag Reel, put in disc #6 and from the main menu:

* Select "The Universe Of Babylon 5"
* Select "Data Files"
* Cursor down Between the middle menu option "The Battle For Babylon 5" and the bottom menu option "The Universe Of Babylon 5". You should get a highlighted "5" logo to appear
* Press select to view the Gag Reel.
DISCUSSION TOPIC
I sat daydreaming this morning, thinking of ways in which we could continue to enjoy BABYLON 5, outside of the TV series environment. There are movies of the week, mini-series, novels. Do you think comic books or a graphic novel would be a way of continuing the Babylon 5 saga? Send in your comments to sgbruckner@aol.com and I'll post them on the Discussion Page for everyone to share.
KEEPING UP WITH CAST AND CREW
ALEXANDER ZAHARA: Alex has been very busy since the close of LEGEND OF THE RANGERS. He turns up every so often on STARGATE or JEREMIAH. He just opened a new website at http://www.alexzahara.com/. He's got a contest going -- he's offering up t-shirts from LEGEND. You'll note that he has just finished a number of projects -- including OPEN RANGE -- in which he gets to shoot Kevin Costner and a recurring role in Stephen King's KINGDOM HOSPITAL.
---
STEPHEN AUSTIN: I got a wonderful note from the Pa'Ka'Ma Ambassador, saying that he will be appearing at UNITED FAN CON, November 7-9 at the Sheraton Hotel, Springfield, Mass. (For more information on the convention, go to http://www.unitedfancon.com/. In addition, he's been quite busy with a number of projects. He has has completed work on two CDs and is putting the finishing touches on a DVD/Video -- a compelation of several of his stand-up comedy performances. Another CD is a work done by an ensemble group of comedians including Stephen, Vic Dunlop and The Unknown Comic titiled "Lunatics and Losers" a lampoon about our war on terrorism.
---
BRUCE BOXLEITNER: Bruce has just finished filming an independent movie entitled THEY ARE AMONG US. SNAKEHEAD TERROR was filmed for the Sci-Fi Channel, also starring Carol Alt and William B. Davis. That project is currently in post-production.
CRUISE WITH PETER WOODWARD
Peter is considering cruising the Caribbean in early 2005 and wants to invite his fans to join the fun. He would like to see if there is sufficient interest before going too far into planning, so if you would like to receive a brochure about Peter's upcoming cruise once the details are finalized please advise of your: Name:
Postal Address, City, State, Zip:
E-mail address:
Phone number:
Total number of guests in your party:
Age range of the guests including yourself:

Send this information to pwoodwardinfo@yahoo.com. Any information you send us will be handled respectfully. This is not a commitment from you, just an indication of interest.
BABYLON 5 BIRTHDAYS
Jeff Conaway - October 5
Dylan Neal - October 8
John Vulich - October 10
Tim Choate - October 11
John Copeland - October 13
Linda Huse - October 16 Have I missed anyone? If you know the birthday of someone connected with Babylon 5, pass the information along. We want to include everyone in our Happy Birthday Wishes.
READER BIRTHDAYS
Sometimes you just can't find the e-mail address for someone you know you have -- it's someone who responded to a discussion topic or you met in one of the chat rooms. You'd like to send a personal note, but .... No address!!!!

We've started a White Pages of Zocalo Readers! It's a handy way of keeping track of people -- and putting together a birthday/greeting card list as well. If you would like to be part of the listing, just send me your name, state, e-mail address and (if you'd like to have it listed) birthday (without year) to sgbruckner@aol.com. Check out the Directory of Readers.

Name: W Andrew York
State: Texas
EMail: wandrew@compuserve.com
Birthday: October 28

Name: James Green
State: Massachusetts
E-mail address: jrgreenmd@yahoo.com
Birthday: October 29

Name: Oliver Iten
Country: Switzerland
E-Mail: oliveriten@itenuscars.com
Birthday: October 23

Name: Mike Tuck
State: Tennessee
E-mail address: tuckbros@crunet.com
Birthday: October 24
BABYLON 5 FANS - SPECIAL HELP SECTION
BABYLON 5 FAN CLUBS
Swedish Babylon 5-Club We're situated in Gothenburg, Sweden's second largest city, and have been around since 1999. Our activities consist of showing B5 episodes on the big screen. The next time will be on November 8th here in Gothenburg. Our webpage is at http://www.babcon.org/. Asbjorn
President, Interstellar Alliance
sheridan@babcon.org -- Interstellar Alliance - Sweden's largest Babylon 5 club
BabCon XIII on November 8th 12.30 - 02.00
http://www.babcon.org/ Italian Babylon 5 News Ranger Bianca has a website that provides Italian Babylon 5 fans with news. The site is located at www.babylon5.it.
BABYLON 5 MERCHANDISE
Are you looking for Babylon 5 merchandise? Would you like to possess some of the wonderful patches or pins sold by the B5 Fan Club? Do you want to put in an order for the latest DVD? Bruce at Uncomyn Gifts still has one of the best collections around. Check out www.uncomyngifts.com. You may just find the magazine or t-shirt or patch you are looking for.
---
BABYLON 5 SCREENSAVER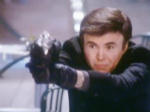 I received a wonderful note from Warner Bros. yesterday. It said:
"we also got this link from WHV for B5 screensavers, if you want to post this anywhere:
http://www.eyetide.com/download/?p=104117."
The graphics are awesome and it will add a certain measure of class to any desktop. Don't miss the preview feature. You can see what graphics have been included for your viewing pleasure. Thanks WB.
---
BABYLON 5 ROLE PLAYING AND FACT BOOK
The Babylon 5 Roleplaying Game and Fact Book
"Signs and Portents"
By Matthew Sprange
Mongoose Publishing
ISBN: 1-904577-11-3
MSRP: $49.99 From the review written at http://www.scifi.com/sfw/current/games.html B5 fans might want to pick up this game whether they actually play it or not. Based on the first season of the series, the "fact book" portion of the book includes an overview and maps of Babylon 5 and an episode-by-episode breakdown of the first season.
TRADING CARD HELP
Ranger Tia sent along this note to share with B5 card collectors:

Don't know if you've heard of my card program yet or not, but I thought the other B5 card collectors might like to try it out. With having almost all of the B5 trading cards and CCG cards available and no program to keep track of them withm, I started writing my own. Here's the website for it. Go half way down and click on the small screen shot for a full size screen shot. I have the pic of Pat Tallman's card from the Profiles card set feautured in the shot.

Oh, and I also have a lot of the card lists already saved as files so people won't need to type in all the card names. Being written by a B5 fan, ALL the card lists have already been made and are downloadable. :)

http://cardkeeper.usethis.com/keeper/index.html

Tia
NEW SCIENCE FICTION PUBLICATIONS
ALIAS: Previews Exclusive Cover Edition! In this issue we de-classify some scorching season three secrets, as well as re-visiting some favorite episodes from Seasons past — as voted for by the readers. Alias creator J.J. Abrams will be on hand to answer your questions. Available in Newsstand and Previews Exclusive cover editions! (Titan)



Dreamwatch: In stark contrast to what we know the future to hold, Lex and Clark have forged a close friendship on Smallville. This month we chat with archenemy in waiting, actor Michael Rosenbaum. Nicole deBoer, a.k.a. The Dead Zone's Sarah Bannerman, discusses the taut psychological thriller and reveals visions of the show¹s future. Plus, new season news from Angel, Alias and Stargate SG-1. (Titan) Magazine, 84pg,



Cult Times #98: Everyone is a-buzz about the revival of DOCTOR WHO. Who will portray the good doctor? When will it actually go into production? Also in this issue, writer/producers Alex Kurtzman-Counter and Roberto Orci talk about the coming season of ALIAS. Lisa Ryder talks about the new season of ANDROMEDA and Mandy Patinkin and Jasmine Guy provide some information on their show, DEAD LIKE ME.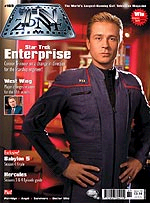 TV Zone #169: In this issue, J. Michael Straczynski continues to reminise about the final days of the fourth season of BABYLON 5. Conner Trinneer from ENTERPRISE talks about his job as chief engineer Trip Tucker and they look at the departure of Rob Lowe from THE WEST WING.
TV Zone #53: This special issue looks at all the returning shows -- and some of the hotter new ones. Inside, Scott Bakula looks at the coming second season of ENTERPRISE; Executive Producer Alfred Gough discusses the challenges of re-creating a superhero on SMALLVILLE. Among new shows, they look at BATTLESTAR GALACTICA, JAKE 2.0, JOAN OF ARCADIA and TARZAN.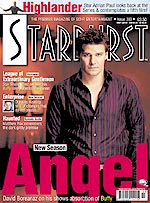 Starburst #303: ANGEL is back for a fifth season and David Boreanaz looks at the changes ahead -- and reveals what BUFFY meant to him. Also in this issue, Dominic Keating from ENTERPRISE talks about the future of his character, Lt. Malcolm Reed.
Expose #80: This month's issue focus on the upcoming HARRY POTTER movie. New Director Alfonso Cuaron will be making his mark and the kids are growing up. What other changes await? Also in this issue, a look at the extended second season of DEAD ZONE.





The Buffy finale saw Spike crumbling into the light, sacrificing himself so that humanity, and Buffy, might be saved. But now he's back from limbo and settling into LA life alongside Angel. We talk to James Marsters about his new role. Plus, Alexis Denis tells about Wes' transformation from Watcher to Rogue Demon Hunter and now Commander of Angel Investigations. Available at Newsstand.
Cult Times #100: Celebrate a century of Cult Times with this issue. Read interviews with the stars, and features on shows currently airing in the UK. A Classic Series is given a light-hearted but informative look in our Instant Guide and the highlights of the previous month's viewing are featured in Times Past. Cult Times is the complementary magazine to TV Zone, and together they provide the ultimate guide to the many worlds of Cult Television.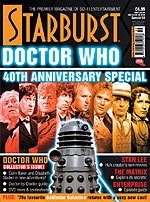 Starburst Special #59 A look back at 40 years of Doctor Who makes this issue special indeed. Also included in this issue - Battlestar Galactica -- an update on the SCIFI miniseries; Stan Lee on his upcoming film projects, and Michael Rosenbaum talk about being Lex Luthor on SMALLVILLE.
Cult Times Special #27: With the passing of BUFFY the Vampire Slyaer, CT looks back over the series; its characters and why it was so successful. Also included in this issue, Joss Whedon talks about possiblities for the future, including a movie for FIREFLY -- and BUFFY.



Shivers #107: As the new season approaches, everyone is speculating about the fireworks that could occur between Spike and ANGEL. Shivers takes a look at that this month -- along with Freddy vs. Jason, Underworld, and House of the Dead. There is an interview with Jeffrey Combs -- who most will know from Babylon 5 and Star Trek.



BABYLON 5 NOVEL - ON BOOK SHELVES NOW
DelRey is reprinting the original Babylon 5 novels. They started with #7 - Jeanne Cavelos' THE SHADOW WITHIN. Here's one I've been waiting for -- Kathryn Drennan's TO DREAM IN THE CITY OF SORROWS. The release date is scheduled for July 29, 2003. I love the new cover art! It can be pre-ordered from www.amazon.com. For those of you who love Babylon 5, this one reads just like an episode from the series. You just can't put it down.




COMIC BOOKS
STARGATE SG-1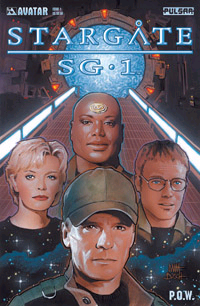 STARGATE SG-1: P.O.W. #1
by James Anthony & Renato Guedes; cover by Matt Busch
The first issue of the new Stargate series is finally here! The greatest sci-fi show on television comes to comics for the first time in a full-length action-packed series! Reconnaissance has discovered an alien invasion force with plans of conquest for planet Earth. Caught in a firefight, the escaping team from Stargate Command unknowingly allows a mysterious serpent-headed Goa'uld Lord access into the SGC. The invaders lay waste to the debarkation chamber, while locking a naquadah-laced bomb onto the Stargate. In the resulting attack, Colonel Jack O'Neill finds himself on a distant world, face to face with a thousand Goa'uld warriors. With the SGC under lockdown and O'Neill already a prisoner of war, the SG1 team must find a way to remove a doomsday bomb from the gate and rescue him from a Goa'uld fortress. Join the SG1 team for a full force adventure as they fight for survival against a race bent on subjecting the universe to their rule as the gods of legend. Jack O'Neill, Daniel Jackson, Samantha Carter, and Teal'c begin a new chapter of Stargate adventures in the pages of Stargate SG1: P.O.W.! Regular cover by Matt Busch; wraparound cover by Renato Guedes. Also available with a photo cover, and as a special "Golden Armor" edition, featuring an all-new solid gold foil wraparound cover with the Serpent Head Goa'ulds illustrated by Jacen Burrows and limited to 2,000 copies.
AMAZING SPIDERMAN
Amazing Spider-Man #500 will arrive in stores on Wednesday from Marvel Comics. The issue is written by J. Michael Straczynski, with art by John Romita Jr. and John Romita Sr. and a cover by J. Scott Campbell.
Here's how Marvel describes the issue:
"It's Peter Parker's birthday ... but how do you throw a surprise party for someone with a Spider-sense? Someone figures out how and Spidey spends his special day looking back at his career and every villain he's faced over those years ... against his will. A special story for Spidey fans new and old. " Amazing Spider-Man #500 will be 48 pages and will cost $3.50.
RISING STARS UPDATE
Since many of us wonder when JMS will be able to finish the RISING STARS comic book, here is an update from JMS: I've asked Top Cow for three things: for Dream Police back, since they've had it now for 3 years and have done nothing with it...for confirmation that the Joe's Comics title belongs to me, and for an apology for deliberately keeping me out of the loop on my own project at the feature stage and misleading me about drafts that had come in. Once those three things have been attended to, I can finish the series.
TV SCHEDULE ON SCIFI CHANNEL
BABYLON 5 04-NOV-03 9:00 AM BABYLON 5 (LBX) EYES
05-NOV-03 9:00 AM BABYLON 5 (LBX) LEGACIES
06-NOV-03 9:00 AM BABYLON 5 (LBX) A VOICE IN THE WILDERNESS -PT 1
07-NOV-03 9:00 AM BABYLON 5 (LBX) A VOICE IN THE WILDERNESS -PT 2
10-NOV-03 9:00 AM BABYLON 5 (LBX) BABYLON SQUARED
12-NOV-03 9:00 AM BABYLON 5 (LBX) THE QUALITY OF MERCY
13-NOV-03 9:00 AM BABYLON 5 (LBX) CHRYALIS
14-NOV-03 9:00 AM BABYLON 5 (LBX) POINTS OF DEPARTURE
17-NOV-03 9:00 AM BABYLON 5 (LBX) REVELATIONS
18-NOV-03 9:00 AM BABYLON 5 (LBX) THE GEOMETRY OF SHADOWS
19-NOV-03 9:00 AM BABYLON 5 (LBX) A DISTANT STAR
20-NOV-03 9:00 AM BABYLON 5 (LBX) THE LONG DARK
21-NOV-03 9:00 AM BABYLON 5 (LBX) SPIDER IN THE WEB
23-NOV-03 3:00 AM MOVIE BABYLON 5: IN THE BEGINNING (LBX)
24-NOV-03 9:00 AM BABYLON 5 (LBX) SOUL MATES
25-NOV-03 9:00 AM BABYLON 5 (LBX) A RACE THROUGH DARK PLACES
26-NOV-03 9:00 AM BABYLON 5 (LBX) THE COMING OF SHADOWS
29-NOV-03 3:00 AM MOVIE MARATHON BABYLON 5: A CALL TO ARMS (LBX) CRUSADE:

02-NOV-03 2:00 AM CRUSADE THE RULES OF THE GAME
09-NOV-03 2:00 AM CRUSADE WAR ZONE
16-NOV-03 2:00 AM CRUSADE APPEARANCES AND OTHER DECEITS
20-NOV-03 11:00 AM DAYTIME ROTATION - CRUSADE
23-NOV-03 2:00 AM CRUSADE RACING THE NIGHT
30-NOV-03 2:00 AM CRUSADE THE NEEDS OF EARTH

STARGATE SCHEDULE: 03-NOV-03 6:00 PM STARGATE SG-1 ASCENSION
03-NOV-03 7:00 PM STARGATE SG-1 ENIGMA
03-NOV-03 8:00 PM STARGATE SG-1 SOLITUDES
03-NOV-03 9:00 PM STARGATE SG-1 TIN MAN
03-NOV-03 10:00 PM STARGATE SG-1 THERE BUT FOR THE GRACE OF GOD
04-NOV-03 6:00 PM STARGATE SG-1 THE FIFTH MAN
05-NOV-03 6:00 PM STARGATE SG-1 RED SKY
06-NOV-03 6:00 PM STARGATE SG-1 THE RITE OF PASSAGE
07-NOV-03 6:00 PM STARGATE SG-1 BEAST OF BURDEN
07-NOV-03 7:00 PM STARGATE SG-1 LIFEBOAT
07-NOV-03 9:00 PM STARGATE SG-1 SPACE RACE
07-NOV-03 11:00 PM STARGATE SG-1 SPACE RACE
10-NOV-03 6:00 PM STARGATE SG-1 THE TOMB
10-NOV-03 7:00 PM STARGATE SG-1 POLITICS
10-NOV-03 8:00 PM STARGATE SG-1 WITHIN THE SERPENT'S GRASP
10-NOV-03 9:00 PM STARGATE SG-1 THE SERPENT'S LAIR
10-NOV-03 10:00 PM STARGATE SG-1 IN THE LINE OF DUTY
11-NOV-03 6:00 PM STARGATE SG-1 BETWEEN TWO FIRES
12-NOV-03 6:00 PM STARGATE SG-1 2001
13-NOV-03 6:00 PM STARGATE SG-1 DESPERATE MEASURES
14-NOV-03 6:00 PM STARGATE SG-1 WORMHOLE X-TREME!
14-NOV-03 7:00 PM STARGATE SG-1 ENEMY MINE
14-NOV-03 9:00 PM STARGATE SG-1 AVENGER 2.0
14-NOV-03 11:00 PM STARGATE SG-1 AVENGER 2.0 FARSCAPE SCHEDULE:

10-NOV-03 11:00 AM DAYTIME ROTATION - FARSCAPE PICTURE IF YOU WILL
10-NOV-03 12:00 PM DAYTIME ROTATION - FARSCAPE HOME ON THE REMAINS
10-NOV-03 1:00 PM DAYTIME ROTATION - FARSCAPE OUT OF THEIR MINDS
10-NOV-03 2:00 PM DAYTIME ROTATION - FARSCAPE BEWARE OF DOG
10-NOV-03 3:00 PM DAYTIME ROTATION - FARSCAPE WON'T GET FOOLED AGAIN

EARTH: FINAL CONFLICT

07-NOV-03 5:00 AM EARTH: FINAL CONFLICT
12-NOV-03 11:00 AM DAYTIME ROTATION - EARTH: FINAL CONFLICT
14-NOV-03 5:00 AM EARTH: FINAL CONFLICT
21-NOV-03 5:00 AM EARTH: FINAL CONFLICT
BABYLON 5/CRUSADE PHOTOSHOP PHOTOS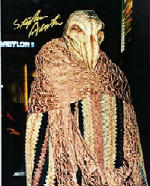 Peter Woodward has sent along a new photo -- a rather dreadful one -- from his appearance on CHARMED. It will be added to the collection of photos available from Peter, including additional copies of the Crusade poster in photo format. Both are autographed by Peter. You do NOT have to pay the prices asked for over at e-bay! Here are photos of B5 and Crusade cast members at fantastic prices. Check out Photo Shop. Ordering is easy -- and you can't beat the prices! Just let me know which photos you want and I'll check to make sure they are still in stock.
---
BABYLON 5 TOONS
John Cook has a wonderful collection of cartoons -- many are take-offs from Babylon 5. Here's just one of them.

He has a cartoon caption contest going on as well. Try your hand at a punch line.

Go to http://contests.sev.com.au/index.php?contestid=1


SCI-FI CARTOONS
With the new Battlestar Galactica coming in December, Tye brings back old memories of Captain Apollo and the old series with this new satire. Apollo Discovers Feng Shui.Enjoy Tye's other works at www.thelightersideofscifi.com.



BABYLON 5/CRUSADE CONVENTIONS
CONVENTION UPDATE
CONVENTION CALENDAR
Vulkon
October 31-November 2, 2003
Place: Nashville, TN
B5 Guest: Robin Atkin Downes
Other Guests: Julie Benz, Robia LaMorte, George Hertzberg
For more information, visit their website at http://www.vulkon.com.
---
United Fan Con
November 7-9, 2003
Place: Marriott Hotel, Springfield, MA
B5 Guest: Stephen Austin
Other guests: Michael Shanks, Mercedes McNab, Peter Davison, Gary Graham, Katy Manning, Matthew Waterhouse
For more information, visit their website at http://www.unitedfancon.com/.
---
Montreal Science Fiction Expo 2003
November 14-16, 2003
Place: Palais des Congres, Montreal, Quebec, Canada
Other Guests: Marina Sirtis, Ethan Phillips, Peter Mayhew, Lou Ferrigno, Kirby Morrow
For more information, visit their website at http://www.hobbystar.com/montreal-eng/index.html.
---
Alternate Universe POSTPONED UNTIL JULY 23-25, 2004
November 14-16, 2003
Place: London, UK
Site: Thistle London Heathrow
B5 Guests: Andrea Thompson, Sarah Douglas
Other Guests: Kent McCord, JRBourne, Peter Stebbings, Marc Cass, Brian Aldiss
For more information, visit their website at http://www.l3conventions.co.uk/alternateuni.htm.
---
Vulkon Orlando
November 14-16, 2003
Place: ORLANDO HILTON NORTH
Orlando, FL
B5 Guests: Julie Caitlin Brown, Jeffrey Combs
Other Guests: William Shatner, John Billingsley, Chase Masterson, Lolita Fatjo, Walt Cunningham, Boby Clark, Arne Starr
For more information, visit their website at http://www.vulkon.com.
---
Farscape Convention
November 14-16, 2003
Location: Hilton Burbank Airport & Convention Center
Place: Burbank, CA
Guests: Most of the Farscape Cast
For more information, visit their website at " TARGET="_new"> http://www.creationent.com"> .
---
Slanted Fedora Convention
November 28-30, 2003
Location: Indianapolis Marriott
Place: Indianapolis, IN
B5 Guests: Richard Biggs, Jason Carter
Other Guests: Tony Amendola, Julie Benz, Teryl Rothery, Robert Duncan Mcneill
For more information, visit their website at " TARGET="_new"> http://www.sfedora.com"> .
---
Be sure to visit our Convention Calendar for a full listing of upcoming conventions featuring Babylon 5, Crusade and Legend of the Rangers cast members as guests.
CONVENTION HIGHLIGHTS
Ranger Brian had a blast with Rick, Jason and Jeffrey at the 2BeContinued Convention last week in Indiana. He sent along a picture for everyone to enjoy. Thanks Brian.
If you would like to share your convention experience with your other Zocalo readers, send along a convention report. I will gladly post it for all to read. Got pictures? I'll post those as well.
ZOCALO TRADING POST
Do you have extra copies of B5, Amazing Spiderman, Midnight Nation or Rising Stars comics you'd like to trade? How about those extra trading cards or B5 magazines? There are a lot of fans looking for these items -- and the Trading Post can help you buy or sell them. To see what's available, just use this link to the Trading Post. To have items included in The Trading Post, send a note to The Zocalo. Please put Trading Post in the subject line.
PEN PALS
If you are looking for someone to talk about Babylon 5 and Crusade with, the Pen Pal section is for you! Check it out! Drop a note to someone who is feeling B5 withdrawal -- BIG TIME!

People thought a Pen Pal page was a good idea. If you would like to meet people who you could chat with or share your opinions of the show with, send along your e-mail or snail-mail address The Zocalo. It will be incorporated on the new Pen Page Page.
MAIL FOR CAST AND CREW
Here's a recent note from JMS on the subject:

Just an FYI to those who've been using the Ventura Blvd. mail drop for fan mail to actors....

As mentioned before, we're phasing out the forwarding of fan mail because we a) don't have the resources, complicated by b) the actors have scattered to the four winds, and it makes it very difficult to get everything to everybody in a timely fashion.

So, having provided prior notice...fan mail to actors coming to the Ventura Blvd. mail drop will be sent back. Mail to actors should be sent via their official fan clubs. I will still be taking mail there, since it's my mailbox, but that's it.

Just so's y'all know and save a few bucks on postage and returns.

WARNER BROS:

Warner Bros. Address:

Warner Bros. Domestic Television Distribution
4000 Warner Blvd.
Burbank, CA 91522

Warner Home Video:

Mr. Douglas Wadleigh
VP for Marketing and Special Features
Warner Bros.
4000 Warner Blvd.
Burbank, CA 91522

SCIFI:
Bonnie Hammer, President
Sci-Fi Channel
1230 Avenue of the Americas
New York, NY. 10020-1513

Mr. Thomas Vitale
Senior VP of Acquisitions, Scheduling & Program-Planning
BACK ISSUES OF THE ZOCALO TODAY
The front page of the The Zocalo Today changes daily, so be sure to check the back issues to make sure that you haven't missed anything IMPORTANT! I don't want the front page getting too long so I shift information periodically into the archives. So if you aren't a regular visitor to The Zocalo Today, be sure to check out the back issues. Just use the button above!
---
Take care and I look forward to hearing from you.
Sandra Bruckner (sgbruckner@aol.com)
Editor/Publisher
The Zocalo Today
http://www.isnnews.net
Copyright - SBruckner, 1999-2003