[an error occurred while processing this directive]

The Zocalo Today

Welcome and thank you for dropping by. Take your shoes off, get comfortable and stay a while. There is a LOT of information here and you won't want to miss any of it.

The Zocalo Today is an interactive newsletter, encouraging readers to join a discussion topic or to send along letters that can be shared with other readers.

If you have suggestions as to how The Zocalo can be improved -- or be more responsive -- send them along. The Zocalo Today is a newsletter for Babylon 5 fans everywhere. It is as much YOUR newsletter as it is mine! I'm just pulling together things for you!

Join our discussion topic. It is just one way you can share with other Z readers. If you see Babylon 5 cast and crew in other roles, let us know. We enjoy convention reports, photos, etc. Don't miss our back issues. I hope this will become more than just a newsletter. It's a community of people that enjoy sharing their experiences and interests. Babylon 5 brought many of us together -- and it remains with us, despite the fact that is no longer in production. Don't be shy. Join us today!

If you have questions, drop me a line at sgbruckner@aol.com. If you would like to join the mailing list for our newsletter, send me a note and I'll include you on the list. Or you can use the subscription block at the left.

Again, WELCOME!




What's New Today
Thursday, October 9: TOP SF DVD SALES:
1. The Lion King platinum edition
2. The Matrix Reloaded
3. Finding Nemo
4. Adventures of Indiana Jones
5. The Two Towers extended edition
6. Pirates of the Caribbean
7. The Two Towers regular edition
8. Buffy season five
9. X2
10. Terminator 3: Rise of the Machines
Source: Amazon.com, top-selling genre DVDs, 10/06/03
---
JEREMIAH DVD: The first season of JEREMIAH arrives on DVD on January 20. The six-disc set collects all 18 one-hour episodes from the first season as well as the 90-minute pilot, "The Long Road". Included on the pilot will be a commentary by stars Luke Perry and Malcolm Jamal-Warner; 10 deleted scenes; a behind-the-scenes featurette; a photo gallery and a production design gallery. JEREMIAH - SEASON ONE will retail for $79.76 US / $99.96 CDN and arrive in stores on January 20. The second season of JEREMIAH debuts on Friday night.
---
LOST IN SPACE DVD: On January 13, Fox Home Entertainment will launch an eight-disc DVD set for the LOST IN SPACE TV series. All 29 Episodes from the first season plus the unaired pilot will be included. You can have your own copy of the chronicle of the Robinson family soon. Pre-orders will begin on December 17. For a detailed description of the set, go to http://www.b9robotbuildersclub.com/lisdvd.html.
---
NEW LOST IN SPACE: The WB has paid more than $2 million for the rights to the new Lost in Space. At least three other networks made serious bids for the 20th Century Fox TV/Fox TV Studios project, which is being put together by scribe Doug Petrie (Buffy the Vampire Slayer), helmer John Woo and the Kevin Burns/Jon Jashni company Synthesis. The network says the show will explore a larger theme (the modern family) against a fantastic backdrop (outer space). Petrie will write and executive produce, with Woo attached to direct via his Lion Rock Productions. Petrie said his vision for Lost in Space is for a show that's "not about hardware." "It's not about laser blasters and starships and funky aliens, though there will be bags of all of those... The show is going to be more based on what's going on with the typical American family rather than a sweeping space opera." The new show won't feature a Dr. Smith character, though there will be a robot. The series will be set in 2097.
---
THE VILLAGE: M. Night Shyamalan's THE VILLAGE begins principal photography on October 14. The Village stars Joaquin Phoenix, newcomer Bryce Dallas Howard, Adrien Brody, William Hurt, and Sigourney Weaver. Set in 1897, The Village tells the story of a close-knit community that lives with the frightening knowledge that a mythical race of creatures resides in the woods around them. Filming of The Village will take place in and around Philadelphia.
---
INSIDE SCI-FI THIS WEEK:
Wednesday, October 8:
GOVERNOR SCHWARZENEGGER: It was a total recall -- Arnold Schwarzenegger handily unseated Gray Davis for the post of Governor of California.
---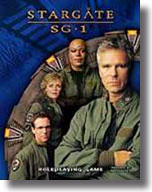 STARGATE ROLE PLAYING GAME: For those of you who love role playing games, there's a new one based on STARGATE SG-1. Published by Alderac Entertainment Group, the Stargate RPG uses a modernized version of the fantasy d20 rules created for Dungeons & Dragons. These rules, known as the Spycraft engine, take the familiar D&D concepts of ability scores, levels, classes, skill points and feats and update them for play in the early 21st century. For a review of the game, go to http://www.scifi.com/sfw/advance/07_games.html.
---
FIREFLY DVD: On December 9, FIREFLY - THE COMPLETE SERIES will be released. Creator Joss Whedon talked about the upcoming boxed set to CINESCAPE magazine, saying "They really went to town on the DVD. There are interviews, extras, a gag reel and commentary on more than half the episodes. I was really impressed. When they said they wanted to do it, I was surprised. Then they just did it proper. It's a really nice package." All 13 episodes ordered by Fox are spread out over four DVDs. The set will also contain deleted scenes from three episodes, three featurettes, a gag reel, Alan Tudyk's audition for the part of Wash and Joss Whedon himself crooning the show's theme song.
---
NINE LIVES: According to the Hollywood Reporter, the Sci Fi Channel and DreamWorks Television have begun development on their anticipated follow-up to "Taken," the Emmy-winning 20-hour miniseries executive produced by Steven Spielberg. The new project, an original idea unrelated to "Taken" entitled "Nine Lives," will air over three separate quarters beginning in 2005. Spielberg will share the executive producer credit once again with Les Bohem ("The Alamo"), who also will write the entire project, as he did with "Taken." The scheduling of "Nine" was inspired by such movie franchises as "The Lord of the Rings" and "Harry Potter," Sci Fi president Bonnie Hammer said.
---
JEREMIAH DVD: Season One of JEREMIAH will be released on January 20. Not much information about the set as yet. MGM released a planner of their DVD releases for January and JEREMIAH - Season 1 was included in it.
---
Tuesday, October 7:
RATINGS: Top SCIFI Channel Shows:
Boa 1.6
Stargate SG-1 1.5
UFOs Best Evidence ... 1.4
Bordello of Blood 1.1
Demon Knight 1.1
Project Viper 1.1
Casper 1.0
Pythons 2 1.0
UFOs Top Secret 1.0
Anaconda 1.0
Source: Nielsen Galaxy Report, 9/8/03 - 9/14/03
---
THE SANDMAN: ENDLESS NIGHTS: Neil Gaiman's THE SANDMAN: ENDLESS NIGHTS has debuted at number 20 for hardcover fiction on the New York Times best seller list, marking the first time an American comic-book publisher has earned a spot on the list. "We are extremely proud to have this extraordinary graphic novel mark the growing importance of the category to book buyers across the country and congratulate Neil and join him in thanking his readers," said Paul Levitz, President of DC Comics. The original graphic novel was released on Sept. 17 as a collection of seven short stories based on seven siblings known as the Endless: Death, Desire, Despair, Delirium, Destruction, Destiny and Dream. Top artists from around the world, such as Milo Manara and Miguelanxo Prado, contributed artwork to each of the stories. According to the publisher, THE SANDMAN: ENDLESS NIGHTS has been recognized as a turning point for the graphic novel genre by sources from The New York Times and Entertainment Weekly to USA Today and Publishers Weekly.
---
BUFFY: Dark Horse Comics miniseries TALES OF THE VAMPIRES is bringing together Joss Whedon and other writers from the BUFFY TV series. The Comics Continuum Web site reported. "With Joss and the other writers from the show including Brett Matthews— who's gone on to write some high-profile stuff for Marvel—it's basically a show reunion just months after the TV show ended, which I think is the thing readers are responding to the most, so far," said editor Scott Allie. The five-issue series of TALES will bring together a number of Buffy favorites, including Spike and Drusilla. Whedon has written the first two issues, which will be illustrated by newcomer Alex Sanchez and former Catwoman artist Cameron Stewart. The first issue goes on sale Dec. 10 and will have a retail price of $2.99.
---
XENA/HERCULES: They are together again, but not on the TV screen. Lucy Lawless and Kevin Sorbo are filing suit against Universal alleging breach-of-contract. The dispute is over their profit participation on their respective series and takes issue with the expenses that the studio has deducted.
---
THE LION KING: Today Buena Vista Home Entertainment releases one of the most feature-packed DVDs in a while. Featuring an all-new song and never-before-seen animation, THE LION KING (Special Edition) is definitely one to add to your collection. For a complete listing of what is included and a review of the disc, go to http://www.comingsoon.net/news/dvdreviewsnews.php?id=1774.
---
LEAGUE OF EXTRAORDINARY GENTLEMEN: While the film didn't do that well in the U.S., Variety reports that THE LEAGUE OF EXTRAORDINARY GENTLEMEN is perfoming well at the international box office. The film ended the seven-week foreign box office reign of "Pirates of the Caribbean: The Curse of the Black Pearl" with a solid $14.6 million at 3,327 playdates in 34 territories. Fox's Sean Connery vehicle emerged the clear victor Monday as distribs firmed up early estimates that had shown a close three-way contest among "League," "Pirates" and "Bad Boys II." "League" led in Germany with $5.1 million at 706 engagements, representing the sixth-highest 2003 opening in that market and the top German debut for a Connery pic. It also won in France with $2.6 million at 552 sites; in Australia with $2.1 million at 207, marking the third-largest October opening ever for Oz; and in Switzerland with $521,000 at 66. "League" has cumed $51.45 million internationally, $15 million behind its domestic take.
---
Monday, October 6:
RATINGS: Top SCIFI Channel Shows:
Bugs 1.5
Stargate SG-1 1.4
DNA 1.2
Arachnid 1.2
Body Bags 1.2
Mosquito 1.1
Vampires 1.1
Marabunta 1.0
Tremors: The Series 1.0
Halloween III 0.9
Source: Nielsen Galaxy Report, 9/1/03 - 9/7/03
---
WEEKEND BOX OFFICE: A teacher unseated The Rock this weekend as Jack Black's SCHOOL OF ROCK too the #1 spot at the box office, bringing in an estimated $20.2 million dollars on its opening weekend, nearly $2 M better than THE RUNDOWN's debut last weekend -- and on fewer screens. MGM's new Denzel Washington thriller, OUT OF TIME, also did good numbers as well on its opening weekend. THE RUNDOWN dropped about half in its grosses, still maintaining a respectable showing. Sofia Coppola's LOST IN TRANSLATION expanded its number of screens and vaulted three positions up the list, coming in at number seven. Here are the numbers:
1. THE SCHOOL OF ROCK $20,200,000 $20,200,000
2. OUT OF TIME $17,000,000 $$17,000,000
3. THE RUNDOWN $9,777,000 $32,741,000
4. UNDER THE TUSCAN SUN $7,910,000 $20,967,000
5. SECONDHAND LIONS $5,375,000 $30,816,000
6. UNDERWORLD $4,800,000 $44,541,000
7. LOST IN TRANSLATION $4,267,000 $14,162,000
8. THE FIGHTING TEMPTATIONS $3,285,000 $24,475,000
9. ONCE UPON A TIME IN MEXICO $2,550,000 $52,992,000
10. COLD CREEK MANOR $2,500,000 $18,330,000
---
HARRY POTTER: According to the Herald Sun, Emma Thompson is now part of the HARRY POTTER AND THE PRISONER OF AZABAN cast. Thompson will make a guest appearance as the eccentric Professor Trelawny, completing an ensemble cast that includes Gary Oldman, Julie Christie and Robert Hardy. Filming is nearly finished, but the movie is not due for release until June. Pre-production on the fourth film began this week.
---
INDIANA JONES: On Oct. 21, Paramount Home Entertainment will release the long-awaited THE ADVENTURES OF INDIANA JONES: THE COMPLETE DVD MOVIE COLLECTION in a box of simulated leather that, in the words of a Paramount spokesman, "looks as aged as [the title character's] hat." The packaging also includes exclusive illustrations from well-known movie-poster artist Drew Struzan.
---
LORD OF THE RINGS: TWO TOWERS: New Line Home Entertainment will release on Nov. 18 the LORD OF THE RINGS: THE TWO TOWERS COLLECTOR'S BOX with a transparent box that reveals a hand-crafted figurine of the film's Gollum character inside. The Extended Edition discs are packaged in a separate box designed to look like an old book. "It looks like something that comes from another world," said Pär Larsson, senior art director for 30sixty Design, the company that created the packaging for both the elaborate Two Towers set and Indiana Jones.
---
TARZAN: For those of you looking forward to seeing Lucy Lawless again in TARZAN can catch a clip from ET over at http://et.tv.yahoo.com/popups/media.html?wmp100=5157792&wmp300=5157793&wmp56=5157794. She does look quiet different.
---
STARGATE SG-1 DVD: Ranger Dave says that Costco has both Season Three and Season Four DVD sets for STARGATE SG-1 for $39.99. That is quite a bargain, so check it out.
---
Sunday, October 5:
TARZAN: Today is the day TARZAN makes it's debut on The WB. I for one will want to watch to see what they have done to update the wonderful story -- and to see if underwear model Travis Fimmel can make the transition to actor. It has competition from shows like ALIAS, so we'll see how this old tale fares in the ratings jungle. For a review, go to http://www.thehollywoodreporter.com/thr/reviews/review_display.jsp?vnu_content_id=1993478.
---
MUTANT X: Over at Comics Continuum, they have obtained the upcoming schedule for MUTANT X. New episodes will appear thru November and then repeats will take over.

The schedule includes:
* This week: "Into the Moonless Night."
* Week of Oct. 6: "Wages of Sin."
* Week of Oct. 13: "The Breed."
* Week of Oct. 20: "Where Evil Dwells."
* Week of Oct. 27: "The Taking of Crows."
* Week of Nov. 3: "Shadows of Darkness."
* Week of Nov. 10: "The Hand of God."
* Week of Nov. 17: "Wasteland."
---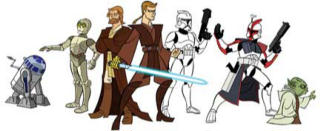 STAR WARS: CLONE WARS: The Cartoon Network's STAR WARS: CLONE WARS, a series of 20 animated shorts that will air beginning Nov. 7 at 8 p.m. It continues the saga where the live action feature film Star Wars: Episode II Attack of the Clones left off – at the beginning of the Clone Wars, an epic civil war that pits the old Republic against a vast separatist movement led by the forces of evil. Each episodic short will be two- to three-minutes in length and will air exclusively on Cartoon Network at regularly scheduled times during the network's regular programming. Clone Wars will be produced at Cartoon Network Studios by a team led by Genndy Tartakovsky, the creator of Samurai Jack and Dexter's Laboratory. As Clone Wars unfolds the valiant Jedi Knights lead the Republic's Clone Army against many new and ruthless adversaries across the galaxy. These new characters, epic battles and intricate stories will add an exciting new dimension to the Star Wars saga.
---
Saturday, October 4:
TOP SF NETWORK SHOWS:
Alias 2.4
Charmed 2.3
Smallville 2.1
Enterprise 1.9
Angel 1.5
Buffy 1.4
Source: Nielsen Galaxy Report, 9/1/03 - 9/7/03.
---
xXX2: Vin Diesel will not be returning in the next installment of XXX. In his place, rapper-turned-actor Ice Cube will get his shot as the leading man in a big-budget action franchise. Although Diesel and director Rob Cohen will not be returning, they will still retain executive producer status on xXx 2. Lee Tamahori (DIE ANOTHER DAY) will direct the film, with Simon Kinberg writing the script which takes place primarily in Washington, D.C. No word yet if Samuel L. Jackson will reprise his part as the XXX division's chief, Gibbons.
---
THE HITCHHIKER'S GUIDE TO THE GALAXY: Walt Disney Pictures has finally given a greenlight for the feature film adaptation of THE HITCHHIKER'S GUIDE TO THE GALAXY. Filming is scheduled to begin next year in England, with city scenes to be shot in London. Karey Kirkpatrick (CHICKEN RUN) wrote the latest draft of the GUIDE movie based on Douglas Adams classic sci-fi comedy novel. Now we will have to wait to see who will be cast in the title roles.
---
RATINGS: In today's Hollywood Reporter, Thursday night ratings were compared and CBS' "CSI: Crime Scene Investigation" (25.9 million, 9.2/23) was again the most-watched show of the night, though NBC's 8 p.m. anchor "Friends" (21.9 million, 10.1/29) and 10 p.m. drama "ER" (20.6 million, 9.6/26) outpaced "CSI" in the key demo. The see-saw battle wages on!
---
GOTHIKA: New trailers are available for Halle Berry's latest movie, GOTHIKA at http://www.apple.com/trailers/wb/gothika/.
---
SMALLVILLE: Over at Comics Continuum you'll find new photos released by The WB of Wednesday night's episode "Extinction", which airs on October 15. The second season premiere of SMALLVILLE did quite well in the ratings and the all-important demographics. Smallville placed #1 in men 12-34 (3.8/13), teens (3.5/13), female teens (3.4/13) and male teens (3.6/12), #2 in adults 18-34 (3.8/12), persons 12-34 (3.7/12) and men 18-34 (3.9/13) and #3 in women 18-34 (3.7/11), women 12-34 (3.6/11) and adults 18-49 (3.0/8). There is a description of the upcoming episode as well -- so watch out for spoilers.
---
MUTANT X: The third season kicks off this week with "Into the Moonless Night," written by Peter Mohan and directed by Philip Segal. For a synopsis of the episode, go to http://www.comicscontinuum.com/stories/0310/01/mutantx.htm.
---
MOVIES THIS WEEKEND: Wondering which flick to see this weekend? There are two new flims openning in wide release in North American movie theaters this weekend: Denzel Washington and Sanaa Lathanin in OUT OF TIME, and Jack Black and Joan Cusack in THE SCHOOL OF ROCK. Also, Sofia Coppola's LOST IN TRANSLATION expands wide, and Tom McCarthy's THE STATION AGENT opens in NY and LA. For reviews to maybe help you with your choice, go to http://filmforce.ign.com/articles/453/453111p1.html .
---
SITE CHANGES: I started to move a few things off the front page. Updates from JMS will be found on the JMS Page. News about Amazing Spiderman or other comic books will be found on the new Comics Page. I want to get back to basics -- more information about Babylon 5 (when I can find it) or about those involved with it. I know folks are interested in all the spin-offs related to the people, so I will continue to track Jeremiah on it's own page. Hopefully that will shorten the front page -- but allow you to zip through the news a bit quicker as well.
---
CONVENTION PICTURE: Don't miss a very cool picture of Jason, Rick & Jeffrey from 2BeContinued -- see the convention section below.
---
Friday, October 3:
TOP SF DVD SALES: 1. The Matrix Reloaded
2. Finding Nemo
3. Adventures of Indiana Jones
4. The Lion King platinum edition
5. The Two Towers extended edition
6. Pirates of the Caribbean
7. The Two Towers regular edition
8. Buffy season five
9. Sleeping Beauty
10. Smallville season one
Source: Amazon.com, top-selling genre DVDs, 9/29/03
---
TEEN WOLF: According to the Hollywood Reporter, UPN is developing a drama series loosely based on the 1985 Michael J. Fox feature TEEN WOLF. UPN will try to capture the BUFFY audience by putting out a series about a college student who discovers that he's a werewolf. Warner Brothers acquired the rights to use the Teen Wolf title from MGM and with UPN are reportedly will emphasize the fantasy elements and black humor in the new project. UPN has given a script commitment to the project, which will be helmed by veteran TV director Terry Hughes (Friends, 3rd Rock From the Sun) and scribe Ron Milbauer (Idle Hands).
---
THE DA VINCI CODE: THE DA VINCI CODE has been on the best seller list for quite a while and soon you'll be seeing it on the big screen. The religious-themed thriller is in development at Columbia Pictures and Oscar winners Director Ron Howard, producer Brian Grazer and screenwriter Akiva Goldsman, who all won Oscars for A BEAUTIFUL MIND, will make the film. Presently Goldsman is adapting Dan Brown's novel of the same title. Columbia picked up the novel rights in which the main character, Professor Robert Langdon, is investigating the murder of the curator at the Louvre art museum. What he finds is a conspiracy to cover up secret messages embedded in the paintings of Leonardo da Vinci, secrets that involve the origins of Christianity.
---
CATWOMAN: This is the hot film in production now in Vancouver. The upcoming Time magazine will have pictures of Halle Berry in her new CATWOMAN costume. The Hollywood Reporter reports that two more additions have been made to the cast. Actress Alex Borstein (Mad TV, The Lizzie McGuire Movie) will portray Halle Berry's best friend in the Warner Bros. Pictures/Village Roadshow production. Michael Massee (24, Lost Highway) has been cast as a villain. Considering Sharon Stone and Lambert Wilson are the primary antagonists in Catwoman, I assume that means Massee will be a henchman. The film is scheduled to open in summer 2004.
---
SPIDER-MAN 2: The http://spiderman.sonypictures.com/ website for the upcoming SPIDER-MAN sequel has been updated. You can watch a new Webisode in the 'Daily Bugle' section in which Sam Raimi and James Acheson discuss the changes to Spidey's costume. You can check out a new IPIX of the Daily Bugle in the second film (in the 'Daily Bugle') section. The 'Characters' section has opened within the 'The Movies' section, in which you can find out new details about the movie by dragging the characters' pictures. The 'Fan Central' menu has opened a new 'Ultimate Quiz' and there's also a new wallpaper of Tobey Maguire as Peter Parker in the 'Downloads' section.
---
LORD OF THE RINGS: According to ComingSoon.com a special screening of extended editions of the first two films in Peter Jackson's LORD OF THE RINGS trilogy will be presented at the Film Society of Lincoln Center and New Line Cinema in January. Also included will be the upcoming final chapter, "The Return of the King," introduced by the director and cast. Running Jan. 10-11, the event marks the first time all three films will be shown together with the director in attendance. Jackson, who co-wrote, directed and produced the trilogy, will introduce the Saturday screenings with members of the cast and participate in a Q&A following the night's final screening of "The Return." On Sunday Film Society program director Richard Pena will host an extended conversation with Jackson, revisiting highlights of his career and exploring the "Rings" trilogy in depth.
---
WHAT'S ON TONIGHT
9:00pm on CBS
CSI: Crime Scene Investigation
Homebodies
Investigators find a woman's mummified corpse locked in a closet; a boy shoots himself. 10:00pm on CBS
Without a Trace
Confidence
Malone and his team search for a young woman who disappeared during a dinner party. On SCIFI Tonight:

7:00pm
The Running Man
A police-state scapegoat must play a TV host's deadly game show for the 21st-century masses.

9:00pm
Total Recall
An earthman of the future goes to Mars, driven by nightmares of his past.
SEASON FOUR OF BABYLON 5
Warner Brothers have announced that January 6th, 2004 (Region 1) is the release date for Babylon 5: The Complete Fourth Season ("No Surrender, No Retreat"). There is no information at this time about when region 2 will be released. DESCRIPTION:
The future begins -- or ends -- here and now. Here is the huge space station Babylon 5. Now is the fateful year 2261. Commander John Sheridan has already declared the station free, breaking the ties between it and Earth Alliance. It was perhaps only a matter of time before he would have to fight to remain free. That time has come in this complete 22-episode fourth-season adventure presented on 6 discs and featuring an exciting array of Exclusive Extras. This six DVD set will include (preliminary listing):
Introduction to Babylon 5 - Season 4 by series creator J. Michael Straczynski
Two commentaries by series creator J. Michael Straczynski and another from director Mike Vejar
Commentary by cast members Bruce Boxleitner, Jerry Doyle, Peter Jurasik and Patricia Tallman
"Celestial Sounds" featurette about series composer Christopher Franke and the making of the series music
"No Surrender, No Retreat" DVD Suite, original music composed exclusively for the DVD
"The Universe of Babylon 5"
Personnel Files and Data Files
Gag Reel
Episode Previews
16x9 Anamorphic Widescreen
Dolby Surround 5.1 (English only)
Subtitles in English, French, and Spanish
Closed Captioned for the hearing impaired Pre-orders should be available soon.
BABYLON 5 SEASON THREE DVD - OUT NOW!
Season Three of Babylon 5 was released in the U.S. on August 12. It will be available in the UK beginning October 27. A review can be found over at http://www.imdb.com/Recommends/Rec2.html and the DVD series is on their recommended list. It was a featured item on http://www.imdb.com/. BABYLON 5: THE COMPLETE THIRD SEASON DVD Order Date: 7/15/03 Street Date: 8/12/03
Catalog #: 24243 WB Synopsis: The long-running Emmy Award-winning television series Babylon 5 takes place in the year 2257 A.D. on an immense spaces station floating in a stationary orbit in a neutral corner of a distant galaxy. Staffed by a crew of peaceful Earthmen and women, Babylon 5 serves as a non-political economic and social hub for the four alien races - the Narn, Centauri, Vorlon and Minbari - who fight to control the galaxy. Starring Bruce Boxleitner, Claudia Christian, Jerry Doyle, and Bill Mumy. Special Features and Specifications: o Six-disc DVD collector's set
o Introduction from series creator J. Michael Straczynski,
o Commentary on three key episodes by series creator and stars,
o"Behind the Mask: Creating the Aliens of Babylon 5" Documentary
o"Designing a Better Narn" Documentary
o"Designing Tomorrow: The Look of Babylon 5" Documentary
o Data and Personnel Files
o 16X19 Anamorphic Widescreen
o Dolby Digital 5.1
o English, French Spanish subtitles
o Running Time: 968 minutes For a look at Season Three, go to Season Three. Here you will find individual synopses of each episode and a graphic provided by Warner Bros.
GAG REEL
As with the other DVDs, there is a gag reel portion on the Season Three DVD as well. Ranger Mike sent along instructions on how to get there.

Babylon 5 Season 3 DVD Blooper Reel

The Season 3 "Gag Reel" is for real! It is actually an Easter Egg (a hidden component in the DVD) and is about three minutes long. There is a brief musical introduction and the segment mostly contains dialog goofs and other blunders the cast had.

To get to the Gag Reel, put in disc #6 and from the main menu:

* Select "The Universe Of Babylon 5"
* Select "Data Files"
* Cursor down Between the middle menu option "The Battle For Babylon 5" and the bottom menu option "The Universe Of Babylon 5". You should get a highlighted "5" logo to appear
* Press select to view the Gag Reel.
DISCUSSION TOPIC
What do you think of the new series out so far this year? Do you enjoy any of them? Which are winners -- which are stinkers?

Send in your comments to sgbruckner@aol.com and I'll post them on the Discussion Page for everyone to share.
KEEPING UP WITH CAST AND CREW
TIM CHOATE: Tim has been spotted in what may be a recurring role on the new CBS series COLD CASES. He portrays one of the homicide detectives in the squad room.
---
STEPHEN AUSTIN: I got a wonderful note from the Pa'Ka'Ma Ambassador, saying that he will be appearing at UNITED FAN CON, November 7-9 at the Sheraton Hotel, Springfield, Mass. (For more information on the convention, go to http://www.unitedfancon.com/. In addition, he's been quite busy with a number of projects. He has has completed work on two CDs and is putting the finishing touches on a DVD/Video -- a compelation of several of his stand-up comedy performances. Another CD is a work done by an ensemble group of comedians including Stephen, Vic Dunlop and The Unknown Comic titiled "Lunatics and Losers" a lampoon about our war on terrorism.
---
JASON CARTER: Jason will appear this season of SHE SPIES as an assassin named Morgan Porter. The episode was to begin shooting 09/10/03. Jason's new audio book, ILL MET BY MOONLIGHT (written by Sarah Hoyt) began shipping on October 1.
---
ROBIN ATKIN DOWNES: Robin (Byron from Babylon 5) has been quite busy since the end of the series. His latest project, the BATTLESTAR GALACTICA video game where he provides the voice for Ensign William "Husker" Adama . To read more, go to www.galactica2003.net/videogame/downes081603.htm.
---
PETER WOODWARD: Ranger Spiffy reports: The History Channel UK website has a simple on-line game of Peter Woodward's Conquest. The setup is hilarious! Peter's character challenges the player to a duel involving crossbows, longbows, and battle axes. The design is not morbid--it is cartoonish and the quips from Peter's character are very comical. I think that the game would appeal to anyone who likes history and especially the Conquest tv show. (It may also be a good stress-reliever!) Go to http://www.thehistorychannel.co.uk/index_continue.htm, select games and go to CONQUEST.
---
GARY COLE: A very familiar face will be showing up on THE WEST WING in the fall. Captain Gideon from CRUSADE, Gary Cole, will be sworn in as the Vice President of the United States. Cole will play Colorado congressman Robert "Bingo Bob" Russell starting with the show's third episode this fall. The character is described by Variety as having a few unconventional ideas.
---
SPECIAL B5 CAST ACTIVITIES
PAT TALLMAN: THE PENNY LANE VOICES OF OUR CHILDREN EVENT - OCTOBER 18!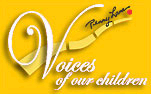 This year's Masters of Ceremony are PATRICIA TALLMAN and Edd Hall. The event takes place at The Center at Cathedral Plaza, 555 West Temple Street in Los Angeles. The evening includes a silent auction and performances of the children's writings. In addition to Pat and Edd, other celebs appearing include Yvette Freeman from ER, Marg Helgenberger from CSI, Simon Baker and Alan Rosenberg from The Guardian and Juliet Mills from Passions.

The event is October 18 at 6:00pm. For tickets and more information, call 818.892.3423, ext. 344. Or visit www.pennylane.org.
2003 marks the 20th anniversary of SCARECROW AND MRS. KING's debut on CBS. A very special event is being planned. On October 17-19th at the Beverly Garland Holiday Inn in Los Angeles, California, a celebration is being planned. A number of guests have already confirmed -- including Bruce Boxleitner, Beverly Garland, Martha Smith, Paul Stout and Greg Morton. For more information on activities related to the anniversary, go to http://www.smk20thanniversary.com/.
CRUISE WITH PETER WOODWARD
Peter is considering cruising the Caribbean in early 2005 and wants to invite his fans to join the fun. He would like to see if there is sufficient interest before going too far into planning, so if you would like to receive a brochure about Peter's upcoming cruise once the details are finalized please advise of your: Name:
Postal Address, City, State, Zip:
E-mail address:
Phone number:
Total number of guests in your party:
Age range of the guests including yourself:

Send this information to pwoodwardinfo@yahoo.com. Any information you send us will be handled respectfully. This is not a commitment from you, just an indication of interest.
BABYLON 5 BIRTHDAYS
Jeff Conaway - October 5
Dylan Neal - October 8
John Vulich - October 10
Tim Choate - October 11
John Copeland - October 13
Linda Huse - October 16 Have I missed anyone? If you know the birthday of someone connected with Babylon 5, pass the information along. We want to include everyone in our Happy Birthday Wishes.
READER BIRTHDAYS
Sometimes you just can't find the e-mail address for someone you know you have -- it's someone who responded to a discussion topic or you met in one of the chat rooms. You'd like to send a personal note, but .... No address!!!!

We've started a White Pages of Zocalo Readers! It's a handy way of keeping track of people -- and putting together a birthday/greeting card list as well. If you would like to be part of the listing, just send me your name, state, e-mail address and (if you'd like to have it listed) birthday (without year) to sgbruckner@aol.com. Check out the Directory of Readers.

Name: W Andrew York
State: Texas
EMail: wandrew@compuserve.com
Birthday: October 28

Name: James Green
State: Massachusetts
E-mail address: jrgreenmd@yahoo.com
Birthday: October 29

Name: Oliver Iten
Country: Switzerland
E-Mail: oliveriten@itenuscars.com
Birthday: October 23

Name: Mike Tuck
State: Tennessee
E-mail address: tuckbros@crunet.com
Birthday: October 24
BABYLON 5 FANS - SPECIAL HELP SECTION
BABYLON 5 FAN CLUBS
Swedish Babylon 5-Club We're situated in Gothenburg, Sweden's second largest city, and have been around since 1999. Our activities consist of showing B5 episodes on the big screen. The next time will be on November 8th here in Gothenburg. Our webpage is at http://www.babcon.org/. Asbjorn
President, Interstellar Alliance
sheridan@babcon.org -- Interstellar Alliance - Sweden's largest Babylon 5 club
BabCon XIII on November 8th 12.30 - 02.00
http://www.babcon.org/ Italian Babylon 5 News Ranger Bianca has a website that provides Italian Babylon 5 fans with news. The site is located at www.babylon5.it.
BABYLON 5 MERCHANDISE
Are you looking for Babylon 5 merchandise? Would you like to possess some of the wonderful patches or pins sold by the B5 Fan Club? Do you want to put in an order for the latest DVD? Bruce at Uncomyn Gifts still has one of the best collections around. Check out www.uncomyngifts.com. You may just find the magazine or t-shirt or patch you are looking for.
---
BABYLON 5 SCREENSAVER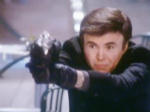 I received a wonderful note from Warner Bros. yesterday. It said:
"we also got this link from WHV for B5 screensavers, if you want to post this anywhere:
http://www.eyetide.com/download/?p=104117."
The graphics are awesome and it will add a certain measure of class to any desktop. Don't miss the preview feature. You can see what graphics have been included for your viewing pleasure. Thanks WB.
---
BABYLON 5 ROLE PLAYING AND FACT BOOK
The Babylon 5 Roleplaying Game and Fact Book
"Signs and Portents"
By Matthew Sprange
Mongoose Publishing
ISBN: 1-904577-11-3
MSRP: $49.99 From the review written at http://www.scifi.com/sfw/current/games.html B5 fans might want to pick up this game whether they actually play it or not. Based on the first season of the series, the "fact book" portion of the book includes an overview and maps of Babylon 5 and an episode-by-episode breakdown of the first season.
TRADING CARD HELP
Ranger Tia sent along this note to share with B5 card collectors:

Don't know if you've heard of my card program yet or not, but I thought the other B5 card collectors might like to try it out. With having almost all of the B5 trading cards and CCG cards available and no program to keep track of them withm, I started writing my own. Here's the website for it. Go half way down and click on the small screen shot for a full size screen shot. I have the pic of Pat Tallman's card from the Profiles card set feautured in the shot.

Oh, and I also have a lot of the card lists already saved as files so people won't need to type in all the card names. Being written by a B5 fan, ALL the card lists have already been made and are downloadable. :)

http://cardkeeper.usethis.com/keeper/index.html

Tia
NEW SCI-FI PUBLICATIONS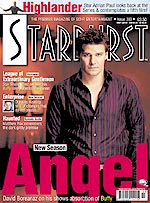 Starburst #303: ANGEL is back for a fifth season and David Boreanaz looks at the changes ahead -- and reveals what BUFFY meant to him. Also in this issue, Dominic Keating from ENTERPRISE talks about the future of his character, Lt. Malcolm Reed.



Cult Times #97: ANGEL takes over Wolfram & Hart this year and J. August Richards (Charles Gunn) talks about his character and changes ahead. Showtime's DEAD LIKE ME gets some pace, talking with Ellen Muth and Callum Blue about the tricky work of taking souls. Also read more from John Billingsley (Phlox on ENTERPRISE) and John L. Adams (Bruce Lewis on DEAD ZONE).





Expose #80: This month's issue focus on the upcoming HARRY POTTER movie. New Director Alfonso Cuaron will be making his mark and the kids are growing up. What other changes await? Also in this issue, a look at the extended second season of DEAD ZONE.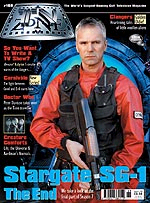 TV Zone #168: While Richard Dean Anderson may be on the cover of this issue, for Babylon 5 fans, be sure not to miss another section of JMS' diary -- this one covers the fourth season. Stargate SG-1's executive producer Robert C. Cooper and co-executive producer John Smith look ahead at the series.





The Buffy finale saw Spike crumbling into the light, sacrificing himself so that humanity, and Buffy, might be saved. But now he's back from limbo and settling into LA life alongside Angel. We talk to James Marsters about his new role. Plus, Alexis Denis tells about Wes' transformation from Watcher to Rogue Demon Hunter and now Commander of Angel Investigations. Available at Newsstand.





Cult Times #100: Celebrate a century of Cult Times with this issue. Read interviews with the stars, and features on shows currently airing in the UK. A Classic Series is given a light-hearted but informative look in our Instant Guide and the highlights of the previous month's viewing are featured in Times Past. Cult Times is the complementary magazine to TV Zone, and together they provide the ultimate guide to the many worlds of Cult Television.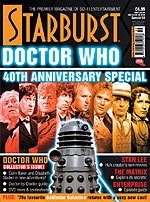 Starburst Special #59 A look back at 40 years of Doctor Who makes this issue special indeed. Also included in this issue - Battlestar Galactica -- an update on the SCIFI miniseries; Stan Lee on his upcoming film projects, and Michael Rosenbaum talk about being Lex Luthor on SMALLVILLE.





Cult Times Special #27: With the passing of BUFFY the Vampire Slyaer, CT looks back over the series; its characters and why it was so successful. Also included in this issue, Joss Whedon talks about possiblities for the future, including a movie for FIREFLY -- and BUFFY.



Shivers #107: As the new season approaches, everyone is speculating about the fireworks that could occur between Spike and ANGEL. Shivers takes a look at that this month -- along with Freddy vs. Jason, Underworld, and House of the Dead. There is an interview with Jeffrey Combs -- who most will know from Babylon 5 and Star Trek.



BABYLON 5 NOVEL - ON BOOK SHELVES NOW
DelRey is reprinting the original Babylon 5 novels. They started with #7 - Jeanne Cavelos' THE SHADOW WITHIN. Here's one I've been waiting for -- Kathryn Drennan's TO DREAM IN THE CITY OF SORROWS. The release date is scheduled for July 29, 2003. I love the new cover art! It can be pre-ordered from www.amazon.com. For those of you who love Babylon 5, this one reads just like an episode from the series. You just can't put it down.




RISING STARS UPDATE
Since many of us wonder when JMS will be able to finish the RISING STARS comic book, here is an update from JMS: I've asked Top Cow for three things: for Dream Police back, since they've had it now for 3 years and have done nothing with it...for confirmation that the Joe's Comics title belongs to me, and for an apology for deliberately keeping me out of the loop on my own project at the feature stage and misleading me about drafts that had come in. Once those three things have been attended to, I can finish the series.
SCI-FI SCHEDULE
BABYLON 5 27-OCT-03 9:00 AM BABYLON 5 (LBX) SURVIVORS
28-OCT-03 9:00 AM BABYLON 5 (LBX) BY ANY MEANS NECESSARY
29-OCT-03 9:00 AM BABYLON 5 (LBX) SIGNS AND PORTENTS
30-OCT-03 9:00 AM BABYLON 5 (LBX) TKO

CRUSADE: 12-OCT-03 2:00 AM CRUSADE PATTERNS OF THE SOUL
19-OCT-03 2:00 AM CRUSADE THE PATH OF SORROWS
26-OCT-03 2:00 AM CRUSADE RULING FROM THE TOMB

STARGATE SCHEDULE: 08-OCT-03 6:00 PM STARGATE SG-1 THE FIRST ONES
09-OCT-03 6:00 PM STARGATE SG-1 SCORCHED EARTH
10-OCT-03 6:00 PM STARGATE SG-1 BENEATH THE SURFACE
10-OCT-03 7:00 PM STARGATE SG-1 (LBX) HOMECOMING -PT 2
10-OCT-03 9:00 PM STARGATE SG-1 (LBX) LIFEBOAT
10-OCT-03 11:00 PM STARGATE SG-1 (LBX) LIFEBOAT
13-OCT-03 6:00 PM STARGATE SG-1 POINT OF NO RETURN
13-OCT-03 7:00 PM STARGATE SG-1 THE BROCA DIVIDE
13-OCT-03 8:00 PM STARGATE SG-1 THE FIRST COMMANDMENT
13-OCT-03 9:00 PM STARGATE SG-1 COLD LAZARUS
13-OCT-03 10:00 PM STARGATE SG-1 THE NOX
14-OCT-03 6:00 PM STARGATE SG-1 TANGENT
15-OCT-03 6:00 PM STARGATE SG-1 THE CURSE FARSCAPE SCHEDULE:

14-OCT-03 8:00 AM FARSCAPE MARATHON PREMIERE
14-OCT-03 9:00 AM FARSCAPE MARATHON I, E.T.
14-OCT-03 10:00 AM FARSCAPE MARATHON EXODUS FROM GENESIS
14-OCT-03 11:00 AM FARSCAPE MARATHON THRONE FOR A LOSS
14-OCT-03 12:00 PM FARSCAPE MARATHON BACK AND BACK TO THE FUTURE
14-OCT-03 1:00 PM FARSCAPE MARATHON THANK GOD IT'S FRIDAY AGAIN
14-OCT-03 2:00 PM FARSCAPE MARATHON PK TEK GIRL
14-OCT-03 3:00 PM FARSCAPE MARATHON THAT OLD BLACK MAGIC
14-OCT-03 4:00 PM FARSCAPE MARATHON DNA MAD SCIENTIST
14-OCT-03 5:00 PM FARSCAPE MARATHON THEY'VE GOT A SECRET
15-OCT-03 8:00 AM FARSCAPE MARATHON TILL THE BLOOD RUNS CLEAR
15-OCT-03 9:00 AM FARSCAPE MARATHON RHAPSODY IN BLUE
15-OCT-03 10:00 AM FARSCAPE MARATHON THE FLAX
15-OCT-03 11:00 AM FARSCAPE MARATHON JEREMIAH CRICHTON
15-OCT-03 12:00 PM FARSCAPE MARATHON DURKA RETURNS
15-OCT-03 1:00 PM FARSCAPE MARATHON A HUMAN REACTION
15-OCT-03 2:00 PM FARSCAPE MARATHON THROUGH THE LOOKING GLASS
15-OCT-03 3:00 PM FARSCAPE MARATHON A BUG'S LIFE
15-OCT-03 4:00 PM FARSCAPE MARATHON NERVE
15-OCT-03 5:00 PM FARSCAPE MARATHON HIDDEN MEMORY
16-OCT-03 8:00 AM FARSCAPE MARATHON BONE TO BE WILD
16-OCT-03 9:00 AM FARSCAPE MARATHON FAMILY TIES
16-OCT-03 10:00 AM FARSCAPE MARATHON DREAM A LITTLE DREAM
17-OCT-03 8:00 AM FARSCAPE MARATHON MIND THE BABY
17-OCT-03 9:00 AM FARSCAPE MARATHON VITAS MORTIS
17-OCT-03 10:00 AM FARSCAPE MARATHON TAKING THE STONE

EARTH: FINAL CONFLICT

10-OCT-03 5:00 AM EARTH: FINAL CONFLICT DARK HORIZONS
17-OCT-03 5:00 AM EARTH: FINAL CONFLICT POINT OF NO RETURN
24-OCT-03 5:00 AM EARTH: FINAL CONFLICT UNEARTHED
BABYLON 5/CRUSADE PHOTOSHOP PHOTOS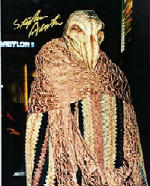 Peter Woodward has sent along a new photo -- a rather dreadful one -- from his appearance on CHARMED. It will be added to the collection of photos available from Peter, including additional copies of the Crusade poster in photo format. Both are autographed by Peter. You do NOT have to pay the prices asked for over at e-bay! Here are photos of B5 and Crusade cast members at fantastic prices. Check out Photo Shop. Ordering is easy -- and you can't beat the prices! Just let me know which photos you want and I'll check to make sure they are still in stock.
---
BABYLON 5 TOONS
John Cook has a wonderful collection of cartoons -- many are take-offs from Babylon 5. Here's just one of them.

He has a cartoon caption contest going on as well. Try your hand at a punch line.

Go to http://contests.sev.com.au/index.php?contestid=1


SCI-FI CARTOONS
You've heard of Charlie's Angels. Well now Tye Bourdony has introduced you to Kirk's Angels. Visit Tye's site at www.thelightersideofscifi.com.



BABYLON 5/CRUSADE CONVENTIONS
CONVENTION UPDATE
CONVENTION CALENDAR
FantiCon
October 10-12, 2003
City: Wilmington, NC
Place: Hampton Inn
B5 Guest: Peter Jurasik
Other guests: Lisa Wilcox, Pat Hingle, Henry Darrow, Juliet Cesario, Scott Simpson, Frank Capra, Jr.

For more information, visit their website at http://www.fanticon.org/ .
---



JVL-CON 2003
October 24-27, 2003
Jainesville, Wisconsin
Place: Ramada Inn
Guest: Barbara March
For more information, visit their website at www.si-fi-nut.com .
---



Galacticon 2003
October 24-26, 2003
Place: Sheraton Universal Hotel, Los Angeles, CA
Guests: Stars, Producers, Writers and Crew fro the Original Battlestar Galactica
For more information, visit their website at http://www.galacticonevents.com/index2.html .
---



Vulkon
October 31-November 2, 2003
Place: Nashville, TN
B5 Guest: Robin Atkin Downes
Other Guests: Julie Benz, Robia LaMorte, George Hertzberg
For more information, visit their website at http://www.vulkon.com.
---



United Fan Con
November 7-9, 2003
Place: Marriott Hotel, Springfield, MA
B5 Guest: Stephen Austin
Other guests: Michael Shanks, Mercedes McNab, Peter Davison, Gary Graham, Katy Manning, Matthew Waterhouse
For more information, visit their website at http://www.unitedfancon.com/.
---



Montreal Science Fiction Expo 2003
November 14-16, 2003
Place: Palais des Congres, Montreal, Quebec, Canada
Other Guests: Marina Sirtis, Ethan Phillips, Peter Mayhew, Lou Ferrigno, Kirby Morrow
For more information, visit their website at http://www.hobbystar.com/montreal-eng/index.html.
---



Alternate Universe
November 14-16, 2003
Place: London, UK
Site: Thistle London Heathrow
B5 Guests: Andrea Thompson, Sarah Douglas
Other Guests: Kent McCord, JRBourne, Peter Stebbings, Marc Cass, Brian Aldiss
For more information, visit their website at http://www.l3conventions.co.uk/alternateuni.htm.
---



Vulkon Orlando
November 14-16, 2003
Place: ORLANDO HILTON NORTH
Orlando, FL
B5 Guests: Julie Caitlin Brown, Jeffrey Combs
Other Guests: William Shatner, John Billingsley, Chase Masterson, Lolita Fatjo, Walt Cunningham, Boby Clark, Arne Starr
For more information, visit their website at http://www.vulkon.com.
---



Farscape Convention
November 14-16, 2003
Location: Hilton Burbank Airport & Convention Center
Place: Burbank, CA
Guests: Most of the Farscape Cast
For more information, visit their website at " TARGET="_new"> http://www.creationent.com"> .
---



Slanted Fedora Convention
November 28-30, 2003
Location: Indianapolis Marriott
Place: Indianapolis, IN
B5 Guests: Richard Biggs, Jason Carter
Other Guests: Tony Amendola, Julie Benz, Teryl Rothery, Robert Duncan Mcneill
For more information, visit their website at " TARGET="_new"> http://www.sfedora.com"> .
---



Be sure to visit our Convention Calendar for a full listing of upcoming conventions featuring Babylon 5, Crusade and Legend of the Rangers cast members as guests.
CONVENTION HIGHLIGHTS
Ranger Brian had a blast with Rick, Jason and Jeffrey at the 2BeContinued Convention last week in Indiana. He sent along a picture for everyone to enjoy. Thanks Brian.
If you would like to share your convention experience with your other Zocalo readers, send along a convention report. I will gladly post it for all to read. Got pictures? I'll post those as well.
ZOCALO TRADING POST
Do you have extra copies of B5, Amazing Spiderman, Midnight Nation or Rising Stars comics you'd like to trade? How about those extra trading cards or B5 magazines? There are a lot of fans looking for these items -- and the Trading Post can help you buy or sell them. To see what's available, just use this link to the Trading Post. To have items included in The Trading Post, send a note to The Zocalo. Please put Trading Post in the subject line.
PEN PALS
If you are looking for someone to talk about Babylon 5 and Crusade with, the Pen Pal section is for you! Check it out! Drop a note to someone who is feeling B5 withdrawal -- BIG TIME!

People thought a Pen Pal page was a good idea. If you would like to meet people who you could chat with or share your opinions of the show with, send along your e-mail or snail-mail address The Zocalo. It will be incorporated on the new Pen Page Page.
MAIL FOR CAST AND CREW
Here's a recent note from JMS on the subject:

Just an FYI to those who've been using the Ventura Blvd. mail drop for fan mail to actors....

As mentioned before, we're phasing out the forwarding of fan mail because we a) don't have the resources, complicated by b) the actors have scattered to the four winds, and it makes it very difficult to get everything to everybody in a timely fashion.

So, having provided prior notice...fan mail to actors coming to the Ventura Blvd. mail drop will be sent back. Mail to actors should be sent via their official fan clubs. I will still be taking mail there, since it's my mailbox, but that's it.

Just so's y'all know and save a few bucks on postage and returns.

WARNER BROS:

Warner Bros. Address:

Warner Bros. Domestic Television Distribution
4000 Warner Blvd.
Burbank, CA 91522

Warner Home Video:

Mr. Douglas Wadleigh
VP for Marketing and Special Features
Warner Bros.
4000 Warner Blvd.
Burbank, CA 91522

SCIFI:
Bonnie Hammer, President
Sci-Fi Channel
1230 Avenue of the Americas
New York, NY. 10020-1513

Mr. Thomas Vitale
Senior VP of Acquisitions, Scheduling & Program-Planning
BACK ISSUES OF THE ZOCALO TODAY
The front page of the The Zocalo Today changes daily, so be sure to check the back issues to make sure that you haven't missed anything IMPORTANT! I don't want the front page getting too long so I shift information periodically into the archives. So if you aren't a regular visitor to The Zocalo Today, be sure to check out the back issues. Just use the button above!
---
Take care and I look forward to hearing from you.
Sandra Bruckner (sgbruckner@aol.com)
Editor/Publisher
The Zocalo Today
http://www.isnnews.net
Copyright - SBruckner, 1999-2003