[an error occurred while processing this directive]

The Zocalo Today

Welcome and thank you for dropping by. Take your shoes off, get comfortable and stay a while. There is a LOT of information here and you won't want to miss any of it.

The Zocalo Today is an interactive newsletter, encouraging readers to join a discussion topic or to send along letters that can be shared with other readers.

If you have suggestions as to how The Zocalo can be improved -- or be more responsive -- send them along. The Zocalo Today is a newsletter for Babylon 5 fans everywhere. It is as much YOUR newsletter as it is mine! I'm just pulling together things for you!

Join our discussion topic. It is just one way you can share with other Z readers. If you see Babylon 5 cast and crew in other roles, let us know. We enjoy convention reports, photos, etc. Don't miss our back issues. I hope this will become more than just a newsletter. It's a community of people that enjoy sharing their experiences and interests. Babylon 5 brought many of us together -- and it remains with us, despite the fact that is no longer in production. Don't be shy. Join us today!

If you have questions, drop me a line at sgbruckner@aol.com. If you would like to join the mailing list for our newsletter, send me a note and I'll include you on the list. Or you can use the subscription block at the left.

Again, WELCOME!



TODAY'S NEWS
Saturday, November 13, 2004:
NEXT: Variety reports that Nicolas Cage will star in the SF action thriller NEXT, based on the short story "The Golden Man" by Philip K. Dick. The project will be directed by Lee Tamahori. Cage will also produce the film for Revolution Studios. Gary Goldman, who adapted the Dick story "We Can Remember It for You Wholesale" into 1990's TOTAL RECALL, wrote the script for NEXT. Cage will play a man who can see the future and change events before they happen. Eventually, he is forced to choose between saving the world and saving himself. Next is expected to start shooting next summer.
---
UNDERWORLD 2: Veteran British actor Derek Jacobi (GLADIATOR) has joined the cast of UNDERWORLD 2. Rumor has it that Jacobi will be playing Marcus, one of the three vampire lords mentioned in the first picture (and the only surviving one.) Filming on UNDERWORLD 2 starts this month in Vancouver for an anticipated late 2005 release. Kate Beckinsale and Scott Speedman reprise their roles as Selene and Michael, respectively.
---
SHAGGY DOG: The Hollywood Reporter indicates that Craig Kilborn is in final negotiations and Danny Glover is set to join the cast of Walt Disney Pictures' remake of THE SHAGGY DOG, directed by Brian Robbins. The movie, scheduled to begin production on Sunday, stars Tim Allen as a man who occasionally changes into a sheepdog. Glover plays Allen's boss, a district attorney, while Kilborn would play Allen's neighbor. Kristin Davis already is on board as Allen's wife.
---
WHAT'S ON TONIGHT:
ON NETWORK OR CABLE TV:
6:00pm on UPN
Star Trek: Enterprise
The Augments
The Enterprise crew pursues Dr. Soong across hostile Klingon space
8:00pm on ABC
Harry Potter and the Sorcerer's Stone
An orphan attends a school of witchcraft and wizardry. Based on a book by J.K. Rowling.
8:00pm on HBO
"Master And Commander: The Far Side Of The World"
Based on two books from Patrick O'Brian's "Master and Commander" series, the film stars Russell Crowe as Captain Jack Aubrey, commander of the good ship H.M.S. Surprise. Joined by a motley crew of characters, Aubrey steers a course toward death and destruction as they prepare to attack a superior French vessel. Paul Bettany, Billy Boyd, James D'Arcy and Lee Ingleby co-star. Directed by Peter Weir from a script written by him and John Collee.
10:00pm on ABC Family
Smallville
Jitters
A custodian (Tony Todd) takes hostage Clark's high-school class in LutherCorp.
ON SCIFI:
5:00pm
Deep Core
Geologists scramble to stop an undersea disruption.
7:00pm
Avalanche: Nature Unleashed
A giant wall of snow threatens a mining town.
9:00pm
Maximum Velocity
A catastrophic storm threatens the planet.
ON SYNDICATED TV THIS WEEKEND: Andromeda
Attempting Screed
Dylan begins to learn the extent of his new powers as a Paradine.
MacGyver
The Human Factor
Mac tests supercomputer security system.
Mutant X
Blood Ties
Jesse's estranged father mysteriously shows up, roping him into a deadly undercover mission.
The Outer Limits
Vanishing Act
A man's life disintegrates as he inexplicably moves from one world to another.
Stargate SG-1
Birthright
The crew of SG-1 negotiates an alliance between Earth and a planet of female warriors.
The Twilight Zone
Time Lapse; Dead Man's Eyes
A man is implicated in an assassination plot.
RICHARD BIGGS RAFFLE - FINAL DAYS
Ranger Jan has only a few days remaining on the raffle for the Rick Biggs fund. Only 4 days remain before it ends. Don't miss your chance to own some truly wonderful Babylon 5 items. Here are the items under consideration:

- Drawing will be held on Nov. 15, 2004
-Prize packages are:

#1 - From the Set I - which includes David Gerrold's own "Believers" script autographed by the author, cast and director; set dressing napkin; piece of Crusade stationery.

#2 - From the Set II - which includes set used blueprints from episode #312 "A Late Delivery from Avalon"; a set used knife (Dureena's) from "A Call To Arms"; a piece of Babylon 5 stationery

#3 - The Lighter Side - which includes the 'Bird' cast photo with several autographs including Rick Biggs (note: photo has traveled around and shows it but all autographs are recognizable); Babylon Park video and t-shirt; selection of Ty Bourdenay satire prints signed by the artist.

#4 - Art of B5 - Painted portrait of Dr. Franklin; Framed limited print of Londo and G'Kar; 'War Without End' lithograph by Lightspeed Fine Arts.

#5 - Autographs - Cards and Photos autographed by major B5 folks (JMS) down to Security Guard #1. Autographs of Rick Biggs and Tim Choate are part of this package.

#6 - Models, Cards and Games - including the Special Edition Starfury model kit; Babylon 5 Station model kit and several sets of CCG and trading cards.

So far just over 300 chances have been sold and no one package is dominating so your chances of winning your choice are really pretty good. Better than the lottery! ;-)

Chances are available for $5 each, 3 for $10, 6 for $20 and 10 for $30. Purchasers can designate any combination of what drawings they want their chances to be in. Go to http://rbiggsmemorial.starstuff.co.uk/ to purchase chances or to donate.
HOLIDAY PROJECTS
As I was driving into the office, I was wondering how we might make a difference to just a few folks this year. Here are three projects I've come up with that I think we could have fun with, but I need your help with:

PENNY LANE: Pat Tallman (Lyta Alexander on Babylon 5) has labored on behalf of Penny Lane for years. Her BE A SANTA program has grown each year -- but so has the number of kids who need your help to have a "merry" holiday season. See the paragraph below about Pat's PENNY LANE project or go to The Galactic Gateway for more information.

CHRISTMAS FOR THE KIDS: With the passing of Richard Biggs and Tim Choate, the realization that our time on earth is not infinite and it can be taken away very suddenly. The families of Richard and Tim will feel their loss this year, especially during this holiday season. There are memorial funds for both of families. Please take the time to send along a holiday donation. Addresses are below.

LETTERS FROM HOME: I hope you have all read Stephen Austin's (Pak'Ma'Ra Ambassador on Babylon 5) account of his trip to entertain the troops in the Middle East. He and his group have brought a lot of laughter and enjoyment to people who are stationed in the region. I know our readers must have friends and relatives stationed abroad as well. How can we help them? How about putting together a list of addresses that readers could write to? Letters from friends might be just the ticket for these young men and women so far from home. If you know of someone in the service that might enjoy getting letters or e-mail, send along their address and a brief description of them -- just so that we'll have something to start up a conversation with. I will post the addresses here at the website -- and if you want to tell me which ones have been selected, we can make sure that everyone on the list starts to get some mail. Send your addresses to sgbruckner@aol.com and I can get started with a webpage.
DISCUSSION TOPICS
There have been lots of good responses to this one!
Ranger Gary suggested:
Spanning the last 20 years of Sci-Fi/Fantasy TV, which three TV shows were most underrated/underappreciated and had the plug pulled too soon (2 seasons or less)? Why did they deserve a longer life?

Alternatively, in your opinion which three shows during the same period lasted way too long and never should have made it past their 1st season? Why should these 3 overrated TV shows should have expired ASAP?

Send in your thoughts and comments to sgbruckner@aol.com and I will post them on the Discussion Page for everyone to share and enjoy. See what has come in so far. If you see an old topic you want to respond to, go right ahead. We enjoy hearing from you.
REMEMBERING RICHARD BIGGS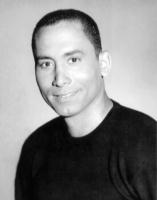 For those of you just coming to the site for the first time, this may be a shock, but Richard Biggs, the wonderful Dr. Stephen Franklin on Babylon 5, died on May 24 of an brain anyerism. There are many efforts underway to help with his two small children. Be sure to go to the Richard Biggs Memorial Page for more information. Below are efforts by folks like Jason Carter.

BIGGS AND CARTER EXPERIENCES DVD
Copies of the BIGGS AND CARTER EXPERIENCES DVD are no available at http://www.pipetap.com/dvd.htm. All proceeds from the sale of this DVD (which includes a personalized autograph from Jason Carter) will be donated to the RJ & Hunter Biggs Educational Trust Fund.

Additional items have been donated to the fund raising efforts, please visit http://www.biggsandcarter.com for new additions.

Jason and Donna would also like to thank everyone for their support and donations for the RJ & Hunter Biggs Educational Trust Fund at this year's DragonCon event.
REMEMBERING TIM CHOATE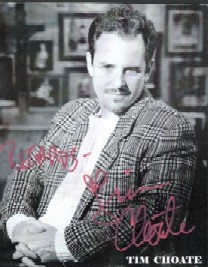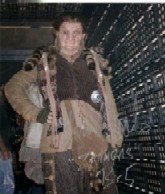 Tim Choate, the wonderful Zathras on Babylon 5, was killed when he was struck by a car while going to a play rehearsal on his motorcycle. A memorial fund has been set up in lieu of flowers for Tim. The address for the memorial fund is:

The Tim Choate Memorial Fund
P.O. Box 861355
Los Angeles, CA 90086

Proceeds will be placed in an educational trust for Flynn, who is 4 years old.
KEEPING UP WITH CAST AND CREW
BILL MUMY: Bill's band, The Jenerators performed their last gig of the year last night at Rusty's Surf Ranch in Santa Monica. Bill has a new CD coming out in January. Stay tuned for more information.
---
PETER WOODWARD: Along with Peter's ALEXANDER THE GREAT special that begins on the History Channel today, Peter appeared in an episode of CHARMED, playing a demon named Aku in the episode "Someone to Witch Over Me" on October 31st. This is his second appearance in CHARMED - this time, we could recognize him rather than have his whole face made over in green!
---
MIRA FURLAN: Mira Furlan has been cast as a recurring character on LOST named Danielle Rousseau. Her first episode will be "Solitary" which will probably air on November 17th.
"Disi duboko" ("Take a Deep Breath") the film that Mira Furlan shot in Belgrade during the summer of 2003 is going to be aired at the Serbian Film Festival in Sydney, Melbourne & Perth, Australia. For more information, go to http://www.serbianfilmfestival.org.au/.
---
SPECIAL CAST ACTIVITIES: To learn more about what cast members are doing away from the tube, go to CAST ACTIVITIES page.
---
BABYLON 5 BIRTHDAYS
Robert Foxworth - November 1
John Vickery - November 4
Damian London - November 12
Tracy Scoggins - November 13
Mackenzie Gray - November 22
Dwight Schultz - November 24
Louise Turenne - November 26
Efrem Zimbalist, Jr. - November 30

Have I missed anyone? If you know the birthday of someone connected with Babylon 5, pass the information along. We want to include everyone in our Happy Birthday Wishes.
STARGATE SG-1 - SEASON 7 AVAILABLE NOW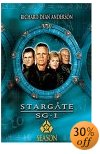 Some of the DVD Features:
22 episodes on five discs: Fallen, Homecoming, Fragile Balance, Orpheus, Revisions, Lifeboat, Enemy Mine, Space Race, Avenger 2.0, Birthright, Evolution Part 1, Evolution Part 2, Grace, Heroes Part 1, Heroes Part 2, Fallout, Death Knell, Resurrection, Chimera, Inauguration, Lost City Part 1, Lost City Part 2

Commentaries for each episode by the directors, cast, and crew
SG-1 Director's Series featurettes: Fragile Balance, Space Race, Avenger 2.0, Death Knell, Lost City
SG-1 Beyond the Gate featurettes: Michael Shanks, Christopher Judge, Richard Dean Anderson, Amanda Tapping
Photo galleries
Fan club spot
Limited-time offer: bonus disc with two featurettes related to the new series Stargate Atlantis




SCIENCE FICTION PUBLICATIONS

StarLog: The current issue of STARLOG has a great feature about the latest FARSCAPE: PEACEKEEPER WARS. You'll also find a wonderful article on Richard Biggs -- our beloved Dr. Stephen Franklin. There are some great pictures as well.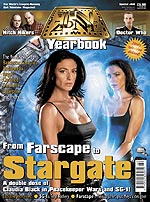 TV Zone Special #60: Claudia Black talks about returning to FARSCAPE -- and her guest role in Season 8 of STARGATE SG-1. The Year in TV Zone -- Extensive 12-page review of the highs and lows from the world of Cult Television, looking back on the past year of TV Zone…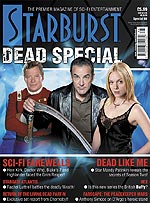 Starburst Special #66: In this issue, Mandy Patinkin talks about his role as Rube, the leader of the somewhat- less-than-grim band of Reapers from DEAD LIKE ME. Neil Gaiman, author of the SANDMAN stories turns director and talks about bringing his newest project, Death – The High Cost of Living to the big screen. And more from the land of the living, Atlantis star Rachel Luttrell tells us about developing her role as a feisty freedom fighter battling vampiric creatures in the new series.
Cult Times #110: CHARMED Executive Producer Brad Kern previews some of the twists and turns on Season Seven. Also in this issue, James Callis looks at taking on the role of arch-traitor Dr Gaius Baltar made famous by John Colicos in the original BATTLESTAR GALACTICA. Navy NCIS Producer/Creator Donald P Bellisario explains how his new show differs from the successful JAG, what the real NCIS does, and why he still loves his old show Quantum Leap.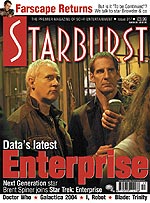 Starburst #317: BATTLESTAR GALACTICA's Cylon Tricia Helfer talks about becoming Number Six in the new Sci-Fi series. DEAD LIKE ME's Laura Harris talks to us about life and life-after-life as the dead attractive Daisy Adair in this hit series and STAR TREK's George Takei talks about the recent reunion with the original cast. Also included, Claudia Black is back as Aeryn Sun in The Peacekeeper Wars, in the form of a two part epic.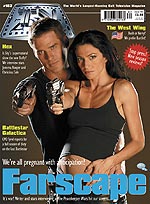 TV Zone #182: FARSCAPE: PEACEKEEPER WARS: Producer David Kemper talks about the mini-series and that the story's just beginning… DOCTOR WHO: See a photo report on the making of the new series, with exclusive pictures! This issue, the Doctor and companion Rose pop back to Victorian times and meet Charles Dickens – played by none other than Über-thesp Simon Callow…






Expose #89: CHARMED star Rose McGowan gives us an in-depth insight into battling Evil in a tiny mini-skirt, where a red-headed witch's Achilles Heel is her blood sugar levels. She tells us why, despite her love of change, she'll be sticking with Charmed into Season Eight. THE DEAD ZONE Producer Lloyd Segan looks back on the latest runs of the psychic drama, from the unexpected 'summer seven' of the second season through to the postponed finale of Season 3.
Dreamwatch USA #4: The U.S. edition: This month you will find interviews with Tru Calling star Eliza Dushku, taking a look at the sequel to The Mask, Son of The Mask, and stepping aboard the final Stargate SG-1 mission of season eight! Plus, all the latest from your favorite TV shows!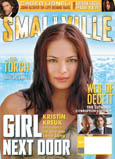 Smallville Issue #3: In Smallville Magazine this month we are joined by everyone's favorite girl next door, Lana Lang! Actress Kristin Kreuk will be telling us all about life, love, and Smallville. In the latest edition of The Torch we'll be keeping you up-to-date with the most up-to-the-minute Smallville news. We'll be unearthing the dark secrets of LuthorCorp and John Glover reveals how Lionel Luthor is coping with life behind bars! Plus there's a free, gorgeous Lana Lang poster! (Titan) (CAUT: 4)
NEWSSTAND COVER..........$5.99
PREVIEWS EXCLUSIVE COVER..........$5.99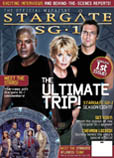 Stargate Issue #1: This is the launch of Stargate SG-1 the official magazine! Follow the missions, exploits, and adventures of the U.S. Air Force special operations team SG-1. In the first issue we'll have exclusive interviews with cast and crew, tour the set, and learn the secrets behind the special effects! Plus, get the inside story on Season 8 and meet the Stargate: Atlantis team! (Titan) (CAUT: 4)
Magazine, 68pgs, FC..........$6.99
---
BABYLON 5 MERCHANDISE
Are you looking for Babylon 5 merchandise? Would you like to possess some of the wonderful patches or pins sold by the B5 Fan Club? Do you want to put in an order for the latest DVD? Bruce at Uncomyn Gifts still has one of the best collections around. Check out www.uncomyngifts.com. You may just find the magazine or t-shirt or patch you are looking for.
---
BABYLON 5 INTERVIEWS ON VIDEO
Ranger Mark was Dragon-Con's OFFICIAL videographer for 1998 and 1999. He has pulled together a series of interviews from various conventions over the past 10 years available and they are now available on e-bay. This includes footage from Dragon-Con with Peter Jurasik hosting the Dawn Look a Like Contest , and 2 panels of the B5ers, one all women the other the men. There is now a 2-hour tape devoted to BABYLON 5 cast members, including two interviews with the late Richard Biggs.

Mark's Ebay page is http://stores.ebay.com/markscelebrityinterviews and his text page is http://members.tripod.com/cosmicmc/. If you are interested, drop over and give this a look-see.

For those of us who have enjoyed going to DragonCon over the last few years, these tapes will be especially enjoyable. They will bring back memories -- that can be shared.
---
BABYLON 5 NOVELS
DelRey is reprinting the original Babylon 5 novels. They started with #7 - Jeanne Cavelos' THE SHADOW WITHIN. Here's one I've been waiting for -- Kathryn Drennan's TO DREAM IN THE CITY OF SORROWS. The release date is scheduled for July 29, 2003. I love the new cover art! It can be pre-ordered from www.amazon.com. For those of you who love Babylon 5, this one reads just like an episode from the series. You just can't put it down.



JMS COMIC BOOKS: For a listing of current comic books written by J. Michael Straczynski, go to COMIC BOOK page. There is a brief synopsis of the book and a date when publication is expected.
JMS RADIO DRAMAS: CITY OF DREAMS
For those of you who have just joined us here at The Zocalo Today, you may want to check out The City of Dreams over at the SciFi Channel website. J. Michael Straczynski, the creator of Babylon 5, worked with Seeing Ear Theatre at SciFi to bring an exclusive, all-new audio drama anthology series featuring tales of dreamers, madmen and fanatics. If you haven't listened to the stories, you'll not want to miss them. If you haven't listened in a while, you will want to go back and listen again.
BOOK REVIEWS
Here is a new feature for your enjoyment. I received some new book reviews that I've posted on a separate Book Review Page. Let me know if you enjoy this new feature -- and we'll continue to offer them as they are received. Agree with the review? Disagree? We can post those as well.

Other science fiction material, outside of the B5 environment can be found on the Materials Page.
TV SCHEDULE ON SCIFI CHANNEL
STARGATE SCHEDULE: 11/15/2004 06:00 PM STARGATE SG-1 NEW GROUND
11/15/2004 07:00 PM STARGATE SG-1 (SEASON 6) NIGHTWALKER
11/15/2004 08:00 PM STARGATE SG-1 (SEASON 6) FROZEN
11/15/2004 09:00 PM STARGATE SG-1 (SEASON 6) SHADOW PLAY
11/15/2004 10:00 PM STARGATE SG-1 (SEASON 6) THE OTHER GUYS
11/16/2004 06:00 PM STARGATE SG-1 MATERNAL INSTINCT
11/17/2004 06:00 PM STARGATE SG-1 CRYSTAL SKULL
11/18/2004 06:00 PM STARGATE SG-1 NEMESIS
11/19/2004 06:00 PM STARGATE SG-1 SMALL VICTORIES
11/19/2004 08:00 PM STARGATE SG-1 THE BROCA DIVIDE
11/19/2004 09:00 PM STARGATE SG-1 (SEASON 8) END GAME
11/19/2004 10:00 PM STARGATE ATLANTIS THE STORM
11/19/2004 11:00 PM STARGATE SG-1 (SEASON 8) END GAME
11/19/2004 12:00 AM STARGATE ATLANTIS THE STORM
11/22/2004 06:00 PM STARGATE SG-1 THE OTHER SIDE
11/22/2004 07:00 PM STARGATE SG-1 (SEASON 6) ALLEGIANCE
11/22/2004 08:00 PM STARGATE SG-1 (SEASON 6) THE CURE
11/22/2004 09:00 PM STARGATE SG-1 (SEASON 6) PROMETHEUS - PT 1
11/22/2004 10:00 PM STARGATE SG-1 (SEASON 6) UNNATURAL SELECTION - PT 2
11/23/2004 06:00 PM STARGATE SG-1 UPGRADES
11/24/2004 06:00 PM STARGATE SG-1 CROSSROADS
11/29/2004 06:00 PM STARGATE SG-1 DIVIDE AND CONQUER
11/29/2004 07:00 PM STARGATE SG-1 (SEASON 6) SIGHT UNSEEN
11/29/2004 08:00 PM STARGATE SG-1 (SEASON 6) SMOKE AND MIRRORS
11/29/2004 09:00 PM STARGATE SG-1 (SEASON 6) PARADISE LOST
11/29/2004 10:00 PM STARGATE SG-1 (SEASON 6) METAMORPHOSIS
11/30/2004 06:00 PM STARGATE SG-1 WINDOW OF OPPORTUNITY

FARSCAPE SCHEDULE:

11/14/2004 01:00 AM FARSCAPE LOOK AT THE PRINCESS PT 1: A KISS IS BUT A KISS
11/18/2004 03:00 AM FARSCAPE THEY'VE GOT A SECRET
11/18/2004 04:00 AM FARSCAPE TILL THE BLOOD RUNS CLEAR
11/18/2004 05:00 AM FARSCAPE A BUG'S LIFE
11/21/2004 01:00 AM FARSCAPE LOOK AT THE PRINCESS PT 2: I DO, I THINK
11/28/2004 01:00 AM FARSCAPE LOOK AT THE PRINCESS PT 3: THE MALTESE CRICHTON
BABYLON 5/CRUSADE PHOTOSHOP PHOTOS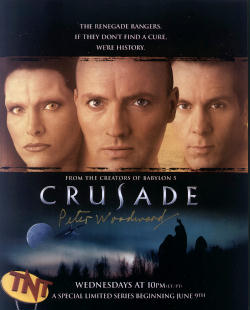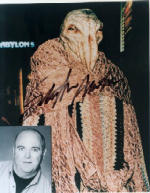 You do NOT have to pay the prices asked for over at e-bay! Here are photos of B5 and Crusade cast members at fantastic prices. Check out Photo Shop. Ordering is easy -- and you can't beat the prices! Just let me know which photos you want and I'll check to make sure they are still in stock.
---
BABYLON 5 TOONS
John Cook has a wonderful collection of cartoons -- many are take-offs from Babylon 5. Here's just one of them.

He has a cartoon caption contest going on as well. Try your hand at a punch line.

Go to http://contests.sev.com.au/index.php?contestid=1




SCI-FI CARTOONS
While catching up on my e-mail yesterday morning, I got an instant message from LFMOA along with a nice goodie that I can share with readers. Thanks for sending along your version of Pinky and the B5 Brain.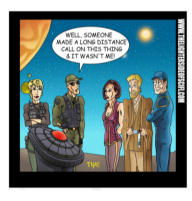 Tye Bourdony's latest Lighter Side of Sci-Fi satire can be seen here and at Tye's website www.thelightersideofscifi.com.








CONVENTION CALENDAR
November 19-21, 2004
Vulkon
Place: Orlando North Hilton
Altamonte Springs, FL
B5 Guest: Peter Jurasik, Malachi Throne (Centauri Prime Minister)
Other Guests: Leonard Nimoy, Don S. Davis, Gary Lockwood, Keir Dullea
For more information, visit their website at http://www.vulkon.com/orlandoscifi2004/.
---

November 19-21, 2004
Best of Both Worlds 23
Place: The Chifley On Northbourne, Canberra, Australia
Guests: LOTR - Bruce Hopkins, David Weatherley, Brett Beattie, Jed Brophy, Stephen Ure, John Howe, Ben Wootten
For more information, contact alc@bobw.com.au or visit http://www.bobw.com.au/.
---
November 26-28, 2004
Slanted Fedora
Place: Indianapolis, IN
Site: Indianapolis Omni North
B5 Guests: Mary Kay Adams
Other Guests: Garrett Wang, Robin Curtis, Robert O'Reilly, J.G. Hertzler, Max Grodenchik, Dwight Schultz, Aron Eisenberg, Casey Biggs, Tony Amendola, Julie Benz, Greg Evigan, Dee Wallace Stone
For more information, visit their website at http://sfedora.com/rochester,_ny.htm.
---

February 18-20, 2005
VisionCon 2005
Place: Springfield, Missouri
B5 Guest: Mira Furlan
For more information, visit their website at http://www.visioncon.net/Welcome.htm.
---

Be sure to visit the referenced sites to see if there have been changes in dates/guests attending. Visit our Convention Calendar for a full listing of upcoming conventions.
MAIL FOR CAST AND CREW
Here's a recent note from JMS on the subject:

Just an FYI to those who've been using the Ventura Blvd. mail drop for fan mail to actors....

As mentioned before, we're phasing out the forwarding of fan mail because we a) don't have the resources, complicated by b) the actors have scattered to the four winds, and it makes it very difficult to get everything to everybody in a timely fashion.

So, having provided prior notice...fan mail to actors coming to the Ventura Blvd. mail drop will be sent back. Mail to actors should be sent via their official fan clubs. I will still be taking mail there, since it's my mailbox, but that's it.

Just so's y'all know and save a few bucks on postage and returns.

WARNER BROS:

Warner Bros. Address:

Warner Bros. Domestic Television Distribution
4000 Warner Blvd.
Burbank, CA 91522

Warner Home Video:

Mr. Douglas Wadleigh
VP for Marketing and Special Features
Warner Bros.
4000 Warner Blvd.
Burbank, CA 91522
BACK ISSUES OF THE ZOCALO TODAY
The front page of the The Zocalo Today changes daily, so be sure to check the back issues to make sure that you haven't missed anything IMPORTANT! I don't want the front page getting too long so I shift information periodically into the archives. So if you aren't a regular visitor to The Zocalo Today, be sure to check out the back issues. Just use the button above!
---
Take care and I look forward to hearing from you.
Sandra Bruckner (sgbruckner@aol.com)
Editor/Publisher
The Zocalo Today
http://www.isnnews.net
Copyright - SBruckner, 1999-2004