[an error occurred while processing this directive]

The Zocalo Today

Welcome and thank you for dropping by. Take your shoes off, get comfortable and stay a while. There is a LOT of information here and you won't want to miss any of it.

The Zocalo Today is an interactive newsletter, encouraging readers to join a discussion topic or to send along letters that can be shared with other readers.

If you have suggestions as to how The Zocalo can be improved -- or be more responsive -- send them along. The Zocalo Today is a newsletter for Babylon 5 fans everywhere. It is as much YOUR newsletter as it is mine! I'm just pulling together things for you!

Join our discussion topic. It is just one way you can share with other Z readers. If you see Babylon 5 cast and crew in other roles, let us know. We enjoy convention reports, photos, etc. Don't miss our back issues. I hope this will become more than just a newsletter. It's a community of people that enjoy sharing their experiences and interests. Babylon 5 brought many of us together -- and it remains with us, despite the fact that is no longer in production. Don't be shy. Join us today!

If you have questions, drop me a line at sgbruckner@aol.com. If you would like to join the mailing list for our newsletter, send me a note and I'll include you on the list. Or you can use the subscription block at the left.

Again, WELCOME!




What's New Today
Friday, November 14: TOP SF DVD SALES:
1. The Two Towers extended edition
2. Finding Nemo
3. Pirates of the Caribbean
4. Adventures of Indiana Jones
5. T3: Rise of the Machines
6. The Matrix Reloaded
7. Looney Tunes golden collection
8. Lion King platinum edition
9. X2
10. Buffy season five
Source: Amazon.com, top-selling genre DVDs, 11/10/03
---
HARRY POTTER: A new trailer for the upcoming HARRY POTTER AND THE PRISONER OF AZKABAN is now available at the official website, http://harrypotter.warnerbros.com/web/dailyprophet/article.jsp?id=POA_Teaser_trailer. The movie is set to open June 4, 2004.
---
LORD OF THE RINGS: Commuters in New York City are in for a treat. On November 18, in celebration of the DVD and VHS release of the special extended edition of THE LORD OF THE RINGS: THE TWO TOWERS, the Times Square-Grand Central Shuttle will be transformed into the "Middle-earth Shuttle," with Rings creatures, vines, moss and stones, from 11:30 a.m.-1:30 p.m. There will also be a Middle-earth-themed subway station, with Gollum and 12-foot-high Ents.
---
5 DAYS TO MIDNIGHT: According to The Hollywood Reporter, Michael Caton-Jones has dropped out as director of an upcoming Sci Fi Channel miniseries just days after signing on because of personal reasons. A new helmer is being sought for the five-hour thriller that is to begin production in Vancouver next month. The miniseries will air over consecutive nights in second-quarter 2004. The network is expected to name a replacement shortly without disrupting production.
---
SPACE GHOST: William Shatner appears on Cartoon Network's longest running original series, SPACE GHOST COAST TO COAST, on Sunday, Dec. 7, at 11:30 (ET/PT). In the episode, titled "In Memory of Elizabeth Reed," Space Ghost is called away from his interview with Shatner to let the heating and air/conditioning technician into Zorak's apartment. An epic space battle ensues. Meanwhile, Zorak and Moltar continue to interview the man who played Captain Kirk.
---
INSIDE SCI-FI THIS WEEK:
Thursday, November 13:
RATINGS: TOP 10 SYNDICATED SHOWS:
Stargate SG-1 2.3
Andromeda 2.2
Mutant X 2.1
She Spies 2.0
Beastmaster 1.6
The X-Files 1.6
3rd Rock 1.5
Angel 1.4
Buffy 1.4
John Edward 1.1
Source: Nielsen Galaxy Report, 10/13/03 - 10/19/03
---
KECKSBURG UPDATE: On November 21, the SCIFI Channel will air an updated documentary special on the alleged UFO crash in Kecksburg, Pa. KECKSBURG UFO: NEW EVIDENCE will include exclusive new footage as well as the results of an online SCIFI.COM poll. The documentary examines the Dec. 9, 1965, crash of an unidentified object near Kecksburg, Pa. The special features new witness accounts and information from 36 pages of NASA documents released in response to the first Kecksburg special, which aired in October and called for complete disclosure from the government. The documents have never been seen on TV before. In the poll, visitors to SCIFI.COM will be able to express their opinions on a wide range of issues surrounding the Kecksburg crash and UFOs in general.
---
APOCALYPSE AT NBC: Variety reports that NBC is partnering with writer David Seltzer (The Omen) and producer Gavin Polone to develop a six-to-eight-hour limited series based on the apocalypse as foretold in the Book of Revelation. NBC hopes to roll out the series right after its broadcast of the Athens Olympics in late August, airing an hour a week as an event designed to create momentum for the fall season, the trade paper reported. The series will follow two central characters, a physicist and a nun, who are racing against the clock to see if the apocalypse can be averted. The series is as yet untitled.
---
POLAR EXPRESS: Over at http://www.apple.com/trailers/wb/the_polar_express/ you will be able to catch your first glimpse of Robert Zemeckis' THE POLAR EXPRESS. The fantasy epic, based on the popular childrens book by Chris Van Allsburg, won't be in theaters until holiday season next year due to the elaborate and time consuming post-production schedule required. Star Tom Hanks and his castmates have been motion captured by director Zemeckis, allowing computer artists to recreate and manipulate his likeness so the Oscar-winning actor can play a variety of roles in the picture. The POLAR EXPRESS trailer will run in front of LOONEY TUNES: BACK IN ACTION which opens this Friday in theaters.
---
FARSCAPE: Over at DarkHorizons.com there is a delicious rumor about the resurrection of FARSCAPE. According to the report, FARSCAPE is back in production -- but set to wrap in 4-6 new episodes with the usual crew, cast and producers. You can read the account of their try to confirm the rumor, but nothing. Over at SyFyPortal.com there is a report that indicates there was to be a press conference today (Nov. 13) with "Farscape" creator Rockne S. O'Bannon on the future of the now-cancelled "Farscape" series. The Save Farscape Campaign has announced that the press conference has been "postponed indefinitely." Guess we'll have to wait along with everyone else to see when/if SCIFI will make an announcement.
---
SMALLVILLE: It looks as if Lex is all wrapped up in next week's SMALLVILLE episode entitled "Shattered". Here's how the network describes the episode: "Lex (Michael Rosenbaum) locates Morgan Edge (Patrick Bergin) and gets him to admit to dirty dealings with Lionel (John Glover), but before Lex can take it to the authorities, someone tries to kill him at the mansion. Barely surviving, Lex flees and asks Clark (Tom Welling) for help. However, when Clark returns to the mansion to investigate he finds nothing amiss, and begins to wonder if it really happened, especially after Lionel announces Lex has had a psychotic break and must be institutionalized." The episode was written and directed by Ken Biller.
---
BIBLIONAUTS: According to Variety, Walden Media has teamed with Angry Films to bring the upcoming comic book series BIBLIONAUTS to the big-screen. Adam Mortimer created the property, which has yet to be published. Don Murphy (LXG) and Susan Montford will produce Biblionauts, which they reportedly hope to turn into a major franchise. Variety says Biblionauts "follows two kids who stumble upon a device invented by an eccentric scientist that enables them to be transported into great works of fiction. The kids embark on a series of spectacular adventures only to realize that someone is changing the outcome of classic books and altering real world history."
---
Wednesday, November 12: BEST SELLING SF BOOKS:
1. The Da Vinci Code
2. Wolves of the Calla
3. Angels & Demons
4. Eragon (Inheritance, Book 1)
5. Harry Potter and the Order of the Phoenix
6. The Slippery Slope (Lemony Snicket)
7. Unifying Force (New Jedi Order 19)
8. Alice's Adventures in Wonderland Pop-up
9. Cat in the Hat
10. The Time Traveler's Wife
Source: Amazon.com, 11/10/03
---
DARK SHADOWS: Remember the ABC vampire classic DARK SHADOWS with Barnabus Collins? Variety reports that The WB has ordered a pilot for a new incarnation of the series. Dan Curtis, the original series' producer, will team up with John Wells (The West Wing, ER) to executive produce the new SHADOWS. Warner Brothers TV and John Wells Productions will produce the pilot, aimed at a 2004-'05 prime-time drama slot. Co-executive producer of The WB's SMALLVILLE, Mark Verheiden (the Timecop TV pilot), is set to write the DARK SHADOWS script. In the original series (1966-71), Jonathan Frid portrayed Barnabus Collins. In the NBC miniseries in 1991, Ben Cross had the title role.
---
LORD OF THE RINGS: A number of select high schools and middle schools in New York, Washington, Chicago and San Francisco are set to join New Line Cinema in a creative writing contest leading up to the Dec. 17 release of THE LORD OF THE RINGS: THE RETURN OF THE KING. Anchored in New York by PENCIL (Public Education Needs Civic Involvement in Learning); by the Board of Education, Office of Language and Education, in Chicago; Turning the Page in Washington; and the San Francisco School Volunteers, the contest is designed not only to inspire reading and creative writing, but also to earn schools cash grants, books and early screenings of the film, the studio said. Children will be asked to write a 200-word essay on the theme of Gandalf's quote from THE LORD OF THE RINGS: THE FELLOWSHIP OF THE RING: "All you have to do is decide what to do with the time that is given to you." Five finalist essays will be chosen by contest organizers in each city, with New Line selecting one winner out of each group of five. Four grand-prize winners will receive promotional merchandising packages tied to the film, along with a private screening for the student's friends and family. The prizes for all schools that participate include a $10,000 grant per city, applied to the purchase of new books for the school library, as well as a complete set of the Lord of the Rings book series, tie-in guides donated by publisher Houghton Mifflin and screenings of the movie.
---
BOURNE SUPREMACY: Principal photography has begun on Universal Pictures' THE BOURNE SUPREMACY. Matt Damon, Brian Cox and Franka Potente are all returning in the sequel. New players Joan Allen, Karl Urban and Julia Stiles. The film is shooting on location in Germany, Russia and India and will be released sometime in 2004. Universal describes the plot for the film in this way: "THE BOURNE SUPREMACY re-enters the shadowy world of expert assassin Bourne (Damon), who continues to find himself plagued by splintered nightmares from his former life. The stakes are now even higher for the agent as he coolly maneuvers through the dangerous waters of international espionage-replete with CIA plots, turncoat agents and ever-shifting covert alliances-all the while hoping to find the truth behind his haunted memories and answers to his own fragmented past."
---
LEAGUE OF EXTRAORDINARY GENTLEMEN: If you purchase the X2 DVD on November 25, you'll receive an in-pack coupon to take $3 off a purchase of the LEAGUE OF EXTRAORDINARY GENTLEMEN DVD -- due out on December 16. The two-disc set showcases English 5.1 DTS, English 5.1 Dolby Digital, French Dolby Surround and Spanish Dolby Surround sound and is available in either Widescreen (aspect ratio 2:35:1) or Pan & Scan (aspect ratio 1:33:1), each presented in silver and gold amaray packaging, respectively. Both versions contain the following bonus features: Actor and Producer commentaries with Trevor Albert, Jason Flemyng and Tony Curran, a Visual Effects commentary by the Production Designer, Costume Designer, Make-up Effects, Visual Effects and the Miniatures Creators, a making of featurette, 12 deleted scenes, and more. The film was directed by Stephen Norrington, who also directed Blade. The cast includes Sean Connery as Allan Quartermain, Nasseruddin Shah as Captain Nemo, Pete Wilson as Mina Harker, Tony Curran as the Invisible Man, Stuart Townsend as Dorian Gray, Shane West as Tom Sawyer and Jason Flemyng as Dr. Jekyll. Suggested retail price will be $27.98.
---
GOONIES SEQUEL: Director Richard Donner and Steven Spielberg have purchased a sequel script for the 1985 classic GOONIES. "We're trying desperately," Donner told MTV. "We're just trying to get Warner Bros., who owns it, to say yes." The sequel would reunite the original cast, which included Sean Astin, Corey Feldman, Josh Brolin and others, with a new bunch of suburban kids, Donner said. "The new group is called the Groonies, because they happen to live in a town where [Data], the Chinese kid, lives ... and he's got an electronics repair shop and all the kids hang out at his shop. He has this Chinese accent and he calls the Goonies the Groonies, and so the new kids call themselves the Groonies, until they get into a situation where the old Goonies have to save the new Groonies, or vice versa."
---
ALIAS: Canadian director David Cronenberg will appear at the end of the month on ALIAS. The five-time Genie winner will play an eccentric doctor who tries to help Sydney Bristow (Jennifer Garner) regain the two year's of memories she lost in last year's season finale in an invasive and potentially dangerous procedure. The episode airs November 30.
---
Tuesday, November 11:
RATINGS: Top 10 SCIFI Channel Shows:
Shark Attack 3 1.4
Stargate SG-1 1.4
Shark Hunter 1.4
Tremors: The Series 1.2
Riverworld 1.1
Blood Surf 1.0
Shark Attack 2 1.0
Total Recall 0.9
Escape From Atlantis 0.8
Taken: Part 4 0.8
Source: Nielsen Galaxy Report, 10/13/03 - 10/19/03
---
DAVE THE BARBARIAN: Here's a show you may be able to enjoy with your children! According to the Hollywood Reporter, the Disney Channel has greenlighted "Disney's Dave the Barbarian," a new comedy series from Walt Disney Animation, for a January premiere. Set in the Middle Ages, "Dave" follows the family of a gentle strongman whose brute strength is matched only by his interest in cultural activities like origami and gourmet cooking. Each of the 21 episodes, which will run several times in either afternoon or primetime between Friday and Sunday, are split into two 11-minute cartoons. "Dave" was created by Doug Langdale, whose credits include "Disney's The Weekenders." The series will be directed by Howy Parkins ("Disney's Recess"). Danny Cooksey ("Disney's Pepper Ann") will provide the voice for the title character. Recurring voice cast members will include Joan and Melissa Rivers and Metallica musicians James Hetfield and Lars Ulrich.
---

ANDREA THOMPSON: B5's Talia Winter will be featured in tonight's 24 episode. See "What's On Tonight" and "Keeping Up With Cast and Crew" for more information.
---
HELLBOY: Frasier star David Hyde Pierce will voice the character of Abe Sapien in the upcoming HELLBOY comic book adaptation from writer/director Guillermo del Toro. Doug Jones performed the part of Abe on the set, but the voice you will hear will come from Pierce. You will get a first glimpse of HELLBOY as a trailer in theaters with THE MISSING, opens on April 2. HELLBOY (Ron Perlman) was born in the flames of hell, and brought to our world in a pagan ritual. Saved by his friend and mentor, the benevolent Dr. Broom (John Hurt and raised in Broom's Bureau for Paranormal Research and Defense, Hellboy joins the likes of the "Mer-Man" Abe Sapien, Liz Sherman (Selma Blair), the woman he loves who can psychically control fire, and Myers, the FBI agent who is his rival for Liz's affections. Together, our heroes must come to terms with fantastic powers that prove to be both a blessing and a curse. In the process they discover that their abilities serve to benefit mankind but may also keep them forever isolated from the society that only they can protect.
---
THE BLACK DAHLIA: Josh Hartnett is in talks for THE BLACK DAHLIA, an adaptation of James Ellroy's classic novel which Brian De Palma will direct. The film, written by Josh Friedman, is a fictional account of the notorious murder in 1947 of an actress in Los Angeles and the investigation into the case. The mystery begins in the late 1940s when the body of Elizabeth Short is discovered in a vacant lot with evidence she had been tortured for several days before dying. Two L.A.P.D. cops become obsessed with the victim. De Palma replaces David Fincher who was long attached to direct but dropped out earlier this year.
---
LORD OF THE RINGS: Christopher Lee fans may be a bit upset to hear that we will not be seeing his character in the upcoming LORD OF THE RINGS feature. Director Peter Jackson recently confirmed to Ain't It Cool News that Lee will not reprise the role of Saruman in "The Lord of the Rings: Return of the King." "We have decided to save the Saruman sequence for the DVD," Jackson said. "The problem is that the sequence was originally shot for 'The Two Towers,' as it is in the book. Since 'The Two Twowers' couldn't sustain a seven-minute wrap after Helm's Deep, we thought it would be a good idea to save it for the beginning of 'The Return of the King.' "The trouble is, when we viewed various ROTK cuts over the last few weeks, it feels like the first scenes are wrapping last year's movie, instead of starting the new one. We felt it got ROTK off to an uncertain beginning, since Saruman plays no role in the events of ROTK." "The choice was made on the basis that most people will assume that Saruman was vanquished by the Helm's Deep events and Ent attack," Jackson said. "We can now crack straight into setting up the narrative tension of ROTK, which features Sauron as the villain." THE LORD OF THE RINGS: RETURN OF THE KING is set to open December 17.
---
Monday, November 10: WEEKEND BOX OFFICE: To no one's surprise, MATRIX REVOLUTIONS took over the #1 spot at the box office this weekend. The final installment in the Wachowski brothers sci-fi franchise brought in just over $50 million dollars according to studio estimates. In the five days since the movie's release REVOLUTIONS has earned $85 M and is performing worse than its predecessor, THE MATRIX RELOADED. Still, the creators of nearly every other movie would kill to have a "disappointing" $50 M opening weekend, wouldn't they? REVOLUTIONS will likely not make the same bank that RELOADED did (which was just a hair under $280 M domestic) but it will still be a profitable venture for all involved. New Line Cinema's ELF had a great opening, grossing $32 M and proving that former SATURDAY NIGHT LIVE comedian Will Ferrell can open a picture. In its second week of release, Disney's BROTHER BEAR is performing fantastically. This kind of result may be enough to convince Disney suits to not give up on traditional animated movies just yet. SCARY MOVIE 3 dropped from #1 to #4 overall with the $100 M line within sight. The week's other new release, the romantic holiday comedy LOVE ACTUALLY, only netted $6.6 M but may pick up steam as the Christmas season draws closer. KILL BILL VOLUME 1 fell out of the top ten and is at the eleventh spot with $64.8 M overall. Here are the overall numbers:
1. THE MATRIX REVOLUTIONS $50,155,000 $85,470,000
2. ELF $32,100,000 $32,100,000
3. BROTHER BEAR $18,600,000 $44,100,000
4. SCARY MOVIE 3 $11,105,000 $93,351,000
5. RADIO $7,400,000 $36,300,000
6. LOVE ACTUALLY $6,612,000 $6,612,000
7. MYSTIC RIVER $4,825,000 $40,474,000
8. RUNAWAY JURY $4,800,000 $40,125,000
9. THE TEXAS CHAINSAW MASSACRE $4,800,000 $73,222,000
10. SCHOOL OF ROCK $3,150,000 $73,595,000
---
MATRIX REVOLUTIONS: This movie did something quite different, it open at the exact moment in time in every major city around the world on November 5th. In Los Angeles the film will screen at 6 a.m., in New York at 9 a.m., London 2 p.m., Moscow 5 p.m., Tokyo 11 p.m. and at corresponding times in over 50 additional countries worldwide. Among the many people at the premiere -- our own J. Michael Straczynski.
---
SPIDER-MAN 2: Peter David reports that he has just turned in the manuscript for the novelization of SPIDER-MAN 2: IN ARM'S WAY. He sayd this isn't actually the title and the project was delayed by last minute script changes. He writes, "However, unlike previous occasions on other novelizations where 11th Hour alterations came in, these were all improvements. Several lengthy and frankly painful speeches went away, and the climactic Spidey/Doc Ock face-off plays far more smoothly. So although they took time to do, it's the sort of changes I really don't mind making."
---
Sunday, November 9:
JEREMIAH: Did find a comment from JMS on JEREMIAH's departure from Showtime's current schedule. Check it out below. I'm hoping we'll see the show return in January.
---
JEREMIAH NEWS: SEAN ASTIN SPEAKS OUT: Just received a Press Release with Sean Astin talking about the fan reaction to JEREMIAH being pulled from Showtime's schedule. It's a bit long, but I thought people would want to read all of it, rather than a portion.
---
SUPERMAN: Warner Home Video will release SUPERMAN: THE LAST SON OF KRYPTON, the three-part episode that kicked off Kids' WB!'s Superman animated series, on Feb. 4. Voice talent includes Tim Daly as Superman, Dana Delany as Lois Lane and Clancy Brown as Lex Luthor. Directors include Curt Geda, Scott Jeralds, Dan Riba and Bruce Timm. The DVD will have a suggested price of $14.98.
---
E-MAIL NEWSLETTER: I put out another edition of the Zocalo e-mail newsletter yesterday. If you didn't get a copy and want one, let me know. I'll make sure you are on the mailing list.
---
Saturday, November 8:
JEREMIAH: Over at Cinescape.com, you'll find a front-page article on JEREMIAH, indicating that Showtime is calling last night's episodes the "season finale", after airing only 7 of the 15 episodes ordered -- and produced. When will you see those yet unaired episodes? Only Showtime will be able to tell us. Showtime doesn't release viewer numbers but multiple tracking services have confirmed that the ratings for the long-delayed second season have increased with each new episode and are higher than those for the first season. See details below for adding your voice to tell Showtime you support JEREMIAH and want to see the rest of season two.
---
RATINGS: Top SF Network Shows:
Joan of Arcadia 7.2
Alias 5.7
Smallville 4.4
Angel 3.6
Charmed 3.3
Star Trek Enterprise 2.9
Tarzan 2.7
Jake 2.0 1.8
Source: Nielsen Galaxy Report, 10/6/03 - 10/12/03.
---
RIDING THE BULLET: Production starts this month in Vancouver on the film adaptation of Stephen King's RIDING THE BULLET. Jonathan Jackson, David Arquette, Barbara Hershey and Erika Christensen will head the cast to be helmed by writer-director Mick Garris (The Stand). The story takes place on Halloween in 1969, when college student Alan Parker (Jackson), distraught over a breakup with his girlfriend (Christensen), fails a suicide attempt and is then picked up by a mysterious driver (Arquette) while hitchhiking through rural Maine to visit his ailing mother (Hershey).
---
HARRY POTTER: A teaser trailer for the upcoming HARRY POTTER AND THE PRISONER OF AZKBAN will be attached to prints of LOONEY TUNES: BACK IN ACTION, on Nov. 14.
---
CSI: The Hollywood Reporter indicates that Thursday night's episode of CSI: CRIME SCENE INVESTIGATION propelled the network to a virtual tie for the night with NBC in the key adults 18-49 demo. "Friends" opened up the night for NBC with an average of 20.3 million viewers and 9.2 rating/25 share in adults 18-49, according to preliminary estimates from Nielsen Media Research. CBS' 8 p.m. entry "Survivor: Pearl Islands" (21.3 million, 8.0/21) had another strong night, topping "Friends" in viewers and running a solid second in adults 18-49. NBC's momentum slipped at 8:30 p.m. with a "Friends" rerun (18.2 million, 8.2/21) allowing the second half of "Survivor" to take the demo lead.
---
RETURN OF THE KING: Over at Dark Horizons you can get a glimpse of the awesome new poster for the upcoming LORD OF THE RINGS: RETURN OF THE KING.
---
PEACEMAKERS: USA has decided not to renew PEACEMAKERS starring Tom Berenger. The Western's 90-minute premiere on July 30 earned a 4.0 rating in USA homes (5.2 million viewers). However, a relatively small portion of that audience came from the key 18 to 49 group (1.4 million viewers), and the show's ratings ultimately petered off while continuing to draw the bulk of its audience from older demos. Guess this goes to show who counts and who doesn't! I liked this show.
---
WEEKEND MOVIE OFFERINGS: There is quite a range to choose from this weekend. The highly-anticipated conclusion of THE MATRIX series opened this week and has been setting records around the globe. Will Ferrell's ELF starts today. The ensemble romantic comedy LOVE ACTUALLY opens in select cities. For reviews, go to http://filmforce.ign.com/articles/458/458573p1.html or http://www.hollywood.com/movies/reviewsroundup/id/1732641.
---
WHAT'S ON TONIGHT
8:00pm on CBS
Joan of Arcadia
The Devil Made Me Do It
Joan Girardi (Amber Tamblyn) has a crisis of faith when God asks her to stop her friend Adam (Christopher Marquette) from entering his sculpture in a school fair without telling her why. Torn between hurting her friend and doing what God asked, she is unable to convince Adam and has a difficult time dealing with the outcome of her failure. Meanwhile, Will Girardi (Joe Mantegna) must choose whether or not to follow the mayor's lead and publicly declare a man who shot an intruder in his home a hero. Mary Steenburgen, Jason Ritter and Michael Welch round out the Girardi clan. 8:00pm on HBO
Star Wars: Episode II -- Attack of the Clones
Obi-Wan Kenobi and his apprentice protect the former queen. Directed by George Lucas. 10:00pm on ABC
"20/20" Christopher Reeve (Superman) recently had a device surgically implanted into his diaphragm muscles in order to be able to breathe without the help of a ventilator. He was only the third person in this country to undergo the experimental surgery. Did it work? Just watch him in his first public appearance to demonstrate his new power to Barbara Walters. You can see his spirit soar to new heights when he says, "the more and more that you can get some systems back, like the ability to breathe as normal, just makes you feel that you're moving forward." People who think that Reeve's wish to ever walk again will never be granted forget the Superman-like strength of the actor. On SCIFI Tonight:

6:00pm
Stargate SG-1
Wormhole X-Ttreme!
To monitor the alien, O'Neill becomes tech adviser to a new TV series.

7:00pm
Stargate SG-1
Enemy Mine
O'Neill and the crew investigate the Naquadah planet to discover it is inhabited by Unas. 8:00pm
Tremors: The Series
A Little Paranoia Among Friends
While investigating a Graboid sighting in Toluca, Burt tries to reason with paranoid townspeople. 9:00pm
Stargate SG-1
Avengers 2.0
A newly invented viral weapon backfires when Stargate Command uses it against the Goa'uld and Ba'al.
SEASON FOUR OF BABYLON 5
Warner Brothers have announced that January 6th, 2004 (Region 1) is the release date for Babylon 5: The Complete Fourth Season ("No Surrender, No Retreat"). There is no information at this time about when region 2 will be released. DESCRIPTION:
The future begins -- or ends -- here and now. Here is the huge space station Babylon 5. Now is the fateful year 2261. Commander John Sheridan has already declared the station free, breaking the ties between it and Earth Alliance. It was perhaps only a matter of time before he would have to fight to remain free. That time has come in this complete 22-episode fourth-season adventure presented on 6 discs and featuring an exciting array of Exclusive Extras. This six DVD set will include (preliminary listing):
Introduction to Babylon 5 - Season 4 by series creator J. Michael Straczynski
Two commentaries by series creator J. Michael Straczynski and another from director Mike Vejar
Commentary by cast members Bruce Boxleitner, Jerry Doyle, Peter Jurasik and Patricia Tallman
"Celestial Sounds" featurette about series composer Christopher Franke and the making of the series music
"No Surrender, No Retreat" DVD Suite, original music composed exclusively for the DVD
"The Universe of Babylon 5"
Personnel Files and Data Files
Gag Reel
Episode Previews
16x9 Anamorphic Widescreen
Dolby Surround 5.1 (English only)
Subtitles in English, French, and Spanish
Closed Captioned for the hearing impaired Pre-orders should be available soon.
BABYLON 5 SEASON THREE DVD - OUT NOW!
Season Three of Babylon 5 was released in the U.S. on August 12. It will be available in the UK beginning October 27. A review can be found over at http://www.imdb.com/Recommends/Rec2.html and the DVD series is on their recommended list. It was a featured item on http://www.imdb.com/. BABYLON 5: THE COMPLETE THIRD SEASON DVD Order Date: 7/15/03 Street Date: 8/12/03
Catalog #: 24243 WB Synopsis: The long-running Emmy Award-winning television series Babylon 5 takes place in the year 2257 A.D. on an immense spaces station floating in a stationary orbit in a neutral corner of a distant galaxy. Staffed by a crew of peaceful Earthmen and women, Babylon 5 serves as a non-political economic and social hub for the four alien races - the Narn, Centauri, Vorlon and Minbari - who fight to control the galaxy. Starring Bruce Boxleitner, Claudia Christian, Jerry Doyle, and Bill Mumy. Special Features and Specifications: o Six-disc DVD collector's set
o Introduction from series creator J. Michael Straczynski,
o Commentary on three key episodes by series creator and stars,
o"Behind the Mask: Creating the Aliens of Babylon 5" Documentary
o"Designing a Better Narn" Documentary
o"Designing Tomorrow: The Look of Babylon 5" Documentary
o Data and Personnel Files
o 16X19 Anamorphic Widescreen
o Dolby Digital 5.1
o English, French Spanish subtitles
o Running Time: 968 minutes For a look at Season Three, go to Season Three. Here you will find individual synopses of each episode and a graphic provided by Warner Bros.
GAG REEL
As with the other DVDs, there is a gag reel portion on the Season Three DVD as well. Ranger Mike sent along instructions on how to get there.

Babylon 5 Season 3 DVD Blooper Reel

The Season 3 "Gag Reel" is for real! It is actually an Easter Egg (a hidden component in the DVD) and is about three minutes long. There is a brief musical introduction and the segment mostly contains dialog goofs and other blunders the cast had.

To get to the Gag Reel, put in disc #6 and from the main menu:

* Select "The Universe Of Babylon 5"
* Select "Data Files"
* Cursor down Between the middle menu option "The Battle For Babylon 5" and the bottom menu option "The Universe Of Babylon 5". You should get a highlighted "5" logo to appear
* Press select to view the Gag Reel.
DISCUSSION TOPIC
In this crazy world we live in, it's always fun to share everyday items that make us think of Babylon 5. For example, there's a new book on shelves entitled BABYLON RISING by Tim Lahaye. What did you think of when you first saw the title? Send in your comments and observations to sgbruckner@aol.com and I'll post them on the Discussion Page for everyone to share.
KEEPING UP WITH CAST AND CREW
JASON CARTER: Jason appears in SHE SPIES episode, entitled "Love Kills" the week of November 10 (check your local listings). He portrays an assassin named Morgan Porter. ANDREA THOMPSON: A familiar face will be seen in tonight's episode of ER. Andrea Thompson will portray a technical specialist brought in by CTU to play a critical role in dealing with the viral threat.
---
ALEXANDER ZAHARA: Alex has been very busy since the close of LEGEND OF THE RANGERS. He turns up every so often on STARGATE or JEREMIAH. He just opened a new website at http://www.alexzahara.com/. He's got a contest going -- he's offering up t-shirts from LEGEND. You'll note that he has just finished a number of projects -- including OPEN RANGE -- in which he gets to shoot Kevin Costner and a recurring role in Stephen King's KINGDOM HOSPITAL.
---
STEPHEN AUSTIN: I got a wonderful note from the Pa'Ka'Ma Ambassador, saying that he will be appearing at UNITED FAN CON, November 7-9 at the Sheraton Hotel, Springfield, Mass. (For more information on the convention, go to http://www.unitedfancon.com/. In addition, he's been quite busy with a number of projects. He has has completed work on two CDs and is putting the finishing touches on a DVD/Video -- a compelation of several of his stand-up comedy performances. Another CD is a work done by an ensemble group of comedians including Stephen, Vic Dunlop and The Unknown Comic titiled "Lunatics and Losers" a lampoon about our war on terrorism.
---
BRUCE BOXLEITNER: Bruce has just finished filming an independent movie entitled THEY ARE AMONG US. SNAKEHEAD TERROR was filmed for the Sci-Fi Channel, also starring Carol Alt and William B. Davis. That project is currently in post-production.
CRUISE WITH PETER WOODWARD
Peter is considering cruising the Caribbean in early 2005 and wants to invite his fans to join the fun. He would like to see if there is sufficient interest before going too far into planning, so if you would like to receive a brochure about Peter's upcoming cruise once the details are finalized please advise of your: Name:
Postal Address, City, State, Zip:
E-mail address:
Phone number:
Total number of guests in your party:
Age range of the guests including yourself:

Send this information to pwoodwardinfo@yahoo.com. Any information you send us will be handled respectfully. This is not a commitment from you, just an indication of interest.
BABYLON 5 BIRTHDAYS
Robert Foxworth - November 1
John Vickery - November 4
Damian London - November 12
Tracy Scoggins - November 13
Dwight Schultz - November 24
Louise Turenne - November 26
Efrem Zimbalist, Jr. - November 30
Have I missed anyone? If you know the birthday of someone connected with Babylon 5, pass the information along. We want to include everyone in our Happy Birthday Wishes.
READER BIRTHDAYS
Sometimes you just can't find the e-mail address for someone you know you have -- it's someone who responded to a discussion topic or you met in one of the chat rooms. You'd like to send a personal note, but .... No address!!!!

We've started a White Pages of Zocalo Readers! It's a handy way of keeping track of people -- and putting together a birthday/greeting card list as well. If you would like to be part of the listing, just send me your name, state, e-mail address and (if you'd like to have it listed) birthday (without year) to sgbruckner@aol.com. Check out the Directory of Readers.

Name: Adam Clark
State: Missouri
E-mail address: aclark@ims-1.com
Birthday: November 19

Name: Garibaldis_Uniform
State: Ohio (formerly Hawaii)
e-mail: Babylon_5Fan@yahoo.com
Birthday: November 12
BABYLON 5 FANS - SPECIAL HELP SECTION
BABYLON 5 FAN CLUBS
Swedish Babylon 5-Club We're situated in Gothenburg, Sweden's second largest city, and have been around since 1999. Our activities consist of showing B5 episodes on the big screen. The next time will be on November 8th here in Gothenburg. Our webpage is at http://www.babcon.org/. Asbjorn
President, Interstellar Alliance
sheridan@babcon.org -- Interstellar Alliance - Sweden's largest Babylon 5 club
BabCon XIII on November 8th 12.30 - 02.00
http://www.babcon.org/ Italian Babylon 5 News Ranger Bianca has a website that provides Italian Babylon 5 fans with news. The site is located at www.babylon5.it.
BABYLON 5 MERCHANDISE
Are you looking for Babylon 5 merchandise? Would you like to possess some of the wonderful patches or pins sold by the B5 Fan Club? Do you want to put in an order for the latest DVD? Bruce at Uncomyn Gifts still has one of the best collections around. Check out www.uncomyngifts.com. You may just find the magazine or t-shirt or patch you are looking for.
---
BABYLON 5 SCREENSAVER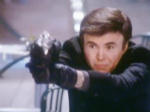 I received a wonderful note from Warner Bros. yesterday. It said:
"we also got this link from WHV for B5 screensavers, if you want to post this anywhere:
http://www.eyetide.com/download/?p=104117."
The graphics are awesome and it will add a certain measure of class to any desktop. Don't miss the preview feature. You can see what graphics have been included for your viewing pleasure. Thanks WB.
---
BABYLON 5 ROLE PLAYING AND FACT BOOK
The Babylon 5 Roleplaying Game and Fact Book
"Signs and Portents"
By Matthew Sprange
Mongoose Publishing
ISBN: 1-904577-11-3
MSRP: $49.99 From the review written at http://www.scifi.com/sfw/current/games.html B5 fans might want to pick up this game whether they actually play it or not. Based on the first season of the series, the "fact book" portion of the book includes an overview and maps of Babylon 5 and an episode-by-episode breakdown of the first season.
TRADING CARD HELP
Ranger Tia sent along this note to share with B5 card collectors:

Don't know if you've heard of my card program yet or not, but I thought the other B5 card collectors might like to try it out. With having almost all of the B5 trading cards and CCG cards available and no program to keep track of them withm, I started writing my own. Here's the website for it. Go half way down and click on the small screen shot for a full size screen shot. I have the pic of Pat Tallman's card from the Profiles card set feautured in the shot.

Oh, and I also have a lot of the card lists already saved as files so people won't need to type in all the card names. Being written by a B5 fan, ALL the card lists have already been made and are downloadable. :)

http://cardkeeper.usethis.com/keeper/index.html

Tia
NEW SCIENCE FICTION PUBLICATIONS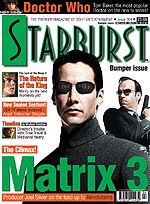 Starburst #304: MATRIX REVOLUTIONS - the final installment of this trilogy is discussed by producer Joel Silver. Also in this issue: Dominic Monaghan talks about his role in LORD OF THE RINGS; Michael Crichton's TIMELINE comes to the big screen and director Richard Donner talks about troubles with time travel and mediaeval fakery.



DVD Issue #49: A lot of terrific movies are coming out on DVD. Orlando Bloom, Keira Knightley and Johnny Depp talk about making Pirates of the Caribbean. THE HULK -- the Ultimate DVD was given access to ILM to unwrap the incredible effects that made the Marvel comic book legend come to life. Other included: Terminator 3; The League of Extraordinary Gentlemen; Legally Blonde 2 and more.



ALIAS: Previews Exclusive Cover Edition! In this issue we de-classify some scorching season three secrets, as well as re-visiting some favorite episodes from Seasons past — as voted for by the readers. Alias creator J.J. Abrams will be on hand to answer your questions. Available in Newsstand and Previews Exclusive cover editions! (Titan)



Dreamwatch: In stark contrast to what we know the future to hold, Lex and Clark have forged a close friendship on Smallville. This month we chat with archenemy in waiting, actor Michael Rosenbaum. Nicole deBoer, a.k.a. The Dead Zone's Sarah Bannerman, discusses the taut psychological thriller and reveals visions of the show¹s future. Plus, new season news from Angel, Alias and Stargate SG-1. (Titan) Magazine, 84pg,



Cult Times #98: Everyone is a-buzz about the revival of DOCTOR WHO. Who will portray the good doctor? When will it actually go into production? Also in this issue, writer/producers Alex Kurtzman-Counter and Roberto Orci talk about the coming season of ALIAS. Lisa Ryder talks about the new season of ANDROMEDA and Mandy Patinkin and Jasmine Guy provide some information on their show, DEAD LIKE ME.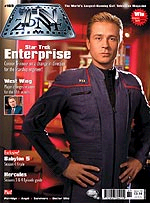 TV Zone #169: In this issue, J. Michael Straczynski continues to reminise about the final days of the fourth season of BABYLON 5. Conner Trinneer from ENTERPRISE talks about his job as chief engineer Trip Tucker and they look at the departure of Rob Lowe from THE WEST WING.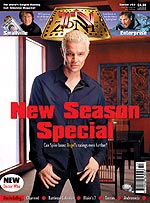 TV Zone #53: This special issue looks at all the returning shows -- and some of the hotter new ones. Inside, Scott Bakula looks at the coming second season of ENTERPRISE; Executive Producer Alfred Gough discusses the challenges of re-creating a superhero on SMALLVILLE. Among new shows, they look at BATTLESTAR GALACTICA, JAKE 2.0, JOAN OF ARCADIA and TARZAN.
Expose #80: This month's issue focus on the upcoming HARRY POTTER movie. New Director Alfonso Cuaron will be making his mark and the kids are growing up. What other changes await? Also in this issue, a look at the extended second season of DEAD ZONE.
The Buffy finale saw Spike crumbling into the light, sacrificing himself so that humanity, and Buffy, might be saved. But now he's back from limbo and settling into LA life alongside Angel. We talk to James Marsters about his new role. Plus, Alexis Denis tells about Wes' transformation from Watcher to Rogue Demon Hunter and now Commander of Angel Investigations. Available at Newsstand.
Cult Times #100: Celebrate a century of Cult Times with this issue. Read interviews with the stars, and features on shows currently airing in the UK. A Classic Series is given a light-hearted but informative look in our Instant Guide and the highlights of the previous month's viewing are featured in Times Past. Cult Times is the complementary magazine to TV Zone, and together they provide the ultimate guide to the many worlds of Cult Television.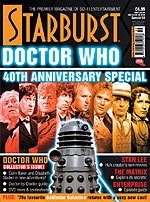 Starburst Special #59 A look back at 40 years of Doctor Who makes this issue special indeed. Also included in this issue - Battlestar Galactica -- an update on the SCIFI miniseries; Stan Lee on his upcoming film projects, and Michael Rosenbaum talk about being Lex Luthor on SMALLVILLE.
Cult Times Special #27: With the passing of BUFFY the Vampire Slyaer, CT looks back over the series; its characters and why it was so successful. Also included in this issue, Joss Whedon talks about possiblities for the future, including a movie for FIREFLY -- and BUFFY.



Shivers #107: As the new season approaches, everyone is speculating about the fireworks that could occur between Spike and ANGEL. Shivers takes a look at that this month -- along with Freddy vs. Jason, Underworld, and House of the Dead. There is an interview with Jeffrey Combs -- who most will know from Babylon 5 and Star Trek.



BABYLON 5 NOVEL - ON BOOK SHELVES NOW
DelRey is reprinting the original Babylon 5 novels. They started with #7 - Jeanne Cavelos' THE SHADOW WITHIN. Here's one I've been waiting for -- Kathryn Drennan's TO DREAM IN THE CITY OF SORROWS. The release date is scheduled for July 29, 2003. I love the new cover art! It can be pre-ordered from www.amazon.com. For those of you who love Babylon 5, this one reads just like an episode from the series. You just can't put it down.




COMIC BOOKS
STARGATE SG-1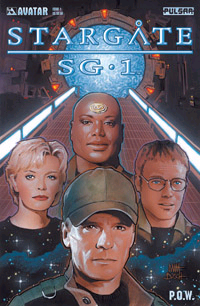 STARGATE SG-1: P.O.W. #1
by James Anthony & Renato Guedes; cover by Matt Busch
The first issue of the new Stargate series is finally here! The greatest sci-fi show on television comes to comics for the first time in a full-length action-packed series! Reconnaissance has discovered an alien invasion force with plans of conquest for planet Earth. Caught in a firefight, the escaping team from Stargate Command unknowingly allows a mysterious serpent-headed Goa'uld Lord access into the SGC. The invaders lay waste to the debarkation chamber, while locking a naquadah-laced bomb onto the Stargate. In the resulting attack, Colonel Jack O'Neill finds himself on a distant world, face to face with a thousand Goa'uld warriors. With the SGC under lockdown and O'Neill already a prisoner of war, the SG1 team must find a way to remove a doomsday bomb from the gate and rescue him from a Goa'uld fortress. Join the SG1 team for a full force adventure as they fight for survival against a race bent on subjecting the universe to their rule as the gods of legend. Jack O'Neill, Daniel Jackson, Samantha Carter, and Teal'c begin a new chapter of Stargate adventures in the pages of Stargate SG1: P.O.W.! Regular cover by Matt Busch; wraparound cover by Renato Guedes. Also available with a photo cover, and as a special "Golden Armor" edition, featuring an all-new solid gold foil wraparound cover with the Serpent Head Goa'ulds illustrated by Jacen Burrows and limited to 2,000 copies.
AMAZING SPIDERMAN
Amazing Spider-Man #500 will arrive in stores on Wednesday from Marvel Comics. The issue is written by J. Michael Straczynski, with art by John Romita Jr. and John Romita Sr. and a cover by J. Scott Campbell.
Here's how Marvel describes the issue:
"It's Peter Parker's birthday ... but how do you throw a surprise party for someone with a Spider-sense? Someone figures out how and Spidey spends his special day looking back at his career and every villain he's faced over those years ... against his will. A special story for Spidey fans new and old. " Amazing Spider-Man #500 will be 48 pages and will cost $3.50.
RISING STARS UPDATE
Since many of us wonder when JMS will be able to finish the RISING STARS comic book, here is an update from JMS: I've asked Top Cow for three things: for Dream Police back, since they've had it now for 3 years and have done nothing with it...for confirmation that the Joe's Comics title belongs to me, and for an apology for deliberately keeping me out of the loop on my own project at the feature stage and misleading me about drafts that had come in. Once those three things have been attended to, I can finish the series.
TV SCHEDULE ON SCIFI CHANNEL
BABYLON 5 14-NOV-03 9:00 AM BABYLON 5 (LBX) POINTS OF DEPARTURE
17-NOV-03 9:00 AM BABYLON 5 (LBX) REVELATIONS
18-NOV-03 9:00 AM BABYLON 5 (LBX) THE GEOMETRY OF SHADOWS
19-NOV-03 9:00 AM BABYLON 5 (LBX) A DISTANT STAR
20-NOV-03 9:00 AM BABYLON 5 (LBX) THE LONG DARK
21-NOV-03 9:00 AM BABYLON 5 (LBX) SPIDER IN THE WEB
23-NOV-03 3:00 AM MOVIE BABYLON 5: IN THE BEGINNING (LBX)
24-NOV-03 9:00 AM BABYLON 5 (LBX) SOUL MATES
25-NOV-03 9:00 AM BABYLON 5 (LBX) A RACE THROUGH DARK PLACES
26-NOV-03 9:00 AM BABYLON 5 (LBX) THE COMING OF SHADOWS
29-NOV-03 3:00 AM MOVIE MARATHON BABYLON 5: A CALL TO ARMS (LBX) CRUSADE:

16-NOV-03 2:00 AM CRUSADE APPEARANCES AND OTHER DECEITS
20-NOV-03 11:00 AM DAYTIME ROTATION - CRUSADE
23-NOV-03 2:00 AM CRUSADE RACING THE NIGHT
30-NOV-03 2:00 AM CRUSADE THE NEEDS OF EARTH

STARGATE SCHEDULE: 14-NOV-03 6:00 PM STARGATE SG-1 WORMHOLE X-TREME!
14-NOV-03 7:00 PM STARGATE SG-1 ENEMY MINE
14-NOV-03 9:00 PM STARGATE SG-1 AVENGER 2.0
14-NOV-03 11:00 PM STARGATE SG-1 AVENGER 2.0 FARSCAPE SCHEDULE:

07-DEC-03 12:00 AM FARSCAPE COUP BY CLAM
08-DEC-03 11:00 AM DAYTIME ROTATION - FARSCAPE LOOK AT THE PRINCESS PT 1: A KISS IS BUT A KISS
08-DEC-03 12:00 PM DAYTIME ROTATION - FARSCAPE LOOK AT THE PRINCESS PT 2: I DO, I THINK
08-DEC-03 1:00 PM DAYTIME ROTATION - FARSCAPE LOOK AT THE PRINCESS PT 3: THE MALTESE CRICHTON
08-DEC-03 2:00 PM DAYTIME ROTATION - FARSCAPE THE UGLY TRUTH
08-DEC-03 3:00 PM DAYTIME ROTATION - FARSCAPE A CLOCKWORK NEBARI
14-DEC-03 12:00 AM FARSCAPE UNREALIZED REALITY
16-DEC-03 11:00 AM DAYTIME ROTATION - FARSCAPE LIARS, GUNS, AND MONEY PT 1
16-DEC-03 12:00 PM DAYTIME ROTATION - FARSCAPE LIARS, GUNS, AND MONEY PT 2
16-DEC-03 1:00 PM DAYTIME ROTATION - FARSCAPE LIARS, GUNS, AND MONEY PT 3
16-DEC-03 2:00 PM DAYTIME ROTATION - FARSCAPE DIE ME, DICHOTOMY
16-DEC-03 3:00 PM DAYTIME ROTATION - FARSCAPE SEASON OF DEATH
21-DEC-03 12:00 AM FARSCAPE KANSAS
28-DEC-03 12:00 AM FARSCAPE TERRE FIRMA

EARTH: FINAL CONFLICT

14-NOV-03 5:00 AM EARTH: FINAL CONFLICT
21-NOV-03 5:00 AM EARTH: FINAL CONFLICT
BABYLON 5/CRUSADE PHOTOSHOP PHOTOS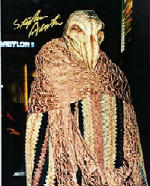 Peter Woodward has sent along a new photo -- a rather dreadful one -- from his appearance on CHARMED. It will be added to the collection of photos available from Peter, including additional copies of the Crusade poster in photo format. Both are autographed by Peter. You do NOT have to pay the prices asked for over at e-bay! Here are photos of B5 and Crusade cast members at fantastic prices. Check out Photo Shop. Ordering is easy -- and you can't beat the prices! Just let me know which photos you want and I'll check to make sure they are still in stock.
---
BABYLON 5 TOONS
John Cook has a wonderful collection of cartoons -- many are take-offs from Babylon 5. Here's just one of them.

He has a cartoon caption contest going on as well. Try your hand at a punch line.

Go to http://contests.sev.com.au/index.php?contestid=1


SCI-FI CARTOONS
With the new Battlestar Galactica coming in December, Tye brings back old memories of Captain Apollo and the old series with this new satire. Apollo Discovers Feng Shui.Enjoy Tye's other works at www.thelightersideofscifi.com.



BABYLON 5/CRUSADE CONVENTIONS
CONVENTION UPDATE
CONVENTION CALENDAR
Montreal Science Fiction Expo 2003
November 14-16, 2003
Place: Palais des Congres, Montreal, Quebec, Canada
Other Guests: Marina Sirtis, Ethan Phillips, Peter Mayhew, Lou Ferrigno, Kirby Morrow
For more information, visit their website at http://www.hobbystar.com/montreal-eng/index.html.
---
Alternate Universe POSTPONED UNTIL JULY 23-25, 2004
November 14-16, 2003
Place: London, UK
Site: Thistle London Heathrow
B5 Guests: Andrea Thompson, Sarah Douglas
Other Guests: Kent McCord, JRBourne, Peter Stebbings, Marc Cass, Brian Aldiss
For more information, visit their website at http://www.l3conventions.co.uk/alternateuni.htm.
---
Vulkon Orlando
November 14-16, 2003
Place: ORLANDO HILTON NORTH
Orlando, FL
B5 Guests: Julie Caitlin Brown, Jeffrey Combs
Other Guests: William Shatner, John Billingsley, Chase Masterson, Lolita Fatjo, Walt Cunningham, Boby Clark, Arne Starr
For more information, visit their website at http://www.vulkon.com.
---
Farscape Convention
November 14-16, 2003
Location: Hilton Burbank Airport & Convention Center
Place: Burbank, CA
Guests: Most of the Farscape Cast
For more information, visit their website at http://www.creationent.com".
---
Be sure to visit the referenced sites to see if there have been changes in dates/guests attending. Also visit our Convention Calendar for a full listing of upcoming conventions featuring Babylon 5, Crusade and Legend of the Rangers cast members as guests.
CONVENTION HIGHLIGHTS
Ranger Brian had a blast with Rick, Jason and Jeffrey at the 2BeContinued Convention last week in Indiana. He sent along a picture for everyone to enjoy. Thanks Brian.
If you would like to share your convention experience with your other Zocalo readers, send along a convention report. I will gladly post it for all to read. Got pictures? I'll post those as well.
ZOCALO TRADING POST
Do you have extra copies of B5, Amazing Spiderman, Midnight Nation or Rising Stars comics you'd like to trade? How about those extra trading cards or B5 magazines? There are a lot of fans looking for these items -- and the Trading Post can help you buy or sell them. To see what's available, just use this link to the Trading Post. To have items included in The Trading Post, send a note to The Zocalo. Please put Trading Post in the subject line.
PEN PALS
If you are looking for someone to talk about Babylon 5 and Crusade with, the Pen Pal section is for you! Check it out! Drop a note to someone who is feeling B5 withdrawal -- BIG TIME!

People thought a Pen Pal page was a good idea. If you would like to meet people who you could chat with or share your opinions of the show with, send along your e-mail or snail-mail address The Zocalo. It will be incorporated on the new Pen Page Page.
MAIL FOR CAST AND CREW
Here's a recent note from JMS on the subject:

Just an FYI to those who've been using the Ventura Blvd. mail drop for fan mail to actors....

As mentioned before, we're phasing out the forwarding of fan mail because we a) don't have the resources, complicated by b) the actors have scattered to the four winds, and it makes it very difficult to get everything to everybody in a timely fashion.

So, having provided prior notice...fan mail to actors coming to the Ventura Blvd. mail drop will be sent back. Mail to actors should be sent via their official fan clubs. I will still be taking mail there, since it's my mailbox, but that's it.

Just so's y'all know and save a few bucks on postage and returns.

WARNER BROS:

Warner Bros. Address:

Warner Bros. Domestic Television Distribution
4000 Warner Blvd.
Burbank, CA 91522

Warner Home Video:

Mr. Douglas Wadleigh
VP for Marketing and Special Features
Warner Bros.
4000 Warner Blvd.
Burbank, CA 91522

SCIFI:
Bonnie Hammer, President
Sci-Fi Channel
1230 Avenue of the Americas
New York, NY. 10020-1513

Mr. Thomas Vitale
Senior VP of Acquisitions, Scheduling & Program-Planning
BACK ISSUES OF THE ZOCALO TODAY
The front page of the The Zocalo Today changes daily, so be sure to check the back issues to make sure that you haven't missed anything IMPORTANT! I don't want the front page getting too long so I shift information periodically into the archives. So if you aren't a regular visitor to The Zocalo Today, be sure to check out the back issues. Just use the button above!
---
Take care and I look forward to hearing from you.
Sandra Bruckner (sgbruckner@aol.com)
Editor/Publisher
The Zocalo Today
http://www.isnnews.net
Copyright - SBruckner, 1999-2003