[an error occurred while processing this directive]

The Zocalo Today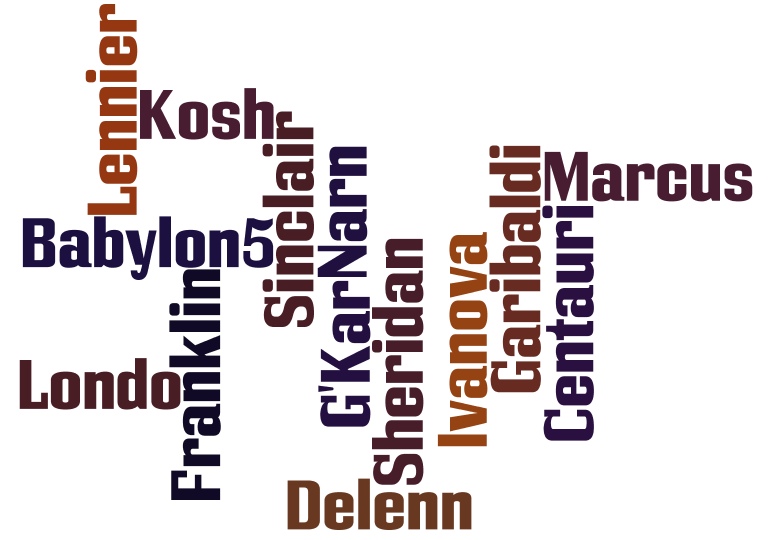 Welcome and thank you for dropping by. Babylon 5 brought many of us together -- and it remains with us, despite the fact that is no longer in production. The good thing is that the internet gives a LOT of ways to stay in touch. Don't be shy. Join in the discussion today or drop by Facebook or Twitter.

If you have questions or items for the news, drop me a line at sgbruckner@aol.com.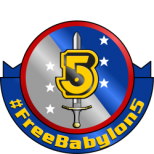 SUNDAY, NOVEMBER 17, 2013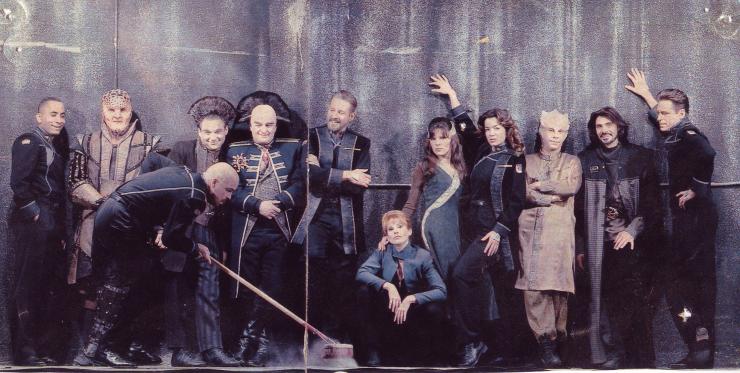 SENSE8 - NEW JMS SERIES
This information was posted some time ago, but I thought I would take the opportunity to re-post for those who may have missed it.
After blowing our minds with the cult hit Babylon 5, J. Michael Straczynski is coming back to the small screen — and he's bringing the Wachowskis along with him.
Straczynski has partnered with Matrix directors Andy and Lana Wachowski to create the mysterious new 10-episode Netflix series Sense8, and has finally opened up to explain what the project is actually about. Spoiler alert: It sounds awesome.
The show will follow eight people from across the planet who simultaneously develop telepathic abilities. The series will delve into their journey, as well as the reaction from the world. Think a smarter (and hopefully better) version of The Tomorrow People, basically. With Straczynski and the Wachowskis all involved, this really could be a gem.
Here's how Straczynski described the series, which sounds like a great high-concept think piece:
"We started out at one point talking about how evolution involves creating ever greater circles of empathy: You belong to your family, then you belong to your tribe, then two tribes link up and now you have empathy for your people on this side of the river, and you're against the people on the other side of the river … on and on through villages, cities, states and nations. One day we'll hit the planetary level but we're not there yet. So what if a more literal form of empathy could be triggered in eight individuals around the planet, in India, the U.S., London, Mumbai, Nairobi and elsewhere, who suddenly became mentally aware of each other, able to communicate as directly as if they were in the same room.
How would they react? What would they do? To what degree could they accept each other? What does it mean? And what would the world think about people with this ability? Would they embrace it, or hunt them down as threats to our own evolution? How would they survive? It would give us a perfect platform to do a show that was loaded with action, big ideas, some amazing stunts that no one's done before, and play to a planetary audience."
As for how the series actually came together, Straczynski says Netflix was the first and only distributor they met with. The streaming service snatched up the project before they could even make it to anyone else for pitch meetings.
He also noted that, even though this is a Netflix production, we shouldn't take that to mean it'll have a low-ish sci-fi budget. In fact, they'll be shooting on location for most of those globetrotting scenes:
"We plan to block shoot this as a 10-hour movie, and the best part is that we're going to be shooting in the very same locations we describe, meaning we don't fake Mumbai, we go to Mumbai, we go to Nairobi, we go to London. The plan is to shoot as much as we can on stages in Chicago, then the Wachowskis, I and two or three other directors will blitz out and shoot simultaneously in seven different countries, taking along the appropriate cast."
SAVING MR. BANKS
NAPA, Calif. -- The late Walt Disney was a notorious chain smoker, but his empire's modern-day prohibition on smoking means not even his character could be seen lighting up in Saving Mr. Banks, the whimsical comedy-drama about the making of Mary Poppins.
"They told us there could be no smoking," Owen said.
The filmmakers, however, don't ignore Walt Disney's unhealthy habit altogether. In one scene, as Thompson's character enters Disney's office, Hank's character is seen putting out a cigarette (the cigarette and smoke are obscured, however). The well-reviewed Saving Mr. Banks is already viewed as an awards contender. The movie, opening in select theaters on Dec. 13 before expanding nationwide a week later, is one of several high-profile films playing at Napa, now in its third year. Other titles include Nebraska, Philomena, Osage: August County, Mandela: Long Walk to Freedom and Out of the Furnace.
Napa, running Nov. 13-17 and imbued with plenty of wine and culinary events, hosted its celebrity tribute Friday night, where Hancock and Saving Mr. Banks' co-star Colin Ferrell, who plays Travers' father, were both honored, alongside rising stars Dianna Argon and Miles Teller. Access Hollywood's Billy Bush hosted the event for festival founders Brenda and Marc Lhormer.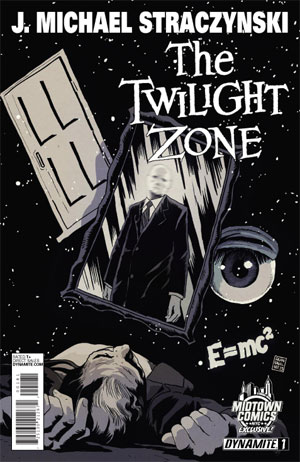 TWILIGHT ZONE
Description:
The Twilight Zone, Issue One: Trevor Richmond is a Wall Street investor who embezzled millions and is about to tank the economy. Again. Desperate to avoid the consequences for his actions, he goes to Expedited Services, Inc., which offers to help him disappear and enjoy a life of leisure in a new life. But what exactly is this new life, how much is freedom worth, and what happens to the old life when someone else shows up to claim it? This is the first installment of three interlocking stories that will push the boundaries of The Twilight Zone into new and uncharted territory, a journey that will travel into the past and the future, into murder and revenge and the sunrise of nuclear Armageddon. From J. Michael Straczynski, Hugo-winning creator of Babylon 5, writer for Thor and Changeling and World War Z as well as the 1988 Twilight Zone.
SATURDAY, NOVEMBER 16, 2013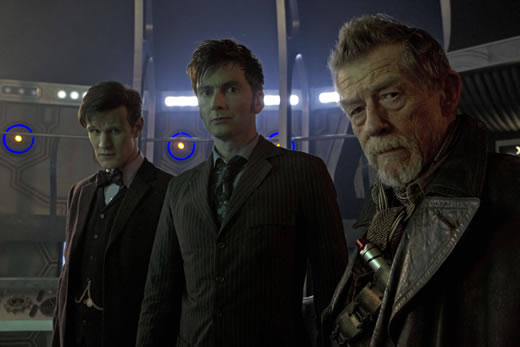 DOCTOR WHO
The "Doctor Who" 50th anniversary celebration doesn't end after "The Day of the Doctor." BBC has that following the broadcast, there will be a live afterparty show airing on BBC Three.
The broadcast will include special appearances by the 11th Doctor himself, Matt Smith, and the boy band One Direction, who will appear via satellite from Los Angeles. Other Doctors and their companions are scheduled to appear, according to THR, but no names have been announced.
"Doctor Who Live: The Afterparty" is, sadly, not scheduled to air in the United States at the moment. "The Day of the Doctor" airs November 23 on BBC America.

ALMOST HUMAN
The debut of J.J. Abrams' new sci-fi series, Almost Human is almost here, and the latest trailer should appeal to fans of a few sci-fi favorites.
Focusing on a cop (Karl Urban) who is partnered with a human-like android (Michael Ealy), the series looks like it could be a fun addition to the fall lineup. Plus, with Abrams' pedigree, this one could be a surprise hit. Fingers crossed.
The latest movie-style trailer sets up the premise and shows off the Blade Runner-style future and a healthy dose of Fringe-ish tech craziness. Considering that the series was co-created by Abrams' fellow Fringe producer J.H. Wyman, that makes sense.
This will probably be the last peek we get before the series premiere Sunday on Fox.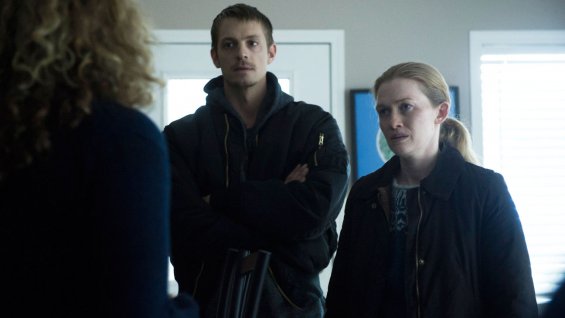 THE KILLING RETURNS
The Killing is coming back from the dead, again.
Two months after the crime drama's second cancelation, The Killing is being resurrected for a fourth season at Netflix. The streaming service, which stepped up to make the last revival feasible, will air six episodes, which will be billed as the series' "final season." AMC, which developed and aired the show for its first three seasons, will have no part in the latest move for the Fox Television Studios series.
The series' stars Joel Kinnaman and Mireille Enos will return, with the show set to explore a new case. The series' writing staff and crew will return as well, with production set to begin in Canada in February. Though creator Veena Sud's WME agents and the studio began exploring its options immediately following the series' September cancelation, conversations with Netflix began in earnest about a month ago. As part of the unprecedented deal, the series' final installment will bow simultaneously across Netflix's global territories.
"The rich, serialized storytelling in The Killing thrives on Netflix, and we believe that it is only fitting to give Sarah Linden and Stephen Holder a proper send off," Cindy Holland, vice president of original content for Netflix, said in a statement. "We are looking forward to offering fans - both existing and new - a series that we know is perfectly suited for on-demand viewing."
Added Fox TV Studios president David Madden: "It's a true testament to The Killing creator Veena Sud, and the stellar cast led so compellingly by Mireille Enos and Joel Kinnaman, that fans remained so passionate about the show. We're gratified that our partners at Netflix recognized this, and are giving us the opportunity to complete the story in a way that will be satisfying to our loyal audience."
The Killing's trajectory has quickly become the stuff of TV legend. It was first canceled in July 2012 after two acclaimed seasons on AMC. The network called its decision to pull the plug a "difficult" one at the time, but the news came as little surprise given the series' considerable ratings tumble coupled with the critical beating it took when the first season finale failed to reveal a critical plot point: who killed Rosie Larsen.
Then, nearly a year later, Fox TV Studios announced that the series, based on Danish series Forbrydelsen, would return after all, thanks to a unique deal with AMC and Netflix. The latter, which had built a sizable audience for the series' first two seasons on its service, would stream the third season 90 days after the finale aired on the cable network. In that arrangement, the studio was able to offset AMC's reduced license fee with the premium that Netflix agreed to pay to shrink the window from about a year to three months.
Killing's most recent third season opened to a steady 1.8 million viewers and generally positive reviews in June, but it saw its ratings dip over the course of the self-contained 12 episodes. It wrapped with 1.5 million viewers, making the season relatively flat year over year. It was not enough to garner a fourth season renewal, and AMC released another statement in which it announced it would be making the "difficult decision" to end the series' run.
HERCULES: THE LEGEND BEGINS
Although it was announced for a February release just three days ago, Summit Entertainment has decided HERCULES: THE LEGEND BEGINS will now be released in 3D and 2D on January 10, 2014.
Directed by Remy Martin, the film stars Kellan Lutz as Hercules, the mythical Greek hero, demigod and son of Zeus. Betrayed by his King, sold into slavery, Hercules must use his formidable strength to fight for freedom and return to his true love, Hebe, the Princess of Crete (played by Gaia Weiss).
The supporting cast includes Scott Adkins (Expendables 2) Liam McIntyre (Spactacus), Liam Garrigan (Strike Back), Johnathon Schaech (Ray Donovan, The Client List), Roxanne McKee (Game of Thrones) and Rade Serbedzija (Red Widow).
The screenplay is by Daniel Gliat. The producers are Danny Lerner, Les Weldon, Boaz Davidson and Renny Harlin. Executive Producers ae Avi Lerner, Trevor Short and John Thompson.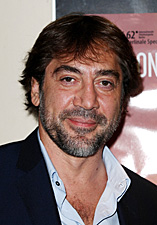 PETER PAN NEWS
It was reported earlier this week that Joe Wright (Hanna, Atonement) was in negotiations to direct a new untitled Peter Pan Origin Film, and now comes word that Warner Bros. is eyeing Javier Bardem (No Country for Old Men, Skyfall) for the lead villain role - the pirate Blackbeard.
Jason Fuchs will be providing the screenplay for the adaptation of J.M. Barrie's classic character with "Arrow" executive producer Greg Berlanti producing under his Berlanti Productions and Sarah Schechter overseeing for Warner Bros.
According to Deadline, Fuchs' script has an orphan taken to the magical world of Neverland, where he becomes the savior of the natives and leads a rebellion against evil pirates.
The question, of course, is why they are going with Blackbeard and not Hook? Only time will tell.
A similarly-themed "origin story" take on the property is also in the works at Columbia Pictures with Neverland. Among that film's producers are Channing Tatum and Joe Roth (Alice in Wonderland) with Shattered Glass scribe Billy Ray providing the screenplay.
The story of "Peter Pan" has been adapted on quite a few occasions, including, most famously, a 1953 Disney animated version. Alternate takes on the Barrie story have been offered in cases like Steven Spielberg's 1991 film Hook, a sequel of sorts to the original tale. The literal origin of "Peter Pan" was also detailed on film in the 2004 biopic of Barrie, Finding Neverland, starring Johnny Depp in the lead.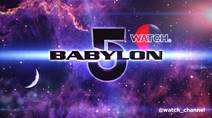 #FREE BABYLON 5
BABYLON 5 is back on TV and from the comments on the Watch site, people are enjoying the first season all over again. Episodes air daily at 5:00pm. If you are in the UK, dial up Watch (Sky 109/Virgin 124). Don't miss an episode.
Would you believe 118 comments for just the first day of showing the series! I sure hope someone takes notice. Be sure to use the @Watch_channel twitter handle and link to the Watch Facebook page when posting. http://watch.uktv.co.uk/shows.babylon-5.
Be sure to visit the the newFree Babylon 5 website. It is time to gather and support the show we know and love.
THE ZOCALO TODAY
Be sure to check out The Zocalo Today on Facebook as well as the ISN News Blog at ISN News Blog. SCIENCE FICTION NEWS STORIES:
Did you miss the news from yesterday -- or earlier in the week. Catch up by going to the News Archive. I have broken up the huge file into months to make it easier to load. It will bring you up to date for all that has been going on in the world of science fiction.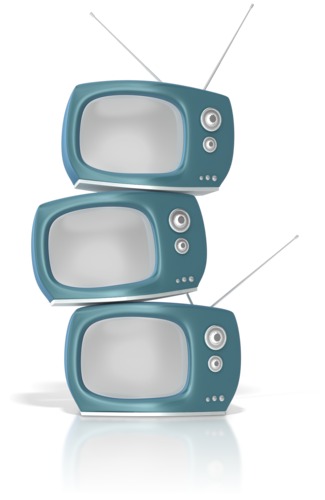 ON THE TUBE TONIGHT
7:00pm on ABC Family
The Incredibles (2004)
Now fighting boredom in suburbia, a former superhero and his family get a chance to save the world. Animated. Craig T. Nelson, Holly Hunter, Samuel L. Jackson, Jason Lee, Wallace Shawn

8:00pm on ABC
Once Upon a Time Episode: Think Lovely Thoughts NEW S03, E08
Pan tries to convince Henry that he can save magic and Neverland; a young Rumplestiltskin receives a magical item that could give him a fresh start with his father

8:00pm on Fox
Almost Human Episode: Pilot PREMIERE NEW S01, E01
In the year 2048, Detective John Kennex and his new android partner embark on their first mission.

8:00pm on AMC
The Walking Dead Episode: Internment S04, E05 (First Aired: Nov. 10, 2013)
Assorted enemies pressure Rick and the group; the survivors and the prison may reach a breaking point.

8:00pm on FX
Green Lantern (2011)
A test pilot becomes the first human to join a band of warriors sworn to preserve peace and justice throughout the universe. Ryan Reynolds, Blake Lively, Peter Sarsgaard, Mark Strong, Tim Robbins

8:00pm on Syfy
X2: X-Men United (2003)
After a mutant-hating militarist named Stryker invades their school, the X-Men must join forces with Magneto to rescue Professor Xavier and neutralize the threat posed by Stryker. Patrick Stewart, Hugh Jackman, Ian McKellen, Halle Berry, Famke Janssen

9:00pm on AMC
The Walking Dead Episode: Live Bait NEW S04, E06
Group members struggle to find their humanity while being constantly threatened.

9:00pm on BBC America
The Exorcist (1973)
An actress calls upon Jesuit priests to try to end the demonic possession of her 12-year-old daughter. Ellen Burstyn, Linda Blair, Max von Sydow, Lee J. Cobb, Kitty Winn

10:00pm on CBS
The Mentalist Episode: The Great Red Dragon NEW S06, E07
The recent shocking events at Jane's house narrows down the Red John list, identifying the CBI's high-priority suspects.

10:01pm on AMC
Talking Dead NEW S03, E06
Guests discuss ``Live Bait.''
KEEPING UP WITH CAST AND CREW
JMS AT WRITER'S GUILD - DECEMBER 17
Tue, December 17, 2013
7:15 PM - 8:30 PM

Though he's written drama like the Clint Eastwood-directed CHANGELING, J. Michael Straczynski is perhaps best known for his genre material. Straczynski – he goes by "Joe" – created the groundbreaking BABYLON 5 as well as the lesser-known-but-still-excellent JEREMIAH, contributed to the first THOR movie and the WORLD WAR Z script.
But that's not all. Joe also writes comics, like SUPERMAN, THE FANTASTIC FOUR and THE AMAZING SPIDER-MAN as well as his own titles like RISING STARS and MIDNIGHT NATION.
He'll meet us in the fabulous NerdMelt Showroom to chat about his work, his early history as an animation writer, and how he felt when BABYLON 5 was mentioned on BREAKING BAD.
For more information, go to Writer's Guild.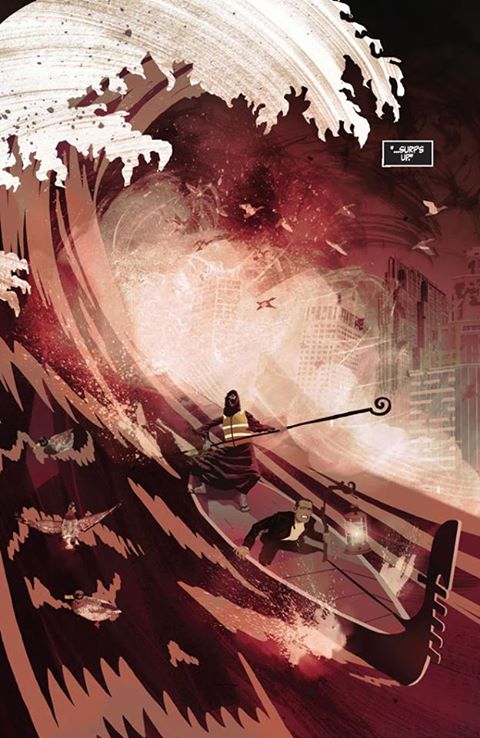 JMS-TEN GRAND #5
A four-page preview of Ten Grand #5, hitting stores Wednesday, with art by CP Smith! A chat in hell.... Ten Grand #5.


PROTECTORS TRAILER
Quick reminder: Protectors Inc. #1 hits stores this Wednesday with a free audio drama track. Here's the trailer for those who missed it.

READER'S CORNER
If anyone would like to submit reports from a convention they recently attended or items they would like to share with fellow Zocalo readers, please send them along to me at sgbruckner@aol.com. I will happily open up a new page for any submissions you care to send along.
BABYLON 5 20TH ANNIVERSARY BOOK
FIRST EVER BABYLON 5 BOOK PRINTED EXCLUSIVELY IN COLOR
Not just full color, but the actual colors of the sets, costumes and props. Extensive care was taken to ensure that the final pages precisely matched the color qualities of the original photographs, which were taken on set during production. B5-20 covers everything from the pilot through The Lost Tales.
For more information on this magnificant volume, go to b5books.com.




Here is a quote from J. Michael Straczynski about emotions.
I had this theory that the more important and intimate the emotion, the fewer words are required to express it.

First it's in dating: "Will you go out with me?" Six words.
"Honey, I care for you." Five words.
"You matter to me." Four words.
"I love you." Three words.
"Marry me." Two words.
But what's left? What's the one most important and intimate word you can ever say to somebody? It's "goodbye."

While Michael O'Hare (Sinclair), Andreas Katsulas (G'Kar), Rick Biggs (Dr. Franklin), Tim Choate (Zathras) and Jeff Conoway (Zach Allen) are no longer with us, we will not forget their wonderful personalities and talent -- as well as their significant contributions to the BABYLON 5 universe. Be sure to visit In Memory Of for more information about memorial efforts.
Until we met again, in a place where no shadows fall.
BABYLON 5 BIRTHDAYS
Robert Foxworth - November 1
John Vickery - November 4
Damian London - November 12
Tracy Scoggins - November 13
Dwight Schultz - November 24
Louise Turenne - November 26
Efrem Zimbalist, Jr. - November 30 Have I missed anyone? If you know the birthday of someone connected with Babylon 5, pass the information along. We want to include everyone in our Happy Birthday Wishes.



ITEMS OF INTEREST
BATMAN: THE DARK KNIGHT RETURNS
Listen to the great soundtrack for this video.
"Batman: The Dark Knight Returns Deluxe Edition" arrived October 8, 2013 from Warner Bros. Home Entertainment as a Blu-ray Combo Pack and as a DVD.
This seamless combination of the heralded two-part "Batman: The Dark Knight Returns" is accompanied on the Blu-ray Combo Pack by several new bonus features, including a 70-minute Frank Miller retrospective, an all-new filmmaker commentary, four exclusive collector cards with never-before-seen artwork, and all of the extra content originally found on the original Part 1 & 2 releases.
Based on Frank Miller's celebrated graphic novel, the film finds the Dark Knight, along with new sidekick Robin, battling iconic villains, including Two-Face and The Joker. Beyond his longtime foes awaits a global catastrophe racing toward Gotham City, and with it comes a familiar face, Superman – though this time he has Batman in his sights. Witness this aging Dark Knight as he wages a tireless war against crime while proving that courage and will are indeed timeless. BABYLON 5 PRESENCE ON FACEBOOK
I know a lot of you are already on FaceBook. However, I don't know if you knew how many other Babylon 5 folks have taken the plunge and opened FaceBook accounts. In fact, Pat Tallman has reopened her Fan Club using FaceBook at the site. For a peek, go to http://www.facebook.com/group.php?gid=45593318387. Claudia Christian has been really active -- sharing pictures of her recent trips and letting us know about upcoming convention activities. J. Michael Straczynski (JMS) has a FaceBook page as well as a new "Fans of J. Michael Straczynski" page. So check it out!
BABYLON 5 MUSIC VIDEOS AND TRIBUTES
John Hudgens has created many Babylon 5 videos, but I believe this is the most moving. It was first shown at the Phoenix Comic Con 20th Anniversary and honors many of the Babylon 5 family who have passed on.

Here is a link to John's Babylon 5 videos:
https://www.youtube.com/user/Babylon5MusicVideos?feature=watch

Richard Biggs memorial: http://www.youtube.com/watch?v=HyD4L8yNtsA

Andreas Katsulas memorial: http://www.youtube.com/watch?v=h2UQ2l9NPIg

- This is the extended version that I did for Andreas' widow ater the original cut was released on the net. It's never been seen online until now.

For those of you who've never seen these, I hope you enjoy them - and for those that have (and emailed me many times over the years about releasing them), I hope they're as good as you remember. Working with Joe on these videos was one of the highlights of my career, and I'll be forever grateful to him for the doors these have opened for me. I'm proud to have them on my resume.

John Hudgens
www.zteamproductions.com
---





STEEL CITY CON
Dates: December 6-8, 2013
Place: Monroeville Convention Center, Monroeville, PA
Guests: Star Trek's George Takei, Terminator's Michael Biehn, Catherine Bach, Kyle Szymanski and more.
For more information, go to http://www.steelcitycon.com. SPACE CITY CON
Dates: January 3-5, 2014
Place: Galveston City, Texas
Guests: Claudia Christian, Mira Furlan, Bill Mumy. Peter Jurasik, Stephen Furst, Pat Tallman, Julie Caitlin Brown, Tracey Scoggins, Jerry Doyle, Bruce Boxleitner, Robin Atkin Downes
For more information, go to http://spacecitycon.com/.

FARPOINT
Dates: February 15-17, 2014
Place: Crowne Plaza, Baltimore, MD
Guests: Melissa McBride, others to be named shortly
For more information, go to Farpoint.

Star Trek Convention - Creation Entertainment
Dates: July 31 - August 3, 2014
Place: Rio Suites Hotel, Las Vegas, Nevada
Guests: WILLIAM SHATNER, KATE MULGREW, COLM MEANEY, WALTER KOENIG, NICHELLE NICHOLS, "ROM and NOG" as portrayed by Max Grodenchik and Aron Eisenberg, ANTHONY MONTGOMERY, JERRY HARDIN, TIM RUSS and MICHAEL FOREST. 87 plus more guests to come!
For more information, go to www.creationent.com/cal/st_lasvegas.html. SPECIAL ANNOUNCEMENTS!
Creation Entertainment has a large number of conventions planned for the next several months. They include stars from TWILIGHT, SUPERNATURAL, STARGATE, FARSCAPE, XENA, SERENITY, STAR TREK, etc. Check out their calendar to see if one will be in your neighborhood soon. Don't miss their Videos page as well. It is full of some priceless video from a number of conventions.

Be sure to visit the referenced sites to see if there have been changes in dates/guests attending. Visit our Convention Calendar for a full listing of upcoming conventions.
BACK ISSUES OF THE ZOCALO TODAY
The front page of the The Zocalo Today changes daily, so be sure to check the back issues to make sure that you haven't missed anything IMPORTANT! I hope you will become a regular visitor to The Zocalo Today!
---
Take care and I look forward to hearing from you.
Sandra Bruckner (sgbruckner@aol.com)
Editor/Publisher
ISN News: The Zocalo Today
http://www.isnnews.net
Copyright - SBruckner, 1999-2013