[an error occurred while processing this directive]

The Zocalo Today

Welcome and thank you for dropping by. Take your shoes off, get comfortable and stay a while. There is a LOT of information here and you won't want to miss any of it.

The Zocalo Today is an interactive newsletter, encouraging readers to join a discussion topic or to send along letters that can be shared with other readers.

If you have suggestions as to how The Zocalo can be improved -- or be more responsive -- send them along. The Zocalo Today is a newsletter for Babylon 5 fans everywhere. It is as much YOUR newsletter as it is mine! I'm just pulling together things for you!

Join our discussion topic. It is just one way you can share with other Z readers. If you see Babylon 5 cast and crew in other roles, let us know. We enjoy convention reports, photos, etc. Don't miss our back issues. I hope this will become more than just a newsletter. It's a community of people that enjoy sharing their experiences and interests. Babylon 5 brought many of us together -- and it remains with us, despite the fact that is no longer in production. Don't be shy. Join us today!

If you have questions, drop me a line at sgbruckner@aol.com. If you would like to join the mailing list for our newsletter, send me a note and I'll include you on the list. Or you can use the subscription block at the left.

Again, WELCOME!



TODAY'S NEWS
ALIAS: Along with a new timslot for the coming year, ALIAS creator J.J. Abrams has a number of changes in store. When ALIAS returns on January 5 (Wednesday night), Sydney Bristow (Jennifer Garner) will have a new boss, played by Angela Bassett; a new job in the CIA; and a new permanent addition to her family, as Mia Maestro joins the cast as Sydney's half-sister, Nadia. Sydney and the rest of the team move to "a black ops division in the CIA," Abrams said in a recent interview. "A cool new organization with cool new headquarters." The show will be returning with more streamlined stories. "The plot became our god, which was a huge problem," Abrams said. "It ended up superseding character."
---
ENVIRONMENTAL MEDIA AWARDS: The Hollywood Reporter indicates that 20th Century Fox's global-warming pic "The Day After Tomorrow" and an episode of CBS' "Without a Trace" dealing with hazardous waste took home the respective prizes for movies and TV episodic drama at the 14th annual Environmental Media Awards. The EMAs, held Wednesday night at the Wilshire Ebell Theatre in Los Angeles, recognize the creative teams behind television, film and music productions that expand public awareness of environmental issues. In the TV episodic comedy category, the winner went to Fox's "The Simpsons" for the episode "The Fat and the Furriest." The EMA for animated children's TV went to ABC Family's "Braceface," while the children's live-action award went to the video series "EnviroMysteries."
---
VIDEO SALES THIS WEEK: According to industry sources, THE CHRONICLES OF RIDDICK, starring Vin Diesel, sold about 1.5 million combined DVD and VHS units to consumers during its first day in release Tuesday. For a film that grossed $57.6 million at the domestic boxoffice, not bad. It is expected to be one of the top 10-best-renting titles for this week. DreamWorks Home Entertainment's "Shrek 2" dominated DVD and VHS sales for the week ending Nov. 14, taking the top slot on Nielsen VideoScan's First Alert DVD and VHS sales charts for the week and capturing the No. 3 slot on Video Store magazine's weekly rental chart. The nation's No. 1 rental pick for the week ending Nov. 14 was Paramount Home Entertainment's "The Stepford Wives," starring Nicole Kidman, which generated an estimated $8.99 million during its first five days on rental shelves, according to Video Store.
---
SMALLVILLE: ABC Family will stage a SMALLVILLE countdown marathon on Friday, Dec. 31 from 2-10 p.m. (ET/PT). Cast members will introduce and tell stories about their favorite episodes from the series. The schedule is as follows:
2-3 p.m.: "Pilot" -- Tom Welling/Clark Kent
3-4 p.m.: "Rogue" -- Allison Mack/Chloe Sullivan
4-5 p.m.: "Zero" -- Michael Rosenbaum/Lex Luthor
5-6 p.m.: "Nicodemus" -- John Schneider/Jonathan Kent
6-7 p.m.: "Tempest" -- John Glover/Lionel Luthor
7-8 p.m.: "Accelerate" -- Kristen Kreuk/Lana Lang
8-9 p.m.: "Shattered" -- Michael Rosenbaum/Lex Luthor
9-19 p.m.: "Memoria" -- Annette O'Toole/Martha Kent
---
HARRY POTTER: Days after Michael Goldenberg was announced as the new scripter for the next Harry Potter film, Variety reports that British helmer David Yates is "close to" being hired for the job. The film, which will be based on J.K. Rowling's Harry Potter and the Order of the Phoenix, is scheduled to begin production at the end of 2005 or early in 2006, with a summer 2007 release date set.
---
WHAT'S ON TONIGHT:
ON NETWORK OR CABLE TV:
6:00pm on UPN
Star Trek: Enterprise
The Forge
The Enterprise goes to Vulcan to investigate a suicide bombing at Earth's embassy.
8:00pm on The WB
The Santa Clause
An adman takes over for the bearded, big-bellied fellow after a rooftop mishap on Christmas Eve.
ON SCIFI:
5:00pm
The Exorcist
An actress calls upon Jesuits to try to end her 12-year-old daughter's possession by the devil.
7:00pm
John Carpenter's Vampires: Los Muertos
Vampire hunters battle a new flock in Mexico.
9:00pm
Queen of the Damned
The vampire Lestat unites with a female counterpart.
ON SYNDICATED TV THIS WEEKEND: Andromeda
So Burn the Sacred Land
Dylan and Rhade fight to free indentured slaves from a cruel labor camp.
Mutant X
Altered Ego
A young mutant from Adam's past shows up wanting revenge for her father's death.
The Outer Limits
The New Breed
A scientist uses his assistant as a guinea pig.
Stargate SG-1
Part 1 of 2: Evolution
The SG-1 team must face an unstoppable breed of Goa'uld supersoldier.
The Twilight Zone
The Path; Fair Warning
A tabloid writer puts her fate in the hands of a fortuneteller; a man stalks a clerk.
STEPHEN AUSTIN TOUR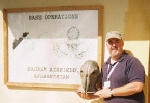 Stephen Austin, the wonderful Pak'Ma'Ra Ambassador of Babylon 5 has safely returned from his tour of the Middle East to entertain troops there.
HOLIDAY PROJECTS
As I was driving into the office, I was wondering how we might make a difference to just a few folks this year. Here are three projects I've come up with that I think we could have fun with, but I need your help with:

PENNY LANE: Pat Tallman (Lyta Alexander on Babylon 5) has labored on behalf of Penny Lane for years. Her BE A SANTA program has grown each year -- but so has the number of kids who need your help to have a "merry" holiday season. See the paragraph below about Pat's PENNY LANE project or go to The Galactic Gateway for more information.

CHRISTMAS FOR THE KIDS: With the passing of Richard Biggs and Tim Choate, the realization that our time on earth is not infinite and it can be taken away very suddenly. The families of Richard and Tim will feel their loss this year, especially during this holiday season. There are memorial funds for both of families. Please take the time to send along a holiday donation. Addresses are below.

LETTERS FROM HOME: I hope you have all read Stephen Austin's (Pak'Ma'Ra Ambassador on Babylon 5) account of his trip to entertain the troops in the Middle East. He and his group have brought a lot of laughter and enjoyment to people who are stationed in the region. I know our readers must have friends and relatives stationed abroad as well. How can we help them? How about putting together a list of addresses that readers could write to? Letters from friends might be just the ticket for these young men and women so far from home. If you know of someone in the service that might enjoy getting letters or e-mail, send along their address and a brief description of them -- just so that we'll have something to start up a conversation with. I will post the addresses here at the website -- and if you want to tell me which ones have been selected, we can make sure that everyone on the list starts to get some mail. Send your addresses to sgbruckner@aol.com and I can get started with a webpage.
DISCUSSION TOPICS
Here's another topic from Ranger Gary:
Hollywood has created some great SciFi/Fantasy for the small screen (Television) in the last 20 years, why can't they make "GREAT" Scifi/Fantasies for the big screen anymore? With the exception of the LOTR trilogy and marginally one of the Matrix and X-men movies, all of the recent offerings such as: T3, Episodes 1 & 2, Solaris, Hellboy, Van Helsing, Riddick, Hulk & League of Boring.. have been average at best!!

Will "Episode 3" ever live up to the quality of the original trilogy or just be more CGI tripe? Are "Firefly" or "Fantastic 4" going to be any good? Don't you feel ripped off after spending $9+ when 9/10 of these new films suck? If you know of any "GREAT" movies that you can recommend please do so (and make your case good).

Send in your thoughts and comments to sgbruckner@aol.com and I will post them on the Discussion Page for everyone to share and enjoy. See what has come in so far. If you see an old topic you want to respond to, go right ahead. We enjoy hearing from you.
REMEMBERING RICHARD BIGGS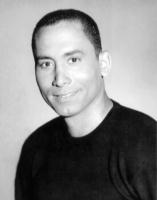 For those of you just coming to the site for the first time, this may be a shock, but Richard Biggs, the wonderful Dr. Stephen Franklin on Babylon 5, died on May 24 of an brain anyerism. There are many efforts underway to help with his two small children. Be sure to go to the Richard Biggs Memorial Page for more information. Below are efforts by folks like Jason Carter.

BIGGS AND CARTER EXPERIENCES DVD
Copies of the BIGGS AND CARTER EXPERIENCES DVD are no available at http://www.pipetap.com/dvd.htm. All proceeds from the sale of this DVD (which includes a personalized autograph from Jason Carter) will be donated to the RJ & Hunter Biggs Educational Trust Fund.

Additional items have been donated to the fund raising efforts, please visit http://www.biggsandcarter.com for new additions.

Jason and Donna would also like to thank everyone for their support and donations for the RJ & Hunter Biggs Educational Trust Fund at this year's DragonCon event.
REMEMBERING TIM CHOATE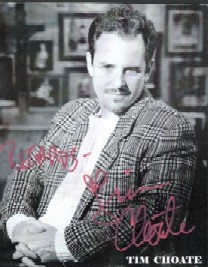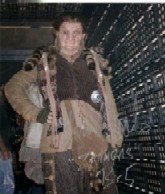 Tim Choate, the wonderful Zathras on Babylon 5, was killed when he was struck by a car while going to a play rehearsal on his motorcycle. A memorial fund has been set up in lieu of flowers for Tim. The address for the memorial fund is:

The Tim Choate Memorial Fund
P.O. Box 861355
Los Angeles, CA 90086

Proceeds will be placed in an educational trust for Flynn, who is 4 years old.
KEEPING UP WITH CAST AND CREW
BILL MUMY: Bill's band, The Jenerators performed their last gig of the year last night at Rusty's Surf Ranch in Santa Monica. Bill has a new CD coming out in January. Stay tuned for more information.
---
MIRA FURLAN: Mira Furlan has been cast as a recurring character on LOST named Danielle Rousseau. Her first episode will be "Solitary" which will probably air on November 17th.
"Disi duboko" ("Take a Deep Breath") the film that Mira Furlan shot in Belgrade during the summer of 2003 is going to be aired at the Serbian Film Festival in Sydney, Melbourne & Perth, Australia. For more information, go to http://www.serbianfilmfestival.org.au/.
---
SPECIAL CAST ACTIVITIES: To learn more about what cast members are doing away from the tube, go to CAST ACTIVITIES page.
---
BABYLON 5 BIRTHDAYS
Robert Foxworth - November 1
John Vickery - November 4
Damian London - November 12
Tracy Scoggins - November 13
Mackenzie Gray - November 22
Dwight Schultz - November 24
Louise Turenne - November 26
Efrem Zimbalist, Jr. - November 30

Have I missed anyone? If you know the birthday of someone connected with Babylon 5, pass the information along. We want to include everyone in our Happy Birthday Wishes.
CLASSIC VIDEO AVAILABLE
On September 14, Warner Bros released to DVD - THX-1138. Made in 1971, THX 1138 marked the stunning debut of one of the screen's most innovative filmmakers and was produced by Francis Ford Coppola and his revolutionary American Zoetrope studios. Produced at the height of the American independent movement, THX 1138 stars Robert Duvall in a thought-provoking and visually rich exploration of a theme that would repeat itself throughout Lucas's career: One man's quest to realize his own potential amid an oppressive society.

For more information about the film, click on THX-1138 Press Release. Warner Bros has provided a number of video clips for your enjoyment -- in a variety of formats to suit whatever connection you have to the internet.
STARGATE SG-1 - SEASON 7 AVAILABLE NOW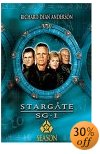 Some of the DVD Features:
22 episodes on five discs: Fallen, Homecoming, Fragile Balance, Orpheus, Revisions, Lifeboat, Enemy Mine, Space Race, Avenger 2.0, Birthright, Evolution Part 1, Evolution Part 2, Grace, Heroes Part 1, Heroes Part 2, Fallout, Death Knell, Resurrection, Chimera, Inauguration, Lost City Part 1, Lost City Part 2

Commentaries for each episode by the directors, cast, and crew
SG-1 Director's Series featurettes: Fragile Balance, Space Race, Avenger 2.0, Death Knell, Lost City
SG-1 Beyond the Gate featurettes: Michael Shanks, Christopher Judge, Richard Dean Anderson, Amanda Tapping
Photo galleries
Fan club spot
Limited-time offer: bonus disc with two featurettes related to the new series Stargate Atlantis




SCIENCE FICTION PUBLICATIONS
Cult Times #111: STARGATE SG-1 - Amanda Tapping (Col. Carter) gives us the scoop on the remainder of season eight. STARGATE Executive producer Brad Wright talks about handling both SG-1 and ATLANTIS. CHARMED executive producer, Brad Kern, discusses the ups and downs of the new, seventh, season of the mystical show






Starburst #318: BLADE: TRINITY - The man behind the Blade movies, David Goyer, talks about the challenges involved in writing and directing the unholy Vampire trinity. Sir Sean Connery talks about the role of the greatest secret agent ever, as well as taking a look back at his recent work in The League of Extraordinary Gentlemen. ANDROMEDA's Kevin Sorbo gives a tour of the show's new set and you'll find out how he feels about being a man of action.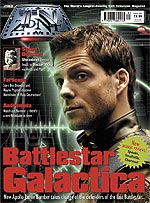 TV Zone #183: With BATTLESTAR GALACTICA coming to SCIFI in January, this issue has an interview with Jamie Bamber, the new Captain Apollo. Bamber talks about his approach to keeping the fleet safe from the Cylons, and how his off-screen relationship with lead Edward James Olmos is a little happier than his character's strained relations with his father. You'll also find articles on FARSCAPE, ANDROMEDA and SPACE ODYSSEY.






Expose #90: JOAN OF ARCADIA: JOAN's Amber Tamblyn lets everyone in on her views on religion, success and politics… and how they can combine to make life an obstacle course. Also featured in this issue, articles on LOST, DEAD LIKE ME and CHARMED.

StarLog: The current issue of STARLOG has a great feature about the latest FARSCAPE: PEACEKEEPER WARS. You'll also find a wonderful article on Richard Biggs -- our beloved Dr. Stephen Franklin. There are some great pictures as well.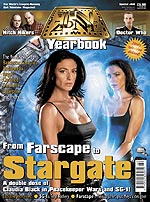 TV Zone Special #60: Claudia Black talks about returning to FARSCAPE -- and her guest role in Season 8 of STARGATE SG-1. The Year in TV Zone -- Extensive 12-page review of the highs and lows from the world of Cult Television, looking back on the past year of TV Zone…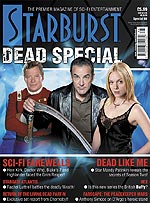 Starburst Special #66: In this issue, Mandy Patinkin talks about his role as Rube, the leader of the somewhat- less-than-grim band of Reapers from DEAD LIKE ME. Neil Gaiman, author of the SANDMAN stories turns director and talks about bringing his newest project, Death – The High Cost of Living to the big screen. And more from the land of the living, Atlantis star Rachel Luttrell tells us about developing her role as a feisty freedom fighter battling vampiric creatures in the new series.
Dreamwatch USA #4: The U.S. edition: This month you will find interviews with Tru Calling star Eliza Dushku, taking a look at the sequel to The Mask, Son of The Mask, and stepping aboard the final Stargate SG-1 mission of season eight! Plus, all the latest from your favorite TV shows!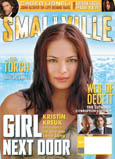 Smallville Issue #3: In Smallville Magazine this month we are joined by everyone's favorite girl next door, Lana Lang! Actress Kristin Kreuk will be telling us all about life, love, and Smallville. In the latest edition of The Torch we'll be keeping you up-to-date with the most up-to-the-minute Smallville news. We'll be unearthing the dark secrets of LuthorCorp and John Glover reveals how Lionel Luthor is coping with life behind bars! Plus there's a free, gorgeous Lana Lang poster! (Titan) (CAUT: 4)
NEWSSTAND COVER..........$5.99
PREVIEWS EXCLUSIVE COVER..........$5.99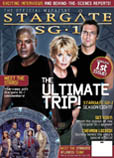 Stargate Issue #1: This is the launch of Stargate SG-1 the official magazine! Follow the missions, exploits, and adventures of the U.S. Air Force special operations team SG-1. In the first issue we'll have exclusive interviews with cast and crew, tour the set, and learn the secrets behind the special effects! Plus, get the inside story on Season 8 and meet the Stargate: Atlantis team! (Titan) (CAUT: 4)
Magazine, 68pgs, FC..........$6.99
---
NEW IN BOOK STORES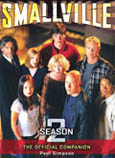 SMALLVILLE OFFICIAL COMPANION SEASON 2 TP

Packed with exclusive interviews with Tom Welling (Clark Kent), Kristin Kreuk (Lana Lang) and Michael Rosenbaum (Lex Luthor), plus unseen photos, behind-the-scenes secrets, a complete episode guide, and insights into the world of Smallville, with excerpts from the town newspaper and even a look at the mysterious LexCorp, this authorized companion reveals everything fans need to know about the hit WB television series, Smallville.
BABYLON 5 MERCHANDISE
Are you looking for Babylon 5 merchandise? Would you like to possess some of the wonderful patches or pins sold by the B5 Fan Club? Do you want to put in an order for the latest DVD? Bruce at Uncomyn Gifts still has one of the best collections around. Check out www.uncomyngifts.com. You may just find the magazine or t-shirt or patch you are looking for.
---
BABYLON 5 INTERVIEWS ON VIDEO
Ranger Mark was Dragon-Con's OFFICIAL videographer for 1998 and 1999. He has pulled together a series of interviews from various conventions over the past 10 years available and they are now available on e-bay. This includes footage from Dragon-Con with Peter Jurasik hosting the Dawn Look a Like Contest , and 2 panels of the B5ers, one all women the other the men. There is now a 2-hour tape devoted to BABYLON 5 cast members, including two interviews with the late Richard Biggs.

Mark's Ebay page is http://stores.ebay.com/markscelebrityinterviews and his text page is http://members.tripod.com/cosmicmc/. If you are interested, drop over and give this a look-see.

For those of us who have enjoyed going to DragonCon over the last few years, these tapes will be especially enjoyable. They will bring back memories -- that can be shared.
---
BABYLON 5 NOVELS
DelRey is reprinting the original Babylon 5 novels. They started with #7 - Jeanne Cavelos' THE SHADOW WITHIN. Here's one I've been waiting for -- Kathryn Drennan's TO DREAM IN THE CITY OF SORROWS. The release date is scheduled for July 29, 2003. I love the new cover art! It can be pre-ordered from www.amazon.com. For those of you who love Babylon 5, this one reads just like an episode from the series. You just can't put it down.




COMIC BOOKS
AMAZING SPIDERMAN #514
Amazing Spider-Man #514 will arrive in stores on Wednesday from Marvel Comics. The issue is written by J. Michael Straczynski, with art and cover by Mike Deodaot.

Here's how Marvel describes the issue:
"'Sins Past,' part 6 of 6. All is revealed in the pulse-pounding conclusion to 'Sins Past.'"
AMAZING SPIDERMAN #517
Written by J. Michael Straczynski, penciled by Mike Deodato and Mark Brooks, cover by Gary Frank.
"Skin Deep," part 3 of 4. When a former classmate of Peter Parker's is caught in a horrific experiment, he blames Peter for the resulting transformation...But is Peter to blame? And how will Peter react when someone targets his personal life instead of Spider-Man's life, for a change?
32 pages, $2.25, in stores on Feb. 23.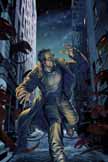 STRANGE
Written by J. Michael Straczynski and Sara (Samm) Barnes, pencils and cover by Brandon Peterson.
The Master of the Mystic Arts is back -- as only J. Michael Straczynski and artist Brandon Peterson could envision him. In this issue, Stephen Strange at last learns what the Ancient One has planned for him.
32 pages, $3.50, in stores on Feb. 16.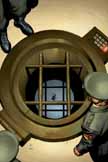 SUPREME POWER #15
Written by J. Michael Straczynski, pencils and cover by Gary Frank.
What does the most powerful being on the planet do when he finds out he's been manipulated and that his whole life is practically a lie? How will Hyperion react -- and what does that mean for the rest of humanity--and the government that's organized these deceitful machinations? Another pulse-pounding issue from the architects of the Supremeverse!

32 pages, $2.99, in stores on Feb. 2.

JMS COMIC BOOKS: For a listing of current comic books written by J. Michael Straczynski, go to COMIC BOOK page. There is a brief synopsis of the book and a date when publication is expected.
JMS RADIO DRAMAS: CITY OF DREAMS
For those of you who have just joined us here at The Zocalo Today, you may want to check out The City of Dreams over at the SciFi Channel website. J. Michael Straczynski, the creator of Babylon 5, worked with Seeing Ear Theatre at SciFi to bring an exclusive, all-new audio drama anthology series featuring tales of dreamers, madmen and fanatics. If you haven't listened to the stories, you'll not want to miss them. If you haven't listened in a while, you will want to go back and listen again.
BOOK REVIEWS
Here is a new feature for your enjoyment. I received some new book reviews that I've posted on a separate Book Review Page. Let me know if you enjoy this new feature -- and we'll continue to offer them as they are received. Agree with the review? Disagree? We can post those as well.

Other science fiction material, outside of the B5 environment can be found on the Materials Page.
TV SCHEDULE ON SCIFI CHANNEL
STARGATE SCHEDULE: 11/22/2004 06:00 PM STARGATE SG-1 THE OTHER SIDE
11/22/2004 07:00 PM STARGATE SG-1 (SEASON 6) ALLEGIANCE
11/22/2004 08:00 PM STARGATE SG-1 (SEASON 6) THE CURE
11/22/2004 09:00 PM STARGATE SG-1 (SEASON 6) PROMETHEUS - PT 1
11/22/2004 10:00 PM STARGATE SG-1 (SEASON 6) UNNATURAL SELECTION - PT 2
11/23/2004 06:00 PM STARGATE SG-1 UPGRADES
11/24/2004 06:00 PM STARGATE SG-1 CROSSROADS
11/29/2004 06:00 PM STARGATE SG-1 DIVIDE AND CONQUER
11/29/2004 07:00 PM STARGATE SG-1 (SEASON 6) SIGHT UNSEEN
11/29/2004 08:00 PM STARGATE SG-1 (SEASON 6) SMOKE AND MIRRORS
11/29/2004 09:00 PM STARGATE SG-1 (SEASON 6) PARADISE LOST
11/29/2004 10:00 PM STARGATE SG-1 (SEASON 6) METAMORPHOSIS
11/30/2004 06:00 PM STARGATE SG-1 WINDOW OF OPPORTUNITY

FARSCAPE SCHEDULE:

11/21/2004 01:00 AM FARSCAPE LOOK AT THE PRINCESS PT 2: I DO, I THINK
11/28/2004 01:00 AM FARSCAPE LOOK AT THE PRINCESS PT 3: THE MALTESE CRICHTON
BABYLON 5/CRUSADE PHOTOSHOP PHOTOS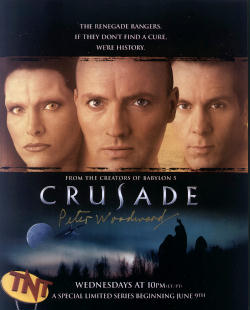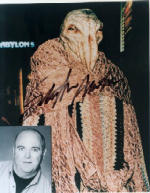 You do NOT have to pay the prices asked for over at e-bay! Here are photos of B5 and Crusade cast members at fantastic prices. Check out Photo Shop. Ordering is easy -- and you can't beat the prices! Just let me know which photos you want and I'll check to make sure they are still in stock.
---
BABYLON 5 TOONS
John Cook has a wonderful collection of cartoons -- many are take-offs from Babylon 5. Here's just one of them.

He has a cartoon caption contest going on as well. Try your hand at a punch line.

Go to http://contests.sev.com.au/index.php?contestid=1




SCI-FI CARTOONS
While catching up on my e-mail yesterday morning, I got an instant message from LFMOA along with a nice goodie that I can share with readers. Thanks for sending along your version of Pinky and the B5 Brain.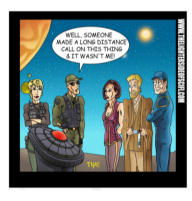 Tye Bourdony's latest Lighter Side of Sci-Fi satire can be seen here and at Tye's website www.thelightersideofscifi.com.








CONVENTION CALENDAR
November 19-21, 2004
Vulkon
Place: Orlando North Hilton
Altamonte Springs, FL
B5 Guest: Peter Jurasik, Malachi Throne (Centauri Prime Minister)
Other Guests: Leonard Nimoy, Don S. Davis, Gary Lockwood, Keir Dullea
For more information, visit their website at http://www.vulkon.com/orlandoscifi2004/.
---

November 19-21, 2004
Best of Both Worlds 23
Place: The Chifley On Northbourne, Canberra, Australia
Guests: LOTR - Bruce Hopkins, David Weatherley, Brett Beattie, Jed Brophy, Stephen Ure, John Howe, Ben Wootten
For more information, contact alc@bobw.com.au or visit http://www.bobw.com.au/.
---
November 26-28, 2004
Slanted Fedora - CANCELLED
Place: Indianapolis, IN
Site: Indianapolis Omni North
B5 Guests: Mary Kay Adams
Other Guests: Garrett Wang, Robin Curtis, Robert O'Reilly, J.G. Hertzler, Max Grodenchik, Dwight Schultz, Aron Eisenberg, Casey Biggs, Tony Amendola, Julie Benz, Greg Evigan, Dee Wallace Stone
For more information, visit their website at http://sfedora.com/rochester,_ny.htm.
---

February 18-20, 2005
VisionCon 2005
Place: Springfield, Missouri
B5 Guest: Mira Furlan
For more information, visit their website at http://www.visioncon.net/Welcome.htm.
---

Be sure to visit the referenced sites to see if there have been changes in dates/guests attending. Visit our Convention Calendar for a full listing of upcoming conventions.
MAIL FOR CAST AND CREW
Here's a recent note from JMS on the subject:

Just an FYI to those who've been using the Ventura Blvd. mail drop for fan mail to actors....

As mentioned before, we're phasing out the forwarding of fan mail because we a) don't have the resources, complicated by b) the actors have scattered to the four winds, and it makes it very difficult to get everything to everybody in a timely fashion.

So, having provided prior notice...fan mail to actors coming to the Ventura Blvd. mail drop will be sent back. Mail to actors should be sent via their official fan clubs. I will still be taking mail there, since it's my mailbox, but that's it.

Just so's y'all know and save a few bucks on postage and returns.

WARNER BROS:

Warner Bros. Address:

Warner Bros. Domestic Television Distribution
4000 Warner Blvd.
Burbank, CA 91522

Warner Home Video:

Mr. Douglas Wadleigh
VP for Marketing and Special Features
Warner Bros.
4000 Warner Blvd.
Burbank, CA 91522
BACK ISSUES OF THE ZOCALO TODAY
The front page of the The Zocalo Today changes daily, so be sure to check the back issues to make sure that you haven't missed anything IMPORTANT! I don't want the front page getting too long so I shift information periodically into the archives. So if you aren't a regular visitor to The Zocalo Today, be sure to check out the back issues. Just use the button above!
---
Take care and I look forward to hearing from you.
Sandra Bruckner (sgbruckner@aol.com)
Editor/Publisher
The Zocalo Today
http://www.isnnews.net
Copyright - SBruckner, 1999-2004