[an error occurred while processing this directive]

The Zocalo Today

Welcome and thank you for dropping by. Take your shoes off, get comfortable and stay a while. There is a LOT of information here and you won't want to miss any of it.

The Zocalo Today is an interactive newsletter, encouraging readers to join a discussion topic or to send along letters that can be shared with other readers.

If you have suggestions as to how The Zocalo can be improved -- or be more responsive -- send them along. The Zocalo Today is a newsletter for Babylon 5 fans everywhere. It is as much YOUR newsletter as it is mine! I'm just pulling together things for you!

Join our discussion topic. It is just one way you can share with other Z readers. If you see Babylon 5 cast and crew in other roles, let us know. We enjoy convention reports, photos, etc. Don't miss our back issues. I hope this will become more than just a newsletter. It's a community of people that enjoy sharing their experiences and interests. Babylon 5 brought many of us together -- and it remains with us, despite the fact that is no longer in production. Don't be shy. Join us today!

If you have questions, drop me a line at sgbruckner@aol.com. If you would like to join the mailing list for our newsletter, send me a note and I'll include you on the list. Or you can use the subscription block at the left.

Again, WELCOME!




What's New Today
Friday, November 21: TOP SF DVD SALES:
1. The Two Towers extended edition
2. Finding Nemo
3. Pirates of the Caribbean
4. Adventures of Indiana Jones
5. Two Towers regular edition
6. T3: Rise of the Machines
7. X2
8. Looney Tunes golden collection
9. The Matrix Reloaded
10. Lion King platinum edition
Source: Amazon.com, top-selling genre DVDs, 11/17/03
---
MATRIX REVOLUTIONS: Despite Warner Bros.' best efforts, Variety reports that pirated DVDs of The MATRIX REVOLUTIONS hit the streets of Malaysia within two days of the Nov. 5 global release of the sequel movie.
---
DISNEY MOVIES: Candidates for the Best Animated Feature for next year's Academy Awards were given out recently and The Walt Disney Company is at the head of the candidates. Disney has four nominated films including FINDING NEMO, THE JUNGLE BOOK II, BROTHER BEAR and PIGLET'S BIG MOVIE. Other nominees include two pictures from Japanese director Satoshi Kon: DreamWorks' MILLENNIUM ACTRESS and TOKYO GODFATHERS, a forthcoming release by Samuel Goldwyn Films. Warner Bros. has one candidate (LOONEY TUNES: BACK IN ACTION), Miramax has POKEMON HEROES, Sony Pictures Classics has THE TRIPLETS OF BELLEVILLE, and the German-produced JESTER TILL and RUGRATS GO WILD round the rest of the contenders out. The Academy Awards will be held on February 29, 2004.
---
STEALTH: Jessica Biel will join HULK co-star Josh Lucas in STEALTH, a high-tech action/thriller gearing up for Columbia Pictures. Filming on STEALTH is scheduled to begin on January 19, with location shooting in Australia, Thailand, New Zealand and China for an anticipated Memorial Day 2005 release. XxX director Rob Cohen will make the picture from a W.D. Richter penned screenplay. Laura Ziskin and Mike Medavoy are the film's producers. Biel will play a military pilot assigned to try and stop a state-of-the-art artificial intelligence-manned plane from going rogue and ending human life. Lucas will also play one of the human pilots assigned to bring down the malfuctioning machine.
---
MONK: MONK, starring Tony Shalhoub, returns to the line-up at ABC beginning January 17 at 10:00pm. It will replace the departed "L.A. Dragnet." Fresh episodes of the series will return to USA the night before that. Shalhoub won an Emmy for the role this year, portraying a brilliant detective who was forced to resign from the San Francisco police after developing obsessive-compulsive disorder following his wife's murder. He now consults with the department while keeping his neuroses barely in check.
---
ASTRO WORLD: Variety reports that Producer Ben Barenholtz, comicbook author Kurt Busiek and screenwriter Jonathan Alpers, under their newly formed Panama Leo banner, have acquired rights to develop a feature from superhuman comicbook series ASTRO WORLD.
---
CODE NAME: ETERNITY: Prevue Magazine reports that CODE NAME: ETERNITY is the latest show to be added to the Sci Fi Channel's roster. The cabler has purchased 26 episodes of the series about an alien creature who assumes human form. ETERNITY is shot on the Isle of Man and features Billy Dee Williams in a recurring role. Sci Fi plans to premiere "Eternity" on Fridays, starting in January.
---
HELLBOY: Set for release on April 2, Sony Pictures and Revolution Studios have unleashed the new trailer for writer/director Guillermo del Toro's HELLBOY. The comic book adaptation stars Ron Perlman, Doug Jones, Selma Blair, John Hurt and Rupert Evans. The trailer will be in theaters with THE MISSING on November 26, but you can see it now at http://movies.yahoo.com/shop?d=hv&id=1808404362&cf=trailer. Born in the flames of hell, and brought to our world in a pagan ritual, the fierce red hero, Hellboy (Perlman), was saved by his friend and mentor, the benevolent Dr. Broom (Hurt). Raised in Broom's Bureau for Paranormal Research and Defense, Hellboy joins the likes of the "Mer-Man" Abe Sapien, Liz Sherman (Blair), the woman he loves who can psychically control fire, and Myers, the FBI agent who is his rival for Liz's affections. Together, our heroes must come to terms with fantastic powers that prove to be both a blessing and a curse. In the process they discover that their abilities serve to benefit mankind but may also keep them forever isolated from the society that only they can protect.
---
INSIDE SCI-FI THIS WEEK:
Thursday, November 20:
RATINGS: TOP 10 SF SYNDICATED SHOWS:
Stargate SG-1 2.3
Mutant X 2.0
Andromeda 1.9
She Spies 1.8
The X-Files 1.6
Angel 1.5
Beastmaster 1.5
Buffy 1.5
3rd Rock 1.4
The Outer Limits 1.4
Source: Nielsen Galaxy Report, 10/20/03 - 10/26/03
---
MARVEL PROJECTS: According to the Dark Horizons website, Avi Arad, Marvel Studios Chief Executive, recently gave an update to financial analysts on the company, providing an upcoming slate of comics-to-film and TV projects. Here is a summary of projects: •NICK FURY and TALES OF THE ZOMBIE are being developed as feature films.
•WEREWOLF BY NIGHT will be directed by John Fasano.
•MORT THE DEAD TEENAGER will be Marvel's first comedy film.
•FANTASTIC FOUR has been pushed back until summer 2005. 2005 will also see the release of IRON MAN and GHOST RIDER, and DAREDEVIL spinoff ELEKTRA is eyeing a 2005 release.
•X-MEN 3 and HULK 2 are set for release in 2006, as are NAMOR, CAPTAIN AMERICA, NICK FURY and IRON FIST.
•BROTHER VOODOO is in active development for a live-action television show, as is 1,000 DAYS for the SCI FI Channel and NIGHT THRASHER at UPN.
•Two new TV animated series, BLADE and HULK, will premiere.
---
Wednesday, November 19:
STARGATE ATLANTIS: Yesterday, the Sci-Fi Channel and MGM Television Entertainment announced today plans for their proposed spinoff series of STARGATE SG-1 titled STARGATE ATLANTIS. Twenty one-hour episodes of ATLANTIS have been ordered to debut on SCIFI in the summer of 2004. The new series will air back-to-back with new episodes from the eighth season of STARGATE SG-1. Here is SCIFI's description of the setting of ATLANTIS: "SG-1 centers on the Stargate, an ancient portal that allows instantaneous travel across the galaxy. STARGATE ATLANTIS will take viewers on a brand new adventure, with a whole new team. In the new series, a secret base left by the originators of the Stargate is discovered in the most unlikely of places – on Earth, buried among the ruins of the legendary city of Atlantis. The implications of this amazing discovery lead the Atlantis team to a distant galaxy where a primitive human civilization is threatened by a sinister new enemy." Although no cast has yet been named, fans will be glad to hear that SCIFI also confirmed the appearance of SG-1 cast members in ATLANTIS episodes. The premiere episode of STARGATE ATLANTIS will be as a two-hour movie and definitely feature SG-1 characters. Brad Wright and Robert Cooper will serve as executive producers on the new series. Cooper is currently executive producer on STARGATE SG-1 while Brad Wright is co-creator of SG-1, and served as the original series' executive producer for six seasons.
---
STAR TREK: VOYAGER: On February 24, Paramount Home Entertainment will release the first DVD set of STAR TREK: VOYAGER. The five-disc collector's set will include 15 episodes and bonus features. New sets will be introduced every couple of months throughout 2004.
---
FARSCAPE: Variety reports that Universal Studios Networks has inked a deal with German license trader EM.TV, under which all four seasons of the SCI FI Channel's FARSCAPE series will air on its new German Sci Fi channel.
---
THE COVEN: The Hollywood Reporter indicates that Lifetime is in final talks to pick up THE COVEN, a TV pilot centered on a group of witches, from executive producers Charlie Craig and Gale Anne Hurd (Terminator 3: Rise of the Machines). Lions Gate TV and Hurd's Valhalla TV are producing the pilot, to be directed by David Wu. Wendy Grean (Lifetime's What Makes a Family) also will produce. Casting is under way and production will begin soon in Toronto.
---
MOVIE MONEY MAKERS: This weekend proves sequel movies can be profitable. "The Matrix: Revolutions" (aka "Matrix 3") and "Scary Movie 3" both crossed the $100 million mark this weekend. "Revolutions" and "Scary Movie 3" became the 22nd and 23rd films released in 2003 to cross the box office landmark, according to Exhibitor Relations, meaning that 2003 will probably break 2002's record year of having 24 films grossing over $100 mil. Scoring over $339.6 million at the box office, "Finding Nemo" is increasingly closer to moving up a spot to the No. 7 all-time moneymaker, thus beating "The Lord of the Rings: The Two Towers" with $339.7 million. Meanwhile, "Pirates of the Caribbean: The Curse of the Black Pearl," currently in 16th place on the box office's all time money makers list, made another half million at the box office this weekend, helping it close in on the Top 15. No. 15 is currently held by "Independence Day" with $306.1 mil.
---
SPIDERMAN Sony will release MTV's animated Spider-Man on DVD with a two-disc set on Jan. 13. Features will include Blooper Reel, Music Featurette, Cast and Crew Filmographies, Photo Gallery, Post-Production Featurette and Multi-Angle Playing.
---
Tuesday, November 18, 2003:
DOCTOR WHO: So much for popular opinion -- at least where the new DOCTOR WHO is concerned. In a recent poll of readers of the British Radio Times, Anthony Stewart Head from BUFFY THE VAMPIRE SLAYER was voted as the favorite to play the next DOCTOR WHO. Although the BBC has not announced who will play the SF legend, British media say Richard E. Grant, Bill Nighy and Eddie Izzard are being considered when DOCTOR WHO returns to TV in 2005.
---
HARRY POTTER: According to a Reuters report, J.K. Rowling has started work on a sixth Harry Potter book. Christopher Little, Rowling's agent, added that Rowling's best-selling Potter books set a new record, with the first five titles having sold a quarter of a billion volumes in more than 200 countries. "As yet no date is fixed for its release." He added, "We look forward to introducing Harry Potter to yet more readers in the furthest parts of the globe."
---
AROUND THE WORLD IN 80 DAYS: Jackie Chan's AROUND THE WORLD IN 80 DAYS has been acquired by Buena Vista Pictures Distribution for domestic distribution. The film, directed by Frank Coraci (The Waterboy, The Wedding Singer), is slated to be released under the Walt Disney Pictures banner and will be one of the Studio's major offerings for Summer 2004. The film's impressive cast also includes Steve Coogan, Cecile De France, Owen and Luke Wilson, and a star studded cast of celebrity cameos. Hal Lieberman (Terminator 3) and Bill Badalato (About Schmidt) served as producers. Disney and Walden Media successfully partnered on two films in 2003: the critically acclaimed hit Holes, and the innovative James Cameron-directed 3-D Large Format film, Ghosts of the Abyss.
---
ZOOM'S ACADEMY FOR THE SUPER GIFTED: Revolution Studios has hired Adam Rifkin (Small Soldiers and Mouse Hunt) to pen ZOOM'S ACADEMY FOR THE SUPER GIFTED, based on the popular graphic novel by animator Jason Lethcoe. The "Harry Potter"-like project revolves around an unpopular high school girl who is whisked away by her mysterious father to a school for burgeoning superheroes, where she discovers that she also has hidden talents.
---
Monday, November 17:
TOP 10 SCIFI CHANNEL SHOWS:
The Bone Snatcher 1.6
New Roswell: Kecksburg 1.5
Stargate SG-1 1.4
Lost Voyage 1.3
Dagon 1.2
Village of the Damned 1.1
The Ninth Gate 1.1
Soulkeeper 1.1
Amityville Horror II 1.0
The Wraith 1.0
Source: Nielsen Galaxy Report, 10/20/03 - 10/26/03
---
DOCTOR WHO: The BBCi Web site has begun posting new episodes of an animated Web-only Doctor Who series, Scream of the Shalka, featuring the voices of Richard E. Grant as the Doctor and Derek Jacobi as the Master.
---
WEEKEND BOX OFFICE: New Line's ELF with Will Ferrell defeated both Keanu Reeves' MATRIX REVOLUTIONS and Russell Crowe's MASTER AND COMMANDER. ELF is the number one film for this weekend, dropping only 13% in its opening weekend revenues and earning another $27 million dollars. The movie is now over the $70 M mark and with lots of weeks left until the arrival of Christmas Day, ELF will turn out to be one of this holiday's sweetest success stories. 20th Century Fox's MASTER AND COMMANDER: THE FAR SIDE OF THE WORLD was nipping on the heels of ELF, grossing $25 M in its opening weekend. Comparatively, the next highest-grossing film was THE MATRIX REVOLUTIONS with almost $10 M less than MASTER AND COMMANDER. Negative buzz about the movie may be playing a key factor here: the final MATRIX film fell 66% in its box office in the second week of release. If this kind of downward momentum continues for the picture it won't cross the $200 M barrier. Here are the overall numbers:
1. ELF $27,236,000 $71,265,000
2. MASTER AND COMMANDER: THE FAR SIDE OF THE WORLD $25,725,000 $25,725,000
3. THE MATRIX REVOLUTIONS $16,320,000 $114,174,000
4. BROTHER BEAR $12,000,000 $63,019,000
5. LOONEY TUNES: BACK IN ACTION $9,510,000 $9,510,000
6. LOVE ACTUALLY $8,880,000 $19,044,000
7. SCARY MOVIE 3 $6,105,000 $102,339,000
8. RADIO $5,000,000 $43,708,000
9. TUPAC: RESURRECTION $4,660,000 $4,660,000
10. MYSTIC RIVER $3,325,000 $45,649,000
---
FARSCAPE: With all the rumors of the revival of FARSCAPE this past weekend, the FARSCAPE convention in Burbank this weekend was an opportunity to ask Rockne O'Bannon what was going on. Cinescape.com reports that when show creator Rockne O'Bannon took to the stage on Saturday, he told the crowd that there wasn't any news he could give about the FARSCAPE rumors. Indeed, he went on, he really shouldn't even be at this con because he should be "at home right now writing hour three." O'Bannon added that FARSCAPE producers Brian Henson and David Kemper are in Australia at the moment working on something. When Claudia Black took questions from the crowd, someone asked if the actress had found any new work. Black said that there was indeed a project that she had to commit for and had to turn down other work for it -- but that she couldn't reveal what it was at the moment. There also may have been a few winks and nudges delivered to the crowd as well.
---
CURSED: Wes Craven's CURSED will get back into production this week, with Portia de Rossi added to a cast that includes Christina Ricci, Skeet Ulrich, Omar Epps, Shannon Elizabeth and Scott Foley. The project was put on an extended hiatus during the summer so the filmmakers could plan for more special effects than originally anticipated and further develop the ending. Set in Los Angeles, the film puts a modern inventive twist on the classic werewolf tale. The story unfolds when a werewolf attack unites three strangers who must fight for survival against the beast and its curse.
---
A FEW GOOD GHOSTS: The LA Times reports that Walt Disney Studios halted production Friday of its long-troubled animated project A FEW GOOD GHOSTS, raising questions about the fate of the company's Orlando, Florida, animation facility and its staff of some 258 artists who were working on the project. Disney confirmed Friday that the movie was being shut down and that "over the next six weeks we are going to examine all our options going forward," including shuttering the Florida studio. Disney recently laid off 50 animators in Orlando, closed its Paris animation studio and shuttered its animation unit in Tokyo, laying off more than 100 employees. In all, Disney has slashed more than 700 jobs in recent years, leaving the company with a total of about 900 animation workers, including those in Orlando. Escalating production and labor costs have forced Disney to slice animators' salaries as much as 50%. A FEW GOOD GHOSTS, a combination of computer animation and traditionally drawn 2-D human characters, went into production this summer. It would have been the fourth feature produced entirely at the Florida studio, the others being Disney's BROTHER BEAR, LILO & STITCH and MULAN. The story is about two star-crossed lovers reunited by a family of ghosts who inhabit the bodies of folk-art dolls.
---
Sunday, November 16:
WEEKEND BATTLE GROUND -- THE THEATERS: According to The Hollywood Reporter, there are a number of battles being waged this weekend in theaters. Russell Crowe's MASTER AND COMMANDER is opening and will try to unseat MATRIX REVOLUTIONS as #1 in the box office. Perhaps the more interesting tussle of the weekend could turn out to be the unlikely matchup between Warner Bros. Pictures' "Revolutions" and New Line Cinema's "Elf," which scored big in its debut weekend and went on to beat "Revolutions" on some key weekday grosses. Fox's "Master and Commander" -- the $150 million film co-produced with Universal Pictures and Miramax Films -- tells the story of Royal Navy Capt. Jack Aubrey, played by Oscar winner Russell Crowe, and his quest to destroy a superior French vessel during the Napoleonic Wars.
---
Saturday, November 15:
TOP SF NETWORK SHOWS:
Joan of Arcadia 7.2
Alias 5.9
Smallville 3.9
Charmed 3.5
Angel 3.1
Tarzan 2.6
Enterprise 2.2
Jake 2.0 1.6
Source: Nielsen Galaxy Report, 10/13/03 - 10/19/03.
---
ALIAS: According to TV Guide Online, Lena Olin has turned down a deal to reprise the role of Jennifer Garner's nefarious mom, Irina Derevko, on ALIAS. There is speculation as to why she has declined, but ALIAS executive producer J.J. Abrams continues to hold out hope that Olin will be back. "[Irina] remains a critical piece of the puzzle."
---
FINDING NEMO: Variety reports that FINDING NEMO is on its way to becoming the top-selling DVD of all time, with consumers spending nearly $300 million buying and renting the Disney/Pixar movie on DVD and VHS during its first week in stores. According to industry sources, consumers purchased 17 million copies of the movie (an estimated 13.5 million on DVD) during the week of Nov. 4-10. They spent another $10.8 million renting Nemo on DVD and VHS, according to Rentrak Home Video Essentials. The movie is all but guaranteed to be the top-selling DVD of all time by early next week, surpassing Columbia TriStar Home Entertainment's Spider-Man and New Line's The Lord of the Rings: The Fellowship of the Ring, which have each sold an estimated 14 million DVDs since their release in November 2002.
---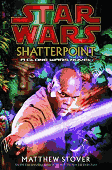 EPISODE III: The STAR WARS website has announced the author who will write the novelization for EPISODE III. Matthew Woodring Stover, author of the Clone Wars original novel SHATTERPOINT and the New Jedi Order book TRAITOR, joins the exclusive club consisting of Terry Brooks (EPISODE I) and R. A. Salvatore (EPISODE II) as writers who have adapted the STAR WARS prequel screenplays into novels. "SHATTERPOINT made me feel like I can bring out the interior life of a character that you've only seen the outside of on the screen. That's a lot of what I anticipate I'm going to be doing for this novelization," Stover is quoted as saying on the official website. "I think that Lucasfilm and Del Rey feel I have a certain insight into the dark side. That is, after all, what I was writing about in both of my previous STAR WARS books." Del Rey Books will release the novelization of EPISODE III at a time close to the May 2005 release of the film. Lucasfilm is still insisting that the film (and the novel) are still untitled.
---
STEPHEN KING'S KINGDOM HOSPITAL: The Hollywood Reporter reports that ABC set a date for "Stephen King's Kingdom Hospital." The 15-hour drama series from the horrormeister will debut with a two-hour episode March 3. The series stars include Andrew McCarthy and Diane Ladd.
---
CSI: This crime drama pulled in some very impressive numbers this week; going into double-digit demo territory on Thursday. "CSI" was on fire at 9 p.m. with an average of 29.2 million viewers and 10.5 rating/25 share in adults 18-49, according to preliminary estimates from Nielsen Media Research.
---
PINK PANTHER: That wild and crazy guy Steve Martin is stepping into the shoes of the bumbling Inspector Jacques Clouseau in MGM's "Birth of the Pink Panther." According to The Hollywood Reporter, the remake of the classic 1964 film starring Peter Sellers as the French detective on the hunt for a jewel thief who's right under his nose will be produced by Ivan Reitman and his Montecito Picture Co.
---
AT THE MOVIES: There are lots of choices this weekend at the movies. If you are curious about which ones to see, go to http://www.imdb.com/StudioBrief/ for some reviews. Looks like Russell Crowe's latest, MASTER AND COMMANDER: THE FAR SIDE OF THE WORLD is the one to beat this weekend. Although I love Daffy Duck, so LOONEY TUNES: BACK IN ACTION does have some appeal.
---
FARSCAPE: CAUTIOUS OPTiMISM: Over at IGN FilmForce, they report that while an official announcement was postponed earlier this week, they have learned that the production office in Australia has re-opened and work has begun on a new project. The Henson company would not comment on the information but a source close to the production has confirmed that the new project will be a miniseries, not a new season as originally hoped for by the fans. While no plot details are available, sources have also confirmed that the new project will be independent from the Sci-Fi Channel, the network that broadcast the series. No information is currently available about just where the new miniseries will be appearing or when. The miniseries is currently seen as a standalone project with no new episode commitment attached, so nothing is guaranteed beyond this project.
---
WHAT'S ON TONIGHT
8:00pm on CBS
Joan of Arcadia
St. Joan
God gives Joan (Amber Tamblyn) an assignment that results in her defending her beliefs. When God tells Joan to earn an "A" on her history test on the 100 Year War, her reluctance turns to fervor when she learns that scholars believe Joan of Arc was schizophrenic because she claims to have spoken with God. Her interest in her namesake helps her ace the exam but when she is accused of cheating and told to retake the test, she takes a stand by refusing. On SCIFI Tonight:

6:00pm
Stargate SG-1
Part 2 of 2: Last Stand
Osiris goes to war with the System Lords, leading to a massive peace summit.

7:00pm
Stargate SG-1 : Space Race 8:00pm
Stargate SG-1
Fragile Balance
O'Neill regresses several decades and becomes his teenage self. 9:00pm
Kecksburg UFO: New Evidence
Host Bryant Gumbel shines light on an investigation of a UFO incident in Pennsylvania.
SPECIAL HOLIDAY ACTIVITIES
For a number of years, Pat Tallman (Lyta) has been heavily involved with Penny Lane, a family treatment center that cares for the most difficult to manage children with the highest quality care. These kids have been so sexually, emotionally and physically abused, they cannot be placed in regular foster care. Children come from all over California, Nevada and Arizona. This program focuses on kids who are the 104 in residence in the North Hills main facility and 9 satellite houses. Penny Lane also services over 700 young children in foster care. Pat would like to focus this year on the 104 teens in residence and provide Target gift cards to the 40 young adults in Penny Lane's revolutionary Transitional Living program. To learn more about Pat's efforts at Penny Lane, go to the Be A Santa page. Here you will find a note from Pat and some responses from children who are current at the Penny Lane facility. At this special time of year, open up your heart and make one of these children feel special. If readers would like to join together and present Pat with a number of gift certificates, I can coordinate the effort. Just let me know if you are interested -- and what you would like to donate. We can get gift certificates for Target, Tower Records, Borders and Barnes and Noble Books. Let's pull together and show the kids that the Babylon 5 community really does have the holiday spirit.
RANGER SIGHTINGS
Ranger Dave reports that Jerry Doyle was spotted in last night's episode of JAG.
SEASON FOUR OF BABYLON 5
Warner Brothers have announced that January 6th, 2004 (Region 1) is the release date for Babylon 5: The Complete Fourth Season ("No Surrender, No Retreat"). There is no information at this time about when region 2 will be released. DESCRIPTION:
The future begins -- or ends -- here and now. Here is the huge space station Babylon 5. Now is the fateful year 2261. Commander John Sheridan has already declared the station free, breaking the ties between it and Earth Alliance. It was perhaps only a matter of time before he would have to fight to remain free. That time has come in this complete 22-episode fourth-season adventure presented on 6 discs and featuring an exciting array of Exclusive Extras. This six DVD set will include (preliminary listing):
Introduction to Babylon 5 - Season 4 by series creator J. Michael Straczynski
Two commentaries by series creator J. Michael Straczynski and another from director Mike Vejar
Commentary by cast members Bruce Boxleitner, Jerry Doyle, Peter Jurasik and Patricia Tallman
"Celestial Sounds" featurette about series composer Christopher Franke and the making of the series music
"No Surrender, No Retreat" DVD Suite, original music composed exclusively for the DVD
"The Universe of Babylon 5"
Personnel Files and Data Files
Gag Reel
Episode Previews
16x9 Anamorphic Widescreen
Dolby Surround 5.1 (English only)
Subtitles in English, French, and Spanish
Closed Captioned for the hearing impaired Pre-orders can be placed at a number of locations, including www.amazon.com and Uncomyn Gifts.
BABYLON 5 SEASON THREE DVD - OUT NOW!
Season Three of Babylon 5 was released in the U.S. on August 12. It will be available in the UK beginning October 27. A review can be found over at http://www.imdb.com/Recommends/Rec2.html and the DVD series is on their recommended list. It was a featured item on http://www.imdb.com/. BABYLON 5: THE COMPLETE THIRD SEASON DVD Order Date: 7/15/03 Street Date: 8/12/03
Catalog #: 24243 WB Synopsis: The long-running Emmy Award-winning television series Babylon 5 takes place in the year 2257 A.D. on an immense spaces station floating in a stationary orbit in a neutral corner of a distant galaxy. Staffed by a crew of peaceful Earthmen and women, Babylon 5 serves as a non-political economic and social hub for the four alien races - the Narn, Centauri, Vorlon and Minbari - who fight to control the galaxy. Starring Bruce Boxleitner, Claudia Christian, Jerry Doyle, and Bill Mumy. Special Features and Specifications: o Six-disc DVD collector's set
o Introduction from series creator J. Michael Straczynski,
o Commentary on three key episodes by series creator and stars,
o"Behind the Mask: Creating the Aliens of Babylon 5" Documentary
o"Designing a Better Narn" Documentary
o"Designing Tomorrow: The Look of Babylon 5" Documentary
o Data and Personnel Files
o 16X19 Anamorphic Widescreen
o Dolby Digital 5.1
o English, French Spanish subtitles
o Running Time: 968 minutes For a look at Season Three, go to Season Three. Here you will find individual synopses of each episode and a graphic provided by Warner Bros.
GAG REEL
As with the other DVDs, there is a gag reel portion on the Season Three DVD as well. Ranger Mike sent along instructions on how to get there.

Babylon 5 Season 3 DVD Blooper Reel

The Season 3 "Gag Reel" is for real! It is actually an Easter Egg (a hidden component in the DVD) and is about three minutes long. There is a brief musical introduction and the segment mostly contains dialog goofs and other blunders the cast had.

To get to the Gag Reel, put in disc #6 and from the main menu:

* Select "The Universe Of Babylon 5"
* Select "Data Files"
* Cursor down Between the middle menu option "The Battle For Babylon 5" and the bottom menu option "The Universe Of Babylon 5". You should get a highlighted "5" logo to appear
* Press select to view the Gag Reel.
DISCUSSION TOPIC
In this crazy world we live in, it's always fun to share everyday items that make us think of Babylon 5. For example, there's a new book on shelves entitled BABYLON RISING by Tim Lahaye. What did you think of when you first saw the title? Send in your comments and observations to sgbruckner@aol.com and I'll post them on the Discussion Page for everyone to share.
JEREMIAH
For all that is new with JEREMIAH, go to JEREMIAH page. Showtime does not have the show on it's schedule right now. Fans are putting pen to paper and writing to voice their support for the series and their desire to have it back on the airwaves. Check out how you can help.
KEEPING UP WITH CAST AND CREW
GARY COLE Jason Bateman teams up with Gary Cole in Fox's upcoming dodgeball comedy. The untitled project centers on a group of neighborhood residents who challenge the developers of a giant fitness center. The dodgeball picture stars Ben Stiller, Vince Vaughn and Christine Taylor.
---
SEAN ASTIN: Sean Astin went directly from LORD OF THE RINGS to JEREMIAH. He has been marvelous in the role as Mister Smith and Frank Garcia caught up with him as he was busy directing an episode of JEREMIAH this summer. Read all at http://www.scifi.com/sfw/current/interview2.html.
---
JASON CARTER: Jason appears in SHE SPIES episode, entitled "Love Kills" the week of November 10 (check your local listings). He portrays an assassin named Morgan Porter.
---
ALEXANDER ZAHARA: Alex has been very busy since the close of LEGEND OF THE RANGERS. He turns up every so often on STARGATE or JEREMIAH. He just opened a new website at http://www.alexzahara.com/. He's got a contest going -- he's offering up t-shirts from LEGEND. You'll note that he has just finished a number of projects -- including OPEN RANGE -- in which he gets to shoot Kevin Costner and a recurring role in Stephen King's KINGDOM HOSPITAL.
---
BRUCE BOXLEITNER: Bruce has just finished filming an independent movie entitled THEY ARE AMONG US. SNAKEHEAD TERROR was filmed for the Sci-Fi Channel, also starring Carol Alt and William B. Davis. That project is currently in post-production.
CRUISE WITH PETER WOODWARD
Peter is considering cruising the Caribbean in early 2005 and wants to invite his fans to join the fun. He would like to see if there is sufficient interest before going too far into planning, so if you would like to receive a brochure about Peter's upcoming cruise once the details are finalized please advise of your: Name:
Postal Address, City, State, Zip:
E-mail address:
Phone number:
Total number of guests in your party:
Age range of the guests including yourself:

Send this information to pwoodwardinfo@yahoo.com. Any information you send us will be handled respectfully. This is not a commitment from you, just an indication of interest.
BABYLON 5 BIRTHDAYS
Robert Foxworth - November 1
John Vickery - November 4
Damian London - November 12
Tracy Scoggins - November 13
Dwight Schultz - November 24
Louise Turenne - November 26
Efrem Zimbalist, Jr. - November 30
Have I missed anyone? If you know the birthday of someone connected with Babylon 5, pass the information along. We want to include everyone in our Happy Birthday Wishes.
READER BIRTHDAYS
Sometimes you just can't find the e-mail address for someone you know you have -- it's someone who responded to a discussion topic or you met in one of the chat rooms. You'd like to send a personal note, but .... No address!!!!

We've started a White Pages of Zocalo Readers! It's a handy way of keeping track of people -- and putting together a birthday/greeting card list as well. If you would like to be part of the listing, just send me your name, state, e-mail address and (if you'd like to have it listed) birthday (without year) to sgbruckner@aol.com. Check out the Directory of Readers.

Name: Adam Clark
State: Missouri
E-mail address: aclark@ims-1.com
Birthday: November 19

Name: Garibaldis_Uniform
State: Ohio (formerly Hawaii)
e-mail: Babylon_5Fan@yahoo.com
Birthday: November 12
BABYLON 5 FANS - SPECIAL HELP SECTION
BABYLON 5 FAN CLUBS
Swedish Babylon 5-Club We're situated in Gothenburg, Sweden's second largest city, and have been around since 1999. Our activities consist of showing B5 episodes on the big screen. The next time will be on November 8th here in Gothenburg. Our webpage is at http://www.babcon.org/. Asbjorn
President, Interstellar Alliance
sheridan@babcon.org -- Interstellar Alliance - Sweden's largest Babylon 5 club
BabCon XIII on November 8th 12.30 - 02.00
http://www.babcon.org/ Italian Babylon 5 News Ranger Bianca has a website that provides Italian Babylon 5 fans with news. The site is located at www.babylon5.it.
BABYLON 5 MERCHANDISE
Are you looking for Babylon 5 merchandise? Would you like to possess some of the wonderful patches or pins sold by the B5 Fan Club? Do you want to put in an order for the latest DVD? Bruce at Uncomyn Gifts still has one of the best collections around. Check out www.uncomyngifts.com. You may just find the magazine or t-shirt or patch you are looking for.
---
BABYLON 5 SCREENSAVER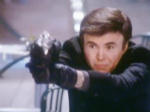 I received a wonderful note from Warner Bros. yesterday. It said:
"we also got this link from WHV for B5 screensavers, if you want to post this anywhere:
http://www.eyetide.com/download/?p=104117."
The graphics are awesome and it will add a certain measure of class to any desktop. Don't miss the preview feature. You can see what graphics have been included for your viewing pleasure. Thanks WB.
---
BABYLON 5 ROLE PLAYING AND FACT BOOK
The Babylon 5 Roleplaying Game and Fact Book
"Signs and Portents"
By Matthew Sprange
Mongoose Publishing
ISBN: 1-904577-11-3
MSRP: $49.99 From the review written at http://www.scifi.com/sfw/current/games.html B5 fans might want to pick up this game whether they actually play it or not. Based on the first season of the series, the "fact book" portion of the book includes an overview and maps of Babylon 5 and an episode-by-episode breakdown of the first season.
TRADING CARD HELP
Ranger Tia sent along this note to share with B5 card collectors:

Don't know if you've heard of my card program yet or not, but I thought the other B5 card collectors might like to try it out. With having almost all of the B5 trading cards and CCG cards available and no program to keep track of them withm, I started writing my own. Here's the website for it. Go half way down and click on the small screen shot for a full size screen shot. I have the pic of Pat Tallman's card from the Profiles card set feautured in the shot.

Oh, and I also have a lot of the card lists already saved as files so people won't need to type in all the card names. Being written by a B5 fan, ALL the card lists have already been made and are downloadable. :)

http://cardkeeper.usethis.com/keeper/index.html

Tia
NEW SCIENCE FICTION PUBLICATIONS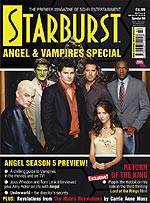 Starburst Special #60 Starburst takes a look at vampires -- on the big and little screen -- from Dracula to Angel. In addition to ANGEL and BUFFY features, you'll find production designer for LORD OF THE RINGS Grant Major talking about THE RETURN OF THE KING and UNDERWORLD's director Len Wiseman breathing life into vampires and werewolves.



Expose #81: Mercedes McNab talks about her roles on BUFFY and ANGEL. Gerard Butler talks about the transition from LARA CROFT to TIMELINE. Mary Steenbergen reveals how she's developed a talent for motherhood and her transition from ELF to JOAN OF ARCADIA.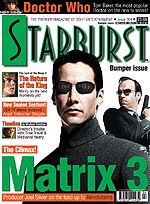 Starburst #304: MATRIX REVOLUTIONS - the final installment of this trilogy is discussed by producer Joel Silver. Also in this issue: Dominic Monaghan talks about his role in LORD OF THE RINGS; Michael Crichton's TIMELINE comes to the big screen and director Richard Donner talks about troubles with time travel and mediaeval fakery.
DVD Issue #49: A lot of terrific movies are coming out on DVD. Orlando Bloom, Keira Knightley and Johnny Depp talk about making Pirates of the Caribbean. THE HULK -- the Ultimate DVD was given access to ILM to unwrap the incredible effects that made the Marvel comic book legend come to life. Other included: Terminator 3; The League of Extraordinary Gentlemen; Legally Blonde 2 and more.



ALIAS: Previews Exclusive Cover Edition! In this issue we de-classify some scorching season three secrets, as well as re-visiting some favorite episodes from Seasons past — as voted for by the readers. Alias creator J.J. Abrams will be on hand to answer your questions. Available in Newsstand and Previews Exclusive cover editions! (Titan)



Dreamwatch: In stark contrast to what we know the future to hold, Lex and Clark have forged a close friendship on Smallville. This month we chat with archenemy in waiting, actor Michael Rosenbaum. Nicole deBoer, a.k.a. The Dead Zone's Sarah Bannerman, discusses the taut psychological thriller and reveals visions of the show¹s future. Plus, new season news from Angel, Alias and Stargate SG-1. (Titan) Magazine, 84pg,



Cult Times #98: Everyone is a-buzz about the revival of DOCTOR WHO. Who will portray the good doctor? When will it actually go into production? Also in this issue, writer/producers Alex Kurtzman-Counter and Roberto Orci talk about the coming season of ALIAS. Lisa Ryder talks about the new season of ANDROMEDA and Mandy Patinkin and Jasmine Guy provide some information on their show, DEAD LIKE ME.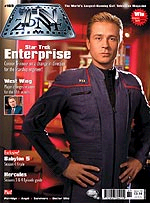 TV Zone #169: In this issue, J. Michael Straczynski continues to reminise about the final days of the fourth season of BABYLON 5. Conner Trinneer from ENTERPRISE talks about his job as chief engineer Trip Tucker and they look at the departure of Rob Lowe from THE WEST WING.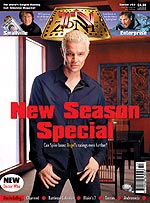 TV Zone #53: This special issue looks at all the returning shows -- and some of the hotter new ones. Inside, Scott Bakula looks at the coming second season of ENTERPRISE; Executive Producer Alfred Gough discusses the challenges of re-creating a superhero on SMALLVILLE. Among new shows, they look at BATTLESTAR GALACTICA, JAKE 2.0, JOAN OF ARCADIA and TARZAN.
The Buffy finale saw Spike crumbling into the light, sacrificing himself so that humanity, and Buffy, might be saved. But now he's back from limbo and settling into LA life alongside Angel. We talk to James Marsters about his new role. Plus, Alexis Denis tells about Wes' transformation from Watcher to Rogue Demon Hunter and now Commander of Angel Investigations. Available at Newsstand.
Cult Times #100: Celebrate a century of Cult Times with this issue. Read interviews with the stars, and features on shows currently airing in the UK. A Classic Series is given a light-hearted but informative look in our Instant Guide and the highlights of the previous month's viewing are featured in Times Past. Cult Times is the complementary magazine to TV Zone, and together they provide the ultimate guide to the many worlds of Cult Television.
Cult Times Special #27: With the passing of BUFFY the Vampire Slyaer, CT looks back over the series; its characters and why it was so successful. Also included in this issue, Joss Whedon talks about possiblities for the future, including a movie for FIREFLY -- and BUFFY.
Shivers #107: As the new season approaches, everyone is speculating about the fireworks that could occur between Spike and ANGEL. Shivers takes a look at that this month -- along with Freddy vs. Jason, Underworld, and House of the Dead. There is an interview with Jeffrey Combs -- who most will know from Babylon 5 and Star Trek.



BABYLON 5 NOVEL - ON BOOK SHELVES NOW
DelRey is reprinting the original Babylon 5 novels. They started with #7 - Jeanne Cavelos' THE SHADOW WITHIN. Here's one I've been waiting for -- Kathryn Drennan's TO DREAM IN THE CITY OF SORROWS. The release date is scheduled for July 29, 2003. I love the new cover art! It can be pre-ordered from www.amazon.com. For those of you who love Babylon 5, this one reads just like an episode from the series. You just can't put it down.




COMIC BOOKS
AMAZING SPIDERMAN
Amazing Spider-Man #501 will arrive in stores on Wednesday from Marvel Comics. The issue is written by J. Michael Straczynski, with art by John Romita Jr. and a cover by Tony Harris. Here's how Marvel describes the issue:
"A brand new story arc starts following the historic issue #500. The drive to Amazing Spider-Man #1000 starts here." Amazing Spider-Man #501 will be 32 pages and will cost $2.25.
STARGATE SG-1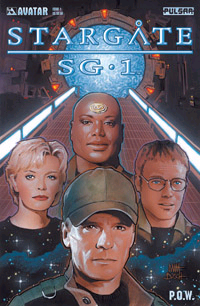 STARGATE SG-1: P.O.W. #1
by James Anthony & Renato Guedes; cover by Matt Busch
The first issue of the new Stargate series is finally here! The greatest sci-fi show on television comes to comics for the first time in a full-length action-packed series! Reconnaissance has discovered an alien invasion force with plans of conquest for planet Earth. Caught in a firefight, the escaping team from Stargate Command unknowingly allows a mysterious serpent-headed Goa'uld Lord access into the SGC. The invaders lay waste to the debarkation chamber, while locking a naquadah-laced bomb onto the Stargate. In the resulting attack, Colonel Jack O'Neill finds himself on a distant world, face to face with a thousand Goa'uld warriors. With the SGC under lockdown and O'Neill already a prisoner of war, the SG1 team must find a way to remove a doomsday bomb from the gate and rescue him from a Goa'uld fortress. Join the SG1 team for a full force adventure as they fight for survival against a race bent on subjecting the universe to their rule as the gods of legend. Jack O'Neill, Daniel Jackson, Samantha Carter, and Teal'c begin a new chapter of Stargate adventures in the pages of Stargate SG1: P.O.W.! Regular cover by Matt Busch; wraparound cover by Renato Guedes. Also available with a photo cover, and as a special "Golden Armor" edition, featuring an all-new solid gold foil wraparound cover with the Serpent Head Goa'ulds illustrated by Jacen Burrows and limited to 2,000 copies.
RISING STARS UPDATE
Since many of us wonder when JMS will be able to finish the RISING STARS comic book, here is an update from JMS: I've asked Top Cow for three things: for Dream Police back, since they've had it now for 3 years and have done nothing with it...for confirmation that the Joe's Comics title belongs to me, and for an apology for deliberately keeping me out of the loop on my own project at the feature stage and misleading me about drafts that had come in. Once those three things have been attended to, I can finish the series.
TV SCHEDULE ON SCIFI CHANNEL
BABYLON 5 21-NOV-03 9:00 AM BABYLON 5 (LBX) SPIDER IN THE WEB
23-NOV-03 3:00 AM MOVIE BABYLON 5: IN THE BEGINNING (LBX)
24-NOV-03 9:00 AM BABYLON 5 (LBX) SOUL MATES
25-NOV-03 9:00 AM BABYLON 5 (LBX) A RACE THROUGH DARK PLACES
26-NOV-03 9:00 AM BABYLON 5 (LBX) THE COMING OF SHADOWS
29-NOV-03 3:00 AM MOVIE MARATHON BABYLON 5: A CALL TO ARMS (LBX) CRUSADE:

23-NOV-03 2:00 AM CRUSADE RACING THE NIGHT
30-NOV-03 2:00 AM CRUSADE THE NEEDS OF EARTH

STARGATE SCHEDULE: 21-NOV-03 6:00 PM STARGATE SG-1 FAIL SAFE
21-NOV-03 7:00 PM STARGATE SG-1 (LBX) SPACE RACE
21-NOV-03 8:00 PM STARGATE SG-1 (LBX) FRAGILE BALANCE
24-NOV-03 6:00 PM STARGATE SG-1 THE WARRIOR
24-NOV-03 7:00 PM STARGATE SG-1 MESSAGE IN A BOTTLE
24-NOV-03 8:00 PM STARGATE SG-1 FAMILY
24-NOV-03 9:00 PM STARGATE SG-1 SECRETS
24-NOV-03 10:00 PM STARGATE SG-1 BANE
25-NOV-03 6:00 PM STARGATE SG-1 MENACE
26-NOV-03 6:00 PM STARGATE SG-1 SENTINEL
01-DEC-03 6:00 PM STARGATE SG-1 MERIDIAN
01-DEC-03 7:00 PM STARGATE SG-1 THE TOK'RA -PT1
01-DEC-03 8:00 PM STARGATE SG-1 THE TOK'RA -PT2
01-DEC-03 9:00 PM STARGATE SG-1 SPIRITS
01-DEC-03 10:00 PM STARGATE SG-1 TOUCHSTONE
02-DEC-03 6:00 PM STARGATE SG-1 REVELATIONS
03-DEC-03 6:00 PM STARGATE SG-1 CHILDREN OF THE GODS -PT1
04-DEC-03 6:00 PM STARGATE SG-1 CHILDREN OF THE GODS -PT2
05-DEC-03 6:00 PM STARGATE SG-1 THE ENEMY WITHIN
05-DEC-03 7:00 PM STARGATE SG-1 (LBX) AVENGER 2.0
05-DEC-03 9:00 PM STARGATE SG-1 (LBX) BIRTHRIGHT
05-DEC-03 11:00 PM STARGATE SG-1 (LBX) BIRTHRIGHT FARSCAPE SCHEDULE:

07-DEC-03 12:00 AM FARSCAPE COUP BY CLAM
08-DEC-03 11:00 AM DAYTIME ROTATION - FARSCAPE LOOK AT THE PRINCESS PT 1: A KISS IS BUT A KISS
08-DEC-03 12:00 PM DAYTIME ROTATION - FARSCAPE LOOK AT THE PRINCESS PT 2: I DO, I THINK
08-DEC-03 1:00 PM DAYTIME ROTATION - FARSCAPE LOOK AT THE PRINCESS PT 3: THE MALTESE CRICHTON
08-DEC-03 2:00 PM DAYTIME ROTATION - FARSCAPE THE UGLY TRUTH
08-DEC-03 3:00 PM DAYTIME ROTATION - FARSCAPE A CLOCKWORK NEBARI
14-DEC-03 12:00 AM FARSCAPE UNREALIZED REALITY
16-DEC-03 11:00 AM DAYTIME ROTATION - FARSCAPE LIARS, GUNS, AND MONEY PT 1
16-DEC-03 12:00 PM DAYTIME ROTATION - FARSCAPE LIARS, GUNS, AND MONEY PT 2
16-DEC-03 1:00 PM DAYTIME ROTATION - FARSCAPE LIARS, GUNS, AND MONEY PT 3
16-DEC-03 2:00 PM DAYTIME ROTATION - FARSCAPE DIE ME, DICHOTOMY
16-DEC-03 3:00 PM DAYTIME ROTATION - FARSCAPE SEASON OF DEATH
21-DEC-03 12:00 AM FARSCAPE KANSAS
28-DEC-03 12:00 AM FARSCAPE TERRE FIRMA

EARTH: FINAL CONFLICT

21-NOV-03 5:00 AM EARTH: FINAL CONFLICT SUBTERRA
05-DEC-03 5:00 AM EARTH: FINAL CONFLICT BOONE'S AWAKENING
12-DEC-03 11:00 AM DAYTIME ROTATION - EARTH: FINAL CONFLICT DECISION
12-DEC-03 12:00 PM DAYTIME ROTATION - EARTH: FINAL CONFLICT TRUTH
12-DEC-03 1:00 PM DAYTIME ROTATION - EARTH: FINAL CONFLICT MIRACLE
12-DEC-03 2:00 PM DAYTIME ROTATION - EARTH: FINAL CONFLICT THE JOURNEY
12-DEC-03 3:00 PM DAYTIME ROTATION - EARTH: FINAL CONFLICT FINAL CONFLICT
12-DEC-03 5:00 AM EARTH: FINAL CONFLICT TERMINATION
19-DEC-03 5:00 AM EARTH: FINAL CONFLICT GUILTY CONSCIENCE
BABYLON 5/CRUSADE PHOTOSHOP PHOTOS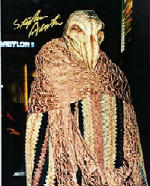 Peter Woodward has sent along a new photo -- a rather dreadful one -- from his appearance on CHARMED. It will be added to the collection of photos available from Peter, including additional copies of the Crusade poster in photo format. Both are autographed by Peter. You do NOT have to pay the prices asked for over at e-bay! Here are photos of B5 and Crusade cast members at fantastic prices. Check out Photo Shop. Ordering is easy -- and you can't beat the prices! Just let me know which photos you want and I'll check to make sure they are still in stock.
---
BABYLON 5 TOONS
John Cook has a wonderful collection of cartoons -- many are take-offs from Babylon 5. Here's just one of them.

He has a cartoon caption contest going on as well. Try your hand at a punch line.

Go to http://contests.sev.com.au/index.php?contestid=1


SCI-FI CARTOONS
With the new Battlestar Galactica coming in December, Tye brings back old memories of Captain Apollo and the old series with this new satire. Apollo Discovers Feng Shui.Enjoy Tye's other works at www.thelightersideofscifi.com.



BABYLON 5/CRUSADE CONVENTIONS
CONVENTION UPDATE
CONVENTION CALENDAR
Farpoint
February 13-15, 2004
Location: Marriott's Hunt Valley Inn
Place: Baltimore, MD
B5 Guests: Bill Mumy, Brad Dourif
Other Guests: Peter David, Liliana Mumy

For more information, visit their website at http://www.farpointcon.com.
---
Be sure to visit the referenced sites to see if there have been changes in dates/guests attending. Also visit our Convention Calendar for a full listing of upcoming conventions featuring Babylon 5, Crusade and Legend of the Rangers cast members as guests.
CONVENTION HIGHLIGHTS
Ranger Brian had a blast with Rick, Jason and Jeffrey at the 2BeContinued Convention last week in Indiana. He sent along a picture for everyone to enjoy. Thanks Brian.
If you would like to share your convention experience with your other Zocalo readers, send along a convention report. I will gladly post it for all to read. Got pictures? I'll post those as well.
ZOCALO TRADING POST
Do you have extra copies of B5, Amazing Spiderman, Midnight Nation or Rising Stars comics you'd like to trade? How about those extra trading cards or B5 magazines? There are a lot of fans looking for these items -- and the Trading Post can help you buy or sell them. To see what's available, just use this link to the Trading Post. To have items included in The Trading Post, send a note to The Zocalo. Please put Trading Post in the subject line.
PEN PALS
If you are looking for someone to talk about Babylon 5 and Crusade with, the Pen Pal section is for you! Check it out! Drop a note to someone who is feeling B5 withdrawal -- BIG TIME!

People thought a Pen Pal page was a good idea. If you would like to meet people who you could chat with or share your opinions of the show with, send along your e-mail or snail-mail address The Zocalo. It will be incorporated on the new Pen Page Page.
MAIL FOR CAST AND CREW
Here's a recent note from JMS on the subject:

Just an FYI to those who've been using the Ventura Blvd. mail drop for fan mail to actors....

As mentioned before, we're phasing out the forwarding of fan mail because we a) don't have the resources, complicated by b) the actors have scattered to the four winds, and it makes it very difficult to get everything to everybody in a timely fashion.

So, having provided prior notice...fan mail to actors coming to the Ventura Blvd. mail drop will be sent back. Mail to actors should be sent via their official fan clubs. I will still be taking mail there, since it's my mailbox, but that's it.

Just so's y'all know and save a few bucks on postage and returns.

WARNER BROS:

Warner Bros. Address:

Warner Bros. Domestic Television Distribution
4000 Warner Blvd.
Burbank, CA 91522

Warner Home Video:

Mr. Douglas Wadleigh
VP for Marketing and Special Features
Warner Bros.
4000 Warner Blvd.
Burbank, CA 91522

SCIFI:
Bonnie Hammer, President
Sci-Fi Channel
1230 Avenue of the Americas
New York, NY. 10020-1513

Mr. Thomas Vitale
Senior VP of Acquisitions, Scheduling & Program-Planning
BACK ISSUES OF THE ZOCALO TODAY
The front page of the The Zocalo Today changes daily, so be sure to check the back issues to make sure that you haven't missed anything IMPORTANT! I don't want the front page getting too long so I shift information periodically into the archives. So if you aren't a regular visitor to The Zocalo Today, be sure to check out the back issues. Just use the button above!
---
Take care and I look forward to hearing from you.
Sandra Bruckner (sgbruckner@aol.com)
Editor/Publisher
The Zocalo Today
http://www.isnnews.net
Copyright - SBruckner, 1999-2003