[an error occurred while processing this directive]

The Zocalo Today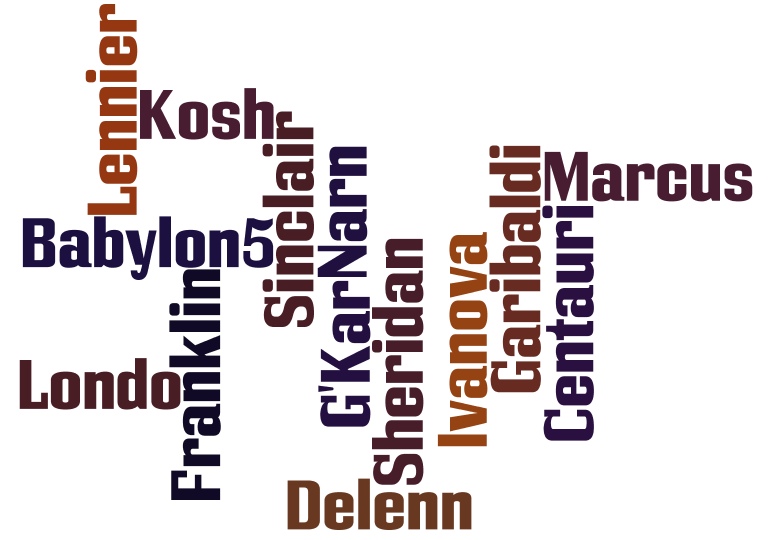 Welcome and thank you for dropping by. Babylon 5 brought many of us together -- and it remains with us, despite the fact that is no longer in production. The good thing is that the internet gives a LOT of ways to stay in touch. Don't be shy. Join in the discussion today or drop by Facebook or Twitter.

If you have questions or items for the news, drop me a line at sgbruckner@aol.com.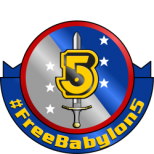 SUNDAY, NOVEMBER 24, 2013
DOCTOR WHO CHRISTMAS TEASER
Matt Smith is going out with a bang in the 2013 "Doctor Who" Christmas special. Though "The Day of the Doctor" was everything a Whovian could have hopes for, it seems the 11th Doctor will face off one last time with his most feared enemies. All of them.
In the first teaser trailer for the special, the Doctor is on a planet he doesn't know about, but it seems that everything he hates it there with him, including Daleks, Cybermen, Weeping Angels and The Silence.
This special episode will also be Smith's last as the Doctor. At the episode's end he will regenerate, with Peter Capaldi taking his place.
The "Doctor Who" Christmas special airs, when else, on December 25.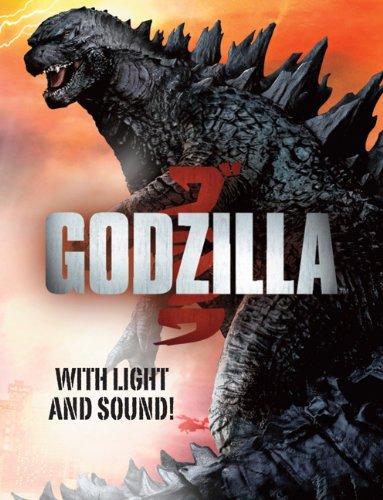 GODZILLA
The more we see of the new monster for next year's Godzilla reboot, the more confident we are that this is a redesign we can believe in.
While that 1998 reboot that we don't really like to talk about much seemed to get just about everything wrong when it came to Godzilla, the next attempt to revitalize the classic kaiju seems to, so far, be getting everything right. It's got acclaimed Monsters direct Gareth Edwards at the helm, and a script that includes work by Frank Darabont. It's got a star-packed cast that includes Aaron Taylor-Johnson, Elizabeth Olsen, Bryan Cranston, Ken Watanabe and original Godzilla star Akira Takarada. It's also got some killer early footage that, according to those who've seen it, includes more than one monster.
The production has also done a pretty good job of keeping the monster himself under wraps until they want to show him to us in all his destructive majesty, so we really haven't seen much but a tail here or a head there. Until now, that is.
A Godzilla tie-in book "kit" that will feature both a Godzilla figure that roars and 48 pages of material on the history of Godzilla and the making of the new movie will be released sometime next year, but the cover has already popped up online, and it's pretty much a full body shot of the star of the show himself. So, if you don't want to see the full creature until Gareth Edwards decides to show it to you in some stylized way, click away now.
Everyone else, step right this way and meet the monster.
While we're certain that he'll no doubt look much better when he's in motion, leveling buildings and battling other kaiju on the big screen, this is nonetheless a very encouraging shot of the monster. It looks classic without looking corny, and it definitely looks ready for some serious destruction.
We'll get to see the monster in all his gargantuan glory when Godzilla roars into theaters on May 16, 2014.
SHERLOCK
A brand new trailer for the anticipated return of Sherlock has hit the web and it plays up the social media frenzy surrounding Sherlock Holmes' (Benedict Cumberbatch) return from the dead.
"Oh. My. God!" exclaims a Sherlock fan after her phone buzzes to life.
Various Twitter hashtags take over the screen: #SherlockIsAlive!, #SherlockIsNotDead and #SherlockLives are among the most popular ones. (Talk about being meta.)
In August, the first trailer touting the return of the British series -- which plays on PBS Masterpiece in the U.S. -- debuted, focusing on various characters' reactions to learning of Sherlock's faked death. This one goes a step further, opening with John Watson (Martin Freeman) visiting Sherlock's grave and later likely coming face to face with the news.
Sherlock returns Sunday, Jan. 19 on PBS Masterpiece.
WEEKEND BOX OFFICE
Lionsgate's sequel The Hunger Games: Catching Fire topped the Friday box office with a historic $70.5 million, one of the biggest opening-day grosses of all time in North America and putting the sequel back on course to eclipse the $152.5 million earned by the first film in March 2012.
Catching Fire is also destined to score the top November opening of all time, eclipsing the $142.8 million earned by fellow YA film adaptation The Twilight Saga: New Moon. The movie, earning an A CinemaScore, marks another major victory for Lionsgate and is reaching a broader audience than Hunger Games did, with males making up 12 percent more of the audience.
Overseas, where it is rolling out in 65 markets, Catching Fire has already earned a stellar $64 million. The movie is doing double the business of Hunger Games overall, and is four times larger in Germany and nearly 40 percent bigger in Australia.
Domestically, many were confounded on Friday when Catching Fire trailed Hunger Games in matinee grosses. But by the time final numbers were tallied, the sequel had narrowly eclipsed the $67.3 million grossed by Hunger Games on its first Friday in late March 2012.
In its November slot, Catching Fire faces far more competition than Hunger Games did, including Thor: The Dark World, which is heading into its third weekend. The first Hunger Games also had the advantage of opening during the spring break corridor.
Hunger Games topped out at $408 million domestically and $283.2 million internationally for a global total of $691.2 million; Catching Fire is expected to do substantially more. By Sunday alone, the movie could cross $300 million in global ticket sales.
Directed by Francis Lawrence, the sequel returns Jennifer Lawrence, Josh Hutcherson and Liam Hemsworth in the lead roles. Woody Harrelson, Donald Sutherland, Stanley Tucci, Elizabeth Banks, Lenny Kravitz, Philip Seymour Hoffman, Jeffrey Wright, Sam Claflin and Jena Malone also star.
Simon Beaufoy and Michael deBruyn wrote the screenplay, adapting it from the Suzanne Collins best-seller.
The weekend's only other new nationwide entry is Delivery Man, starring Vince Vaughn. The $22 million DreamWorks dramedy, grossing a tepid $2.7 million on Friday to place No. 4, may only open in the $8 million range for the weekend, marking the worst nationwide opening of the actor's career for a film debuting in excess of 1,000 theaters (excluding cameos).
The film's modest budget minimizes the financial risk for DreamWorks and partner Disney. Moviegoers liked the dramedy -- about a sperm donor who fathers 500 children -- better than critics, giving in a B+ CinemaScore.
Elsewhere at the box office, Disney's decision to open Thanksgiving animated entry Frozen at the El Capitan theater in Los Angeles before the family film rolls out everywhere on Thanksgiving eve is paying off. Frozen grossed $66,498 on Friday for a weekend opening average north of $200,000.
AGENTS OF S.H.I.E.L.D.
Yahoo! has debuted the opening scene from this week's episode of "Marvel's Agents of S.H.I.E.L.D." Titled "Repairs," the episode is described as follows:
"Coulson and his team are haunted by a mysterious force that threatens to destroy them all, and only a secret from May's past can save them."
"Marvel's Agents of S.H.I.E.L.D." airs Tuesdays at 8 P.M. on ABC.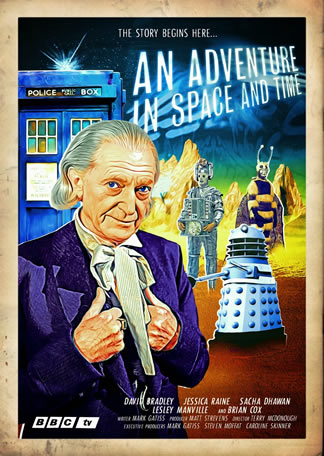 SATURDAY, NOVEMBER 23, 2013
AN ADVENTURE IN SPACE AND TIME
The BBC TV movie "An Adventure in Space and Time" is perhaps the most fitting tribute to "Doctor Who" during its 50th anniversary celebration, as it tells the story of the Doctor's origin, as unlikely as it may be.
The movie opens when the first Doctor, William Hartnell (David Bradley) preparing for his final scenes in the role, before retiring from the series. Standing at the console of his TARDIS, Hartnell remembers his time as the Doctor, which sets the story.
A lot of interesting things are shown throughout the story. One of the more interesting things to note is how the show is constantly spelled out as "Dr. Who," even though it's become taboo to Whovians to refer to it as such.
The creation of the show was largely in part because the BBC wanted something fun to lift up their programming, a show kids and adults would both love. Once they had the idea, there was some question about why the lead, a quirky old man, had to be a doctor. Co-creator Sydney Newman (Brian Cox) simply explains, "He should be a doctor, don't you think? Makes him an authority figure."
The movie paints Hartnell as a grumpy old man before "Doctor Who," though as the shows popularity grew and children began looking to him as a hero, he took major pride in the role and those who love it.
The movie touches on how the series premiere came a day after John F. Kennedy was assassinated, leading to less than stellar ratings and attention. However, the second serial introduced the Daleks, which brought the show success. Little kids running around yelling "Exterminate!" is pretty entertaining.
They also cover the Doctor's first companion, Carole Ann Ford (Claudia Grant) leaving the series and how it impacted Hartnell. The two has grown close during production and he was sad to see the one who had been on the ride with him depart. Things got worse when original producer Verity Lambert (Jessica Raine) also stepped down, leaving him with a new team to guide the ship.
As time went on, Hartnell's health began to deteriorate and remembering his lines became difficult. While he wanted a lighter schedule, the network went another way. The idea of regenerating the Doctor into a new actor was proposed, with Hartnell eventually being informed that he would be retiring the role.
In a crushing moment, he cries to his wife, "I don't want to go." The moment is significant as that was also David Tennant's last line as the Doctor when he left the series.
Finally, as the movie catches up to Hartnell shooting his last scene, greeting his predecessor, Patrick Troughton, the first Doctor looks across his TARDIS control panel to see a familiar face.
Matt Smith, dressed as his 11th Doctor, makes a surprise cameo, smiling back at Hartnell, assuring him that the Doctor is eternal, something that might not have happened without him. It's a fitting end to the story of the first Doctor.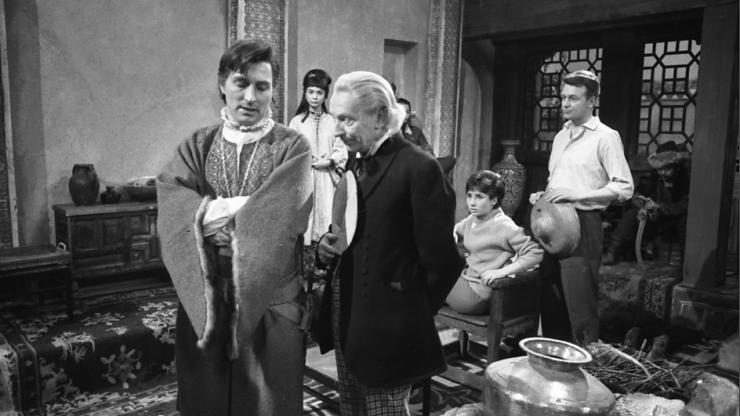 LOST EPISODES OF DOCTOR WHO
Happy 50th anniversary, fellow Whovians! Looks like all the missing episodes of a classic Doctor Who story have been found!
The Mirror reports that all seven missing episodes from a classic William Hartnell (the First Doctor) story from 1964, "Marco Polo," have been found and that it'll be officially unveiled next month.
Here's the report (thanks to a "Neil" and Doctor Who TV for this):
Seven lost Doctor Who episodes that were recorded by a fan are set to be unveiled next month.
The BBC are desperately keeping the existence of the 1964 series – called Marco Polo, featuring William Hartnell as the Doctor – secret.
They are one of the only series where no video footage exists – and was thought to have been lost forever.
A TV insider revealed: "This is a massive deal for Doctor Who fans, these episodes were hugely popular with viewers when they were first shown and are set to be a hit again." The chance to recover the wiped Marco Polo episodes has come from the dedication of a fan who enthusiastically recorded the episodes on a cine camera.
The fan recorded the episodes directly from the television onto a 16mm film camera. Since the discovery of the cine film, the recordings have been carefully restored and transferred onto broadcast tape by BBC Worldwide.
The source continued: "This new discovery is all down to a dedicated fan who spent ages recording the episodes back in the sixties. The recording – which is a silent film – came out really clearly so it will be easy to watch… the fan did it in a very professional way.
"There are already audio recordings of the episodes so the Beeb have had to match everything up. There are some gaps in the audio so it has been a painstaking process. Where there are gaps in audio they are going to be re-recorded using contemporary actors who sound as close to the original actors as possible.
"The fan had been holding onto these tapes for a long time and when the BBC found out about the tapes they jumped at the chance of using them. It's a massive coup for the broadcaster."
If this turns out to be true—and it's not just another rumor—then this is indeed another awesome find! More Doctor Who goodies for us all.
Back in October, another batch of long-lost Doctor Who episodes discovered in Nigeria were finally revealed to the world and released on iTunes.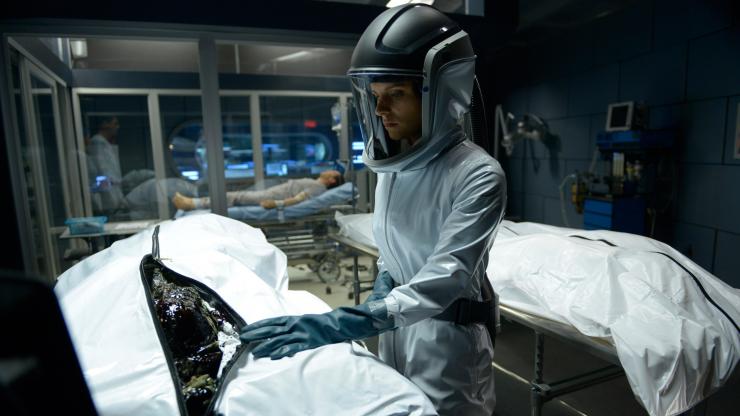 SYFY SERIES UPDATE
From Ronald D. Moore's TV return to sexy werewolves — there's going to be a lot of new stuff to check out on Syfy come January.
The network has announced its premiere date schedule for early 2014, including the debut of new series Helix and Bitten. The thriller Helix was developed by Moore (Battlestar Galactica) and tells a story reminiscent of The Thing, set at an arctic research base. It premieres Friday, Jan. 10.
Bitten is a sexy Canadian export about werewolves starring Laura Vandervoort (V, Smallville), which generated a fair bit of buzz in the land up north. It's set to premiere Monday, Jan. 13.
But that's not all. Returning series Being Human (U.S.) is set to debut its fourth season on Monday, Jan. 13, along with the fourth season of sexy fantasy series Lost Girl on the same night.
There are also some new and returning reality series that will be hitting the airwaves in early 2014, to go along with the scripted fare. New live series Opposite Worlds debuts Tuesday, Jan. 21, and will pit groups against one another in future and past settings, where both sides have to complete fast-paced challenges.
Returning favorite Ghost Hunters will be back with new episodes on Wednesday, Jan. 22, while the hit makeup artist competition Face Off will start its sixth season on Tuesday, Jan. 14.
For more details, check out the full press release below:
SYFY'S JANUARY 2014 PREMIERE SCHEDULE (All Times ET/PT)
SERIES PREMIERES
HELIX (TWO EPISODE PREMIERE): FRIDAY, JANUARY 10 AT 10PM
Helix is an intense thriller about a team of scientists from the Centers for Disease Control who travel to the high-tech research facility, Arctic BioSystems, to investigate a possible disease outbreak, only to find themselves pulled into a terrifying life-and-death struggle that may hold the key to mankind's salvation or total annihilation. However, the lethal threat is just the tip of the iceberg, and as the virus evolves, the chilling truth begins to unravel.
Billy Campbell (Killing Lincoln, The Killing) stars as Dr. Alan Farragut, leader of the Centers for Disease Control outbreak field team called upon to investigate and control a potential outbreak. Hiroyuki Sanada (The Wolverine, 47 Ronin) also stars as Dr. Hiroshi Hatake, director of Arctic BioSystems and its mysterious viral research program.
Helix also stars Kyra Zagorsky (Supernatural) as Dr. Julia Walker; Mark Ghanimé (Emily Owens, M.D.) as Major Sergio Balleseros; Jordan Hayes (House at the End of the Street) as Dr. Sarah Jordan; Meegwun Fairbrother as Daniel Aerov; Catherine Lemieux (White House Down) as Dr. Doreen Boyle, and Neil Napier (Riddick) as Dr. Peter Farragut.
Ronald D. Moore (Battlestar Galactica, Outlander), Steven Maeda (Lost, The X-Files) who is also showrunner, and Lynda Obst (Contact, Sleepless in Seattle) are Executive Producers. The 13-episode series is produced by Tall Ship Productions, Kaji Productions and Lynda Obst Productions in association with Sony Pictures Television. Prolific director and producer Jeffrey Reiner (Friday Night Lights) directed the premiere episode, which was written by creator and co-executive producer, Cameron Porsandeh.
OPPOSITE WORLDS: TUESDAY, JANUARY 21 AT 10PM
An all-new reality series pitting contestants in a past vs. future competition - featuring a live social experiment - Opposite Worlds will run for 12 episodes over six weeks (two episodes per week), with the second weekly episode featuring a live element (a first for a Syfy reality series).
In Opposite Worlds, 14 people from all walks of life face off in opposing teams that live in a house separated into two distinctly different worlds: one past and one future, each with its own unique advantages and disadvantages. Adding to the drama is a glass wall dividing the house into the two environments, allowing the teams to watch, envy and dread each other's every move. Every week, as cast members compete in a series of fast-paced challenges, viewers will be asked to participate in real time on social media and affect the outcome of each player's fate.
Opposite Worlds will be Executive Produced by JD Roth, Todd A. Nelson, Brant Pinvidic and Adam Kaloustian for Eyeworks USA. The series is based on the hit Chilean format, Mundos Opuestos, originally broadcast on Canal 13 and distributed by Banijay International.
BITTEN: MONDAY, JANUARY 13 AT 10PM
Based on the New York Times best-selling Women of the Otherworld novels by Kelley Armstrong, the 13-episode Bitten is an emotionally charged supernatural thriller starring Laura Vandervoort (Smallville, Ted) as Elena Michaels, the lone female werewolf in existence.
Desperate to escape both a world she never wanted to be part of and the man who turned her into a werewolf, Elena (Vandervoort) has abandoned her Pack and taken refuge in a new city. There, she works as a photographer and hides her werewolf existence from her new boyfriend. When bodies start turning up in her Pack's backyard, Elena finds herself back at Stonehaven, the werewolves' ancestral domain. Torn between two worlds and two loves, she quickly realizes that – when push comes to shove – she'll stop at nothing to defend her Pack.
Bitten also stars Greg Bryk (A History of Violence) as werewolf Pack "Alpha" Jeremy Danvers, Greyston Holt (Alcatraz) as Elena's werewolf ex-boyfriend Clayton Danvers, and Paul Greene (The Client List) as Elena's current beau, Philip McAdams.
Bitten is produced by No Equal Entertainment, Hoodwink Entertainment, and eOne in association with Space and Bell Media, with the participation of Rogers Cable Network Fund and Cogeco Program Development Fund and the Canadian Film or Video Production Tax Credit. Executive producers include J.B. Sugar for No Equal Entertainment, Patrick Banister and John Barbisan for Hoodwink Entertainment and Tecca Crosby, John Morayniss, and Margaret O'Brien for eOne. Daegan Fryklind and Grant Rosenberg are Executive Producers and co-showrunners.
SERIES RETURNS
LOST GIRL (SEASON 4 PREMIERE): MONDAY, JANUARY 13 AT 8PM
This season on Lost Girl, fate casts a wide shadow over the Fae world. With Bo's (Anna Silk) return, the lines between Dark and Light Fae are blurred, causing her embark on a journey of discovery. Bo and company will ultimately realize that, regardless of the challenges and enemies they face, they're stronger when they confront them together. George Takei (Star Trek) and Ali Liebert (Bomb Girls) are among the new season's guest stars.
Lost Girl also stars Ksenia Solo as Kenzi, Bo's human sidekick and street-smart confidante; Kris Holden-Ried as Dyson, the shape shifting homicide detective and noble warrior of the Light Fae; Zoie Palmer as Lauren, the brilliant human doctor who competes with Dyson for Bo's affection; Rick Howland as Trick, Bo's grandfather and the ancient and mysterious Blood King, and K.C. Collins as Hale, Dyson's partner and a Light Fae siren born of noble blood. Paul Amos returns as the ever devious Dark Fae Mesmer, Vex, and Emmanuelle Vaugier reprises her role as the evil Dark Fae leader, The Morrigan.
Lost Girl was developed by Prodigy Pictures, in association with Shaw Media and Showcase. Executive Producers are Jay Firestone and Emily Andras. Vanessa Piazza and Wendy Grean are producers. Lost Girl is produced with the participation of the Canadian Media Fund created by the Government of Canada and the Canadian cable industry, and with the assistance of the Canadian Film or Video Production Tax Credit and the Ontario Film and Television Tax Credit Program.
BEING HUMAN (SEASON 4 PREMIERE): MONDAY, JANUARY 13 AT 9PM
Season 4 of Being Human picks up four months from last season's shocking finale and, for Aidan, Sally, Josh and Nora, the past is about to come back to haunt them!
Aidan (Sam Witwer) and Nora (Kristen Hager) struggle to save Josh (Sam Huntington), who is trapped in his wolf form. At the same time, an unbelievable visitor collides with Aidan, forcing him to make impossible choices between the people he loves the most. Meanwhile, Sally (Meaghan Rath), having been dragged down into her death spot by Witch Donna (guest star Amy Aquino), finds herself trapped and at the mercy of her foe, but Sally's newly imbued magical powers could change everything.
Executive Producers are Michael Prupas, Anna Fricke (Men in Trees,Everwood), who is also writer and showrunner, Stefan Pleszczynski, and Rob Pursey & Toby Whithouse. Irene Litinsky is series producer.
FACE OFF (SEASON 6 PREMIERE): TUESDAY, JANUARY 14 AT 9PM
The critically-acclaimed hit reality competition series Face Off returns for a sixth season by introducing 14 new makeup artists in what will be Face Off'sboldest season yet. In the new season, the contestants will face extreme challenges that will inspire them to create the most magnificent characters and creatures in Face Off history.
Face Off is a competition/elimination series exploring the world of special-effects make-up artists and the unlimited imagination that allows them to create amazing works of living art. As a member of the multi-generational family dynasty whose name is synonymous with the make-up effects field, actress McKenzie Westmore brings expertise to her role as host of the series. Some of SFX world's most celebrated figures judge the competition – multiple Academy-Award winner Ve Neill (The Hunger Games, Pirates of the Caribbean), industry veteran Glenn Hetrick (CSI: New York, Heroes, Legion), and creature designer Neville Page (Avatar, Prometheus). World-renowned Hollywood makeup artist Michael Westmore (Star Trek) serves as the contestant mentor.
Face Off is a production of Mission Control Media with Dwight D. Smith, Michael Agbabian and Derek Atherton serving as Executive Producers.
GHOST HUNTERS (ALL-NEW EPISODES): WEDNESDAY, JANUARY 22 AT 9PM
Ghost Hunters, Syfy's longest-running unscripted series, returns with brand new investigations this winter. For its first episode back, TAPS (The Atlantic Paranormal Society), led by Jason Hawes, heads to Gettysburg, Pennsylvania as the town commemorates the 150th anniversary of the Civil War's Battle of Gettysburg. There, the team collects impressive paranormal evidence at a variety of locations.
Other famed sites getting the Ghost Hunters treatment this season include Buffalo and Erie County's Naval & Military Park, Historic Jordan Springs in Winchester, Virginia and Belle Grove Plantation in King George, Virginia. Ghost Hunters is produced for Syfy by Craig Piligian's Pilgrim Studios (The Ultimate Fighter, Fast N' Loud, Wicked Tuna). Piligian and Mike Nichols are Executive Producers, along with Tom Thayer and Alan David.
THE HOBBIT: THE DESOLATION OF SMAUG
Warner Bros. Pictures has debuted this new TV spot for The Hobbit: The Desolation of Smaug which heavily features Evangeline Lilly's Tauriel. The film opens in 3D, 2D and IMAX theaters on December 13.
The second in a trilogy of films adapting the enduringly popular masterpiece "The Hobbit" by J.R.R. Tolkien. The Hobbit: The Desolation of Smaug continues the adventure of the title character Bilbo Baggins as he journeys with the Wizard Gandalf and thirteen Dwarves, led by Thorin Oakenshield on an epic quest to reclaim the last Dwarf Kingdom of Erebor.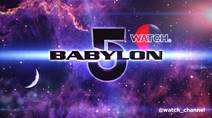 #FREE BABYLON 5
BABYLON 5 is back on TV and from the comments on the Watch site, people are enjoying the first season all over again. Episodes air daily at 5:00pm. If you are in the UK, dial up Watch (Sky 109/Virgin 124). Don't miss an episode.
Would you believe 118 comments for just the first day of showing the series! I sure hope someone takes notice. Be sure to use the @Watch_channel twitter handle and link to the Watch Facebook page when posting. http://watch.uktv.co.uk/shows.babylon-5.
Be sure to visit the the newFree Babylon 5 website. It is time to gather and support the show we know and love.
THE ZOCALO TODAY
Be sure to check out The Zocalo Today on Facebook as well as the ISN News Blog at ISN News Blog. SCIENCE FICTION NEWS STORIES:
Did you miss the news from yesterday -- or earlier in the week. Catch up by going to the News Archive. I have broken up the huge file into months to make it easier to load. It will bring you up to date for all that has been going on in the world of science fiction.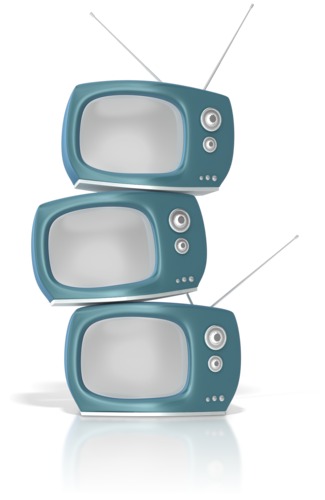 ON THE TUBE TONIGHT
7:00pm on ABC Family
Fred Claus (2007)
The yuletide season brings headaches for Santa Claus, who bails his ne'er-do-well brother Fred out of trouble and puts him to work in his factory. Vince Vaughn, Paul Giamatti, Miranda Richardson, John Michael Higgins, Rachel Weisz

8:00pm on AMC
The Walking Dead Episode: Live Bait S04, E06 (First Aired: Nov. 17, 2013)
Following his defeat at Woodbury, the Governor wanders aimlessly until he encounters a family in need.

8:00pm on BBC America
Doctor Who: The Doctors Revisited Episode: The Eleventh Doctor NEW
Eleventh Doctor Matt Smith shows a more human side to the character.

8:00pm on FX
Kung Fu Panda 2 (2011)
Po must unlock secrets of his past in order to defeat a formidable villain who plans to wipe out kung fu and conquer China. Animated. Jack Black, Angelina Jolie, Dustin Hoffman, Gary Oldman, Jackie Chan

9:00pm on AMC
The Walking Dead Episode: Dead Weight NEW S04, E07
Something new unfolds at a camp outside the prison; the addition of new members may threaten peace.

9:00pm on Syfy
Troy (2004)
The fierce warrior Achilles leads Greek forces in the Trojan War, ignited when Paris abducts Helen of Troy. Brad Pitt, Eric Bana, Orlando Bloom, Diane Kruger, Brian Cox

10:00pm on CBS
The Mentalist Episode: Red John NEW S06, E08
After a 10-year pursuit, Patrick finally comes face to face with Red John, the killer who took the lives of Patrick's wife and young daughter. 10:01 on AMC
Talking Dead NEW S03, E07
Guests discuss ``Dead Weight.''
KEEPING UP WITH CAST AND CREW
JMS AT WRITER'S GUILD - DECEMBER 17
Tue, December 17, 2013
7:15 PM - 8:30 PM

Though he's written drama like the Clint Eastwood-directed CHANGELING, J. Michael Straczynski is perhaps best known for his genre material. Straczynski – he goes by "Joe" – created the groundbreaking BABYLON 5 as well as the lesser-known-but-still-excellent JEREMIAH, contributed to the first THOR movie and the WORLD WAR Z script.
But that's not all. Joe also writes comics, like SUPERMAN, THE FANTASTIC FOUR and THE AMAZING SPIDER-MAN as well as his own titles like RISING STARS and MIDNIGHT NATION.
He'll meet us in the fabulous NerdMelt Showroom to chat about his work, his early history as an animation writer, and how he felt when BABYLON 5 was mentioned on BREAKING BAD.
For more information, go to Writer's Guild.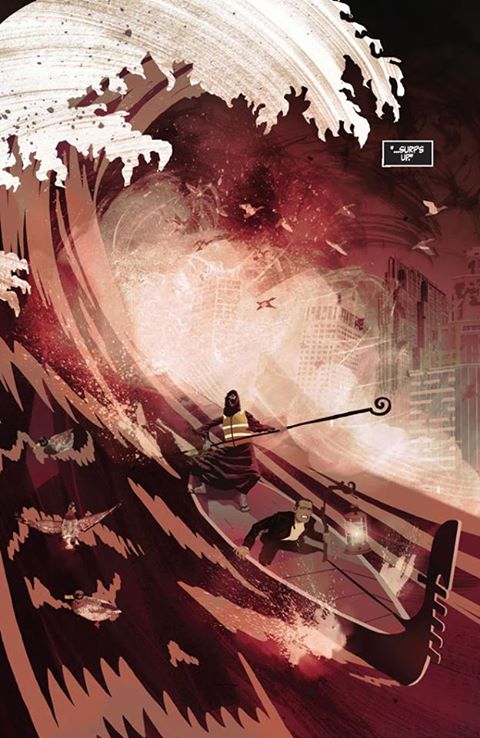 JMS-TEN GRAND #5
A four-page preview of Ten Grand #5, hitting stores Wednesday, with art by CP Smith! A chat in hell.... Ten Grand #5.


PROTECTORS TRAILER
Quick reminder: Protectors Inc. #1 hits stores this Wednesday with a free audio drama track. Here's the trailer for those who missed it.

READER'S CORNER
If anyone would like to submit reports from a convention they recently attended or items they would like to share with fellow Zocalo readers, please send them along to me at sgbruckner@aol.com. I will happily open up a new page for any submissions you care to send along.
BABYLON 5 20TH ANNIVERSARY BOOK
FIRST EVER BABYLON 5 BOOK PRINTED EXCLUSIVELY IN COLOR
Not just full color, but the actual colors of the sets, costumes and props. Extensive care was taken to ensure that the final pages precisely matched the color qualities of the original photographs, which were taken on set during production. B5-20 covers everything from the pilot through The Lost Tales.
For more information on this magnificant volume, go to b5books.com.




Here is a quote from J. Michael Straczynski about emotions.
I had this theory that the more important and intimate the emotion, the fewer words are required to express it.

First it's in dating: "Will you go out with me?" Six words.
"Honey, I care for you." Five words.
"You matter to me." Four words.
"I love you." Three words.
"Marry me." Two words.
But what's left? What's the one most important and intimate word you can ever say to somebody? It's "goodbye."

While Michael O'Hare (Sinclair), Andreas Katsulas (G'Kar), Rick Biggs (Dr. Franklin), Tim Choate (Zathras) and Jeff Conoway (Zach Allen) are no longer with us, we will not forget their wonderful personalities and talent -- as well as their significant contributions to the BABYLON 5 universe. Be sure to visit In Memory Of for more information about memorial efforts.
Until we met again, in a place where no shadows fall.
BABYLON 5 BIRTHDAYS
Robert Foxworth - November 1
John Vickery - November 4
Damian London - November 12
Tracy Scoggins - November 13
Dwight Schultz - November 24
Louise Turenne - November 26
Efrem Zimbalist, Jr. - November 30 Have I missed anyone? If you know the birthday of someone connected with Babylon 5, pass the information along. We want to include everyone in our Happy Birthday Wishes.



ITEMS OF INTEREST
BATMAN: THE DARK KNIGHT RETURNS
Listen to the great soundtrack for this video.
"Batman: The Dark Knight Returns Deluxe Edition" arrived October 8, 2013 from Warner Bros. Home Entertainment as a Blu-ray Combo Pack and as a DVD.
This seamless combination of the heralded two-part "Batman: The Dark Knight Returns" is accompanied on the Blu-ray Combo Pack by several new bonus features, including a 70-minute Frank Miller retrospective, an all-new filmmaker commentary, four exclusive collector cards with never-before-seen artwork, and all of the extra content originally found on the original Part 1 & 2 releases.
Based on Frank Miller's celebrated graphic novel, the film finds the Dark Knight, along with new sidekick Robin, battling iconic villains, including Two-Face and The Joker. Beyond his longtime foes awaits a global catastrophe racing toward Gotham City, and with it comes a familiar face, Superman – though this time he has Batman in his sights. Witness this aging Dark Knight as he wages a tireless war against crime while proving that courage and will are indeed timeless. BABYLON 5 PRESENCE ON FACEBOOK
I know a lot of you are already on FaceBook. However, I don't know if you knew how many other Babylon 5 folks have taken the plunge and opened FaceBook accounts. In fact, Pat Tallman has reopened her Fan Club using FaceBook at the site. For a peek, go to http://www.facebook.com/group.php?gid=45593318387. Claudia Christian has been really active -- sharing pictures of her recent trips and letting us know about upcoming convention activities. J. Michael Straczynski (JMS) has a FaceBook page as well as a new "Fans of J. Michael Straczynski" page. So check it out!
BABYLON 5 MUSIC VIDEOS AND TRIBUTES
John Hudgens has created many Babylon 5 videos, but I believe this is the most moving. It was first shown at the Phoenix Comic Con 20th Anniversary and honors many of the Babylon 5 family who have passed on.

Here is a link to John's Babylon 5 videos:
https://www.youtube.com/user/Babylon5MusicVideos?feature=watch

Richard Biggs memorial: http://www.youtube.com/watch?v=HyD4L8yNtsA

Andreas Katsulas memorial: http://www.youtube.com/watch?v=h2UQ2l9NPIg

- This is the extended version that I did for Andreas' widow ater the original cut was released on the net. It's never been seen online until now.

For those of you who've never seen these, I hope you enjoy them - and for those that have (and emailed me many times over the years about releasing them), I hope they're as good as you remember. Working with Joe on these videos was one of the highlights of my career, and I'll be forever grateful to him for the doors these have opened for me. I'm proud to have them on my resume.

John Hudgens
www.zteamproductions.com
---





STEEL CITY CON
Dates: December 6-8, 2013
Place: Monroeville Convention Center, Monroeville, PA
Guests: Star Trek's George Takei, Terminator's Michael Biehn, Catherine Bach, Kyle Szymanski and more.
For more information, go to http://www.steelcitycon.com. SPACE CITY CON
Dates: January 3-5, 2014
Place: Galveston City, Texas
Guests: Claudia Christian, Mira Furlan, Bill Mumy. Peter Jurasik, Stephen Furst, Pat Tallman, Julie Caitlin Brown, Tracey Scoggins, Jerry Doyle, Bruce Boxleitner, Robin Atkin Downes
For more information, go to http://spacecitycon.com/.

FARPOINT
Dates: February 15-17, 2014
Place: Crowne Plaza, Baltimore, MD
Guests: Melissa McBride, others to be named shortly
For more information, go to Farpoint.

Star Trek Convention - Creation Entertainment
Dates: July 31 - August 3, 2014
Place: Rio Suites Hotel, Las Vegas, Nevada
Guests: WILLIAM SHATNER, KATE MULGREW, COLM MEANEY, WALTER KOENIG, NICHELLE NICHOLS, "ROM and NOG" as portrayed by Max Grodenchik and Aron Eisenberg, ANTHONY MONTGOMERY, JERRY HARDIN, TIM RUSS and MICHAEL FOREST. 87 plus more guests to come!
For more information, go to www.creationent.com/cal/st_lasvegas.html. SPECIAL ANNOUNCEMENTS!
Creation Entertainment has a large number of conventions planned for the next several months. They include stars from TWILIGHT, SUPERNATURAL, STARGATE, FARSCAPE, XENA, SERENITY, STAR TREK, etc. Check out their calendar to see if one will be in your neighborhood soon. Don't miss their Videos page as well. It is full of some priceless video from a number of conventions.

Be sure to visit the referenced sites to see if there have been changes in dates/guests attending. Visit our Convention Calendar for a full listing of upcoming conventions.
BACK ISSUES OF THE ZOCALO TODAY
The front page of the The Zocalo Today changes daily, so be sure to check the back issues to make sure that you haven't missed anything IMPORTANT! I hope you will become a regular visitor to The Zocalo Today!
---
Take care and I look forward to hearing from you.
Sandra Bruckner (sgbruckner@aol.com)
Editor/Publisher
ISN News: The Zocalo Today
http://www.isnnews.net
Copyright - SBruckner, 1999-2013