[an error occurred while processing this directive]

The Zocalo Today

Welcome and thank you for dropping by. Take your shoes off, get comfortable and stay a while. There is a LOT of information here and you won't want to miss any of it.

The Zocalo Today is an interactive newsletter, encouraging readers to join a discussion topic or to send along letters that can be shared with other readers.

If you have suggestions as to how The Zocalo can be improved -- or be more responsive -- send them along. The Zocalo Today is a newsletter for Babylon 5 fans everywhere. It is as much YOUR newsletter as it is mine! I'm just pulling together things for you!

Join our discussion topic. It is just one way you can share with other Z readers. If you see Babylon 5 cast and crew in other roles, let us know. We enjoy convention reports, photos, etc. Don't miss our back issues. I hope this will become more than just a newsletter. It's a community of people that enjoy sharing their experiences and interests. Babylon 5 brought many of us together -- and it remains with us, despite the fact that is no longer in production. Don't be shy. Join us today!

If you have questions, drop me a line at sgbruckner@aol.com. If you would like to join the mailing list for our newsletter, send me a note and I'll include you on the list. Or you can use the subscription block at the left.

Again, WELCOME!



TODAY'S NEWS
Sunday, November 28, 2004:
POLL AT SCIFI.COM:
Each week, ABC's hit SF series LOST deepens the mystery of its castaways and their island. What do you think is behind the mystery?
They're all dead and in purgatory.
They're trapped in a virtual world.
They've stumbled onto a top-secret military experiment.
It's a cross between Forbidden Planet and Star Trek's "Shore Leave."
They're on the Island of Dr. Moreau.
Be sure to drop over to www.scifi.com and make your choice.
---
WEEKEND BOX OFFICE:
Wondering what to see this weekend? There are tons of movies out there, but here is one you may want to consider. According to CNN

"Finding Neverland" is a beautifully crafted exploration of the many dimensions of the human heart. You can read the whole review at http://www.cnn.com/2004/SHOWBIZ/Movies/11/19/review.neverland/index.html.

"Alexander" - Oliver Stone's sweeping epic, "Alexander," is a beautifully wrapped package, but open it up and there's nothing there.
The review can be found at:
http://www.cnn.com/2004/SHOWBIZ/Movies/11/23/review.alexander/index.html

"SpongeBob SquarePants" - It's fun, but energy can't be sustained for feature length. SpongeBob SquarePants hopes to become the manager of a restaurant in his movie, but his plans are derailed.
Review at http://www.cnn.com/2004/SHOWBIZ/Movies/11/19/review.spongebob.ap/index.html

"National Treasure" - Worthless 'National Treasure'. Not much fun deciphering car chases and gunplay.
Review at http://www.cnn.com/2004/SHOWBIZ/Movies/11/18/review.nationaltreasure.ap/index.html
---
TOP SCIENCE FICTION NEWS STORIES:To see what has been happening this week in science fiction, go to News Page.
---
WHAT'S ON TONIGHT:
ON NETWORK OR CABLE TV:
7:00pm on NBC
Shrek
A monster and a donkey make a deal with a mean lord. Animated.
8:00pm on The WB
Charmed
Witchness Protection
The Avatars insist that Leo (Brian Krause) protect the Seer (guest star Charisma Carpenter) because she has information that can help them destroy the demons. The Seer shares with Phoebe (Alyssa Milano) a vision of a future in which there are no demons, leading the sisters to consider the possibility that the Avatars might be good and allowing Leo the opportunity to admit he is an Avatar. Meanwhile, Agent Brody (guest star Kerr Smith) shares his darkest secret with Paige (Rose McGowan), bringing them closer together. Phoebe becomes more suspicious of Agent Brody's motives.
9:00pm on NBC
A Christmas Carol: The Musical
This two-hour movie musical stars Kelsey Grammer as Scrooge in the timeless classic by Charles Dickens. Jason Alexander stars as Jacob Marley, while Jesse L. Martin, Jane Krakowski, and Geraldine Chaplin star as the ghosts of Christmas Present, Past and Future, respectively. Jennifer Love Hewitt also stars as Emily, Scrooge's lost love. The special broadcast also features music by Oscar and Tony Award-winning composer Alan Menken ("Aladdin," "Beauty and the Beast") with lyrics from Tony winner Lynn Ahrens ("Ragtime," "Anastasia"). A Hallmark Entertainment production.
ON SCIFI:
7-11:00pm
Merlin
A medieval sorcerer battles evil and seeks love.
ON SYNDICATED TV THIS WEEKEND:
Andromeda
What Will Be Was Not
Mutant X
Lazarus Syndrome
Emma falls prey to a modern vampire, who must feed on the life force of new mutants to survive.
Stargate SG-1
Part 2 of 2: Evolution
Anubis' home world; rescuing Daniel.
The Twilight Zone
Memphis; How Much Do You Love Your Kid?
A man travels back in time to April 3, 1968.
BABYLON 5 CAST SIGHTINGS
Ranger Anne has sent along the following information regarding B5 cast members on the tube this week:

Lifetime is showing "Christmas in my Hometown," a 1996 TV-movie on Thursday (12/2) at 7pm ET. Melissa Gilbert (our Anna Sheridan) plays a factory worker faced with being laid-off before Christmas. Tim Matheson & Travis Tritt also star.

Gary Cole's 2nd turn as Mike Brady in "A Very Brady Sequel" (1996) airs on USA Tuesday (11/30) at 2pm ET. His appearance in "Win a Date with Tad Hamilton!" shows up on Cinemax on Monday (11/29) at 12pm & 8pm ET and Wednesday (12/1) at 10pm ET.

Robert Foxworth (General Hague) appears as V'Las in Star Trek: Enterprise on Friday (12/3) at 8pm ET on UPN. As Vulcan prepares for war, V'Las sends a commando team to eliminate Archer, T'Pol & T'Pau.Mo< And, of course, Bruce Boxleitner's "Snakehead Terror" reappears on SciFi on Saturday (12/4) at 3pm ET.
DISCUSSION TOPICS
There is so little on these days to watch, I wonder how people are filling their spare time. What do you enjoy watching – and why? Do you like the range of CSI series? They are very well written – or do you go more for SMALLVILLE or LOST?

Send in your thoughts and comments to sgbruckner@aol.com and I will post them on the Discussion Page for everyone to share and enjoy. See what has come in so far. If you see an old topic you want to respond to, go right ahead. We enjoy hearing from you.
REMEMBERING RICHARD BIGGS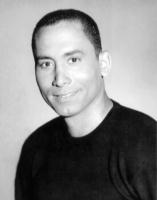 For those of you just coming to the site for the first time, this may be a shock, but Richard Biggs, the wonderful Dr. Stephen Franklin on Babylon 5, died on May 24 of an brain anyerism. There are many efforts underway to help with his two small children. Be sure to go to the Richard Biggs Memorial Page for more information. Below are efforts by folks like Jason Carter.

BIGGS AND CARTER EXPERIENCES DVD
Copies of the BIGGS AND CARTER EXPERIENCES DVD are no available at http://www.pipetap.com/dvd.htm. All proceeds from the sale of this DVD (which includes a personalized autograph from Jason Carter) will be donated to the RJ & Hunter Biggs Educational Trust Fund.

Additional items have been donated to the fund raising efforts, please visit http://www.biggsandcarter.com for new additions.

Jason and Donna would also like to thank everyone for their support and donations for the RJ & Hunter Biggs Educational Trust Fund at this year's DragonCon event.
REMEMBERING TIM CHOATE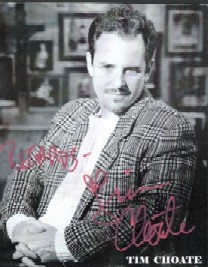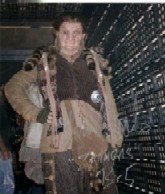 Tim Choate, the wonderful Zathras on Babylon 5, was killed when he was struck by a car while going to a play rehearsal on his motorcycle. A memorial fund has been set up in lieu of flowers for Tim. The address for the memorial fund is:

The Tim Choate Memorial Fund
P.O. Box 861355
Los Angeles, CA 90086

Proceeds will be placed in an educational trust for Flynn, who is 4 years old.
KEEPING UP WITH CAST AND CREW
BILL MUMY: Bill's band, The Jenerators will ROCK IN THE NEW YEAR with Special Surprise Guest Stars
SATURDAY - December 31, 2004
RUSTY'S SURF RANCH on the Santa Monica Pier
Santa Monica, California
CALL RUSTY'S FOR DETAILS AND RESERVATIONS -
RESERVATIONS ARE RECOMMENDED
CALL 310-393-7437
The Jenators are: Bill Mumy, Gary Stockdale, David Jolliffe, Chris Ross
---
BEATA POZNIAK: Beata portrayed President Susanna Luchenko on Babylon 5. She is now featured in the award winning "Freedom From Despair", a shocking documentary that reveals the true stories of the Croatian People's struggle to overcome oppression from communist Yugoslavia and the 1990's fight to save their war ravaged homeland. Narrated by John Savage (Summer of Sam) with voice-overs by Michael York (The Omega Code) and edgy Polish actress Beata Pozniak (The Adventures of Young Indiana Jones: Adventures in the Secret Service). More info: www.freedomfromdespair.com.
---
MIRA FURLAN ON LOST: Mira Furlan has been cast as a recurring character on LOST named Danielle Rousseau. Her first episode will be "Solitary" which will probably air on November 17th.
"Disi duboko" ("Take a Deep Breath") the film that Mira Furlan shot in Belgrade during the summer of 2003 is going to be aired at the Serbian Film Festival in Sydney, Melbourne & Perth, Australia. For more information, go to http://www.serbianfilmfestival.org.au/.
---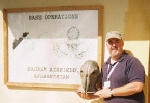 STEPHEN AUSTIN:Stephen Austin, the wonderful Pak'Ma'Ra Ambassador of Babylon 5 has safely returned from his tour of the Middle East to entertain troops there.

Here is a link where you can see more of Stephen's tour of Afghanistan and other ports of call in the Middle East.
---
SPECIAL CAST ACTIVITIES: To learn more about what cast members are doing away from the tube, go to CAST ACTIVITIES page.
---
PENNY LANE AND PAT TALLMAN
Each year, Pat Tallman tries to bring a little laughter and hope to children at the PENNY LANE facility. Patty's BE A SANTA program gathers games, gifts and money to make this happen.Pat wants to again make sure that every child at the PENNY LANE receives a Christmas gift. Please go to The Galactic Gateway for more details. You can help Pat make the holiday very special for these kids in need.
BABYLON 5 BIRTHDAYS
Robert Foxworth - November 1
John Vickery - November 4
Damian London - November 12
Tracy Scoggins - November 13
Mackenzie Gray - November 22
Dwight Schultz - November 24
Louise Turenne - November 26
Efrem Zimbalist, Jr. - November 30

Have I missed anyone? If you know the birthday of someone connected with Babylon 5, pass the information along. We want to include everyone in our Happy Birthday Wishes.
VIDEOS
CRUSADE DVD - COMING DECEMBER 7
Warner Bros Home Video has announced that the Babylon 5 spinoff, Crusade will hit DVD on December 7. The series stars Peter Woodward, Gary Cole, Marjean Holden, Tracy Scoggins, Daniel Dae Kim, David Allen Brooks and Carrie Dobro. This 13 episode series (576 mins) will be released in a 4 disc set, and carries a suggested price of $59.98 US. It'll contain an English Dolby Digital 5.1 audio track, along with English, French and Spanish subtitles. The video will be presented in the original aspect ratio: 1.33:1. We have little information on the special features, just that there will be audio commentaries and a documentary.

For those of you not familiar with CRUSADE, here is a synopsis of the plot:
In 2267 the Earth is quarantined, having been infected with a deadly plague by an attacking alien force. Scientists estimate that it will kill every inhabitant within 5 years, not nearly enough time for a cure to be developed. So the planet's only hope lies with the Excalibur, an advanced prototype starship sent out to search ancient alien ruins for their former inhabitant's secrets, hoping that somewhere out there a cure can be found.

For more information on the BABYLON 5 and CRUSADE DVDs, go to Babylon 5 DVDs Page.
CLASSIC VIDEO AVAILABLE - THX 1138
On September 14, Warner Bros released to DVD - THX-1138. Made in 1971, THX 1138 marked the stunning debut of one of the screen's most innovative filmmakers and was produced by Francis Ford Coppola and his revolutionary American Zoetrope studios. Produced at the height of the American independent movement, THX 1138 stars Robert Duvall in a thought-provoking and visually rich exploration of a theme that would repeat itself throughout Lucas's career: One man's quest to realize his own potential amid an oppressive society.

For more information about the film, click on THX-1138 Press Release. Warner Bros has provided a number of video clips for your enjoyment -- in a variety of formats to suit whatever connection you have to the internet.
STARGATE SG-1 - SEASON 7 AVAILABLE NOW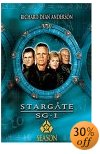 Some of the DVD Features:
22 episodes on five discs: Fallen, Homecoming, Fragile Balance, Orpheus, Revisions, Lifeboat, Enemy Mine, Space Race, Avenger 2.0, Birthright, Evolution Part 1, Evolution Part 2, Grace, Heroes Part 1, Heroes Part 2, Fallout, Death Knell, Resurrection, Chimera, Inauguration, Lost City Part 1, Lost City Part 2

Commentaries for each episode by the directors, cast, and crew
SG-1 Director's Series featurettes: Fragile Balance, Space Race, Avenger 2.0, Death Knell, Lost City
SG-1 Beyond the Gate featurettes: Michael Shanks, Christopher Judge, Richard Dean Anderson, Amanda Tapping
Photo galleries
Fan club spot
Limited-time offer: bonus disc with two featurettes related to the new series Stargate Atlantis




BABYLON 5 INTERVIEWS ON VIDEO
Ranger Mark was Dragon-Con's OFFICIAL videographer for 1998 and 1999. He has pulled together a series of interviews from various conventions over the past 10 years available and they are now available on e-bay. This includes footage from Dragon-Con with Peter Jurasik hosting the Dawn Look a Like Contest , and 2 panels of the B5ers, one all women the other the men. There is now a 2-hour tape devoted to BABYLON 5 cast members, including two interviews with the late Richard Biggs.

Mark's Ebay page is http://stores.ebay.com/markscelebrityinterviews and his text page is http://members.tripod.com/cosmicmc/. If you are interested, drop over and give this a look-see.

For those of us who have enjoyed going to DragonCon over the last few years, these tapes will be especially enjoyable. They will bring back memories -- that can be shared.
---
SCIENCE FICTION PUBLICATIONS
Cult Times #111: STARGATE SG-1 - Amanda Tapping (Col. Carter) gives us the scoop on the remainder of season eight. STARGATE Executive producer Brad Wright talks about handling both SG-1 and ATLANTIS. CHARMED executive producer, Brad Kern, discusses the ups and downs of the new, seventh, season of the mystical show






Starburst #318: BLADE: TRINITY - The man behind the Blade movies, David Goyer, talks about the challenges involved in writing and directing the unholy Vampire trinity. Sir Sean Connery talks about the role of the greatest secret agent ever, as well as taking a look back at his recent work in The League of Extraordinary Gentlemen. ANDROMEDA's Kevin Sorbo gives a tour of the show's new set and you'll find out how he feels about being a man of action.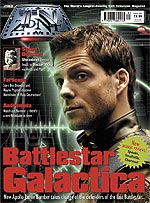 TV Zone #183: With BATTLESTAR GALACTICA coming to SCIFI in January, this issue has an interview with Jamie Bamber, the new Captain Apollo. Bamber talks about his approach to keeping the fleet safe from the Cylons, and how his off-screen relationship with lead Edward James Olmos is a little happier than his character's strained relations with his father. You'll also find articles on FARSCAPE, ANDROMEDA and SPACE ODYSSEY.






Expose #90: JOAN OF ARCADIA: JOAN's Amber Tamblyn lets everyone in on her views on religion, success and politics… and how they can combine to make life an obstacle course. Also featured in this issue, articles on LOST, DEAD LIKE ME and CHARMED.

StarLog: The current issue of STARLOG has a great feature about the latest FARSCAPE: PEACEKEEPER WARS. You'll also find a wonderful article on Richard Biggs -- our beloved Dr. Stephen Franklin. There are some great pictures as well.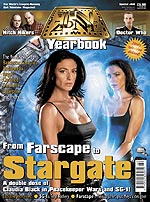 TV Zone Special #60: Claudia Black talks about returning to FARSCAPE -- and her guest role in Season 8 of STARGATE SG-1. The Year in TV Zone -- Extensive 12-page review of the highs and lows from the world of Cult Television, looking back on the past year of TV Zone…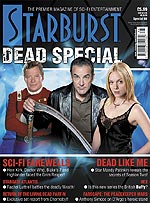 Starburst Special #66: In this issue, Mandy Patinkin talks about his role as Rube, the leader of the somewhat- less-than-grim band of Reapers from DEAD LIKE ME. Neil Gaiman, author of the SANDMAN stories turns director and talks about bringing his newest project, Death – The High Cost of Living to the big screen. And more from the land of the living, Atlantis star Rachel Luttrell tells us about developing her role as a feisty freedom fighter battling vampiric creatures in the new series.
Dreamwatch USA #4: The U.S. edition: This month you will find interviews with Tru Calling star Eliza Dushku, taking a look at the sequel to The Mask, Son of The Mask, and stepping aboard the final Stargate SG-1 mission of season eight! Plus, all the latest from your favorite TV shows!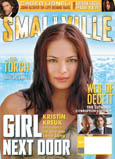 Smallville Issue #3: In Smallville Magazine this month we are joined by everyone's favorite girl next door, Lana Lang! Actress Kristin Kreuk will be telling us all about life, love, and Smallville. In the latest edition of The Torch we'll be keeping you up-to-date with the most up-to-the-minute Smallville news. We'll be unearthing the dark secrets of LuthorCorp and John Glover reveals how Lionel Luthor is coping with life behind bars! Plus there's a free, gorgeous Lana Lang poster! (Titan) (CAUT: 4)
NEWSSTAND COVER..........$5.99
PREVIEWS EXCLUSIVE COVER..........$5.99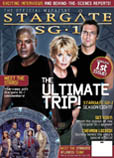 Stargate Issue #1: This is the launch of Stargate SG-1 the official magazine! Follow the missions, exploits, and adventures of the U.S. Air Force special operations team SG-1. In the first issue we'll have exclusive interviews with cast and crew, tour the set, and learn the secrets behind the special effects! Plus, get the inside story on Season 8 and meet the Stargate: Atlantis team! (Titan) (CAUT: 4)
Magazine, 68pgs, FC..........$6.99
---
NEW IN BOOK STORES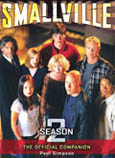 SMALLVILLE OFFICIAL COMPANION SEASON 2 TP

Packed with exclusive interviews with Tom Welling (Clark Kent), Kristin Kreuk (Lana Lang) and Michael Rosenbaum (Lex Luthor), plus unseen photos, behind-the-scenes secrets, a complete episode guide, and insights into the world of Smallville, with excerpts from the town newspaper and even a look at the mysterious LexCorp, this authorized companion reveals everything fans need to know about the hit WB television series, Smallville.
BABYLON 5 MERCHANDISE
Are you looking for Babylon 5 merchandise? Would you like to possess some of the wonderful patches or pins sold by the B5 Fan Club? Do you want to put in an order for the latest DVD? Bruce at Uncomyn Gifts still has one of the best collections around. Check out www.uncomyngifts.com. You may just find the magazine or t-shirt or patch you are looking for.
---
BABYLON 5 NOVELS
DelRey is reprinting the original Babylon 5 novels. They started with #7 - Jeanne Cavelos' THE SHADOW WITHIN. Here's one I've been waiting for -- Kathryn Drennan's TO DREAM IN THE CITY OF SORROWS. The release date is scheduled for July 29, 2003. I love the new cover art! It can be pre-ordered from www.amazon.com. For those of you who love Babylon 5, this one reads just like an episode from the series. You just can't put it down.




TRADING CARDS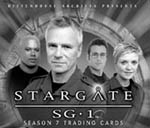 STARGATE SG-1 SEASON 7 CARDS
This 72-card base set features three cards per episode for each of the 22 Season 7 episodes. Signers include Christopher Judge, Teryl Rothery, Don Davis, Jolene Blalock, Anna Louise Plowman, William Devane, Robert Picardo, and more! Also available is the official album, custom-designed to store the entire collection, including plastic pages, bonus promo card, and an exclusive autograph card. 5 cards per pack. 40 packs per box.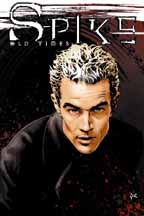 BUFFY THE VAMPIRE SLAYER: SPIKE COMPLETE STORY PREMIUM CARDS, ALBUM & MINI PRESS SHEET
Inkworks announces the first ever Buffy/Angel cross-over trading card series: Spike: The Complete Story. For the first time, we'll be able to tell the complete story of how "William the Bloody" evolved into fan-favorite Spike! The 72-card series features "Becoming Spike," the sequential story as told throughout the seasons of Buffy and Angel; "Ladies' Man," "Bloody Pains," and "Spike Speak." Autograph cards by James Marsters and others to be announced, nine-card puzzle "Heart & Soul" featuring original painted artwork by renowned fantasy artist Boris Vallejo, six-card "Spike + Buffy" - the love/hate/love story fans crave! Plus two special Pieceworks cards featuring the infamous leather coat Spike wore throughout the Buffy and Angel series - one card commemorating the Buffy series, and one card commemorating the Angel series! A special card featuring the original painting and individually autographed by Boris Vallejo is randomly inserted into the packs. Also available is the collector's album and the "Heart & Soul" uncut mini-press sheet! 6 cards per pack. 36 packs per box.
COMIC BOOKS
AMAZING SPIDERMAN #514
Amazing Spider-Man #514 will arrive in stores on Wednesday from Marvel Comics. The issue is written by J. Michael Straczynski, with art and cover by Mike Deodaot.

Here's how Marvel describes the issue:
"'Sins Past,' part 6 of 6. All is revealed in the pulse-pounding conclusion to 'Sins Past.'"
AMAZING SPIDERMAN #517
Written by J. Michael Straczynski, penciled by Mike Deodato and Mark Brooks, cover by Gary Frank.
"Skin Deep," part 3 of 4. When a former classmate of Peter Parker's is caught in a horrific experiment, he blames Peter for the resulting transformation...But is Peter to blame? And how will Peter react when someone targets his personal life instead of Spider-Man's life, for a change?
32 pages, $2.25, in stores on Feb. 23.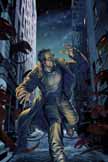 STRANGE
Written by J. Michael Straczynski and Sara (Samm) Barnes, pencils and cover by Brandon Peterson.
The Master of the Mystic Arts is back -- as only J. Michael Straczynski and artist Brandon Peterson could envision him. In this issue, Stephen Strange at last learns what the Ancient One has planned for him.
32 pages, $3.50, in stores on Feb. 16.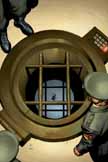 SUPREME POWER #15
Written by J. Michael Straczynski, pencils and cover by Gary Frank.
What does the most powerful being on the planet do when he finds out he's been manipulated and that his whole life is practically a lie? How will Hyperion react -- and what does that mean for the rest of humanity--and the government that's organized these deceitful machinations? Another pulse-pounding issue from the architects of the Supremeverse!
32 pages, $2.99, in stores on Feb. 2.
JMS COMIC BOOKS: For a listing of current comic books written by J. Michael Straczynski, go to COMIC BOOK page. There is a brief synopsis of the book and a date when publication is expected.
JMS RADIO DRAMAS: CITY OF DREAMS
For those of you who have just joined us here at The Zocalo Today, you may want to check out The City of Dreams over at the SciFi Channel website. J. Michael Straczynski, the creator of Babylon 5, worked with Seeing Ear Theatre at SciFi to bring an exclusive, all-new audio drama anthology series featuring tales of dreamers, madmen and fanatics. If you haven't listened to the stories, you'll not want to miss them. If you haven't listened in a while, you will want to go back and listen again.
BOOK REVIEWS
Here is a new feature for your enjoyment. I received some new book reviews that I've posted on a separate Book Review Page. Let me know if you enjoy this new feature -- and we'll continue to offer them as they are received. Agree with the review? Disagree? We can post those as well.

Other science fiction material, outside of the B5 environment can be found on the Materials Page.
TV SCHEDULE ON SCIFI CHANNEL
STARGATE SCHEDULE: 11/29/2004 06:00 PM STARGATE SG-1 DIVIDE AND CONQUER
11/29/2004 07:00 PM STARGATE SG-1 (SEASON 6) SIGHT UNSEEN
11/29/2004 08:00 PM STARGATE SG-1 (SEASON 6) SMOKE AND MIRRORS
11/29/2004 09:00 PM STARGATE SG-1 (SEASON 6) PARADISE LOST
11/29/2004 10:00 PM STARGATE SG-1 (SEASON 6) METAMORPHOSIS
11/30/2004 06:00 PM STARGATE SG-1 WINDOW OF OPPORTUNITY
12/01/2004 06:00 PM STARGATE SG-1 WATERGATE
12/02/2004 06:00 PM STARGATE SG-1 THE FIRST ONES
12/03/2004 06:00 PM STARGATE SG-1 SCORCHED EARTH (SG-1)
12/03/2004 08:00 PM STARGATE SG-1 SENTINEL
12/03/2004 09:00 PM STARGATE SG-1 (SEASON 8) ICON
12/03/2004 10:00 PM STARGATE ATLANTIS HIDE AND SEEK
12/03/2004 11:00 PM STARGATE SG-1 (SEASON 8) ICON
12/03/2004 12:00 AM STARGATE ATLANTIS HIDE AND SEEK
12/06/2004 06:00 PM STARGATE SG-1 BENEATH THE SURFACE
12/06/2004 07:00 PM STARGATE SG-1 (SEASON 6) DISCLOSURE
12/06/2004 08:00 PM STARGATE SG-1 (SEASON 6) FORSAKEN
12/06/2004 09:00 PM STARGATE SG-1 (SEASON 6) THE CHANGELING
12/06/2004 10:00 PM STARGATE SG-1 (SEASON 6) MEMENTO
12/07/2004 06:00 PM STARGATE SG-1 POINT OF NO RETURN
12/08/2004 06:00 PM STARGATE SG-1 TANGENT
12/09/2004 06:00 PM STARGATE SG-1 THE CURSE
12/10/2004 06:00 PM STARGATE SG-1 SERPENT'S VENOM
12/10/2004 08:00 PM STARGATE SG-1 MERIDIAN
12/10/2004 09:00 PM STARGATE SG-1 (SEASON 8) AVATAR
12/10/2004 10:00 PM STARGATE ATLANTIS CHILDHOOD'S END
12/10/2004 11:00 PM STARGATE SG-1 (SEASON 8) AVATAR
12/10/2004 12:00 AM STARGATE ATLANTIS CHILDHOOD'S END
12/14/2004 06:00 PM STARGATE SG-1 CHAIN REACTION
12/15/2004 06:00 PM STARGATE SG-1 2010
12/16/2004 06:00 PM STARGATE SG-1 ABSOLUTE POWER

FARSCAPE SCHEDULE:

11/28/2004 01:00 AM FARSCAPE LOOK AT THE PRINCESS PT 3: THE MALTESE CRICHTON
12/02/2004 03:00 AM FARSCAPE RHAPSODY IN BLUE
12/02/2004 04:00 AM FARSCAPE THE FLAX
12/02/2004 05:00 AM FARSCAPE JEREMIAH CRICHTON
12/05/2004 01:00 AM FARSCAPE MY THREE CHRICHTONS
12/09/2004 03:00 AM FARSCAPE DURKA RETURNS
12/09/2004 04:00 AM FARSCAPE A HUMAN REACTION
12/09/2004 05:00 AM FARSCAPE THROUGH THE LOOKING GLASS
12/12/2004 01:00 AM FARSCAPE BEWARE OF DOG
BABYLON 5/CRUSADE PHOTOSHOP PHOTOS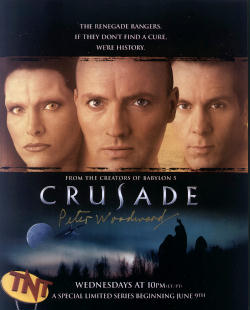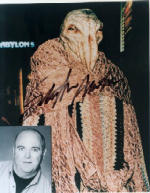 You do NOT have to pay the prices asked for over at e-bay! Here are photos of B5 and Crusade cast members at fantastic prices. Check out Photo Shop. Ordering is easy -- and you can't beat the prices! Just let me know which photos you want and I'll check to make sure they are still in stock.
---
BABYLON 5 TOONS
John Cook has a wonderful collection of cartoons -- many are take-offs from Babylon 5. Here's just one of them.

He has a cartoon caption contest going on as well. Try your hand at a punch line.

Go to http://contests.sev.com.au/index.php?contestid=1




SCI-FI CARTOONS
While catching up on my e-mail yesterday morning, I got an instant message from LFMOA along with a nice goodie that I can share with readers. Thanks for sending along your version of Pinky and the B5 Brain.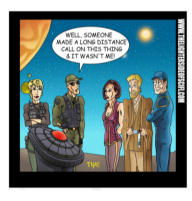 Tye Bourdony's latest Lighter Side of Sci-Fi satire can be seen here and at Tye's website www.thelightersideofscifi.com.








CONVENTION CALENDAR
February 18-20, 2005
VisionCon 2005
Place: Springfield, Missouri
B5 Guest: Mira Furlan
For more information, visit their website at http://www.visioncon.net/Welcome.htm.
---

February 11-13, 2005
Farpoint
Place: Hunt Valley, MD (near Baltimore)
Guests: Jeffrey Combs, Kathy Garver, Bob Bergen, Tony Amendola, David Franklin, Wayne Pygram
For more information, visit their website at http://www.bcpl.net/~wilsonr/farpoint.html.
---

Do you have conventions that should be on our calendar? If so, be sure to drop specific information to sgbruckner@aol.com.

Be sure to visit the referenced sites to see if there have been changes in dates/guests attending. Visit our Convention Calendar for a full listing of upcoming conventions.
MAIL FOR CAST AND CREW
Here's a recent note from JMS on the subject:

Just an FYI to those who've been using the Ventura Blvd. mail drop for fan mail to actors....

As mentioned before, we're phasing out the forwarding of fan mail because we a) don't have the resources, complicated by b) the actors have scattered to the four winds, and it makes it very difficult to get everything to everybody in a timely fashion.

So, having provided prior notice...fan mail to actors coming to the Ventura Blvd. mail drop will be sent back. Mail to actors should be sent via their official fan clubs. I will still be taking mail there, since it's my mailbox, but that's it.

Just so's y'all know and save a few bucks on postage and returns.

WARNER BROS:

Warner Bros. Address:

Warner Bros. Domestic Television Distribution
4000 Warner Blvd.
Burbank, CA 91522

Warner Home Video:

Mr. Douglas Wadleigh
VP for Marketing and Special Features
Warner Bros.
4000 Warner Blvd.
Burbank, CA 91522
BACK ISSUES OF THE ZOCALO TODAY
The front page of the The Zocalo Today changes daily, so be sure to check the back issues to make sure that you haven't missed anything IMPORTANT! I don't want the front page getting too long so I shift information periodically into the archives. So if you aren't a regular visitor to The Zocalo Today, be sure to check out the back issues. Just use the button above!
---
Take care and I look forward to hearing from you.
Sandra Bruckner (sgbruckner@aol.com)
Editor/Publisher
The Zocalo Today
http://www.isnnews.net
Copyright - SBruckner, 1999-2004