[an error occurred while processing this directive]

The Zocalo Today

Welcome! I am glad that you found The Zocalo Today and dropped by. Take your shoes off, get comfortable and stay a while. There is a LOT of information here and you won't want to miss any of it.

The Zocalo Today is an interactive newsletter, encouraging interaction with readers through a discussion topic each week. If you have suggestions as to how The Zocalo can be improved -- or be more responsive -- send them along. The Zocalo Today is as much YOUR newsletter as it is mine! I'm just pulling together things for you!

Join our weekly discussion topic. It is just one way you can interact with other Z readers. If you have other information you would like to share, send it along. If you see Babylon 5 cast and crew in other roles, let us know. We enjoy convention reports, photos, etc. Don't miss our back issues. I hope this will become more than just a newsletter. It's a community of people that enjoy sharing their experiences and interests. Don't be shy. Join us today!

If you have questions, drop me a line at sgbruckner@aol.com or thezocalo@aol.com. If you would like to join the mailing list for our bi-weekly newsletter, send me a note and I'll include you on the list. Or you can use the subscription block at the left.

Again, WELCOME!




What's New Today
Friday, November 29: RATINGS: Top 10 SF Network Shows: Alias 6.2; Touched by an Angel 5.7; Smallville 4.5; John Doe 3.8; Enterprise 3.3; Charmed 2.9; Firefly 2.8; Birds of Prey 2.6; Angel 2.2, and Sabrina 2.0. Source: Nielsen Galaxy Report, 10/28/02 - 11/3/02.
---
FIREFLY: According to Zap2It.com, FIREFLY is going on hiatus. FOX President of Entertainment Gail Berman admitted that the Joss Whedon's sci-fi western "did not find an audience right away." They have, however, ordered additional episodes, and she says, "We think that Joss is finding his creative voice with this show and we need to see how that's going to work for us in December." FOX will promote "Firefly" heavily and wait to see if there is any ratings growth when the network airs the original two-hour pilot in December.
---
LORD OF THE RINGS: The WB is coming out with a behind-the-scenes special on Wednesday, Jan. 4. at 8 p.m.ET. Michael Rosenbaum from SMALLVILLE will host the special that promises do more than reveal behind-the-scenes shots from each of the films in "The Lord of the Ring" series. It will air a world exclusive clip from the much anticipated third film in the trilogy, "Return To Middle Earth." The special will also feature interviews with director Peter Jackson and Cinematographer Andrew Lesnie. The actors will talk about the challenges of being confined to a set in New Zealand for three years, where J.R.R Tolkien's fantastic world of Middle Earth has, in time, become something of a reality.
---
CSI: The first season of CSI is coming to DVD in December. Paramount announced the boxed set should be available sometime mid December in the neighborhood of $79.99. or higher.
---
INSIDE SCIFI THIS WEEK:
> Wednesday, November 27:
RATINGS: Top 10 SF Syndicated Shows: Buffy 2.4; The X-Files 2.4; Stargate SG-1 2.3; Andromeda 2.2; Mutant X 2.1; 3rd Rock 1.8; John Edward 1.5; Beastmaster 1.4; The Outer Limits 1.3, and Sabrina 1.3. Source: Nielsen Galaxy Report, 10/28/02 - 11/3/02.
---
ROSWELL CRASH: SCIFI's documentary, The Roswell Crash: Startling New Evidence, brought the channel the number-one adult- targeted cable network from 8 p.m. to 11 p.m. on Nov. 22. SCI FI announced that the program drew a 1.7 rating and viewership of about 1.34 million households. Hosted by Bryant Gumbel, the documentary chronicled SCI FI's scientific excavation of the 1947 crash site in Roswell, N.M. and garnered a 2.0 rating and an audience of 1.56 million housholds, making it the highest-rated original special in SCI FI Channel history.
---
ALIAS: Ethan Hawke (who you may remember from Training Day with Denzel Washington) has signed on for a one-episode guest spot on ALIAS, expected to air in January. Variety reports that Hawke will play an undercover CIA agent who finds himself in need of rescue by star Jennifer Garner's Sydney when his cover is blown.
---
STAR TREK: With NEMESIS opening on December 18, Patrick Stewart will help fans get in the mood by hosting a "Villain" marathon of Star Trek: The Next Generation episodes on TNN, Dec. 10-13, from 8 p.m to midnight ET/PT.
---
LORD OF THE RINGS: With the premiere of LORD OF THE RINGS, THE TWO TOWERS quickly approaching, TIME magazine will run a cover feature in the December 2 issue. The story is backed by a feature on the growing appetite for fantasy entertainment. Not note regarding this film -- there is no prologue. The film simply picks up where the story left off a year ago. Peter Jackson said, "I know that New Line (the studio releasing the films) would have preferred us to have a little catch-up. But I think that's a very TV kind of device. I figured the amount of people going to see TWO TOWERS without seeing FELLOWSHIP would be fairly minute."
---
X-MEN 2: Principal photography has ended on the upcoming X-MEN 2 movie. Patrick Stewart is not only gearing up for STAR TREK: NEMESIS this month, but he's quite excited about X-MEN. In a recent interview, Stewart said, "I wrapped last week. It is going to be sensational. I wish they were selling shares of it." Although mum about details of the movie, he did say that Professor Xavier will be a bigger part of the action this time out. X-MEN 2 opens next May.
---
Tuesday, November 26: BIRDS OF PREY: According to the Gotham Clock Tower website, the WB will likely air a two-hour finale for BIRDS OF PREY to wrap up many storylines. With the series cancellation, there are currently 13 episodes of the show for the first year and the site speculated that the network would likely air them.
---
SABRINA: Variety reports that The WB has ordered three more original episodes of Sabrina, the Teenage Witch, bringing the series to a full 22-episode order for the show's seventh season. For now, the full-season pickup puts to rest rumors that the network would cancel the show in the middle of the current season.
---
ANGEL IS MOVING: Beginning in January, ANGEL will move from Sunday nights to 9 p.m. ET Wednesdays, replacing the cancelled "Birds of Prey." "High School Reunion" will take the 9 p.m. Sunday spot for January and February.
---
LAST UNICORN: A website for the upcoming movie can be found at http://www.the-last-unicorn.net/welcome.htm. Angela Lansbury, Rene Auberjonois, Mia Farrow and Christopher Lee are listed among the cast members.
---
Monday, November 25:
RATINGS: Top 10 SCIFI Channel Shows: Stargate SG-1 1.4; Lake Placid 1.3; Route 666 1.1; Star Trek 6 1.0; Proteus 1.0; Event Horizon 0.9; The X-Files 0.9; Wing Commander 0.8; Dune 0.8, and The Shadow 0.8. Source: Nielsen Galaxy Report, 10/28/02 - 11/3/02.
---
NEMESIS: While the latest Star Trek movie, NEMESIS, is still a few weeks away from opening, Rick Berman is already talking about the next movie. While Paramount's promotions for the movie have left a number wondering if this would the the last TREK, Berman said in a recent interview that he's certain an eleventh film in the ever-popular series will be made, regardless of how NEMESIS performs at the box office. I guess time will tell.
---
WEEKEND BOX OFFICE: Bond still has it! Though the franchise is now 40 years old, it's still going strong. MGM's DIE ANOTHER DAY debuted in the top spot with a sterling estimate of $47 million -- the biggest opening in Bond history. It edged out WB's "Harry Potter and the Chamber of Secrets," which brought in estimated $42.4 million, even after dropping 52% from its sensational debut of $88.4 million a week ago.
---
DIE ANOTHER DAY: Curious about the movie? Over at Prevue Magazine you will find a review of the movie and an interview with Halle Barry. Sunday, November 24:
LORD OF THE RINGS: THE TWO TOWERS Did you know that you can already purchase tickets for the upcoming LORD OF THE RINGS MOVIE? Yes, indeed. New Line Cinema began selling advance tickets on Nov. 22, nearly a month before its release date. Fans will be able to buy tickets at theater box offices and at the film's official Web site.
---
Saturday, November 23: BABYLON 5 on SCIFI: Originally, SCIFI had a number of episodes for Babylon 5 listed during December. However, that listing has now been pulled. We'll have to see if the series returns to the schedule soon.
---
RATINGS: Top 10 SF Network Programs: Touched by an Angel 5.3; Smallville 4.8; Alias 4.4; John Doe 3.9; Buffy 3.0; Firefly 2.9; Birds of Prey 2.8; Angel 2.6; Charmed 2.6, and Enterprise 2.5. Source: Nielsen Galaxy Report, 10/21/02 - 10/27/02.
---
NEMESIS: There are some awesome clips from the new Star Trek movie NEMESIS over at http://www.ifilm.com/ifilm/product/film_multimedia/0,4470,2446644,00.html. Be sure to drop over. If the clips are anything like the movie, this is one to see!
---
TINTIN: According to Variety, the veteran production partners Kathleen Kennedy and Steven Spielberg have set their caps for a filmic adaptation of the international comic book hero, the boy reporter TINTIN. Created by the late cartoonist Geroges Remi under the pseudonym Herge, Tintin has been the subject of 22 comic book albums that have sold over 200 million copies worldwide and been translated into more than 50 languages.The film will be live action and made with Universal and DreamWorks.
---
SMALLVILLE: Last week's episode of SMALLVILLE, "Dichotic," set several series records. The episode achieved new all-time series records in women 12-34 (5.9 rating/16 share) and female teens (6.5/20) and equaled its second-highest rating ever in persons 12-34 (5.2/14), women 18-34 (5.7/14) and women 18-49 (4.5/10). Smallville ranked No. 1 in its time period in five key demos - persons 12-34 (5.2/14), women 12-34 (5.9/16), teens (5.6/18), female teens (6.5/20) and male teens (4.7/15). The series was No. 2 in women 18-34 (5.7/14), men 18-34 (4.3/12), men 12-34 (4.4/13) and women 18-49 (4.5/10) and No. 3 in adults 18-34 (5.0/13), adults 18-49 (4.1/10) and male teens (4.7/15).
---
X-MEN 2: More updates and video is available from the upcoming X-MEN 2 movie. You'll need the latest release of Flash though. So be prepared to download the plug-in!
---
BIRDS OF PREY: With The WB's cancellation of the BIRDS OF PREY series, TV Guide has scrapped their plans for multiple covers for 'Birds of Prey'. Friday, November 22:
EBAY AUCTION: Don't forget to check out the e-bay auction items by PsiFiMogul. There are season three scripts, a CSI gift set and more. The auction ends on Sunday.
---
FIREFLY: With the additional order of two episodes, credtor Joss Whedon hopes that FIREFLY will be given a chance by Fox. "Fox is getting a good response to the episodes we're putting out, and so they're looking to see, well, if they do give us a bit of a push, can we build some and get a base that's big enough for them to justify keeping us around. So ... we all feel like we're on Serenity. We're looking ahead to that next job. We're still flying. The future's uncertain, but we're still flying." Fox won't air episodes this week or next, but will return with original episodes starting Dec. 6, with "War Stories." The series' two-hour pilot, "Serenity," which hasn't aired yet, will finally get special treatment in a full broadcast on Dec. 20.
---
JOHN DOE: Doug Hutchison (The Green Mile) will guest star in two upcoming episodes of JOHN DOE. Brandon Camp, co-creator and co-executive producer said in an interview, "We have a character that turns out to be John Doe's nemesis. I think those episodes will be two of the most compelling episodes thus far." In these action-packed episodes, Doe comes up against is potentially another John Doe. He is as smart as Doe, and yet he might be the yang of the yin. The first episode, "The Mourner," will air Dec. 13 on Fox. The second as-yet-untitled episode will air in January 2003.
---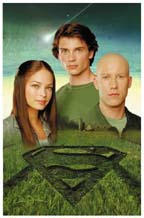 SMALLVILLE COMICS: In March of 2003, DC Comics will release a new series of comics based on SMALLVILLE. According to Comics Continuum Web site, the first issue will include features on the TV show, set visits and interview with series star Tom Welling and an episode guide for the first season.
---
DIE ANOTHER DAY: The latest Bond movie had the biggest British opening ever! ANANOVA notes that the one-day U. K. opening Wednesday for the new James Bond film, DIE ANOTHER DAY, topped all previous openers. The film is reported with a one-day B. O. of just £1.1m , or pounds, or about $1,752,852 in U. S. dollars. The film opens here in the US today!
---
LORD OF THE RINGS: Christmas specials are coming. THE LORD OF THE RINGS: THE TWO TOWERS, RETURN TO MIDDLE EARTH is set to air on December 4 at 8:30 pm. The half-hour special is described by the network as "a uniquely detailed behind-the-scenes look at THE LORD OF THE RINGS: THE TWO TOWERS."
---
TWILIGHT ZONE CONTEST: You can win a walk-on role for THE TWILIGHT ZONE! Go to http://www.newline.com/COPPA/twilightzone_sweeps.html for more information.
RANGER SIGHTING
Ranger John reports that he caught Richard Biggs on an episode of Law and Order: Criminal Intent. He played a lawyer for a bad guy.

Ranger David sent along the following report:
Claudia Christian guest stars on "She Spies" as "the first she-spy" Tanya, now gone rogue. The episode's title is "Spies vs. Spy", and it airs in syndication the week of November 18, 2002. In most areas that translates into the end of that week, such as Sunday 24 or Monday 25 around 1 A.M.

Thanks for the ranger reports!
BABYLON 5 SEASON ONE DVD
The long awaited Season One of BABYLON 5 is now available on DVD. The 6-disc set is loaded with extras, including commentaries by series creator, J. Michael Straczynski. You can pre-order the DVD over at www.babylon5.com for $79.95. Warner Home Video has extended their "Free Shipping" deadline thru November 30th. For a preview of a few of the extras available on this wonderful DVD set, WB has given me permission to post a number of trailer streams (they are in Windows Media, Real Media and Quicktime formats). Go to Extras to hear Joe, Rick Biggs, Jerry Doyle, Stephen Furst and others talk about their time on Babylon 5. Use this link to read the Press Release from WB. Here's the latest from The WB on distribution of the DVD sets: Babylon 5 season 1 has already been released in Europe. The Gathering will be available in Europe in January. Season 2 will be available in Europe in May, and season 3 in September. Babylon 5 Seasons 1,2 & 3 do in fact have worldwide rights, but the other international territories (Latin America, Japan and Asia) are not releasing...for now.
WHAT'S ON TODAY
8:00 PM The Brady Bunch in the White House
Gary Cole and Shelley Long reprise their big-screen roles in this 2002 TV-movie spoof of the kitschy sitcom. This time, the blended family moves from 4222 Clinton Way to Bill Clinton's old place after some very Brady luck---beginning with a lottery ticket---somehow lands Mike in the Oval Office. 8:00 PM on UPN
Star Trek II: The Wrath of Khan
Perhaps the best of the Star Trek films -- starring (Ricardo Montalban). On SCIFI tonight: 7:00 PM Tremors 2: Aftershocks
Special effects and humor mix in this sequel, which finds the man-eating worms popping up in a Mexican oil field. 9:00 PM Tremors 3: Back to Perfection
Second sequel about the town of Perfection, Nev., where the former worm-infested town has become a tourist trap, until a real attack takes place.
BABYLON 5 CHRONOLOGY
Terry Jones has updated the tremendous Babylon 5 chronology and we will post it here in segments, beginning with the INTRODUCTION TO THE BABYLON 5 CHRONOLOGY. New segments will be added over the next few weeks, so stay tuned. Another section of the wonderful Babylon 5 Chronology is available for your enjoyment. Go to In TheBeginning for Section 1.1 The Distant Past. A BIG THANK YOU and note appreciation goes to Terry for taking the time (and considerable effort) to pull the chronology together -- and for updating it to include CRUSADE, the novels and other relevant Babylon 5 material. THANKS TERRY!
DISCUSSION TOPIC:
There are a few new shows on this year that are really pretty good. Do you have a favorite? If so, share your choice with your fellow Z readers. Mine is JOHN DOE; I love that show and am very happy that it has gotten a full 22-episode order from FOX. I have enjoyed FIREFLY as well, but the quality has been a bit uneven. It has potential, but the ratings have been terrible. Send in your favorites to thezocalo@aol.com. I am posting them on the Discussion Page as they come in.
JEREMIAH ON SHOWTIME - FRIDAY AT 10:45PM
Things Left Unsaid Page 2
Written by: J. Michael Straczynski
Directed By: Mike Vejar Opening Simon's journal, their guidebook on groups to contact, Jeremiah sees something he missed before. One page - the last one - has been cut out. He and Kurdy try to find out who did it and why. The trail leads to Lee Chen and evidence that Lee has been in secret contact with someone outside. Jeremiah drives out of Thunder Mountain, defying Markus and angering Kurdy, and heads for Clarefield to find out just who Simon was dealing with. Reluctantly, Kurdy agrees to go along but warns this will be his last mission with Jeremiah. He wants to go back to Thunder Mountain and build a life with Elizabeth. *This is the final episode of the original run for the series. JEREMIAH SCHEDULE AHEAD:
12/06/02
Jeremiah: The Long Road 12/13/02
Jeremiah: Man of Iron, Woman Under Glass For more information about this episode and the entire series, be sure to visit www.sho.com/jeremiah. For those of you who want to keep up on what is going on with Jeremiah, Ranger Monica has started up a Jeremiah newsletter. Please go to http://groups.yahoo.com/group/jeremiah-news/ and subscribe. Monica also has a very nice Jeremiah site so don't forget to bookmark that as well.
KEEPING UP WITH CAST AND CREW
PETER WOODWARD: Peter's feature CONQUEST will be airing after the Mail Call show in the 10:30pm timeslot on the History Channel. His feature MASADA will air on December 16, also on the History Channel. Be sure to check out Peter's website at www.peterwoodward.com.
---
CLAUDIA CHRISTIAN: Just a girl who wants to have fun! Yes, Claudia was over in Britain recently and had a ball with friends at Pages Bar. For a peek at photos go to http://homepages.poptel.org.uk/steve.rogerson/claudia.html.
---
PETER JURASIK: Want to learn more about Peter Jurasik. There is a lot to this guy who played so marvelously the role of Londo Mollari. Over at http://filmforce.ign.com/articles/377/3777726p1.html you can read about Peter's early career and how he came to the role of Londo. It's a great interview.
---
JASON CARTER: Behind the Red Door (with Jason Carter, Kiefer Sutherland, Stockard Channing, and Kyra Sedgwick) will air on Showtime in January 2003. The plan is to release it with the parent company's AIDS awareness and education event. Thanks Ranger Jo-el for the update.
---
STEPHEN FURST: If you have been wondering what Stephen Furst has been up to since the end of Babylon 5, catch the interview Done by IGN at FilmForce.IGN.com.
---
BABYLON 5 BIRTHDAYS
Robert Foxworth - November 1
John Vickery - November 4
Damian London - November 12
Tracy Scoggins - November 13
Mackenzie Gray - November 22
Dwight Schultz - November 24
Louise Turenne - November 26
Efrem Zimbalist, Jr. - November 30 Have I missed anyone? If you know the birthday of someone connected with Babylon 5, pass the information along. We want to include everyone in our Happy Birthday Wishes.
READER DIRECTORY
Sometimes you just can't find the e-mail address for someone you know you have -- it's someone who responded to a discussion topic or you met in one of the chat rooms. You'd like to send a personal note, but .... No address!!!!

We've started a White Pages of Zocalo Readers! It's a handy way of keeping track of people -- and putting together a birthday/greeting card list as well. If you would like to be part of the listing, just send me your name, state, e-mail address and (if you'd like to have it listed) birthday (without year) to sgbruckner@aol.com. Check out the Directory of Readers.

HAPPY BIRTHDAY READERS

Here are some of our readers who are having birthdays this month:

Name: Adam Clark
State: Missouri
E-mail address: aclark@ims-1.com
Birthday: November 19

Name: Garibaldis_Uniform
State: Ohio (formerly Hawaii)
e-mail: Babylon_5Fan@yahoo.com
B-Day: November 12

Don't see YOUR birthday here? That's easy to remedy. Send your birthdate along to me and I'll post it with others in our directory.
BE A SANTA
For years, Pat Tallman has worked with the wonderful people at PENNY LANE, a home for abused children, making their lives a bit brighter -- and probably helping the kids make some better life choices! Christmas time is special for everyone -- and you can help make it special for the kids at PENNY LANE. Drop over to http://www.thegalacticgateway.com/pl/ and see what items are needed. Like all kids, they want music, clothes, books. Help make this year a special one! Share your blessings with someone this year -- BE A SANTA.
---
UNIQUE CHARITY ITEM
Ten popular science fiction actors have donated their time, images and autographs for an exclusive photograph, the proceeds of which will go to charity. For sale through the actors themselves and at , the limited-edition photo is in color, edged in white and ready to place in an 11X14 frame, and handsigned. Each of the 1,000 limited edition photos comes embossed with a seal of authenticity and numbered. The photograph is now available for a pre-sale price of $100. After Sept 11, 2002, the price will go up to at least $125.00. Among the charities to benefit will be the Penny Lane home for abused children in Los Angeles, and various September 11 funds. The actors hope to raise more than $100,000 through the charity project. The Penny Lane Home is a residential facility for children who have been severely abused, physically, emotionally and sexually. Many have "fallen through the cracks" of the social service outreach programs, and Penny Lane is their last chance at escaping the abuse. Actors in the photo include: Patricia Tallman, known best for her roles as Lyta Alexander in Babylon 5 and Barbara in Night of the Living Dead (1990) Vaughn Armstrong, who has portrayed more guest star aliens on Star Trek:TNG, DS9 and Voyager than any other actor in Star Trek history. Currently, he holds the recurring role of Admiral Maxwell Forrest on Enterprise, as well as at least eight other Guest Starring roles on board the new Trek series to date. Stephen Austin portrayed many bizarre alien creatures on Babylon 5. His most notable was the lovable Pak'ma'ra Ambassador. David Brooks is an accomplished artist as well as actor. He is best known to the sci fi community as Max Eilerson on the Babylon 5 spin off, Crusade. Jeffrey Willerth portrayed Ambassador Kosh and was Associate Producer of Babylon 5 Robin Atkin Downes, best known for his role of Byron in Babylon 5 Carrie Dobro, Dureena Nafeel in Crusade. Tim Choate was extremely popular on B5 as Zathras (and his brothers, all named Zathras). He also portrayed Pollack on Crusade. Beata Pozniak appeared as Babylon 5's Earth Alliance President Luchenko. Ed Wasser, the evil Mr. Morden on Babylon 5. As a special promotion, the first 100 orders will receive a special gift: former Star Trek stunt coordinator, Dennis Madalone, has donated 100 copies of his single, "America, We Stand As One," to say thank you to the science fiction fans who purchase the charity photograph. To order the photo online, go to http://www.thegalacticgateway.com, click on shop, and search on the word charity.
COMIC BOOK WORLD
AMAZING SPIDERMAN: Amazing Spider-Man #46 will arrive in stores on Wednesday from Marvel Comics. The issue is written by J. Michael Straczynski, with art by John Romita Jr. and Scott Hanna and a cover by Frank Cho. Amazing Spider-Man #46 will be 32 pages and will cost $2.25. CSI: CRIME SCENE INVESTIGATIONS
The first issue of IDW Publishing's CSI: CRIME SCENE INVESTIGATION mini-series – based on the CBS television series -- will hit stands in January with two covers. Each of the five issues will ship with two covers: a regular edition by Ashley Wood and a "secret rare" photo cover that will showcase one actor per issue. IDW Publishing has not announced the number of "secret rare" covers they will produce but the covers will be distributed randomly throughout the entire print run. The first issue also features an exclusive interview with William Petersen discussing his role as Gil Grissom. The CSI: CRIME SCENE INVESTIGATION mini-series will be written by Max Allan Collins, with art by Gabriel Rodriguez. Wood draw flashback and forensic sequences of the story.

RISING STARS: VISITATIONS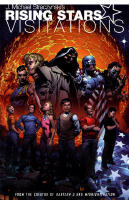 Rising Stars TPB: Visitations will arrive in stores on Wednesday from Image Comics. The issue is written by J. Michael Straczynski, penciled by Gary Frank, Christian Zanier and Keu Cha, inked by Jason Gorder and Livesay and colored by Liquid!, Matt Nelson, John Starr and Brett Evans. The issue is described as: "Collected together for the first time are some of J. Michael Straczynski's most sought after Rising Stars stories. Including the rare zero issue with an additional 6-page story illustrated by Gary Frank, the limited 1/2 issue, and the very first Rising Stars Preview issue. Plus, added sketches and an all-new cover by Brent Anderson."
---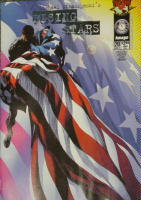 RISING STARS: #20 The latest issue is on stands now. Speaking of RISING STARS, Volume #1 of the series has been out for a while. Volume #2 is now available. If you missed any of the single issues of the series, you'll want to pick up the graphic novels that include 8 issues in a single bound copy.
---
SCI FI PUBLICATIONS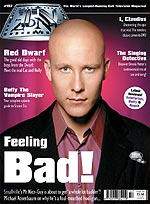 TV Zone #157: Bald is Beautiful -- and Sexy! Michael Rosenbaum talks about being Lex Luthor on the series and some things you won't see on the show. This issue includes a full episode guide for Season 6 of Buffy the Vampire Slayer and reviews for shows like Andromeda, Enterprise, Smallville -- and merchandise -- including the B5 DVD Box Set!







Expose #74: Emma Clulfield, Anya from Buffy the Vampire Slayer, is featured in this issue. Will this season be Buffy's last? Also in this issue, features on Harry Potter and the Chamber of Secrets and Die Another Day -- the latest James Bond feature.
Cult Times #86: David Boreanaz and Alexis Denisof talk about their lives on and off the set of ANGEL. With the prospects of STARGATE SG-1 coming to an end, Amanda Topping talks about her travels over the past six years. While Johnny Smith has been the focus of attention on DEAD ZONE, Sheriff Bannerman (Chris Bruno) has been there to keep things in line. Chris talks about the somewhat confused relationship he has on the series.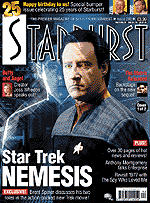 Starburst #292: Starburst is 25! To celebrate, the magazine has two different covers - and a number of interesting interviews, including Brent Spiner, Joss Whedon, Anthony Montgomery and a look back on the world of 007! Spiner, who co-wrote the upcoming Star Trek movie, NEMESIS, takes a look at Data and his many interesting facets.
BABYLON 5 BOOK OF QUOTES
For all those who submitted quotes and experiences to the Babylon 5 Book of Quotes, word from JMS is that the book, plus emails and suggestions, is being compiled now, and they're targeting February, the 10th anniversary of B5, for the publication date.
SCI-FI SCHEDULE
STARGATE SCHEDULE: 16-DEC-02 7:00 PM STARGATE: SG-1 SPIRITS
16-DEC-02 8:00 PM STARGATE: SG-1 TOUCHSTONE
16-DEC-02 9:00 PM STARGATE: SG-1 THE FIFTH RACE
16-DEC-02 10:00 PM STARGATE: SG-1 A MATTER OF TIME
16-DEC-02 1:00 AM STARGATE: SG-1 SPIRITS 17-DEC-02 1:00 AM STARGATE: SG-1 TOUCHSTONE
18-DEC-02 1:00 AM STARGATE: SG-1 THE FIFTH RACE
19-DEC-02 1:00 AM STARGATE: SG-1 A MATTER OF TIME
23-DEC-02 7:00 PM STARGATE: SG-1 HOLIDAY 23-DEC-02 8:00 PM STARGATE: SG-1 SERPENT'S SONG
23-DEC-02 9:00 PM STARGATE: SG-1 ONE FALSE STEP
23-DEC-02 10:00 PM STARGATE: SG-1 SHOW AND TELL
23-DEC-02 1:00 AM STARGATE: SG-1 HOLIDAY 24-DEC-02 1:00 AM STARGATE: SG-1 SERPENT'S SONG

BABYLON 5/CRUSADE PHOTOSHOP PHOTOS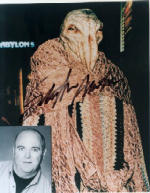 You do NOT have to pay the prices asked for over at e-bay! Here are photos of B5 and Crusade cast members at fantastic prices. Check out Photo Shop. Ordering is easy -- and you can't beat the prices! Just let me know which photos you want and I'll check to make sure they are still in stock.
---
BABYLON 5 TOONS
John Cook has a new cartoon contest going. Try your hand at a punch line.



NEW B5 TOON
Ranger Bill created this toon for his website www.wondertemp.com, but wanted to share it with readers here at the Zocalo. Thanks Bill.



BABYLON 5 REFERENCE PAGES
The Official Babylon 5 Magazine is indexed here as well. With the closure of the magazine in May, you'll want to see which magazines you have -- and which ones you will want to collect. The index may help you make a decision on which ones to choose. The Fan Club has many of the issues at thestation.com , making it very easy to complete your collection.

Universe Today -- the Babylon 5 Fan Club quarterly can also be found here. The index gives you a rundown of what articles were presented, what interviews published.

If you have magazines that have featured Babylon 5 or Crusade that are not listed, send along their issue number and a note to indicate what the article was about. It would be nice to have a fairly comprehensive listing of Babylon 5 publications here.

I have added a listing of all the Babylon 5 novels and now the B5 comic books to the reference page. If there are other items that you feel should be included, let me know.
BABYLON 5 COMMUNITIES
CHAT GROUP:
Ranger Renee reports that she has a Babylon 5 chat group (for those of you over 30) at http://groups.msn.com/Babtrek30. It covers Babylon 5 and all of Star Trek. Drop on over and give it a peek.
MAILING LISTS
REDEMPTION: Ranger Steve reports that a new discussion group has been created for the upcoming REDEMPTION convention. Redemption 03, 21-23 February 2003, Ashford, Kent, Celebrating 25 years of Blake's 7 and 10 years of Babylon 5. www.smof.com/redemption.
NW-B5
NW-B5 is a mailing list devoted to bringing critical information to the Vancouver Island, Lower Mainland, and Northern Washington areas. More specifically, anyone north of Seattle. B5 is broadcast on SPACE:TIS in Canada, and Sci-Fi channel in the US. By subscribing to nw-b5, you'll be able to know info bringing you up to date on the current scheduling and events happening in the community related to B5. You'll also be subscribed to the list itself, which means that you'll receive email when there is a scheduling change or critical information needs to go out to you (for example, if we need to start another mailing campaign).

For further information, see http://www.nw-b5.com
John Francis
Webmaster, Listowner, and Co-Moderator
mailto:nw-b5@iname.com

Reports of "The Gathering" are beginning to turn up on the list. John posted a mini-report, with photos, over at http://www.geocities.com/jnf.geo/nw-b5/gathered.htm#0501. You may want to check it out. It was a terrific event in which JMS showed clips from "Legend of the Rangers". Most of the cast was in attendance -- a great group of individuals.
BABYLON 5 DISCUSSION LIST
The Babylon 5 discussion mailing list is for any and all discussions and/or news pertaining to or related to Babylon 5 and/or Crusade. The list has been in existence for the past three years now, and has recently moved. The new location is http://lists.apparition.org/cgi-bin/lyris.pl, and you can subscribe by sending a blank e-mail message to join-babylon_5-l@lists.apparition.org.
THE GALACTIC GATEWAY
Here's a unique site for you! Jeffrey Willerth, Patricia Tallman, Mira Furlan, Claudia Christian, Robin Atkin Downes, Rick Biggs, Jerry Doyle, Bruce Boxleitner, Melissa Gilbert, Peter Jurasik, Bill Mumy and Carrie Dobro are under it's umbrella. Actors from other shows have joined the Gateway. Ted Raimi and Robert Trebor from Xena and Hercules are now at GG. To subscribe to a mailing list for GG, send a blank note to thegalacticgateway-subscribe@egroups.com.
GATEWAY CHATTERS
There is never enough time to keep in touch with friends! To help out, a mailing list has been started for chatters over at the Galactic Gateway. If you are interested in joining, send a blank note to gateway-chatter-subscribe@egroups.com.
GATEWAY TRADER
Are you looking for a particular Babylon 5 collectible? Do you have some items you'd like to trade? Then this is the list for you. To join, send a blank note to gateway-trader-subscribe@egroups.com.
CALLING ALL ARTISTS
The Art Gallery at The Zocalo Today is open. There are SO MANY talented people in our Babylon 5 community. We have enjoyed works by Todd Brugman and Tye Bourdony on our toons page, but there are a host of others who enjoy drawing, painting, sketching their favorite characters. Here are a few works that have been received. I have some others that will be added soon.

If you would like to share your work with us at The Zocalo Today, please send along a digital photo of your work and I'll begin putting the gallery together. If you do not have your work in digital format, drop me a note and we'll see what we can work out.
CALLING ALL CLUBS
There are a number of fabulous Babylon 5/Crusade Clubs around the world. Visit the B5 Fan Club page to see if there is a club near you. If you have a club that you would like to have listed, drop the information about your Club to me at sgbruckner@aol.com or bruckner@isnnews.net. That information will be added to the new B5 Fan Club Listing.

Massimo has sent an update for the B5 Fan Club in Italy. Founded in 1995, the club now has 230 members! In Italy, they have just seen the last two episodes from season five! Membership in the club includes: the club card, a poster, a personalized pen and four number of ISN Network the fanzine published by the club. The cost is Euro 20 for an year in Italy. Interested? Contact Massimo at mmartini@italway.it.
BABYLON 5 FAN CLUB
Netter Digital filed for bankruptcy in July of 2000 and all their worldly posessions were auctioned off on December 7. The B5 Fan Club site, Thestation.com and it's store, the Emporium, has been closed.
BABYLON 5 NEWSLETTERS
If you have a newsletter you'd like to have listed at The Zocalo Today, send the information along. It will be posted on the B5 Fan Club/Newsletter page.

Ranger Shane in North Carolina sent in the following note about their "Jumpgate" newsletter.

Hey Sandy! Just wanted to give you an update on the NC B5 group's newsletter, Jumpgate. There's now a dedicated EMail address for submissions - jumpgatemag@bellsouth.net - and any submissions, solicited or un-, can be sent to this address. Also, issues are available for free download at the URL at the bottom of this message.

Jumpgate - The Newsletter of the North Carolina Babylon 5 Fan Club
Shane Killian, Editor
HELP WANTED
A new HELP WANTED section has been added to the Z. If you need help finding a comic book, getting a special item, etc. here's the place to post a note. Just send whatever help you need to thezocalo@aol.com.
---
BABYLON 5/CRUSADE CONVENTIONS
CONVENTION CALENDAR
Cruise
November 23-30, 2002
Event : a week-long cruise to the Western Caribbean with at least 4 events designed especially for fans. There will be two seminars, a 90 minute private concert by Julie and an exclusive cocktail party. Cruise Line : Holland America Cruise Lines
B5 Guest: Julie Caitlin Brown
For more information, visit their website at http://www.swainworldcruises.com/.
---
Slanted Fedora, Indianapolis Area
Nov. 29-Dec. 1, 2002
Place: Indianapolis Marriott
B5 Guest: Stephen Austin
For more information, visit their website at http://www.sfedora.com.
---
MegaCon
February 28-March 2, 2003
Place: Orange County Convention Center
Orlando, Florida
B5 Guests: Richard Biggs and Walter Koenig
Other Guests: Michael Rosenbaum (Smallville), Dina Meyer (Birds of Prey), Anthony Cistaro (Witchblade), Ted Raimi (Spider-Man, Xena: Warrior Princess), Robert Trebor (Hercules: The Legendary Journeys), Lani Tupu (Farscape), Xenia Seeburg (Lexx), Gil Gerard (Buck Rogers), Kathy Garver (Family Affair), Jamie Farr (M*A*S*H), and Nichelle Nichols (Star Trek). For more information, visit their website at http://www.megaconvention.com/.
---
Be sure to visit our Convention Calendar for a full listing of upcoming conventions featuring Babylon 5, Crusade and Legend of the Rangers cast members as guests.
If you would like to share your convention experience with your other Zocalo readers, send along a convention report. I will gladly post it for all to read. Got pictures? I'll post those as well.
ZOCALO TRADING POST
Do you have extra copies of B5, Amazing Spiderman, Midnight Nation or Rising Stars comics you'd like to trade? How about those extra trading cards or B5 magazines? There are a lot of fans looking for these items -- and the Trading Post can help you buy or sell them. To see what's available, just use this link to the Trading Post. To have items included in The Trading Post, send a note to The Zocalo. Please put Trading Post in the subject line.
Pen Pals
If you are looking for someone to talk about Babylon 5 and Crusade with, the Pen Pal section is for you! Check it out! Drop a note to someone who is feeling B5 withdrawal -- BIG TIME!

People thought a Pen Pal page was a good idea. If you would like to meet people who you could chat with or share your opinions of the show with, send along your e-mail or snail-mail address The Zocalo. It will be incorporated on the new Pen Page Page.
MAIL FOR CAST AND CREW
Here's a recent note from JMS on the subject:

Just an FYI to those who've been using the Ventura Blvd. mail drop for fan mail to actors....

As mentioned before, we're phasing out the forwarding of fan mail because we a) don't have the resources, complicated by b) the actors have scattered to the four winds, and it makes it very difficult to get everything to everybody in a timely fashion.

So, having provided prior notice...fan mail to actors coming to the Ventura Blvd. mail drop will be sent back. Mail to actors should be sent via their official fan clubs. I will still be taking mail there, since it's my mailbox, but that's it.

Just so's y'all know and save a few bucks on postage and returns.

JMS' mail can be sent to:

14431 Ventura Boulevard, PMB 260
Sherman Oaks, CA 91423

WARNER BROS:

Warner Bros. Address:

Warner Bros. Domestic Television Distribution
4000 Warner Blvd.
Burbank, CA 91522

Warner Home Video:

Mr. Douglas Wadleigh
VP for Marketing and Special Features
Warner Bros.
4000 Warner Blvd.
Burbank, CA 91522

SCIFI:
Bonnie Hammer, President
Sci-Fi Channel
1230 Avenue of the Americas
New York, NY. 10020-1513

Mr. Thomas Vitale
Senior VP of Acquisitions, Scheduling & Program-Planning
BACK ISSUES OF THE ZOCALO TODAY
The front page of the The Zocalo Today changes daily, so be sure to check the back issues to make sure that you haven't missed anything IMPORTANT! I don't want the front page getting too long so I shift information periodically into the archives. So if you aren't a regular visitor to The Zocalo Today, be sure to check out the back issues. Just use the button above!
---
Take care and I look forward to hearing from you.
Sandra Bruckner (sgbruckner@aol.com)
Editor/Publisher
The Zocalo Today
http://www.isnnews.net
Copyright - SBruckner, 2002