[an error occurred while processing this directive]

The Zocalo Today

Welcome and thank you for dropping by. Take your shoes off, get comfortable and stay a while. There is a LOT of information here and you won't want to miss any of it.

The Zocalo Today is an interactive newsletter, encouraging readers to join a discussion topic or to send along letters that can be shared with other readers.

If you have suggestions as to how The Zocalo can be improved -- or be more responsive -- send them along. The Zocalo Today is a newsletter for Babylon 5 fans everywhere. It is as much YOUR newsletter as it is mine! I'm just pulling together things for you!

Join our discussion topic. It is just one way you can share with other Z readers. If you see Babylon 5 cast and crew in other roles, let us know. We enjoy convention reports, photos, etc. Don't miss our back issues. I hope this will become more than just a newsletter. It's a community of people that enjoy sharing their experiences and interests. Babylon 5 brought many of us together -- and it remains with us, despite the fact that is no longer in production. Don't be shy. Join us today!

If you have questions, drop me a line at sgbruckner@aol.com. If you would like to join the mailing list for our newsletter, send me a note and I'll include you on the list. Or you can use the subscription block at the left.

Again, WELCOME!




What's New Today
Saturday, November 8: JEREMIAH: Over at Cinescape.com, you'll find a front-page article on JEREMIAH, indicating that Showtime is calling last night's episodes the "season finale", after airing only 7 of the 15 episodes ordered -- and produced. When will you see those yet unaired episodes? Only Showtime will be able to tell us. Showtime doesn't release viewer numbers but multiple tracking services have confirmed that the ratings for the long-delayed second season have increased with each new episode and are higher than those for the first season. See details below for adding your voice to tell Showtime you support JEREMIAH and want to see the rest of season two.
---
RATINGS: Top SF Network Shows:
Joan of Arcadia 7.2
Alias 5.7
Smallville 4.4
Angel 3.6
Charmed 3.3
Star Trek Enterprise 2.9
Tarzan 2.7
Jake 2.0 1.8
Source: Nielsen Galaxy Report, 10/6/03 - 10/12/03.
---
RIDING THE BULLET: Production starts this month in Vancouver on the film adaptation of Stephen King's RIDING THE BULLET. Jonathan Jackson, David Arquette, Barbara Hershey and Erika Christensen will head the cast to be helmed by writer-director Mick Garris (The Stand). The story takes place on Halloween in 1969, when college student Alan Parker (Jackson), distraught over a breakup with his girlfriend (Christensen), fails a suicide attempt and is then picked up by a mysterious driver (Arquette) while hitchhiking through rural Maine to visit his ailing mother (Hershey).
---
HARRY POTTER: A teaser trailer for the upcoming HARRY POTTER AND THE PRISONER OF AZKBAN will be attached to prints of LOONEY TUNES: BACK IN ACTION, on Nov. 14.
---
CSI: The Hollywood Reporter indicates that Thursday night's episode of CSI: CRIME SCENE INVESTIGATION propelled the network to a virtual tie for the night with NBC in the key adults 18-49 demo. "Friends" opened up the night for NBC with an average of 20.3 million viewers and 9.2 rating/25 share in adults 18-49, according to preliminary estimates from Nielsen Media Research. CBS' 8 p.m. entry "Survivor: Pearl Islands" (21.3 million, 8.0/21) had another strong night, topping "Friends" in viewers and running a solid second in adults 18-49. NBC's momentum slipped at 8:30 p.m. with a "Friends" rerun (18.2 million, 8.2/21) allowing the second half of "Survivor" to take the demo lead.
---
RETURN OF THE KING: Over at Dark Horizons you can get a glimpse of the awesome new poster for the upcoming LORD OF THE RINGS: RETURN OF THE KING.
---
PEACEMAKERS: USA has decided not to renew PEACEMAKERS starring Tom Berenger. The Western's 90-minute premiere on July 30 earned a 4.0 rating in USA homes (5.2 million viewers). However, a relatively small portion of that audience came from the key 18 to 49 group (1.4 million viewers), and the show's ratings ultimately petered off while continuing to draw the bulk of its audience from older demos. Guess this goes to show who counts and who doesn't! I liked this show.
---
WEEKEND MOVIE OFFERINGS: There is quite a range to choose from this weekend. The highly-anticipated conclusion of THE MATRIX series opened this week and has been setting records around the globe. Will Ferrell's ELF starts today. The ensemble romantic comedy LOVE ACTUALLY opens in select cities. For reviews, go to http://filmforce.ign.com/articles/458/458573p1.html or http://www.hollywood.com/movies/reviewsroundup/id/1732641.
---
INSIDE SCI-FI THIS WEEK:
Friday, November 7:
TOP SELLING SF DVD TITLES:
1. Finding Nemo
2. The Two Towers extended edition
3. Adventures of Indiana Jones
4. Pirates of the Caribbean
5. Looney Tunes golden collection
6. The Matrix Reloaded
7. T3: Rise of the Machines
8. Lion King platinum edition
9. Hulk
10. X2
Source: Amazon.com, top-selling genre DVDs, 10/31/03
---
5 DAYS TO MIDNIGHT: According to The Hollywood Reporter, Michael Caton-Jones has been tapped to direct the upcoming Sci Fi Channel limited series "5 Days to Midnight." A five-part thriller set to begin production next month in Vancouver, "Midnight" will be produced by Lion's Gate Television in association with David Kirschner Prods. and Hallmark Entertainment Distribution, which has worldwide rights to the project. Caton-Jones, whose credits include "City by the Sea" and "This Boy's Life," is the latest in a string of behind-the-camera talent Sci Fi has recruited from the movie world, including Martin Scorsese, Bryan Singer and Dean Devlin.
---
TARZAN: The WB's TARZAN has been put on a production hiatus. The show will air three more episodes throughout November sweeps. Five episodes have already aired and eight have been produced. The ratings have been disappointing. It is averaging a 1.7/4 in adults 18 to 49, a 1.7/5 in persons 12 to 34 and 3.9 million total viewers. The WB will continue to evaluate the show's ratings before deciding if the show will return.
---
Thursday, November 6:
RATINGS: Top 10 Syndicated Shows:
Mutant X 2.1
Andromeda 2.0
Stargate SG-1 2.0
She Spies 1.7
Beastmaster 1.5
3rd Rock 1.4
Angel 1.4
Buffy 1.4
The X-Files 1.4
The Outer Limits 1.1
Source: Nielsen Galaxy Report, 10/6/03 - 10/12/03
---
THE DAY AFTER TOMORROW: Roland Emmerich's latest, the post-apocalyptic film THE DAY AFTER TOMORROW has a new trailer at http://www.apple.com/trailers/fox/dayaftertomorrow/. The film, starring Dennis Quaid, Jake Gyllenhaal, Sela Ward and Emmy Rossum, opens in theaters on May 28, 2004.
---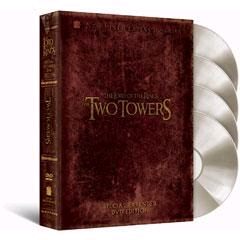 LORD OF THE RINGS: THE TWO TOWERS Now here is a perfect Christmas gift for that special someone. Available November 18, this Four-Disc Platinum Series Special Extended Edition of Peter Jackson's stunning, Academy Award-winning THE LORD OF THE RINGS: THE TWO TOWERS features 40 minutes of extra footage woven into the theatrical release of the film and new music by Howard Shore. The movie is presented on two DVDs in Widescreen (2.35:1) format with Dolby Digital EX 5.1 Surround Sound, DTS ES 6.1 Surround Sound, and Stereo Surround Sound. Discs 1 and 2 titled, "The Feature", include the film itself along with four audio commentaries from Peter Jackson, Elijah Wood, Sean Astin, Orlando Bloom and Academy Awardr winners Richard Taylor, Howard Shore, Randy Cook.and many more. The remaining discs are titled, "The Appendices". These two discs contain hours of original content including multiple documentaries and design/photo galleries with thousands of images to give viewers an in-depth behind-the-scenes look at The Lord of the Rings: The Two Towers. Disc 3 includes features on adapting the book into a screenplay, planning the film, design and inspiration for locations in Middle-earth, storyboards to pre-visualization, a Weta Workshop visit, an Atlas of Middle-earth, an interactive map of New Zealand highlighting the location scouting process, galleries of art and slideshows with commentaries by the artists, and much more! Disc 4 consists of sending actors to battle-preparation for sword fighting, Principal photography: Stories from the set, digital effects including motion capture and "Massive" (a program to create armies of Orcs), "Bigatures"-A close-up look at the detailed miniatures used in the film, galleries of behind-the-scenes photographs and personal cast photos, post-production, sound design demonstration, and much more!
---
THE MATRIX REVOLUTIONS: According to The Hollywood Reporter, Warner Bros. Pictures' "The Matrix Revolutions" plugged into theaters around the world Wednesday in the largest day-and-date hour-to-hour feature film release in history. "Revolutions," the final film in the "Matrix" trilogy, went out worldwide with a record 18,013 prints in 96 countries. "The worldwide day-and-date openings look to be a huge success," said an upbeat Dan Fellman, president of domestic distribution at Warners. Internationally, "Revolutions" was in a record 94 countries, or 107 territories, on Wednesday, and there were 10,013 prints in 43 languages, including 14 dubs. The international print count includes 18 Imax prints. Before the release of "Revolutions," the biggest international rollout was 20th Century Fox's "X2: X-Men United," which was in 80 countries and 93 markets, with 7,585 prints, in May. At the end of "X2's" first weekend, that film had collected $69.3 million internationally.
---
JAKE 2.0: The Hollywood Reporter says that despite a shaky start, UPN has given JAKE 2.0 a full-season pickup. The show has struggled in the post-"Enterprise" slot, but the critically praised show has been on a rebound lately, following a dip during the baseball postseason.
---
FINDING NEMO: Disney and Pixar reported today that a record 8 million DVDs and Videos were sold in FINDING NEMO's first day (Tuesday) in North American retail stores. This surpasses the studios' own previous record of 5 million DVDs and Videos sold for "Monsters, Inc." It also swims past the previous overall record set by Sony Pictures last November 3rd with Spider-Man. Spidey sold 7 million DVDs and Videos that Friday.
---
Wednesday, November 5:
TOP 10 BESTSELLING SF BOOKS:
1. The Da Vinci Code
2. Wolves of the Calla
3. Angels & Demons
4. Blood Canticle (Vampire Chronicles)
5. Eragon (Inheritance, Book 1)
6. Harry Potter and the Order of the Phoenix
7. The Slippery Slope (Lemony Snicket)
8. Quicksilver (The Baroque Cycle, Vol. 1)
9. The Lone Drow (Forgotten Realms)
10. Dark Melody
Source: Amazon.com, 10/31/03
---
THE DA VINCI CODE: Dan Brown's best selling thriller has been on the Top 10 List for quite a while. Now Oscar-winning director Ron Howard is set to helm a film adaptation of THE DA VINCI CODE. Howard will begin once he has finished his next project, CINDERELLA MAN. THE DA VINCI CODE tells the story of a cryptographer and a symbologist investigating a murder in the Louvre. The clues lead to secrets of Western history, including the Holy Grail.
---
CARNIVALE: It has been a while since anyone talked about a story arc. Ronald D. Moore, co-executive producer of HBO's supernatural drama series CARNIVALE told SCI FI Wire that the upcoming final first-season episodes will answer some questions raised —but not all of them. "By the end of the first season you're going to understand a lot more about 'Management,'" Moore said. "You'll know who's running the carnival." Moore added, "People aren't in the carnivale by accident. You'll start to go, 'Oh my God, that guy is connected to the backstory, and that guy isn't.' You'll start to see that Brother Justin (Clancy Brown)) is on an arc, on a climb to power, and that Ben (Nick Stahl) is trying to grapple with a role he didn't want, but was born into. That's where you'll be by the end of the first season. You'll start to understand where it's all going. But it's not really going to answer every single question." Carnivale airs Sunday nights at 9 ET/PT on HBO.
---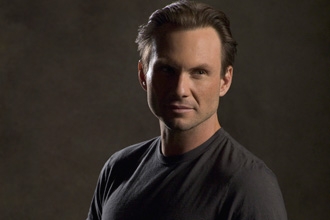 ALONE IN THE DARK: Here is the first official images of the remaining main characters from the ALONE IN THE DARK movie due out sometime next year. Directed by Uwe Boll (HOUSE OF THE DEAD) and starring Christian Slater as paranormal investigator Edward Carnby, the horror/action movie is based on the popular series of computer video games released by Atari. Tara Reid (AMERICAN PIE) also stars in the film as Carnby's partner, Aline Cedrac, and Stephen Dorff (BLADE) is Commander Richards.
---
WOLVES OF THE CALLA: The long-awaited fifth novel in Stephen King's DARK TOWER series arrives in hardcover in bookstores today. WOLVES OF THE CALLA reunites readers with Roland the Gunslinger and his troupe of four comrades as they make their way ever toward the Dark Tower for their showdown with the Crimson King. At stake are entire worlds, if not all of reality. King continues to connect the dots between his other stand-alone novels and the Dark Tower, further proving that all of his stories are interconnected. Roland and his friends find themselves called to the farming community of Calla Bryn Sturgis, a town where all the women give birth to twins...and every twenty years, a group of frightening beings come into the town and take one twin away from the parents, only to return and present the child in a horrifying condition. This time, as Calla prepares for the visitation of the "Wolves", the town's leader asks the Gunslinger for assistance in protecting the innocent. What Roland doesn't realize is that Calla's problem is connected to events unfolding in our world, specifically for a New York City land owner who is being pressured by petty criminals to sell off a lot of vacant land he owns...and where a rose that connects our world to the Dark Tower, and thus our world's very existance, grows. Fans of King's early vampire novel 'SALEM'S LOT will discover there's a highly surprising connection at play in WOLVES OF THE CALLA. To say more would ruin the surprise...
---
Tuesday, November 4:
PETER PAN: You can catch a glimpse of the new PETER PAN movie, starring Jason Isaacs, at http://www.peterpanmovie.net/index.html. The movie opens Christmas Day.
---
SUPERMAN: There have been a number of names rumored as in the running for the upcoming SUPERMAN movie. Brendan Fraser, who is out and about promoting his latest LOONEY TUNES: BACK IN ACTION, said, "I'm interested. I have been approached about it. It is a possibility. It really comes down to, I think, decisions made [at the] studio level way up on high." Fraser said that he is also taking into consideration the drawbacks of playing the iconic superhero. "Whoever it is who plays that role is historically forever more known as that character," he said. "I mean, that's a superhero who isn't masked, and he's also of a duplicitous nature. It's Clark Kent and Superman. So I've read the script for it. It's very good. We'll see. Stay tuned. No pun intended."
---
NEW RELEASES: Besides the surprise favorite of the summer, FINDING NEMO, there are a ton of new releases coming out today. FINDING NEMO from Buena Vista offers a two-disc THX-certified edition with Making-Of, galleries, a Cousteau documentary, special virtual aquarium, Pixar short "Knick Knack", games, studio tour, etc. Includes both widescreen and fullscreen formats. Here are some others that may be of interest: FRIENDS: Complete Seasons 1-5 (Warner Bros.) The one with the first five sets all collected together with extras.
THE LOST WORLD: Complete First Season (Navarre) TV series based on the Arthur Conan Doyle classic. Includes Doyle bio, galleries, and bloopers from the third season.
ROBOCOP: PRIME DIRECTIVE: The fourth disc of ROBOCOP: PRIME DIRECTIVES is now out on DVD. © Lions Gate Crash & Burn (Lions Gate) Part three of the made-for-cable miniseries.
ROBOCOP: PRIME DIRECTIVE: Resurrection (Lions Gate) Part four of the made-for-cable miniseries.
STAR TREK DEEP SPACE NINE Complete - STAR TREK: DEEP SPACE NINE season six. © Paramount Home Video. Sixth Season (Paramount) Seven-disc box set includes all 26 episodes in which Captain Sisko guards his wormhole. Includes featurettes and "hidden files".
X-FILES Season 8 (Fox) Sci-fi TV classic with commentraks, deleted scenes, international clips and DVD-ROM game.
---
HELLBOY: The special effects company that creates the digital effects for ENTERPRISE, Eden FX, has been hired to create 125 visual effects shots for HELLBOY. Eden will provide a range of shots from enhancing backgrounds to touching up characters and making the impossible look believable. The company states that several of their shots will be seen in the HELLBOY trailer, slated for release later this month.
---
X-FILES: If you loved the X-FILES, tonight you'll enjoy the 4 episodes on SCIFI.
---
Monday, November 3:
TOP 10 SCIFI CHANNEL PROGRAMS:
Stargate SG-1 1.5
Terminator 2 1.3
Death Machine 1.1
Total Recall 1.1
Running Man 1.1
Red Planet 1.0
Hercules 1.0
Conan the Destroyer 1.0
Tremors: The Series 0.9
Taken: Part 3 0.9
Source: Nielsen Galaxy Report, 10/6/03 - 10/12/03
---
WEEKEND BOX OFFICE: Dimension Films' SCARY MOVIE 3 held onto the number one spot at the box office. In its second weekend of release, the sequel scored $21.1 million dollars, bringing its total take to over $78 M in just ten days. The second sequel has now earned more money than SCARY MOVIE 2 did during its entire theatrical run. Despite the lack of a traditional Friday night opening, Disney's new animated film BROTHER BEAR had a terrific opening weekend. With a gross of $18.5 M over just two days, Disney execs have nothing to frown over. THE TEXAS CHAINSAW MASSACRE managed to capitalize on Halloween, netting nearly $11 M more. With holidays approaching, movie grosses should start to climb. On Wednesda, we have the release of THE MATRIX REVOLUTIONS. Will the third MATRIX movie come close or break the $91 M opening weekend of THE MATRIX RELOADED last May? Here are the estimated box office receipts of the top ten films from October 31 to November 2, their weekend gross and the film's total domestic gross to date: 1. SCARY MOVIE 3 $21,100,000 $78,600,000
2. BROTHER BEAR $18,500,000 $18,900,000
3. THE TEXAS CHAINSAW MASSACRE $10,900,000 $66,129,000
4. RADIO $10,200,000 $26,800,000
5. RUNAWAY JURY $6,800,000 $33,600,000
6. MYSTIC RIVER $6,270,000 $33,590,000
7. KILL BILL VOLUME 1 $4,700,000 $60,980,000
8. SCHOOL OF ROCK $4,400,000 $69,122,000
9. INTOLERABLE CRUELTY $2,658,000 $32,055,000
10. GOOD BOY! $2,500,000 $35,246,000
---
STRANGE DETECTIVE: Daniel Baldwin has signed with Tribune Entertainment for a cop series with a supernatural twist. Tentatively titled "The Strange Detective," the miniseries centers on a San Francisco detective who, during a car chase on the Golden Gate bridge, plunges into the ocean. He survives, but begins to experience "rips in time," having visions of events that have occurred in the places he visits, which are sometimes related to the cases he is working on. The project was originally developed for syndication, but because the subject matter and the tone of the show are much closer to a primetime cable offering than the typical weekend afternoon syndicated fare, it is now targeted for cable distribution.
---
CONSTANTINE: Keanu Reeves is interviewed in the latest issue of Entertainment Weekly, for which he is on the cover for "The Matrix Revolutions". Reeves talks a little about his role in CONSTANTINE, among other things. In Constantine, he plays a bloke who's on barely speaking terms with both heaven and hell. 'And he hates them both,' Reeves reports with great satisfaction. 'I think that was actually always the attractive thing about Batman--he had some kind of inner demon.' He contemplates this for a second, then grins wistfully. 'But I didn't get to play that guy. Now I'm too old.'"
---
Sundary, November 2:
HARRY POTTER: A new trailer for Warner Bros.' HARRY POTTER AND THE PRISONER OF AZKABAN is set to hit theaters with the studio's own LOONEY TUNES: BACK IN ACTION on November 14. The trailer is reportedly around 1 minute and 26 seconds long and a description of the clip can be found at http://www.comingsoon.net/movies/h/harrypotter3.php.
---
WHAT'S ON TONIGHT
5:00pm on HBO
Harry Potter and the Sorcerer's Stone
An orphan attends a school of witchcraft and wizardry. Based on a book by J.K. Rowling. 7:30 on FX
Alien 3
Lone woman finds thugs, zealots and horror on prison planet. 8:00pm on HBO
Harry Potter and the Chamber of Secrets
For Harry Potter and his friends, life at Hogwarts School of Witchcraft and Wizardry is about to get even more thrilling -- and dangerous! Young Harry (Daniel Radcliffe) is back at Hogwarts for his second year of training and it's an education he'll never forget, especially when he and his pals Ron (Rupert Grint) and Hermione (Emma Watson) discover that someone has opened the school's much-feared Chamber of Secrets. It's up to the young wizard to get to the bottom of an eerie mystery that leaves him hearing voices and some of his fellow students literally petrified. 8:00pm on UPN
Star Trek: Enterprise (repeat)
Twilight
After an accident on the Enterprise, Archer loses his short-term memory. On SCIFI Tonight:

7:00pm
Boa
In the future a giant snake terrorizes inmates and workers at an Antarctic prison.

9:00pm
Python
A massive snake stalks the residents of a small town. 11:00pm
Pythons 2
Genetically enhanced snakes go on a killing spree inside a Russian military base. On Syndicated TV This Weekend: Andromeda
Soon the Nearing Vortex
Capt. Dylan Hunt comes up against former crew member Tyr for possession of a map. Angel
Offspring
Darla (Julie Benz) arrives on Angel's doorstep, inexplicably pregnant. Angel
The Bachelor Party
Doyle's estranged wife comes to town to divorce him so she can marry another man. BeastMaster
The Last Unicorns
Dar and Tao set out to protect the last unicorns from Terrons who seek magic in their horns. Sir Arthur Conan Doyle's The Lost World
Paradise Found
The adventurers follow a map to a paradise that feeds off the lives of others. Mutant X
Shadows of Darkness
The team investigates strange activities occurring at a local hospital. The Outer Limits
Final Exam
A college student blackmails the government with a cold-fusion bomb.
JEREMIAH IN TROUBLE
Word coming in is that Showtime has cut short Jeremiah's second season from 15 episodes to 7. They are currentlly doubling up episodes, so the second season will run less than one month. All 15 episodes have been completed and Showtime just needs to put the show back on the schedule. To show your support of the show and to let Showtime know we are behind the series, drop over to http://abyss.hubbe.net/jeremiah/excl/buzz.html. You will find sample letters and all the information you need to write Showtime in support of JEREMIAH. The B5 community knows all about letter-writing campaigns, so sharpen your pencils and get writing.
SEASON FOUR OF BABYLON 5
Warner Brothers have announced that January 6th, 2004 (Region 1) is the release date for Babylon 5: The Complete Fourth Season ("No Surrender, No Retreat"). There is no information at this time about when region 2 will be released. DESCRIPTION:
The future begins -- or ends -- here and now. Here is the huge space station Babylon 5. Now is the fateful year 2261. Commander John Sheridan has already declared the station free, breaking the ties between it and Earth Alliance. It was perhaps only a matter of time before he would have to fight to remain free. That time has come in this complete 22-episode fourth-season adventure presented on 6 discs and featuring an exciting array of Exclusive Extras. This six DVD set will include (preliminary listing):
Introduction to Babylon 5 - Season 4 by series creator J. Michael Straczynski
Two commentaries by series creator J. Michael Straczynski and another from director Mike Vejar
Commentary by cast members Bruce Boxleitner, Jerry Doyle, Peter Jurasik and Patricia Tallman
"Celestial Sounds" featurette about series composer Christopher Franke and the making of the series music
"No Surrender, No Retreat" DVD Suite, original music composed exclusively for the DVD
"The Universe of Babylon 5"
Personnel Files and Data Files
Gag Reel
Episode Previews
16x9 Anamorphic Widescreen
Dolby Surround 5.1 (English only)
Subtitles in English, French, and Spanish
Closed Captioned for the hearing impaired Pre-orders should be available soon.
BABYLON 5 SEASON THREE DVD - OUT NOW!
Season Three of Babylon 5 was released in the U.S. on August 12. It will be available in the UK beginning October 27. A review can be found over at http://www.imdb.com/Recommends/Rec2.html and the DVD series is on their recommended list. It was a featured item on http://www.imdb.com/. BABYLON 5: THE COMPLETE THIRD SEASON DVD Order Date: 7/15/03 Street Date: 8/12/03
Catalog #: 24243 WB Synopsis: The long-running Emmy Award-winning television series Babylon 5 takes place in the year 2257 A.D. on an immense spaces station floating in a stationary orbit in a neutral corner of a distant galaxy. Staffed by a crew of peaceful Earthmen and women, Babylon 5 serves as a non-political economic and social hub for the four alien races - the Narn, Centauri, Vorlon and Minbari - who fight to control the galaxy. Starring Bruce Boxleitner, Claudia Christian, Jerry Doyle, and Bill Mumy. Special Features and Specifications: o Six-disc DVD collector's set
o Introduction from series creator J. Michael Straczynski,
o Commentary on three key episodes by series creator and stars,
o"Behind the Mask: Creating the Aliens of Babylon 5" Documentary
o"Designing a Better Narn" Documentary
o"Designing Tomorrow: The Look of Babylon 5" Documentary
o Data and Personnel Files
o 16X19 Anamorphic Widescreen
o Dolby Digital 5.1
o English, French Spanish subtitles
o Running Time: 968 minutes For a look at Season Three, go to Season Three. Here you will find individual synopses of each episode and a graphic provided by Warner Bros.
GAG REEL
As with the other DVDs, there is a gag reel portion on the Season Three DVD as well. Ranger Mike sent along instructions on how to get there.

Babylon 5 Season 3 DVD Blooper Reel

The Season 3 "Gag Reel" is for real! It is actually an Easter Egg (a hidden component in the DVD) and is about three minutes long. There is a brief musical introduction and the segment mostly contains dialog goofs and other blunders the cast had.

To get to the Gag Reel, put in disc #6 and from the main menu:

* Select "The Universe Of Babylon 5"
* Select "Data Files"
* Cursor down Between the middle menu option "The Battle For Babylon 5" and the bottom menu option "The Universe Of Babylon 5". You should get a highlighted "5" logo to appear
* Press select to view the Gag Reel.
DISCUSSION TOPIC
I sat daydreaming this morning, thinking of ways in which we could continue to enjoy BABYLON 5, outside of the TV series environment. There are movies of the week, mini-series, novels. Do you think comic books or a graphic novel would be a way of continuing the Babylon 5 saga? Send in your comments to sgbruckner@aol.com and I'll post them on the Discussion Page for everyone to share.
KEEPING UP WITH CAST AND CREW
ALEXANDER ZAHARA: Alex has been very busy since the close of LEGEND OF THE RANGERS. He turns up every so often on STARGATE or JEREMIAH. He just opened a new website at http://www.alexzahara.com/. He's got a contest going -- he's offering up t-shirts from LEGEND. You'll note that he has just finished a number of projects -- including OPEN RANGE -- in which he gets to shoot Kevin Costner and a recurring role in Stephen King's KINGDOM HOSPITAL.
---
STEPHEN AUSTIN: I got a wonderful note from the Pa'Ka'Ma Ambassador, saying that he will be appearing at UNITED FAN CON, November 7-9 at the Sheraton Hotel, Springfield, Mass. (For more information on the convention, go to http://www.unitedfancon.com/. In addition, he's been quite busy with a number of projects. He has has completed work on two CDs and is putting the finishing touches on a DVD/Video -- a compelation of several of his stand-up comedy performances. Another CD is a work done by an ensemble group of comedians including Stephen, Vic Dunlop and The Unknown Comic titiled "Lunatics and Losers" a lampoon about our war on terrorism.
---
BRUCE BOXLEITNER: Bruce has just finished filming an independent movie entitled THEY ARE AMONG US. SNAKEHEAD TERROR was filmed for the Sci-Fi Channel, also starring Carol Alt and William B. Davis. That project is currently in post-production.
CRUISE WITH PETER WOODWARD
Peter is considering cruising the Caribbean in early 2005 and wants to invite his fans to join the fun. He would like to see if there is sufficient interest before going too far into planning, so if you would like to receive a brochure about Peter's upcoming cruise once the details are finalized please advise of your: Name:
Postal Address, City, State, Zip:
E-mail address:
Phone number:
Total number of guests in your party:
Age range of the guests including yourself:

Send this information to pwoodwardinfo@yahoo.com. Any information you send us will be handled respectfully. This is not a commitment from you, just an indication of interest.
BABYLON 5 BIRTHDAYS
Robert Foxworth - November 1
John Vickery - November 4
Damian London - November 12
Tracy Scoggins - November 13
Dwight Schultz - November 24
Louise Turenne - November 26
Efrem Zimbalist, Jr. - November 30
Have I missed anyone? If you know the birthday of someone connected with Babylon 5, pass the information along. We want to include everyone in our Happy Birthday Wishes.
READER BIRTHDAYS
Sometimes you just can't find the e-mail address for someone you know you have -- it's someone who responded to a discussion topic or you met in one of the chat rooms. You'd like to send a personal note, but .... No address!!!!

We've started a White Pages of Zocalo Readers! It's a handy way of keeping track of people -- and putting together a birthday/greeting card list as well. If you would like to be part of the listing, just send me your name, state, e-mail address and (if you'd like to have it listed) birthday (without year) to sgbruckner@aol.com. Check out the Directory of Readers.

Name: Adam Clark
State: Missouri
E-mail address: aclark@ims-1.com
Birthday: November 19

Name: Garibaldis_Uniform
State: Ohio (formerly Hawaii)
e-mail: Babylon_5Fan@yahoo.com
Birthday: November 12
BABYLON 5 FANS - SPECIAL HELP SECTION
BABYLON 5 FAN CLUBS
Swedish Babylon 5-Club We're situated in Gothenburg, Sweden's second largest city, and have been around since 1999. Our activities consist of showing B5 episodes on the big screen. The next time will be on November 8th here in Gothenburg. Our webpage is at http://www.babcon.org/. Asbjorn
President, Interstellar Alliance
sheridan@babcon.org -- Interstellar Alliance - Sweden's largest Babylon 5 club
BabCon XIII on November 8th 12.30 - 02.00
http://www.babcon.org/ Italian Babylon 5 News Ranger Bianca has a website that provides Italian Babylon 5 fans with news. The site is located at www.babylon5.it.
BABYLON 5 MERCHANDISE
Are you looking for Babylon 5 merchandise? Would you like to possess some of the wonderful patches or pins sold by the B5 Fan Club? Do you want to put in an order for the latest DVD? Bruce at Uncomyn Gifts still has one of the best collections around. Check out www.uncomyngifts.com. You may just find the magazine or t-shirt or patch you are looking for.
---
BABYLON 5 SCREENSAVER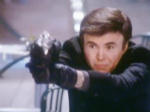 I received a wonderful note from Warner Bros. yesterday. It said:
"we also got this link from WHV for B5 screensavers, if you want to post this anywhere:
http://www.eyetide.com/download/?p=104117."
The graphics are awesome and it will add a certain measure of class to any desktop. Don't miss the preview feature. You can see what graphics have been included for your viewing pleasure. Thanks WB.
---
BABYLON 5 ROLE PLAYING AND FACT BOOK
The Babylon 5 Roleplaying Game and Fact Book
"Signs and Portents"
By Matthew Sprange
Mongoose Publishing
ISBN: 1-904577-11-3
MSRP: $49.99 From the review written at http://www.scifi.com/sfw/current/games.html B5 fans might want to pick up this game whether they actually play it or not. Based on the first season of the series, the "fact book" portion of the book includes an overview and maps of Babylon 5 and an episode-by-episode breakdown of the first season.
TRADING CARD HELP
Ranger Tia sent along this note to share with B5 card collectors:

Don't know if you've heard of my card program yet or not, but I thought the other B5 card collectors might like to try it out. With having almost all of the B5 trading cards and CCG cards available and no program to keep track of them withm, I started writing my own. Here's the website for it. Go half way down and click on the small screen shot for a full size screen shot. I have the pic of Pat Tallman's card from the Profiles card set feautured in the shot.

Oh, and I also have a lot of the card lists already saved as files so people won't need to type in all the card names. Being written by a B5 fan, ALL the card lists have already been made and are downloadable. :)

http://cardkeeper.usethis.com/keeper/index.html

Tia
NEW SCIENCE FICTION PUBLICATIONS
ALIAS: Previews Exclusive Cover Edition! In this issue we de-classify some scorching season three secrets, as well as re-visiting some favorite episodes from Seasons past — as voted for by the readers. Alias creator J.J. Abrams will be on hand to answer your questions. Available in Newsstand and Previews Exclusive cover editions! (Titan)



Dreamwatch: In stark contrast to what we know the future to hold, Lex and Clark have forged a close friendship on Smallville. This month we chat with archenemy in waiting, actor Michael Rosenbaum. Nicole deBoer, a.k.a. The Dead Zone's Sarah Bannerman, discusses the taut psychological thriller and reveals visions of the show¹s future. Plus, new season news from Angel, Alias and Stargate SG-1. (Titan) Magazine, 84pg,



Cult Times #98: Everyone is a-buzz about the revival of DOCTOR WHO. Who will portray the good doctor? When will it actually go into production? Also in this issue, writer/producers Alex Kurtzman-Counter and Roberto Orci talk about the coming season of ALIAS. Lisa Ryder talks about the new season of ANDROMEDA and Mandy Patinkin and Jasmine Guy provide some information on their show, DEAD LIKE ME.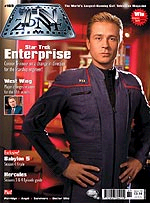 TV Zone #169: In this issue, J. Michael Straczynski continues to reminise about the final days of the fourth season of BABYLON 5. Conner Trinneer from ENTERPRISE talks about his job as chief engineer Trip Tucker and they look at the departure of Rob Lowe from THE WEST WING.
TV Zone #53: This special issue looks at all the returning shows -- and some of the hotter new ones. Inside, Scott Bakula looks at the coming second season of ENTERPRISE; Executive Producer Alfred Gough discusses the challenges of re-creating a superhero on SMALLVILLE. Among new shows, they look at BATTLESTAR GALACTICA, JAKE 2.0, JOAN OF ARCADIA and TARZAN.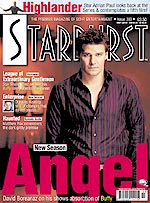 Starburst #303: ANGEL is back for a fifth season and David Boreanaz looks at the changes ahead -- and reveals what BUFFY meant to him. Also in this issue, Dominic Keating from ENTERPRISE talks about the future of his character, Lt. Malcolm Reed.
Expose #80: This month's issue focus on the upcoming HARRY POTTER movie. New Director Alfonso Cuaron will be making his mark and the kids are growing up. What other changes await? Also in this issue, a look at the extended second season of DEAD ZONE.





The Buffy finale saw Spike crumbling into the light, sacrificing himself so that humanity, and Buffy, might be saved. But now he's back from limbo and settling into LA life alongside Angel. We talk to James Marsters about his new role. Plus, Alexis Denis tells about Wes' transformation from Watcher to Rogue Demon Hunter and now Commander of Angel Investigations. Available at Newsstand.
Cult Times #100: Celebrate a century of Cult Times with this issue. Read interviews with the stars, and features on shows currently airing in the UK. A Classic Series is given a light-hearted but informative look in our Instant Guide and the highlights of the previous month's viewing are featured in Times Past. Cult Times is the complementary magazine to TV Zone, and together they provide the ultimate guide to the many worlds of Cult Television.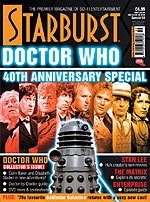 Starburst Special #59 A look back at 40 years of Doctor Who makes this issue special indeed. Also included in this issue - Battlestar Galactica -- an update on the SCIFI miniseries; Stan Lee on his upcoming film projects, and Michael Rosenbaum talk about being Lex Luthor on SMALLVILLE.
Cult Times Special #27: With the passing of BUFFY the Vampire Slyaer, CT looks back over the series; its characters and why it was so successful. Also included in this issue, Joss Whedon talks about possiblities for the future, including a movie for FIREFLY -- and BUFFY.



Shivers #107: As the new season approaches, everyone is speculating about the fireworks that could occur between Spike and ANGEL. Shivers takes a look at that this month -- along with Freddy vs. Jason, Underworld, and House of the Dead. There is an interview with Jeffrey Combs -- who most will know from Babylon 5 and Star Trek.



BABYLON 5 NOVEL - ON BOOK SHELVES NOW
DelRey is reprinting the original Babylon 5 novels. They started with #7 - Jeanne Cavelos' THE SHADOW WITHIN. Here's one I've been waiting for -- Kathryn Drennan's TO DREAM IN THE CITY OF SORROWS. The release date is scheduled for July 29, 2003. I love the new cover art! It can be pre-ordered from www.amazon.com. For those of you who love Babylon 5, this one reads just like an episode from the series. You just can't put it down.




COMIC BOOKS
STARGATE SG-1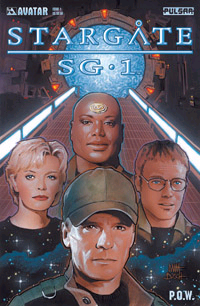 STARGATE SG-1: P.O.W. #1
by James Anthony & Renato Guedes; cover by Matt Busch
The first issue of the new Stargate series is finally here! The greatest sci-fi show on television comes to comics for the first time in a full-length action-packed series! Reconnaissance has discovered an alien invasion force with plans of conquest for planet Earth. Caught in a firefight, the escaping team from Stargate Command unknowingly allows a mysterious serpent-headed Goa'uld Lord access into the SGC. The invaders lay waste to the debarkation chamber, while locking a naquadah-laced bomb onto the Stargate. In the resulting attack, Colonel Jack O'Neill finds himself on a distant world, face to face with a thousand Goa'uld warriors. With the SGC under lockdown and O'Neill already a prisoner of war, the SG1 team must find a way to remove a doomsday bomb from the gate and rescue him from a Goa'uld fortress. Join the SG1 team for a full force adventure as they fight for survival against a race bent on subjecting the universe to their rule as the gods of legend. Jack O'Neill, Daniel Jackson, Samantha Carter, and Teal'c begin a new chapter of Stargate adventures in the pages of Stargate SG1: P.O.W.! Regular cover by Matt Busch; wraparound cover by Renato Guedes. Also available with a photo cover, and as a special "Golden Armor" edition, featuring an all-new solid gold foil wraparound cover with the Serpent Head Goa'ulds illustrated by Jacen Burrows and limited to 2,000 copies.
AMAZING SPIDERMAN
Amazing Spider-Man #500 will arrive in stores on Wednesday from Marvel Comics. The issue is written by J. Michael Straczynski, with art by John Romita Jr. and John Romita Sr. and a cover by J. Scott Campbell.
Here's how Marvel describes the issue:
"It's Peter Parker's birthday ... but how do you throw a surprise party for someone with a Spider-sense? Someone figures out how and Spidey spends his special day looking back at his career and every villain he's faced over those years ... against his will. A special story for Spidey fans new and old. " Amazing Spider-Man #500 will be 48 pages and will cost $3.50.
RISING STARS UPDATE
Since many of us wonder when JMS will be able to finish the RISING STARS comic book, here is an update from JMS: I've asked Top Cow for three things: for Dream Police back, since they've had it now for 3 years and have done nothing with it...for confirmation that the Joe's Comics title belongs to me, and for an apology for deliberately keeping me out of the loop on my own project at the feature stage and misleading me about drafts that had come in. Once those three things have been attended to, I can finish the series.
TV SCHEDULE ON SCIFI CHANNEL
BABYLON 5 10-NOV-03 9:00 AM BABYLON 5 (LBX) BABYLON SQUARED
12-NOV-03 9:00 AM BABYLON 5 (LBX) THE QUALITY OF MERCY
13-NOV-03 9:00 AM BABYLON 5 (LBX) CHRYALIS
14-NOV-03 9:00 AM BABYLON 5 (LBX) POINTS OF DEPARTURE
17-NOV-03 9:00 AM BABYLON 5 (LBX) REVELATIONS
18-NOV-03 9:00 AM BABYLON 5 (LBX) THE GEOMETRY OF SHADOWS
19-NOV-03 9:00 AM BABYLON 5 (LBX) A DISTANT STAR
20-NOV-03 9:00 AM BABYLON 5 (LBX) THE LONG DARK
21-NOV-03 9:00 AM BABYLON 5 (LBX) SPIDER IN THE WEB
23-NOV-03 3:00 AM MOVIE BABYLON 5: IN THE BEGINNING (LBX)
24-NOV-03 9:00 AM BABYLON 5 (LBX) SOUL MATES
25-NOV-03 9:00 AM BABYLON 5 (LBX) A RACE THROUGH DARK PLACES
26-NOV-03 9:00 AM BABYLON 5 (LBX) THE COMING OF SHADOWS
29-NOV-03 3:00 AM MOVIE MARATHON BABYLON 5: A CALL TO ARMS (LBX) CRUSADE:

09-NOV-03 2:00 AM CRUSADE WAR ZONE
16-NOV-03 2:00 AM CRUSADE APPEARANCES AND OTHER DECEITS
20-NOV-03 11:00 AM DAYTIME ROTATION - CRUSADE
23-NOV-03 2:00 AM CRUSADE RACING THE NIGHT
30-NOV-03 2:00 AM CRUSADE THE NEEDS OF EARTH

STARGATE SCHEDULE: 10-NOV-03 6:00 PM STARGATE SG-1 THE TOMB
10-NOV-03 7:00 PM STARGATE SG-1 POLITICS
10-NOV-03 8:00 PM STARGATE SG-1 WITHIN THE SERPENT'S GRASP
10-NOV-03 9:00 PM STARGATE SG-1 THE SERPENT'S LAIR
10-NOV-03 10:00 PM STARGATE SG-1 IN THE LINE OF DUTY
11-NOV-03 6:00 PM STARGATE SG-1 BETWEEN TWO FIRES
12-NOV-03 6:00 PM STARGATE SG-1 2001
13-NOV-03 6:00 PM STARGATE SG-1 DESPERATE MEASURES
14-NOV-03 6:00 PM STARGATE SG-1 WORMHOLE X-TREME!
14-NOV-03 7:00 PM STARGATE SG-1 ENEMY MINE
14-NOV-03 9:00 PM STARGATE SG-1 AVENGER 2.0
14-NOV-03 11:00 PM STARGATE SG-1 AVENGER 2.0 FARSCAPE SCHEDULE:

10-NOV-03 11:00 AM DAYTIME ROTATION - FARSCAPE PICTURE IF YOU WILL
10-NOV-03 12:00 PM DAYTIME ROTATION - FARSCAPE HOME ON THE REMAINS
10-NOV-03 1:00 PM DAYTIME ROTATION - FARSCAPE OUT OF THEIR MINDS
10-NOV-03 2:00 PM DAYTIME ROTATION - FARSCAPE BEWARE OF DOG
10-NOV-03 3:00 PM DAYTIME ROTATION - FARSCAPE WON'T GET FOOLED AGAIN

EARTH: FINAL CONFLICT

12-NOV-03 11:00 AM DAYTIME ROTATION - EARTH: FINAL CONFLICT
14-NOV-03 5:00 AM EARTH: FINAL CONFLICT
21-NOV-03 5:00 AM EARTH: FINAL CONFLICT
BABYLON 5/CRUSADE PHOTOSHOP PHOTOS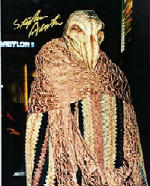 Peter Woodward has sent along a new photo -- a rather dreadful one -- from his appearance on CHARMED. It will be added to the collection of photos available from Peter, including additional copies of the Crusade poster in photo format. Both are autographed by Peter. You do NOT have to pay the prices asked for over at e-bay! Here are photos of B5 and Crusade cast members at fantastic prices. Check out Photo Shop. Ordering is easy -- and you can't beat the prices! Just let me know which photos you want and I'll check to make sure they are still in stock.
---
BABYLON 5 TOONS
John Cook has a wonderful collection of cartoons -- many are take-offs from Babylon 5. Here's just one of them.

He has a cartoon caption contest going on as well. Try your hand at a punch line.

Go to http://contests.sev.com.au/index.php?contestid=1


SCI-FI CARTOONS
With the new Battlestar Galactica coming in December, Tye brings back old memories of Captain Apollo and the old series with this new satire. Apollo Discovers Feng Shui.Enjoy Tye's other works at www.thelightersideofscifi.com.



BABYLON 5/CRUSADE CONVENTIONS
CONVENTION UPDATE
CONVENTION CALENDAR
United Fan Con
November 7-9, 2003
Place: Marriott Hotel, Springfield, MA
B5 Guest: Stephen Austin
Other guests: Michael Shanks, Mercedes McNab, Peter Davison, Gary Graham, Katy Manning, Matthew Waterhouse
For more information, visit their website at http://www.unitedfancon.com/.
---
Montreal Science Fiction Expo 2003
November 14-16, 2003
Place: Palais des Congres, Montreal, Quebec, Canada
Other Guests: Marina Sirtis, Ethan Phillips, Peter Mayhew, Lou Ferrigno, Kirby Morrow
For more information, visit their website at http://www.hobbystar.com/montreal-eng/index.html.
---
Alternate Universe POSTPONED UNTIL JULY 23-25, 2004
November 14-16, 2003
Place: London, UK
Site: Thistle London Heathrow
B5 Guests: Andrea Thompson, Sarah Douglas
Other Guests: Kent McCord, JRBourne, Peter Stebbings, Marc Cass, Brian Aldiss
For more information, visit their website at http://www.l3conventions.co.uk/alternateuni.htm.
---
Vulkon Orlando
November 14-16, 2003
Place: ORLANDO HILTON NORTH
Orlando, FL
B5 Guests: Julie Caitlin Brown, Jeffrey Combs
Other Guests: William Shatner, John Billingsley, Chase Masterson, Lolita Fatjo, Walt Cunningham, Boby Clark, Arne Starr
For more information, visit their website at http://www.vulkon.com.
---
Farscape Convention
November 14-16, 2003
Location: Hilton Burbank Airport & Convention Center
Place: Burbank, CA
Guests: Most of the Farscape Cast
For more information, visit their website at " TARGET="_new"> http://www.creationent.com"> .
---
Slanted Fedora Convention
November 28-30, 2003
Location: Indianapolis Marriott
Place: Indianapolis, IN
B5 Guests: Richard Biggs, Jason Carter
Other Guests: Tony Amendola, Julie Benz, Teryl Rothery, Robert Duncan Mcneill
For more information, visit their website at " TARGET="_new"> http://www.sfedora.com"> .
---
Be sure to visit our Convention Calendar for a full listing of upcoming conventions featuring Babylon 5, Crusade and Legend of the Rangers cast members as guests.
CONVENTION HIGHLIGHTS
Ranger Brian had a blast with Rick, Jason and Jeffrey at the 2BeContinued Convention last week in Indiana. He sent along a picture for everyone to enjoy. Thanks Brian.
If you would like to share your convention experience with your other Zocalo readers, send along a convention report. I will gladly post it for all to read. Got pictures? I'll post those as well.
ZOCALO TRADING POST
Do you have extra copies of B5, Amazing Spiderman, Midnight Nation or Rising Stars comics you'd like to trade? How about those extra trading cards or B5 magazines? There are a lot of fans looking for these items -- and the Trading Post can help you buy or sell them. To see what's available, just use this link to the Trading Post. To have items included in The Trading Post, send a note to The Zocalo. Please put Trading Post in the subject line.
PEN PALS
If you are looking for someone to talk about Babylon 5 and Crusade with, the Pen Pal section is for you! Check it out! Drop a note to someone who is feeling B5 withdrawal -- BIG TIME!

People thought a Pen Pal page was a good idea. If you would like to meet people who you could chat with or share your opinions of the show with, send along your e-mail or snail-mail address The Zocalo. It will be incorporated on the new Pen Page Page.
MAIL FOR CAST AND CREW
Here's a recent note from JMS on the subject:

Just an FYI to those who've been using the Ventura Blvd. mail drop for fan mail to actors....

As mentioned before, we're phasing out the forwarding of fan mail because we a) don't have the resources, complicated by b) the actors have scattered to the four winds, and it makes it very difficult to get everything to everybody in a timely fashion.

So, having provided prior notice...fan mail to actors coming to the Ventura Blvd. mail drop will be sent back. Mail to actors should be sent via their official fan clubs. I will still be taking mail there, since it's my mailbox, but that's it.

Just so's y'all know and save a few bucks on postage and returns.

WARNER BROS:

Warner Bros. Address:

Warner Bros. Domestic Television Distribution
4000 Warner Blvd.
Burbank, CA 91522

Warner Home Video:

Mr. Douglas Wadleigh
VP for Marketing and Special Features
Warner Bros.
4000 Warner Blvd.
Burbank, CA 91522

SCIFI:
Bonnie Hammer, President
Sci-Fi Channel
1230 Avenue of the Americas
New York, NY. 10020-1513

Mr. Thomas Vitale
Senior VP of Acquisitions, Scheduling & Program-Planning
BACK ISSUES OF THE ZOCALO TODAY
The front page of the The Zocalo Today changes daily, so be sure to check the back issues to make sure that you haven't missed anything IMPORTANT! I don't want the front page getting too long so I shift information periodically into the archives. So if you aren't a regular visitor to The Zocalo Today, be sure to check out the back issues. Just use the button above!
---
Take care and I look forward to hearing from you.
Sandra Bruckner (sgbruckner@aol.com)
Editor/Publisher
The Zocalo Today
http://www.isnnews.net
Copyright - SBruckner, 1999-2003